Croke Park GAA Club Newsletter
01 August, 2013

GAA Club Newsletter JULY 2013 EDITION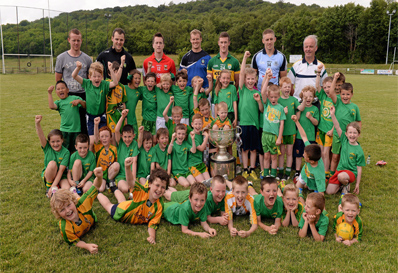 Freestyle Hurling – Win a trip on the All Stars trip to China
Get behind your club with Liberty Insurance, proud partners of both GAA Hurling and Camogie
GAA Official Match Programmes now on iPhone and iPad
Programme for GAA Youth Consultation and Engagement 2014 - Suggestions
Defibrillator Maintenance Offer for GAA Clubs
Centra Hurling Community Events
My Club and I: Neil McGee
Etihad Airways' Raise The Bar
20% off Etihad Skyline tours
Ulster Bank GAA Roadshows in partnership with Newstalk 106-108 FM
American Football comes to Croke Park
Bord Gáis Energy Legends Tour Series at the GAA Museum
Croke Park's Classic Christmas Craic'r - Early booking offer

Introduction
Welcome to the July edition of the GAA Club Nuachtlitir.
July saw what can be described as some momentous achievements with Monaghan lifting the Anglo Celt Cup for the first time in 25 years and London reaching their first ever Connacht Senior Football Final. Next August Bank Holiday weekend sees Croke Park hold what should be four hugely entertaining Senior Football encounters which will go a look way towards determining who lifts Sam in September. Come out and support your county and remember nothing beats being there. Also, a thank you to all the players and teams who continue to make our Championships so exciting and memorable.
This month's newsletter includes amongst other items, information regarding a new GAA/GPA joint hurling initiative, Freestyle Hurling and a defibrillator maintenance offer for GAA Clubs. We would also ask Clubs to help us spread the word regarding many of the great money-saving ticket offers available to members of GAA Clubs which include the GAA Club and GAA group passes, available for games in Croke Park. More ticket information is available at www.gaa.ie/tickets.
Should you have any feedback on any aspect of what we are trying to do, please feel free to contact our Communications Department through queries@gaa.ie.
Is Mise le meas,
Lisa Clancy,
Director of Communications
Cumann Lúthchleas Gael

FREESTYLE HURLING – WIN A TRIP ON THE ALL STARS TRIP TO CHINA

'Freestyle Hurling' is a new joint GAA/GPA initiative launched in Croke Park this week. The aim of this initiative is to help promote the game of hurling across the world using modern media to showcase the skills of the game. We would encourage our clubs to promote and ask their members to enter the competition and show us their skills.
Freestyle Hurling is the art of expressing yourself with a Hurley and sliotar while performing skills and trick shots using any part of the body. The challenge is simple: pick up your hurl and show the world what you can do by posting your very own 'Freestyle Hurling' videos online.
Inter-county players Declan Hannon (Limerick), Niall Moran (Limerick), Richie Hogan (Kilkenny), Paul Sheehan (Down) and Susan Vaughan (Clare) have signed up to be ambassadors of Freestyle Hurling. All four players feature in promotional videos which are now live on GAA.ie as well as the Official GAA YouTube Channel and can be viewed clicking here.
The GAA/GPA Freestyle Hurling competition provides supporters with a unique opportunity to be part of the All-Ireland Hurling Final day experience on September 8 and for the winner to secure an exclusive opportunity to travel on the All-Stars trip to China later in the year.
The full entry process is outlined in detail at www.gaa.ie/freestylehurling and it is hoped that this initiative will help Hurling to feature prominently on the digital landscape both in Ireland and around the world.
Hurling supporters are encouraged to record a video of no more than 30 seconds that best displays freestyle hurling skills.
Clips from the entries and more from our four Freestyle Hurling ambassadors will be shared on the Official GAA Facebook, YouTube and Twitter profiles in the coming weeks as well as on GAA.ie. Closing date for entries is August 31.

GET BEHIND YOUR CLUB WITH LIBERTY INSURANCE, PROUD PARTNERS OF BOTH GAA HURLING AND CAMOGIE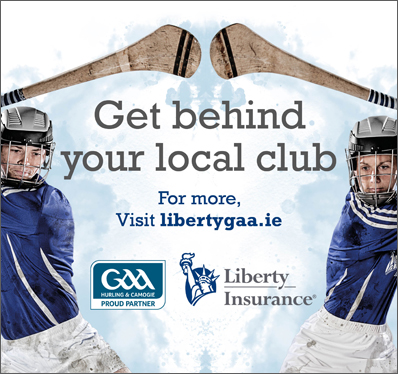 Take out a new private motor or home policy with Liberty Insurance and they will donate €50/£45 on your behalf to your local club.
You can also enter a draw to win €10,000/£8,500 for your club when you get a new private motor or home quote.
Find out more at www.libertygaa.ie
Offer ends October 13th, 2013. Terms and conditions apply, view libertygaa.ie. For Irish business, Liberty Insurance Limited is regulated by the Central Bank of Ireland. For Northern Ireland business, Liberty Insurance Limited is authorised by the Central Bank of Ireland.

GAA OFFICIAL MATCH PROGRAMMES NOW ON IPHONE AND IPAD

The GAA Official Match Programmes are now available through a mobile application for iPhone and iPad devices.
GAA supporters overseas or at home can now connect to the match like never before with the brand new digital GAA Official Match Programme mobile app which can be downloaded from the iTunes App Store.
Launched just as the All-Ireland series of the season commenced, interactive digital GAA Official Match Programmes bring fans even closer to the action, containing essential GAA player and team information, unique content, stats and analysis.
It has been built from the ground up with Gaelic Games in mind, blending a stunning interface with the latest information, including live stats, news, photo galleries, stadium and ticketing info plus more, with lots more exciting features in the pipeline.
The new digital GAA Official Match Programme gives the user the freedom to follow the action at the match or out and about. It provides full team-sheets and match analysis at a glance, with intuitively designed pages that display in-depth statistics.
Whether in the comfort of your home, live at a game, or even on the go, the digital Official GAA match programme mobile app is a must for every smart GAA iPhone and iPad user.

PROGRAMME FOR GAA YOUTH CONSULTATION AND ENGAGEMENT 2014 - SUGGESTIONS

The GAA National Youth Committee has been tasked with developing and implementing a Programme for Youth Consultation and Engagement to be rolled out during the course of 2014.
The Programme is currently in the development phase. However, it is intended to focus on the critical age group of 12 - 15 years and to consult with a number of groups including youths (current members and non-members), parents, coaches and administrators at Club and County level.
It has been agreed that the Programme will revolve around two key issues:
a) How can the Association get young people involved?
b) How can the Association keep young people involved?
As part of the development phase, the GAA National Youth Committee is eager to provide Clubs nationwide with an opportunity to make suggestions regarding the priority issues that should be reviewed through the Programme. Club Secretaries, who want to make some suggestions should complete the Google form (see link below) by Friday August 30. The GAA National Youth Committee will then consider all suggestions when developing the Programme.
Youth Participation is a key issue for the GAA and your thoughts and feedback are very welcome in this regard.
A link to the Google survey form can be accessing at https://docs.google.com/a/gaa.ie/forms/d/10Egwvrs9IX9s_SKipOjM-14Wr5mvWYvAYq689MBvQyM/viewform.

DEFIBRILLATOR MAINTENANCE OFFER FOR GAA CLUBS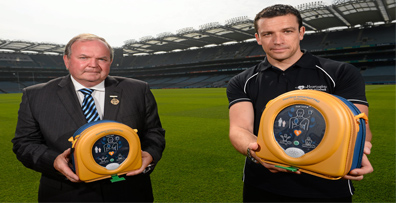 The Medical, Scientific and Welfare Committee in partnership with Heartsafety Solutions are now offering GAA Clubs the opportunity to avail of a defibrillator maintenance offer which includes inspection of batteries, pads, ancillary equipment and hardware for a cost of €20 and with a guarantee of a five day turn around.
Each machine will be picked up on a Monday morning by courier and inspected by Heartsafety at their headquarters in Dublin, an action report form will be completed and the relevant Club Secretary will be contacted to see if he/she would like any updates performed.
In addition, GAA clubs can now purchase a defibrillator from Heartsafety Solutions at a reduced cost of €850 plus VAT. Clubs wishing to avail of this offer or to have their machines inspected for €20 should contact playerwelfare@gaa.ie or telephone 01-8658685.

CENTRA HURLING COMMUNITY EVENTS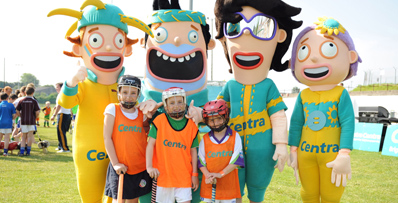 In June, Centra kicked off their summer of fun-filled community hurling events, travelling to Donegal, Westmeath and Galway. The events saw hundreds of children come together for a hurling skills session with some of the biggest names in hurling, followed by a family barbeque and a host of entertainment including face painting, music, prizes and much more.
There have been four events to date with three more to follow in August. The remaining Centra Community Event Schedule is as follows:
August 3 – Gaelic Grounds, Limerick City, Limerick
August 10 – Ballyboden, Dublin
August 17 – Fitzgerald Stadium, Killarney, Kerry
For more information on Centra's community events throughout the summer go to www.centra.ie or find 'Centra Ireland' on Facebook and Twitter.

MY CLUB AND I: NEIL MCGEE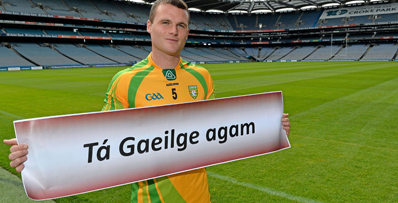 In the latest of our 'My Club and I' series on GAA.ie, we speak to Donegal's All Star defender Neil McGee about his club Gaoth Dobhair (Gweedore).
Cumann Lúthchleas Gael Ghaoth Dobhair was founded in 1931 and is considered to be one of the traditional strongholds of Gaelic football in Donegal. With 14 Donegal Senior Football Championships, they are the most successful club in the county.
The parish of Gaoth Dobhair, as it is officially known, is the largest Irish-speaking parish in the country with a population of just over 4,000. Gaoth Dobhair covers an area stretching 16 miles north to south and nine miles east to west and takes in the villages of Bunbeg, Derrybeg, Dunlewey, Crolly and Brinalack.
Read more about when Neil first got involved in the club, what are his early memories of playing Gaelic Football and a little about the most recent developments at Cumann Lúthchleas Gael Ghaoth Dobhair.
For the full interview, please click here.

ETIHAD AIRWAYS' RAISE THE BAR

For the past five years, Etihad Airways have been delighted to be an official sponsor of the GAA Hurling All-Ireland Senior Championship, and once again, Etihad want to bring something special to the grassroots of the game, at club level.
Etihad Airways' Raise The Bar 2013 will reward Ireland's most deserving hurling club, with a year's worth of Etihad sponsorship. This 12-month package will include:
€10,000 sponsorship
Special guest coaches
Etihad flights
All-Ireland tickets
and more
Last year, Na Piarsaigh of Limerick were victorious in our 'Raise The Bar' competition. Does your club have what it takes to win this year? To find out more, and be in with a chance to win, go to www.etihadgaa.ie and discover what it is we're looking for in our latest member of the Etihad family.
Visit www.etihadgaa.ie and tell us why your club should win.

20% OFF ETIHAD SKYLINE TOURS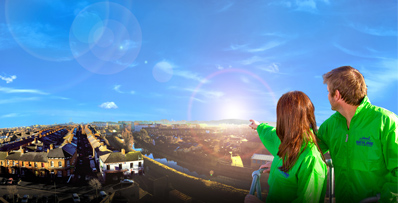 During the month of August the GAA is offering 20% off online bookings for Etihad Skyline tours. The Etihad Skyline Croke Park offers a truly memorable experience and offers insights into key landmarks and top visitor attractions from five viewing platforms.
This offer is subject to availability and early booking is advised. To avail of this offer visit www.skylinecrokepark.ie.

ULSTER BANK GAA ROADSHOWS IN PARTNERSHIP WITH NEWSTALK 106-108 FM

Ulster Bank, official sponsor of the GAA Football All-Ireland Senior Championship, has once again teamed up with Newstalk 106-108 FM this summer, to take Ireland's most popular sports show, 'Off the Ball' on a tour across the country.
The multi-award winning show will broadcast live in five counties across the country, where rival Ulster Bank GAA stars such as Kerry's Kieran Donaghy, Galway's Finian Hanley, Donegal star and 2012 Player of the Year Award winner Karl Lacey and Fermanagh's Tommy McElory will feature in the live shows.
The Ulster Bank 'Off the Ball' Roadshow kicked off in Donegal's Abbey Hotel on Thursday July 18, where over 300 Donegal fans turned up sporting the green and gold.
As part of the summer-long tour, Ulster Bank is also searching for Ireland's 'Best GAA Fan'. GAA fans are being invited to log on to www.ulsterbank.com/gaa to submit their most passionate and dedicated stories, pictures and videos that demonstrate the lengths they go to in supporting their county.
There will be weekly prizes and Ireland's Best GAA Fan will be chosen to win €5,000 towards a home make-over and a trip to the GAA All-Ireland Senior Football Final. Kerry is the next port-of-call for the Ulster Bank 'Off the Ball' Roadshow on Thursday, August 1.
The Roadshows will then be stopping in Mayo on August 22, Cork on September 5 and our grand finale will take place in Dublin on September 19.

AMERICAN FOOTBALL COMES TO CROKE PARK

Next August, Croke Park will be the venue of choice when University of Central Florida will host Penn State in their 2014 Season opener. The game will be the first time that either team has played outside of the United States.
Limited end zone tickets are available now at www.crokeparkclassic.ie.

BORD GÁIS ENERGY LEGENDS TOUR SERIES AT THE GAA MUSEUM


Championship season is well underway and there is plenty to experience for GAA supporters of all ages at the "new" GAA Museum in Croke Park.
Open daily throughout the year - including match days – the museum has a range of events on offer throughout August including the Bord Gáis Energy Legends Tour Series featuring Noel Skehan, Seán McMahon, Tommy Dunne, Pat Gilroy and Steven McDonnell.
Special match day tours of Croke Park are on offer throughout the month giving supporters a truly unique behind-the-scenes glimpse of stadium operations in the final hour before the turnstiles open and spectators take their seats. Pre-match tour packages include a match ticket and admission throughout the day to the museum.
Information on the museum's events programme and special offers is available from our website, www.crokepark.ie/gaa-museum.

CROKE PARK'S CLASSIC CHRISTMAS CRAIC'R - EARLY BOOKING OFFER


Join us for a nostalgic evening of fabulous food and festive fun. Croke Park is offering an early booking discount on shared Christmas parties for GAA clubs if booked before August 31, 2013. Contact us at christmas@crokepark.ie or 01-8192300 to find out more.