Midleton GAA Club News
19 July, 2013
Midleton Hurling & Football Notes
Junior Hurling
Last Friday evening in Round 3 of the East Cork Championship at Cobh we played very well to defeat Erins Own. The first half was very even with only a fortunate goal half by ourselves keeping us ahead. But in the second half we showed great character to forge ahead with minutes to go and defended well to secure a much deserved victory.
We now face St Ita's in the quarter final towards the end of the month.
Final Score: Midleton 1.14 v Erins Own 0-15
Team: Christopher Dunlea, Neil O Regan, Oisin Cotter, Eoin Ferriter, Darren Quirke, Declan Ryan, Leslie Coughlan, Sean O Farrell, Killian Burke, Shane Ryan, Aidan Ryan, Ian O Brien, Padraig O Farrell, John Keane, & Michael Abernethy. Subs used Killian Hurley, Brian O Sullivan & Davy O Brien.
In the Avondhu/Imokilly Junior Hurling League recently we had a good victory away to Ballyhea by 2-17 to 1-17.

Minor Hurling
Our minors played Ballincollig last Monday evening in the Premier 1 Minor Championship at the Mardyke, the first half was very even and at half time we led by a single point. The second half saw a very fine display by our lads and we fought to the very end and won by 2.15 v 0.14.
Team:Byran Rossiter, Billy O Shea, Gavin Bagnell, Josh Deady, Alan Stanton, Darren Quirke, Luke Dineen, Killian Deady, Sean O Farrell, Cormac Beausang, Patrice Tschmanga, Robert Williams, Lochlinn Mc Carthy, Michael Abernethy & Garan Manley. Subs used Kieran Maloney & Conan Finnegan.
Munster Senior Hurling Final
Commiserations to Luke O Farrell, Conor Lehane, Brian Hartnett and Patrick O Mahony on the defeat of the Cork Senior Hurlers last Sunday to Limerick at the Gaelic grounds.

GAA Golf Classic
Our annual Juvenile Golf Classic was held last Wednesday and Thursday at East Cork Golf Club in glorious conditions. It was once again kindly sponsored by Blackwater Motors Cork, Fermoy and Skibereen., www.blackwatermotors.ie
Over the course of the two days we had almost 120 teams participate, many thanks to all our teams and tee box sponsors for supporting us again this year.
The winners of the overall 3 ball Scramble competition were the East Cork Golf Club sponsored team of Patrick Walsh, Ian Maher & Eoin Collins with a score of 52.6
Full results will be published shortly.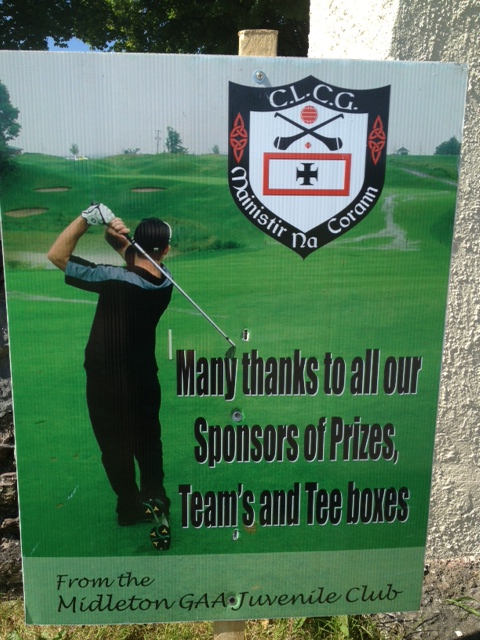 BINGO for all every Friday night in the GAA Pavilion from 8pm, guaranteed Jackpot of 1,000 euro!!
Dancing in the GAA Club each Saturday night, last week saw another great night with Tom Healys Band next week we welcome The Pat Costello Band.
Juvenile Notes
Fe 13
Ballincollig 0-7: Midleton 4-8
Midleton Fe 13 hurlers continued their strong Premier 1, League performance with a comprehensive win over Ballincollig at a sun drenched away venue earlier today.
Both sides were short a number of players from their respective panels, yet this was a fine game of hurling considering the intense heat. Midleton started slowly and found themselves trailing by 2 points before they got on the scoreboard with a point from a free. This was the impetus needed and Midleton dominated the rest of the half. At the short whistle Midleton lead by 1-5 to Ballincollig 0-2. Midleton continued to dominate in the second half. The game was well tied up long before the final whistle with an inevitable Midleton, with 3 goals scored within the first 15 minutes of the second half. It was great to see all Midleton players get game time. This win now sees Midleton having played 7 games, winning 6 and drawing 1. With 3 games remaining in the League this leaves us in a strong position to make the Final stages of this competition. The Midleton Team was represented by: Niall Higgins, Fergus Wade, Ciaran Evans, Alan Power, Ronan Lynch, Tommy O Connell (capt), Kian Farmer, Evan Rowlands, Ross O Regan, Sean O Sullivan, Tunde Olotu-Jubril, Adam O Connell, Coleman Quinn, Ryan O Riordan, Cormac O Brien, Sam Quirke, Gary Carroll & Eabhan DeBarra.
Finally, congrats to our player Ciaran Evans who played for Cork last Sunday in the Primary Games at the Gaelic Grounds in Limerick, at half time of the Munster Senior Hurling Final.
Club Gear
The Club shop will be open each Saturday morning from 11am to 12, a full selection of gear is available including new club branded base layer tops. Anyone looking for presents can also buy gift vouchers from the club shop. Full price lists are available on the club website www.midletongaa.com
Social Media
Keep up to date with all of the Club's activity's by following us on our Website, Facebook and Twitter