Midleton GAA News
16 June, 2013
Midleton Hurling & Football Notes
Junior Hurling
Our Junior A hurlers had a good victory in the Avondhu/Imokilly League last Friday night defeating Harbour Rovers at home 1-14 v 2-08.
Team: Christopher Dunlea, Niall O Regan, Oisin Cotter, Eoin Ferriter, Liam Clohessy, James O Donnell, Leslie Coughlan, Shane Ryan, Sean O Farrell, John Keane, Kieran Mulcahy, Padraig O Farrell, Brian O Sullivan, Ian O Brien & Mark O Keeffe. Subs Patrick Dunlea, Joe Collins, Coran Swayne, Davy O Brien, Willie O Brien & Brendan Ferriter.
The Junior 2 hurlers had a good win over hosts Cloyne played in awful conditions last Tuesday evening on a scoreline of 1-07 v 3-07.
Team: Coran Swayne, Patrick Dunlea, Pat Fox, Joe Collins, Neil O Regan, Davy Hogan, Liam Clohessy, Shane Ryan, Ian Fitzpatrick, Brian O Sullivan, Killian Hurley, Keith Ryan, Mark O Keeffe, Willie O Brien & John Keane, subs used Sean Corcoran, Pat Stack & Jerome Curtin.
Minor Football
Our Minors were defeated by Eire Og last Thursday evening in midleton in the semi final of the 12 a side Non Exam League.
Final Score: Midleton 2-05 v Eire Og 0-17
Panel: Josh Deady, Luke Morrissey, Gavin Bagnell, Bryan Rossiter, Luke Dineen, Cillian Lynch, Sean O Farrell, Lochlinn Mc Carthy, Patrice Tschmanga, Kevin Rohan, Brian O Mahony, Killian Deady, Shane Buckley, Ambimbola Bello & Robert Williams.
Munster Hurling Championship Cork v Clare
We wish our club players Conor Lehane, Luke O Farrell, Brian Hartnett, Patrick O Mahony and the rest of the Cork squad the very best of luck next Sunday in Limerick.
Fixtures
Friday 21st East Cork Junior A Hurling Championship v Castlemartyr in Dungourney @ 7.30pm
Saturday 22nd Fe13 Premier 1 County Hurling Final v Na Piarsaigh in Kilbarry @ 4pm
Sunday 23rd Munster Hurling Championship Cork v Clare in Limerick @ 4pm
Healthy Club Project
Last Saturday we announced the winners of our Healthy Club Project slogan competition. We got a great response to the competition and we thank everyone who entered. After careful deliberation we decided on the slogan 'Is fearr an sláinte ná na táinte'.Our winners are Samuel Judd and James Murphy, well done lads. Both boys received a prize of a €35 voucher each from our club shop. We would like to give special thanks to Múinteoir Edel who encouraged her class to enter the competition. Thanks to our Cork players Conor Lehane & Luke O' Farrell for giving their time to meet the lads Saturday morning. We have had lots of ideas coming into us from parents and members regarding health initiatives. We will press on with some of these ideas over the next while. IS FEARR NA SLÁINTE NÁ NA TÁINTE
Diamond Jubilee Celebration
Congratulations to our Club President Canon Colman O Donovan who celebrates 50 years in the priesthood this week. Father Colie as he is affectionately known as was ordained in 1953 the year after he won an All Ireland Senior hurling medal with Cork. He also won a Junior All Ireland in 1950 and a County Intermediate medal in 1948, he represented Midleton, St Colmans, Munster Colleges, Imokilly and Cork at all levels.
GAA Golf Classic
Our annual Juvenile Golf Classic will be held on Wednesday 10th and Thursday 11th of July at East Cork Golf Club and will once again be kindly sponsored by Blackwater Motors Cork, Fermoy and Skibereen.
The format this year will be a 3 Ball Scramble event with teams costing 120e and sponsorship of tee boxes costing 50e.
The Timesheet which is now open can be booked by contacting Anthony Wall @ 086/3154016 or Coleman Quirke @ 087/2523759.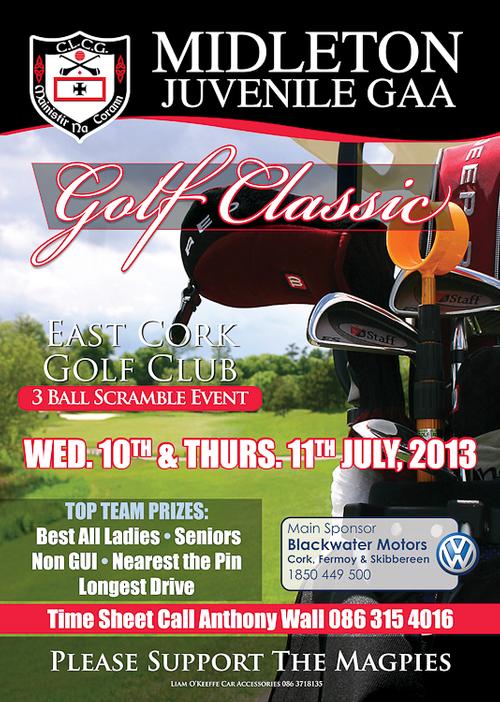 Club Lotto
Our Lotto Jackpot which was 6,200 was won last Friday night by our regular Bingo supporter Georgina Morrissey from Lisgoold, congratulations Georgina and thanks for your ongoing support, next weeks Jackpot is 1,200.
BINGO for all every Friday night in the GAA Pavilion from 8pm, guaranteed Jackpot of 1,000 euro!!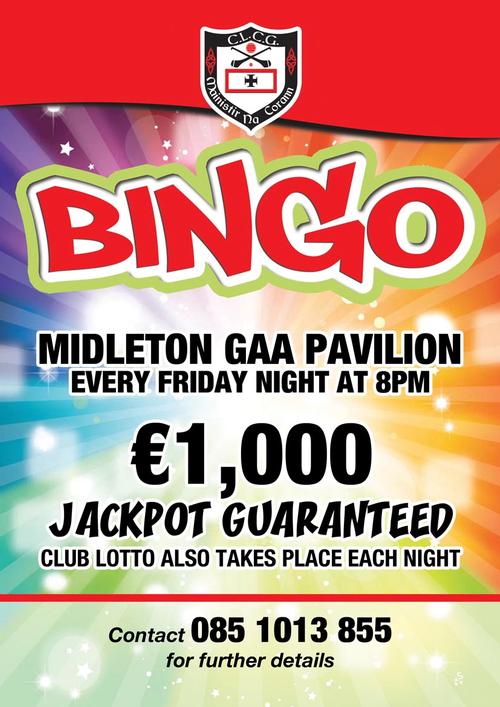 Dancing in the GAA Club each Saturday night, last week saw another great night with Martin Kearney and next week we welcome "The Dreamer's".
Juvenile Notes
Fe8/10/12
Last Saturday morning we welcomed the mighty Cashel King Cormac's to town for a feast of hurling, the field was full of almost 150 players giving it there all in a very organised and fun Blitz. Thanks to all the committee, parents and supporters who helped on the day especially with the tremendous spread of food and refreshments afterwards. We look forward to the day when we may see some of these players on opposing teams in Thurles on Munster Final day !
Fe13
Our Fe 13 Hurlers advanced to the Cork U13 Premier Hurling Championship Final by defeating Douglas in the Semi-Final on Saturday 15th June on a scoreline of Midleton 2-11 to Douglas 2-05. Played in a sunny, but breezy Kilbarry, both teams treated the large turnout to an excellent and open game of hurling, with superb commitment and great scoring to the fore. Douglas started smartly, and an early goal put us under pressure from the off. Scores from Tommy O'Connell and Cian Murray narrowed the score to Douglas 1-02 v Midleton 0-04 after 17 mins of play, when a head injury to our wing-back Fergus Wade resulted in a lengthy delay to proceedings. Both sides left the field of play while waiting for the emergency services to arrive, with the game re-commencing after a layoff of 35 mins. Once the game got underway again, we were fast out of the blocks and outscored Douglas 2-02 to 0-02 in the remaining time in the period up to half-time. This left the half-time score at Midleton 2-06 to Douglas 1-04, after an entertaining and eventful 1st half. Some positional changes for us at half-time resulted in us getting the upper hand upon the resumption of play, but some wayward shooting led to several bad wides in the first 10 mins of the 2nd half. A soft Douglas goal after 15 mins put added pressure on us, but a positive and productive response resulted in 0-05 pts for the Magpies, 0-04 coming from play and 0-01 from a placed ball. The remainder of the half saw some strong and resolute defending by our rearguard, ensuring we held out for a well deserved victory on a scoreline of Midleton 2-11 to Douglas 2-05. Obviously everybody involved is delighted to be competing in a County Final, but a lot of errors, namely the concession of silly frees and bad shooting, need to be eradicated if we are to be victorious next weekend.
The mentors would like to wish Fergus Wade, who was released from hospital on Sunday morning, a speedy recovery from injury. We also hope that all Magpie supporters will get behind our team for the County Final next Saturday in Kilbarry v Na Piarsaigh @ 4pm.
Scores for Midleton; Tommy O'Connell 0-05(4f), Ross O'Regan 1-01, Jake Shanahan 1-00, Sam Quirke 0-02, Ciaran Evans 0-01(f), Garry Carroll 0-01, Cian Murray 0-01;
Our panel was represented by: Ryan O Riordan, Ronan Lynch, Evan Rowlands, Griffin Hurley, Alan Power, Adam O Connell, David Scanlon, Eabhan DeBarra, Niall Higgins, Coleman Quinn, Cormac Hill, Sam Quirke, Cormac O Brien, Garry Carroll, Kian Farmer, Tommy O Connell (c), Jake Shanahan, Tunde Olotu-Jubril, Ross O Regan, Cian Murray, Sean O Sullivan, Fergus Wade, Mark Daly, Ciaran Evans, Christian Murphy, Ross Shanahan
Upcoming Juvenile Club Dates
The following dates may be of interest to parents.
July 1st to 5th Kellogg's Cúl Camp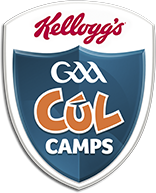 July 10th & 11th Juvenile Golf Classic
Club Gear
The Club shop will be open each Saturday morning from 11am to 12, a full selection of gear is available including new club branded base layer tops. Anyone looking for presents can also buy gift vouchers from the club shop. Full price lists are available on the club website www.midletongaa.com