Midleton GAA News
26 May, 2013
Midleton Hurling & Football Notes
Senior Hurling
Our senior hurlers after waiting since the draw was made last December will finally cross caman's this coming Sunday afternoon in the first round of the Championship against Douglas in Carrigtwohill @ 4pm. Their preparations have gone well and with two recent good league victories confidence should be high. The executive would like to wish the management and the players the very best of luck for this difficult fixture.
The host club has advised us to inform our supporters that as our game is part of a double header only essential parking will be provided in their club grounds, it is suggested to seek parking in areas around the village to avoid traffic congestion.
On Saturday evening next @ 7.30pm we are hosting the first round game between Blackrock and Killeagh. Any club members that are available to clean up the club grounds on the morning of the game and lend a hand at the game should contact any club officer. It would also be worthwhile to note that only essential parking will be provided in our club grounds for Officials and players, it would be better advised to park in the train station (free) and in area's outside the town so to avoid traffic congestion before or after the game.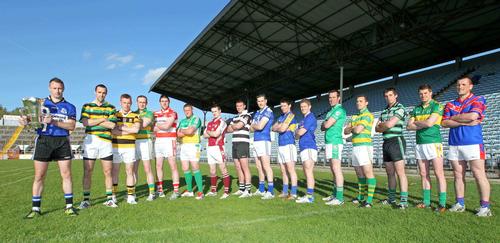 Minor Football
Our Minors defeated Whites Cross in St Colman's Community College last Tuesday evening in the 12 a side non exam League. It was a very one sided game and noteworthy for the scoring exploits of 2.06 by Bryan Rossiter.
Final Score: Midleton 4-15 v 0-09
Panel: Josh Deady, Luke Morrissey, Gavin Bagnell, Bryan Rossiter, Luke Dineen, Cillian Lynch, Sean O Farrell, Lochlinn Mc Carthy, Patrice Tschmanga, Kevin Rohan, Ciaran Maloney, Brian O Mahony, Killian Deady & Padraig O Brien.
Fixtures
Tuesday 28th Minor Non Exam Football league v Fermoy in St Colman's Community College @ 7.30pm
Friday 31st May Rebel Og Fe13 Premier 1 Hurling Championship v Sars in Kilbarry @ 7.30pm
Saturday 1st Minor Non Exam Hurling League v Cuchullains in Kanturk @ 7.30pm
Saturday 1st Senior Hurling Championship Blackrock v Killeagh in Midleton @ 7.30pm
Sunday 2nd June Senior Hurling Championship v Douglas in Carrigtwohill @ 4pm

GAA Golf Society
Last Friday evening the GAA Golf Society had a very successful outing at Castlemartyr Resort (Capella) kindly sponsored by Gary Johnson of the Maple Leaf Bar. There was a good turnout for the event which was won by Anthony Wall with a great score of 42 points, second was Jerry Mc McCarthy, and third was John Hogan. Best front nine Mark Savage and best back nine Dan O Connor.
GAA Golf Classic
Our annual Juvenile Golf Classic which was launched recently will be held on Wednesday 10th and Thursday 11th of July at East Cork Golf Club and will once again be kindly sponsored by Blackwater Motors Cork, Fermoy and Skibereen.
The format this year will be a 3 Ball Scramble event with teams costing 120e and sponsorship of tee boxes costing 50e.
The Timesheet which is now open can be booked by contacting Anthony Wall @ 086/3154016 or Coleman Quirke @ 087/2523759.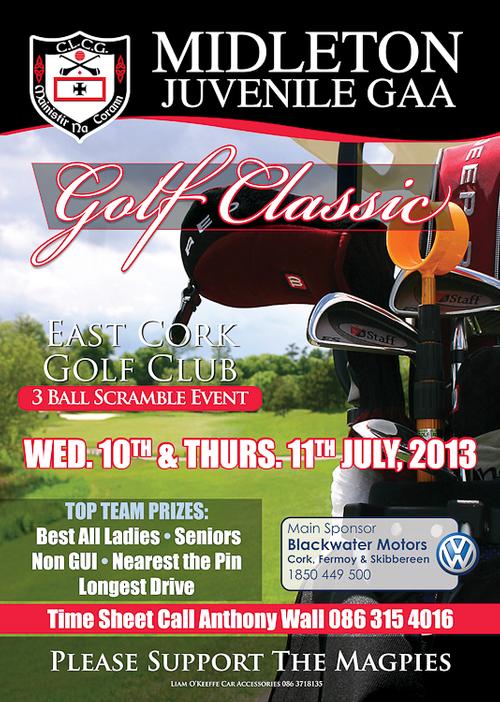 Club Lotto
Our Lotto Jackpot is currently at 5,800e, the numbers drawn were 2, 20, 22 & 28, no jackpot winner so this weeks lucky dip winners were; Jerome Curtin c/o Club, Fr Denis Kelleher c/o Club, Frank Mc Carthy c/o Frank Murphy Butchers, Catherine Desmond c/o Bingo & Frank Quinlan c/o Bingo.
Tickets can be purchased from any of the following outlets for a little as 2euro – O Neills Bar, Linehans Bar, Club Bar, Maple Leaf Bar, O Farrell's Butchers, Frank Murphy Butchers and Chadwick's.
We also have monthly; yearly and direct debit payment options available, for further information please contact any club officer.
Over 60`s Talent Contest FInal
Congratulations to Charlie McAllister who won the Over 60's Talent Contest Final in the City Hall last weekend, Charlie was a beaten finaist two years ago.

BINGO for all every Friday night in the GAA Pavilion from 8pm, guaranteed Jackpot of 1,000 euro!!
Juvenile Notes
Fe 12
Our Fe12 hurlers welcomed Glen Rovers to the CBS Field on Wednesday 22nd of May for the latest of the Rebel Óg league fixtures. We had 22 players and played two games of 11 a side. The format was two equal teams playing 20 minutes a side although as it turned out the games had very different results.
We generally played well but could maybe have fought a bit harder for the ball. Both games were tough and both clubs will be happy with both the scores and saves throughout. In the end it was one win and one loss for each club. Well done to all who played and thanks to Glen Rovers for travelling and for providing great competition.
Thanks also to the Fe 11 players who helped us make up the numbers
Hurling blitz, Dundrum Co Tipperary
Our Fe12 hurlers along with some help from the Fe 11 team made the trip to Tipp on Saturday 25th May. The Event was a blitz run by Knockavilla Donaskeigh Kickhams with teams from Tipperary, Offaly, Dublin, Limerick and Abbeyside taking part.
As per competition rules there was an A and a B panel; each playing for Cup, Shield or Plate at each grade. On what was a perfect day for hurling our B panel was the first out against Dublin team Ballyboden/ St Endas. We got off to a slow enough start and were trailing at half time but a great second half effort from the lads proved enough to take the first match. Next up were our A Panel again against Ballyboden/ St Endas. This was a lively battle from the start and there was never a gap between the teams. To give our lads their due they gave their all to make it two out of two against the Dubs! There was no break before the next two matches firstly our B panel v Tipp outfit – Sean Treacys. This match proved a good challenge for our lads and some top class girls on the opposition team gave little away in terms of strength in the challenge. We however took the game well in the end. Our A panel started immediately after with a game against Limerick side – Na Pairsaigh. Like the first match this proved to be a battle from start to finish. With some great bite and great skill from both teams. All along it was a tight affair and had it not been for a great goalkeeping performance from Alex Quirke we may have struggled in this match. In fact the highlight of the day came from our keeper who made a fantastic mid height, full stretch save to keep the Limerick lads at bay. Unfortunately despite our best efforts we lost this game by just one point. After a long break, our A Panel played in the shield final which didn't go our way even with some great skill being shown and our lads picked up the silver medals. Our B panel then took on Abbeyside/ Ballinacourty. This turned out to be a very one sided affair with the Midleton lads showing great skill and focus to win the cup by a health margin. With cries of Olé, Olé etc for the awarding of the cup to captain Dan O Sullivan it was a great finish to a great day for the Cork team. Many thanks to all in Dundrum for the wonderfully run tournament and great hospitality. Thanks also to our opponents and of course our fine bunch of players for the great performances put in on the day.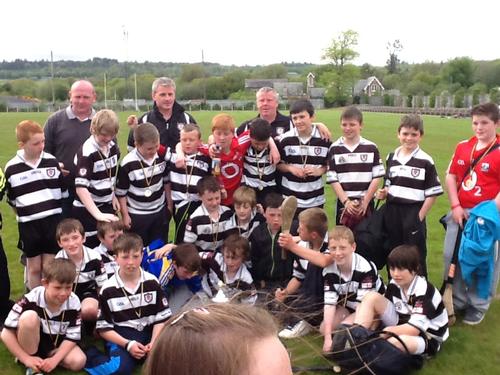 Fe13
Our hurlers played a very useful hurling challenge against Blarney recently in preparation for the Championship game v Sars next Friday, we wish them luck.
Fe14
Our hurlers defeated St Finbarr's in the Premier 1 Rebel Og league last Friday evening at home by 4-11 v 1-05.
Sciath na Scoil
Best of luck to the CBS Primary hurlers and coach Jim O Sullivan playing the final on Wednesday v Carrigtwohill in Pairc Ui Rinn @ 11am.
Gumshields
Correspondence from Pairc an Crochaigh.
This is to rremind clubs the importance of implementing Rial 4.3 TO 2012 (Part II)
"In all Football Games and Practice Football Sessions, it is mandatory for all players to use a mouth guard (Note Effect dates of this rule) Grades up to and including Minor 1/01/2013 for all players 1/01/2104".
It has been brought to our notice that some players are disregarding this directive. It is in the clubs interest that this rule is adhered to, failure which results in an injury could mean that the injury claim would not be certified.
Failure to comply could mean a player being dismissed by the referee.
Saturday coffee mornings
With training back in action on Saturday mornings at the main pitch we have once again opened up the club lounge with free tea and coffee for parents of players.
Why not drop in and meet up with parents from your child's team.
Any parent who wants to help serving the teas /coffees is more than welcome.
Upcoming Juvenile Club Dates
The following dates may be of interest to parents.
July 1st to 5th Kellogg's Cúl Camp
July 10th & 11th Juvenile Golf Classic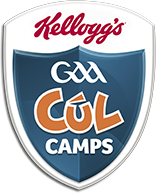 Club Gear
The Club shop will be open each Saturday morning from 11am to 12, a full selection of gear is available including new club branded base layer tops. Anyone looking for presents can also buy gift vouchers from the club shop. Full price lists are available on the club website www.midletongaa.com