Midleton GAA News
19 May, 2013
Midleton Hurling & Football Notes
Senior Hurling
In preparation for our up and coming Championship game Carrigtwohill kindly gave us the use of their field and Bishopstown obliged by playing our RedFM league game last Sunday morning.
Both teams were missing a few regulars but featured their inter county players in what turned out to be a very high scoring game in perfect conditions. We led at halftime by 1.13 v 1-08 and in the second half uped the tempo even further and surged into a very commanding lead. They fought to the very end and were rewarded with some late scores. Overall we will be quiet happy with the performance and most importantly we avoided any injury's. We now look forward to the Championship game v Douglas on Sunday week
Final Score: Midleton 4-18 v Bishopstown 3-15
Team: Tommy Wallis, Alwyn Kearney, Patrick O Mahony, Elliot Mulcahy, Seamus O Farrell, Finbar O Mahony, James Nagle, Paul Haughney, Peter Dowling, Conor Lehane, Padraig O Shea, Padraig O Keeffe, Patrick White, Luke O Farrell & Ian Kennefick. Sub used Leslie Coughlan for Paul Haughney.

Junior Hurling
Last Friday evening in Carrigtwohill our Junior 2 hurlers played the hosts in the East Cork Hurling league and despite a brave effort over the hour we lost out on a score of 2-16 2-09.
Team: Coran Swayne, Pat Stack, Pat Fox, Joe Collins, Niall O Regan, Colm Leahy, Liam Clohessy, Shane Ryan, Gavin Hurley, Brendan Ferriter, Keith Ryan, Phillip O Neill, Willie O Brien, Sean Corcoran & Ian Fitzpatrick. Subs used Paul O Brien & Paul Ahearne.
Minor Hurling
Our Minors defeated Fermoy away last Friday evening in the 12 a side non exam League. It was a very even game throughout but we defended well and held out for a good victory.
Final Score: Fermoy 1-13 v Midleton 1-15
Team: Byran Rossiter, Luke Morrissey, Gavin Bagnell, Josh Deady, Luke Dineen, Cillian Lynch, Sean O Farrell, Lochlinn Mc Carthy, Patrice Tschmanga, Kevin Rohan, Ciaran Maloney & Brian O Mahony subs used Killian Deady & Padraig O Brien.
Fixtures
Monday 20th Fe13 Rebel Og Hurling league v Blarney away @ 7pm
Tuesday 21st Minor Non Exam Football league v Whites Cross in St Colman's Community College @ 7.30pm
Wednesday 22nd Fe12 Rebel Og Hurling league v Glen Rovers in the CBS @ 7pm
Wednesday 22nd Fe13 Rebel Og Hurling league v Blackrock in the main field @ 7pm
Friday 23rd Fe14 Rebel Og Hurling league v St Finbarrs in the Main field @
7.15pm
Saturday 25th Fe 7 Hurling Challenge v Douglas in the main pitch @ 12
Saturday 25th Fe12 Hurling Blitz v Knockavilla Kickhams/Donaskeigh (Tipperary)
Saturday 25th Munster Senior Football Championship Limerick v Cork at the Gaelic Grounds @ 7pm

St Colman's Community College Field
With the kind permission and co operation of School Principal Mr. Gerry Kelly we have recently completed development works to the general playing area. Works included the cleaning/clearing up of the general area, the car park area was cleared and blinding was put down, netting was put up behind the goals at the St Marys end and a 40ft container has now been put in place to act as dressing rooms and a store. Many thanks to all our club members and supporters who assisted with these works. The executive of the club has invested quite a lot of finance in preparing this facility and hopes it will be utilised for matches and training immediately. Bookings can be made on the Club notice board at the GAA Club.

GAA Golf Society
On Friday next the 24th of May the GAA Society have an outing at Castlemartyr Resort (Capella) kindly sponsored by Gary Johnson of the Maple Leaf Bar, Tee time 3.30 to 5pm, all members and intending members are welcome.
GAA Golf Classic
Our annual Juvenile Golf Classic which was launched recently will be held on Wednesday 10th and Thursday 11th of July at East Cork Golf Club and will once again be kindly sponsored by Blackwater Motors Cork, Fermoy and Skibereen.
The format this year will be a 3 Ball Scramble event with teams costing 120e and sponsorship of tee boxes costing 50e.
The Timesheet which is now open can be booked by contacting Anthony Wall @ 086/3154016 or Coleman Quirke @ 087/2523759. Our committee members will be contacting our past sponsors and supporters in the coming weeks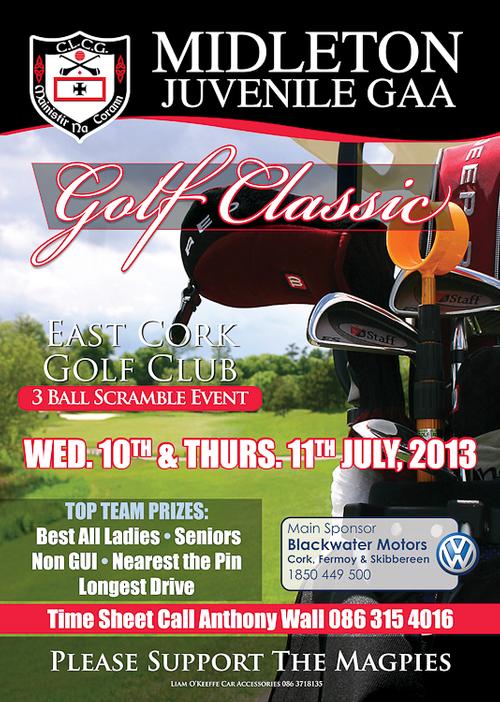 Social Media
Keep in touch with up to date Club news, results and fixtures on FACEBOOK and TWITTER @MidletonGaa.
Club Lotto
Our Lotto Jackpot is currently at 5,600e, the numbers drawn were 2, 10, 24 & 28, no jackpot winner so this weeks lucky dip winners were; John Fenton, Suncourt, Mary Cody, Forrest Hill, Patrick Kelly, Ballyedmond, Teresa Lawton, Knockgriffin & Dawn O Sullivan, Tim Dalys Terrace.
Tickets can be purchased from any of the following outlets for a little as 2euro – O Neills Bar, Linehans Bar, Club Bar, Maple Leaf Bar, O Farrell's Butchers, Frank Murphy Butchers and Chadwick's.
We also have monthly; yearly and direct debit payment options available, for further information please contact any club officer.
BINGO for all every Friday night in the GAA Pavilion from 8pm, guaranteed Jackpot of 1,000 euro!!

Juvenile Notes
Fe10
Last Seaurday our Fe10 hurlers played in a Blitz in Killeagh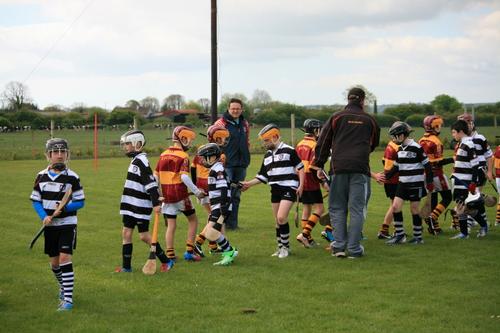 Fe11
Our hurlers had a good workout last Friday evening in CBS field against a Ballincollig were after some entertaining hurling we emerged victorious in both games with all the panel involved throughout.
Fe14
Our hurlers defeated Sars in the Premier 1 Rebel Og league by 8-16 v 0-04 last Sunday morning.
Hard Luck to the Midleton players and selector Alwyn Kearney who represented Midleton CBS in the Rice Cup Final v Thurles CBS in Cashel last Wednesday unfortunately losing out to a stronger side.
Saturday coffee mornings
With training back in action on Saturday mornings at the main pitch we have once again opened up the club lounge with free tea and coffee for parents of players.
Why not drop in and meet up with parents from your child's team.
Any parent who wants to help serving the teas and coffees would be more than welcome.
Upcoming Juvenile Club Dates
The following dates may be of interest to parents.
July 1st to 5th Kellogs Cúl Camp
July 10th & 11th Juvenile Golf Classic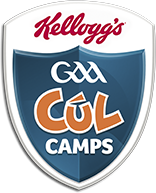 Kellogg's GAA Cúl Camps
Kellogg, the market leading producer of cereals, and cereal snacks is proud to be the official partner to GAA Cúl Camps. Kellogg's GAA Cúl Camps is the first major partnership between Kellogg and the GAA and aligns the global family brand with Ireland's largest sporting organisation.
The partnership is a great fit for the two organisations both of which are at the heart of family life in Ireland. Since the introduction of Kellogg's to Irish breakfast tables in 1924, the brand has become synonymous with breakfast time. Here in Ireland, people eat more breakfast cereal at 8kg per head than anywhere else in the world and Kellogg's philosophy is that good health depends on a good diet and active lifestyle.
According to Jim McNeill, Managing Director of the Kellogg Company of Ireland: "This is a great partnership for Kellogg, since like the GAA, we have a grassroots presence in homes across Ireland. We are delighted to be involved in a partnership which involves Irish kids participating in team sports and learning sporting and personal skills which will help them to grow, develop and be their best."
During the course of the partnership, Kellogg, which has a presence in 3 out of 4 Irish homes, has the potential to increase participation levels in GAA Cúl Camps which are the most popular sporting camps in the country, with over 80,000 children participating per annum. Kellogg's GAA Cúl Camps are promoted with an extensive media campaign which includes a presence on Kellogg's cereal packets.
Further details available from Midleton GAA Cul Camp Co ordinator Patrick Beausang @ 086/2284185 or from any Club Officer.

Club Gear
The Club shop will be open each Saturday morning from 11am to 12, a full selection of gear is available including new club branded base layer tops. Anyone looking for presents can also buy gift vouchers from the club shop. Full price lists are available on the club website www.midletongaa.com