Midleton GAA Notes 1st April 2013
01 April, 2013
Midleton Hurling & Football Notes
Bagatelle Concert
It was no Summer in Dublin but a great Spring night in Midleton was had by all who came to the Bagattelle Gig on Sunday 31st of March. The night started off with an acoustic set from The Reverse and then came the main event where Bagatelle brought back great musical memories. Liam Rielly & Co played a two hour set of their own hits as well as a few great covers. Here's to more great gigs in the club.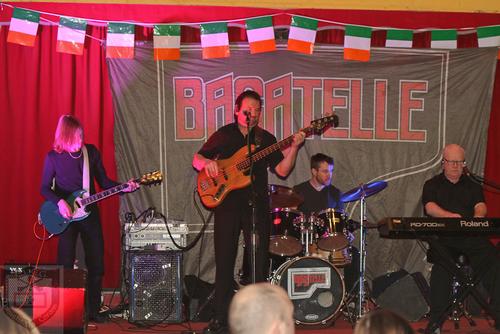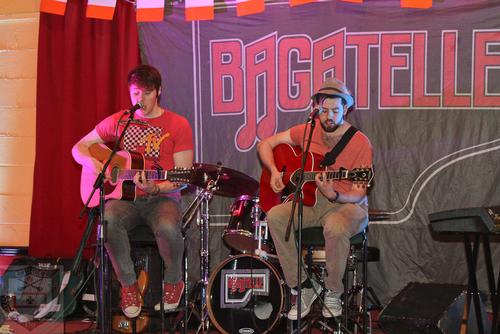 Last Man Standing
This year's competition kindly sponsored by GARDE ENGINEERING based on the Premiership took place again last weekend, with most punters selecting Man City & Arsenal it looks like almost everybody will progress again to next weekend, further information are available on the club website in Last Man Standing Page. see image below


Junior A Football Championship
Last Saturday we played Carrig na bhFearr in the first round of the above championship at Rathcormac.
Carrig played with a considerable wind led 0-2 to 0 after 10 min, we equalized after 15 min and it was point for point up to half time when Brian Behan made two point blank saves to deny certain goals to leave them a point up. We only had a single point in 2nd half and were very disappointing with Brian Behan forced to make another great save. We now await our opponents in the back door over the coming fortnight.
Midleton scorers, D Ryan 0-3, Patrick White 0.01, K Mulcahy 0-1, N Madden 0-1.
Final Score Carrig na bhFearr 1.08 v Midleton 0.06
Team: Brian Behan, Joe Collins, Barry Fitzgerald, Brian O Sullivan, Eoin Ferriter, Seamus O Farrell, Leslie Coughlan, Patrick O Mahony, Patrice Tschmanga, Niall Madden, Declan Ryan, Ian Kennefick, Patrick White, Padraig O Shea and Kieran Mulcahy. Joe Collins replaced Padraig O Farrell from the start with Eoin Ferriter moving to wing back. Shane Harrington replaced Eoin Ferriter (45min). Philip O Neill for Niall Madden (injured, 55min)

U21 Football
Following on from their great semi final victory over Glanmire our footballers now meet Erin's Own in the East Cork final in Lisgoold next Saturday @ 5pm, a great effort will be required as we'll have to do without the services of ace marksman Stephen Moore who has gone to Boston and Killian Burke who received a collarbone injury recently.
Allianz National Hurling League
At Nowlan Park Kilkenny last Sunday the hosts consigned a gallant Cork side to a relegation play off against Clare with a strong second half performance.
The sides were level at 0.07 pts a piece at halftime with Cork having the upper hand. However despite a spirited late comeback Kilkenny held on to win by 0.20 v 2.12. Well done to both Luke O Farrell (1.01) and Conor Lehane (1.03) who played vital roles in this game, Cork now face Clare on the 14th April.

Fixtures
Saturday 6th April U21 East Cork A Football Championship final v Erins Own in Lisgoold @ 5pm
Sunday 7th April Red FM Senior Hurling League v Bride Rovers away @ time TBC
Thursday 11th April Munster Minor Hurling Championship Cork v Clare in Pairc Ui Rinn @ 7pm
Saturday 13th April Red FM Senior Hurling League v Sars @ home, time TBC
GAA Golf Society/Golf Classic
Last Saturday was the first outing of the GAA society, the Easter Hamper competition sponsored by Bernard Cashman Car Sales was held in East Cork Golf Club.
There was a healthy turnout of over 40 players, the overall winner on 41pts was Tom Mintern who was presented with his Hamper by Bernard Cashman and Captain Conor O Brien. Congratulations to all our various prize winners, Conor O Brien, Paudie O Keeffe, John Droog, Jim O Keeffe, Willie Ring, Jim O Sullivan, Liam Walsh and Pat O Brien, the next outing will take place on the 15th of May at Fota Golf Club.
Also on the day our annual Juvenile Golf Classic was launched, it will be held on Wednesday 10th and Thursday 11th of July at East Cork Golf Club and will once again be kindly sponsored by Blackwater Motors Cork, Fermoy and Skibereen.
The format this year will be a 3 Ball Scramble event with teams costing 120e and sponsorship of tee boxes costing 50e. Further details will be posted on the website very soon, the Timesheet which is now open can be booked by contacting Anthony Wall @ 086/3154016 or Coleman Quirke @ 087/2523759. Our committee members will be contacting our past sponsors and supporters in the coming weeks.
Social Media
Keep in touch with up to date Club news, results and fixtures on FACEBOOK and TWITTER @MidletonGaa.
Club Lotto
Our Lotto Jackpot is currently at 4,200e, this week winners can be found on our website. Tickets can be purchased from any of the following outlets for a little as 2euro – O Neills Bar, Linehans Bar, Club Bar, Maple Leaf Bar, O Farrell's Butchers, Frank Murphy Butchers and Chadwick's.
We also have monthly; yearly and direct debit payment options available, for further information please contact any club officer.
Club Gym
Gym membership for 2013 is now available in conjunction with club membership. The fee for full membership for 2013 is €150 and €100 for students and unwaged. These prices include full club membership. Once full payment is made you can start using the gym as soon as you complete the induction course run by Paudie O'Keeffe. Only FULLY paid up members will be issued with fobs to access the gym.
For further information or to apply for club and Gym membership; please contact Terence McCarthy on 086 6013228.
Club Membership
For full details of the 2013 Membership rates please log on to our Club website and check out the Download section for a detailed breakdown of the various packages available. Contact our Membership Officer Terence McCarthy @ 086/6013228 for any further queries.

BINGO for all every Friday night in the GAA Pavilion from 8pm, everyone welcome.
Juvenile Notes
Fe 15
Midleton's Fe 15 team welcomed a strong Imokilly side to Clonmult Memorial Park for a hurling challenge on Thursday 28th.
In what turned out to be a very strong test the Midleton lads took a defeat from the divisional team. Full report next week.
Fe 13
Midleton's U13 Footballers had a comprehensive win in their opening League game V Inniscarra at Home on Sunday 24th March on a scoreline of 5-12 to 1-4. Played in freezing conditions with high winds. Midleton. playing with the gale force wind led by 3-11 to no score at half time so the game was well over as a contest at that stage.
It was great to see some very clever and flowing football played by this Midleton Team, against opponents who were short a number of their squad. Midleton Team was; Niall Higgins, Alan Power, Ciaran Evans, Mark Daly, Adam O Connell, Sean O Sullivan, David Scanlon, Griffin Hurley, Conor O Leary, Ronan Lynch, Tommy O Connell, Evan Rowlands, Eabhan deBarra, Cormac O Brien, Coleman Quinn.
Midleton had a deserved win in the opening round of the Premier U13 Hurling League in Mallow today on a scoreline of 2-6 to 0-7. The game was played in dry but freezing conditions on a well groomed Mallow pitch. Playing with the breeze in the first half Midleton were 1-3 to 0-5 ahead at the short whistle. All but one of the Mallow scores came from frees and Midleton will have to cut down on giving away silly frees. Team: Niall Higgins, Christian Murphy, Alan Power, Evan Rowlands, Cian Murray, Sean O Sullivan, Ciaran Evans, Fergus Wade, Ross O Regan, Adam O Connell, Tommy O Connell, Jake Shanahan, Coleman Quinn, Cormac O Brien, Sam Quirke. Tunde Objil, Ryan O Riordan.
Fe 12
Midleton hosted Killeagh in the Rebel Óg football league on Thursday 28th March. Midleton CBS was the venue and with many folks away on holidays we drafted up some Fe 11's to help the cause.
Killeagh brought 20 players so we had two teams of 10 play 30 minute a side games.
Killeagh started well in both games and were first to score. In fact Midleton looked like they might struggle to cope in one of the games early on. The lads however knuckled down and with 10 minutes gone in the match started to show their skills. By half time Midleton were on top and they followed up with another strong second half coming out comfortable winners in both games.
Many thanks to Killeagh for travelling and providing a decent test for our lads. No doubt we'll have a closer run in the hurling.
Training Match
In the bitter cold on Saturday 30th of March our Fe 10, 11 & 12 teams met up for a training match amongst each other. Three teams of equal levels played out a cracking hours hurling. While the parents froze on the sidelines the kids showed their youth by playing on without complaint. It turned out to be a great morning on what may otherwise have been a blank day due to the Easter Holidays.
Juvenile Flag Day
Our thanks to Hurleys Supervalu and all those who contributed to the annual Juvenile flag day which took place on Saturday 30th. We even had contributions from members of other clubs (no names of course)!
Thanks also to those who turned up to help with the collection.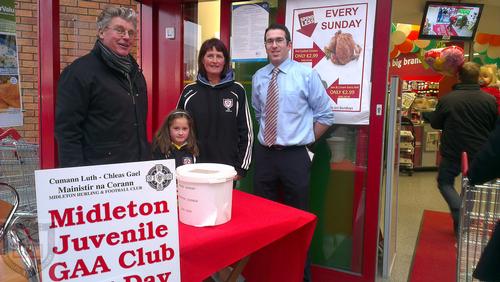 L to R Frank Bransfield, Marcella Scanlon and from Hurleys Supervalu - John Cremin
Easter GAA Camp
Following on from last years success the Juvenile club will once again run a two day Easter GAA camp this year. Details if you wish your child to attend are below:
• VENUE: Midleton GAA club
• DATE : April 4th and 5th
• TIME : 10 -1 pm
• COST: €10 per child per day and 5 euro for each subsequent child per day to be paid each morning of attendance.
• PAYMENT: Each morning on arrival at sign in.
• WHAT TO BRING: HURLEY, HELMET, GUMSHIELD's, LUNCH, RAINGEAR, FOOTBALL BOOTS AND RUNNERS.
• HOW TO BOOK A PLACE: Please text Cormac Quirke on 086 0783365 giving CHILDS NAME and TEAM MANAGERS name and whether attending on one or both days.
In the event of rain we have access to club hall and ball alley. It is vital that both football boots and runners are brought.
All children MUST be signed in with a guardian in attendance each morning AND be collected from club grounds at the end of each session.
Upcoming Juvenile Club Dates
The following dates may be of interest to parents.
• April 4th & 5th Easter GAA Camp in club
• April 27th Mercy Hospital Charity Fun Walk
• July 1st to 5th Cúl Camp
Gaeltacht Scholarships 2013
Scholarships to the gaeltacht at Coláiste na Mumhan are available to students between the ages of 12 and 18 years of age, who are active members of their clubs. The Scholarship reduces the prices of the three-week courses (Cúrsa A & B) and a new two-week course (Cúrsa C). Please be advised that these scholarships are provided on a first come first served basis.
Cúrsa A - Three week course 2/6/2013 - 23/6/2013
Cúrsa B - Three week course 30/6/2013 - 21/7/2013
Cúrsa C - Two week course 2/6/2013 - 15/7/2013
For full details see the club website www.midletongaa.com
Gum Shields
From the 1st of January 2013 it is now compulsory for juvenile players to wear gum shields (mouth Guards). The rule relates to both football training and matches. This ruling has come from GAA Headquarters and anybody not wearing a gum shield and who subsequently gets injured during a match or training session will not be covered by GAA insurance.
GAA recommended gum Shields can be purchased from our juvenile club sponsor Murphy's Pharmacy in Midleton.
Please ensure that your child has a gum shield for every training session and game.
Training
Most teams are back training now following the Christmas break. Training times can be found on the club website www.midletongaa.com . On the juvenile team page for your child's team training times have been posted. We would ask parents to encourage their children to practice during the week even if the weather is bad, parents can practice catching the ball indoors. For players from junior infants to Fe 9 please remember to bring your €2 to training sessions. This money is vital to keep the juvenile section of the club funded.
Midleton Juvenile Golf Classic
The dates for the 2013 juvenile Golf Classic have been confirmed as Wednesday 10th and Thursday 11th of July. We hope this year's event can live up to the quality of the previous years and that the community support it as well as in the past. Please spread the news to those who you think might sponsor a team or a prize.
2013 Cúl Camp
Following the standing down of Jim O'Sullivan who previously managed the Cúl Camp arrangements Pa Beausang has stood up to the plate to arrange this year's event.
The 2013 Cúl camp will take place from July 1st to 5th in the Club.
More details will be available nearer to the starting date.
The club would like to thank Pa for his help with this year's Cúl Camp
Club Gear
The Club shop will be open from 10.30am to 12pm on Saturday mornings. A full selection of gear is available including new club branded base layer tops. Anyone looking for presents can also buy gift vouchers from the club shop. Full price lists are available by clicking HERE