Midleton GAA Notes 4th February 2013
04 February, 2013
Midleton Hurling & Football Notes
Minor Football
On Sunday last our Minor Footballers kick started the playing season with a fine victory 3.07 - 0.05 over Youghal in the Premier 2 County Football league at the St Colman's Community College grounds.
Team: Bryan Rossiter, James Carroll, Gavin Bagnell, Seanaidh Smyth, Darren Quirke, Alan Stanton, Billy O Shea, Cormac Beausang, Padraic Nagle, Sean O'Farrell, Michael Abernethy, Killian Deady, Robert Williams, Garan Manley & Brian O'Mahony, subs used Conan Finnegan, Josh Deady & Luke Dineen.
For more photos of the game click HERE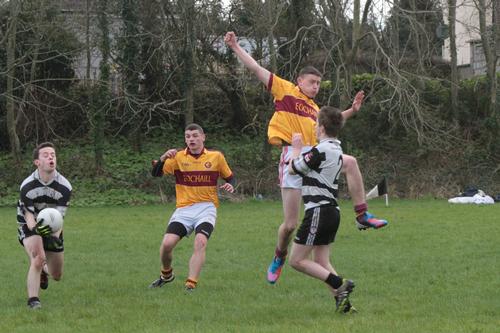 The minor team are holding a table quiz in the club on Friday 1st of March. Your support would be greatly appreciated. For further information please contact John Ferriter on 086 8034442

Last Man Standing
This year's competition kindly sponsored by GARDE ENGINEERING will once again be based on the Premiership and will commence next weekend the 9/10th of February. Tickets costing only €10 are now available from Declan Ryan @ 086-3864280. Further information is available on the club website www.midletongaa.com

Anniversary and Medal Presentations
On St Patrick's night the 17th of March a night of celebration will be held in the GAA Club. The 1962 Intermediate County Hurling Champions, 1963 East Cork Minor Hurling Champions and the 1988 All Ireland Club Hurling Champions will be honoured.
Also on the night medals will be presented to the East Cork winning teams, Junior B, Junior C and U21 Hurling along with the players Player of the Year awards.
Further details of the events planned for the night will be confirmed shortly.
Championship Draws/League
The draws for the East Cork Championship were made last week and the following will be our opponents in the various grades.
Junior A Football v Carrig na bhFear
Junior B Football v Castlelyons
Junior A Hurling v Castlemartyr
Junior B Hurling v Aghada
Junior C Hurling v Dungourney
Our Junior Footballers will participate in the East Cork League Division 2 with Fr O'Neill's, Glanmire, Ballinacurra, Castlemartyr & Glenville. The league will commence on the 17th February.

Coaching in the USA
One of our former greats is now one of the driving forces behind the hurling youth in Orange County New York!
Robert "Charlie" Ronayne from Knockgriffin, Midleton and former club player has been residing in Orange County for a number of years with his wife Maria and son Liam. His club St Brendan's Gaelic Football & Hurling Club has recently introduced underage hurling and Robert is lending his expertise to coach the local youth.
We wish them all well and hope in time that we may be able to pay them a visit.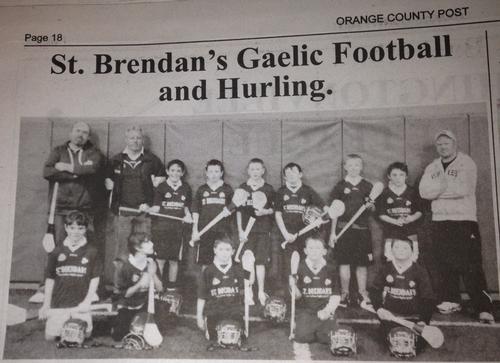 Club Lotto
Our Lotto Jackpot is currently at 2,600e, this week winners can be found on our website. Tickets can be purchased from any of the following outlets for a little as €2: O'Neills Bar, Linehans Bar, Club Bar, Maple Leaf Bar, O'Farrell's Butchers, Frank Murphy Butchers and Chadwick's.
We also have monthly; yearly and direct debit payment options available, for further information please contact any club officer.
Club Gym
Gym membership for 2013 is now available in conjunction with club membership. The fee for full membership for 2013 is €150 and €100 for students and unwaged. These prices include full club membership. Once full payment is made you can start using the gym as soon as you complete the induction course run by Paudie O'Keeffe. Only FULLY paid up members will be issued with fobs to access the gym.
For further information or to apply for club and Gym membership; please contact Terence McCarthy on 086 6013228.
Club Membership
For full details of the 2013 Membership rates please log on to our Club website and check out the Download section for a detailed breakdown of the various packages available. Contact our Membership Officer Terence McCarthy @ 086/6013228 for any further queries.

The Club executive would like to express their deepest sympathy to the family of the late Billy Ahern who died suddenly last week. Billy was a well known and much admired sportsman all over East Cork and Cork County.

BINGO for all every Friday night in the GAA Pavilion from 8pm, everyone welcome.
Juvenile Notes
Alcohol and Substance abuse programme
A series of events organised by Pearse McCarthy (ASAP Officer) is progressing nicely and is proving to be a useful information for our older juvenile players.
Week 3: Life Skills & Health Promotion Programme
The third part of our ASAP Programme was held in the club last Wednesday night and once again our guest speaker was Gordon Kinsley.
Gordon explained how the brain reacts to both Drugs & Alcohol. He then showed a short DVD on these topics.
The crowd were lively as usual, some more entertaining than others.... We thank you for your time along with Gordon and also for his expertise.
The fourth and final part of our course is on this Wednesday 6th February @7pm. This time we welcome John Dennigan of Foroige to talk to our young ladies & gentlemen
Any girls & boys in the Fe 15/16 age groups are very welcome even if you have not attended already.
We would be delighted if parents could come along when we award certificates to our young attendees. Light refreshments will be served afterwards.
Hope to see you there.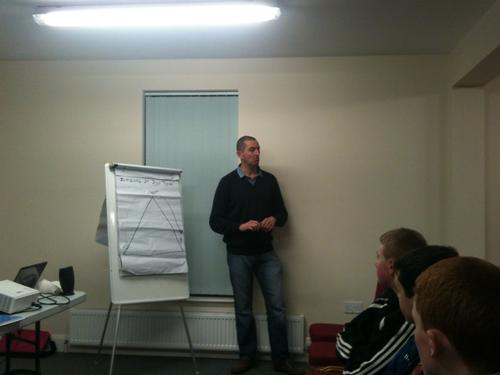 St Colemans Community College
Midleton GAA Club is delighted with a new 10 year agreement with St Colemans Community College. The agreement allows Midleton GAA club to use the Tech Field for training and matches both during the week and at weekends. The club have already started their investment in the pitch with new netting being erected at one end. There are plans to replicate the netting at the other end as well as providing storage facilities. The plan is to use the pitch for Fe 13's upwards with the younger players using the CBS field. It's great to see the funds generated by the club's fundraisers being used in such a positive way. Well done to all involved in working with the school to provide access to this great venue for the club.
The first match under the new agreement proved a positive one for the club. The minor footballers started off their league campaign with a win over Youghal. Well done lads.
St John the Baptist
Midleton GAA club have in association with St John the Baptist primary school have begun to introduce Gaelic games to the school for the first time.
Martin McSweeney (Club coaching officer) will train classes ranging from junior infants to second class on Tuesday mornings.
This is a wonderful development and one which will hopefully lead to a stronger club as well as healthy children.
Gaeltacht Scholarships 2013
Scholarships to the gaeltacht at Coláiste na Mumhan are available to students between the ages of 12 and 18 years of age, who are active members of their clubs. The Scholarship reduces the prices of the three-week courses (Cúrsa A & B) and a new two-week course (Cúrsa C). Please be advised that these scholarships are provided on a first come first served basis.
Cúrsa A - Three week course 2/6/2013 - 23/6/2013
Cúrsa B - Three week course 30/6/2013 - 21/7/2013
Cúrsa C - Two week course 2/6/2013 - 15/7/2013
For full details see the club website www.midletongaa.com
Gum Shields
From the 1st of January 2013 it is now compulsory for juvenile players to wear gum shields (mouth Guards). The rule relates to both football training and matches. This ruling has come from GAA Headquarters and anybody not wearing a gum shield and who subsequently gets injured during a match or training session will not be covered by GAA insurance.
GAA recommended gum Shields can be purchased from our juvenile club sponsor Murphy's Pharmacy in Midleton.
Training
Most teams are back training now following the Christmas break. Training times can be found on the club website www.midletongaa.com . On the juvenile team page for your child's team training times have been posted. We would ask parents to encourage their children to practice during the week even if the weather is bad, parents can practice catching the ball indoors. For players from junior infants to Fe 9 please remember to bring your €2 to training sessions. This money is vital to keep the juvenile section of the club funded.
Midleton Juvenile Golf Classic
The dates for the 2013 juvenile Golf Classic have been confirmed as Wednesday 10th and Thursday 11th of July. We hope this years event can live up to the quality of the previous years and that the community support it as well as in the past. Please spread the news to those who you think might sponsor a team or a prize.
Club Gear
The Club shop will be open from 7.30pm to 8.30pm on Thursday evenings and from 11am to 12pm on Saturday mornings. A full selection of gear is available including new club branded base layer tops. Anyone looking for presents can also buy gift vouchers from the club shop. Full price lists are available on the club website www.midletongaa.com