Midleton Hurling and Football, Ladies Football and Camogie Club Notes - November 2
02 November, 2023
CAMOGIE
COUNTY CHAMPIONS
JUNIOR B COUNTY CHAMPIONSHIP FINAL
MIDLETON 3-16 EIRE OG 1-9
What a day for Midleton Camogie. After a superb all round team performance we were crowned Junior B County Camogie Champions for 2023 at Castle Road on Saturday.
We took control early in the game with Lucy Wallis getting our first point from play to set us on our way. Two first-half goals from Vivienne Gleeson and points from Abbie Foley, Kate O'Sullivan, Sadhbh Beausang and Aoife Fitzgerald with two great 45s saw us lead at the break 2-6 to 1-4. Molly Beausang and Laura Goulding were dominating in the half back line while Isobell Nestor and the superb Yvonne Abernethy were starting to exert control in the middle of the field.
Immediately after the break Yvonne Abernethy added a great point. We were hurling with great confidence now and further points followed from Jodie Keegan O'Connell, Kate Sullivan, Vivienne Gleeson 3f's and Saoirse Ni Theangana off the bench. Emma Sullivan added a goal in injury-time to seal a fantastic win.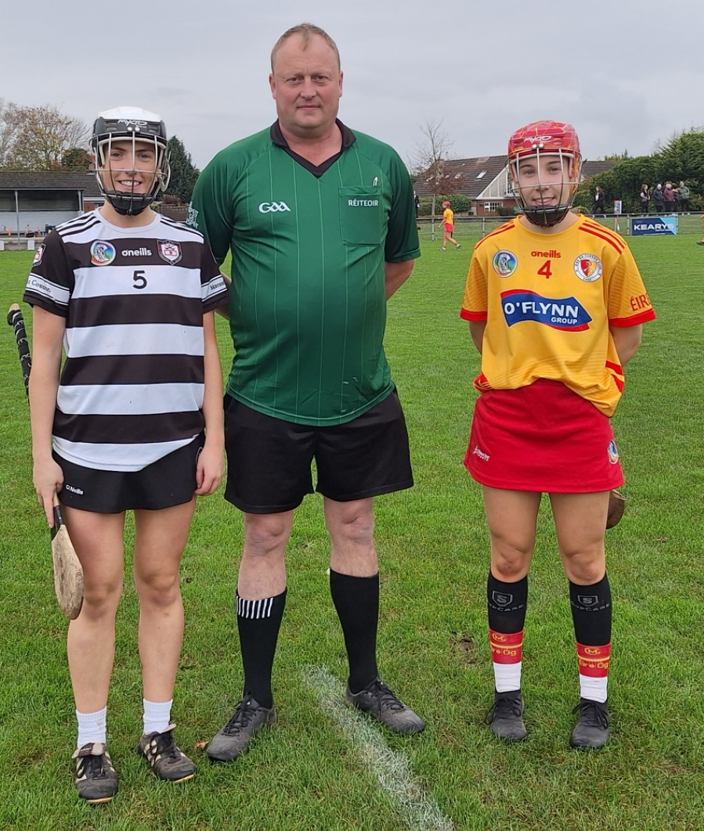 Midleton captain Molly Beausang with the referee and Eire Og captain before the game.
It was a great all round performance. Jill Connaughton was as reliable as ever in goals. The half back line of Molly Beausang, Aoife Fitzgerad and Laura Goulding were superb throughout, midfield duo of Isobelle Nestor and Yvonne Abernethy completely ran the show in that area of the field with Yvonne in particular driving forward at every opportunity.
All six starting forwards scored from play with two more scoring off the bench. Sorcha Cronin also made a big contribution when introduced in the second-half as did Muireann Ni Chonchubhair and Rachel Ryan. In all we had 28 girls togged out on Saturday and everyone of them have contributed at various stages during the season to get us over the line. Their commitment to training and supporting the team was essential in the great victory that everyone enjoyed on Saturday.
MIDLETON: Jill Connaughton, Megan Kelly, Leah Hogan, Ruthi Hennessey, Laura Goulding, Aoife Fitzgerald (0-3f), Molly Beausang, Isobel Nestor, Yvonne Abernethy (0-1), Jodie Keegan O'Connell (0-1), Lucy Wallis (0-1), Sadhbh Beausang (0-1), Vivienne Gleeson (2-5 4f), Kate O'Sullivan (0-2), Abbie Foley (0-1), Kate Griffin, Rachel Ryan, Saoirse Ni Theangana (0-1), Sorcha Cronin, Hannah Power, Elle McManus, Roisin O'Callaghan, Rayanna Power, Jade Fitzgerald, Caoimhe Cronin, Emma O'Sullivan (1-0), Muireann Ni Chonchubhair, Kelly Quirke.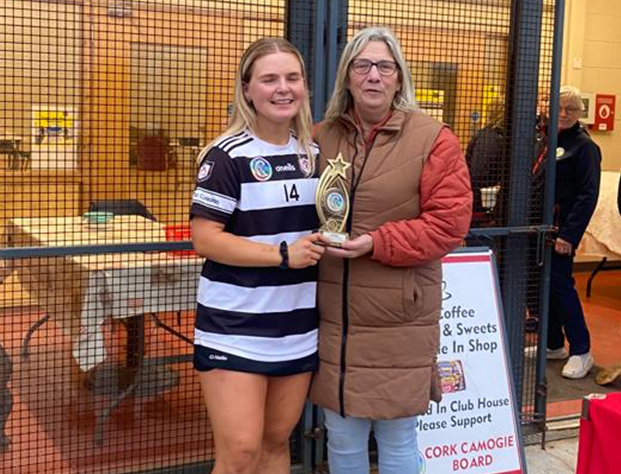 Vivienne Gleeson receives her player of the match trophy from Mary Newman of the County Board.
AGM
Our Camogie AGM will take place in the club on Wednesday 15th November at 7.30. All are welcome to attend.
JUVENILES
FÉ6S
After the floods stopped them last week, our new batch of Magpies will take the Community Centre for the first time on this coming Saturday, November 14, from 9.30am and if you haven't already done so you can still sign up or turn up on the day....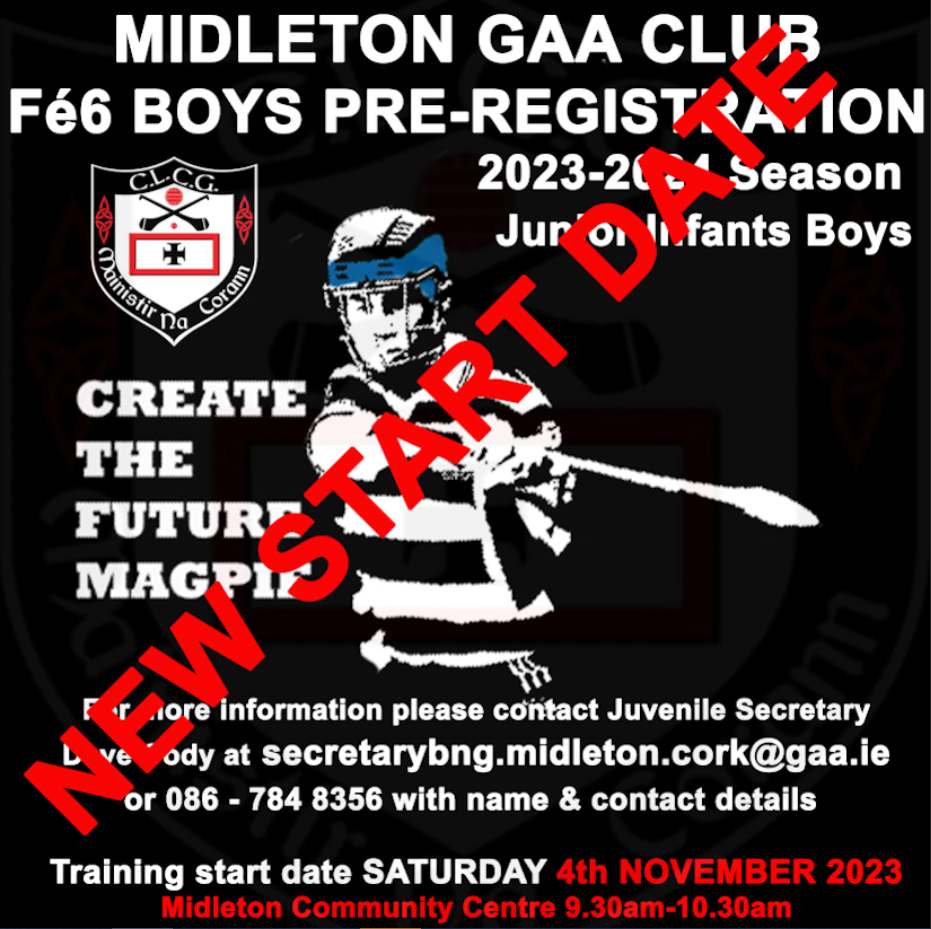 FÉ12S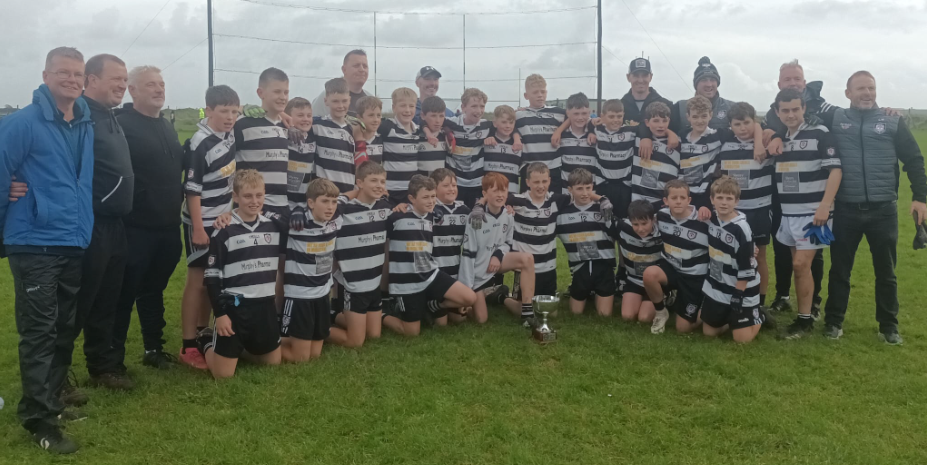 Our U-12s beat Youghal in the Football Cup Final on Saturday a scoreline of 6-8 to 2-4 at St Itas GAA pitch.
Down 2-1 to no score after five minutes our lads dug deep and showed great resolve to lead at half time 2-3 to 2-1.
It was like they said no way are we leaving this pitch without the cup, put shoulder to the wheel, and ran out deserving winners in the end.
Driving through the town afterwards with the cup and players out the sunroof was something they will remember for a long time. It was heartwarming to see business owners and street goers out clapping and saluting the players even after everything the town had gone through the past number of weeks. It was really uplifting. What a great town we live in!!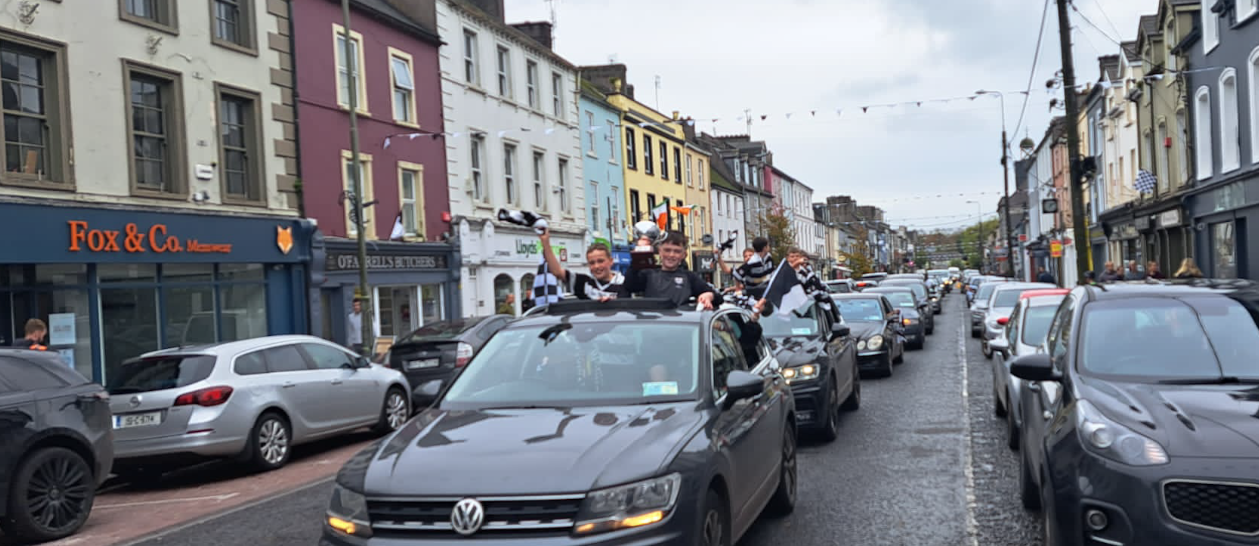 ---
FÉ14S
Our U-14 hurlers will be participating in the finals of the Munster GAA Super 10s competition in Mallow on Saturday (November 4). Best of luck lads.
FIXTURES
SATURDAY, NOVEMBER 4
Rebel Og Premier Fe16 Hurling Championship Premier 1
Midleton v Youghal at 11am at Clonmult Memorial Park
SUNDAY, NOVEMBER 5
Rebel Og Fe16 Hurling Championship Division 1 Section 2
Bishopstown v Midleton at Bishopstown at 8pm
LADIES FOOTBALL
MINOR CHAMPIONSHIP
On Sunday last we traveled to Clonakilty to play in the quarter-final of championship.
There was nothing between the sides. We didn't have that bit of luck on the day. Every girl should be so proud of themselves for the effort they gave against one of the best teams in the county who are a senior club and played in an U-16 A county semi-final only two years ago. Final score: Clonakilty 1-12 Midleton 1-8.
U-16 EAST CORK CHAMPIONSHIP
On Bank holiday Monday we played Youghal at St Ita's pitch. Having left Midleton in the torrential rain we arrived to beautiful sunshine in Pilmore. A fantastic team effort from all the girls saw us comfortable winners on the day. We will play Bride Rovers in the final. Details to be confirmed.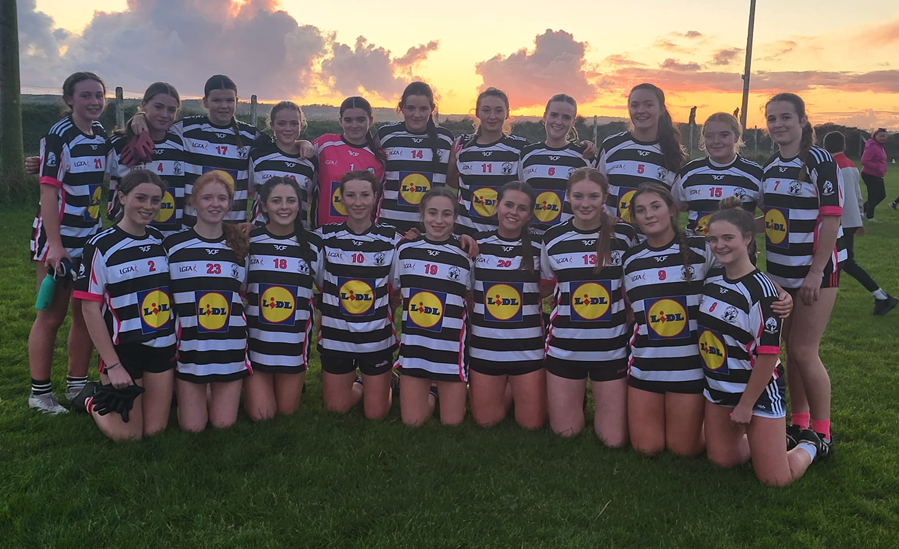 AGM
The Ladies Football AGM will take please on Wednesday, November 8 at 7.30pm. All welcome to attend.
WELL DONE
Well done to our Junior Camogie team who had a great County Final win over Eire Og on Saturday.
ORLAGH FARMER'S KENYA TRIP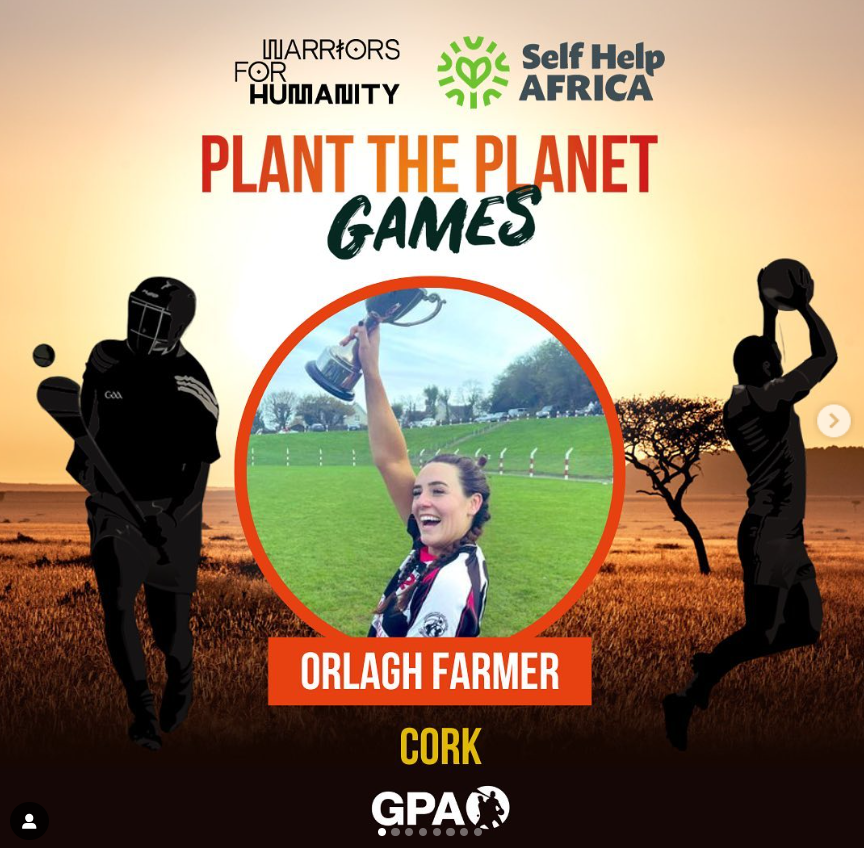 Later this month, a group of Irish GAA stars (including our own Orlagh Farmer) and musicians will travel to Kenya as part of a Warriors for Humanity campaign in aid of Self Help Africa.
This group of GAA players will take part in only the second ever All-Star, Male and Female game in Africa. The target is for each participant to raise €10,000 by November. The goal is to plant one million trees in Africa in partnership with Self Help Africa who have spent decades working closely with local farmers, communities and experts to be the best at what they do. Each tree we plant will represent a livelihood for an African family.
'An integral part of the project is to train farmers on managing their trees for this purpose. As a result, we know that the trees are looked after and cared for over the years. We want the impact of our work to be felt for many years to come, benefitting future generations and leaving a legacy we can all be proud of.
You can donate at: http://www.idonate.ie/fundraiser/OrlaghFarmer
ADULT CLUB
UNDER 21 HURLING
MIDLETON 1-19 ERINS OWN 1-16
Our Fé21 hurlers opened ther campaign in Caherlag on Saturday when we took on the home side in a very competitive encounter.
There was nothing in it from the off and after the opening quarter the sides were level at 0-4 each. We fared the better in the second quarter and points from Mikey Finn (a sideline, a free and a point from play), Dave Cremin and Evan McGrath saw us lead by 0-11 to 0-7 at the halway stage.
The home side came out firing in the second-half and inside ten minutes of the second-half the sides were level at 0-12 each. The sides were level at 0-14 on 47 minutes before Dara Scanlon came off the bench to goal to put us three ahead but Erins Own came straight back up the field to goal to draw the game once again.
From here four Mikey Finn frees and an excellent point from play from Ciarmhac Smyth saw us over the line after a tough encounter by three points.
Our next game will be against Carrigtwohill. Date to be confirmed.
Scorers: Mikey Finn 0-15, Dara Scanlon 1-0, Alex Quirke, Dave Cremin, Evan McGrath and Ciarmhac Smyth 0-1 each.
MIDLETON: Brion Saunderson, Adam Fay, Aaron Coughlan, Neil Fitzgerald, Leo Hennessy, Ciarmhac Smyth, Alex Moloney, Mikey Finn, Gavin Reddy, Tadhg O'Leary Hayes, Alex Quirke, Evan McGrath, Cathal Beausang, Dave Cremin, Tiarnán Roche. Subs: Dara Scanlon for Roche.
UNDER 21 FOOTBALL
Our U-21 A footballers' game away to Glanmire on Wednesday night was cancelled once again. This game has been rescheduled for next Wednesday, November 8 at Sallybrook at 7.30pm. Before that they are in action on Sunday morning at 10.30am at Clonmult Memorial Park against Aghada.
MIDLETON TOGETHER MUSIC FESTIVAL
​
Midleton GAA "One Club", other Midleton sports organisations, and well known faces within the musical and business communities in Midleton have come together to organise a Music Festival in our club hall on Sunday, (November 5) with all proceeds going to families affected by the recent floods. All funds will be distributed through local charities including St Vincent de Paul.
Tickets only went on sale on Saturday last and were SOLD OUT in a matter of days. Thank you so much to eveyone who bought a ticket. Well done if you managed to get a ticket....artists on the day will be: Paddy Casey, The Franks and Walters, John Spillane, Mickey Joe Harte, Stephanie Rainey, George Murphy, The Hollyz, August Walk, Sparkle, Derek Burke, DJ Aaron Stanton plus special guest Andrew Fletcher.
It promises to be a brilliant day but if you didn't manage to get a ticket you can still support this very worthy cause by donating at the following Go Fund Me Page - http://gofund.me/58619260
AGM
Don't forget our Annual General Meeting is on Thursday, November 30 at 8pm.
MAGPIES ALL STARS
The Magpies All Stars concluded their 2023 season with an enjoyable trip to Fota Wildlife Park on Sunday last with some of the players wore their favourite Halloween outfits.
It marked a perfect conclusion to a fantastic year. See you all in 2024.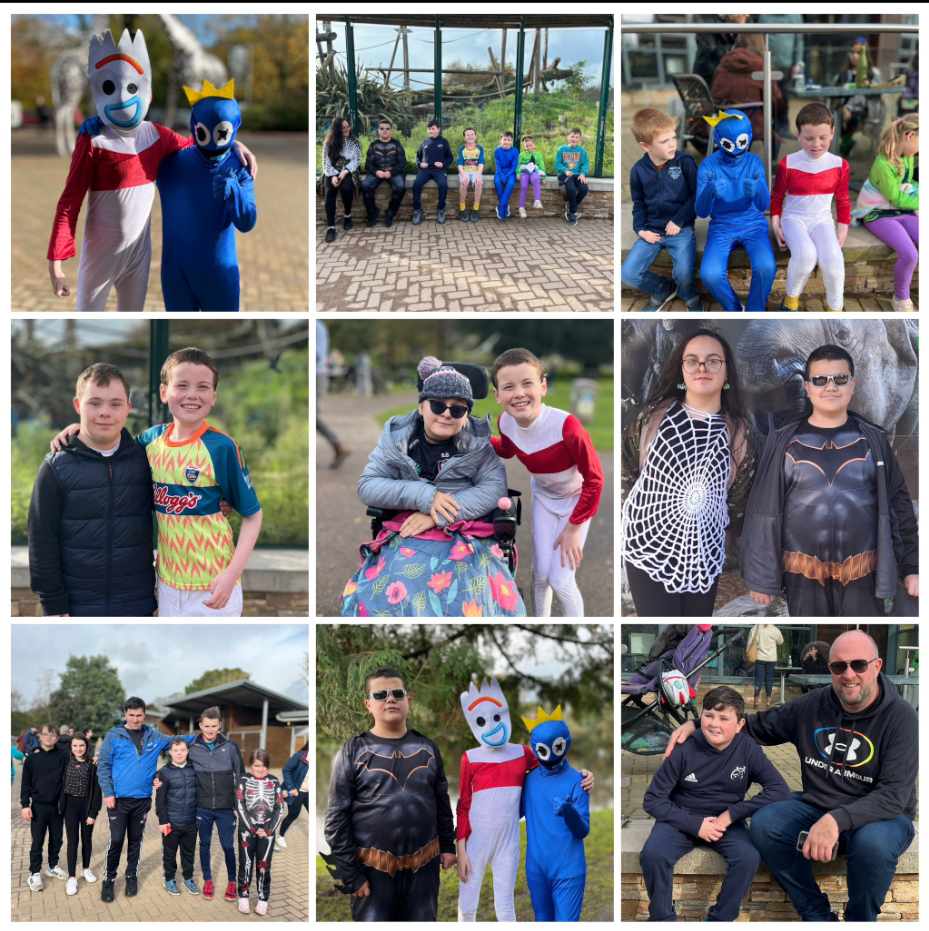 THANK YOU!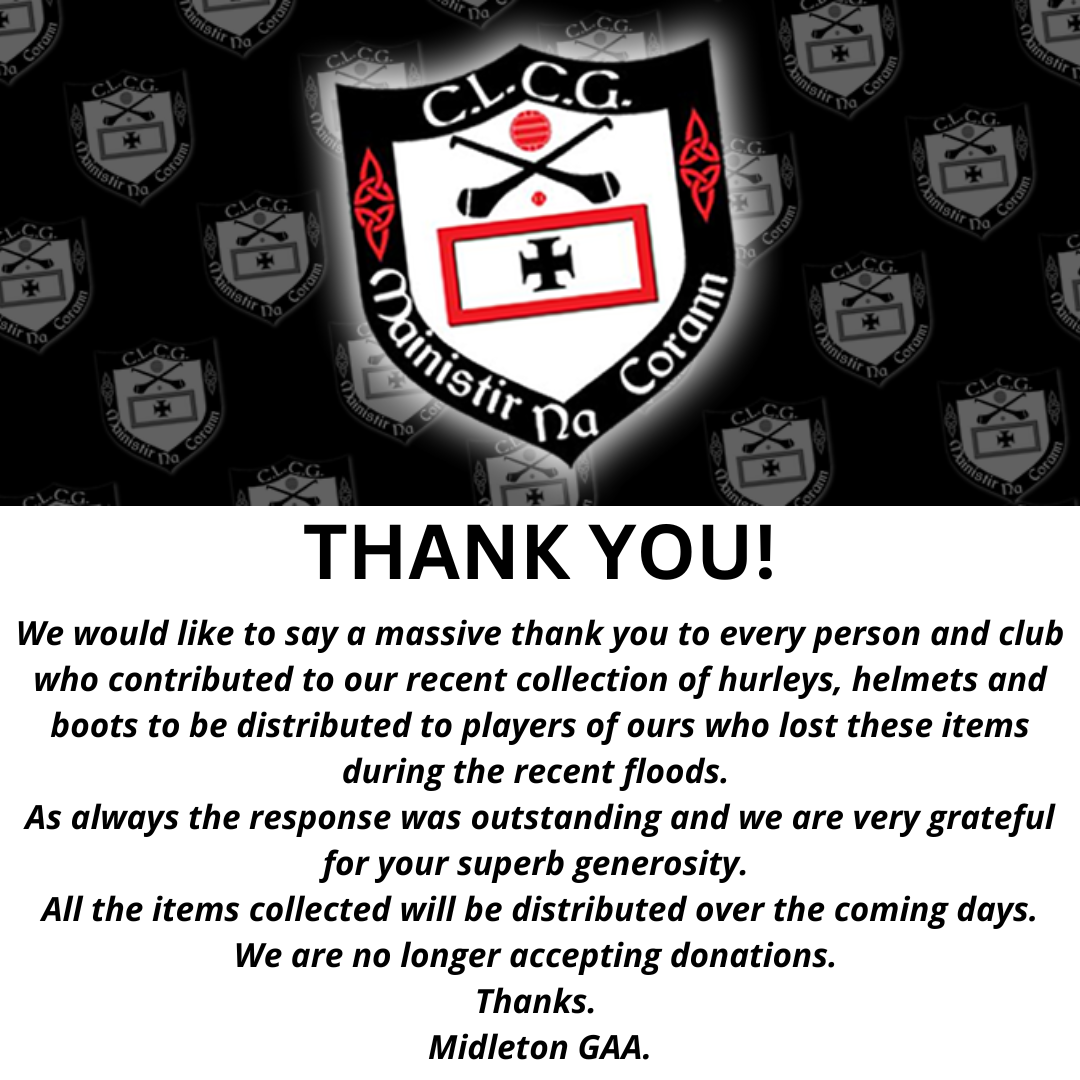 MIDLETON GAA MONDAY CLUB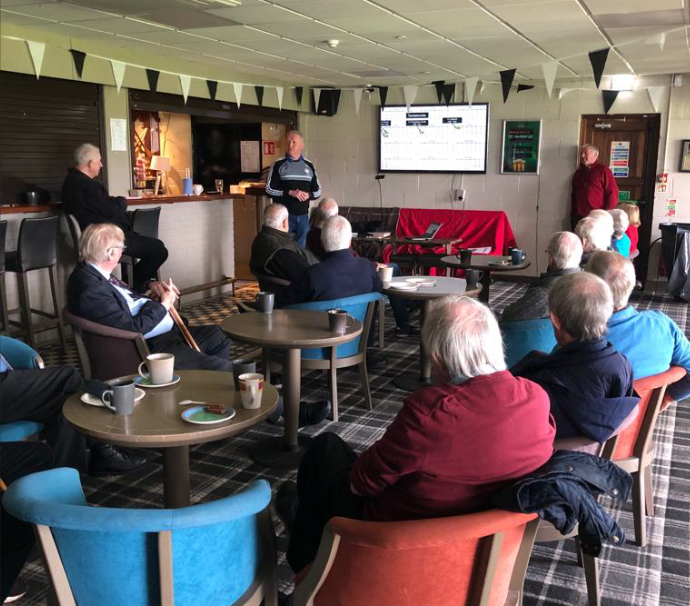 Our October gathering took place on the Bank Holiday Monday.
Big numbers again this month with some new faces which is wonderful. Vincent O'Neill gave a fantastic presentation on the 1890 football team which was captained by Jim Power. Vincent is looking for information on the following players:
1) John D Brien.
2) William Twomey.
3) John E Kennedy (probably Bill Kennedy"s brother, Whiterock).
4) Tom Lucey.
5) P O'Brien (Club Secretary).
Any info on the team would be appreciated.
Thanks to everyone who helped out special thanks to Marie Cotter for the lovely scones and apple tart which were much appreciated by all.
Next gathering is on Monday, November 27 at 10.30am at Midleton GAA Club. All Welcome!
BRUCE SPRINGSTEEN AT PÁIRC UÍ CHAOIMH IN 2024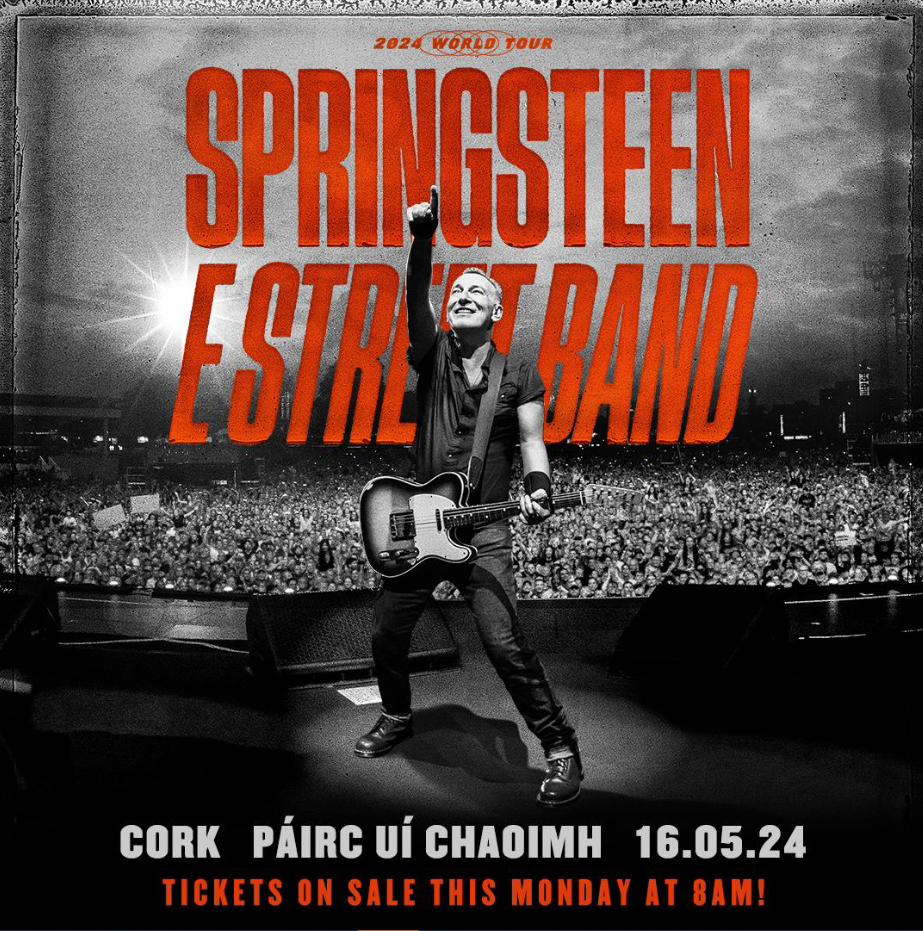 The Cork County Board are delighted to welcome Bruce Springsteen and The E-Street Band back to Páirc Uí Chaoimh on May 16, 2024 for what will be a truly memorable return.
Tickets go on general sale next Monday, November 6th at 8am from Ticketmaster.ie
The concert will follow 'Home' Munster Senior Hurling Championship fixtures versus Clare and Limerick at Páirc Uí Chaoimh and the pitch will be back in working order for a possible Munster Hurling Final on June 9th.
Meanwhile, the Munster Senior Football championship will have concluded in advance (early May) and any subsequent Football Championship fixture in the second half of May or the first week of June will take place at Páirc Uí Rinn.
LOTTO DRAW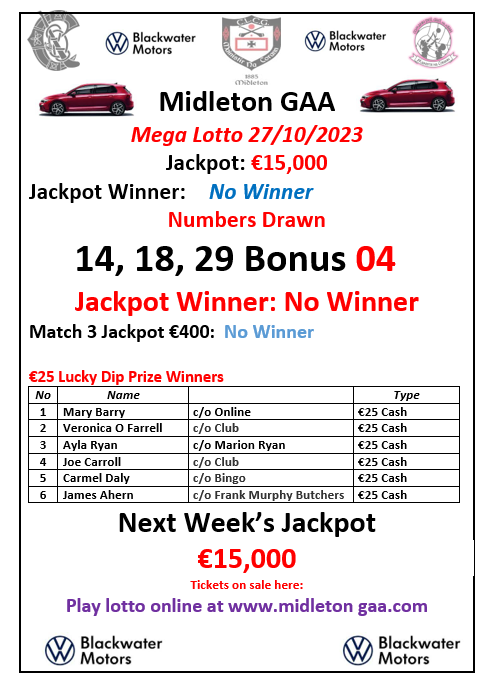 The Jackpot was €15,000 for last Friday night's jackpot and the numbers drawn this week were: 14, 18, 29 and the bonus number was 4.
There was no jackpot winner or match three winner.
The €25 Lucky Dip Prize winners were: James Ahern, Carmel Daly, Joe Carroll, Ayla Ryan, Veronica O'Farrell and Mary Barry.
Remember you can play anytime at: http://www.klubfunder.com/Clubs/Midleton%20GAA/lotto
In total Midleton GAA will give out local business vouchers to the value of €3,800 every year as part of our "Shop Local, Buy Local" campaign.
How to play: tickets are on sale at Pat Walsh Paints, Chadwicks, Frank Murphy Butchers, Murphy's Pharmacy, Crowley Butchers, or buy online (see above).
BINGO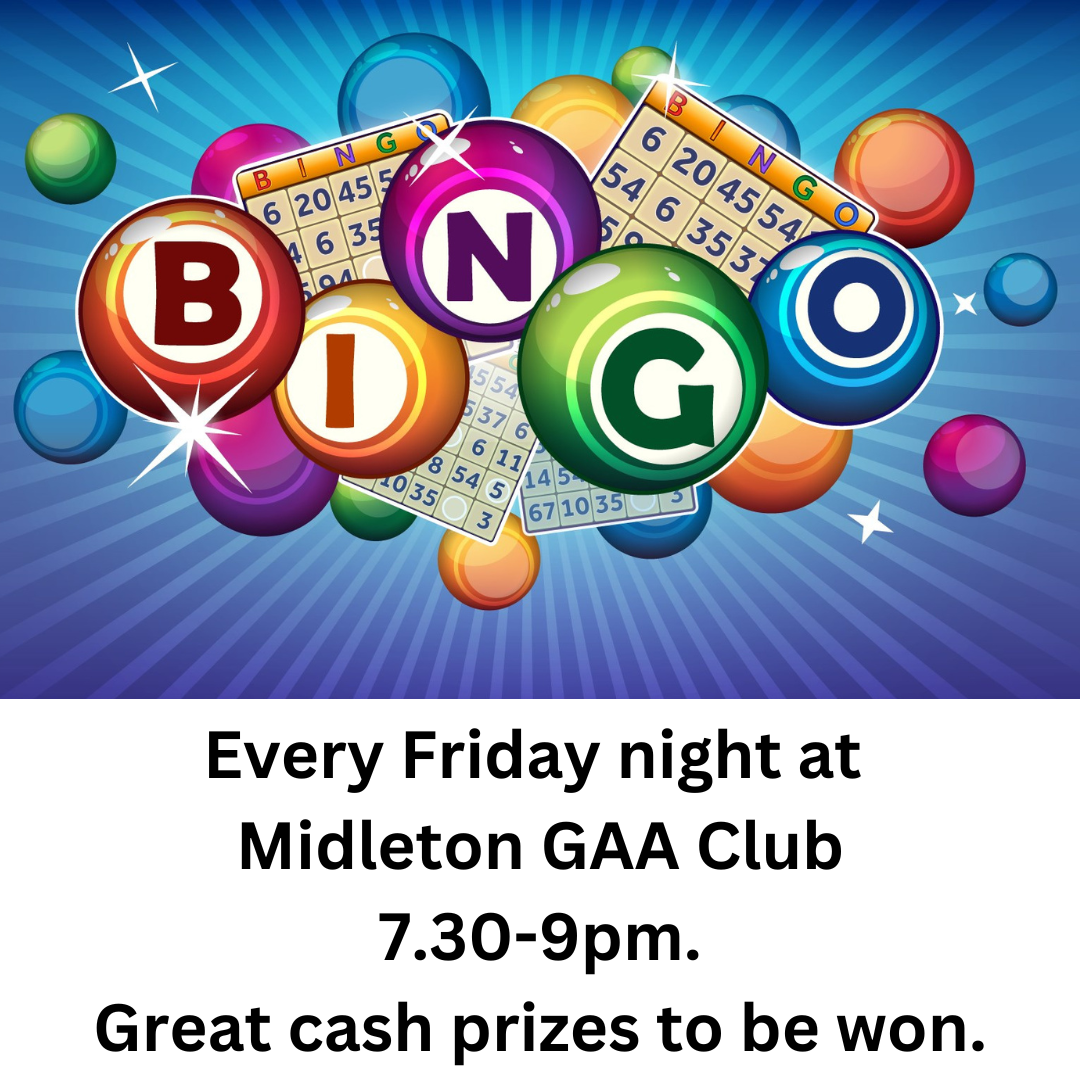 Fancy a great night out? Why not give our Bingo a go?
It kicks off at 7.30pn every Friday night and is over by 9pm. A single book is €6. A double book is €12.
Thanks to everyone for coming in such big numbers, it is much appreciated. New players are always welcome....
SOCIAL DANCING
Social dancing this Saturday night, November 4, to Cathal and Teddy Barry from 9.15pm. A great night is guaranteed.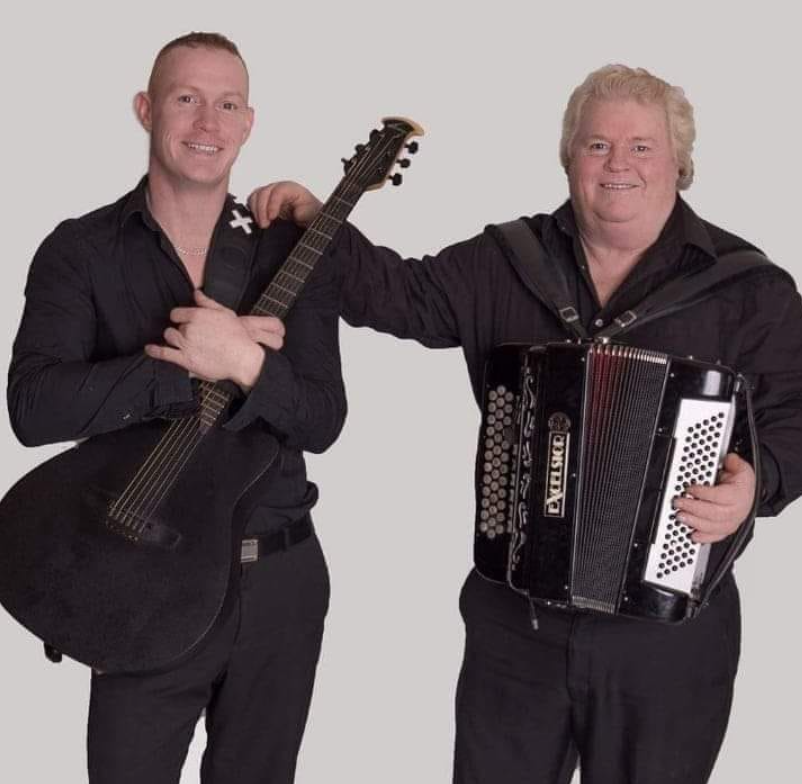 CLUB SHOP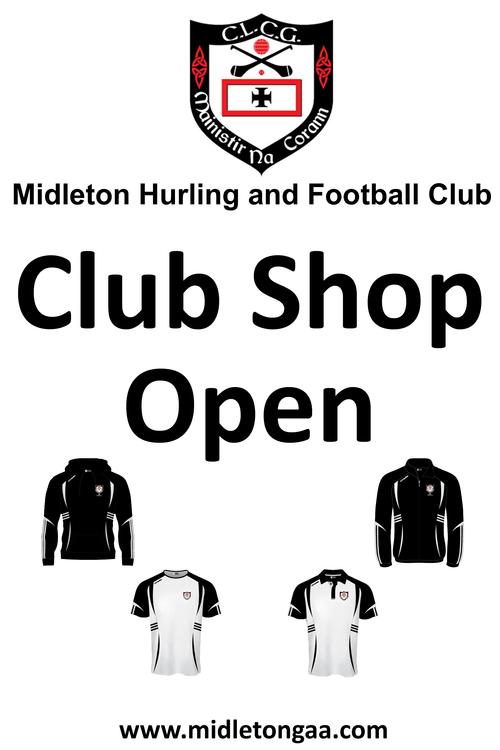 Mary and the Club Shop will be open for business this coming Saturday morning.
All you have to do is go to the Klubfunder website (www.klubfunder.com/Clubs/Midleton%20GAA/ShopItems) and you will see the full range of what's available to buy. You can shop away to your heart's content, pay for it online and then collect your purchases at the club shop on Saturday morning between 9.30am and 11am. Thank you.
S&C CONFERENCE
Cork GAA High-Performance Dept. is hosting a Strength & Conditioning Conference for Club coaches. Registration is NOW OPEN! It promises to be a great day of learning and growth.
Get all the details at: http://gaacork.ie/conference23/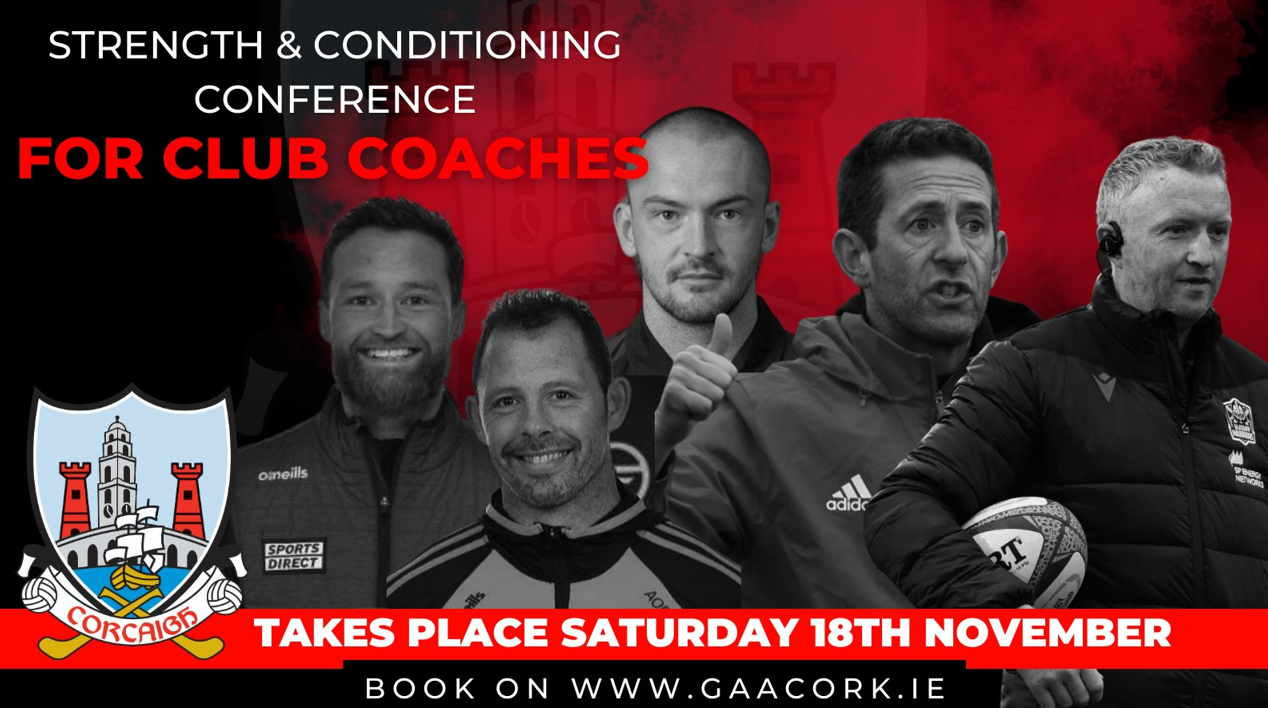 GAA LEARNING PORTAL

We have been asked to remind members and especially our club coaches that the GAA Learning Portal is a great resource which is free to use. Please check it out at http://learning.gaa.ie/about.
GYM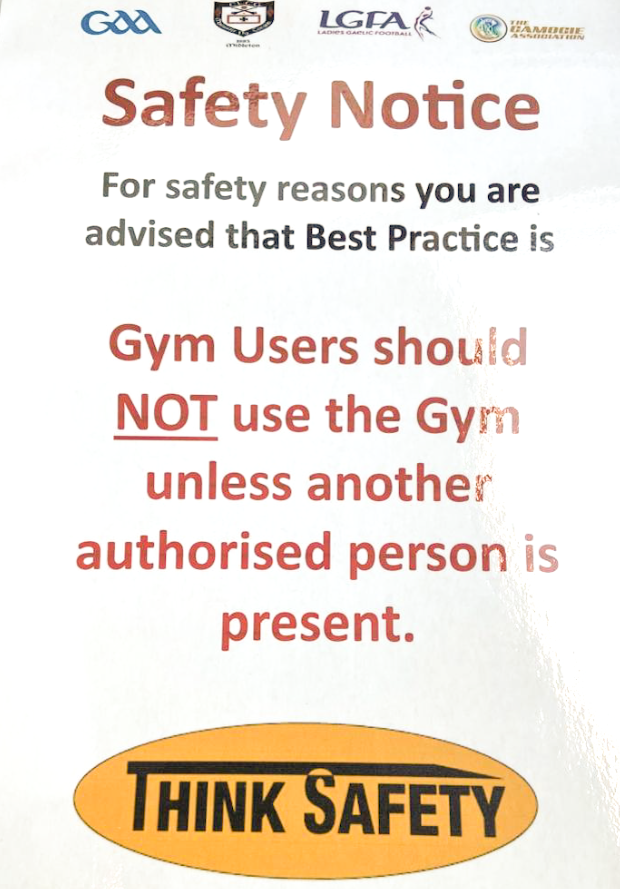 We recently took part in a Safe Club audit conducted by Croke Park and they have recommended that no member should use our club gym on their own. They should only use the gym with at least one other member.
CLUB HOUSE
We have a smashing club house, bar and hall, at Midleton GAA Club and don't forget that these are available to hire for functions....see below for details....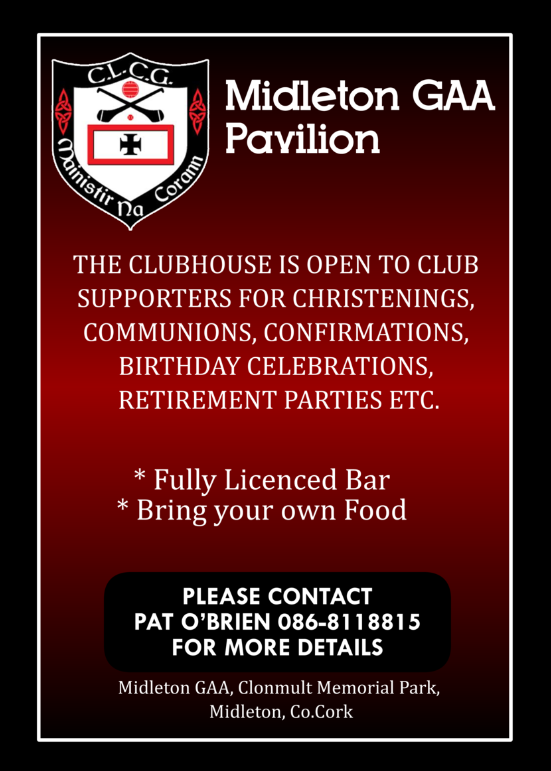 PLEASE PLAY YOUR PART
​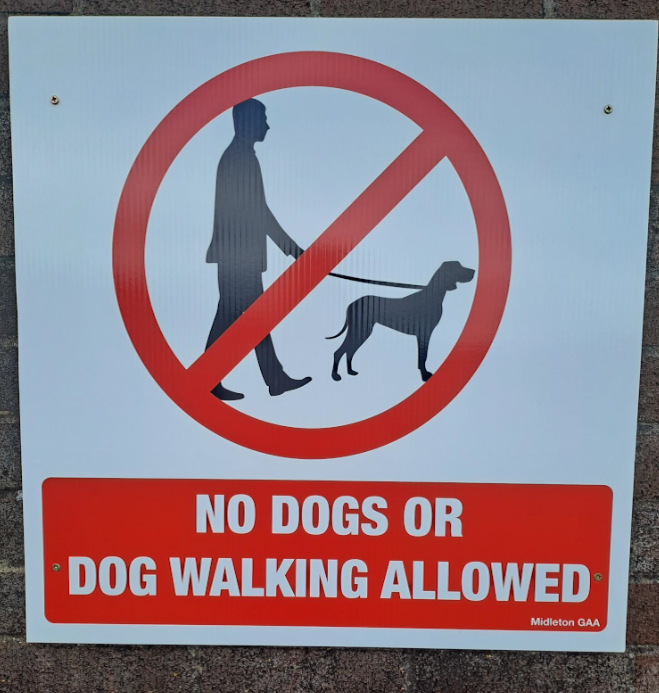 Unfortunately there has been a rise in the amount of dogs being walked in Park South recently, especially during matches and training sessions. Please spread the word that only assistance dogs are permitted in both of our club grounds at Park South and Clonmult Memorial Park.
Please do not bring single-use plastic bottles to either Park South or Clonmult Memorial Park.
Please put your rubbish in a bin or bag and please bring your gear home with you.
And always be aware of the open water surrounding the pitches in Park South.
If you are a coach, please pass on these simple messages to players and parents.
All members are asked to respect referees and their officials at all times.
Also if you are a coach, last person out locks the gate, toilet and container.