Midleton Hurling and Football, Ladies Football and Camogie Club News - September 7
07 September, 2023
SENIORS STRAIGHT INTO SEMI-FINALS
CO. PREMIER SENIOR HURLING CHAMPIONSHIP
MIDLETON 0-23 BLACKROCK 0-18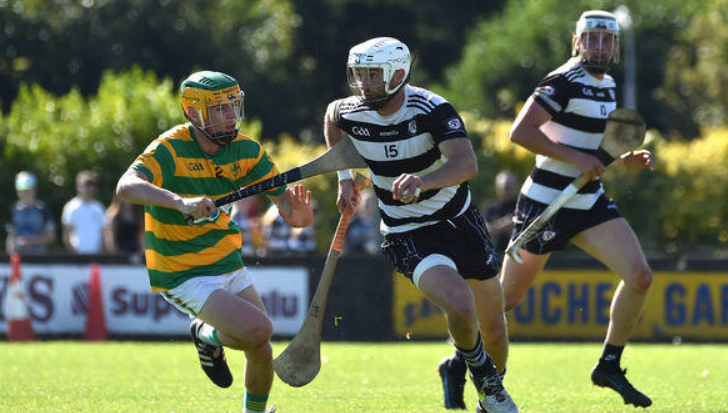 Luke O'Farrell taking on the Blackrock defence in Carrigtwohill on Sunday. Photo: EchoLive.
Our senior hurlers travelled to Carrigtwohill for the second game in a row on Sunday, knowing that in all likelihood the winners of their clash with Blackrock would go straight through to the semi-finals of the championship as the number one seed after the group stages.
We came into this game without our starting half forward line from the Glen Rovers came with Sam Quirke, Ross O'Regan and Conor Lehane all out injured. In came Paul Haughney (who also captained the team), Pa White and Ciarmhac Smyth.
Points from Tommy O'Connell (F), Pa White (2), Luke O'Farrell and Paul Haughney saw us trail by 0-6 to 0-5 after the opening ten minutes. Blackrock hit the next three points before Cormac Beausang replied with a sideline and two frees to cut the deficit to a single point. Blackrock scored again before points from Paul Connaughton and David Cremin had the sides level (0-10 each) after 21 minutes. Cormac Beausang (F) and David Cremin closed our scoring in the opening period as we went in at the break trailing by two, 0-14 to 0-12.
We started on fire in the second-half with three points (Paul Haughney, Cormac Beausang (F) and Paul Connaughton) inside 90 seconds, followed by further points from Paul Haughney and Cormac Beausang (2) to make it six in a row to see us lead by four (0-18 to 0-14) after eight second-half minutes. Paul Haughney David Cremin, Eoin Moloney, Pa White and Cormac Beausang (F) finished our scoring as we ran out five point winners to make it three wins from three and ensure that we took the one semi-final spot on offer.
In those semi-finals we will play the winners of St. Finbarrs and Charleville.
Well done to Micheal, his backroom team and all the players on three great displays so far and best of luck in the semi-final in a few weeks.
Scorers: Midleton: Cormac Beausang (0-8, 0-7 frees); Paul Haughney (0-4); David Cremin and Pa White (0-3 each); Paul Connaughton (0-2); Eoin Moloney, Tommy O'Connell (0-1 free), Luke O'Farrell (0-1 each).
MIDLETON: Brion Saunderson; Ciarmhac Smyth, Luke Dineen, Seannaidh Smyth; Eoin Moloney, Tommy O'Connell, Sean O'Leary Hayes; Sean O'Sullivan, Paul Haughney; David Cremin, Pa White, Cormac Beausang; Paul Connaughton, Luke O'Farrell, Mikey Finn. Sub: Cillian Hurley for Cremin.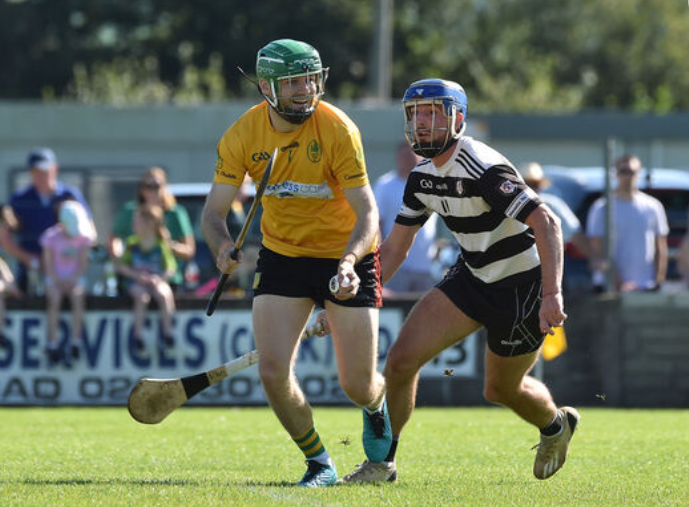 Pa White making life difficult for the Blackrock goalkeeper in Carrigtwohill.
INTERMEDIATES STRAIGHT INTO SEMI-FINALS TOO
CO. INTERMEDIATE A HURLING CHAMPIONSHIP
MIDLETON 2-21 BALLYGIBLIN 2-15
I've been going to and covering hurling games for a very long time but I can't ever remember being at a game quite like this one, played at a splendidly appointed Ballynoe in scorching temperatures on Saturday last.
Trailing by eight at half-time (1-11 to 0-6), things got even worse just moments into the second-half when Ballygiblin struck for 1-1 inside the opening two minutes to see us trail by 2-12 to 0-6 (12 points) with 26 minutes to play.
What happened next was quite extraordinary. From here to the final whistle we outscored our North Cork opponents, who were chasing 15 championship wins in a row, by 2-15 to 0-3. Mad stuff.
Six points in a row, from Aaron Mulcahy (4), Aidan Ryan and Darragh McCarthy saw us cut the gap to four with 15 minutes to play.
Ballygiblin responded before the outstanding James Nagle struck for his third point of the game from play and then the excellent Aaron Mulcahy scored a wonder goal to see us cut the deficit to a single point with nine minutes to play. Amazingly Ballygiblin's 51st minute point was there last and we struck 1-5 in that final period through the ageless Aidan Ryan (who made a massive impact off the bench), four points from Aaron Mulcahy and a late goal from Tiarnán Roche to secure a remarkable comeback.
This great win sees us straight through to the semi-finals of the IAHC where we will meet Blackrock, if they beat Ballygiblin. If Ballygiblin win that game then we will play the winners of Lisgoold v Mayfield.
Well done to Keith, his backroom team and all the players on a fabulous win, their third win from three in the group stages.
Scorers: Aaron Mulcahy 1-13 (9F), Tiarnán Roche 1-0, James Nagle 0-3, Aidan Ryan and Darragh McCarthy 0-2 each, Padraig O'Shea 0-1.
MIDLETON: Zach Smith, Cathal Gunning, Christian Murphy, David Scanlon, Leo Hennessy, James Nagle (Captain), Tadhg O'Leary Hayes, Adam Daly, Kian Farmer, Darragh McCarthy, Alex Quirke, Aaron Mulcahy, Tiarnán Roche, Padraig O'Shea, Cian Crowley. Subs used: Aidan Ryan and Alan Power.
EAST CORK OIL JUNIOR A HURLING CHAMPIONSHIP
MIDLETON 3-14 CARRIGNAVAR 1-22
Our Junior A Hurlers bowed out of contention for the Jamesy Kelleher Cup for 2023 on Friday night when they came up just short against Carrignavar in Lisgoold.
After losing our opening round game to Carrigtwohill, at the same venue, this was a must-win game, with Carrignavar already having beaten Carrigtwohill in their opening game.
Despite points from Dan Cagney, Niall Lang and Evan McGrath we trailed by 1-5 to 0-3 after the opening quarter.
But an Alan Power free and a Peter Dowling goal saw us right back in the game, 1-6 to 1-4, after 21 minutes.
Carrignavar answered with three points from play on the trot before Dan Cagney scored our second goal in the 27th minute. Carrignavar finished with two points to lead at the half-time whistle on a score of 1-11 to 2-4.
Four white flags in a row midway through the second-half for Carrignavar saw them increase their lead to eight, 1-17 to 2-16, with 13 minutes to play. But we never gave up and when Dara Scanlon goaled with five minutes to play the gap was down to two, 1-19 to 3-11 and we were very much in the game. But Carrignavar struck three of the next four points to come out narrow winners on a final scoreline of 1-22 to 3-14.
Next up is a relegation playoff against Sarsfields on Sunday, September 17 at 12 noon. Venue to be confirmed.
Scorers: Alan Power 0-7 (frees), Dan Cagney and Peter Dowling 1-1 each; Aidan Ryan 0-3, Dara Scanlon, 1-0, Niall Lang and Evan McGrath 0-1 each.
MIDLETON: Zach Smith, Cian Murray, Aaron Coughlan, Adam Faye, Charlie Walsh, Patrick Kane, Evan McCarthy, Alan Power, Jack Fitzgerald, Evan McGrath, Aidan Ryan, Dan Cagney, Harry Wall, Peter Dowling, Niall Lang. Subs used: Mark O'Keeffe, Dara Scanlon, Cathal Beausang.
JUNIOR C HURLERS
MIDLETON 1-13 DUNGOURNEY 1-13
Our junior C hurlers booked their passage to the East Cork Championship semi-finals on Monday night with a draw away to Dungourney.
In the last four we will play Cobh, if they beat Dungourney. If Dungourney win that game then we will play the winners of Carrigtwohill and Killeagh.
MIDLETON: Kieran Mulcahy; Rory Lester; Gavin Hurley; Kieran Lambert; Colin Sunderland; Billy O'Shea; Liam Kelly; Daire Mooney; Alex Moloney; Tadgh Bohan; Ben O'Neill; Johnny Comer; Nicky Daly Hayes; Brian O'Sullivan; Alex Howard. Subs used: James O'Sullivan, Michael Abernethy, Brendan Ferriter, Sean Corcoran.
JUNIOR C FOOTBALLERS
Next up for Jerome and his Junior C Footballers is an East Cork Junior C Football Championship quarter-final against neighbours Ballinacurra on this Friday night, September 8 at 6.30pm in Clonmult Memorial Park. Best of luck lads.
JUVENILES
FÉ11S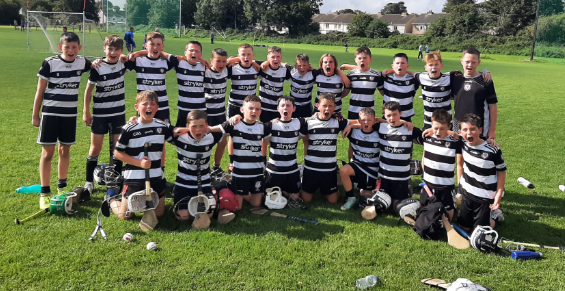 Our lads welcomed Sars U-11s to a Sunny Park South on Saturday last in the Hurling Go Games.
All nine games were very competitive on the day from start to finish. Well done to all!!
We will now look forward Davy Hogan Hurling Street Leagues Finals over the next two weeks.
DAVY HOGAN HURLING STREET LEAGUES 2023
Rounds one and two of the Davy Hogan Street Leagues took place in great conditions on Tuesday night. Here are the results and standings.....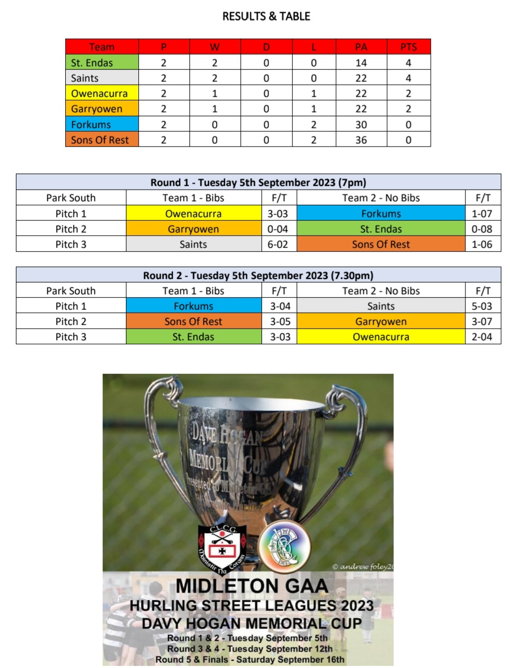 Round 3+4 Tuesday September 12th in Park South 6-8pm
Round 5 + Final Saturday September 16th in Clonmult Memorial Park 9-2pm.
FÉ13S
A busy calendar for our Fé13 hurlers this past week.
Starting off the week with an away trip to Riverstown to play Sars on Monday 28th of Aug for the Premier 1 Hurling summer leagues round three. Final score: Midleton 2-12 Sars 1-11.
Four days later on Friday, September 1, was Premier 1 Hurling summer leagues round four V Kiltha Og at home in Park South. Final score: Midleton 1-10 Kiltha Og 0-13. (Pictured below).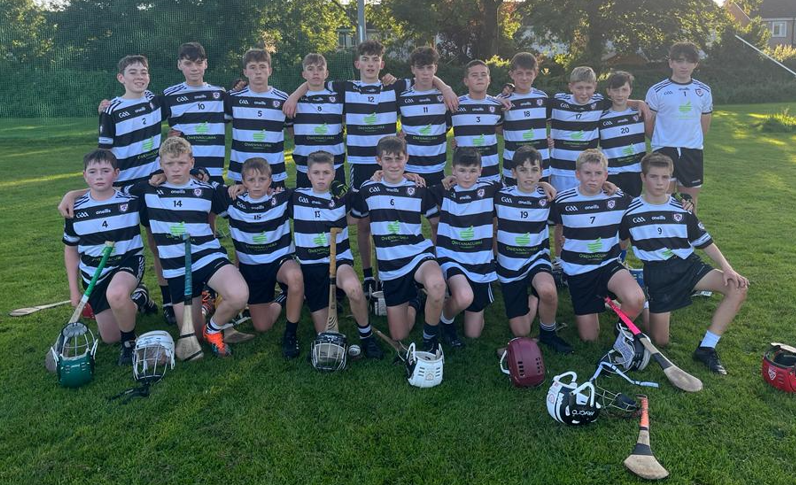 Lastly, on Sunday last, September 3, we hosted the round four of the C3 hurling summer league in Park South V Ballincollig. Final score: Midleton 4-8 Ballincollig 1-11 (pictured below).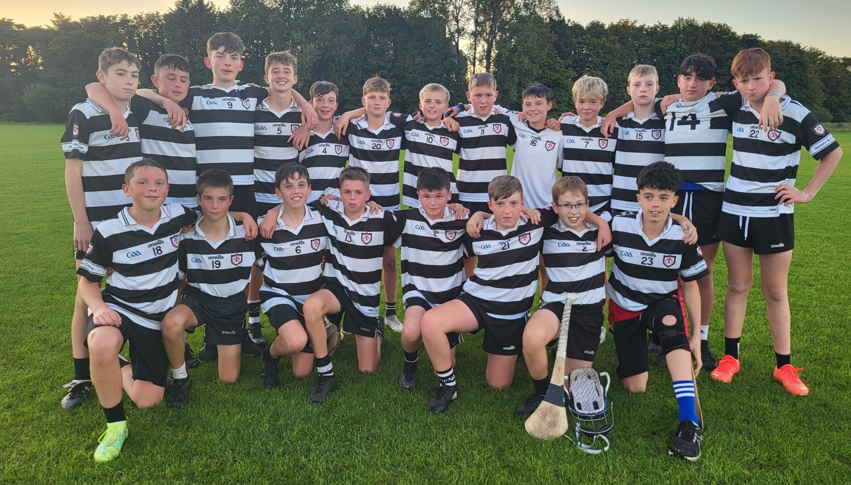 Well done on a fantastic effort all week lads.
FÉ14S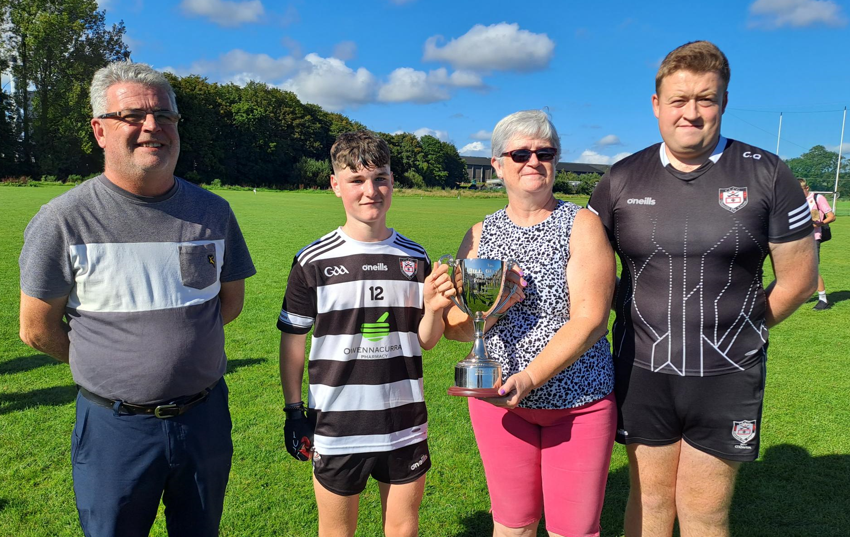 Liam O'Keeffe, Mary and Coleman Quinn present the Bill O'Keeffe Cup to winning Midleton captain, John O'Sullivan.
The Bill O'Keeffe Cup Tournament took place on Saturday afternoon in glorious sunshine in Park South.
Two Midleton Fé14 teams welcomed Blackrock, Bride Rovers, Charleville and Youghal and after a great tournament it was the two Midleton teams who contested the final with the 'Stripes' beating the 'Whites' by a single point after a great game.
Mary and Coleman Quinn and Liam O'Keeffe were on hand to present the cup to winning captain, John O'Sullivan. Well done to all who helped make this a great event to remember a great Midleton GAA man. #UpTheMagpies....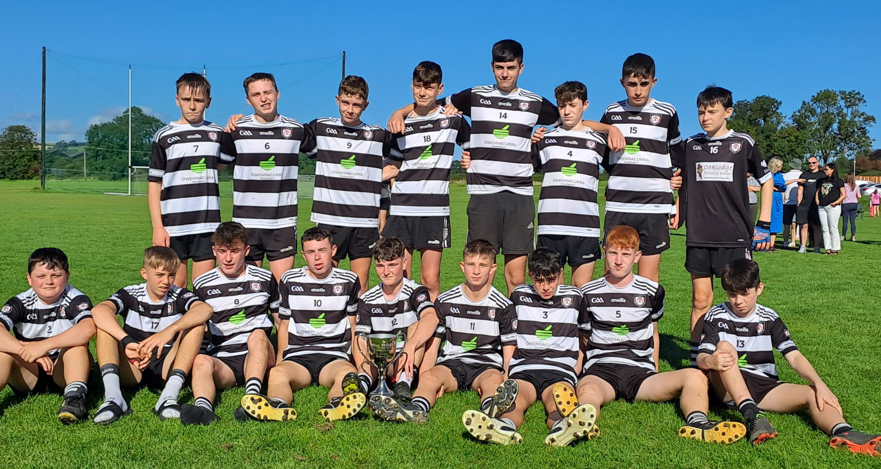 The winning Midleton team.

The two Midleton teams that contested the final.
FÉ15S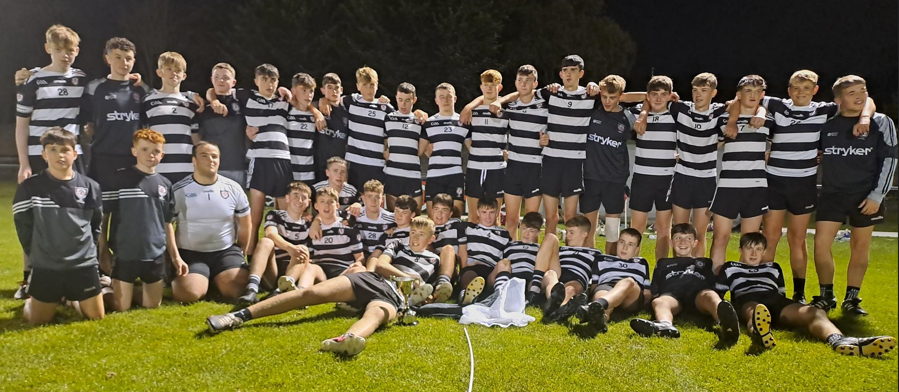 It was a great week for the Fé15s as they got their hands on two pieces of silverware after two highly entertaining and closely fought encounters.
On Thursday night the splendid Mardyke was the venue for the Fé15 Premier 1 Challenge Cup Final as we took on Na Piarsaigh who had already defeated us in this year's championship.
Na Piarsaigh opened the scoring and by the end of the opening quarter we trailed by 0-6 to 0-3. The city northsiders added a goal in the 20th minute and by the half-time whistle in was the boys in black and amber who led by 1-7 to 0-8, with Shane O'Mahony (2), Max Murphy (2), Scott Dunlea, Senan Carroll, John O'Sullivan and Liam Walsh notching our points.
We trailed by four eight minutes into the second period when Senan Carroll pounced for a goal to bring us with in a point. Try as we did we just couldn't get level thanks mainly to Na Piarsaigh's excellent freetaker, Craig O'Sullivan.
Things were looking bleak for the Magpies when Na Piarsaigh led by three (1-17 to 1-14) with three minutes to play. But this group never gives up and from here on they carved out a brilliant comeback and late late win.
Two points from Senan Carroll and a monster free from Ciaran Kelly saw us level for the first time in the game in the 63rd minute and as extra-time loomed large we got one last chance to win it when we won a close-range free in the 65th minute. Shane O'Mahony made no mistake and the referee blew the whistle after the puckout as we led for the first time in the game, for a matter of seconds, but at the most important time - the last whistle. A great win. Final score: Midleton 1-18 Na Piarsaigh 1-17.
Well done to Willie, the backroom team and players on a great win.
MIDLETON PANEL: Micahel Allegrini, Jason Morley, Peader Egan, Braden Dunlea, Cuan Twomey, Ciaran Kelly, Max Murphy, Harry Waterman, Scott Dunlea, Riain McCormack, Patrick O'Dowd, Senan Carroll, Liam Walsh, Shane O'Mahony, John O'Sullivan, Josh Quill, Darragh Mullins, Jack Cahill, Ruairi O'Riordan, Sean Gregory, Jack Walsh, Finn Cahill, Charlie McCarthy, Fionn bohan, Bradley O'Brien, Adam Spillane, James Carey, Patrick Collins, Dara Cahill, Alex Horgan, Ewan Murray, Rian Casey, Ciaran O'Brien, Cian Lawton.
Then on Monday night the lads added the Rebel Og East Football Championship Division1 Shield title with an exciting 2-9 to 2-6 win over Aghada. Congrats to captain Dara Bridthistle (pictured below), the management team and all the players. What a week!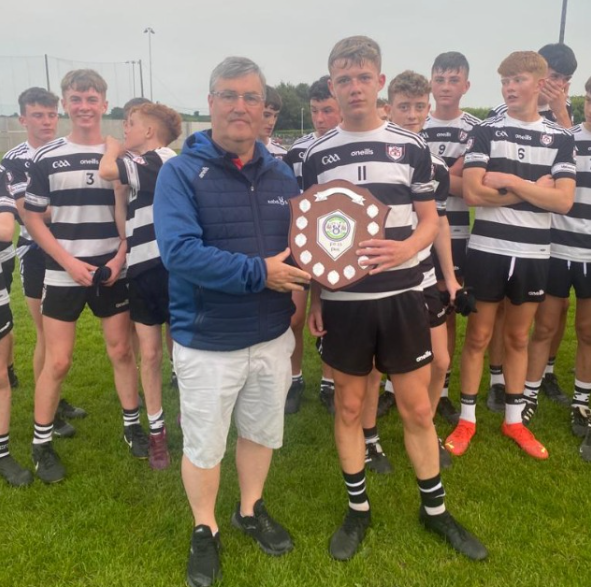 FÉ17S
Following their win over Aghada in their final group game, our minor hurlers will play Ballincollig (for the second time in this championship) in a Premier Hurling Championship playoff in the Mardyke on Wednesday evening next (September 13) at 8pm. Glen Rovers will play Inniscarra in the other playoff, on the same evening, and we will play the winners of that game in the semi-finals. Sarsfields and Douglas will meet in the other semi-final. Best of luck to Martin, his backroom team and all the players.
FIXTURES
FRIDAY, SEPTEMBER 8
Rebel Og Premier Fe13 Football League Premier 2 Section 2
Kilworth Araglen Og v Midleton at 6.45pm in Kilworth
SUNDAY, SEPTEMBER 10
Rebel Og Premier Fe13 Football League C3 Section 2
Kiltha Og V Midleton 2 at 7pm in Dungourney
WEDNESDAY, SEPTEMBER 13
Rebel Og Premier Fe17 Hurling Championship Premier 1 Playoff
Midleton v Ballincollig at 8pm at the Mardyke
THURSDAY, SEPTEMBER 14
Rebel Og Premier Fe13 Hurling League Premier 1
Midleton V Blarney at 6.30pm in Park South
Rebel Og East Fe12 Football Phase 2 Group 2
Carrigtwohill v Midleton at 6.30pm in Carrigtwohill
CAMOGIE
UNDER 8S

Our U-8s took part in a camogie blitz in Lisgoold on Saturday morning. The girls played Lisgoold and Killeagh in blazing sunshine. It was a great morning with the girls showing great skill and determination.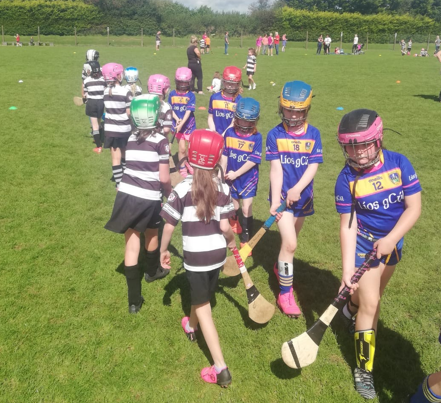 UNDER 9S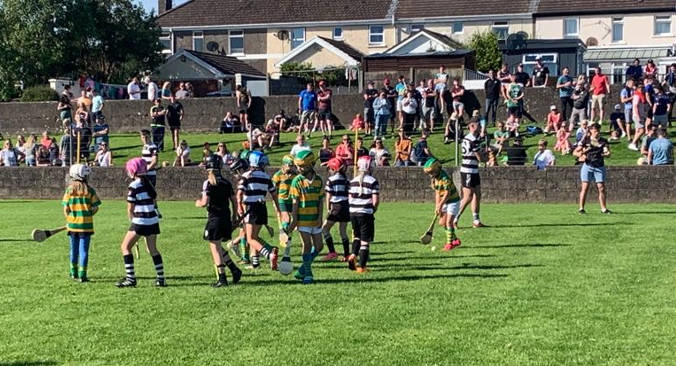 On Sunday at a sun soaked Carrigtwohill our U-9 Magpies played the Rockies U-9s during half-time of the Co. SHC match. The girls kept the big crowd entertained, showing off their skills and determination throughout the 10 minutes before the Midleton senior team came back onto the field to see off the Rockies, no doubt inspired by the U-9 girls' performance. A great weekend for the club.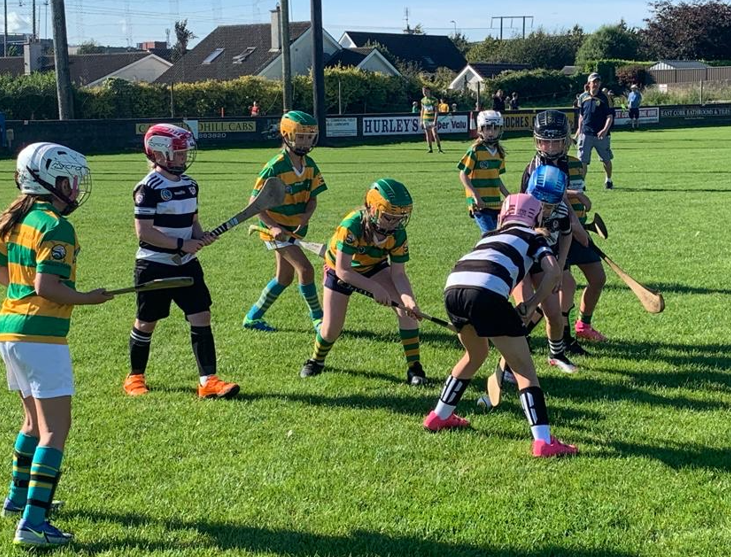 UNDER 12S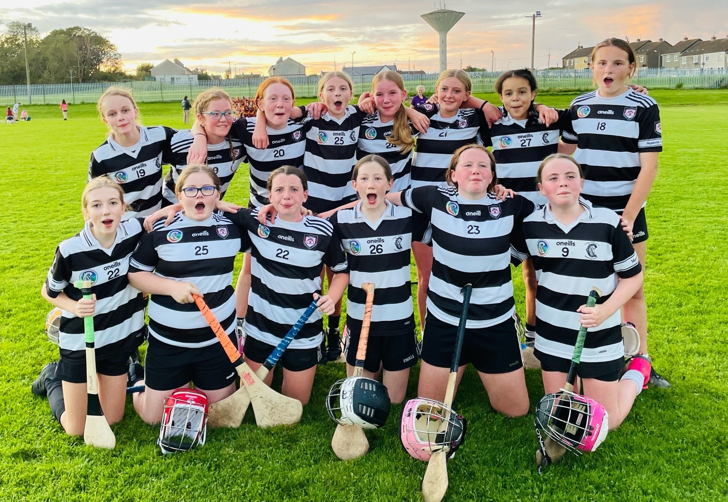 A great victory on Friday night for the U-12 White team who played Youghal as the away winning streak continues. The first-half offensive struggles gave way to a solid team effort in the second-half with solid picking, getting the ball to open spaces and passing up the pitch. The defence held the line when put under pressure and excellent goal keeping throughout the match. Well done girls.
UNDER 13S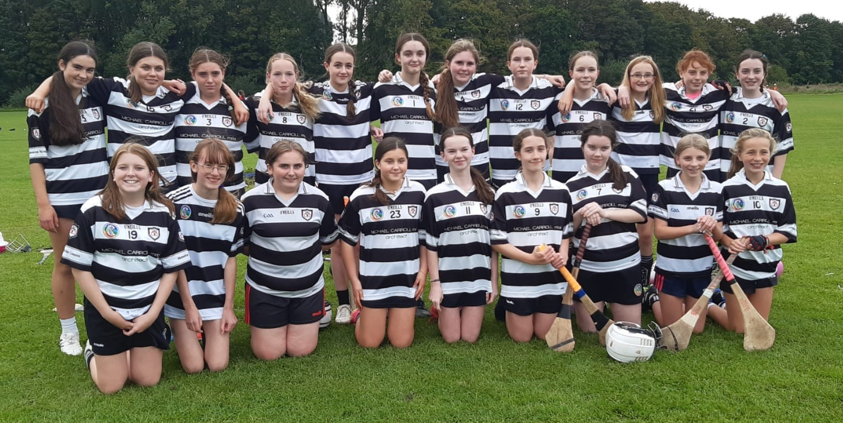 Our U-13s were in action again with a match on Tuesday last against Aghada at home in Park South. It was a very competitive game throughout with Aghada running out winners on this occasion but credit to our panel of players who played with great heart and determination to the very end. Well done to all the team who are improving with each game and to Jessica on playing a great game and captaining the team.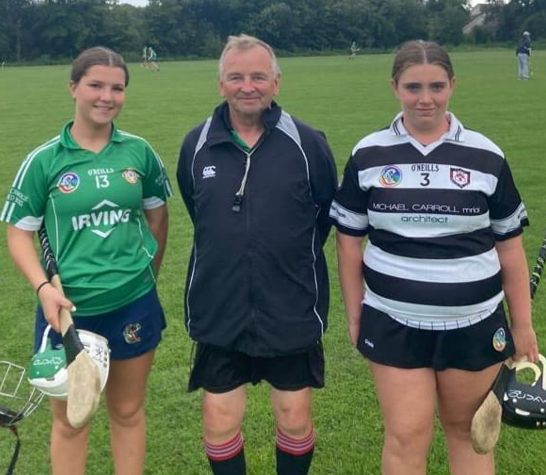 UNDER 15S
Our Fé15 Camogie team played the semi-final of the U-15A Imokilly League on Wednesday evening in Park South. It has been a great achievement for the girls to reach this stage of the competition with some fantastic performances against many of their local rivals along the way. Every extra game after the group stage is a huge bonus as there is no U-15 Camogie Championship available.
We started the game with a full team of 'on the age' U-15 players and as usual the work-rate throughout the field was fantastic. All girls contributing very well. Killeagh actually had the majority of possession in the first-half but struggled a small bit to get their shots on target with the hard-working Midleton defence. Score at half-time was 0-5 to 2-3 in favour of Midleton, five scores each.
The second-half was very similar to the first with Killeagh again working extremely hard. The Midleton defence was however able to maintain a clean sheet and the game was ultimately decided on the ability to get goals. Final score of 0-14 to 3-8 in favour of Midleton.
We still have a bit of work to do on our distance striking but the girls cannot be faulted on work-rate or determination. Killeagh gave a fantastic account of themselves and are also a great team.
We are really looking forward now to the final against Sars. Keep up the hard work girls!
Congratulations to Sarah McConville who was excellent as captain on the night.
JUNIOR BS
Well done to our Junior Bs who had a great win on Friday night against Kilbree. Well done girls.
DAVY HOGAN STREET LEAGUES

Our U-10's and U-11's kicked off the Street Leagues on Tuesday evening in glorious sunshine in Park South. Some great displays of skill, grit and determination on display by each girl.
LADIES FOOTBALL
JUNIOR A CHAMPIONSHIP
Our Junior ladies traveled the long road to Bantry on Sunday morning for the next game in their championship round robin. Conditions were perfect. Maybe a little too hot.
They got off to a fabulous start with a super goal from Amy Mc Carthy. From there on the girls kept it going playing great football. Half-time score: Midleton 2-5 Bantry 2-2.
With the same intensity in the second-half the ladies fought for every ball and took their scores extremely well to run out eventually winners. Final score: Midleton 3-8 Bantry 2-6.
Scorers: Amy McCarthy 1-0, Sadhbh Beausang 2-2, Ava McAuliffe 0-2,Isabelle Nestor 0-3, Rachel Quirke 0-1
Our next championship fixture is a home game in Clonmult Memorial Park on Sunday next, September 10 at 3pm v Dohenys (Dunmanway). Our U-12s will take to the pitch beforehand at 1pm where they play Donoughamore in a county semi-final.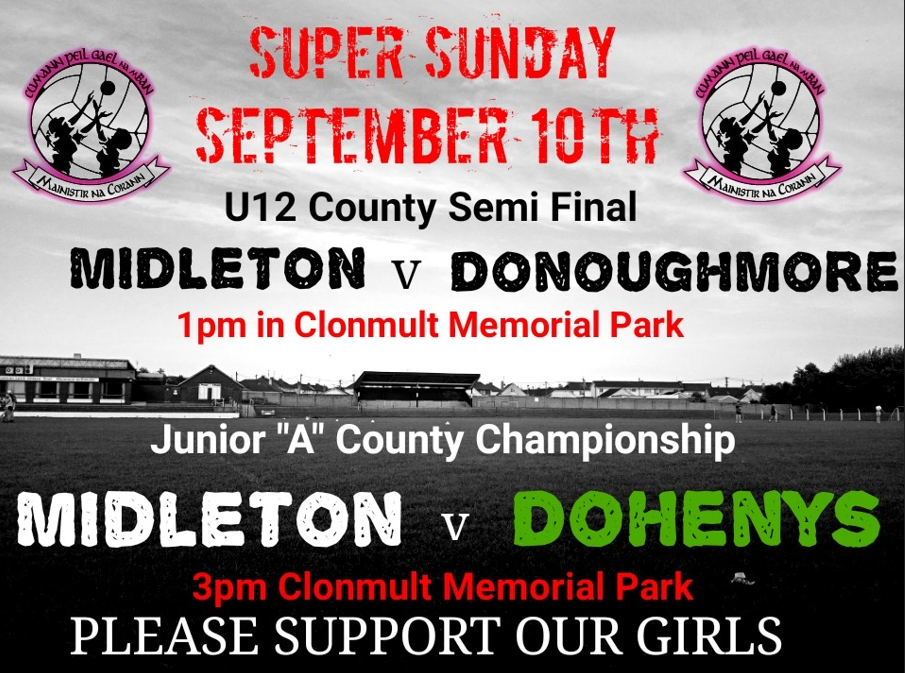 FANCY BECOMING A REFEREE?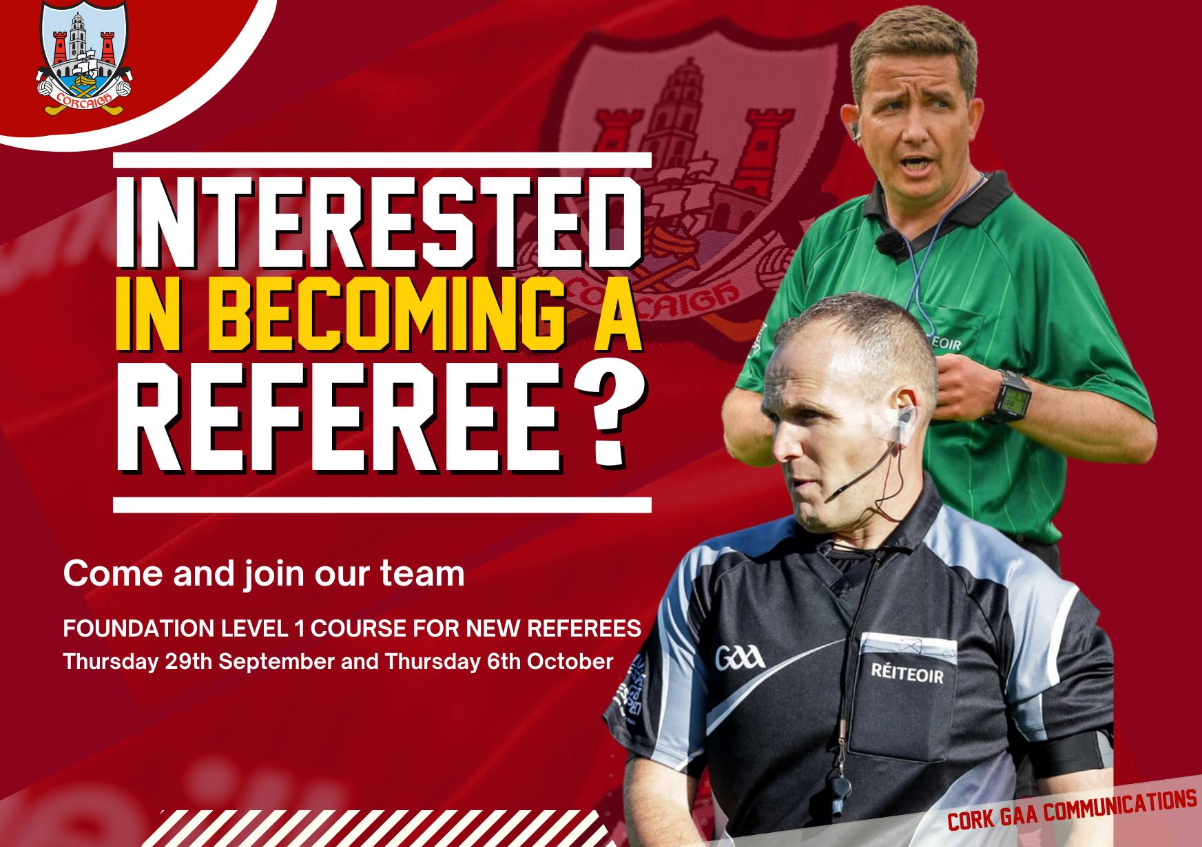 Cork GAA and the Referees committee will be running a course for new referees for the Imokilly division in Páirc Uí Chaoimh on Thursday 14th and 21st of September. (Attendees must attend both nights)
For more information, or to register your name for the course, please check out gaacork.ie/referees/
RDC MOVING TO MIDLETON GAA CLUB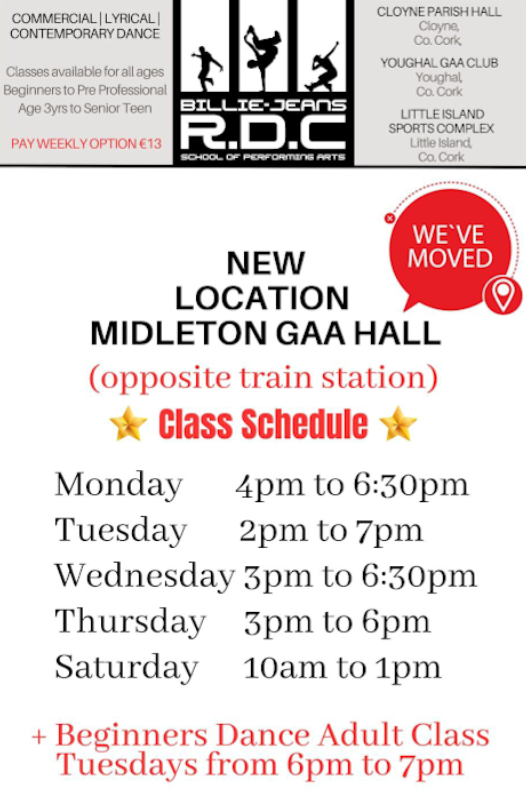 We are delighted to welcome Billie Jean's RDC Dance and Performing Arts school to Midleton GAA Club.
The school has been running in Midleton since 1991 and they were crowned winners of Ireland's Got Talent a few years back. They are famous for high standard dance, musical theatre, singing and fitness classes from age three to senior adults. Classes will be starting at Midleton GAA Club this week. For more information contact: 086-7966124 or check them out on Facebook.
MIDLETON GAA MONDAY CLUB
Next gathering is on Monday 25th September 10.30am Midleton GAA Club All Welcome!
SOCIAL DANCING
Social Dancing this Saturday night, September 9, to Muriel and Fran from 9.15pm. A great night is assured.
LOTTO DRAW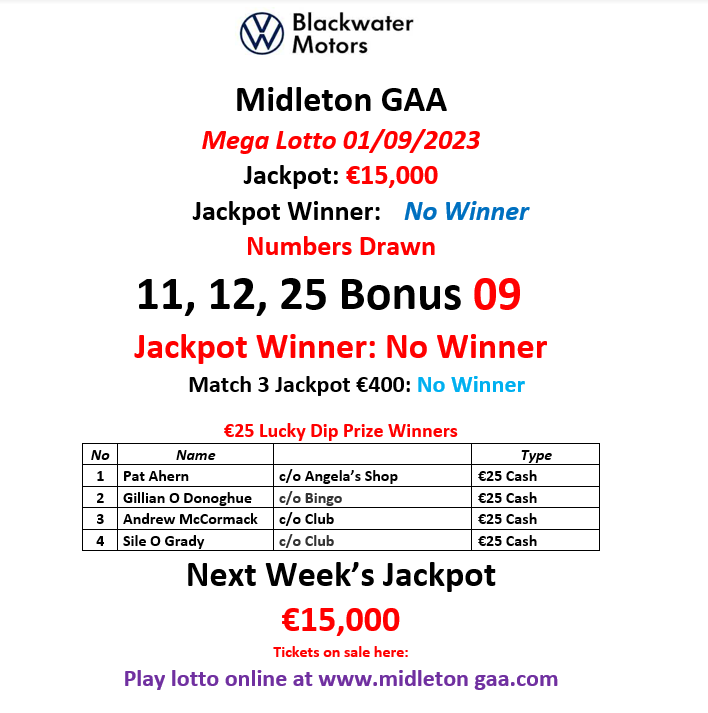 The Jackpot was €15,000 for last Friday night's jackpot and the numbers drawn this week were: 11, 12, 25 and the bonus number was 9.
There was no jackpot winner or match 3 winner.
The €25 Lucky Dip Prize winners were: Pat Ahern, Gillian O'Donoghue, Andrew McCormack and Sile O'Grady.
Play 24/7 at: http://www.klubfunder.com/Clubs/Midleton%20GAA/lotto
In total Midleton GAA will give out local business vouchers to the value of €3,800 every year as part of our "Shop Local, Buy Local" campaign.
How to play: tickets are on sale at Pat Walsh Paints, Chadwicks, Frank Murphy Butchers, Murphy's Pharmacy, Crowley Butchers, or buy online (see above).
BINGO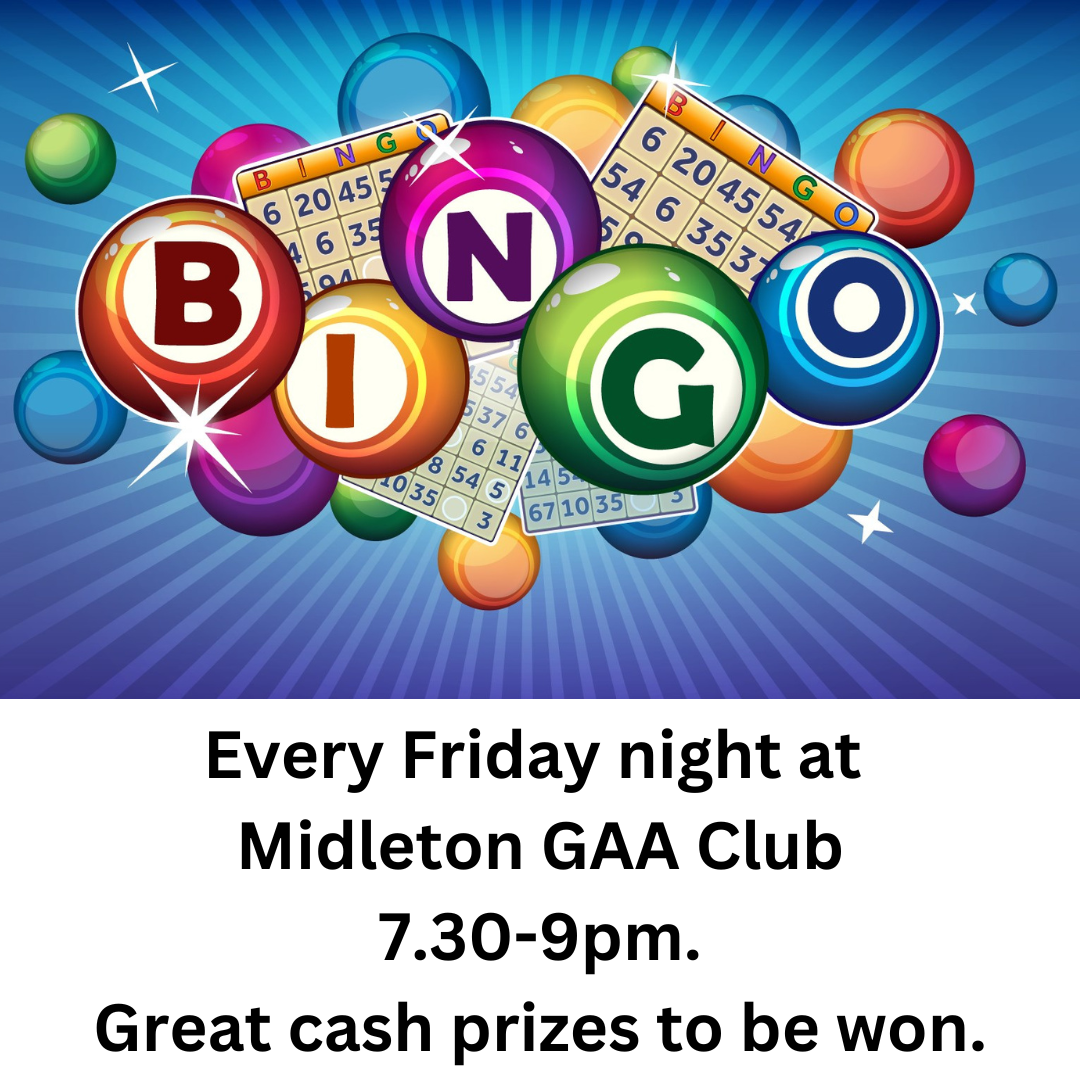 Fancy a good night which also benefits Midleton GAA club...what about bingo on Friday nights?
It kicks off at 7.30pn every Friday night and is over by 9pm. A single book is €6. A double book is €12. We're having our biggest crowds since before Covid recnetly so thanks to everyone for coming in such big numbers, it is much appreciated. New players are always welcome....
CLUB SHOP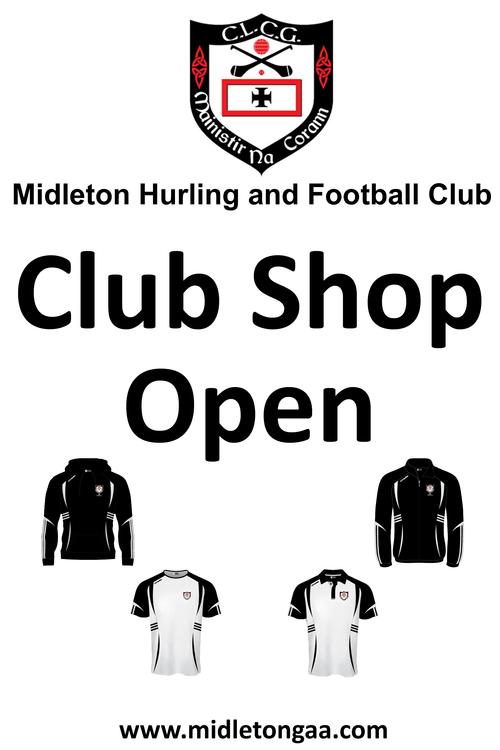 With all our hurling, camogie and ladies football teams now in full flight is the time to stock up on all your gear needs for the coming season.
All you have to do is go to the Klubfunder website (www.klubfunder.com/Clubs/Midleton%20GAA/ShopItems) and you will see the full range of what's available to buy. You can shop away to your heart's content, pay for it online and then collect your purchases at the club shop on Saturday morning between 9.30am and 10.15am. Thank you.
GAA LEARNING PORTAL

We have been asked to remind members and especially our club coaches that the GAA Learning Portal is a great resource which is free to use. Please check it out at http://learning.gaa.ie/about.
MEN ONLY - STAYING FIT FOR THE FUTURE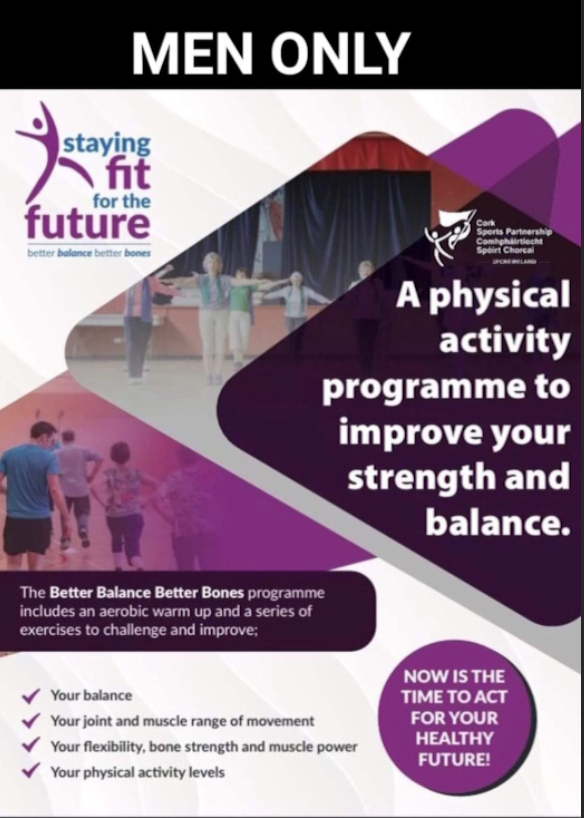 Exciting news, there is a new class for 'older men' coming soon to Midleton GAA Club.
The goal of the classes is to improve your quality of life and stay independent. In this class you will:
✔️ Strengthen Bones and Joints.
✔️ Strengthen Muscles.
✔️ Improve your Balance.
✔️ Laugh, chat and meet new people.
✔️ Get tips and advice on health and wellness.
BOOK HERE: https://eventmaster.ie/event/Bv6Gt23c8j/nqXVSKOT2
CLUB HOUSE
We have a smashing club house, bar and hall, at Midleton GAA Club and don't forget that these are available to hire for functions....see below for details....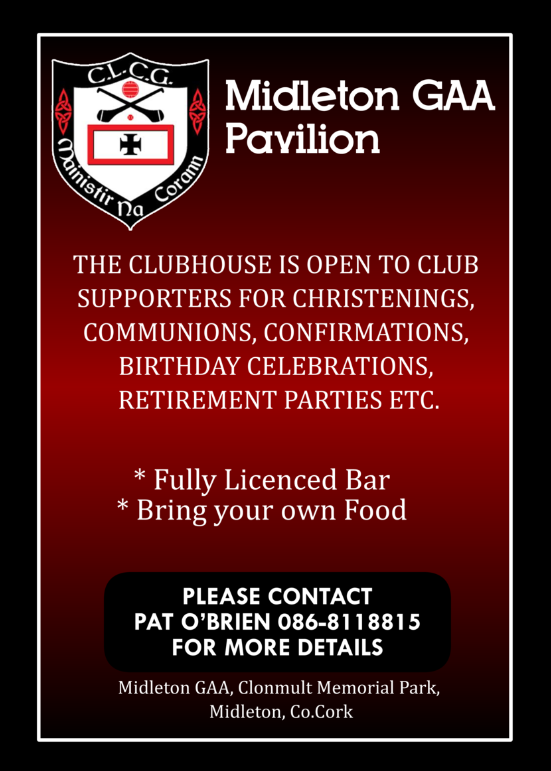 MEMORIES IN MALLOW
An interesting looking event in Mallow on September 18...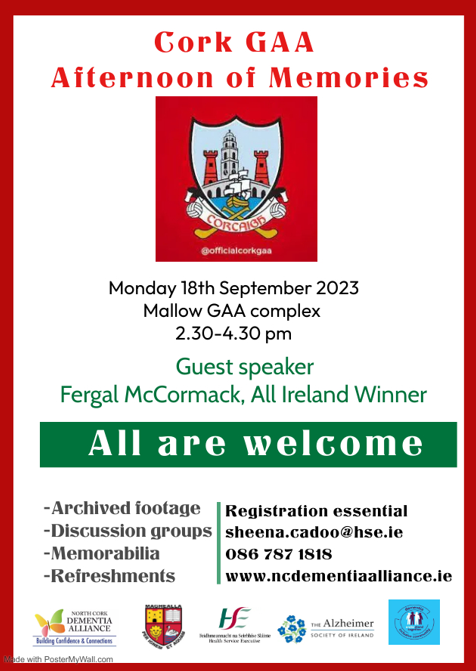 PLEASE PLAY YOUR PART
​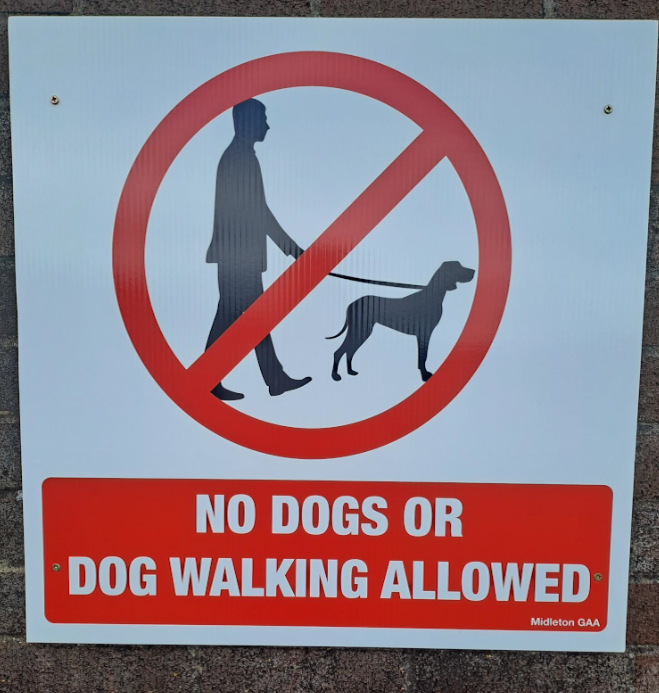 Unfortunately there has been a rise in the amount of dogs being walked in Park South recently, especially during matches and training sessions. Please spread the word that only assistance dogs are permitted in both of our club grounds at Park South and Clonmult Memorial Park.
Please do not bring single-use plastic bottles to either Park South or Clonmult Memorial Park.
Please put your rubbish in a bin or bag and please bring your gear home with you.
And always be aware of the open water surrounding the pitches in Park South.
If you are a coach, please pass on these simple messages to players and parents.
All members are asked to respect referees and their officials at all times.
Also if you are a coach, last person out locks the gate, toilet and container.