Midleton Hurling and Football, Ladies Football and Camogie Club News - June 29
29 June, 2023
ADULT CLUB
JUNIOR C HURLING LEAGUE CHAMPIONS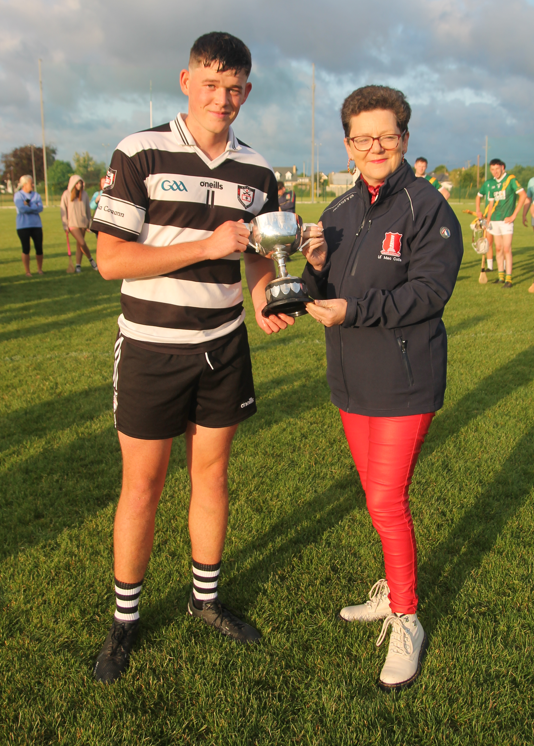 Our Junior C hurlers made the journey to Rathcormac on Saturday night to take on Dungourney in the league final and they came away with a great win. Well done to all involved and to Ben O'Neill who captained the side....here is a match report and pics thanks to Declan Barron.
East Cork Division 4 Hurling League Final
Midleton 2-15 Dungourney 0-12
Goals in either half from Christian Daly, helped Midleton to claim the ECI-JCB Division 4 hurling league final played at Rathcormac on Saturday evening. The opening goal came in the 10th minute and sent Midleton into a 1-2 to 0-1 lead. By half time good points from Mark O'Keeffe, Harry Wall and Nicky Daly Hayes saw Midleton lead by 1-7 to 0-7 with Sean Feeney and top scorer Ciaran Flynn keeping Dungourney in touch.
On the resumption Midleton added a few good points to stretch clear but a fine penalty save by Oran Sweetman kept Dungourney in the game. Niall Geaney, Sean Geaney, sub Diarmuid O'Sullivan and Stephen Hickey were all playing well for Dungourney, but the Midleton attack was more potent and the second goal from Daly with ten minutes remaining sent Midleton clear. Ciaran Flynn continued to impress but points from Mark O'Keeffe and Ben O'Neill sealed a fully deserved victory for the Magpies.
After the game the ECI-JCB cup was presented by Norin O'Callaghan from the Eat Cork Board to Midleton captain Ben O'Neill (pictured above).
Scorers: Midleton: Christian Daly 2-2, Mark O'Keeffe 0-6, Harry Wall 0-4, Nicky Daly Hayes 0-2 and Ben O'Neill 0-1.
MIDLETON: Cillan Hurley, Rory Lester, Gavin Hurley, Colin Sunderland, Brendy Ferritter, Patrik Kane, Charlie Walsh, Daire Mooney, Evan McGrath, Christian Daly, Ben O'Neill capt, Harry Wall, Mark O'Keeffe, Nicky Daly Hayes and Liam Kelly. Subs used: Cian Lambe, Sean Cronin, Sean Corcoran and Jerome Curtin.
This team were back in action on Tuesday night with a useful challenge game against Rathpeacon.

JUNIOR A FOOTBALL CHAMPIONSHIP
Our next game in the championship is against Bride Rovers on this coming Saturday, July 1 in Carrigtwohill at 7pm. Best of luck lads.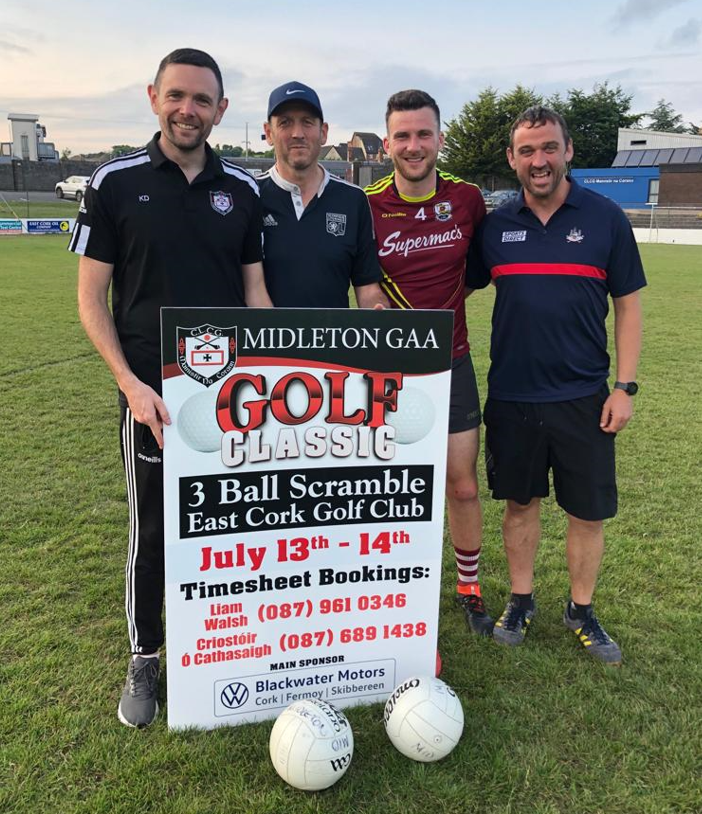 Junior A Football selectors, Kieran Denihan, Sean Corcoran, Johnny Comer and Barry Fitzgerald promoting our upcoming Golf Classic. See below for details....
SENIOR HURLING LEAGUE
MIDLETON 1-19 FERMOY 1-11
Our senior hurlers completed their league schedule on Friday night at home in Clonmult Memorial Park against Fermoy and they ended the campaign with a good perfomace and win.
We started brightly with two early points from Dave Scanlon and Pa White before Fermoy levelled up before the fifth minute. We then hi six in a row through Paul Haughney, Padraig O'Brien, Ross O'Regan (2) and Aaron Mulcahy (2) to put us 0-8 to 0-2 ahead after 13 minutes.
Fermoy came back again to leave it a one-point game (0-8 to 0-7) on 24 minutes but points from Mikey Finn, Aaron Mulcahy and Kian Farmer helped us lead by three at half-time, 0-11 to 0-8.
As in the first-half we hit the ground running on the resumption and points from Paul Haughney (2) and Ross O'Regan and a well taken goal by Padraig O'Brien saw us into a 1-14 to 0-8 lead inside six second-half minutes.
From here to the end Mikey Finn and Aaron Mulcahy kept the scoreboard ticking over and by the final whistle we had eight to spare, 1-19 to 1-11.
So we finished our finished our Division 2 league campaign with five wins (Bride Rovers, Fermoy, Bishopstown, Newtownshandrum and Mallow), two draws (Courcey Rovers & Glen Rovers) and two defeats (St. Finbarrs and Ballincollig).
Glen Rovers finished on top 15 points and we finished joint second with Ballincollig on 12 points. We miss out on a place in the league final and promotion to division one on our head to head with Ballincollig.
We will have two more East Cork derbies next year as Erins Own and Killeagh will be joining this division after their relegation from division one, while Carrigaline and Eire Og will come into this division for 2024 from division three with Mallow and Bishopstown dropping down.
Scorers: Midleton: Aaron Mulcahy 0-6 (0-2F), Padraig O'Brien 1-1, ikey Finn, Ross O'Regan and Paul Haughney 0-3 each, Pa White, Dave Scanlon and Kian Farmer 0-1 each.
MIDLETON: Bryan Rossiter, Catahl Gunning, Luke Dineen, Seannaidh Smyth, Christian Murphy, Eoin Moloney, Dave Scanlon, Paul Haughney, Kian Farmer, Aaron Mulcahy, Ross O'Regan, Padraig O'Brien, Paul Connaughton, Pa White, Mikey Finn. Subs used: Evan McCarthy, Gavin Reddy, Leo Hennessy and Cathal Beausang.
INTERMEDIATE HURLING LEAGUE.
MIDLETON 3-18 CASTLEMARTYR 1-19
Our intermediate hurlers also brought the curtain down on their league campaign at the weekend as they came away from Lisgoold on Sunday afternoon with a very hard-earned but deserved win over a strong Castlemartyr side.
It was Castlemartyr who flew out of the traps in this game and they led by 0-5 to 0-1 after seven minutes. But points from Gavin Reddy (2), Aaron Mulcahy (3) and Paul Connaughton had us back within one (0-8 to 0-7) on 18 minutes. Castlemartyr finished the half as they started and they led at the break on a scoreline of 0-13 to 0-8 having played with the breeze and the hill in the opening period.
We got the perfect start to the second-half when Padraig O'Brien goaled inside 50 seconds followed by points from Padraig O'Shea and Paul Connaughton, who soon after struck for our second green flag to put us 2-10 to 0-14 in front with seven second-half minutes played. But in a ding-dong battle Castlemartyr replied with 1-2 to go back in front (1-16 to 2-10).
Castlemartyr led by three (1-19 to 2-13) with just over nine minutes to play but that was to be their final score as we really took over down the stretch and finished excellently with 1-3 from Aaron Mulcahy and two points from Kian Farmer to seal an excellent win by five points after a cracking game.
We finished seventh of ten teams on eight points with three wins and two draws and will play in division five again next season.
Our next game is the Mick Tobin Cup in Knockanore on Saturday, July 8.
Scorers: Midleton: Aaron Mulcahy 1-9 (0-4 frees), Paul Connaugthon 1-2, Padraig O'Brien 1-0, Kian Farmer 0-3, Gavin Reddy and Padraig O'Shea 0-2 each.
MIDLETON: Brion Saunderson, Leo Hennessy, Christian Murphy, Cathal Gunning, Dave Scanlon, Adam Fay, Alan Power, Gavin Reddy, Kian Farmer, Aaron Mulcahy, Padraig O'Shea, Evan McCarthy, Christian Daly, Padriag O'Brien, Paul Connaughton. Subs used: Cathal Beausang and Alex Moloney.
JUVENILES
FÉ11S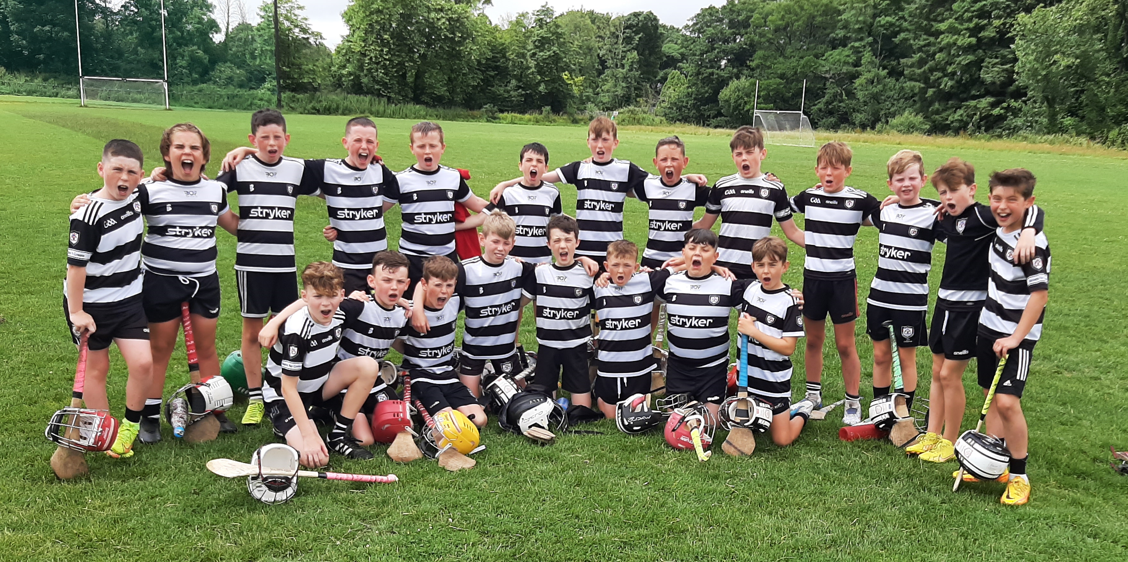 Our U-11s welcomed Bride Rovers to Park South last Saturday Morning.
We split the group into two teams of eleven for this and both of our teams put in great performances against the lads from Rathcormac.
Well done to all!! We are now going to take a small break for a few weeks in July.
FÉ14S
A big well done to our Fé14 hurlers who booked their place in the P1 County Final with an excellent semi-final win over St. Finbarrs at Park South (pictured above) in front of a big crowd on Friday night. They will play Sarsfields in the final.
On Saturday night our Division 4/5 hurling team had a great win over Douglas.
In football, it was also a very successful week with two great wins.
In their P2 football championship semi-final our lads had a great win over Inniscarra in a hugely high scoring encounter in which 13 goals were scored between the two teams.
This puts us into the County P2 Final against Nemo Rangers on this coming Friday night, June 30 in Ballymah (Ballinora's second pitch, near Waterfall) at 8pm. Best of luck lads.
Our Division 4 football team also had a great win (4-7 to 2-10) over Bishopstown this week to book their place in the League Final.
The Division 4 Football team are in Shield Final action on this coming Saturday, July 1 when they take on Douglas in Ovens at 12.15pm. Best of luck.
FÉ16S
Well done to our Fé16s who had a great win (4-24 to 1-15) over Ballincollig in the P1 Hurling League at the weekend.
FIXTURES
FRIDAY, JUNE 30
Rebel Og Premier Fe14 Premier 2 Football Championship Final
Midleton v Nemo Rangers in Ballymah at 8pm
SATURDAY, JULY 1
Fé 14 Division 4 Football Shield Final
Midleton v Douglas in Ovens at 12:15pm
MONDAY, JULY 3
Rebel Og Premier Fe15 Hurling Championship Premier 1 Section 2
Midleton v Carrigtowhill at 7pm at Clonmult Memorial Park.
WEDNESDAY, JULY 5
Rebel Og Premier Fe16 Hurling League C3 Group 1 Final
Midleton v Sarsfields at 7pm in Riverstown
CAMOGIE
UNDER 11S
The rain stayed away as our Fe11 girls hosted Dungourney and Watergrasshill at Park South on Sunday morning. There was plenty of action across the pitches and our girls battled well in the warm sunshine. Many thanks to the visiting teams for their time and commitment.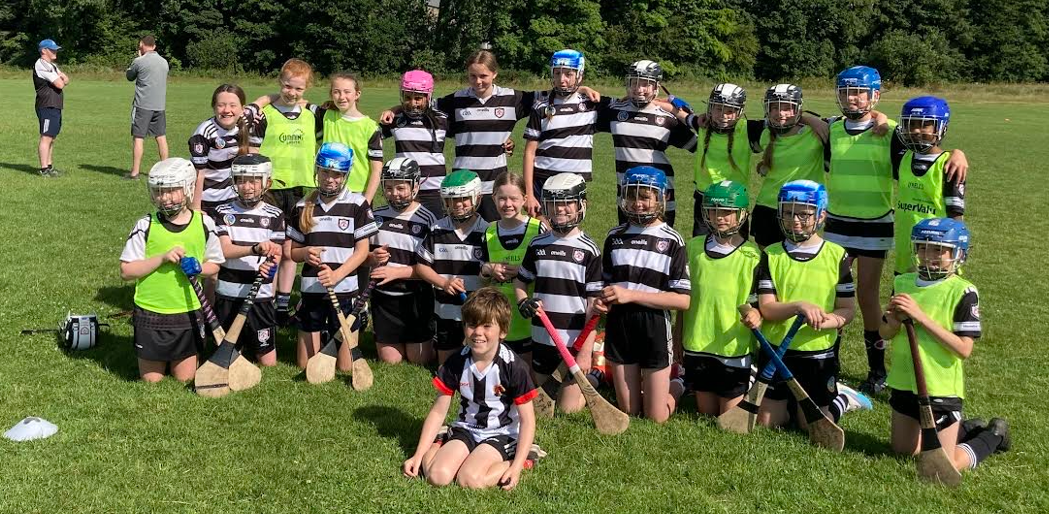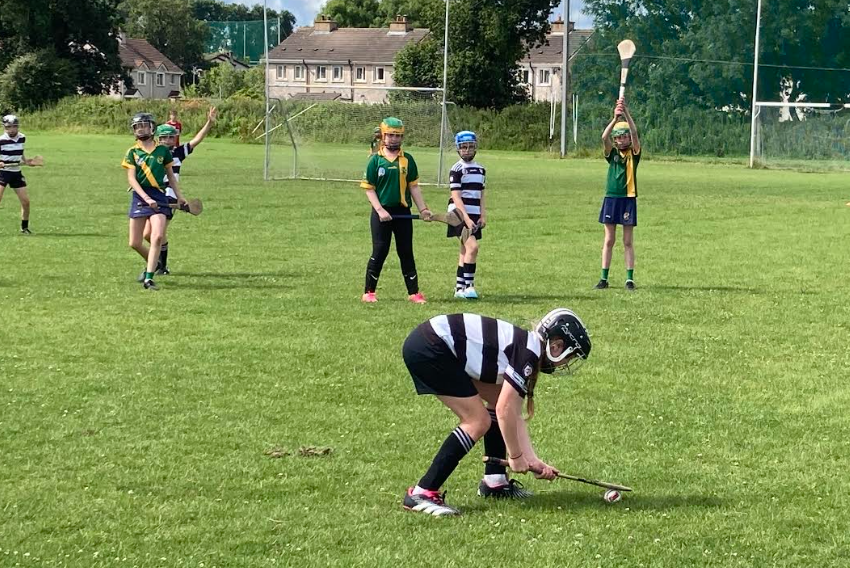 UNDER 13S
Our Fe13s were in action with a friendly game on Sunday 25th June in ideal conditions at home in Park South against Youghal. Fair play to all the players who contributed to this exciting game of camogie with Youghal winning out in the end. There was plenty of skill, effort and determination on display.Thanks to all players, the coaches, the referee and all the supporters for a great evening of camogie.
Well done to Rebecca (see below) our U-13 captain against Youghal on Sunday.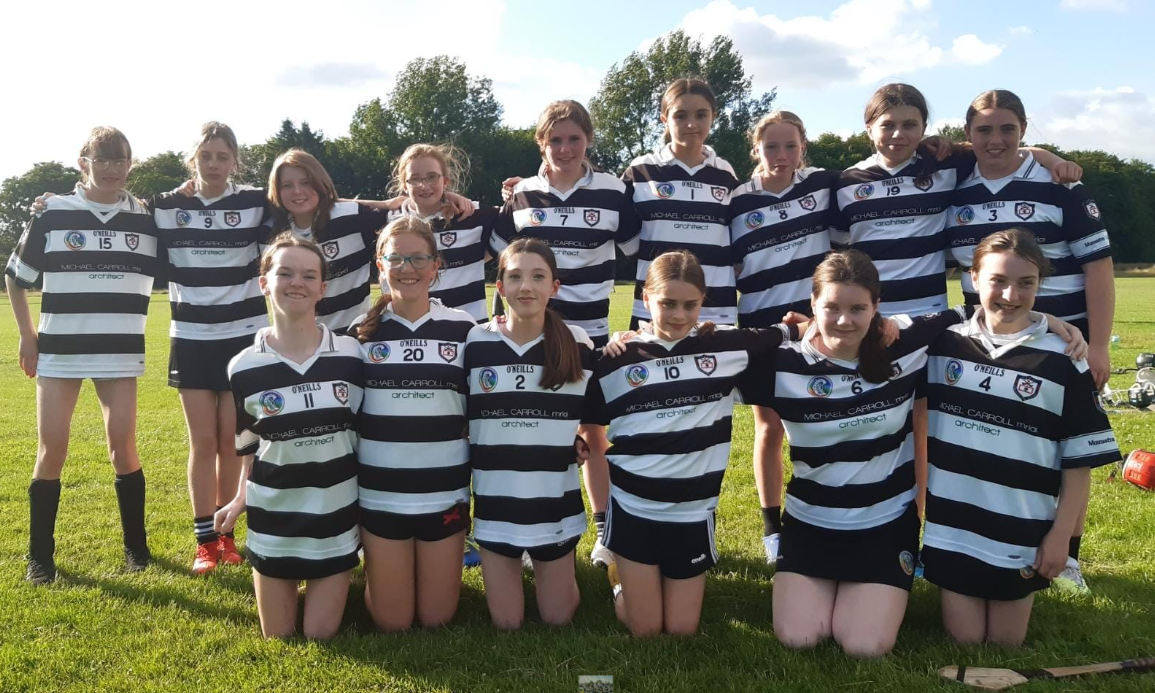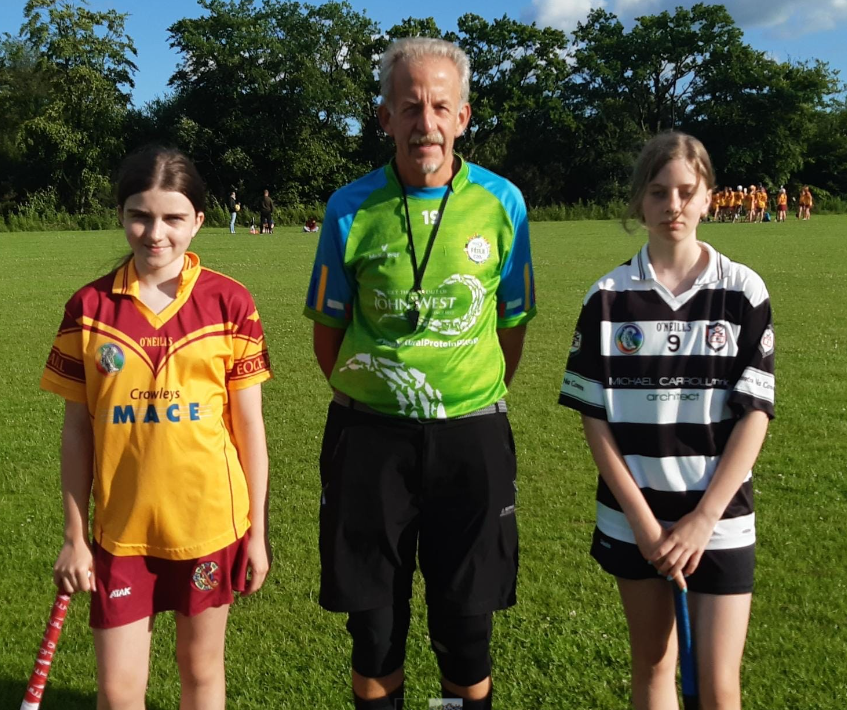 UNDER 14S
Our second U15 team got their Imokilly league campaign off to a winning start with victory away to Bride Rovers on Monday evening. Some resolute defending coupled with some excellent scores ensured that the girls got over the line. Well done to Molly (pictured below) who captained the second U15 team against Bride Rovers. Molly was rock solid in defence.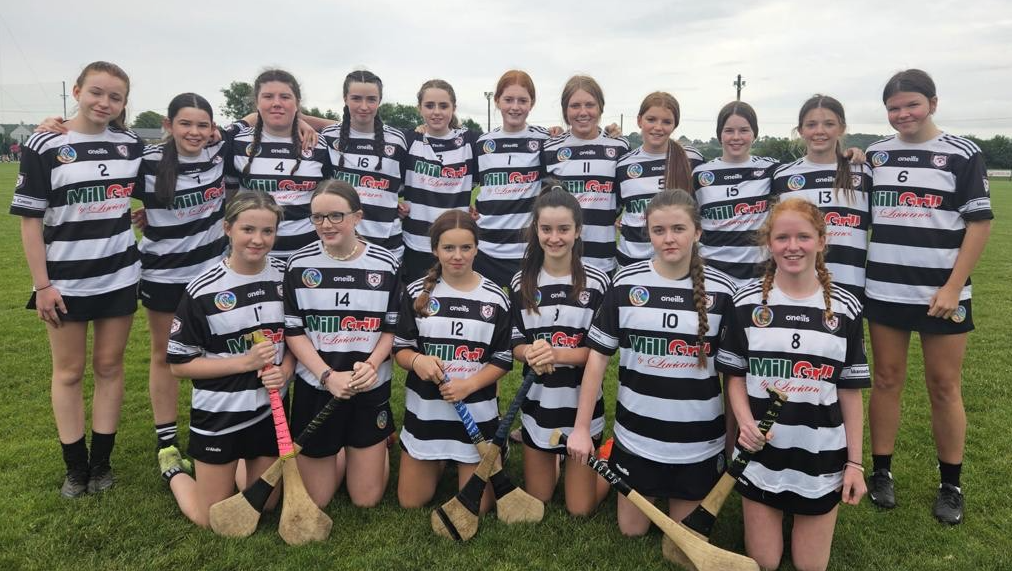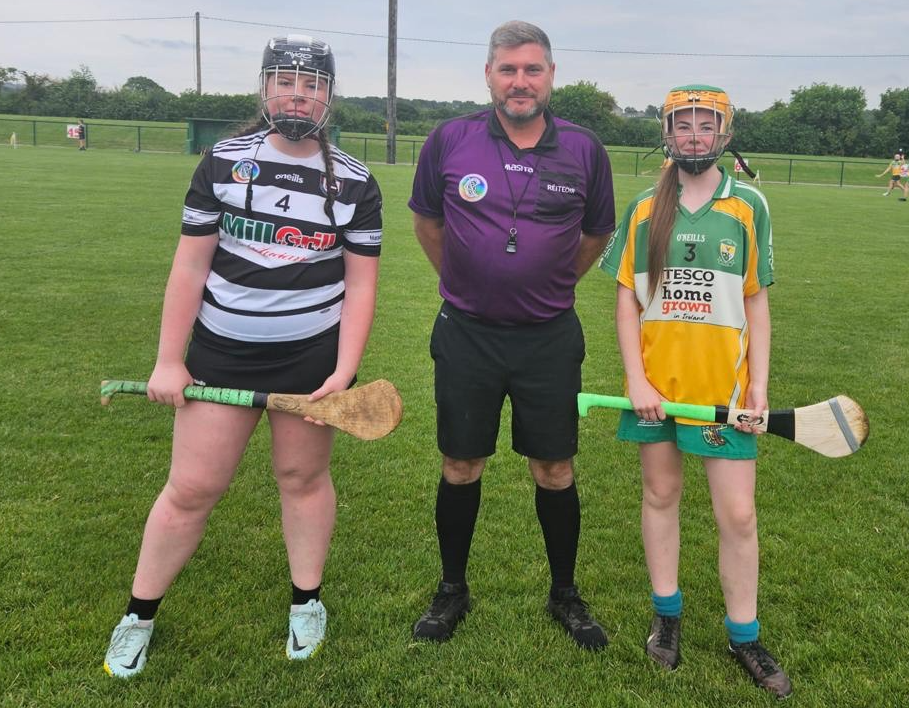 UNDER 15S
Our U-15s started their imokilly league campaign on Thursday evening against Fr O'Neills. A good tough battle with loads of great hurling and some brilliant scores from both sides
Midleton came out on top on this occasion.
Special thanks to Ciara, Jamie and Amy from the u14s who helped us out this evening and were excellent throughout the game.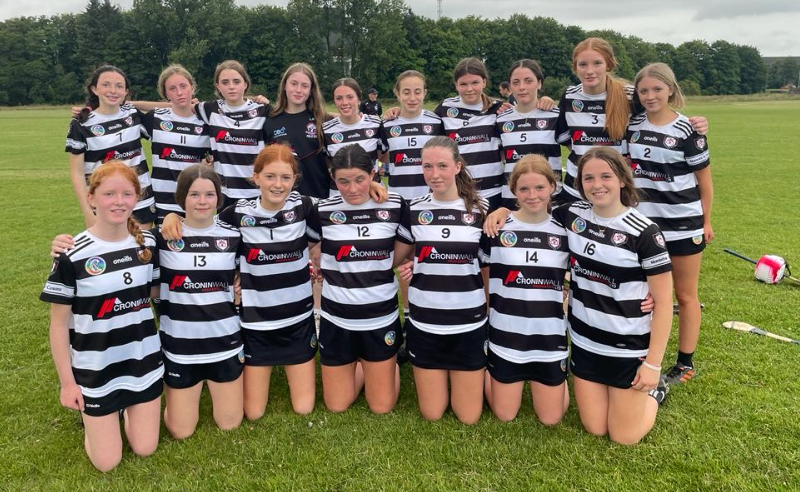 UNDER 16S
Our U-16s lined out in the sunshine in Clonmult this evening against a very good Killeagh team. With holidays and injuries we had four u14s eight u15s and four u16s and to their credit each player put in a huge shift. It was a pleasure to watch all the ages gel together and come away with a fine win.
Special mention to Leah, Sarah, Olivia and Molly from the 14s, big step up but not a bother to them.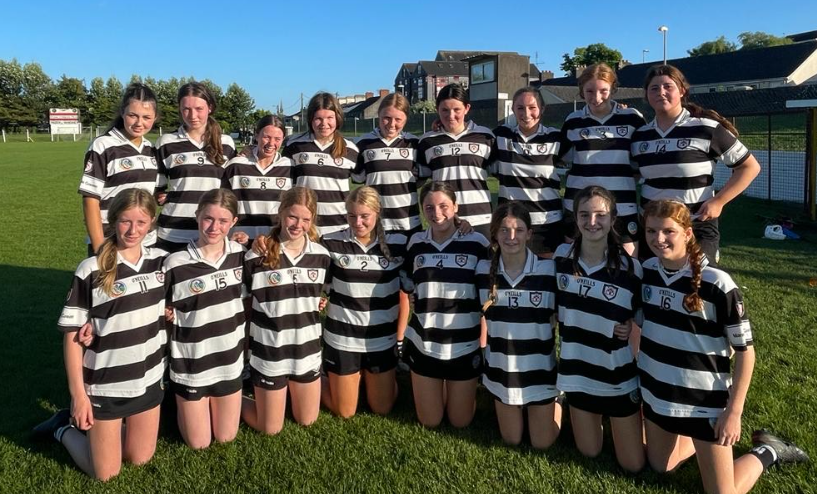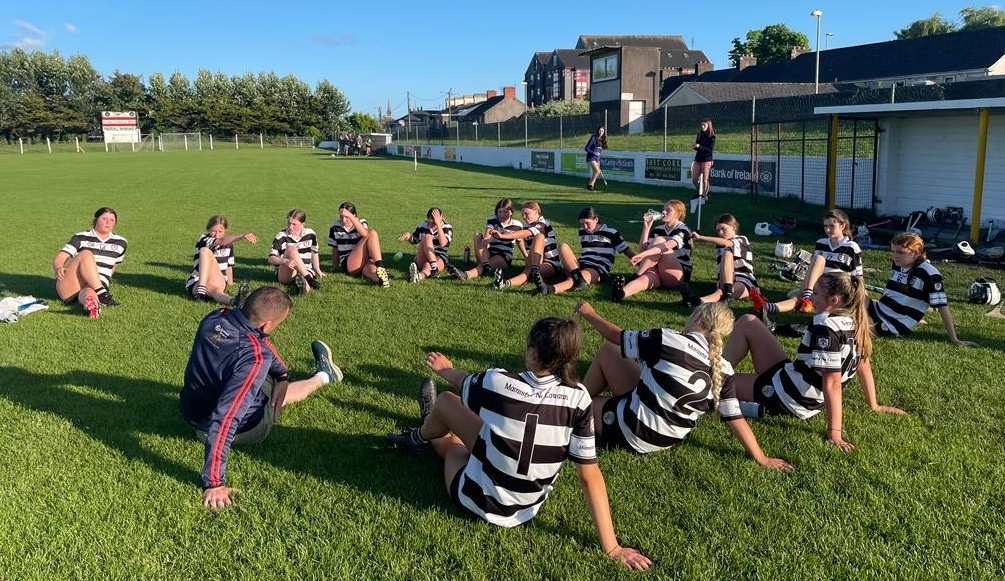 LADIES FOOTBALL
UNDER 10S
Last Saturday we hosted an U-10 football blitz in Park South. We welcomed Youghal and Aghada. Well done to all girls. There was some great football played and all the girls had a great time.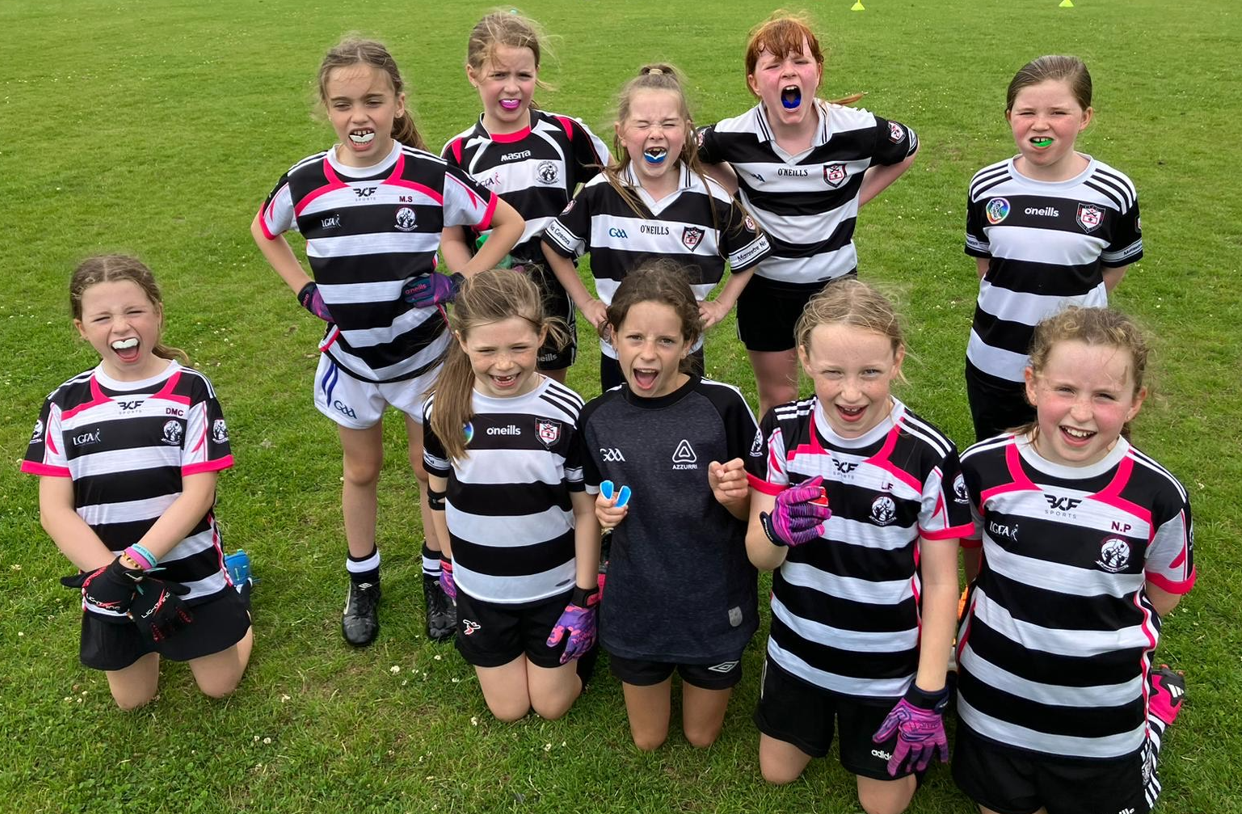 UNDER 8S
Our U-8 girls took part in the East Cork divisional blitz in Glanmire last Sunday. The girls had a great day out and were all delighted with their medals. Thank you to Glanmire for hosting.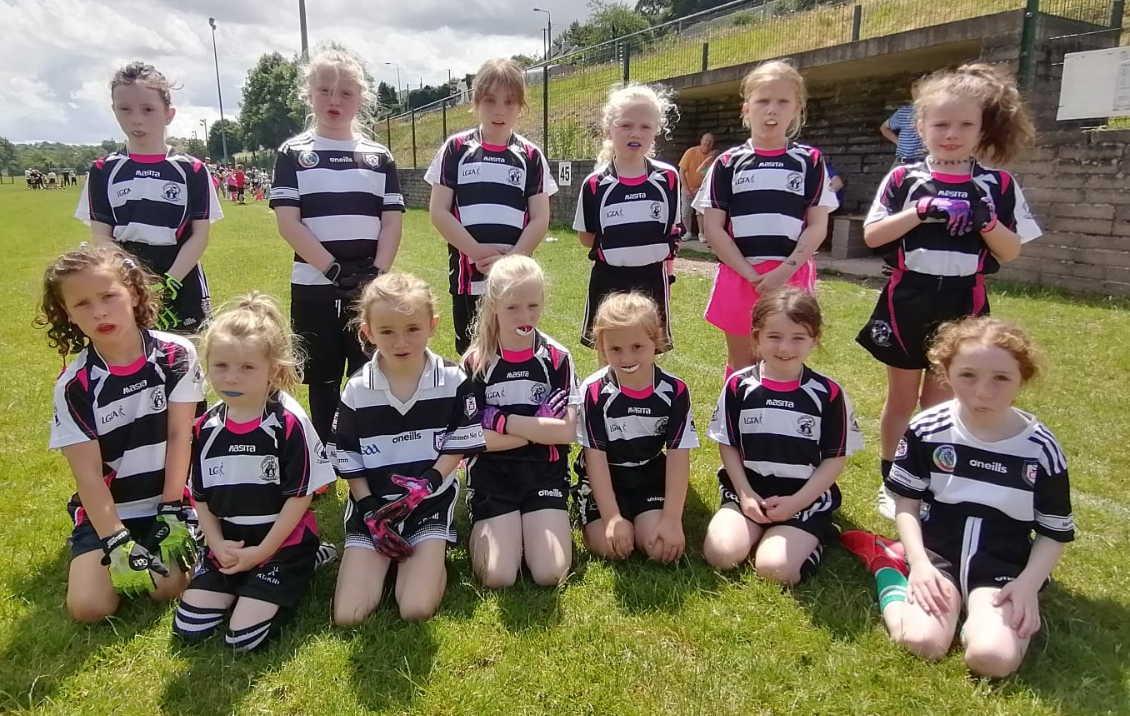 SKILLS CAMP
Orlagh Farmer is running a skills camp for girls this summer. The camp will take place across four venues in Cork. See picture below for details: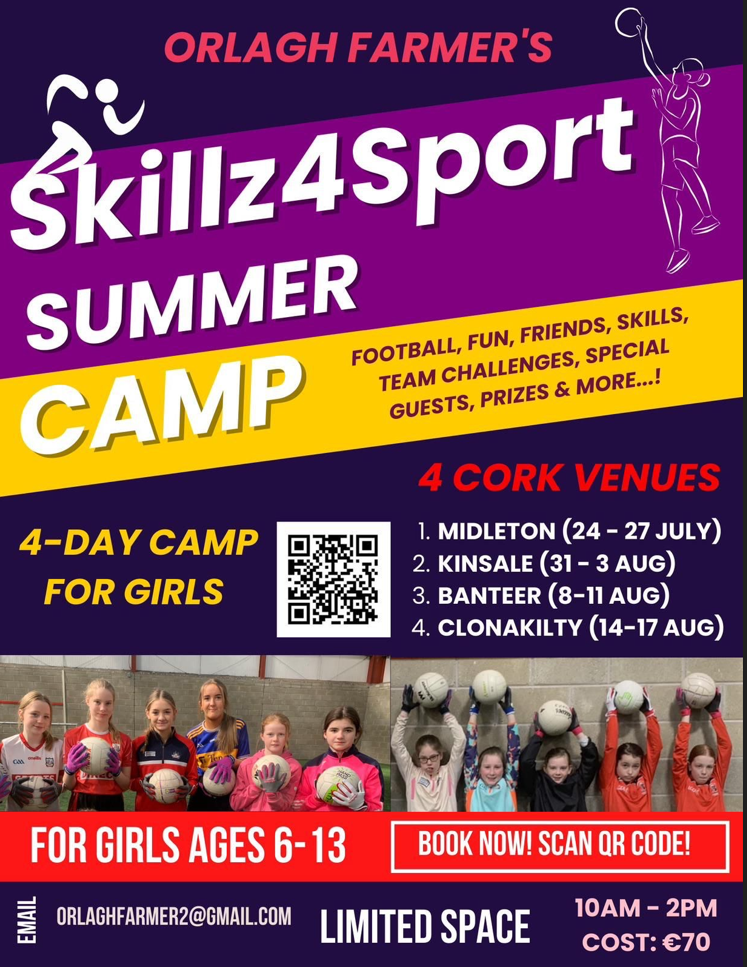 MAGPIES ALL STARS
The very best of luck to our Magpies All Stars team who are heading to Croke Park on Sunday to play a team from Derry at half-time in the All-Ireland SFC Quarter-final game between Cork and Derry. It promises to be a great day....best of luck to all....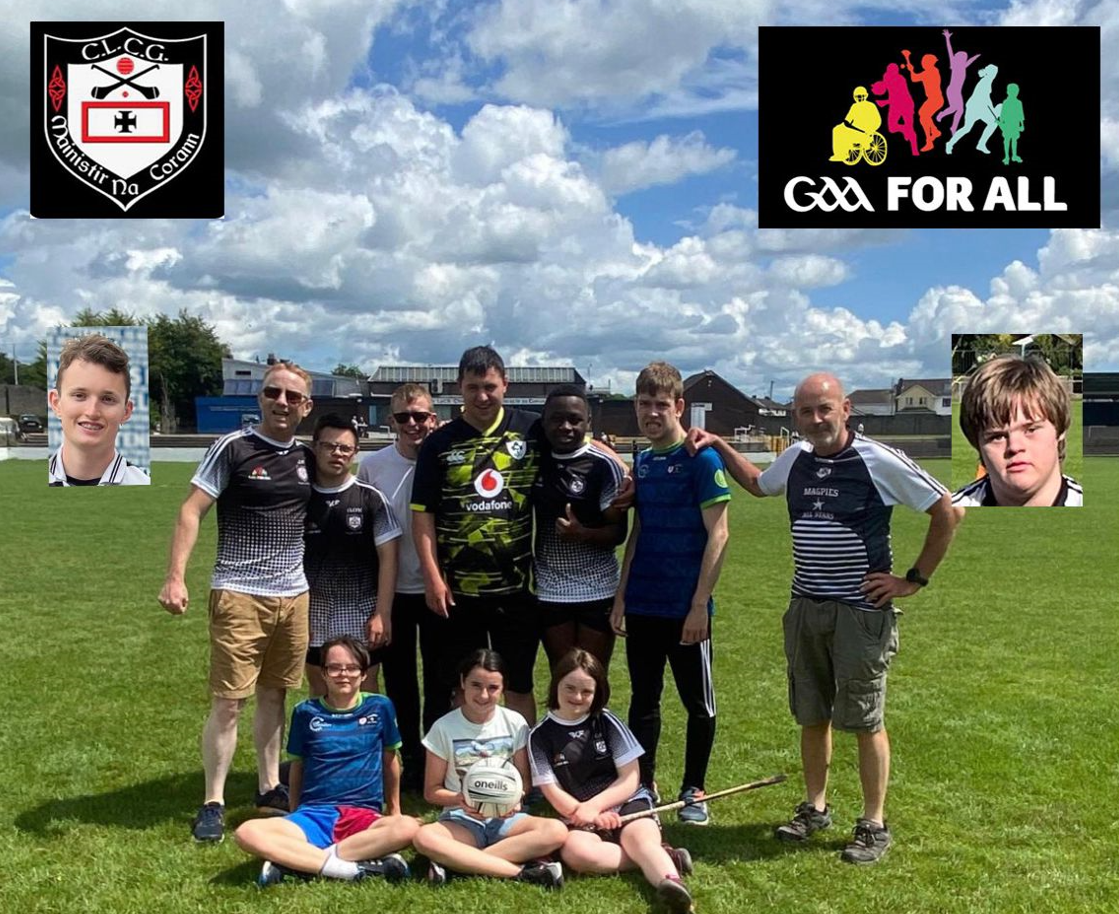 MIDLETON GAA MONDAY CLUB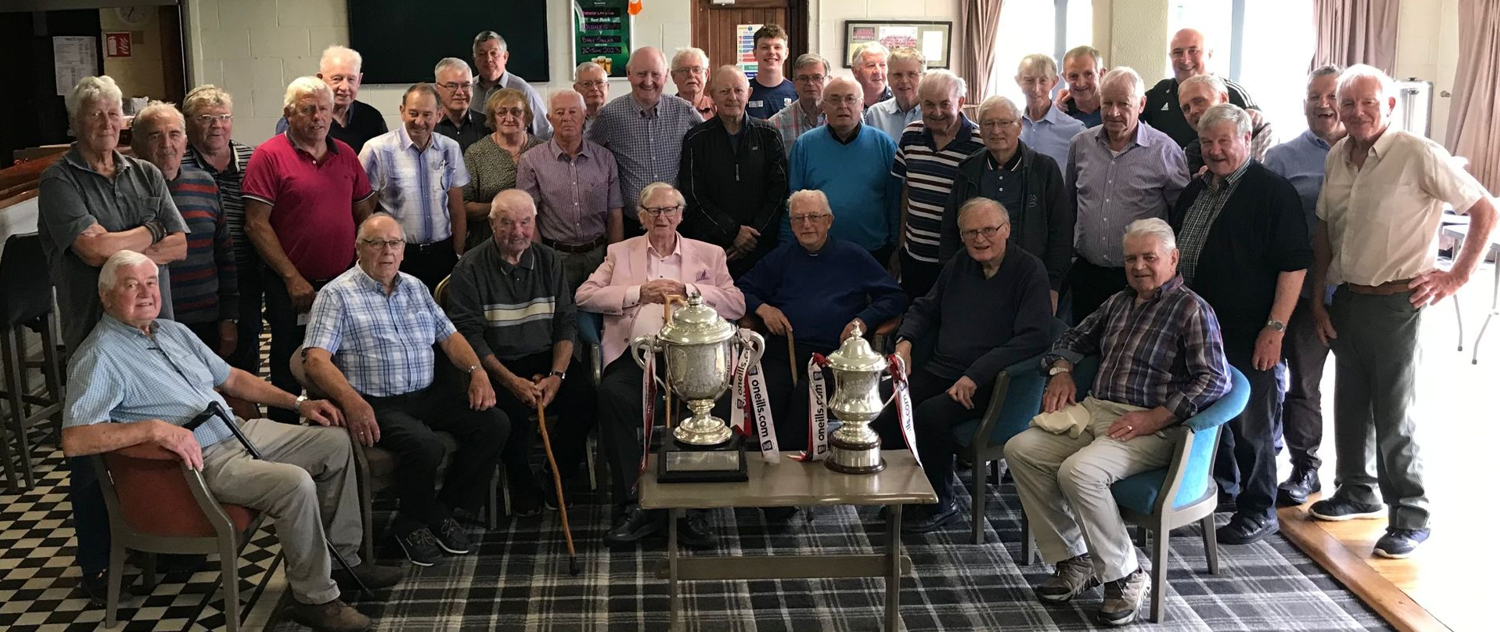 There was lots of celebrating this Monday morning at our monthly Monday Coffee & Chat group as we welcomed the U-20 Munster and All-Ireland Cups to the club together with our own Bríon Saunderson Cork U-20 goalkeeper. Thanks to Bríon for taking time out of his busy schedule to take many, many photos with the group. We also celebrated Canon Colie O'Donovan's 70th anniversary of his ordination into the priesthood, the group offered their sincere congratulations to Canon Colie! Pictured below receiving a special cake from Mairead Beausang, John Fenton and Ger Fitzgerald.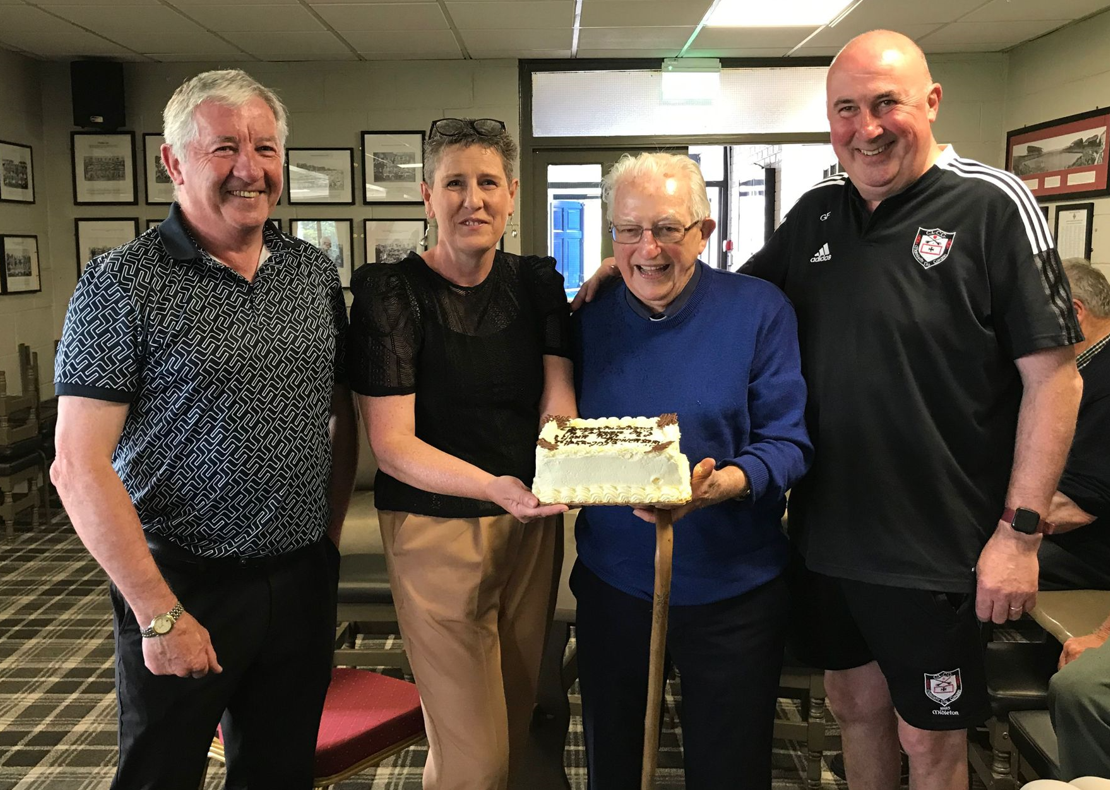 Our next outing is on Monday July 31st at our grounds at Park South, Youghal Road at 10.30am. All welcome!
Here are some more pics of the day with Brion and the Cups....thanks Brion for dropping by....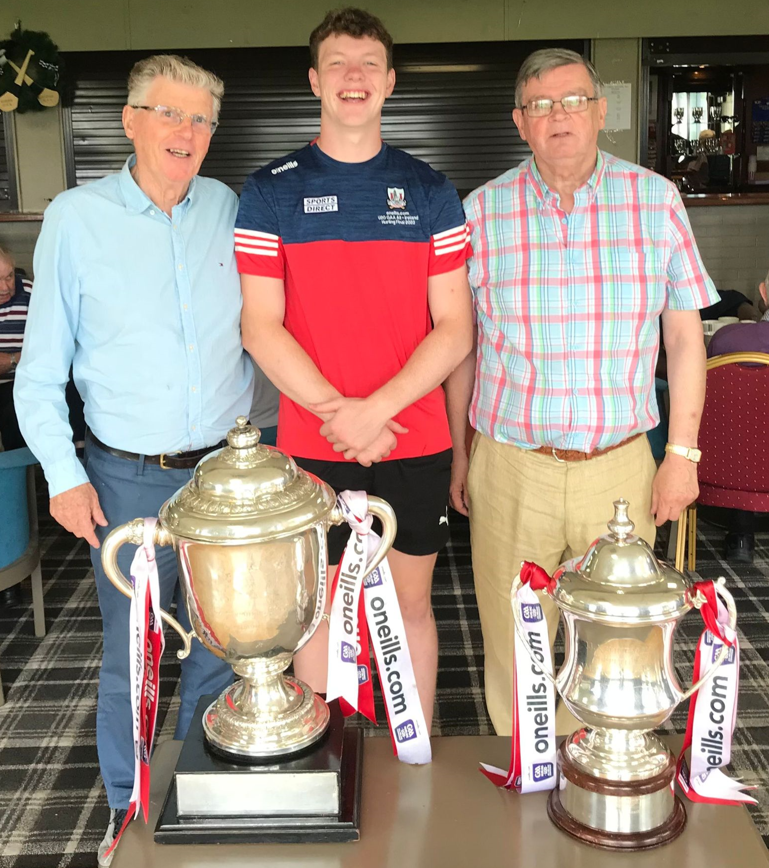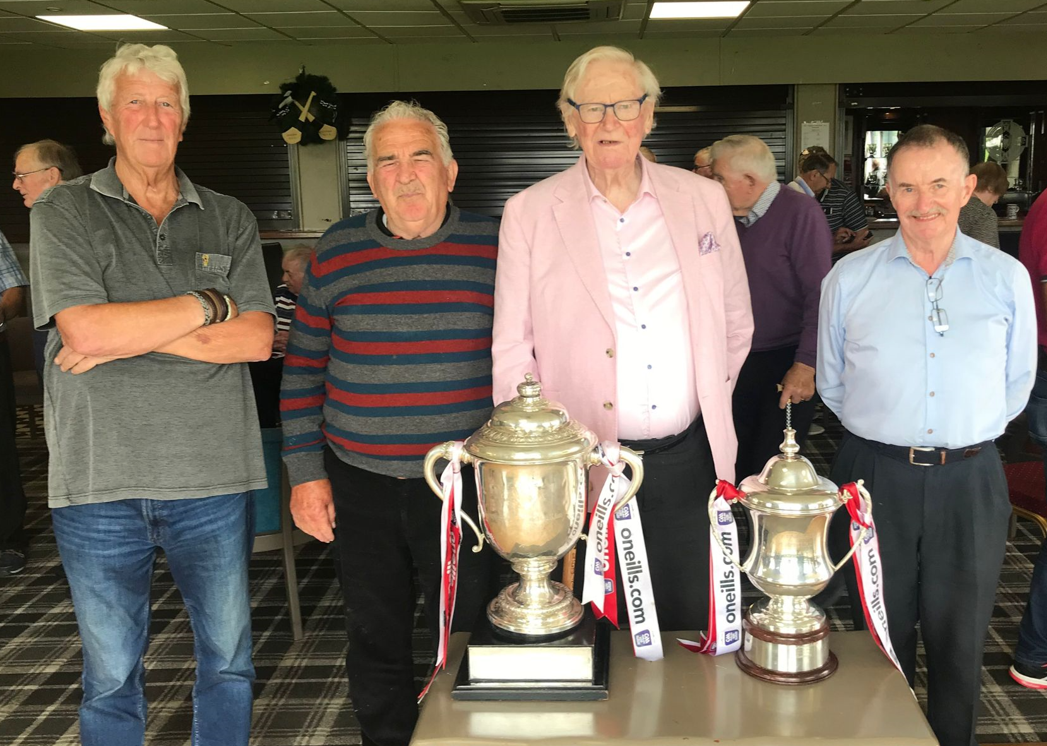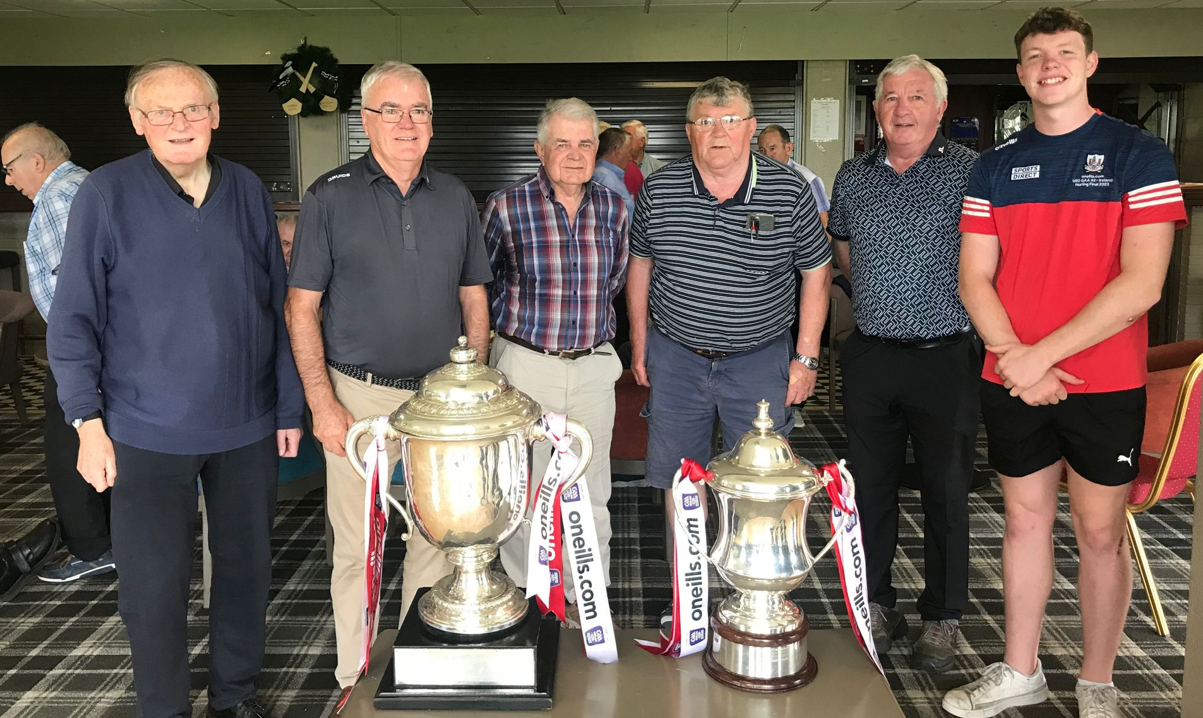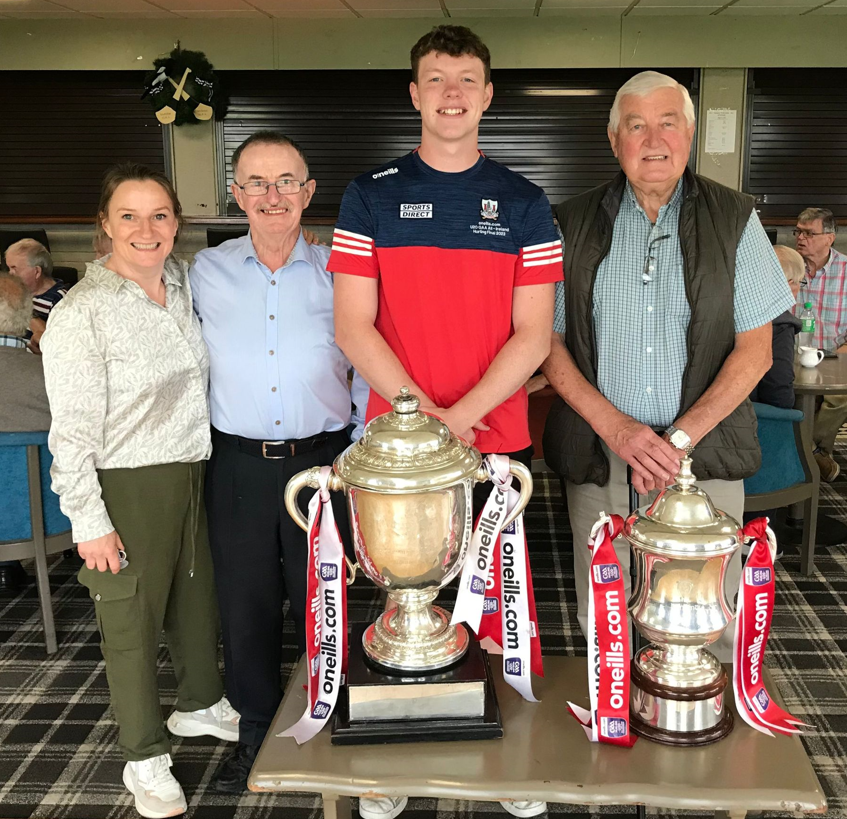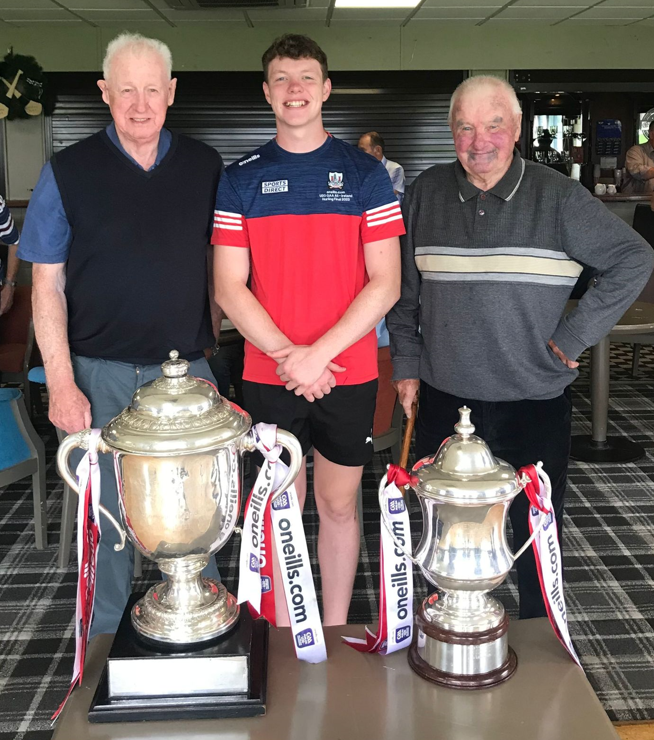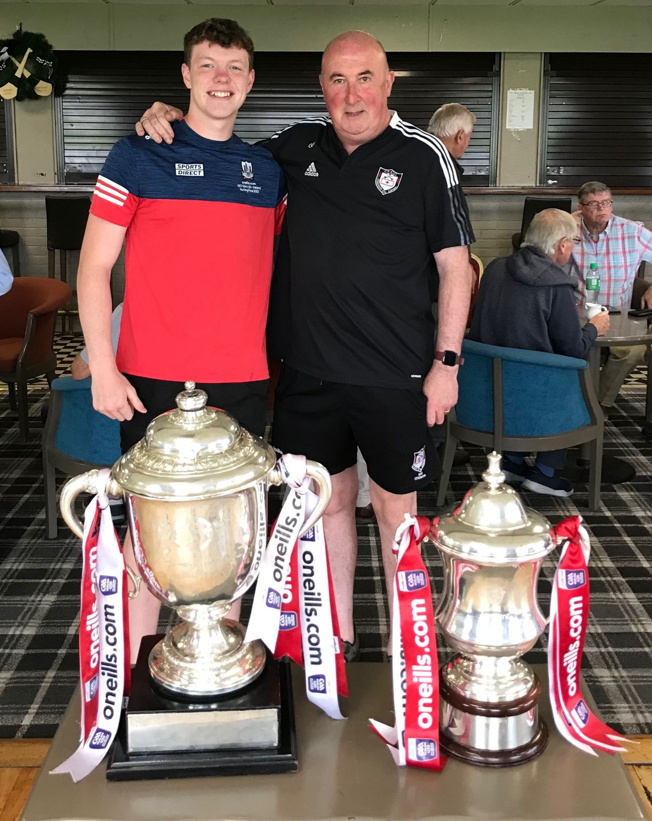 CONGRATULATIONS CANON COLIE
Last Friday night was a special night for Midleton GAA club Vice President and former star player Canon Colie O'Donovan as he celebrated the 70th anniversary of his ordination to the priesthood with a mass in Holy Rosary Church and a function afterwards in the Parish Hall.
Canon Colie won a Junior All-Ireland medal with Cork in 1950 and an All-Ireland senior medal in 1952. He was a great player and has been massive supporter of Midleton GAA all his life. Congratulations Canon Colie.
Pictured is Club Chairman, John Fenton, making a presentation to Canon Colie of a specially made hurley signed by the Cork Senior Hurling panel.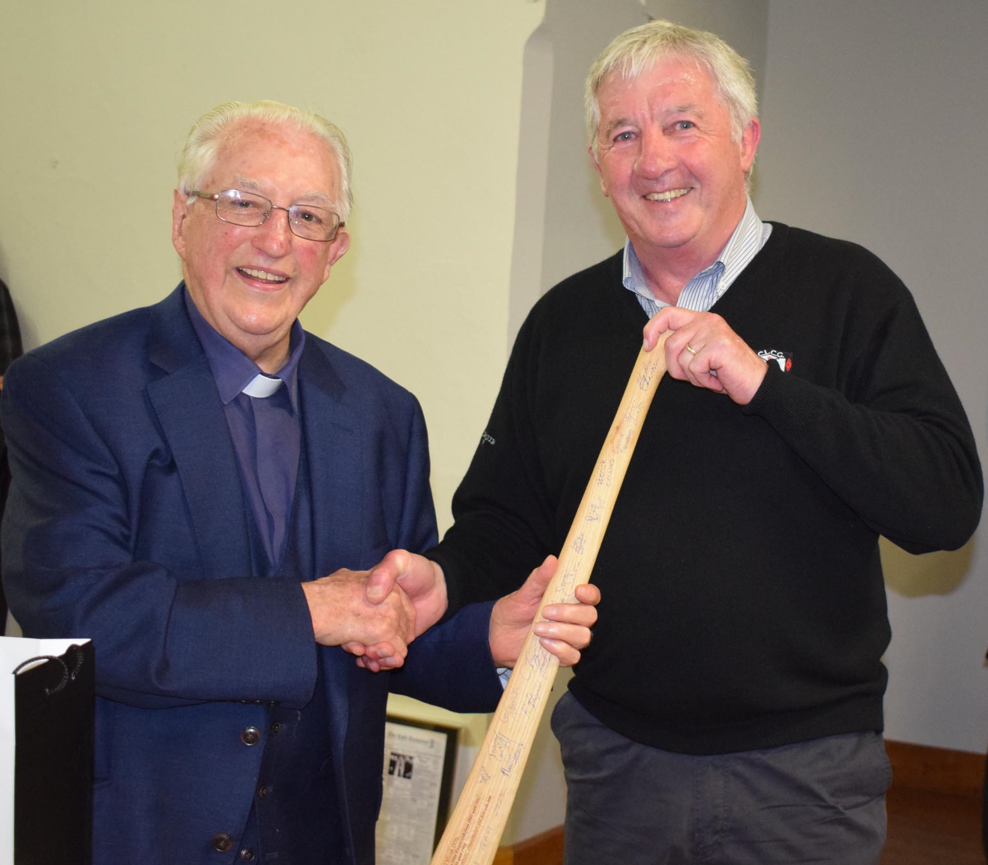 LOTTO DRAW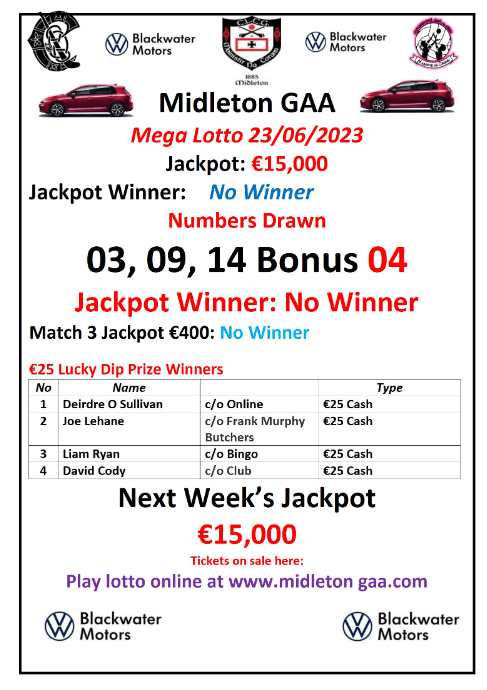 The Jackpot was €15,000 for last Friday night's jackpot and the numbers drawn this week were 3, 9, 14 and the bonus was 4.
There was no jackpot winner or match 3 winner.
The €25 Lucky Dip Prize winners were: Deirdre O'Sullivan, Joe Lehane, Liam Ryan and David Cody.
Play 24/7 at: http://www.klubfunder.com/Clubs/Midleton%20GAA/lotto
In total Midleton GAA will give out local business vouchers to the value of €3,800 every year as part of our "Shop Local, Buy Local" campaign.
How to play: tickets are on sale at Pat Walsh Paints, Chadwicks, Frank Murphy Butchers, Murphy's Pharmacy, Crowley Butchers, or buy online (see above).
BINGO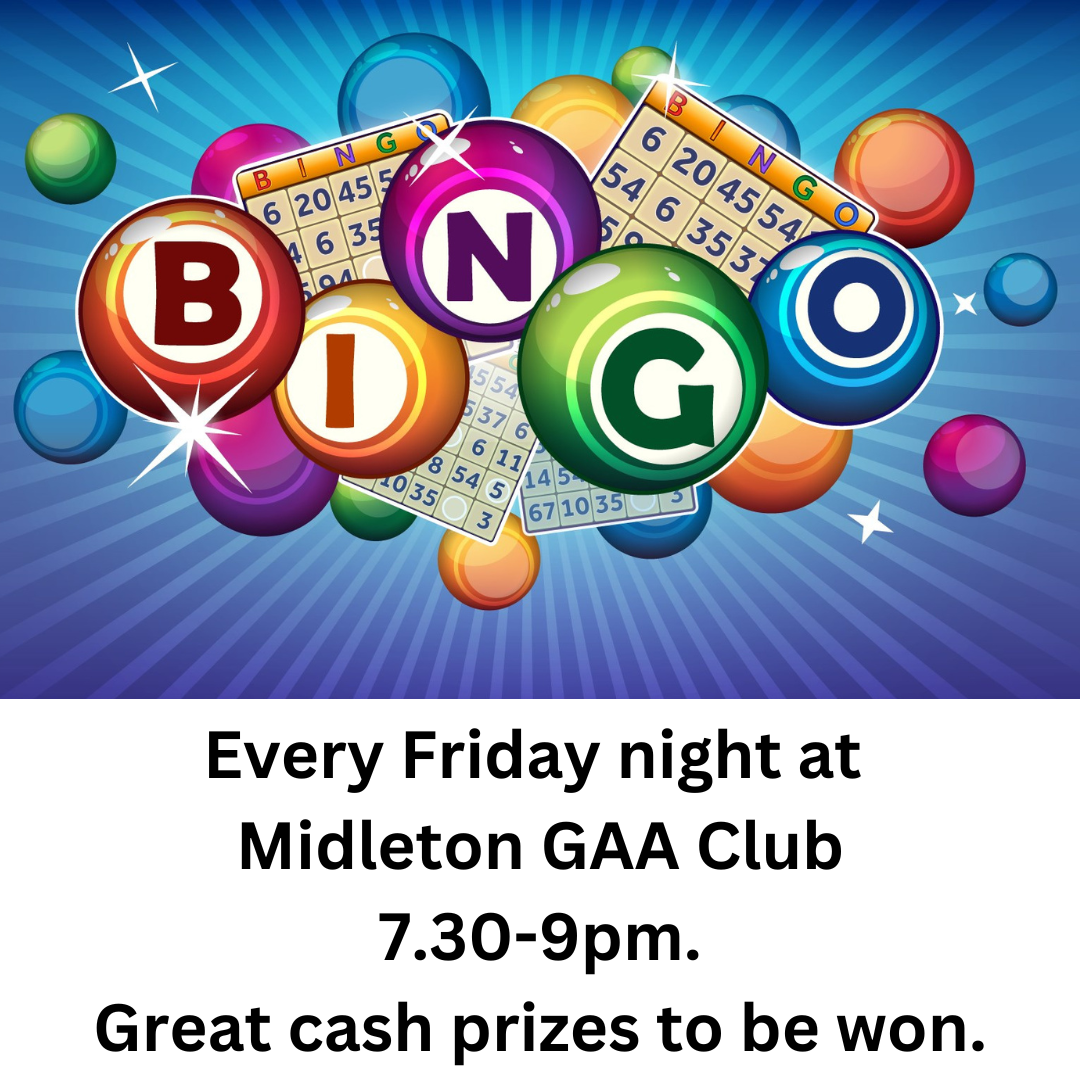 Fancy a good night which also benefits Midleton GAA club...what about bingo on Friday nights?
It kicks off at 7.30pn every Friday night and is over by 9pm. A single book is €6. A double book is €12. We're having our biggest crowds since before Covid recnetly so thanks to everyone for coming in such big numbers, it is much appreciated. New players are always welcome....
SOCIAL DANCING
No social dancing this Saturday night.
CLUB SHOP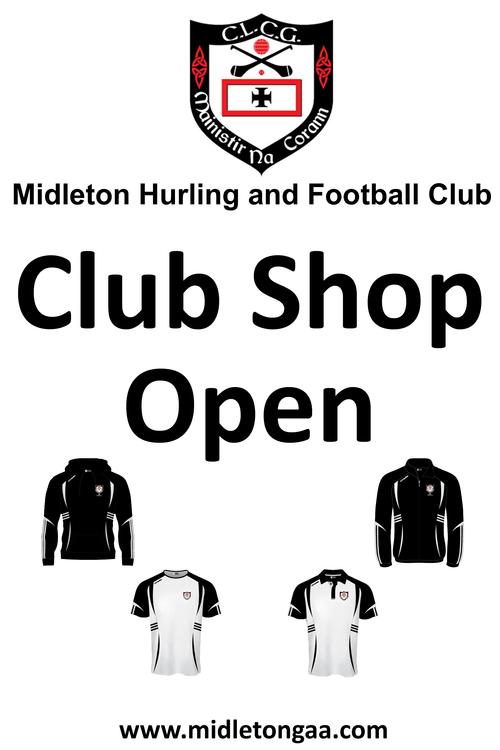 With all our hurling, camogie and ladies football teams now back up and running now is the time to stock up on all your gear needs for the coming season.
All you have to do is go to the Klubfunder website (www.klubfunder.com/Clubs/Midleton%20GAA/ShopItems) and you will see the full range of what's available to buy. You can shop away to your heart's content, pay for it online and then collect your purchases at the club shop on Saturday morning between 9.30am and 10.15am. Thank you.
2023 MIDLETON GAA GOLF CLASSIC
This year's Midleton GAA Golf Classic will be held, at East Cork Golf Club, on Thursday and Friday, July 13 & 14.
The tee-times are filling up fast so if you want to get your team in then you need to contact
Liam Walsh - 087-9610346 or
Ger Lawton - 087-4143094
Even if you are not a golfer we would really appreciate if you or your workplace would consider sponsoring a tee box for €50. This one of our main fundraisers each year and is vital to the upkeep of all our teams across hurling and football, ladies football and camogie.
You can register your team or pay for a tee box or both right now at the link below.....
http://www.klubfunder.com/Clubs/Midleton_GAA/EventRegistration#EventRegistrationOptions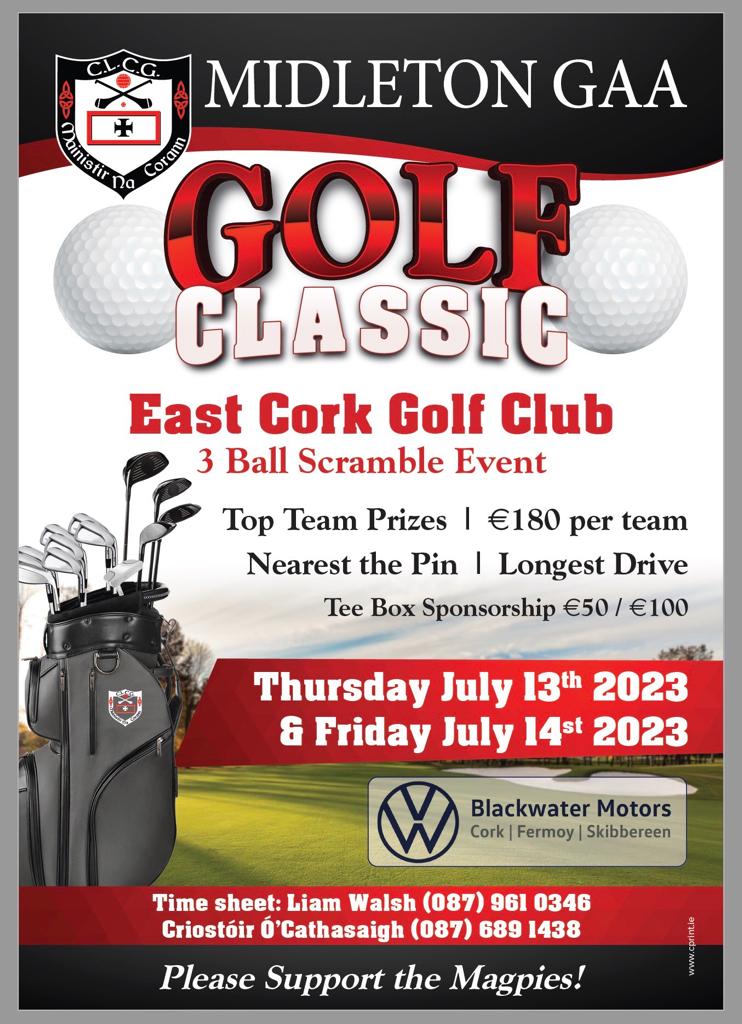 COACHING WORKSHOP
Michael Gerard Doherty is coming to Cork on Monday, July 10th to give a workshop in Pairc Uí Chaoimh for coaches of Nursery and Go Games age groups.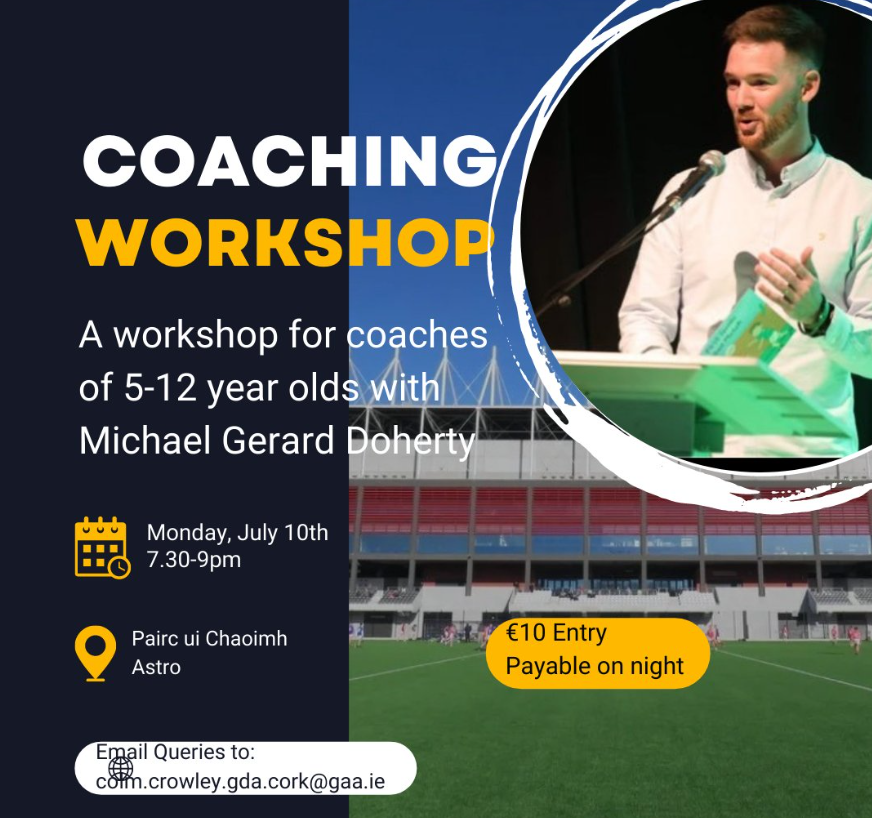 GAA LEARNING PORTAL

We have been asked to remind members and especially our club coaches that the GAA Learning Portal is a great resource which is free to use. Please check it out at http://learning.gaa.ie/about
WHAT'S GOING ON AROUND OUR CLUB?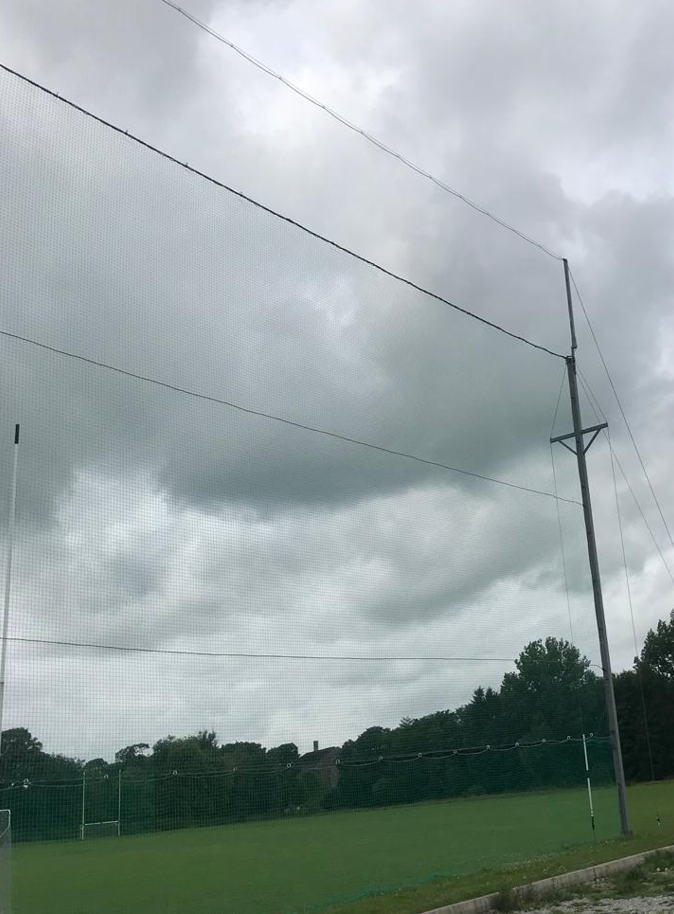 Work was completed this week of the extenstion to the nets behind the goals on the car park side of Park South.
PLEASE PLAY YOUR PART
​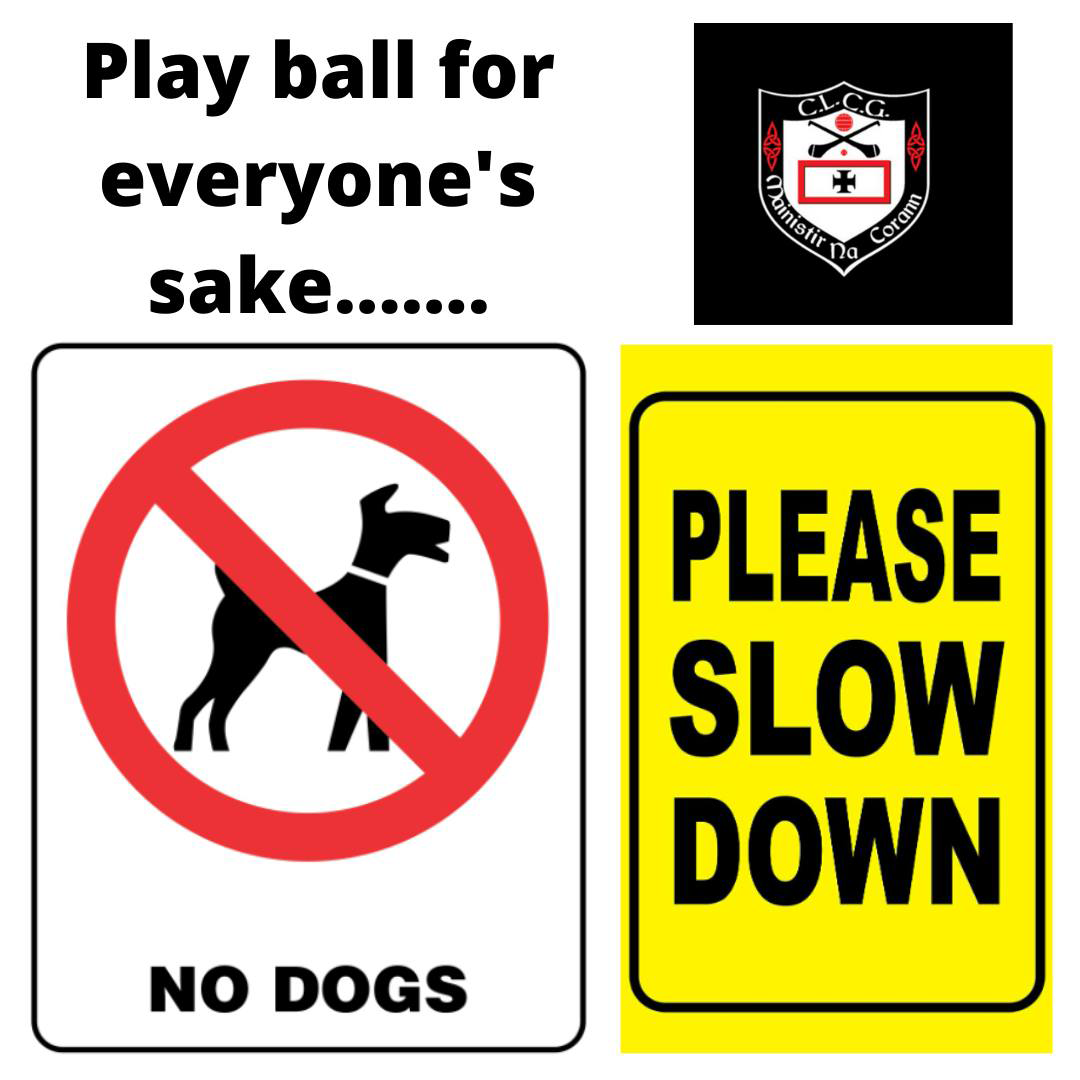 Unfortunately there has been a rise in the amount of dogs being walked in Park South recently, especially during matches and training sessions. Please spread the word that only assistance dogs are permitted in both of our club grounds at Park South and Clonmult Memorial Park.
Please do not bring single-use plastic bottles to either Park South or Clonmult Memorial Park.
Please put your rubbish in a bin or bag and please bring your gear home with you.
And always be aware of the open water surrounding the pitches in Park South.
If you are a coach, please pass on these simple messages to players and parents.
All members are asked to respect referees and their officials at all times.
Also if you are a coach, last person out locks the gate, toilet and container.