Midleton Hurling and Football, Ladies Football and Camogie Club News - June 22
22 June, 2023
SCHOOL VISITS
Friday last was a great day for our club when Brion Saunderson and Mikey Finn accompanied by selector Terence McCarthy, juvenile chairman Michael Carroll, chairman John Fenton and vice Chairman of the Cork County board, Pat Horgan, brought the Munster and All Ireland winning U-20 trophies to St. Brigids, Ballintotis, the Gaelscoil, John the Baptist schools.
After the schools the cups were then brought into Midleton hospital where some of our former greats and other patients were delighted to see Brion, Mikey and the cups.
Both players were great ambassadors for the club throughout the day and hopefully the visits to the schools will inspire many more to follow in their footsteps.
Well done again too to David Cremin, Ciarmhac Smyth and Alex Quirke, who were unable to make it yesterday.
Mainister na Corann abú.
Midleton CBS and Educate Together were unable to fit us in on this day but hoepfully we will get to them both on another day.
Here's a selection of pics from the various schools.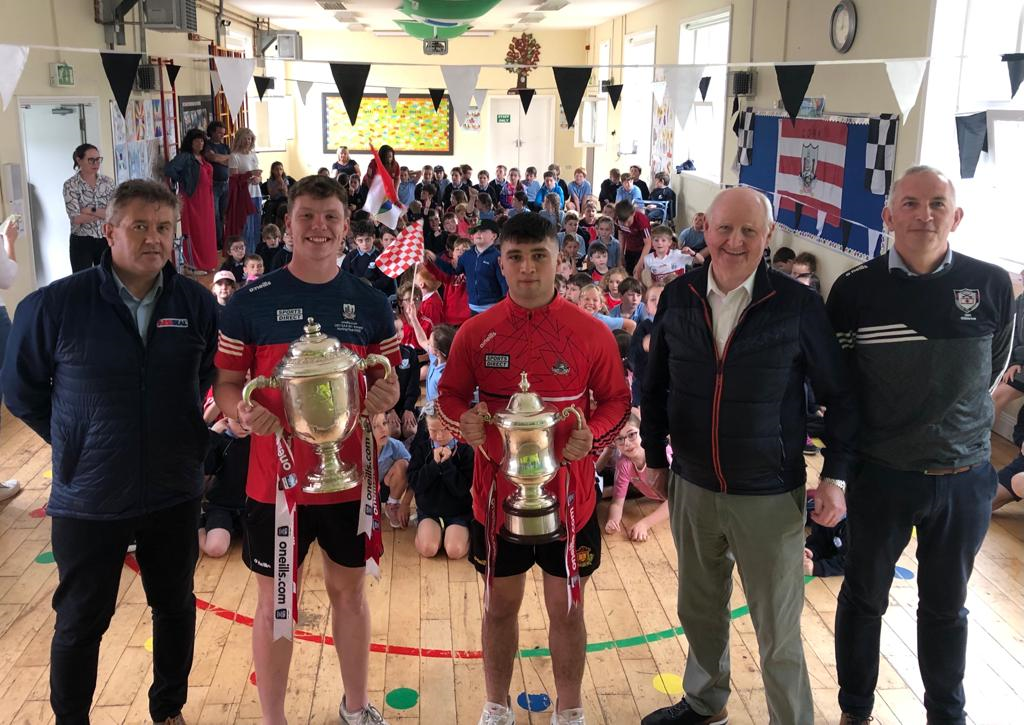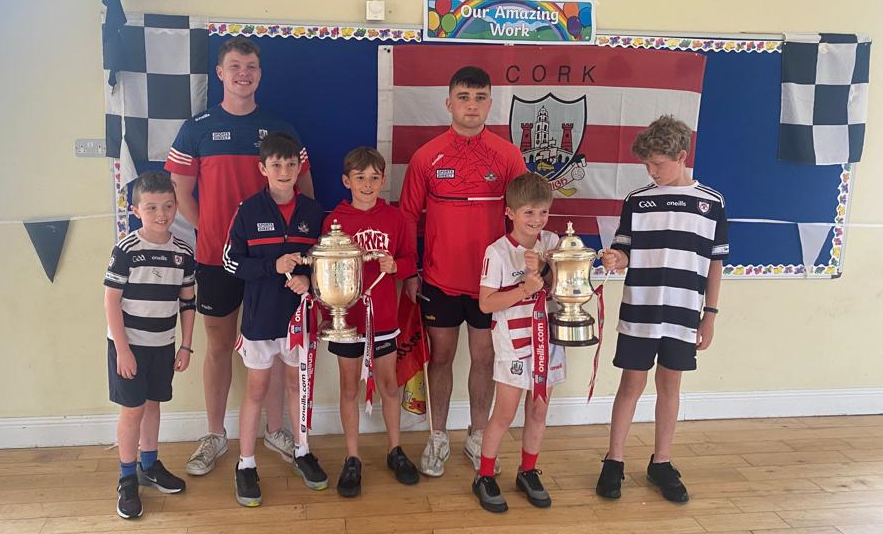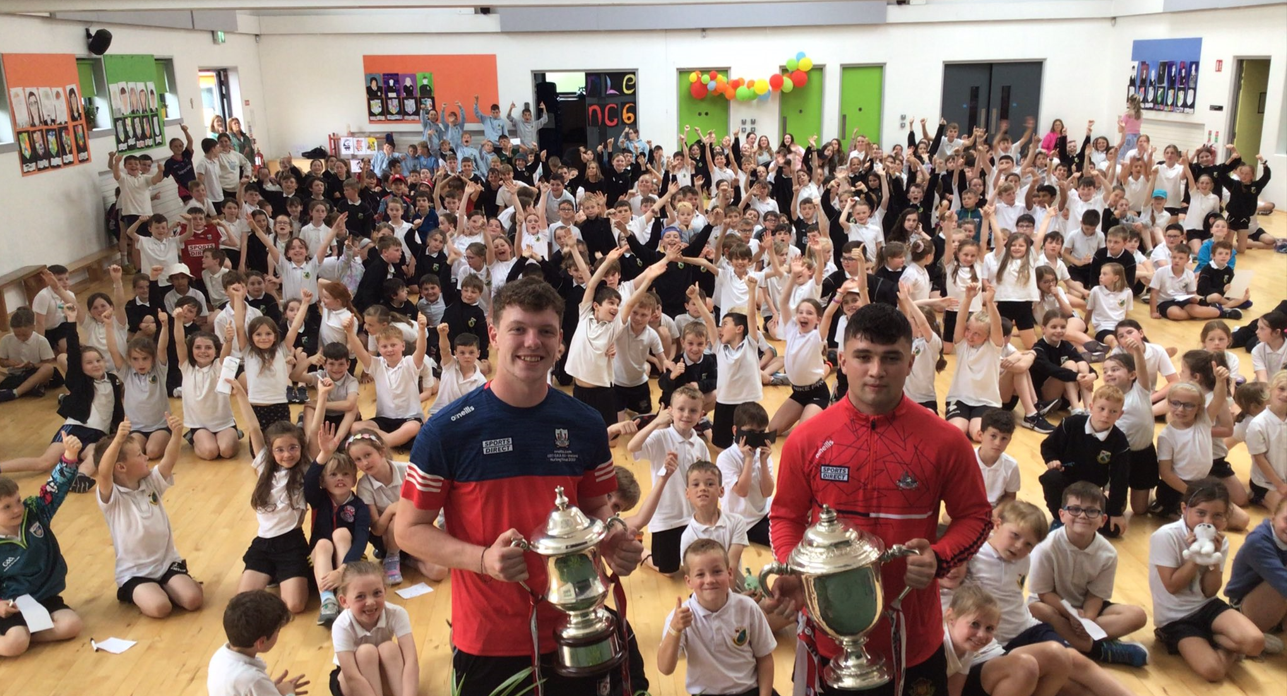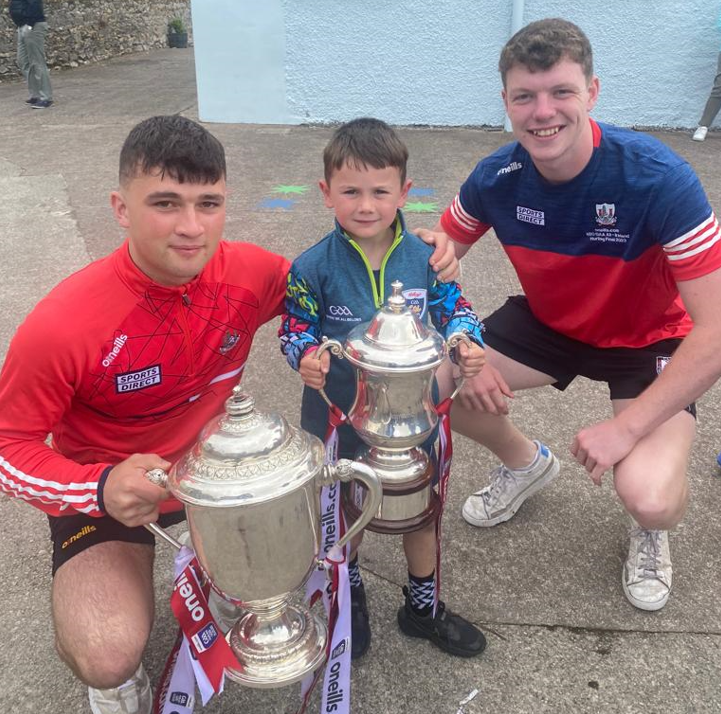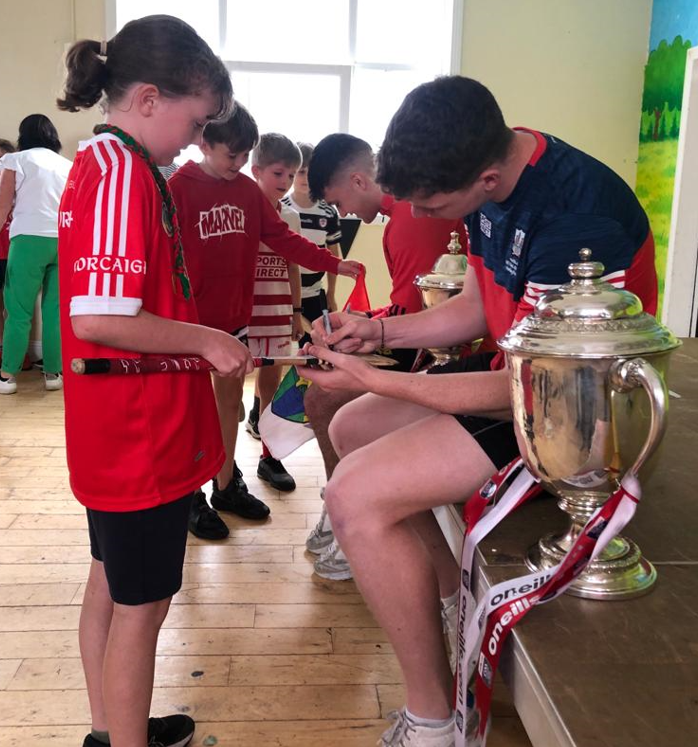 ADULT CLUB
JUNIOR A FOOTBALL CHAMPIONSHIP
MIDLETON 1-10 YOUGHAL 1-9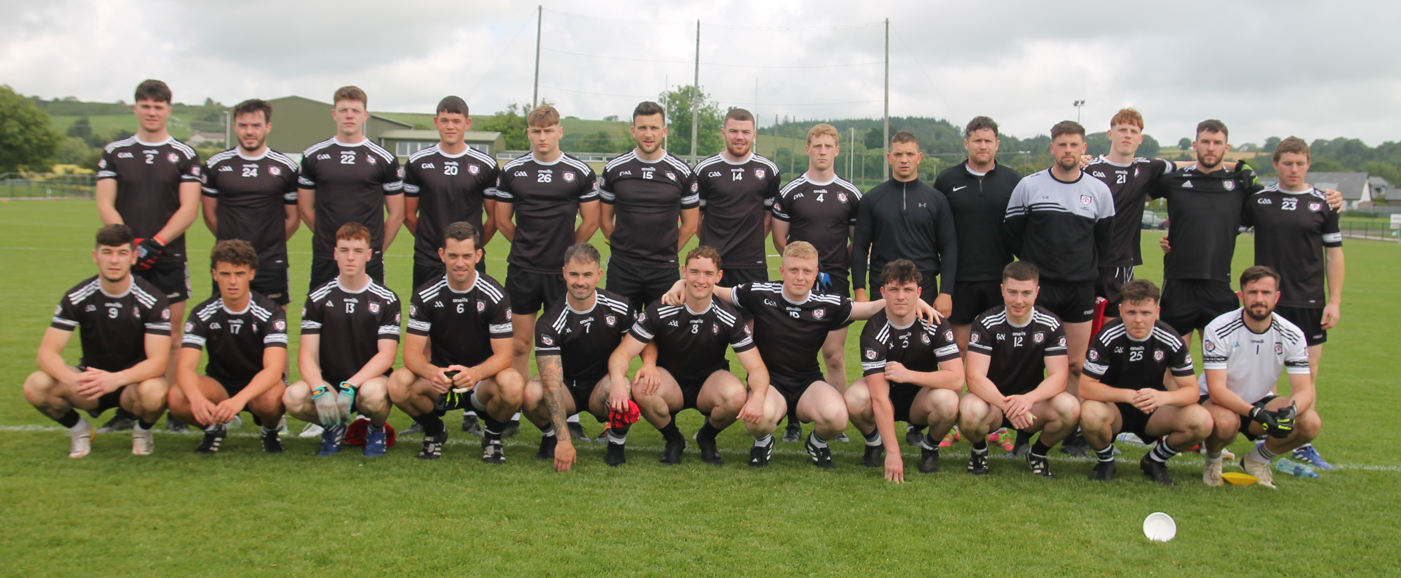 The Midleton Junior A footballers began their East Cork Championship campaign at a sunny and brilliantly appointed Killeagh venue on Sunday morning when they took on Youghal.
We got off to a great start with early points from Mark Daly and Aaron Mulcahy to put us two up on six minutes. Two points from Youghal and one from our player/manager Johnny Comer had us 0-3 to 0-2 ahead before Aaron Mulcahy struck for the game's opening goal on 16 minutes to see us into a 1-3 to 0-2 before Johnny Comer made it a five point game a minute later.
Points from Aaron Mulcahy and Cathal Gunning had us 1-6 to 1-2 in front on 23 minutes before Youghal finished the half strongly with the last three points of the period to leave us in front at the interval by a single point on a score of 1-6 to 1-5.
Youghal levelled in the third minute of the second-half before Even McGrath put us back in front three minutes later.
In a low scoring battle of a second-half Youghal kicked the net three scores to take a 1-9 to 1-7 advantage with five minutes to play but we finished really well and points from Cormac Beausang, Christan Daly and Eoin Moloney saw us come out on top by a single point on a final score of 1-10 to 1-9.
Well done lads, a great start.
The one downer on the day was the injury suffered by Aidan Ryan late on in the game. We wish Aidan a speedy recovery and hope to see him back in the Magpies colours as soon as possible.
Scorers: Aaron Mulcahy 1-2, Johnny Comer 0-2, Mark Daly, Cathal Gunning, Evan McGrath, Cormac Beausang, Eoin Moloney and Christian Daly 0-1 each.
MIDLETON: Pa White, Adam Faye, Seamus O'Farrell, Cian Crowley, Mark Daly, Aidan Ryan, Luke Dineen, Eoin Moloney, Ross O'Regan, Cathal Gunning (Captain), Padraig O'Brien, Aaron Mulcahy, Evan McGrath, Christian Daly, Johnny Comer. Subs used: Adrian O'Donovan, Brion Saunderson, Cormac Beausang and Alan Power.
Our next game is against Bride Rovers on Sunday, July 2 in Lisgoold at 3.30pm.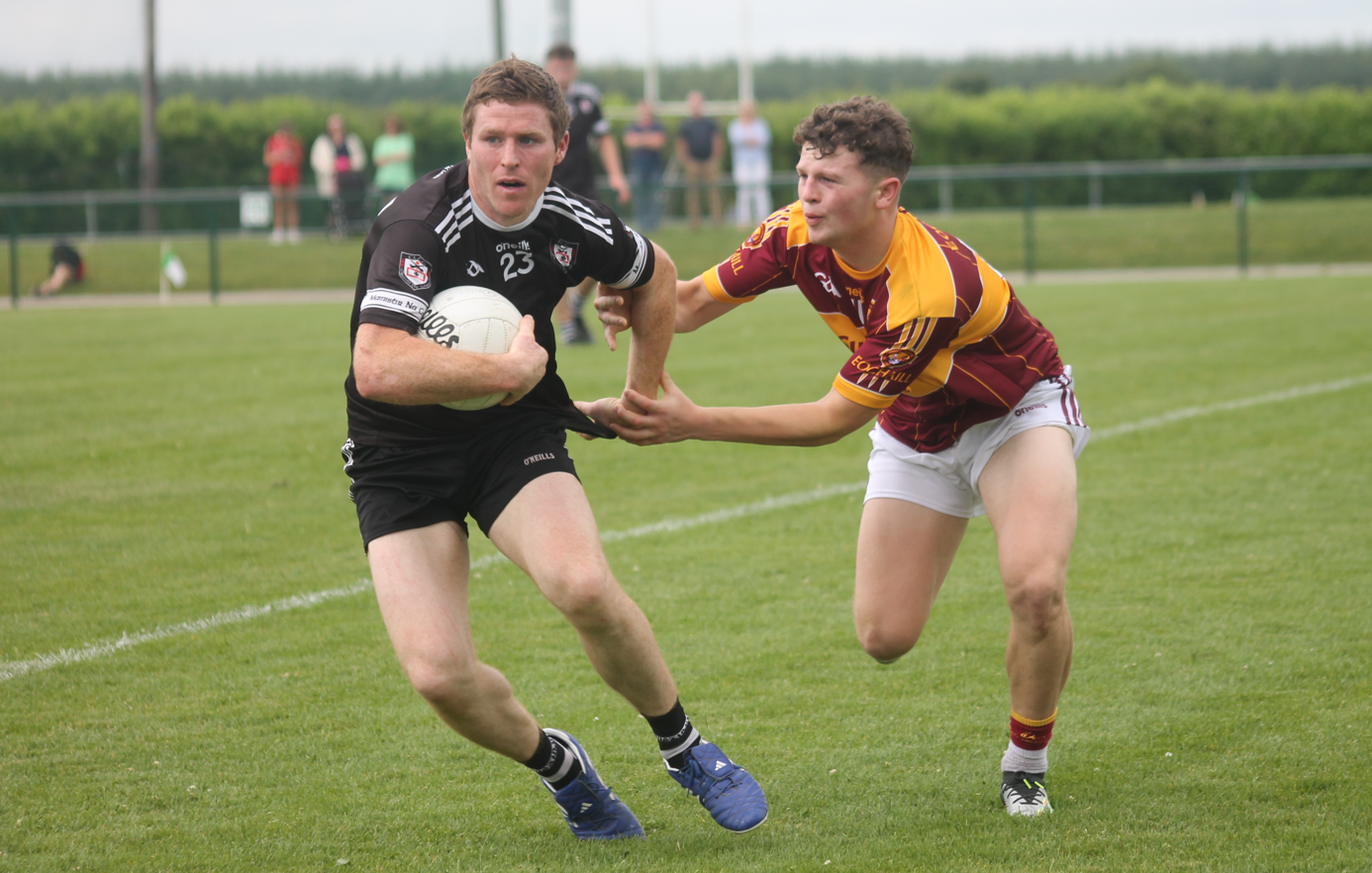 Seamus O'Farrell bursting out of defence against Youghal.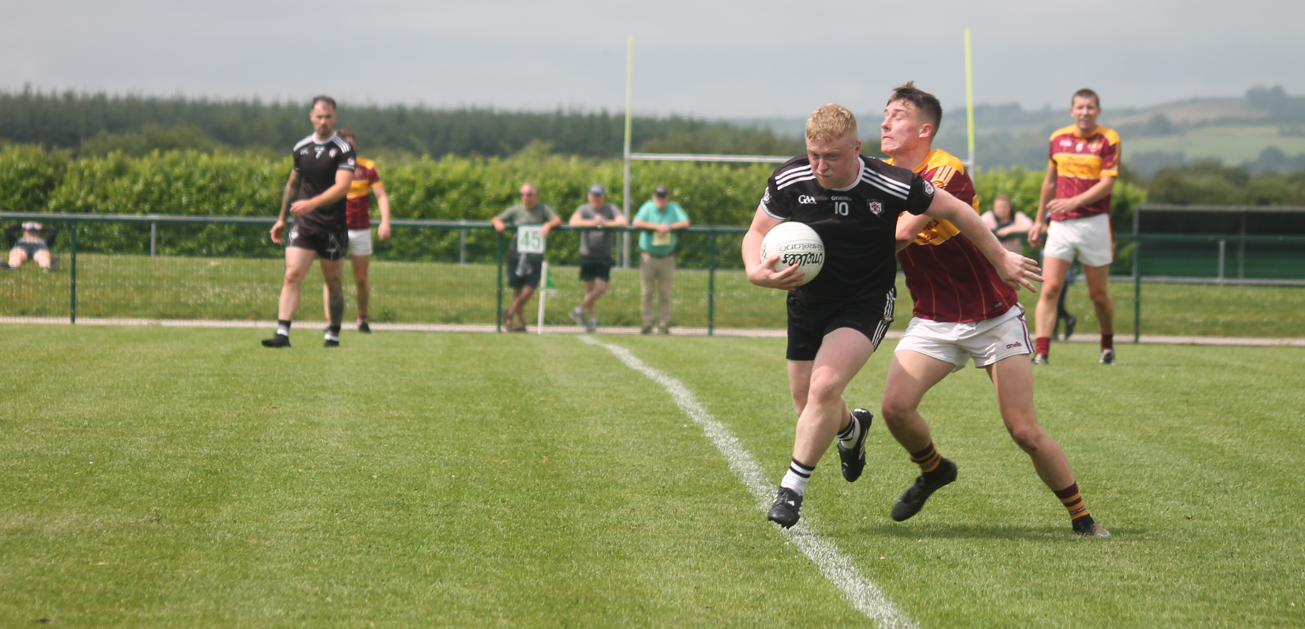 Midleton captain Cathal Gunning running at the Youghal defence in Killeagh. Photos thanks to Declan Barron.
SENIOR HURLING LEAGUE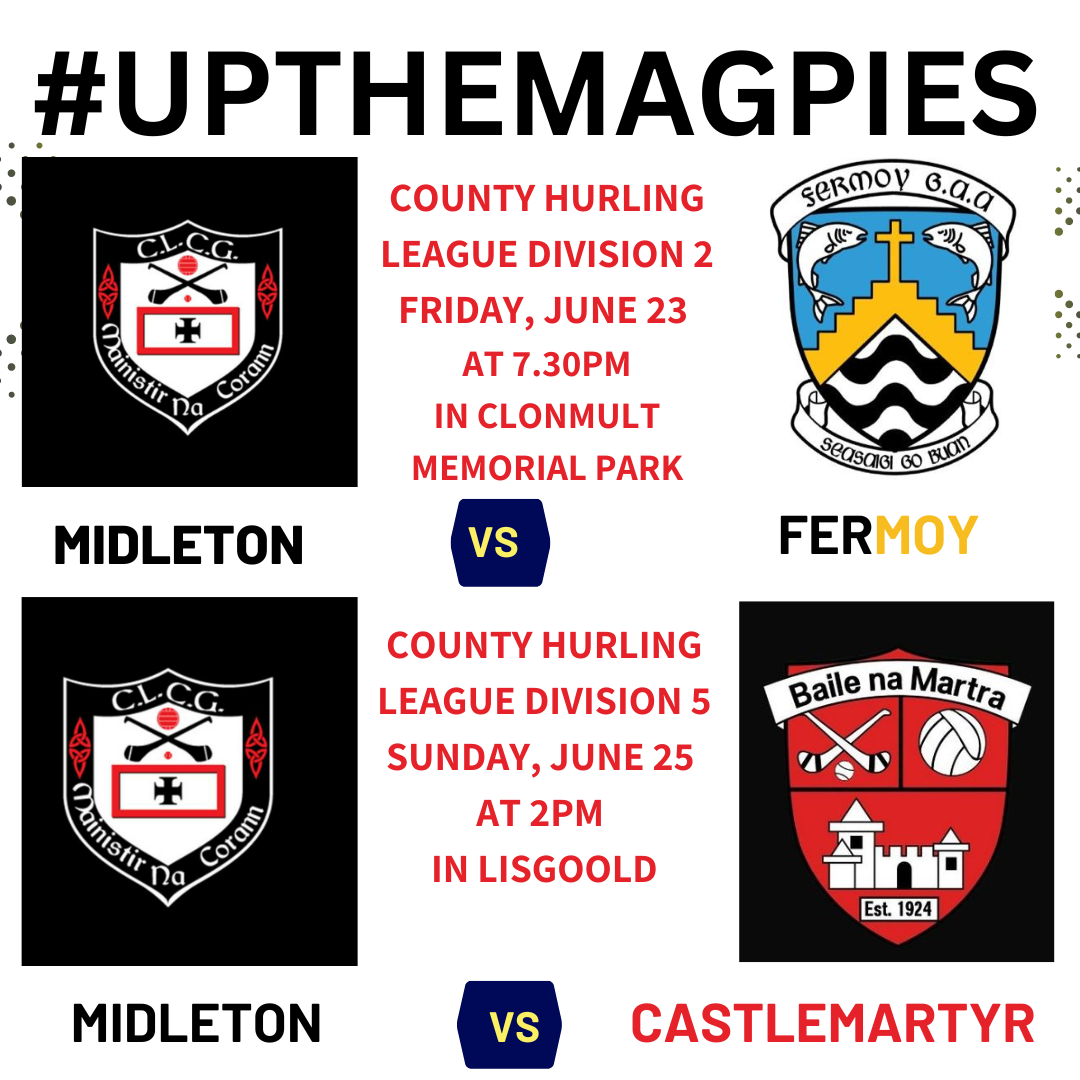 Our senior hurlers will complete their league schedule on Friday night at home in Clonmult Memorial Park when they entertain Fermoy. Please support the lads if you can. Throw-in is 7.30pm.
INTERMEDIATE HURLING LEAGUE.
Our intermediate hurlers finish their league campaign on Sunday in Lisgoold when they take on Castlemartyr at 2pm. Best of luck lads.
JUNIOR C HURLING LEAGUE
Our junior C hurlers are in league final action this Saturday night when they travel to Rathcormac to take on Dungourney at 7pm. Best of luck lads.
JUVENILES
FÉ11S
Our lads travelled to the city on Saturday to play Nemo Rangers in football.
We brought 25 players to Nemo for this game and all three teams were outstanding on the day getting some great scores throughout each of their games.
We would like to thank Nemo Rangers for hosting us and we will look forward to playing them again in the near future.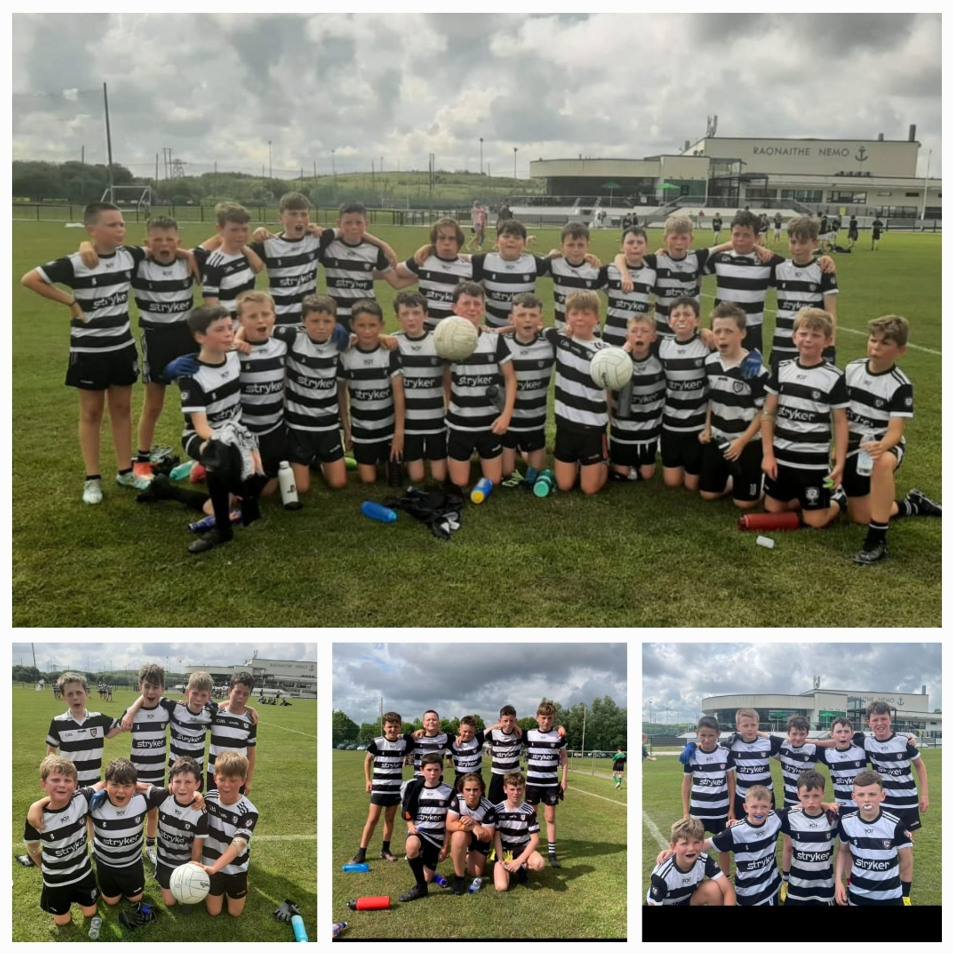 FÉ12S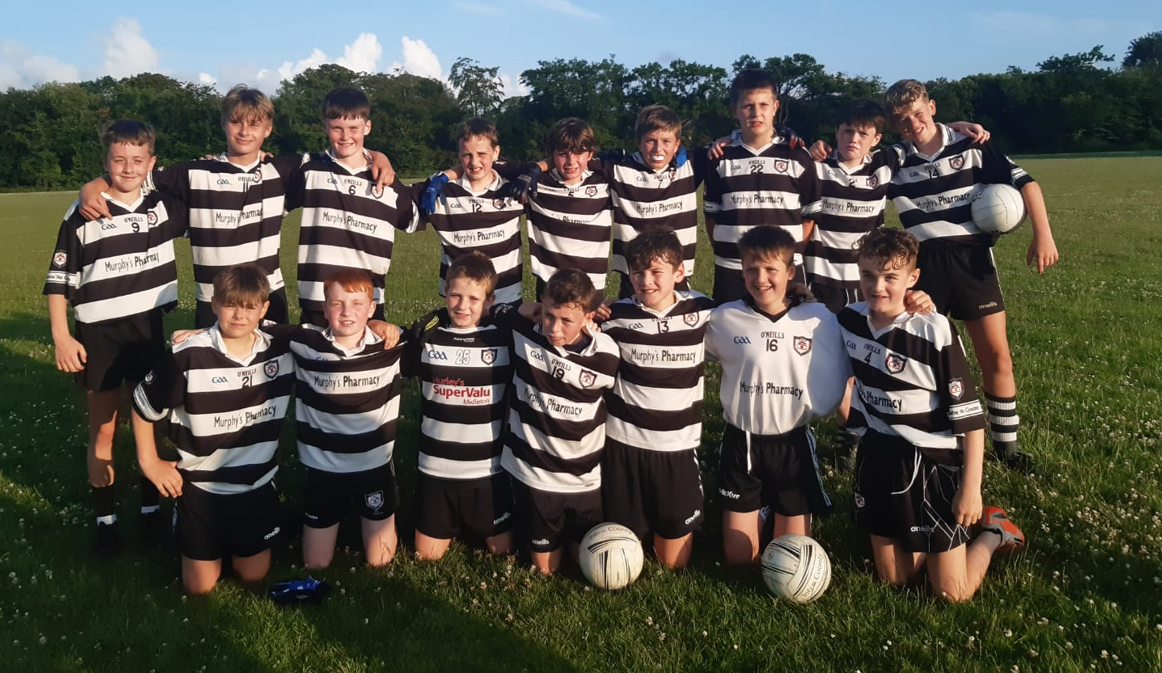 We played Kiltha Óg on Monday night in football at Park South. Two even teams with a great competitive edge to the game with lovely scores from both sides. Well done to Tony Keohane (pictured below) who did a brilliant job as captain on the night.
Thanks to Kiltha Óg for this match and last Wednesday's hurling match. Magpies Abú.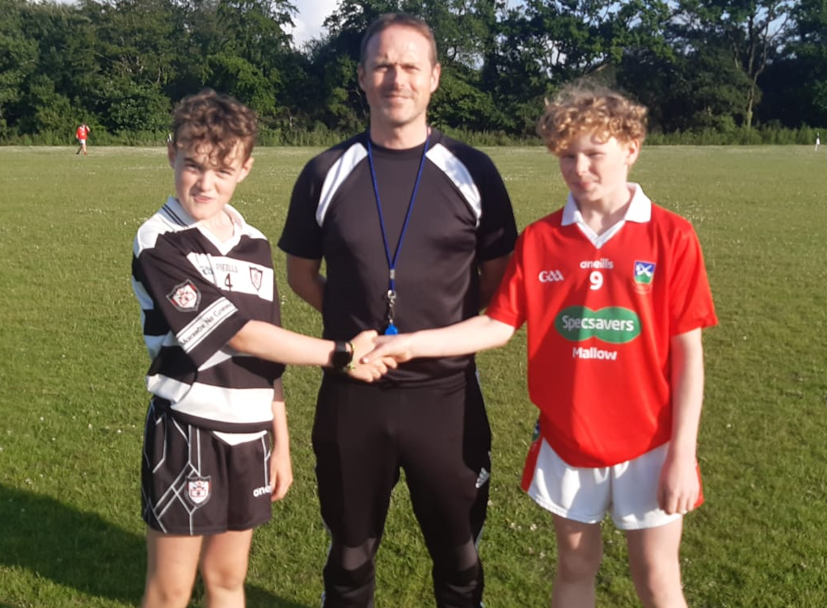 FÉ14S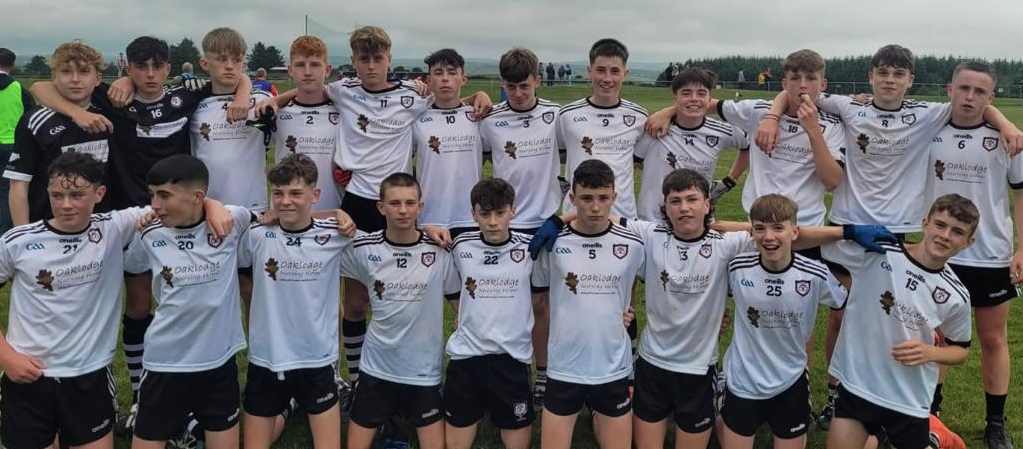 The past week was one of the quieter ones for the group in recent months with just one game played, this allowed the panel to take to the training field to prepare for their remaining championship fixtures,
The players made one of their longest trips of the year so far to play Beara at an excellently presented St. Oliver Plunkett's pitch in Ahiohill. The sayings that "a good start is half the battle" and "goals win games" were confirmed once again on Friday evening as the players who are continuing to show those attending the games their excellent teamwork, skills and determination set out their intentions from the throw-in.
At the end of the 60 plus minutes the result reflected, the great foundations put in place early in the game by the forwards taking their opportunities when they arose, the group's work rate in defending for each other and the contribution of those players who were introduced during the game. The overall performance and players' approach to the games bodes well for the remainder of the Championship games which will continue in two weeks' time.
We would like to thank the parents and supporters who travelled "west" to the game to support the players on the evening it is much appreciated by all involved.
MIDLETON PANEL: Alfie Hennessy, Alex Molumby, Braden Dunlea, Breaninn O'Dalaigh, Charlie McCarthy, Cian Hogan; Ciaran Kelly, Ciaran O'Brien, Daniel Moloney, Daire Crowley, Ethan Foley, Finn Cahill, Jack Cahill, Jack Sweeney, Josh Quill, Liam Walsh, Manus Stewart, Patrick Spelman, Peadar Egan, Rian McCormack, Rory Nolan.
The schedule of games continues for the panel with our focus now returning once again to Hurling, with the next round of the Championship being played this weekend, as we are now in the business end of the season and any support for this hard working group of players would be appreciated.
FIXTURES
FRIDAY, JUNE 23
Rebel Og Premier Fé14 Hurling Championship Premier 1 Semi-final
Midleton v St. Finbarrs at 7pm in Midleton
SATURDAY, JUNE 24
Rebel Og Premier Fé14 Hurling Championship Division 4/5
Midleton v Douglas in Midleton at 7pm
SUNDAY, JUNE 25
Rebel Og Premier Fé16 Hurling League Premier 1
Ballincollig v Midleton at 11am in Ballincollig
MONDAY, JUNE 26
Rebel Og Premier Fe14 Football Championship Division 4 Shield
Bishopstown v Midleton at 7pm in Bishopstown
CAMOGIE
UNDER 7S
Our U-7s played a blitz on Saturday morning in Sars. The girls had great fun in the sun and showed great skill and determination against Sars and Mallow. Well done girls.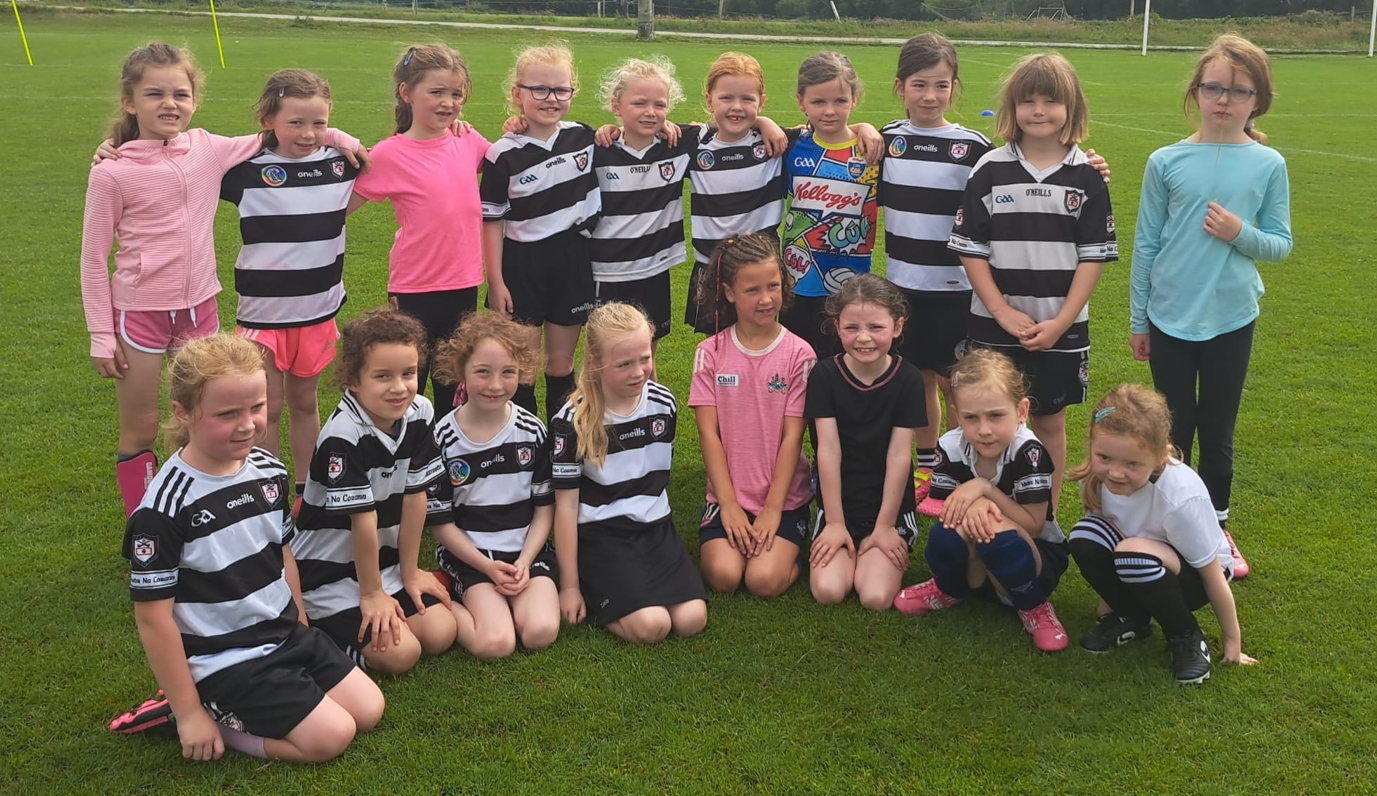 UNDER 9S
Our U-9s had an early start Sunday morning in Watergrasshill, with three Midleton teams each playing three matches. Great support travelled up the Dublin Road and got to see some super hurling by our U-9s, who played outstanding.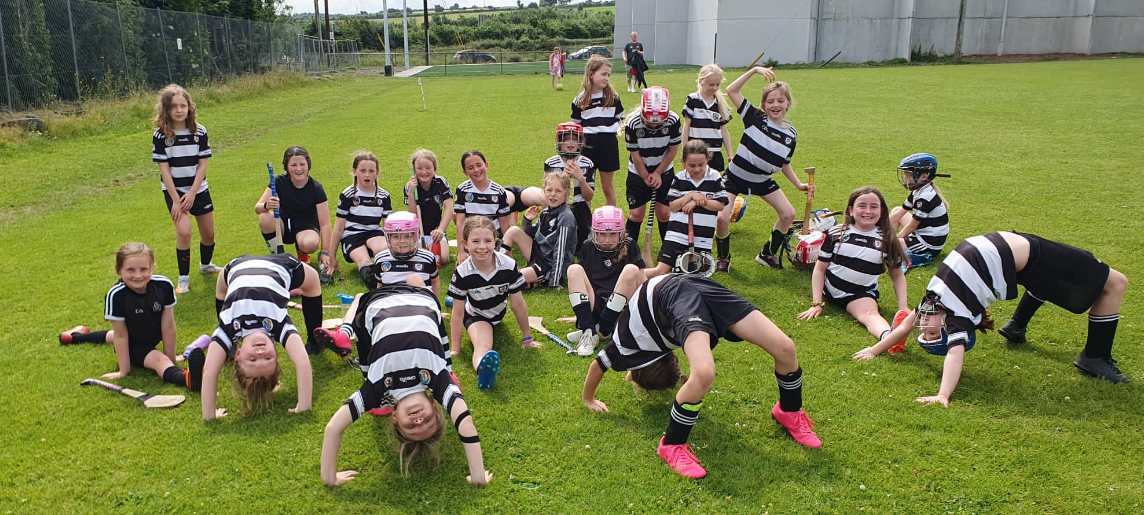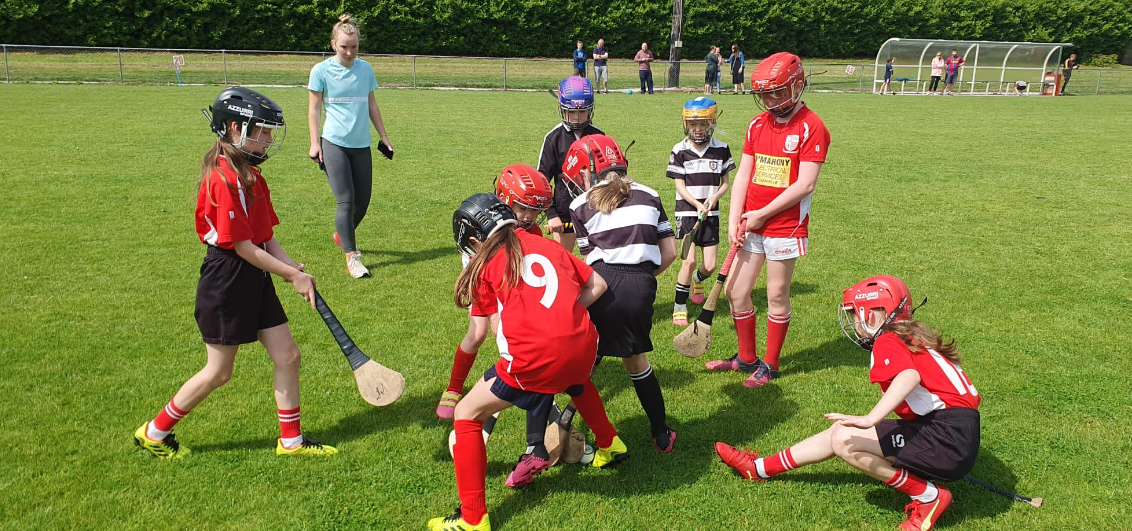 UNDER 11S
Last Friday, IN stark contrast to the summer sun of the previous weeks 22 of our U-11s travelled the winding road to Aghavine to take on Fr. O'Neill's on their home turf and Castlemartyr. Divided into two teams the girls played two games with skill and heart in misty muggy conditions. Once again there was great teamwork on display from the girls and it was great to see all those drills and skills practiced in training coming together in the matches. Well done to all the girls and their coaches.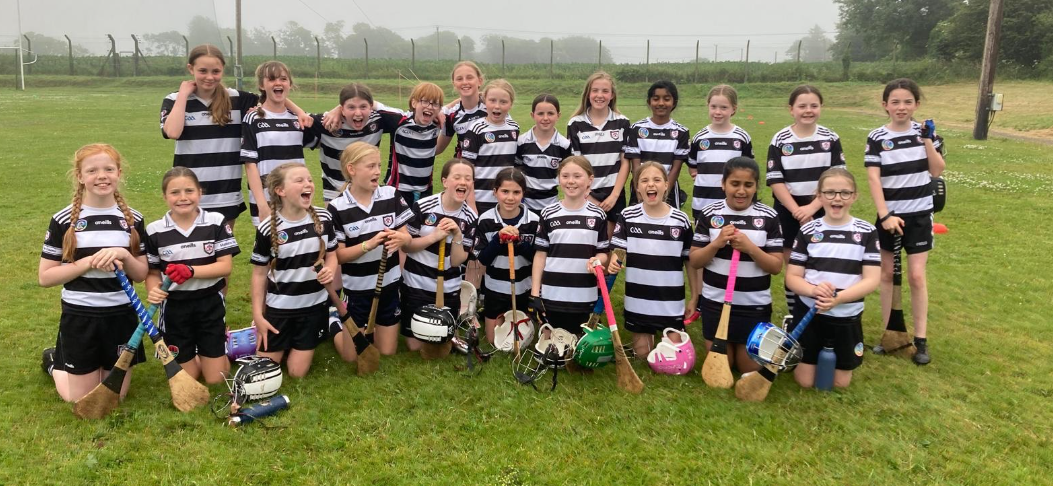 U-14 CORK DEVELOPMENT SQUAD
Well done to Gabby, Ciara and Sarah who all played very well for the Cork Dearg team in a blitz in Ahane, Co. Limerick on Saturday last. The girls had good wins over Tipperary, Limerick and Clare before losing out by a single point to Galway in the final.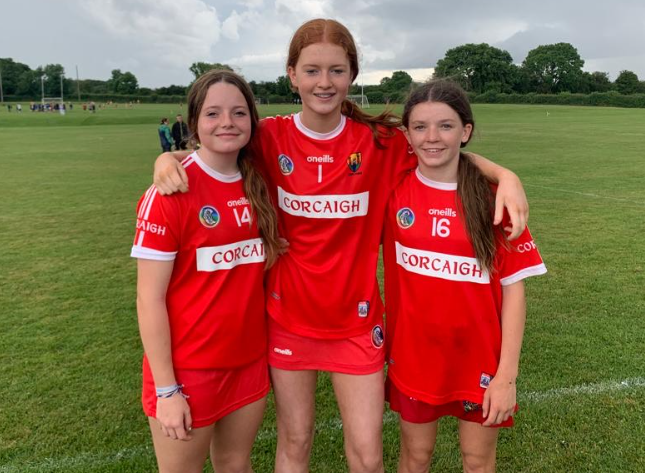 LADIES FOOTBALL
UNDER 11
Well done to our U-11 girls who played great football against Cloyne last weekend in Clonmult Memorial Park.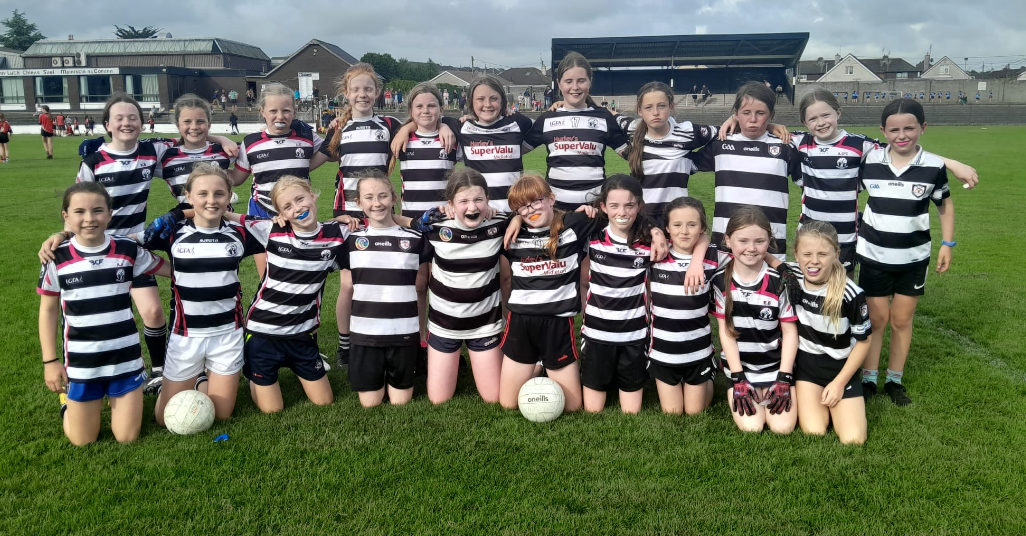 G4M&O
We are extremely grateful to Manuela and Diane of Tinga Tinga Childcare Midleton who kindly sponsored a set of jerseys for our Gaelic 4 Mothers and Others team. The jerseys were proudly worn at a Blitz in Mallow last Saturday.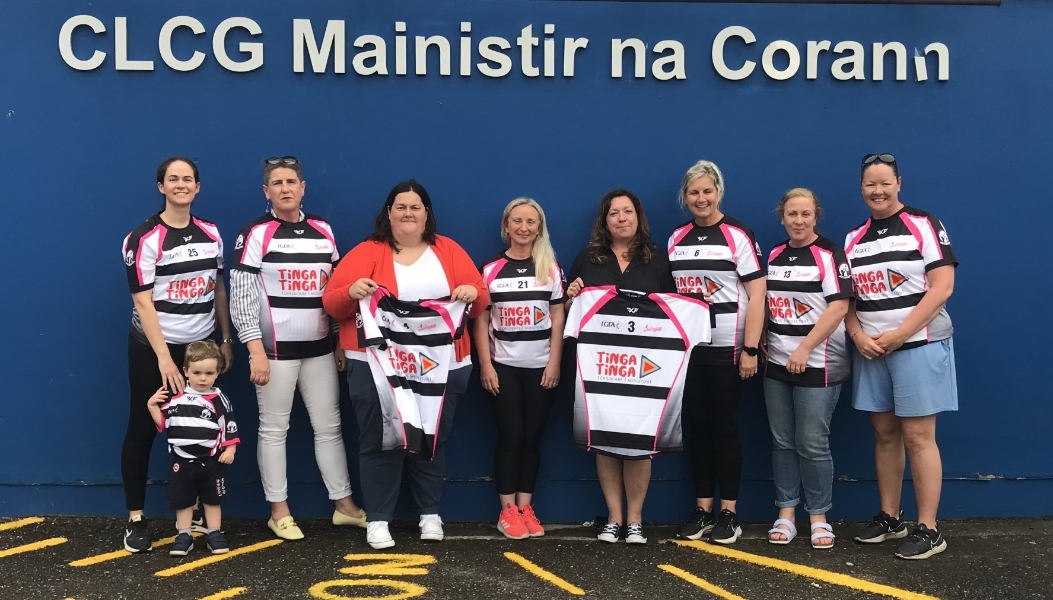 MUNSTER G4M&O BLITZ
It was an unbelievable day at the Munster G4M&O blitz in Mallow on Saturday. We entered two teams on the day. We had sunshine, thunder and torrential rain but it did not stop the ladies playing. Plenty of points, goals but most importantly great fun was had by everyone.
Well done to all those who travelled on the day. Training takes place this Sunday in Park South at 7pm.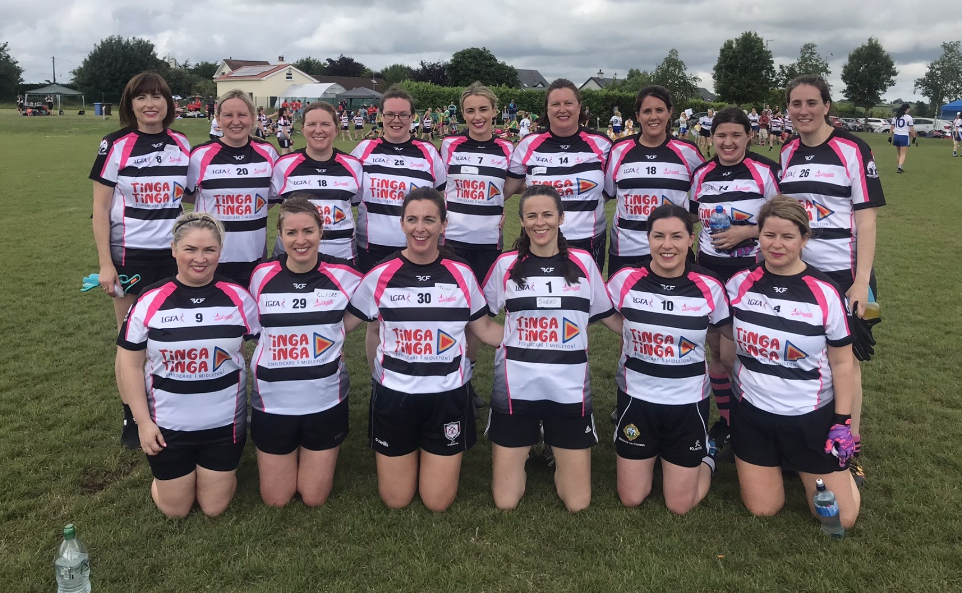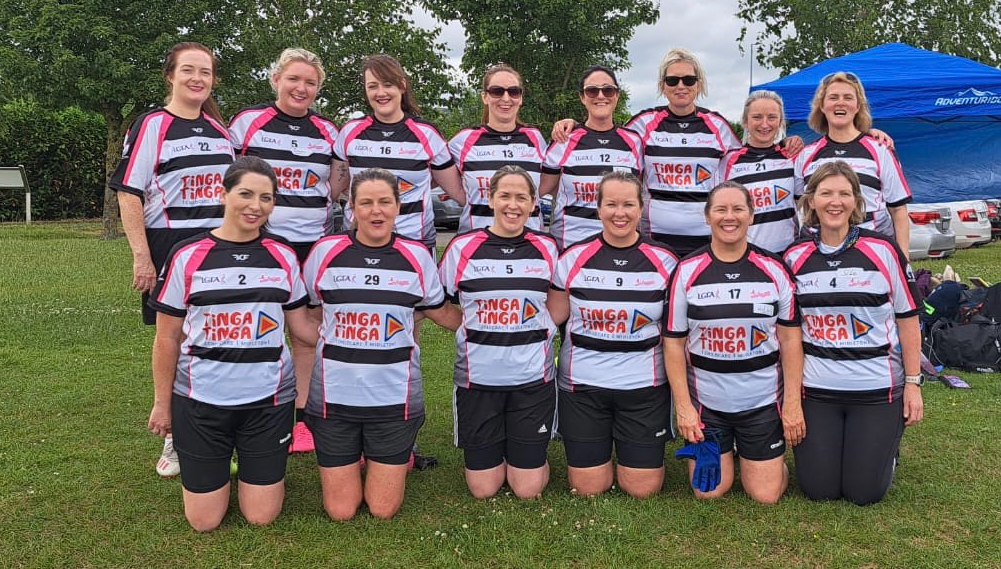 SKILLS CAMP
Orlagh Farmer is running a skills camp for girls this summer. The camp will take place across four venues in Cork. See picture below for details: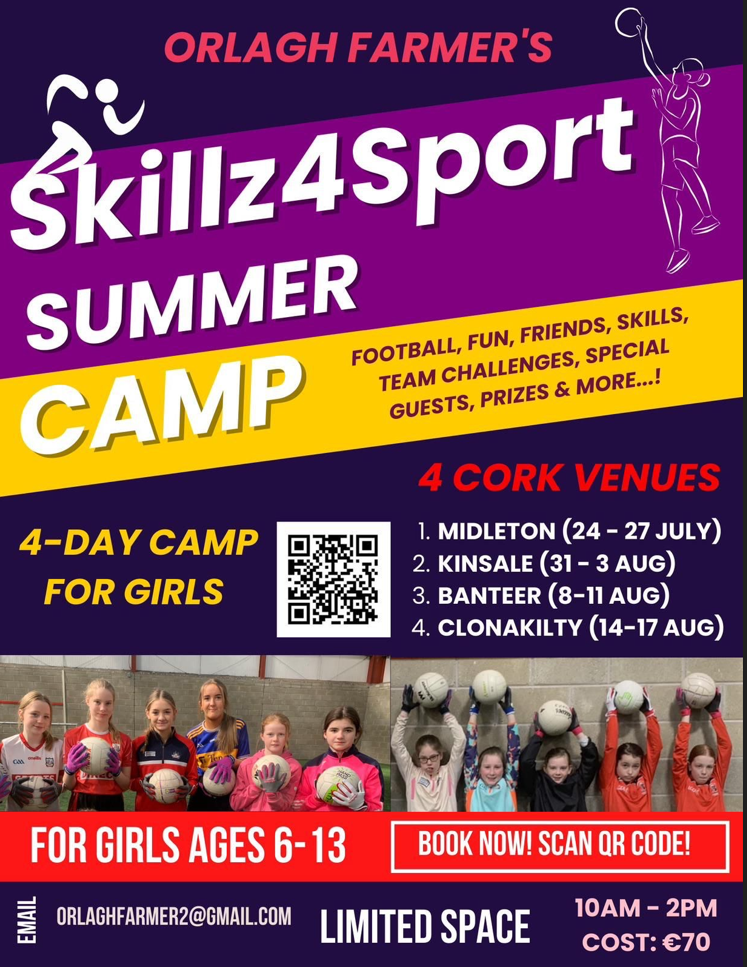 MIDLETON GAA MONDAY CLUB
Our next Monday meet-up is on this coming Monday, June 26 at 10.30am. All are welcome.
LOTTO DRAW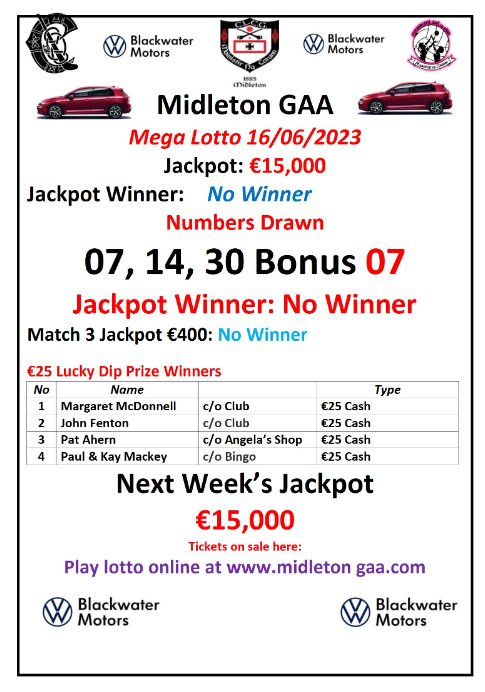 The Jackpot was €15,000 for last Friday night's jackpot and the numbers drawn this week were 7, 14, 30 and the bonus was 7.
There was no jackpot winner or match 3 winner.
The €25 Lucky Dip Prize winners were: Margaret McDonnell, John Fenton, Pat Ahern and Paul & Kay Mackey.
Play 24/7 at: http://www.klubfunder.com/Clubs/Midleton%20GAA/lotto
In total Midleton GAA will give out local business vouchers to the value of €3,800 every year as part of our "Shop Local, Buy Local" campaign.
How to play: tickets are on sale at Pat Walsh Paints, Chadwicks, Frank Murphy Butchers, Murphy's Pharmacy, Crowley Butchers, or buy online (see above).
BINGO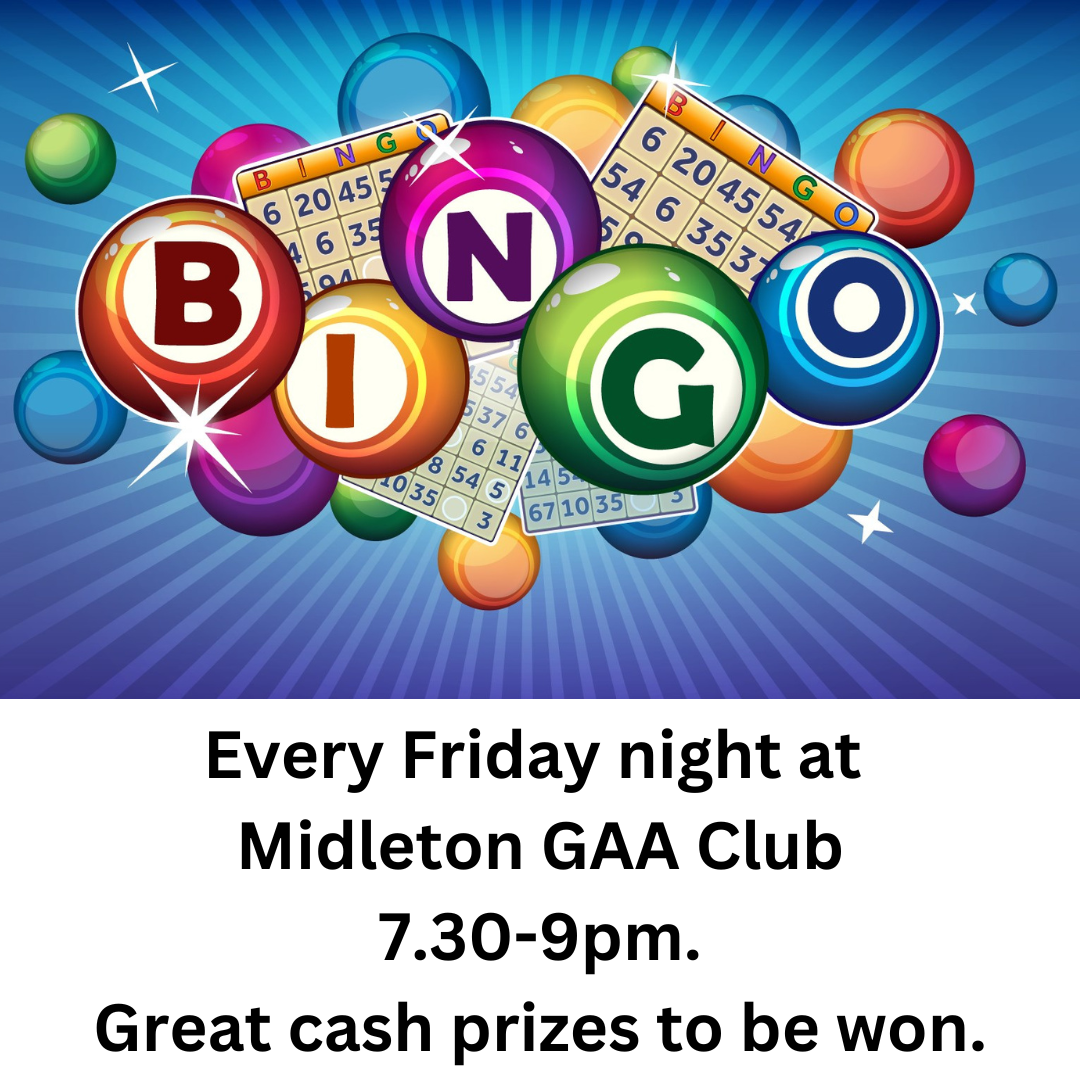 Fancy a good night which also benefits Midleton GAA club...what about bingo on Friday nights?
It kicks off at 7.30pn every Friday night and is over by 9pm. A single book is €6. A double book is €12. We're having our biggest crowds since before Covid recnetly so thanks to everyone for coming in such big numbers, it is much appreciated. New players are always welcome....
SOCIAL DANCING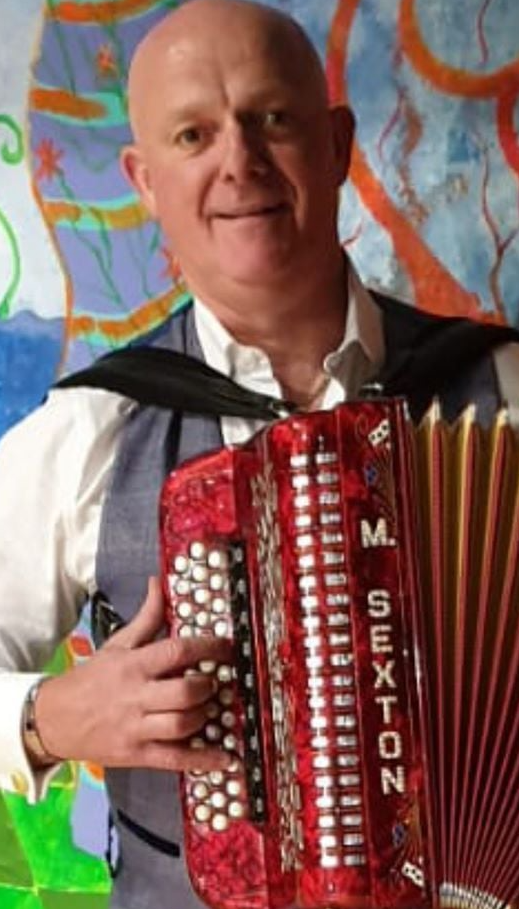 Social dancing this Saturday night from 9.15pm, June 24 to Michael Sexton all the way from County Clare. A great night is assured....
CLUB SHOP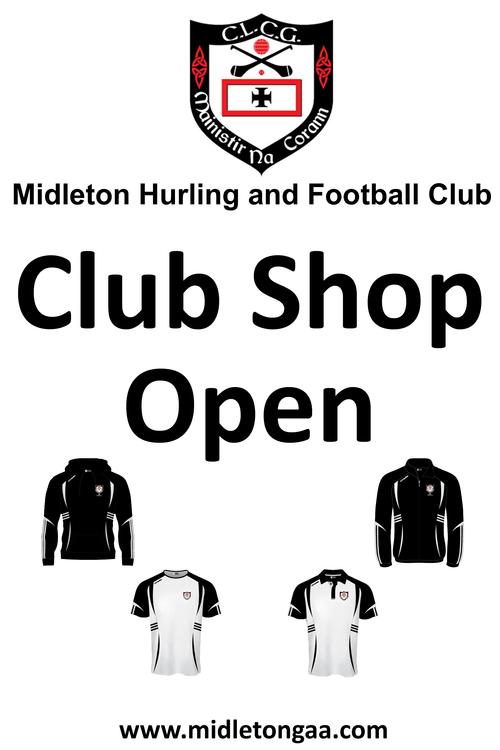 With all our hurling, camogie and ladies football teams now back up and running now is the time to stock up on all your gear needs for the coming season.
All you have to do is go to the Klubfunder website (www.klubfunder.com/Clubs/Midleton%20GAA/ShopItems) and you will see the full range of what's available to buy. You can shop away to your heart's content, pay for it online and then collect your purchases at the club shop on Saturday morning between 9.30am and 10.15am. Thank you.
2023 MIDLETON GAA GOLF CLASSIC
This year's Midleton GAA Golf Classic will be held, at East Cork Golf Club, on Thursday and Friday, July 13 & 14.
The tee-times are filling up fast so if you want to get your team in then you need to contact
Liam Walsh - 087-9610346 or
Ger Lawton - 087-4143094
Even if you are not a golfer we would really appreciate if you or your workplace would consider sponsoring a tee box for €50. This one of our main fundraisers each year and is vital to the upkeep of all our teams across hurling and football, ladies football and camogie.
You can register your team or pay for a tee box or both right now at the link below.....
http://www.klubfunder.com/Clubs/Midleton_GAA/EventRegistration#EventRegistrationOptions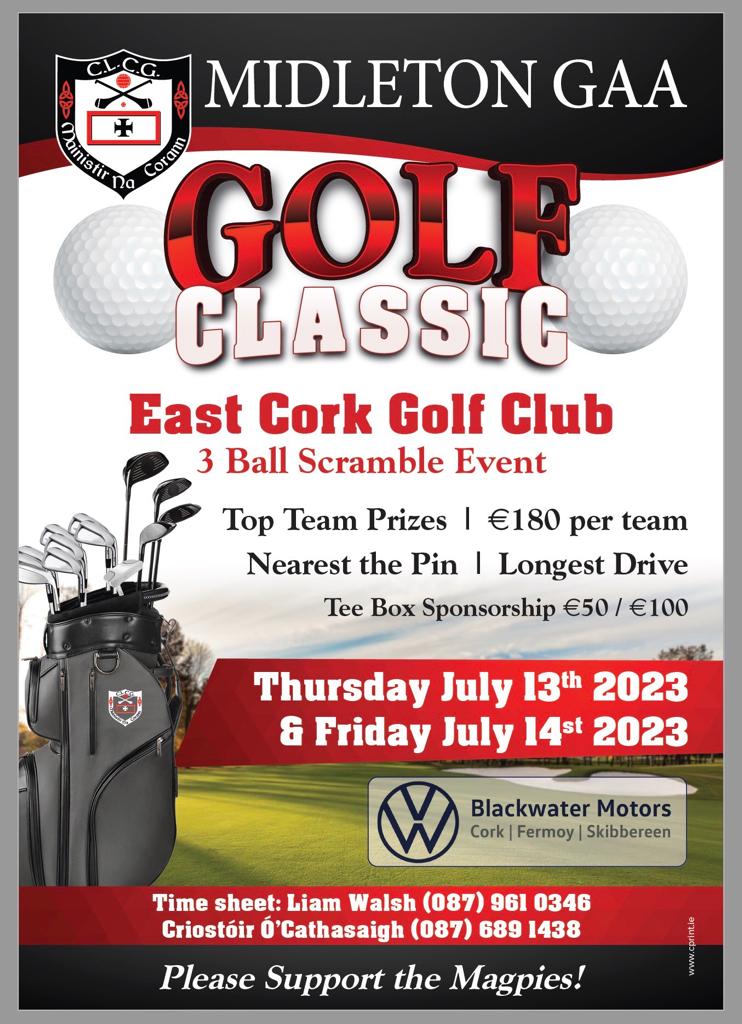 GAA NEWSLETTER
Please find a link below to the latest GAA Club Newsletter from Croke Park.....
https://www.gaa.ie/news/read-the-latest-club-newsletter-june-2023/
GAA LEARNING PORTAL

We have been asked to remind members and especially our club coaches that the GAA Learning Portal is a great resource which is free to use. Please check it out at http://learning.gaa.ie/about
BLASTS FROM THE PAST
Three pics from 2015 this week.
Top - Senior Hurling League Champions
Centre - Junior Hurling League Champions
Bottom - Pitch flooded in Conmult Memorial Park in December, 2015.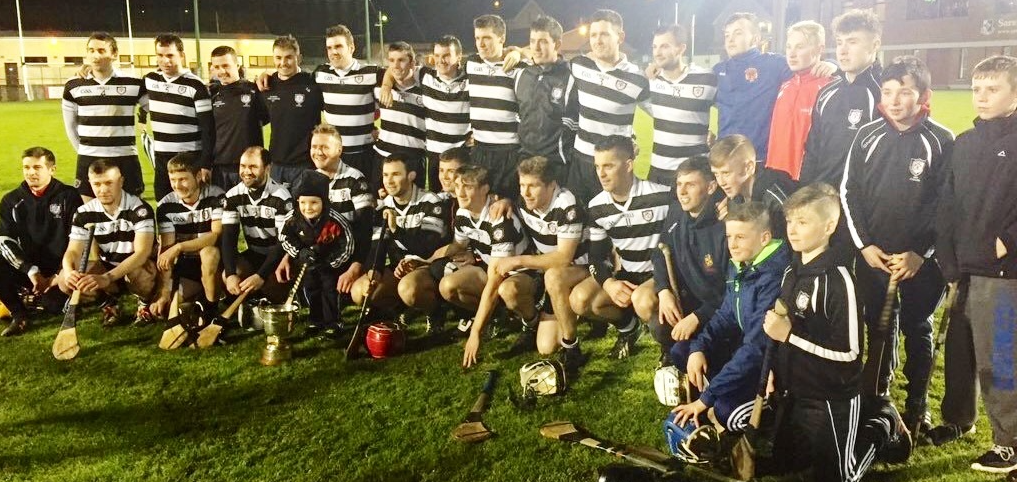 WHAT'S GOING ON AROUND OUR CLUB?
A big welcome to Conor and his Coffee Truck who is now at Clonmult Memorial Park every Saturday morning serving smashing drinks and treats. Please support him.
PLEASE PLAY YOUR PART
​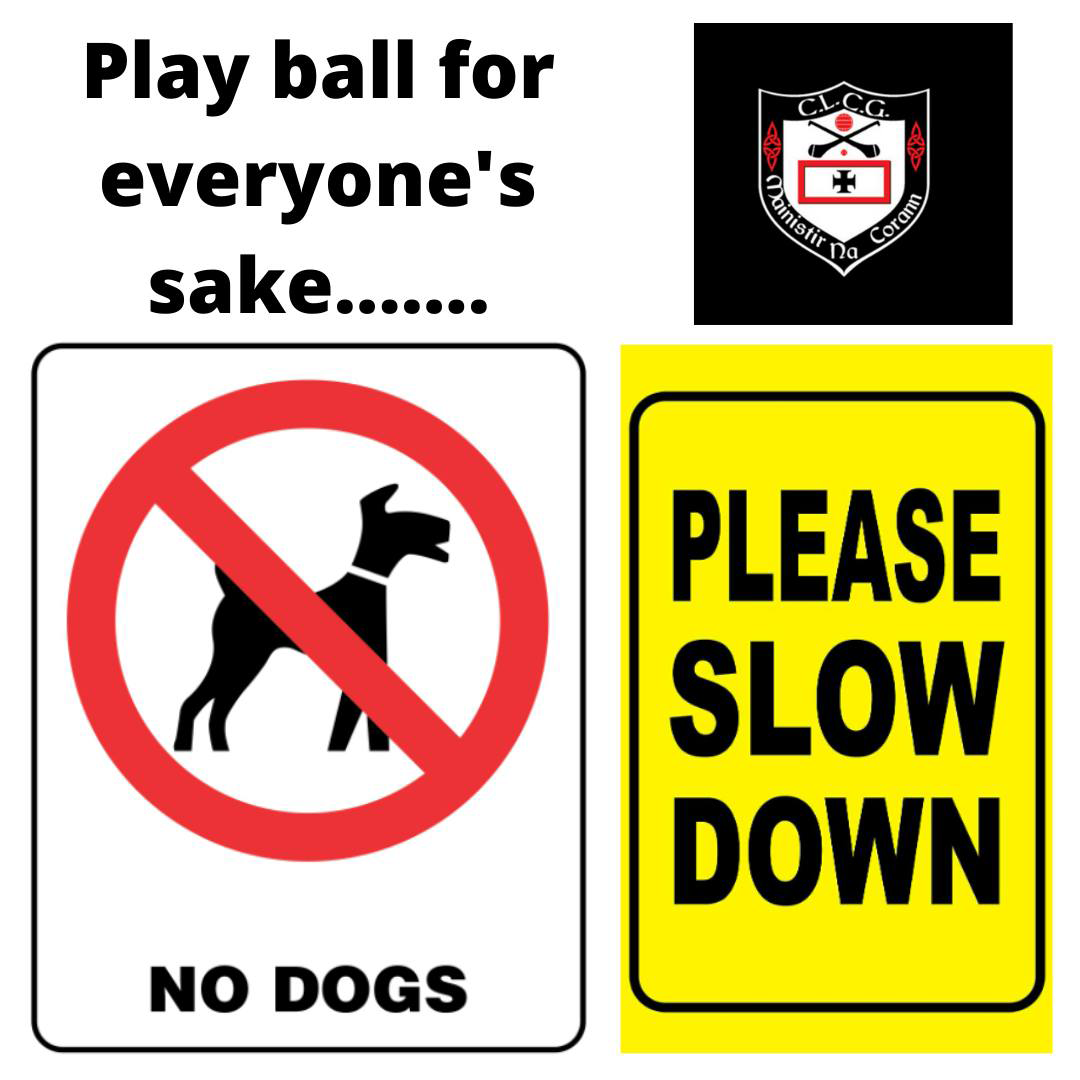 Unfortunately there has been a rise in the amount of dogs being walked in Park South recently, especially during matches and training sessions. Please spread the word that only assistance dogs are permitted in both of our club grounds at Park South and Clonmult Memorial Park.
Please do not bring single-use plastic bottles to either Park South or Clonmult Memorial Park.
Please put your rubbish in a bin or bag and please bring your gear home with you.
And always be aware of the open water surrounding the pitches in Park South.
If you are a coach, please pass on these simple messages to players and parents.
All members are asked to respect referees and their officials at all times.
Also if you are a coach, last person out locks the gate, toilet and container.
CONDOLENCES
We would like to offer our sincere condolences to the family and friends of the late Lil O'Driscoll of the Park who died this week. Lil was a brilliant supporter of our Friday night bingo for many many years and will be sadly missed. Ar dheis Dé go raibh a hanam.