Midleton Hurling and Football, Ladies Football and Camogie Club News - June 1
01 June, 2023
IN THE RED OF CORK
Hard luck to Tommy, Conor, Sam and Cormac and all the Cork players and management on their one-point defeat to Limerick in the Munster SHC in Limerick on Sunday after an epic 70+ minutes of hurling. Unfortunately that is the end of the road for the Cork senior hurlers this season after a win, a draw and two one point losses.
ALL-IRELAND U-20 FINAL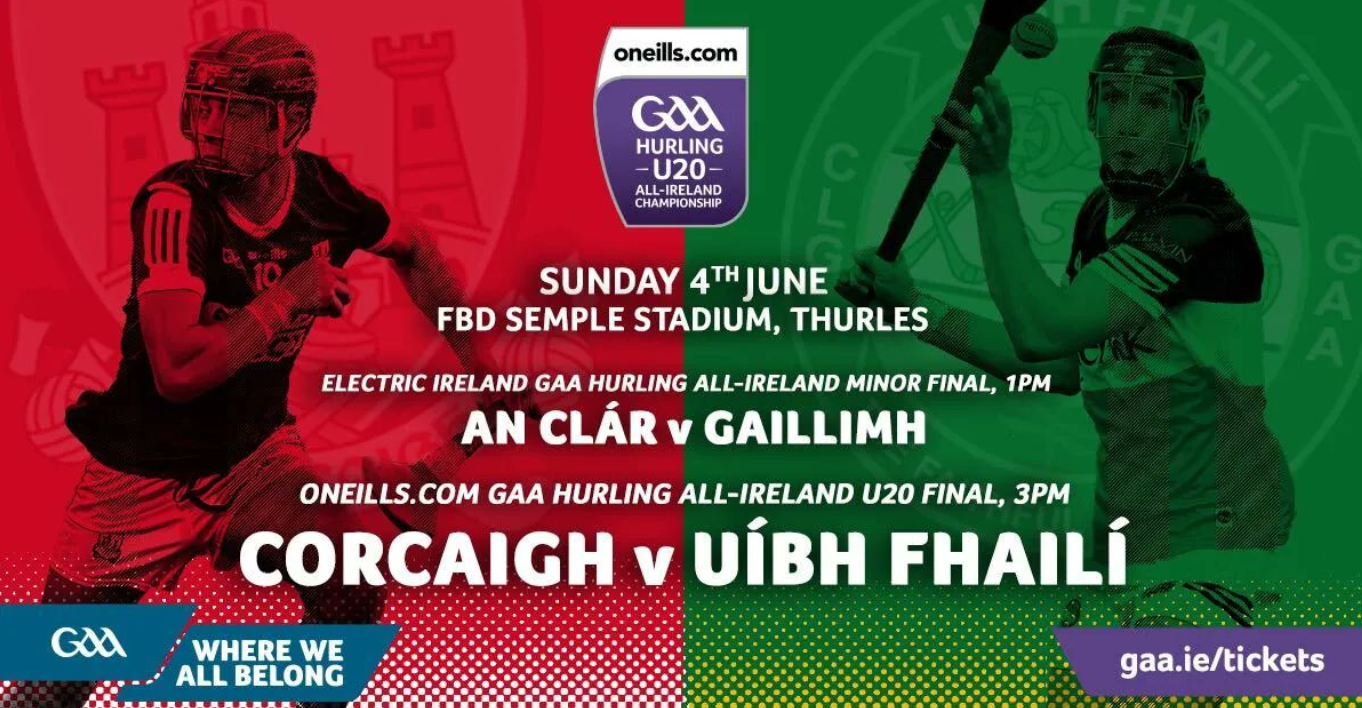 This Sunday 4th June, Cork face Offaly in the O'Neills.com U20 All-Ireland Hurling Championship Final in FBD Semple Stadium at 3pm.
We would like to wish very best of luck to Brion Saunderson, David Cremin, Ciarmhac Smyth, Mikey Finn, Alex Quirke and selector Terence McCarthy and to Ben O'Connor and all the Cork players and management team in this massive game.
Purchase tickets here https://am.ticketmaster.com/gaa/u20finalh or in selected SuperValu & Centra stores.
The game will be preceded by the All-Ireland Minor Hurling Final between Clare and Galway at 1pm.
GO RED FOR CORK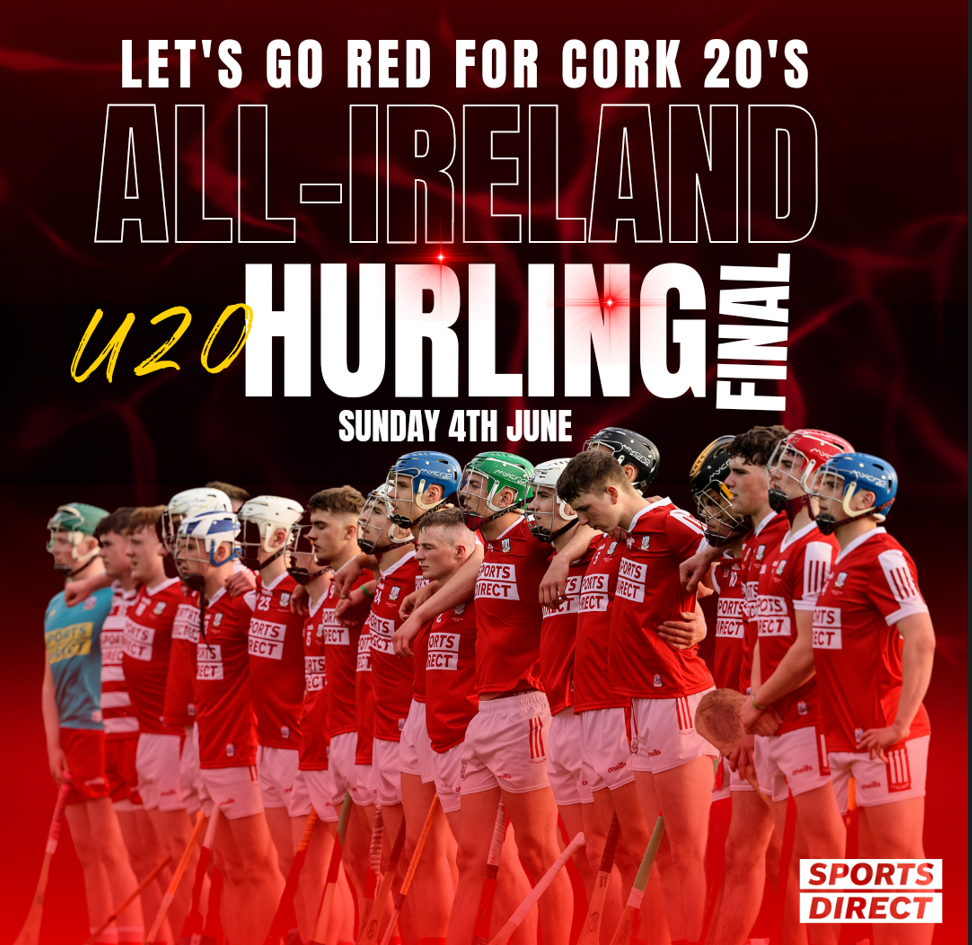 As we look ahead to the U-20 All-Ireland Hurling Final this weekend the Cork County Board are asking all clubs and schools to Go Red this Friday.
Cheer on our Rebels and wear red this Friday. Please post your pictures and messages on Instagram and Facebook, making sure to like @officialCorkGAA and tag them using #Red4Cork20s
One lucky school will win a visit from a player from the U20 hurling team. Two lucky Rebels will win a Cork Jersey.
MASTERS FOOTBALL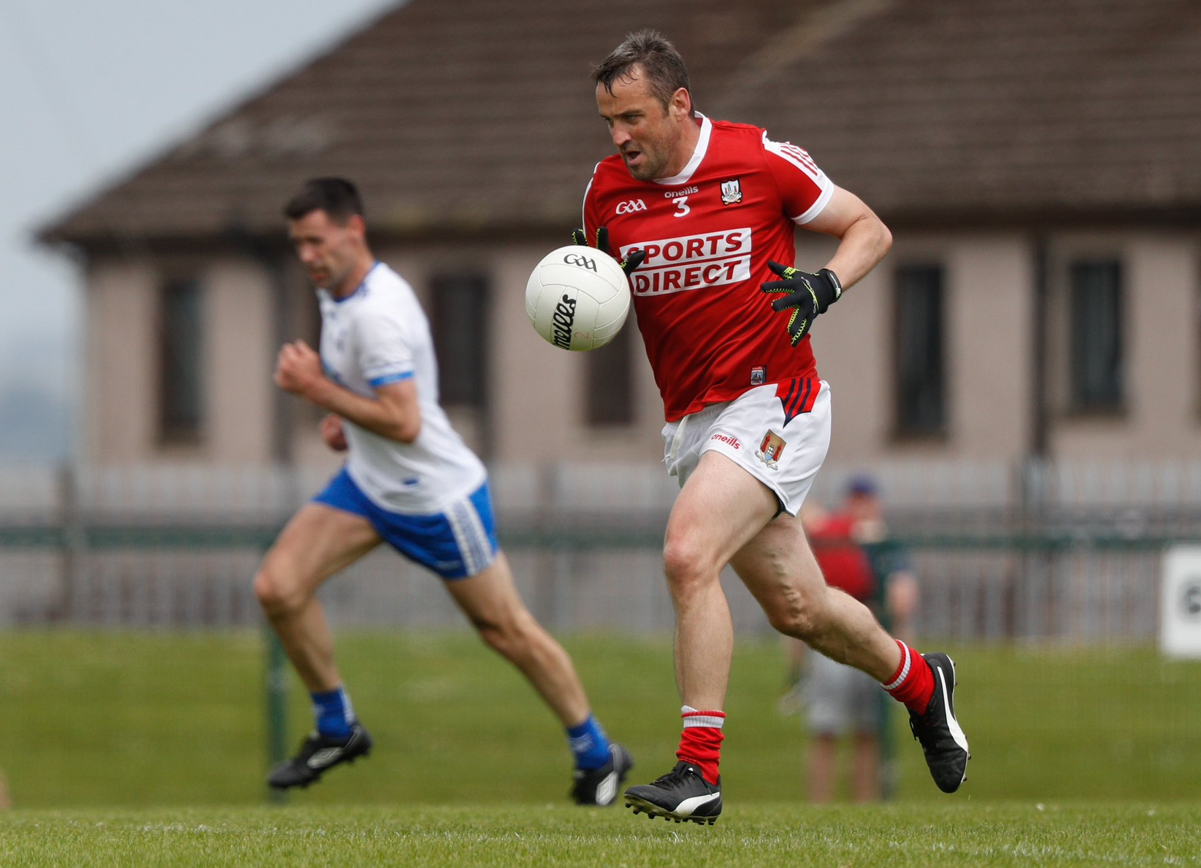 A big well done to Midleton GAA stalwarts, Barry Fitzgerald (pictured above) and Kieran Denihan, who starred for Cork in their 1-17 to 1-14 Masters Football win over Waterford in Youghal on Saturday last. Next up for Cork is a clash with Kerry and the big question on everyone's lips is whether or not Kieran will line out in the red of Cork against his native Kingdom....answers on a postcard please....
ADULT CLUB
SENIOR HURLING LEAGUE
On a beautiful evening for hurling on a splendid surface at Clonmult Memorial Park we hosted Newtownshandrum in the latest round of the County Hurling League Division 2.
We flew out of the blocks in this game and by the 10th minute we were 0-9 to 0-1 ahead with our points coming from Cormac Beausang (3), Paul Connaughton (2), Aaron Mulcahy (2), Ross O'Regan and Luke O'Farrell.
We played some great stuff in the first-half and further points from Aaron Mulcahy (2), Sam Qurike, Paul Haguhney, Paul Connaughton, Cormac Beausang (3), Luke O'Farrell and Pa White saw us lead at the half-time break on a scoreline of 0-19 to 0-6.
Newtown obviously exchanged some harsh words at the break as they came out a different side in the second-half to make this very much a game of two halves.
1-1 from Cormac Beausang and points from Ross O'Regan from Aaron Mulcahy saw us lead by 1-21 to 1-10 with 20 minutes to play.
A second Newtown goal in the 53rd minute and two quick points saw them cut the gap to just three with four minutes to play. But Sam Quirke soon settled the home side's nerves with a well taken goal and he followed by a point, as did Sean O'Leary Hayes to see us emerge victorious by six on a final scoreline of 2-27 to 2-21.
Our next league game is on Sunday, June 11 at 11.30am in Mallow.
Midleton Scorers: Cormac Beausang 1-8 (1-3F), Aaron Mulcahy 0-5, Sam Qurke 1-2, Paul Connaughton & Pa White 0-3 each, Ross O'Regan and Luke O'Farrell 0-2 each, Paul Haughney & Sean O'Leary Hayes 0-1 each.
MIDLETON: Bryan Rossiter, Ciarmhac Smyth, Luke Dineen, Seannaidh Smyth, Tadhg O'Leary Hayes, Sean O'Leary Hayes, Eoin Moloney, Paul Haughney, Sam Quirke, Cormac Beausang, Ross O'Regan, Aaron Mulcahy, Paul Connaughton, Luke O'Farrell, Pa White. Subs: Christian Murphy for Tadhg O'Leary Hayes and Rory Hartnett for Paul Connaughton.
INTERMEDIATE HURLING LEAGUE.
There was a fine attendance in beautiful conditions at Clonmult Memorial Park on Friday night for the visit of high-flying Russell Rovers in the latest round of the County Hurling League Division 5.
This was a very entertaining and well contested encounter from start to finish and after it was 0-2 apiece after nine minutes we kicked on with points from Rory Hartnett, Aidan Ryan (3), Paul Connaughton and Chrstian Daly to see us lead by 0-8 to 0-2 after 18 minutes.
Russell Rovers stormed back but Aidan Ryan, Rory Hartnett and Paul Connaughton kept our scoreboard tipping over and at half-time we led by three, 0-12 to 0-9.
Russell Rovers soon wiped out that advantage and from there to the end it was point for point in a gripping contest.
Injury-time points from Tim O'Sullivan and Paul Connaughton tipped us one ahead nearing the final whistle but Russell Rovers grabbed the leveller just before the sound of the final whistle. Final score: Midleton 0-21 Russell Rovers 0-21.
Our next game is on Friday, June 9 away to Ballygiblin at 7.30pm.
Scorers: Aidan Ryan O-7 (0-6 frees), Paul Connaughton 0-6, Rory Hartnett 0-3, Christian Daly, Christian Murphy, Gavin Reddy, Padraig O'Brien and Tim O'Sullvian 0-1 each.
MIDLETON: Zach Smith, Cathal Gunning, Christian Murphy, Leo Hennessy, Adam Fay, Tadhg O'Leary Hayes, Alan Power, Gavin Reddy, Rory Hartnett, Christian Daly, Aidan Ryan, Padraig O'Brien, Paul Connaughton, Peter Dowling, Cian Crowley. Sub used: Tim O'Sullivan.
JUNIOR A HURLING LEAGUE
Castlemartyr 3-16 Midleton 2-11
On a fabulous evening for hurling on Monday we travelled to Castlemartyr for our penultimate league game. In the first-half we started strongly, scored a couple of goals but Castlemartyr worked their way back and at half time it was 2-6 to 1-9.
The second-half was probably our poorest half this season and we ended up on the losing side.
Our final league game is at home to Cloyne with a date and time to be agreed.
MIDLETON: Zach Smith, Colin Sunderland, Aylwin Kearney, Kieran Lambert, Gavin Reddy, Patrik Kane, Evan McGrath, Leo Hennessy (0-9, 7f), Niall Lang (0-1), Evan Rowlands, Adam Fay, Jack Fitzgerald, Ben O'Neill (1-0), Peter Dowling, Alex Howard (1-0). Subs used: Daire Mooney, Mark Daly, Darragh Higgins (0-1), Rory Lester
Best wishes to Peter Dowling who picked up an injury in this game.
JUVENILES
FÉ11S

It was an early start last Sunday morning for 35 of our Fé11s as we set out on our bus trip to Limerick for the Cork v Limerick game in the Gaelic Grounds in Limerick.
We headed to Mungret GAA Club first for a challenge game against Mungret followed by plenty of food and refreshments afterwards in their Clubhouse.
We would like to thank Mungret GAA Club for hosting us and looking after us afterwards with the food and refreshments.
We then headed on to the game between Cork and Limerick with the lads, it wasn't to be Cork's day but however the lads enjoyed the atmosphere and witnessed a great game of hurling.
It was a great day out and everyone enjoyed themselves.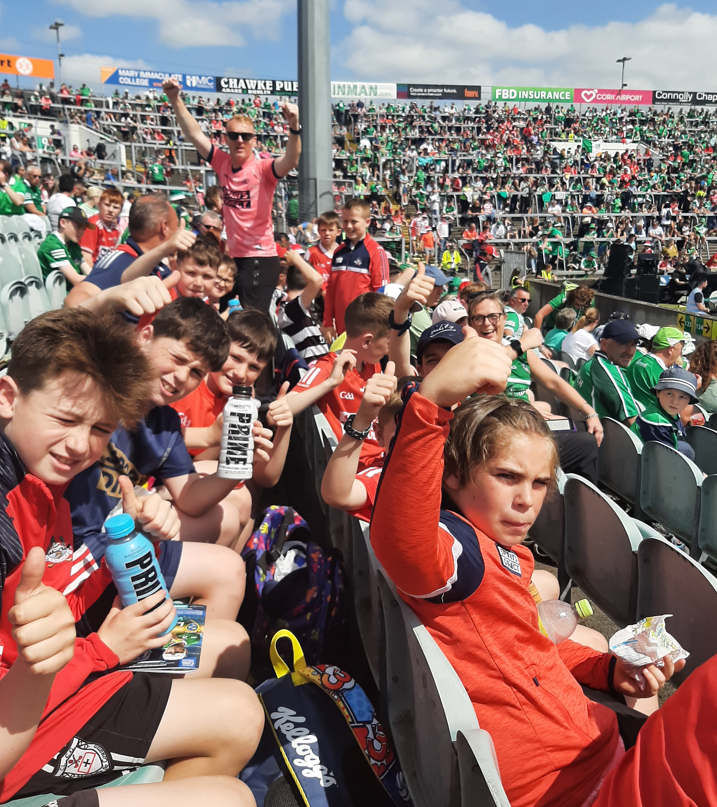 FÉ14S
Once again the panel had another busy schedule of games for the panel with a number of games in both football and hurling.
Our second team and their parents clocked up the miles on the road to play their last Group League games against Bride Rovers, and Macroom with both games been played in the opposition venues, unfortunately despite the best efforts of the players the final results in either game were not in our favour, we now await for the other group games to be played to see if the team qualify for the league final.
The Midleton panel for these games was: Aaron Murphy, Adam Groarke, Aidan O'Regan, Billy Murphy, Breaninn O Dalaigh, Charlie Cahill, Daniel Moloney, Dan O'Connell, Daire Crowley, Donncha Butler, Ethan Foley, Finn Murray, Jack Sweeney, Manus Stewart, Patrick O'Brien, Patrick Spellman, Robin O'Brien, Rohan Fitzsimmons, Rory Nolan.
P1 HURLING LEAGUE FINAL V BALLINCOLLIG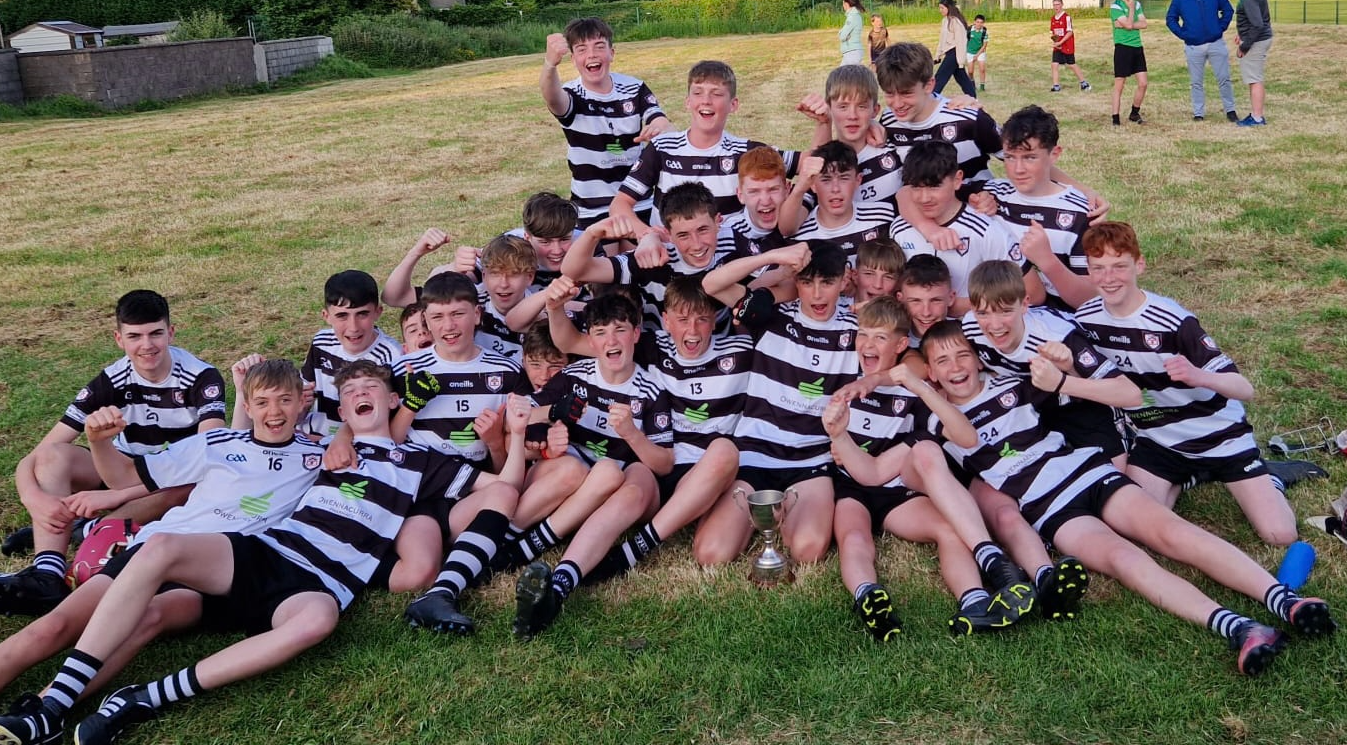 On a bright early summer's evening Ballinlough was the venue for our highly anticipated game against Ballincollig for the P1 Hurling league final. Knowing how close games have been between our clubs over the last number of years, the players approached the game with an air of determination and nerves which was clearly evident in the early exchanges.
After settling into the game the players displayed their teamwork and skills to have built up a lead at half time, however knowing the quality of the opposition the players continued to apply themselves in the second half which resulted in both a continued positive performance and result. All in attendance commented on the positive approach of both teams with hard work and great skills on display for all to see, which can only be a positive for the overall game in the county into the future.
Cian Hogan (pictured below) accepted the League Cup on behalf of the panel.
We would like to thank the Seandun Division for the use of their facilities on the night, Cathal Egan for refereeing the game along with his Umpires and Rebel Og for the smooth organising of the competition.
MIDLETON PANEL: Aidan O'Regan, Alex Molumby, Alfie Hennessy, Braden Dunlea, Breaninn O Dalaigh, Charlie Cahill, Charlie McCarthy, Cian Hogan; Ciaran Kelly, Ciaran O'Brien, Daniel Moloney, Daniel O'Connell, Daire Crowley, Donncha Butler, Ethan Foley, Eoghan Donovan, Finn Cahill, Finn Murray, Jack Cahill, Jack Sweeney, John O'Sullivan, Josh Quill, Liam Walsh, Manus Stewart, Patrick O'Brien, Patrick Spellman, Peadar Egan, Rian McCormack, Robin O'Brien, Rory Nolan, Will Stokes.
While the players will deservedly enjoy the result, there is little time to dwell on the outcome as our attention quickly turns to our forthcoming championship games which begins this coming weekend with two home games scheduled for Friday evening and Saturday afternoon, any and all support that can be given for this hard working group of players would be greatly appreciated.
At this stage of the year the coaches would once again like to express our thanks to the players, parents/guardians for working with us to get the players to the various games. Your cooperation is appreciated and we are all looking forward to the next number of weeks as the championship progresses.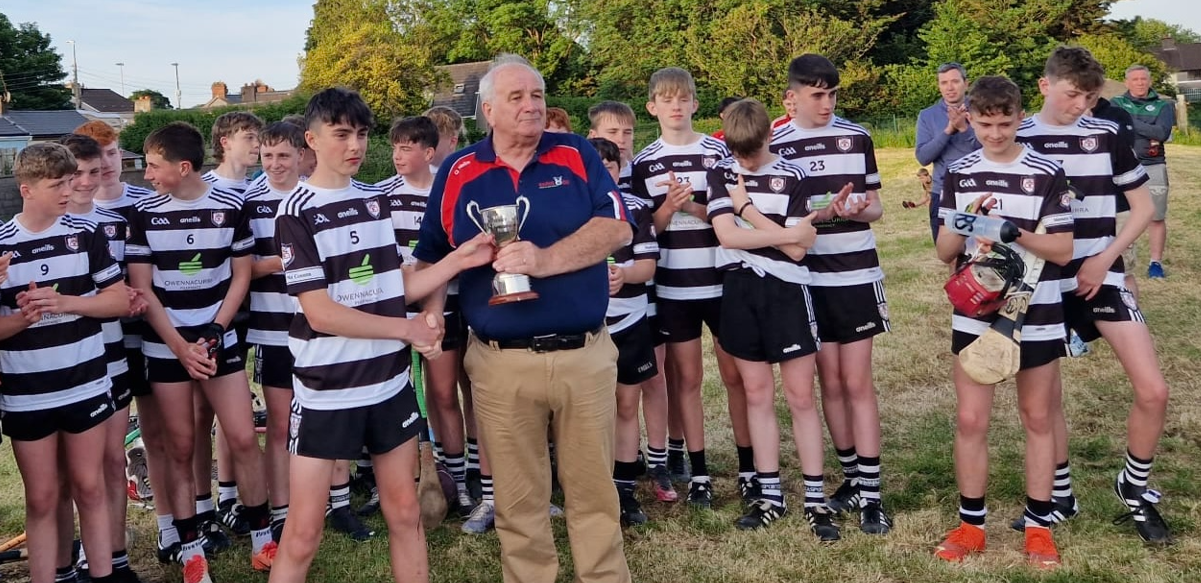 CELTIC CHALLENGE WINNERS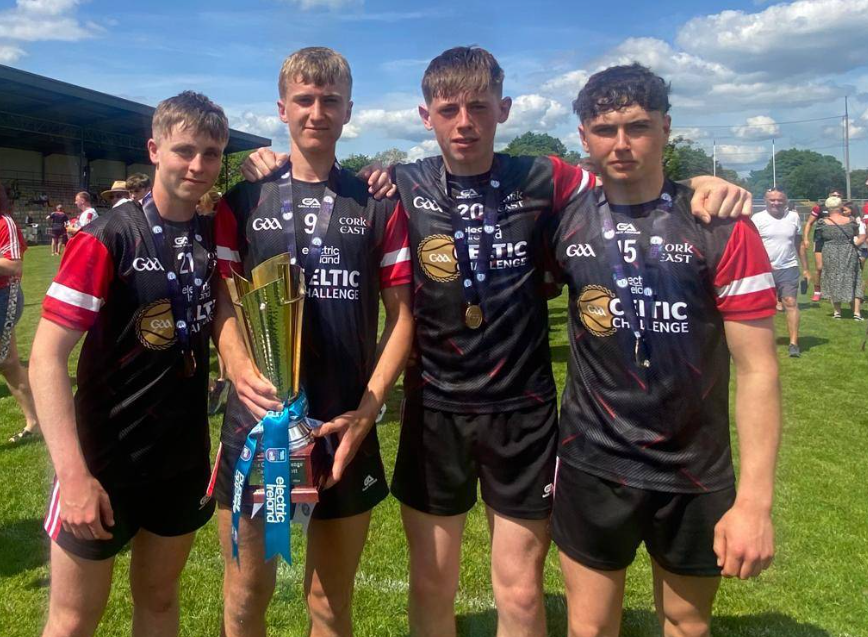 A massive well done to Fionn Kelly, Eoin Fraser, Daniel Garde and Darragh Egan who helped Cork East beat Dublin 2-16 to 1-12 on Saturday in Birr in the All-Ireland Celtic Challenge Hurling Final. Luka Brodkorb was away for this game but was also on the panel. Great stuff lads...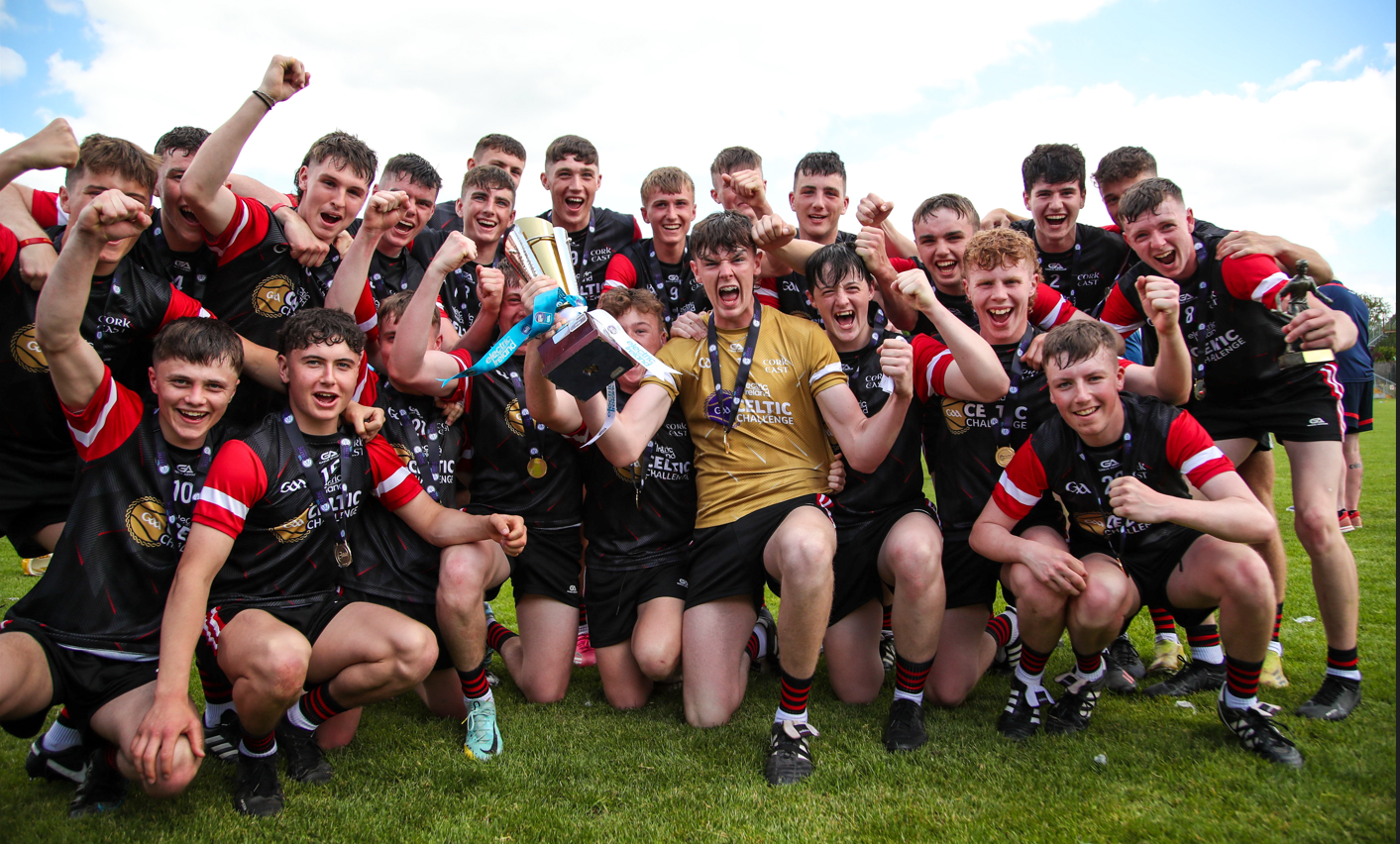 CARRIGTWOHILL CC TITLE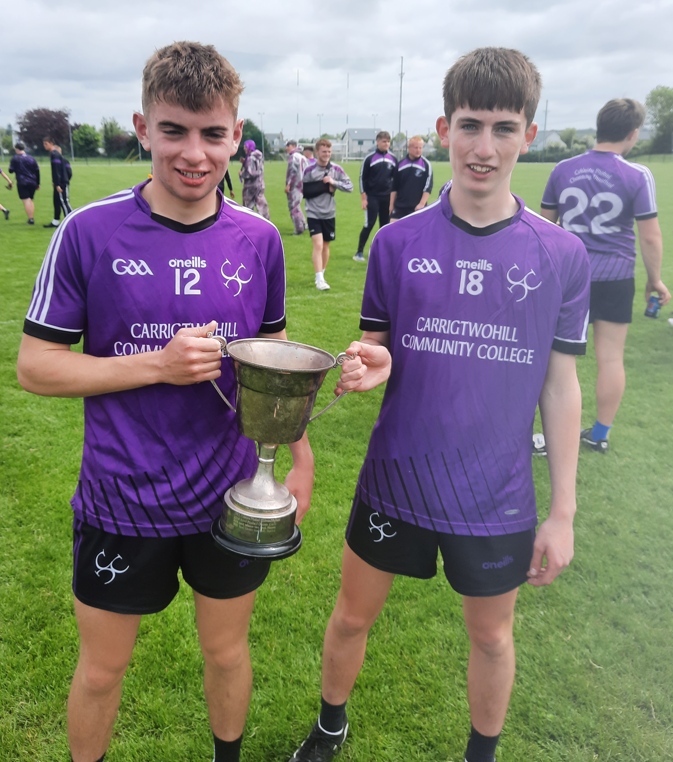 Well done to Midleton players Seanie McSharry and Odhran Dennigan who were part of the Carrigtwohill CC U-19 Cork Colleges winning squad this week.
Seanie was wing forward and Odhran came on wing back with 15 mins to go. They won by 0-20 to 2-11. CCC got the last six points to win it. It's the school's first senior hurling honour.
FIXTURES
FRIDAY, JUNE 2
Rebel Og Premier Fe14 Football Championship Premier 2
Midleton v Bishopstown at 7.30pm in Midleton
SATURDAY, JUNE 3
Rebel Og Premier Fe14 Football Championship Division 4
Midleton 2 v Glanmire 2 at 12noon in Midleton
MONDAY, JUNE 5
Rebel Og Premier Fe13 Football League Group 2 Shield Final
Midleton v Youghal at 7pm. Venue: TBC.
WEDNESDAY, JUNE 7
Rebel Og Premier Fe17 Hurling League Premier1 Group 1
Midleton v inniscarra at 7pm in Midleton
CAMOGIE
Under 8s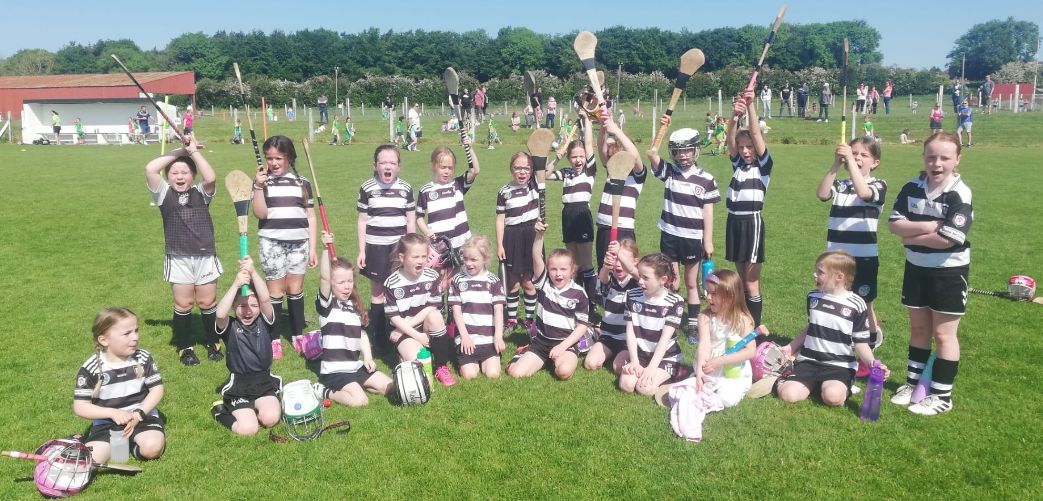 Our U-8s had a camogie blitz versus Castlemartyr and Cobh at the weekend. Great skills and determination were on display from all the girls.
Under 9s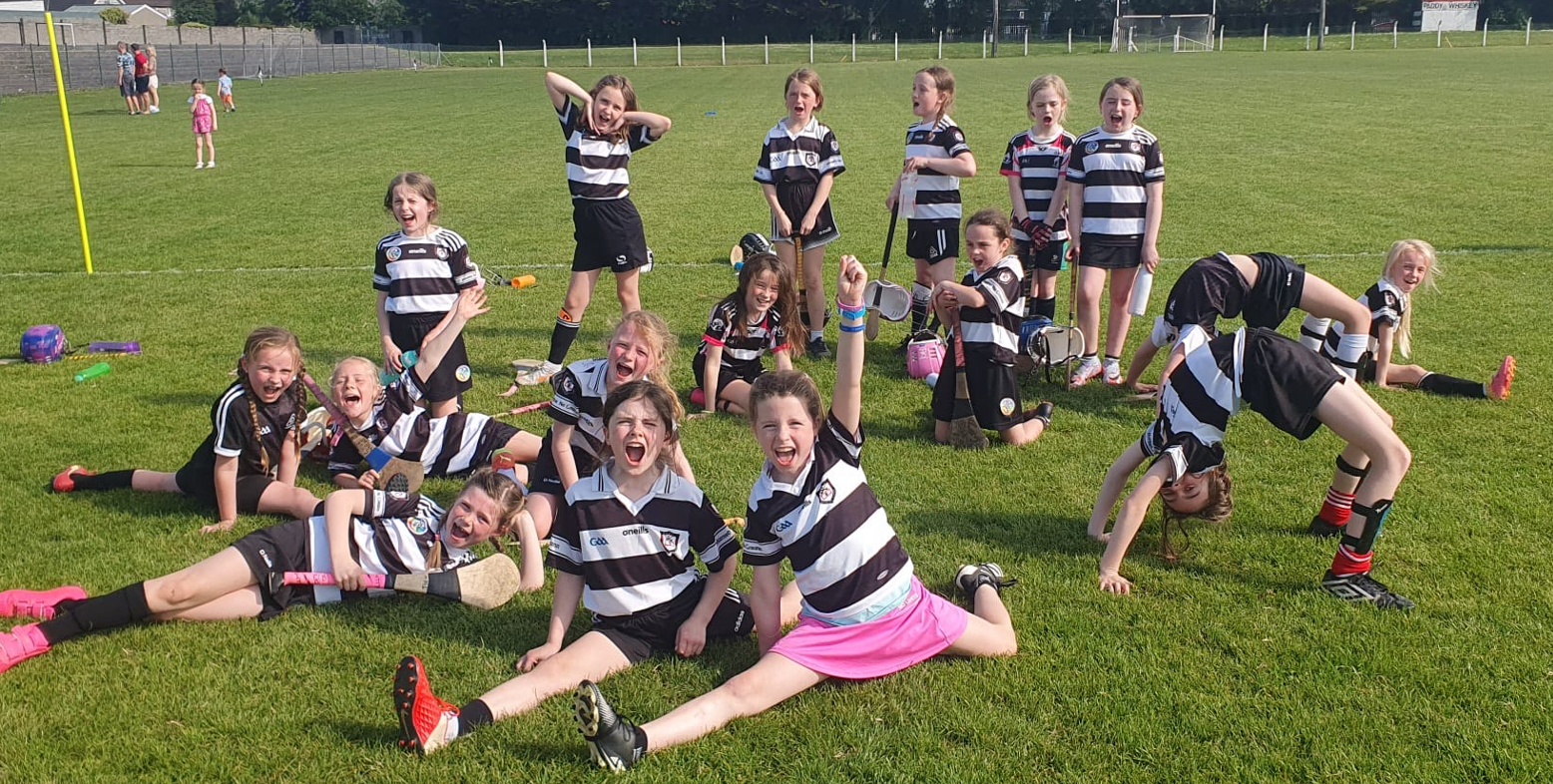 Our U-9s played Sars in the summer sun at Clonmult Memorial Park on Saturday with some great camogie on display for all the spectators. Our girls played fantastic in a free-flowing game.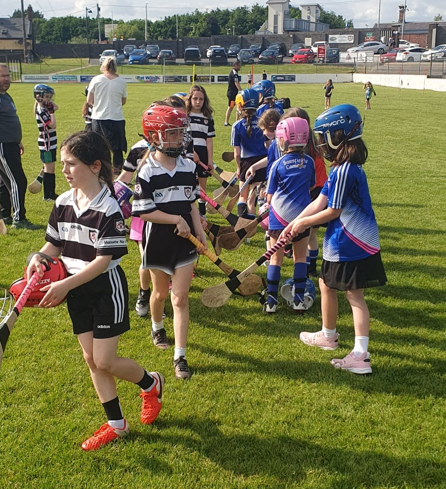 Under 10s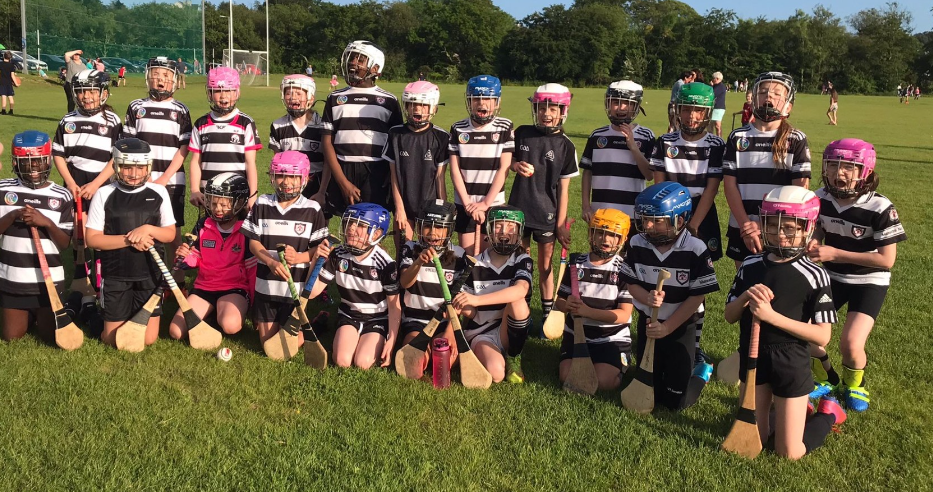 On a glorious sunny Friday, our U-10s hosted Cobh GAA in round four of the Imokilly Go Games. The girls played two games and battled hard against competitive Cobh teams, showing all of the skills they are practicing each week including rising, blocking and striking and hand passing. Thanks for Cobh GAA for travelling.
Under 11s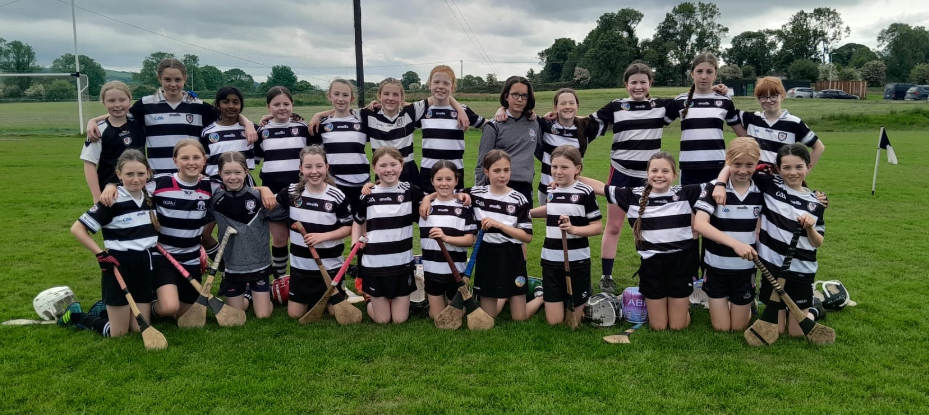 Last Sunday, with the early sun brightly shining on Park South both our U-11 teams had three lively games of camogie, playing each other and then each Midleton team playing against visitors Cobh and Carrigtwohill in a friendly blitz. It was great to see all 23 girls on the day put the skills they are learning each week in training into practice and showed some super displays of skill and teamwork. Well done girls.
Under 12s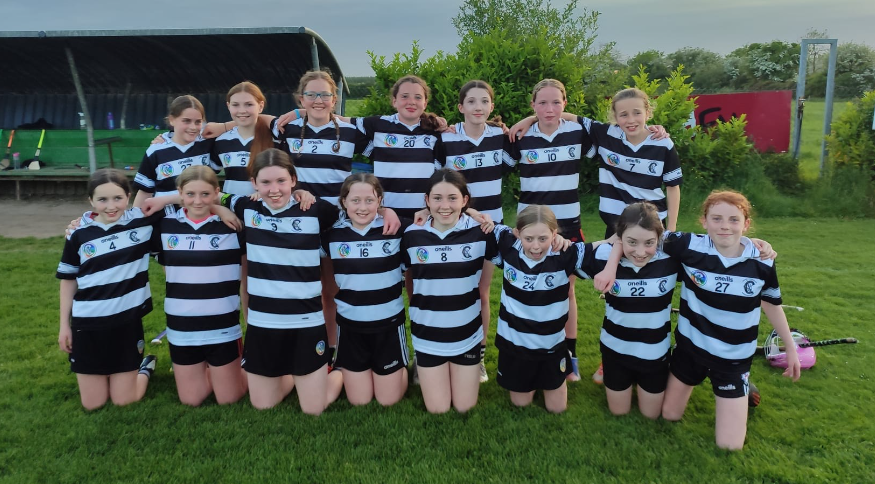 Our U 12s (Black) team played their opening league match last Thursday evening away to Killeagh. On what was a very warm evening for playing all the girls worked very hard throughout. The lead changed numerous times and in the end both teams could not be separated. The girls' hard work in training is really starting to show on the pitch and they are playing so well as a team. Next up in the league is a home game against Sars on Saturday.
-
Under 14s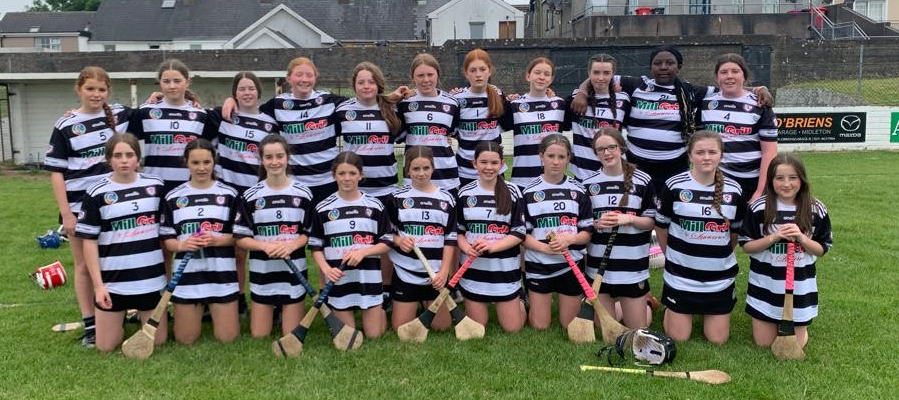 The U-14s welcomed Ballincollig to Clonmult Park on Sunday for the P2 league semi-final. It was a cracking game of camogie but unfortunately our girls came up just short. Best of luck to Ballincollig in the final.
Congratulations to Ciara (pictured below) who captained the U14s against Ballincollig and was immense between the posts.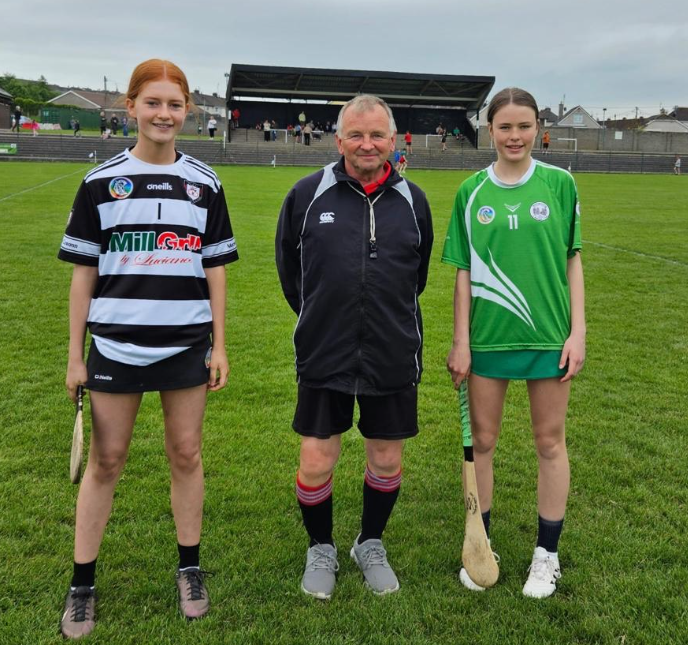 Junior B League QF – V Blarney
Midleton 4-14 Blarney 1-11
A superb first-half performance was the key to this victory. We raced into a 3-9 to 1-3 HT lead against a very lively Blarney outfit. Sadhbh Beausang was superb leading the line and scoring five points from play in the half. Goals from Vivienne Gleeson, Rebecca Cassidy and Rachel Ryan ensured a comfortable HT lead.
Blarney came out flying in the seconnd-half though and reduced our lead to four points at one stage. We rallied late on and points from Vivienne Gleeson, Sadhbh Beausang and another Rachel Ryan goal saw us regain our nine-point lead and that was the difference at the end.
MIDLETON: Jill Connaughton, Megan Kelly, Ruthi Hennessy, Leah Hogan, Molly Beausang, Aoife Fitzgerald (0-1), Laura Goulding, Lucy Wallis (0-1), Isabelle Nestor, Jodie Keegan O'Connell, Sadhbh Beausang (0-6), Rachel Ryan (2-0), Vivienne Gleeson (1-5) Rebecca Cassidy (1-0), Saoirse Ni Theangana (0-1), Hannah Power, Elle McManus, Emma O'Sullivan, Caoimhe Cronin, Rayanna Power, Jade Fitzgerald, Roisin O'Callaghan
Junior B League SF – V Youghal
Midleton 3-10 Youghal 1-9
We qualified for our second ever adult League Final on Saturday after a titanic battle in sunny Youghal. A superb display of grit and determination saw us recover from a four-point deficit early in the second-half to score 2-5 without reply to win by seven points.
The work-rate and effort put in by all the girls on the day was joy to watch. The scores were level at 1-5 to 0-8 at half-time, our goal coming from a superb piece of opportunism by Rachel Ryan, points from Sadhbh Beausang and Jodie Keegan O'Connell and Vivienne Gleeson kept us in touch at the break.
Youghal started the second-half strongly, but the Midleton girls' heads never dropped and the hooking, blocking and tackling ultimately wore down our opponents. Emma O'Sullivan came off the bench and got the key score with a superb solo run and batted hard to put us ahead for the first time and when Sadhbh Beausang added our third goal we were in control.
All the girls contributed hugely; it really was a great team/squad effort. We look forward to League Final now on Bank Holiday Monday, June 5th V Eire Og. Time and venue TBC.
MIDLETON: Jill Connaughton, Megan Kelly, Ruthi Hennessy, Leah Hogan, Molly Beausang, Aoife Fitzgerald (0-1), Muireann Ni Concubhair, Lucy Wallis, Isabelle Nestor, Jodie Keegan O'Connell (0-2), Sadhbh Beausang (1-3), Rachel Ryan (1-0), Vivienne Gleeson(0-42f) Rebecca Cassidy, Hannah Power, Kate Griffin, Emma O'Sullivan (1-0), Caoimhe Cronin, Sorcha Cronin Rayanna Power, Jade Fitzgerald, Roisin O'Callaghan,

LADIES FOOTBALL
UNDER 12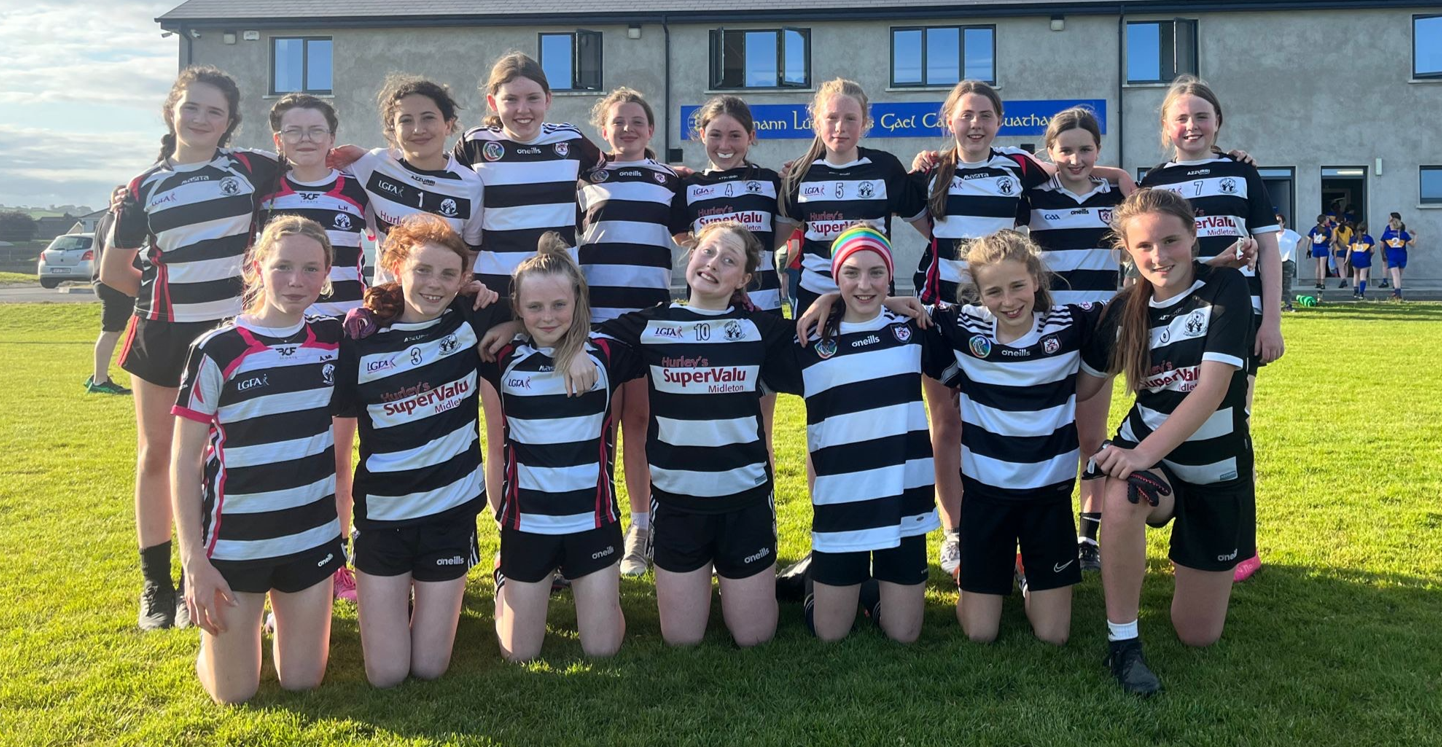 Well done to the U12 girls who played some great football against Carrigtwohill last Friday evening.
G4M&O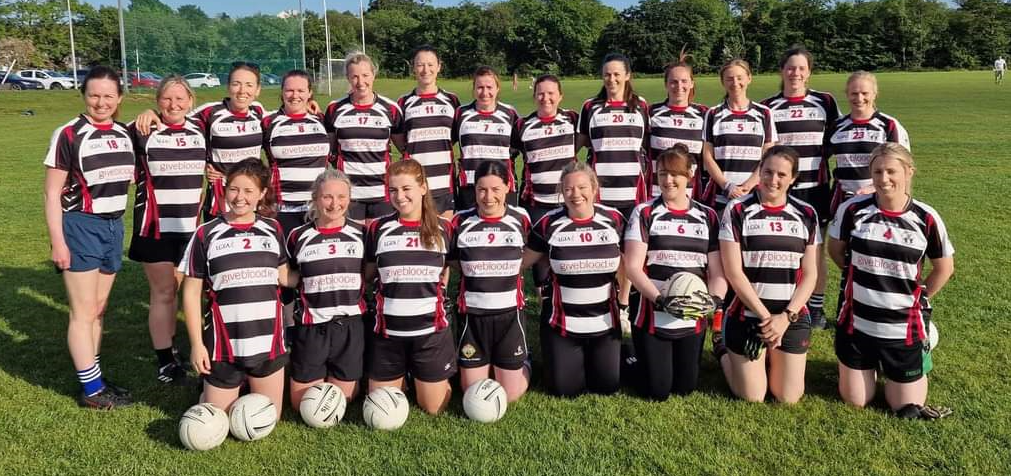 Our Gaelic 4 Mothers and Others (G4M&O) played their very first game on Saturday evening in Park South. Fantastic to see so many ladies and great support from the sideline too. Thank you to St. Catherine's for traveling to Midleton. Well done to everyone involved. (Helen and Lynda missing from photo).
UNDER 8

Well done to all involved on Sunday morning in Clonmult Memorial Park where we hosted over 100 girls in an Under 8 Blitz. Many thanks to Youghal, Inch Rovers and Aghada for travelling to us. A fantastic morning of football was had by all. Well done girls, ye were great! The picture is of just one of our three teams on the day.
MIDLETON GAA MONDAY CLUB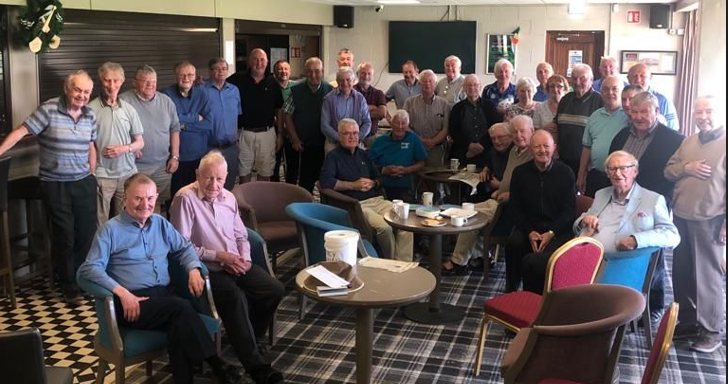 The Midleton GAA "Monday Club" met on Monday morning which was a beautiful morning to catch up over a cuppa.
It was great to see some new faces. A collection was held in aid of 96FM's Giving For Living Radiothon campaign which supports cancer services in Cork. Sincere thanks to everyone for their generosity we raised a fantastic €425.85.
The group also expressed their commiserations to the Midleton lads involved with the Cork seniors on Sunday and wished the Midleton Cork U-20 players and management the best of luck in the All-Ireland Final v Offaly on Sunday next.
Our next Monday meet up is on this coming Monday, June 26 at 10.30am. All are welcome.
MIDLETON GAA GOLF SOCIETY
Next outing is at East Cork Golf Club on Tuesday, June 13. Tee time: 3.30pm to 5pm, kindly sponsored by the Maple Bar, Main Street, Midleton.
LOTTO DRAW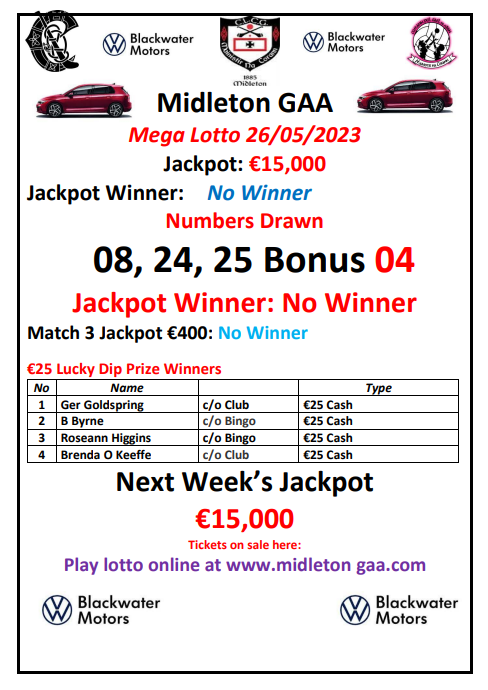 The Jackpot was €15,000 for last Friday night's jackpot and the numbers drawn this week were 8, 24, 25 and the bonus was 4.
There was no jackpot winner or match 3 winner.
The €25 Lucky Dip Prize winners were: Ger Goldspring, B Byrne, Roseann Higgins, Brenda O'Keeffe.
Play 24/7 at: http://www.klubfunder.com/Clubs/Midleton%20GAA/lotto
In total Midleton GAA will give out local business vouchers to the value of €3,800 every year as part of our "Shop Local, Buy Local" campaign.
How to play: tickets are on sale at Pat Walsh Paints, Chadwicks, Frank Murphy Butchers, Murphy's Pharmacy, Crowley Butchers, or buy online (see above).
BINGO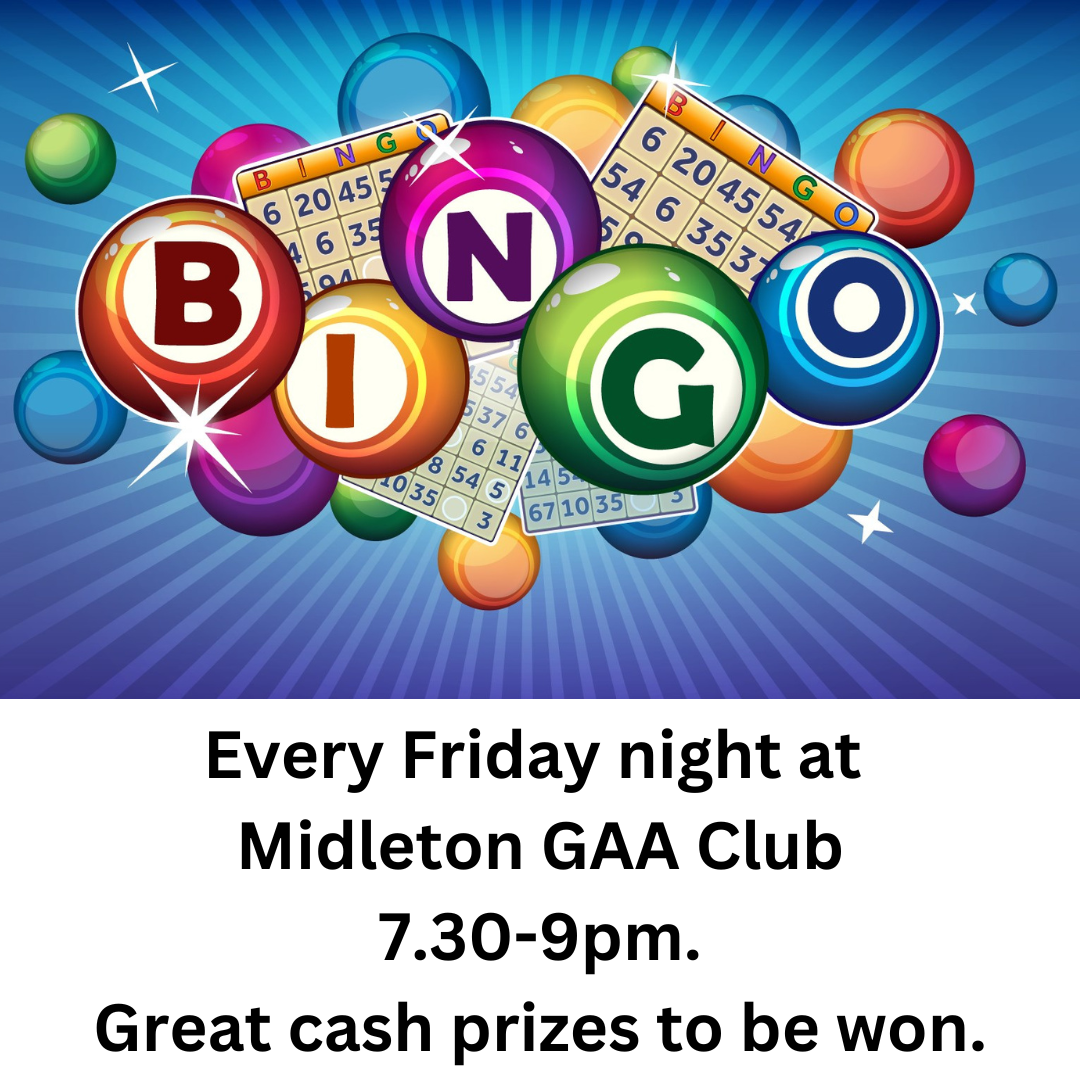 Fancy a good night which also benefits Midleton GAA club...what about bingo on Friday nights?
It kicks off at 7.30pn every Friday night and is over by 9pm. A single book is €6. A double book is €12. We're having our biggest crowds since before Covid recnetly so thanks to everyone for coming in such big numbers, it is much appreciated. New players are always welcome....
SOCIAL DANCING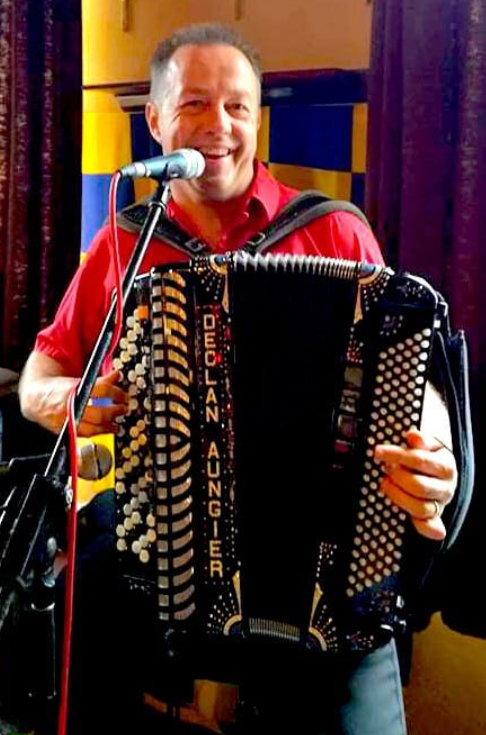 Social dancing this Saturday night, June 3, from 9.15pm to the superb Declan Aungier. A great night is assured....
CLUB SHOP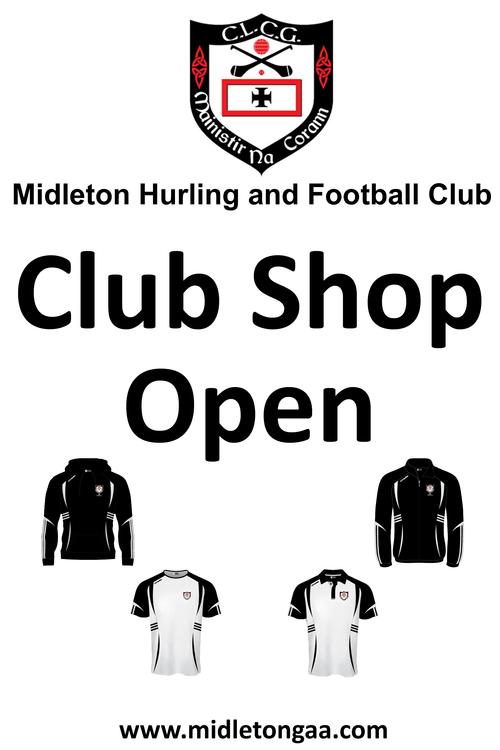 With all our hurling, camogie and ladies football teams now back up and running now is the time to stock up on all your gear needs for the coming season.
All you have to do is go to the Klubfunder website (www.klubfunder.com/Clubs/Midleton%20GAA/ShopItems) and you will see the full range of what's available to buy. You can shop away to your heart's content, pay for it online and then collect your purchases at the club shop on Saturday morning between 9.30am and 10.15am. Thank you.
2023 MIDLETON GAA GOLF CLASSIC
DATE FOR YOUR DIARY:.......this year's Midleton GAA Golf Classic will be held, at East Cork Golf Club, on Thursday and Friday, July 13 & 14. Even if you are not a golfer we would really appreciate if you or your workplace would consider sponsoring a tee box for €50. This one of our main fundraisers each year and is vital to the upkeep of all our teams across hurling and football, ladies football and camogie.
You can register your team or pay for a tee box or both right now at the link below.....
http://www.klubfunder.com/Clubs/Midleton_GAA/EventRegistration#EventRegistrationOptions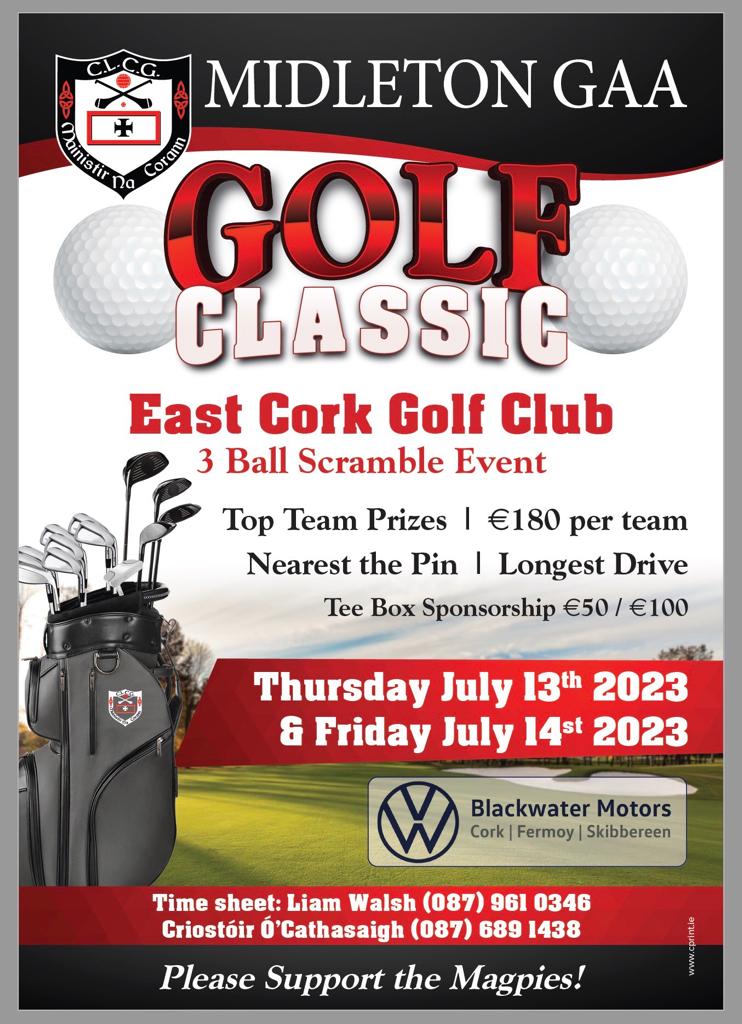 GAA LEARNING PORTAL

We have been asked to remind members and especially our club coaches that the GAA Learning Portal is a great resource which is free to use. Please check it out at http://learning.gaa.ie/about
WALSH FAMILY FUNDRAISER
We might have our battles on and off the field at times but the GAA family always comes together and supports each other when needed and this is one of those occasions.
Most of you will be aware of the awful set of events that befell the Walsh family from Killeagh recently and now they need our help.
We would ask anybody who can to please support this most worthy fundraiser.
You can click on the link below to donate. Midleton GAA club is also making a donation to this very worthy fundraiser which has raised over €360k and counting in less than a week.
http://www.gofundme.com/f/killeagh-gaa-walsh-family-fundraiser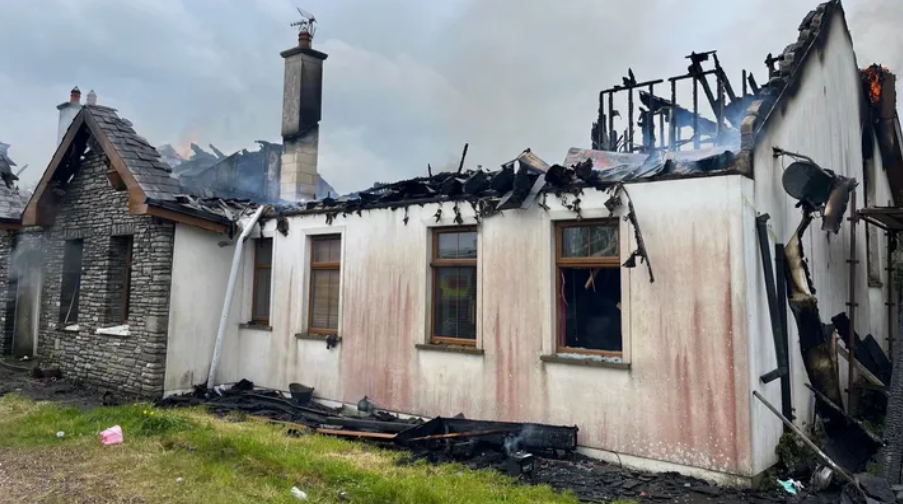 PLEASE PLAY YOUR PART
​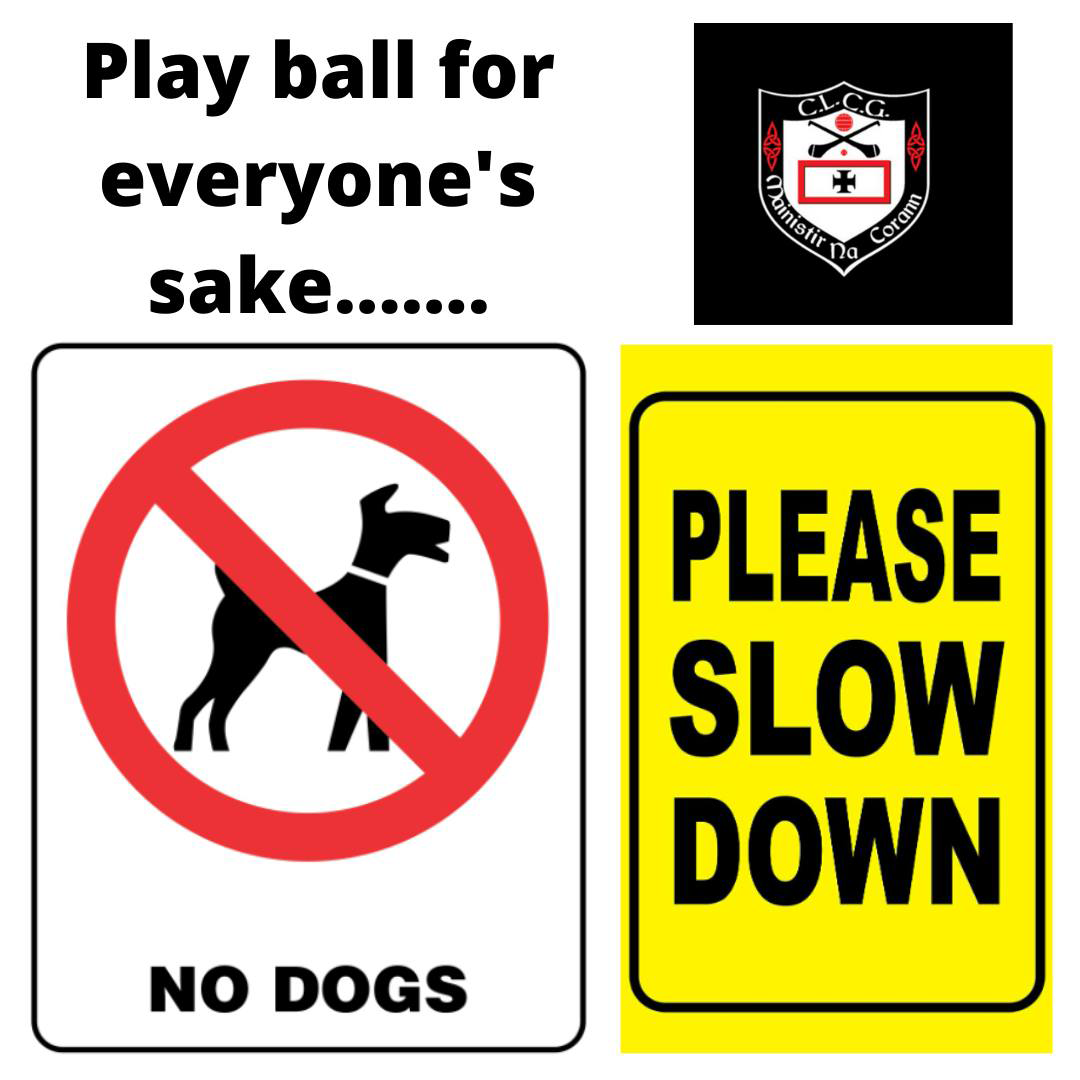 Unfortunately there has been a rise in the amount of dogs being walked in Park South recently, especially during matches and training sessions. Please spread the word that only assistance dogs are permitted in both of our club grounds at Park South and Clonmult Memorial Park.
Please do not bring single-use plastic bottles to either Park South or Clonmult Memorial Park.
Please put your rubbish in a bin or bag and please bring your gear home with you.
And always be aware of the open water surrounding the pitches in Park South.
If you are a coach, please pass on these simple messages to players and parents.
All members are asked to respect referees and their officials at all times.
Also if you are a coach, last person out locks the gate, toilet and container.