Midleton Hurling and Football, Ladies Football and Camogie Club News - May 25
25 May, 2023
IN THE RED OF CORK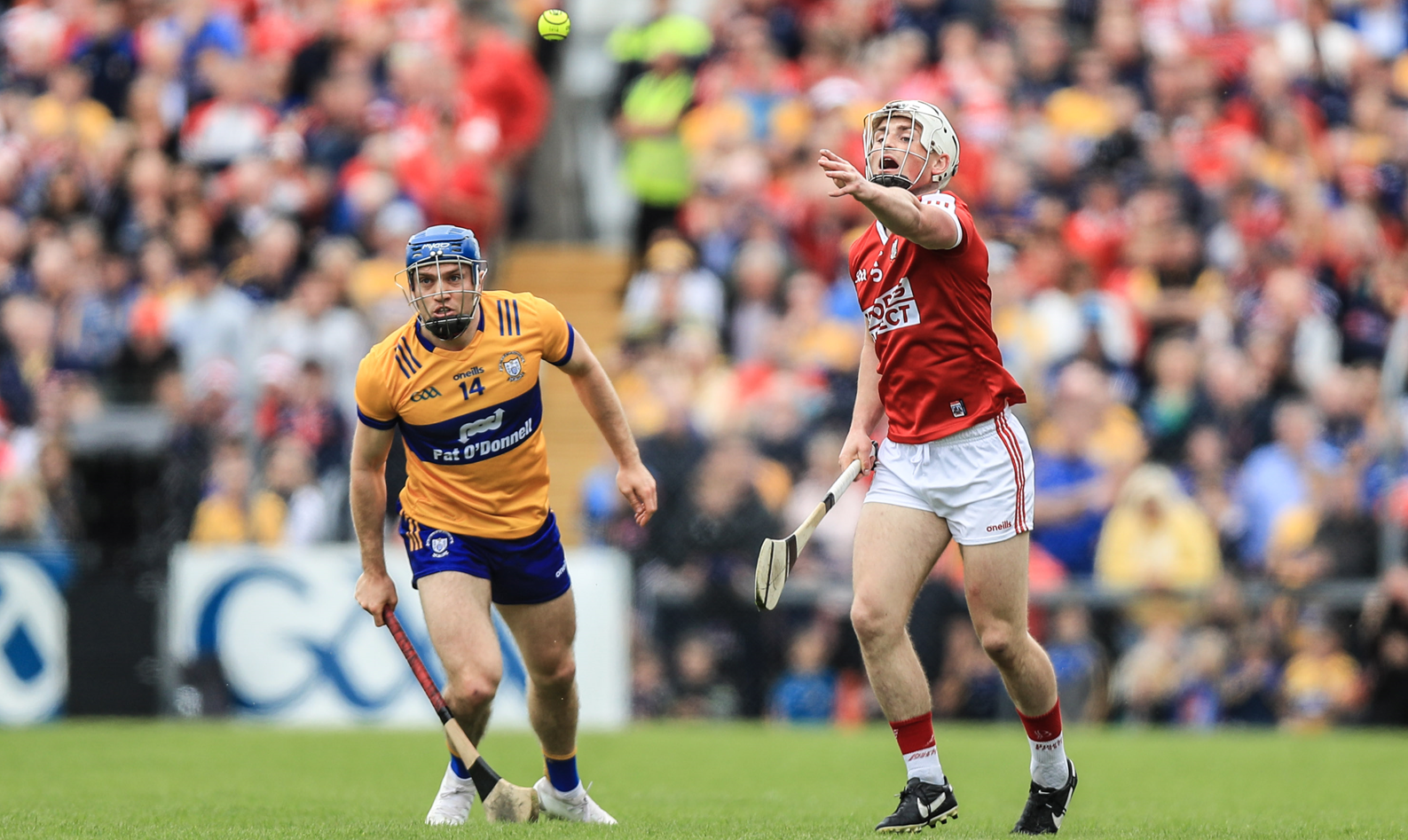 Hard luck to Tommy (pictured above), Conor, Sam and Cormac on their one-point defeat to Clare in the Munster SHC in Ennis on Sunday.
Best of luck to the lads and all the Cork players and management team in their must-win game with Limerick in the Gaelic Grounds on Sunday at 4pm.
Terrace tickets are available at the following link: http://www.ticketmaster.ie/event/18005D67E2528BED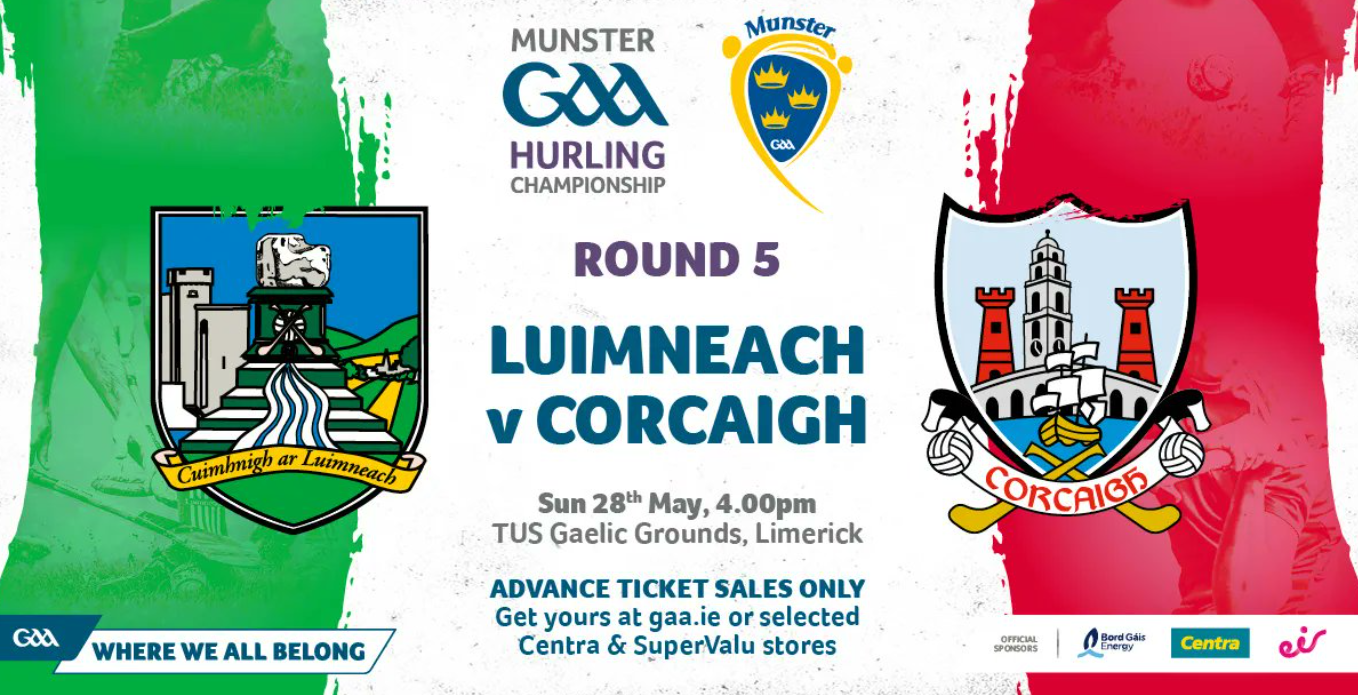 TRAFFIC NOTICE FROM AN GARDA SÍOCHÁNA FOR SUNDAY
An Garda Síochána in Mallow are anticipating a high volume of traffic in the area this weekend due to a number of events taking place.
The Mallow Home and Garden Festival is taking place at Cork Racecourse in Mallow, Co. Cork from Friday, 26th May 2023 until Sunday, 28th May 2023.
A number of GAA fixtures are scheduled to take place at the Mallow GAA grounds in Carrigoon, Mallow, Co. Cork on Sunday, 28th May 2023.
· Munster Ladies Intermediate Football Final (Limerick v Clare) commencing at 1pm
· Munster Ladies Senior Football Final (Cork v Kerry) commencing at 3.30pm
Due to these events taking place in the town, a high volume of traffic expected on the N20, N72 and other approach routes into Mallow over the weekend.
In addition to these events, on Sunday, 28th May 2023 the Munster Senior Hurling Championship (Cork v Limerick) is taking place in Limerick GAA grounds, commencing 4pm
Patrons travelling to Limerick from Cork will drive via the N20, through Mallow, which may cause further traffic congestion through the town.
Patrons attending these events are asked to allow sufficient travel time in order to arrive safely at your destination, and on time.
There will be a high-visibility Garda presence throughout the weekend to assist with traffic movement.
ALL-IRELAND U-20 FINAL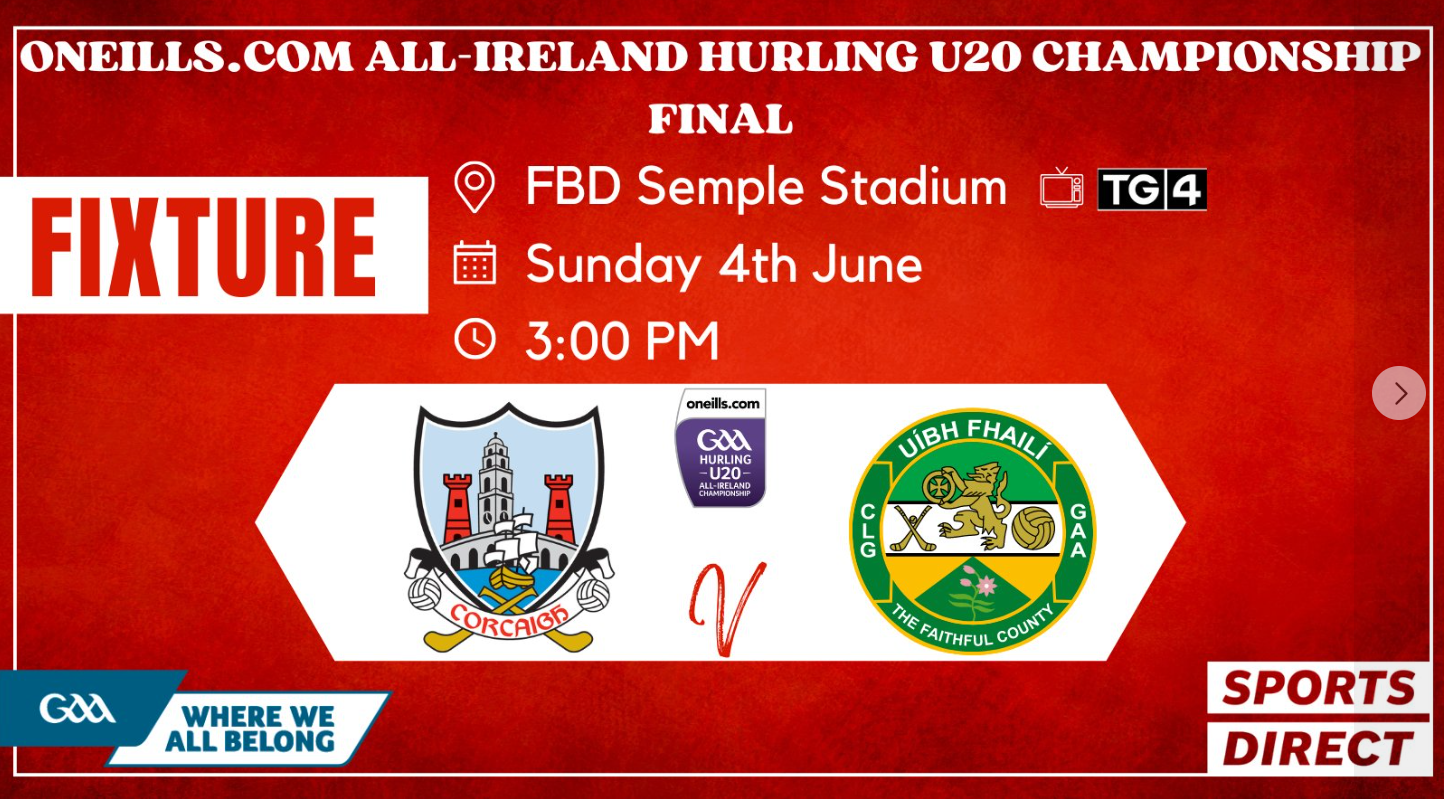 Tickets are now on sale for the All-Ireland U-20 Hurling Championship Final - Cork v Offaly on Sunday week, June 4 at 3pm in Thurles. We have five players and a selector so please support the lads if you can at all.....#UpTheRebels

Purchase tickets at https://ticketmaster.ie/event/18005EB6B1AA818D or in selected SuperValu & Centra stores.
The game will be preceded by the All-Ireland Minor Hurling Final between Clare and Galway at 1pm.
ADULT CLUB
JUNIOR A FOOTBALL
Our Junior A footballers headed for Dungourney on Saturday evening and came away with a fine win on a final scoreline of 1-11 to 0-9.
This was our last league game. We won four of our six games and missed out on a place in the league final against Erins Own to Fr. O'Neills on a head to head as we both finished on eight points.
Scorers: Adrian O'Donovan 1-3, Chirsitan Daly and Cathal Gunning 0-2 each, Aaron Mulcahy, Mark Daly, Tadhg O'Leary Hayes and Ross O'Regan 0-1 each.
MIDLETON: Eohan Collins, Adam Fay, Darragh McCarthy, Cian Crowley, Mark Daly, Aidan Ryan, Alan Power, Eoin Moloney, Ross O'Regan, Cathal Gunning, Aaron Mulchay, Evan McGrath, Padraig O'Brien, Christian Daly, Adrian O'Donovan. Subs used: Dara Mooney, Ben O'Neill, Sean O'Leary Hayes, Tadhg O'Leary Hayes, Evan McCarthy, Sean Cronin.
SENIOR HURLING LEAGUE
Our senior hurlers are in league action this Saturday night (May 27) at home at Clonmult Memorial Park against Newtownshandrum at 6.30pm.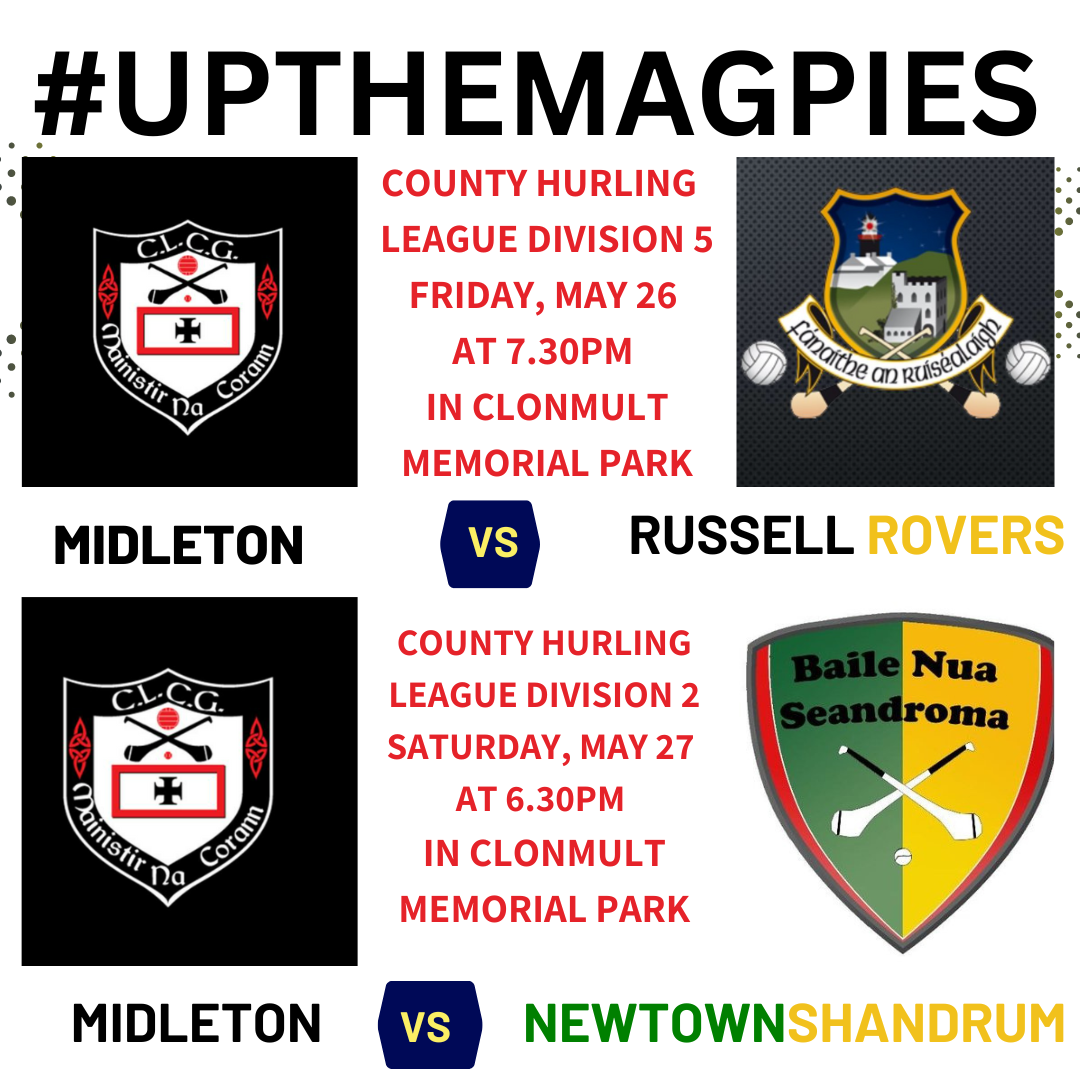 INTERMEDIATE HURLING LEAGUE.
It's another East Cork derby for our intermediates this week, this time against Russell Rovers in Clonmult Memorial Park on Friday night (May 26) at 7.30pm.
JUNIOR A HURLING LEAGUE
Our Junior A hurlers are back in action on this coming Monday night, May 29 in Castlemartyr at 7.45pm.
JUNIOR C HURLING LEAGUE
Our Junior C hurlers continue their league campaign on Wendesday night next, May 31, away to Erins Own in Caherlag at 8pm.
JUVENILES
FÉ11S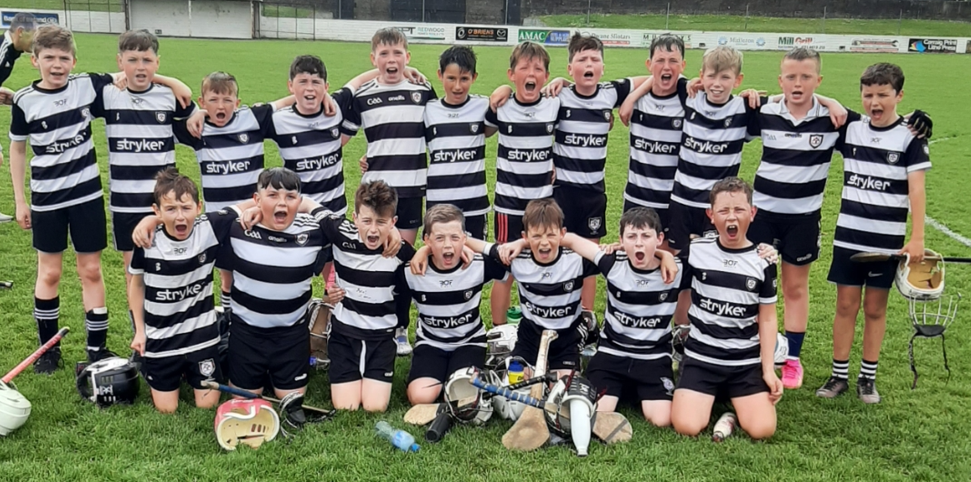 We hosted Douglas on Saturday last in a hurling challenge game at Clonmult Memorial Park.
We fielded two teams of ten for this and both our teams played very well on the day.
Our lads got some great scores throughout each of the two games and all twenty players can be proud of their performance.
This Sunday the Fé11s will travel to Limerick by bus to support our clubmen and the Cork team against Limerick.
We will play Mungret GAA in County Limerick in a challenge game before the big game between Cork and Limerick.
FÉ13S
Football this week for the Fé13s.
First up was a Group 2 clash at home Vs Erins own on Saturday at home at Clonmult Memorial Park.
Midleton 2-7 Erins own 2-8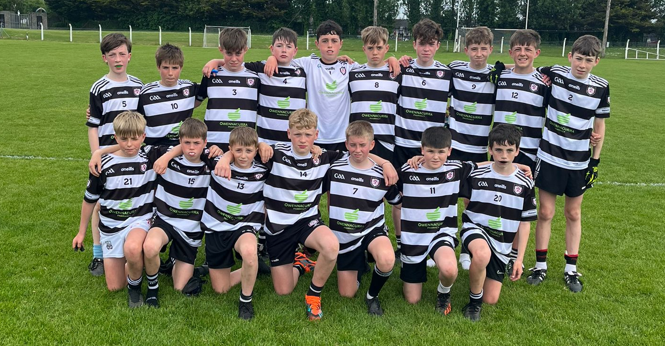 Then on Sunday saw Group 4 action away Vs Nemo Rangers in Trabeg.
Midleton 2-6 Nemo 6-5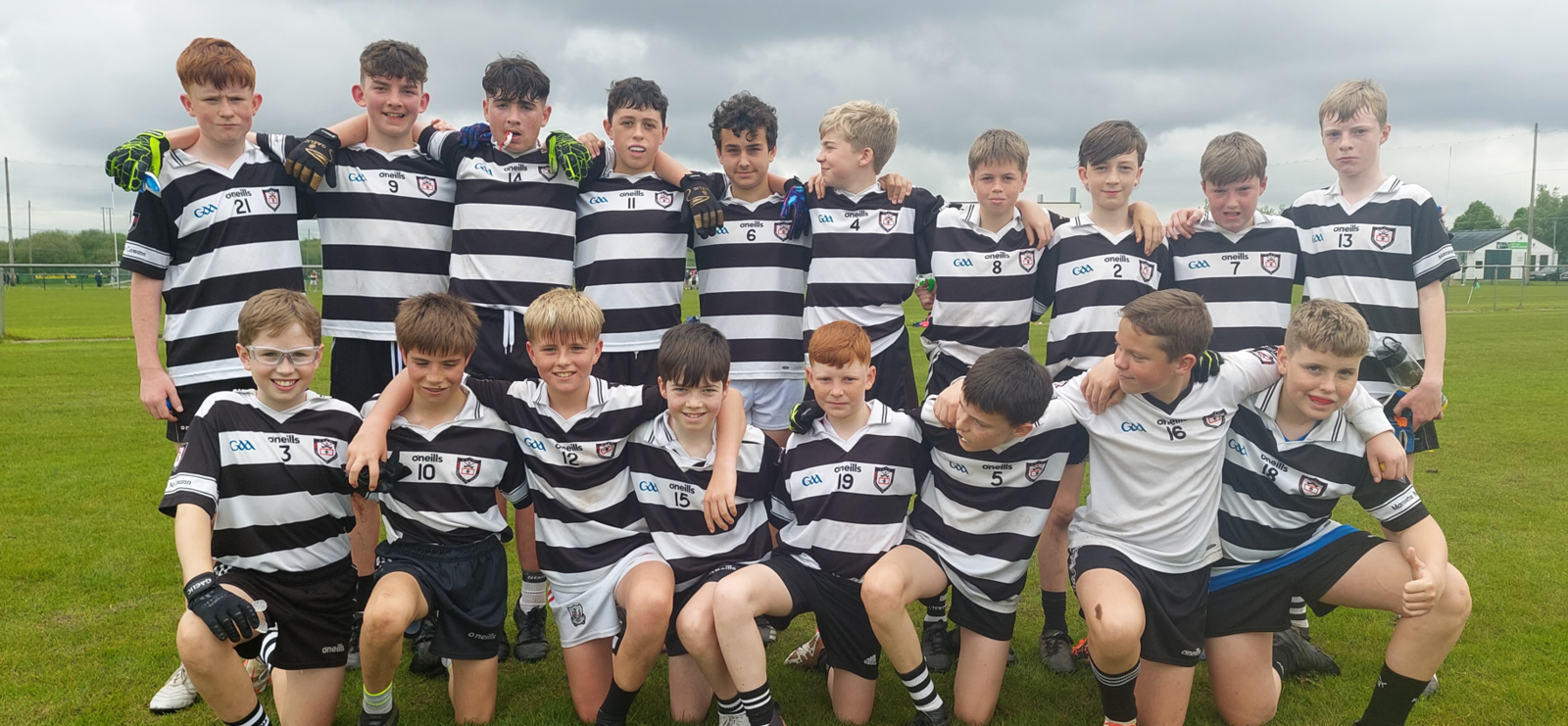 FÉ14S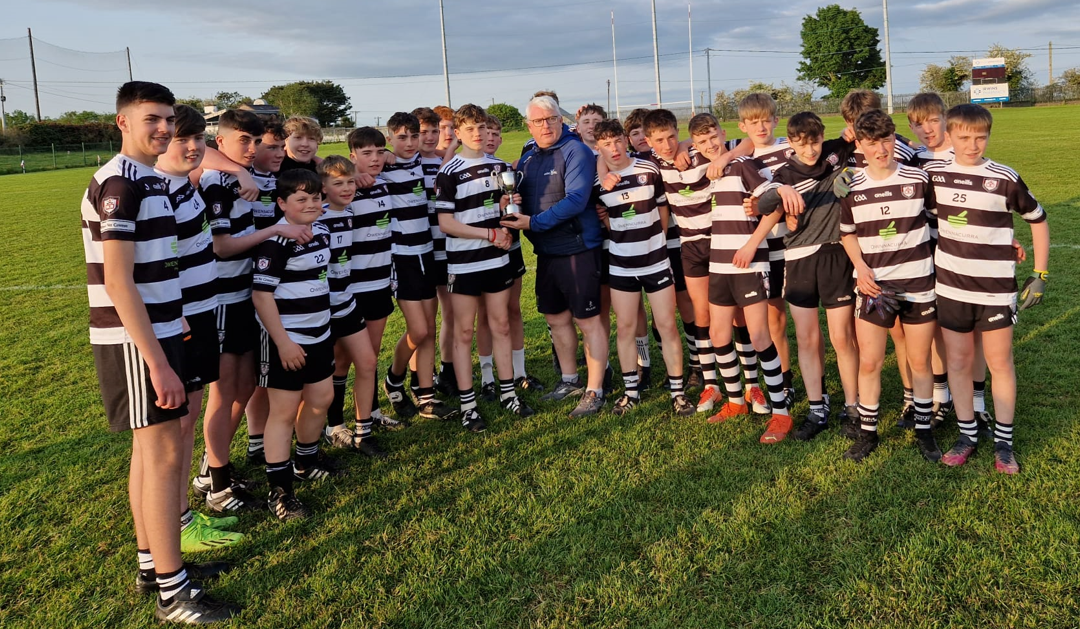 Alfie Hennessy receiving the Fé14 P2 Football League Cup on Monday night.
It was another busy schedule of football games for the panel with a number of games for both teams, but despite the demands being put on the players, they approached the games with their usual positive attitude and work rate.
P2 League Semi Final vs. Bishopstown
Played in Park South the players reaped the rewards for efforts they have been making since the start of the year, with some great football on show the depth of the panel was on show with a number of players putting in fine performances across the field, while the scoreboard did not reflect the tough game that it was the result meant that the panel qualified for the P2 League Final.
Football League Game vs. Ballincollig
Played in Clonmult Memorial Park on a fine day for football, the 16 players who were available to play the game put in another fine display of football to extend their run of positive results in what was their most stern test to date in the competition, while holding a slender lead at half time the panel pushed on in the second half ensuring that the result was secured with their usual hard graft, supporting teamwork and commitment to each other that they have shown in every game played this year so far.
P2 League Final vs. Nemo Rangers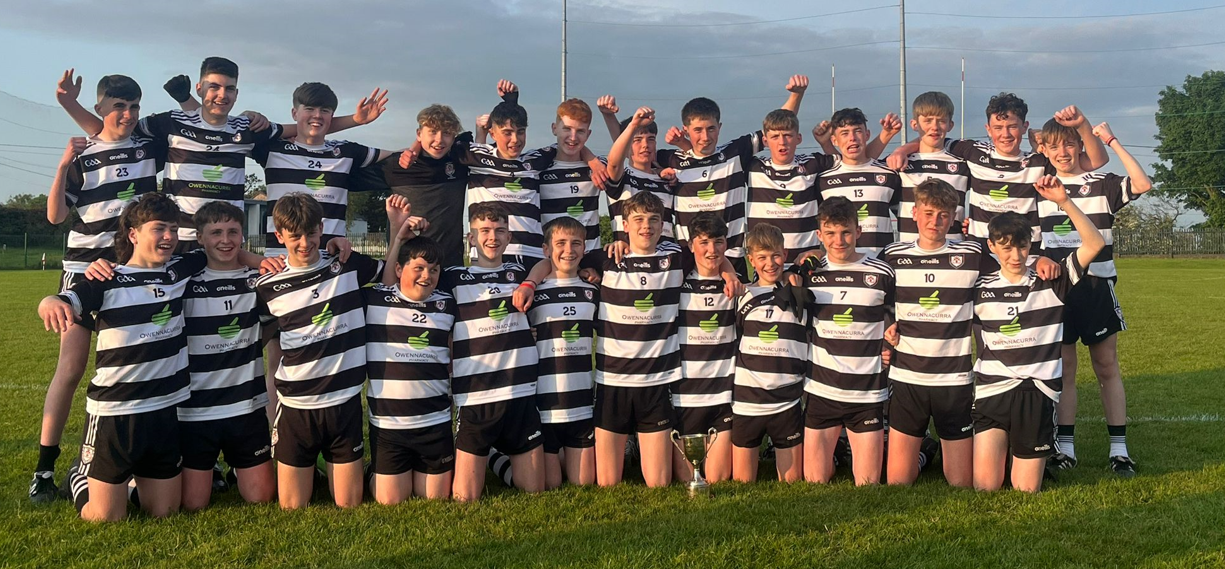 The Midleton panel which won the Fé14 P2 Football League Cup on Monday night. Below: celebration time.
The panel travelled to a well-presented Mayfield pitch on Monday evening to play Nemo Rangers in the League Final, a game that we knew was going to be test for the group following a close group game earlier in the campaign. The game did not disappoint and showed to all in attendance that there is some quality young footballers being produced by clubs around the county.
It took our players some time to settle into the game and get to grips with the free-flowing game that Nemo Rangers were playing along with the aid of the elements that were in their favour during the first half, and despite the half-time deficit of seven points there was no hint of panic with the players.
Supported by their team-mates on the sideline the players set about their task and worked together to firstly reduce the deficit and after 47 minutes into the game to take the lead for the first time, a sign of the positive approach taken by all the players on the panel, they refused to yield when as expected Nemo Rangers fought back at them to regain the lead, the lads dug deep once more and restored their lead to emerge with a three point win.
Alfie Hennessy accepted the League Cup on behalf of all of the players and the back and forth nature of the game will remain an outstanding memory for all those who were present to witness the game.
We would like to thank Mayfield for the use of their facilities on the night, Andrew Dorgan for refereeing the game along with his umpires and Rebel Og for the smooth organising of the competition.
MIDLETON PANEL: Aaron Murphy, Adam Groarke, Alex Molumby, Alfie Hennessy, Braden Dunlea, Breaninn O Dalaigh, Charlie Cahill, Charlie McCarthy, Cian Hogan; Ciaran Kelly, Ciaran O'Brien, Daire Crowley, Donncha Butler, Ethan Foley, Finn Cahill, Finn Murray, Jack Cahill, Jack Sweeney, John O'Sullivan, Josh Quill, Liam Walsh, Manus Stewart, Patrick O'Brien, Patrick Spellman, Peadar Egan, Rian McCormack, Robin O'Brien, Rory Nolan.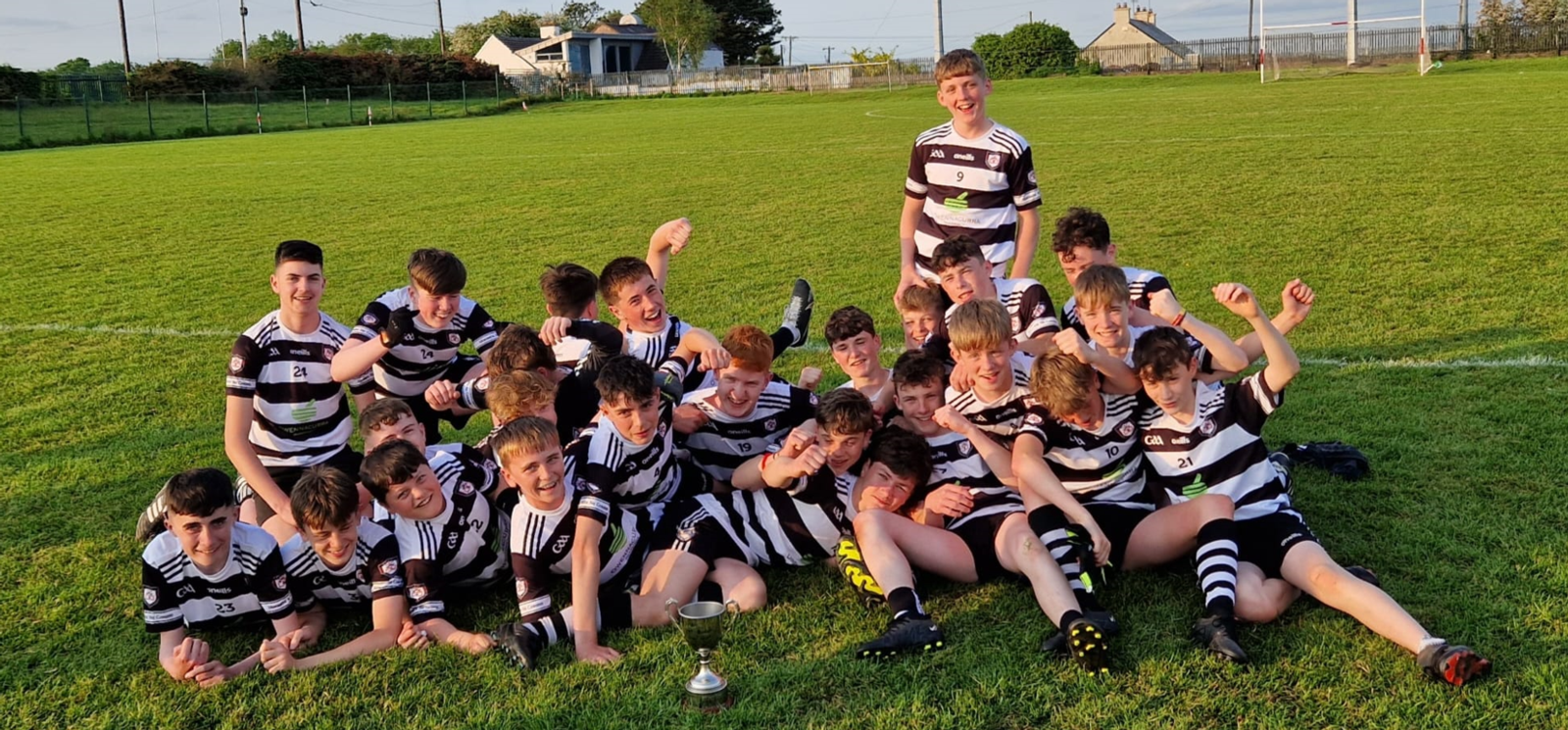 HURLING LEAGUE FINAL
The panel of the last of their football league games this week and attention then turns now to the P1 Hurling league final vs. Ballincollig which has been scheduled for Monday next, May 29 at 7pm in Ballinlough GAA grounds, any and all support would be welcome for the group on the evening as they look to continue building on a great start to their season so far.
FÉ15S
Fé15 P2 Football League
Kiltha Óg 1-2 Midleton 0-10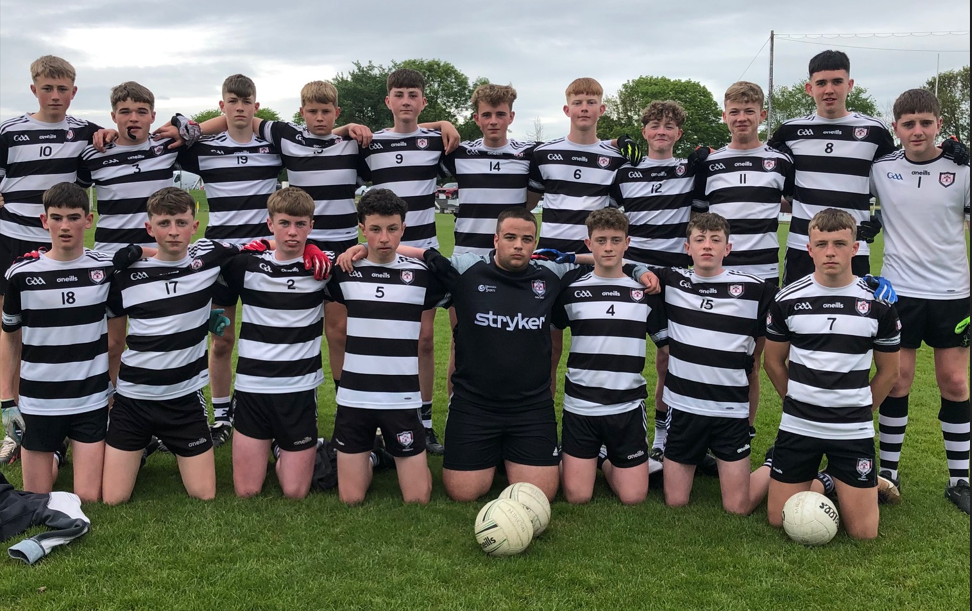 MIDLETON: Sean Gregory, Jason Morley, Bradley O'Brien, Dara Cahill, Ruairi O'Riordan, Shane O'Mahony, Harry Waterman, Senan Carroll, Max Murphy, Scott Dunlea, Dara Birdthistle, Darragh Mullins, Ewan Murphy, Cian Lawton, Alex Horgan, Patrick Collins, Fionn Bohan, Patrick O'Dowd, Michael Allegrini.
Fé15 P1 Hurling League
Douglas 0-10 v Midleton 2-17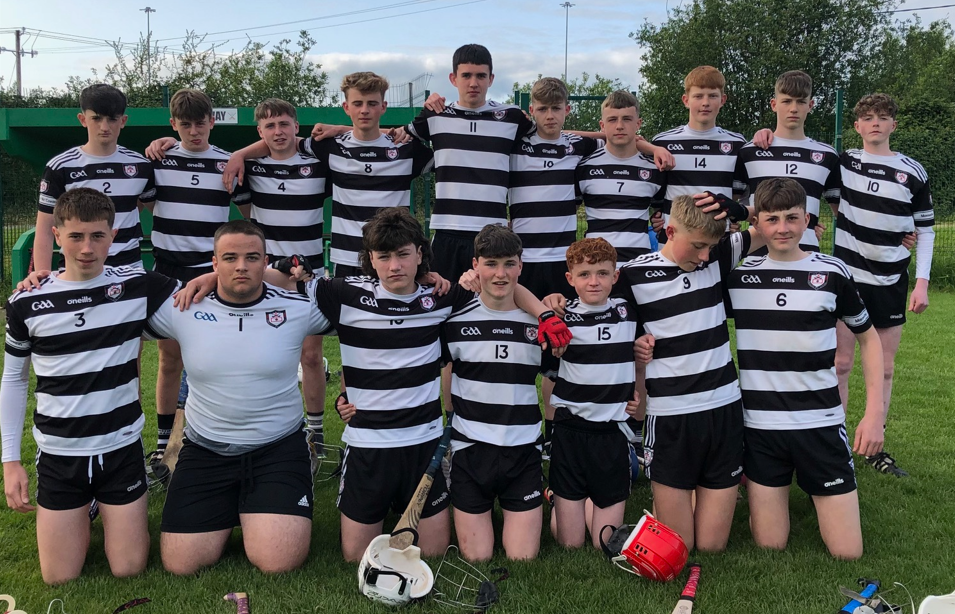 MIDLETON: Michael Allegrini, Cuan Twomey, Ciaran Kelly, Peader Egan, Braden Dunlea, Max Murphy, Harry Waterman, Cian Lawton, Scott Dunlea, Darragh Mullins, Senan Carroll, Patrick O'Dowd, John O'Sullivan, Shane O'Mahony, Jack Walsh, Dara Birdthistle, Ciaran O'Brien.
REBEL OG TEAMS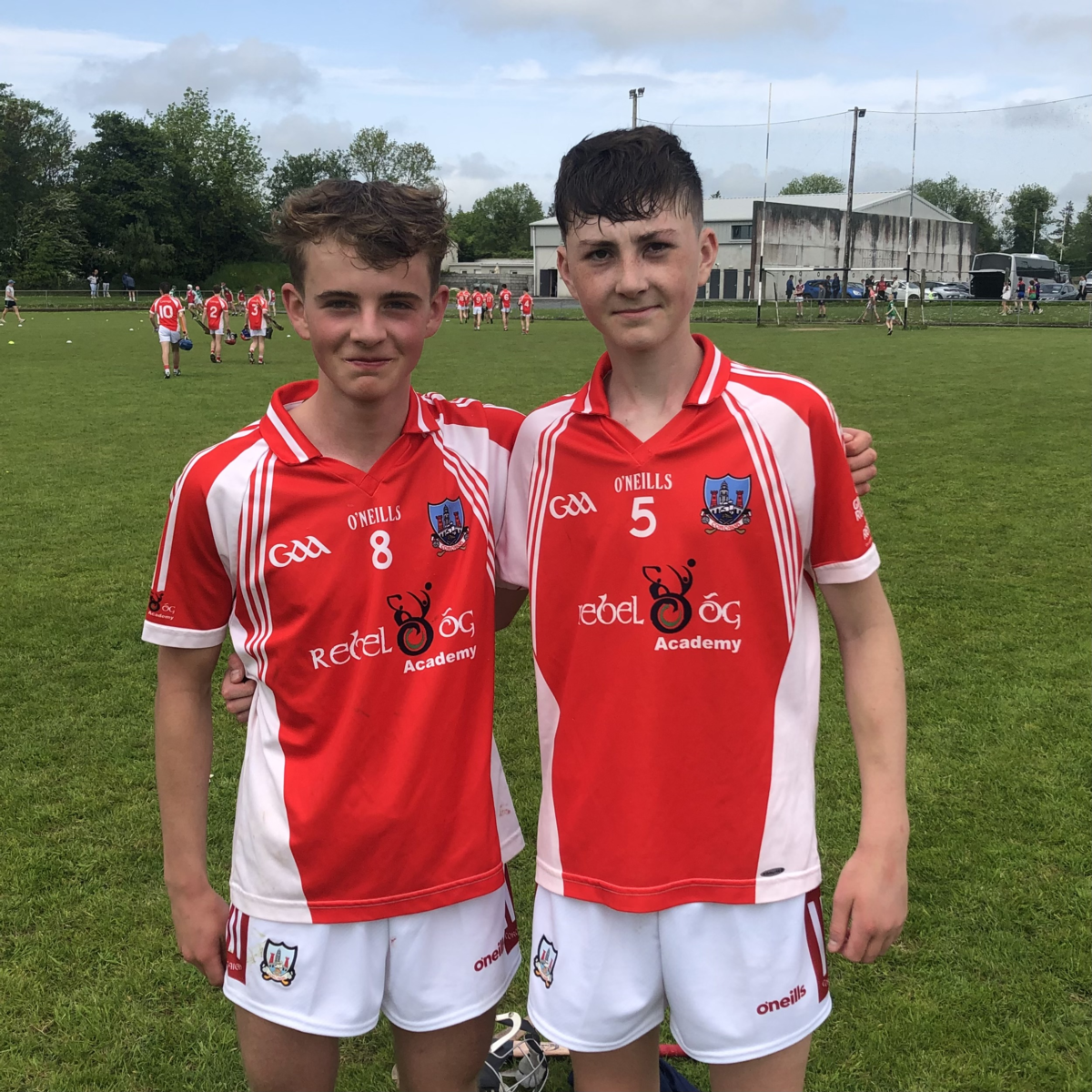 Cian Lawton and Max Murphy.
Well done to Cian Lawton, Shane O'Mahony, Senan Carroll and Max Murphy who were part of the Cork Fé15 hurling panel who played against Limerick and Clare selections last weekend.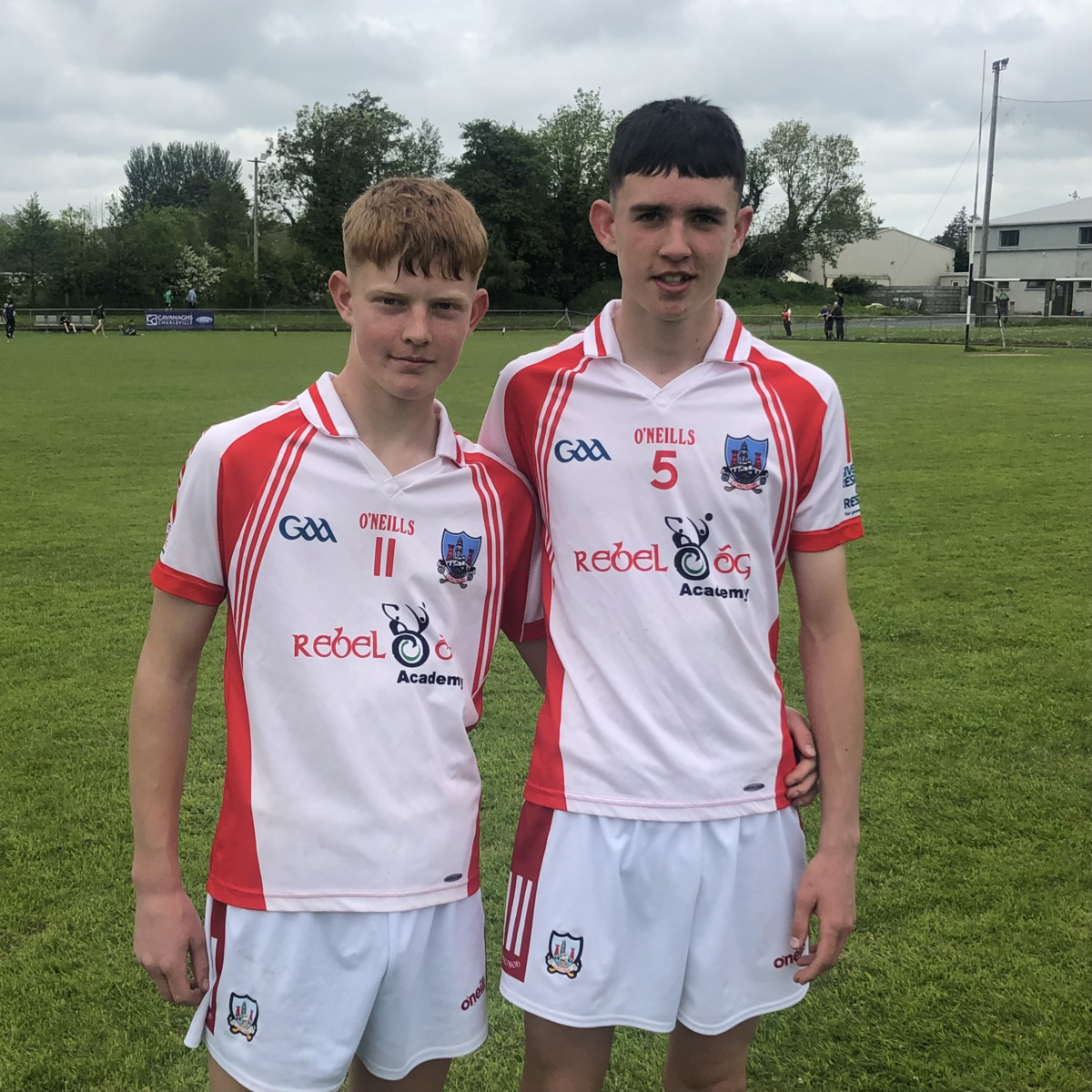 Shane O'Mahony and Senan Carroll.
FÉ16S
This week we finished up our U-16 hurling and football campaigns for the Junior Cert. So far year the lads have shown great commitment to us and to each other. They have trained hard and been very competitive in all games. We will have one or two games after the Junior Cert. On behalf of myself (Kevin) and the coaches we would like to wish all the lads the best of luck in their Junior Cert. I will be in contact regarding training etc over the coming weeks.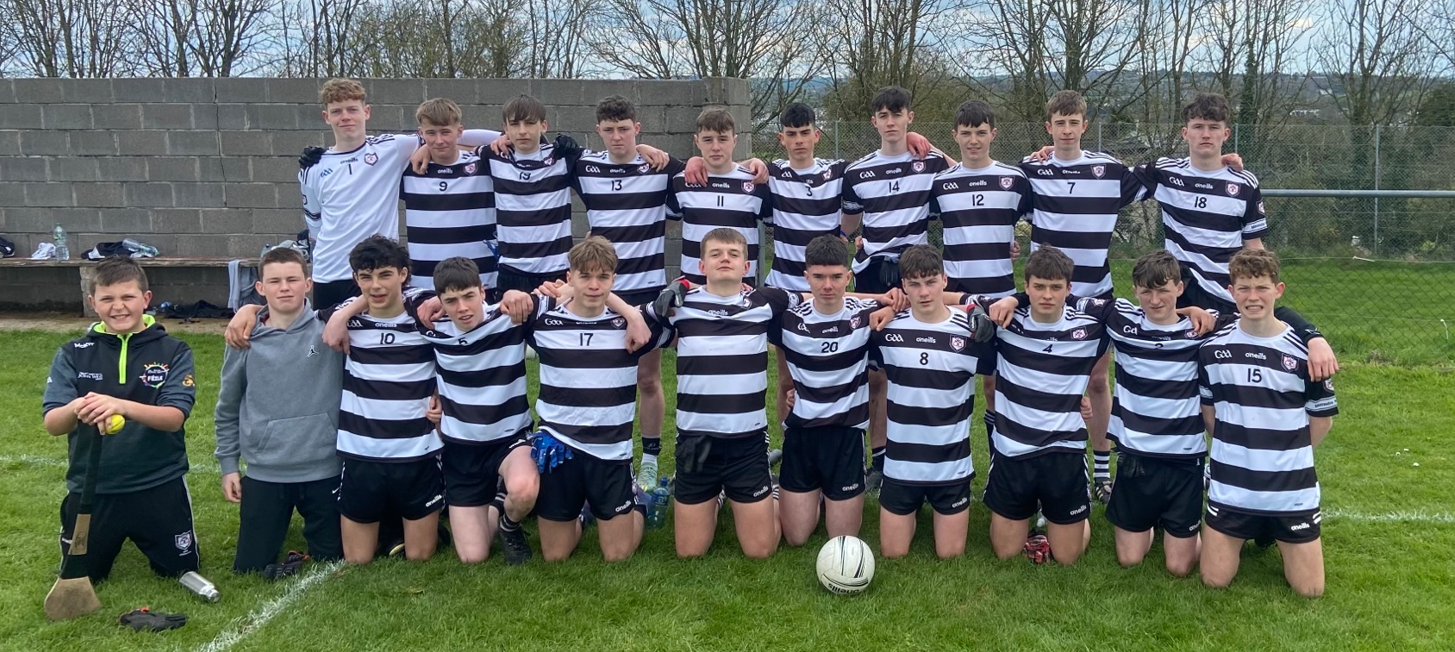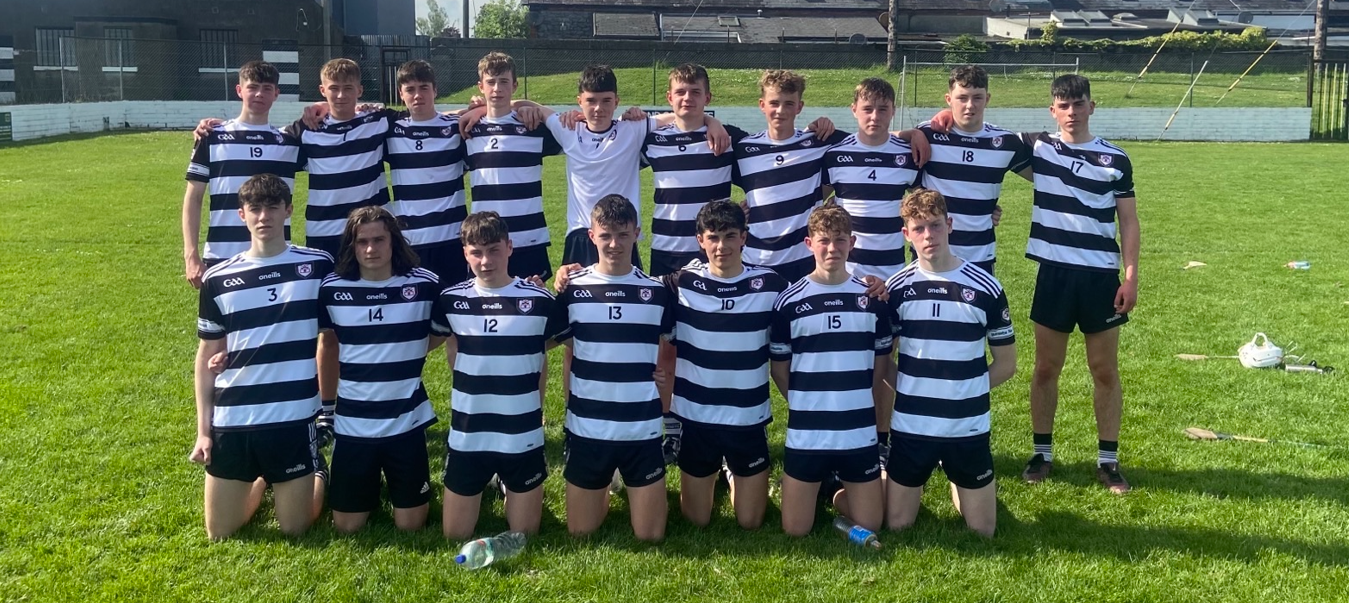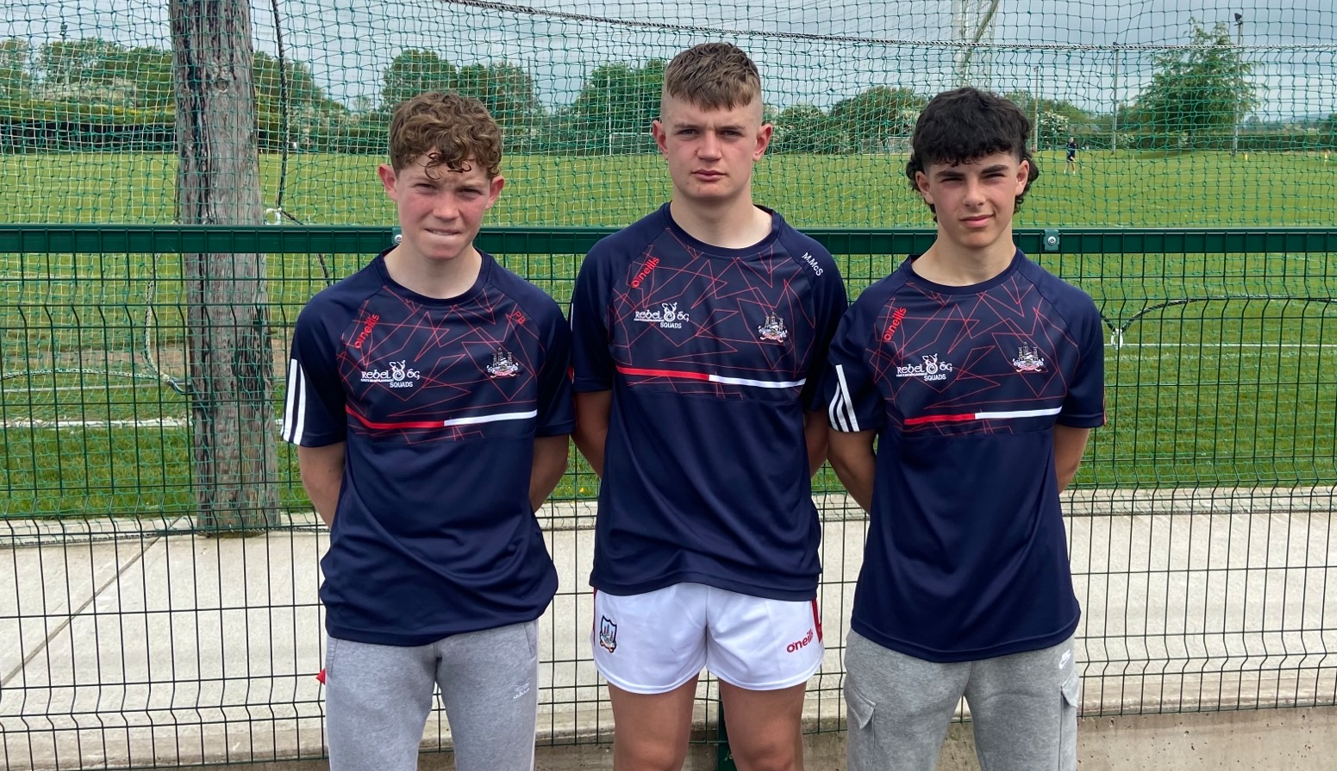 Picture Above are recent wins over Mayfield (Football) Douglas (Hurling). Also from left to right Peter Barrett, Matthew McSweeney and Josh Hogan who recently represented the Cork U-16s in victories over Clare.
FIXTURES
THURSDAY, MAY 25
Rebel Og Premier Fe15 Hurling League Group4
Midleton 2 v Douglas 2 at 7pm in Midleton
Rebel Og Premier Fe14 Football League Division4
Bride Rovers v Midleton 2 at 7pm in Rathcormac
SATURDAY, MAY 27
Rebel Og Premier Fe14 Football League Division4
Macroom v Midleton 2 at 12 noon in Macroom
Rebel Og Premier Fe13 Hurling League Group4
Midleton 2 v Ballincollig 2 at 1pm in Midleton
MONDAY, MAY 29
Rebel Og Premier Fe14 Hurling League Premier1 Final
Midleton v Ballincollig at 7.30pm in Ballinlough
CAMOGIE
UNDER 11S
Our U-11s travelled the winding road to St. Catherine's, Ballynoe on Sunday morning. The girls played two games on a dewy pitch in very muggy conditions. The girls performed excellently showing off well-rehearsed skills, hooking, blocking and battling. The teams were well matched which was of great benefit to both clubs. Thanks to St. Catherine's for hosting.
UNDER 15 CORK DEVELOPMENT SQUAD
Huge congratulation to Roisin McManus and Faye Dunlea who have been selected for the U15 Cork development Squad. Very proud of the girls and well done to their coaches.
KATE O'SULLIVAN
Huge congratulations to our own Kate O'Sullivan and the Cork U16A team who defeated Kilkenny in round three on a scoreline of 2-11 to 2-8 on Sunday. Well done Kate.
UPCOMING FIXTURES
U8s V Castlemartyr and Cobh in a blitz on Saturday, 27th at 10 a.m. in Castlemartyr.
U9s V Sars in blitz on Saturday, 27th at 4 p.m. in Clonmult
U11s V Cobh and Carrigtwohill in a blitz on Sunday 28th in Park South at 10 a.m.
U12s black V Killeagh away on Thursday 25th at 8 p.m.
U13s V Fr. O'Neills in Imokilly League match at home on Friday, 26th
U13s V Bride Rovers in challenge match on Sunday 28th at home
U14s V Ballincollig in P2 League semi-final at home next Sunday 28th. Throw in at 2:30
Junior B V Youghal in League next Saturday 27th in Youghal. Throw in at 10:45
LADIES FOOTBALL
FÉ8S
Our under 8s play their first matches of the season and a first ever ladies football game for many of our youngest team when they welcome Inch, Youghal and Aghada to Clonmult Memorial Park for a Go Games Blitz on Sunday morning. Best of luck girls and have a great time.
FÉ16S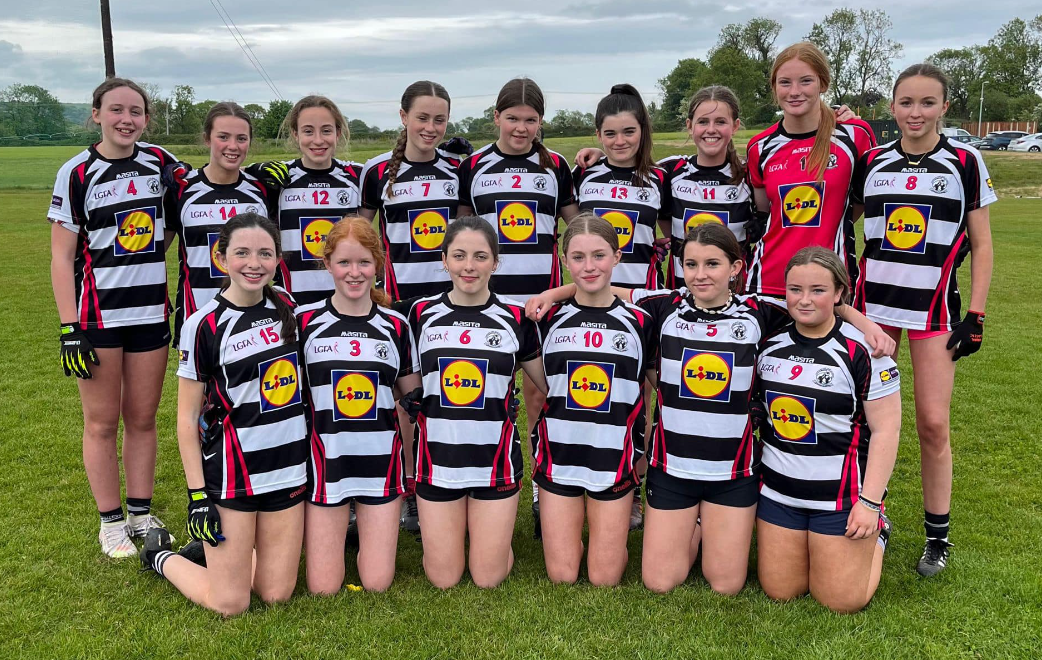 Our U-16s played Inch Rovers in a challenge game this week. It was a useful game for both sides before we begin the U-16 Development league. Many thanks to Inch for travelling to Park South.
FÉ10S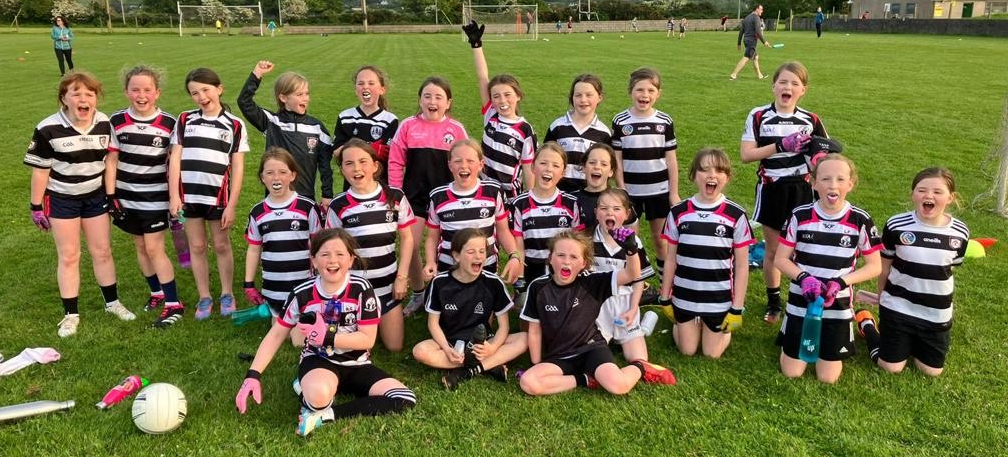 Outstanding performances from the U-10 girls last Monday. Great teamwork, skill and determination on show! All the coaches are so happy, Magpies abú
G4M&O
Best of luck to our Gaelic for Mothers and others who take to the pitch on Saturday evening for their first competitive game v St Catherine's. Come along to Park South and show your support at 7pm.
MIDLETON GAA MONDAY CLUB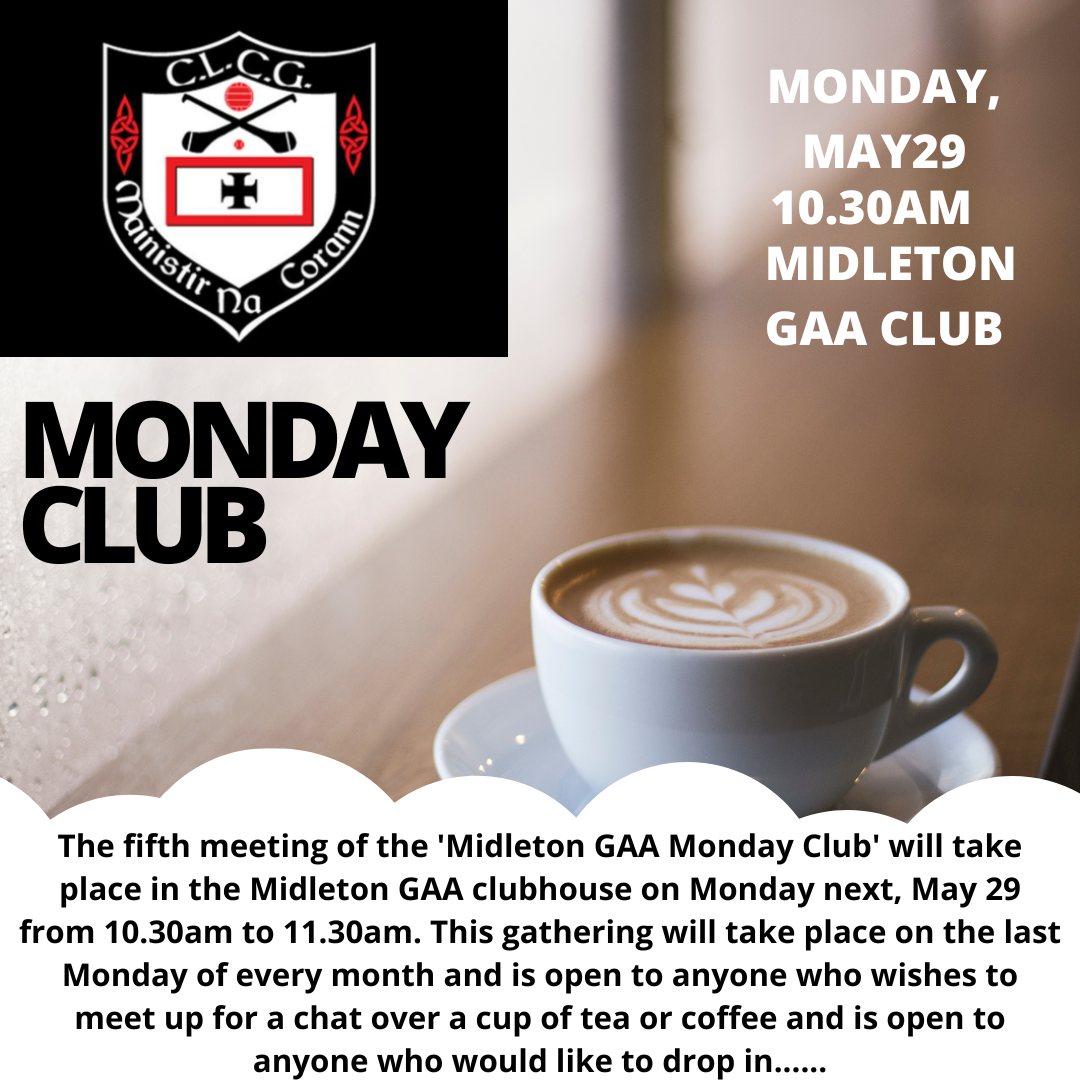 Our next Monday meet up is on this coming Monday, May 29. All are welcome.
MIDLETON GAA GOLF SOCIETY
Next outing is at East Cork Golf Club on Tuesday, June 13. Tee time: 3.30pm to 5pm, kindly sponsored by the Maple Bar, Main Street, Midleton.
LOTTO DRAW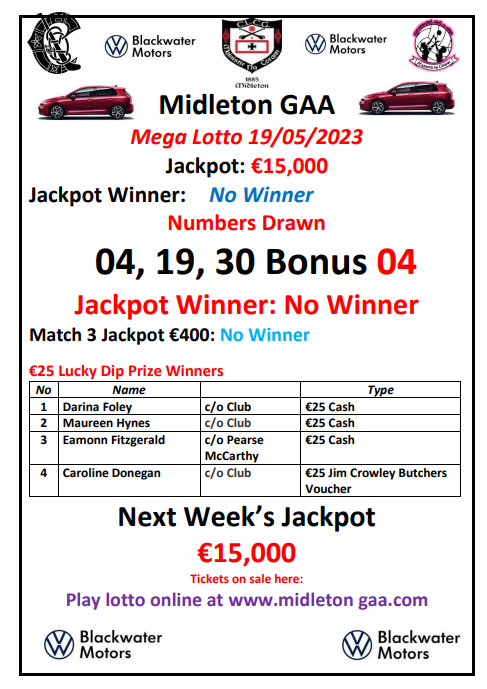 The Jackpot was €15,000 for last Friday night's jackpot and the numbers drawn this week were 4, 19, 30 and the bonus was 4.
There was no jackpot winner or match 3 winner.
The €25 Lucky Dip Prize winners were: Darina Foley, Maureen Hynes, Eamonn Fitzgerald, Caroline Donegan. 0
Play 24/7 at: http://www.klubfunder.com/Clubs/Midleton%20GAA/lotto
In total Midleton GAA will give out local business vouchers to the value of €3,800 every year as part of our "Shop Local, Buy Local" campaign.
How to play: tickets are on sale at Pat Walsh Paints, Chadwicks, Frank Murphy Butchers, Murphy's Pharmacy, Crowley Butchers, or buy online (see above).
BINGO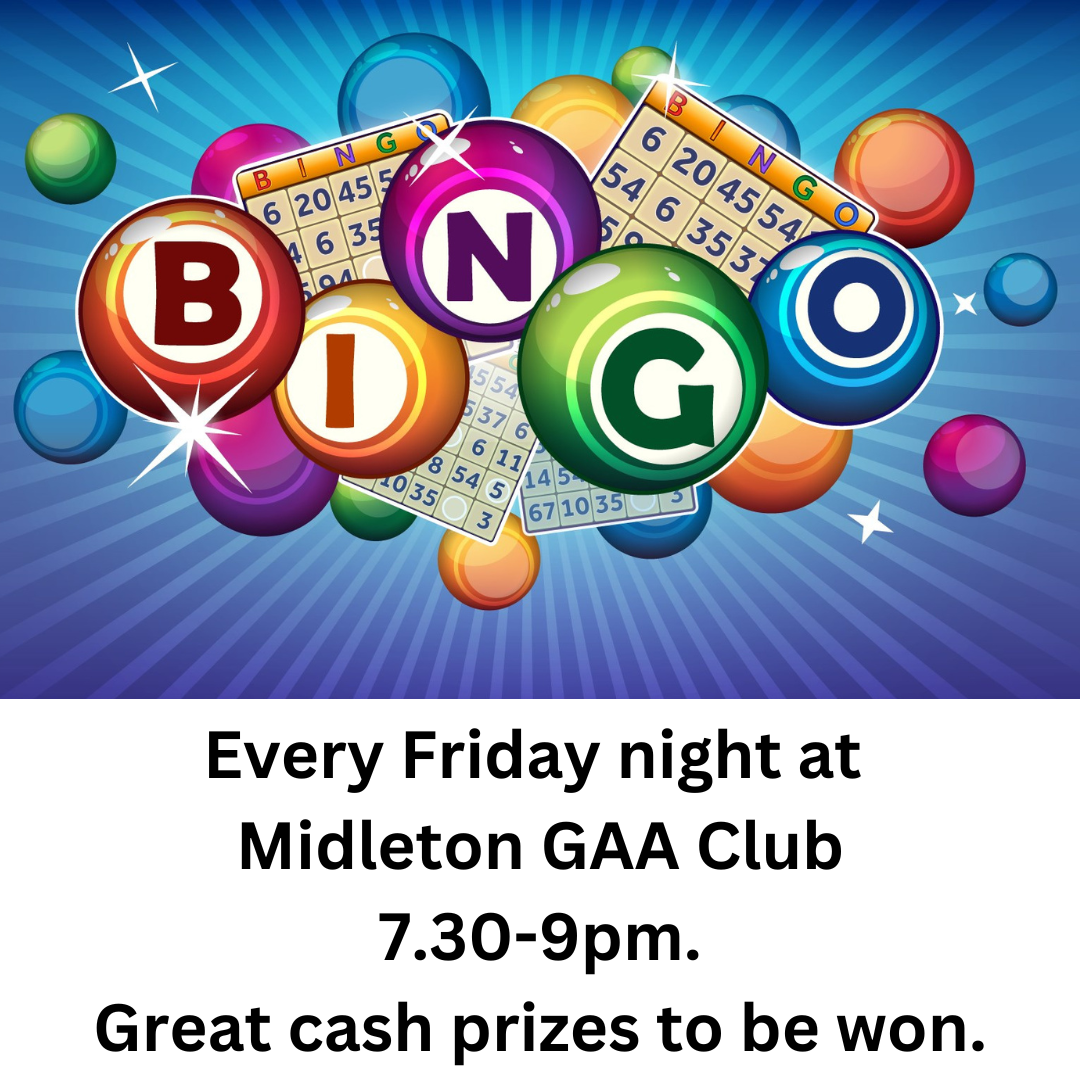 Fancy a good night which also benefits Midleton GAA club...what about bingo on Friday nights?
It kicks off at 7.30pn every Friday night and is over by 9pm. A single book is €6. A double book is €12. We're having our biggest crowds since before Covid recnetly so thanks to everyone for coming in such big numbers, it is much appreciated. New players are always welcome....
CLUB SHOP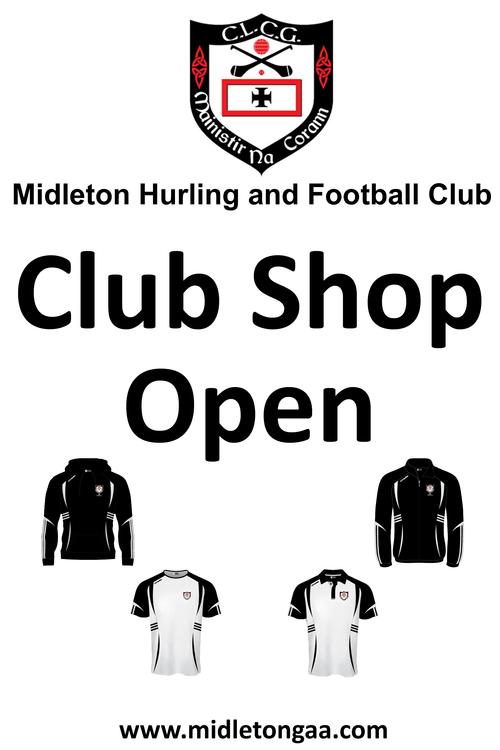 With almost all our hurling, camogie and ladies football teams now back up and running now is the time to stock up on all your gear needs for the coming season.
All you have to do is go to the Klubfunder website (www.klubfunder.com/Clubs/Midleton%20GAA/ShopItems) and you will see the full range of what's available to buy. You can shop away to your heart's content, pay for it online and then collect your purchases at the club shop on Saturday morning between 9.30am and 10.15am. Thank you.
2023 MIDLETON GAA GOLF CLASSIC
DATE FOR YOUR DIARY:.......this year's Midleton GAA Golf Classic will be held, at East Cork Golf Club, on Thursday and Friday, July 13 & 14. Even if you are not a golfer we would really appreciate if you or your workplace would consider sponsoring a tee box for €50. This one of our main fundraisers each year and is vital to the upkeep of all our teams across hurling and football, ladies football and camogie.
You can register your team or pay for a tee box or both right now at the link below.....
http://www.klubfunder.com/Clubs/Midleton_GAA/EventRegistration#EventRegistrationOptions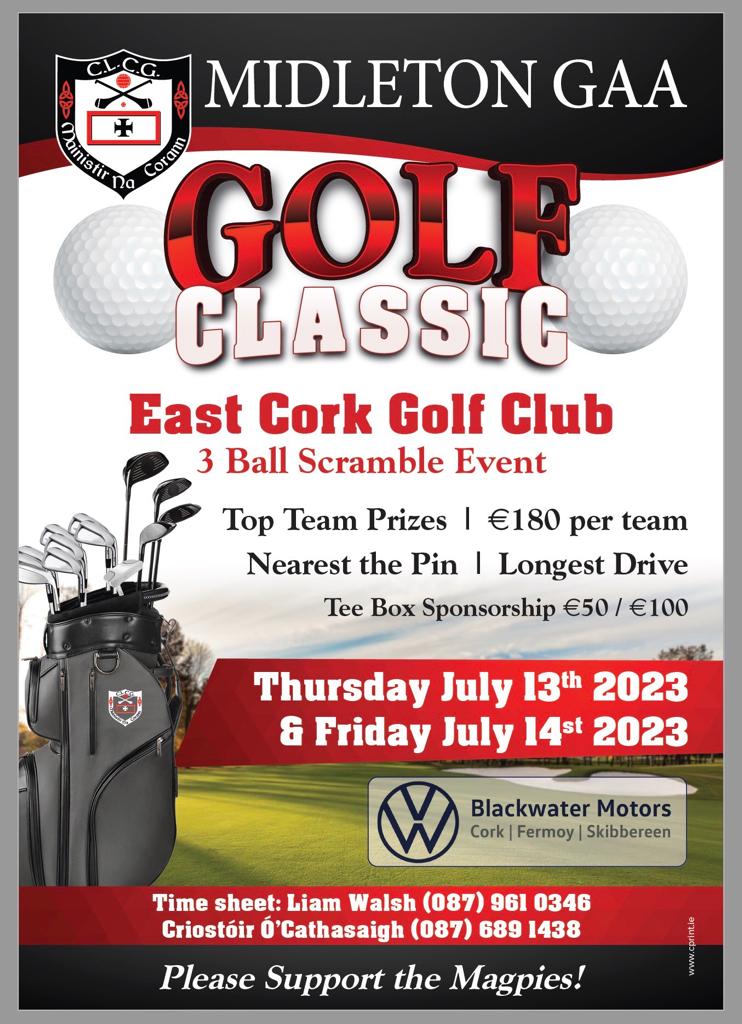 GAA LEARNING PORTAL

We have been asked to remind members and especially our club coaches that the GAA Learning Portal is a great resource which is free to use. Please check it out at http://learning.gaa.ie/about
CÚINNE NA GAELIGE
A chairde,
Beidh Cúinne na Gaeilge á eagrú ag CLG na Mumhan roimh an gcluiche idir Luimneach agus Corcaigh Dé Domhnaigh seo chugainn ag TUS Páirc na nGael.
Beidh Cúinne na Gaeilge lonnaithe ag an gcúinne idir an t-Ardán Thuaidh agus na Céimeanna ag ceann an Chláir ó a dó a chlog ar aghaidh. Tá fáilte is fiche romhaibh bualadh isteach chugainn i gcomhair dreas cainte. Ina theannta sin, beidh eolas agus ábhair as Gaeilge ar fáil saor in aisce ag an seastán – ina measc – comharthaí dátheangacha do chlubanna, féiríní éagsúla do dhaoine óga agus greamáin do lucht tacaíochta Luimnigh agus Chorcaí araon. Bígí linn -beidh fáilte romhaibh!
A chairde,
Munster GAA are organising a stand – Cúinne na Gaeilge - before next Sunday's game between Limerick and Cork at Tus Páirc na nGael.
Cúinne na Gaeilge will be located between the North Stand and the Clare End Terrace from 2pm onwards. All are welcome to call in to say hello or try out your cúpla focal. We will be giving out some free Irish language promotional materials – including bilingual signage for clubs, some tokens for páistí and stickers for supporters of both proud hurling counties.
Bígí linn – we look forward to meeting you.
Aedín Ní Bhriain
Oifigeach Forbartha Gaeilge
CLG na Mumhan
COMHALTAS OPEN NIGHT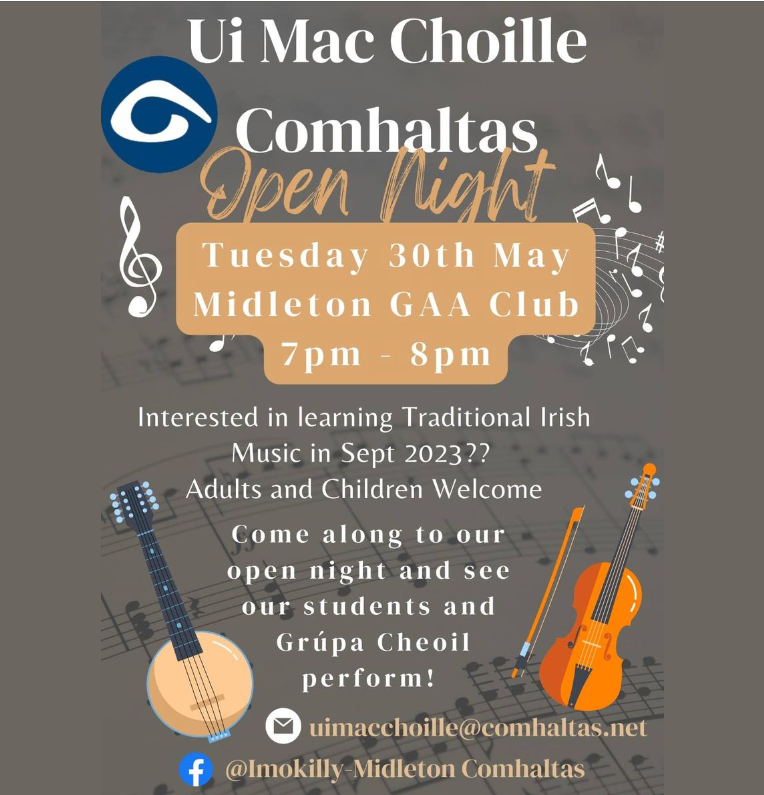 Don't miss a great night in our club house on Tuesday next, May 30 at 7pm.
FIELD WORKS
We have just completed our annual pitch programme thanks to all our teams for their co-operation.

Thanks to Stephen Forrest and his team at Turftech for the high quality of their sanding and shockwaving work at Park South, this is essential for improving drainage and relieving soil compaction.
Thanks to Liam Ryan for fertilising all of the pitches recently, to Denis McSweeney for his continued excellence in maintaining our pitches not forgetting our Community Employment Scheme staff who also help to keep our playing pitches and premises in Clonmult in excellent condition throughout the year.
In the coming weeks we will be extending the ball stop nets at the Car Park end of Park South, strengthening the Ball net poles in St Colmans, painting the goalposts and replacing the fencing on the stand side in Clonmult Memorial Park.

Key to all this work taking place is our members continued support of our various fundraising events throughout the year which we are so grateful for.

Unfortunately Dog walking continues to be an issue particularly at Park South, we would appeal to all our members to lead by example and refrain from this and to request this support also from any visiting teams.
PLEASE PLAY YOUR PART
​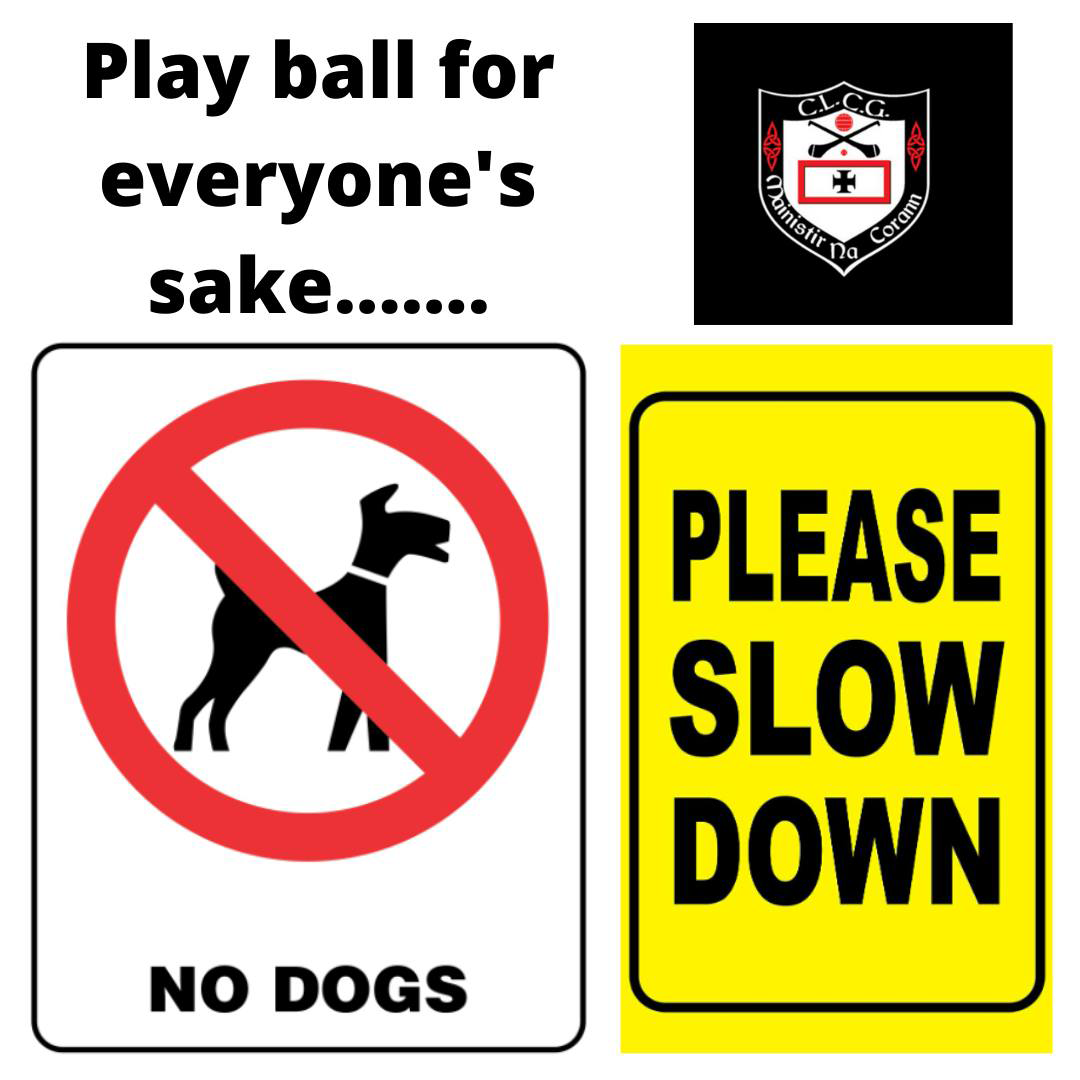 Unfortunately there has been a rise in the amount of dogs being walked in Park South recently, especially during matches and training sessions. Please spread the word that only assistance dogs are permitted in both of our club grounds at Park South and Clonmult Memorial Park.
Please do not bring single-use plastic bottles to either Park South or Clonmult Memorial Park.
Please put your rubbish in a bin or bag and please bring your gear home with you.
And always be aware of the open water surrounding the pitches in Park South.
If you are a coach, please pass on these simple messages to players and parents.
All members are asked to respect referees and their officials at all times.
Also if you are a coach, last person out locks the gate, toilet and container.
CONDOLENCES
Everyone at Midleton GAA would like to extend our deepest sympathies to the Esther and all the family and friends of Brendan Barry of Carrigtwohill. Brendan for many years was an excellent videographer and because of him we have brilliant footage of many our greatest days from the past such as county finals and our All-Ireland Final win in 1988. He and Esther were always a pleasure to deal with. Ar dheis Dé go raibh a anam.