Midleton Hurling and Football, Ladies Football and Camogie Club News - May 18
18 May, 2023
IN THE RED OF CORK
A massive congratulations to Brion, David, Mikey, Ciarmhac, Alex, Ter and all the Cork players and management on their 1-23 to 1-21 Munster U-20 Hurling Championship Final win over Clare on Monday night at the TUS Gaelic Grounds in Limerick. The lads will now face Leinster champions Offaly in the final. A big thank you to Denis O'Flynn for the great pictures.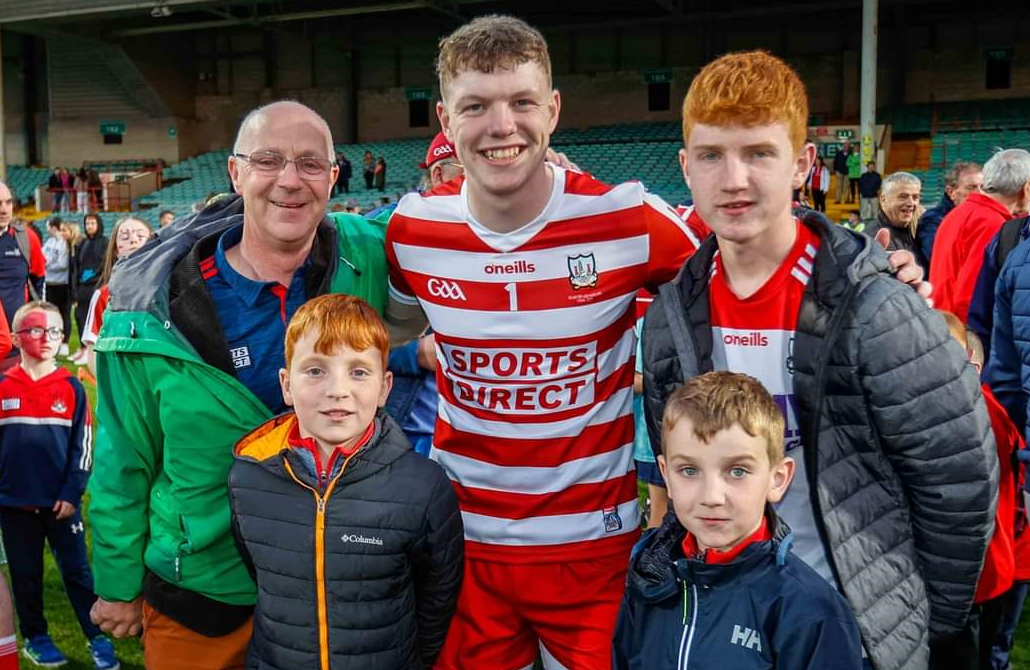 Brion Saunderson with the O Dalaighs.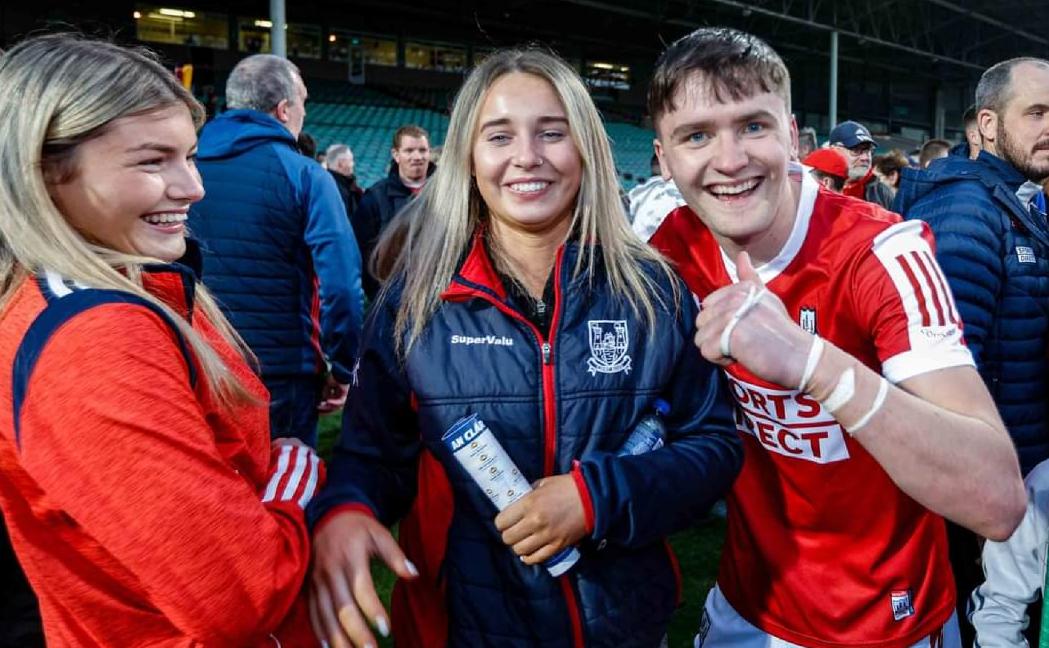 David Cremin.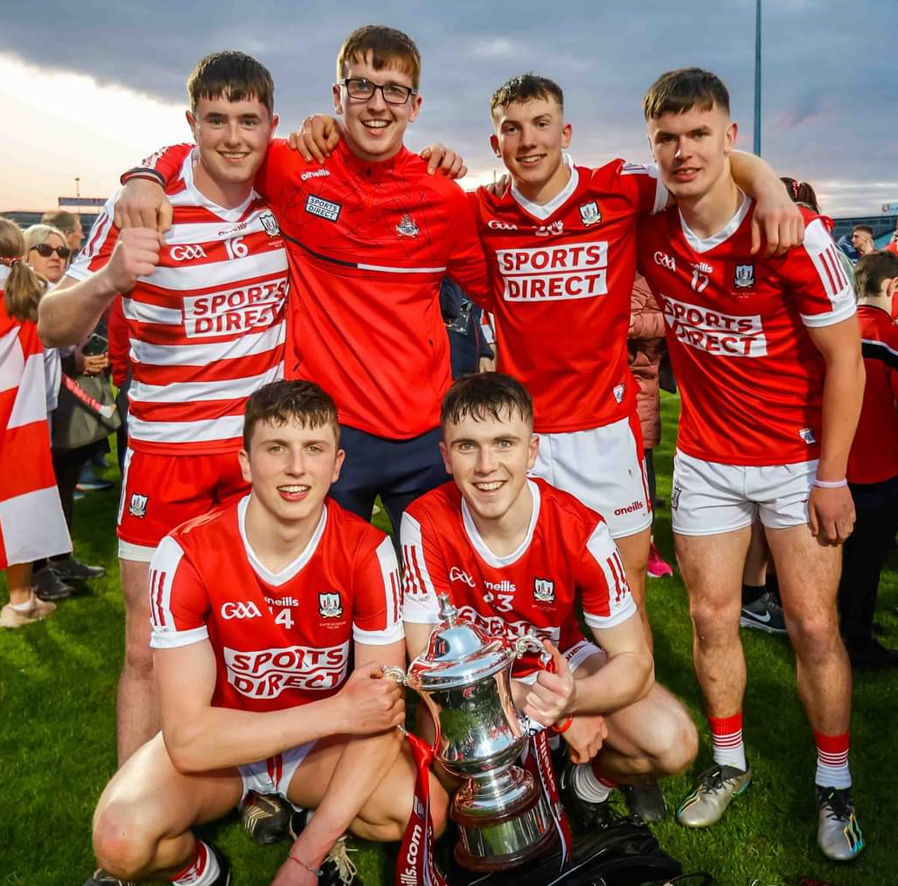 Ciarmhac Smyth (back row far right).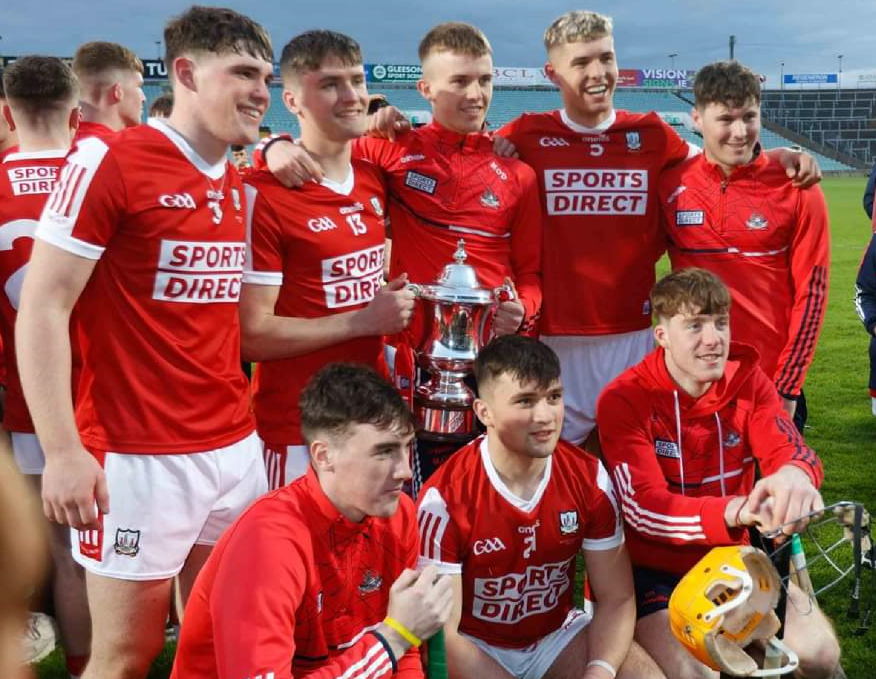 David Cremin (second from left back row) and Mikey Finn (middle front row).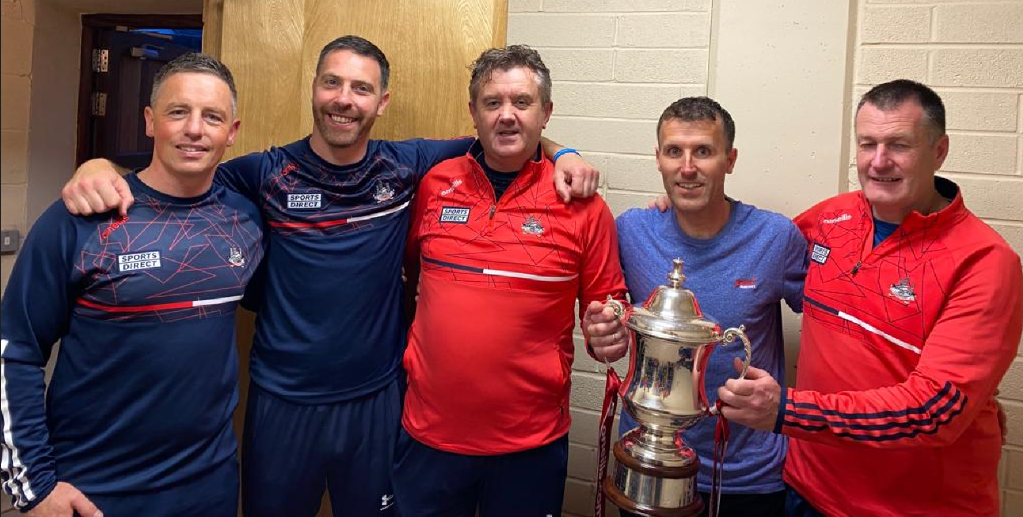 Terence McCarthy (centre) with Ben O'Connor and the rest of the Cork management team.
Best of luck to Conor, Tommy, Cormac, Sam and all the Cork senior hurling players and management in their third Munster SHC game on Sunday away to Clare in Ennis at 2pm.
ADULT CLUB
SENIOR HURLING LEAGUE
Ballincollig was the venue for our senior team's in their latest game in the County Hurling League Division 2 on Sunday afternoon on a lovely day for hurling.
We got off to a slow start and trailed by 0-6 to 0-2 after ten minutes but four points on the bounce from Aaron Mulcahy (2), Paul Connaughton and Ross O'Regan saw us level the game before Paul Connaughton struck for the opening goal of the game on 16 minutes to put us 1-6 to 0-6 in front. This was followed by points from Paul Haughney, Aaron Mulcahy and Alex Quirke to put us si clear after 21 minutes. Ballincollig fought back and by the half-time whistle our lead was down to four, 1-10 to 0-9.
Early second-half points from Paul Connaughton, Gary Carroll, Aaron Mulcahy and Ross O'Regan had us seven in front with 18 minutes to play. Ballincolig stormed back in the final quarter and with a minute of the normal time to play they levelled the game (0-20 to 1-17) and when it looked like we'd be picking up our third draw of this league campaign, Ballincollig struck for the winning goal in the 64th minute.
Next up in the league for us are Newtownhsandrum. Fixture to be confirmed.
Scorers: Midleton: Aaron Mulcahy 0-8 (0-6 frees), Paul Connaughton 1-3, Gary Carroll and Ross O'Regan 0-2 each, Paul Haughney and Alex Quirke 0-1 each.
MIDLETON: Bryan Rossiter, David Scanlon, Luke Dineen, Seannaidh Smyth, Christian Murphy, Sean O'Leary Hayes, Eoin Moloney, Paul Haughney, Rory Hartnett, Gary Carroll, Ross O'Regan, Alex Quirke, Paul Connaughton, Pa White, Aaron Mulcahy. Subs: Adam Daly for Rory Hartnett, Cian Crowley for Daly (inj).
INTERMEDIATE HURLING LEAGUE.
Our intermediates made the short journey to Rostellan on Friday night for an East Cork derby in the County Hurling League Division 5 against Aghada and came away with a good win on a final scoreline of 0-31 to 0-23.
On a near-perfect night for hurling in front of a big crowd at a splendidly prepared Rostellan pitch we got off to a strong start and led by 0-6 to 0-3 after 16 minutes. But back came the home side and a host of points from play saw them lead by two (0-11 to 0-9) with three minutes of the first-half remaining. But points from Tadhg O'Leary Hayes, Adam Daly, Paul Connaughton and Evan McCarthy, with two in reply from Aghada saw us lead by a single point at the halfway stage.
Aghada got the first point of the second-half but then we hit six of the next seven points to lead by 0-20 to 0-15 just seven minutes into the second period. Aghada reduced the deficit to three put with Tadhg O'Leary Hayes, Aidan Ryan, Darragh McCarthy, Adam Daly and Padraig O'Brien in fine scoring form we soon reasserted our dominance and in the end we ran out deserving winners after a fine game of hurling by eight points.
It's worth noting that we scored 25 points from play over the 60 minutes - some shooting.
Next up is another East Cork derby, this time against Russell Rovers in Midleton on Friday week (May 26).
Scorers: Midleton: Tadhg O'Leary Hayes, Paul Connaughton (0-3 frees) and Adam Daly (0-2 frees & 0-1 '65) 0-5 each. Aidan Ryan, Padraig O'Brien and Darragh McCarthy 0-4 each, Gary Carroll 0-3, Evan McCarthy 0-1.
MIDLETON: Cillian Hurley, Cathal Gunning, Christian Murphy, David Scanlon, Adam Fay, James Nagle, Evan McCarthy, Tadhg O'Leary Hayes, Adam Daly, Gary Carroll, Aidan Ryan, Darragh McCarthy, Paul Connaughton, Padraig O'Brien, Cian McCarthy.
JUNIOR A HURLING LEAGUE
MIDLETON 3-16 AGHADA 0-12
Our Junior A hurlers continued their winning ways on Sunday against Aghada in Clonmult Memorial Park.
Not an ideal start to this game, where a referee was double booked. Willie Wallis in fairness, even though on the sideline with Aghada refereed the game. Playing with the breeze and in a fairly hot-tempered affair, we managed to build up a healthy half-time lead of 2-10 to 0-6. The second-half was tit for tat and finished out with a comfortable win.
Our next league outing is away to Castlemartyr on Monday, May 29 with a 7.45pm throw-in.
MIDLETON: Zach Smith, Colin Sunderland, Adam Fay, Kieran Lambert, Daire Mooney, Jack Fitzgerald, Darragh Higgins, Alan Power, Leo Hennessy (0-8,7f), Evan Rowlands (0-1), Harry Wall (0-2), Christian Daly (1-1), Ben O'Neill (0-1), Peter Dowling (2-1), Tim O'Sullivan (0-2f). Subs Used: Dan O'Sullivan, Nicky Daly Hayes, Rory Lester.
JUNIOR C HURLING LEAGUE
MIDLETON 0-17 LISGOOLD 0-16
A very good sporting game on a splendid Clonmult pitch on Wednesday evening. Midleton had the better of the first half and led by 0-11 to 0-7 at half time. Lisgoold really came at us in the second half and the effort put in by our boys to hold on was most pleasing.
Our next league outing is in Caherlag against Erins Own on Wednesday, the 31st of May, with an 8pm throw in.
MIDLETON: Cillian Hurley, Rory Lester, Jack Fitzgerald, Kieran Lambert, Brendan Ferriter, Patrik Kane, Evan McGrath, Luke Deane, Dan O'Sulivan, Nicky Daly Hayes (0-5f), Evan Rowlands (0-2), Dan Cagney (0-2, 1f), Gavin Hurley, Brian O'Sullivan (0-3), Alex Howard (0-4) Subs Used: Ben O'Neill (0-1), Colin Sunderland, Darragh Higgins, James O'Sullivan
JUVENILES
SCIATH NA SCOL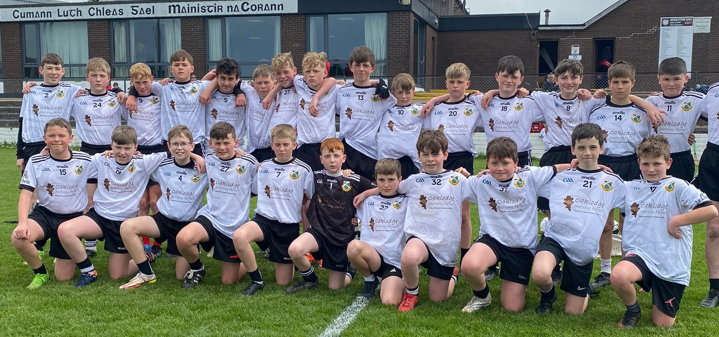 Míle buíochas Beidh buachaillí Gaelscoil Mhainistir na Corann ag imirt i gCraobh Sciath na Scol ar an Mháirt 23ú Bealtaine i bPáirc Uí Chaoimh.Go n-éirí libh buachaillí.The boys of Gaelscoil Mhainistir na Corann are playing in the final of DH1 hurling section in Páirc Uí Chaoimh next Tuesday 23rd May at 12.45. Best of luck boys.
CELTIC CHALLENGE
Well done to the five Midleton players on the Cork East Celtic Challenge panel that defeated Cork North in their semi-final on Saturday last. L to R: Eoin Fraser, Fionn Kelly, Darragh Egan, Daniel Garde and Luca Brodkorb. Cork East are now into the All-Ireland Final where they will take on Dublin.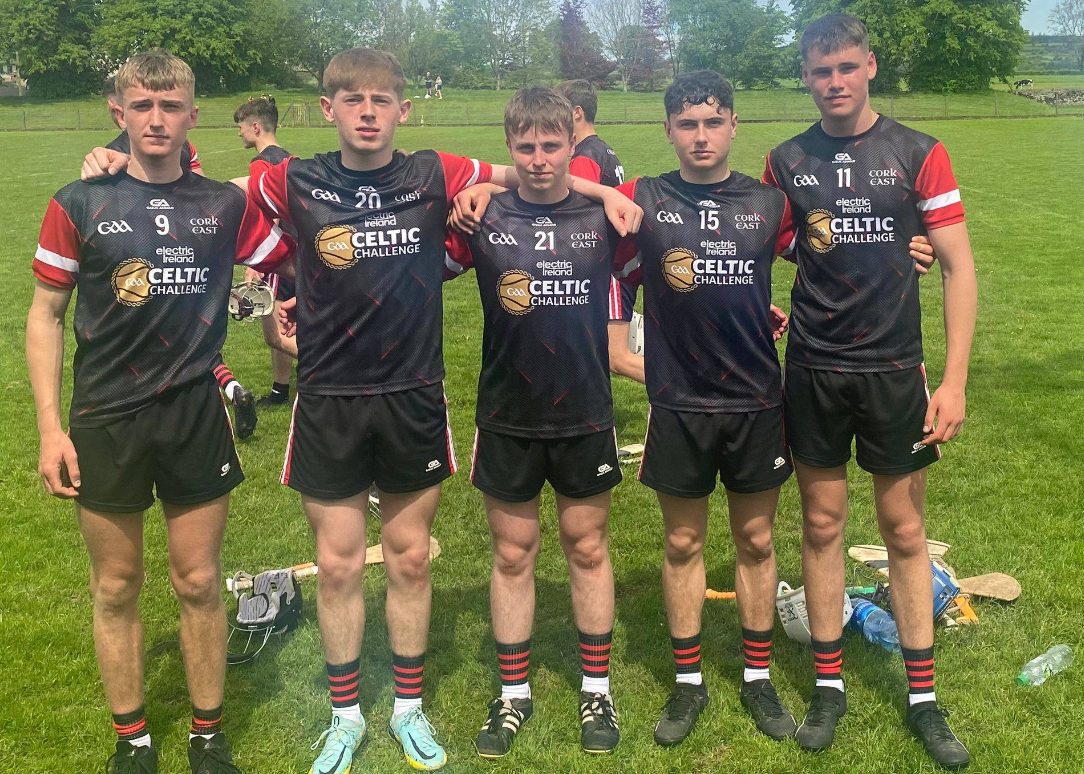 FÉ12S
Our Fé12s travelled to near neighbours Aghada on Monday evening. A great game was witnessed by all in attendance. We started very well and scored five lovely points from play to lead at half time by 0-5 to 0-2. We cancelled out Aghada's early goal in the second-half with an opportunist goal ourselves from Ben Fitz. It was nip and tuck from then till the final whistle where Aghada claimed victory by four points after a well-taken penalty from Ben Duggan with the clock almost up. Well done to both teams on a tough but fair game. Final score Aghada 2-6, Midleton 1-5.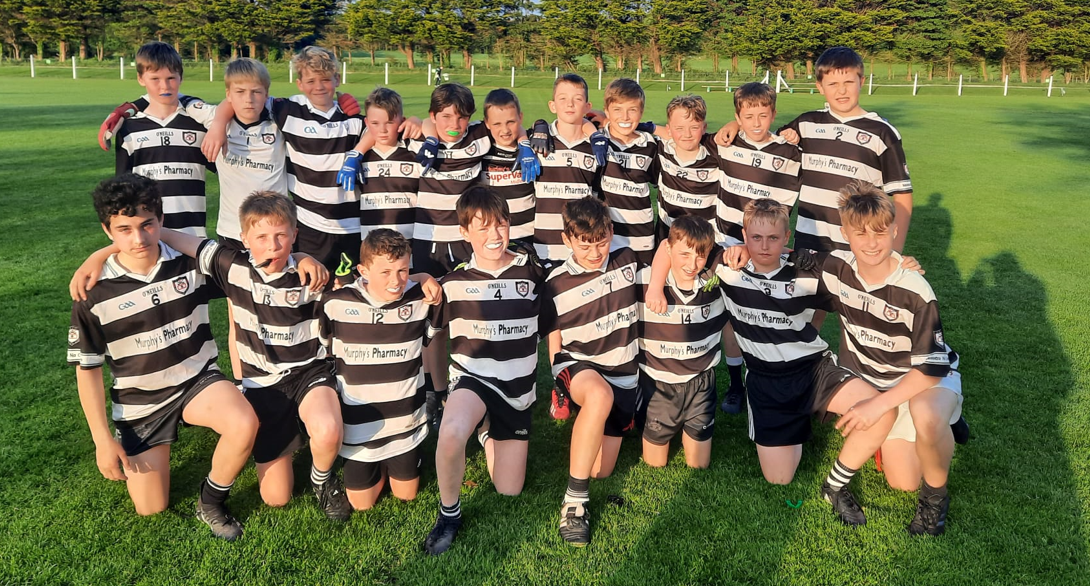 FÉ13S
RESULTS
Group 4 hurling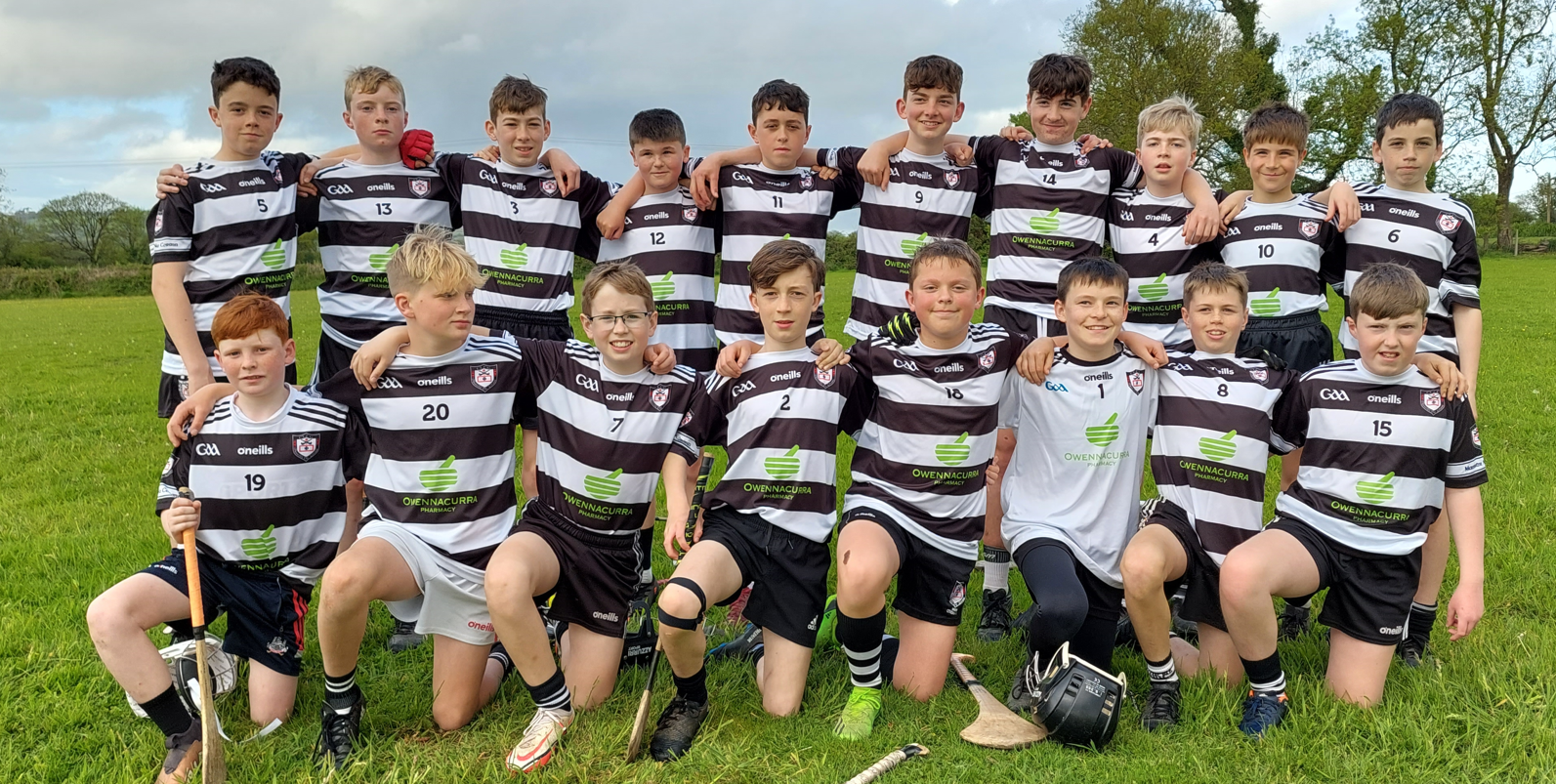 Midleton 5-7 Douglas 3-6
Group 4 hurling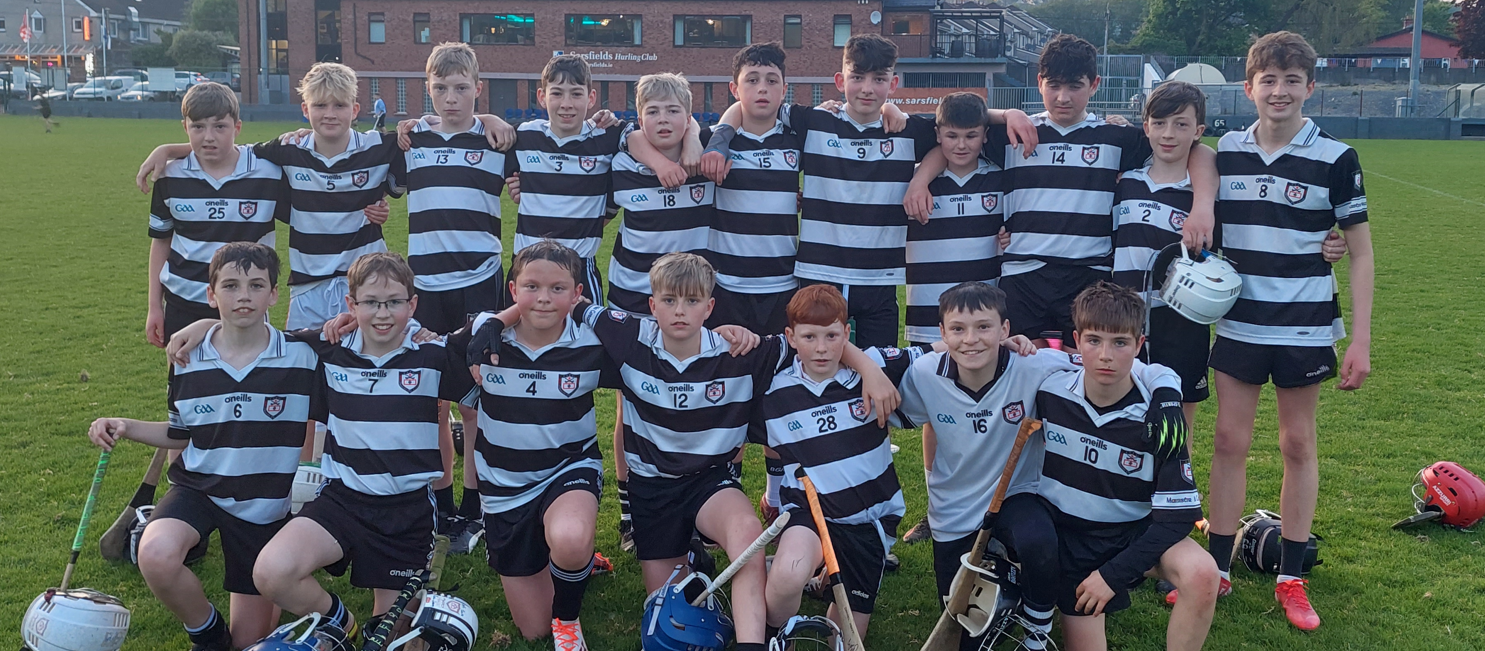 Midleton 1-7 Sars 1-5
Group 1 hurling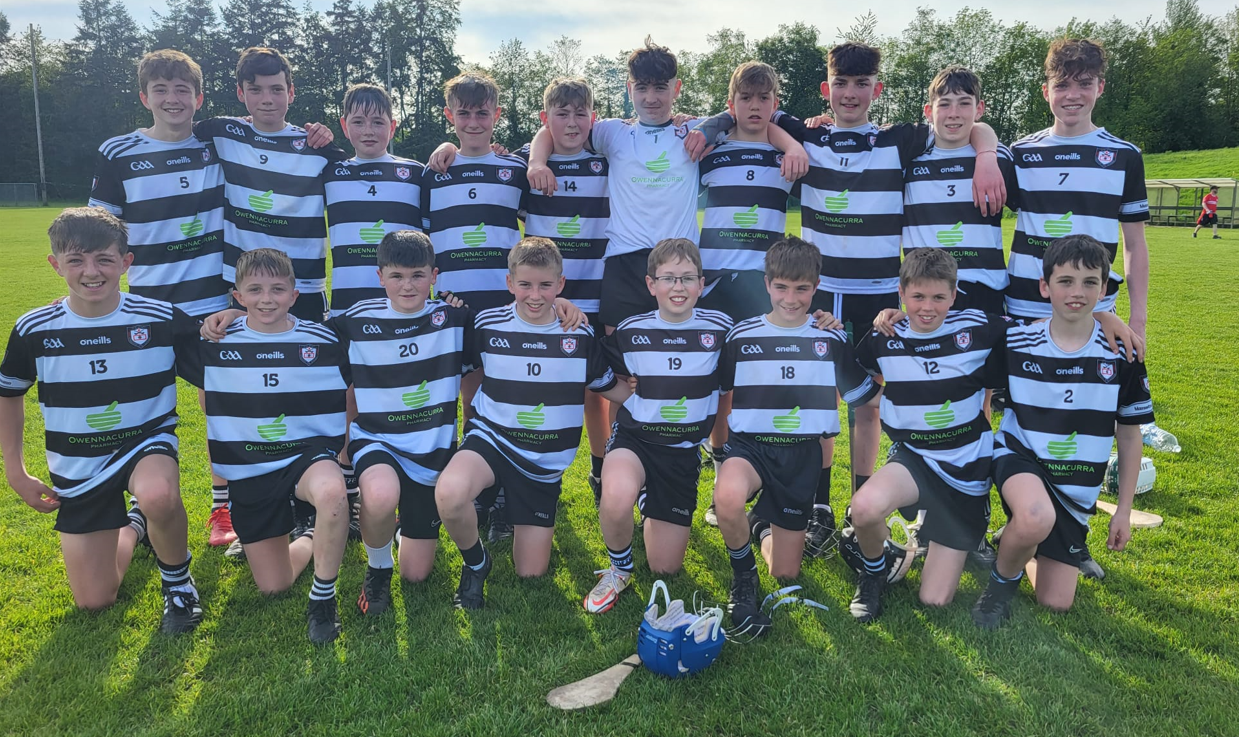 Midleton 4-6 Blarney 3-1
Group 2 football away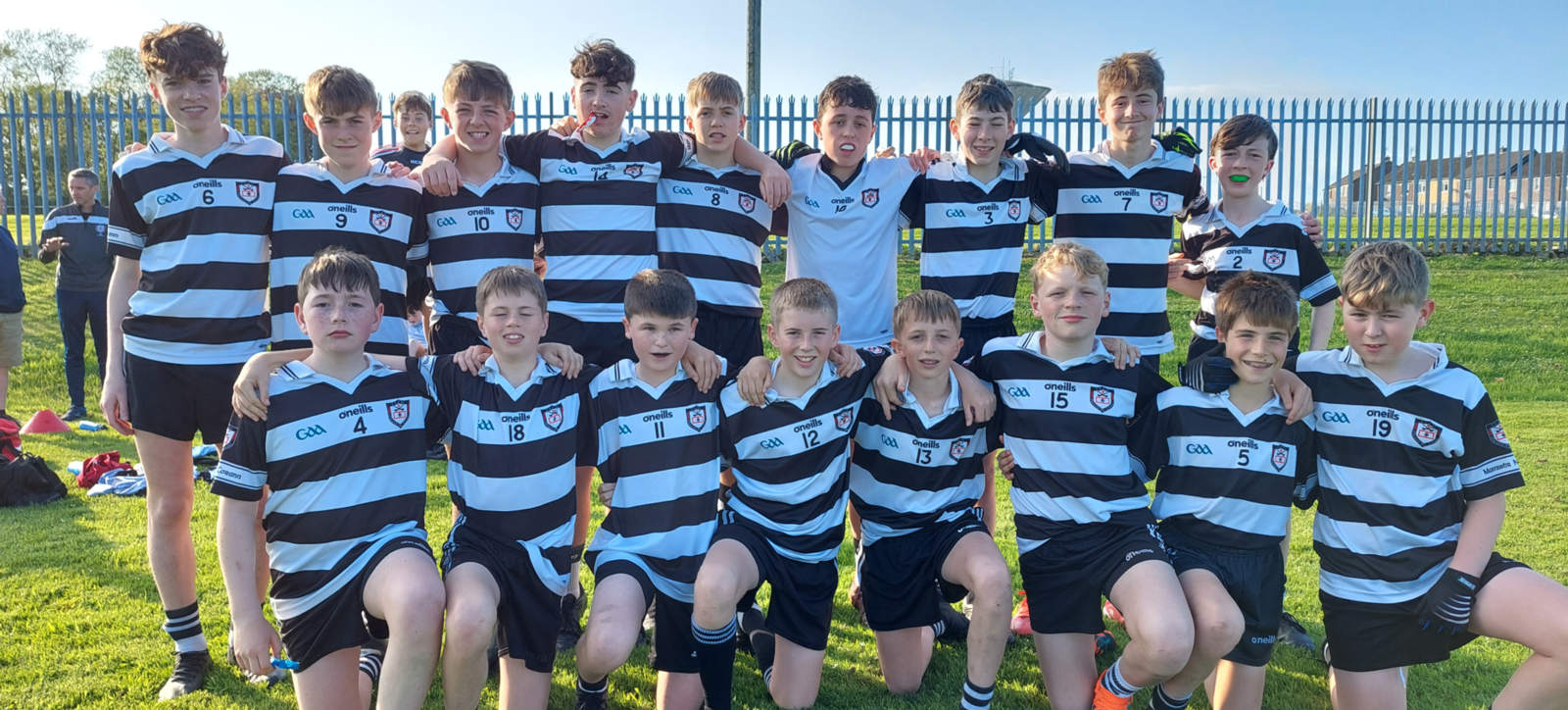 Midleton 7-11 Youghal 6-7
Group 4 hurling away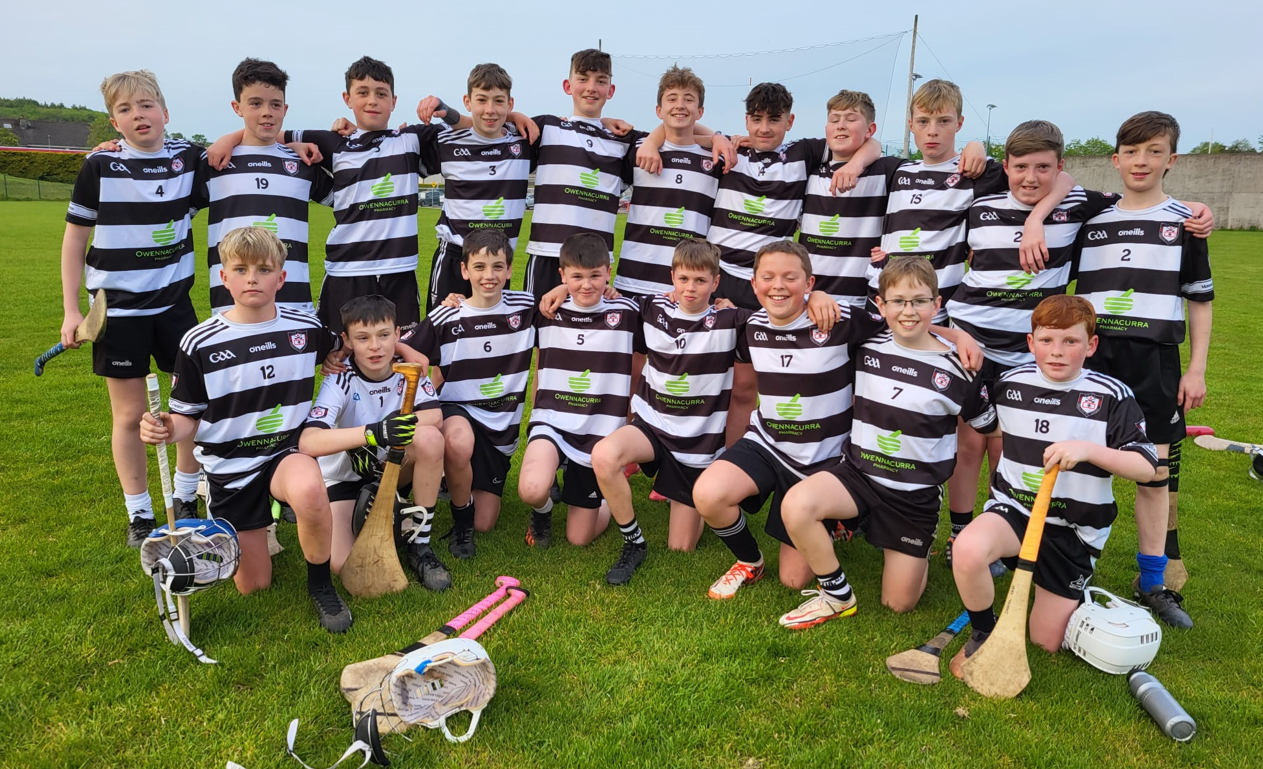 Midleton 5-11 Blarney 0-2
BEST OF LUCK LADS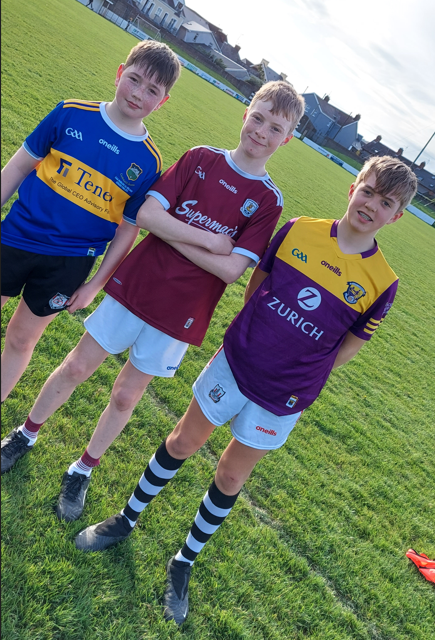 Good luck to Cathal, Ben and Eoghan who are representing Fé13 at the football kicking skills competition in Páirc uí Chaoimh this weekend.
FÉ14S
A massive congratulations to the Midleton FC U-14s who claimed National Cup glory by defeating Belvedere of Dublin 5-1 in the final in Cahir on Sunday last. Here is a picture of the Fé14 hurlers that played in this memorial win. L to R: Alex Molumby, Charlie McCarthy and Ciarán Kelly. Well done boys.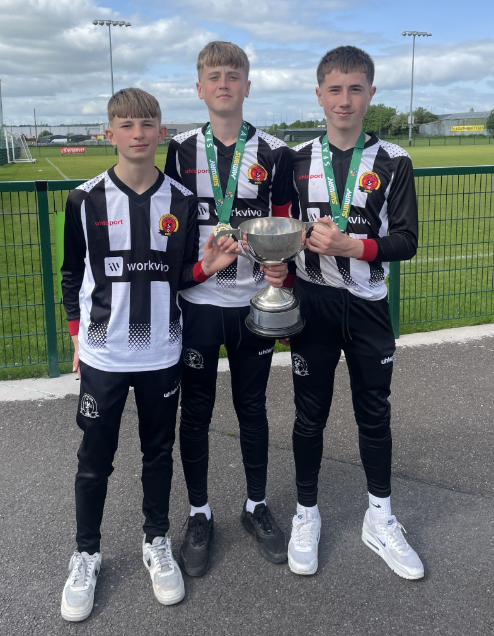 FÉ17S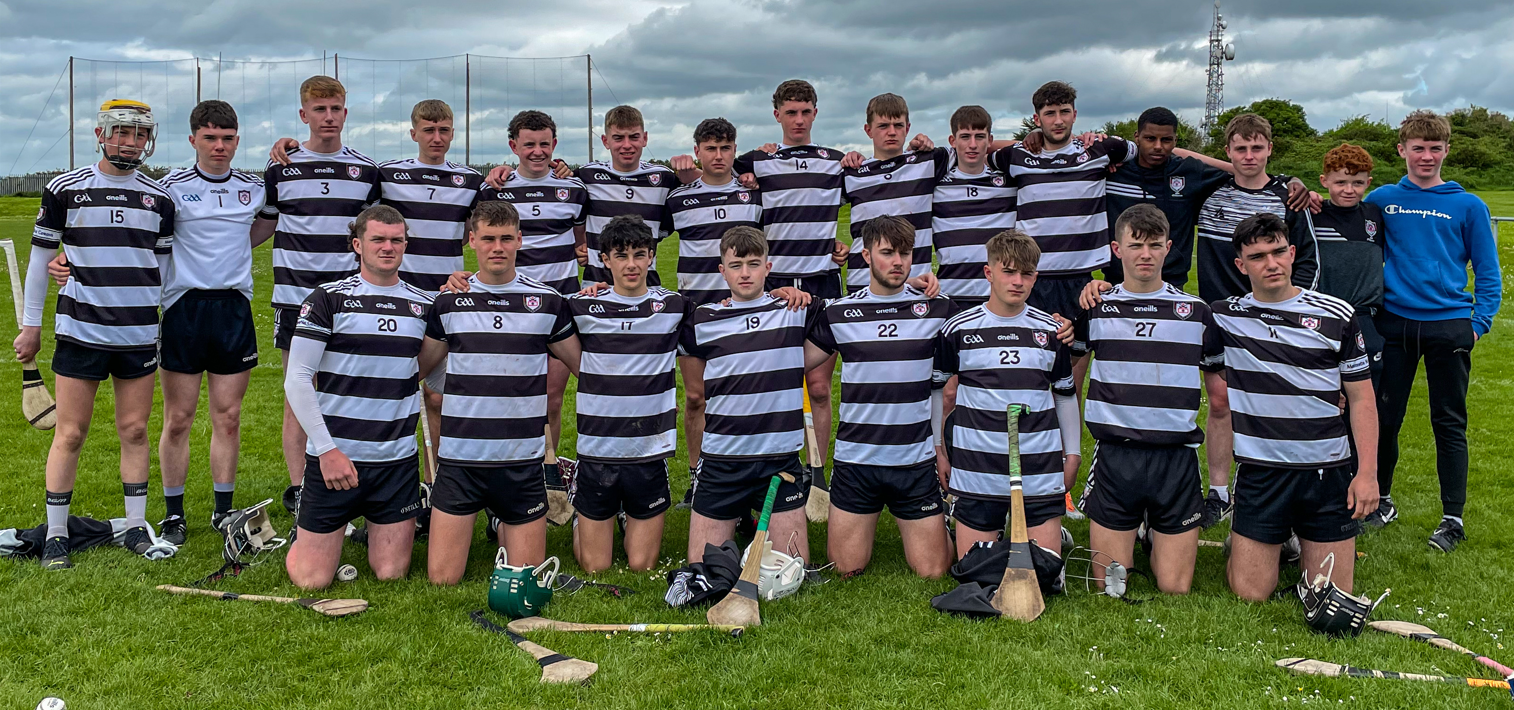 Our Fé17 hurlers and management were delighted to be asked to take part by Mount Sion of Waterford City in the annual Minor Hurling tournament in honour of the late Paddy "Moremiles" Murphy. Gowran's Young Irelands of Kilkenny also took part.
It was a great day of hurling and we very narrowly lost out in the final to the home team. Well done to all the players on a great effort and a big thanks to Mount Sion for their hospitality on the day. Thanks to Andrew Foley for the team picture. Below the two teams parade before the final.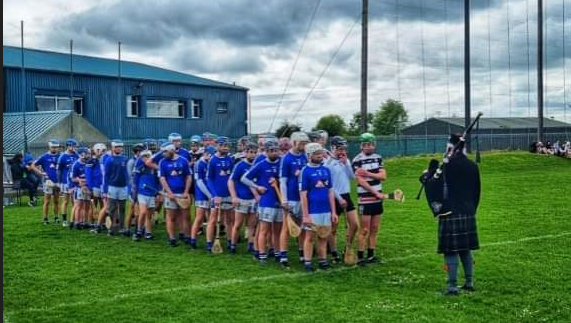 FIXTURES
SATURDAY, MAY 20
Rebel Og Premier Fe14 Football League Division4
Midleton 2 V Ballincollig 3 at 5pm in Midleton
Rebel Og Premier Fe13 Football League Group2
Midleton v Erins Own at 2.15pm in Midleton
SUNDAY, MAY 21
Rebel Og Premier Fe13 Football League Group4
Nemo Rangers 2 v Midleton 2 at 11am in Midleton
MONDAY, MAY 22
Rebel Og Premier Fe16 Hurling League C3 Group1
Inniscarra 2 v Midleton 2 at 7pm in Midleton
Rebel Og Premier Fe14 Football Premier 2 League Final
Midleton v Nemo Rangers at 7pm Venue: TBC
WEDNESDAY, MAY 24
Rebel Og Premier Fe17 Hurling League Premier1 Group 1
Ballincollig v Midleton at 8.15pm in Ballincollig
Rebel Og Premier Fe15 Hurling League Group1
Killeagh v Midleton at 6.30pm in Killeagh
THURSDAY, MAY 25
Rebel Og Premier Fe15 Hurling League Group4
Midleton 2 v Douglas 2 at 7pm in Midleton
Rebel Og Premier Fe14 Football League Division4
Bride Rovers v Midleton 2 at 7pm in Rathcormac
CAMOGIE
UNDER 10S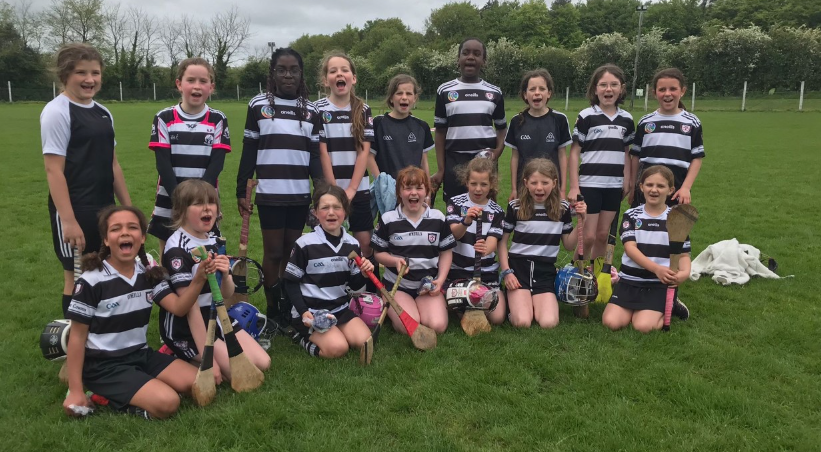 The U-10s braved wet conditions on Sunday morning as they travelled to Castlemartyr where they played the home team and Cobh. Both teams proved to be very strong opposition but the girls played very well with great skills on display and never gave up. Well done to them all.
UNDER 14S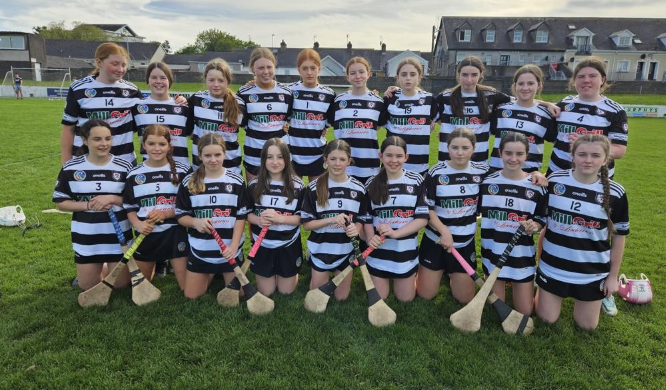 The U-14s played their final league group game on Saturday against Eire Óg in Clonmult Park. Our girls got the win and advance to a league semi final as group winners. Well done to our Captain Leah (below) who did a great job on the night.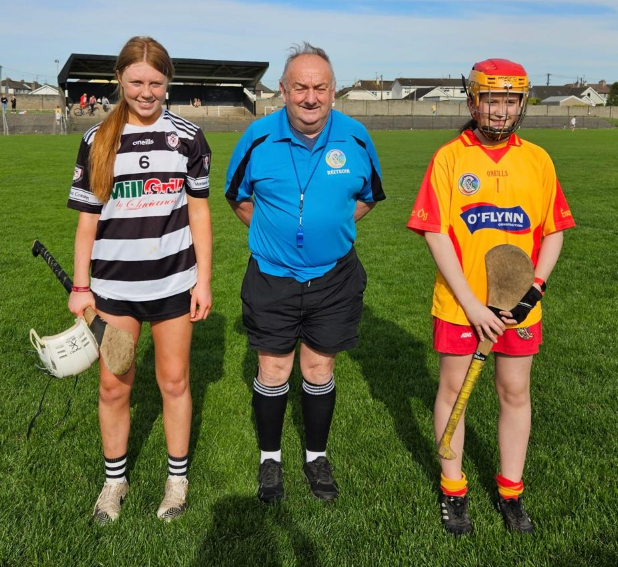 KATE O'SULLIVAN
Huge congratulations to Kate O'Sullivan who lined out for Cork in the U16Achampionship against Wexford. Cork had a great win of 4-11 to 1-5. Well done Kate.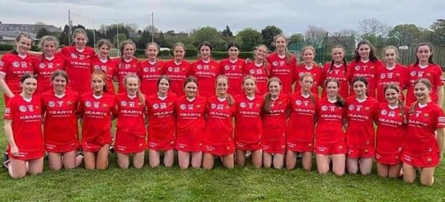 SCOIL BHRIDE
Huge congratulations to all the girls from Scoil Bhríde who won their Sciath na Scól semi final on 10th of May in Midleton, to progress to the final which is on Tuesday next in Pairc Uí Chaoimh at 11am. Best of luck from all at Midleton Camogie Club.

LADIES FOOTBALL

UNDER 16S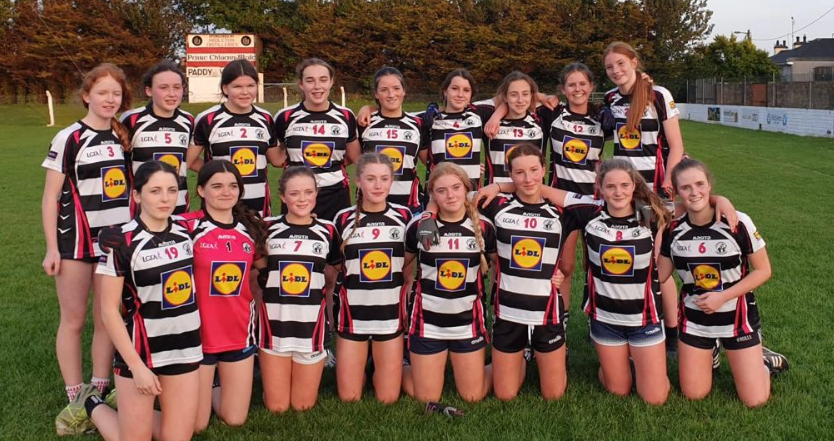 Well done to our girls who had a great finish to the U-16 league with a win. The final score was 1-9 to 0-7. There was great teamwork on display. Well done all.
UNDER 11S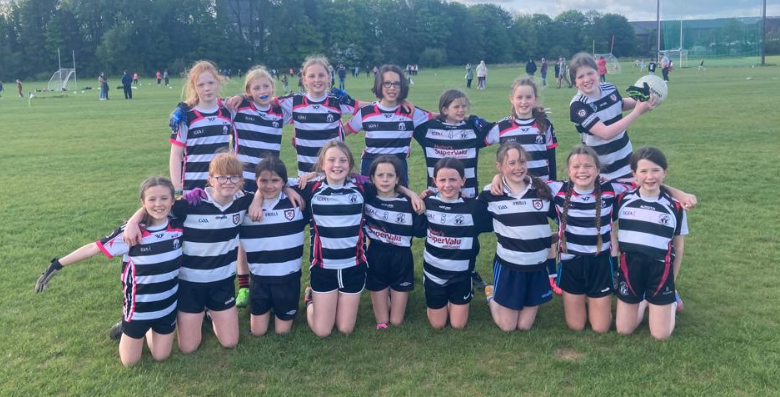 Our U-11s played a great game versus Carrigtwohill in the sunshine in Park South last Sunday. Thanks to the four under 10 girls who played up.
MIDLETON GAA MONDAY CLUB
Our next Monday meet up is on May 29.
MIDLETON GAA GOLF SOCIETY
ROBBIE FITZGERALD'S CAPTAIN'S PRIZE AT CORK GOLF CLUB
Overall Winner
Cillian Hurley
Cat 1
1 - Pat Hayes
2- John Keane
3 Mark Carroll
Cat 2
1 John Droog
2- Pat Crotty
3- Hans Baumann
Cat 3
1 John Middleton
2 Mick Hayes
3 Keith Ryan
F9 Frank O Sullivan
B9 Donal Cantwell️.
LOTTO DRAW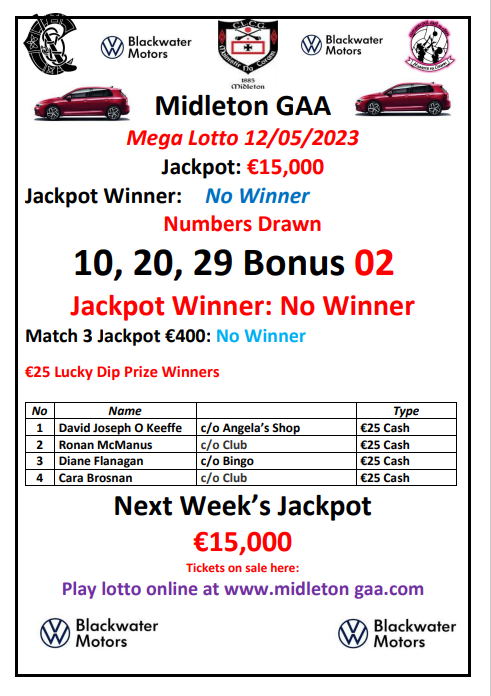 The Jackpot was €15,000 for last Friday night's jackpot and the numbers drawn this week were 10, 20, 29 and the bonus was 2.
There was no jackpot winner or match 3 winner.
The €25 Lucky Dip Prize winners were: David O'Keeffe, Ronan McManus, Diane Flanagan and Ciara Brosnan.
Play 24/7 at: http://www.klubfunder.com/Clubs/Midleton%20GAA/lotto
In total Midleton GAA will give out local business vouchers to the value of €3,800 every year as part of our "Shop Local, Buy Local" campaign.
How to play: tickets are on sale at Pat Walsh Paints, Chadwicks, Frank Murphy Butchers, Murphy's Pharmacy, Crowley Butchers, or buy online (see above).
BINGO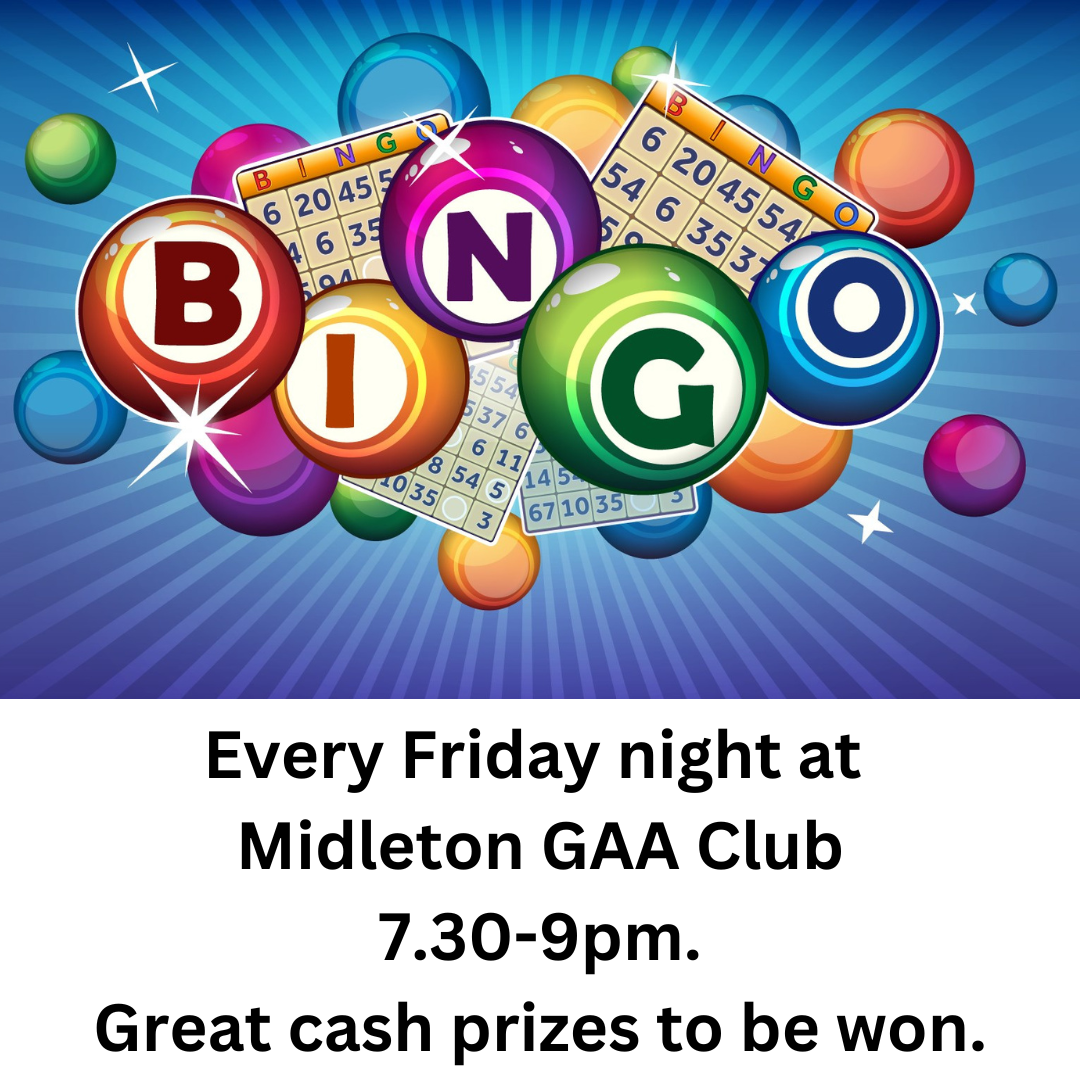 Fancy a good night which also benefits Midleton GAA club...what about bingo on Friday nights?
It kicks off at 7.30pn every Friday night and is over by 9pm. A single book is €6. A double book is €12. We're having our biggest crowds since before Covid recnetly so thanks to everyone for coming in such big numbers, it is much appreciated. New players are always welcome....
CLUB SHOP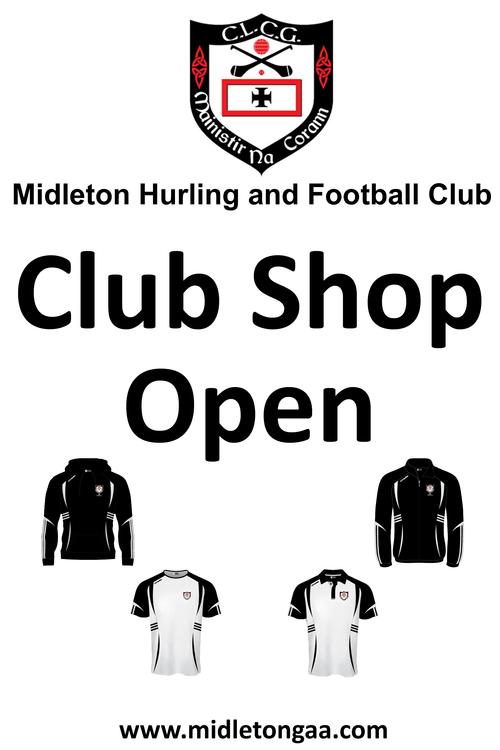 With almost all our hurling, camogie and ladies football teams now back up and running now is the time to stock up on all your gear needs for the coming season.
All you have to do is go to the Klubfunder website (www.klubfunder.com/Clubs/Midleton%20GAA/ShopItems) and you will see the full range of what's available to buy. You can shop away to your heart's content, pay for it online and then collect your purchases at the club shop on Saturday morning between 9.30am and 10.15am. Thank you.
2023 MIDLETON GAA GOLF CLASSIC
DATE FOR YOUR DIARY:.......this year's Midleton GAA Golf Classic will be held, at East Cork Golf Club, on Thursday and Friday, July 13 & 14. Even if you are not a golfer we would really appreciate if you or your workplace would consider sponsoring a tee box for €50. This one of our main fundraisers each year and is vital to the upkeep of all our teams across hurling and football, ladies football and camogie.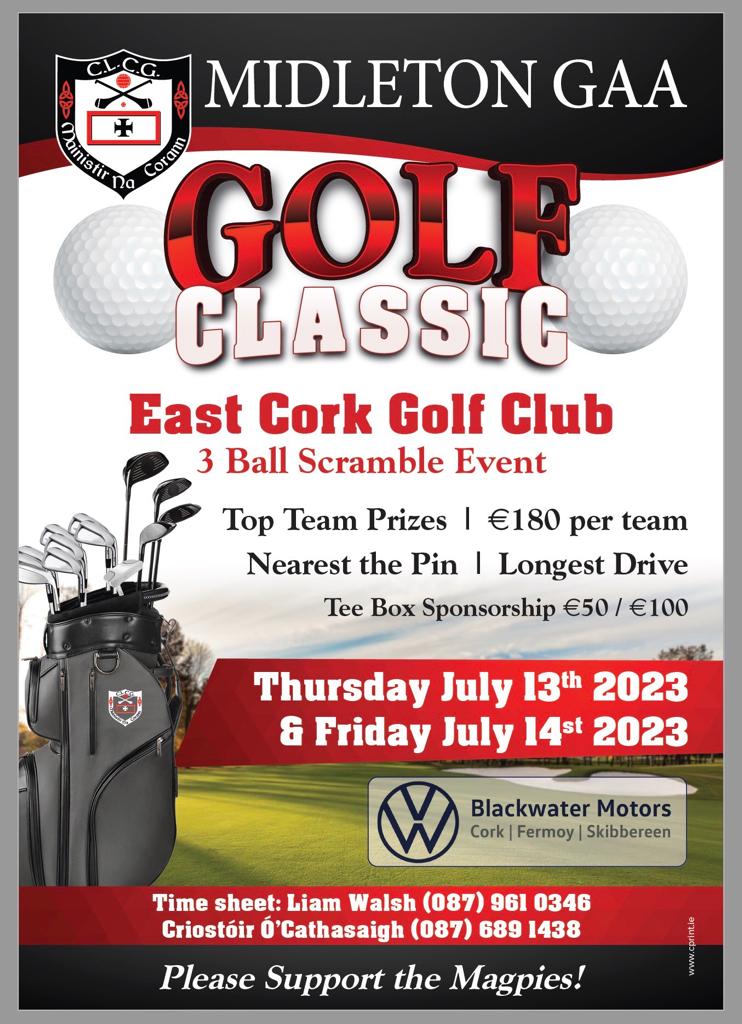 SOCIAL DANCING
Social dancing this Saturday night, May 20 to the superb Michelle Murphy from 9.15pm.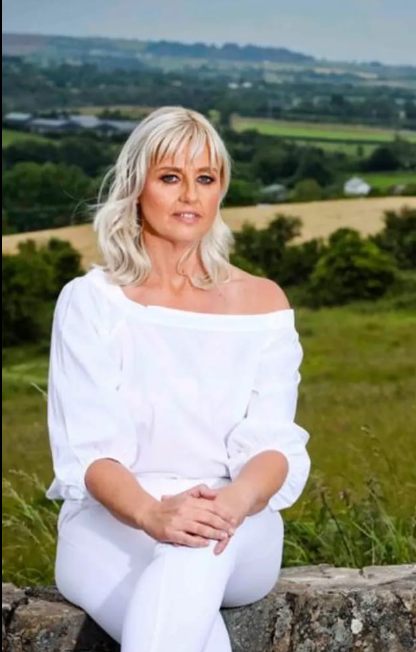 GAA LEARNING PORTAL

We have been asked to remind members and especially our club coaches that the GAA Learning Portal is a great resource which is free to use. Please check it out at http://learning.gaa.ie/about
WELCOME VISITORS
We had two welcome visitors to Clonmult Memorial Park at the weekend, the Six Nations Championship Trophy and the Triple Crown Trophy. Thanks a million to Dave Ryan for bringing them up. They were in town for the Midleton RFC Dinner Dance at the Midleton Park Hotel.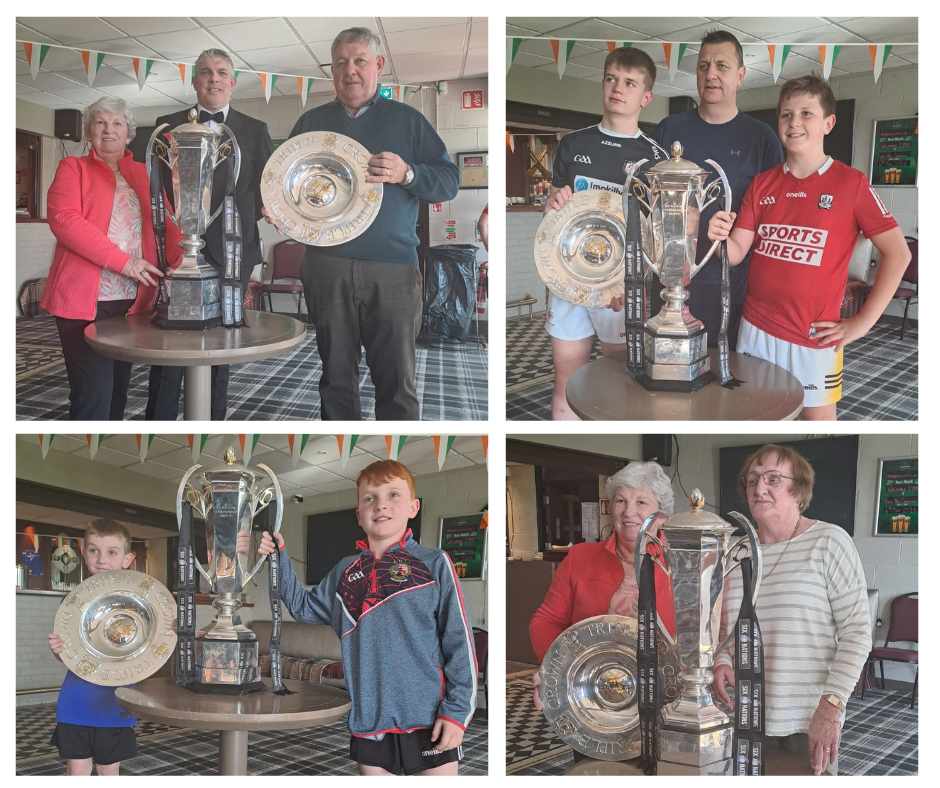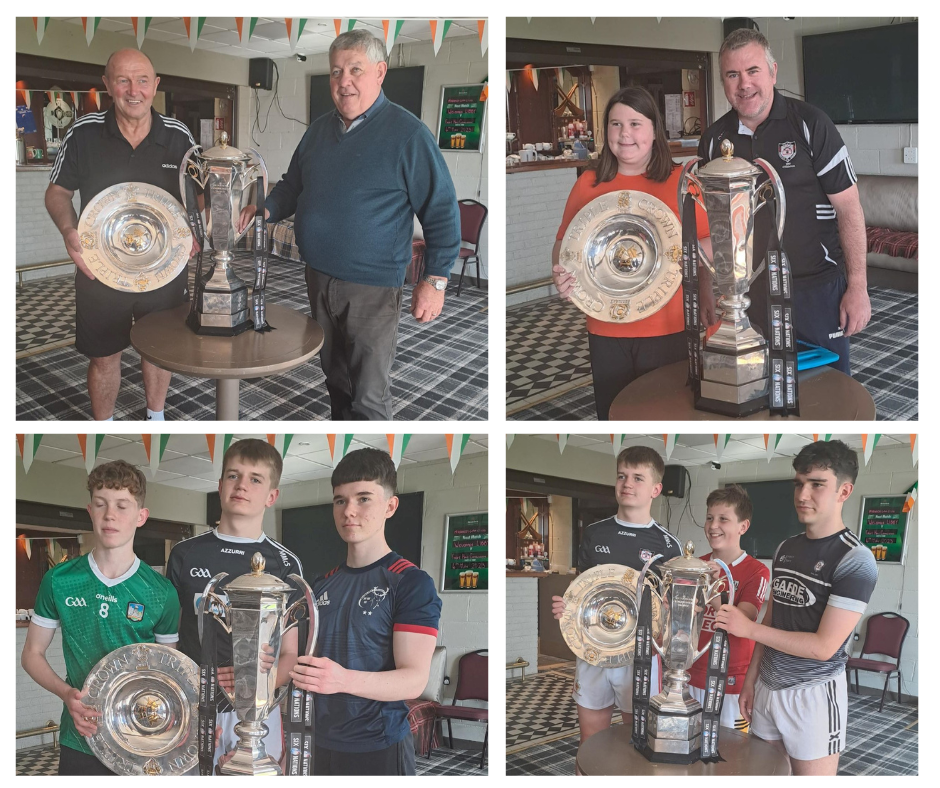 PLEASE PLAY YOUR PART
​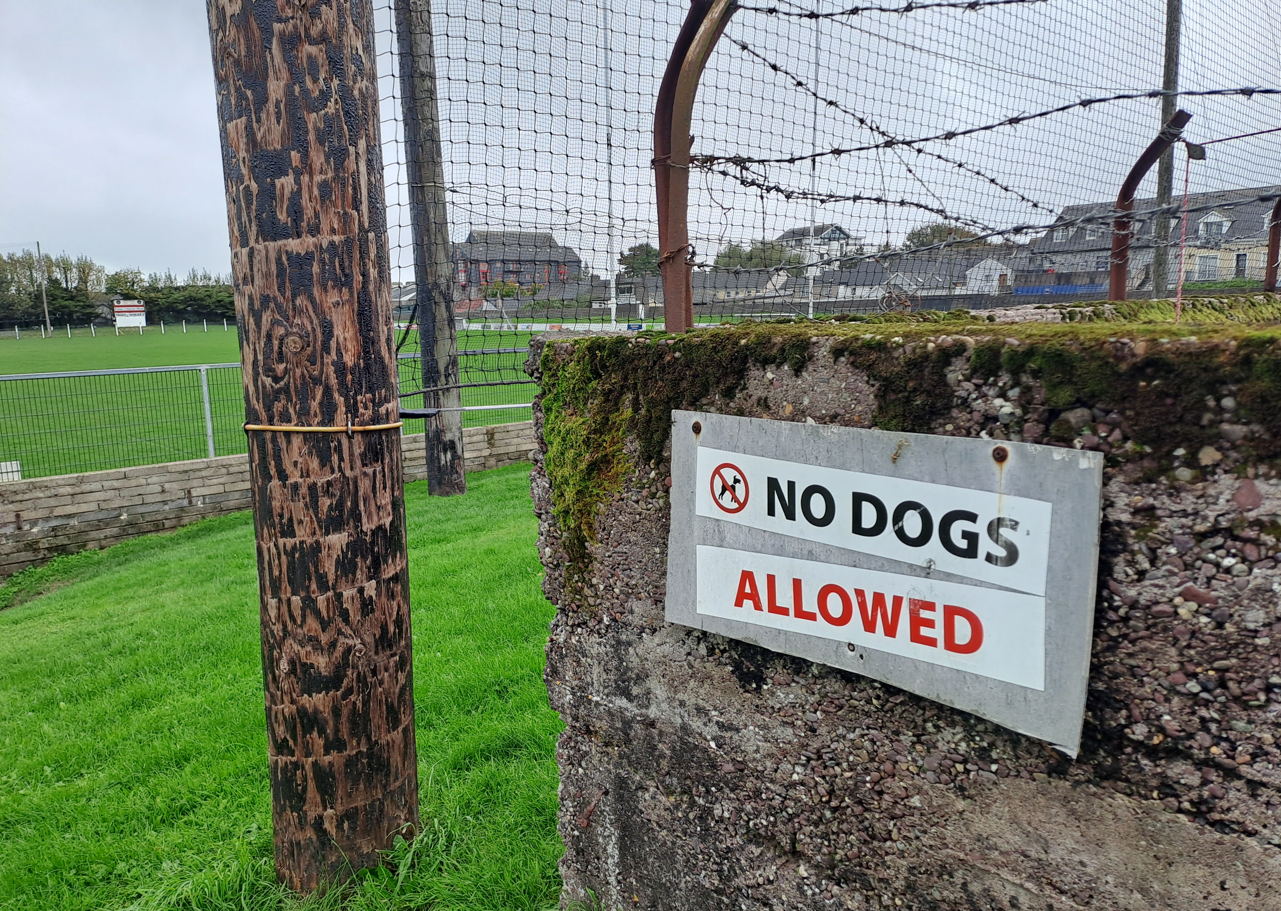 We are asking all players, mentors, parents, supporters and neighbours to please play their part by playing ball on the following.....
Please slow down entering and leaving Park South.
No dogs, except assistance dogs, are allowed at Park South or Clonmult Memorial Park.
Please do not bring single-use plastic bottles to either Park South or Clonmult Memorial Park.
Please put your rubbish in a bin or bag and please bring your gear home with you.
And always be aware of the open water surrounding the pitches in Park South.
If you are a coach, please pass on these simple messages to players and parents.
All members are asked to respect referees and their officials at all times.
Also if you are a coach, last person out locks the gate, toilet and container.
CONDOLENCES
Everyone at Midleton GAA would like to extend our deepest sympathies to the family and friends of Jim Conlon of Balla County Mayo, father of Aoife Fitzgerald and grandfather of Neil, Aoife and Emma who all play with the club.
We would also like to extend our sympathies to the O'Connor and O'Farrell families on the death of John O'Connor of Carrigtwohill. John was a regular attendee at Midleton matches over the years supporting his grandson Luke and was always a pleasure to meet at those games.
We would also like to extend our sympathies to the family and friends of Brendan O'Brien Knockgriffin.
And last but by no means least we would also like to extend our deepest sympathies to the family and friends of David 'Junior' Scully of Killeagh. Junior was a tremendous GAA man and was always a welcome visitor to our club.
Ar dheis Dé go raibh a n-anamacha.