Midleton Hurling and Football, Ladies Football and Camogie Club News - May 11
11 May, 2023
CAMOGIE
WELL DONE JILL & JERRY

A huge congratulations to Jill Connaughton (far left, back row) and manager Jerry Wallace (below) and all the Cork minor players and management who won the All-Ireland Minor Final in Nowlan Park on Sunday by defeating Waterford on a final scoreline of 1-13 to 1-10.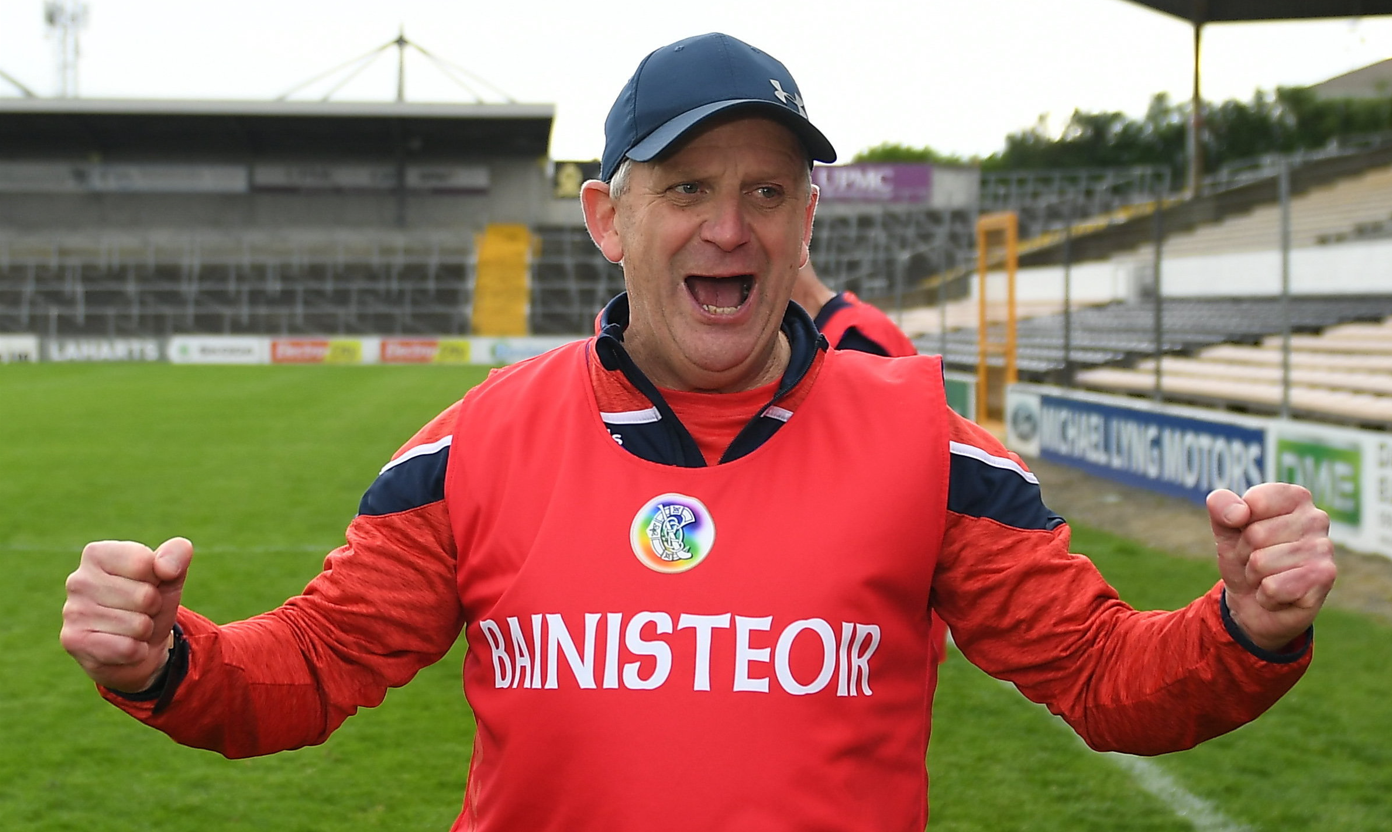 UNDER 12S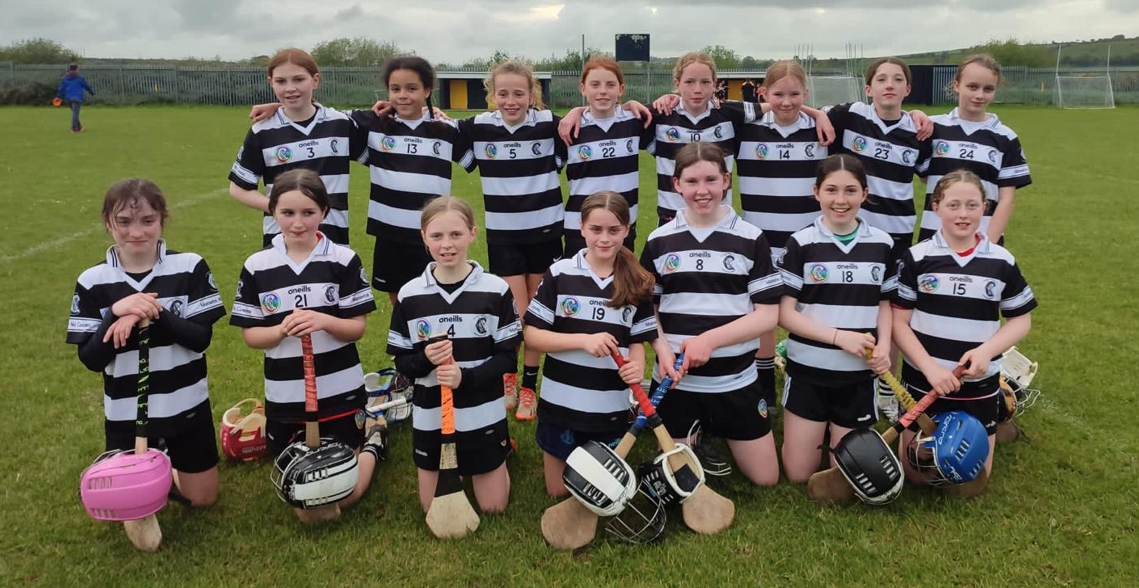 Our U-12 (Black) team travelled to Na Piarsaigh on Friday evening for their final game in the grading league. The girls all played very well and are now really starting to play well as a team. The match ended with a win for the Magpies who will now play some challenge matches over the coming weeks prior to starting the league proper later on this month. Keep up the good work girls and we look forward to following your progress throughout the summer.
PREMIER MINOR C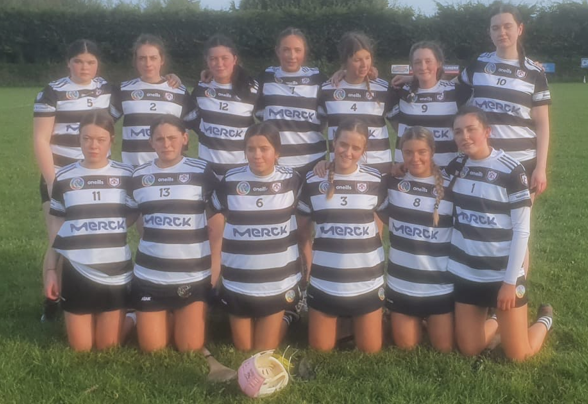 Our minor girls travelled to Inniscarra last Wednesday for the league quarter-final. Unfortunately it was not our day with Midleton losing out.
Scoreline: Midleton 0-5 Inniscarra 0-14
U-14 CORK DEVELOPMENT SQUAD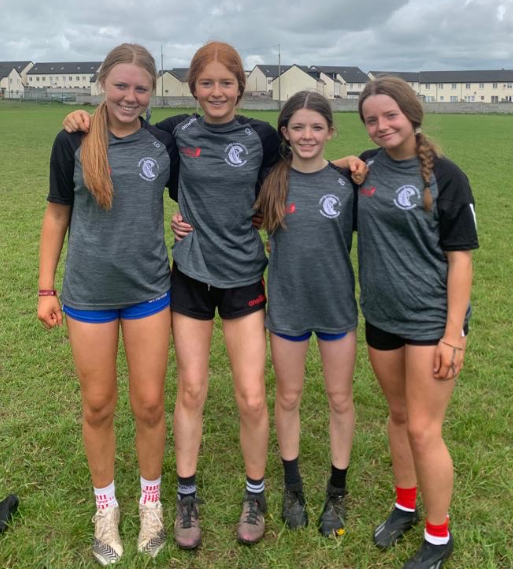 Huge congratulations to Gabrielle Smith, Leah Griffin, Sarah Goulding and Ciara Hynes all selected for the Cork U-14 development squad. Looking forward to seeing them in action over the summer.
FIXTURE
U-14s play Eire Óg on Saturday, May 13 at 6pm in Clonmult Memorial Park in the last of the group league matches.
ADULT CLUB
JUNIOR A FOOTBALL
Our Junior A Footballers were back in action on Tuesday night when they travelled to Ballynoe to take on St. Catherines in their latest league game.
Two goals from Luke Dineen and points from Mark Daly, Christian Daly (2), Evan McCarthy and Johnny Comer, all from play, saw us lead by 2-5 to 1-1 at the halfway stage.
It was a similar story in the second-half. Two goals from Padraig O'Brien and points from Christian Daly (2) and Johnny Comer (2), once again all from play - which must be some sort of a record - saw us run out convincing winners on a final score of 4-9 to 2-7.
Scorers: Luke DIneen & Padraig O'Brien 2-0 each, Christian Daly 0-4, Johnny Comer 0-3, Evan McCarthy and Mark Daly 0-1 each.
MIDLETON: Eoghan Collins, Adam Fay, Darragh McCarthy, Cian Crowley, Mark Daly, Aidan Ryan, Evan McCarthy, Eoin Moloney, Luke Dineen, Padraig O'Brien, Aaron Mulcahy, Evan McGrath, Pa White, Christian Daly, Johnny Comer.
Our next game is on Saturday week (May 20) away to Dungourney at 6pm.
SENIOR HURLING LEAGUE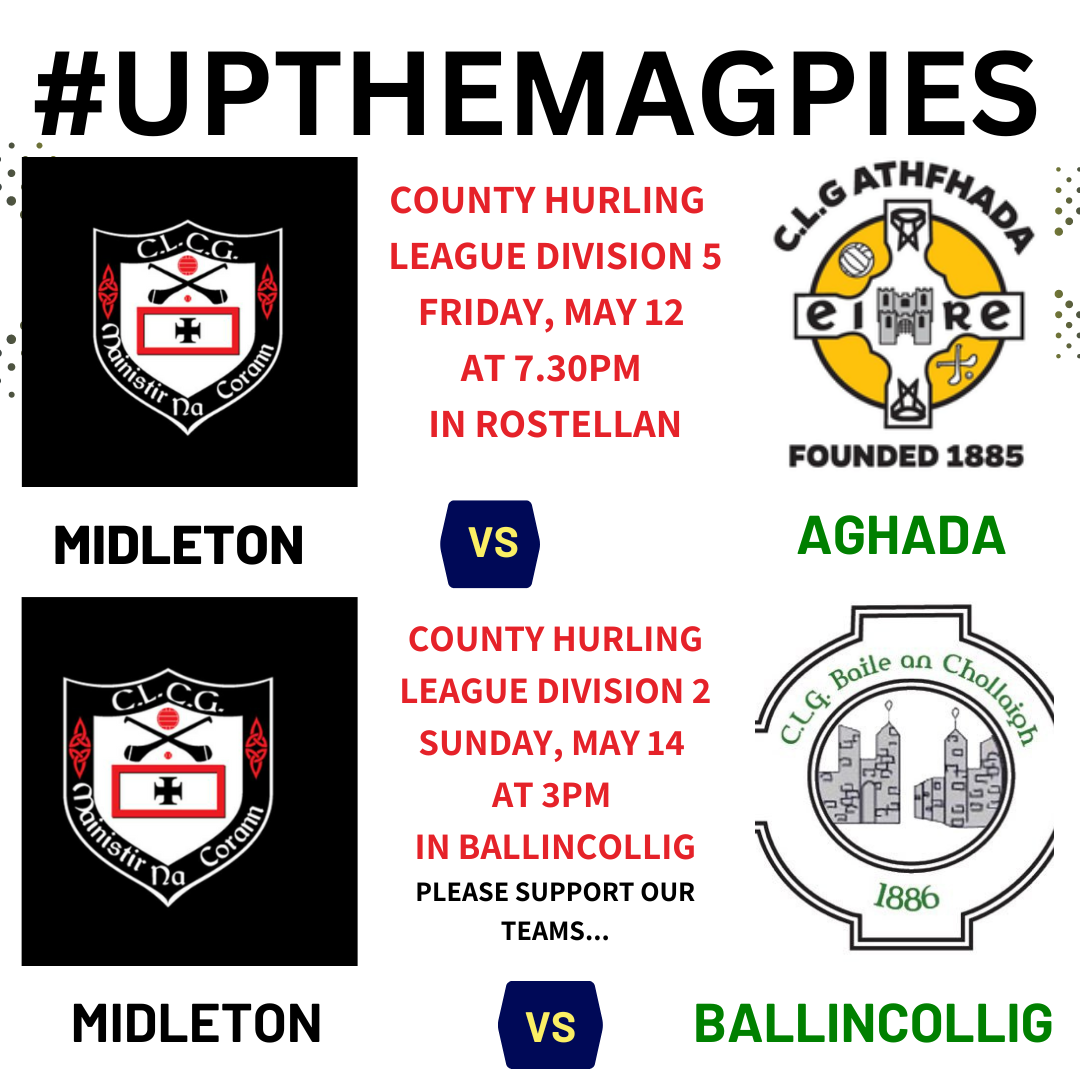 Ballincollig is the venue for our senior team's latest game in the County Hurling League Division 2 on this coming Sunday (May 14) at 3pm.
INTERMEDIATE HURLING LEAGUE.
Our intermediates make the short journey to Rostellan on this Friday night (May 12) for an East Cork derby in the County Hurling League Division 5 against Aghada. Throw-in is at 7.30pm
JUNIOR A HURLING LEAGUE
Our Junior A hurlers are at home in the East Cork hurling league (Division 2) this Sunday when they will host Aghada in Clonmult Memorial Park at 5.30pm.
JUNIOR C HURLING LEAGUE
Our junior C hurlers are back in East Cork hurling league action on next Wednesday night (May 17) when they take on Lisgoold in Clonmult Memorial Park at 7.30pm.
IN THE RED OF CORK
Well done to Conor, Tommy, Cormac, Sam and all the Cork senior hurling players and management on their epic 4-19 to 2-25 draw with Tipperary in front of over 38,000 in the Munster SHC in Pairc Uí Chaoimh on Saturday night. They are not in action this week. They are out again on Sunday week, May 21 away to Clare in Ennis at 2pm.
Please note that the club will not be getting any tickets for any of Cork's Munster Senior Hurling Championship games. All tickets must be bought in advance at: http://www.ticketmaster.ie/event/18005D63DC7967CE
Hard luck to Carthaigh Cronin and the Cork minor players and management on their Munster Hurling Championship Final defeat to Clare in Thurles on Tuesday night.
The very best of luck to Brion, David, Mikey, Ciarmhac, Alex, Ben and all the Cork players and management in their Munster U-20 Hurling Championship Final against Clare on next Monday night at 7.30pm at the TUS Gaelic Grounds in Limerick. The game is also live on TG4 if you can't make it to support the lads.
Well done also to our county board delegate, Diarmuid Ó Dálaigh, who brought up the issue of the lack of trains and space for the Waterford v Cork game at last Tuesday night's county board meeting. As a result the County Board got onto Irish Rail and they provided a much better service on Saturday last for the Tipperary game.
JUVENILES
RICE CUP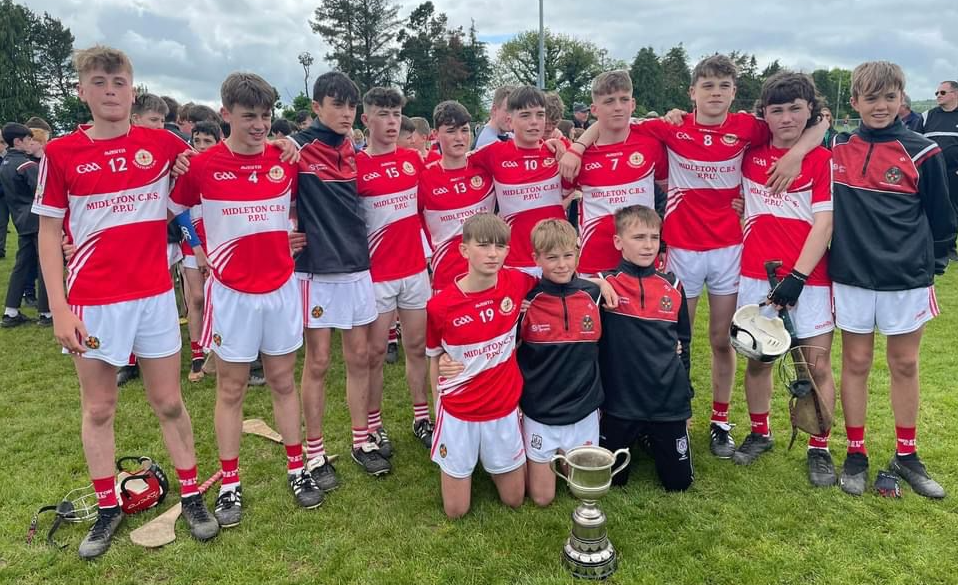 A huge well done to Midleton CBS players and management on winning the Rice Cup on Wednesday by defeating Thurles CBS 6-13 to 0-6 in the final.
We'd like to especially congratulate the Midleton contingent, Alywin Kearney (selector) and players: Peader Egan, Braden Dunlea, Finn Cahill, Alfie Hennessy, Jack Cahill, Charlie McCarthy, John O'Sullivan, Liam Walsh, Alex Molumby, Ciarán O'Brien, Cian Hogan, Patrick O'Brien, Robin O'Brien and Eoghan O'Donovan.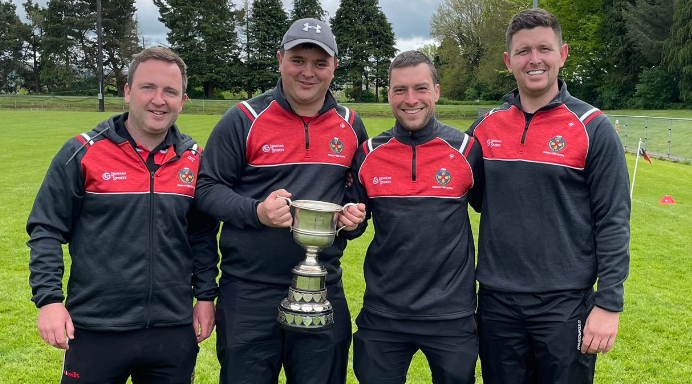 CELTIC CHALLENGE
Well done to the five Midleton players on the Cork East Celtic Challenge panel versus Limerick at UL on Saturday. Daniel Garde, Fionn Kelly, Darragh Egan, Eoghan Fraser, Luca Brodkorb. Cork East are now into an All-Ireland semi final.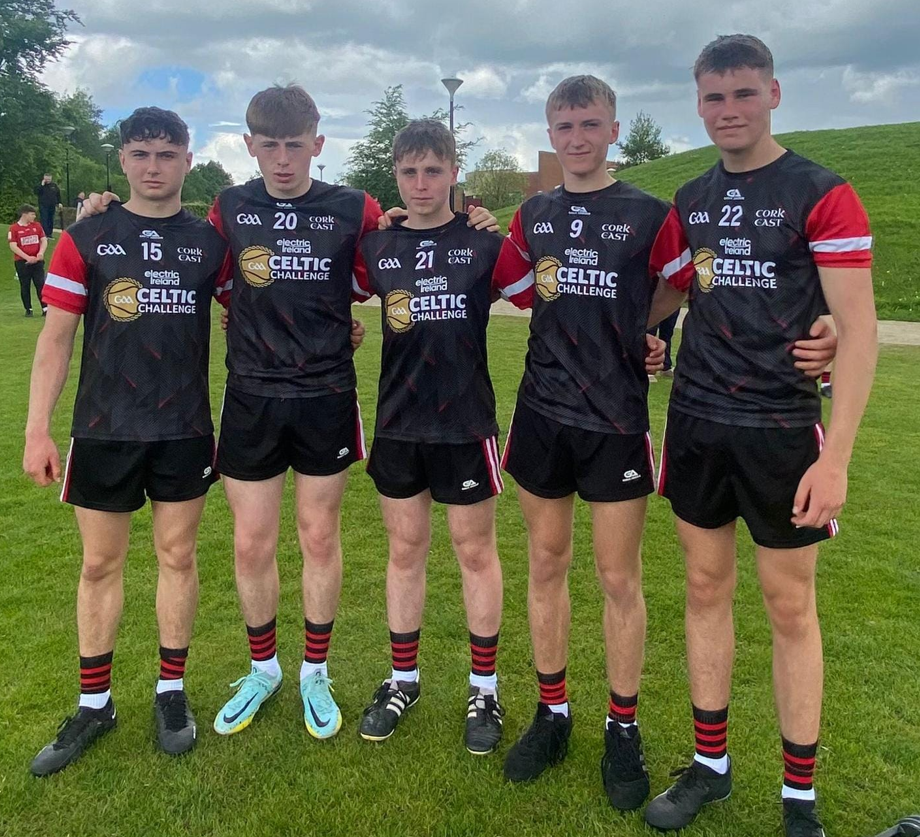 FÉ11S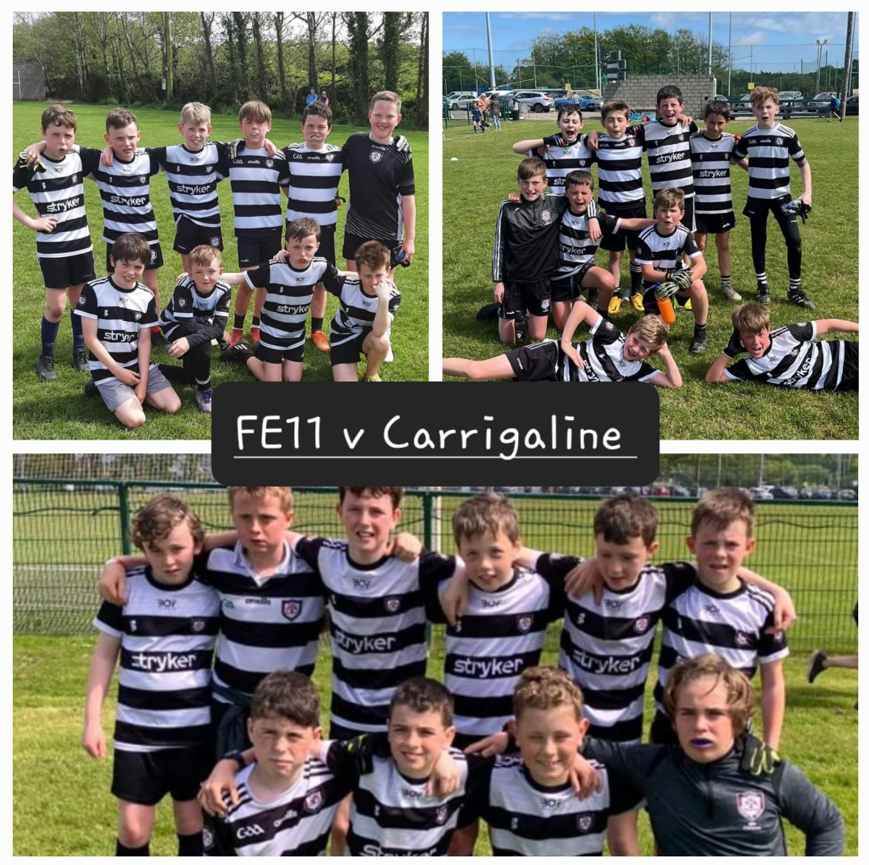 Our lads travelled to Carrigaline on Saturday last for a challenge game against Carrigaline in football.
We brought thirty players for this breaking the players into three teams of ten.
All three teams played very well on the day getting some great scores throughout each of the games.
Well done to all.
FÉ14S
We continued with a busy schedule of games for the Fe14 panel with a further two Hurling League games and One Football League played in the past week against Blackrock in Hurling and Kilshannig in Football.
In our first team game against Blackrock played in Church Road, while we were competitive against a strong opposition, despite the efforts of the players available to us the result did not go our way.
Fortunes were reversed in our second team's game played in Park South once again against Blackrock, where scoring chances taken when they arose by the seven different players, meaning that a positive result was recorded.
Our footballers made the longer than usual journey to Glantane on Sunday to play Kilshannig and the lads have continued to build on their recent impressive performances and results to register another positive result. We had a fine spread of nine players on the scoreboard with We would like to thank the players parents for making the journey to the game and continuing to support the players during the games.
Panels were:
Blackrock Games: Aaron Murphy, Aidan O'Regan, Alex Molumby, Alfie Hennesy, Braden Dunlea, Breanainn O'Dalaigh, Charlie Cahill, Charlie McCarthy, Cian Hogan, Ciaran Kelly, Ciaran O'Brien, Daniel Moloney, Daniel O'Connell, Daire Crowley, Donncha Butler, Ethan Foley, Finn Cahill, Jack Cahill, Jack Sweeney, John O'Sullivan, Josh Quill, Liam Walsh, Manus Stewart, Patrick O'Brien, Patrick Spelman, Rian McCormack, Robin O'Brien, Rory Nolan, Sebastian Mowinski,
Kilshannig Game: Aaron Murphy, Adam Groake, Aidan O'Regan, Alfie Hennessy Billy Murphy, Charlie Cahill, Daniel Moloney, Daniel O'Connell, Daire Crowley, Donncha Butler, Ethan Foley, Finn Murray, Jack Sweeney, Manus Stewart, Patrick Spelman, Rory Nolan.
We would like to wish:
i) a speedy recovery to Patrick O'Brien who is currently out of action due to a hand injury.
ii) a huge congratulations to the members of the panel who were part of the winning Midleton CBS Secondary School team in the Rice Cup Final this week.
iii) the best of luck to the members of the panel who are involved with Midleton Soccer Club in the National Cup Final in Cahir on Sunday against Belvedre FC.
FÉ16S

On Saturday morning last, our U-16s took part in the Darkness into Light walk for 2023. After the walk we headed to the field for a training session (really early). It was a great success and a huge thank you has to go to all the parents who took part, helped out, made food etc. for the lads after training. Magpies Abú.

FIXTURES
THURSDAY, MAY 11
Rebel Og Premier Fé15 Hurling League Group 1
Midleton v Sarsfields at Park South at 7.5pm
FRIDAY, MAY 12
Rebel Og Premier Fe14 Hurling League Premier1
Sarsfields v Midleton in Riverstown at 6.30pm
Rebel Og Premier Fe13 Hurling League Group4
Sarsfields 2 v Midleton 2 in Riverstown at 8pm
SATURDAY, MAY 13
Rebel Og Premier Fe16 Hurling League Premier1
Midleton v Douglas in Midleton at 3pm
Rebel Og Premier Fe13 Hurling League Group1
Blarney v Midleton in Blarney at 5pm
SUNDAY, MAY 14
Rebel Og Premier Fe14 Hurling League C3 Group1
Douglas 2 v Midleton 2 in Douglas at 1pm
MONDAY, MAY 15
Rebel Og Premier Fe15 Hurling League Group1
Douglas v Midleton in Douglas at 7pm
TUESDAY, MAY 16
Rebel Og Premier Fe13 Football League Group2
Youghal v Midleton at Magners Hill Youghal at 7pm
WEDNESDAY, MAY 17
Rebel Og Premier Fe14 Football Premier 2 League Semi-Final
Midleton v Bishopstown in Midleton at 7pm
Rebel Og Premier Fe13 Hurling League Group4
Blarney v Midleton 2 in Blarney at 7.30pm
THURSDAY, MAY 18
Rebel Og Premier Fe15 Football League Group3
Kiltha Og v Midleton in Castlemartyr at 7pm.
LADIES FOOTBALL

UNDER 14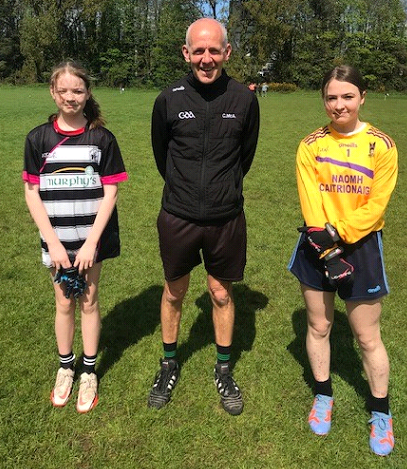 Our U-14 girls have had two busy weeks with matches. We have been very competitive and have given good team performances. On average we have between 18-22 girls per match so it's great to see such numbers getting game time. Training continues each Monday evening.
Well done to Eva who had the captain's role v St Catherines.
UNDER 12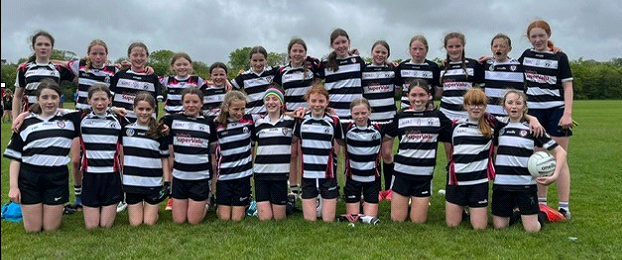 Our U12 girls have been putting their skills into action with challenge games until their leagues are confirmed. They have had some very competitive games v Glanmire over the weekend.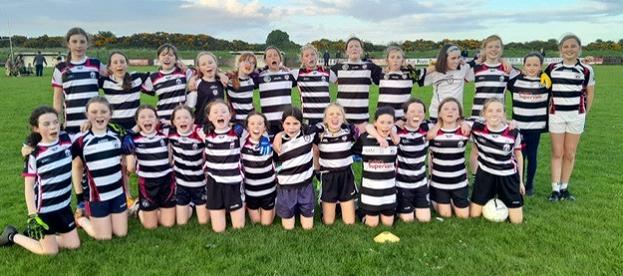 UNDER 10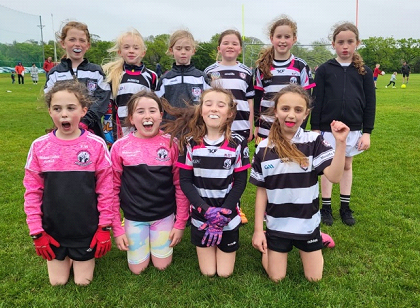 Our U-10 girls welcomed Fermoy to Park South last Sunday. Great performances against a very well-matched side. Great skills and determination were shown by all the girls. Well done to you all.
G4M&O
Fantastic numbers once again turned up for training last Sunday evening. Even the rain could not dampen the spirits from the ladies. Reminder that membership and insurance must be paid before the next session.
Makes a change! Girls supporting their mums in the rain #G4M&O.....
MIDLETON GAA MONDAY CLUB
Our next Monday meet up is on May 29.
HEALTHY CLUB
Many thanks and well done to all our Midleton GAA, Midleton Camogie and Midleton Ladies Football Club members who met up at 4am on Saturday morning last at Market Green to take place in this year's Darkness Into Light walk....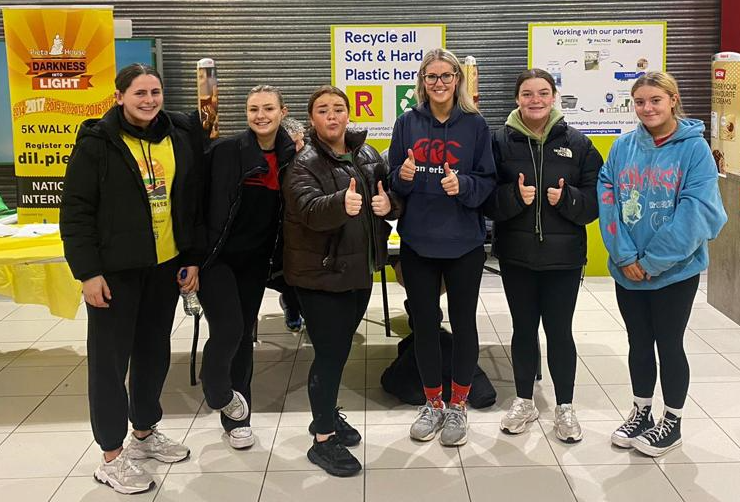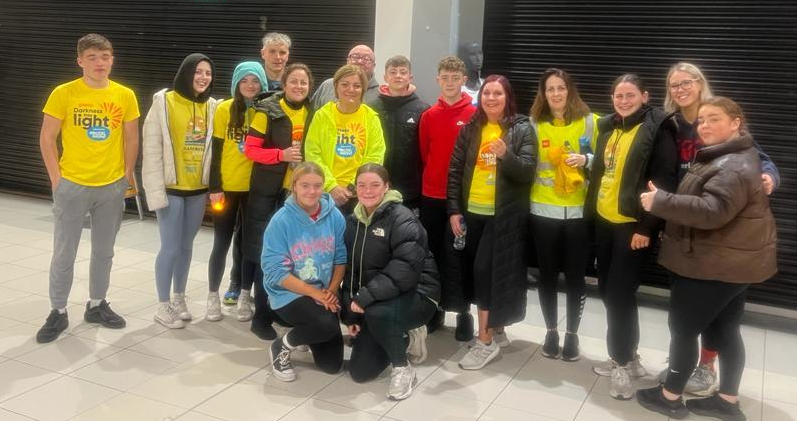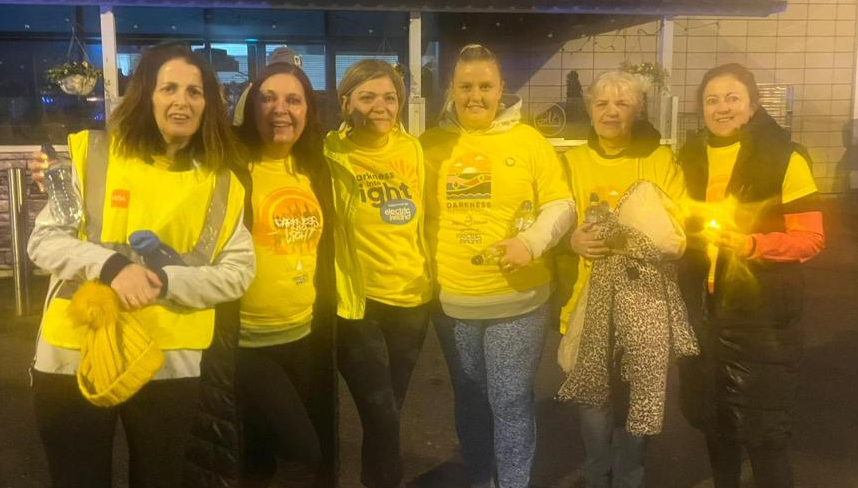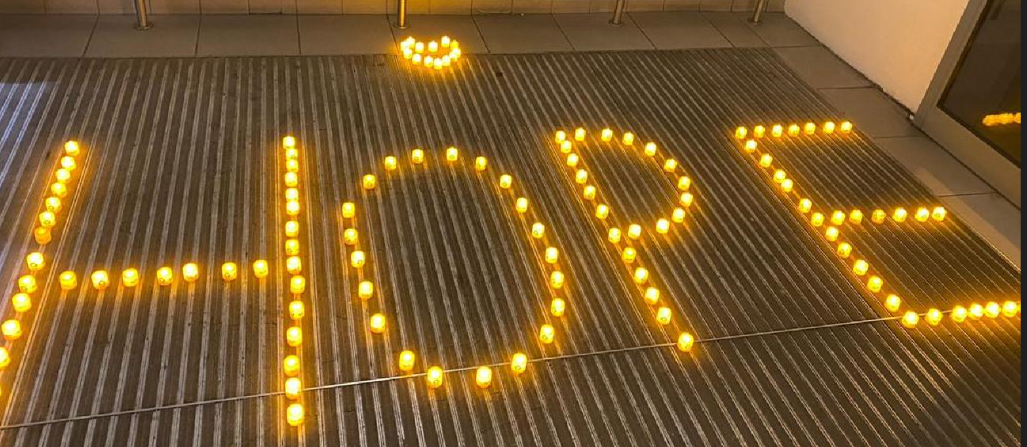 LOTTO DRAW
The Jackpot was €15,000 for last Friday night's jackpot and the numbers drawn this week were 8, 12, 24 and the bonus was 3.
There was no jackpot winner but we did have a match 3 winner and for the second time in three weeks it was Teresa Lawton. who wins €400.
The €25 Lucky Dip Prize winners were: Colleen Forrester, David McCarthy, Elizabeth McCarthy and Mairead Farmer.
Play 24/7 at: http://www.klubfunder.com/Clubs/Midleton%20GAA/lotto
In total Midleton GAA will give out local business vouchers to the value of €3,800 every year as part of our "Shop Local, Buy Local" campaign.
How to play: tickets are on sale at Pat Walsh Paints, Chadwicks, Frank Murphy Butchers, Murphy's Pharmacy, Crowley Butchers, or buy online (see above).
BINGO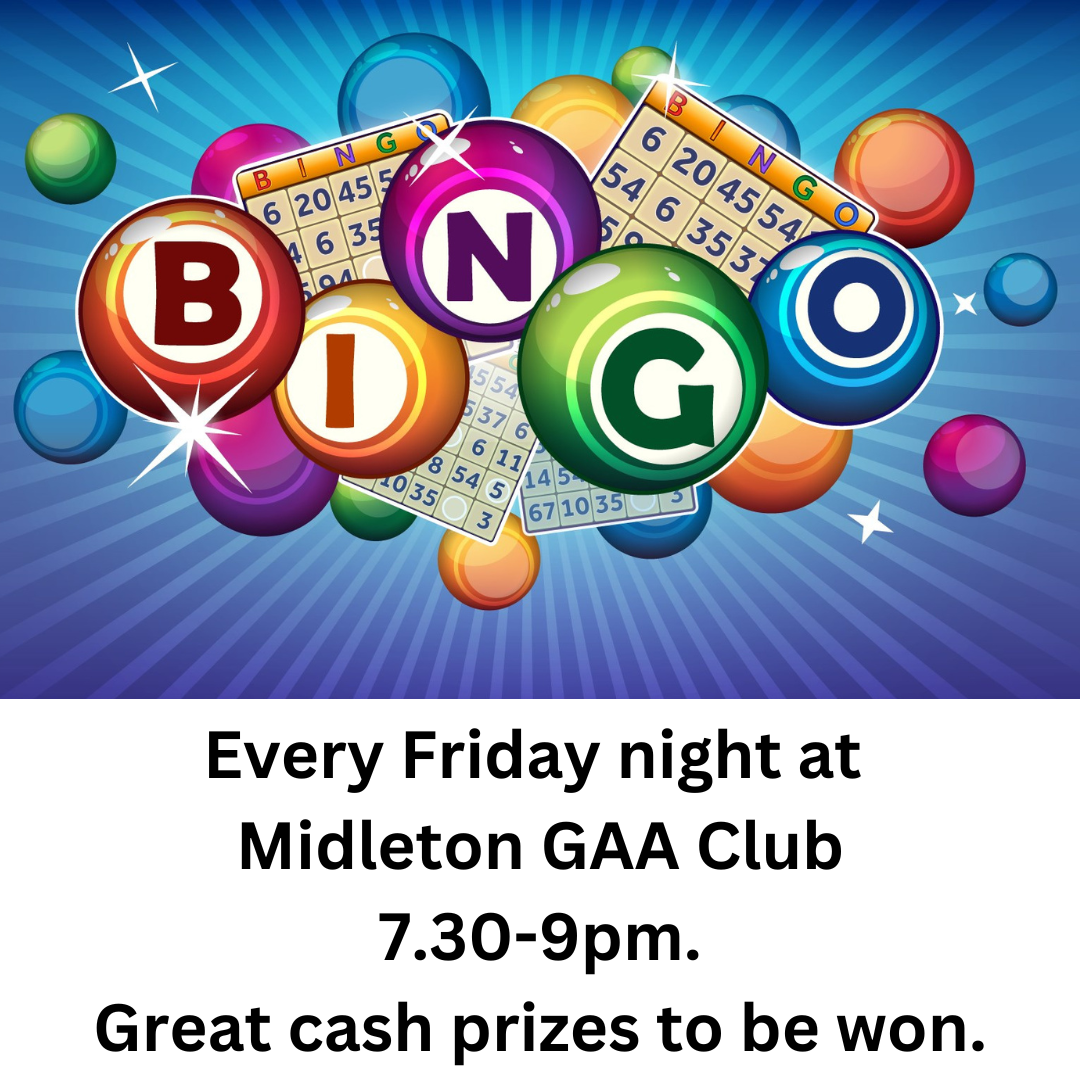 Fancy a good night which also benefits Midleton GAA club...what about bingo on Friday nights?
It kicks off at 7.30pn every Friday night and is over by 9pm. A single book is €6. A double book is €12. We're having our biggest crowds since before Covid recnetly so thanks to everyone for coming in such big numbers, it is much appreciated. New players are always welcome....
CLUB SHOP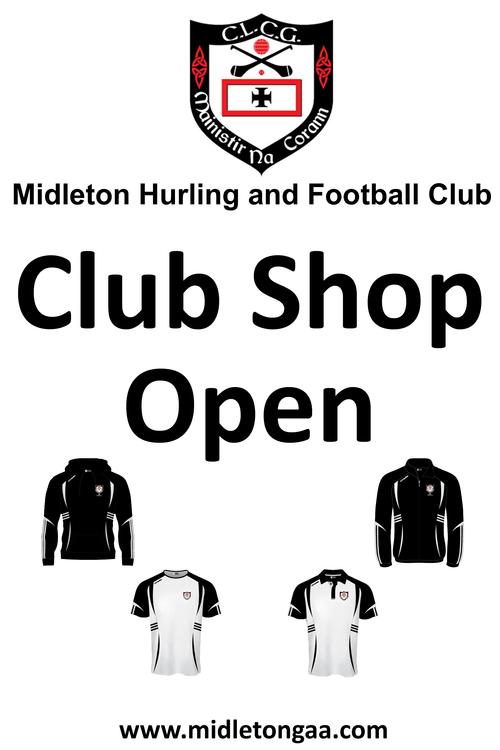 With almost all our hurling, camogie and ladies football teams now back up and running now is the time to stock up on all your gear needs for the coming season.
All you have to do is go to the Klubfunder website (www.klubfunder.com/Clubs/Midleton%20GAA/ShopItems) and you will see the full range of what's available to buy. You can shop away to your heart's content, pay for it online and then collect your purchases at the club shop on Saturday morning between 9.30am and 10.15am. Thank you.
2023 MIDLETON GAA GOLF CLASSIC
DATE FOR YOUR DIARY:.......this year's Midleton GAA Golf Classic will be held, at East Cork Golf Club, on Thursday and Friday, July 13 & 14. More details in the coming weeks.....
SOCIAL DANCING
There will be no social dancing this Saturday night.
GAA LEARNING PORTAL

We have been asked to remind members and especially our club coaches that the GAA Learning Portal is a great resource which is free to use. Please check it out at http://learning.gaa.ie/about
CARDIAC SCREENING
AMS (Advanced Medical Services) will hold a day of Cardiac Screening at Midleton GAA Club on Friday, May 19 from 2.30pm to 9pm.
It is open to anyone 12 years or over
It takes about 20 minutes
It's free to Laya Healthcare Members otherwise it's €79
Must be rested for at least an hour beforehand
Booking online: details on the poster below......
ONLY SIX PLACES LEFT.....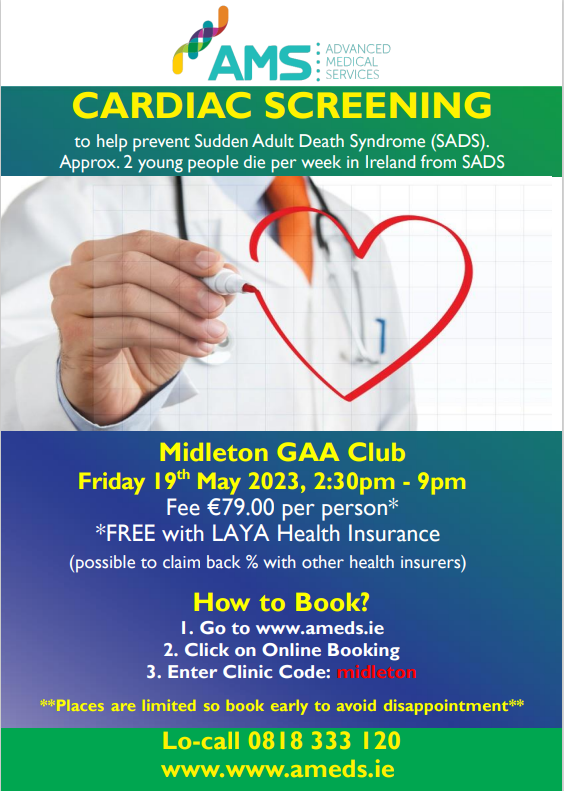 PLEASE PLAY YOUR PART
​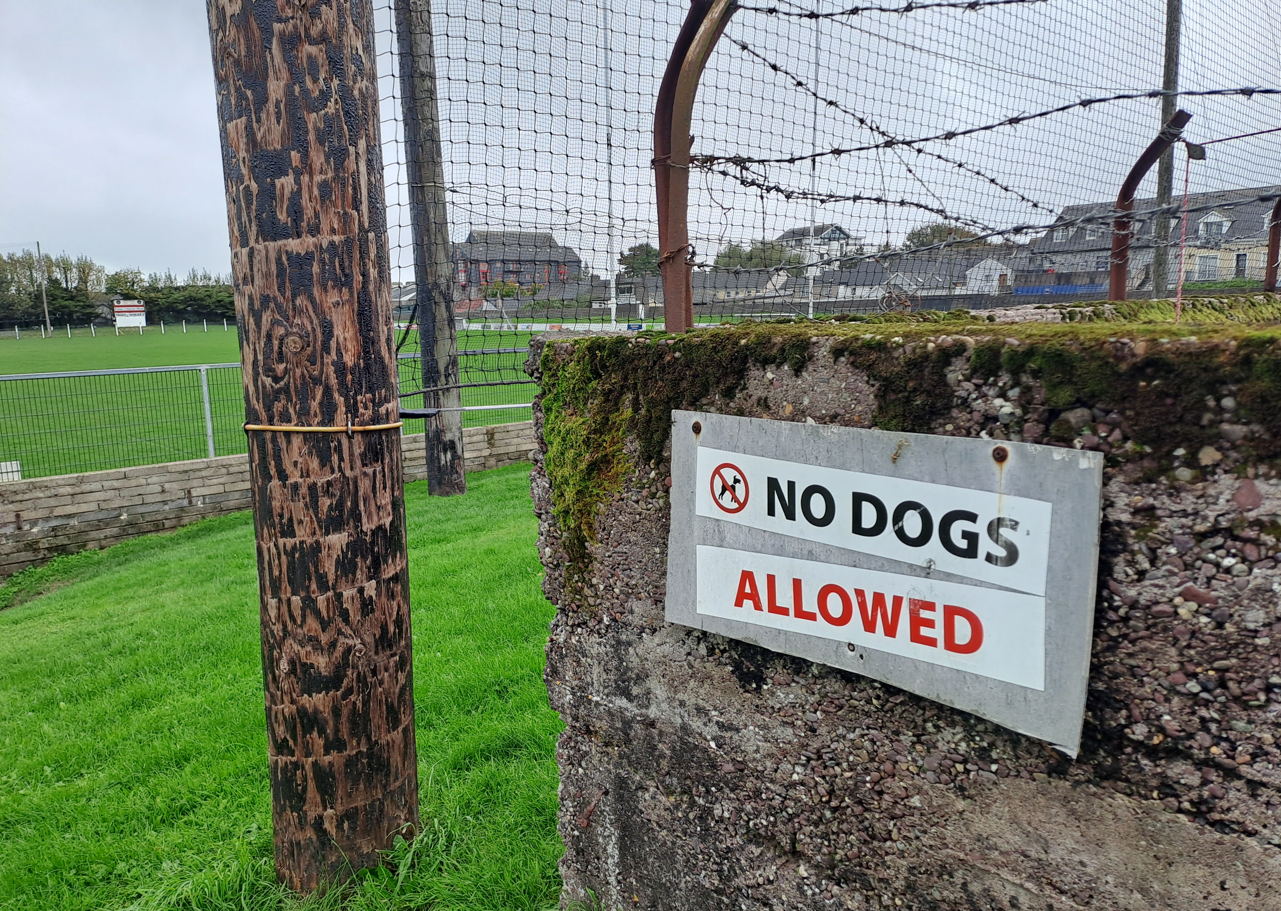 We are asking all players, mentors, parents, supporters and neighbours to please play their part by playing ball on the following.....
Please slow down entering and leaving Park South.
No dogs, except assistance dogs, are allowed at Park South or Clonmult Memorial Park.
Please do not bring single-use plastic bottles to either Park South or Clonmult Memorial Park.
Please put your rubbish in a bin or bag and please bring your gear home with you.
And always be aware of the open water surrounding the pitches in Park South.
If you are a coach, please pass on these simple messages to players and parents.
All members are asked to respect referees and their officials at all times.
Also if you are a coach, last person out locks the gate, toilet and container.
CONDOLENCES
Everyone at Midleton GAA would like to extend our deepest sympathies to the family and friends of Tony Leahy of Ballyspillane. Ar dheis Dé go raibh a anam.