Midleton Hurling and Football, Ladies Football and Camogie Club News - April 20
20 April, 2023
RED FM COUNTY HURLING LEAGUES
SENIOR
GLEN ROVERS 0-20 MIDLETON 1-17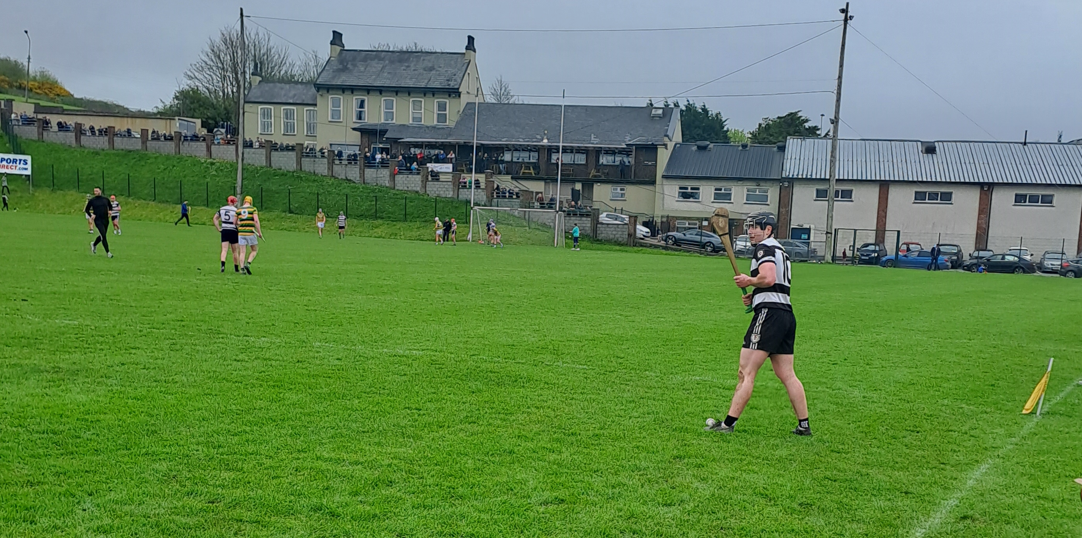 Aaron Mulcahy about to hit over one of his points against Glen Rovers on Sunday last. He also got the equalising goal deep into stoppage time.
Our senior team made the journey to Blackpool on Sunday for their fourth league game and a repeat of the 2021 County Final and the fine attendance that made the journey were treated to a very enjoyable game that went all they way to the wire, the 64th minute in fact.
We got off to a slow start and trailed by 0-5 to 0-0 by the tenth minute.
Points from Aaron Mulcahy (3) Kian Farmer, Luke O'Farrell and Tadhg O'Leary Hayes brought us right back into it and with four minutes of the opening half to play we trailed by a single point, 0-7 to 0-6. Kian Farmer and Aaron Mulcahy completed our first-half scoring and at the interval we trailed on a score of 0-10 to 0-8.
We came out of the blocks like a train at the start of the second-half as we rattled off four points in a row inside the first five minutes, two each for Luke O'Farrell and Kian Farmer to put us into the lead for the first time in the game.
Back came the Glen and by the 13th minute of the second-half they led by three, 0-16 to 0-13.
Sean O'Sullivan replied with the score of the game off the left-hand touchline and Aaron Mulcahy added a free to cut the gap to one with 12 to play.
The Glen led by two with four minutes to go when Midleton were reduced to 14 when Christian Murphy received what looked like a rather harsh second yellow card, followed by red.
A hotly contested Glen '65 on 62 minutes pushed them 0-20 to 0-17 in front and set for victory but this Midleton team refused to throw in the towel and in the 64th minute a great Magpies' move saw Luke O'Farrell set up Aaron Mulcahy to bag the only goal of the game and secure a well deserved share of the spoils for the men in Black and White.
It would be remiss of me not to make a special mention of David Scanlon and Alex Quirke who both had really good games in their first games back after long injury layoffs. Well done lads.
Scorers: Aaron Mulcahy 1-8 (0-7 f), Kian Farmer 0-4, Luke O'Farrell 0-3, Tadhg O'Leary-Hayes, Sean O'Sullivan 0-1 each.
MIDLETON: Bryan Rossiter; David Scanlon, Luke Dineen, Seadhnaidh Smyth; Eoin Moloney, Ciarmhac Smyth, Christian Murphy; Sean O'Sullivan, Kian Farmer; Aaron Mulcahy, Ross O'Regan, Tadhg O'Leary-Hayes; Alex Quirke, Luke O'Farrell, Cian Crowley. Sub: Evan McCarthy for Cian Crowley.
Our next game is on Tuesday week, May 2, at home to Bride Rovers in Clonmult Memorial Park at 7.30pm.
INTERMEDIATE HURLING LEAGUE
On Friday evening we travelled to Waterfgrasshill for our latest RedFM County Hurling League Division 5 game.
At half-time we trailed by a goal, 1-8 to 0-8 and despite a brave effort we just came up short in the end on a final score of 2-16 to 1-4.
MIDLETON: Zach Smith, Cormac O'Brien, Christian Murphy, Adam Faye, Leo Hennessy, Aidan Ryan, Evan McCarthy, Padraig O'Keeffe, Gavin Reddy, Gary Carroll, James Nagle, Tadhg O'Leary Hayes, Padraig O'Brien, Peter Dowling, Kian Farmer.
Our next game is on Friday week, April 28, at home to Mayfield in Clonmult Memorial Park at 7.15pm.
JUNIOR A HURLING LEAGUE DIVISION 2
MIDLETON 3-12 WATERGRASSHILL 1-14
On Monday evening on a splendid pitch at Clonmult Memorial Park we faced a dogged Watergrasshill team. This was a battle and the saying goals win games was key here. A brace in the first half had us up by 2-6 to 0-7 at half time. The second half continued in much the same vein but we did enough to hold out for the points.
Our next league outing is on Sunday, the 14th of May, at home to Aghada at 2pm.
MIDLETON: Cillian Hurley, Colin Sunderland, Charlie Walsh, Kieran Lambert, Gavin Reddy, Adam Fay, Patrik Kane, Conor Fitzgerald(0-2, 1f), Dara Scanlon, Padraig Nagle(0-1), Padraig O'Shea(0-5, 3f), Johnny Comer, Stuart O'Connor, Peter Dowling(2-0), Evan Rowlands(1-2). Subs used: Cathal Beausang(0-2), Rory Lester.
JUNIOR A FOOTBALL
Our Junior A footballers are back in league action on this coming Saturday (April 22) when they take on Erins Own in Park South at 6pm. Best of luck lads.
JUNIOR C FOOTBALL
Our Junior C footballers were in Cobh on Monday night and despite a bold effort they lost out on a score of 1-11 to 0-7.
They are back in action on Friday night (April 21) at home to Russell Rovers at 7pm.
IN THE RED OF CORK
Hard luck to Carthaigh Cronin and the Cork minors who lost out to Clare on a score of 0-17 to 0-12 in Sixmilebridge on Tuesday night. They now play Limerick in the Gaelic Grounds in Limerick on Tuesday night (April 25) at 7pm.
Well done to Brion, David, Ciarmhac, Mikey, Terence and the Cork players and management on their Munster U-20 Hurling Championship win over Clare in Ennis on Wednesday night. They now play Limerick in the Gaelic Grounds in Limerick on Wednesday night (April 26) at 7.30pm.
Please note that the club will not be getting any tickets for any of Cork's Munster Senior Hurling Championship games. All tickets must be bought in advance at: http://am.ticketmaster.com/gaa/munstershc. They kick off on Sunday week against Waterford in Pairc Uí Chaoimh.
CAMOGIE
UNDER 9S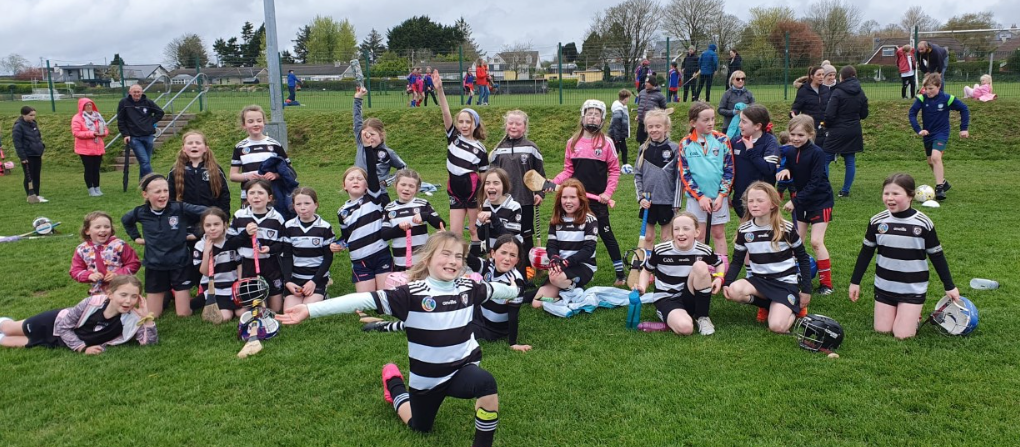 Our U-9s were in action on Saturday in Caherlag, playing a blitz with Erin's Own and Ballinhassig. With almost 30 players we fielded four teams on the first outing of the season with great skill and determination on display from all teams.

UNDER 10S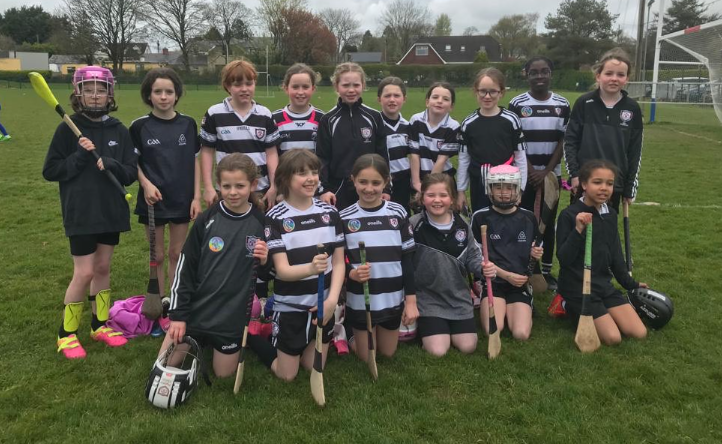 Our U-10s were involved in the first Go Games of the season. Thanks to Erin's Own GAA for hosting us. A great afternoon of camogie skills on display. Well done to all the girls.
UNDER 14S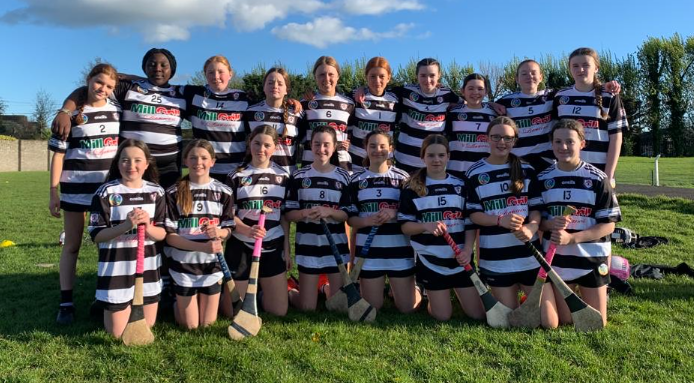 Our U-14s opened their league campaign with a home game against a strong Barr's team on Saturday evening. It was a battling performance from our girls with the match finishing in a draw. Well done to Eve (pictured below) who captained the team.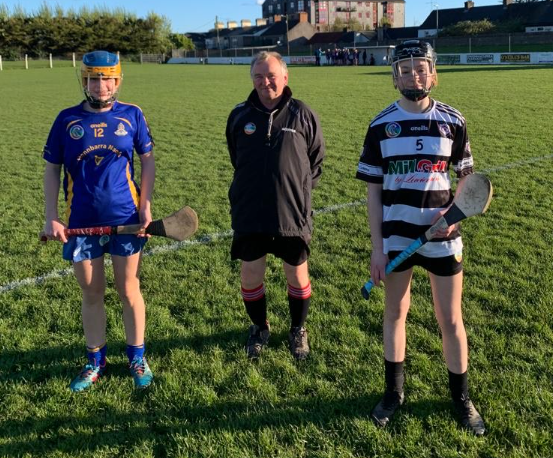 UNDER 18S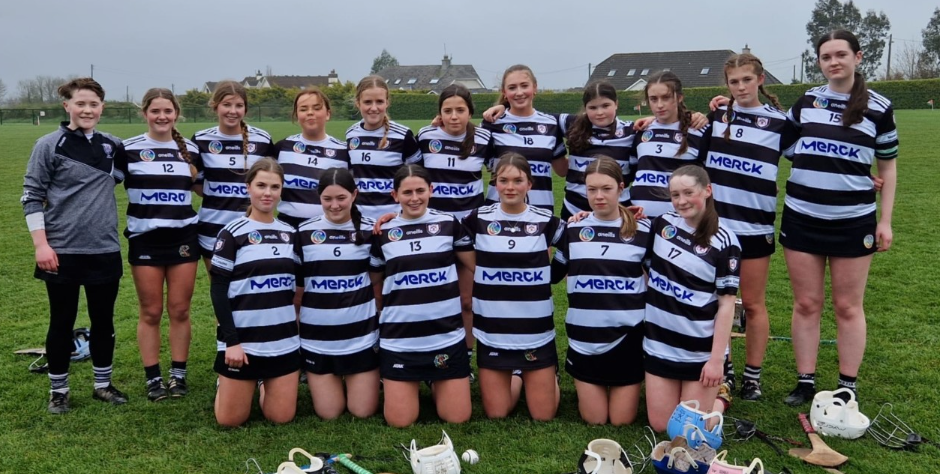 In the premier minor league we played away to Ballinora on Saturday. Unfortunately it was not our day with a score line of 3-5 to 1-6 to Ballinora. Hard luck girls but you gave it your all.
FÉILE
Best of luck to all the girls involved in Féile this weekend.
JUVENILES
FÉ9S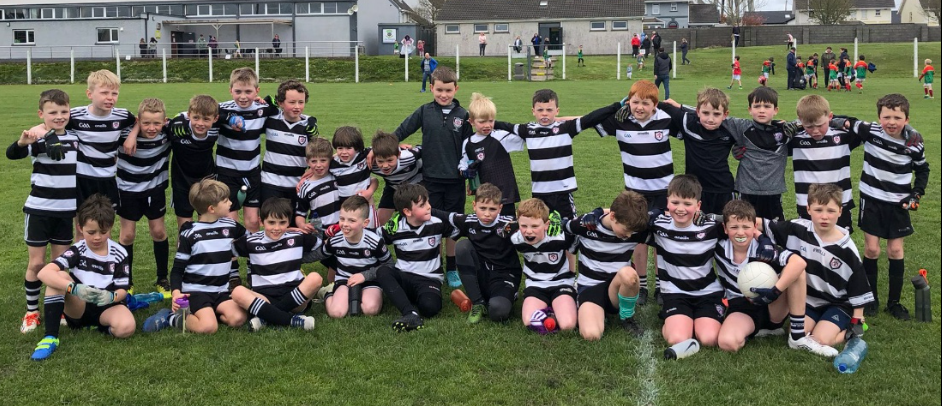 On Saturday morning last our young Magpies travelled to Cobh for a football blitz against the host club and Kiltha Óg.It was an action packed morning, where we fielded three teams and each team played three games. Well done lads.
STREET LEAGUES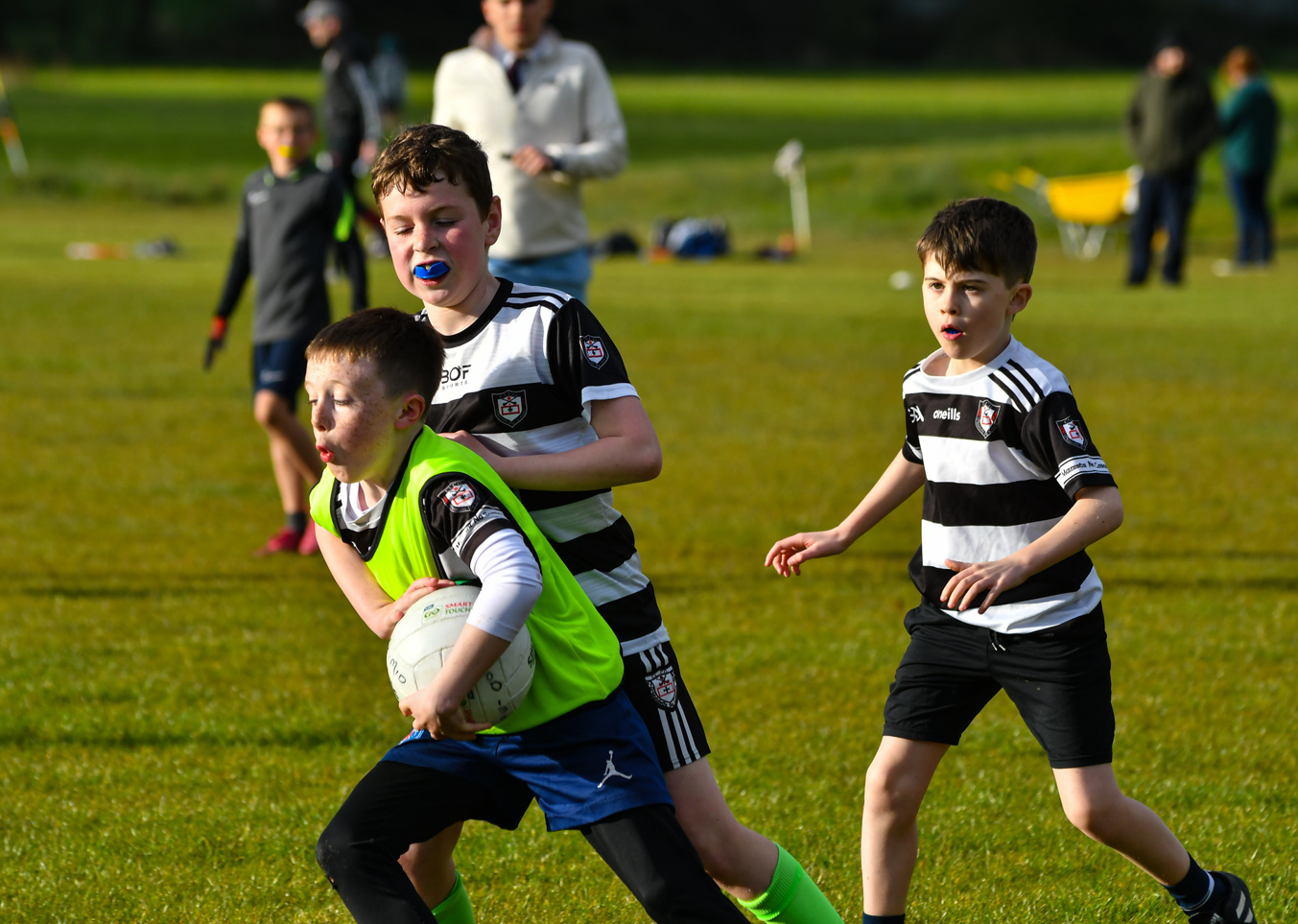 Action from Monday night's Street League games at Park South. Photo: Andrew Foley.
The Football street league finals for the Nealey Horgan Cup will take place in Clonmut Memorial Park on Saturday morning next (April 22).

The boys and girls will meet on the grass area beside Hurleys' SuperValu at 9.15am and depart at 9.30am from SuperValu door after photos.

They will all parade behind piper up to Midleton GAA club via the side gate beside the SV overflow car park.

They will then all parade around the pitch and before standing for the national anthem which will be played by piper before the last round matches.

All supporters are welcome to cheer on the boys and girls.

FÉ11S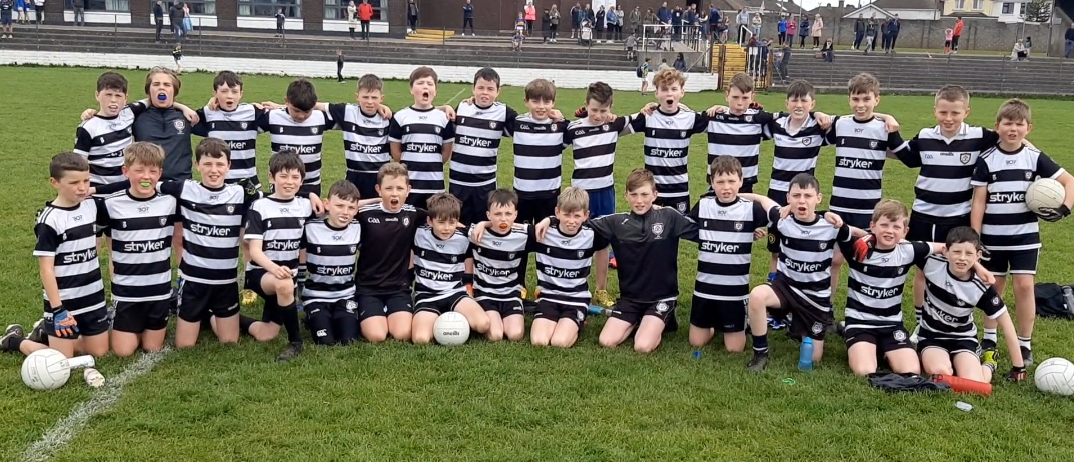 Our Fé11s welcomed Carrigtwohill to Clonmult Memorial Park on Saturday last for a local derby go games Football blitz.
We had 30 players in attendance for this so we fielded three teams of ten of equal strength.
The lads were absolutely outstanding for the hour getting some great scores throughout each of their games.
It was great to see practice paying off for all the players so well done to all.
We would like to thank Carrigtwohill for making the short journey down to play us also.
We are now looking forward to the Football Street Leagues Finals on Saturday at 10am in the Club.
Finally best wishes to our Coach Podge Dunlea on a speedy recovery from his injury, no doubt we will see him back on the touchline soon enough.
FÉ13S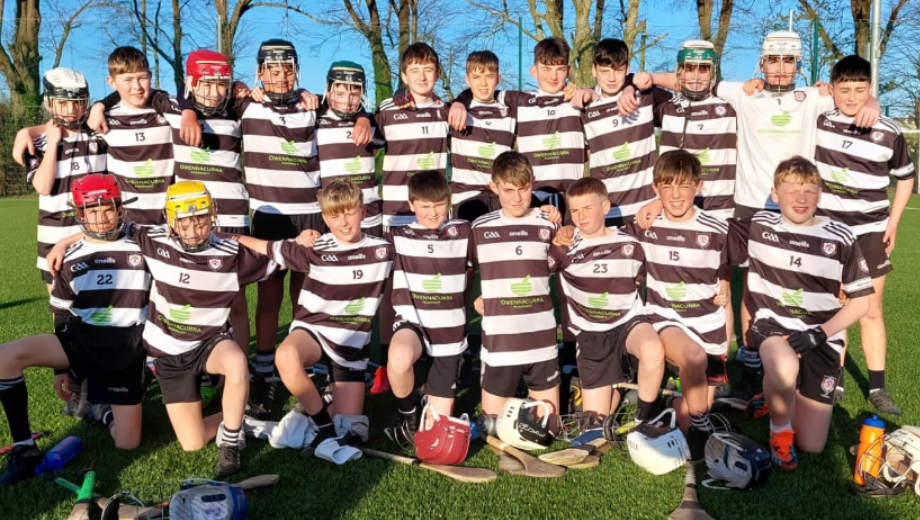 On Friday night our Fé13s headed to Ballincollig and after a keenly contested affair we came out on the wrong side narrowly on a score of 1-15 to 2-9.
MIDLETON: Cathal O'Neill, Conor McSharry, Darragh O Cathasaigh, Eoghan O'Donovan, Fionn Byrne, Kevin Lester, Liam Cronin, Michael O'Connor, Tadhg O'Dowd, Tomas O Sé, Billy Collins, Cathal Brady, Darragh Glavey, Dylan McInerney, Hugh Barry, Jamie Ryan O'Mahony, Liam O'Sullivan, Tiarnan Galvin, Tom O'Mahony, Will Stokes.
FÉ15S
Our Fé15s began their P1 league campaign on Saturday at home to Glen Rovers at Clonmult Memorial Park.
After playing with the wind in the first-half we led narrowly at the break on a score of 0-7 to 0-4 but an outsanding second-half display saw us run out convincing winners on a scoreline of 3-17 to 0-10.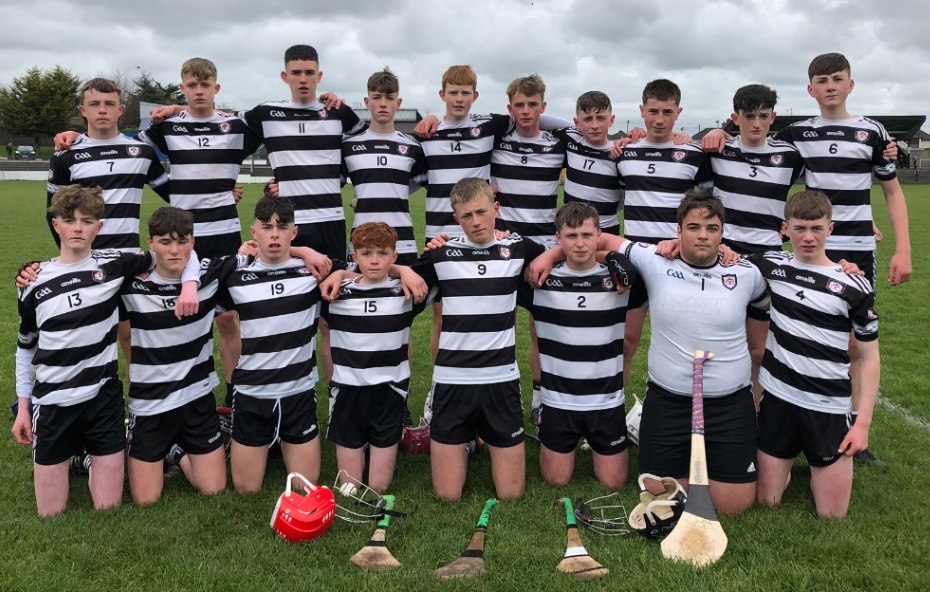 PREMIER 1 FÉILE (FÉ 15)
Date: Saturday, April 29
Venue: Killeagh
Group 1
Killeagh, Midleton, Aghada, Kiltha Óg
Pitch One Pitch Two
10.30 am Killeagh v Aghada Kiltha Óg v Midleton
11.30am Killeagh v Kiltha Óg Aghada v Midleton
12.30pm Kileagh v Midleton Aghada v Kiltha Óg
Games in this Group are 15minutes a side
The Group Winners qualify for the Semi-Finals on Monday 1st May 2023, Venue/Details to follow.

FIXTURES
FRIDAY, APRIL 21
Rebel Og Premier Fe14 Football League Premier 2 Section 1
St Michaels V Midleton at 6.30pm in Mahon
SUNDAY, APRIL 23
Rebel Og Premier Fe15 Football League Group 3
Midleton v Aghada at 3pm in Midleton
Rebel Og Premier Fe13 Football League Group 4
Inniscarra v Midleton 2 at 3.30pm in Ballyanly
MONDAY, APRIL 24
Rebel Og Premier Fe16 Hurling League C3 Group 1
Midleton 2 v Douglas 2 at 6.30pm in Midleton
Rebel Og Premier Fe14 Football League Division 4
Midleton 2 v Carrigaline at 7pm in Midleton
Rebel Og Premier Fe13 Football League Group 2
Ballycastle Gaels v Midleton at 7.30pm at Castletownroche
WEDNESDAY, APRIL 26
Rebel Og Premier Fe16 Hurling League Premier 1
Midleton v Sarsfield in Midleton at 7pm
Rebel Og Premier Fe14 Hurling League Premier 1
Blackrock v Midleton at 7.15pm at Church Road
Rebel Og Premier Fe13 Hurling League Group 4
Carrigaline 2 v Midleton 2 at 7.30pm at Carrigaline Community School
THURSDAY, APRIL 27
Rebel Og Premier Fe15 Hurling League Group 4
Nemo Rangers v Midleton at 6.30pm at Trabeg
Rebel Og Premier Fe13 Hurling League Group 1
Midleton v Sarsfields in Midleton at 7pm
MIDLETON GAA MONDAY CLUB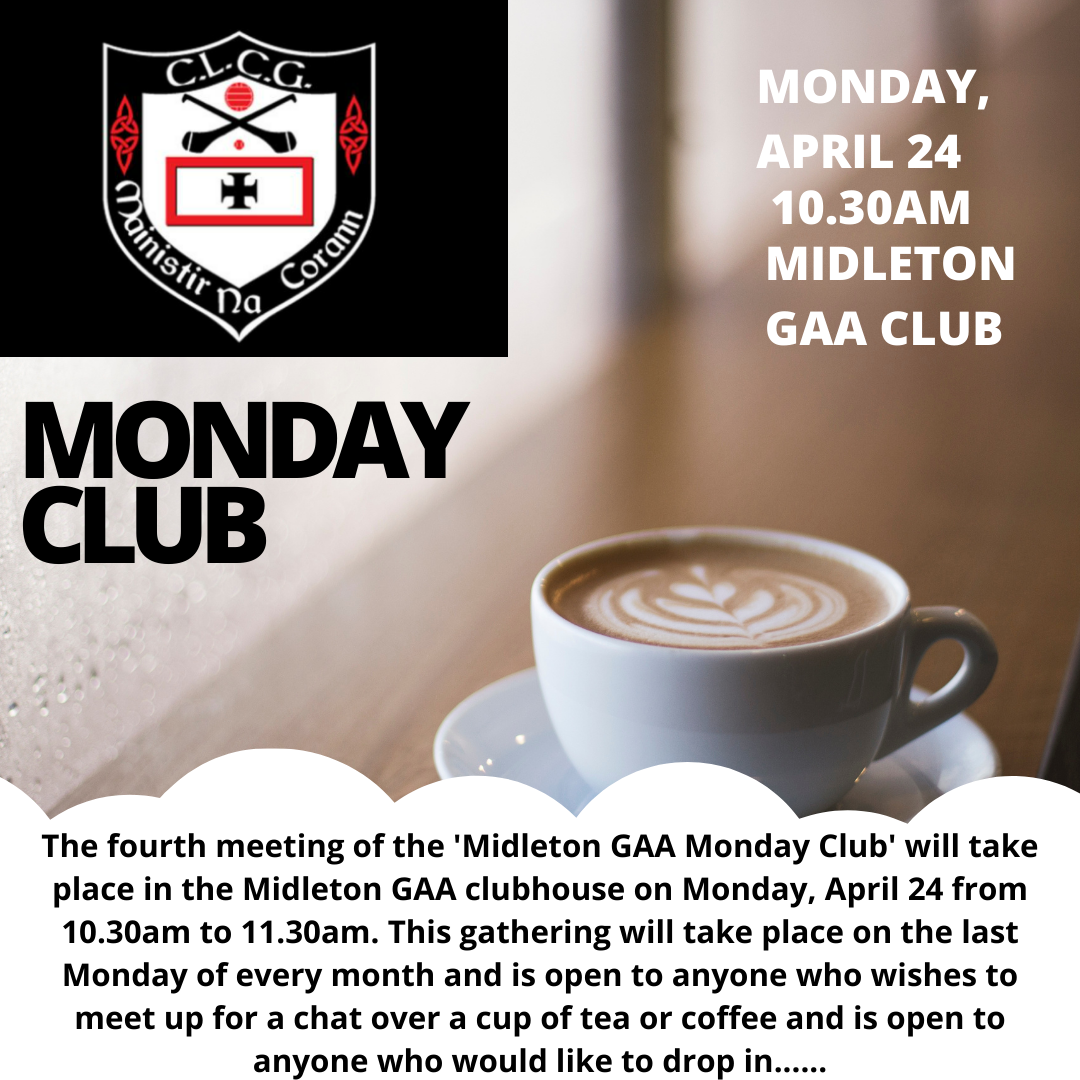 We look forward to seeing you all (and any new faces) at our next meeting, this coming Monday, April 24 from 10.30am to 11.30am. All Welcome!
MIDLETON GAA GOLF SOCIETY
Our next outing is Robbie Fitzgerald's Captain's Prize on Tuesday, May 16 at Cork Golf Club. Tee booked from 3.30pm to 4.30pm.
LOTTO DRAW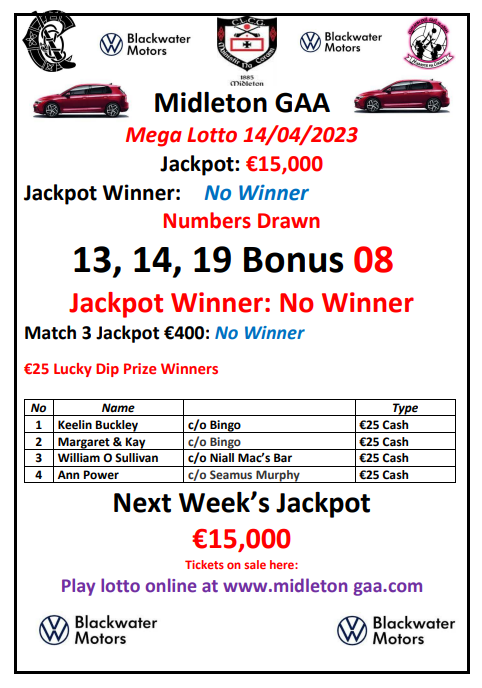 The Jackpot was €15,000 for last Friday night's jackpot and the numbers drawn this week were 13, 14, 19 and the bonus was 8.
The €25 Lucky Dip Prize winners were: Keelin Buckley, Margaret & Kay, William O'Sullivan and Ann Power.
There was no jackpot winner or Match 3 winner. The Jackpot this coming Friday night is €15,000.
Play 24/7 at: http://www.klubfunder.com/Clubs/Midleton%20GAA/lotto
In total Midleton GAA will give out local business vouchers to the value of €3,800 every year as part of our "Shop Local, Buy Local" campaign.
How to play: tickets are on sale at Pat Walsh Paints, Chadwicks, Frank Murphy Butchers, Murphy's Pharmacy, Crowley Butchers, or buy online (see above).
BINGO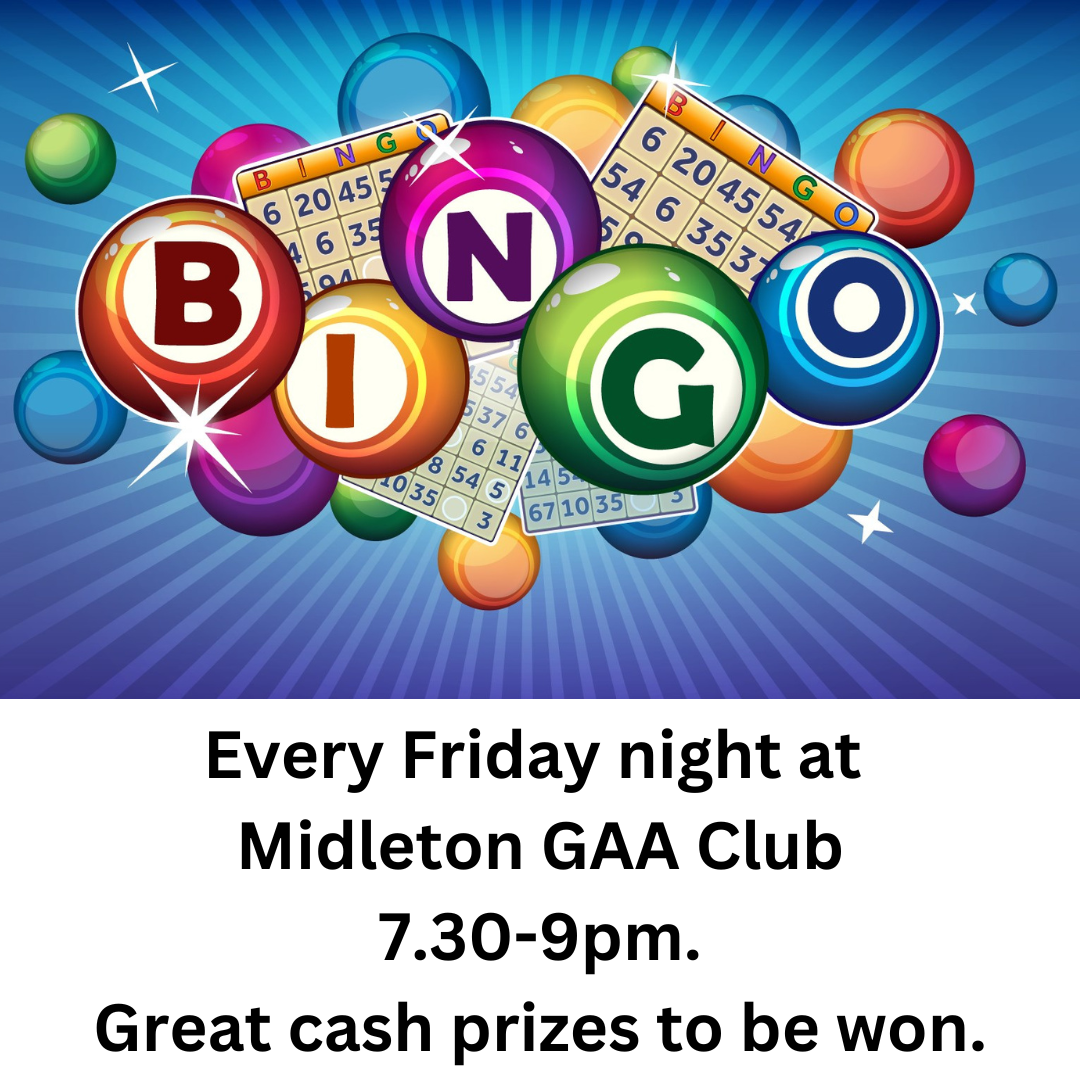 Fancy a good night which also benefits Midleton GAA club...what about bingo on Friday nights?
It kicks off at 7.30pn every Friday night and is over by 9pm. A single book is €6. A double book is €12. We had our biggest crowd since before Covid on Friday night last so thanks to everyone for coming in such big numbers, it is much appreciated. New players are always welcome....
CLUB SHOP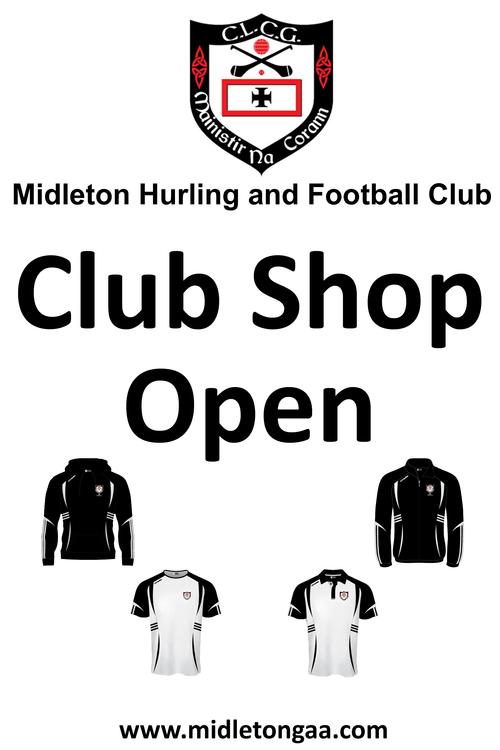 With almost all our hurling, camogie and ladies football teams now back up and running now is the time to stock up on all your gear needs from the coming season.
All you have to do is go to the Klubfunder website (www.klubfunder.com/Clubs/Midleton%20GAA/ShopItems) and you will see the full range of what's available to buy. You can shop away to your heart's content, pay for it online and then collect your purchases at the club shop on Saturday morning between 9.30am and 10.15am. Thank you.
SOCIAL DANCING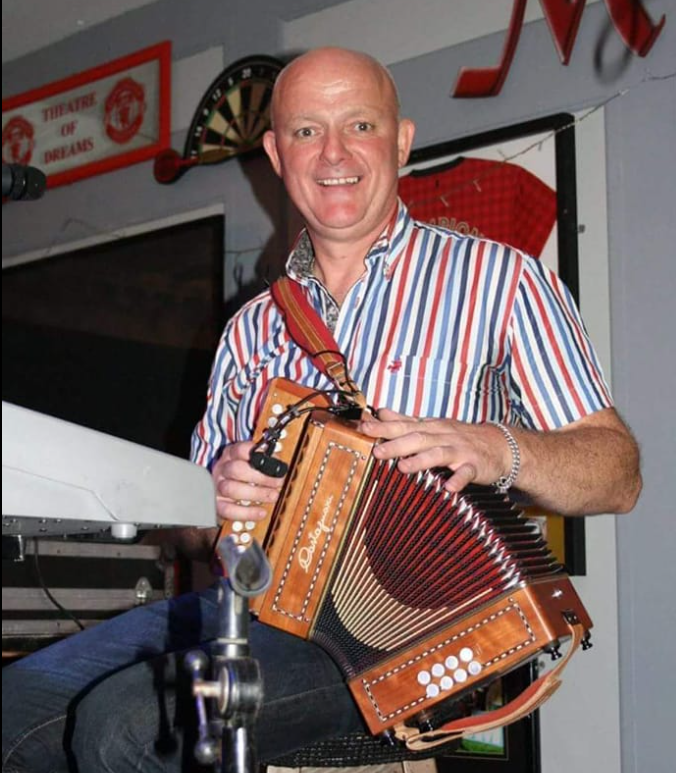 Social dancing this Saturday night from 9.15pm to th mighty man from West Clare, Michael Sexton. Don't miss out on a great night.
MIDLETON HEALTHY CLUB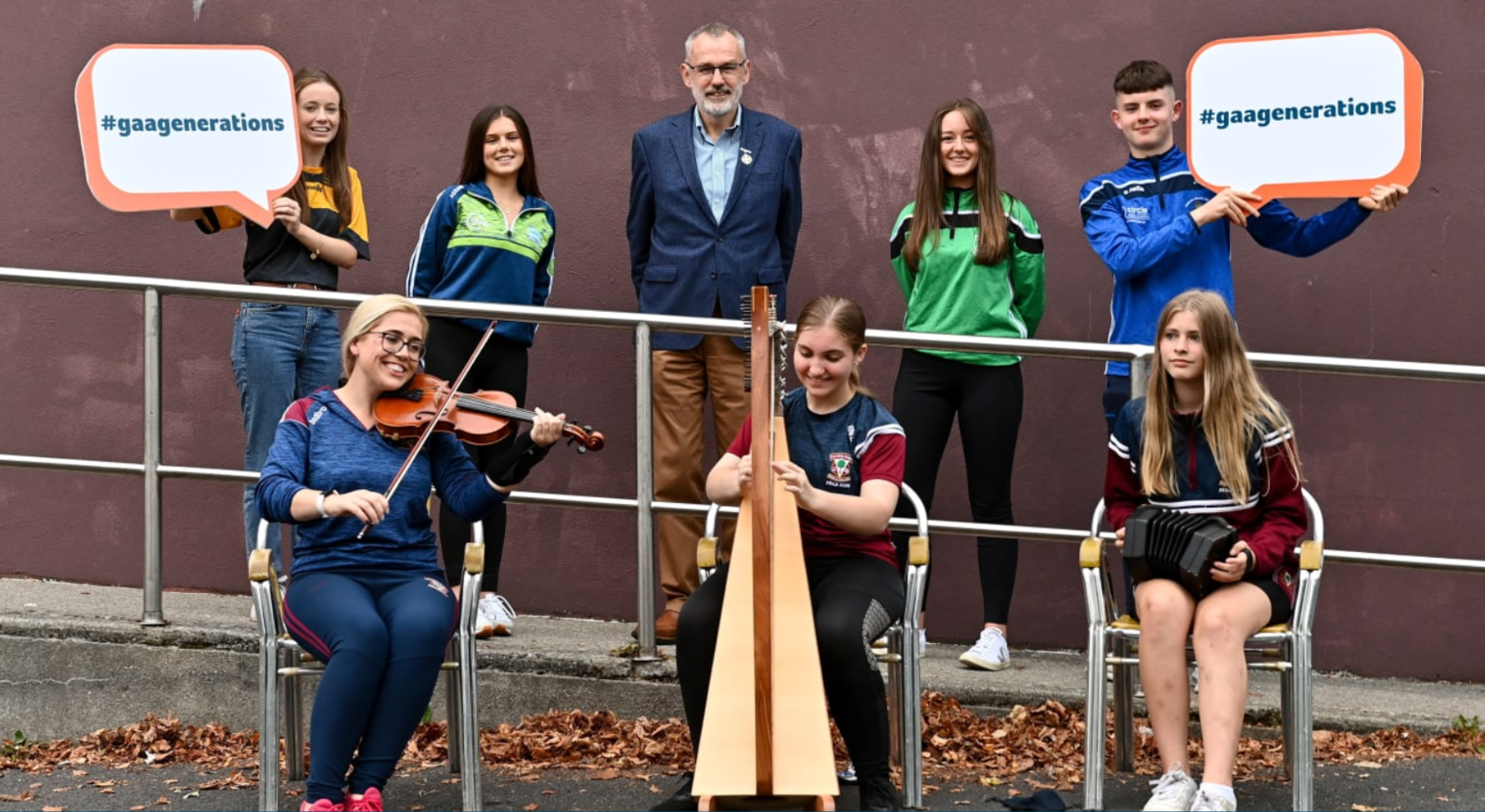 Midleton GAA, LGFA & Camogie clubs are calling on our membership between the ages of 12 to 21 to take part in this new oral history project called GAA Generations.
Rudyard Kipling said "If history were taught in the form of stories, it would never be forgotten".
All information needed is below but if you have any questions please contact Mairéad Beausang 087-2412010.
GAA Generations is a major new oral history project that will be built on conversations between young and old sections of our membership.
We are our stories, and we tell them while standing on the shoulders of those who came before us. Ireland boasts a rich tradition of passing our stories from one generation to the next. To honour that, and to capture a better understanding of what the GAA means to its members, the Association has launched a 'GAA Generations' oral research project.
The idea is simple – we are inviting young GAA, LGFA and Camogie Association members aged 12-21 to record on their mobile phone a conversation with 'One Good Adult' in the 55+ age bracket that they look up to and admire. It could be, for example, a parent/grandparent, a coach, or a teacher, past or present, that saw and nurtured your potential. The older participants will also be given the opportunity to quiz their young interviewees on their GAA experiences and how it may have impacted their understanding of who they are.
The project aims to recruit between 500-1,000 young members (aged 12-21 years-old) who will receive online training in conducting a semi-structured interview with a person of influence in their life aged 55+. It aims to include the Irish diaspora's perspective particularly through the club networks of north America and the UK. The conversations with their selected 'One Good Adult' (aged 55+), recorded on a smart phone along with a photo of the participants, will be stored for prosperity and future research purposes on the GAA's eLearning platform.
How to get involved?
GAA members aged 12-21 years (inclusive) who would like to participate in this research project, are requested to provide an expression of interest which can be found at: www.gaa.ie/generations
Depending on the volume of applications received, it may not be possible to facilitate everyone due to the analysis of the data required. Parental consent is required for those under 18 to participate in the project and to complete the expression of interest form.
Participants under 18 will require parental consent to complete the expression of interest.
GAA LEARNING PORTAL

We have been asked to remind members and especially our club coaches that the GAA Learning Portal is a great resource which is free to use. Please check it out at http://learning.gaa.ie/about
CARDIAC SCREENING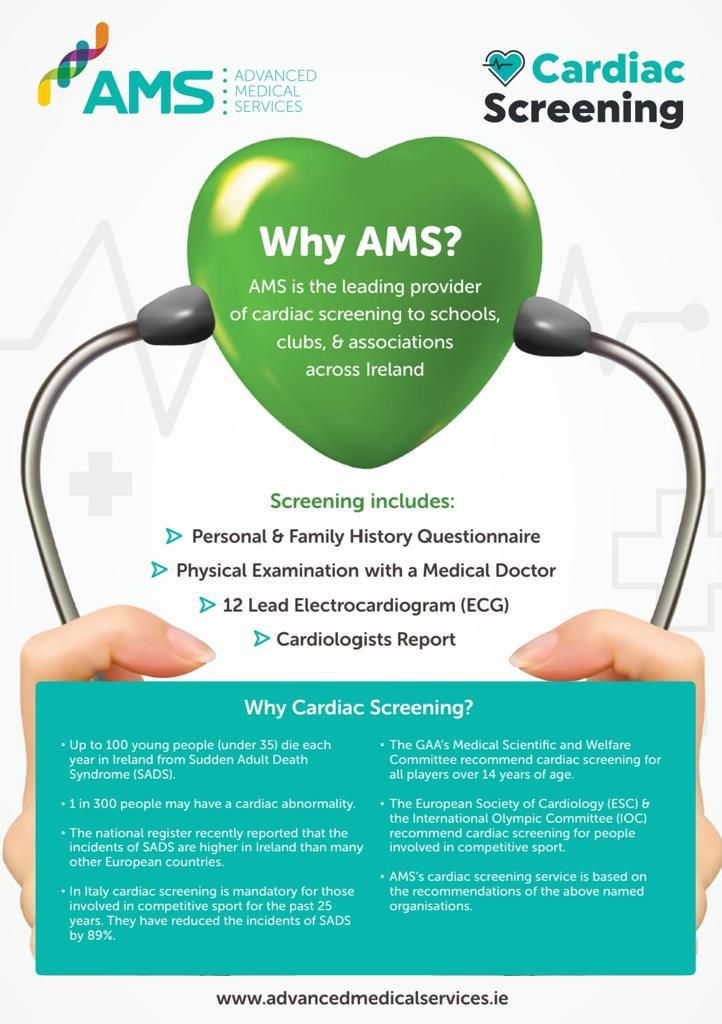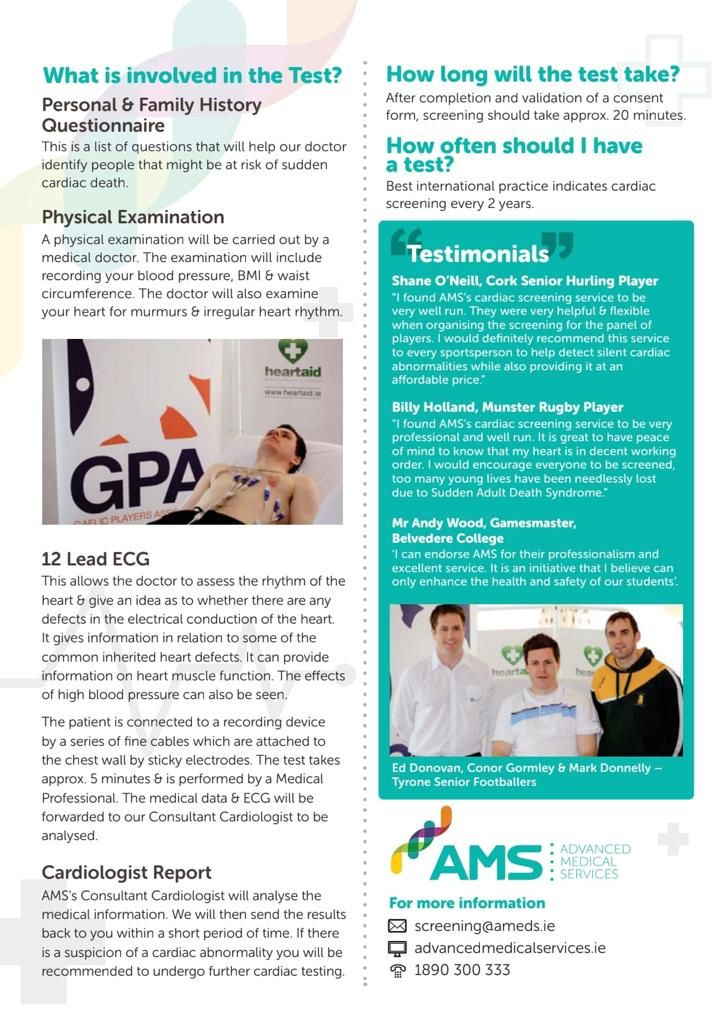 In the light of Tipperary hurler, Dillon Quirke's, untimely death during a club game last year and so many other such incidents in the GAA and other sports over the years, we have been offered the opportunity for AMS to bring a Cardiac Screening unit to our club to offer screening to our members. It's available for 14 year olds and up. It will cost €79 per person or it is free to people who have their Health Insurance with Laya Healthcare. The company needs a minimum of 25 people to carry out the screening. If you'd be interested please let me know at pro.midleton.cork@gaa.ie or at 087-4143094 and we can make arrangements.
CORK CITY MARATHON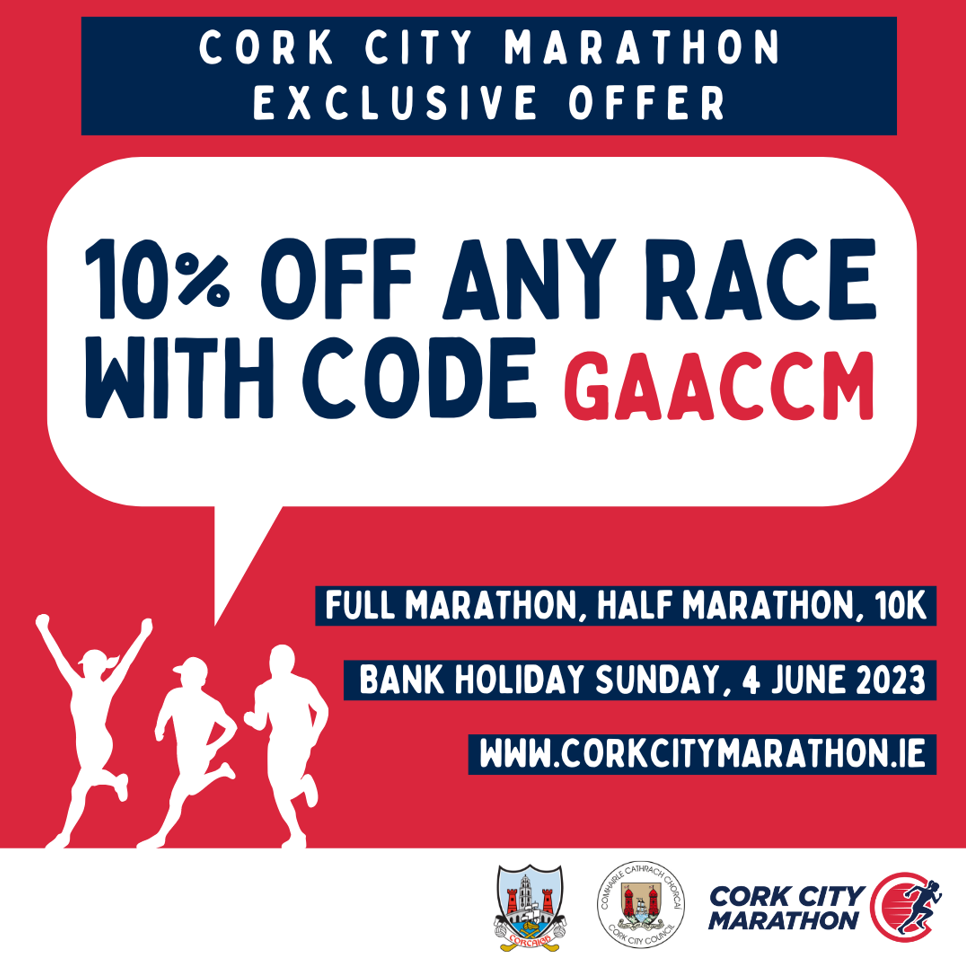 There's a 10% discount on this year's Cork City Marathon, Half-Marathon or new 10k for all our members.
Enter code GAACCM at checkout to save on your sign up!
Races include: Full Marathon, Half Marathon and BRAND NEW for 2023 - 10k option.
PLEASE PLAY YOUR PART
​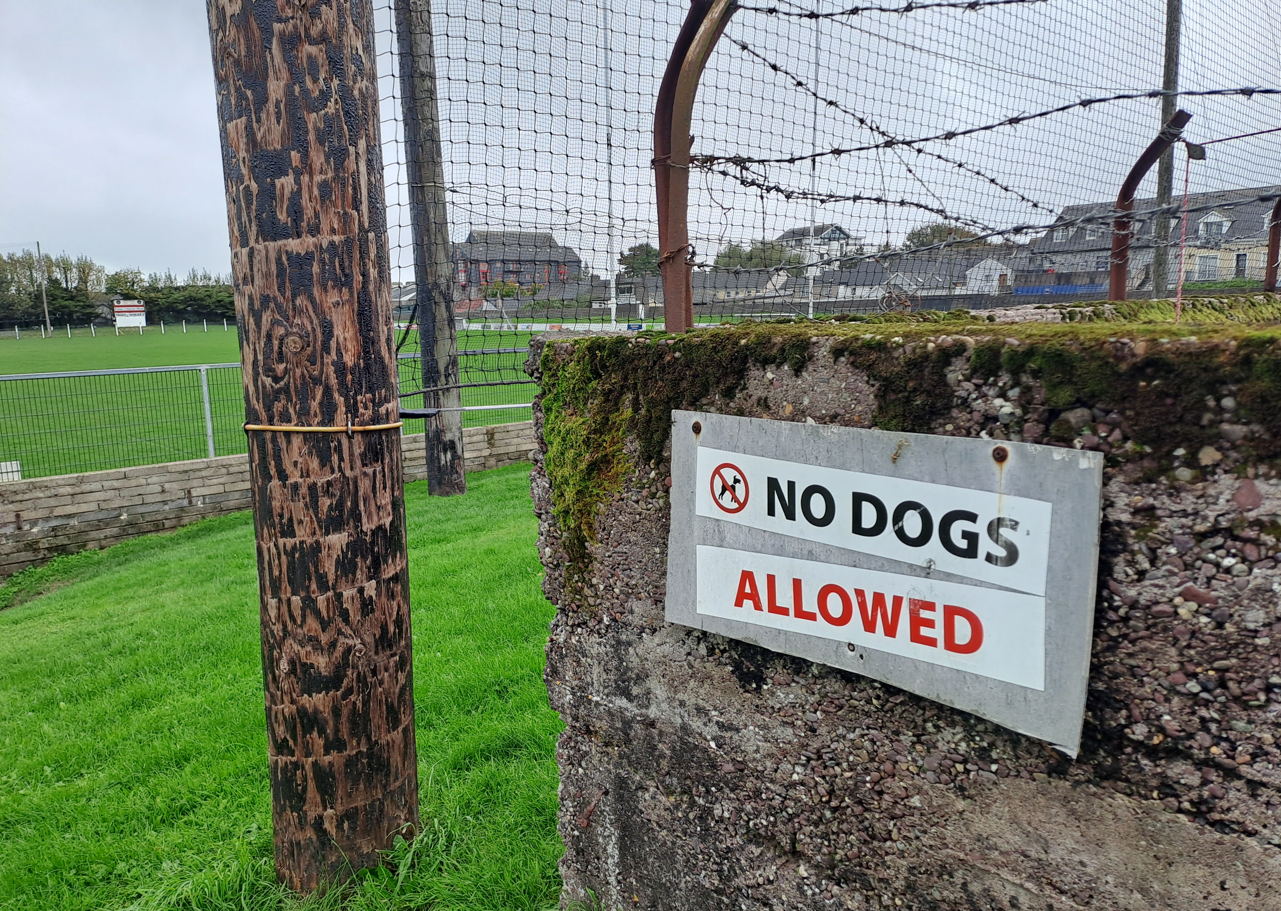 With unprecedented rainfall this spring our pitches are under pressure so please check if our pitches are open before you train or play a match.
We are asking all players, mentors, parents, supporters and neighbours to please play their part by playing ball on the following.....
Please slow down entering and leaving Park South.
No dogs, except assistance dogs, are allowed at Park South or Clonmult Memorial Park.
Please do not bring single-use plastic bottles to either Park South or Clonmult Memorial Park.
Please put your rubbish in a bin or bag and please bring your gear home with you.
And always be aware of the open water surrounding the pitches in Park South.
If you are a coach, please pass on these simple messages to players and parents.
All members are asked to respect referees and their officials at all times.
Also if you are a coach, last person out locks the gate, toilet and container.
CONDOLENCES
All at Midleton GAA would like to extend our sympathies to the family and friends of Fr. Donal Twomey who died at the weekend. Ar dheis Dé go raibh a anam.