Midleton Hurling and Football, Ladies Football and Camogie Club News - April 13
13 April, 2023
RED FM COUNTY HURLING LEAGUES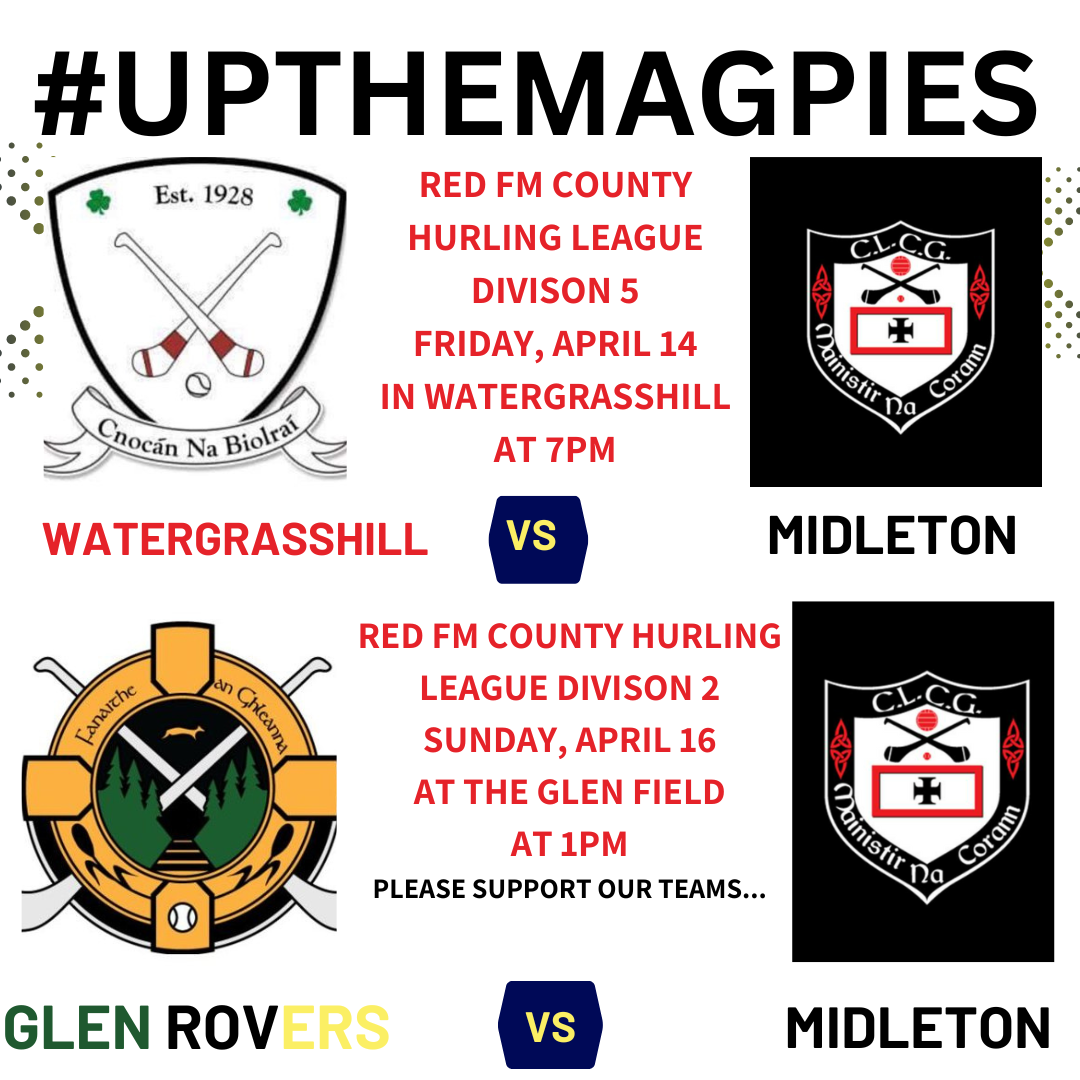 SENIOR
Our Senior Hurlers are back in league action on this coming Sunday when they travel to Glen Rovers. Throw-in is 1pm at the Glen Field.
INTERMEDIATE
Our intermediate hurlers are on the road this weekend in the league when they travel to Watergrasshill on Friday evening. Throw-in is 7pm.
JUNIOR A HURLING LEAGUE DIVISION 2
YOUGHAL 0-9 MIDLETON 6-22
Another pleasing league outing in Youghal on Monday evening. Playing against a strong breeze in the first half we put together some great scores and led by 2-10 to 0-7 at the short whistle. The second half continued much the same and we ran out comfortable winners.
Our next league outing is next Monday evening (April 17) at home in Clonmult Memorial Park against Watergrasshill at 7pm.
MIDLETON: Zach Smith, Colin Sunderland, Charlie Walsh, Kieran Lambert, Evan McCarthy, Aidan Ryan, Patrik Kane, Leo Hennessy(1-4, 4f), Dara Scanlon(0-3), Johnny Comer, Padraig O'Shea, Evan Rowlands(0-2), Stuart O'Connor(1-4), Padraig Nagle(2-4), Conor Fitzgerald(2-4, 1-1f).Subs Used: Adam Fay, Daire Mooney, Nicky Daly Hayes, Ben O'Neill(0-1)
JUNIOR A FOOTBALL
Our junior A footballers travelled to Glanmire on Thursday night last and came away with a good win on a scoreline of 3-13 to 0-11.
Our scorers on the night were Aaron Mulcahy 0-4, Cathal Beausang 1-1, Johnny Comer and Christian Daly 0-3 each, Padraig O'Brien and Eoin Moloney 1-0 each and Ross O'Regan 0-2.
This team is back in action on Saturday week (April 22) at home to Erins Own in Park South at 6pm.
JUNIOR C FOOTBALL
Our Junior C footballers had a great win during the week against Lisgood on a score of 5-5 to 2-9.
They are back in league action on Monday night next (April 17) when they travel to play Cobh at 8pm.
And they are back out on the following Friday night (April 2) at home to Russell Rovers at 7pm.
IN THE RED OF CORK
No Cork teams in action this week but the both the minors and U-20s are back in Munster Championship action next week. The minors are in action in Sixmilebridge on Tuesday night and the U-20s are on Wednesday night in Cusack Park in Ennis. Best of luck to all the Midleton players and selectors involved with both teams.
Please note that the club will not be getting any tickets for any of Cork's Munster Senior Hurling Championship games. All tickets must be bought in advance at: http://am.ticketmaster.com/gaa/munstershc
Cork's Munster SHC Fixtures are as follows:
Sunday, April 30 v Waterford in Pairc Uí Chaoimh at 4pm.
Saturday May 6 v Tipperary in Pairc Uí Chaoimh at 7pm.
Sunday May 21 v Clare in Cusack Park, Ennis at 2pm
Sunday May 28 v Limerick in the Gaelic Grounds, Limerick at 4pm.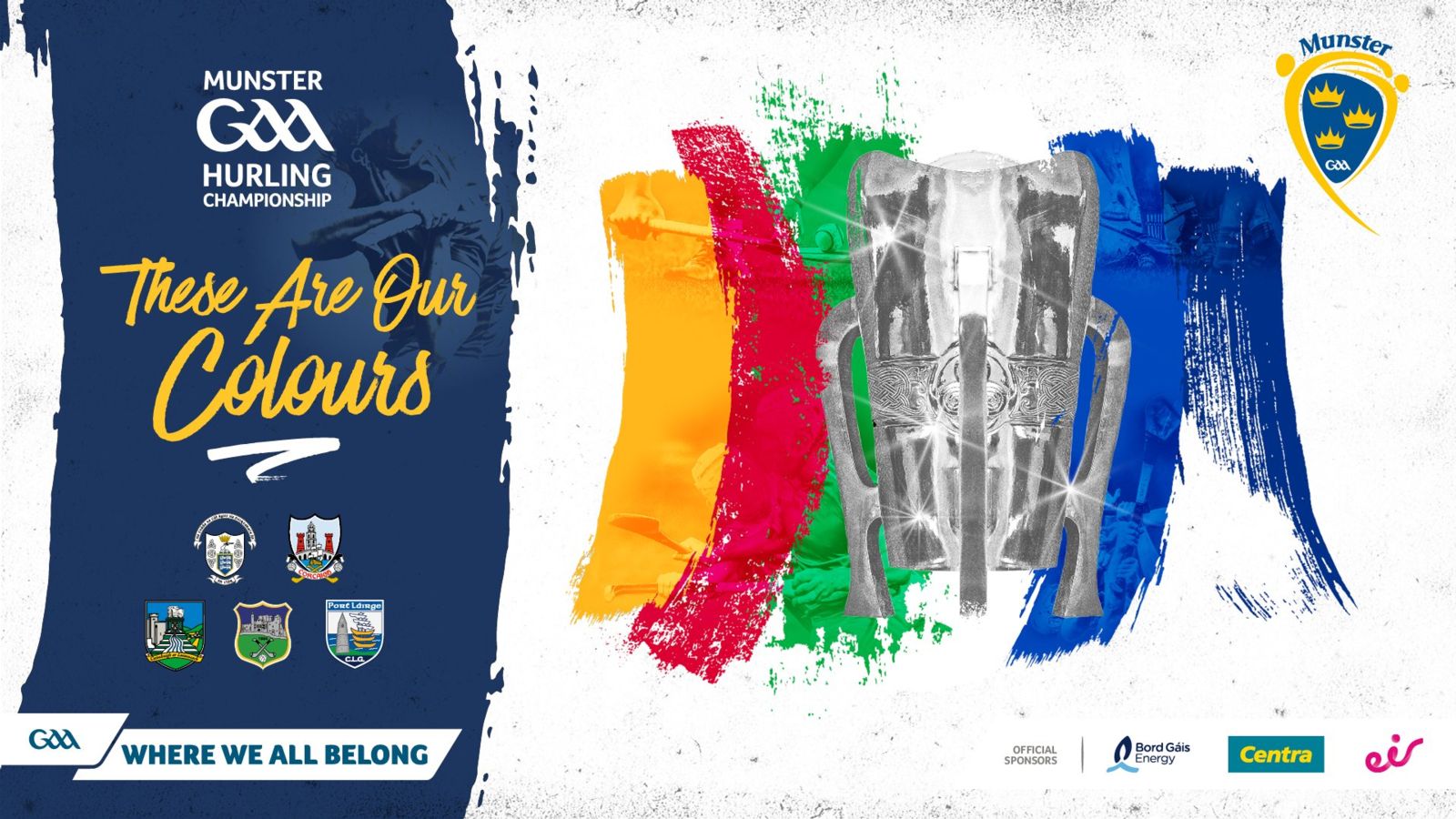 CAMOGIE
UNDER 12S

Our U-12s welcomed Youghal, Ballinora and Laochra to Park South for a blitz on Saturday. We fielded two teams of equal strength and intensity and teamwork, winning each of their three matches. They have been putting their training to practical use with precision hand passing to create plays and using the whole field to get the ball to teammates in open spaces. Thank you to the U-11 players who played with us and thank you to the three referees. Magpies Abu!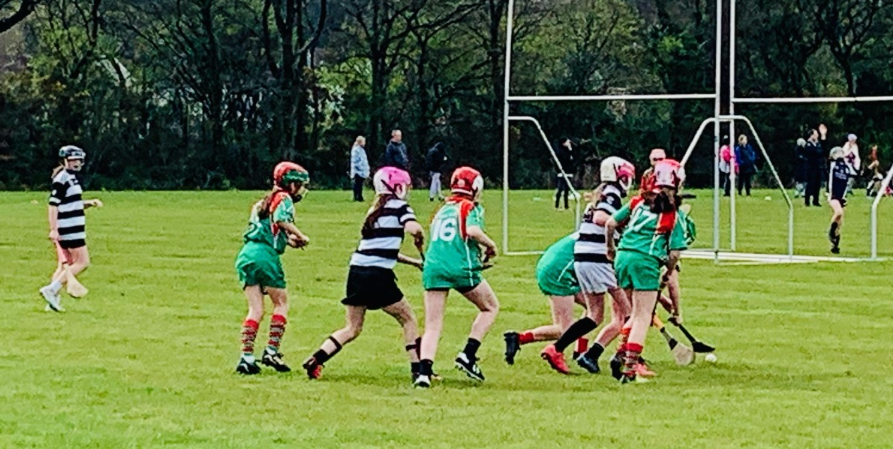 UNDER 14S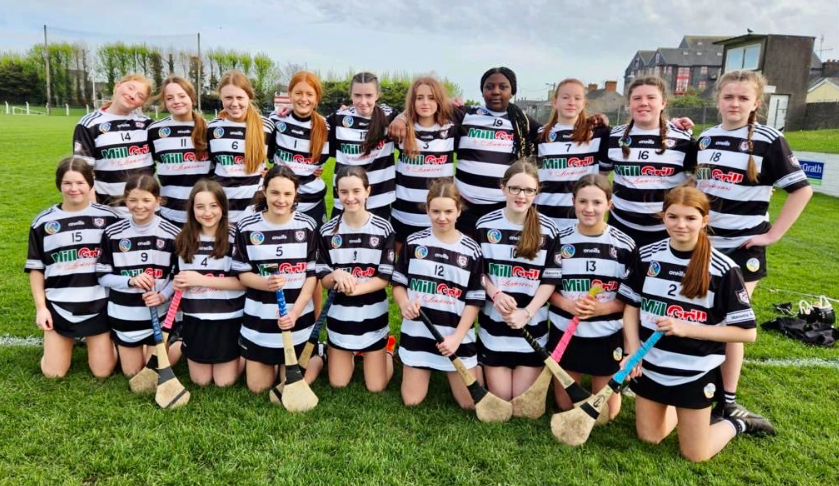 Our U-14s played a strong Carrigaline side in Clonmult Memorial Park last Saturday evening. Playing with a strong wind in the first-half, the girls took some fantastic scores and then put on a resolute defensive display in the second-half. Every girl gave 100%.
Congratulations to Molly (pictured below) who captained the U-14s against Carrigaline and put in a fantastic defensive performance.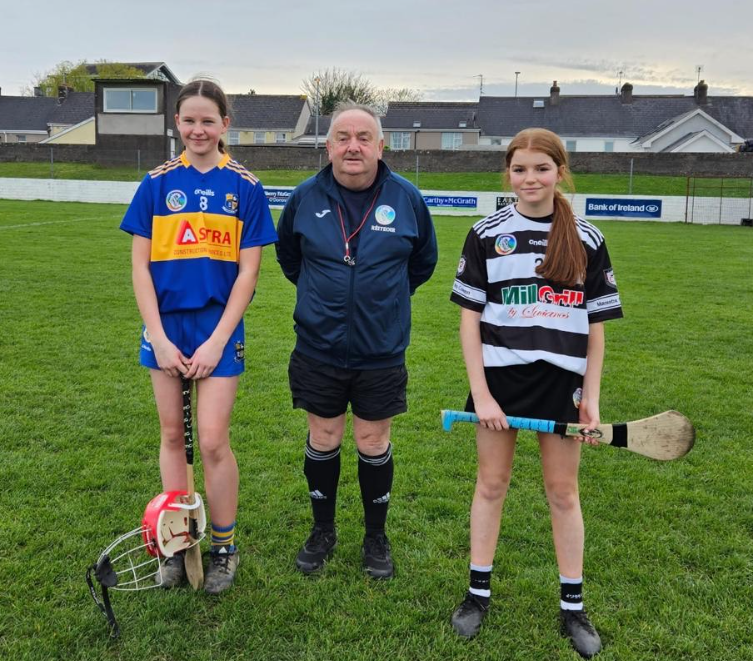 UNDER 15 FÉILE TEAM

We had fantastic evening in the club at the weekend as our two Féile teams received their gear, all of which thanks to Tim Murray of Castle Rock Homes.
An unbelievable gesture to kit out 41 players and nine coaches with gear and a surprise gear bag on the night for players and coaches. What a very special evening for everyone involved. Special thanks to Aine, who took on the huge task of organizing all the gear with O'Neills.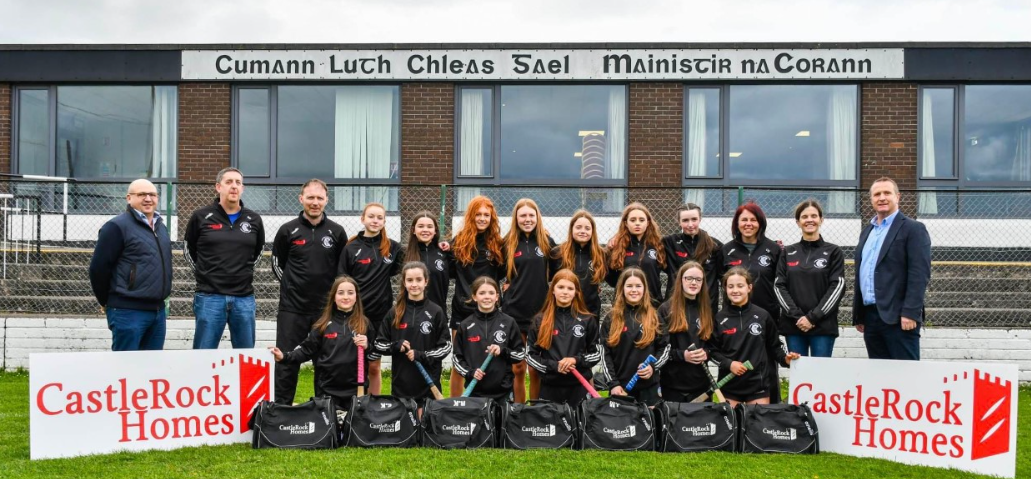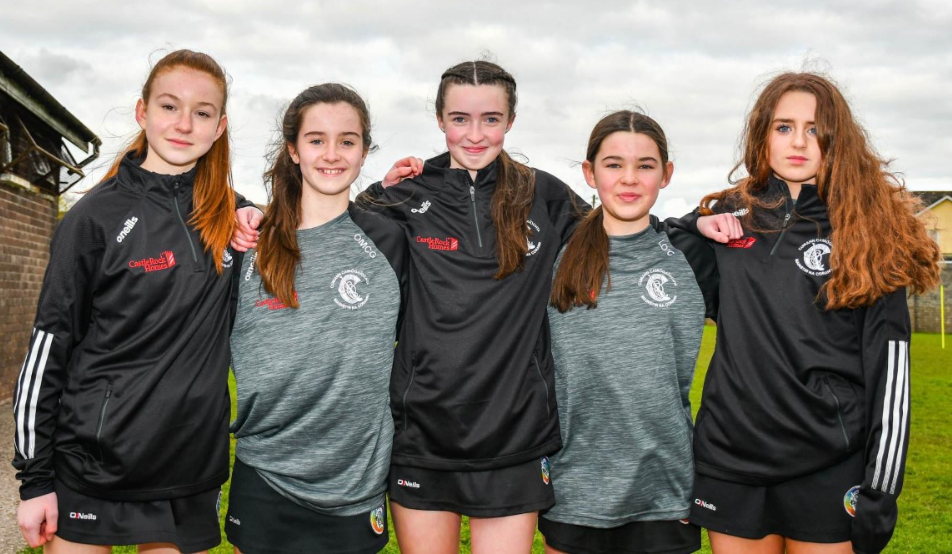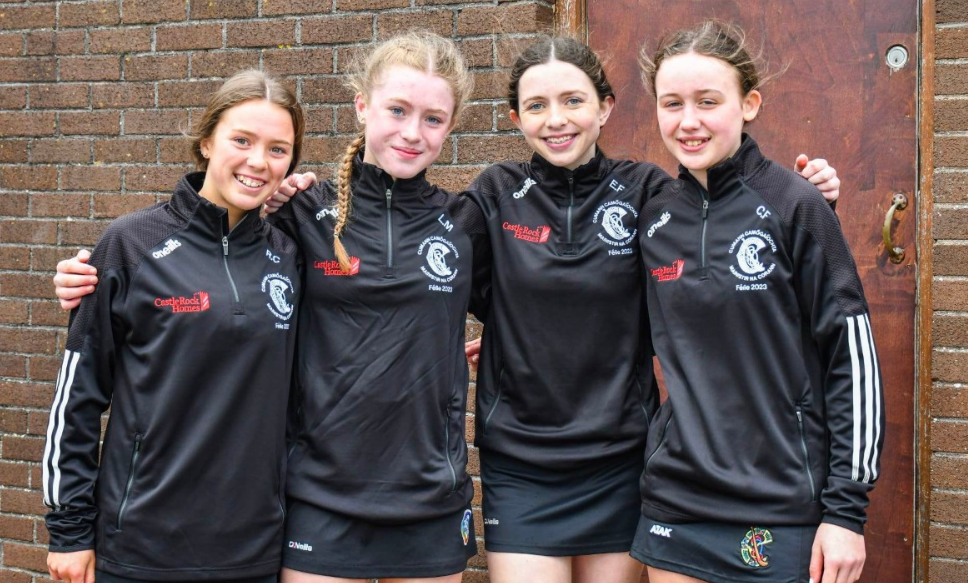 IN THE RED OF CORK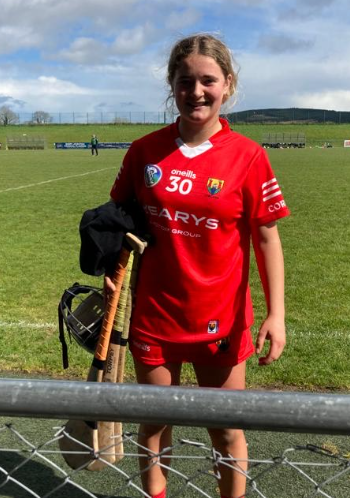 Congratulations to Kate O'Sullivan who played with Cork U-16A V Limerick in Mallow. Unfortunately, it was not the result Cork wanted on the day however great display by Kate.
LADIES FOOTBALL
FÉILE FOOTBALL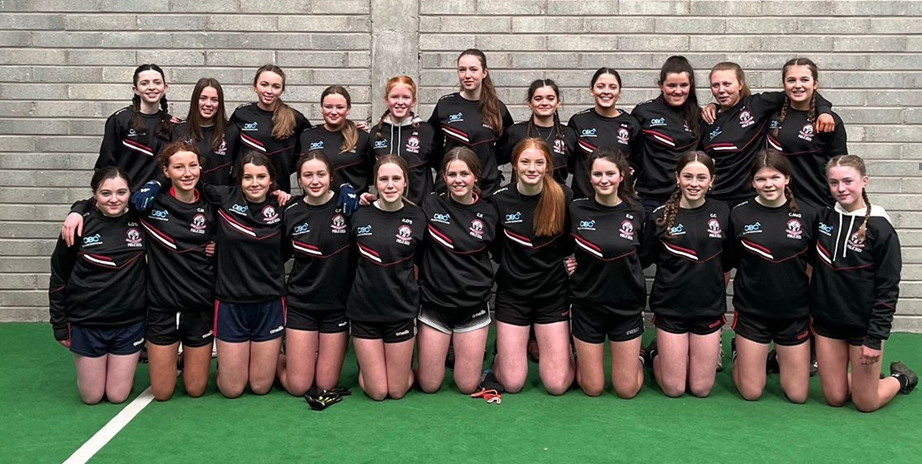 Hard luck to our u-15 ladies who did not advance out of the group stages of the Féile competition which was held in Killeagh GAA. The girls all tried their best and put in a great effort on the day. Thank you to Mark and Gráinne O'Brien of OBC construction for their kind sponsorship of crew tops for the panel on the day.
G4M&O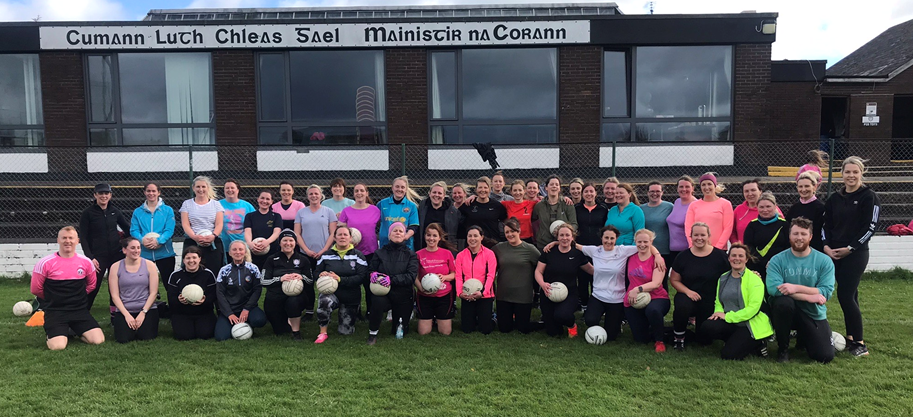 The sun was shining for us and what a fantastic morning we had for our first session of Gaelic for Mothers and others. Huge numbers were put through their paces by our wonderful coaches Paul and Colin. There was lots of laughter, fun and craic had by everyone. Looking forward to the next training day which is Sunday April 17th 6-7pm in Park South. Any queries please contact Ciara (085) 110 3476.
LIDL COLLECTION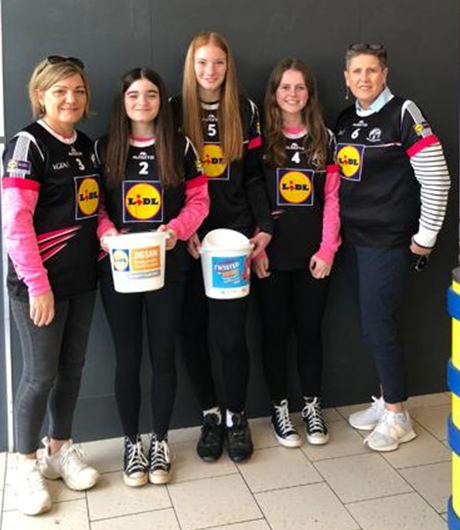 Many thanks to our U16 players Robyn, Hannah, Emma & coach Gráinne who collected at Lidl Midleton on Friday last in support of Lidl's charity partner Jigsaw!
NEALY HORGAN FOOTBALL STREET LEAGUES
The rescheduled street leagues will take place next Monday and Wednesday in Park South from 7-8pm and next Saturday in Clonmult from 11-12am. Please come along and show some support to our young footballers.
WELL DONE ABBY
Massive congratulations to Midleton player Abby Quirke who has made the Cork Senior B LGFA football team. Well deserved Abby. We are very proud of you.
JUVENILES
FÉ14 FOOTBALL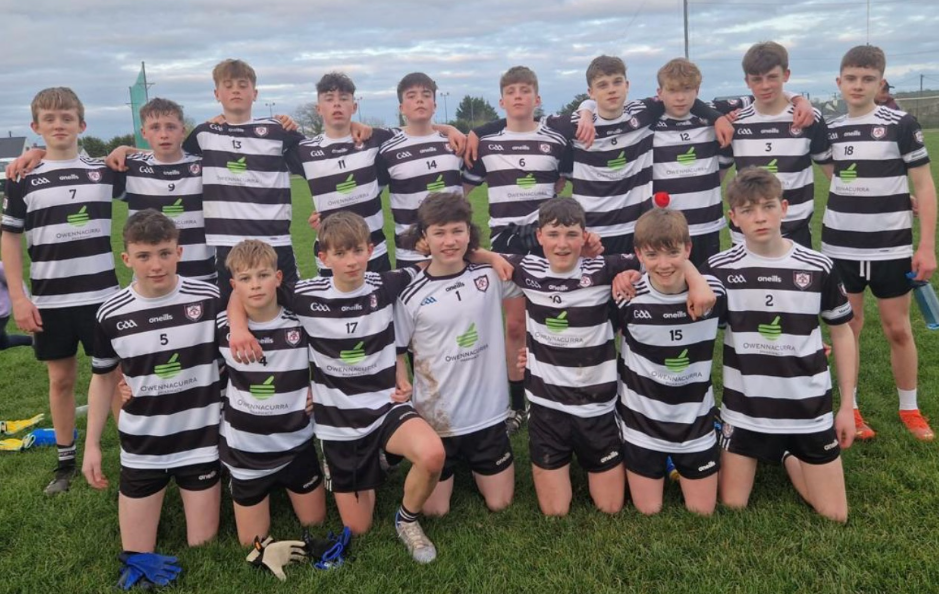 Our Fé14 lads travelled to Bride Rovers this week for the latest round of the #football league and put up a great show. #magpiesabú #gaa
FÉ15 FOOTBALL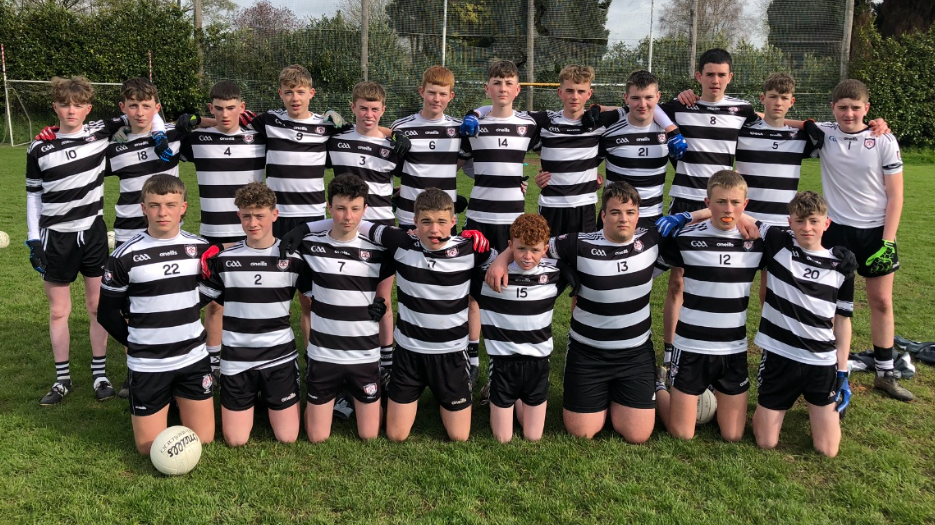 Well done to the Fé15 lads who represented Midleton in the Féile football in Fermoy on Saturday. They got off to a disappointing start as they narrowly lost out to Kiltha Óg in their opening game before going on to win their remaining two games against Youghal and Glenville. There were 24 15 year-olds togged out on the day and all got game time and did the Magpies jersey proud.
FIXTURES
FRIDAY, APRIL 14
Rebel Og Premier Fe14 Hurling League Premier 1
Cloughduv v Midleton in Cloughduv at 7pm
Rebel Og Premier Fe13 Hurling League Group 1
Ballincollig v Midleton in Ballincollig at 7.30pm
SATURDAY, APRIL 15
Rebel Og Premier Fe15 Hurling League Group 1
Midleton 1 v Glen Rovers in Midleton at 4pm
SUNDAY, APRIL 16
Rebel Og Premier Fe14 Hurling League C3 Group 1
Midleton 2 v Ballincollig 2 in Midleton at 1pm
Rebel Og Premier Fe13 Hurling League Group 4
Midleton 2 v Inniscarra in Midleton at 1pm
TUESDAY, APRIL 18
Rebel Og Premier Fe15 Hurling League Group 4
Midleton 2 v Sarsfields 2 in Midleton at 6.30pm
WEDNESDAY, APRIL 19
Rebel Og Premier Fe14 Hurling League C3 Group 1
Midleton 2 V St Finbarrs in Midleton at 6.30pm
THURSDAY, APRIL 20
Rebel Og Premier Fe13 Football League Group 2
Midleton v Cobh in Midleton at 6.30pm
MIDLETON GAA MONDAY CLUB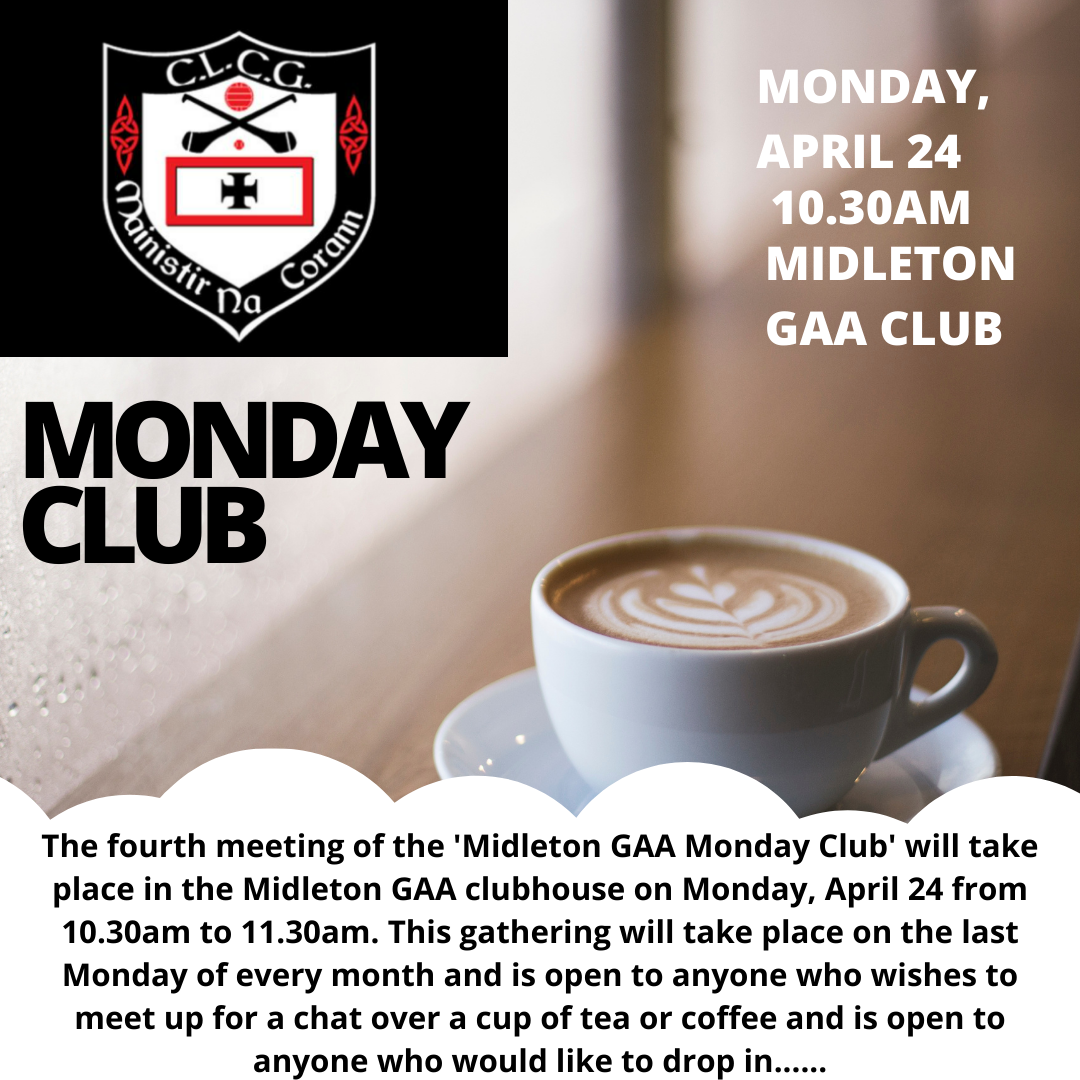 We look forward to seeing you all (and any new faces) at our next meeting, Monday, April 24 from 10.30am to 11.30am. All Welcome!
MIDLETON GAA GOLF SOCIETY
Our first outing took place on Saturday last, our Easter Hamper in East Cork Golf Club and our winner on the day with 39pts was Brian Barnes.
1st Cat 1: Eamon Cleary 35pts, B9; 2nd: Francis Maer 35pts, 3rd: Andy Rea 34pts.
1st Cat 2: Killian McGrath 38pts; 2nd: Denis Mulcahy 37pts; 3rd: John Droog 36pts.
Front 9: Hans Baumann 20pts. Back 9: Amby Guilfoyle 20pts.
Thanks to everybody who played and thanks to Philly O'Brien of O'Briens Mazda, Cork Road for sponsoring this outing.
Our second outing is Robbie Fitzgerald's Captain's Prize on Tuesday, May 16 at Cork Golf Club. Tee booked from 3.30pm to 4.30pm.
LOTTO DRAW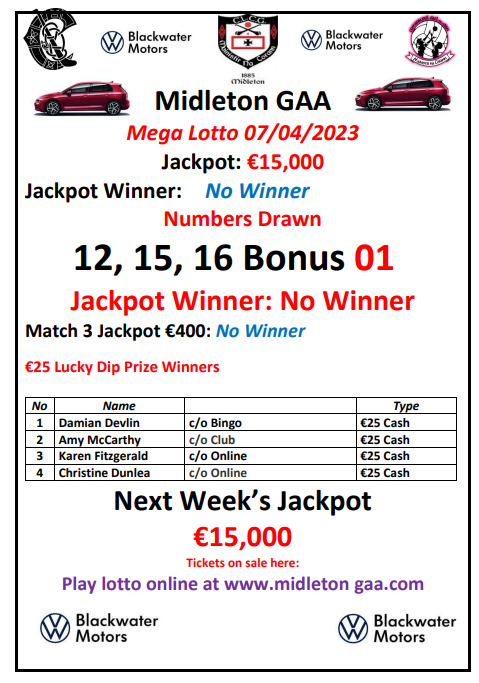 The Jackpot was €15,000 for last Friday night's jackpot and the numbers drawn this week were 12, 15, 16 and the bonus was 1.
The €25 Lucky Dip Prize winners were: Damian Devlin, Amy McCarthy, Karen Fitzgerald and Christine Dunlea.
There was no jackpot winner or Match 3 winner. The Jackpot this coming Friday night is €15,000.
Play 24/7 at: http://www.klubfunder.com/Clubs/Midleton%20GAA/lotto
In total Midleton GAA will give out local business vouchers to the value of €3,800 every year as part of our "Shop Local, Buy Local" campaign.
How to play: tickets are on sale at Pat Walsh Paints, Chadwicks, Frank Murphy Butchers, Murphy's Pharmacy, Crowley Butchers, or buy online (see above).
BINGO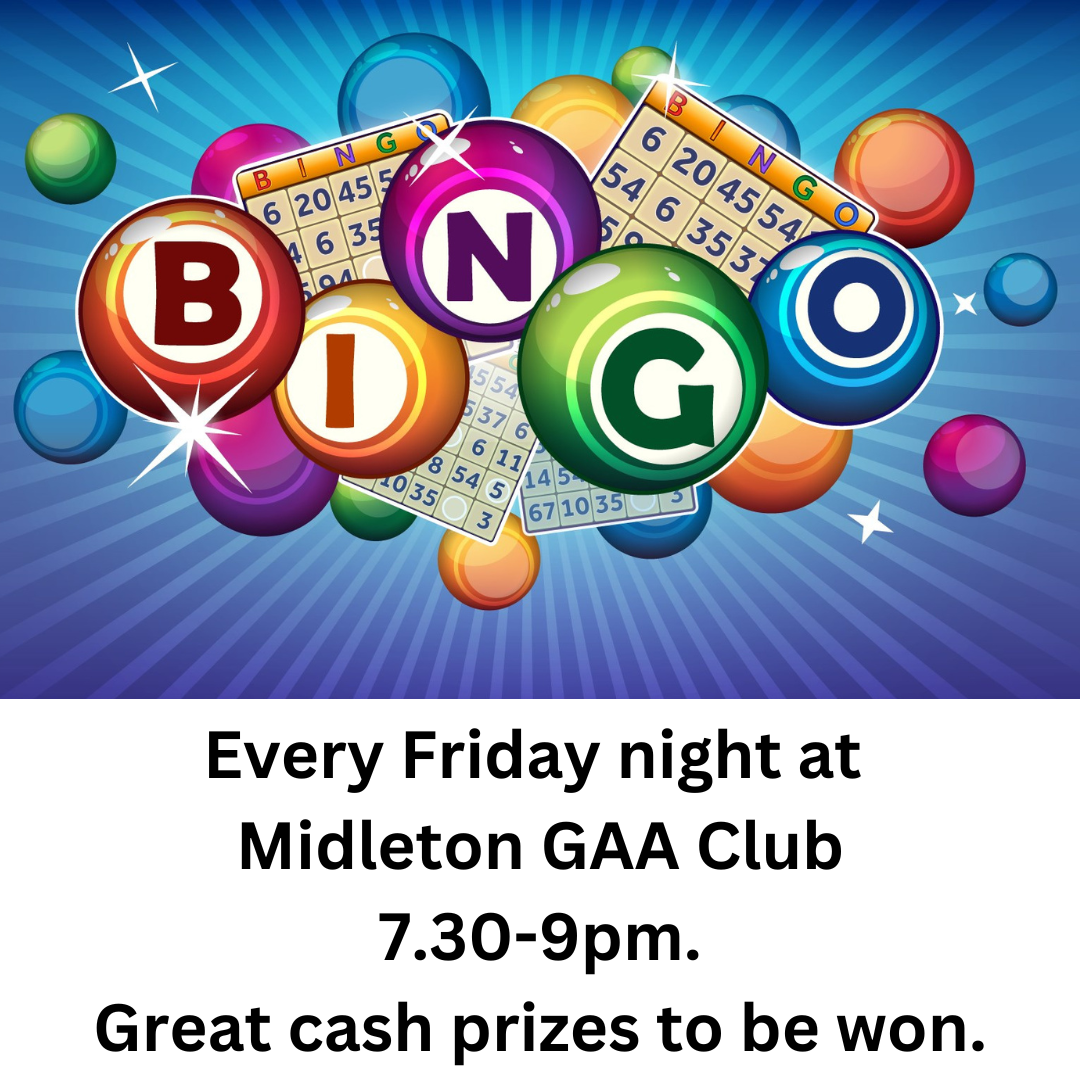 Fancy a good night which also benefits Midleton GAA club...what about bingo on Friday nights?
It kicks off at 7.30pn every Friday night and is over by 9pm. A single book is €6. A double book is €12. We had our biggest crowd since before Covid on Friday night last so thanks to everyone for coming in such big numbers, it is much appreciated. New players are always welcome....
CLUB SHOP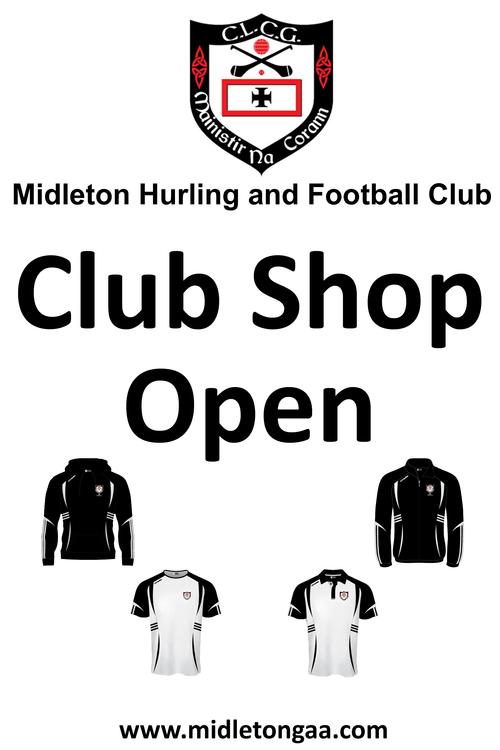 With almost all our hurling, camogie and ladies football teams now back up and running now is the time to stock up on all your gear needs from the coming season.
All you have to do is go to the Klubfunder website (www.klubfunder.com/Clubs/Midleton%20GAA/ShopItems) and you will see the full range of what's available to buy. You can shop away to your heart's content, pay for it online and then collect your purchases at the club shop on Saturday morning between 9.30am and 10.15am. Thank you.
SOCIAL DANCING
No social dancing this Saturday night due to disco (see below).
MIDLETON GAA EASTER DISCO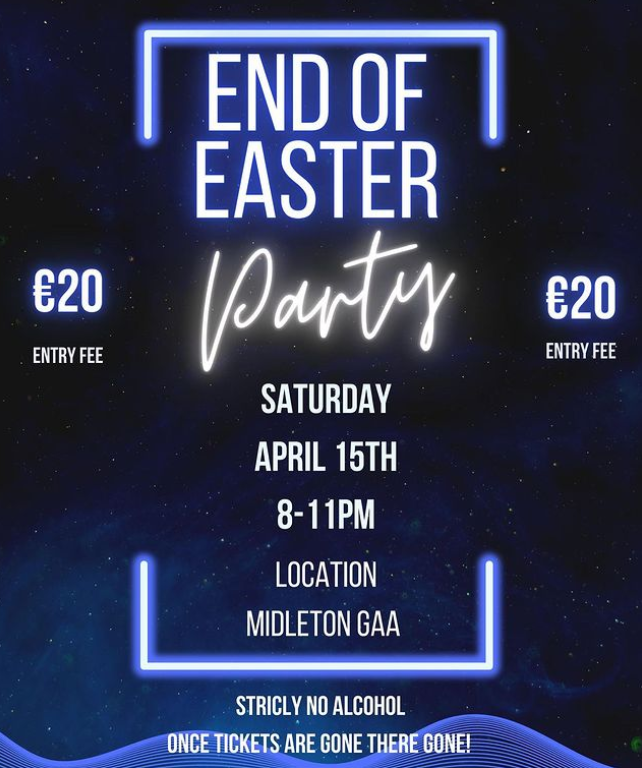 Midleton GAA's Easter Disco is on this coming Saturday night, April 15 for first years and second years.

Final tickets now on sale at the link below:
www.tinyurl.com/midletoneaster
GAA LEARNING PORTAL

We have been asked to remind members and especially our club coaches that the GAA Learning Portal is a great resource which is free to use. Please check it out at http://learning.gaa.ie/about
CARDIAC SCREENING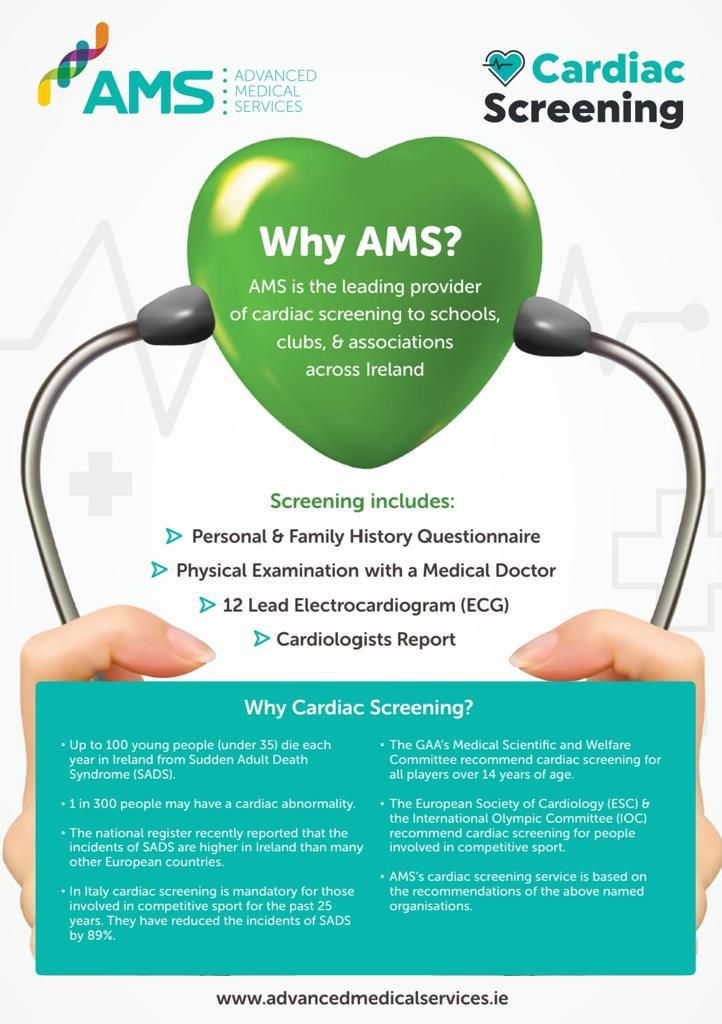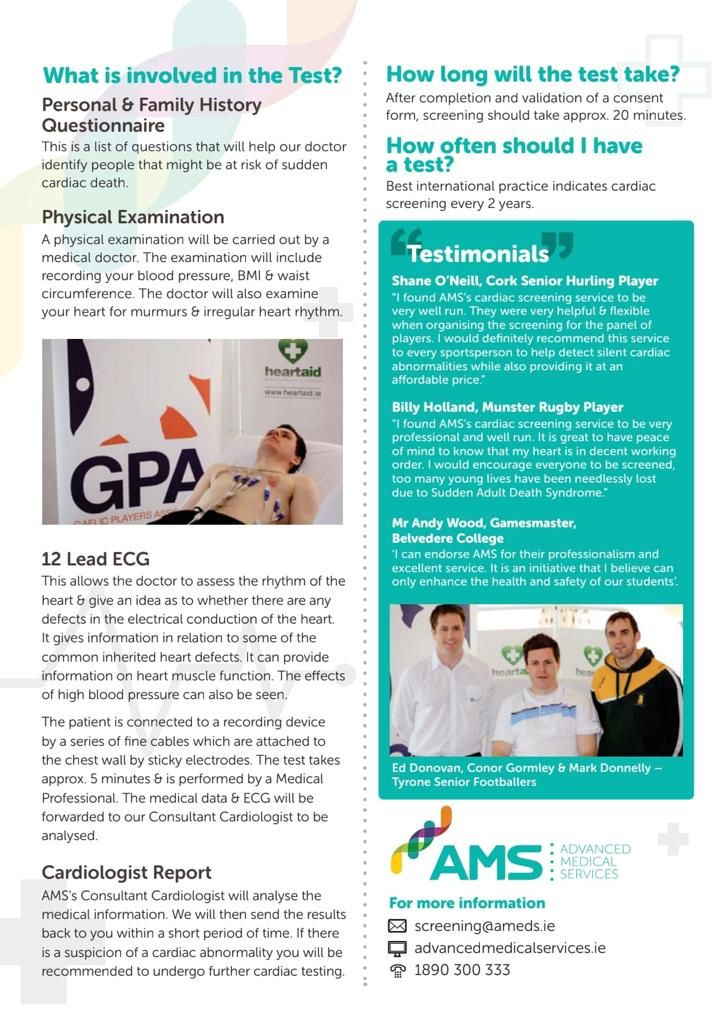 In the light of Tipperary hurler, Dillon Quirke's, untimely death during a club game last year and so many other such incidents in the GAA and other sports over the years, we have been offered the opportunity for AMS to bring a Cardiac Screening unit to our club to offer screening to our members. It's available for 14 year olds and up. It will cost €79 per person or it is free to people who have their Health Insurance with Laya Healthcare. The company needs a minimum of 25 people to carry out the screening. If you'd be interested please let me know at pro.midleton.cork@gaa.ie or at 087-4143094 and we can make arrangements.
PLEASE PLAY YOUR PART
​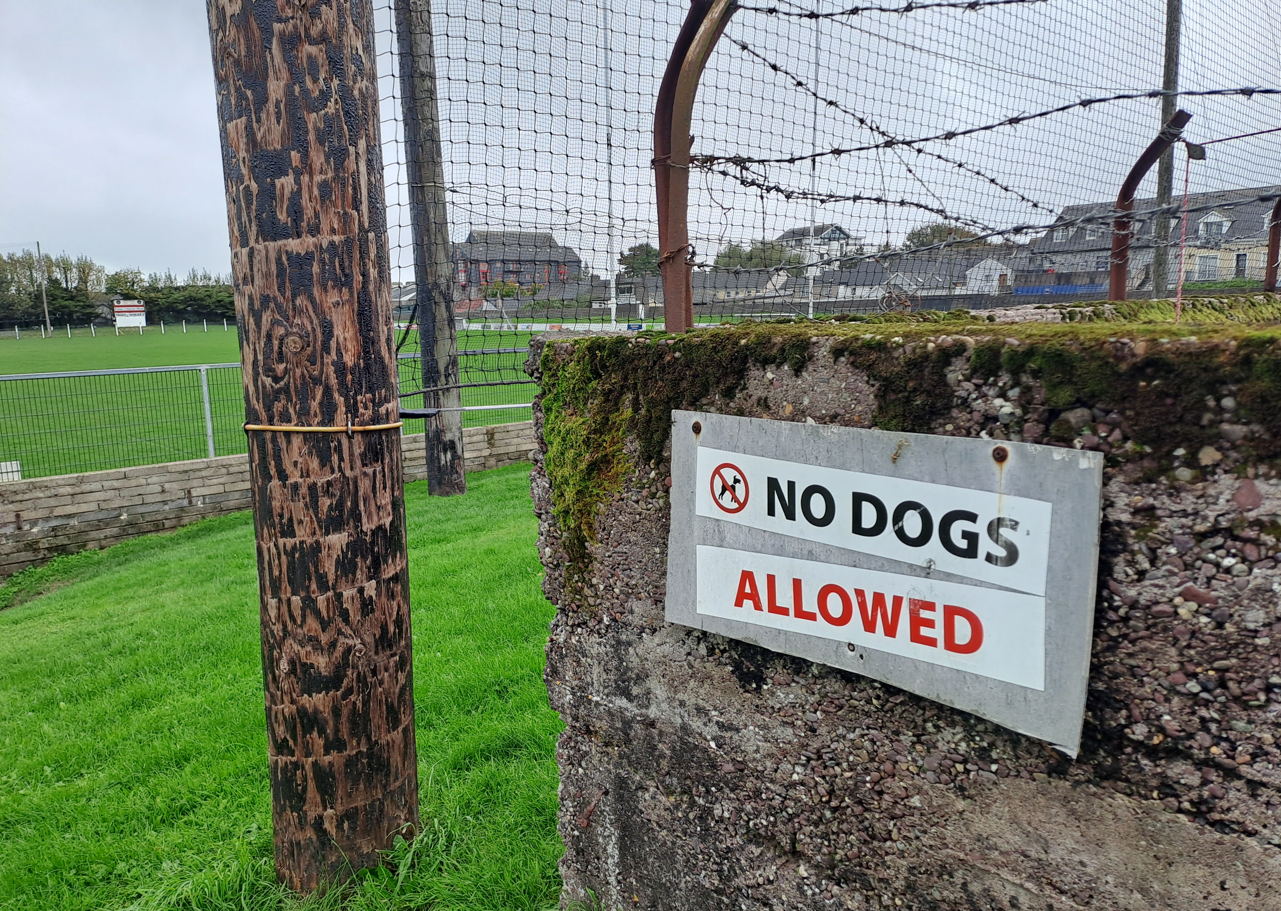 With unprecedented rainfall this spring our pitches are under pressure so please check if our pitches are open before you train or play a match.
We are asking all players, mentors, parents, supporters and neighbours to please play their part by playing ball on the following.....
Please slow down entering and leaving Park South.
No dogs, except assistance dogs, are allowed at Park South or Clonmult Memorial Park.
Please do not bring single-use plastic bottles to either Park South or Clonmult Memorial Park.
Please put your rubbish in a bin or bag and please bring your gear home with you.
And always be aware of the open water surrounding the pitches in Park South.
If you are a coach, please pass on these simple messages to players and parents.
All members are asked to respect referees and their officials at all times.
Also if you are a coach, last person out locks the gate, toilet and container.