Midleton Hurling and Football, Ladies Football and Camogie Club News - April 6
06 April, 2023
RED FM COUNTY HURLING LEAGUES
SENIOR
MIDLETON 0-17 ST. FINBARR'S 0-20
We welcomed County Champions St. Finbarr's to Clonmult Memorial Park on Sunday last for our third game in Division 2 of the County Hurling League and after a tight affair we came out on the wrong side by three points.
Points from Kian Farmer, Aaron Mulcahy (2) and Rory Hartnett saw us trail after the opening quarter on a score of 0-6 to 0-4. But second quarter points from Luke O'Farrell, Tadhg O'Leary Hayes, Aaron Mulcahy (3) and a wonder score off the Mill Road side sideline by Ross O'Regan saw us lead by 0-10 to 0-8 at halfway.
Early second-half points from Eoin Moloney and Kian Farmer saw us stretch our lead to four (0-12 to 0-8) but by the end of the third quarter the Barrs had drawn level on a score of 0-15 each. The City men just edged the final quarter to run out three point winners but plenty of positives from a Midleton point of view from a very young side despite defeat.
Next up is a trip to face Glen Rovers away on Sunday week (April 16) at 1pm.
SCORERS: Aaron Mulcahy 0-7 (frees), Tadh O'Leary Hayes, Kian Farmer and Ross O'Regan 0-2 each, Rory Hartnett, Luke O'Farrell, Eoin Moloney and Darragh McCarthy 0-1 each.
MIDLETON: Brion Saunderson, Ciarmhac Smyth, Luke Dineen, Seadhnaidh Smyth, Eoin Moloney, Sean O'Sullivan, Christian Murphy, Adam Daly, Kian Farmer, Tadhg O'Leary Hayes, Ross O'Regan, Rory Hartnett, Aaron Mulcahy, Luke O'Farrell, Cian Crowley. Subs: Darragh McCarthy for Cian Crowley, Cathal Gunning for Luke Dineen and Evan McCarthy for Rory Hartnett.
INTERMEDIATE LEAGUE
Our intermediates picked up their first point of the league campaign on Saturday at Clonmult Memorial Park after a great battle with near neighbours and 2022 County Champions Dungourney.
After an even first have we trailed by 0-8 to 0-6 at the midway point but a cracking second-half in which we scored 1-11, with the goal coming from Aaron Mulchay saw us leave with a share of the spoils on a final scoreline of 1-17 each.
Next up is a trip to face Watergrasshill away on Friday week (April 14) at 7pm.
SCORERS: Aaron Mulcahy 1-12 (0-12 frees), Darragh McCarthy 0-3, James Nagle and Cian Crowley 0-1 each.
MIDLETON: Zach Smith, Cathal Gunning, Christian Murphy, Cormac O'Brien, Leo Hennessy, Aidan Ryan, Evan McCarthy, Gavin Reddy, Aaron Mulcahy, Gary Carroll, Darragh McCarthy, James Nagle, Padraig O'Brien, Kian Farmer, Cian Crowley.
JUNIOR A HURLING LEAGUE
Our third league outing of the season is this coming Easter Monday night, away to Youghal at Top of the Hill with a 7pm throw-in.
JUNIOR C HURLING LEAGUE
COBH 1-9 MIDLETON 2-17
Two solid halves saw us come away with the points from our trip to Cobh on Sunday evening last. An early goal set us on our way and at half-time we lead by 1-9 to 0-5. More of the same in the second half saw us comfortably home.
Our next league game is on Monday, the 16th of May against Lisgoold at Clonmult Memorial Park with a 7.30pm throw-in.
MIDLETON: Peter Dowling, Rory Lester, Gavin Hurley, Fergus Wade, Brendan Ferriter, Liam Kelly (0-1f) Conor Hayes, Luke Deane, Dan O'Sullivan, Nicky Daly Hayes, Evan Rowlands (0-3) Andy Rea (0-2), Ben O'Neill (0-2), Brian O'Sullivan (2-1), Tim O'Sullivan (0-8, 6f). Subs used: James Condon, James O'Sullivan, Coleman Quinn.
JUNIOR FOOTBALL
Our Junior C footballers had a great 5-5 to 2-9 win over Lisgoold on Wednesday night.
Our junior A footballers are in action tonight (Thursday) away to Glanmire. Details next week.
FÉ19 COUNTY MEDALS
Well done to our 2022 County winning Fé19 panel who received their county medals on Saturday last after the intermediate league game against Dungourney. Well done lads and it's great to see so many of you playing so well in the junior, intermediate and senior teams so far this year in the various league competitions.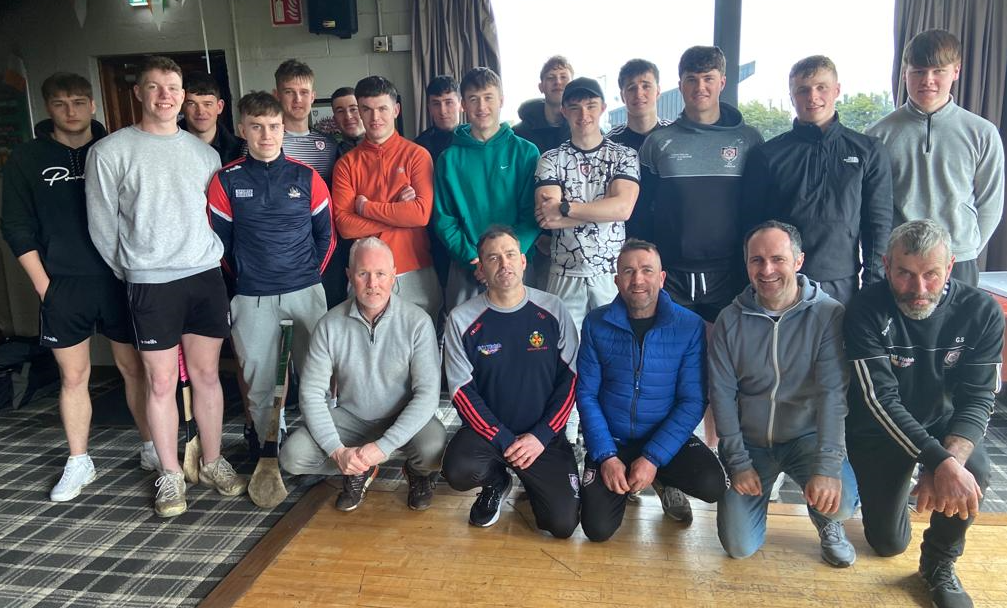 IN THE RED OF CORK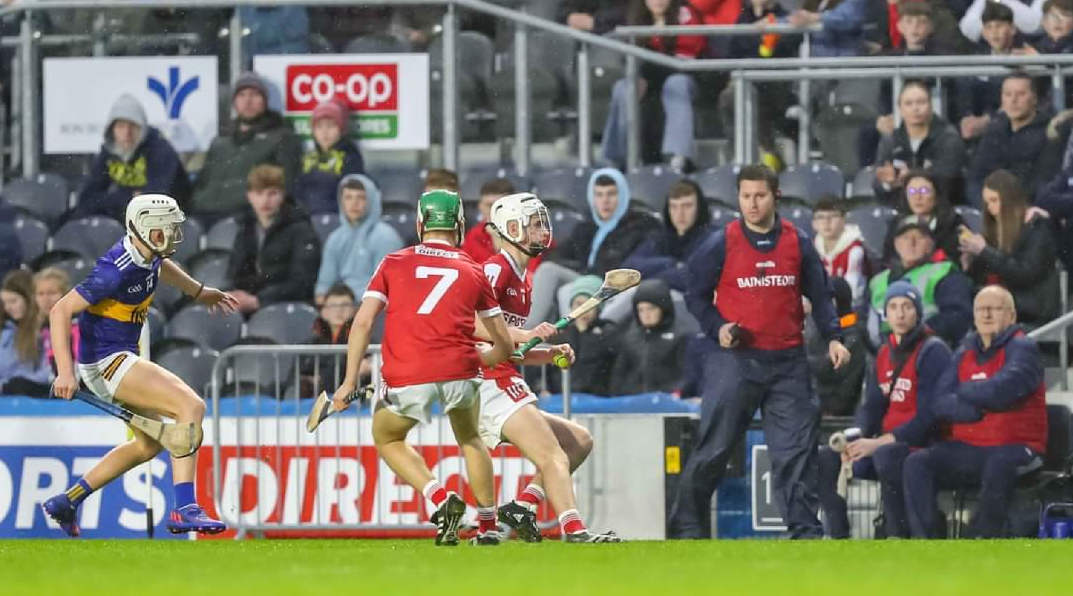 Well done to Carthaigh Cronin (pictured above thanks to Denis O'Flynn) and the Cork minor players and management on their 2-13 to 1-8 win over Tipperary in the Munster Minor Hurling Championship at Pairc Uí Chaoimh on Tuesday night. This team are back in action on Tuesday week away to Clare in Sixmilebridge.
A big well done too to Brion Saunderson (pictured below), David Cremin, Mikey Finn, Ter McCarthy and all the Cork players and management on their 1-28 to 1-19 win over Tipperary in the Munster U-20 Hurling Championship at Pairc Uí Chaoimh on Wednesday night. This team are back in action on Wednesday week away to Clare in Sixmilebridge.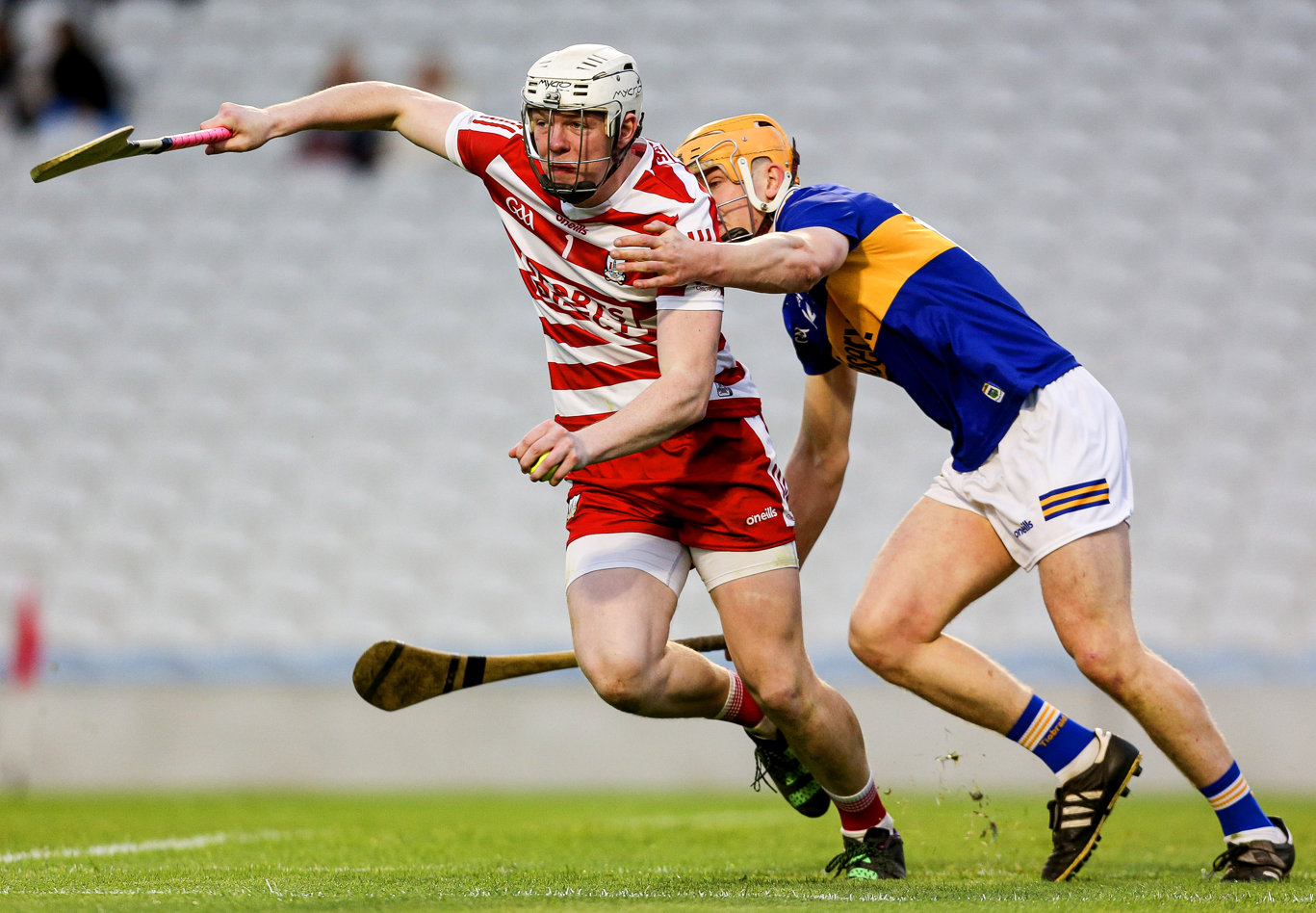 JUVENILES
FÉ12 FOOTBALL V GLENVILLE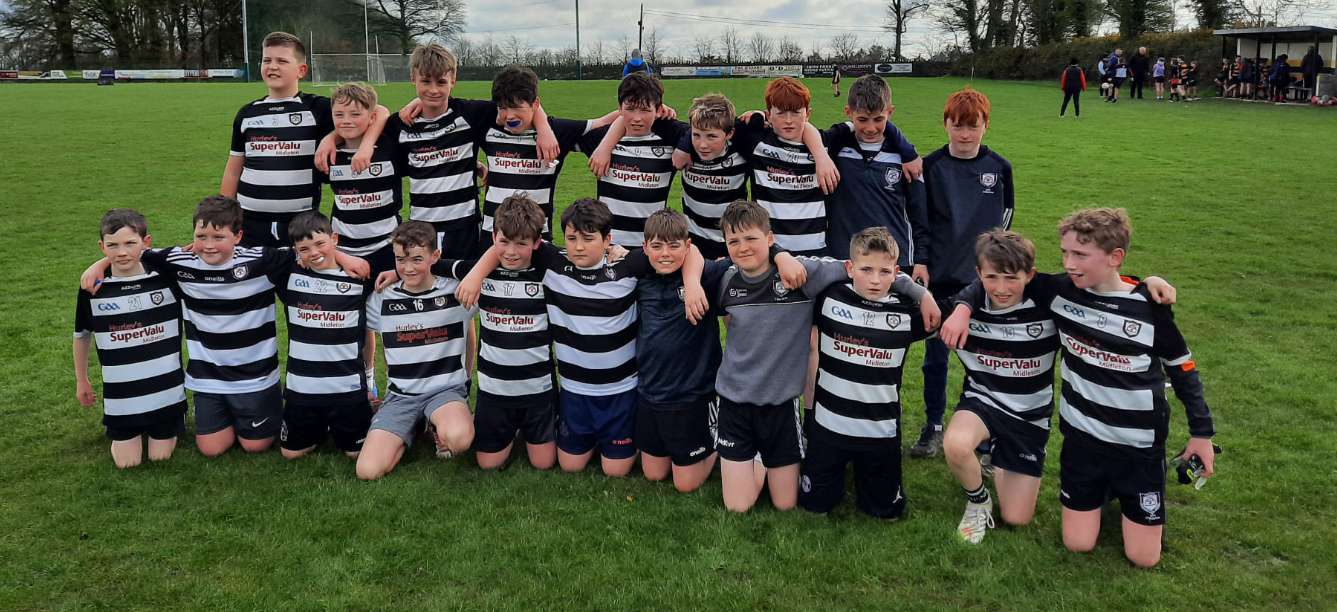 Our Fé12 footballers made their first outing of the season in Glenville on Sunday evening. Our lads fought gallantly against a very good Glenville side. We came out second best on this occasion but we live to fight another day. Well done Aiden on doing a great job as captain. #MagpiesAbú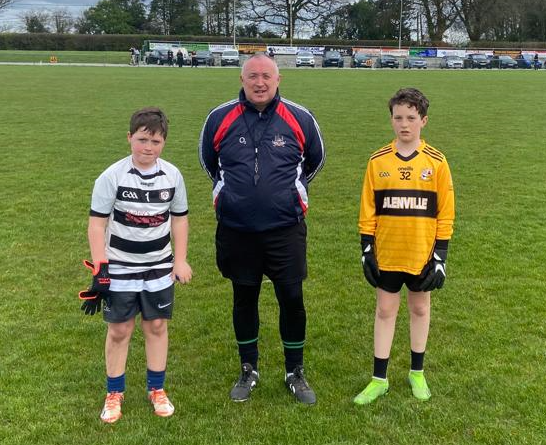 FÉ14 HURLING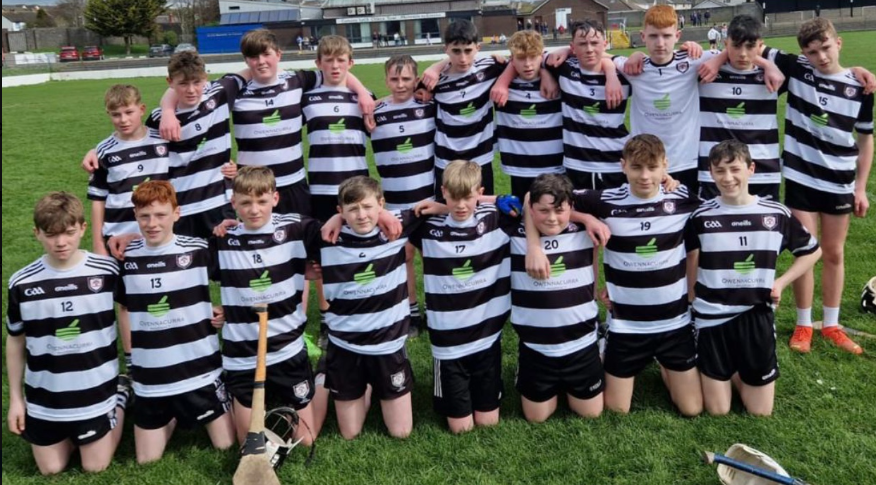 The Fé14 lads had a good victory against Sars at the weekend at Clonmult Memorial Park in their first league match of the year, well done lads.
FÉ14 FOOTBALL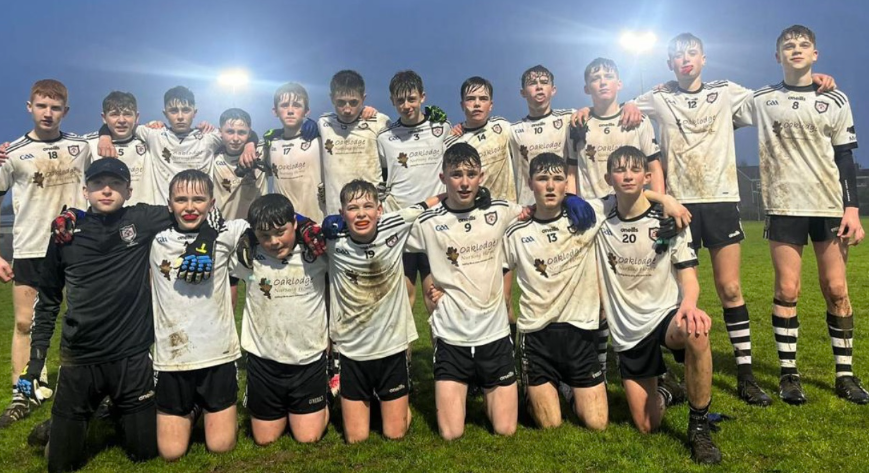 The Midleton Fé14 lads had a good victory in tough conditions recently at Nemo Rangers.
FÉ16 HURLERS
It was a big week for the Fé16 hurlers.
On Wednesday night, we had a good win in difficult conditions away to Ballincollig. Well done lads.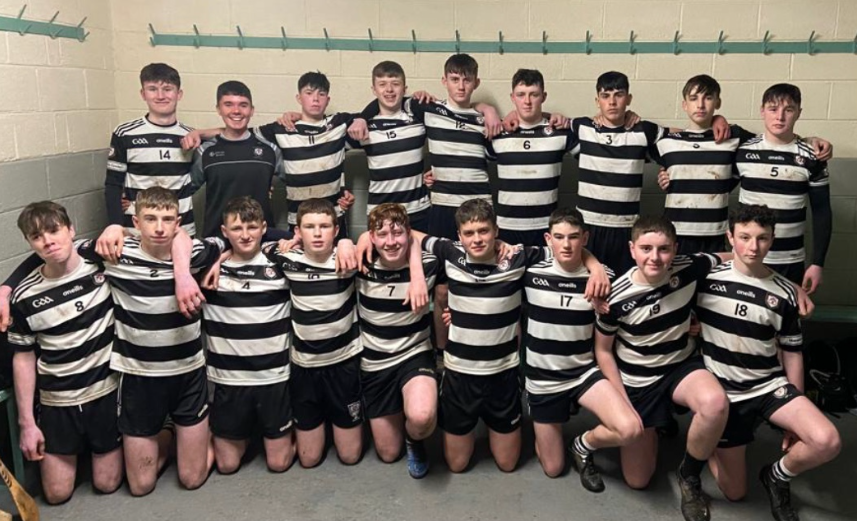 Well done to the Fé16 lads who had a good win at against Youghal at Clonmult Memorial Park at the weekend.
FIXTURES
TUESDAY, APRIL 11
Rebel Og Premier Fe16 Hurling League C3 Group1
Midleton 2 V Sarsfields 2 at 18:30 in Midleton
WEDNESDAY, APRIL 1
Rebel Og Premier Fe14 Football League Division4
Midleton 2 V Michelstown at 7pm in Mitchelstown
CAMOGIE
UNDER 8S

The U-8s had their first outing of the year at the Go Games blitz in Cobh on Saturday morning. 25 girls togged out on the morning and gave a great display of their skills.
UNDER 14S V DUNGOURNEY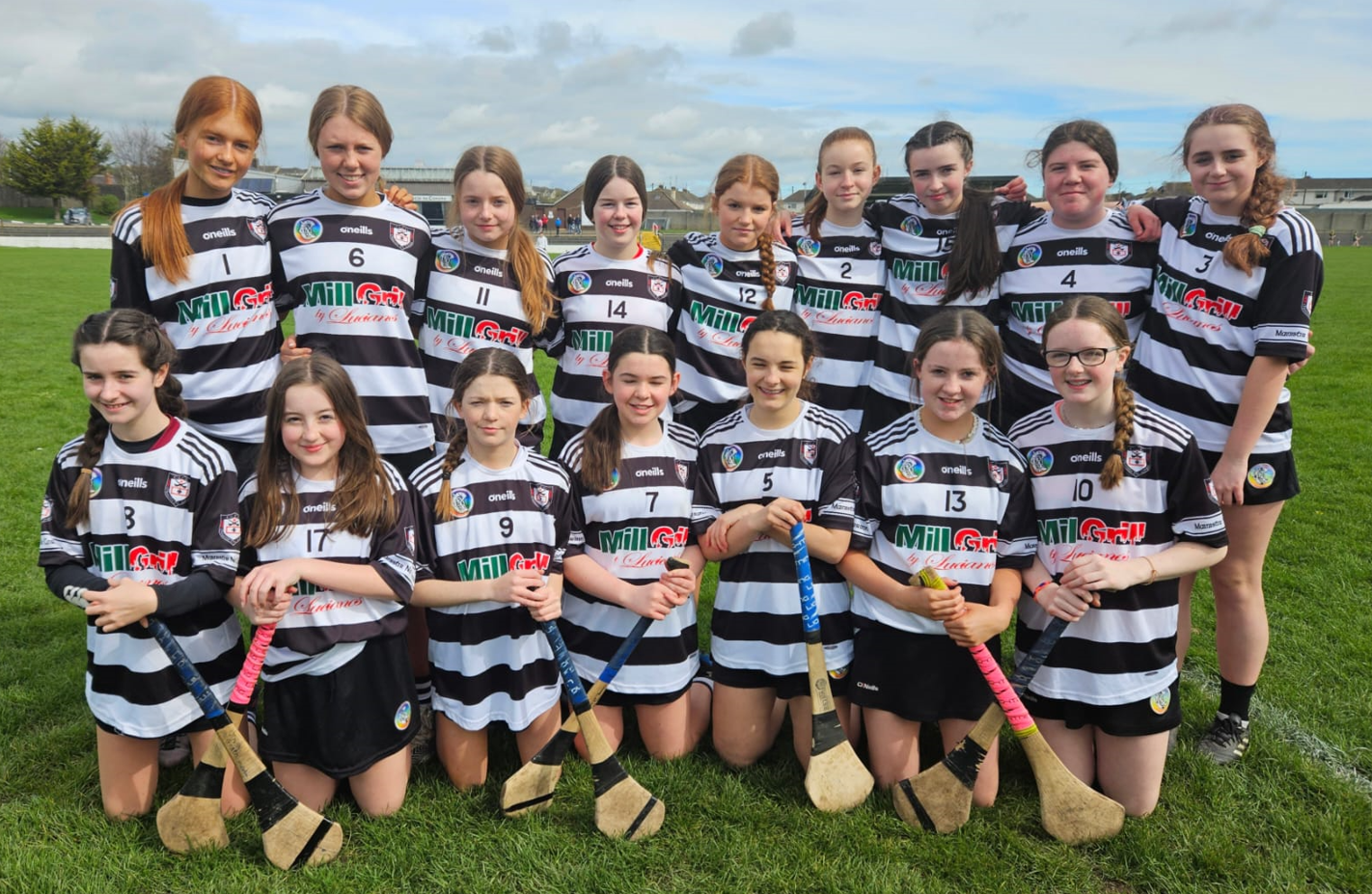 The U-14s continued their preparations for Féile with a competitive challenge against Dungourney in Clonmult Memorial Park on Sunday afternoon.
Well done to Clara (pictured below) led from the front, captaining the team on the day.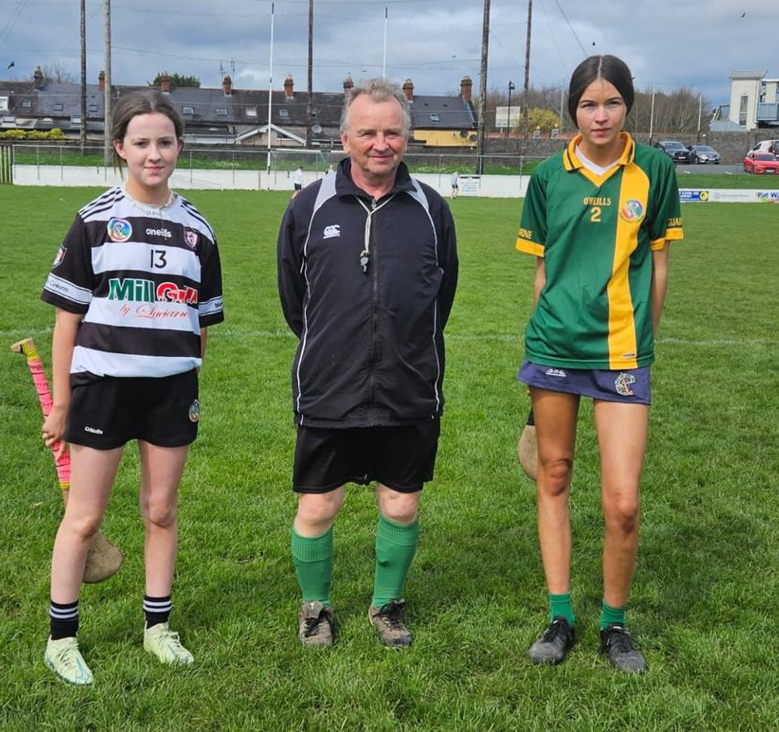 SORCHA CRONIN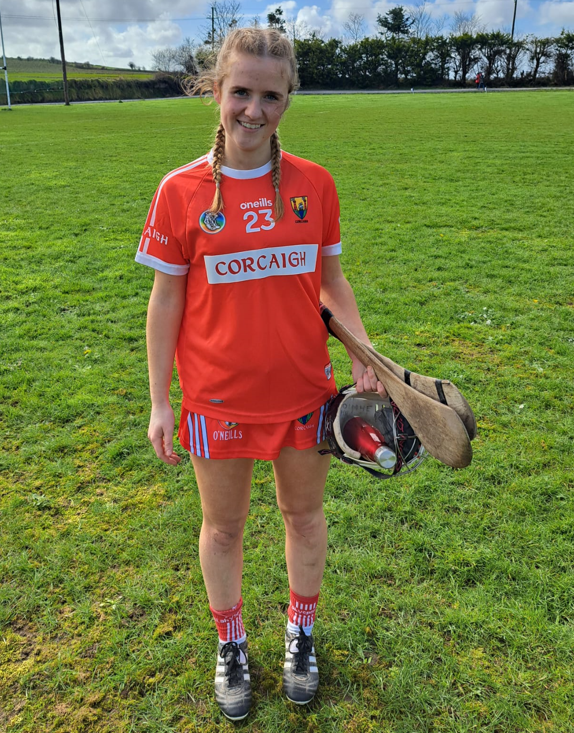 Congratulations to Sorcha Cronin who lined out with the Cork U-16B team versus Kerry on Saturday. Well done Sorcha.
JUNIOR C LEAGUE
Nemo Rangers 0-10 Midleton 2-12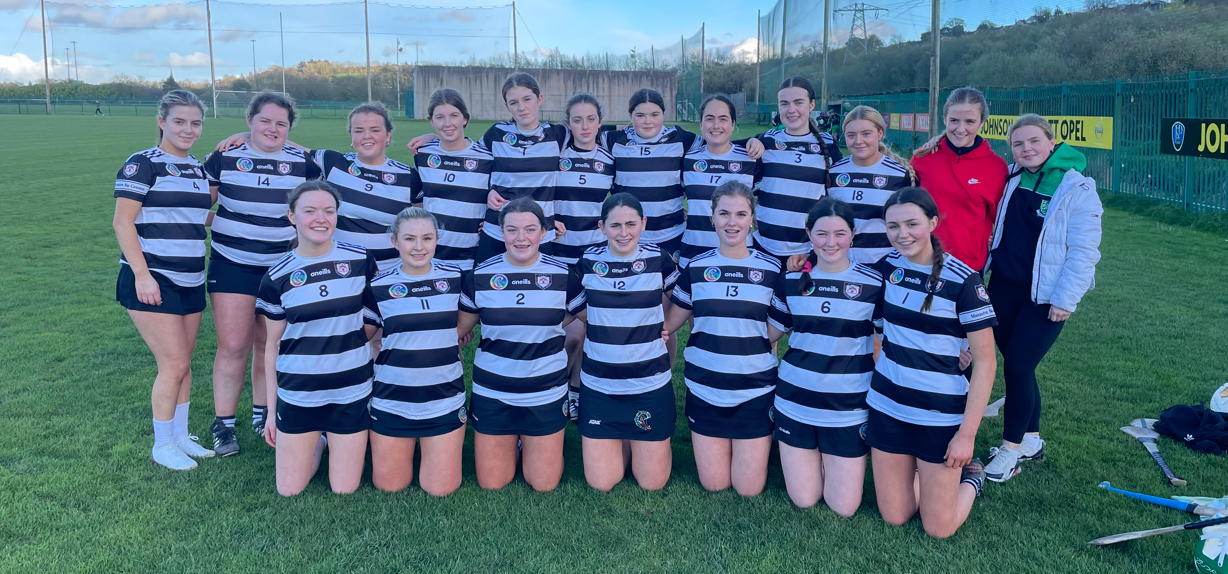 Our Junior C Team had its first league game of the year last Friday, March 31st in Nemo Rangers and came away with a great win. Having played into a strong wind in the first-half we trailed 0-6 to 0-3. But once we turned with the elements in the second-half we ran out as winners.
Kate Griffin was solid in goals throughout and Ruth Hennessey, Aoife Fitzgerald, Caoimhe Cronin and Megan Kelly all did really well in defence. Laura Goulding and Leah Hogan worked tirelessly in midfield and our forwards were led by Jodie Keegan O'Connell (0-9) Rachel Ryan (0-3), Rayanna Power and Jade Fitzgerald 1-0 each and also the ever present Hannah Power who got through a huge amount of work. Overall it was a great team performance and great to start the year with a win
MIDLETON: Kate Griffin, Elle McManus, Ruthi Hennessy, Megan Kelly, Caoimhe Cronin, Aoife Fitzgerald, Pippa Hennessy, Laura Goulding, Leah Hogan, Hannah Power, Jodie Keegan O'Connell, Emma O'Sullivan, Rachel Ryan, Rayanna Power, Jade Fitzgerald, Kate Saunderson, Lilly Kelly.


LADIES FOOTBALL
U-14 V CLOYNE
On Saturday last our U-14 girls played their first league game with an away fixture to Cloyne. Midleton played with a strong breeze in the first-half and once we settled found some great scores. Unfortunately, the breeze impacted us in the second-half as we found it hard to travel with the ball. Tired legs did not stop the effort from the girls and they tried till the very end. Well done to you all especially our younger girls who are playing on full-size pitches for the first time. Thank you, Isabelle (pictured below) who did a great job as captain, on the day.
JUNIOR 2 LEAGUE V NEMO RANGERS
Our second Junior team travelled to Nemo Rangers on Sunday evening. It was a great performance from everyone on the night. We narrowly lost out by three points.
MINOR LEAGUE V YOUGHAL
This game was cancelled due to unplayable pitches in both Midleton and Youghal. A new date will be confirmed soon.
U-15 FÉILE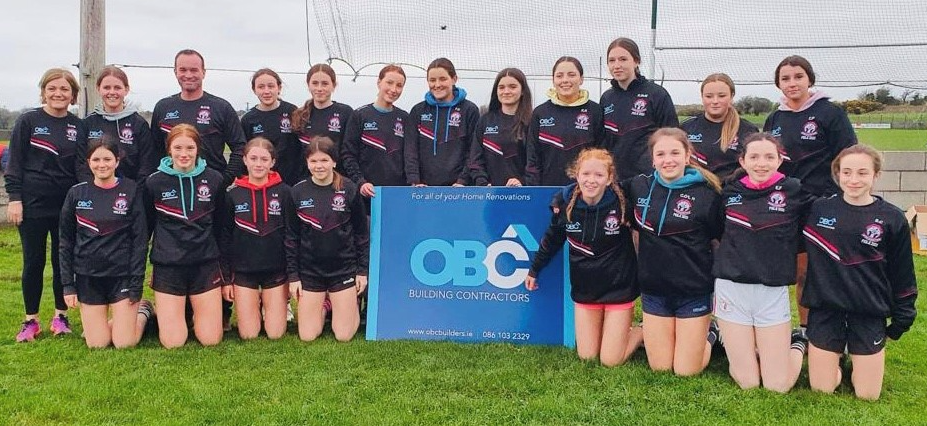 Our U15 team received their fabulous crew tops for the upcoming Féile competition which is due to be played over the Easter weekend. We are extremely grateful to Mark O'Brien of OBC Building Contractors for his very generous sponsorship. Mark and Grainne O'Brien presented the panel with their tops at training on Monday night.
GAELIC FOR MOTHERS & OTHERS
Open day will take place on this coming Easter Monday 10th of April at 10am in Clonmult Memorial Park with refreshments after in the clubhouse. Come rain or shine we will be out!! Please have football boots and mouth guards. Looking forward to seeing you all.
APRIL FIXTURES
Thursday 6th – U16 league v Fermoy at 6.45pm in Park South
Monday, April 10th – Junior 1 league away to Bishopstown at 6.30pm
MIDLETON GAA MONDAY CLUB
We look forward to seeing you all (and any new faces) at our next meeting, Monday, April 24 from 10.30am to 11.30am. All Welcome!
MIDLETON GAA GOLF SOCIETY
Our first outing is the Easter Hamper in East Cork Golf Club on this coming Saturday week (April 8). Tee booked from 1pm to 2.30m. This outing is kindly sponsored by Philly O'Brien of O'Briens Mazda, Cork Road.
Our second outing is Robbie Fitzgerald's Captain's Prize on Tuesday, May 16 at Cork Golf Club. Tee booked from 3.30pm to 4.30pm. Looking forward to seeing all our current members and of course new members are most welcome.
LOTTO DRAW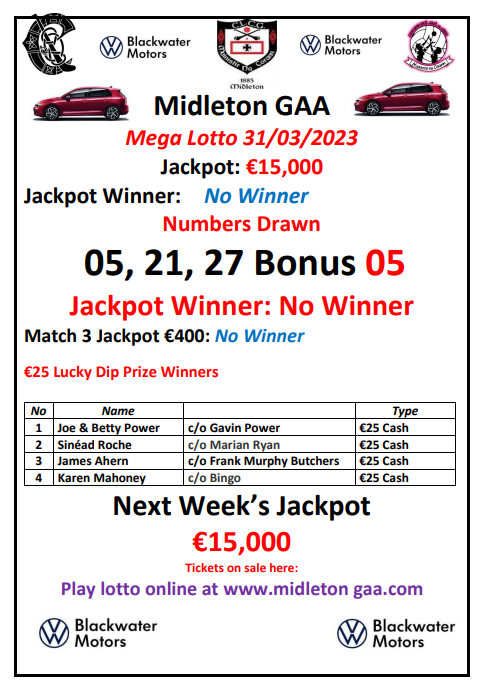 The Jackpot was €15,000 for last Friday night's jackpot and the numbers drawn this week were 5, 21, 27. The bonus was 5.
The €25 Lucky Dip Prize winners were: Joe & Betty Power, Sinead Roche, James Ahern and Karen Mahoney.
There was no jackpot winner or Match 3 winner.
Play 24/7 at: http://www.klubfunder.com/Clubs/Midleton%20GAA/lotto
In total Midleton GAA will give out local business vouchers to the value of €3,800 every year as part of our "Shop Local, Buy Local" campaign.
How to play: tickets are on sale at Pat Walsh Paints, Chadwicks, Frank Murphy Butchers, Murphy's Pharmacy, Crowley Butchers, or buy online (see above).
BINGO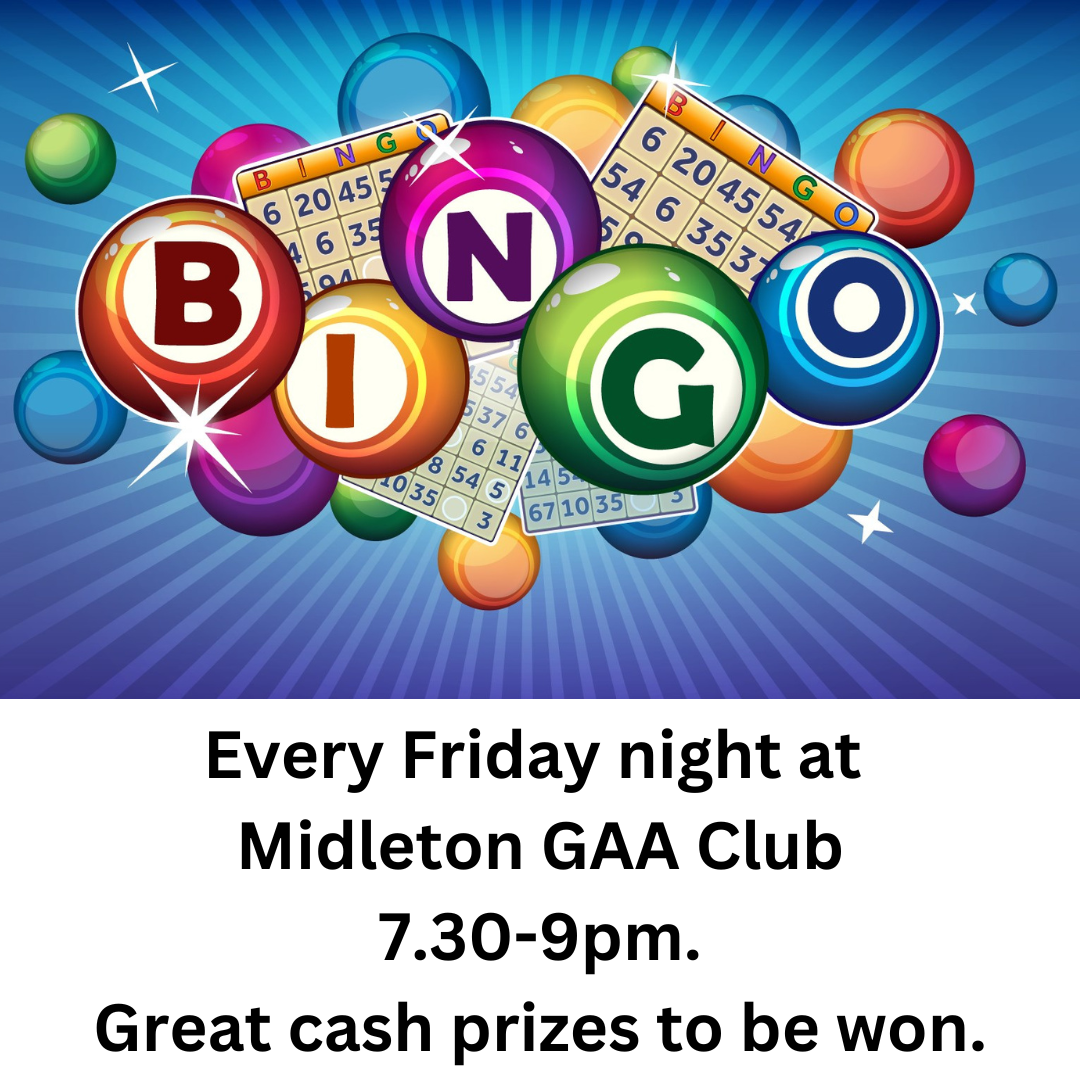 Fancy a good night which also benefits Midleton GAA club...what about bingo on Friday nights?
Bingo as usual this Good Friday night.
It kicks off at 7.30pn every Friday night and is over by 9pm. A single book is €6. A double book is €12. We had our biggest crowd since before Covid on Friday night last so thanks to everyone for coming in such big numbers, it is much appreciated. New players are always welcome....
CLUB SHOP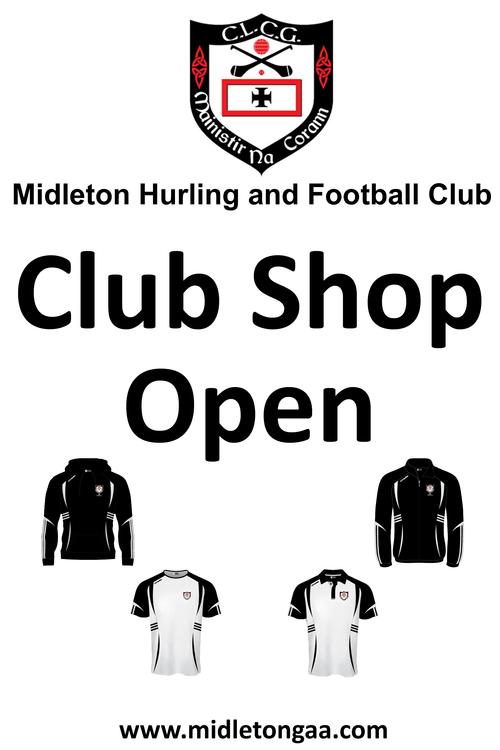 With almost all our hurling, camogie and ladies football teams now back up and running now is the time to stock up on all your gear needs from the coming season.
All you have to do is go to the Klubfunder website (www.klubfunder.com/Clubs/Midleton%20GAA/ShopItems) and you will see the full range of what's available to buy. You can shop away to your heart's content, pay for it online and then collect your purchases at the club shop on Saturday morning between 9.30am and 10.15am. Thank you.
SOCIAL DANCING
No social dancing this Saturday night.
MIDLETON GAA EASTER DISCO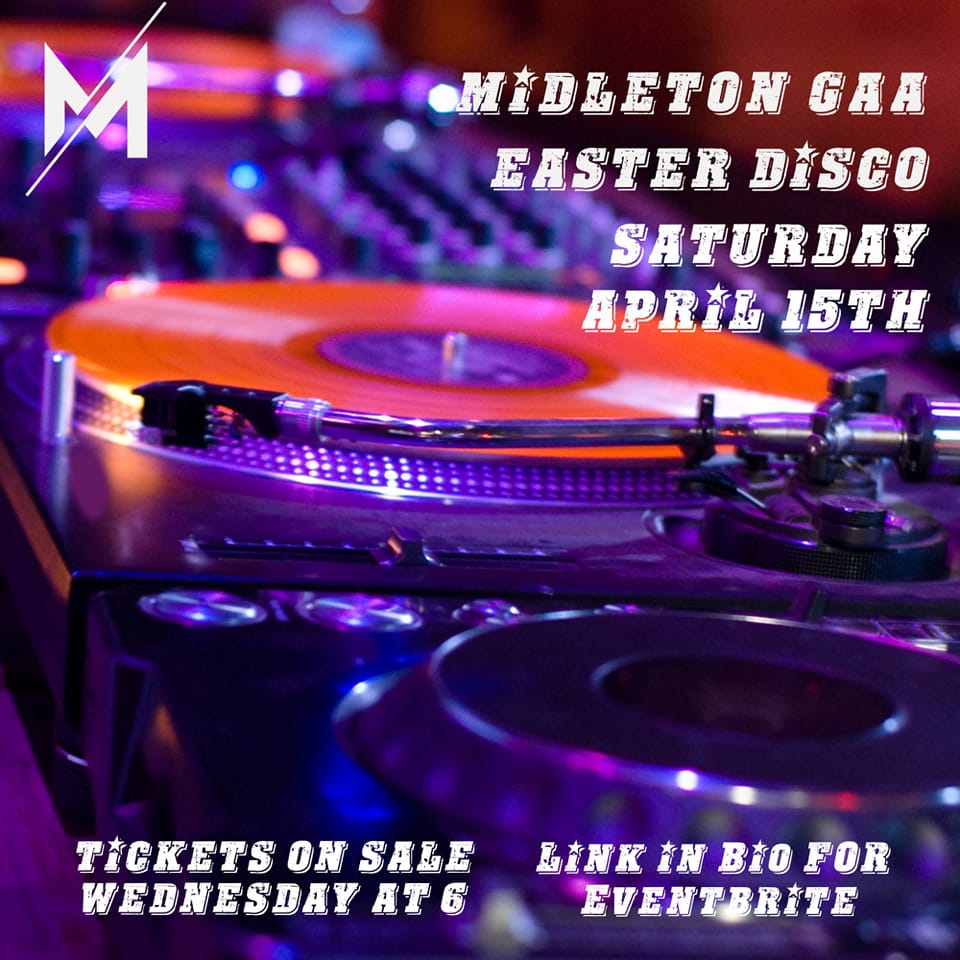 Midleton GAA's Easter Disco is on Saturday April 15th.

Tickets now on sale at the link below:
www.tinyurl.com/midletoneaster
REBELS' BOUNTY DRAW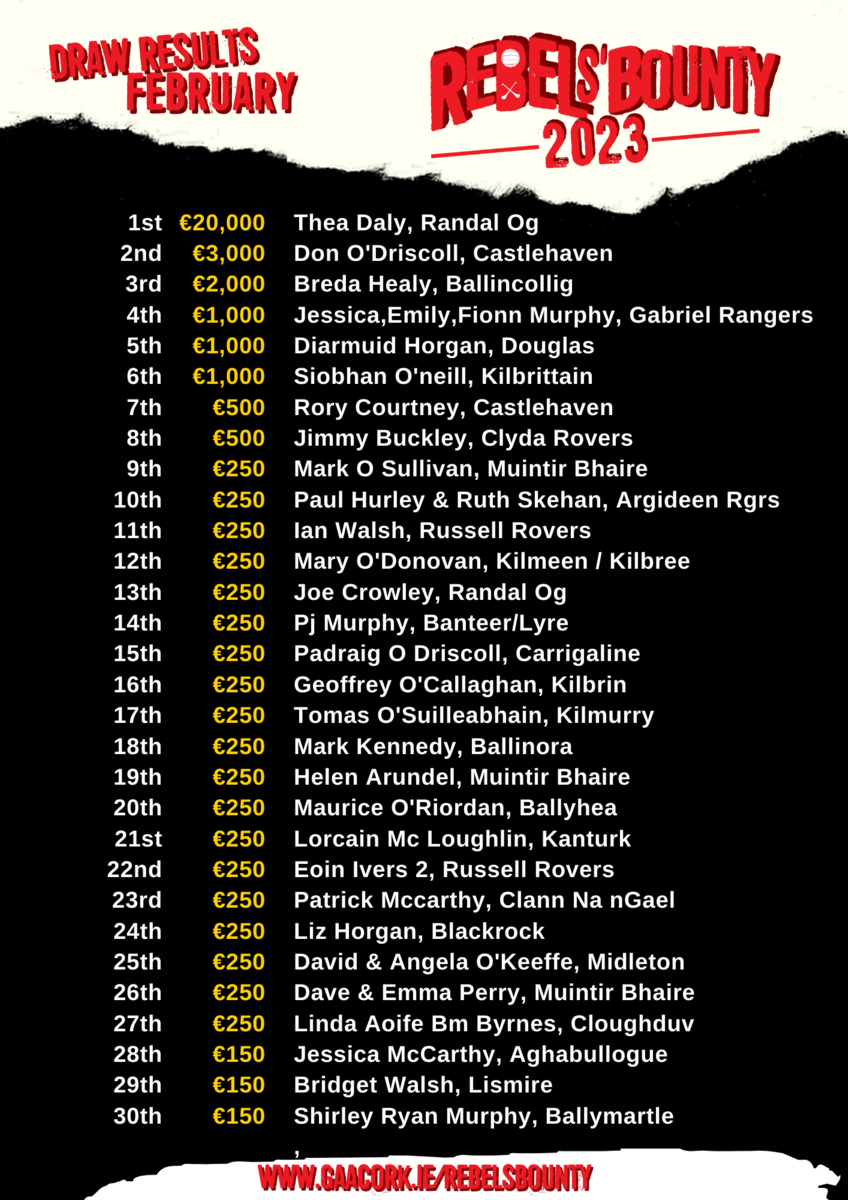 The 2023 Rebels' Bounty Draw kicked off on Thursday night last with the draws for January, February and March.
We had one winner with David and Angela O'Keeffe scooping €250. Well done guys.
A big thank you to everybody who bought a ticket and supported the club in this vital fundraiser and especially to everybody who sold tickets and helped push the draw over the last few months. Best of luck to all our ticket buyers for the rest of the 2023 draws.
EAST CORK DARTS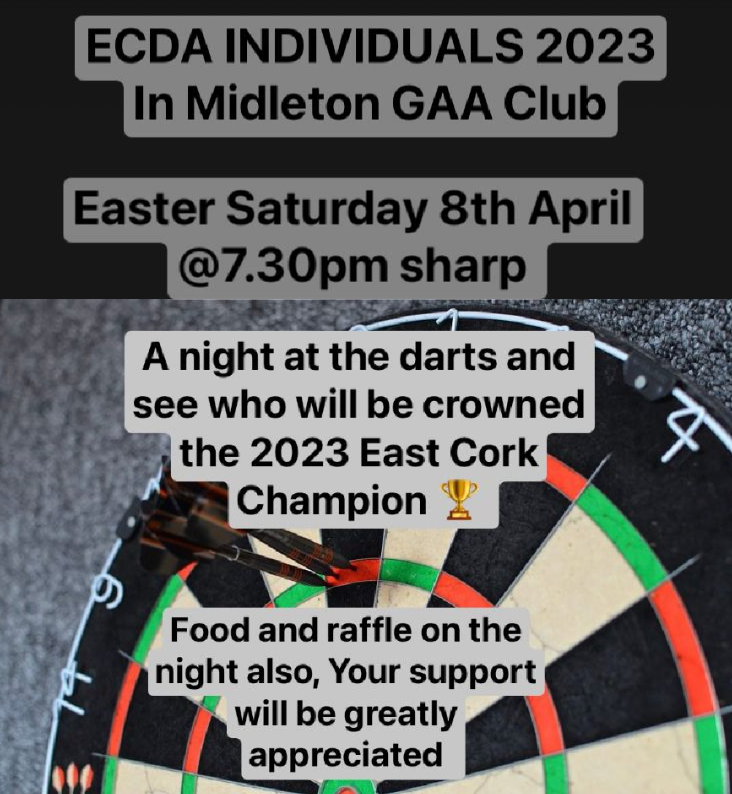 In Midleton GAA club on Saturday night next, all welcome.
CORK GAA AND THE WAR OF INDEPENDENCE/CIVIL WAR
On Thursday April 13th at 7.30pm in Pairc Uí Chaoimh, Gabriel Doherty from the UCC History Department will give a lecture on the War of Independence/Civil War with particular reference to the involvement of Cork GAA in the struggle for freedom.
This should be of great interest to many of our members as it will describe the impact it had on our clubs' activities at that time.
Non GAA members are also most welcome on the night.
PLEASE PLAY YOUR PART
​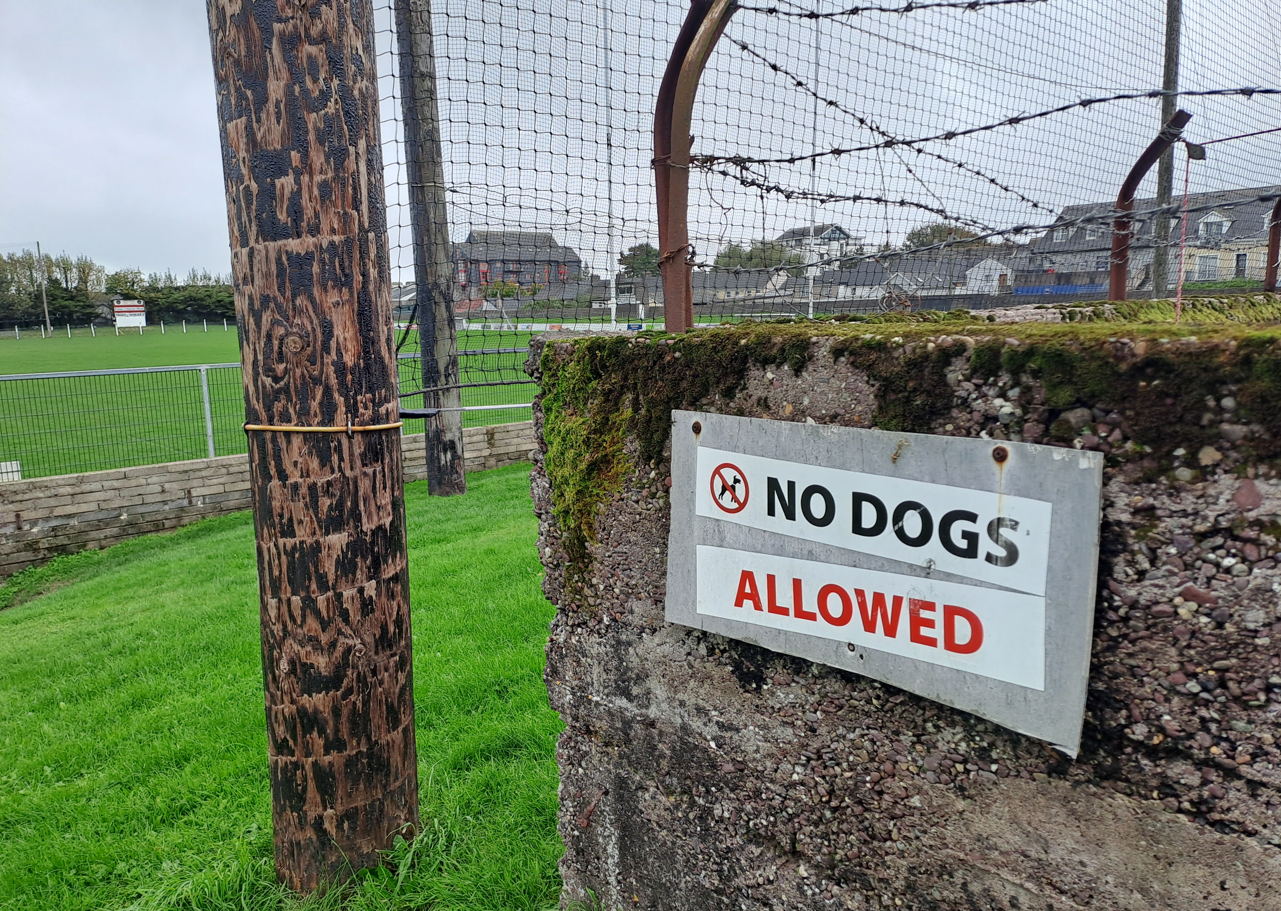 We are asking all players, mentors, parents, supporters and neighbours to please play their part by playing ball on the following.....
Please slow down entering and leaving Park South.
No dogs, except assistance dogs, are allowed at Park South or Clonmult Memorial Park.
Please do not bring single-use plastic bottles to either Park South or Clonmult Memorial Park.
Please put your rubbish in a bin or bag and please bring your gear home with you.
And always be aware of the open water surrounding the pitches in Park South.
If you are a coach, please pass on these simple messages to players and parents.
All members are asked to respect referees and their officials at all times.
Also if you are a coach, last person out locks the gate, toilet and container.