Midleton Hurling and Football, Ladies Football and Camogie Club News - March 30
30 March, 2023
THE LATE GER GLAVIN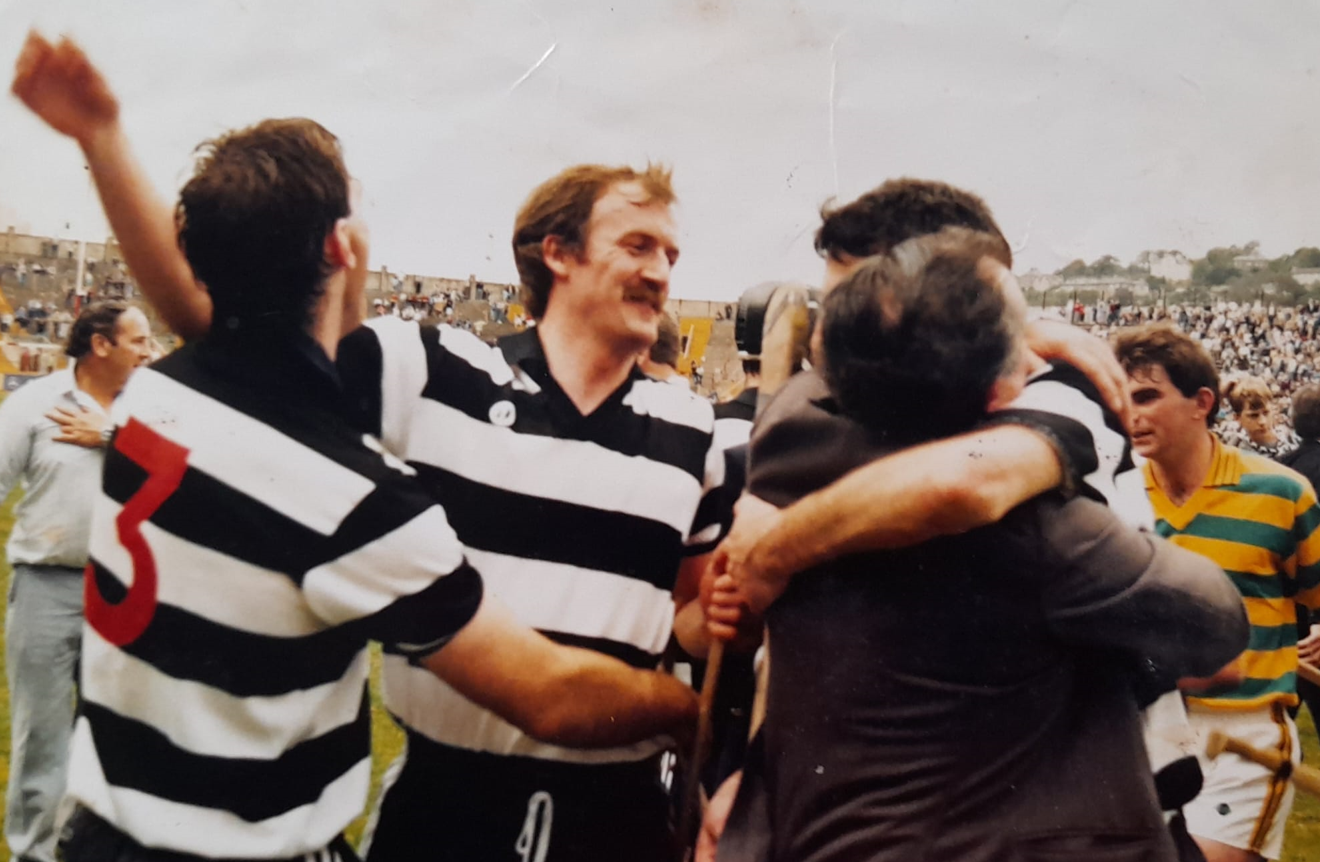 Ger Glavin celebrating after Midleton's County Senior Hurling Final win over Blackrock in 1986.
All members and supporters of Midleton GAA woke to very sad news on Saturday morning last as we heard of the untimely death of one of our great players and friends, Ger Glavin.
Ger was a great player in the black and white of Midleton for many many years winning a whole host of medals, including a county intermediate hurling medal in 1978 (when he played alongside his brother Willie), three county senior hurling titles, two Munsters and an All-Ireland club.
One has to point out the remarkable year that Ger enjoyed on the pitch in 1984. He captained Midleton to East Cork and County Junior Hurling titles, he was a key member of the Midleton team that won the county intermediate football title, he won a Cork County Senior Football title with Imokilly and also won an All-Ireland Junior Football medal with Cork. Some going.
Ger transferred from Midleton to Ballincollig in the early 90s and also tasted county success with them. Ger was a hugely talented sportsman. From an excellent athlete in his younger days to an accomplished soccer player and so much more.
Apart from all that and the first thing that everyone said about him this week was that he was a gentleman through and through and a very proud Midleton man and he will be sadly missed by all his former team-mates and all supporters of the Magpies. He also attended the first two meetings of the Monday Club in recent times although in poor health....the mark of the man.
Thanks to everyone who attended his removal and funeral and walked in his guard of honour in Ballincollig on Monday.
Our deepest sympathies go to his wife Siobhan, his children Marie, Anne and Brian, his sisters Kathleen, Margaret and Anne, his brother Willie and all his extended family and wide circle of friends. Ar dheis Dé go raibh a anam.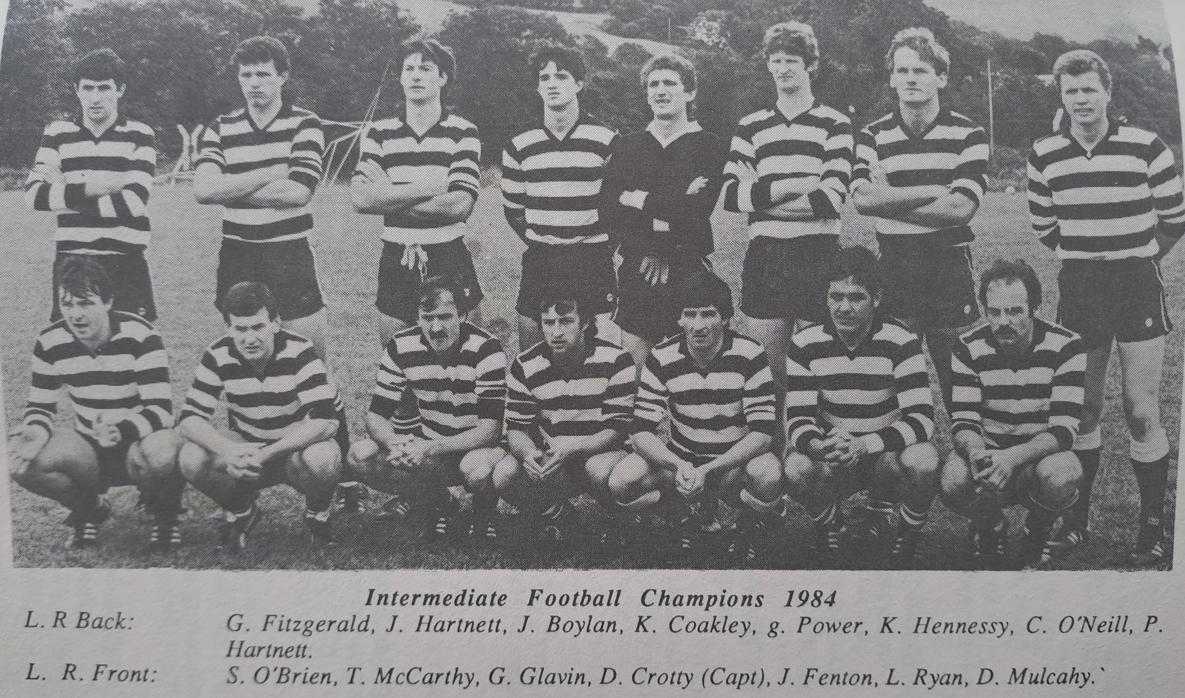 The Midleton team (including Ger Glavin third from left front row) that won the 1984 County Intermediate Football championship.
RED FM COUNTY HURLING LEAGUES
There's a big weekend ahead in County Hurling League action with our seniors and intermediates both in action at home.
On Saturday our intermediates take on last year's County Champions Dungourney in the County Division 5 league from 3pm at Clonmult Memorial Park.
Then on Sunday our senior hurlers, off the back of a win over Bishopstown and a draw with Courcey Rovers, host last year's County Senior Hurling Champions, St. Finbarr's, again at Clonmult Memorial Park, at 4pm. Please support the Magpies if you can at all.
JUNIOR HURLING
Our Junior C team (Division 4) are in East Cork league action on Sunday when they travel to Cobh to take on the home side at 4pm.
Our Junior A team (Division 2) are not in action this weekend but are fixed to travel to Youghal (top of the Hill pitch) on Easter Monday (April 10) at 7pm.
JUNIOR FOOTBALL
Our two junior football teams were back in action over the weekend.
On Sunday our Junior A team travelled to Aghavine to take on Fr. O'Neills. After a close encounter goals proved the difference as we lost out on a final scoreline of Fr. O'Neills 2-8 Midleton 0-8.
Scorers: Aaron Mulcahy 0-3, Adrian O'Donovan 0-2, Eoin Moloney, Johnny Comer and Cathal Gunning 0-1 each.
MIDLETON: Eoghan Collins, Adam Fay, Darragh McCarthy, Alan Power, Evan McCarthy, Sean O'Sullivan, Cathal Gunning, Eoin Moloney, Ross O'Regan, Ben O'Neill, Aaron Mulcahy, Cathal Beausang, Cian Crowley, Christian Daly, Johnny Comer. Subs: Brendan Ferriter, Colin Sunderland, Padraig O'Brien, Adrian O'Donovan.
Then on Monday night our Junior C team took on Glenville at Park South and lost out after a great battle on a score of 1-7 to 1-4
Scorers: Kieran Denihan 0-3, Leslie Coughlan 1-0, Luke Deane 0-1.
MIDLETON: Davy O'Brien, Coleman Quinn, Sean Corcoran, Jack McKay, Brendan Ferritter, Colin Sunderland, Liam Kelly, Leslie Coughlan, Brian O'Sullivan, Luke Deane, Kieran Lambert, James Condon, Nicky Daly-Hayes, Kieran Denihan, Evan McGrath.
MEMBERSHIP FOR 2023 IS NOW DUE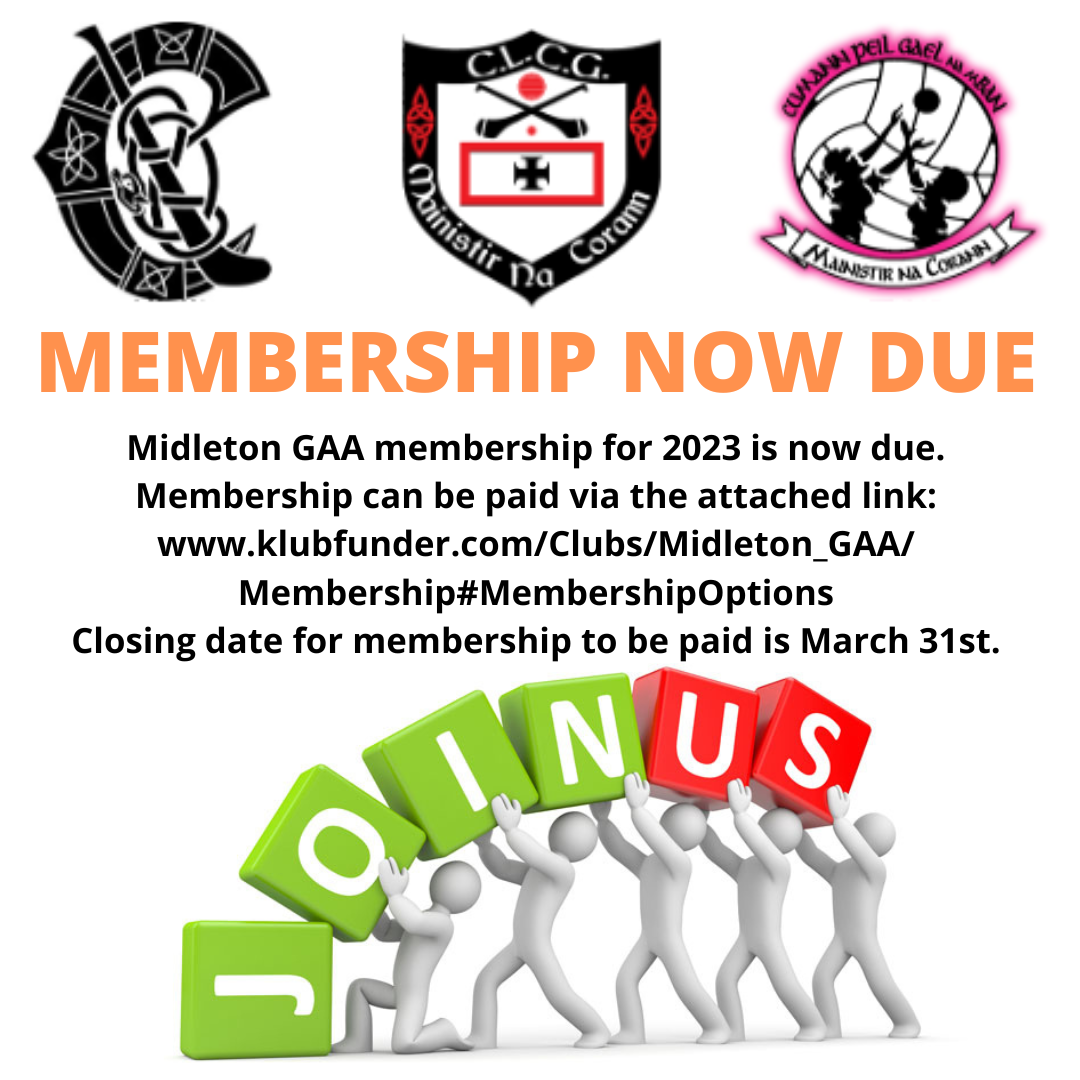 Tomorrow (Friday, March 31) is the deadline for this year's membership to be paid.
Membership can be paid via the attached link via Klubfunder. https://www.klubfunder.com/Clubs/Midleton_GAA/Membership#MembershipOptions
Please note that you can pay over three months through the link.
IN THE RED OF CORK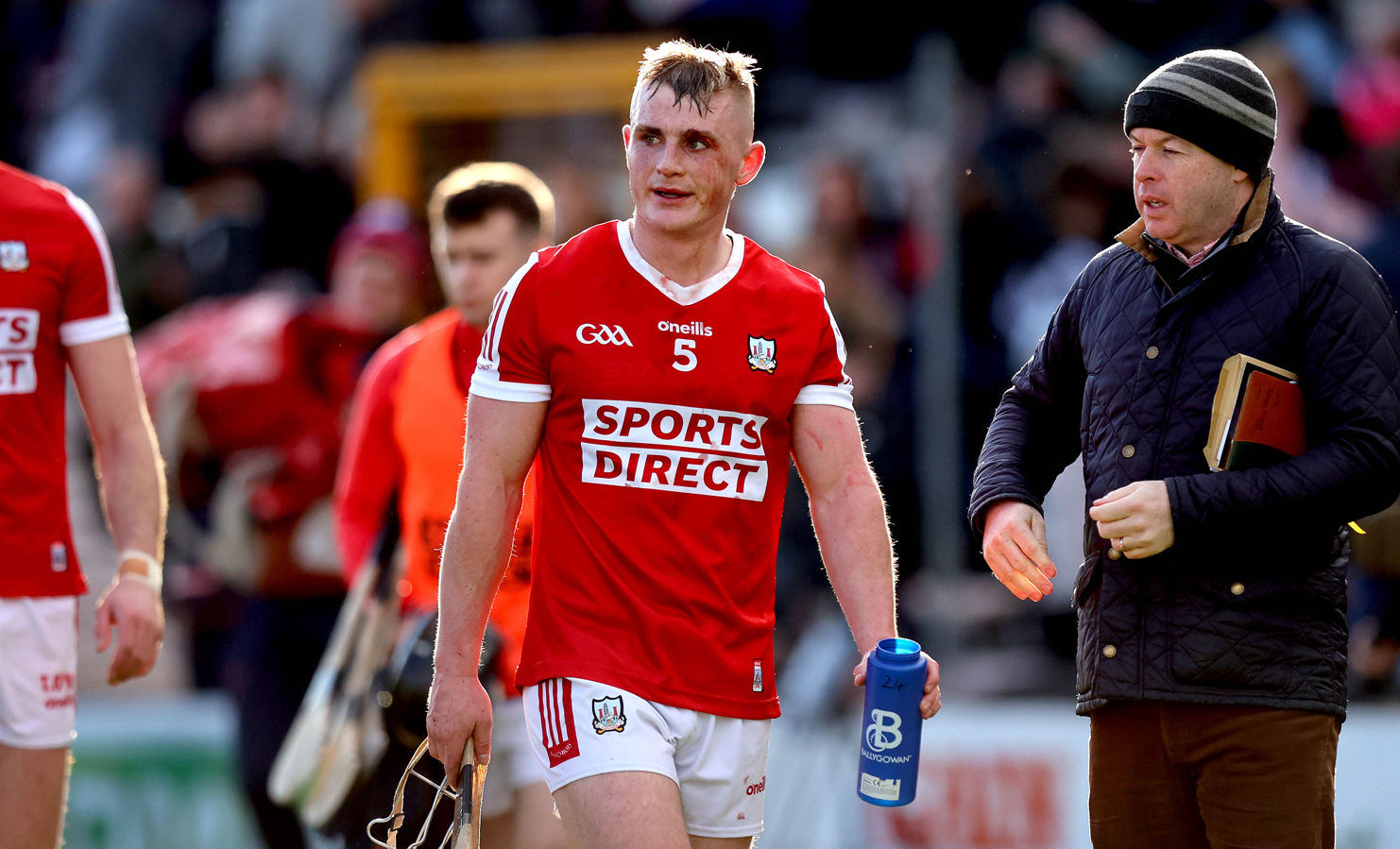 Hard luck to the Cork hurlers on their National Hurling League semi-final defeat to Kilkenny in Nowlan Park on Sunday last. Tommy (pictured above), Conor, Sam and Cormac were all part of the Cork panel.
Well done to Midleton's Carthaigh Cronin who lined out at left corner-back for the Cork minor team in their Munster Championship opening round win over Waterford (3-19 to 0-15) on Tuesday night in Pairc Uí Chaoimh. Great stuff Carthaigh and best of luck for the rest of the competition. Next up for Carthaigh and Cork are Tipperary on this coming Tuesday night (April 4) in Pairc Uí Chaoimh at 7pm.
The Cork U-20s had a very strong representation from Midleton on Wednesday night when they also got the better of Waterford in Pairc Uí Chaoimh on a final score of 1-17 to 1-13. Brion Saunderson (pictured below) was in goals, Mikey Finn was midfield, David Cremin came on as a sub and Ciarmhach Smyth and Alex Quirke are also on the panel. Terence McCarthy is a selector with this team and our county winning coach, Ben O'Connor, is the manager. This team is back in action on Wednesday night next, again in Pairc Uí Chaoimh, this time at 7.30pm.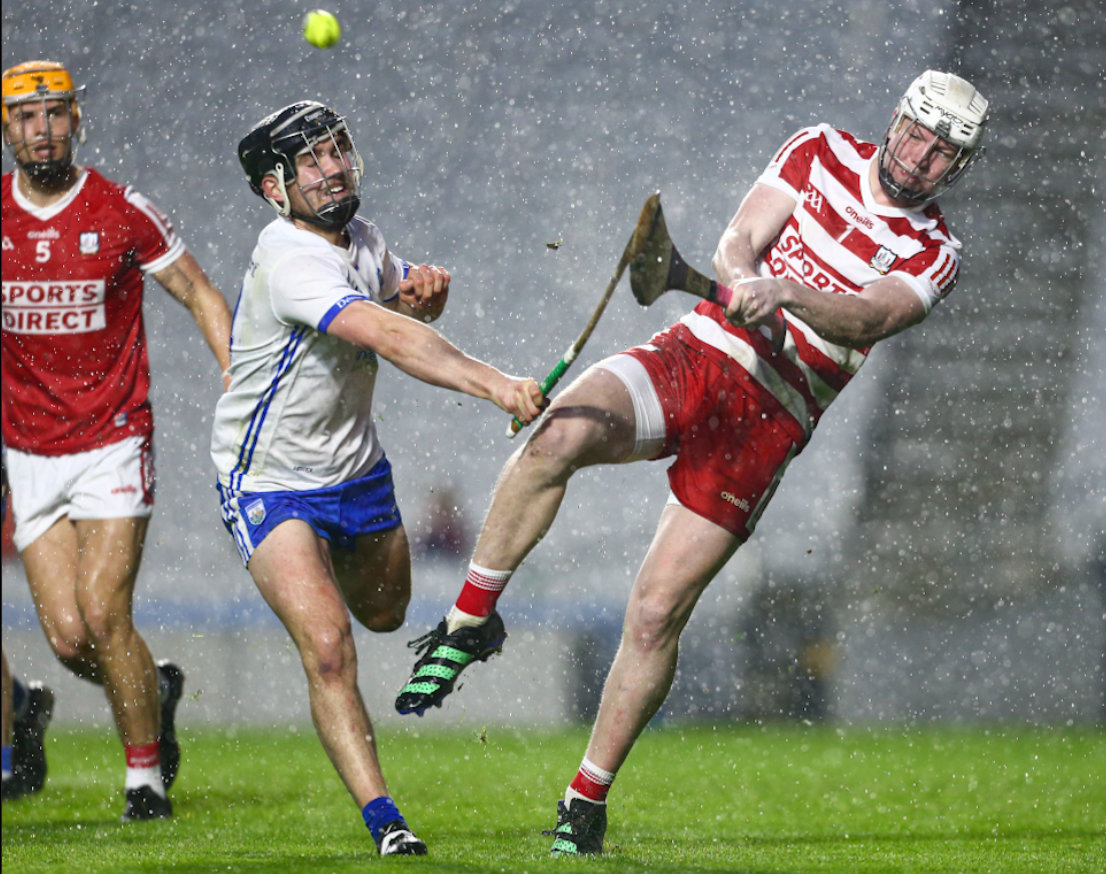 JUVENILES
FÉ13 FOOTBALL
Group 2 Football
MIdleton 4-9 Bride Rovers 1-4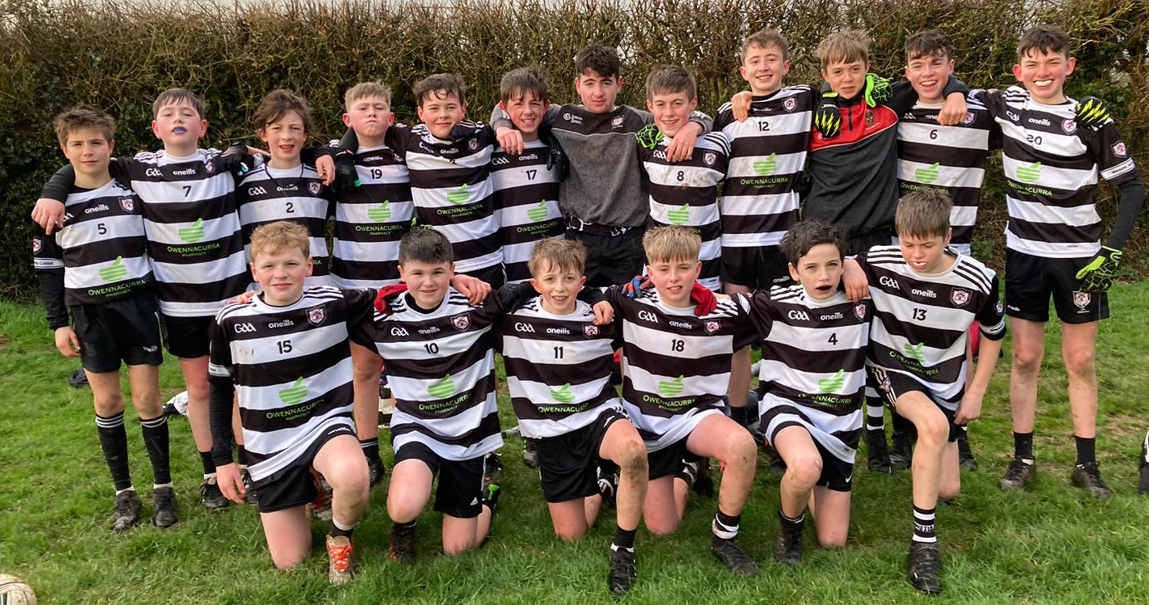 MIDLETON: Billy Collins, Cathal Brady, Cathal O'Neill, Dylan McInerney, Eoghan O'Donovan, Harry McCarthy, Hugh Barry, Jamie Ryan-O Mahony, Kevin Lester, Kian Crowley, Liam Cronin, Liam O'Sullivan, Michael O'Connor, Tadhg O'Dowd, Tiarnan Galvin, Tomas O Se, Will Stokes, Darragh O Cathasaigh, Fionn Byrne.
Group 4 Football
Midleton 0-0 Douglas 4-9
MIDLETON: Alex Lynch, Ben Fitzgerald, Billy Collins, Cathal Power, Cillian O Conchubhair, Conor Horgan, Craig Jeffery, Daniel Kent, Hugh Barry, Jack Long, Liam O Sullivan, Michael O'Connor, Sean Lucid, Tiarnan Galvin, Tom O'Mahony, Dylan Barry, Darragh Glavey, Dylan McInerney, Conor Power.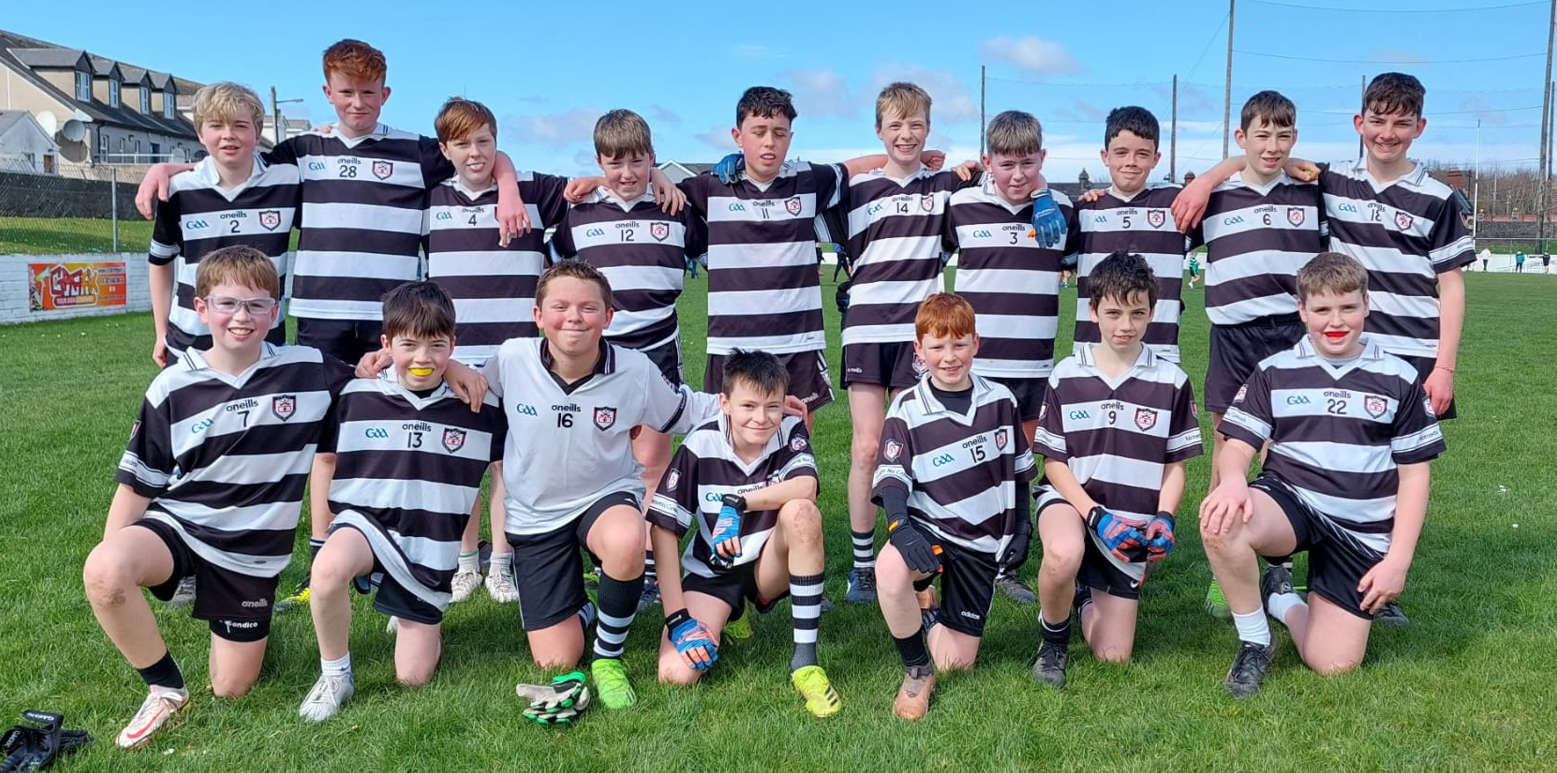 FIXTURES
THURSDAY, MARCH 30
Rebel Og Premier Fe15 Hurling League Group1
Killeagh v Midleton in Killeagh at 6.15pm
FRIDAY, MARCH 31
Rebel Og Premier Fe14 Hurling League Premier1
Midleton v Bride Rovers in Midleton at 18:45
SATURDAY, APRIL 1
Rebel Og Premier Fe18 Hurling League C3
Midleton 2 v Bandon in Midleton at 1pm
Rebel Og Premier Fe16 Hurling League Premier1
Midleton v Youghal in Midleton at 1pm
Rebel Og Premier Fe13 Hurling League Group1
Kiltha Og v Midleton in Castlemartyr at 1pm
Rebel Og Premier Fe13 Hurling League Group4
Midleton 2 v Douglas 2 in Midleton at 2pm
SUNDAY, APRIL 2
Rebel Og Premier Fe14 Hurling League C3 Group1
Sarsfields 2 v Midleton 2 in Kiely Park at 1pm
MONDAY, APRIL 3
Rebel Og Premier Fe15 Football League Group3
Midleton v Carrigtwohill in Midleton at 6.15pm
Rebel Og Premier Fe14 Hurling League Premier1
Midleton v St Finbarr's in Midleton at 7pm
WEDNESDAY, APRIL 5
Rebel Og Premier Fe14 Football League Premier2 Section1
Bride Rovers v Midleton in Rathgormac at 6.45pm
REGISTRATION DAY
Thank you to all who came and who helped out to makE last Saturday morning's registration day such a great success. Much needed funds were also raised for the Bumbleance Charity.
CAMOGIE
FÉ14S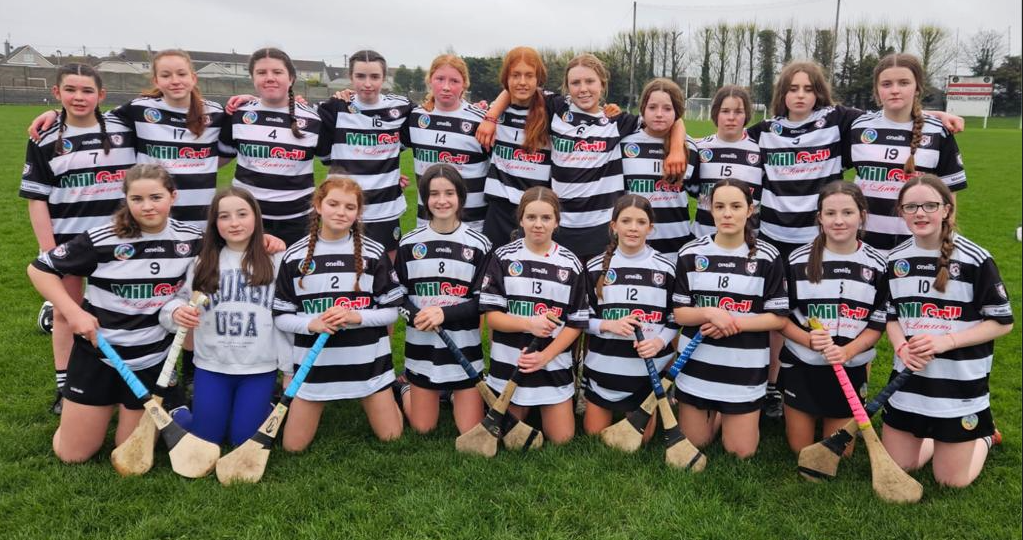 The U-14s were in action against Sars in Clonmult Memorial Park on Saturday evening. It was a great game with impressive skills on display for so early in the season. Well done to Jaimey (pictured below) who captained the team and was outstanding at fullback.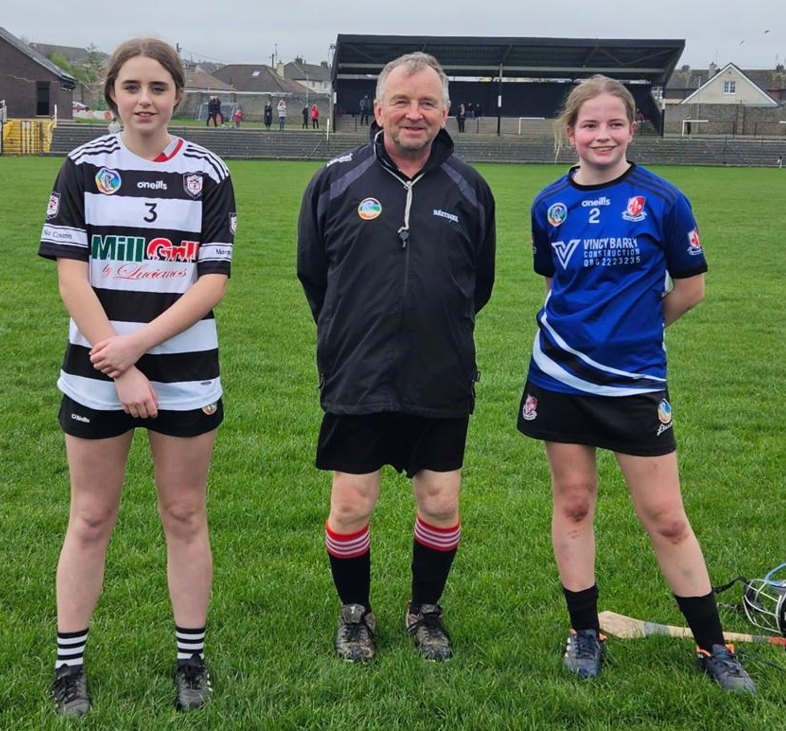 FÉ13S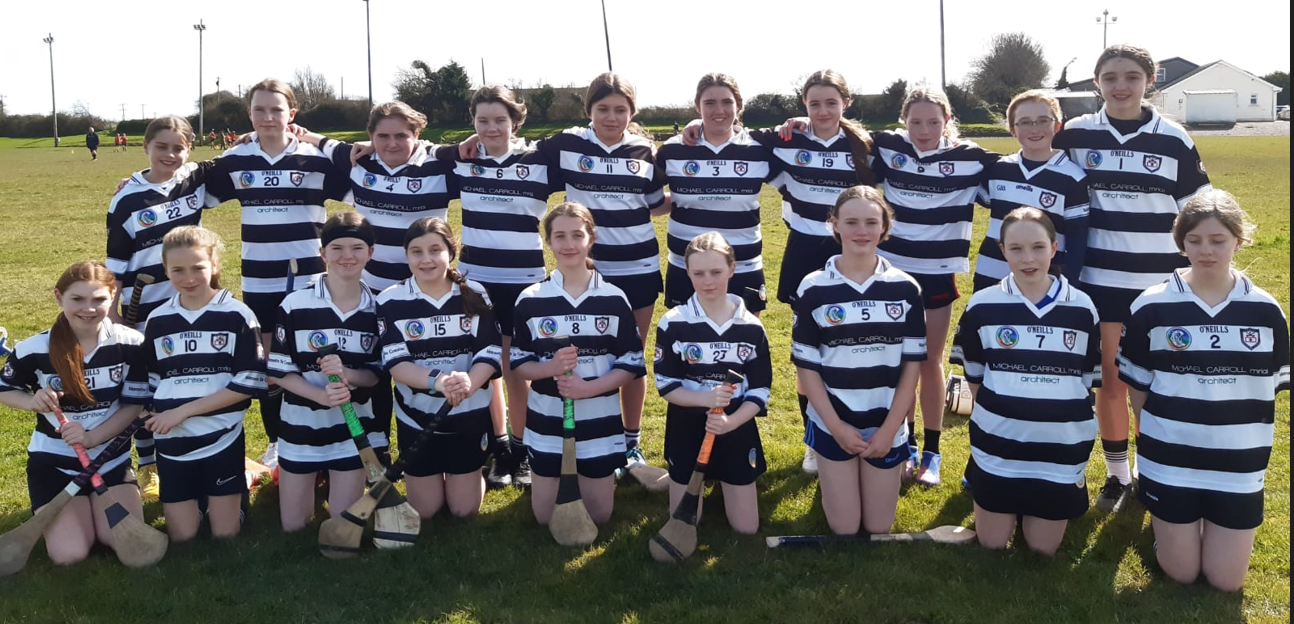 The U-13s were in action with a friendly game on Sunday in ideal conditions in Fr. O'Neill's Pitch. Fair play to all the players who contributed to this exciting game of camogie. It was our first game of the season and a good effort was put in by all. Thanks Fr. O'Neill's, the referee and all the supporters.
Well done to Mille (pictured below) for captaining the Midleton team on the day.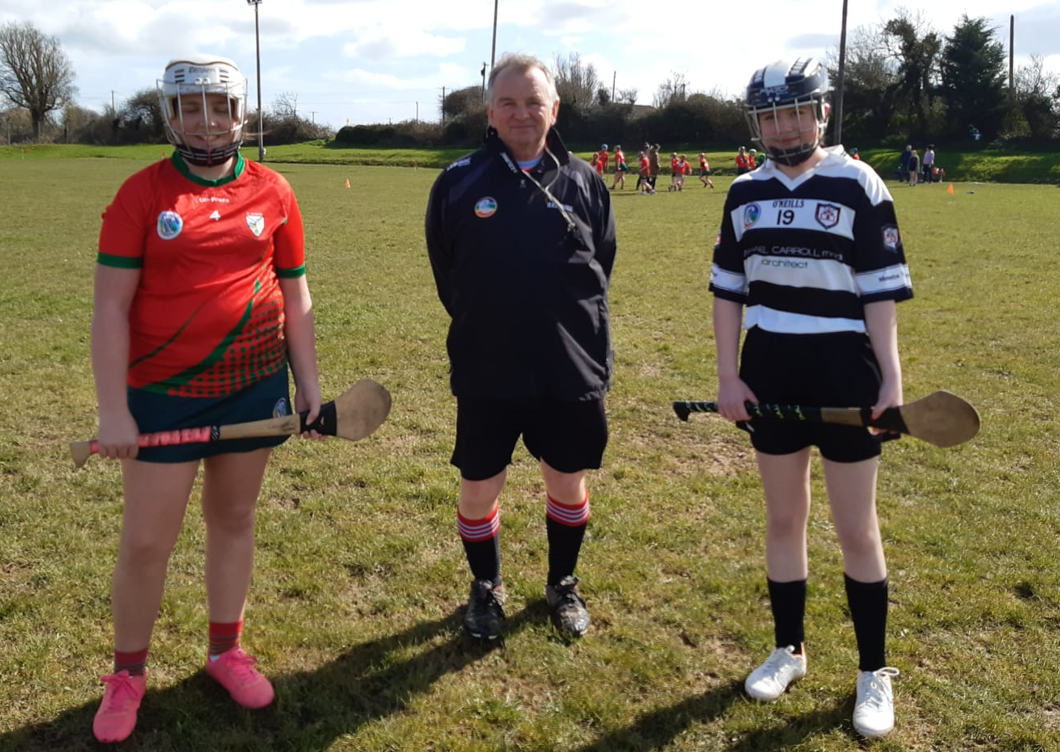 LADIES FOOTBALL
GAELIC FOR MOTHERS AND OTHERS
Finally!!!! Easter Monday 10th of April at 10am in Clonmult with refreshments after in the clubhouse. Come rain or shine we will be out!!
Please have football boots and mouth guards. Looking forward to seeing you all.
FIXTURES
Sat April 1st U14 v Cloyne in the Old pitch Cloyne 2.30pm
Sun April 2nd Junior 2 v Nemo in Nemo 6.30pm
Mon April 3rd Minor v Youghal in Park South at 6.30pm
TRAINING
Training returns for our U8 and U10 teams on Monday evening in Ballinacurra pitch from 6.30-7.30pm. Please note this is Weather permitting. Keep an eye on social media for any changes. Help is urgently required for our U8 team going forward. If you can spare an hour on a Monday evening please let us know (Tracy 087-6625544, Mairead 087-2412010).
STREET LEAGUES
Football Street league were postponed due to the pitches being unplayable. New dates are as follows: Monday April 17 & Wednesday April 19th 7-8pm in Park South.
MEMBERSHIP
Membership is now DUE for all players and coaches. You must be registered from April 1st to be able to train and play matches. If you have any queries please contact your Team manager.
CIVIC RECEPTION
Congratulations to Orlagh Farmer who along with Orla Finn had a special day held for them and their families in the City Hall to honour them for the Football achievements. The Mayor of Cork County, Cllr. Danny Collins & elected members of Cork County Council were also present. Orlagh was also supported by her Club Mentors.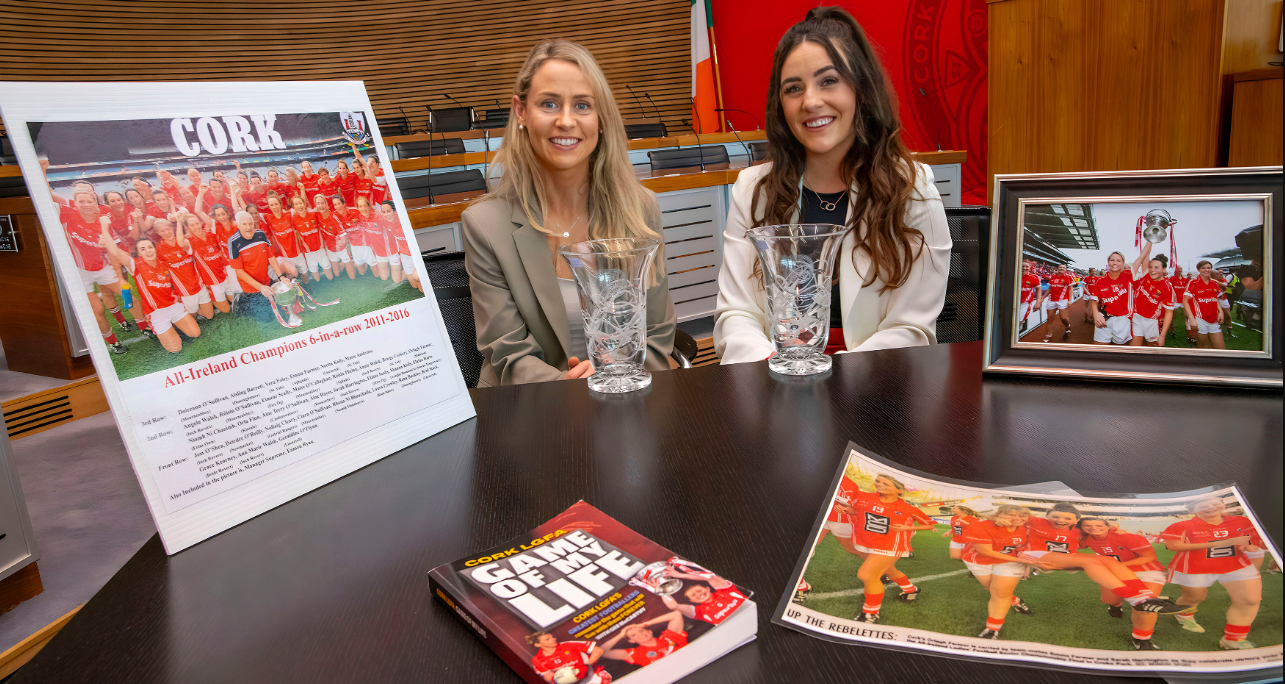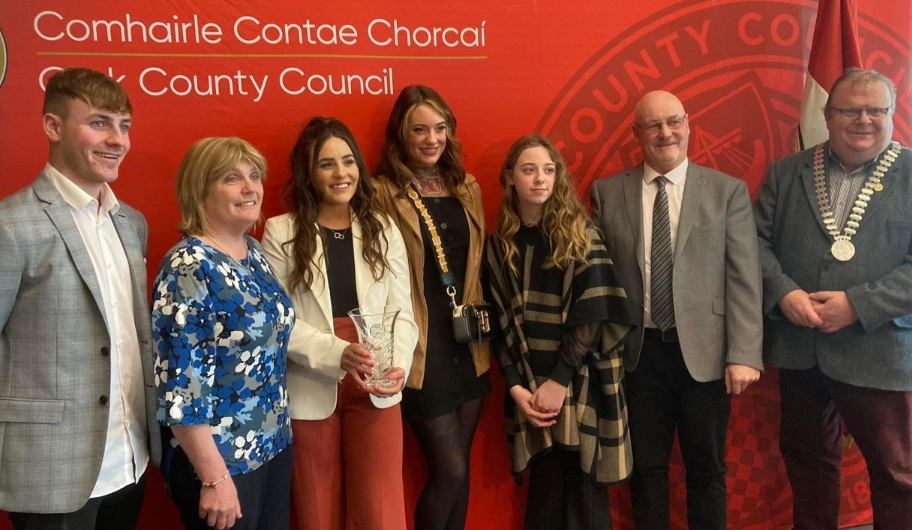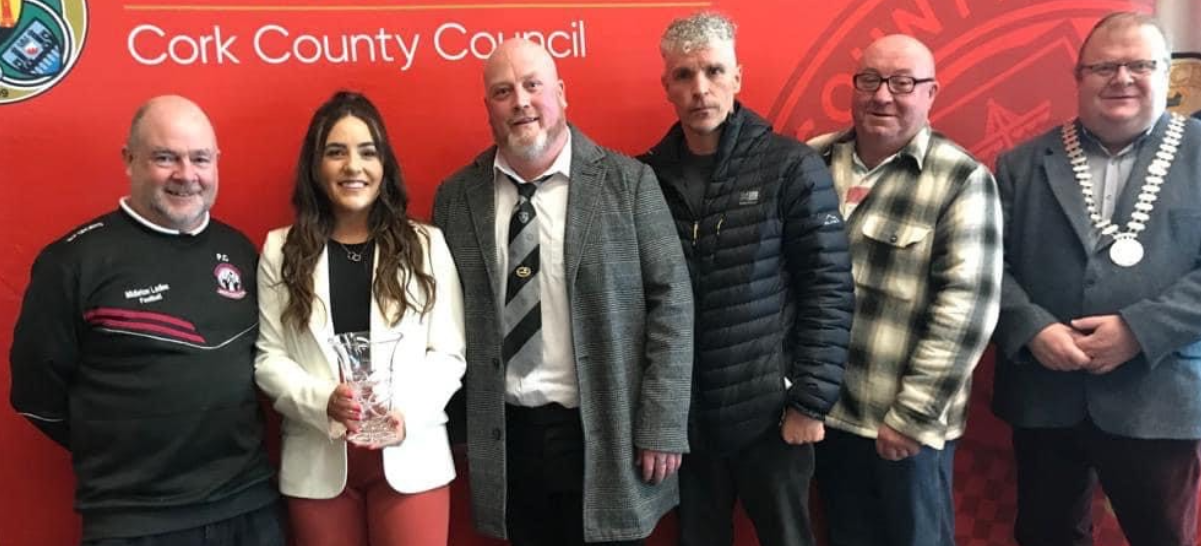 ORLAGH FARMER'S EASTER CAMP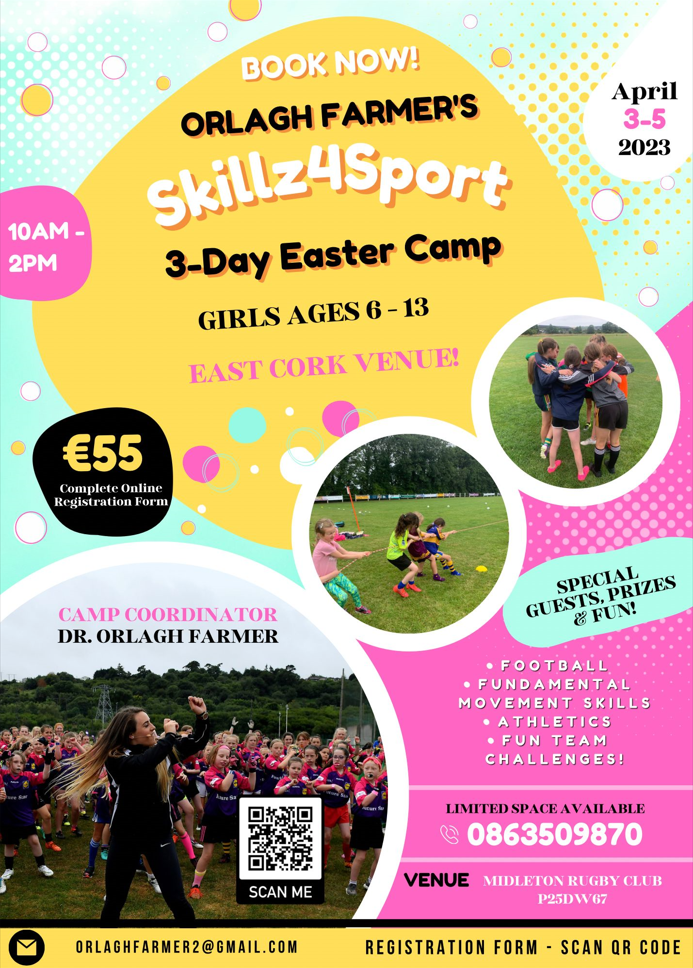 Our own Orlagh Famer is running an Easter Sports Camp this Easter. Here are the details:
Girls: aged 6-13 years
Dates: Monday 3rd - Wednesday 5th April 2023
Venue: Midleton Rugby Club (RFC) Pitch, Townspark, Midleton, Co. Cork (P25DW67)
Time: 10.00am - 2.00pm

Camp Activities Include:
- Football, Fundamental Movement Skills, Athletics, Fun Team Challenges! Special guest, prizes & plenty of FUN!
Bookings at: http://docs.google.com/forms/d/e/1FAIpQLScGD_HmkM9FhWehOOfZDA1LbRmZjQ7OE60yGKGxalIn8izf6g/viewform
EASTER CAMPS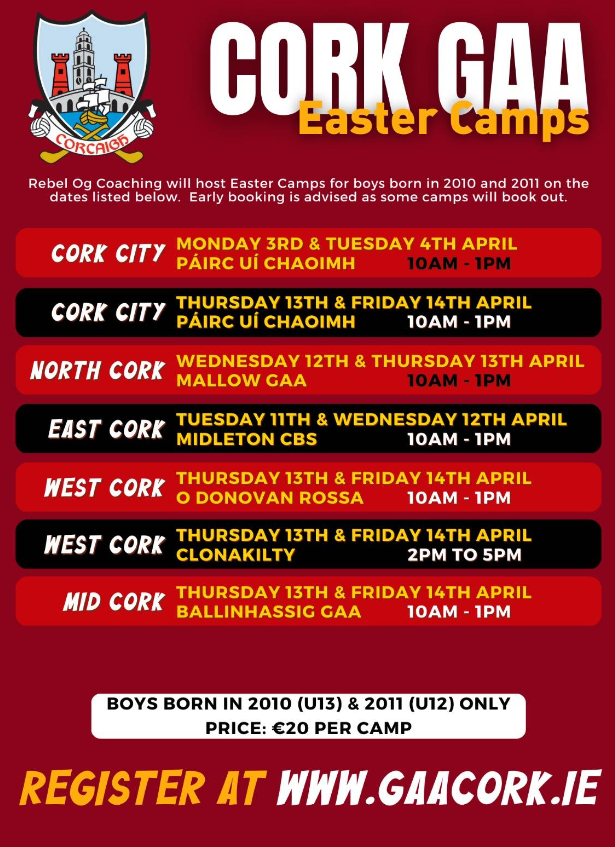 Cork GAA are running some Easter camps for boys born in 2010 and 2011, including one in Midleton CBS more details and booking at the link below
Easter Camps for boys born in 2010 and 2011 – Cork GAA (gaacork.ie)
GAA LEARNING PORTAL

We have been aksed to remind members and especially our club coaches that the GAA Learning Portal is a great resource which is free to use. Please check it out at http://learning.gaa.ie/about
MIDLETON GAA MONDAY CLUB
Last Monday we held our third "Monday Club" get together. We welcomed some new faces and we were delighted that Ger Fitzgerald was able to join us. Ger is the driving force behind the Monday Club.
We remembered our friend Ger Glavin who sadly passed away last weekend. Ger attended our first two monthly meetings and he was remembered fondly on Monday by all in attendance. A minute's silence was held and Ger Fitzgerald recounted Ger's GAA career which in today's standards is remarkable. Ger will be missed at the Monday Club but will be fondly remembered. Suaimhneas síoraí.
We look forward to seeing you all (and any new faces) next month, Monday, April 24 from 10.30am to 11.30am. All Welcome!
MIDLETON GAA GOLF SOCIETY
Our first outing is the Easter Hamper in East Cork Golf Club on Saturday week (April 8). Tee booked from 1pm to 2.30m. This outing is kindly sponsored by Philly O'Brien of O'Briens Mazda, Cork Road.
Our second outing is Robbie Fitzgerald's Captain's Prize on Tuesday, May 16 at Cork Golf Club. Tee booked from 3.30pm to 4.30pm. Looking forward to seeing all our current members and of course new members are most welcome.
LOTTO DRAW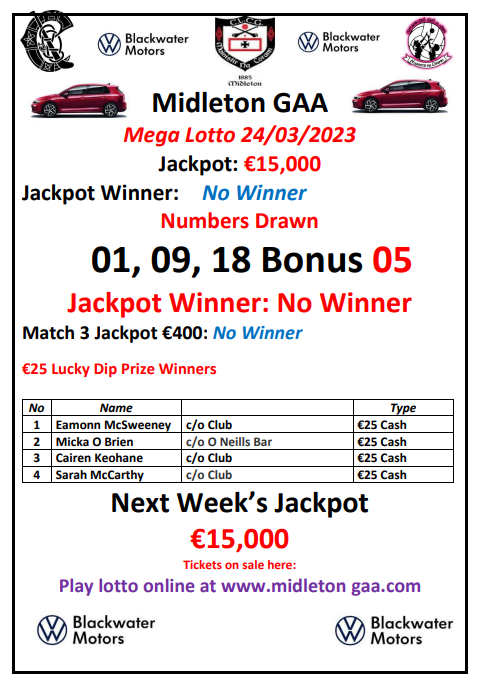 The Jackpot was €15,000 for last Friday night's jackpot and the numbers drawn this week were 1, 9, 18. The bonus was 5.
The €25 Lucky Dip Prize winners were: Eamonn McSweeney, Micka O'Brien, Cairen Keohane and Sarah McCarthy.
There was no jackpot winner or Match 3 winner.
Play 24/7 at: http://www.klubfunder.com/Clubs/Midleton%20GAA/lotto
In total Midleton GAA will give out local business vouchers to the value of €3,800 every year as part of our "Shop Local, Buy Local" campaign.
How to play: tickets are on sale at Pat Walsh Paints, Chadwicks, Frank Murphy Butchers, Murphy's Pharmacy, Crowley Butchers, or buy online (see above).
BINGO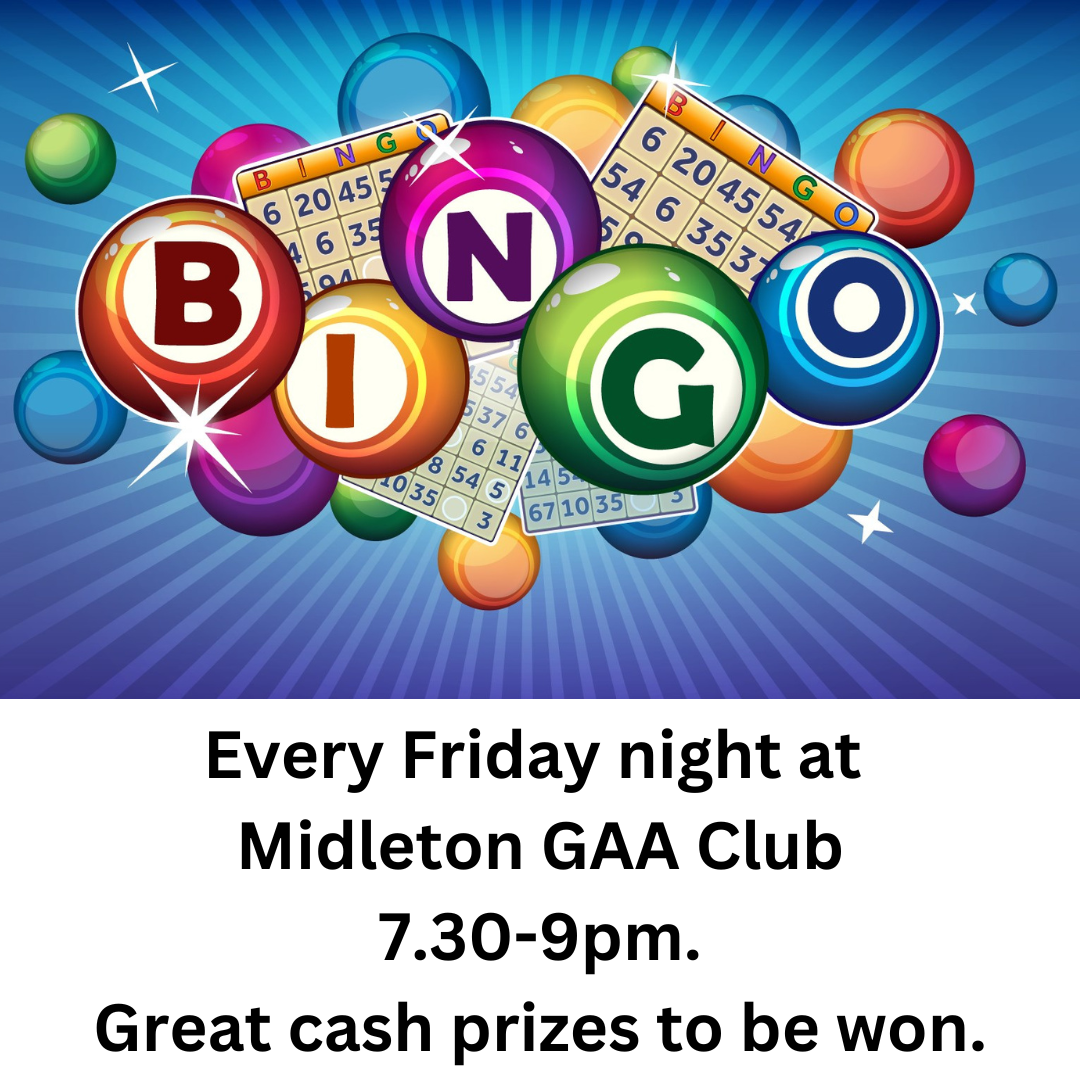 Fancy a good night which also benefits Midleton GAA club...what about bingo on Friday nights?
It kicks off at 7.30pn every Friday night and is over by 9pm. A single book is €6. A double book is €12. We had our biggest crowd since before Covid on Friday night last so thanks to everyone for coming in such big numbers, it is much appreciated. New players are always welcome....
SOCIAL DANCING
Dancing on this Saturday night to Waterford's Cathal and Teddy Barry from 9.15pm. All welcome for a great night.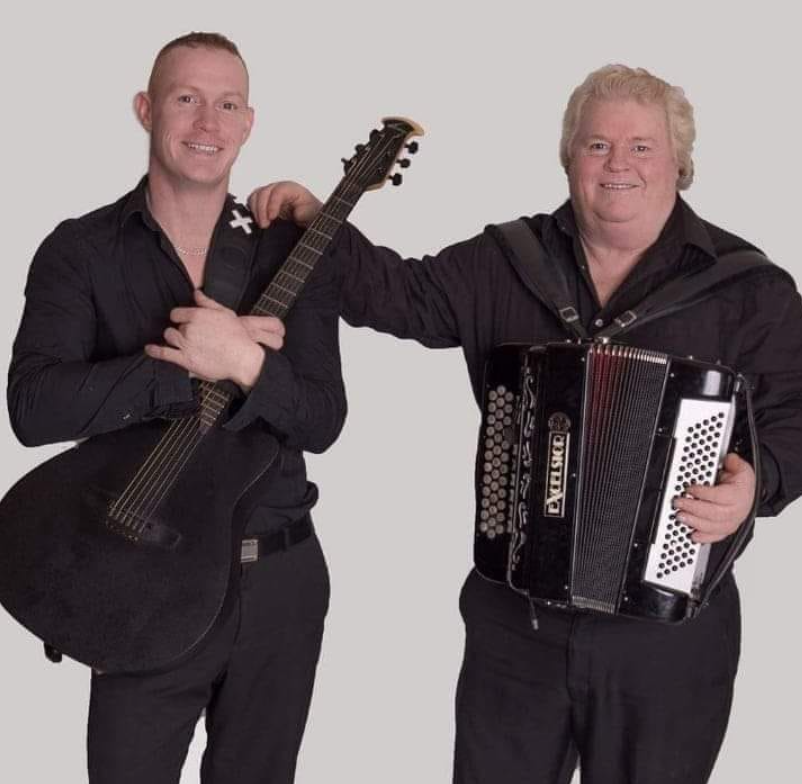 MIDLETON CONCERT BAND
Midleton GAA and the Midleton Concert Band have a long friendship and that continues on Sunday when we will host the band for what promised to be a great concert in our hall from 5pm on this coming Sunday. Don't miss it.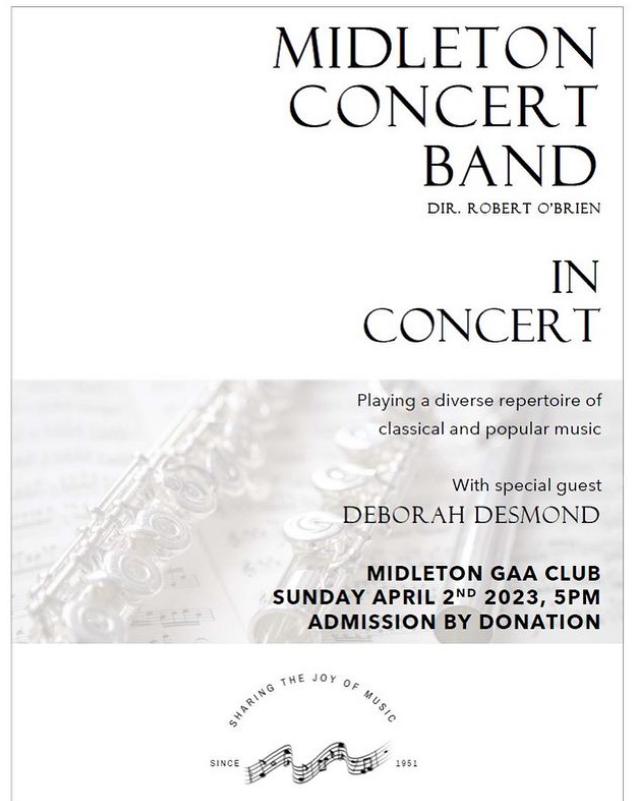 CLUB SHOP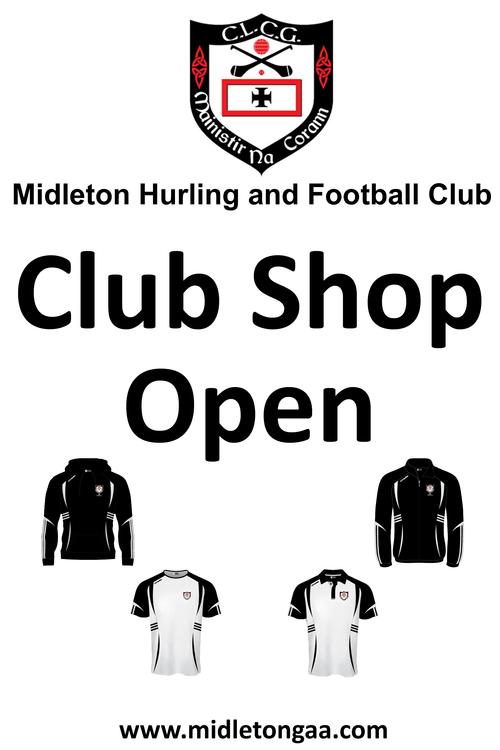 With almost all our hurling, camogie and ladies football teams now back up and running, we will have an extended opening time this coming Saturday...9.30am to 11am....to stock up on all your gear needs from the coming season.
All you have to do is go to the Klubfunder website (www.klubfunder.com/Clubs/Midleton%20GAA/ShopItems) and you will see the full range of what's available to buy. You can shop away to your heart's content, pay for it online and then collect your purchases at the club shop on Saturday morning. Thank you.
MIDLETON GAA EASTER DISCO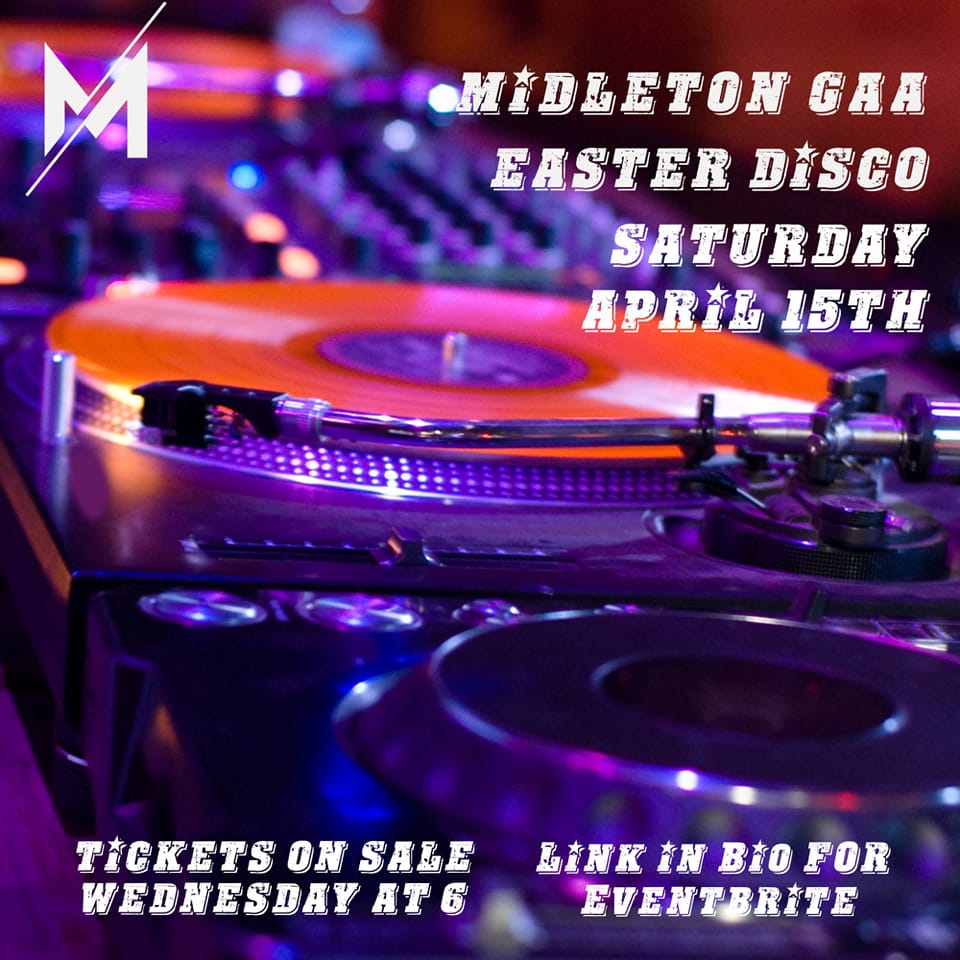 Midleton GAA's Easter Disco is on Saturday April 15th.

Tickets now on sale at the link below:
www.tinyurl.com/midletoneaster
CONGRATULATIONS
A big congratulations to long time Midleton GAA goalkeeper and Magpies All Stars coach Coran Swayne who married Katie on Saturday last. We wish them a long and happy life together.
MUNSTER CHAMPIONSHIP PREVIEW NIGHT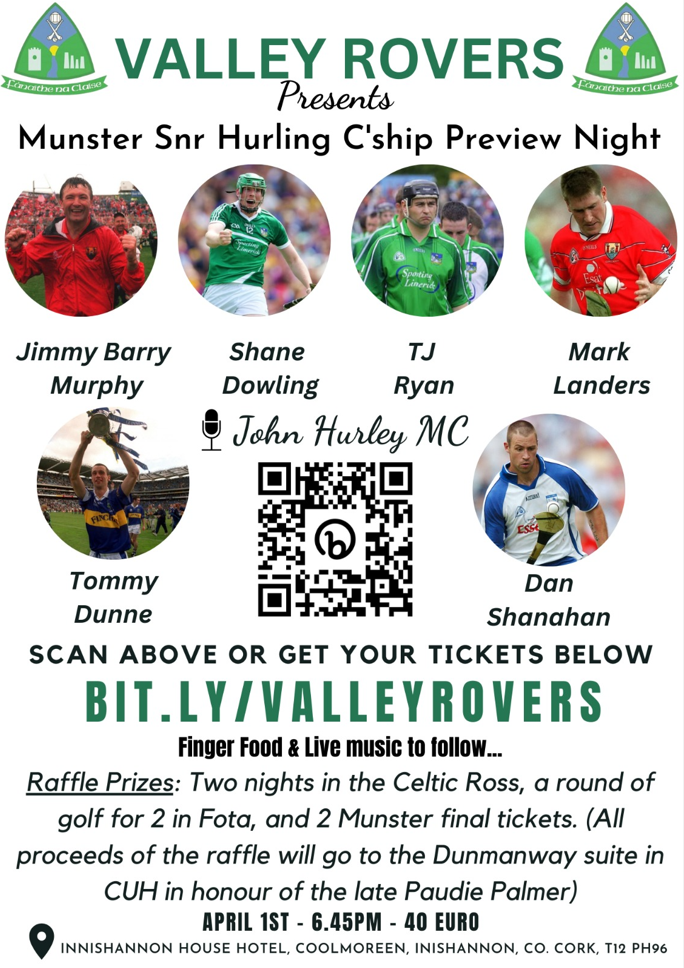 Valley Rovers are holding a Munster Hurling Championship Preview Night on this coming Saturday night at the Innishannon Hotel, see the above poster for all the details.
PLEASE PLAY YOUR PART
​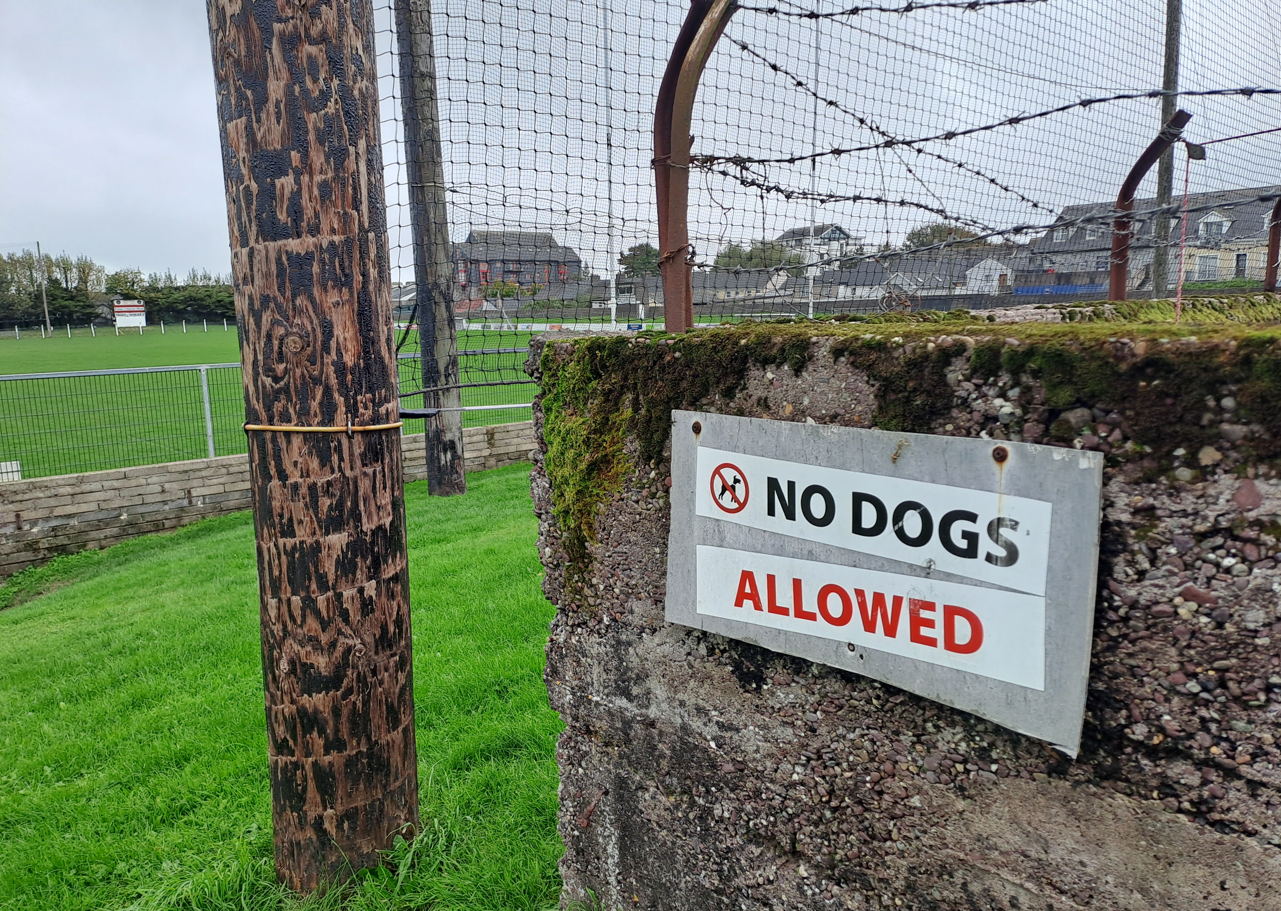 We are asking all players, mentors, parents, supporters and neighbours to please play their part by playing ball on the following.....
Please slow down entering and leaving Park South.
No dogs, except assistance dogs, are allowed at Park South or Clonmult Memorial Park.
Please do not bring single-use plastic bottles to either Park South or Clonmult Memorial Park.
Please put your rubbish in a bin or bag and please bring your gear home with you.
And always be aware of the open water surrounding the pitches in Park South.
If you are a coach, please pass on these simple messages to players and parents.
All members are asked to respect referees and their officials at all times.
Also if you are a coach, last person out locks the gate, toilet and container.
CONDOLENCES
All at Midleton GAA would like to extend our deepest symathies to Mary Quinn, Liam O'Keeffe and their family at the reccent death of their uncle, Sean Gorman, in County Sligo. Ar dheis Dé go raibh a hanam. (See tribute to Ger Glavin at the top of these notes).