Midleton Hurling and Football, Ladies Football and Camogie Club News - March 23
23 March, 2023
RED FM SENIOR HURLING LEAGUE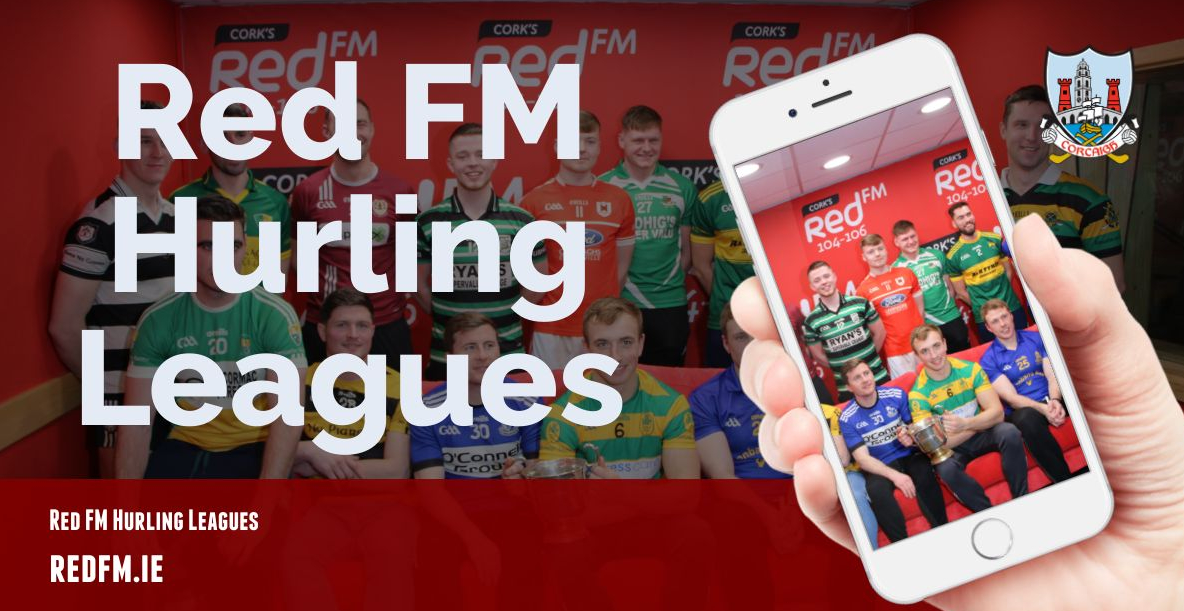 COURCEY ROVERS 1-16 MIDLETON 1-16
Our senior hurlers travelled to Ballinspittle on St. Patrick's Day and a very youthful Magpies side put up an excellent display against an experienced Courceys in front of a big crowd.
Points from Paul Haughney and Ross O'Regan gave us an early 0-2 to 0-1 lead but Courceys struck for the opening goal of the game soon after from a penalty and by the end of the first quarter we trailed by 1-4 to 0-2.
Points from Ross O'Regan (2), Kian Farmer and Cian Crowley saw us narrow the gap but Courceys finished the half the stronger and led at the break on a scoreline of 1-9 to 0-7.
We started the second-half brightly and points from Aaron Mulcahy, Paul Haughney and Cian Murray saw us come within two points.
We then got the goal our good play and outstanding work-rate deserved in the 45th minute when a stinging Ross O'Regan shot was saved by the goalie but the lively Kian Farmer was on hand to rattle the net with the rebound to level proceedings for the first time since the tenth minute, 1-11 apiece.
Swapped scores from Courceys and a beauty from Sean O'Sullivan and a '65 from Aaron Mulcahy had it at 1-13 apiece with ten to play. Points from Kian Farmer and Ross O'Regan from play had us two clear on 24 minutes but three in a row from the home side had them one up as the game ticked into injury-time but Aaron Mulcahy levelled proceedings from a free to give a deserved share of the spoils to both sides after a well-contest and most enjoyable game of hurling.
This puts us on four points after two games after our opening round win over Bishopstown. Next up are St. Finbarrs at home on Sunday week.
Scorers: Kian Farmer 1-3, Ross O'Regan (0-1 F) and Aaron Mulcahy (0-2 frees & '65) 0-4 each, Paul Haughney 0-2, Cian Crowley, Cian Murray and Sean O'Sullivan 0-1 each.
MIDLETON: Bryan Rossiter, Cathal Gunning, Christian Murphy, Seadhnaidh Smyth, Eoin Moloney, Sean O'Sullivan, Cian Murray, Paul Haughney, Cormac O'Brien, Rory Hartnett, Ross O'Regan, Aaron Mulcahy, Cian Crowley, Kian Farmer, Paul Connaughton. Sub: Adam Daly for Haughney.
RED FM INTERMEDIATE HURLING LEAGUE
MIDLETON 1-12 ARGIDEEN RANGERS 3-13
Our intermediate hurlers entertained Argideen Rangers of Timoleague at Clonmult Memorial Park on Saturday afternoon in the second round of the league.
The West Cork men had the benefit of the strong breeze in the first-half and at the call of half-time it was they who led on a scoreline of 1-9 to 0-5.
We put a strong fight all the way to the final whistle but goals win games and in the end it was Argideen who came out on top on a final scoreline of 3-13 to 1-12.
Next up is a local derby against Dungourney on the weekend after next.
MIDLETON: Cillian Hurley, Cathal Gunning, Christian Murphy, Cormac O'Brien, Evan McCarthy, Adam Faye, Leo Hennessy, Gavin Reddy, Padraig O'Keeffe, Tadhg O'Leary Hayes, James Nagle, Cathal Beausang, Padraig O'Brien, Cian Crowley, Tim O'Sullivan. Subs: Peter Dowling for O'Sullivan, Dan O'Sullivan for Reddy, Colin Sunderland for Gunning.
EAST CORK JUNIOR HURLING DIVISION 2
MIDLETON 4-20 ST. CATHERINES 1-5
On Sunday morning last, in a wet Clonmult Memorial Park we tuned in a very good display to overcome the challenge from the men from Ballynoe. Leading 1-9 to 0-2 at half-time, Midleton pulled away in the second-half to run out comfortable winners. Our next outing is away to Youghal on the weekend after next, details to follow.
MIDLETON: Zach Smith, Colin Sunderland, Alwyn Kearney, Aaron Coughlan, Evan McCarthy, Aidan Ryan (0-1), Patrick Kane, Leo Hennessy (0-4, 1 '65, 1F), Adam Fay, Johnny Comer (1-3), Peter Dowling (2-1), Harry Wall (1-0), Conor Fitzgerald (0-7), Padraig O'Shea (0-1f), Evan Rowlands (0-3). Sub used: Liam Kelly
EAST CORK JUNIOR HURLING DIVISION 4
MIDLETON 2-10 DUNGOURNEY 0-10
Last Sunday afternoon in Dungourney we came away with the points after a tough hour's hurling. In wet and heavy underfoot conditions we led at half time by 1-6 to 0-3. We maintained that lead throughout the second-half. Great credit to the lads for their efforts. Our next league game is away to Cobh on Sunday, the 2nd of April with a 4pm throw-in.
MIDLETON: Cillian Hurley, Rory Lester, Colin Sunderland, Dan O'Sullivan, Fergus Wade (0-1), Liam Kelly, Brendan Ferriter, Luke Deane, Riain de Barra, James O'Sullivan, Andy Rea, James Condon (0-1), Ben O'Neill, Brian O'Sullivan (2-0), Tim O'Sullivan (0-7 5f). Subs used: Gavin Hurley, Jerome Curtin, Jack McKay, Coleman Quinn.
JUNIOR FOOTBALL FIXTURES
Our two junior football teams are back in action again this weekend. On Sunday our Junior A team travel to Aghavine to take on Fr. O'Neills at 11.30am. On Monday our junior C team host Glenville at 7pm.
ST. PATRICK'S WEEKEND
A big thank you to everyone who joined us for a great evening on St. Patrick's Day.
Thanks to Pat O'Brien and all his bar staff, DJ Michael, all the wonderful traditional musicians and anybody who contributed to a great event.
Thanks also to the large crowd that gathered on Saturday evening in the club to cheer the Irish rugby team to Grand Slam success.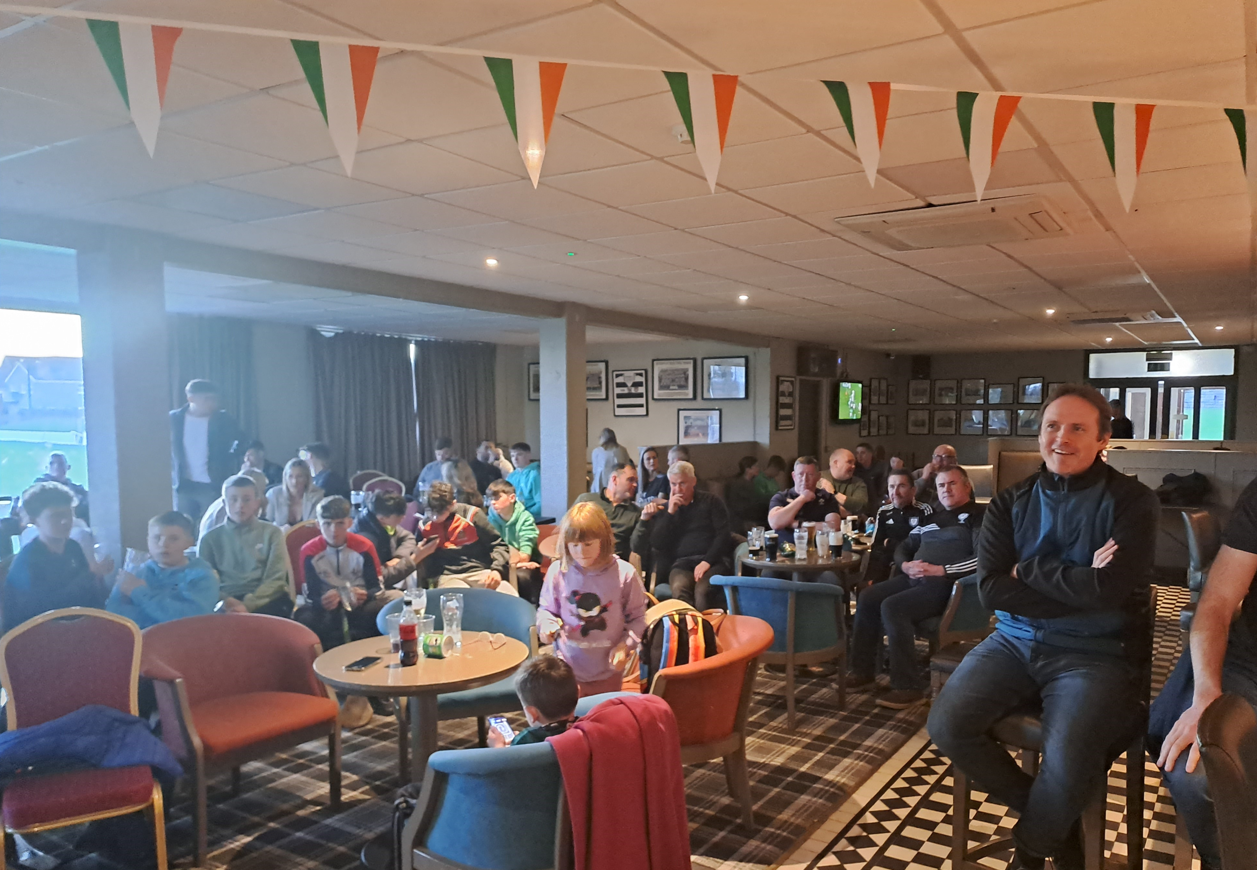 MEMBERSHIP FOR 2023 IS NOW DUE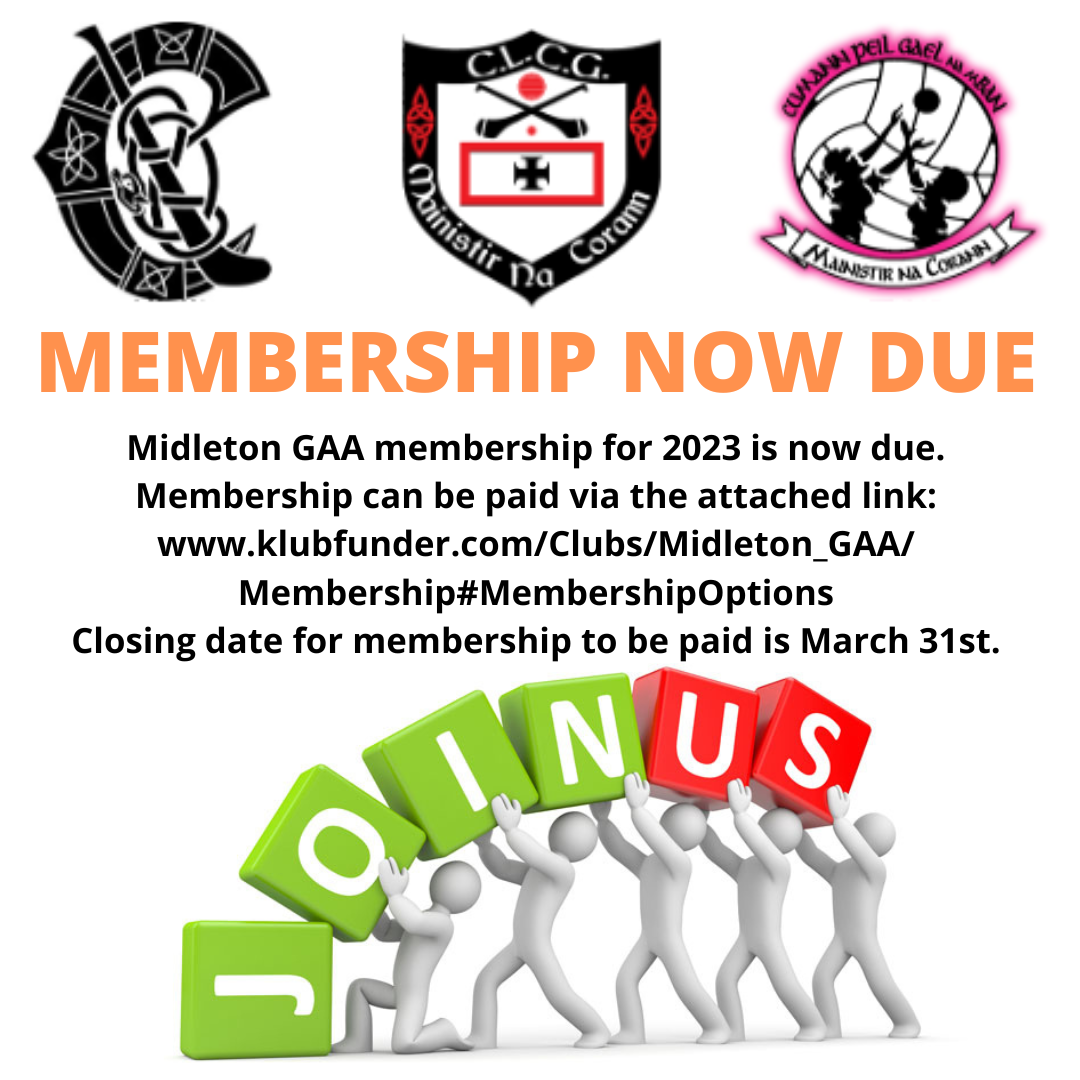 Midleton GAA Membership for 2023 is now due. Membership can be paid via the attached link via Klubfunder. https://www.klubfunder.com/Clubs/Midleton_GAA/Membership#MembershipOptions
Closing date for memebership to be paid is March 31st.
Please note that you can pay over three months through the link.
IN THE RED OF CORK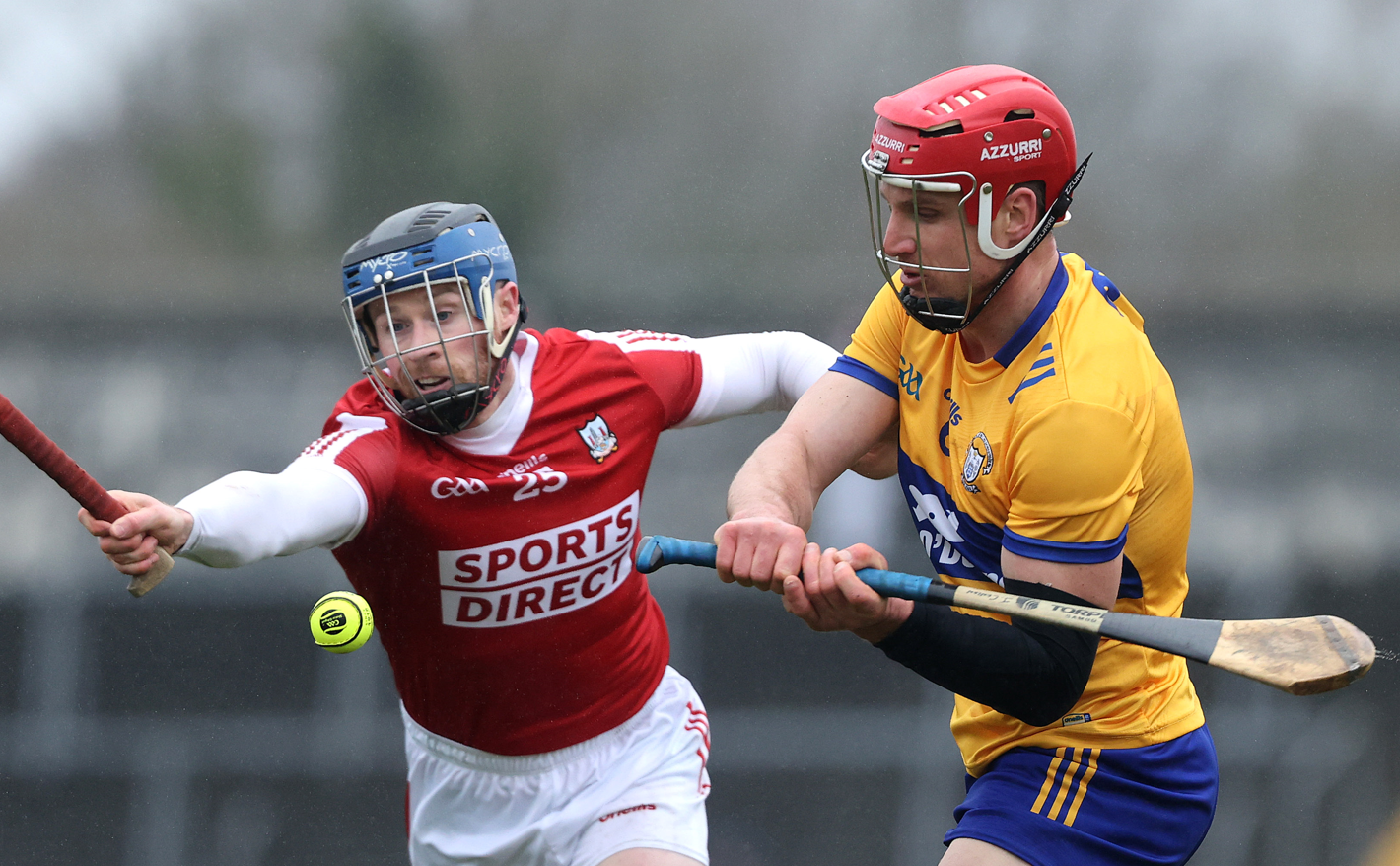 Well done to the Cork hurlers on their National Hurling League draw with Clare in Ennis to maintain their unbeaten league record on Sunday last. Conor, Sam and Cormac were part of the Cork panel on the day.
Next up is a National Hurling League semi-final with Kilkenny in Nowlan Park on this coming Sunday, March 26 at 4pm. Best of luck to all the Cork players and management as they attempt to make back to back league finals, against either Limerick or Tipperary.
REGISTRATION DAY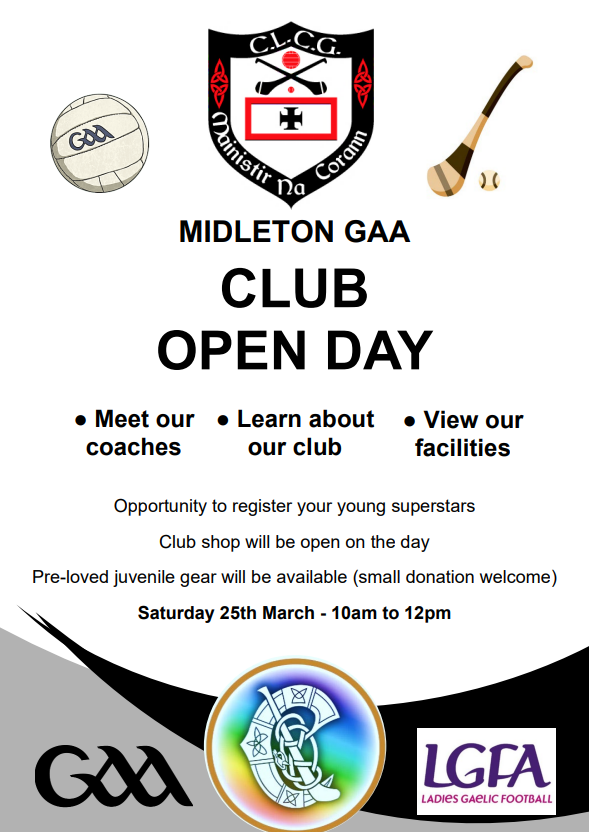 We will hold a registration day for any potential members across our club - boys, girls, men or women on this coming Saturday, March 25 in our club house from 10am to 2pm. Our Club Shop will also be open on the day, with a clearance sale, and there will also be pre-loved gear for sale for a small donation. Don't miss it.
JUVENILES
FOOTBALL STREET LEAGUES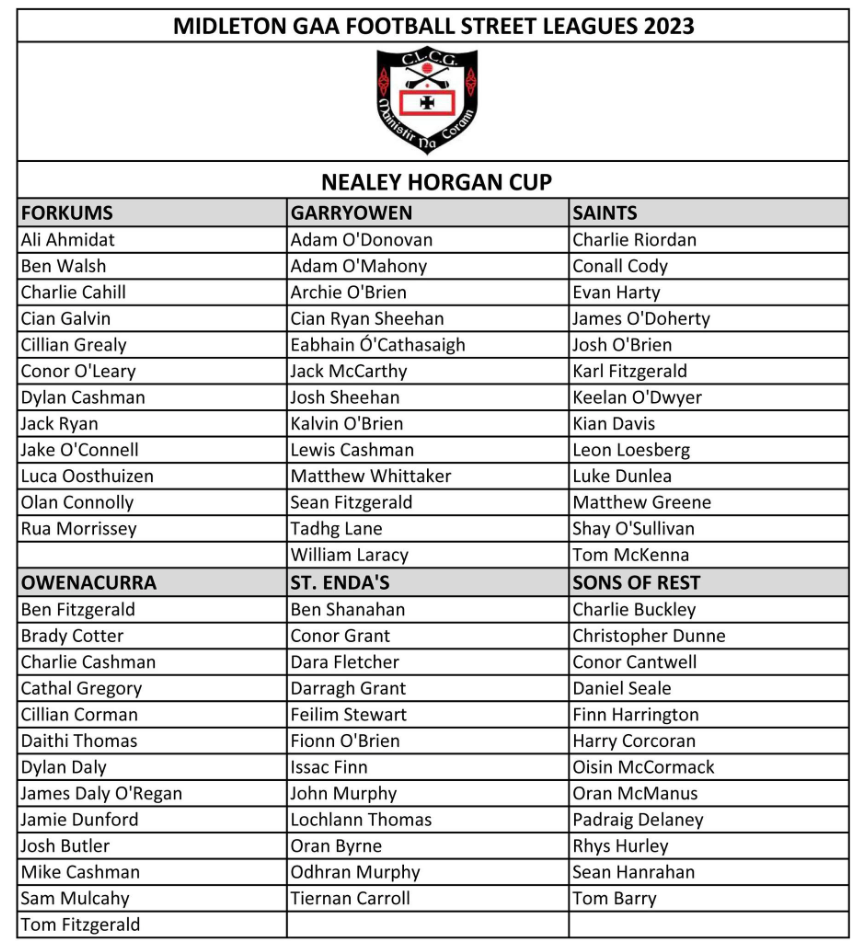 There was great excitement with the announcement of the teams for this year's Midleton GAA football Street Leagues. This year the players will playing for the Nealy Horgan Cup with the first round taking place next Monday, March 27th. All are welcome to see the next generation.
Nealy Horgan was a wonderful Midleton GAA man and is great to be able to honour his memory with this new cup.
FÉ14 HURLING LEAGUE
The Fé14 lads had a good win in their first hurling league match of the year on St. Patrick's Day when they travelled to Ballincollig for a repeat of last year's Fé13 County Final. After an excellent contest it was the young Magpies who came out on top on a final scoreline of 3-13 to 0-11. Well done lads.
FÉ15 GROUP 4 HURLING LEAGUE V CLONAKILTY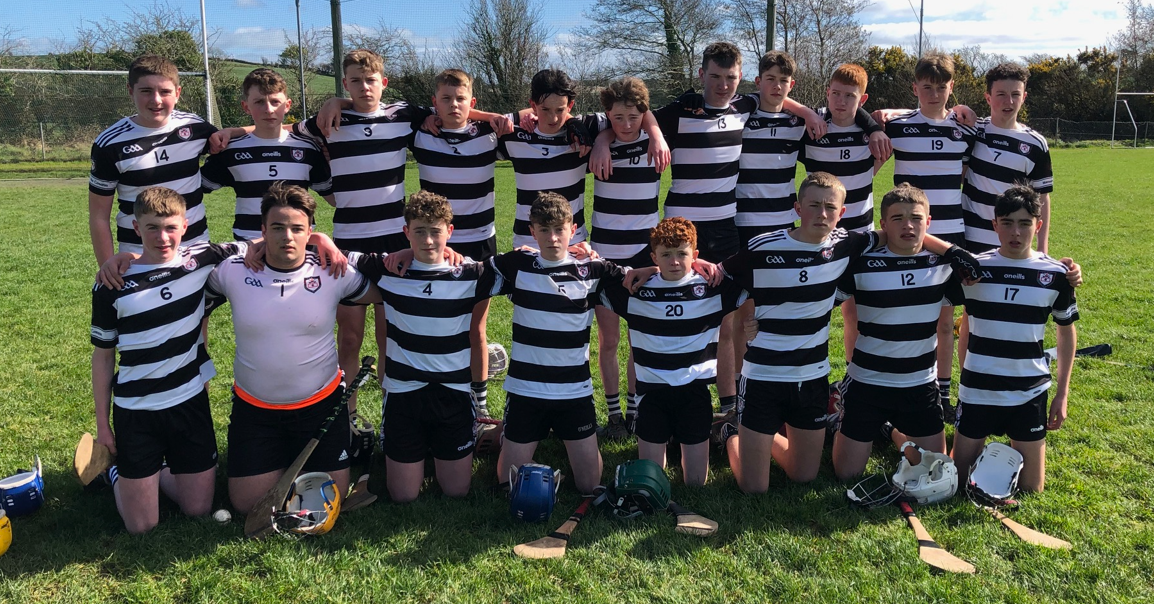 The first round of the Fé15 Group 4 hurling league was fixed as a home match v Clonakilty. However with the poor weather and limited availability to pitches in Midleton it was into the West for the Fé15 lads last Saturday, March 18th.
With the aid of a strong breeze Midleton settled early into the game and were ahead 1--8 to 0-2 at half-time, the goal coming from a good finish from Bradley O'Brien. Playing into the wind in the second-half and down a number of players due to injuries, the lads had to dig deep as the home team came back into the game. Thanks to the hard work and endeavour of the entire 19 players used and in particular to some fine goalkeeping from Michael Allegrini, the lads held out on to win on a final score of 2-6 to 1-11.
Best wishes to Jack Walsh in his recovery after sustaining an injury to his elbow during the match.
Scorers: Scott Dunlea (0-5 frees), Darragh Mullins (0-4), Bradley O'Brien (1- 0), Ruairi O'Riordan (0-1), Patrick O'Dowd (0-1). The panel for the match was: Michael Allegrini, Dara Cahill, Cuan Twomey, Patrick Collins (vice-captain), Jack Walsh, Jason Morley, Scott Dunlea, Dara Birdthistle, Darragh Mullins, Patrick O'Dowd, Bradley O'Brien, Ewan Murphy, Sean Gregory (captain), Alex Horgan, James Carey, Cian Hogan, Breanainn O'Dalaigh, Charlie McCarthy.
BEST OF LUCK
Good luck to Harry Waterman and Bradley O'Brien who line out for Midleton RFC in the U16 Cup Final in Musgrave Park this Friday night.
FIXTURES
FRIDAY, MARCH 24
Rebel Og Premier Fé13 Football League Group 2
Bride Rovers v Midleton at 5pm in Rathcormac
SATURDAY, MARCH 25
Rebel Og Premier Fé14 Football League Division 4
Macroom v Midleton 2 at 12pm in Macroom
SUNDAY, MARCH 26
Rebel Og Premier Fé13 Football League Group 4
Midleton 2 v Douglas 3 at 1pm in Midleton
Rebel Og Premier Fé14 Football League Premier2 Section 1
Midleton v Youghal in Midleton at 6pm
WEDNESDAY, MARCH 29
Rebel Og Premier Fé18 Hurling League Premier 1
Valley Rovers v Midleton in Brinny at 6.30pm
Rebel Og Premier Fé16 Hurling League C3 Group 1
Ballincollig 2 v Midleton 2 in Ballincollig at 8.15pm
Rebel Og Premier Fé14 Football League Premier2 Section 1
Nemo Rangers v Midleton at 7pm in Trabeg
THURSDAY, MARCH 30
Rebel Og Premier Fé15 Hurling League Group 1
Killeagh v Midleton at 6.15pm in Killeagh
LADIES FOOTBALL
G4M&O
Unfortunately we had to cancel our opening evening for our Gaelic for Mothers and Others. The weather was not on our side but we are working to organise a new date asap.
HELP NEEDED
We urgently require help for our U8 football team. If you can spare one hour on a Monday evening, please contact Tracy (087-6625544) or Mairead (087-2412012). Without volunteers we cannot go ahead with training.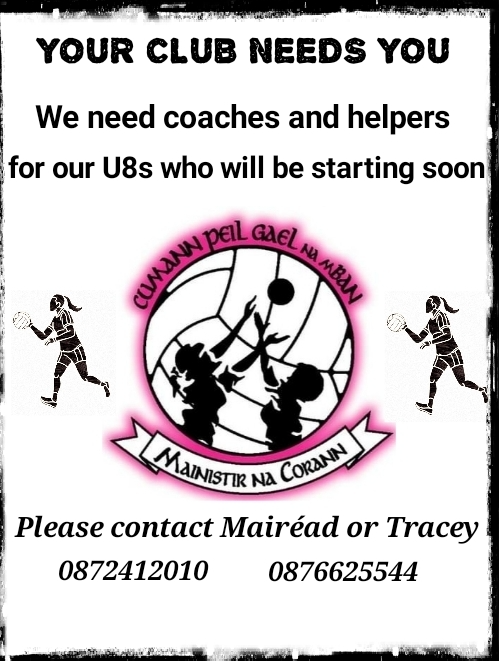 ALL-IRELAND JUNIOR FOOTBALL FINAL
Best of luck to St Marys and all our Club players involved who will play Loreto College Cavan this Saturday. We have eight players on the panel; Faye Dunlea, Kate Saunderson, Kate O Sullivan, Ava McAuliffe, Sorcha Cronin, Julie Murphy, Ciara Murphy, Elsa Ryan. The match takes place in Abbotstown Co. Dublin at 3pm.
NEALY HORGAN STREET LEAGUES
Excitement is building for the Inaugural Nealy Horgan street leagues. Players from U-10 to U-12 have been divided into 6 teams. Matches will take place on Monday evenings in Park South from 7pm starting March 27th. These are the teams:

RETURN TO TRAINING
On Monday 27th our U-8 and U-10 girls will return to training from 6.30-7.30pm at Ballinacurra pitch. We look forward to seeing you all then.

ORLAGH FARMER'S EASTER CAMP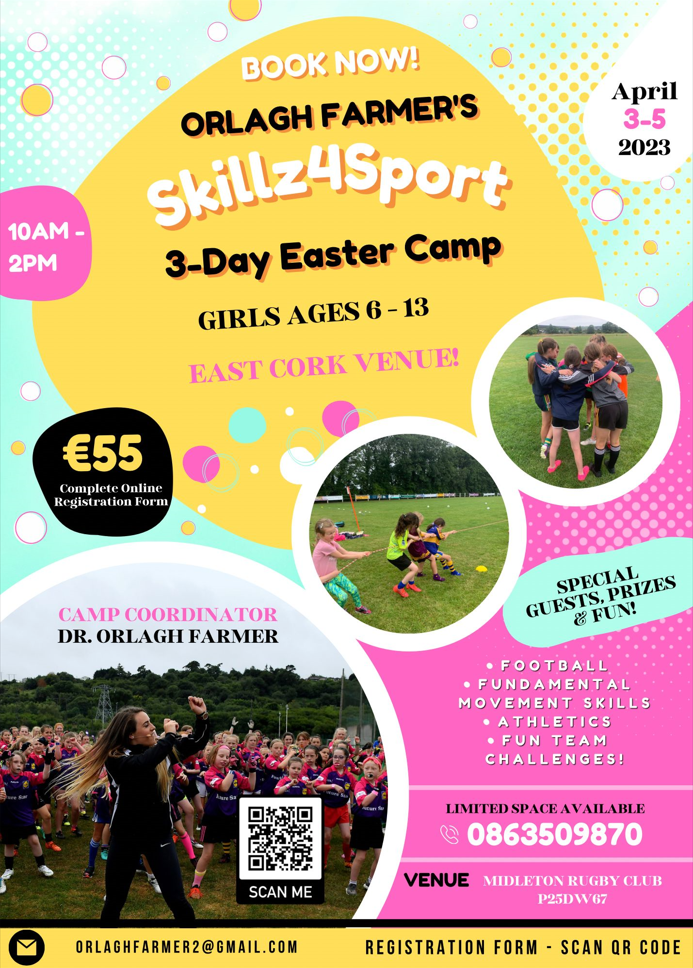 Our own Orlagh Famer is running an Easter Sports Camp this Easter. Here are the details:
Girls: aged 6-13 years
Dates: Monday 3rd - Wednesday 5th April 2023
Venue: Midleton Rugby Club (RFC) Pitch, Townspark, Midleton, Co. Cork (P25DW67)
Time: 10.00am - 2.00pm

Camp Activities Include:
- Football, Fundamental Movement Skills, Athletics, Fun Team Challenges! Special guest, prizes & plenty of FUN!
Bookings at: http://docs.google.com/forms/d/e/1FAIpQLScGD_HmkM9FhWehOOfZDA1LbRmZjQ7OE60yGKGxalIn8izf6g/viewform
EASTER CAMPS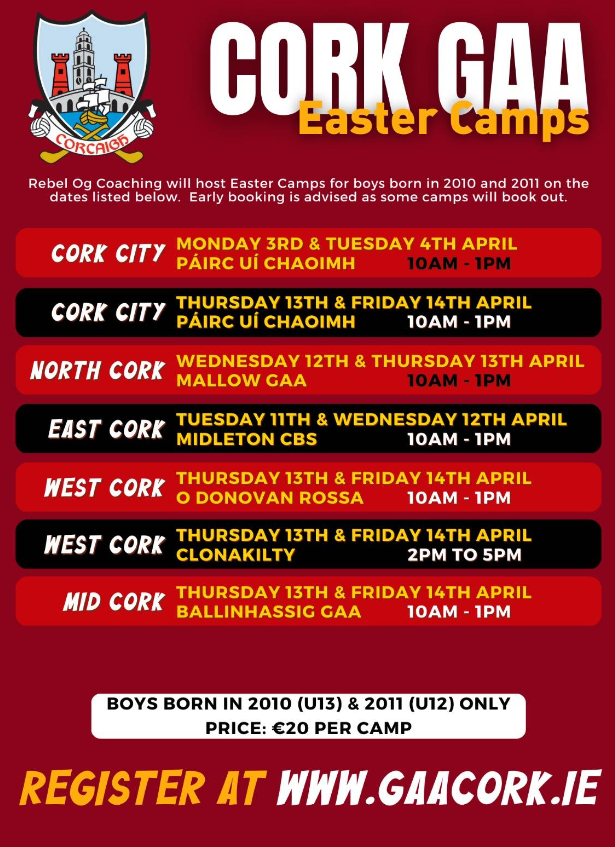 Cork GAA are running some Easter camps for boys born in 2010 and 2011, including one in Midleton CBS more details and booking at the link below
Easter Camps for boys born in 2010 and 2011 – Cork GAA (gaacork.ie)
GAA LEARNING PORTAL

We have been aksed to remind members and especially our club coaches that the GAA Learning Portal is a great resource which is free to use. Please check it out at http://learning.gaa.ie/about
REBELS' BOUNTY DRAW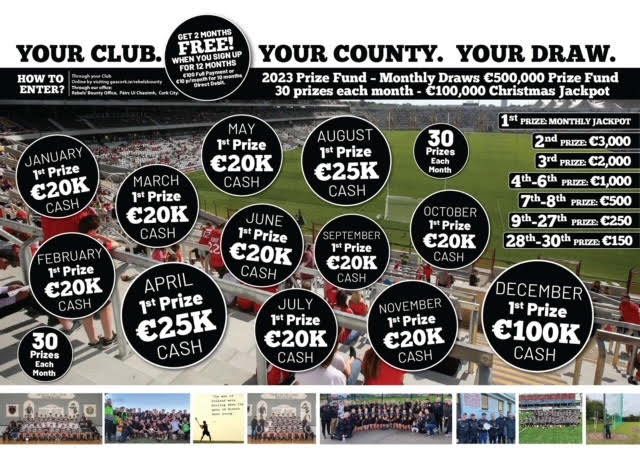 With just a week to go before the opening draws of 2023, time is running out to get your ticket for the 2023 Rebel's Bounty draw. We are aiming to sell 500 tickets this year which would net us a wonderful €40,000 which would do so much for our club. We are going well but we need everyone's help to get to this number. The prizes are fantastic so we would appeal to everybody to reach out to family members, neighbours, work-mates to support this vital fundraiser for our club.
You can buy tickets a the link below but make sure that you enter Midleton in the section that asks for your club.You can also sign up online for a direcct debit of €10 a month for ten months.
MIDLETON GAA MONDAY CLUB
We look forward to seeing you all (and any new faces) on this coming Monday, March 27 from 10.30am to 11.30am. All Welcome!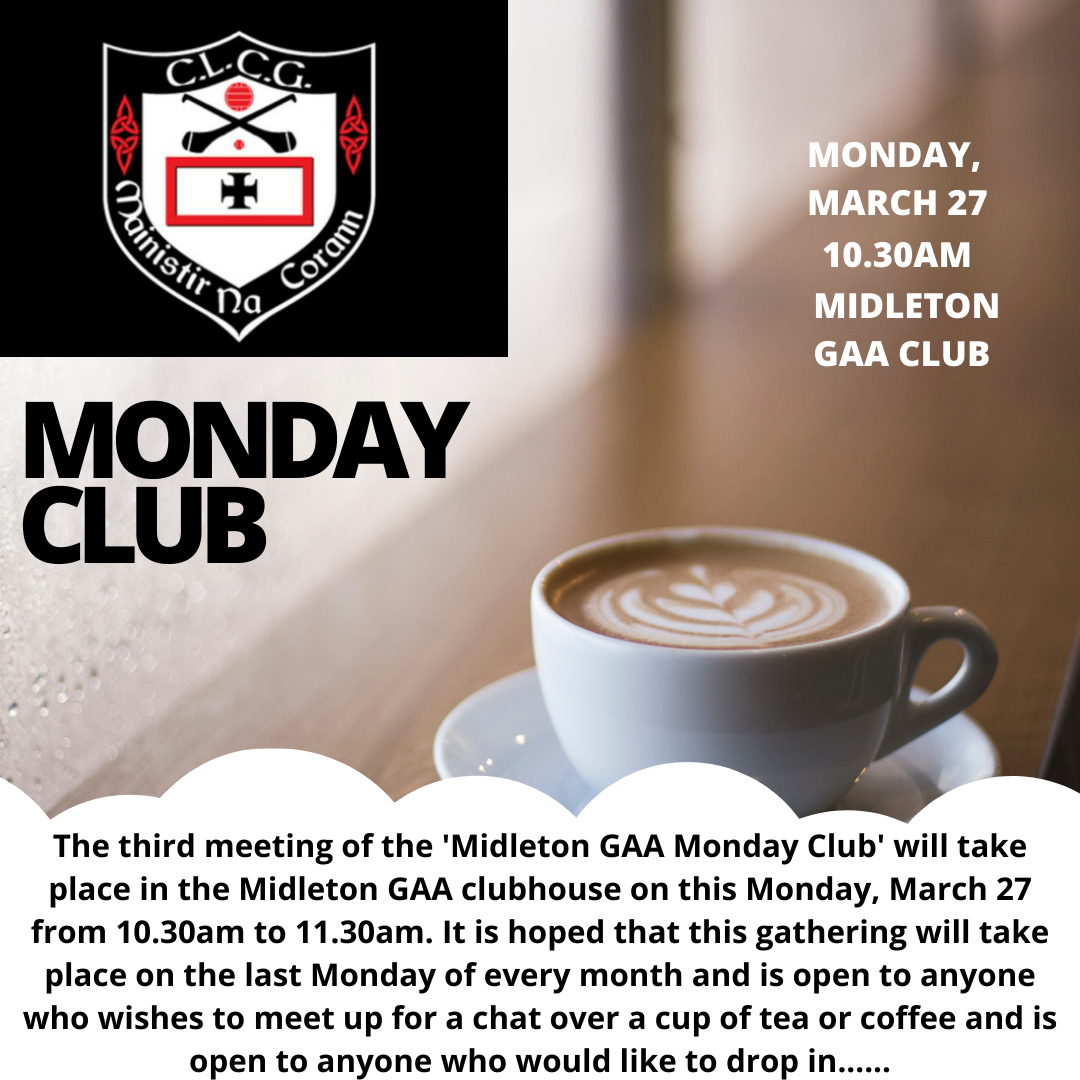 LOTTO DRAW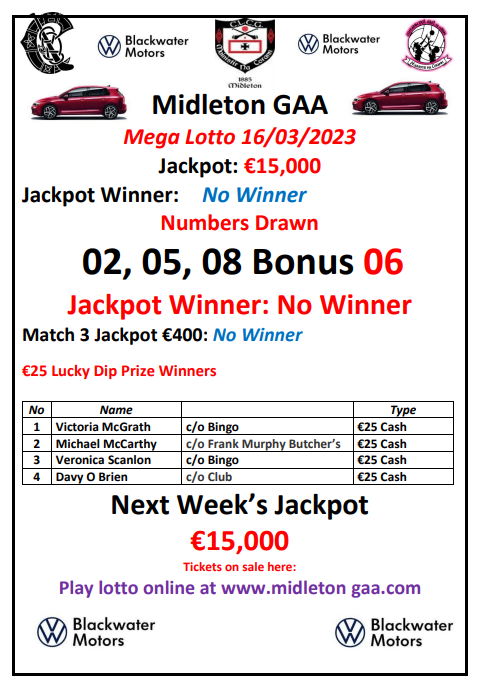 The Jackpot was €15,000 for last Friday night's jackpot and the numbers drawn this week were 2, 5, 8. The bonus was 6.
The €25 Lucky Dip Prize winners were: Victoria McGrath, Michael McCarthy, Veronica Scanlon and Davy O'Brien.
There was no jackpot winner or Match 3 winner.
Play 24/7 at: http://www.klubfunder.com/Clubs/Midleton%20GAA/lotto
In total Midleton GAA will give out local business vouchers to the value of €3,800 every year as part of our "Shop Local, Buy Local" campaign.
How to play: tickets are on sale at Pat Walsh Paints, Chadwicks, Frank Murphy Butchers, Murphy's Pharmacy, Crowley Butchers, or buy online (see above).
BINGO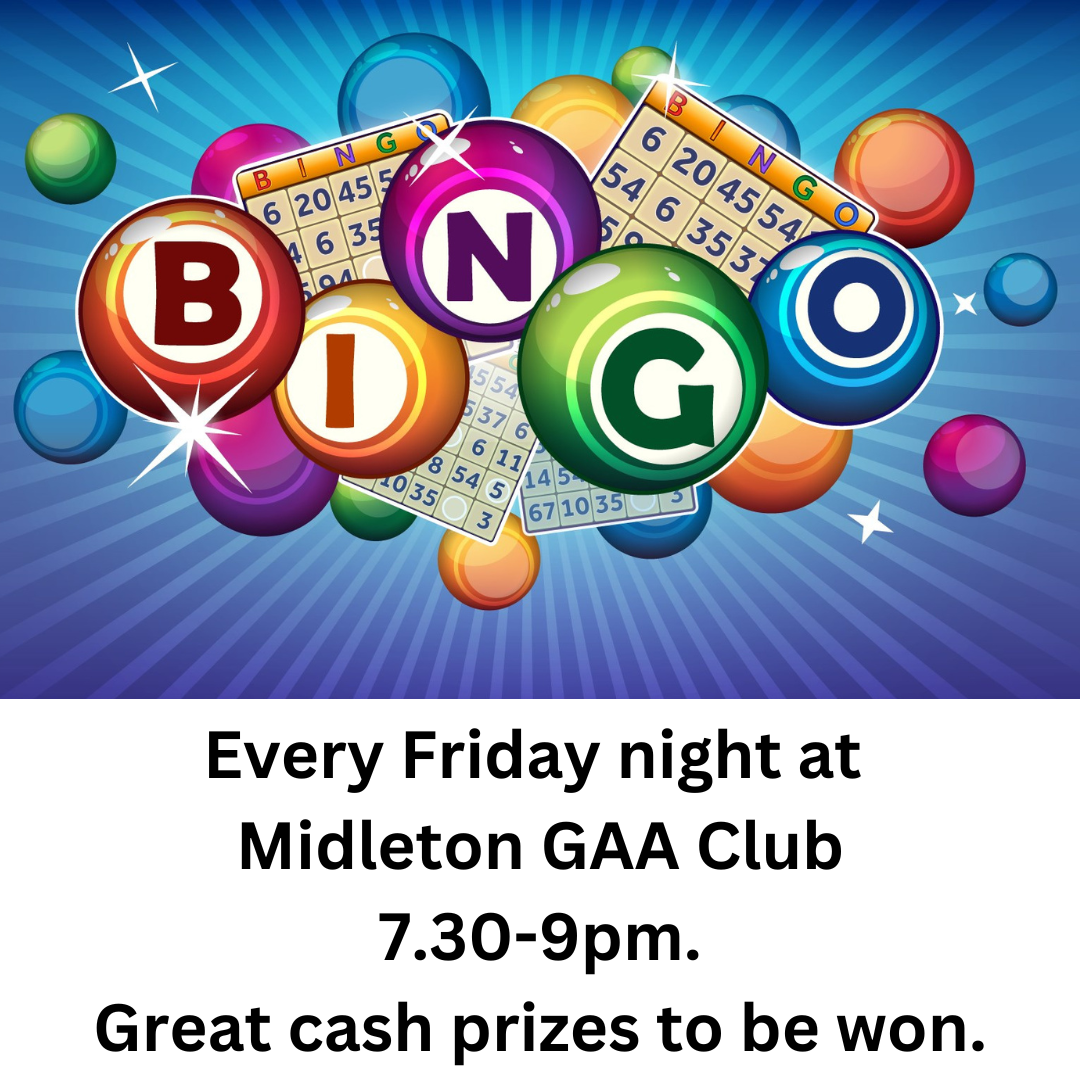 Fancy a good night which also benefits Midleton GAA club...what about bingo on Friday nights?
It kicks off at 7.30pn every Friday night and is over by 9pm. A single book is €6. A double book is €12.
SOCIAL DANCING
Dancing on this Saturday night to Martin Kearney and Derry Kennedy from 9.15pm. All welcome for a great night.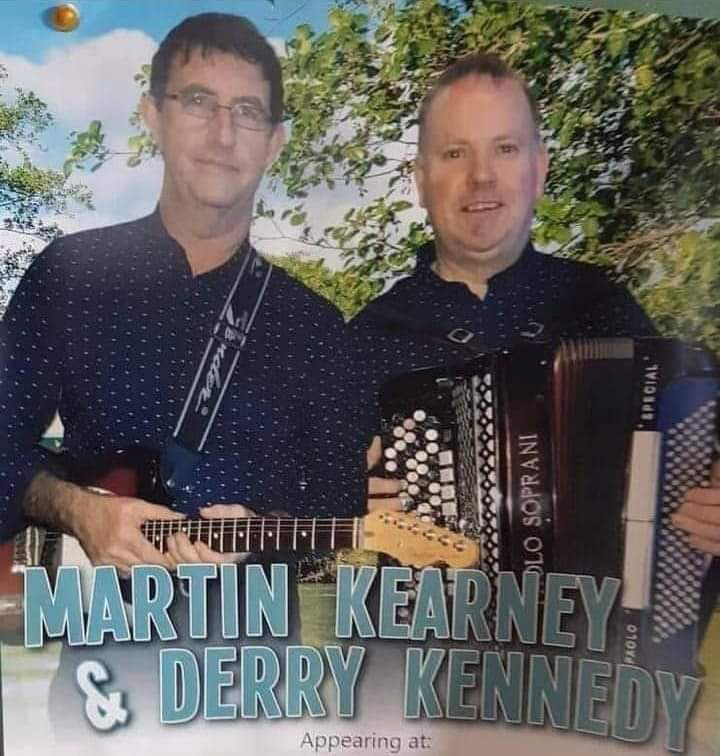 CLUB SHOP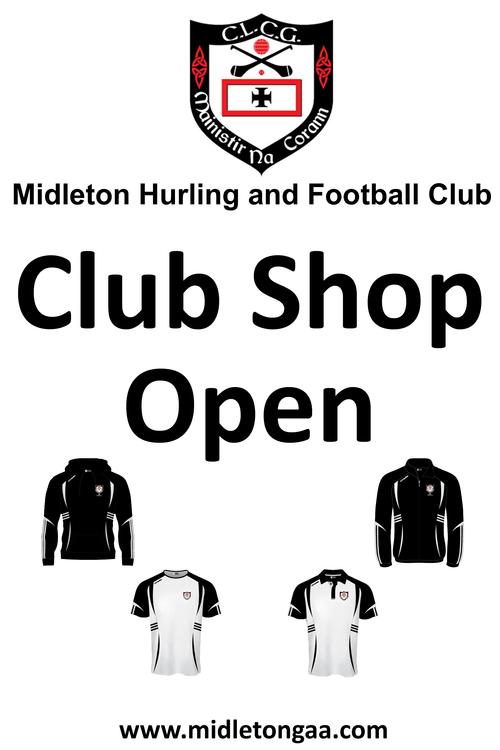 All you have to do is go to the Klubfunder website (www.klubfunder.com/Clubs/Midleton%20GAA/ShopItems) and you will see the full range of what's available to buy. You can shop away to your heart's content, pay for it online and then collect your purchases at the club shop on Saturday morning between 9.30am and 10am. Thank you.
MIDLETON GAA EASTER DISCO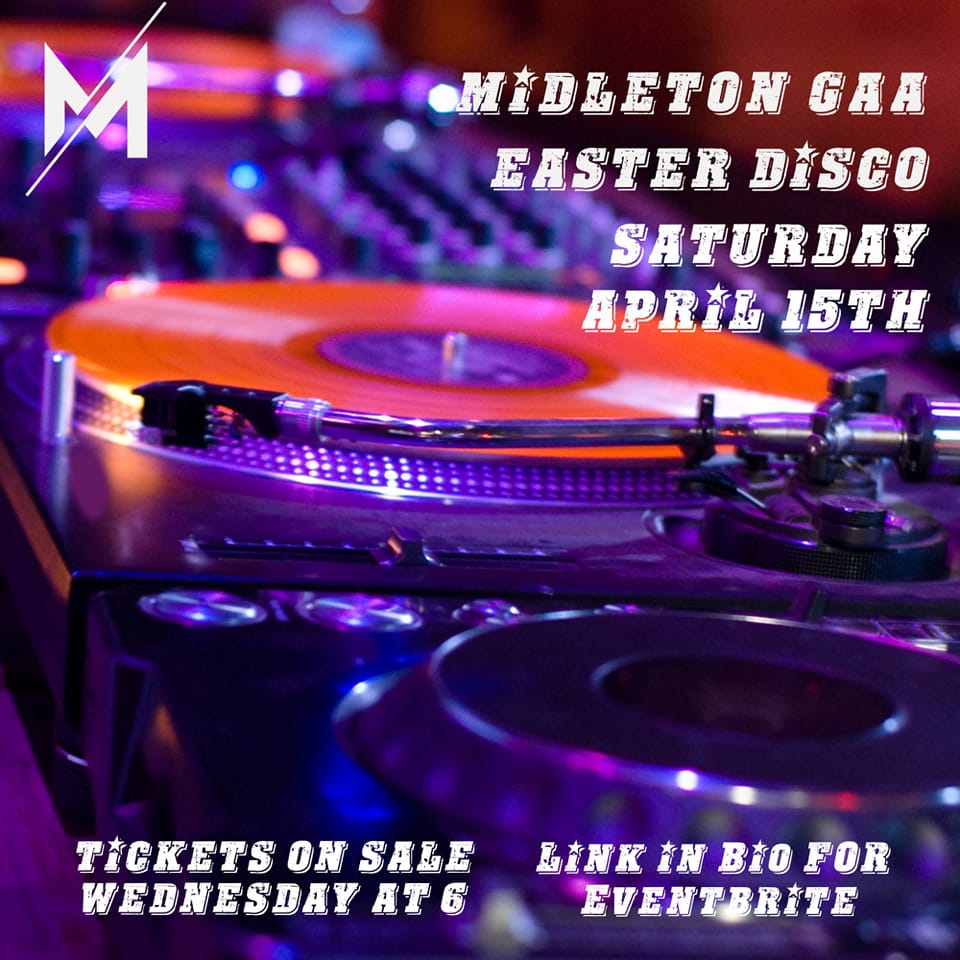 Midleton GAA's Easter Disco is on Saturday April 15th.

Tickets now on sale at the link below:
www.tinyurl.com/midletoneaster
MAGPIES ALL STARS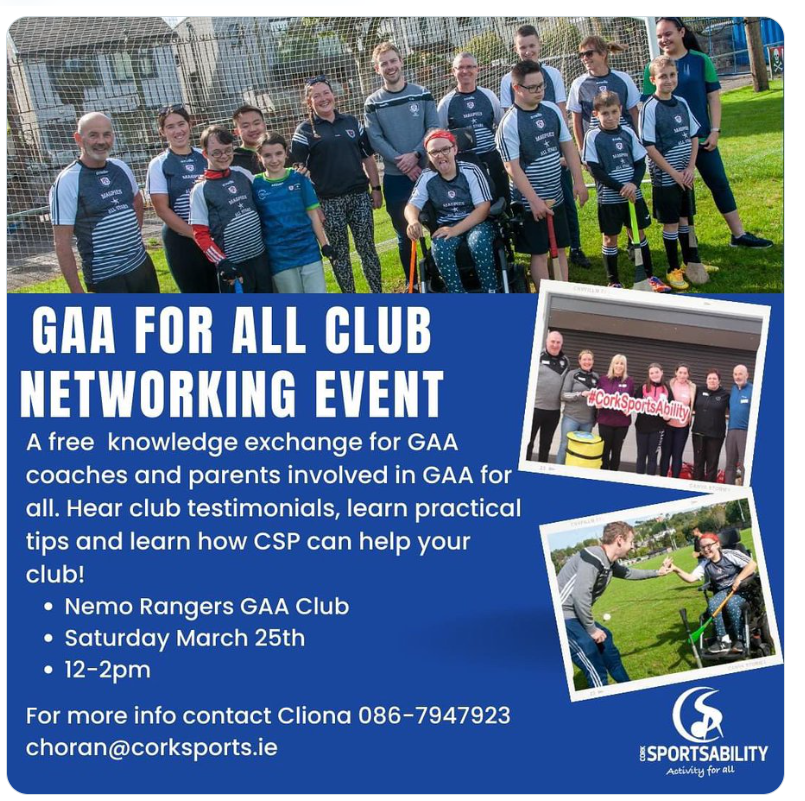 It's fantastic to see our Magpies All Stars as the poster boys/girls for Cork Sports Partnership's GAA For All Networking Event on this coming Saturday, March 25 from 12-2pm at Nemo Rangers. Well done guys.
HEAD OF GAMES DEVELOPMENT IN CORK
Applications are now welcome for the role of Head of Games Development in County Cork to work closely with the County Officers, including the County Chairperson, Secretary/CEO and Games Development Committee to implement the games development programmes in the county.
For more details, please click on the link below.
https://gaacork.ie/2023/03/14/cork-gaa-head-of-games-development-job-opportunity/
Candidates interested in the role should apply by sending an up-to-date cover letter and Curriculum Vitae to info.munster@gaa.ie no later than 3pm on Wednesday March 29th.
PLEASE PLAY YOUR PART
​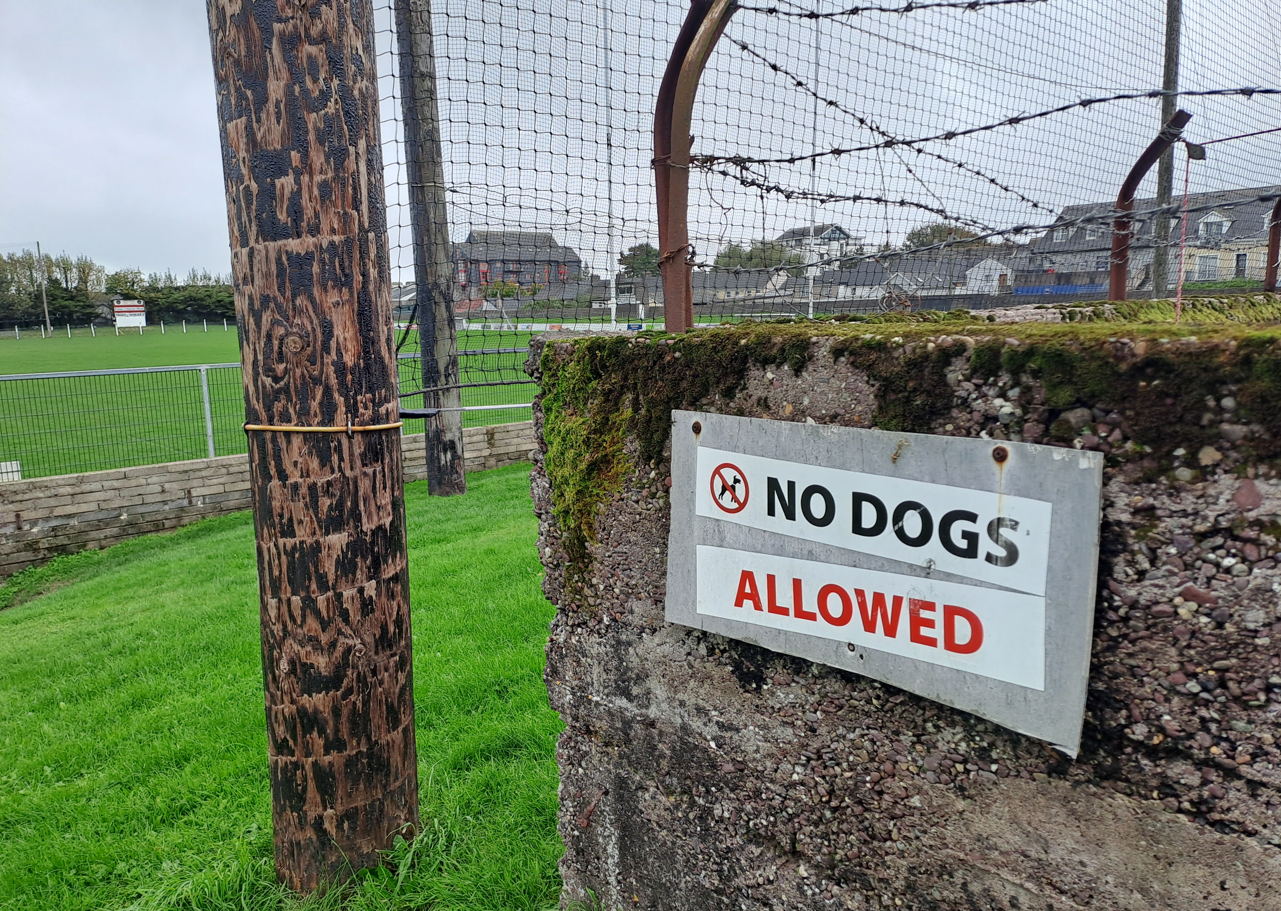 We are asking all players, mentors, parents, supporters and neighbours to please play their part by playing ball on the following.....
Please slow down entering and leaving Park South.
No dogs, except assistance dogs, are allowed at Park South or Clonmult Memorial Park.
Please do not bring single-use plastic bottles to either Park South or Clonmult Memorial Park.
Please put your rubbish in a bin or bag and please bring your gear home with you.
And always be aware of the open water surrounding the pitches in Park South.
If you are a coach, please pass on these simple messages to players and parents.
All members are asked to respect referees and their officials at all times.
Also if you are a coach, last person out locks the gate, toilet and container.
CONDOLENCES
All at Midleton GAA would like to extend our deepest symathies to Yvonne, Harry and Hannah and the Wall and Hennessy families and all of Anthony Wall's large circle of friends at his untimely death this week. Anthony was a great supporter of our club and our Golf Society for many many years. Ar dheis Dé go raibh a hanam.