Midleton Hurling and Football, Ladies Football and Camogie Club News - March 16
16 March, 2023
ST. PATRICK'S DAY PARTY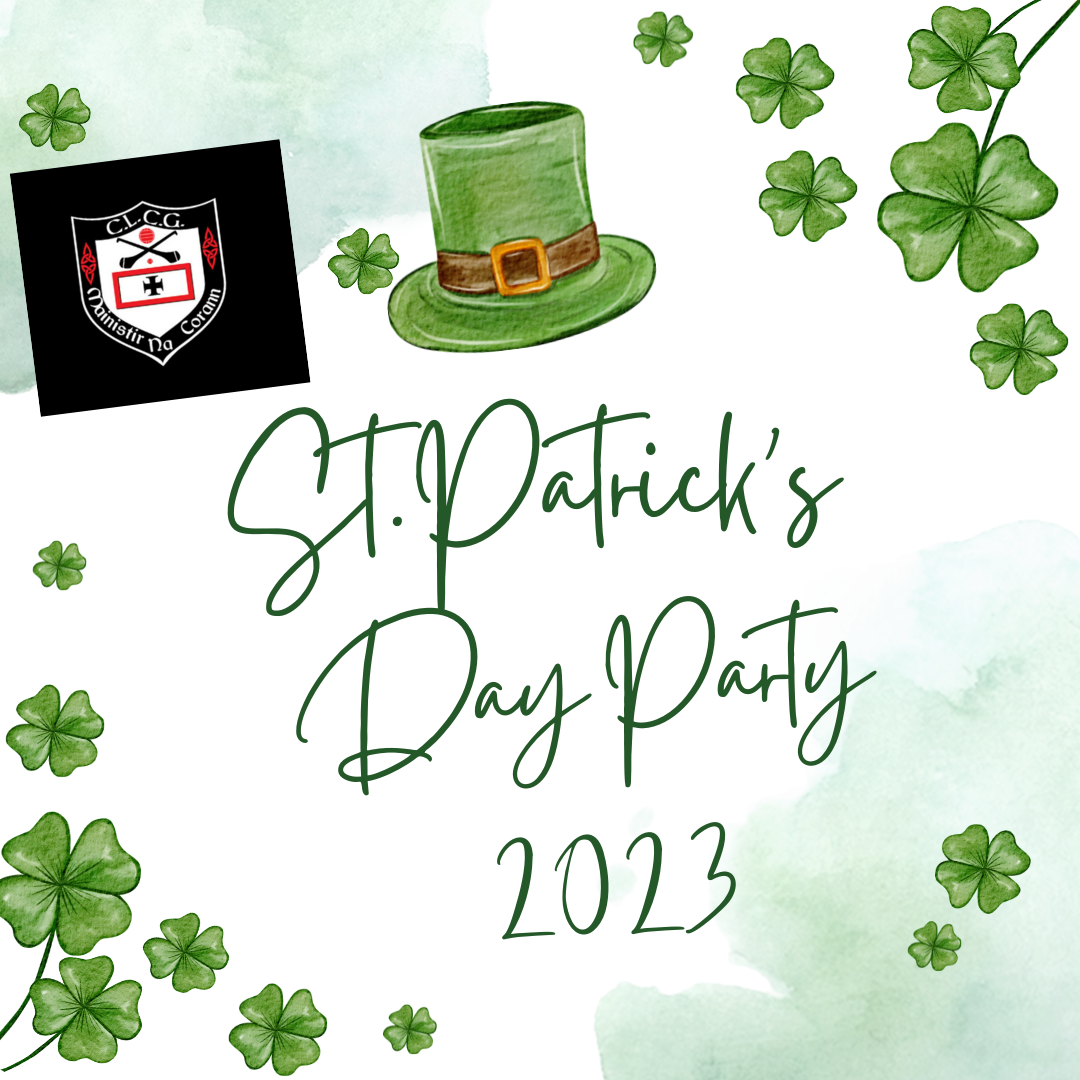 Over recent years the St. Patrick's Day in Midleton GAA club has become a great event and expect no different this year.
Why not come along to the GAA Pavilion on St Patrick's Day to watch the Cheltenham Gold Cup or just catch up with friends. Families more than welcome.
Also DJ Michael will be playing from 4.30pm blasting out some Wolfe Tones, Rod Stewart, ABBA, Daniel O'Donnell or any requests you might have.
Doors open at 2pm. All welcome.
Seachtain na Gaeilge le Energia.
Oiche Ghaelach agus Cultúir Irish and Trad Night in club this Friday st Patrick's night. 7pm youth Comhaltas music session and 9.15pm Adult session. Fáilte roimh chách.
A very happy St. Patrick's Day to all our members and friends all over the world. Lá le Pádraig shona daoibh.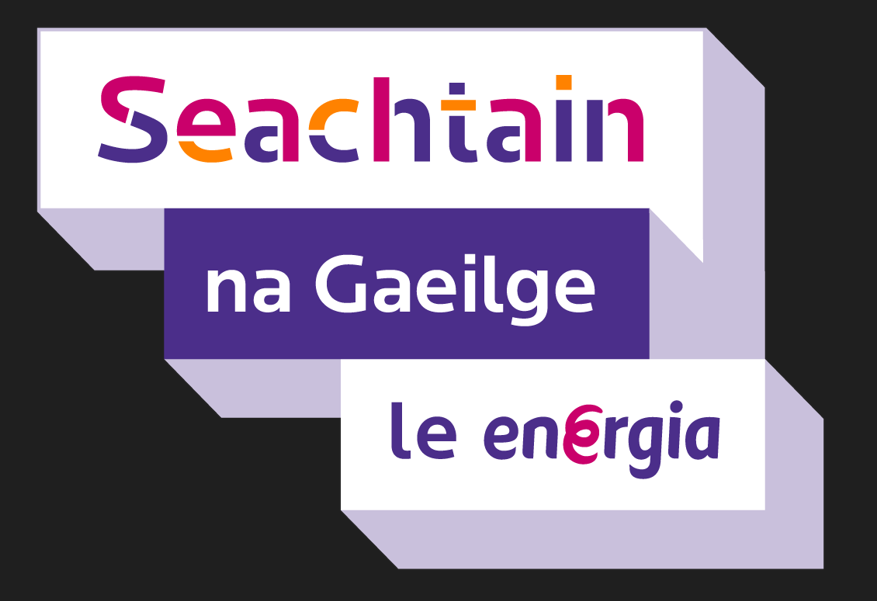 JUNIOR A FOOTBALL

Our junior A football team opened their East Cork League campaign on Sunday last at Clonmult Memorial Park when they took on Glenbower Rovers. At the end of the hour's football we came out on top on a final score of 4-8 to 2-8. Well done lads.
Scorers: Chrstian Daly 2-3, Johnny Comer 0-3, Eoin Moloney and Sean O'Leary Hayes 1-0 each, Aaron Mulcahy and Cathal Gunning 0-1 each.
MIDLETON: Eoghan Collins, Aaron Coughlan, Alan Power, Seadhnaidh Smyth, Adam Fay, Adam Daly, Evan McGrath, Eoin Moloney, Ross O'Regan, Ben O'Neill, Cathal Gunning, Sean O'Leary Hayes, Aaron Mulcahy, Christian Daly, Johnny Comer. Subs used: Cathal Beausang, Colin Sunderland, Adrian O'Donovan and Daire Mooney.
A BUSY HURLING WEEKEND
It's a busy weekend for the Magpies' adult hurling teams with our four teams all in league action.
Our seniors get the weekend underway in Ballinspittle on St. Patrick's Day at 11.30am against Courcey Rovers.
Next up are our intermediates against Argideen Rangers in Midleton on Saturday at 3pm. Please note that we will be showing the Ireland v England rugby match in the clubhouse afterwards.
On Sunday both our junior teams are in action and both at home. At 11.30am our A team take on St. Catherines in Clonmult Memorial Park, with our C team facing Dungourney at 3.15pm in Park South. Please support our teams if you can at all.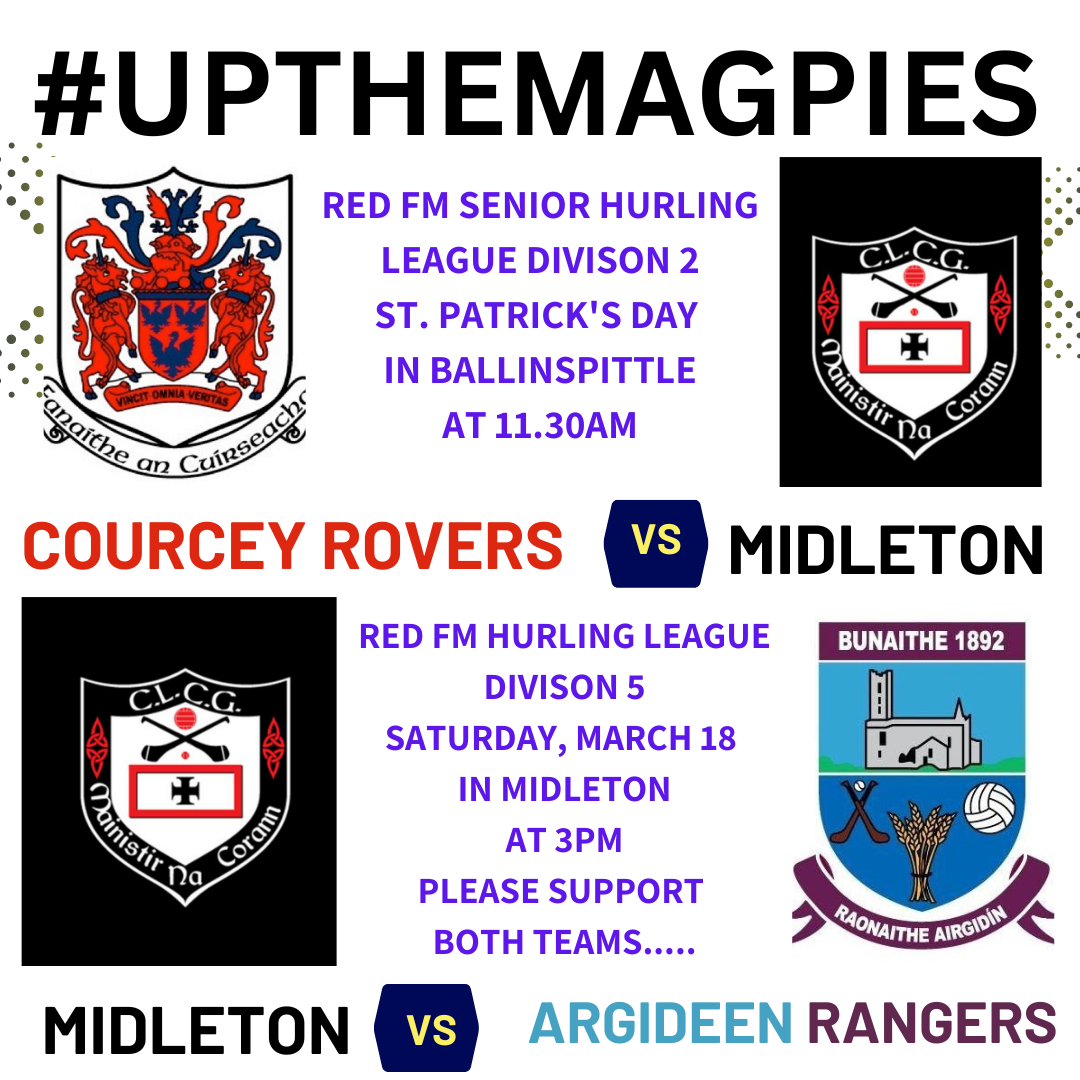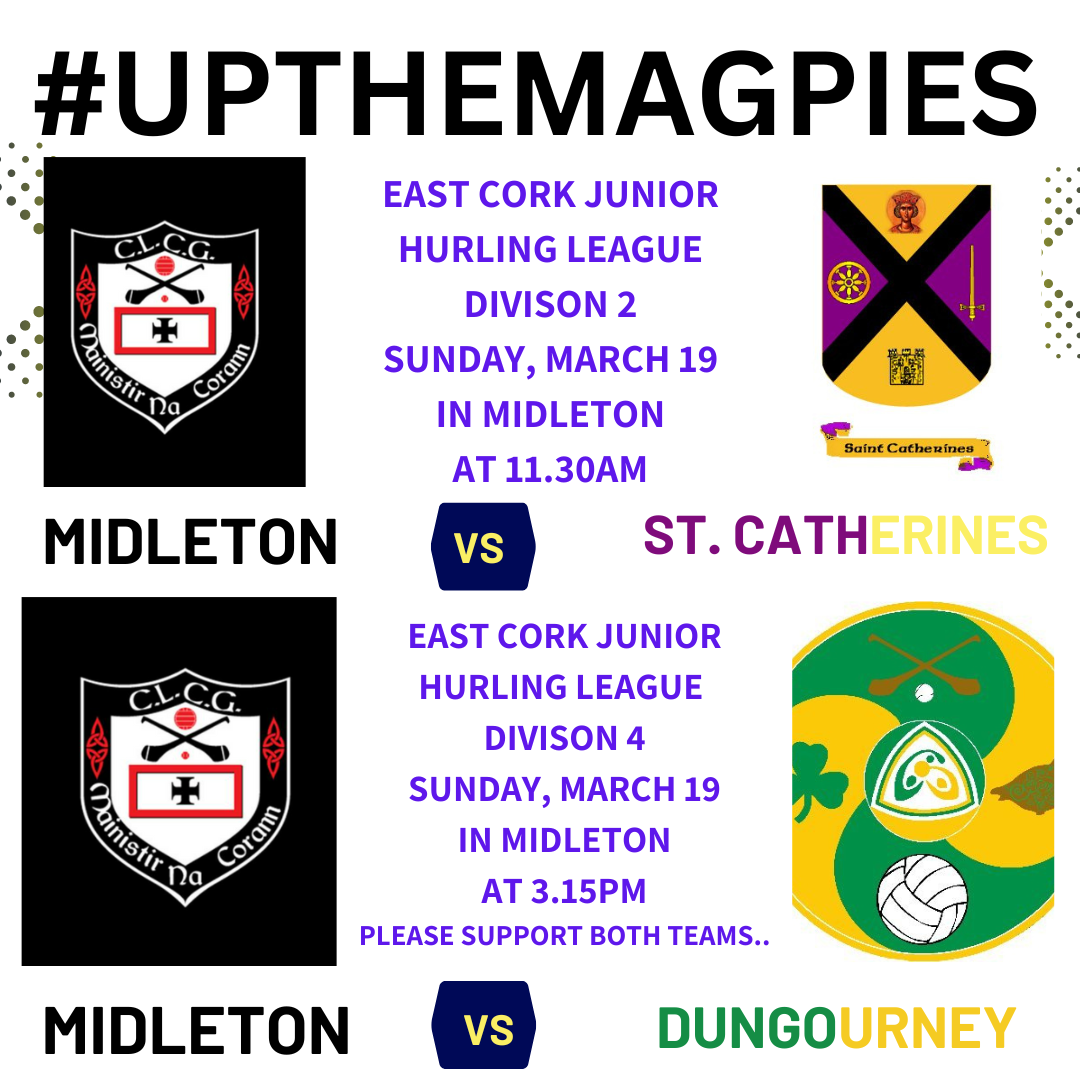 MEMBERSHIP FOR 2023 IS NOW DUE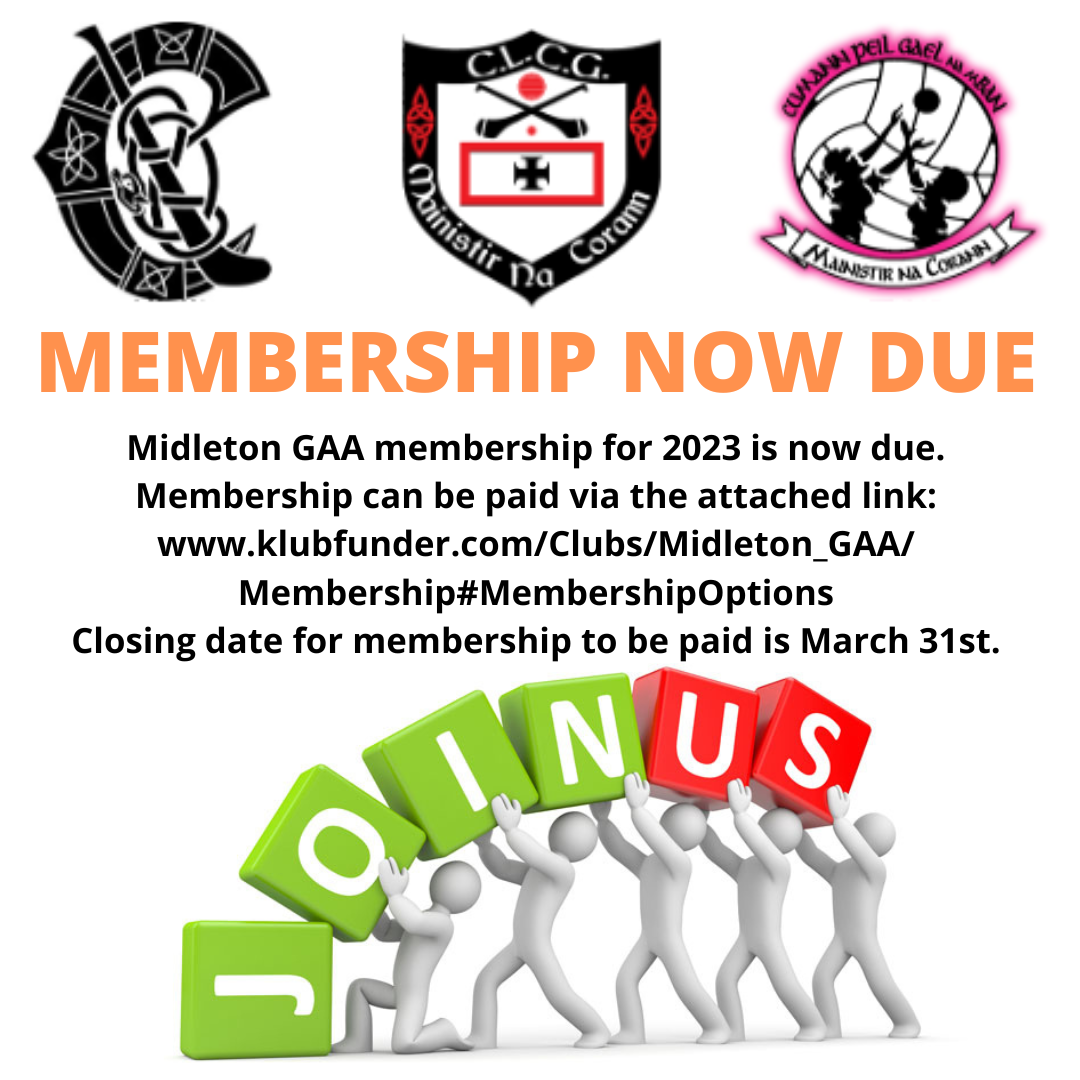 Midleton GAA Membership for 2023 is now due. Membership can be paid via the attached link via Klubfunder. https://www.klubfunder.com/Clubs/Midleton_GAA/Membership#MembershipOptions
Closing date for memebership to be paid is March 31st.
Please note that you can pay over three months through the link.
IN THE RED OF CORK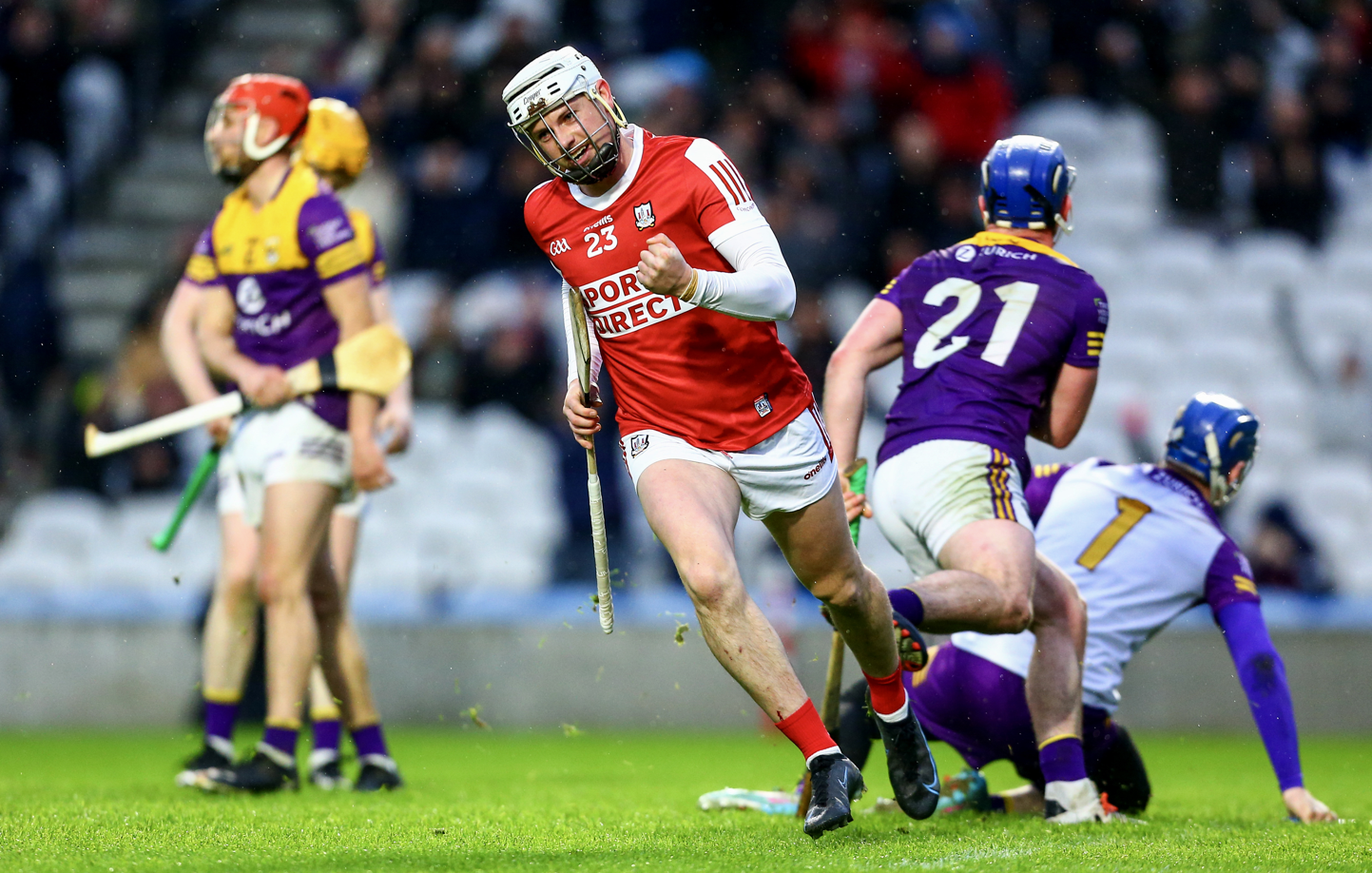 Well done to the Cork hurlers on their National Hurling League win over Wexford on a score of Cork 2-14 Wexford 0-18 in Pairc Uí Chaoimh on Sunday. Tommy O'Connell started the game and Sam Quirke and Cormac Beausang (pictured above) started on the bench. Cormac came on and scored the winning goal in injury-time.
Cork now travel to Ennis on Sunday to face Clare at 1.45pm.
REGISTRATION DAY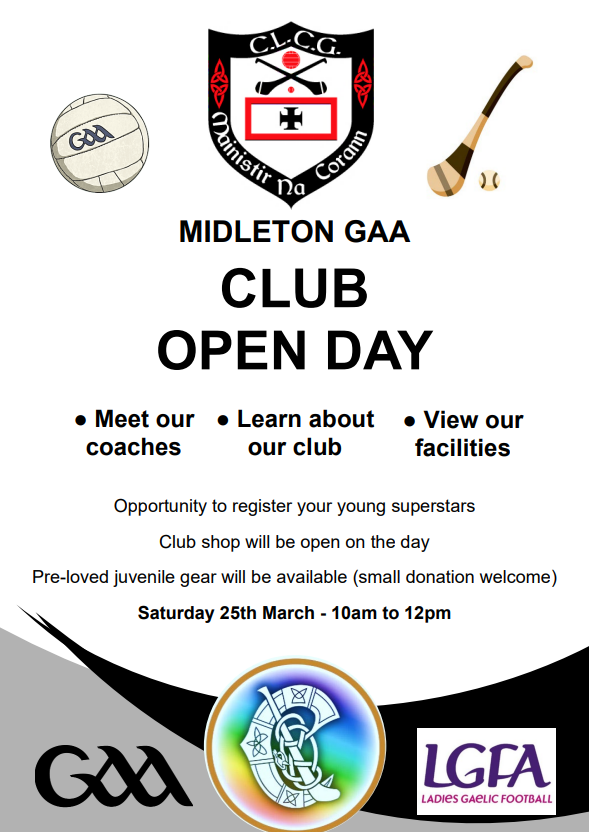 We will hold a registration day for any potential members across our club - boys, girls, men or women on Saturday, March 25 in our club house from 10am to 2pm. Our Club Shop will also be open on the day, with a clearance sale, and there will also be pre-loved gear for sale for a small donation. Don't miss it.
JUVENILES
FÉ13S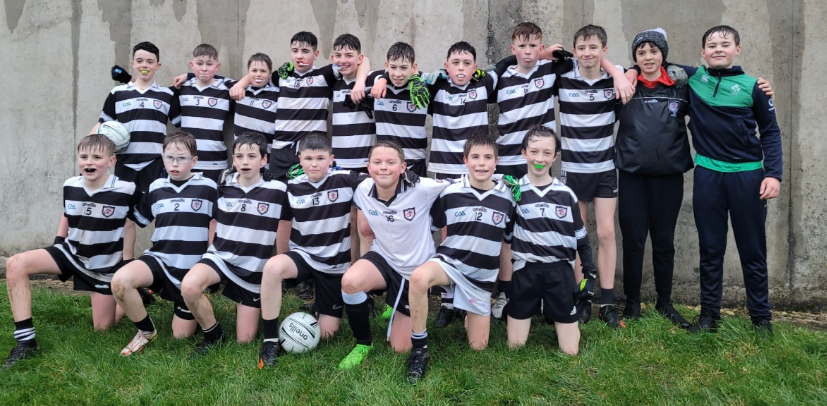 Well done to our Fé13 lads who braved the elements this at the weekend at Bishopstown in their first football match of the year.
FÉ14S

Our Fé14s were delighted to host Faythe Harriers at Park South on Sunday morning as they made their way to Pairc Uí Chaoimh for the Cork v Wexford game. We played two very competitive challenge games.
FÉ15S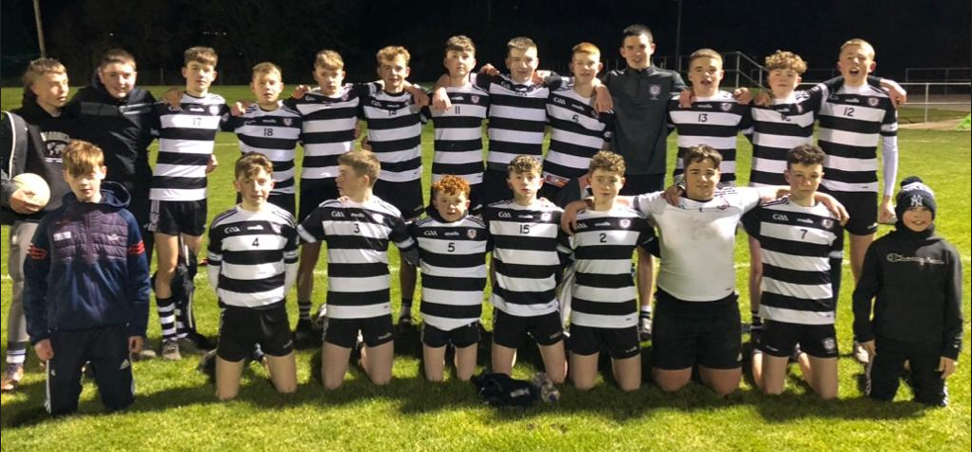 Fé15 GROUP 3 FOOTBALL LEAGUE V KILLEAGH
The first round of the Fé15 football league involved the short trip east to play Killeagh on Friday March 10th. This early season local derby was a tight encounter with only a couple of points separating the teams at half time, with the home team ahead 0-5 to 0-3. Despite losing midfielder Dara Birdthistle and defender Jason Morley to injuries at half time the lads showed great spirit in the second half and were unlucky not to convert some of their possession into scores, with the home team eventually pulling away towards the end. The final score was Killeagh 1-9 Midleton 0-6.
MIDLETON: Bradley O'Brien, Dara Cahill, Jason Morley, Patrick Collins, Jack Walsh, Shane O'Mahony, Ruairi O'Riordan, Senan Carroll, Dara Birdthistle, Darragh Mullins, Max Murphy, Scott Dunlea, Michael Murphy Allegrini, Cian Lawton, Alex Horgan, James Carey, Patrick O'Dowd, Ewan Murphy.
CORK FÉ16S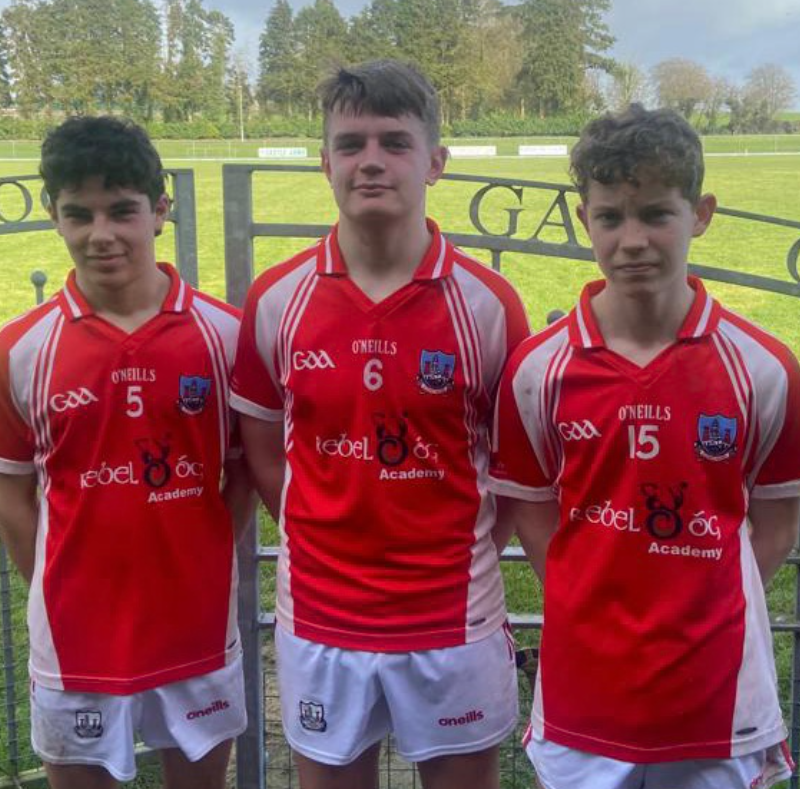 Well done to Midleton Fé16 hurlers Josh Hogan, Matthew McSweeney and Peter Barrett who represented Cork Fé16 at the weekend v Tipperary.
FIXTURES
FRIDAY, MARCH 17
Rebel Og Premier Fe18 Hurling League Premier1
Midleton v Douglas in Midleton at 1pm
Rebel Og Premier Fe14 Hurling League Premier1
Ballincollig v Midleton in Ballincollig at 11am
SATURDAY, MARCH 18
Rebel Og Premier Fe18 Hurling League C3
Ballincollig 2 v Midleton 2 at Ballincollig at 1pm
Rebel Og Premier Fe15 Hurling League Group4
Midleton 2 v Clonakilty 2 at Midleton at 1pm
Rebel Og Premier Fe13 Hurling League Group1
Midleton v Douglas at Midleton at 2pm
SUNDAY, MARCH 19
Rebel Og Premier Fe14 Hurling League C3 Group1
Midleton 2 v St. Finbarrs at Midleton at 4pm
Rebel Og Premier Fe13 Hurling League Group4
Blarney v Midleton 2 in Blarney at 4.30pm
WEDNESDAY, MARCH 22
Rebel Og Premier Fe18 Hurling League Premier1
Na Piarsaigh v Midleton at Midleton at 6.30pm

CAMOGIE
UNDER 12S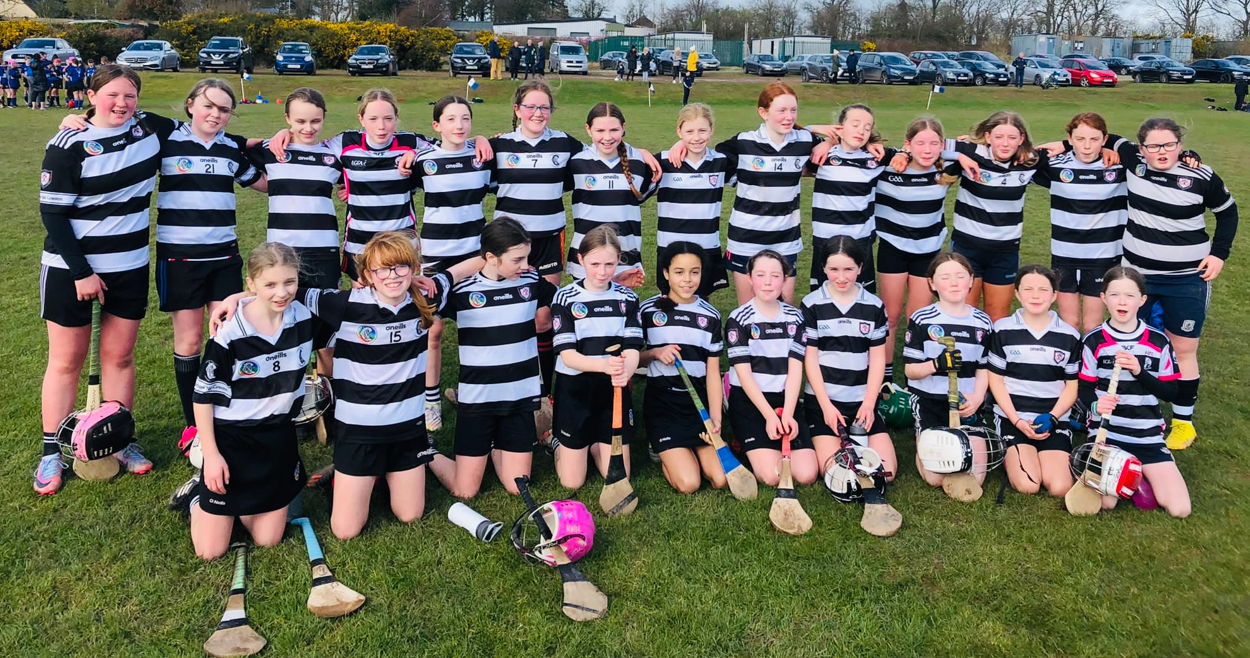 The U-12s fielded two teams on Saturday in a friendly blitz against Sars in Buck Leary's Cross. Both games were highly competitive with every one of our players showing great skills and determination on the ball. Great goalkeeping, tenacious defending, strong running, lovely points from well-worked hand passes and some great goals. A big thank you to our six U-11 girls who joined us for today's matches and performed brilliantly.
UNDER 14S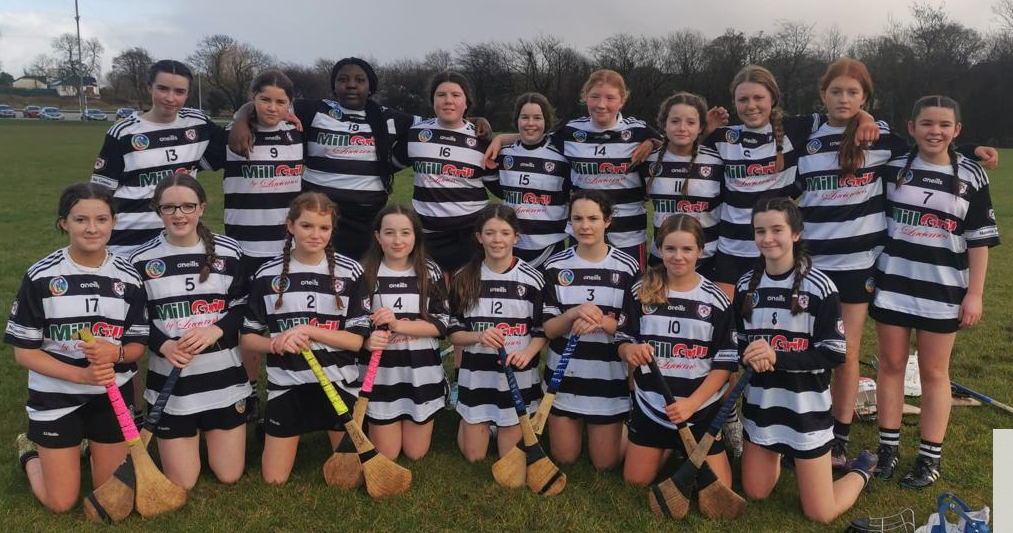 The U-14s played a challenge match against Laochra Og in Park South on Saturday afternoon. In difficult conditions the girls played some great camogie. Thanks to Laochra Og for making the long trip up. Also to Captain Sarah (pictured below) who was a rock in the defence.
WELL DONE JILL
Huge Congratulation to Jill Connaughton and the Cork Minor team who beat Dublin 3-21 to 0-8 on Sunday last in the opening round of the All-Ireland championship. Jill is pictured below with John Daly, the team medic. Well done Jill.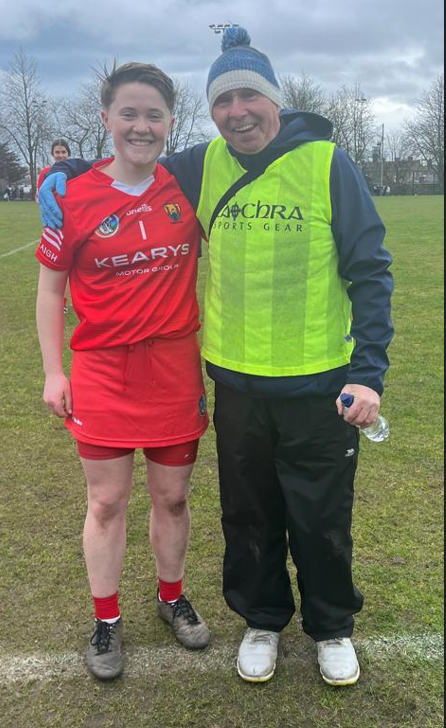 LADIES FOOTBALL
GM&O - GAELIC MOTHERS AND OTHERS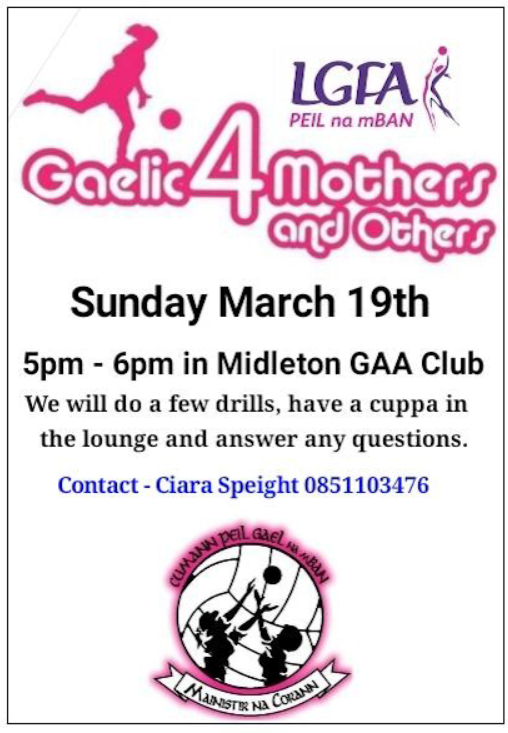 Our GM&O open evening takes place on this coming Sunday 19th March in Midleton GAA Club from 5-6pm. Woman aged 23+ are welcome whether you have played before or not. Come along and try a few drills. There will be a cuppa and a chat in the lounge afterwards. Spread the word!
Any questions contact Ciara 085-1103476
TRAINING
U12: Mondays 6.30-7.30pm in Ballinacurra GAA Club
U14: Mondays 6.30-7.30pm in Midleton GAA Club
U16/Minor and Junior: Mondays 7.30-8.30pm in Midleton GAA Club and Thursdays 7-8pm in Ballinacurra GAA Club.
ORLAGH FARMER'S EASTER CAMP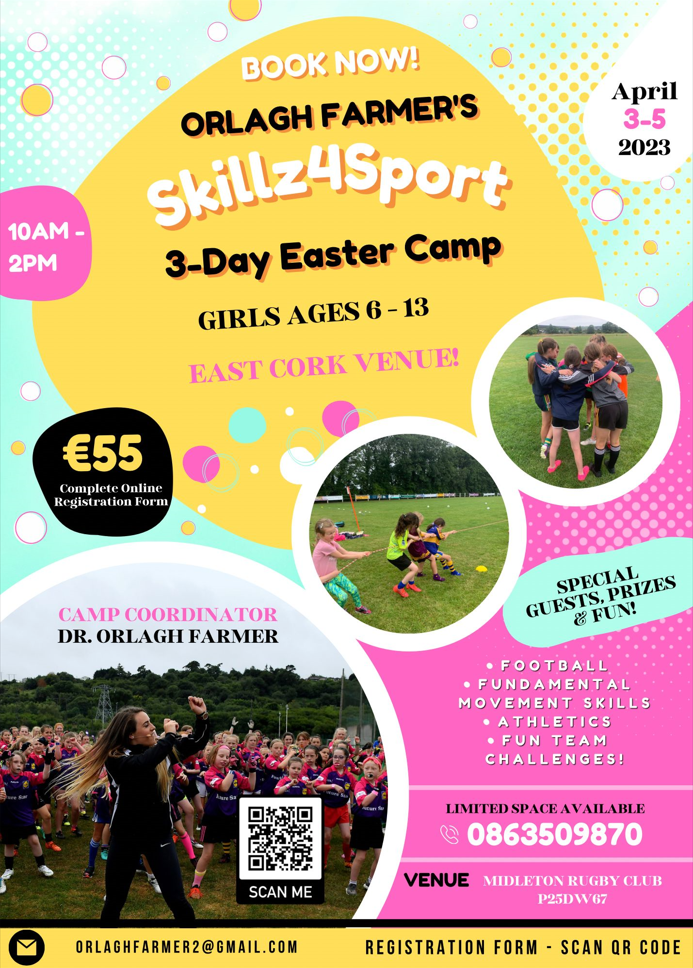 Our own Orlagh Famer is running an Easter Sports Camp this Easter. Here are the details:
Girls: aged 6-13 years
Dates: Monday 3rd - Wednesday 5th April 2023
Venue: Midleton Rugby Club (RFC) Pitch, Townspark, Midleton, Co. Cork (P25DW67)
Time: 10.00am - 2.00pm

Camp Activities Include:
- Football, Fundamental Movement Skills, Athletics, Fun Team Challenges! Special guest, prizes & plenty of FUN!
Bookings at: http://docs.google.com/forms/d/e/1FAIpQLScGD_HmkM9FhWehOOfZDA1LbRmZjQ7OE60yGKGxalIn8izf6g/viewform
GAELTACHT SCHOLARSHIPS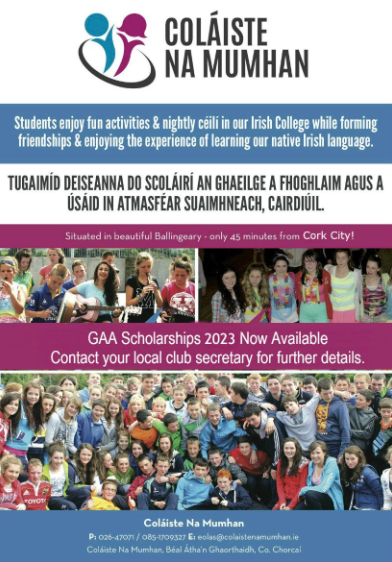 Cork GAA will be providing a certain amount of GAA scholarships to students attending Coláiste na Mumhan this summer! Follow the link to download the application form:
Cork Gaa Gaeltacht Scholarships | Colaiste Na Mumhan | Ballingeary Irish College
GAA LEARNING PORTAL

We have been aksed to remind members and especially our club coaches that the GAA Learning Portal is a great resource which is free to use. Please check it out at http://learning.gaa.ie/about
REBELS' BOUNTY DRAW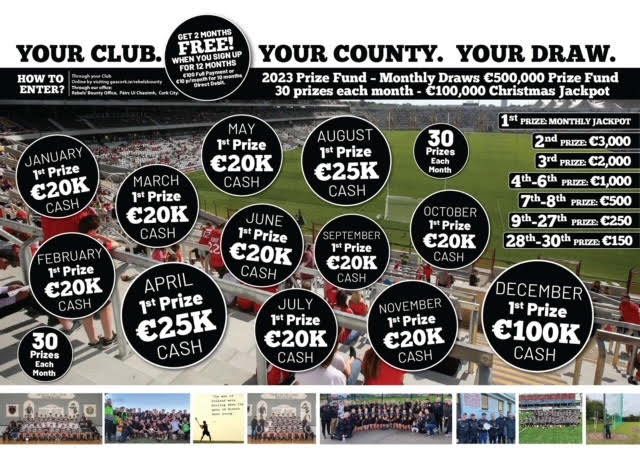 Time is running out to get your ticket for the 2023 Rebel's Bounty draw. We are aiming to sell 500 tickets this year which would net us a wonderful €40,000 which would do so much for our club. We are going well but we need everyone's help to get to this number. The prizes are fantastic so we would appeal to everybody to reach out to family members, neighbours, work-mates to support this vital fundraiser for our club.
You can buy tickets a the link below but make sure that you enter Midleton in the section that asks for your club.You can also sign up online for a direcct debit of €10 a month for ten months.
MIDLETON GAA MONDAY CLUB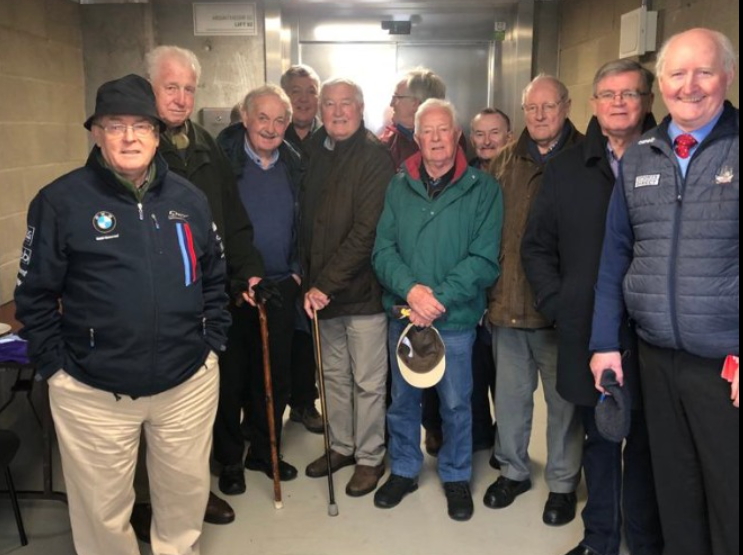 Midleton GAA Club would like to thank all the staff at Specsavers Midleton for facilitating a great day trip to Pairc Uí Chaoimh for members of our Monday Club community for the Cork Vs Wexford clash on Sunday. It was a great day out and one which our community members will remember.
Sincere thanks to everyone who helped make this day possible, in particular Specsavers, club member and vice-chairperson of Cork County Board Pat Horgan. Our local Gardaí who liaised with their colleagues in the Traffic Corps to get us as close to Pairc Uí Chaoimh as possible sincere thanks as it made access to the grounds so much easier for our group. The weather wasn't great but a Cork win made up for it!
We look forward to seeing you all (and any new faces) on Monday 27th March 10.30am to 11.30am. All Welcome!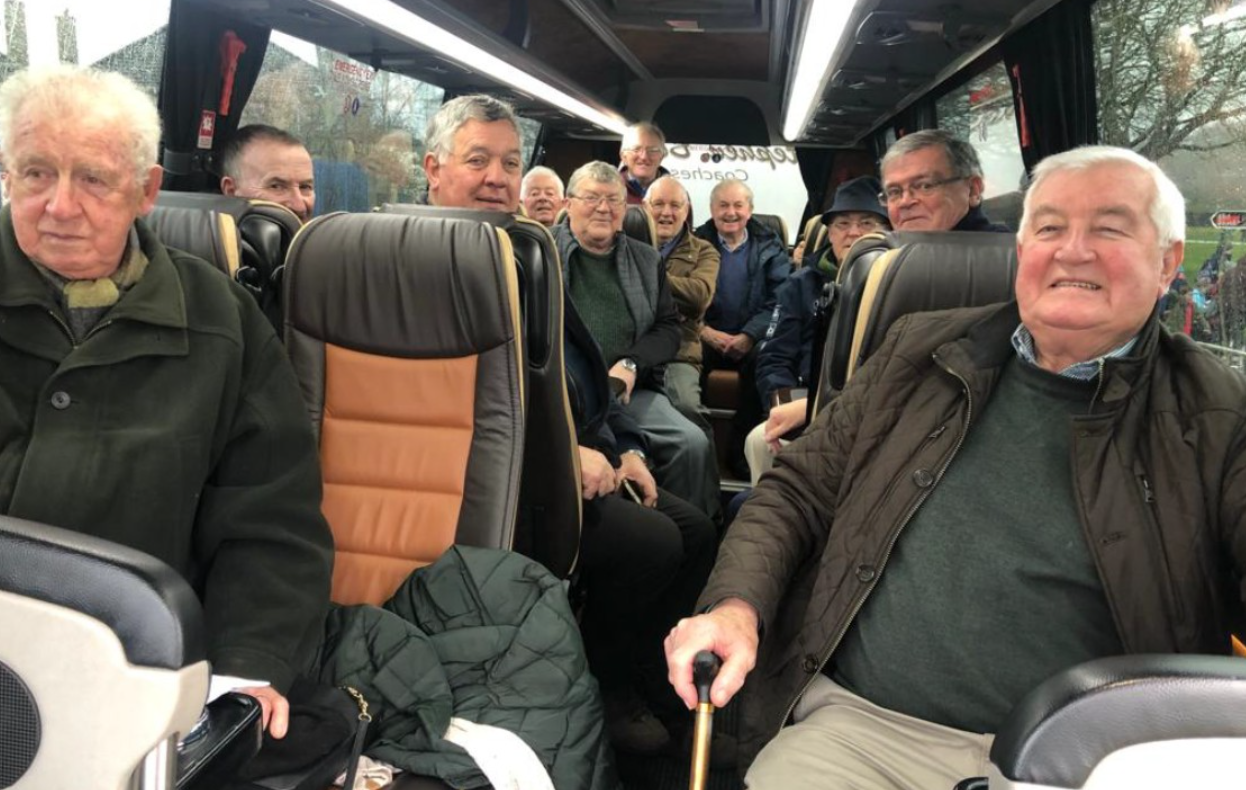 LOTTO DRAW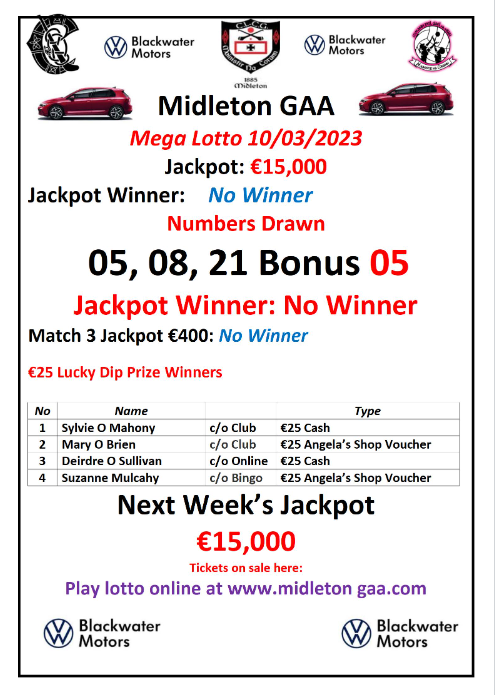 The Jackpot was €15,000 for last Friday night's jackpot and the numbers drawn this week were 5, 8, 21. The bonus was 5.
The €25 Lucky Dip Prize winners were: Sylvie O'Mahony, Mary O'Brien, Deirdre O'Sullivan and Suzanne Mulcahy.
There was no jackpot winner or Match 3 winner.
Play 24/7 at: http://www.klubfunder.com/Clubs/Midleton%20GAA/lotto
In total Midleton GAA will give out local business vouchers to the value of €3,800 every year as part of our "Shop Local, Buy Local" campaign.
How to play: tickets are on sale at Pat Walsh Paints, Chadwicks, Frank Murphy Butchers, Murphy's Pharmacy, Crowley Butchers, or buy online (see above).
BINGO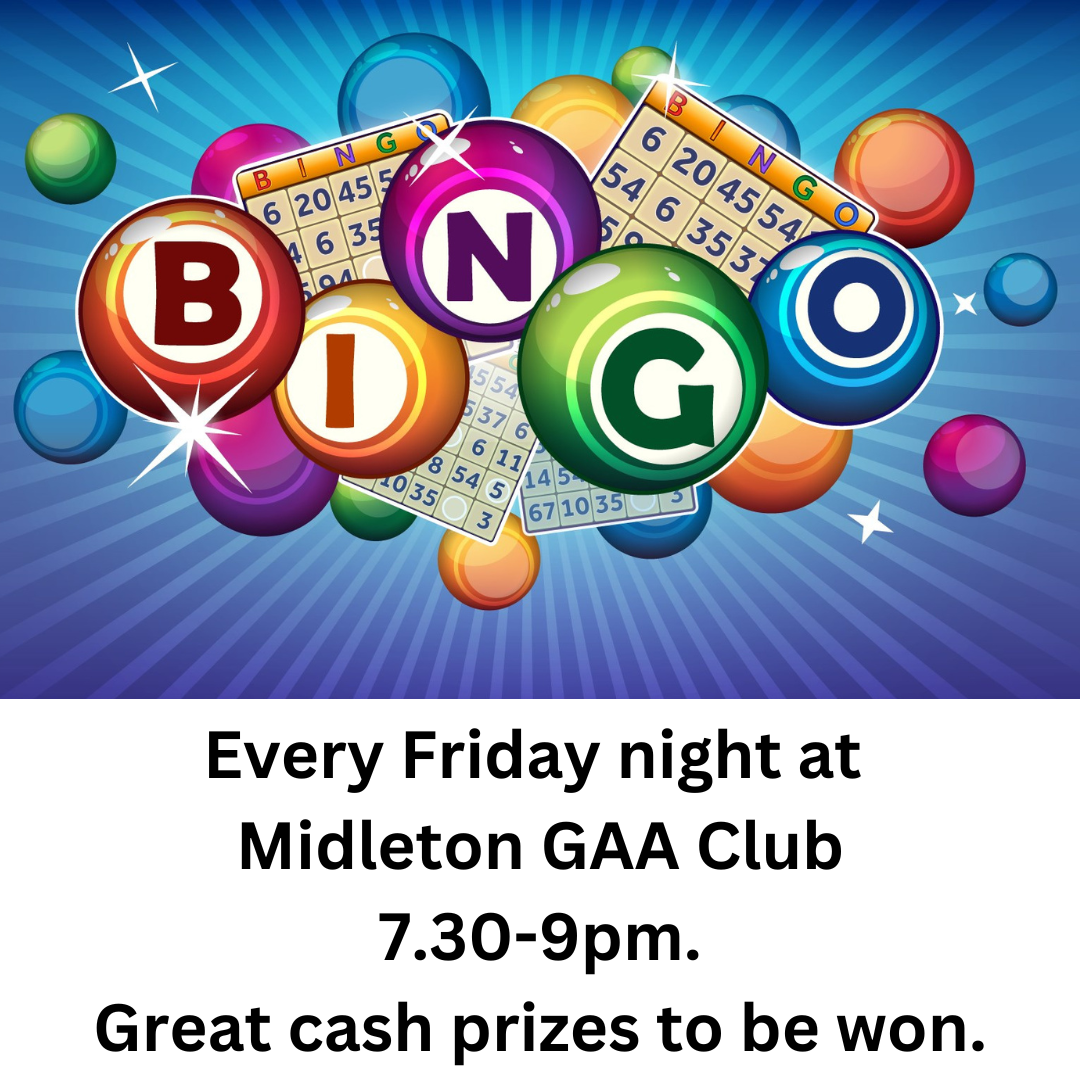 Fancy a good night which also benefits Midleton GAA club...what about bingo on Friday nights?
It kicks off at 7.30pn every Friday night and is over by 9pm. A single book is €6. A double book is €12.
Please note that this week's bingo will take place on Thursday night (March 16) because of St. Patrick's Day but will be back to normal next week, Friday, March 24.
SOCIAL DANCING
No dancing on this Saturday night.
CLUB SHOP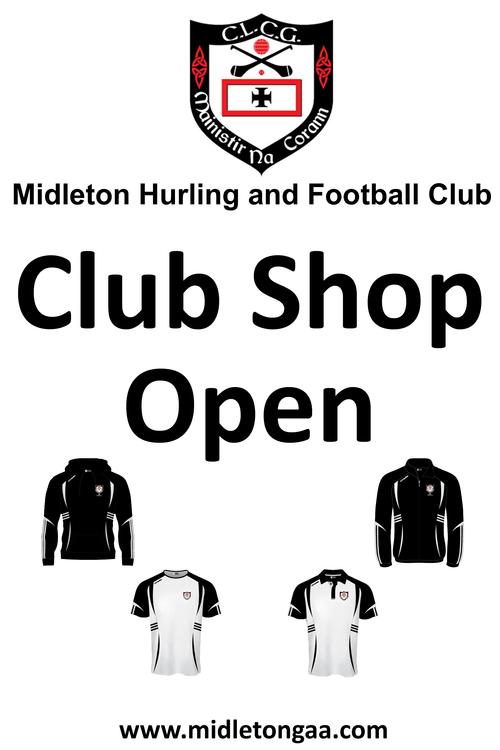 Due to unforseen circumstances there will be no shop on this coming Saturday morning.
All you have to do is go to the Klubfunder website (www.klubfunder.com/Clubs/Midleton%20GAA/ShopItems) and you will see the full range of what's available to buy. You can shop away to your heart's content, pay for it online and then collect your purchases at the club shop on Saturday morning between 9.30am and 10am. Thank you.
MIDLETON GAA EASTER DISCO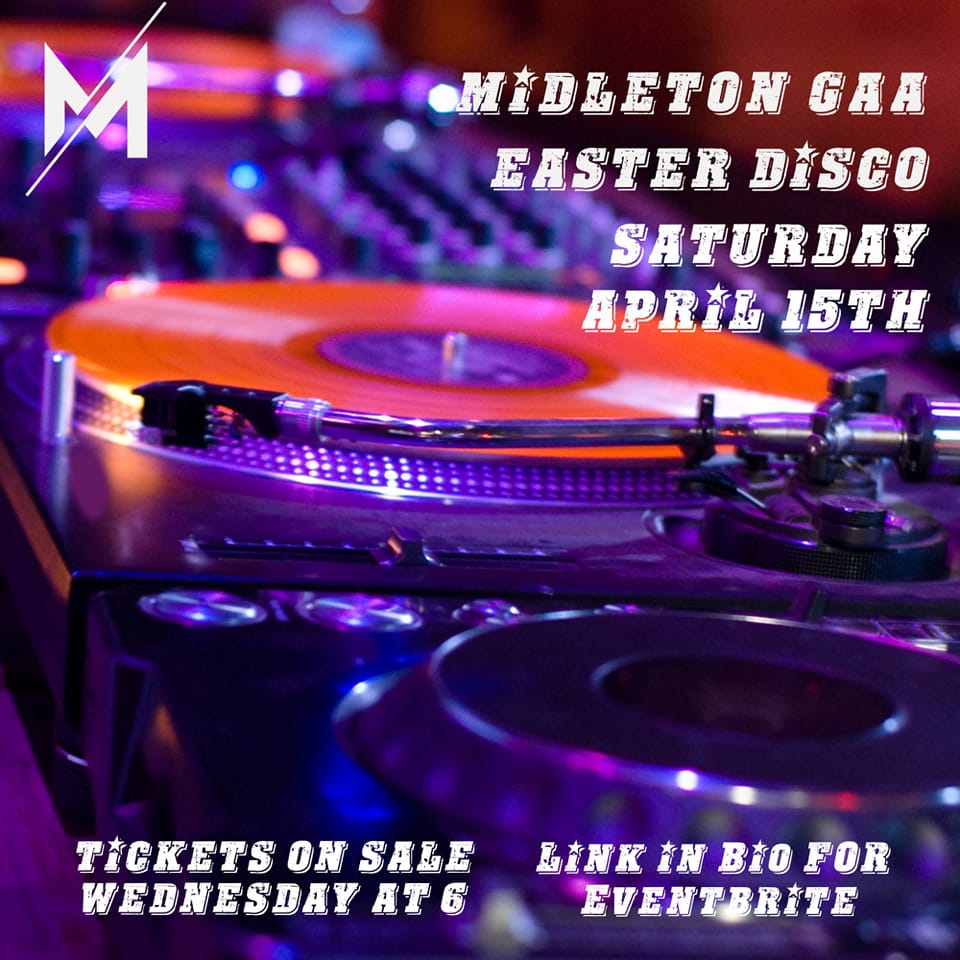 Midleton GAA's Easter Disco is on Saturday April 15th.

Tickets now on sale at the link below:
www.tinyurl.com/midletoneaster
MAGPIES ALL STARS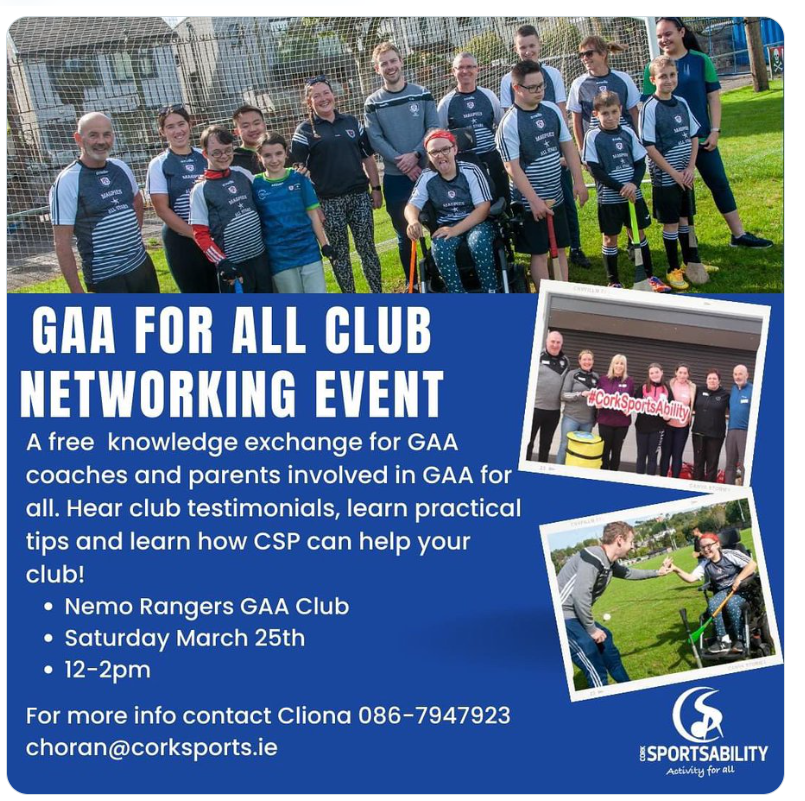 It's fantastic to see our Magpies All Stars as the poster boys/girls for Cork Sports Partnership's GAA For All Networking Event on Saturday, March 25 from 12-2pm at Nemo Rangers. Well done guys.
HEAD OF GAMES DEVELOPMENT IN CORK
Applications are now welcome for the role of Head of Games Development in County Cork to work closely with the County Officers, including the County Chairperson, Secretary/CEO and Games Development Committee to implement the games development programmes in the county.
For more details, please click on the link below.
https://gaacork.ie/2023/03/14/cork-gaa-head-of-games-development-job-opportunity/
Candidates interested in the role should apply by sending an up-to-date cover letter and Curriculum Vitae to info.munster@gaa.ie no later than 3pm on Wednesday March 29th.
PLEASE PLAY YOUR PART
​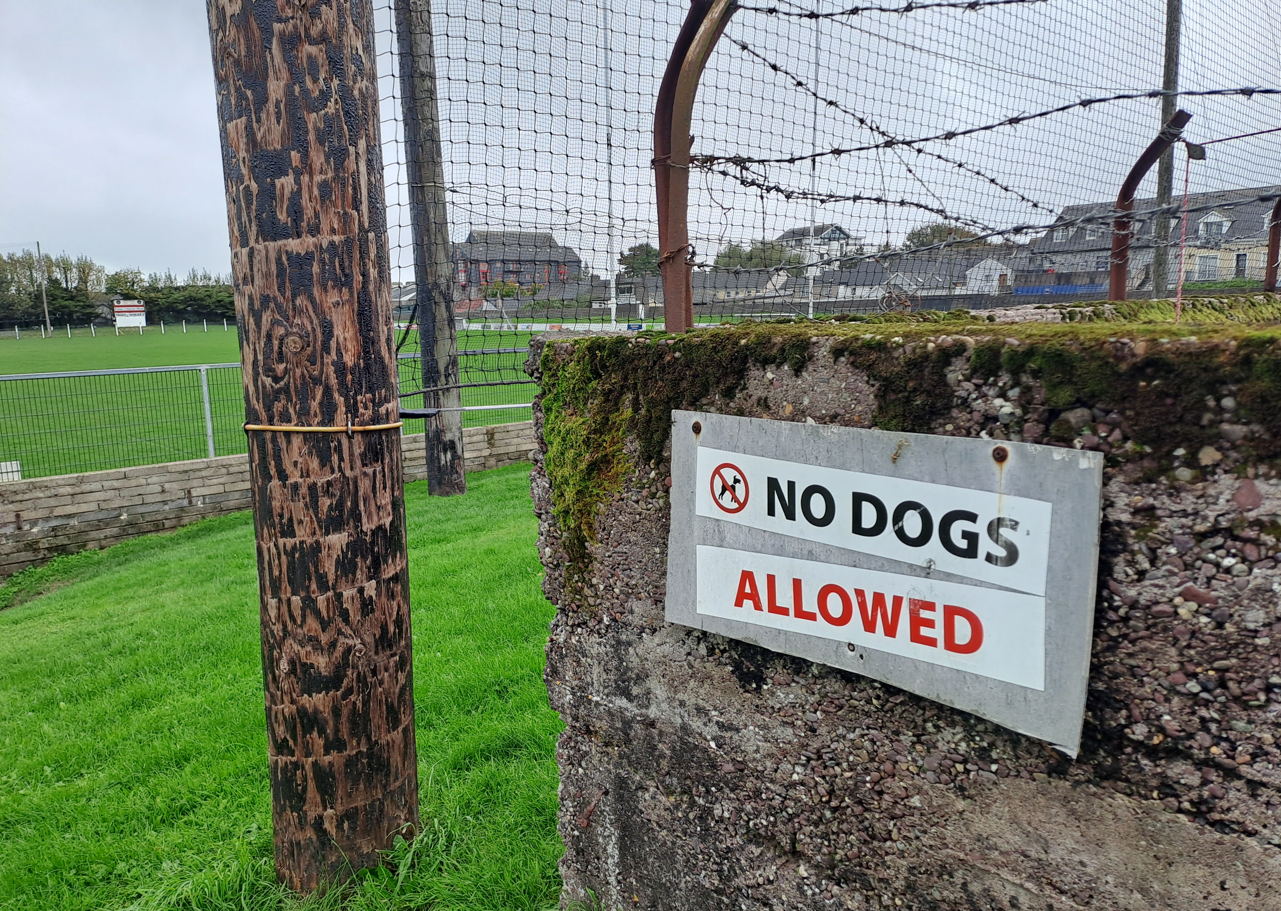 We are asking all players, mentors, parents, supporters and neighbours to please play their part by playing ball on the following.....
Please slow down entering and leaving Park South.
No dogs, except assistance dogs, are allowed at Park South or Clonmult Memorial Park.
Please do not bring single-use plastic bottles to either Park South or Clonmult Memorial Park.
Please put your rubbish in a bin or bag and please bring your gear home with you.
And always be aware of the open water surrounding the pitches in Park South.
If you are a coach, please pass on these simple messages to players and parents.
All members are asked to respect referees and their officials at all times.
Also if you are a coach, last person out locks the gate, toilet and container.
CONDOLENCES
All at Midleton GAA would like to extend our deepest symathies to family and friends of Ann Gunning of Farranree who died last week. Ar dheis Dé go raibh a hanam.