Midleton Hurling and Football, Ladies Football and Camogie Club News - March 9
09 March, 2023
SENIOR HURLING LEAGUE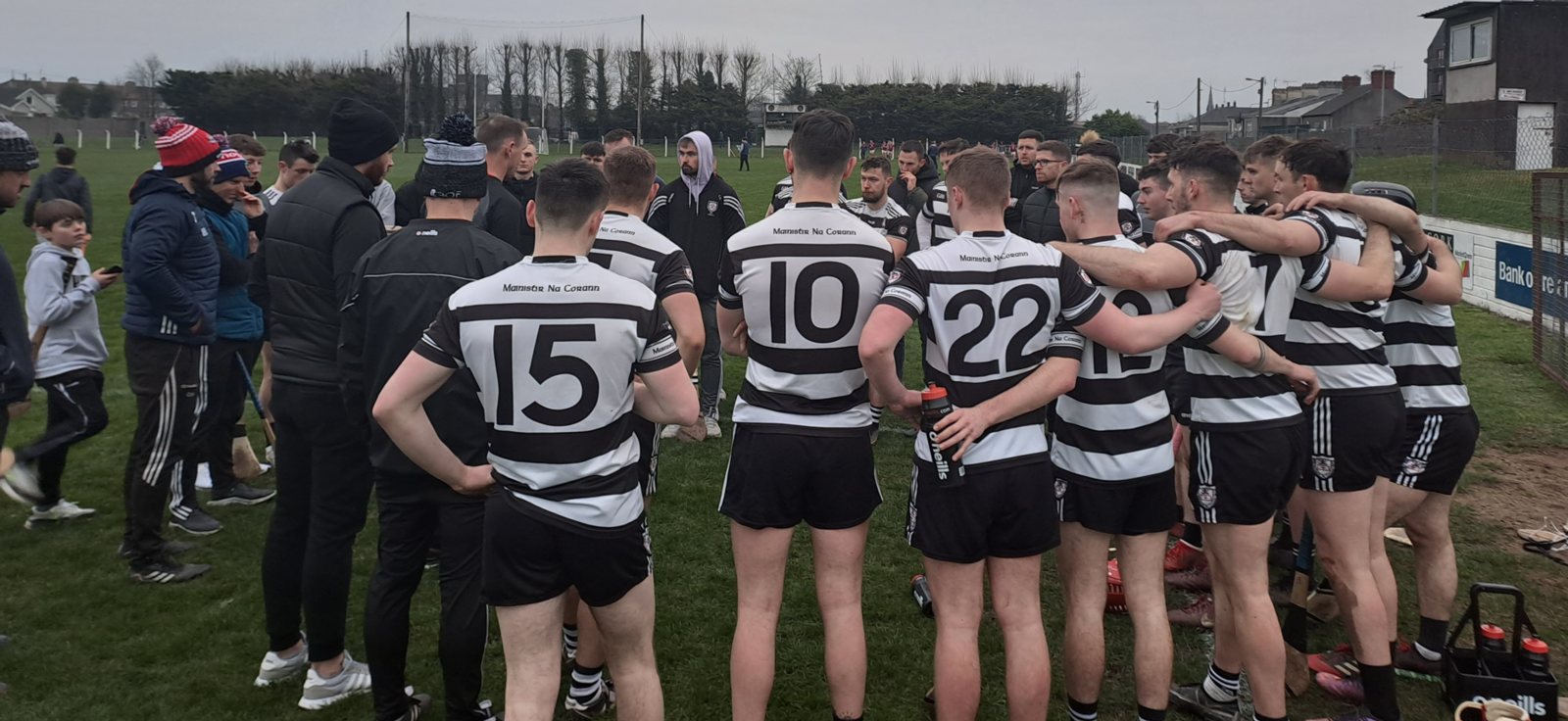 Our senior hurlers returned to action on Saturday when they hosted Bishopstown in the opening game of their RedFM County Senior Hurling League Division 2 campaign at a resplendent Clonmult Memorial Park (well done to everyone who helped to have it looking so well on the day).
Fielding a very young side we opened the scoring through Cormac Beausang before Bishopstown scored 1-2 to lead 1-2 to 0-1 after just four minutes.
Points from Ross O'Regan, Cormac Beausang (3 - one from play), Paul Haughney and Sean O'Leary Hayes from 100 yards had the sides level - 1-4 to 0-7 - after 18 minutes.
Bishopstown were 1-8 to 0-8 ahead when they received a straight red card on 27 minutes.
Bishopstown led by two at the break on a scoreline of 1-9 to 0-10.
Points from Sam Quirke and three from Cormac Beausang (one from play) had the sides level again (0-14 to 1-11) after seven minutes of the second-half.
Shortly after a lovel point by Sam Quirke put Midleton into the lead for the first time since the first minute.
Points from Beausang (2), another monster effort from Sean O'Leary Hayes and Paul Haughney had Midleton 0-19 to 1-13 ahead with ten to play and looking like they might kick on for an opening day triumph.
But Bishopstown were a tough nut to crack and we led by 0-21 to 1-15 with three minutes to play when Midleton goalkeeper Bryan Rossiter made an outstanding save to deny Bishopstown a certain goal which could have turned the game in the city men's favour.
Bishopstown were reduced to 13 in injury time when their full back got a second yellow card and Cormac Beausang sealed the win for Midleton with two late frees.
Final score: Midleton 0-22 Bishopstown 1-17
Next up is an away game in Ballinspittle against Courcey Rovers at 11.30am on St. Patrick's Day.
Best wishes for a speedy recovery to Pa White who received a nasty hand injury in this game.
Scorers: Midleton: Cormac Beausang 0-12 (0-8 frees), Paul Haughney, Sam Quirke and Sean O'Leary Hayes 0-2 each, Ross O'Regan, Kian Farmer, Sean O'Sullivan and Aaron Mulcahy 0-1 each.
MIDLETON: Bryan Rossiter, Cian Murray, Christian Murphy, Séadnaidh Smyth, Eoin Moloney, Sean O'Leary Hayes, Sean O'Sullivan, Paul Haughney, Sam Quirke, Ross O'Regan, Pa White, Kian Farmer, Cormac Beausang, Aaron Mulcahy, Paul Connaughton. Subs used: Rory Hartnett for White (inj); Darragh McCarthy for Murray, Adam Daly for Mulcahy. Also on the panel: Cillian Hurley, Cormac O'Brien, Adam Faye, Leo Hennessy and Evan McCarthy.
INTERMEDIATE HURLING LEAGUE
Our intermediates were on the road on Sunday morning when they travelled to Clouhduv to take on the home team. After an even enough first half it was the home side who led by five at midway point on a score of 1-8 to 0-6
We put up a brilliant effort in the secon-half but we just couldn't find the goal we needed and at the final whistle we lost out by a goal on a scoreline of 1-11 to 0-11.
MIDLETON: Cillian Hurley, Cathal Gunning, Christian Murphy, Cormac O'Brien, Leo Hennessy, Adam Faye, Evan McCarthy, Padraig O'Keeffe, Alan Power, Rory Hartnett, Darragh McCarthy, Cathal Beausang, Padraig O'Brien, Gary Carroll, Paul Conaughton.
Their next game is at home on Saturday week, March 18, to Argideen Rangers at 3pm in Clonmult Memorial Park.
JUNIOR A HURLING LEAGUE
Our Junior A hurlers made their first East Cork Division 2 league appearance on Tuesday night when they travelled to Killeagh to take on the home side.
This was a good workout for the lads, a couple of whom were making their first outing at adult level which is always great to see.
A brace of first-half goals from Christian Daly had us 2-6 to 0-6 in front at half-time and even though Killeagh threw everything at us in the second period we held out for a deserving six point win on a final scoreline of: Midleton 2-15 Killeagh 1-12.
Our next league fixture is on Sunday week, March 19th at 11.30am against St Catherines in Clonmult Memorial Park.
MIDLETON: Zach Smyth, Colin Sunderland, Alwyn Kearney, Kieran Lambert, Charlie Walsh, Aidan Ryan, Evan McCarthy, Alan Power, Leo Hennessy (0-2, 1f), Evan Rowlands, Adam Faye, Christian Daly (2-3, 0-1f), Mark O'Keeffe (0-3), Johnny Comer (0-2), Conor Fitzgerald (0-5, 3f). Subs used: Cathal Beausang, Darragh Higgins, Harry Wall, Nicky Daly Hayes.
JUNIOR C HURLING LEAGUE
An excellent second-half display saw us come away with the points in Rathcormac against a youthful Bride Rovers team on Sunday in the opening round of the East Cork Division 4 league. It was a great effort by all 20 players.
Our next Division 4 fixture will be against Dungourney on Sunday, March 19 at 3.15pm in Clonmult Memorial Park.
Final score: Bride Rovers 2-10 Midleton 1-18
MIDLETON: Colin Sunderland, Daire Mooney, Aaron Coughlan, Dan O'Sullivan, Fergus Wade, Dan Cagney, Luke Deane (C), Patrick Kane, Tim O'Sullivan (0-12, 8f, 1 65), Gavin Hurley, Harry Wall (0-1), Liam Kelly, Nicky Daly Hayes (0-4), Ben O'Neill (1-0), James Condon. Subs used: James O'Sullivan, Brendan Ferriter, Rory Lester, Jack McKay, Coleman Quinn.
FÉ18S
Fé18 Division 1 Football League: Midleton 0-9 Carrigtwohill 2-14
A tough hour of football against our near neighbour away. We led by a point at half-time but we had to give way in the second thirty minutes. The advantage in physicality was a factor as we fielded a very young team.
Credit to the lads for a brave and gutsy performance. Evan McGrath, Rory Lester and Sean Cronin led by example, while Odhran Rabbitte a late call for goalie, Sean McSharry, Paddy Walsh, Odhran Dennigen and Callum Mc Sweeney all had fine outings.
Fé18 P1 Hurling League: Midleton 2- 12 Ballincollig 0-16
Park South was the venue for this lively encounter. Ballincollig dominated the first 20 minutes but we managed to hang in there, a goal apiece from Sean Cronin and Paddy Walsh saw us improve.
Zach Smith made some fine saves plus points from Daniel Garde and Daragh Egan saw us all square at halftime. Dara Scanlon had to leave the action with an injury, this was a big loss as he was dominating at centre-back.
Evan McGrath, Thomas Dunlea, Cian Lambe, Yohannis Mehigan and Adam O'Connor all performed really well but this was a team effort and the lads deserve great credit for coming away with a two-point victory.

JUNIOR FOOTBALL
Our two junior football teams are in action this coming weekend.
On Saturday our Divison 3 team are at home to Lisgoold at 4pm and then on Sunday our A team (Divison 2) host Glenbower Rovers in Midleton at 2.30pm.
Best of luck to both teams.
MEMBERSHIP FOR 2023 IS NOW DUE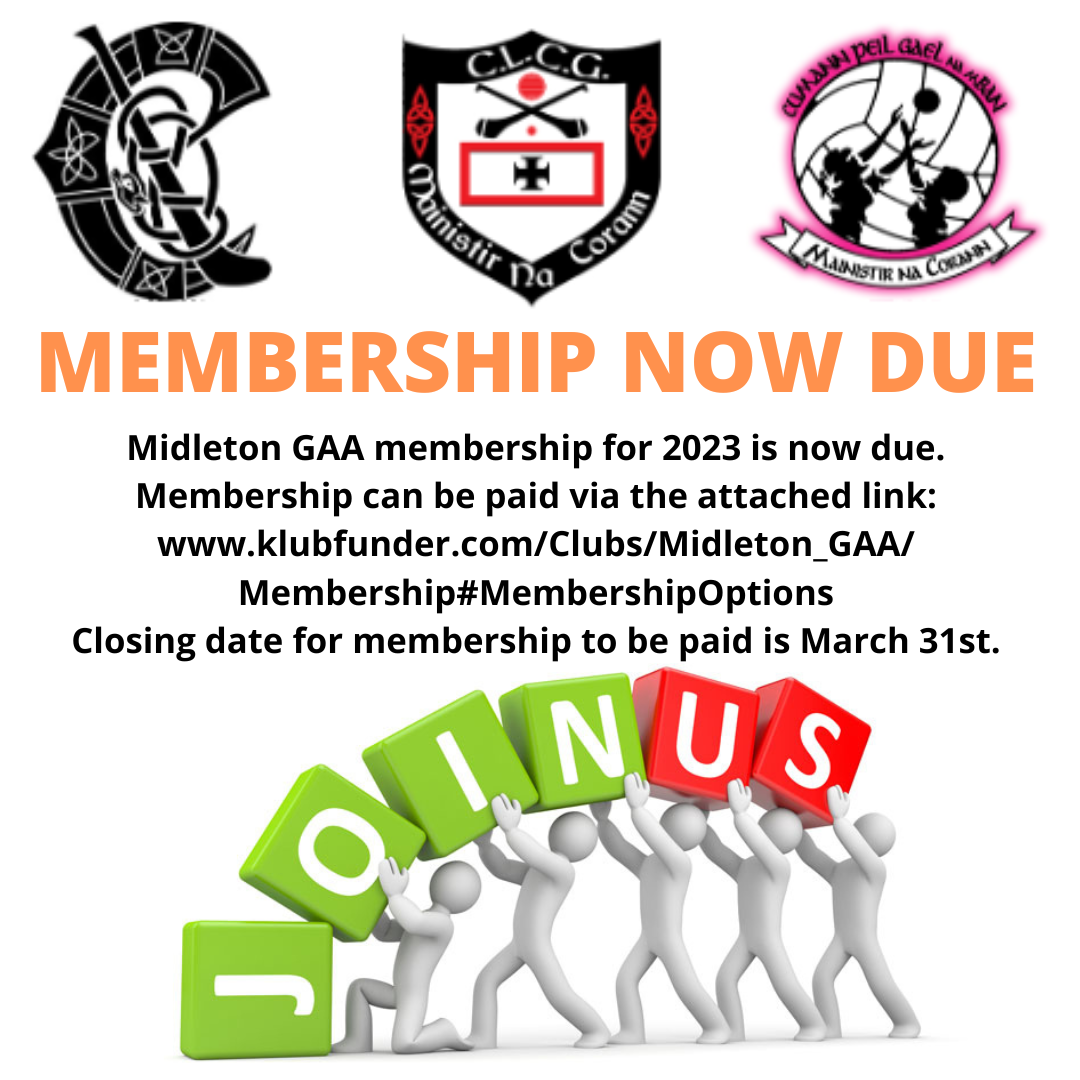 Midleton GAA Membership for 2023 is now due. Membership can be paid via the attached link via Klubfunder. https://www.klubfunder.com/Clubs/Midleton_GAA/Membership#MembershipOptions
Closing date for memebership to be paid is March 31st.
IN THE RED OF CORK
Best of luck to the Cork senior hurlers who are back in action at home in Pairc Uí Chaoimh on Sunday against Wexford at 3.45pm.
REGISTRATION DAY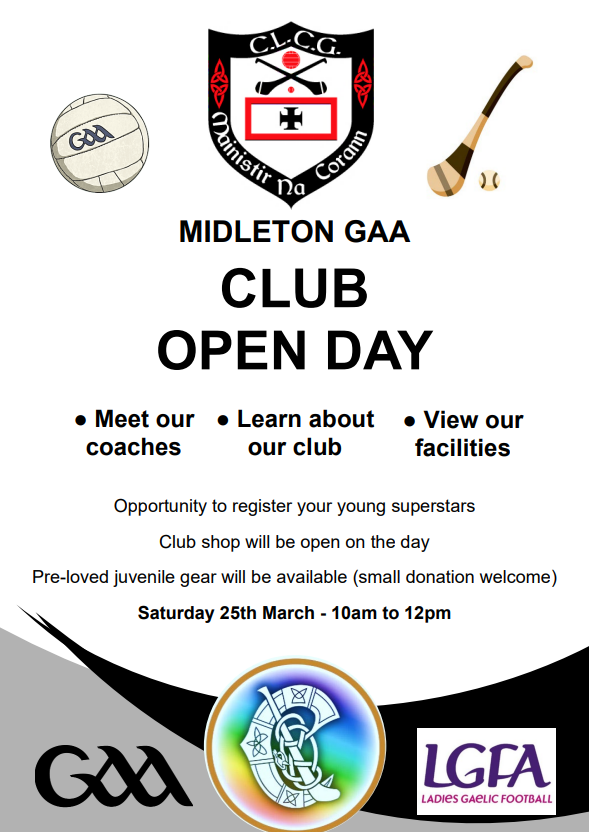 We will hold a registration day for any potential members across our club - boys, girls, men or women on Saturday, March 25 in our club house from 10am to 2pm. Our Club Shop will also be open on the day, with a clearance sale, and there will also be pre-loved gear for sale for a small donation. Don't miss it.
JUVENILES
FÉ11S
Our lads travelled to Blarney on Saturday last for a Hurling Challenge game against Blarney U-11s.
This was our first game of the season for this Group.
We played with three Teams of nine for this and each team did very well in all the games getting some great scores throughout each of the games.
We would like to thank Blarney U11s for inviting us to play them and we hope to meet them again sometime soon.
FÉ12S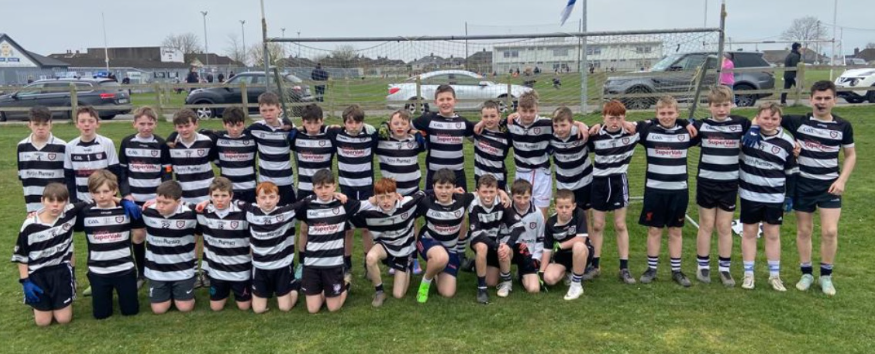 The Fé12 boys made their first outing of the season on Saturday morning. A big thank you to Brian Dillons GAA for their great hospitality. First of many outings for this bunch of young magpies. Well done to all.
FIXTURES
Friday 10th March
Rebel Og Premier Fe15 Football League Group3
Killeagh v Midleton in Killeagh at 7pm
Saturday 11th March
Rebel Og Premier Fe14 Football League Division4
Midleton 2 v Glanmire at 4pm in Midleton
Sunday 12th March
Rebel Og Premier Fe13 Football League Group4
Bishopstown v Midleton in Bishopstown at 5pm
Monday 13th March
Rebel Og Premier Fe14 Football League Premier2 Section1
Nemo Rangers v Midleton at Trabeg at 7.30pm
Wednesday 15th March
Rebel Og Premier Fe16 Hurling League Premier1
Sarsfields v Midleton at 6.30pm at Riverstown
LADIES FOOTBALL
U-14 V YOUGHAL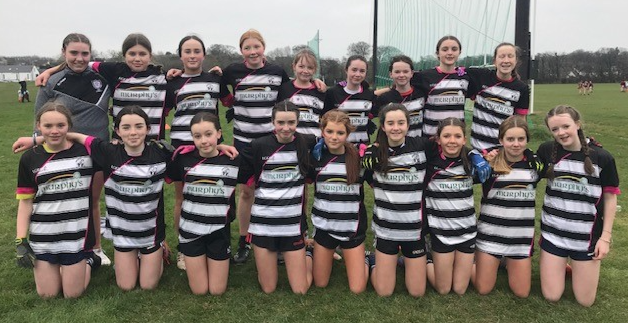 On Saturday last our U14 girls played a very entertaining challenge game against Youghal in Park South. This was a great opportunity for our new players who have moved on from U12 to play on a full-sized pitch. Well done to all girls who played extremely well. Our league campaign starts this weekend with a home game to Cobh.
U-16 V GLANMIRE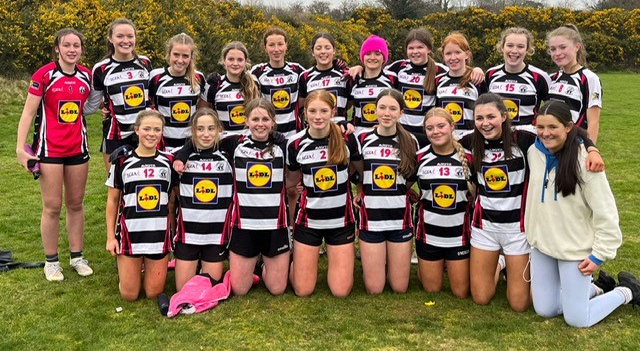 Our U16 girls travelled to Glanmire for their first league fixture of the year. A tough encounter but the girls gave their best from the opening minutes. Some of the U15 girls on this team are also busy preparing for Feile at the end of the month.
U-21 CHAMPIONSHIP V BANTRY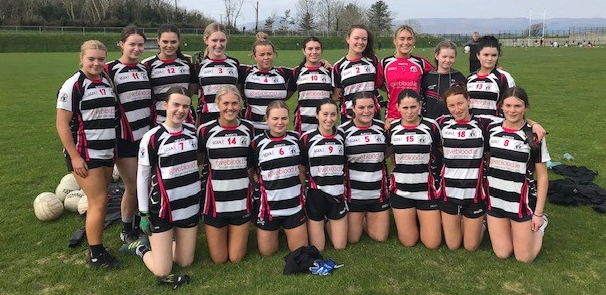 This year's U21 championship is a knockout competition. On Sunday last our ladies travelled to Bantry. This was their first outing of the year and it was a very close game. At half time Midleton were one point ahead. Both teams got some great scores in the second half. Bantry extended their lead but Midleton kept digging in and the full-time score ended in a draw Midleton 1-11 to Bantry 3-05. As it is a knockout competition there had to be a winner on the day. Extra time had to be played. Unfortunately, things did not go our way and the final score ended Midleton 3-11 to Bantry 5-11. Well done to everyone who played their part on the day. Captain on the day was Sadhbh Beausang.
ALL-IRELAND SCHOOLS JUNIOR SEMI-FINAL
We would like to wish St Mary's High School and all our Club Players the very best of luck where they play Moat Secondary School on Friday 10th March in the All-Ireland Semi-final. The match takes place in Rathkeale Co Limerick at 12 noon.
GM&O - GAELIC MOTHERS AND OTHERS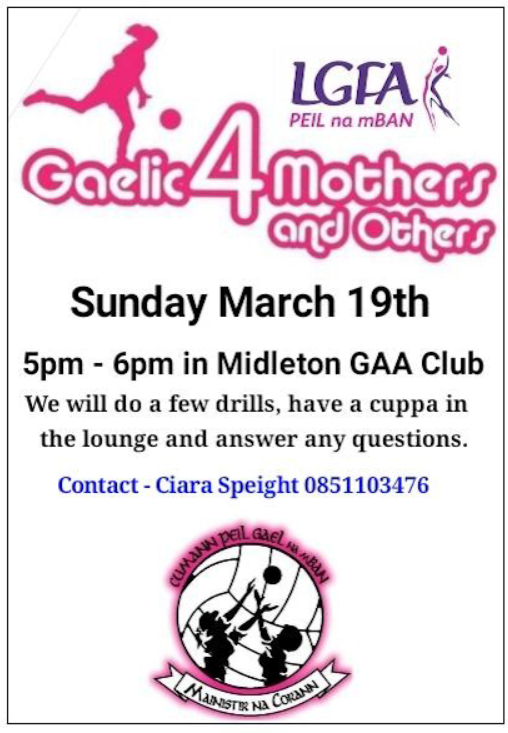 Our GM&O open evening takes place on Sunday 19th March in Midleton GAA Club from 5-6pm. Woman aged 23+ are welcome whether you have played before or not. Come along and try a few drills. There will be a cuppa and a chat in the lounge afterwards. Spread the word!
Any questions contact Ciara 085-1103476
TRAINING
U12: Mondays 6.30-7.30pm in Ballinacurra GAA Club
U14: Mondays 6.30-7.30pm in Midleton GAA Club
U16/Minor and Junior: Mondays 7.30-8.30pm in Midleton GAA Club and Thursdays 7-8pm in Ballinacurra GAA Club.
GAELTACHT SCHOLARSHIPS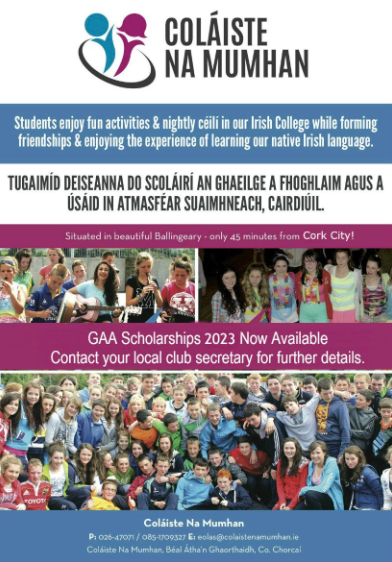 Cork GAA will be providing a certain amount of GAA scholarships to students attending Coláiste na Mumhan this summer! Follow the link to download the application form:
Cork Gaa Gaeltacht Scholarships | Colaiste Na Mumhan | Ballingeary Irish College
GAA LEARNING PORTAL

We have been aksed to remind members and especially our club coaches that the GAA Learning Portal is a great resource which is free to use. Please check it out at http://learning.gaa.ie/about
REBELS' BOUNTY DRAW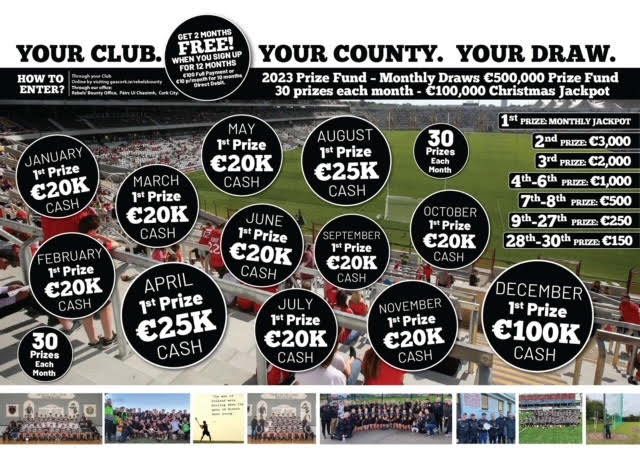 Tickets are now also on sale for the 2023 Rebel's Bounty draw. We are aiming to sell 500 tickets this year which would net us a wonderful €40,000 which would do so much for our club. We think this figure is very attainable but we need everyone's help. The prizes are fantastic so we would appeal to everybody to reach out to family members, neighbours, work-mates to support this vital fundraiser for our club.
You can buy tickets a the link below but make sure that you enter Midleton in the section that asks for your club.You can also sign up online for a direcct debit of €10 a month for ten months.
MIDLETON GAA MONDAY CLUB
We look forward to seeing you all (and any new faces) on Monday 27th March 10.30am to 11.30am. All Welcome!
LOTTO DRAW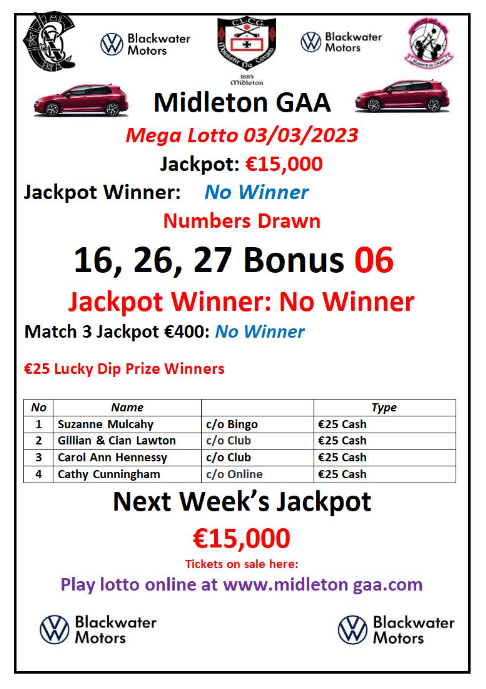 The Jackpot was €15,000 for last Friday night's jackpot and the numbers drawn this week were 16, 26, 27. The bonus was 6.
The €25 Lucky Dip Prize winners were: Suzanne Mulcahy, Gillian & Cian Lawton, Carol Ann Hennessy and Cathy Cunnigham.
There was no jackpot winner or Match 3 winner.
Play 24/7 at: http://www.klubfunder.com/Clubs/Midleton%20GAA/lotto
In total Midleton GAA will give out local business vouchers to the value of €3,800 every year as part of our "Shop Local, Buy Local" campaign.
How to play: tickets are on sale at Pat Walsh Paints, Chadwicks, Frank Murphy Butchers, Murphy's Pharmacy, Crowley Butchers, or buy online (see above).
BINGO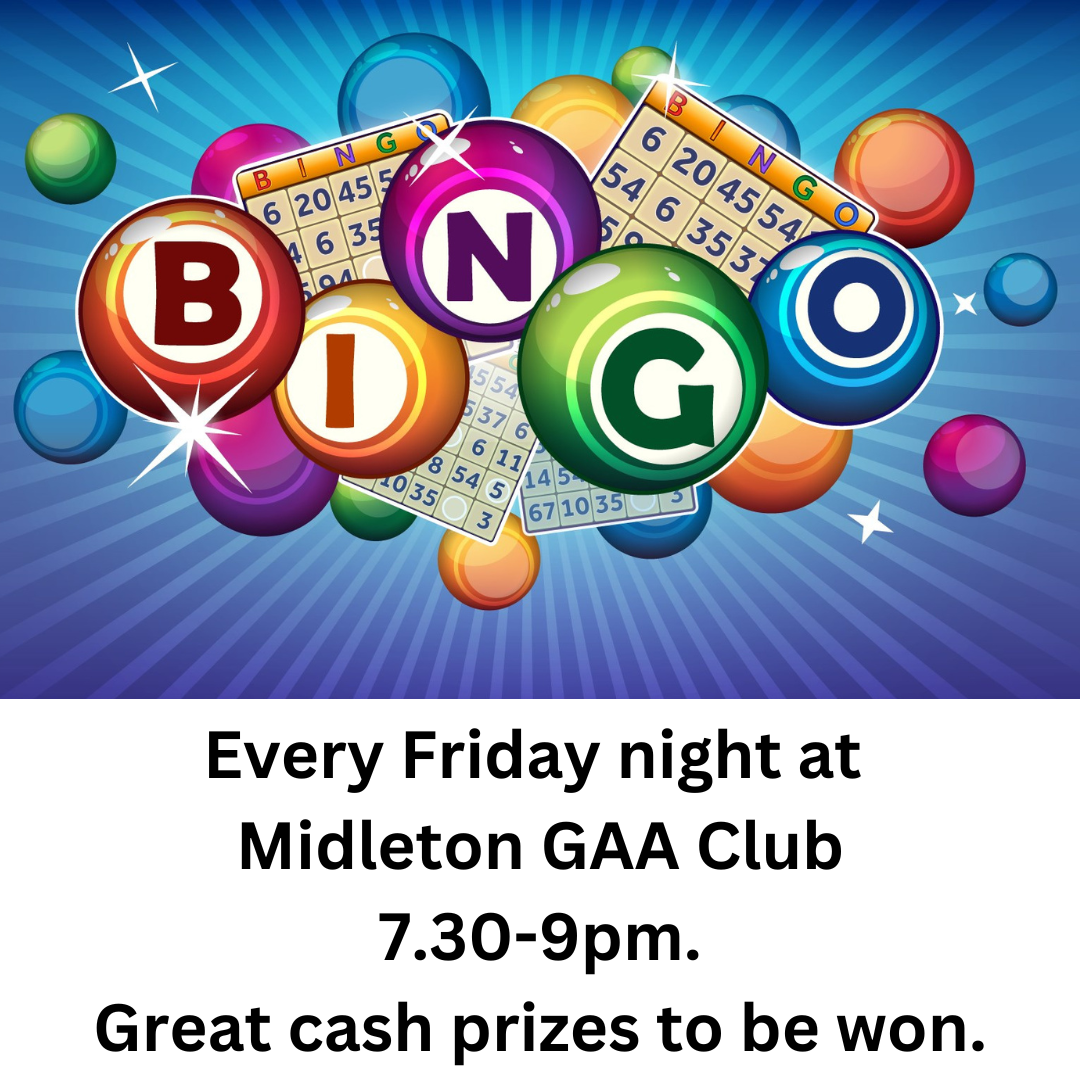 Fancy a good night which also benefits Midleton GAA club...what about bingo on Friday nights?
It kicks off at 7.30pn every Friday night and is over by 9pm. A single book is €6. A double book is €12.
Please note that next week's bingo will take place on Thursday night (March 16).
SOCIAL DANCING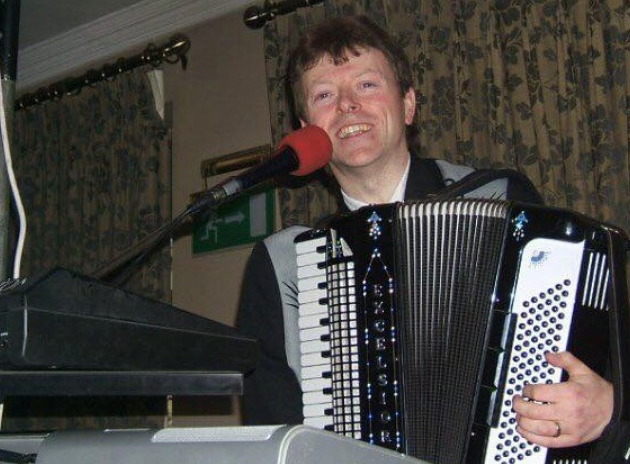 Dancing on this Saturday night to the brilliant Peter Burke from 9.15pm. A great night guaranteed.
ST. PATRICK'S DAY PARTY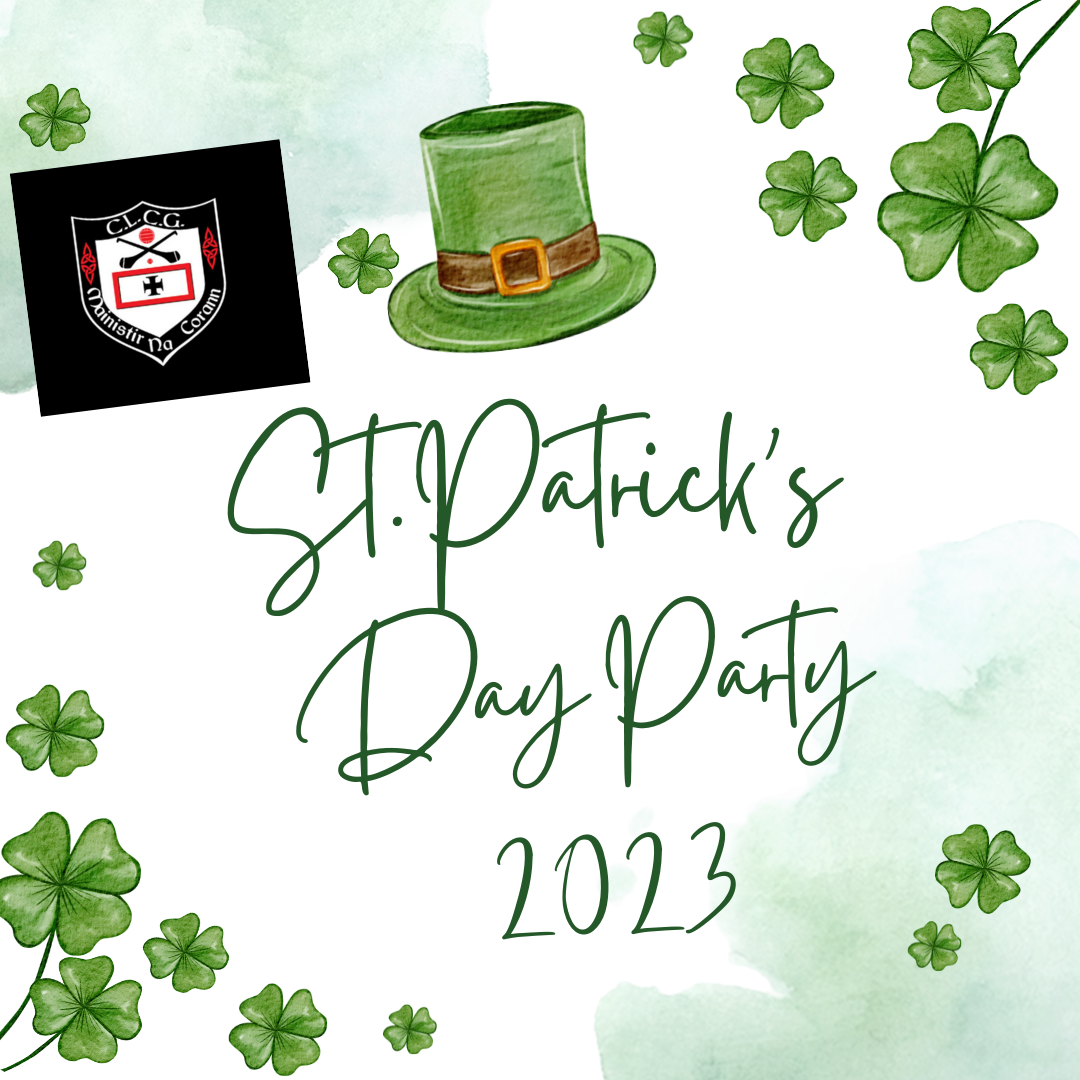 The Midleton St. Patrick's Day parade may be cancelled but the party goes ahead at Midleton GAA Club.
Why not come along to the GAA Pavilion on St Patrick's Day to watch the Cheltenham Gold Cup or just catch up with friends. Families more than welcome.
Also DJ Michael will be playing from 4.30pm blasting out some Wolfe Tones, Rod Stewart, ABBA, Daniel O'Donnell or any requests you might have.
Later that evening we have the Comhaltas Irish traditional musicians to entertain you with some fabulous music Doors open at 2pm. All welcome.
MIDLETON HEALTHY CLUB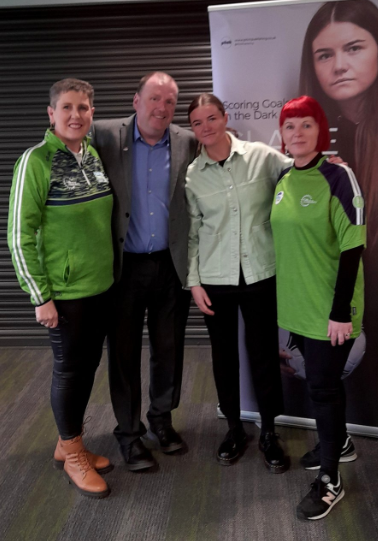 Our healthy club Officer Mairead Beausang took part in a GAA for All panel at the Cokr GAA Health and Wellbeing Conference in Pairc Uí Chaoimh on Saturday last where Mairéad shared the success of our Magpies All Stars. Well done Mairead.
CLUB SHOP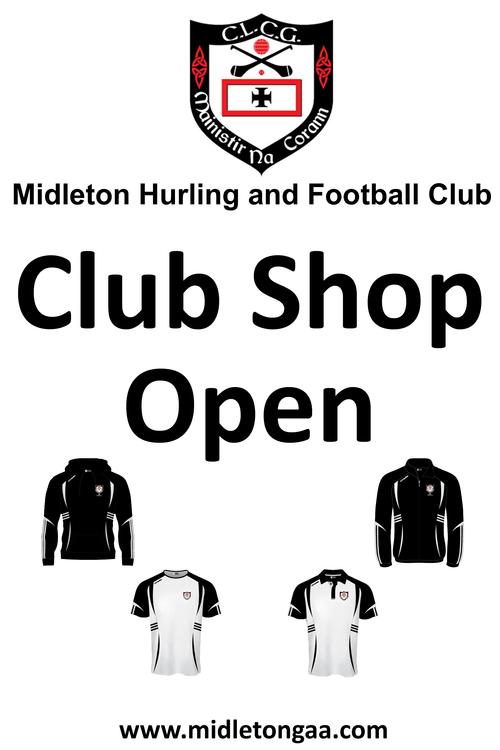 The club shop has now reopened after Christmas and the annual St. Patrick's Day parade is the next big event on the horizon. We have gear for all ages to be decked out for the day, order early to avoid disappointment. ☘️☘️Magpies Abú.
Please note that our shop is still online with collection only at the club on a Saturday morning.
All you have to do is go to the Klubfunder website (www.klubfunder.com/Clubs/Midleton%20GAA/ShopItems) and you will see the full range of what's available to buy. You can shop away to your heart's content, pay for it online and then collect your purchases at the club shop on Saturday morning between 9.30am and 10am. Thank you.
MIDLETON GAA EASTER DISCO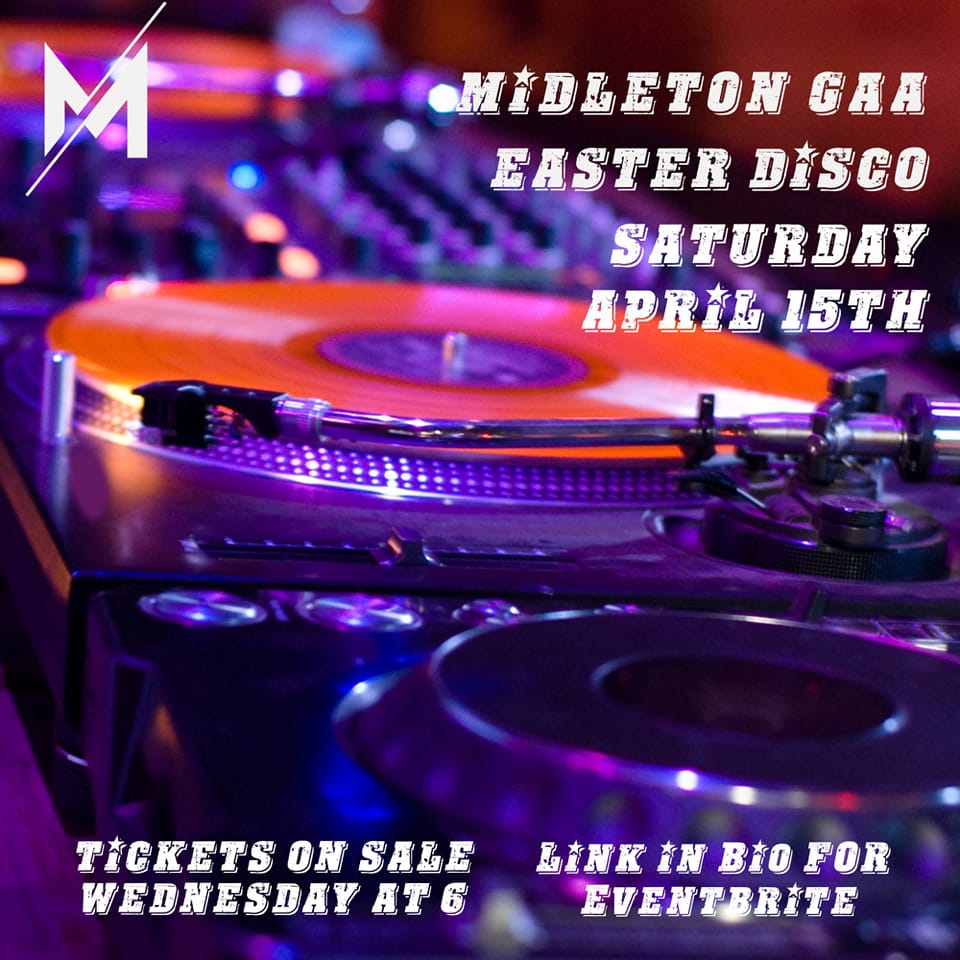 Midleton GAA's Easter Disco is on Saturday April 15th.

Tickets now on sale at the link below:
www.tinyurl.com/midletoneaster
LONG PUC PROCEEDS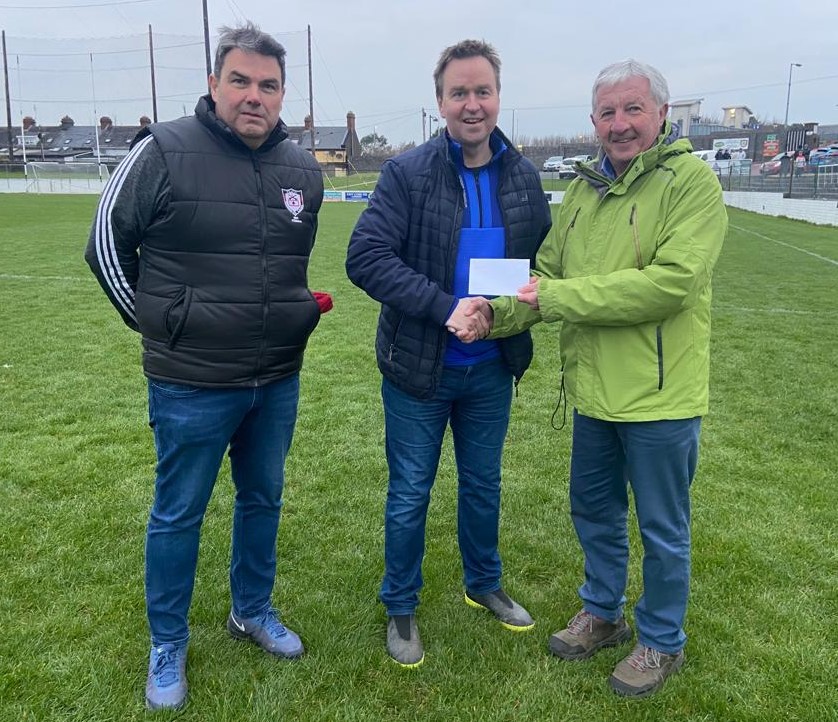 On Saturday last, at our Senior Hurling League game with Bishopstown, Midleton GAA Chairman John Fenton and Treasurer John Hogan made a presentation of a cheque, the proceeds of our Sean Keohane Memorial Long Puc on St. Stephen's Day, to Derek Power of the Mercy Hospital Cork Foundation.
MAGPIES ALL STARS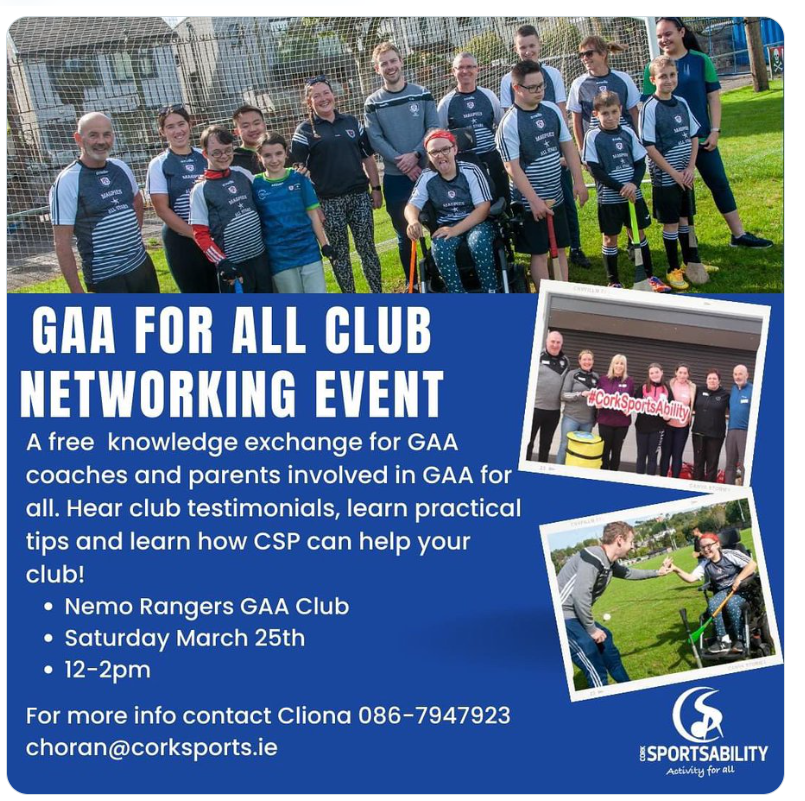 It's fantastic to see our Magpies All Stars as the poster boys/girls for Cork Sports Partnership's GAA For All Networking Event on Saturday, March 25 from 12-2pm at Nemo Rangers. Well done guys.
INTERNATIONAL WOMEN'S DAY
A day on from International Women's Day we would like to say a huge thank you to each and every woman and girl that is involved in our club in any capacity. Thank you all and we hope you enjoyed the day.....#UpTheMagpies...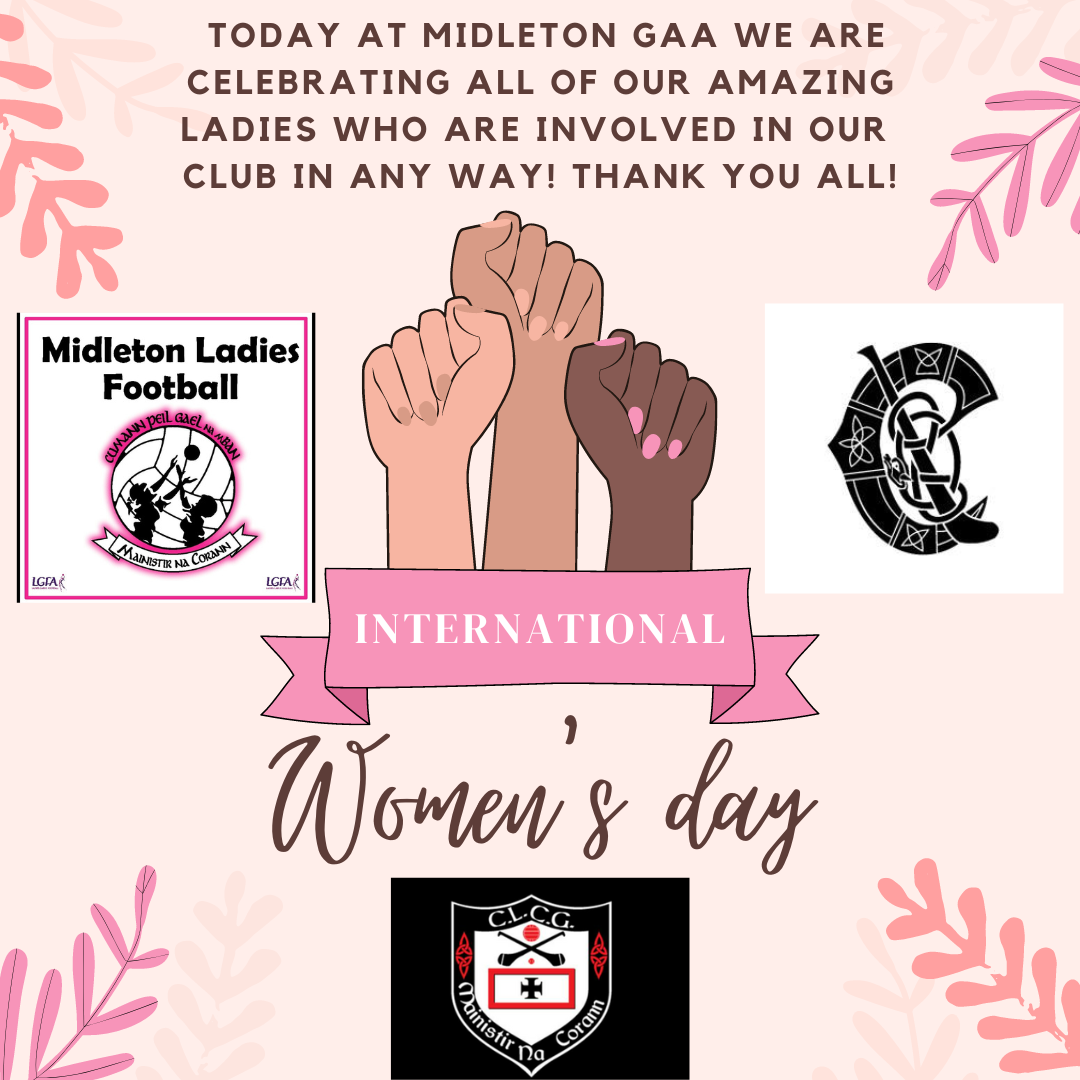 PLEASE PLAY YOUR PART
​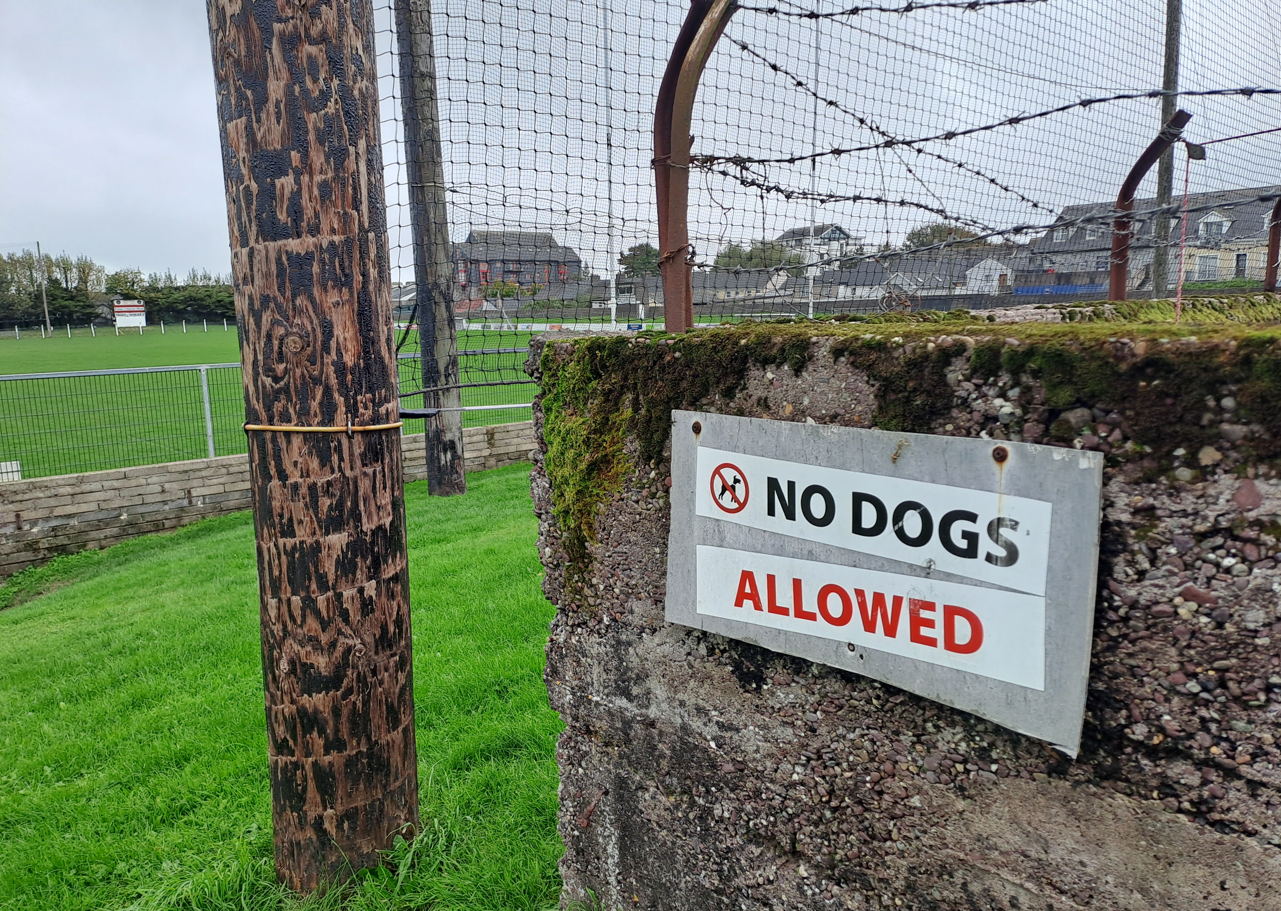 We are asking all players, mentors, parents, supporters and neighbours to please play their part by playing ball on the following.....
Please slow down entering and leaving Park South.
No dogs, except assistance dogs, are allowed at Park South or Clonmult Memorial Park.
Please do not bring single-use plastic bottles to either Park South or Clonmult Memorial Park.
Please put your rubbish in a bin or bag and please bring your gear home with you.
And always be aware of the open water surrounding the pitches in Park South.
If you are a coach, please pass on these simple messages to players and parents.
All members are asked to respect referees and their officials at all times.
Also if you are a coach, last person out locks the gate, toilet and container.