Midleton Hurling and Football, Ladies Football and Camogie Club News - February 9
09 February, 2023
EAST CORK CHAMPIONSHIP DRAWS
The draws for the 2023 East Cork Junior Championship draws were made last night (Wednesday) in Midleton and here's how the Midleton teams fared.
In hurling: in the Junior A Championship we have been drawn in Group 2 with Carrigtwohill and Carrignavar. Our first game will be on the weekend of August 6/7 against Carrigtwohill.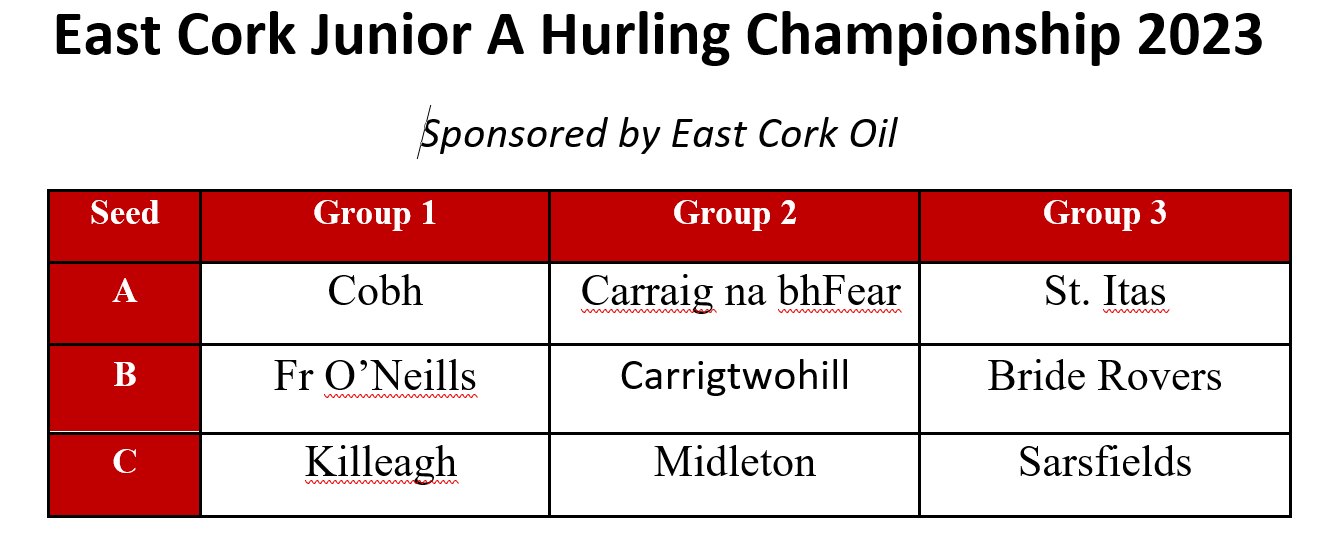 In the Junior C hurling championship we have been drawn in Group 2 with Dungourney, Russell Rovers and Bride Rovers. Our first game is on the weekend of August 12/13 against Bride Rovers.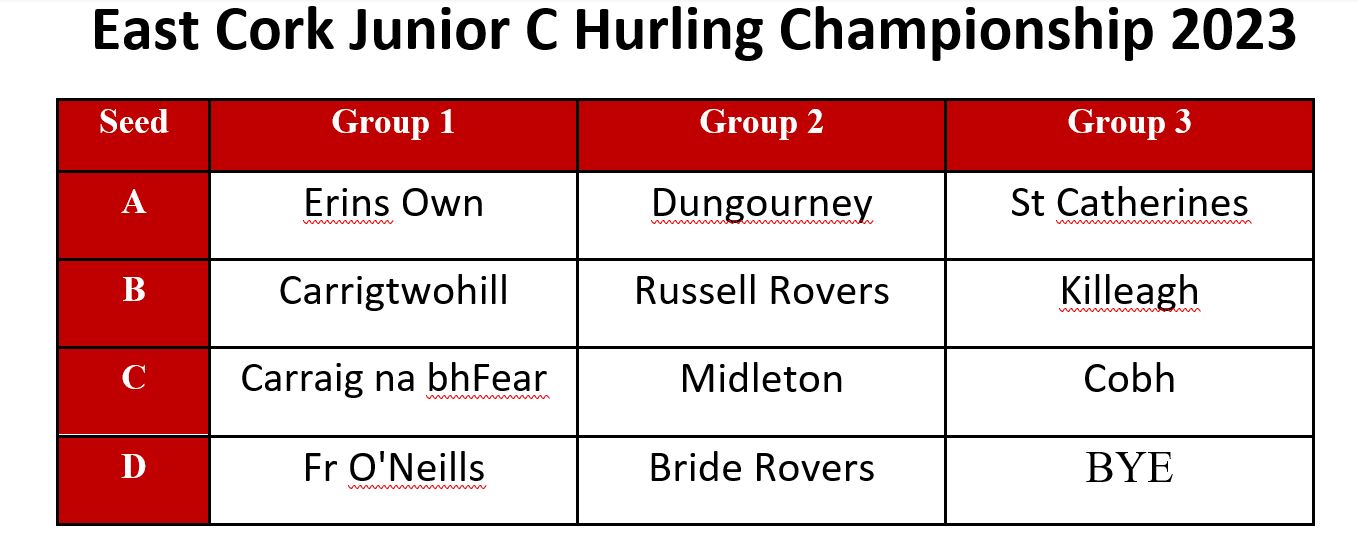 In football, our Junior A footballers have been drawn in Group 1 with Castlemartyr, Bride Rovers and Youghal. Our opening game will be on the weekend of June 17/18 against Youghal.
Our Junior C footballers have been drawn in Group 3 with Lisgood, Carigtwohill and Bride Rovers. Our first game will be against Lisgoold on July 15/16.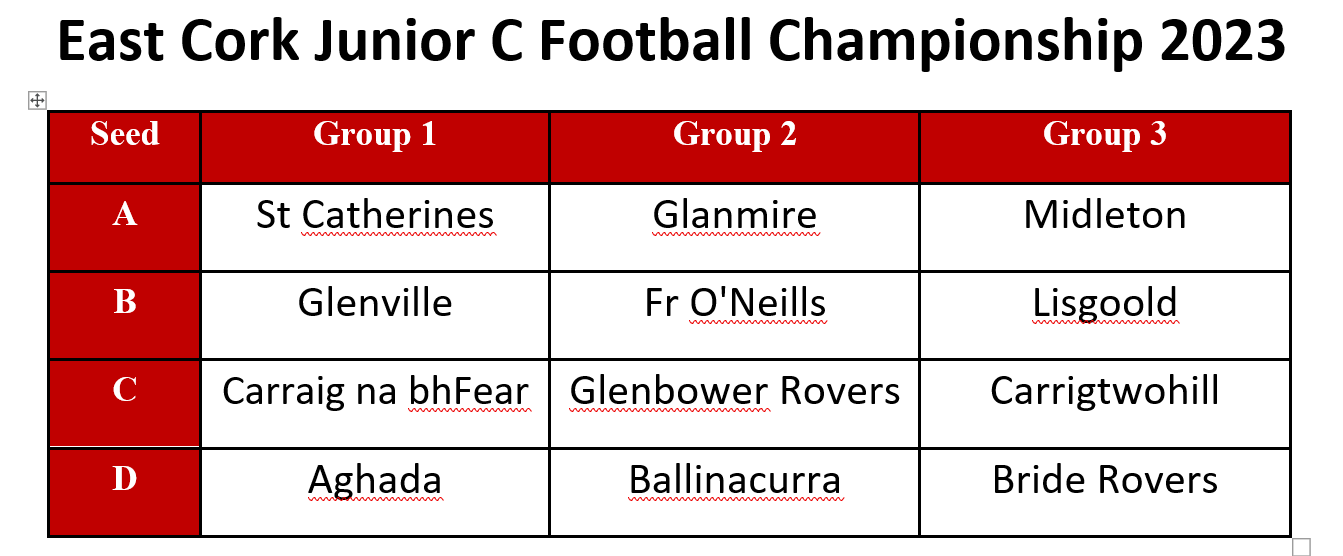 IN THE RED OF CORK
​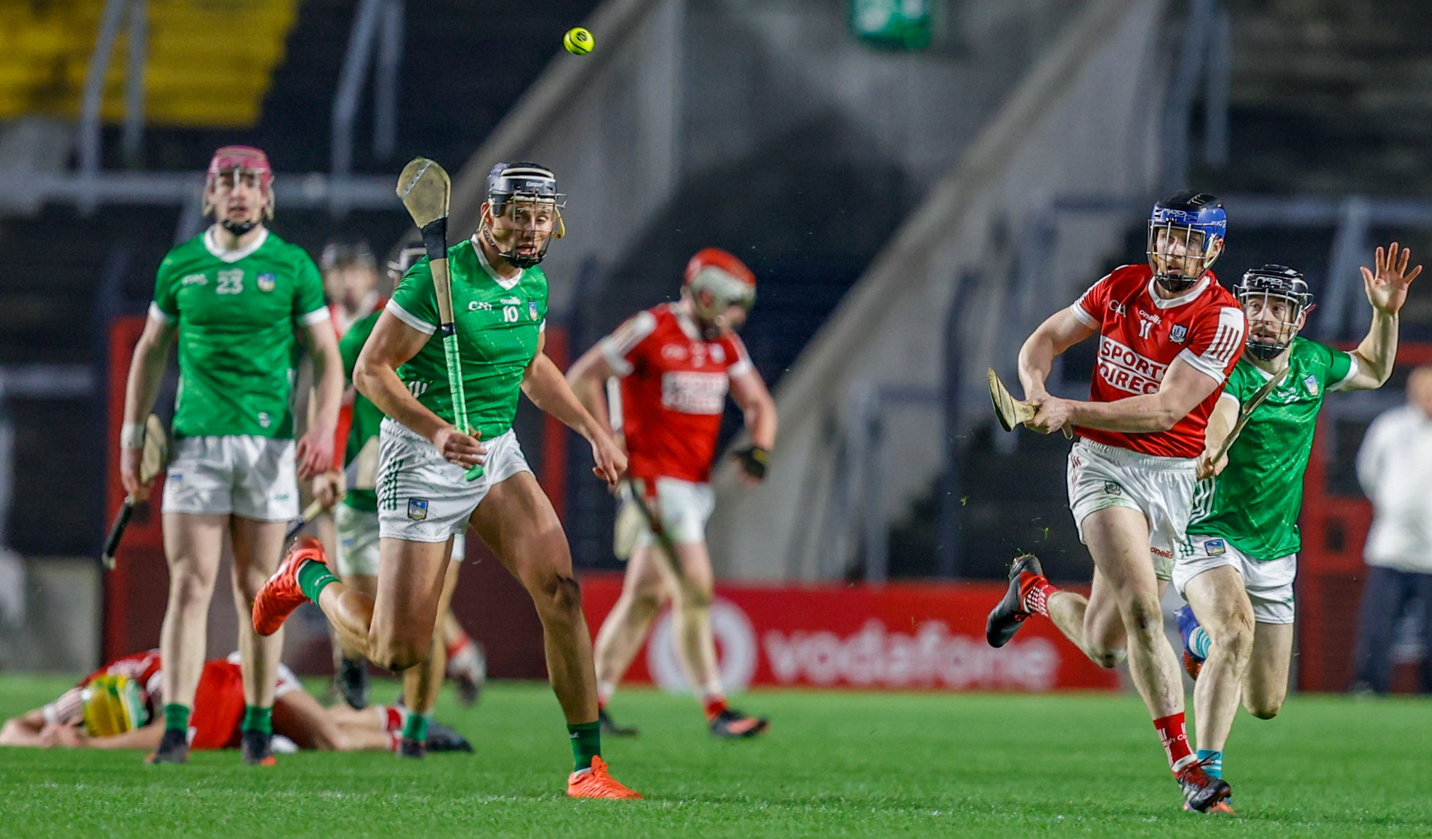 Conor Lehane in action against Limerick in Pairc Uí Chaoimh on Saturday night. Photos: Denis O'Flynn.
The Cork senior hurlers began their National Hurling League campaign on Saturday evening when they got the better of All-Ireland champions Limerick in Pairc Uí Chaoimh after a rip-roaring contest on a final score of 2-17 to 0-22. Conor Lehane, Tommy O'Connell, Sam Quirke and Cormac Beausang were all part of the Cork panel on the night.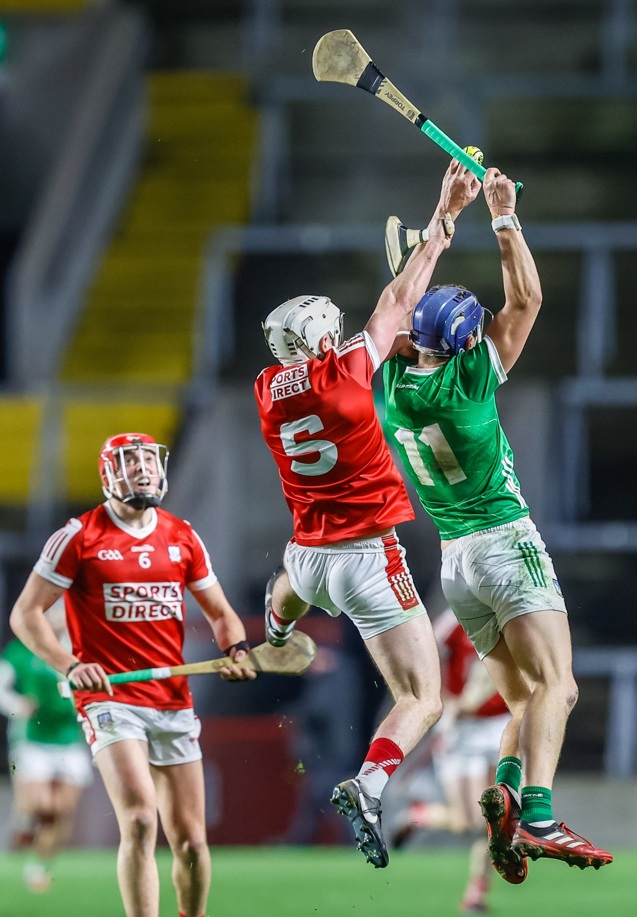 Tommy O'Connell making a great catch against Limerick.
Cork are back in action on Sunday when they travel to Pearse Stadium in Salthill to take on Galway. We wish them well.
The Cork U-20 team played before the senior game on Saturday night against Kilkenny in a challenge game and they won with Midleton players, Brion Saunderson, Ciarmhac Smyth, David Cremin and Mikey Finn all involved.
FITZGIBBON CUP
Well done to Brion Saunderson who starred in UCC's win over UCD.
CAMOGIE
IMOKILLY CALL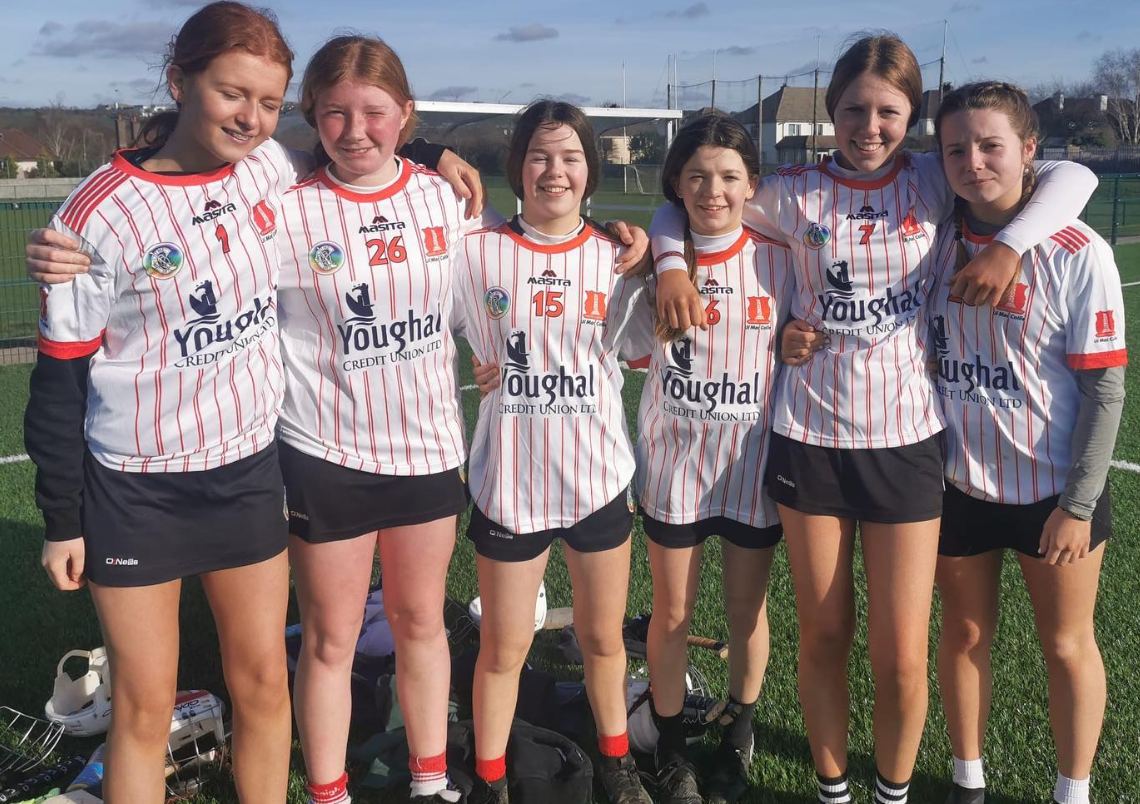 Well done to Ciara, Aoise, Amy, Sarah, Leah and Gabrielle (above) who lined out for the Imokilly 2009 team last weekend. Keep up the great work girls.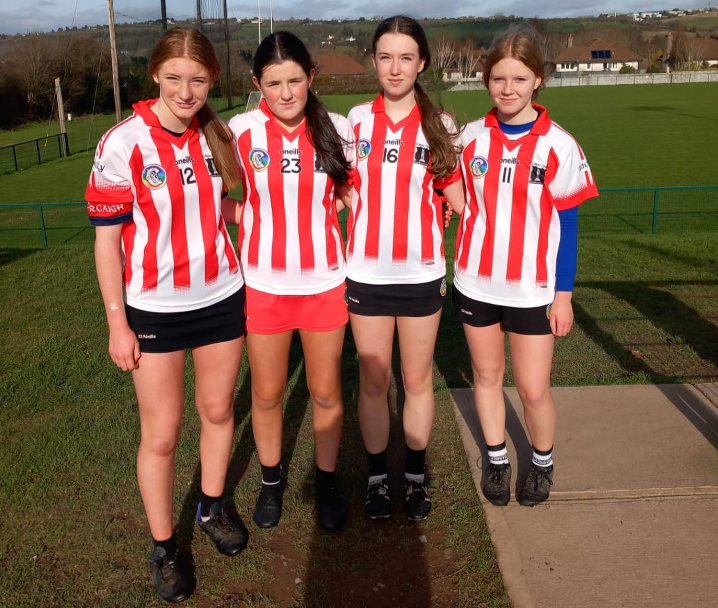 Well done to Robyn, Faye, Roisin and Sarah (above) who played for the Imokilly U-15s in Bishopstown against Carrigdhoun at the weekend.
CORK MINOR PANEL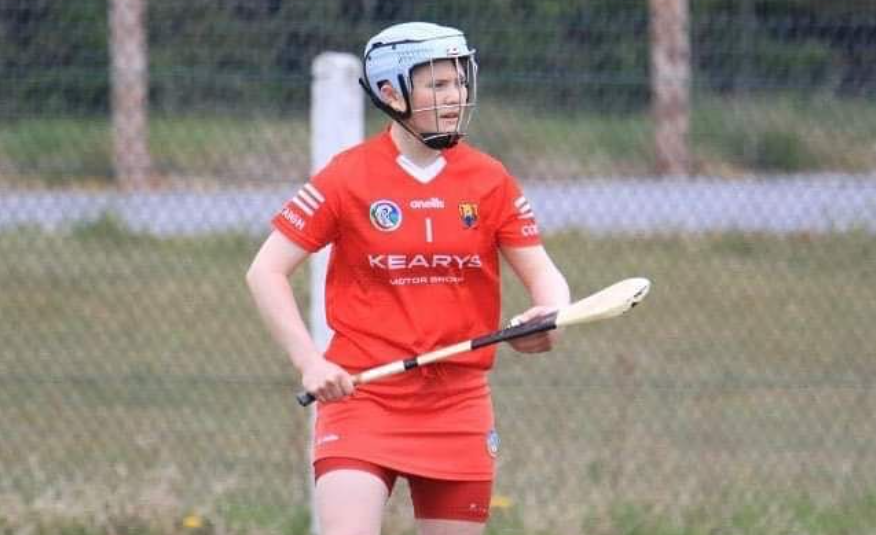 A huge congratulations to Jill Connaughton on being selected for the Cork 2023 Minor panel. Well done Jill, well deserved.
LADIES FOOTBALL
GAELIC4MOTHERS
Exciting news from Midleton LGFA Gaelic4Mothers & Others is starting in Midleton soon! This team is open to anyone 23+ and not playing competitive ladies football.
As with all teams we have secured a coach but we need more coaches as we have 43 interested players. If you can spare an hour a week, we would appreciate your help or if you can only do an hour a month we would love to hear from you. Please contact club secretary Mairéad Beausang 087-2412010….let the games begin!!
WELL DONE
Congratulations to our Minor and Junior footballer Gráinne Finn who was selected on the Cork Camogie Team for 2023. Well done to Midleton's Jill Connaughton who was also selected on the panel.
RETURN TO TRAINING
Some of our groups have returned to training. Details are as follows :
U-14 6.30-7.30pm Monday evenings at the GAA Club
U-16, Minor and Junior Monday evenings from 7.30-8.30pm at the GAA Club and Thursday evenings from 7-8pm in Ballinacurra.
Any changes will be communicated to you via text.
VALENTINE'S DISCO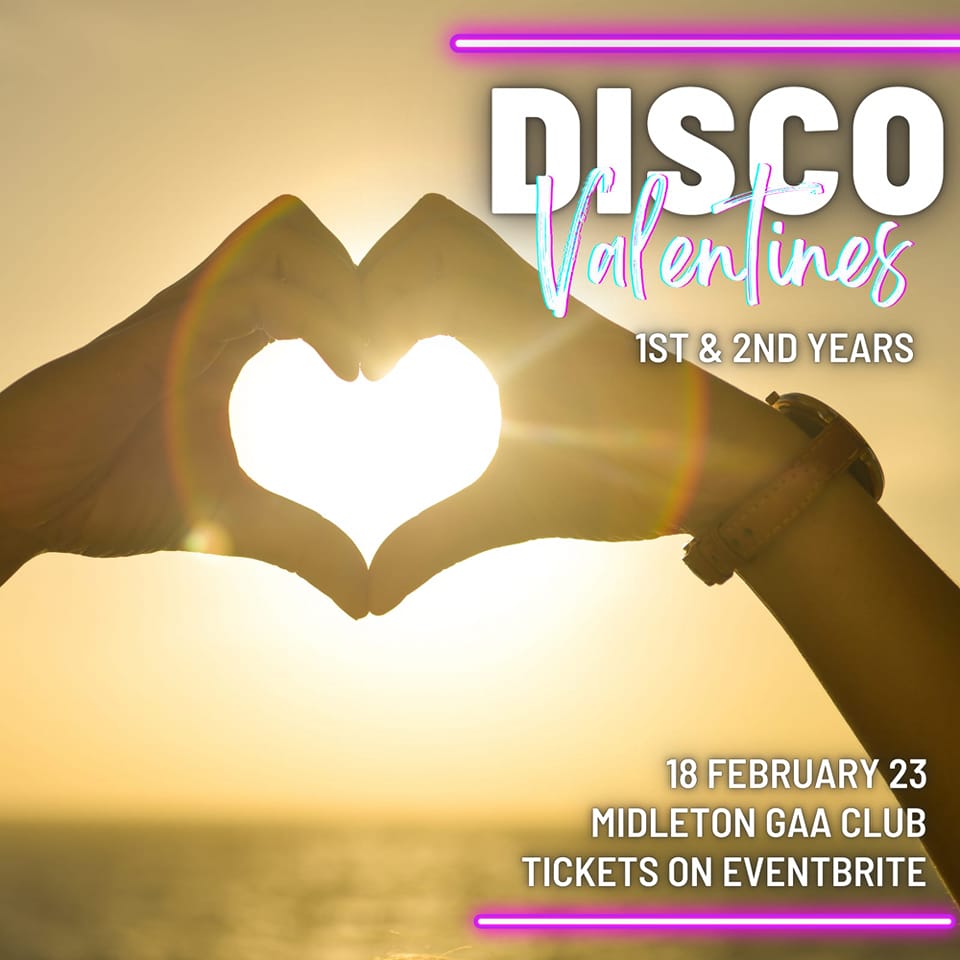 Midleton Valentine's Disco at Midleton GAA Club is on Saturday, February 18 from 8pm to 11pm. Tickets are now on sale at Eventbrite and on the following link http://tinyurl.com/midletonvalentines… Looking forward to a great night!....Don't miss out and spread the word. For first and second years.
REBELS' BOUNTY DRAW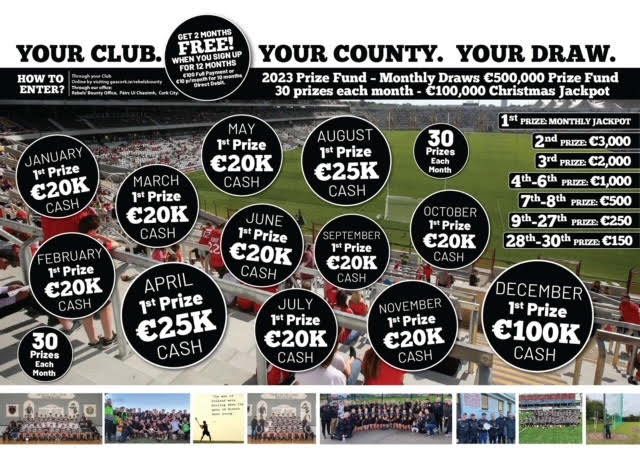 Tickets are now also on sale for the 2023 Rebel's Bounty draw. We are aiming to sell 500 tickets this year which would net us a wonderful €40,000 which would do so much for our club. We think this figure is very attainable but we need everyone's help. The prizes are fantastic so we would appeal to everybody to reach out to family members, neighbours, work-mates to support this vital fundraiser for our club.
You can buy tickets a the link below but make sure that you enter Midleton in the section that asks for your club.You can also sign up online for a direcct debit of €10 a month for ten months.
MIDLETON GAA MONDAY CLUB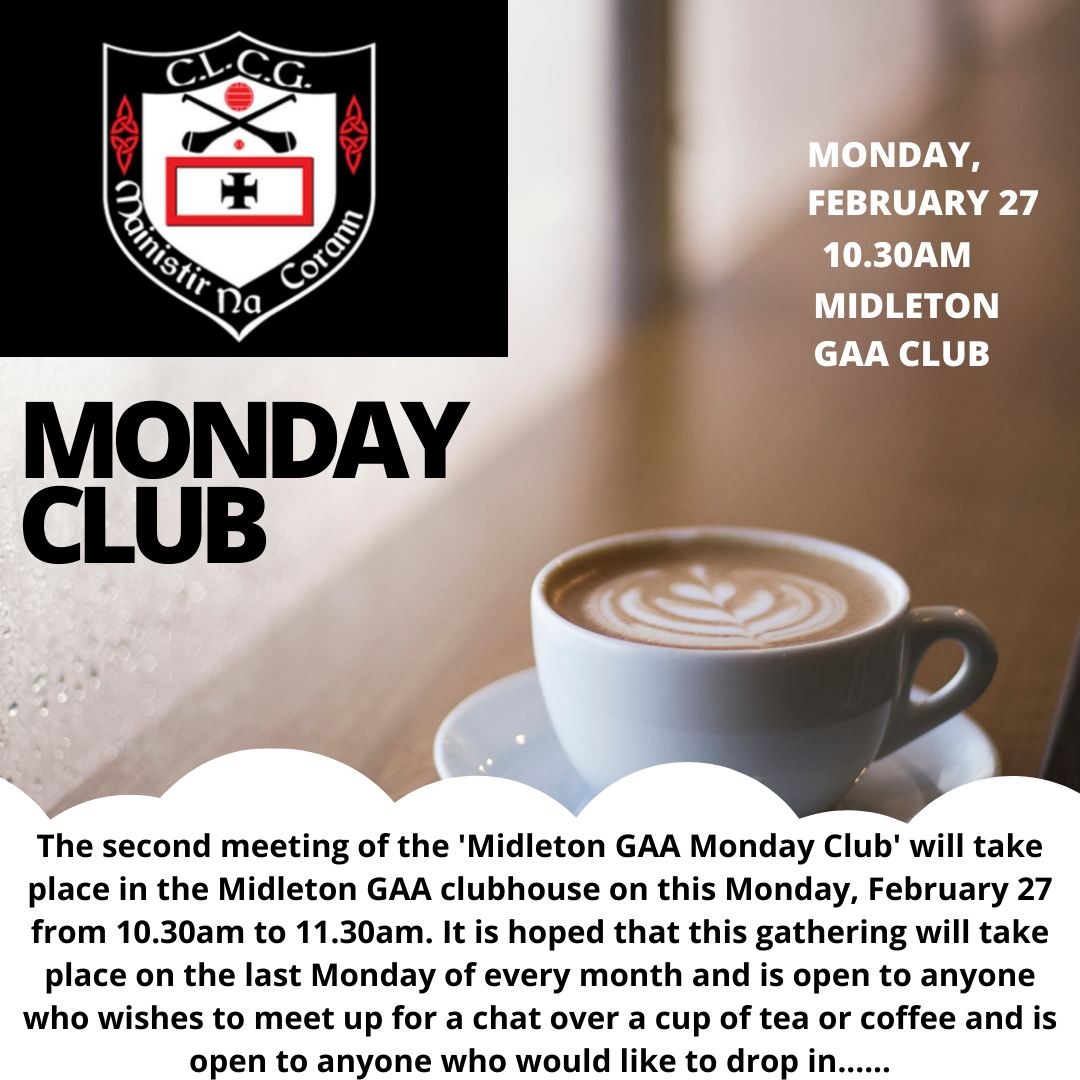 The Monday Club (Coffee & Chat group) will meet on the last Monday of every month at 10.30am.
The next one is on February 27.
LOTTO DRAW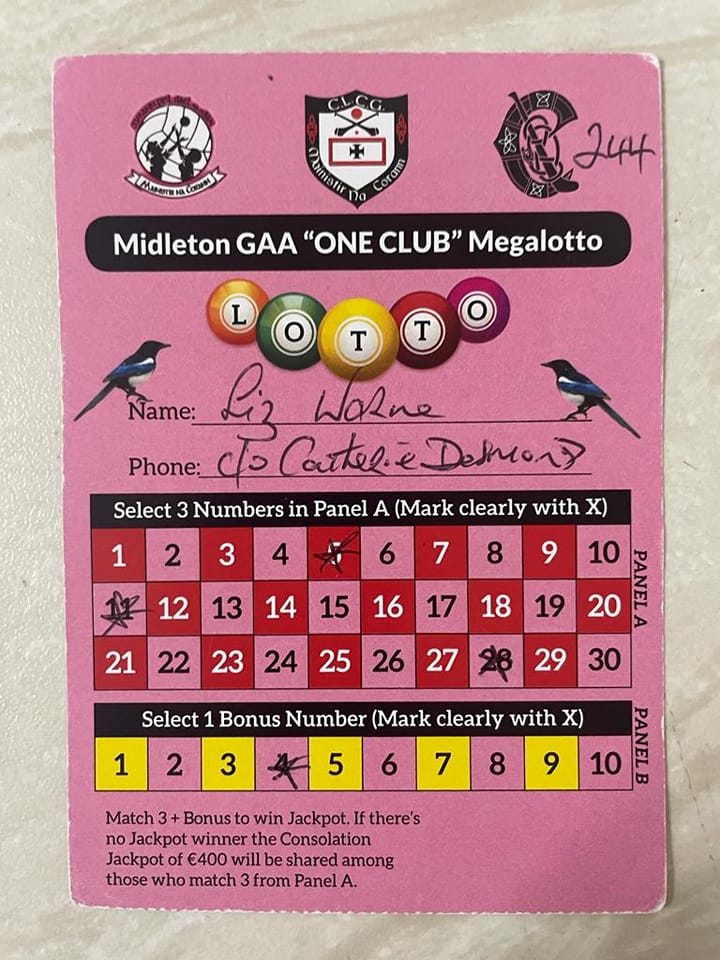 There was wonderful excitement in the Midleton GAA Club pavilion on Friday night last and subsequently all over the town and beyond as news emerged that our Lotto Jackpot of €20,000 or a VW Golf had been won and it was won by one of our most loyal bingo and lotto supporters, Liz Warne, who was in the hall at the bingo on the night when the winner was called out.
The outpouring of congratulations in the hall and on social media (check out the brilliant video of the moment Liz heard the news on our social media channels) shows just how popular a winner Liz is. Thanks Liz for your great support over many years and enjoy every cent of your winnings. Liz and her family will be most welcome on Friday night when she collects her check at half-time in the bingo.
For the record the numbers drawn this week were 5, 11, 28. The bonus was 4.
The €25 Lucky Dip Prize Winners were: Micka O'Brien, Pat Kenneally, Pat O'Neill and David O'Leary.
Play 24/7 at: http://www.klubfunder.com/Clubs/Midleton%20GAA/lotto
In total Midleton GAA will give out local business vouchers to the value of €3,800 every year as part of our "Shop Local, Buy Local" campaign.
How to play: tickets are on sale at Pat Walsh Paints, Chadwicks, Frank Murphy Butchers, Murphy's Pharmacy, Crowley Butchers, or buy online (see above).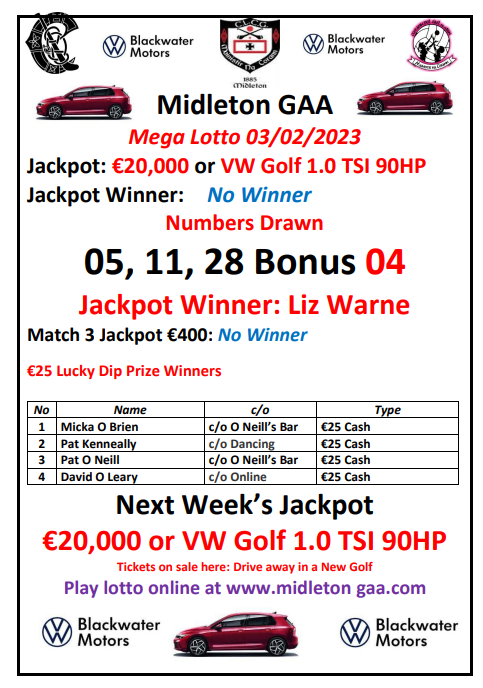 BINGO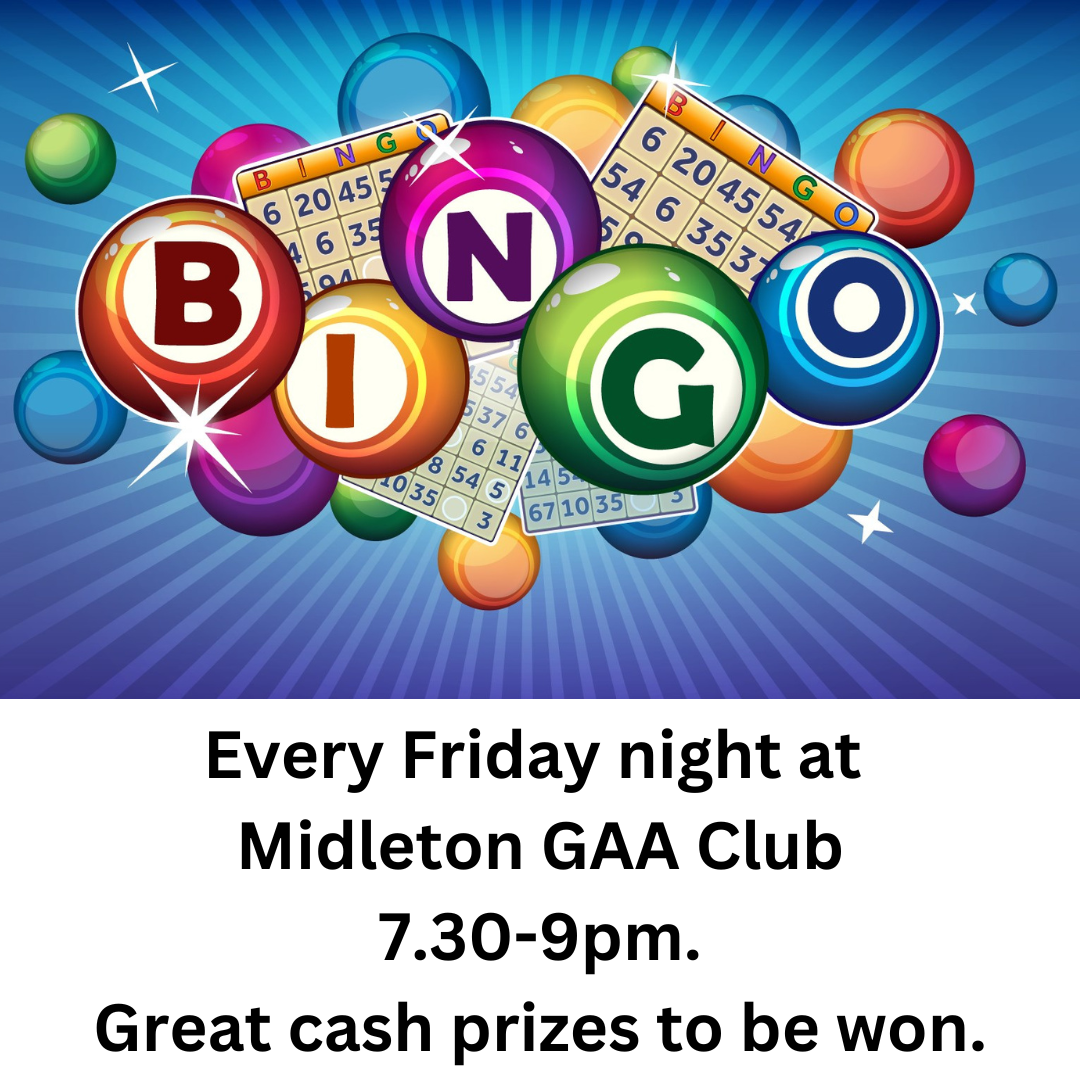 Fancy a good night which also benefits Midleton GAA club...what about bingo on Friday nights?
It kicks off at 7.30pn every Friday night and is over by 9pm. A single book is €6. A double book is €12. The numbers have been really good of late it would be brilliant to keep it going as it really benefits the club.
SOCIAL DANCING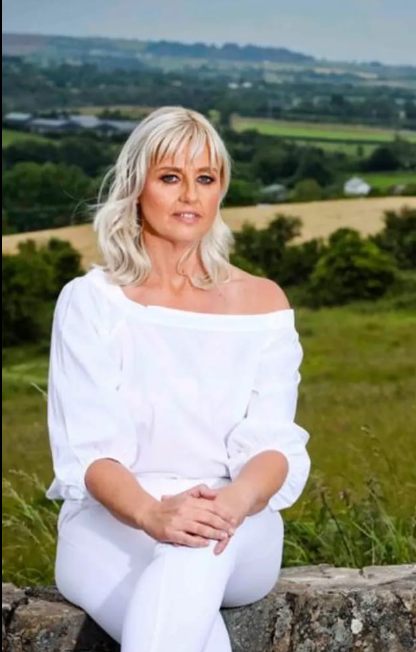 Dancing this Saturday night, February 11 to the superb Michelle Murphy from 9.15pm. A great night is assured.
MIDLETON HEALTHY CLUB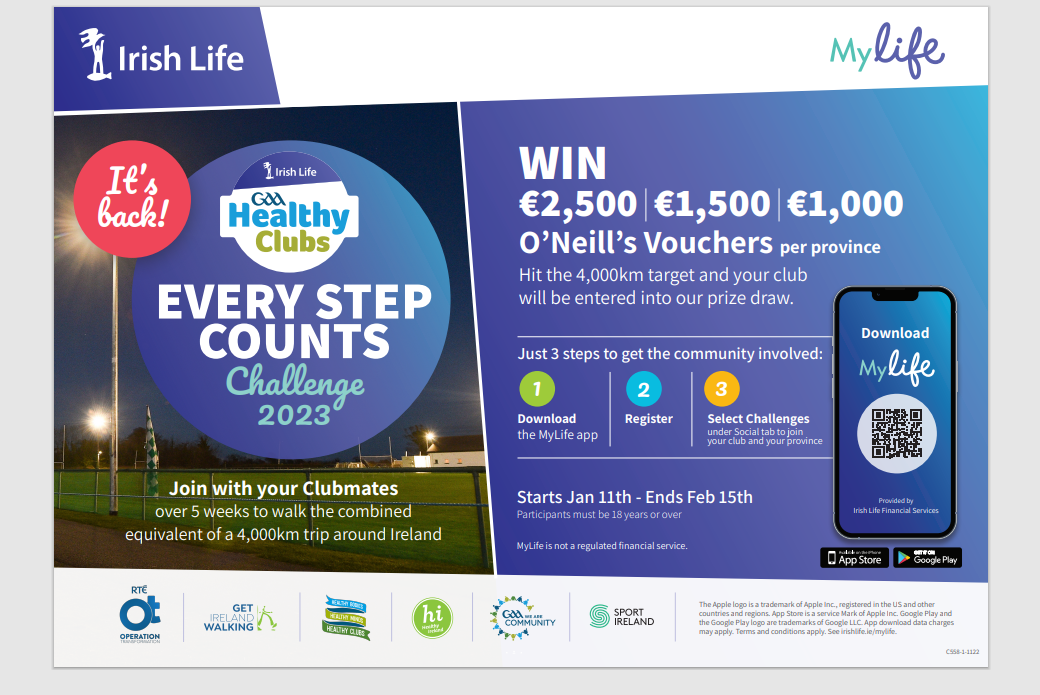 Hard to believe we are into the last week of the Irish Life Steps Challenge where did the time go?
This is our first year taking part in the steps challenge and as club we should be very proud. Collectively we have walked over 10,403km which is absolutely amazing thanks so much to everyone!!
The challenge officially finishes on Wednesday 15th February next so let's have a final push to get us over 15,000km…..best foot forward!!
SCÓR NA NA NÓG
Ages 12-18. Music, singing, recitations, dance and quiz. Imokilly area final Sunday 12 March Lisgoold at 7pm.
Comórtaisí Ceannais Uí Mac Choille, Dé Domhnaigh, 12ú Márta, Lios gCúl, 7:00 i.n.
SAFEGUARDING COURSE
Midleton GAA one club will be running a safeguarding workshop for all coaches on Monday, February 20 at 8pm in the Midleton GAA club. Please email the children's officer if you are unsure if you are out of date or to book a place on the course at childrensofficer.midleton.cork@gaa.ie
CLUB SHOP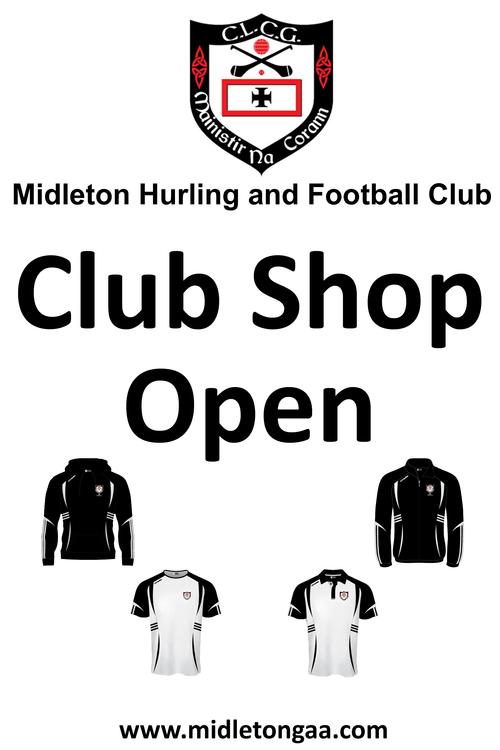 The club shop will reopen on this coming Saturday, February 11.
Please note that our shop is still online with collection only at the club on a Saturday morning.
All you have to do is go to the Klubfunder website (www.klubfunder.com/Clubs/Midleton%20GAA/ShopItems) and you will see the full range of what's available to buy. You can shop away to your heart's content, pay for it online and then collect your purchases at the club shop on Saturday morning between 9.30am and 10am. Thank you.
COLLECTION FOR PEOPLE OF TURKEY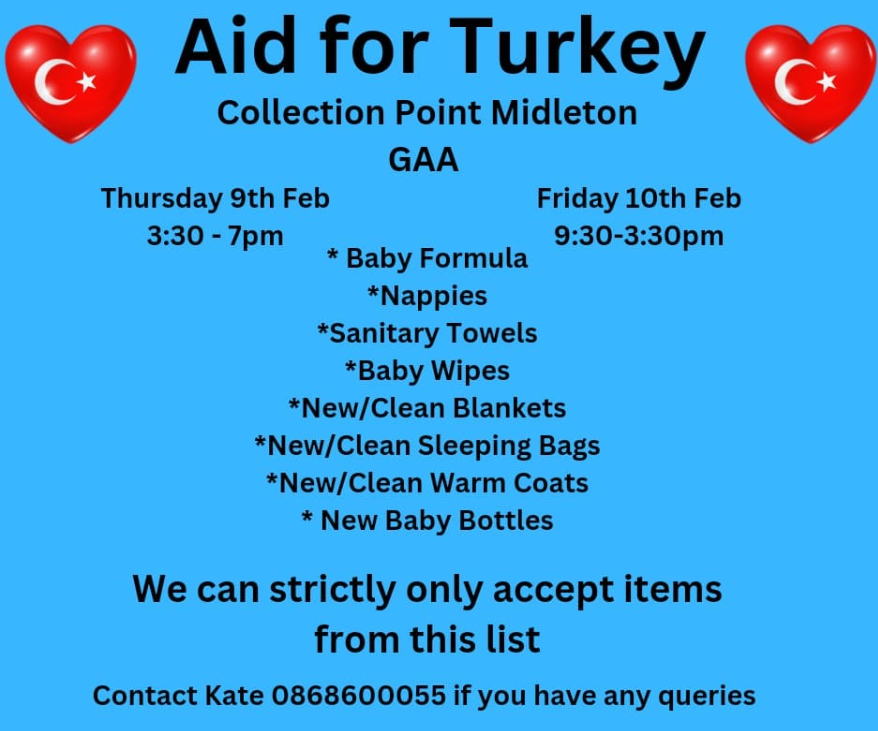 We hosted a collection today (Thursday) and tomorrow (Friday, February 10) for the people of Turkey. Please contribute if you can at all and spread the word.
WE NEED YOUR HELP
Tom Cotter has asked me to put this picture in the notes and ask if anyone could help us out with any names of the players in the picture.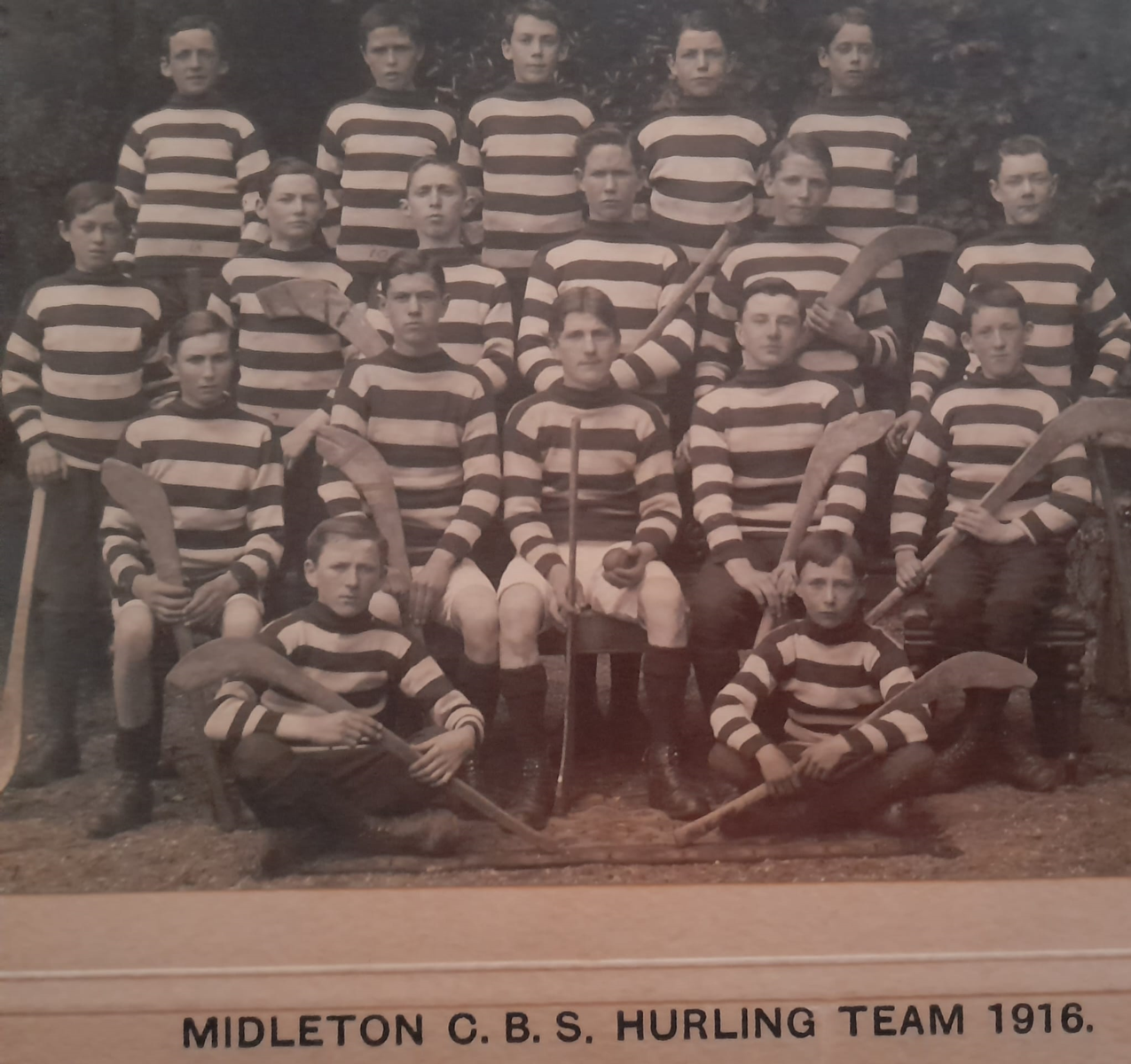 PLEASE PLAY YOUR PART
​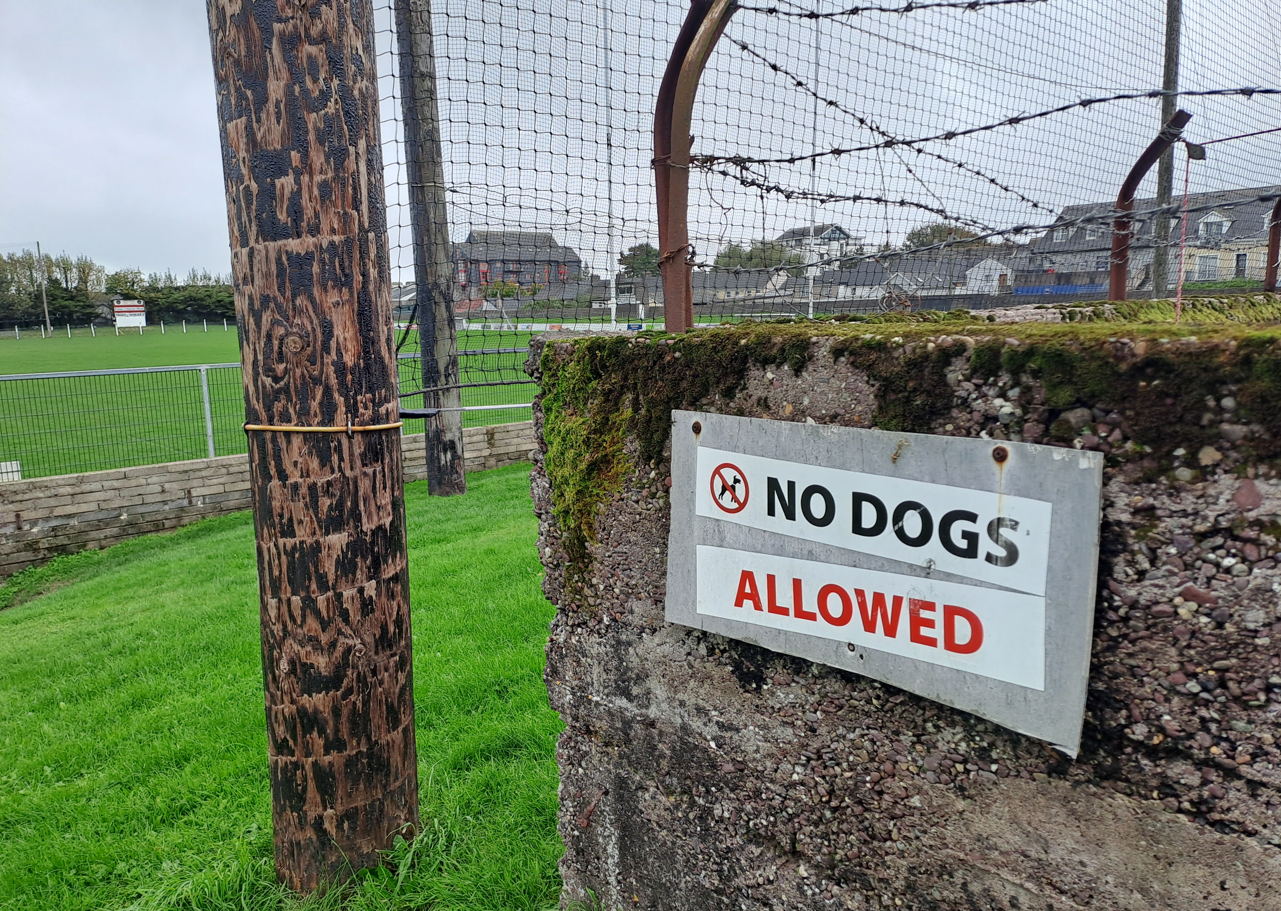 We are asking all players, mentors, parents, supporters and neighbours to please play their part by playing ball on the following.....
Please slow down entering and leaving Park South.
No dogs, except assistance dogs, are allowed at Park South or Clonmult Memorial Park.
Please do not bring single-use plastic bottles to either Park South or Clonmult Memorial Park.
Please put your rubbish in a bin or bag and please bring your gear home with you.
And always be aware of the open water surrounding the pitches in Park South.
If you are a coach, please pass on these simple messages to players and parents.
All members are asked to respect referees and their officials at all times.
Also if you are a coach, last person out locks the gate, toilet and container.
CONDOLENCES
All involved with Midleton GAA would like to extend our deepest condolences to the family and friends of our close neighbour at Clonmult Memorial Park for many many years, Mary Cleary of McSweeney Terrace, Peter Corr (Riverside Park) and Michael Kennefick of College Road Cork and formerly of Cloyne, who all died this week. Ar dheis Dé go raibh a n-anamacha.