Midleton Hurling and Football, Ladies Football and Camogie Club News - February 2
02 February, 2023
IN THE RED OF CORK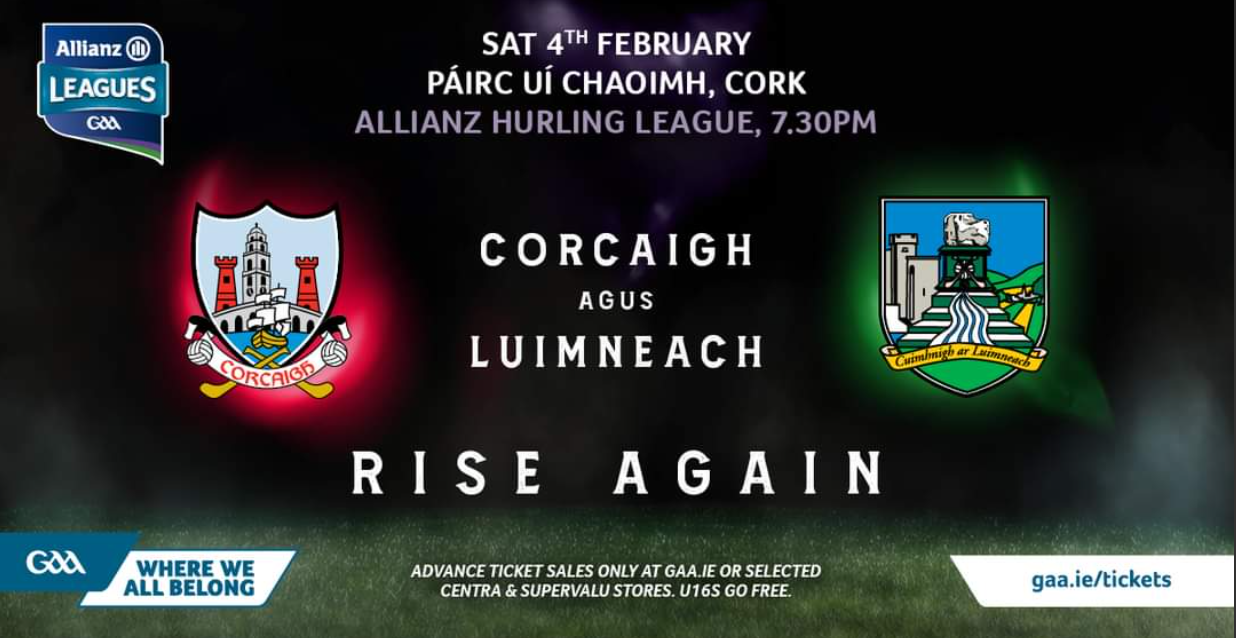 The Cork senior hurlers began their National Hurling League campaign on Saturday evening when they host the All-Ireland champions Limerick in Pairc Uí Chaoimh at 7.30pm.
The very best of luck to our five players on the Cork panel for the league - Conor Lehane, Tommy O'Connell, Sean O'Leary Hayes, Sam Quirke and Cormac Beausang.
Please note also that the Cork U-20 team (with five Midleton players on the panel) are playing Kilkenny in a challenge game before the senior game at 5.30pm.
You can purchase your tickets at the following link:https://am.ticketmaster.com/gaa/23PU0402
They are also available at selected SuperValu and Centra stores.
FITZGIBBON CUP
Hard luck to Sam Qurike and Cormac Beausang who both started for MTU Cork in their narrow Fitzgibbon Cup defeat to SETU Waterford on Wednesday night.
Best of luck to Brion Saunderson who lines out with UCD tonight (Thursday) against UCD.
JUNIOR C HURLING
The Junior C Hurling Management Team for 2023 was ratified at Monday night's meeting of the club executive.
Brian McCarthy (Manager), Kieran Crowley and Ray Fitzgerald.
We wish them well for the coming season.
LADIES FOOTBALL
GAELIC4MOTHERS

Exciting news from Midleton LGFA Gaelic4Mothers & Others is starting in Midleton soon! This team is open to anyone 23+ and not playing competitive ladies football.
As with all teams we have secured a coach but we need more coaches as we have 43 interested players. If you can spare an hour a week, we would appreciate your help or if you can only do an hour a month we would love to hear from you. Please contact club secretary Mairéad Beausang 087-2412010….let the games begin!!
RETURN TO TRAINING
Last Monday evening it was fantastic to see over 70 girls and Ladies return to training for the coming year. We welcomed back our U-14, U-16, Minor and Juniors for their first session of 2023. It will be a busy year but we look forward to a great season.

VALENTINE'S DISCO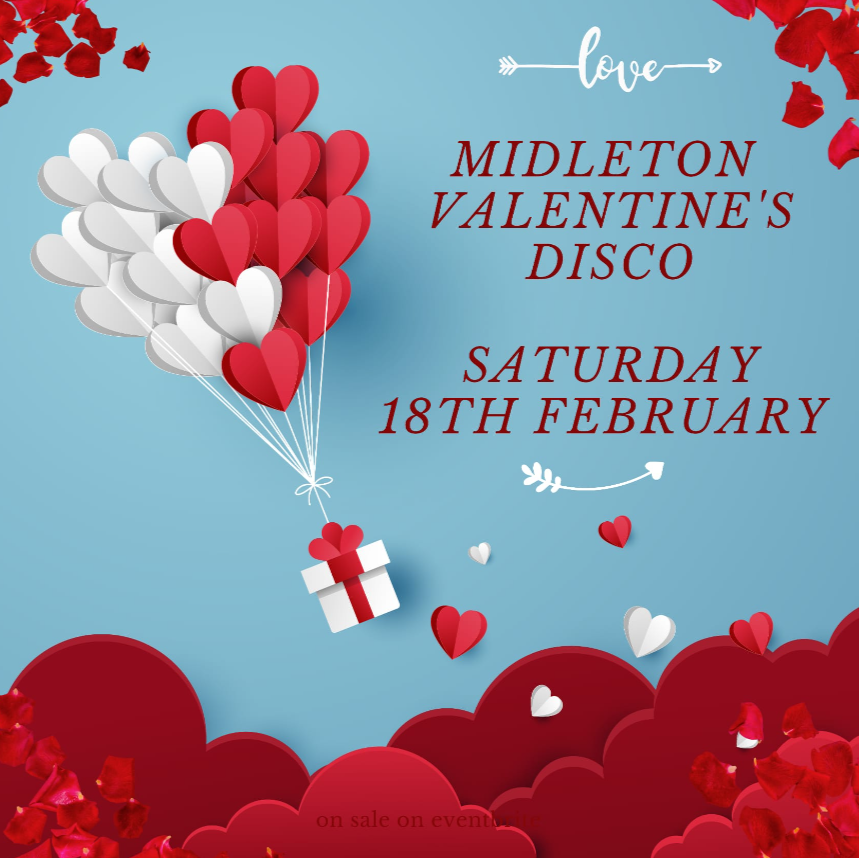 Midleton Valentine's Disco at Midleton GAA Club is on Saturday, February 18 from 8pm to 11pm. Tickets are now on sale at Eventbrite and on the following link http://tinyurl.com/midletonvalentines… Looking forward to a great night!....Don't miss out and spread the word. For first and second years.
REBELS' BOUNTY DRAW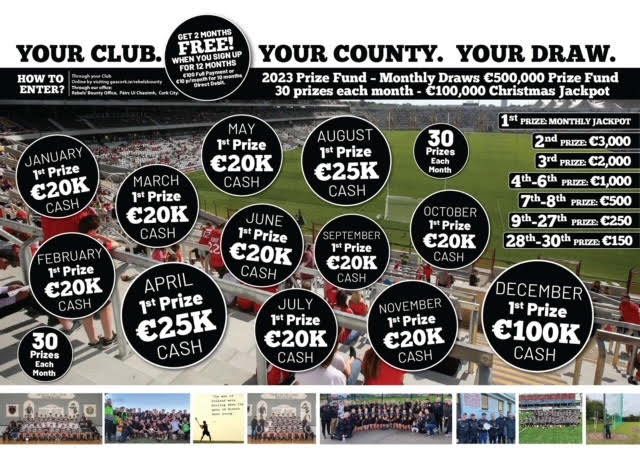 Tickets are now also on sale for the 2023 Rebel's Bounty draw. We are aiming to sell 500 tickets this year which would net us a wonderful €40,000 which would do so much for our club. We think this figure is very attainable but we need everyone's help. The prizes are fantastic so we would appeal to everybody to reach out to family members, neighbours, work-mates to support this vital fundraiser for our club.
You can buy tickets a the link below but make sure that you enter Midleton in the section that asks for your club.You can also sign up online for a direcct debit of €10 a month for ten months.
MIDLETON GAA MONDAY CLUB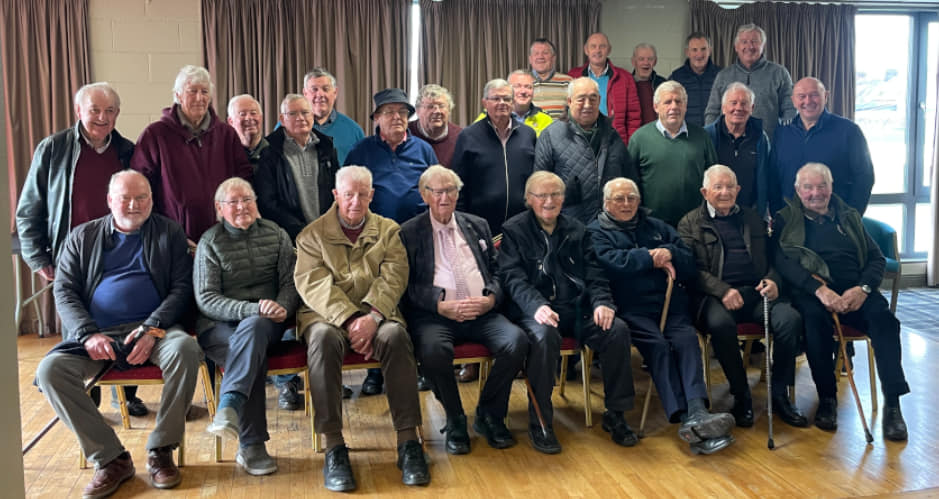 We held our first ever Monday Club (Coffee & Chat group) on Monday. It was fantastic to see so many friends and members come together to catch up.
A big thanks to Ger Fitzgerald for organising and also to everyone who helped out on the morning much appreciated.
This club will take place on the last Monday of every month at 10.30am.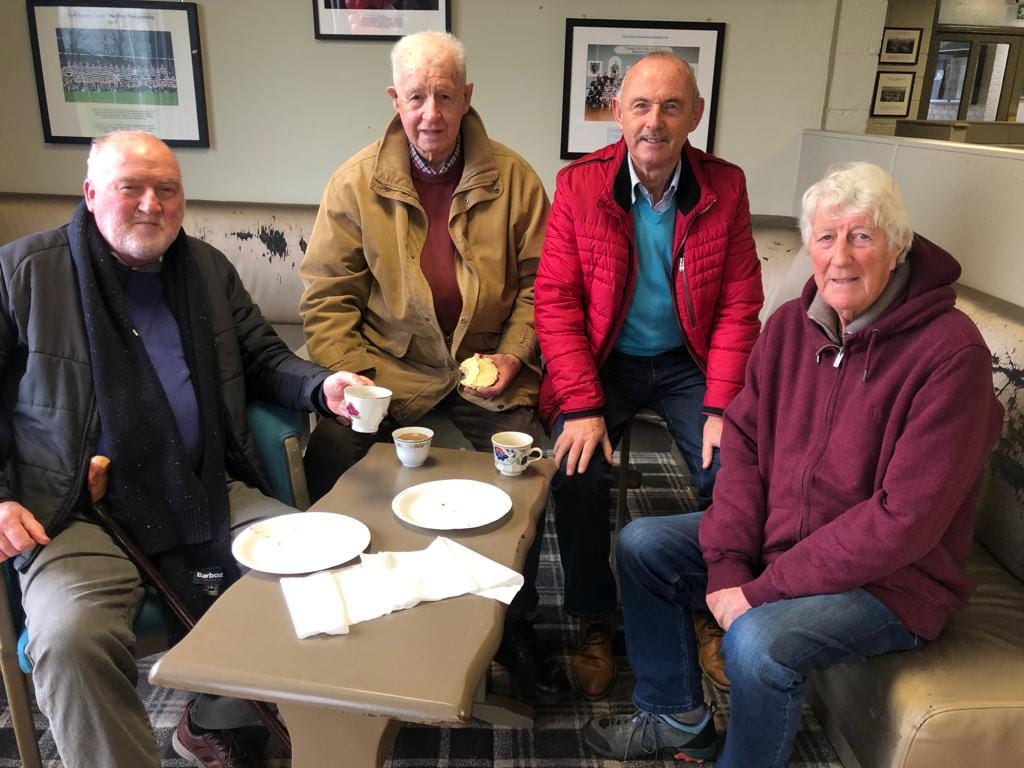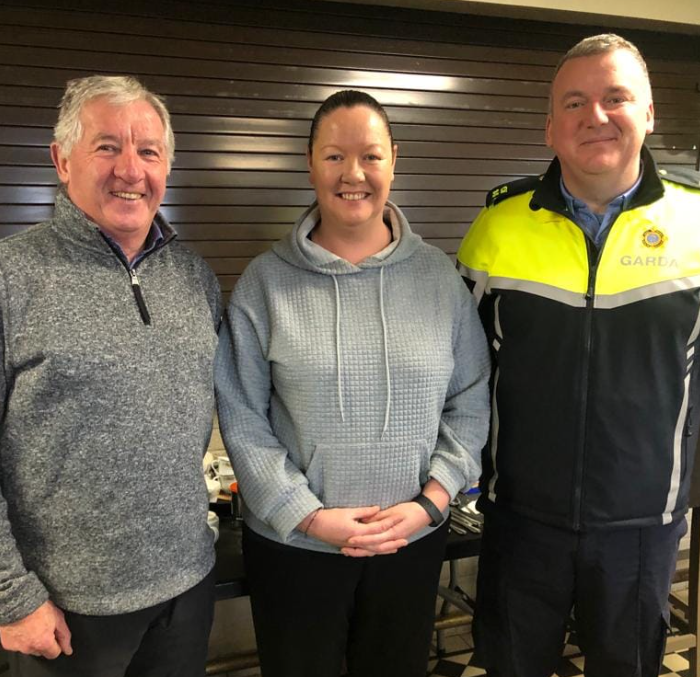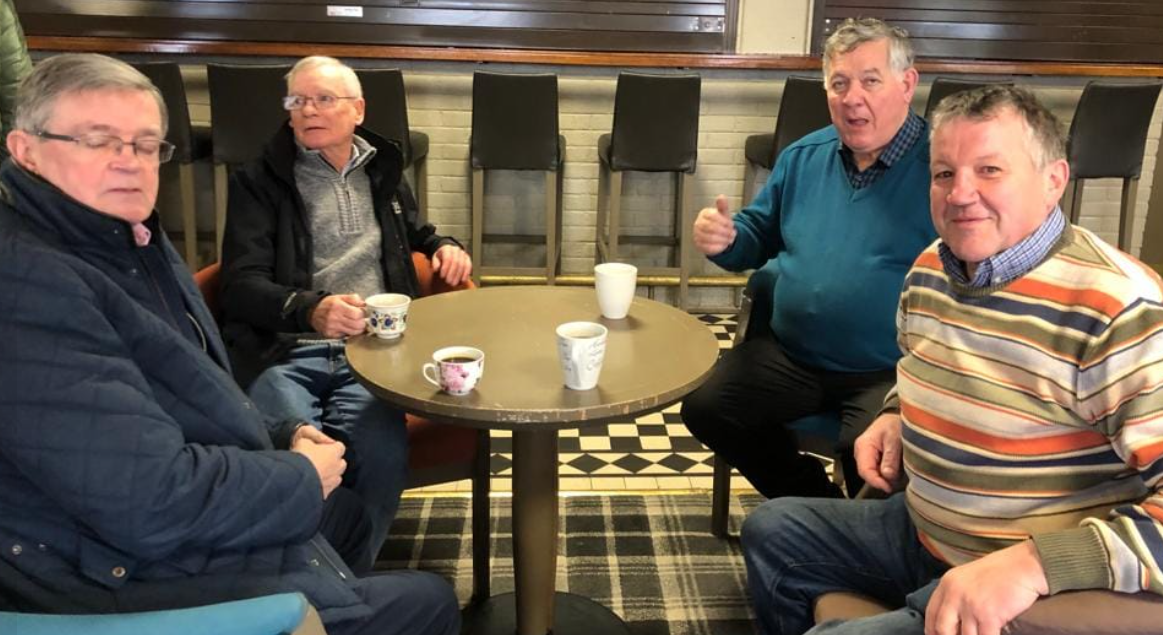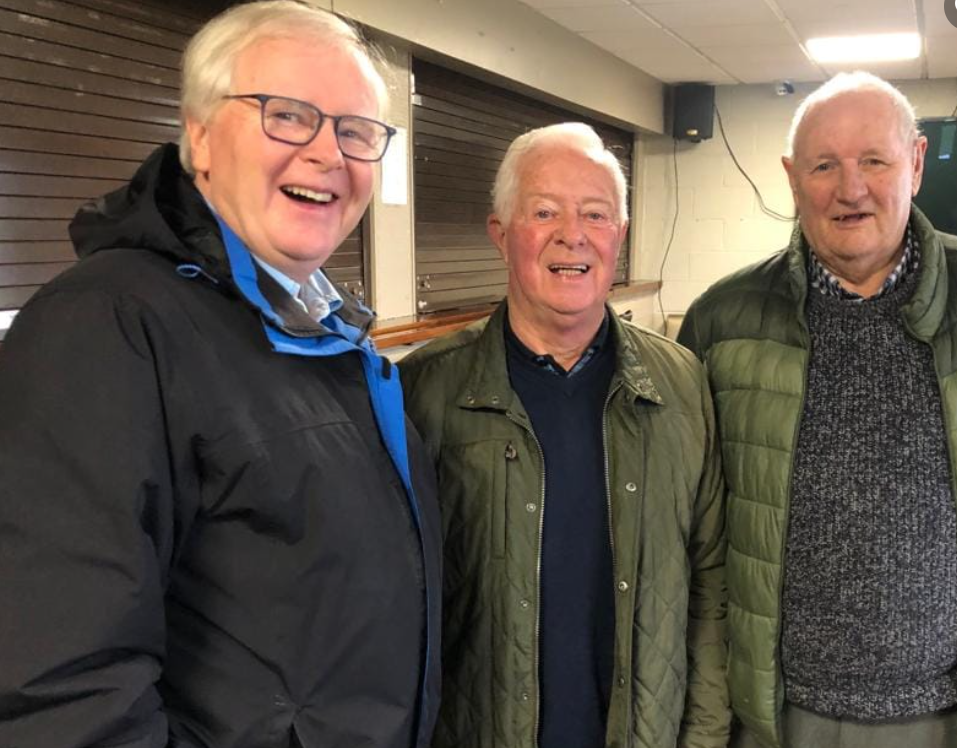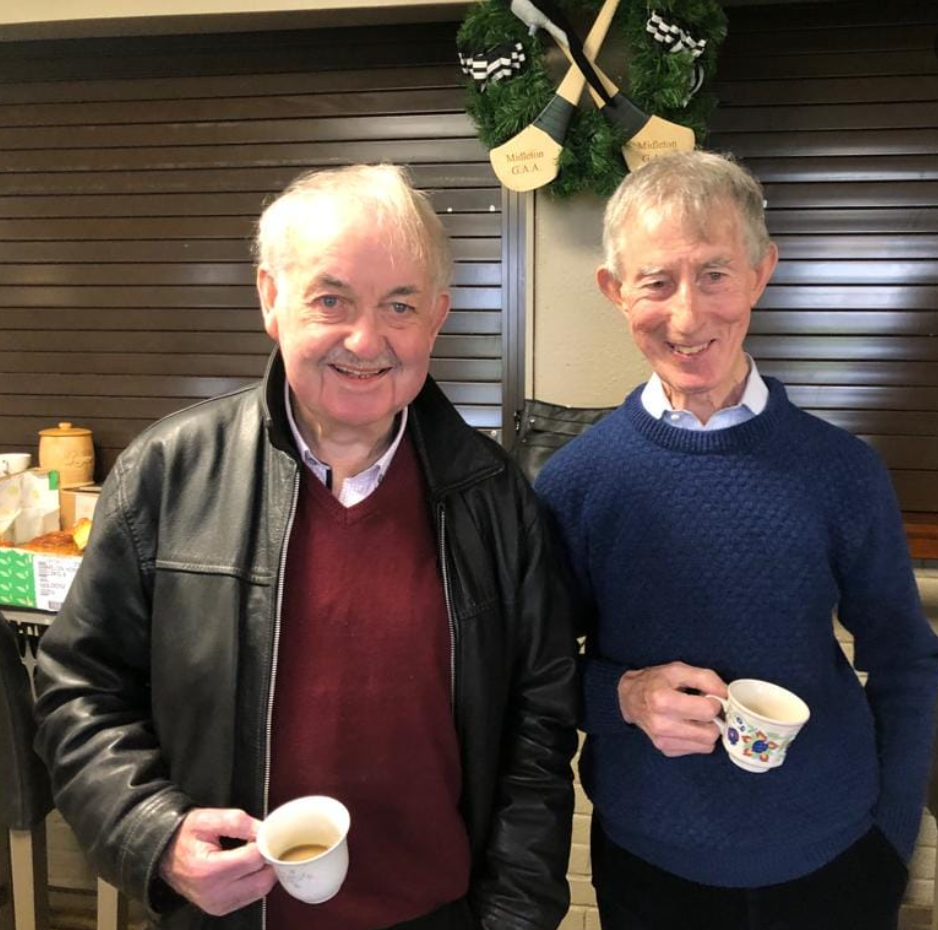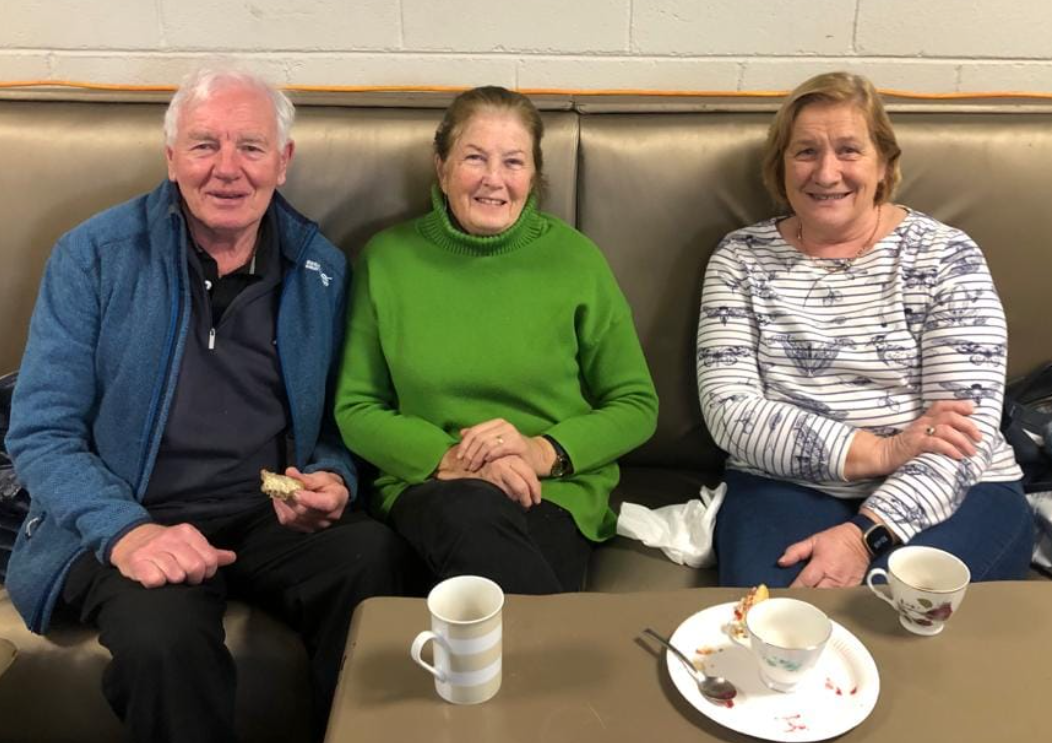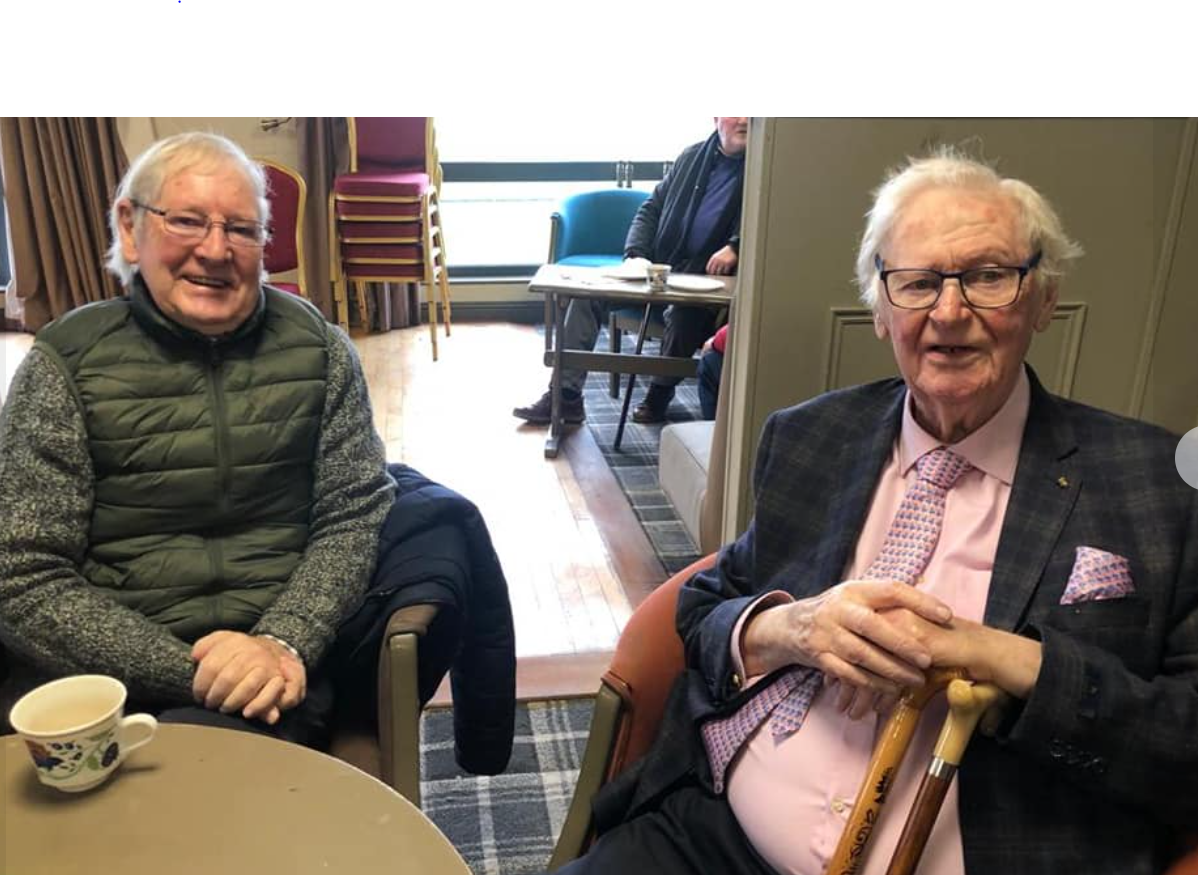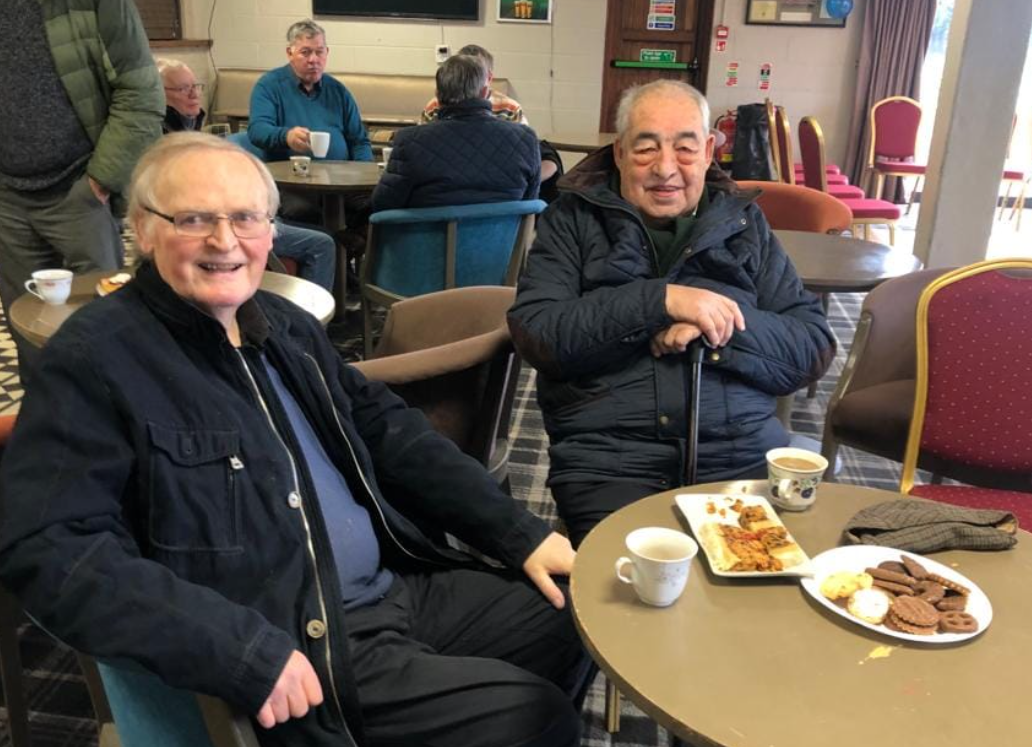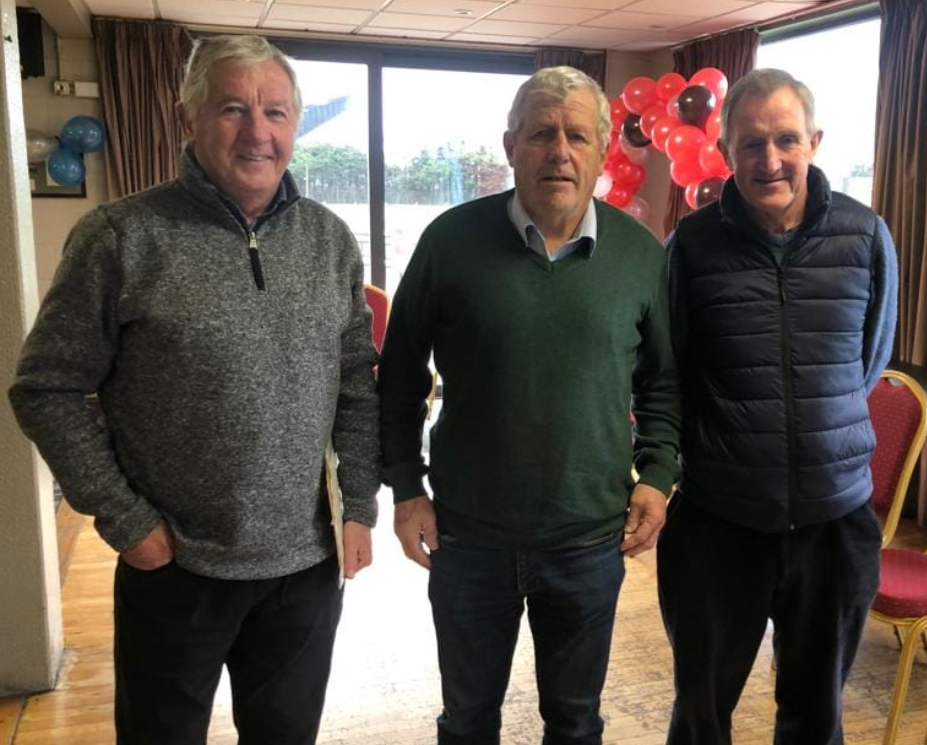 LOTTO DRAW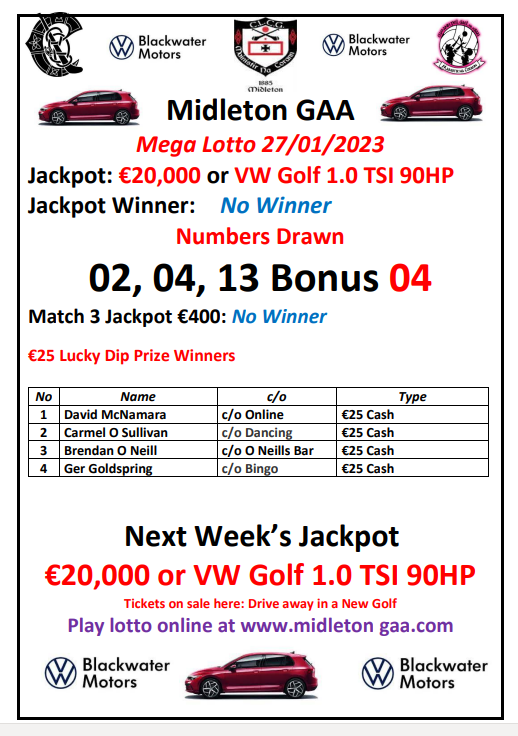 The numbers drawn this week were 2, 4, 13. The bonus was 4.
There was no Jackpot or winner this week or Match 3 jackpot winner.
The €25 Lucky Dip Prize Winners were: David McNamara, Carmel O'Sullivan, Brendan O'Neill and Ger Goldspring.
Play 24/7 at: http://www.klubfunder.com/Clubs/Midleton%20GAA/lotto
In total Midleton GAA will give out local business vouchers to the value of €3,800 every year as part of our "Shop Local, Buy Local" campaign.
How to play: tickets are on sale at Pat Walsh Paints, Chadwicks, Frank Murphy Butchers, Murphy's Pharmacy, Crowley Butchers, or buy online (see above).
BINGO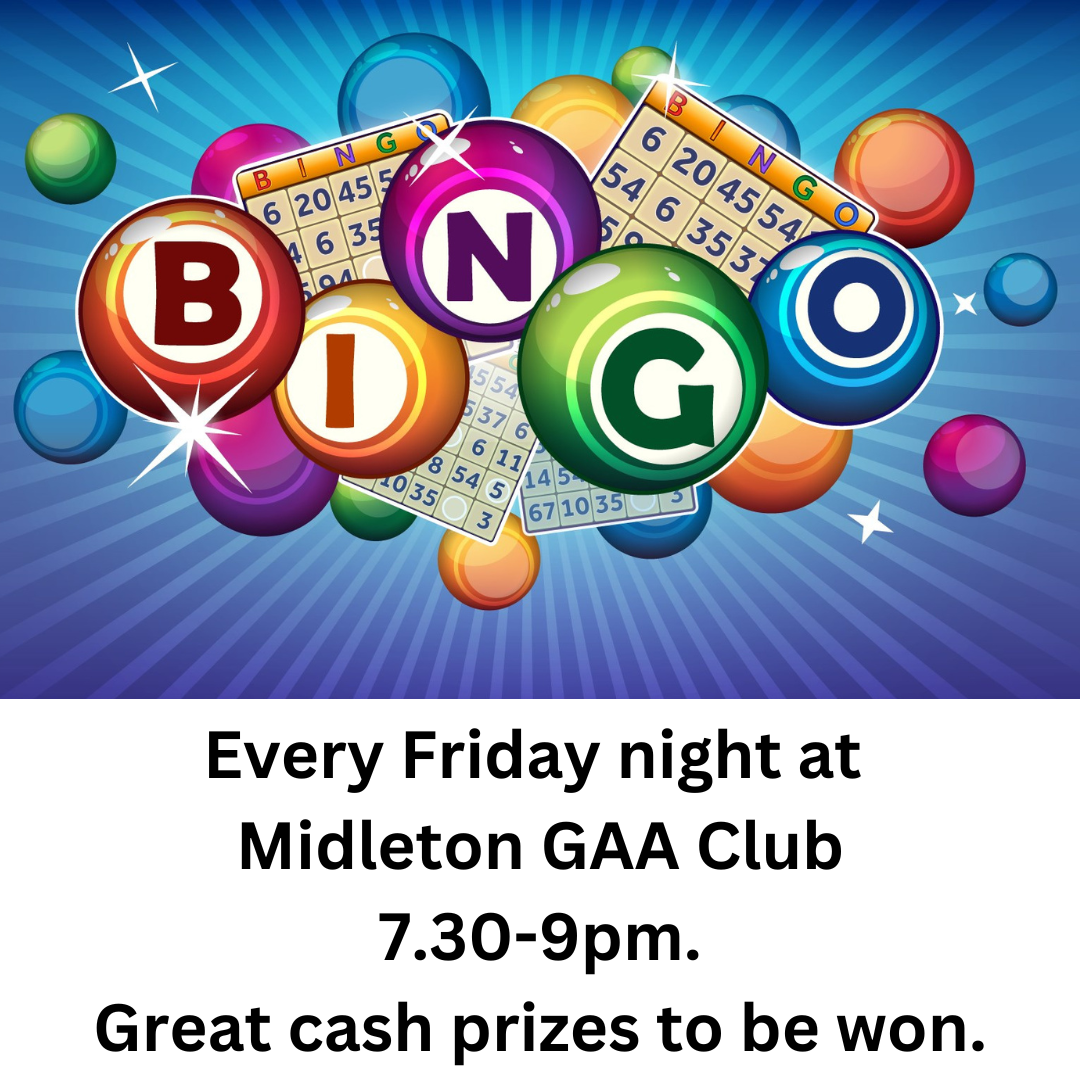 Fancy a good night which also benefits Midleton GAA club...what about bingo on Friday nights?
It kicks off at 7.30pn every Friday night and is over by 9pm. A single book is €6. A double book is €12. The numbers have been really good of late it would be brilliant to keep it going as it really benefits the club.
SOCIAL DANCING
Dancing this Saturday night, February 4 to the excellent Dermot Lyons from 9.15pm. A great night is assured.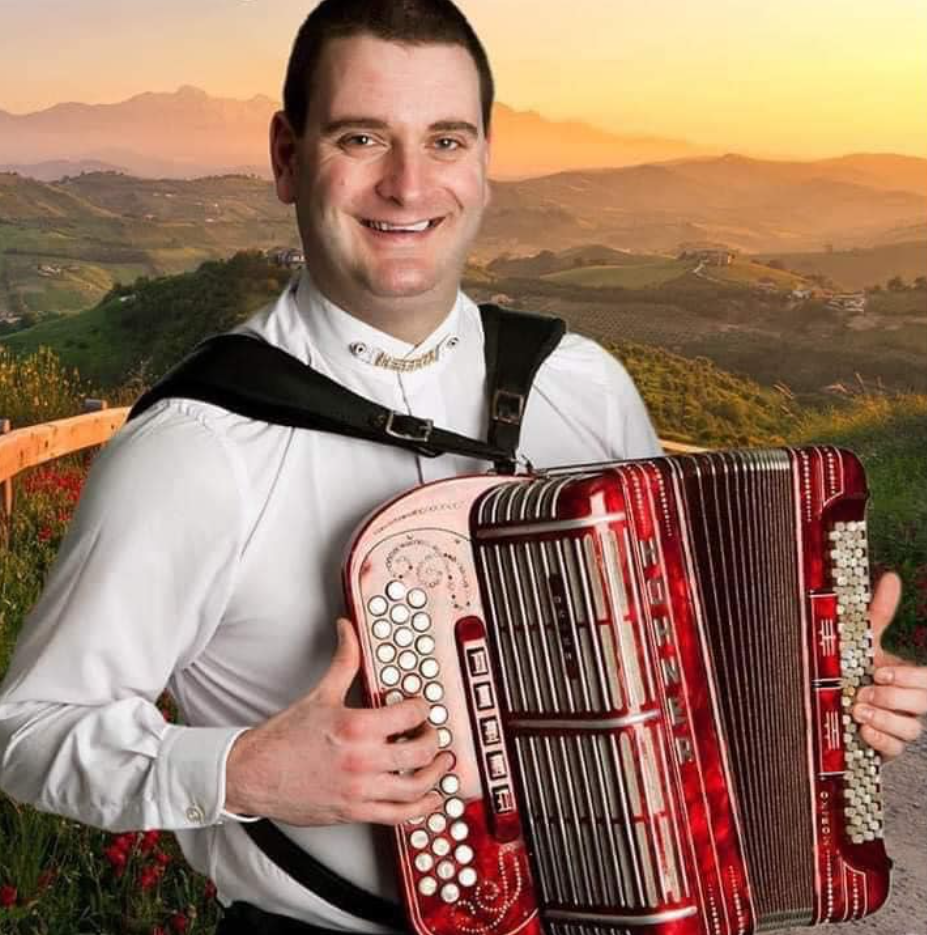 MIDLETON HEALTHY CLUB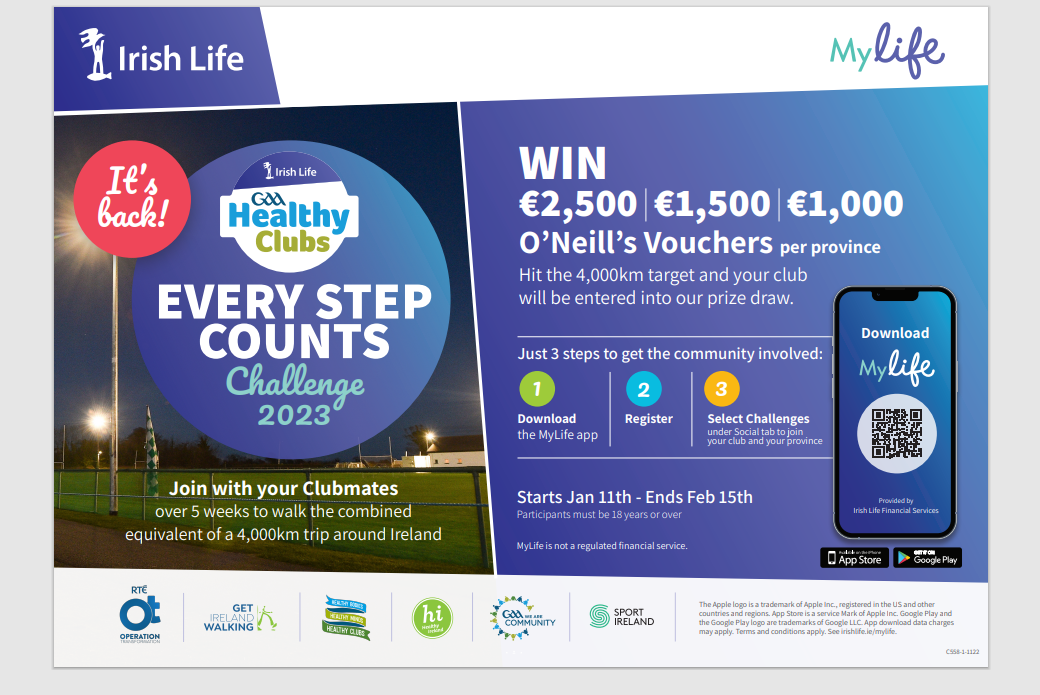 The Irish Life Healthy Clubs Every Step Counts Challenge is still ongoing until February 15th 2023.
We're going very well (23rd of 208 clubs in Munster) but we could always do with a few more members to help us out.
At the end of the challenge our club will be in a draw in Munster to win one of three O'Neills vouchers valued at €2500, €1500 or €1000.
Just download the My Life by Irish Life App. Register and then go to social and then challenges and select Munster and then Cork and then Midleton.
SCÓR NA NA NÓG
Ages 12-18. Music, singing, recitations, dance and quiz. Imokilly area final Sunday 12 March Lisgoold at 7pm.
Comórtaisí Ceannais Uí Mac Choille, Dé Domhnaigh, 12ú Márta, Lios gCúl, 7:00 i.n.
TIONÓL CHORCAÍ
03 ~ 04 Feabhra 2023 (Aoine/Satharn)
Léachtai:
Cnoc an Dúin agus a Scéal ,
Filíocht Dháibhí de Barra leis An Dr. Neil Buttimer,
Lá Fhéile Bríde Báine: Earrach an Dúchais leis An Dr. Stiofán Ó Cadhla
Breis eolas:
SAFEGUARDING COURSE
Midleton GAA one club will be running a safeguarding workshop for all coaches on Monday, February 20 at 8pm in the Midleton GAA club. Please email the children's officer if you are unsure if you are out of date or to book a place on the course at childrensofficer.midleton.cork@gaa.ie
CLUB SHOP
The club shop will reopen on this coming Saturday, February 4.
Please note that our shop is still online with collection only at the club on a Saturday morning.
All you have to do is go to the Klubfunder website (www.klubfunder.com/Clubs/Midleton%20GAA/ShopItems) and you will see the full range of what's available to buy. You can shop away to your heart's content, pay for it online and then collect your purchases at the club shop on Saturday morning between 9.30am and 10am. Thank you.
WE NEED YOUR HELP
Tom Cotter has asked me to put this picture in the notes and ask if anyone could help us out with any names of the players in the picture.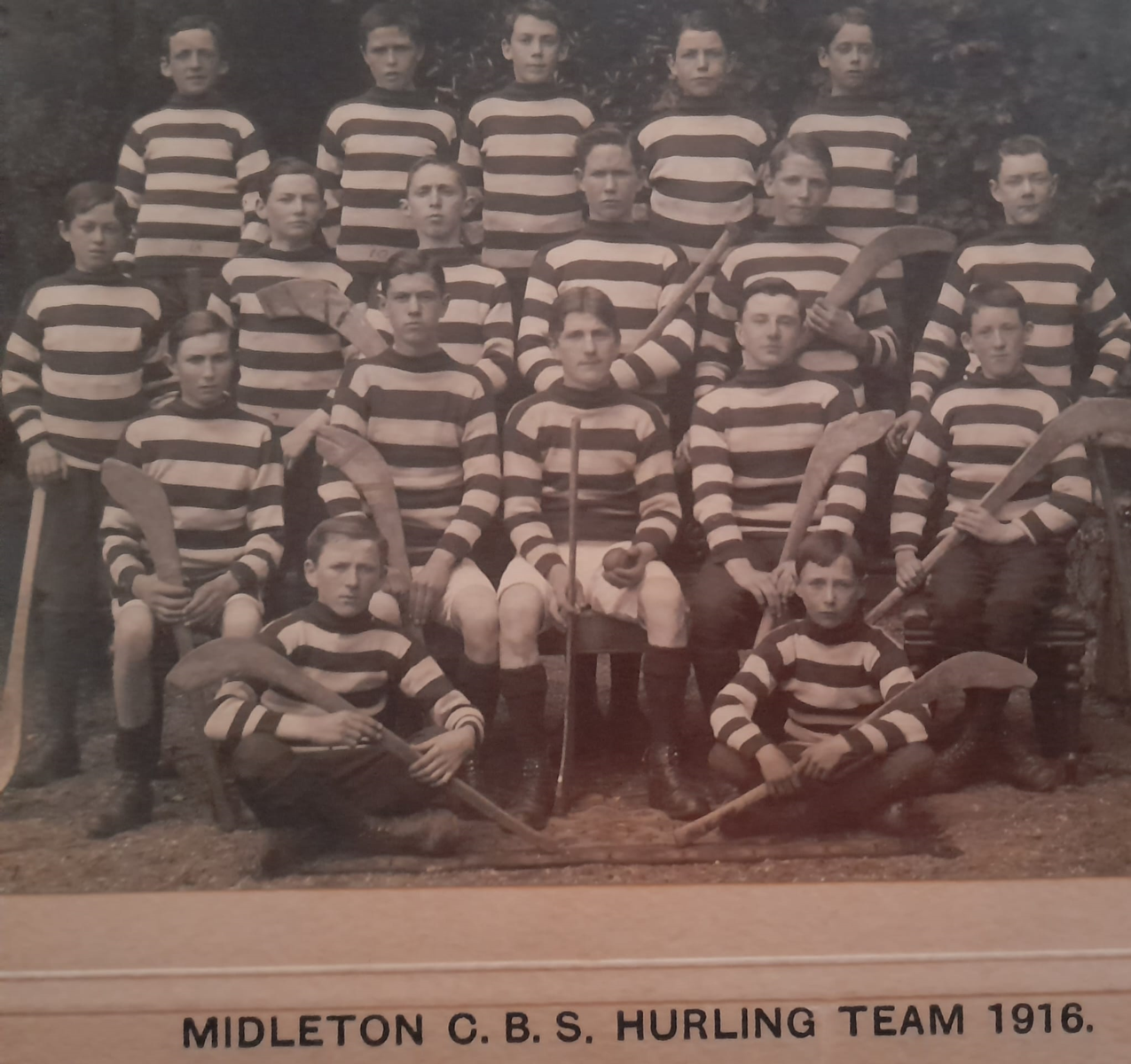 PLEASE PLAY YOUR PART
​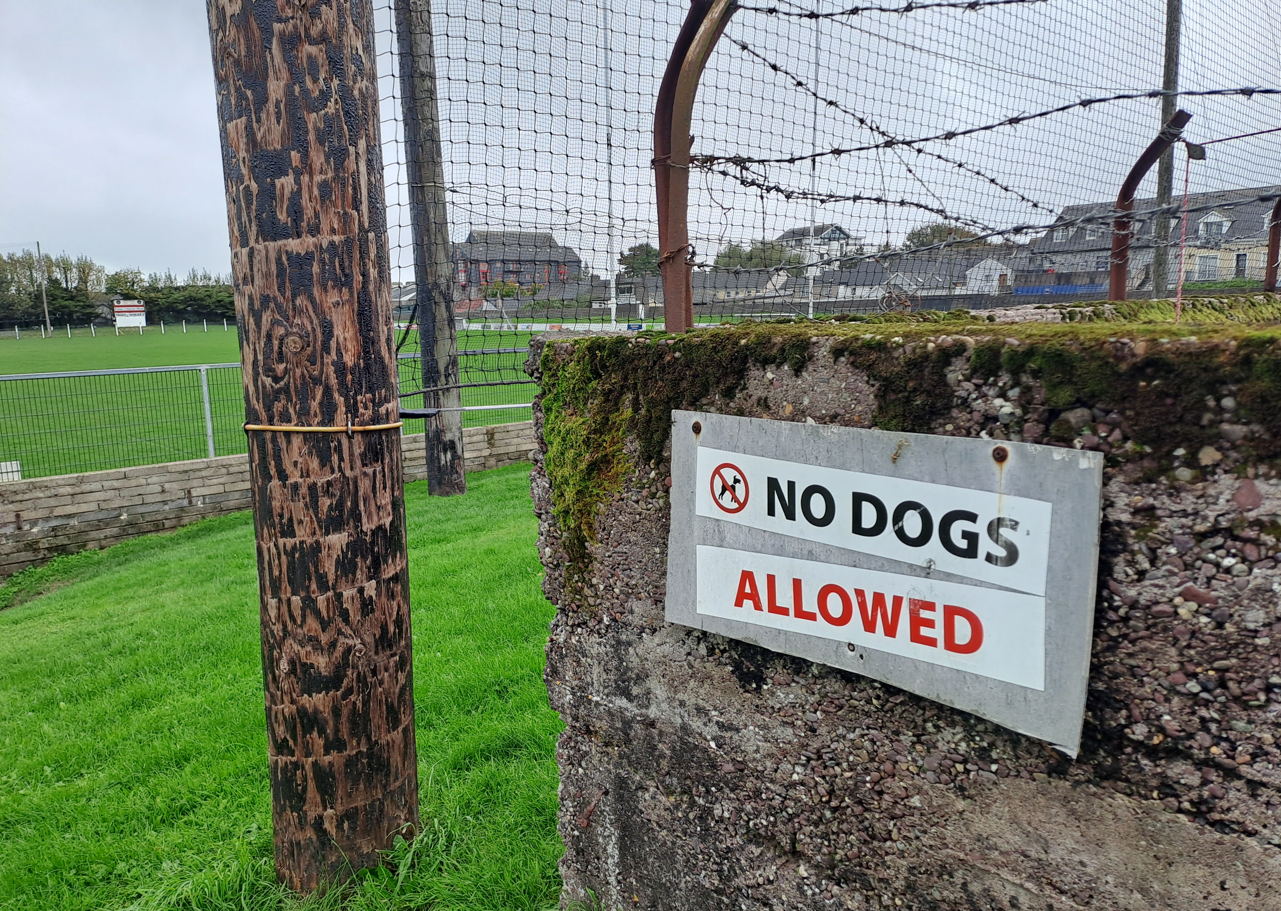 We are asking all players, mentors, parents, supporters and neighbours to please play their part by playing ball on the following.....
Please slow down entering and leaving Park South.
No dogs, except assistance dogs, are allowed at Park South or Clonmult Memorial Park.
Please do not bring single-use plastic bottles to either Park South or Clonmult Memorial Park.
Please put your rubbish in a bin or bag and please bring your gear home with you.
And always be aware of the open water surrounding the pitches in Park South.
If you are a coach, please pass on these simple messages to players and parents.
All members are asked to respect referees and their officials at all times.
Also if you are a coach, last person out locks the gate, toilet and container.