Midleton Hurling and Football, Ladies Football and Camogie Club News - January 26
26 January, 2023
IN THE RED OF CORK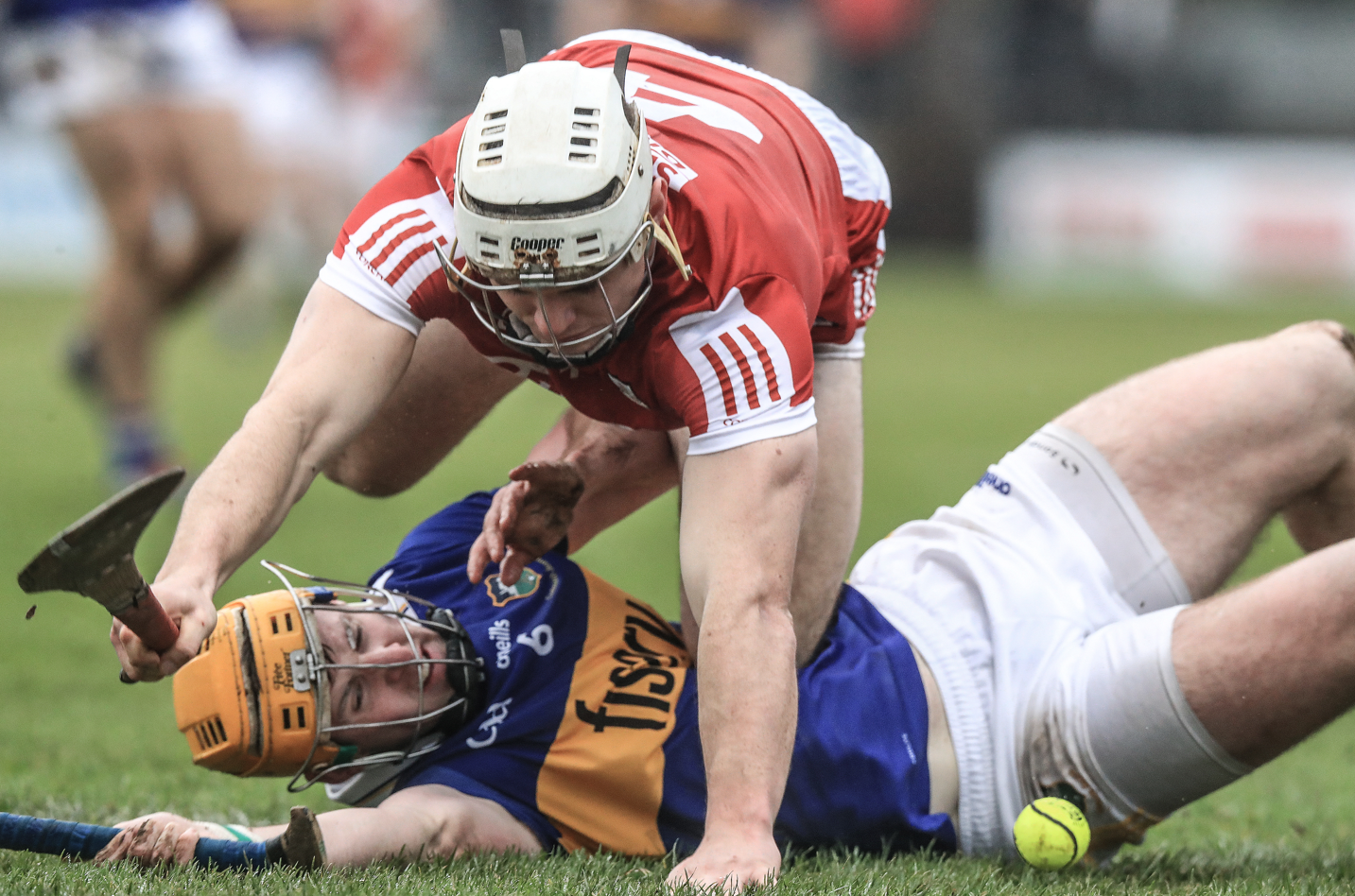 A big well done to Tommy, Sean (pictured above thanks to Inpho), Conor and Cormac who were part of the Cork panel who defeated Tipperary, coming from eight points down, in the Munster Hurling League Final at Pairc Uí Rinn on Sunday last.
HARTY CUP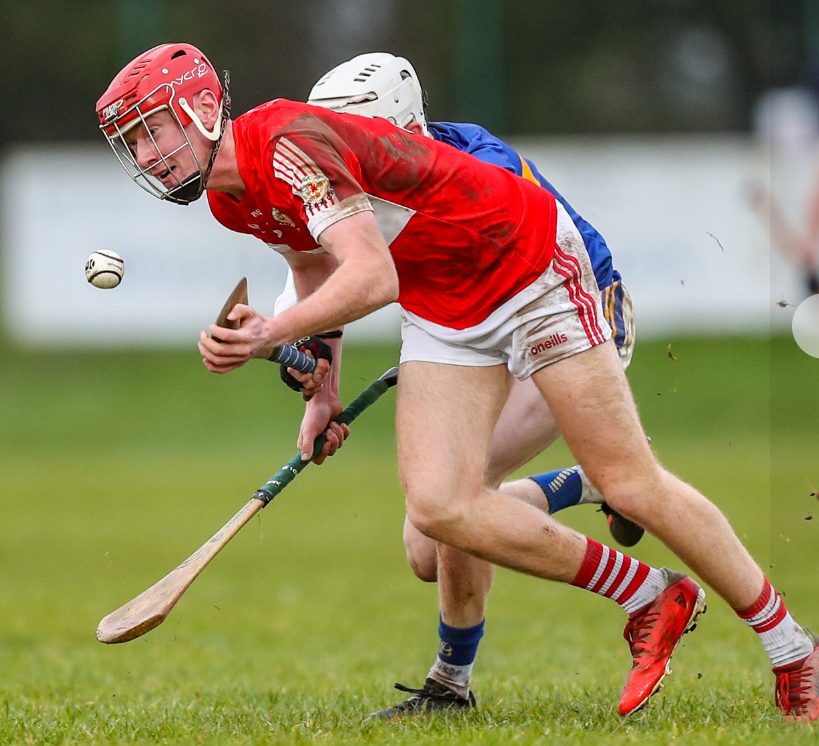 Alex Moloney in action for Midleton CBS on Saturday last. Photo: Denis O'Flynn.
Hard luck to all the Midleton GAA players and all the players and management of Midleton CBS who were beaten by Thurles CBS in their Dr Harty Cup semi-final last Saturday in Mallow.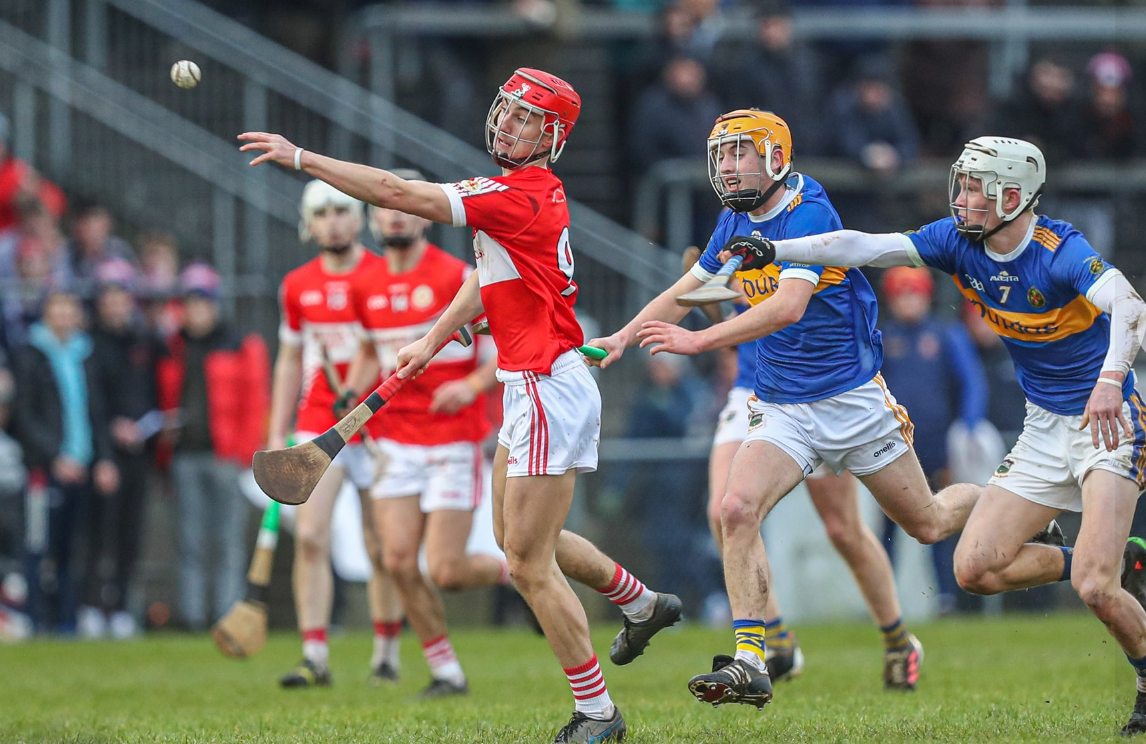 Tiarnán Roche in action for Midleton CBS on Saturday last. Photo: Denis O'Flynn.
JUVENILES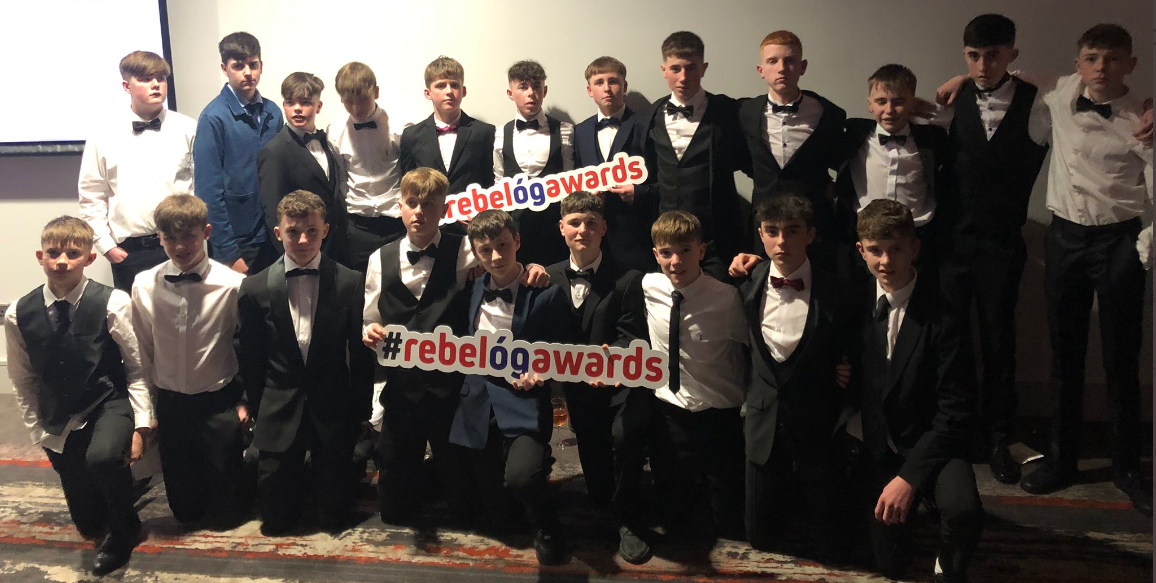 Well done to our 2022 Fé13 county winning boys (pictured above) had a great evening on Friday night at the Rebel Og Awards night at the Silversprings Hotel.
Below: some of the Midleton contingent that spruced up well on the night. L to R: Paudie O'Brien, Bernard Butler, Sean Crowley and Pat Walsh.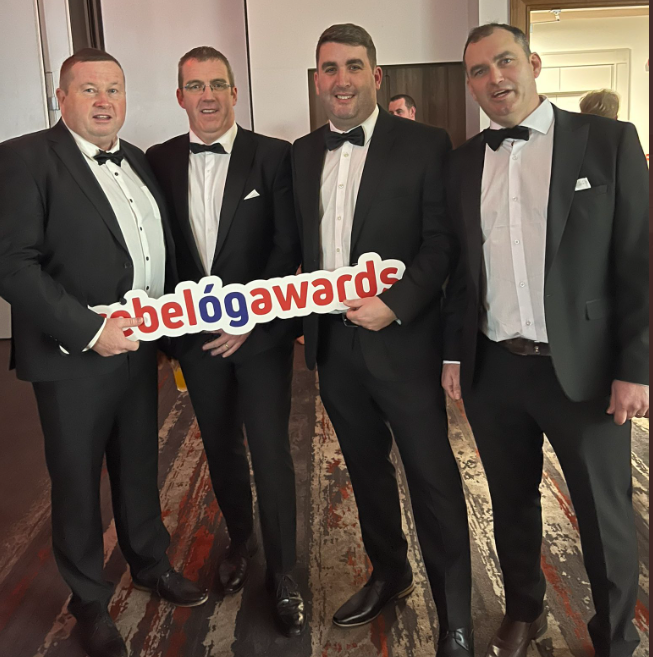 LADIES FOOTBALL
MEDAL PRESENTATION
On Friday last our Junior and Minor Ladies had their medal presentation evening. Our junior players (pictured below) received their 2022 Cork County Championship medals whilst our Minor players received their 2022 East Cork and Cork County Championship medals. Also, on the night we had some individual award presentations to players from their fellow team-mates and management.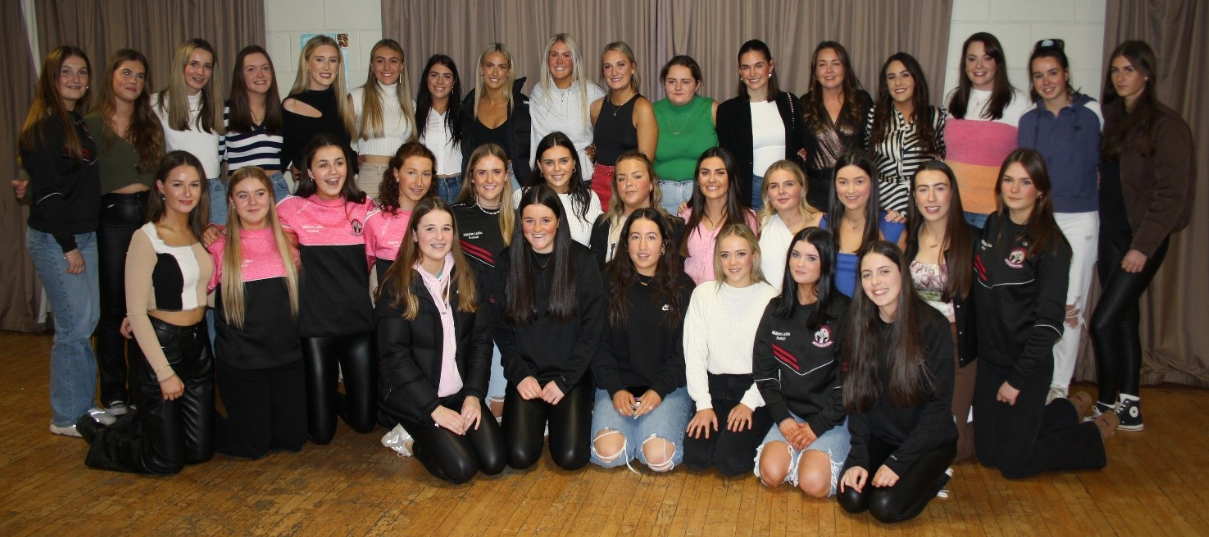 Congratulations to the following ladies:
Junior Player of the year: Claudia Kearney (pictured below with Paddy Corcoran)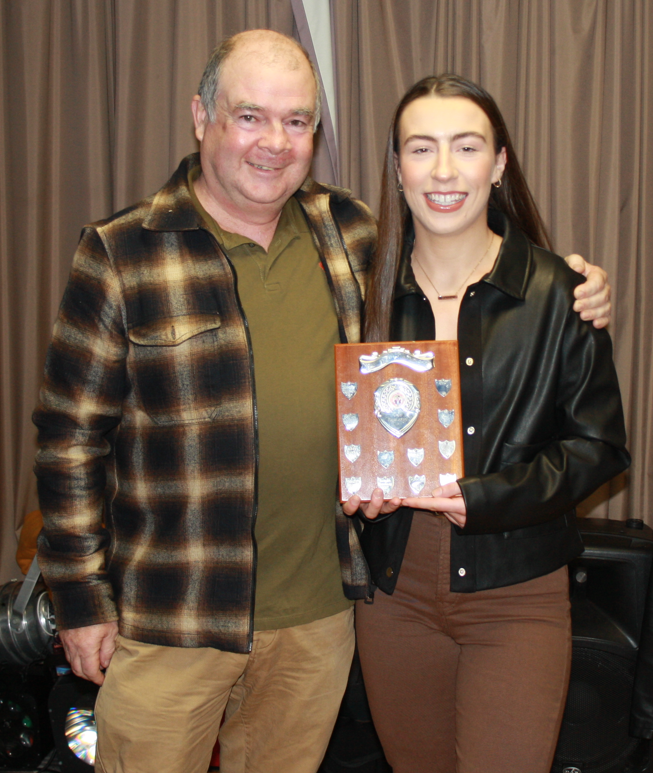 Most Improved Junior player of the year: Ella Quirke (pictured below with Paddy Corcoran)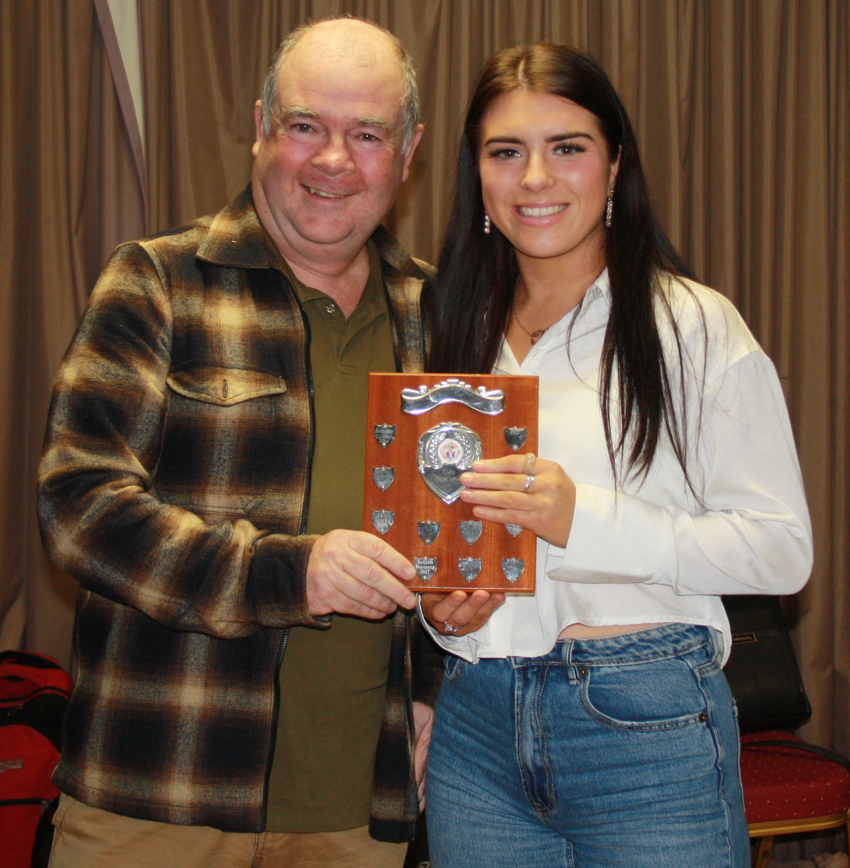 Most Improved Minor player of the year: joint winners - Elle McManus and Lily Kelly (pictured below with Shane Farmer)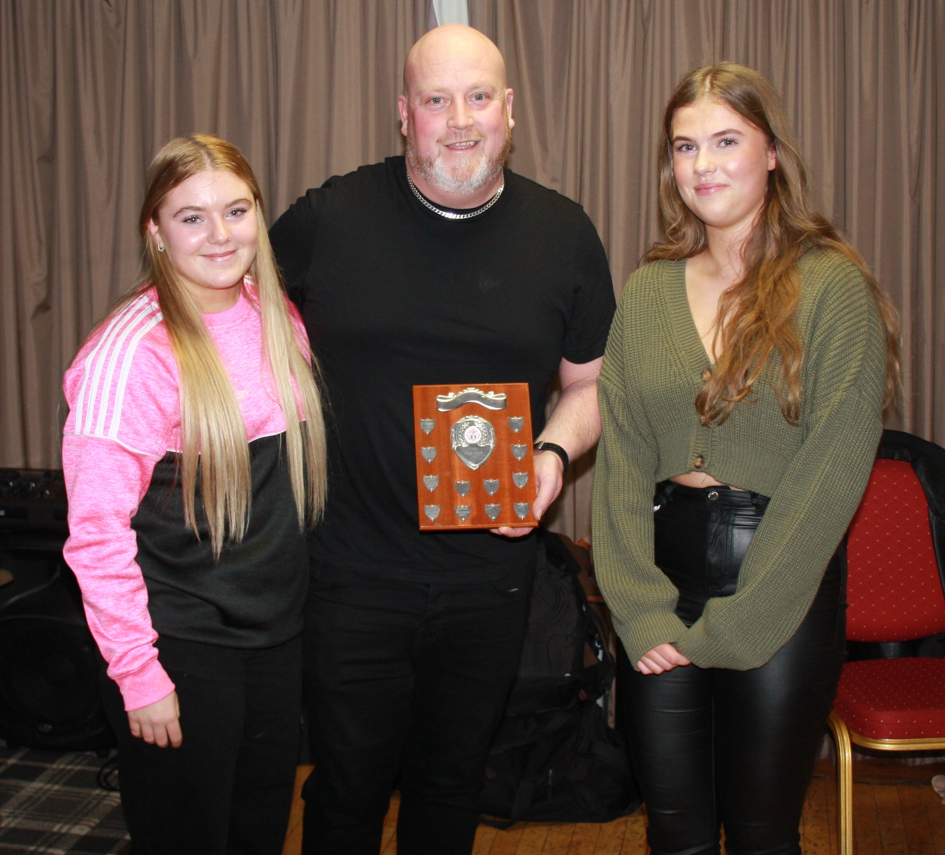 Minor players' player of the year: Saoirse Tagney (pictured below with Shane Farmer)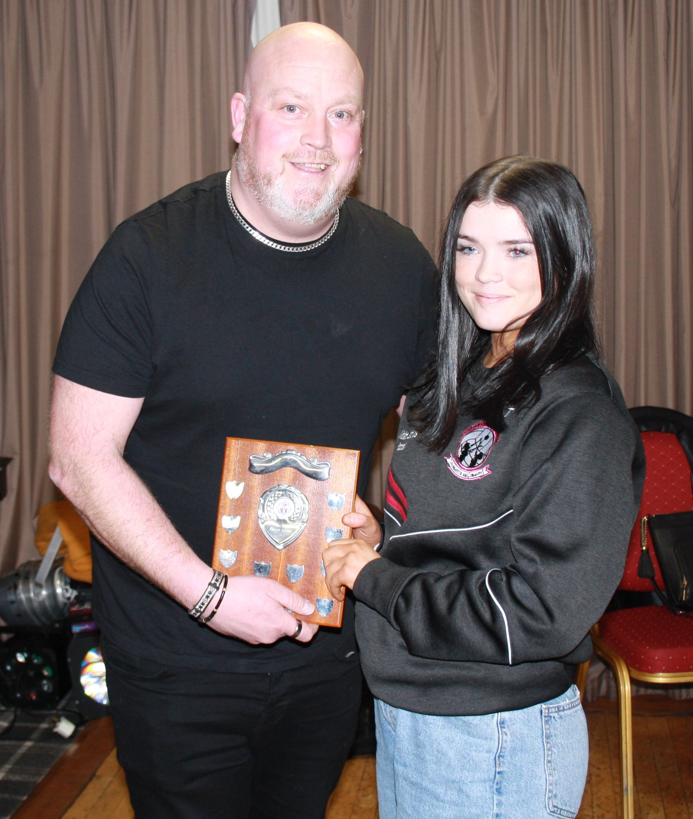 BON VOYAGE
We wish our Junior player Claire O'Brien the very best as she heads off on her travels. Claire you will be missed by us all both on and off the pitch. We are delighted that you have your County medal to take with you!
FAREWELL TO A LEGEND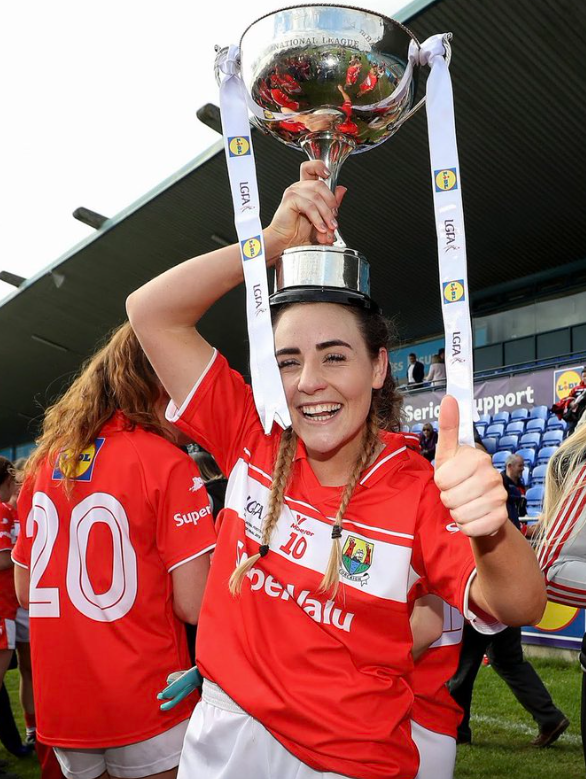 This week our Junior ladies and Cork Senior Player Orlagh Farmer announced her retirement from Inter-County Football. We would like to wish Orlagh the very best as she embarks on a new chapter in her life. Orlagh had a remarkable career which saw her win six All-Ireland medals. As a club we are extremely proud of you and very grateful for all the help you gave us over the years. Our Younger players looked up to you as a great inspiration but hopefully we will get to see more of you now wearing the black and white Club jersey.
RETURN TO TRAINING
On Monday, January 30 our U-14, U-16, Minor and Junior ladies will return to training at the side pitch of the GAA club. Times will be confirmed and will be sent via text message to the relevant groups. We look forward to seeing you all.
CAMOGIE
Congratulations to the following girls that made the 2008 Imokilly Hub. Faye Dunlea, Roisin McManus, Sarah McConville and Robyn Keating.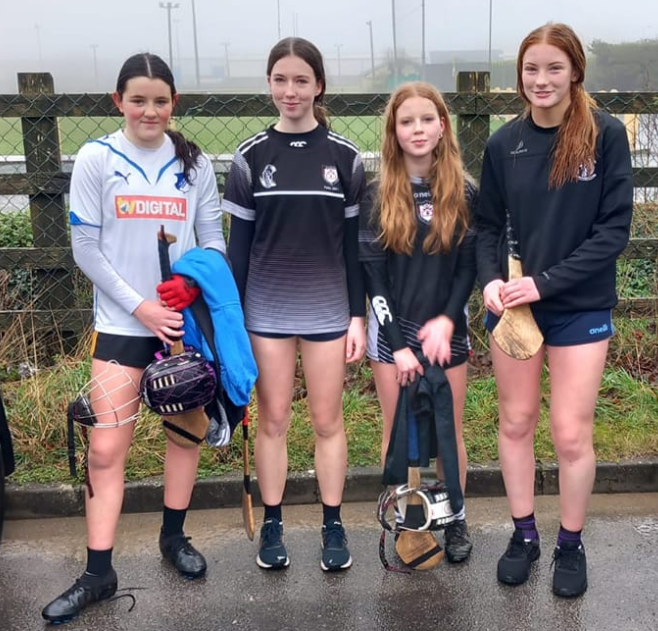 COACHING CONFERENCE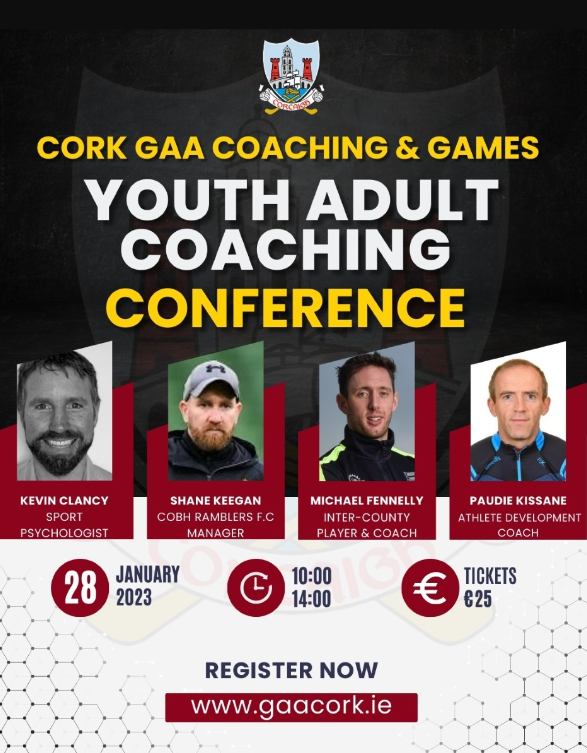 Cork GAA Coaching & Games are running a Youth/Adult Coaching Conference on this coming Saturday, January from 10am to 2pm.
The goal is to provide an informative and collaborative platform for attendees to share best practices, discuss challenges, and develop techniques for successful coaching. The organisers look forward to connecting with coaches from around Cork to learn from each other and develop strategies to ensure positive outcomes for our youth and adult athletes.
Cork GAA are thrilled to have four amazing speakers joining us for the day! Kevin Clancy is an expert in the field of sports psychology, Shane Keegan brings extensive knowledge of coaching, Michael Fennelly former Kilkenny inter-county player and Offaly hurling manager and Paudie Kissane is a renowned athletic development coach.
It is sure that these speakers will make for a truly memorable and insightful day.
Tickets and more info here: https://gaacork.ie/2023/01/22/coaching-conference-adult-and-youth-take-place-on-saturday/
As always, the cost will be refunded by the club.
---
VALENTINE'S DISCO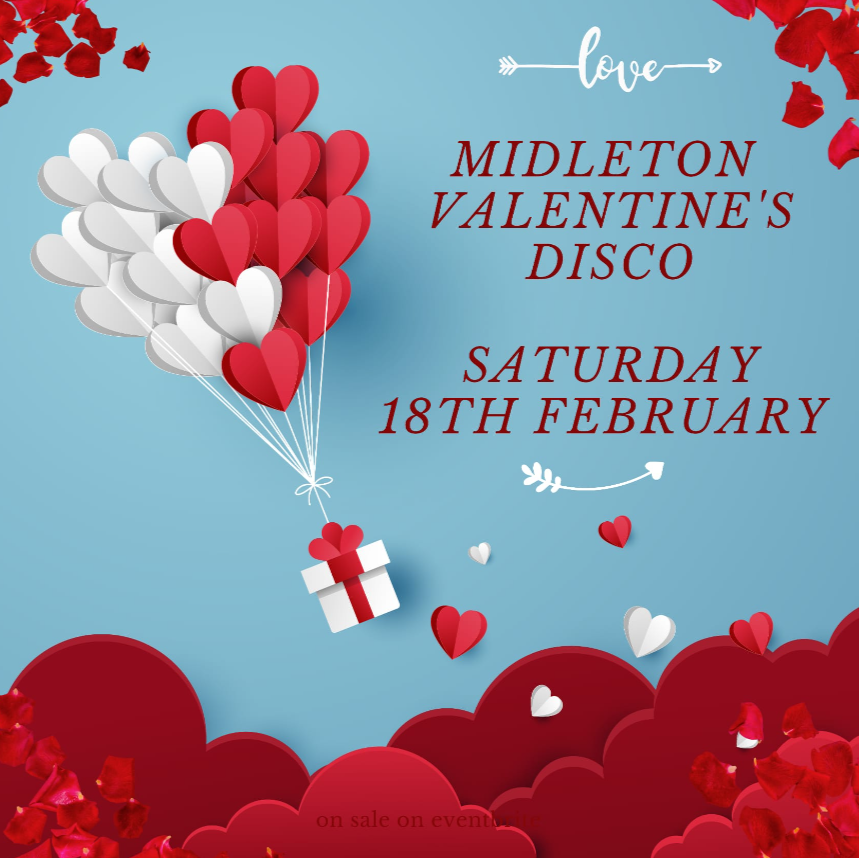 Midleton Valentine's Disco at Midleton GAA Club is on Saturday, February 18 from 8pm to 11pm. Tickets are now on sale at Eventbrite and on the following link http://tinyurl.com/midletonvalentines… Looking forward to a great night!....Don't miss out and spread the word. For first and second years.
REBELS' BOUNTY DRAW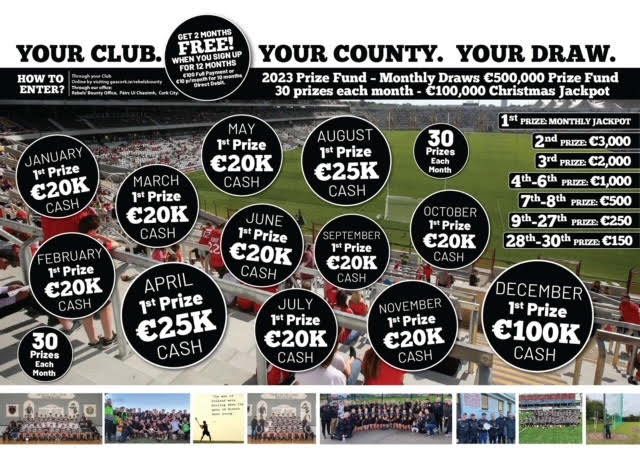 Tickets are now also on sale for the 2023 Rebel's Bounty draw. We are aiming to sell 500 tickets this year which would net us a wonderful €40,000 which would do so much for our club. We think this figure is very attainable but we need everyone's help. The prizes are fantastic so we would appeal to everybody to reach out to family members, neighbours, work-mates to support this vital fundraiser for our club.
You can buy tickets a the link below but make sure that you enter Midleton in the section that asks for your club.You can also sign up online for a direcct debit of €10 a month for ten months.
MIDLETON GAA MONDAY CLUB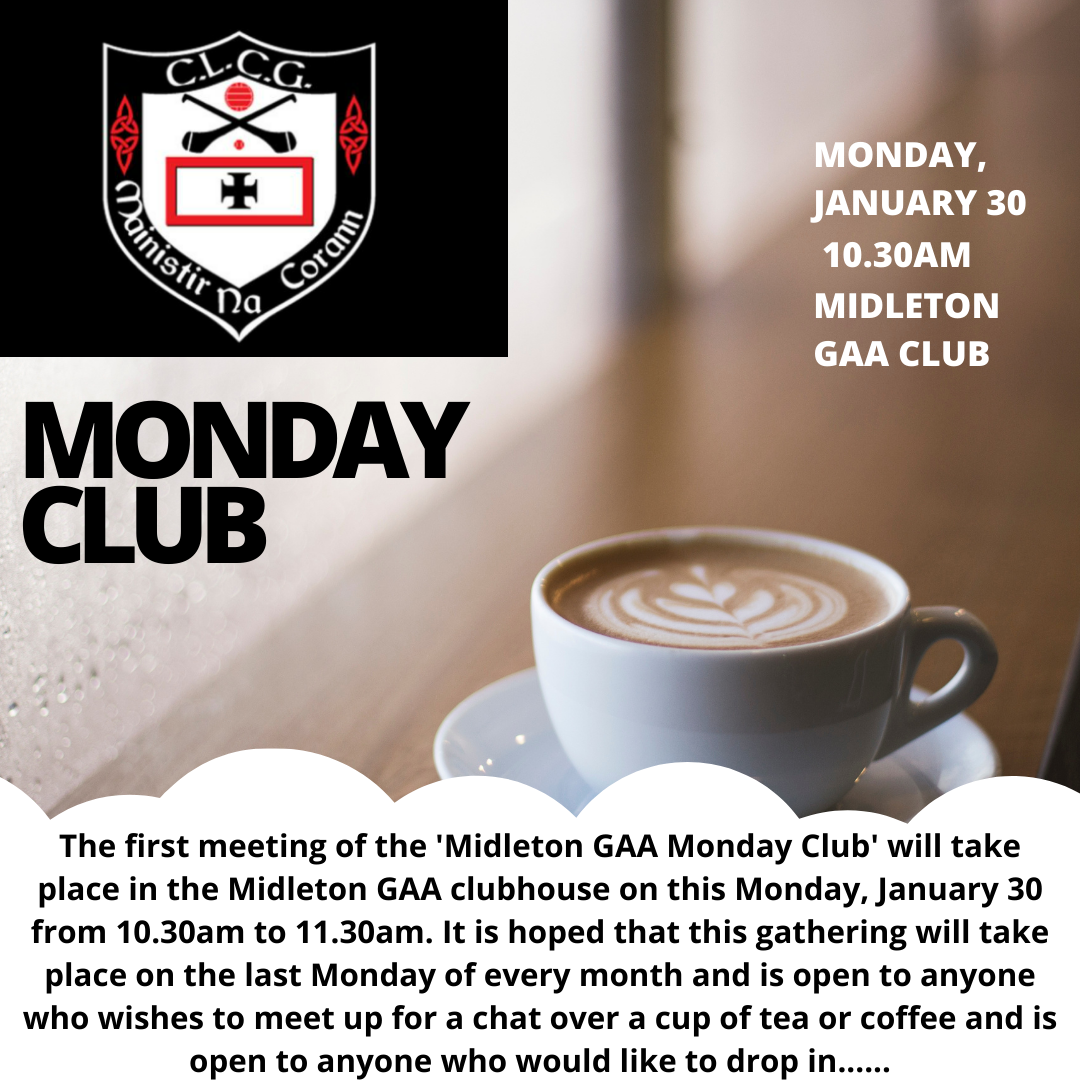 The first meeting of the 'Midleton GAA Monday Club' will take place in the Midleton GAA clubhouse on this coming Monday, January 30 from 10.30am to 11.30am. It is hoped that this gathering will take place on the last Monday of every month and is open to anyone who wished to meet up for a chat over a cup of tea or coffee and is open to anyone who would like to drop in.
SIGN OF THE WEEK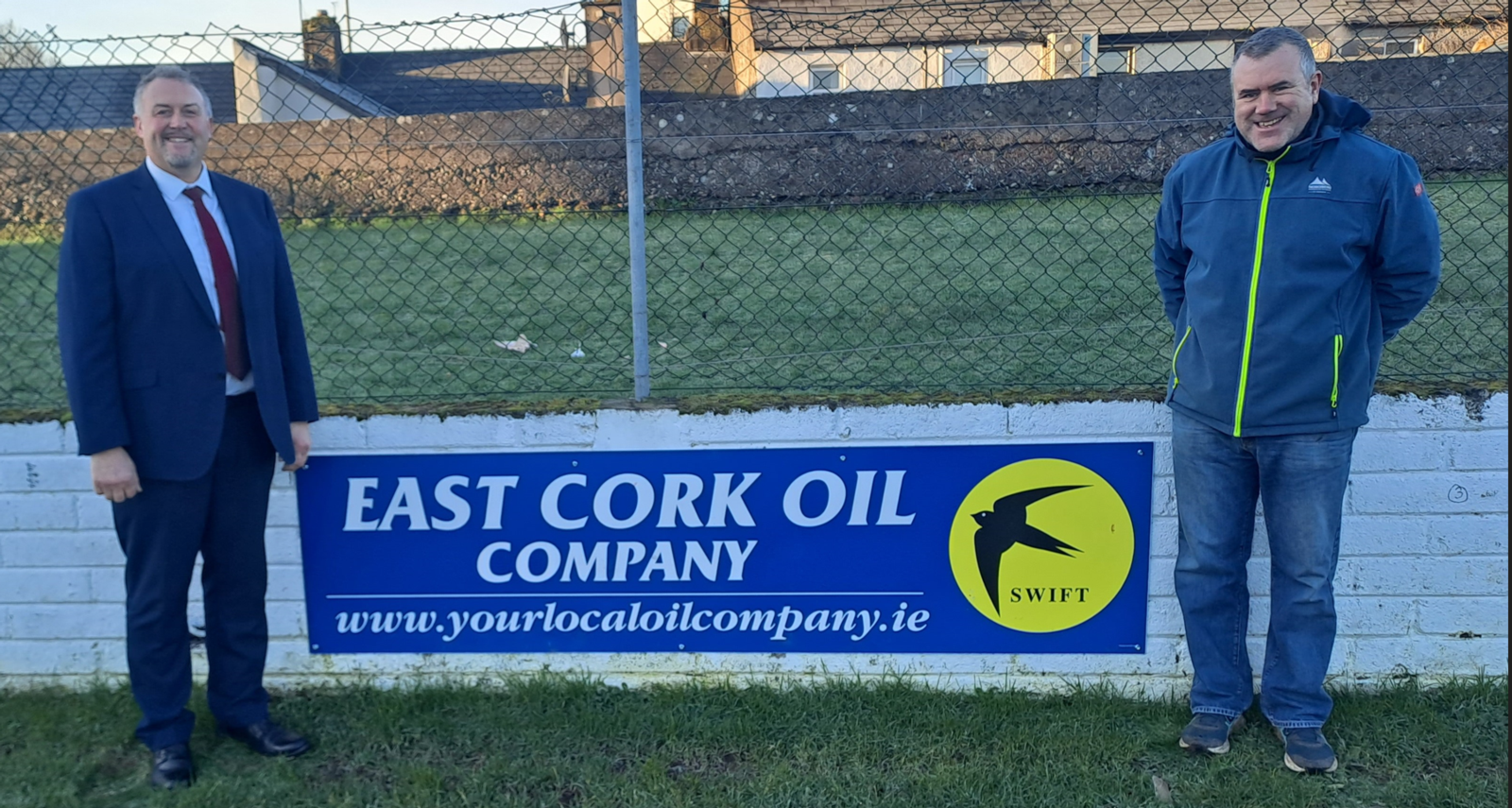 This week's sign of the week is East Cork Oil who have been great supporters of Midleton GAA club for many decades and continue to do so. We are extremely grateful for their great support and for sponsoring two signs at Clonmult Memorial Park.
Pictured with one of East Cork Oil's signs at Clonmult Memorial Park is our PRO, Ger Lawton, with Ian Fraser, originally from Elsinore, who has recently joined the company and we wish him the very best for the future. Ian and his family have very strong connections to this club for a very long time and continue to do so.
If you require oil then please give Ian a shout.....086-0318151
LOTTO DRAW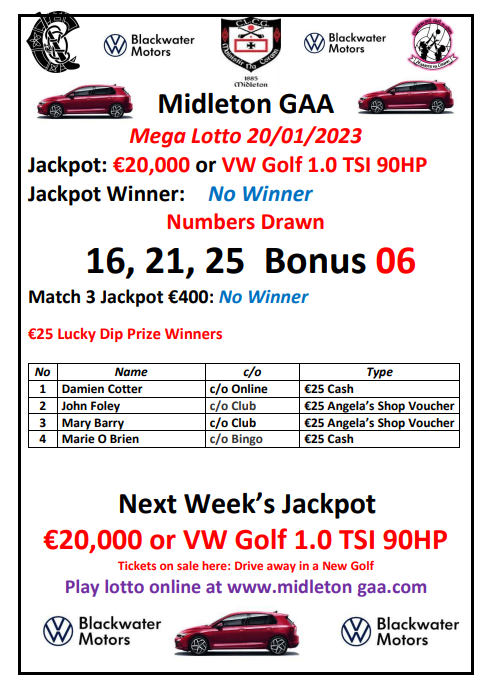 The numbers drawn this week were 16, 21, 25. The bonus was 6.
There was no Jackpot or winner this week or Match 3 jackpot winner.
The €25 Lucky Dip Prize Winners were: Damien Cotter, John Foley, Mary Barry and Marie O'Brien.
Play 24/7 at: http://www.klubfunder.com/Clubs/Midleton%20GAA/lotto
In total Midleton GAA will give out local business vouchers to the value of €3,800 every year as part of our "Shop Local, Buy Local" campaign.
How to play: tickets are on sale at Pat Walsh Paints, Chadwicks, Frank Murphy Butchers, Murphy's Pharmacy, Crowley Butchers, or buy online (see above).
BINGO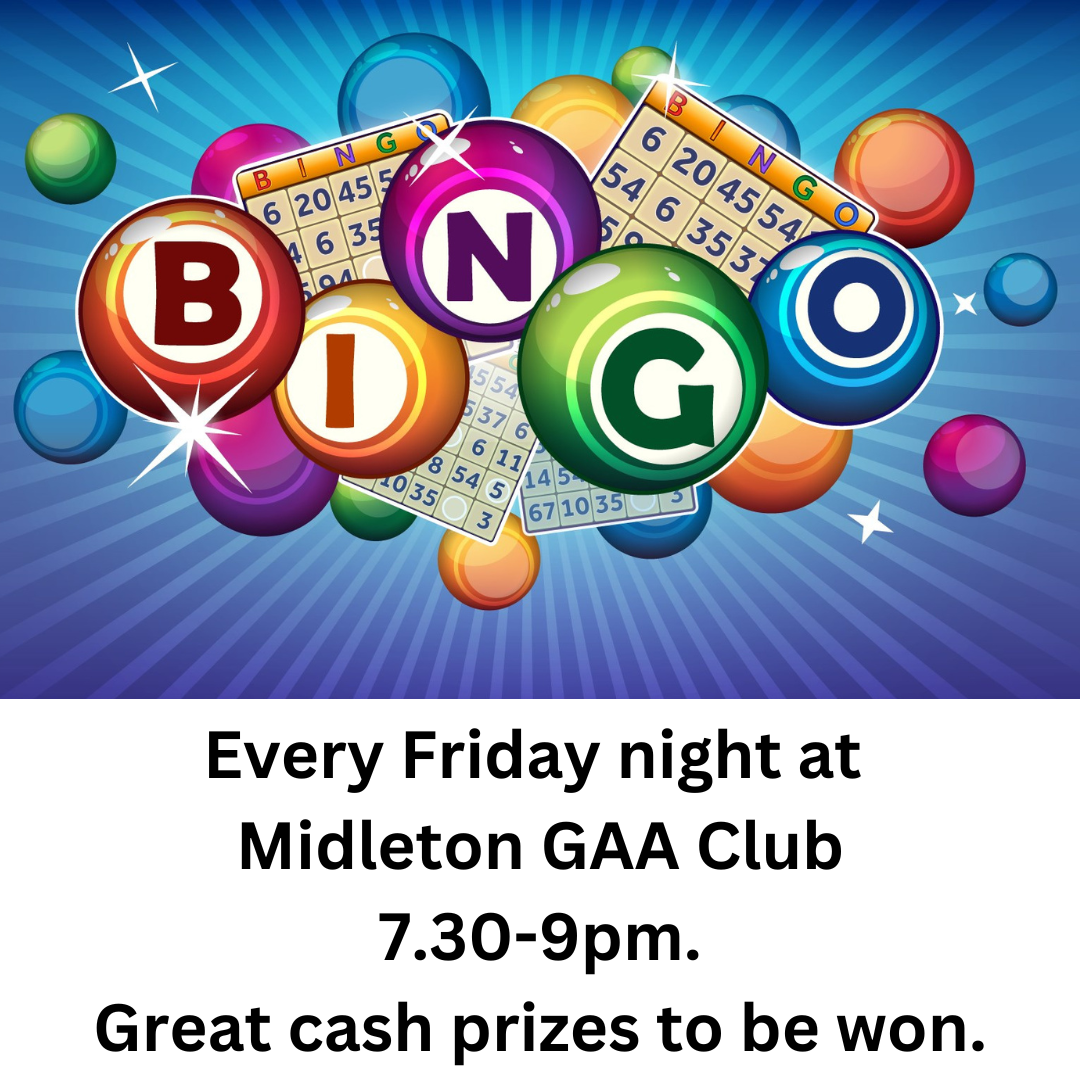 Fancy a good night which also benefits Midleton GAA club...what about bingo on Friday nights?
It kicks off at 7.30pn every Friday night and is over by 9pm. A single book is €6. A double book is €12. The numbers have been really good of late it would be brilliant to keep it going as it really benefits the club.
SOCIAL DANCING
The very popular Muriel O'Connor and Fran Curry make a welcome return at Midleton GAA Club this Saturday night, January 28. Dancing starts at 9.15pm and a great night of dancing is assured!!!
MIDLETON HEALTHY CLUB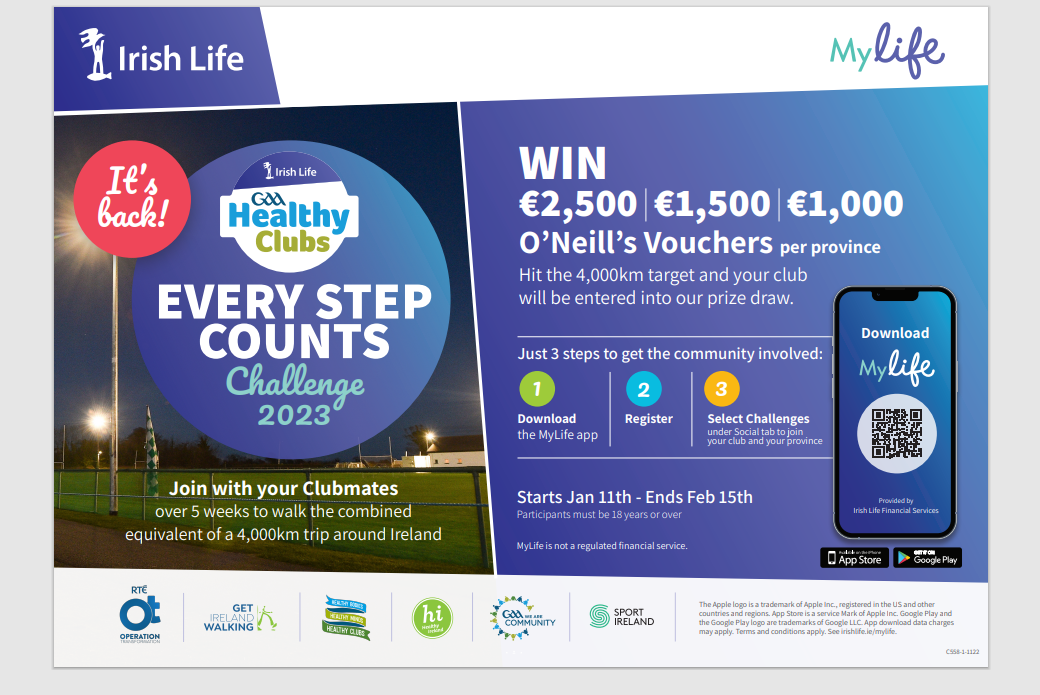 The Irish Life Healthy Clubs Every Step Counts Challenge is still ongoing until February 15th 2023.
We're going very well but we could always do with a few more members to help us out.
At the end of the challenge our club will be in a draw in Munster to win one of three O'Neills vouchers valued at €2500, €1500 or €1000.
Just download the My Life by Irish Life App. Register and then go to social and then challenges and select Munster and then Cork and then Midleton.
CLUB SHOP
The club shop will reopen on Saturday, February 4.
PLEASE PLAY YOUR PART
​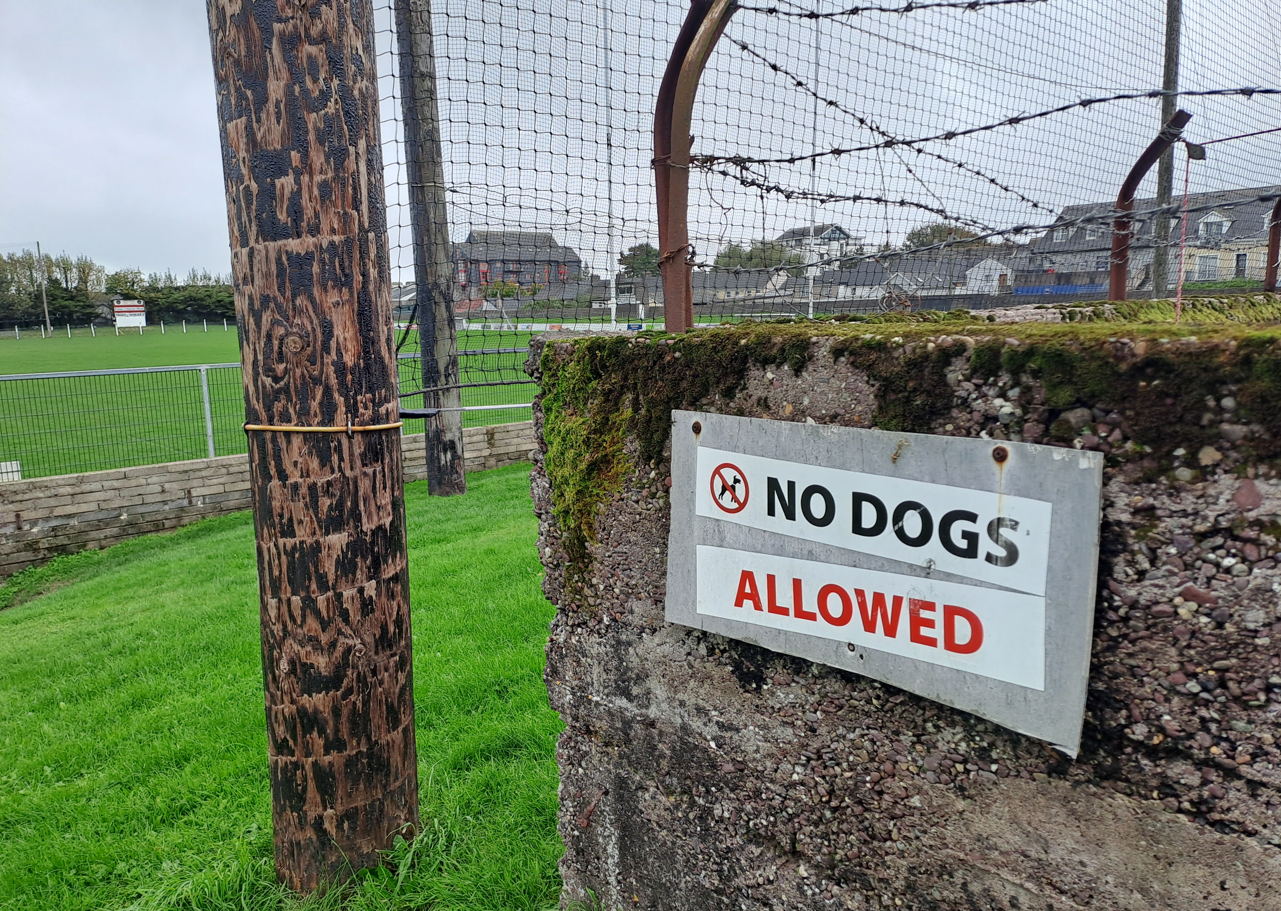 We are asking all players, mentors, parents, supporters and neighbours to please play their part by playing ball on the following.....
Please slow down entering and leaving Park South.
No dogs, except assistance dogs, are allowed at Park South or Clonmult Memorial Park.
Please do not bring single-use plastic bottles to either Park South or Clonmult Memorial Park.
Please put your rubbish in a bin or bag and please bring your gear home with you.
And always be aware of the open water surrounding the pitches in Park South.
If you are a coach, please pass on these simple messages to players and parents.
All members are asked to respect referees and their officials at all times.
Also if you are a coach, last person out locks the gate, toilet and container.