Midleton Hurling and Football, Ladies Football and Camogie Club News - December 22
22 December, 2022
HAPPY CHRISTMAS.....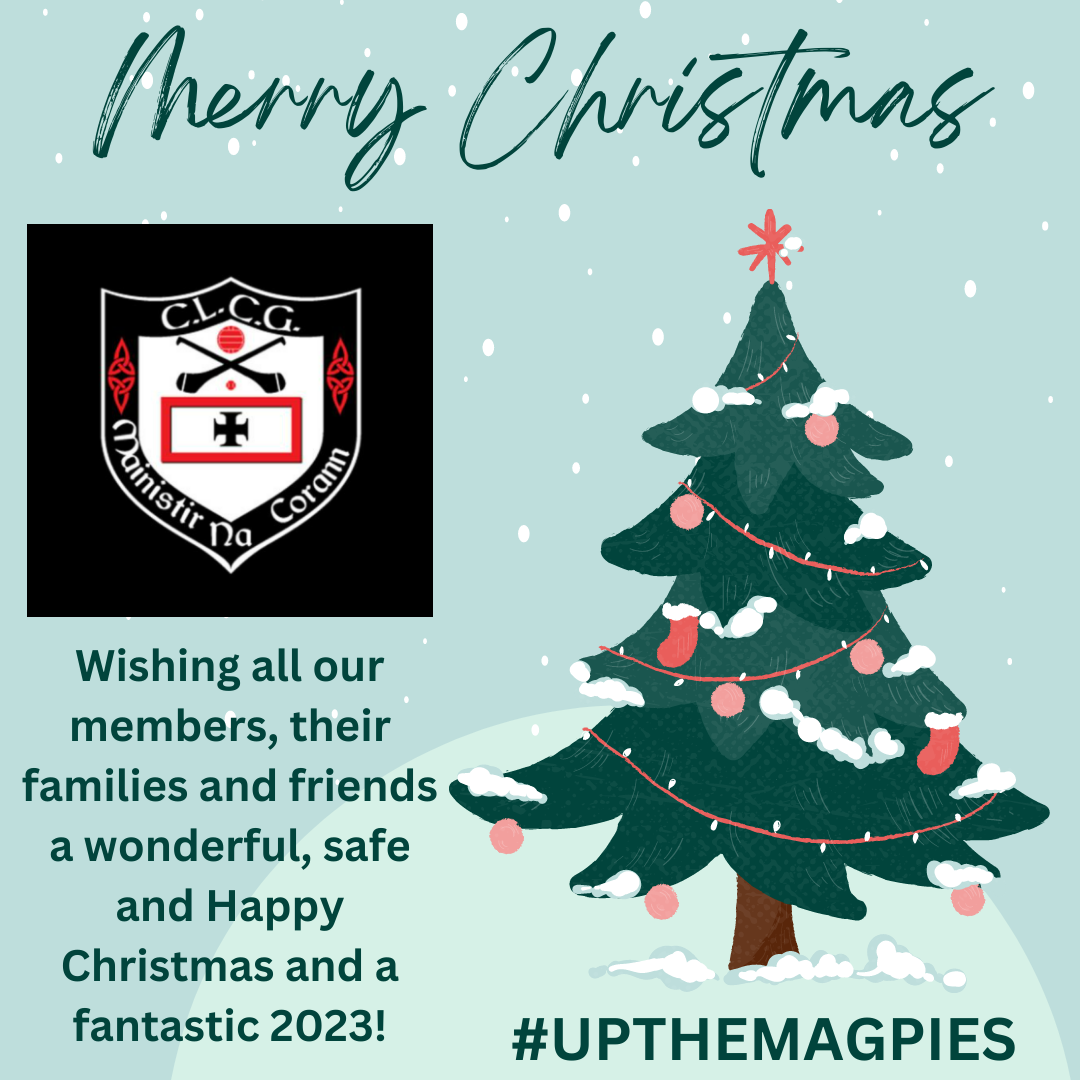 Everyone at Midleton GAA would like to wish all our players, members, their family and friends a very happy and peaceful Happy Christmas.
We would like to acknowledge all our members and friends who serve with the defences overseas.
We would also like to thank everyone who helped us out in 2022 in anyway, committee members, coaches, selectors, players, sponsors, those invoved in preparing and maintaining our pitches and so many more people that work tirelessly for the betterment of our club in the background. We thank you all.
NEW JUNIOR A FOOTBALL MANAGEMENT TEAM
The Executive Committee of Midleton GAA have ratified the following management team to take charge of the Midleton senior hurling team for the 2023 season.
Manager: Johnny Comer. Selectors: Barry Fitzgerald, Cillian Hurley, Sean Corcoran and Kieran Denihan.
We wish the lads the very best of luck for 2023.
COUNTY CHAMPIONSHIP FIXTURES FOR 2023
The Cork County board this week revealed their Master Plan for 2023 which inlucded our senior and intermediate hurlers' championship fixtures.
Our senior hurlers will open their 2023 campaign on Saturday, August 5 at 3pm in Pairc Uí Rinn against Bishoptown.
The following week they will make the short trip to Carrigtwohill on Sunday, August 13 at 3pm to take on Glen Rovers.
They will conclude their group stage on Sunday, September 3 at 4pm against Blackrock in Carrigtwohill.
Our intermediate hurlers open their campaign on Sunday, August 6 at 2pm in Pairc Uí Rinn against Cloughduv.
Five days later they travel to Caherlag on Friday, August 11 at 7.30pm to play Douglas and then on Saturday, September 2 at 2pm they will play Ballygiblin in Ballynoe.
CHRISTMAS RAFFLE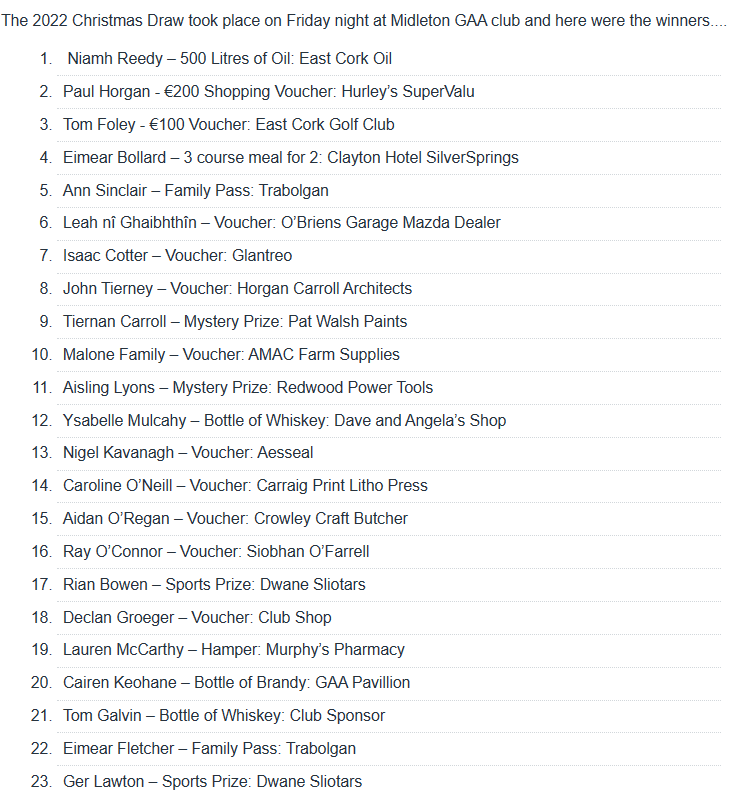 Midleton GAA wish to extend a sincere thanks to all those who sponsored prizes, bought and sold tickets and supported the draw in any way. This is a valuable fundraiser in the club and this work does not go unnoticed.
REBELS' BOUNTY DRAW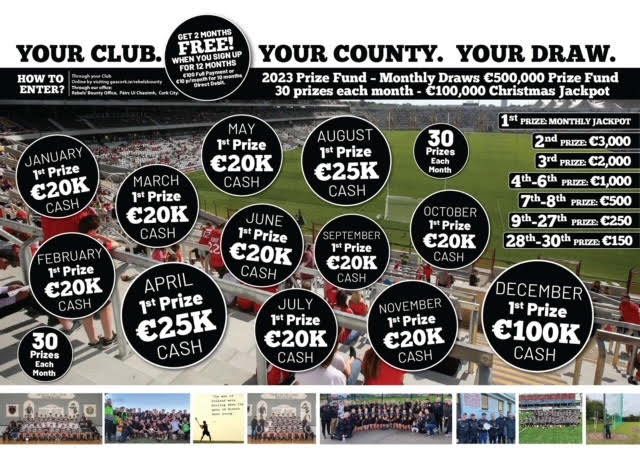 We held an internal Rebels' Bounty draw before Friday night's Christmas Raffle draw. This draw is for €100 for ten lucky winners who supported the Rebels' County draw in 2022. These were the lucky winners....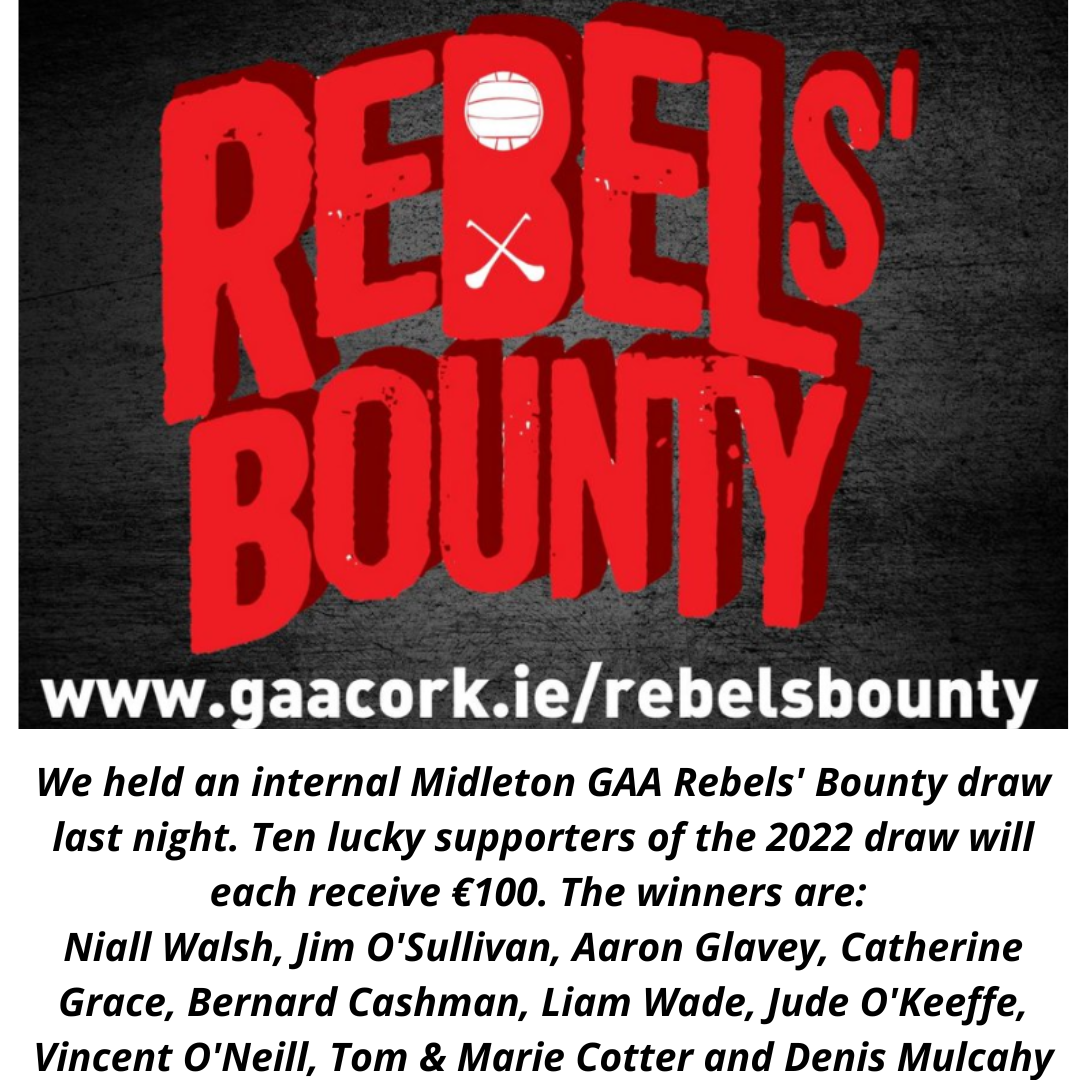 Tickets are now also on sale for the 2023 Rebel's Bounty draw. We are aiming to sell 500 tickets this year which would net us a wonderful €40,000 which would do so much for our club. We think this figure is very attainable but we need everyones help. Why not consider giving one as a Christmas present....the prizes are fantastic?
You can buy tickets a the link below but make sure that you enter Midleton in the section that asks for your club.
2022 LONG PUC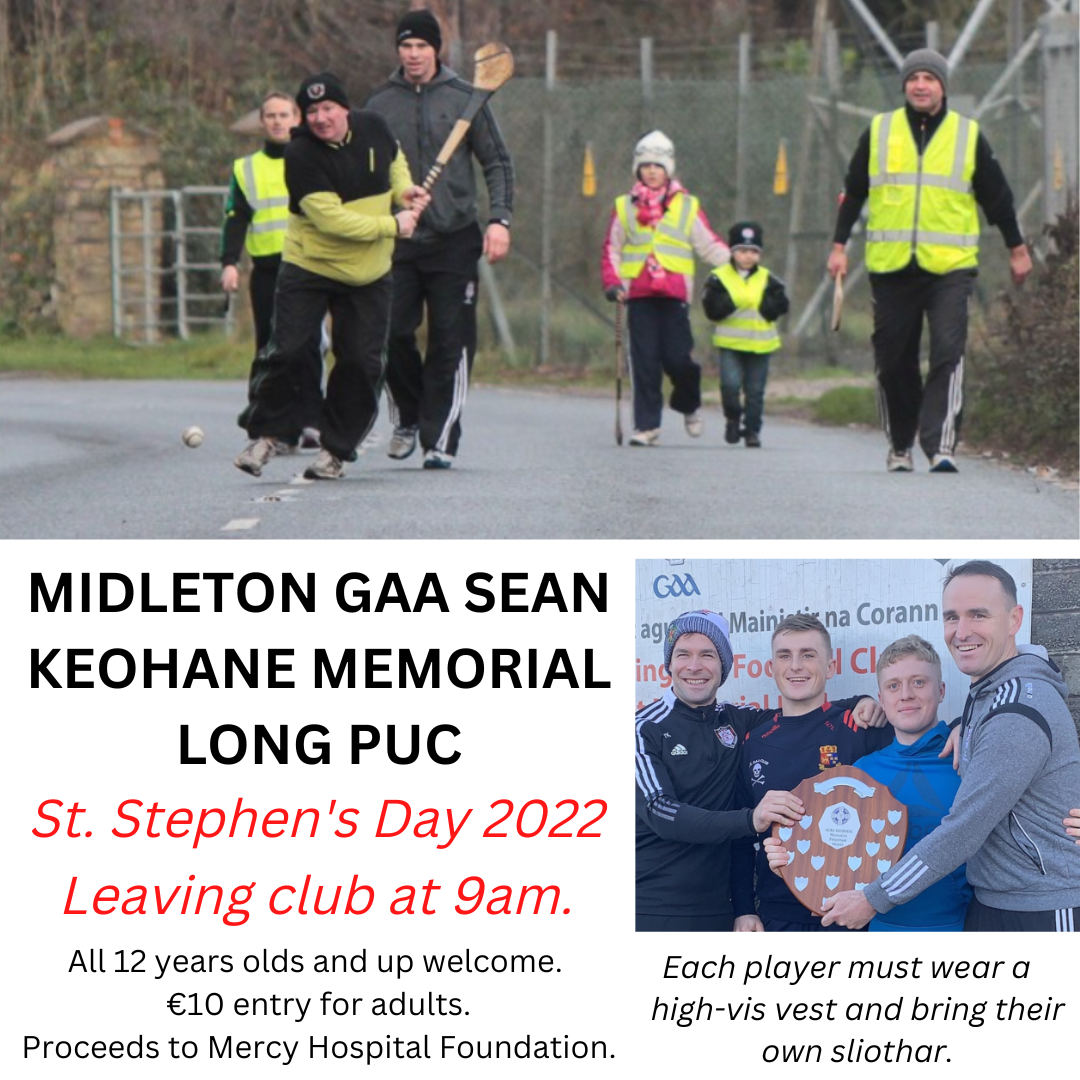 40 years on from its first running in 1982, the Sean Keohane Memorial Long Puc will take place on St. Stephen's Day.
Buses will leave the GAA club at 9am sharp. €10 per adult. Everyone (boys and girls, members and non-members are welcome) 12 years and upwards can enter in teams of three.
Each player must wear a high-vis jacket/vest and have their own sliothar(s).
A big thank you to our sponsors: O'Brien Master Butchers & Deli and Stephen Butler Coaches.
Refreshments and presentation of prizes in the club afterwards.
THE FIRST MIDLETON GAA LONG PUC
On the 26 December 1982 the inaugural Midleton GAA long Puc competition from the Thatch Pub in Lisgoold to Midleton took place. Midleton GAA club can be proud of the fact that we initiated this competition which is now replicated throughout the country. Unlike modern day versions of the event only four teams of two competed in the first event. The teams, represented the road league districts were as follows;
Forkums: Kevin Hennessy and Ger Power (eventual winners)
Town: John Hartnett and Sylvie O'Mahony
Garryowen: Denis Mulcahy and Sean O'Brien
Sons of Rest: Tadhg Mc Carthy and John Fenton
Each of these players won multiple County senior county medals with the club as well as Munster and All Ireland club medals. All of them also won All Ireland medals with Cork. Each team had a marker and these were Anthony Mc Carthy, Mossy Quirke, Maurice Horgan and Seamus Kearney.
1982 was a great year for the club with the club winning its second consecutive All Ireland club title in Kilmacud Crokes Dublin as well as the East Cork junior hurling championship. The East Cork minor hurling title was also annexed as well as the East Cork under 21 championship, whose team was captained by Kevin Hennessy who also won an All Ireland medal at the same grade with Cork, scoring the winning point. Michael Boylan was also on this team. These victories catapulted the club into one of the greatest years in the club's history 1983, when among many other titles the first County senior title victory in 67 years was achieved.
Below is the front page of the original notes outlining the rules of the competition in addition to a newspaper report covering the evet...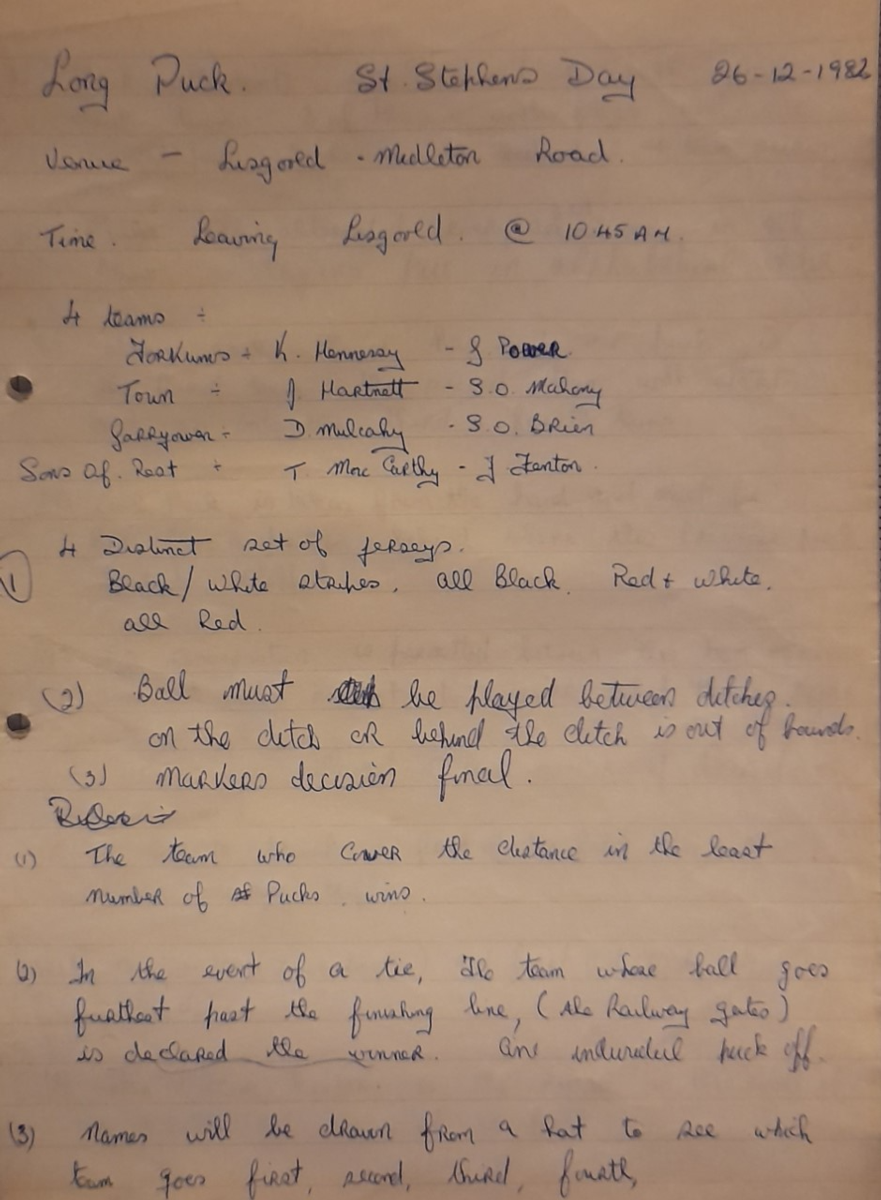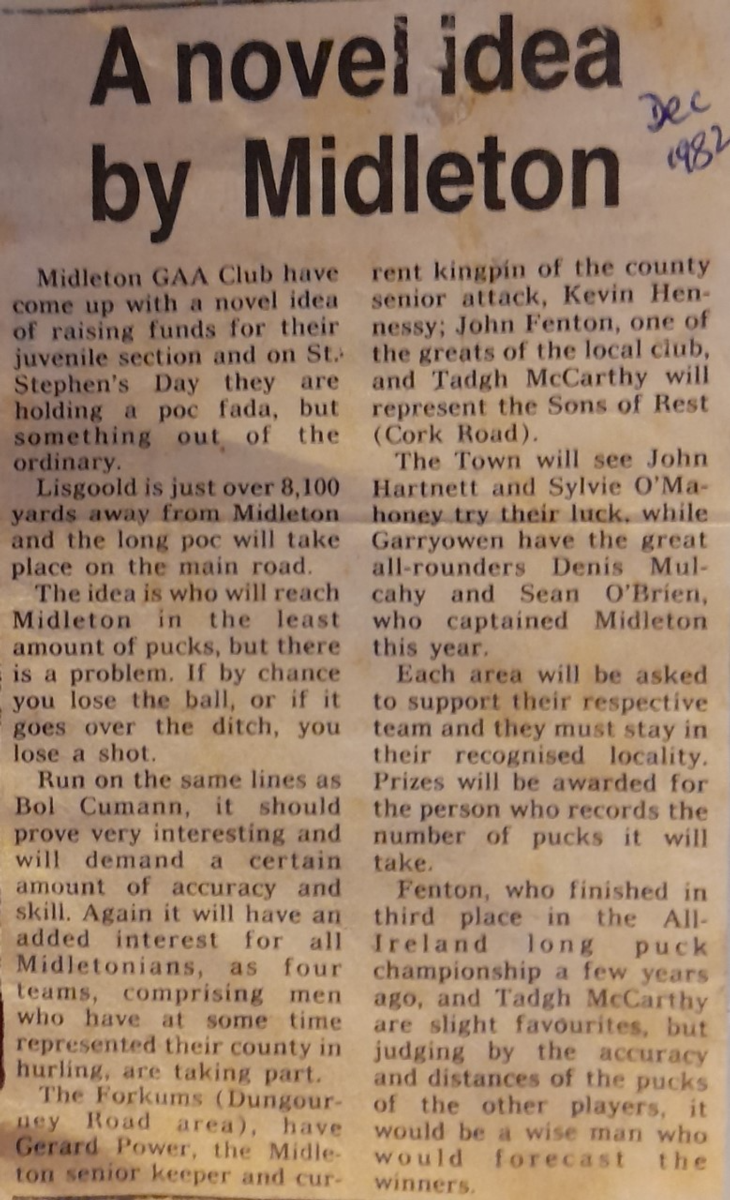 LOTTO DRAW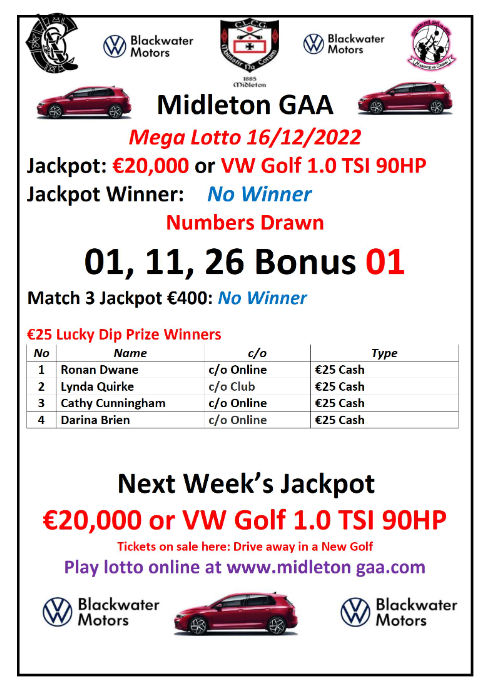 The numbers drawn this week were 1, 11, 26. The bonus was 1.
There was no Jackpot or winner this week or Match 3 jackpot winner.
The €25 Lucky Dip Prize Winners were: Ronan Dwane, Lynda Quirke, Cathy Cunningham and Darina Brien.
Play 24/7 at: http://www.klubfunder.com/Clubs/Midleton%20GAA/lotto
In total Midleton GAA will give out local business vouchers to the value of €3,800 every year as part of our "Shop Local, Buy Local" campaign.
How to play: tickets are on sale at Pat Walsh Paints, Chadwicks, Frank Murphy Butchers, Murphy's Pharmacy, Crowley Butchers, or buy online (see above).
BINGO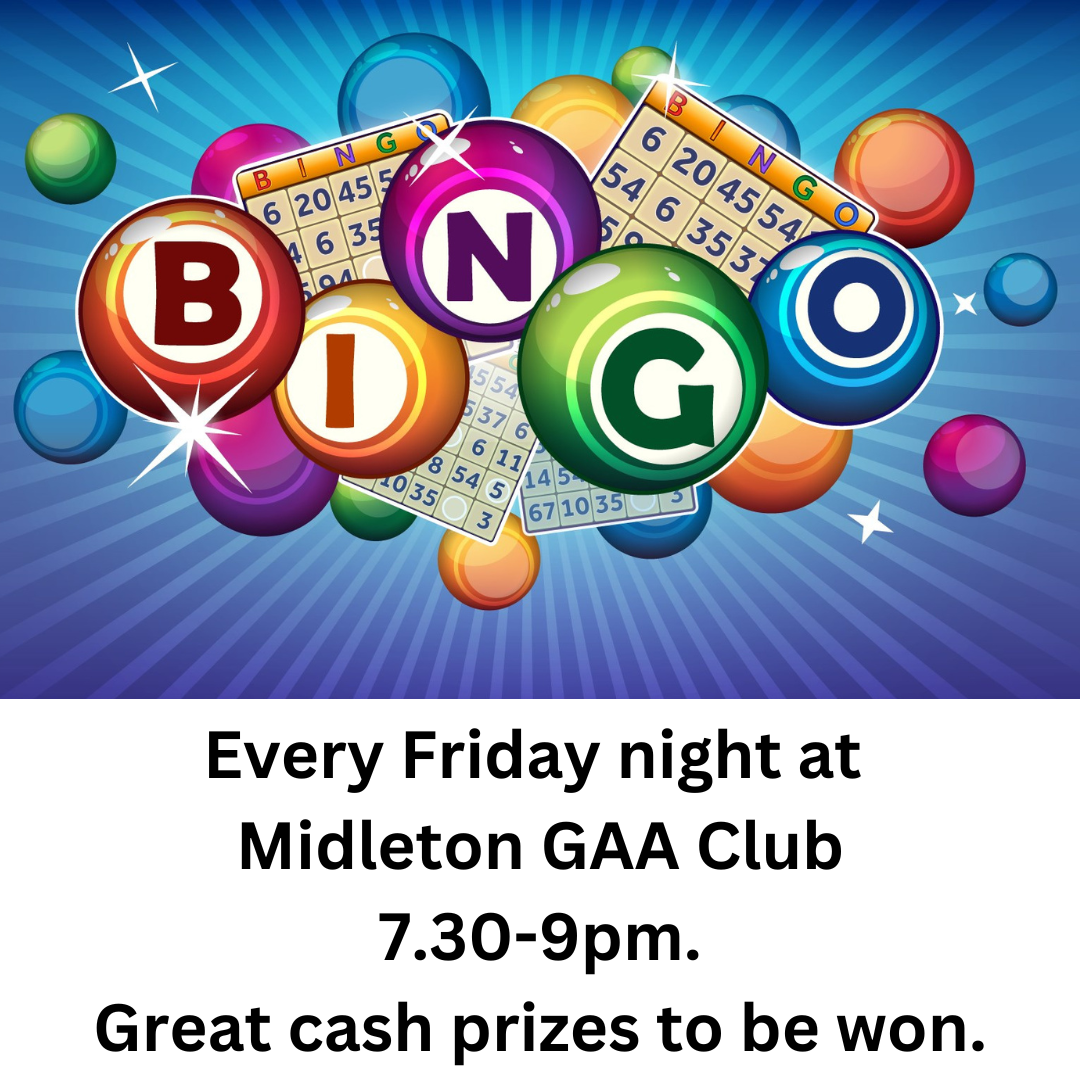 Fancy a good night which also benefits Midleton GAA club...what about bingo on Friday nights?
It kicks off at 7.30pn every Friday night and is over by 9pm. A single book is €6. A double book is €12. The numbers have been really good of late it would be brilliant to keep it going as it really benefits the club.
Please note that bingo will go ahead as normal for the following Friday nights. December 23 and December 30.
MIDLETON HEALTHY CLUB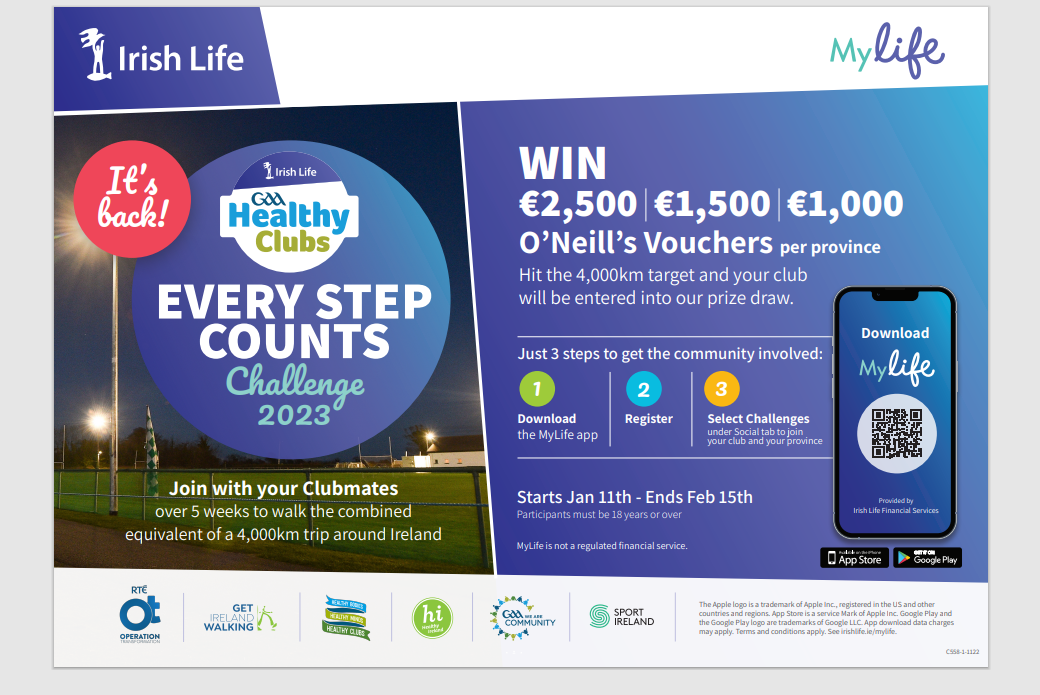 The Irish Life Healthy Clubs Every Step Counts Challenge begins on January 11th 2023 until February 15th 2023. We would love it if all our members, families and friends young and old, both near and far got involved in this challenge to hit a target of 4,000KMs (roughly the distance around Ireland). At the end of the challenge our club will be in a draw in Munster to win one of three O'Neills vouchers valued at €2500, €1500 or €1000. After Christmas the Every Step Counts Challenge will be a great way to get fit coming into the Spring....challenge your friends or team mates to see who gets the most steps in!
CORK YEARBOOK NOW ON SALE
The Cork GAA Yearbook is now on sale.....the perfect gift for any Cork GAA fan in your life....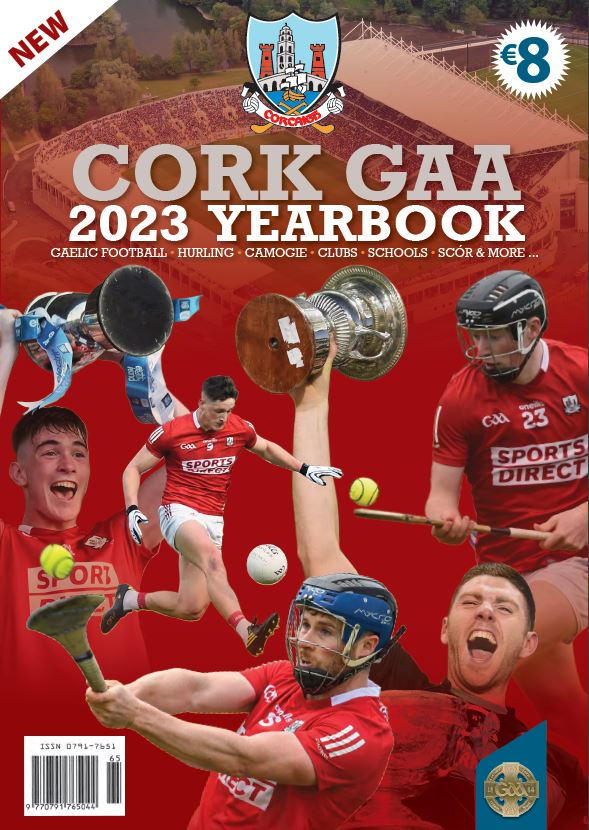 PLEASE PLAY YOUR PART
​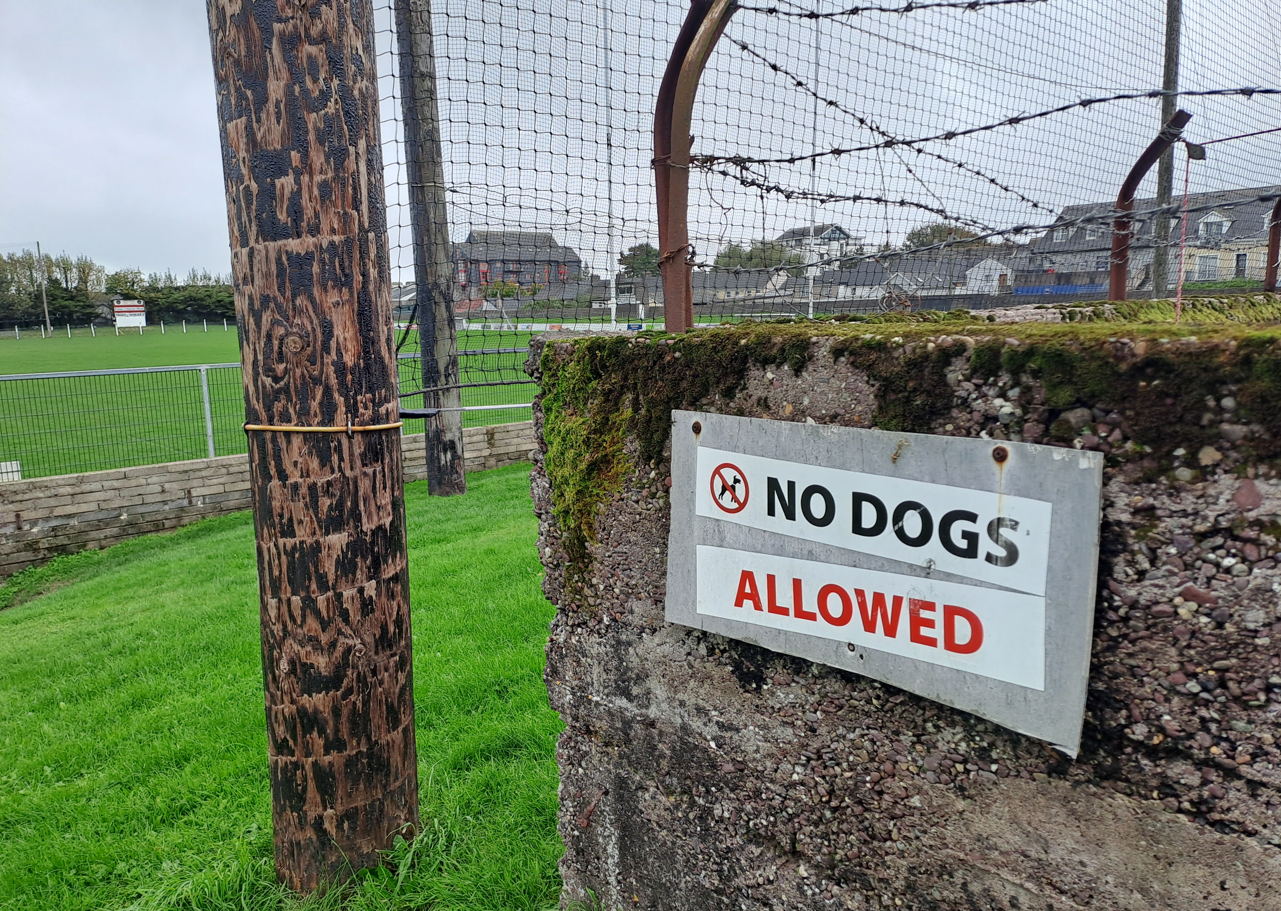 We are asking all players, mentors, parents, supporters and neighbours to please play their part by playing ball on the following.....
Please slow down entering and leaving Park South.
No dogs, except assistance dogs, are allowed at Park South or Clonmult Memorial Park.
Please do not bring single-use plastic bottles to either Park South or Clonmult Memorial Park.
Please put your rubbish in a bin or bag and please bring your gear home with you.
And always be aware of the open water surrounding the pitches in Park South.
If you are a coach, please pass on these simple messages to players and parents.
All members are asked to respect referees and their officials at all times.
Also if you are a coach, last person out locks the gate, toilet and container.
CHRISTMAS GREETING FROM GAA PRESIDENT
A chairde,
In this festive season I wish you all a Merry Christmas and a Happy New Year.
With a brief pause in our activities, I thank you for everything you do on behalf of Cumann Lúthchleas Gael. 2022 was another outstanding year for the Association and our progress at every level is driven by your boundless energy. I hope you enjoy the break and get to spend time with family and friends over Christmas and the New Year.
Nollaig Shona agus Athbhliain faoi mhaise daoibh go léir.
Labhrás Mac Carthaigh
Uachtarán Chumann Lúthchleas Gael