Midleton Hurling and Football, Ladies Football and Camogie Club News - December 1
01 December, 2022
LADIES FOOTBALL
MINOR COUNTY FINAL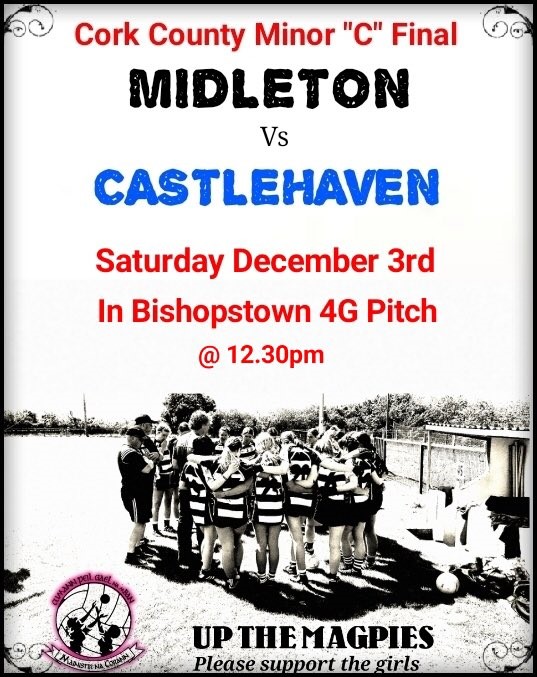 Wishing our Minor Ladies and their management panel the very best of luck this Saturday when they play Castlehaven at 12.30pm in Bishopstown GAA in the Minor Football County Championship Final. Please note all tickets must be purchased online using the following link :
https://www.universe.com/events/cork-lgfa-clonakilty-food-co-minor-c-championship-final-tickets-697YNC
Ticket costs : Adults €5, OAP/Students €3, U16's free.
Please come along and show your support for the girls. They have put in a great effort all year.
JUVENILES
CHRISTMAS PARTIES
Check out these upcoming Christmas parties for boys and girls in the club this Saturday, December 3....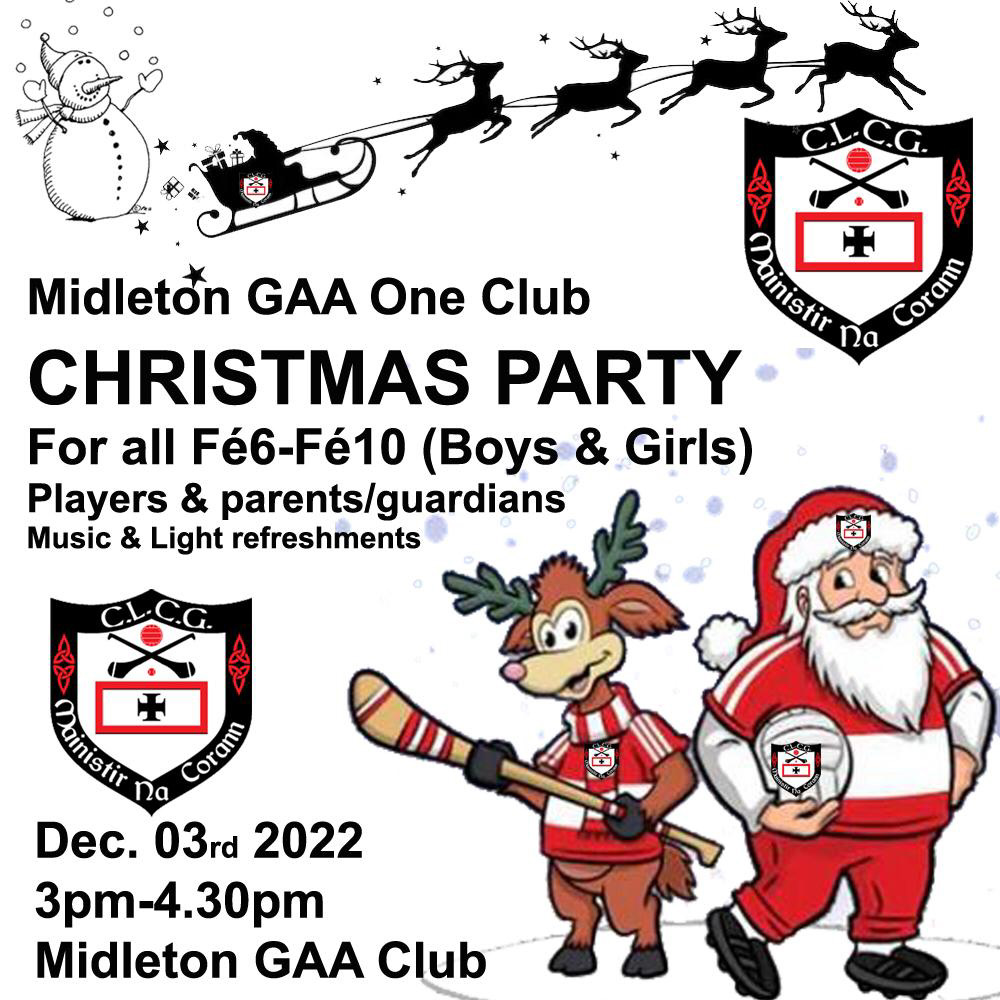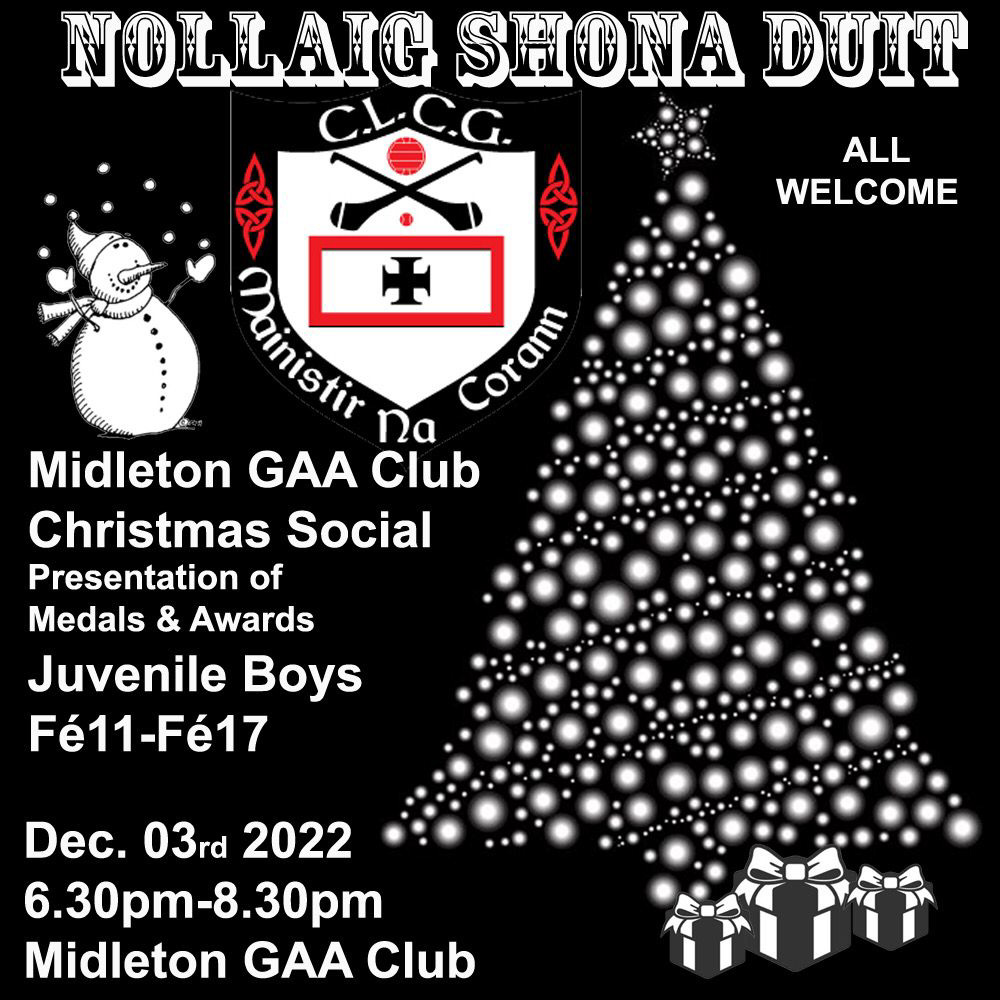 FÉ10S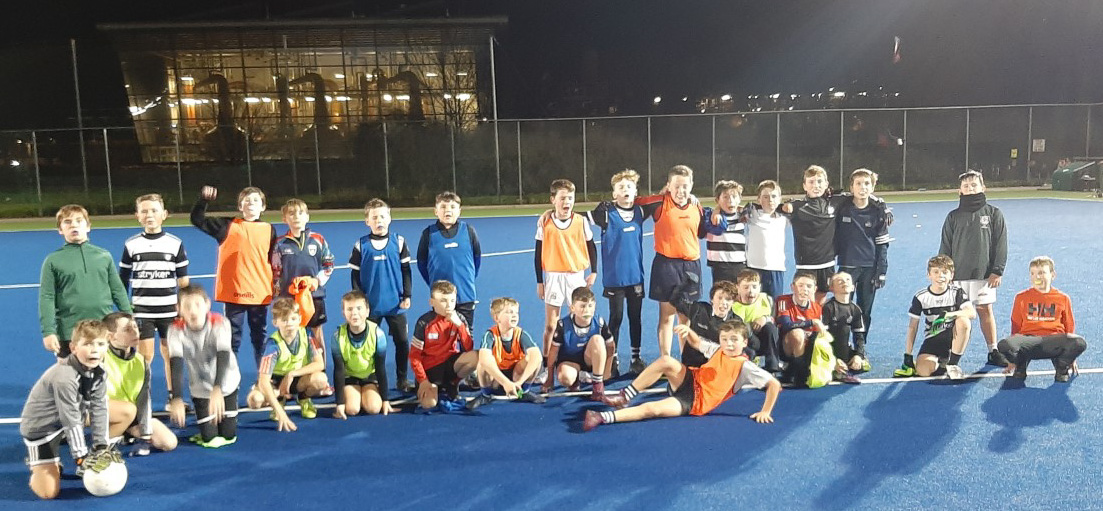 Our lads finished up the season in Midleton College on Wednesday evening. We mixed the Training Session up with both Hurling and Gaelic Football games. The numbers we were getting over the last few weeks for winter training sessions in Midleton College have been great. Well done to all.
We would like to thank the parents in this group for their great support throughout the year and wish them and all players a Happy Christmas.
See ye in the New Year again.
COACHING CONFERENCES AND WORKSHOPS
We constantly encourage all our coaches to partake in as many coaching conferences and workshops that they can. Rebel Óg run relly very courses and workshops and next Wednesday, December 7, in Pairc Uí Chaoimh there's a workshop from 7pm to 9pm titled, 'Pre-Season Athletic Development.' See details below. Midleton GAA will remiburse the cost of the course for club coaches. You can register at the following link..https://admin.sportsmanager.ie/sportlomo/registration/event-registration/index/13567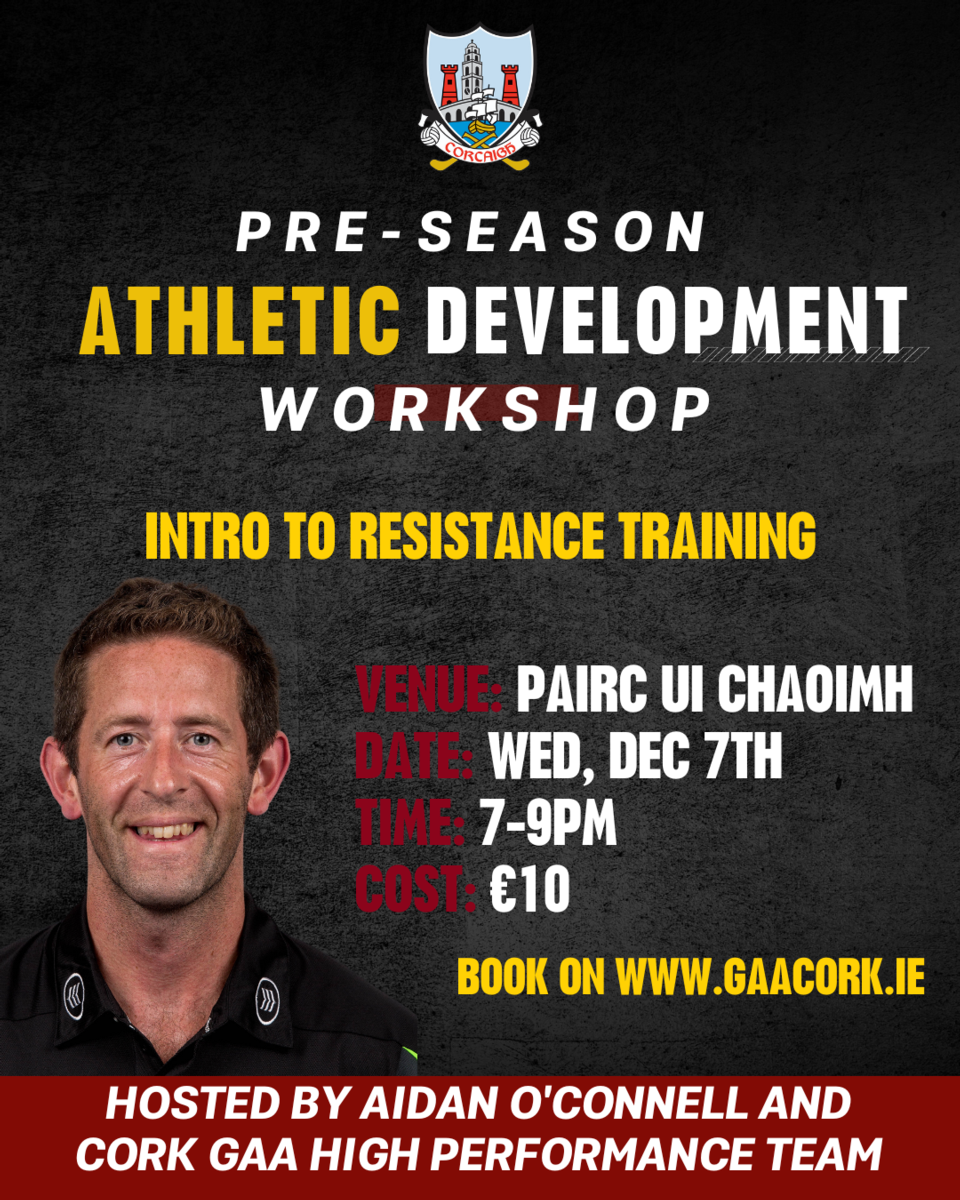 CHRISTMAS RAFFLE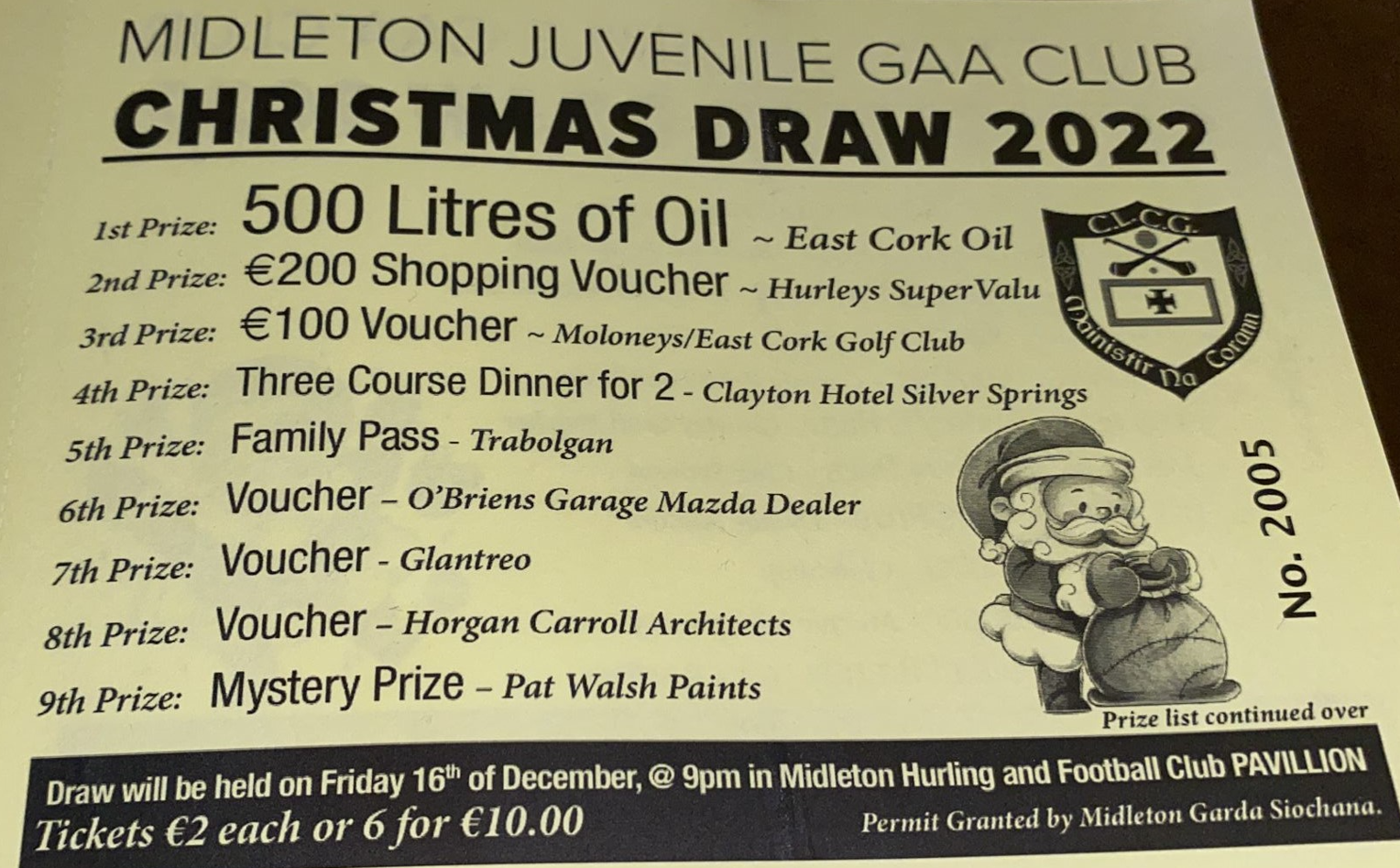 It's Christmas Raffle time again. Tickets are now on sale. €2 per ticket or €10 for six. Brilliant prizes as always and it's an important annual fundraiser for our club. Please support. You can purchase tickets at the link below.
POC FADA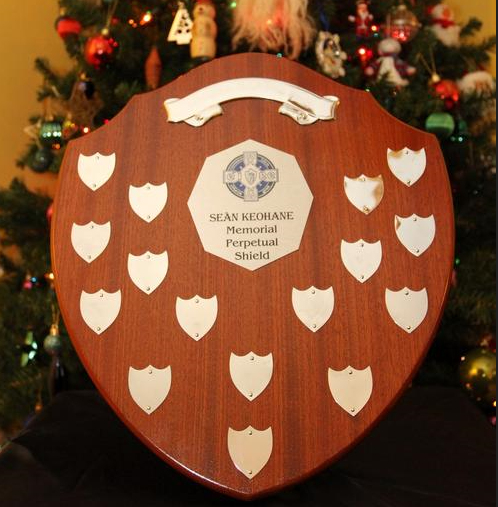 The 40th anniversary Midleton GAA Sen Keohane Memorial Long Puck will take place on St. Stephen's Day. Boys and girls from 12 to 92 (and above) are invited to come and take part in our annual St. Stephen's day of fun.
Buses will leave Midleton GAA Club at 9am. Entry for all adults taking part is €10. All proceeds from the day will be donated to the Mercy Hospital Foundation.
Non-members are more than welcome. Each player must wear a high-vis vest and bring their own sliothar.
MIDLETON GAA GOLF SOCIETY
Midleton GAA Golf society Christmas Hamper will take place at East Cork Golf Club on Saturday week, December 10 with the tee reserved from 12.30 to 1.40pm. The event is kindly sponsored by Hans Bauman of Healthwatch.

CLUB SHOP
TIME TO GET YOUR ORDERS IN FOR CHRISTMAS......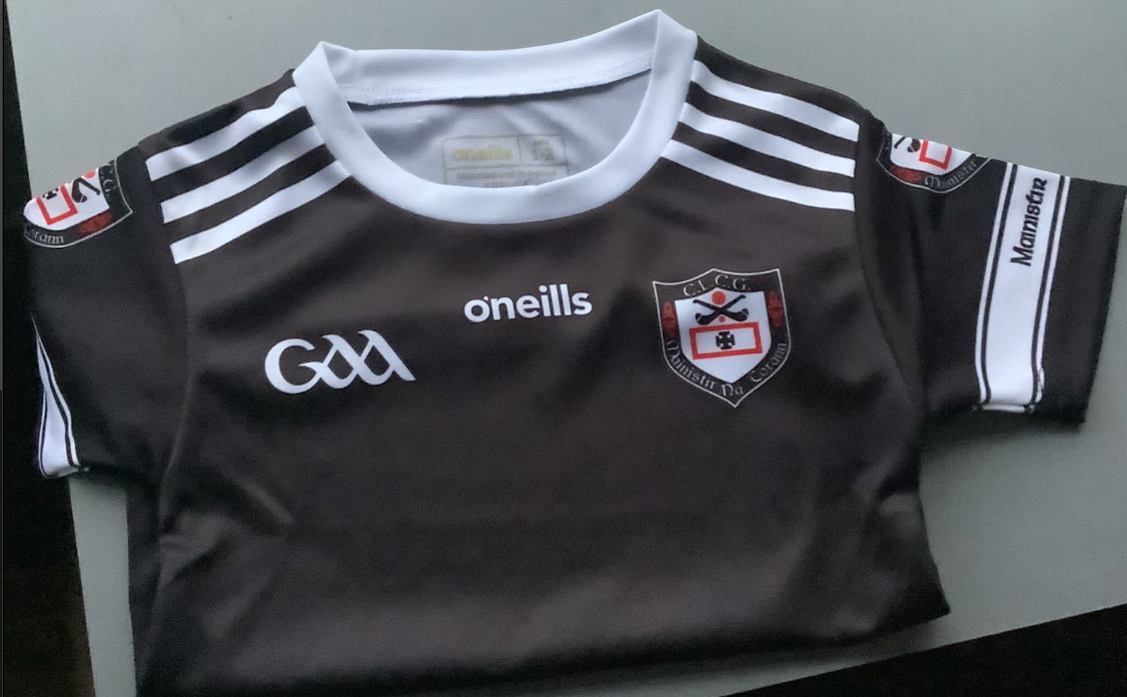 Please note that our shop is still online with collection only at the club on a Saturday morning.
All you have to do is go to the Klubfunder website (www.klubfunder.com/Clubs/Midleton%20GAA/ShopItems) and you will see the full range of what's available to buy. You can shop away to your heart's content, pay for it online and then collect your purchases at the club shop on Saturday morning between 9.30am and 10am. Thank you.
Above is the new black jersey which is now in stock for kids and adults.
CHRISTMAS DISCO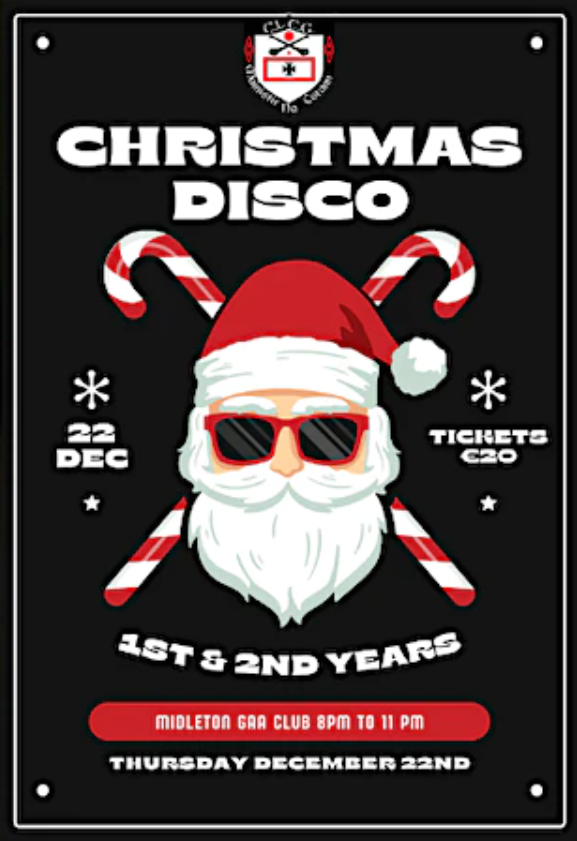 Tickets are SELLING FAST for our teen disco on Thursday, December 22. They can be bought at the link below....
Midleton GAA Christmas Disco December 22nd Tickets, Thu, Dec 22, 2022 at 8:00 PM | Eventbrite
LOTTO DRAW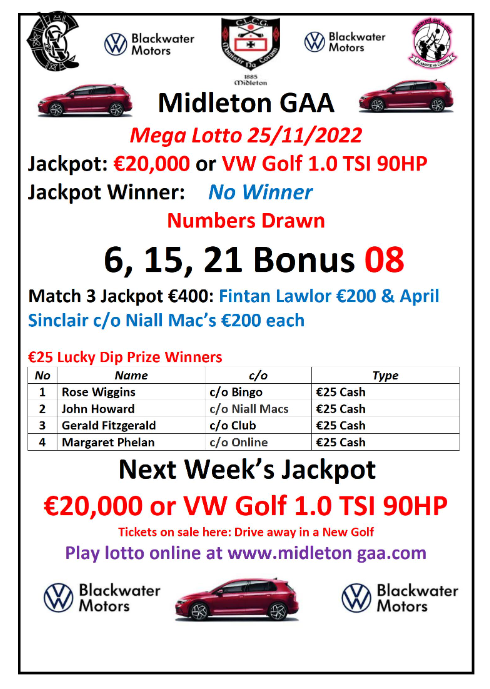 The numbers drawn this week were 6, 15, 21. The bonus was 8.
There was no Jackpot or winner this week but we had joint winners of our Match 3 jackpot - Fintan Lawlor and April SInclair who win €200 each.
The €25 Lucky Dip Prize Winners were: Rose Wiggins, John Howard, Gerald Fitzgerald and Margaret Phelan.
Play 24/7 at: http://www.klubfunder.com/Clubs/Midleton%20GAA/lotto
In total Midleton GAA will give out local business vouchers to the value of €3,800 every year as part of our "Shop Local, Buy Local" campaign.
How to play: tickets are on sale at Pat Walsh Paints, Chadwicks, Frank Murphy Butchers, Murphy's Pharmacy, Crowley Butchers, or buy online (see above).

LOTTO RENEWAL
The Lotto yearly renewal has come around again. You could win our Jackpot of €20k or drive away in a Blackwater Motors VW Golf. Last year we've had over 200 Lucky Dip Winners and 6 x €400 Match 3 Winners.
Support the Club by playing online at http://www.klubfunder.com/Clubs/Midleton%20GAA/lotto
Place the number of draws at 50 and pay €100 and be signed up for every draw for the next year
Play, Win & Support this important fundraiser for your Club. Thanks to those who already paid their annual Lotto renewal for the year ahead.
BINGO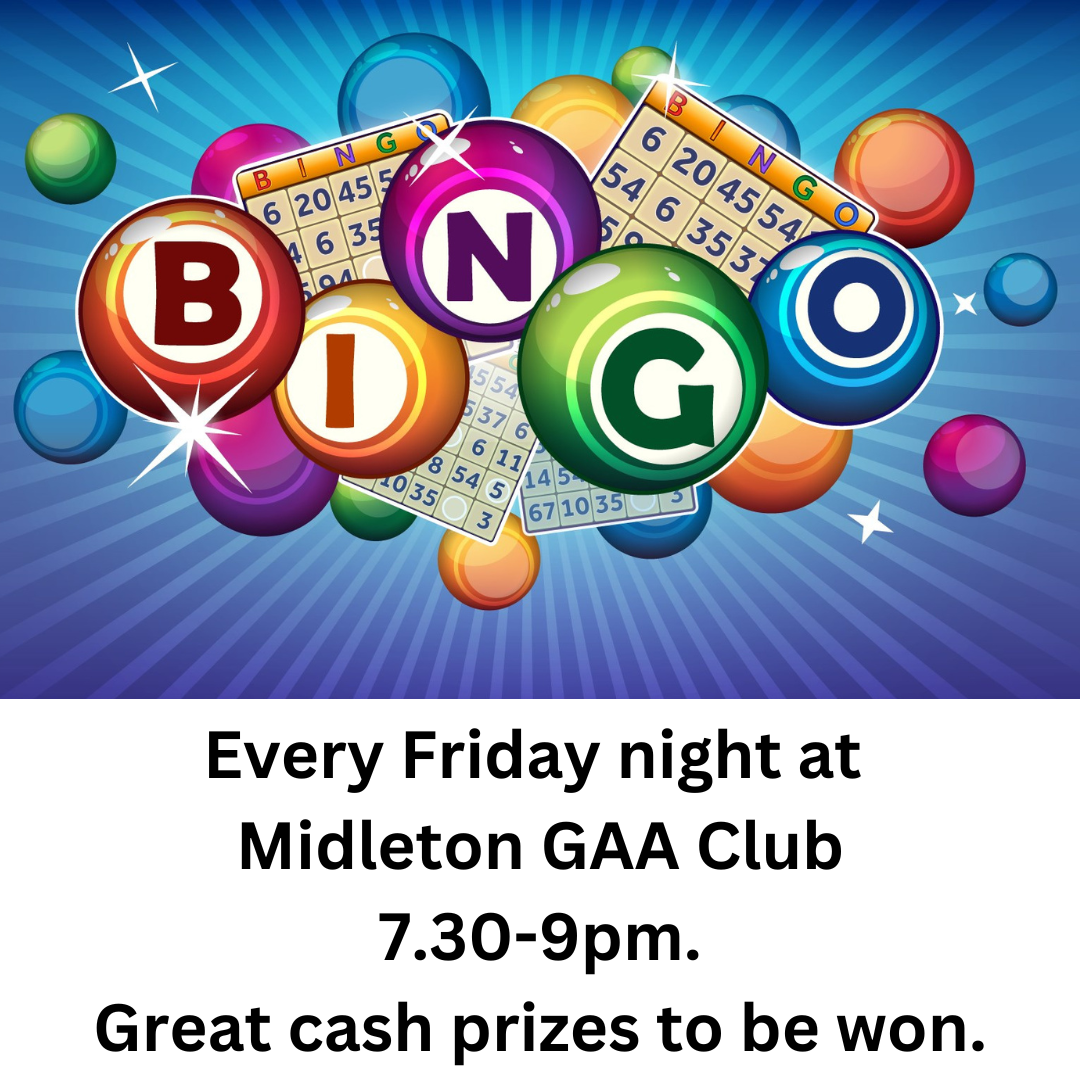 Fancy a good night which also benefits Midleton GAA club...what about bingo on Friday nights?
It kicks off at 7.30pn every Friday night and is over by 9pm. A single book is €6. A double book is €12. The numbers have been really good of late it would be brilliant to keep it going as it really benefits the club.
BIODIVERSITY/NATURE AWARENESS WALK AT PARK SOUTH
Due to the bad weather last Saturday's biodiversity/nature awareness walk in Park South by Geoff Eastaway was postponed. The walk will now take place on Saturday week, December 10 and will take approximately one hour and appropriate clothing/footwear should be worn. This is open to all club members adult and underage and will be highly educational.
NEW CORK KITS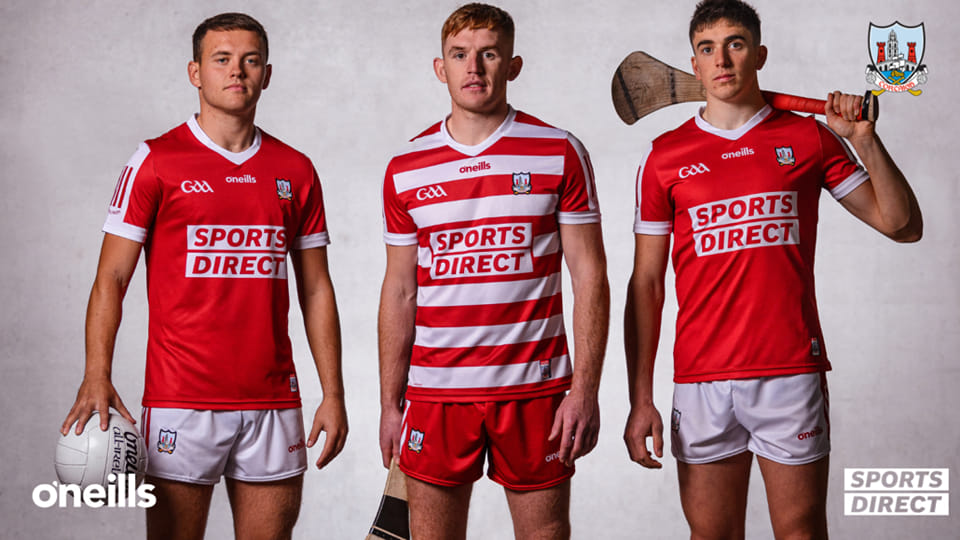 The new Cork GAA Kit for 2023 - manufactured by O'Neills – was launched this week and is now on sale exclusively in Sports Direct Stores or online at https://ie.sportsdirect.com and https://www.oneills.com/.
MIDLETON CBS TABLE QUIZ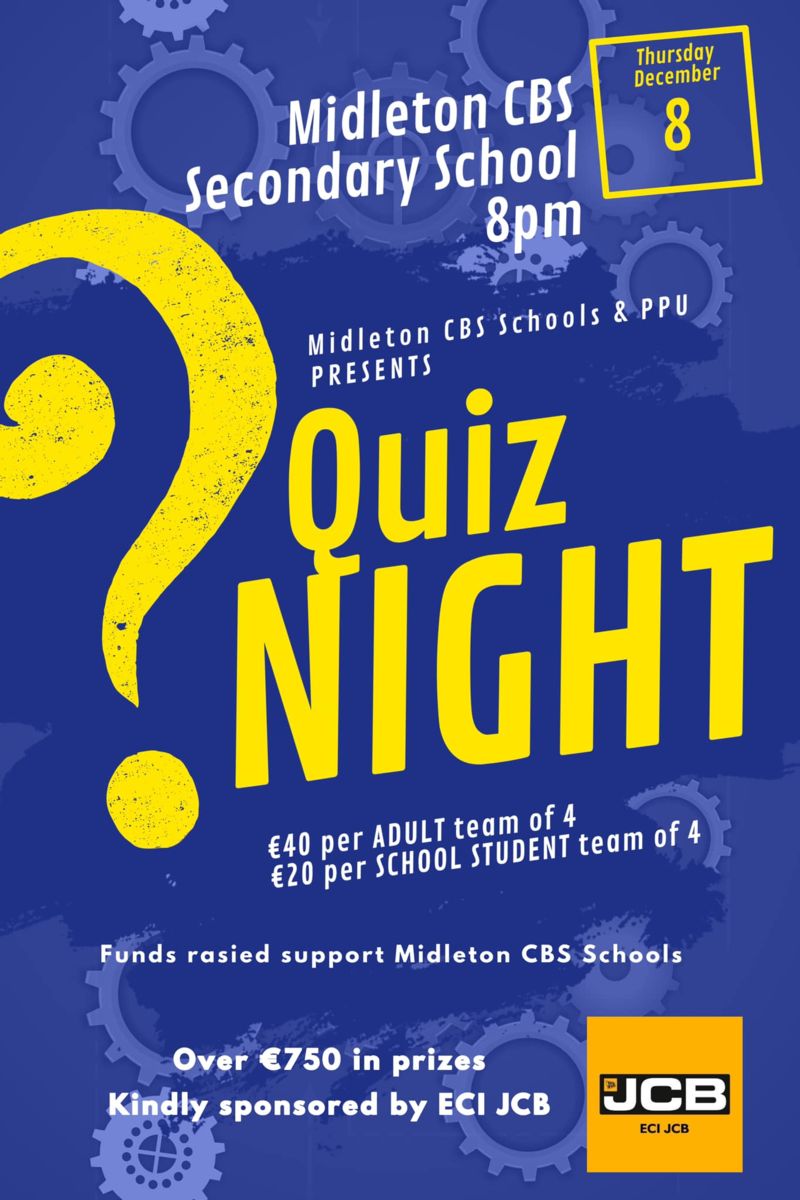 The Mideton CBS primary and secondary schools and the Past Pupils Union are holding a Table Quiz on next Thursday, night, December 8 at 8pm in the secondary school with all proceeds going back into the schools.
EAST CORK BOARD
Congratulations to the following who won their recent contests to take their places on the East Cork Board for 2023. Dick Fitzgerald of Russell Rovers as Vice Chairperson, Patrick Mulcahy of Killeagh as secretary and Damien Irwin of Killeagh as Development Officer.
Congratulations and best of luck also to Avril Geary of St. Itas who was elected as the first female Chairperson of the East Cork Board at last Wednesday night's Convention in Dungourney.
PLEASE PLAY YOUR PART
​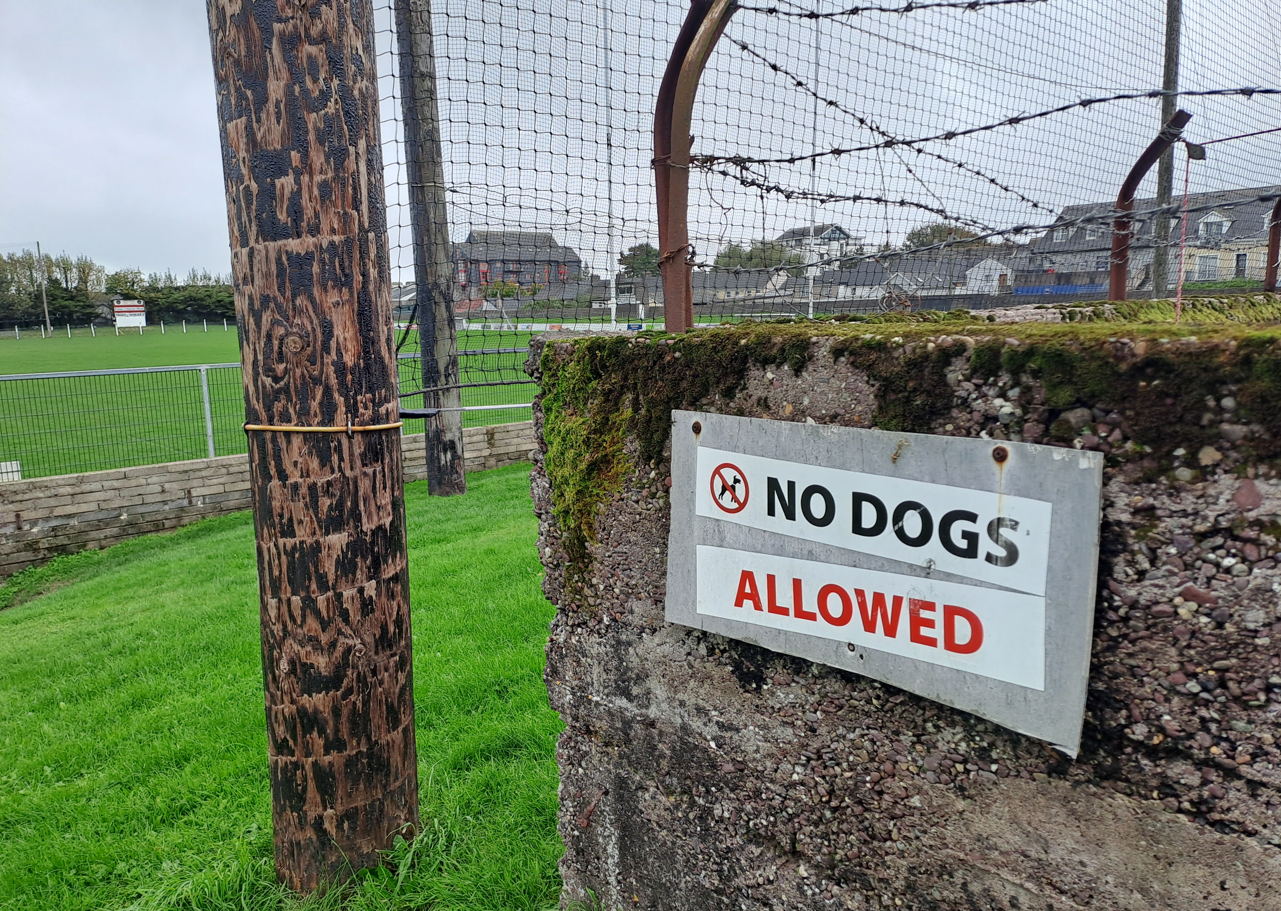 We are asking all players, mentors, parents, supporters and neighbours to please play their part by playing ball on the following.....
Please slow down entering and leaving Park South.
No dogs, except assistance dogs, are allowed at Park South or Clonmult Memorial Park.
Please do not bring single-use plastic bottles to either Park South or Clonmult Memorial Park.
Please put your rubbish in a bin or bag and please bring your gear home with you.
And always be aware of the open water surrounding the pitches in Park South.
If you are a coach, please pass on these simple messages to players and parents.
All members are asked to respect referees and their officials at all times.
Also if you are a coach, last person out locks the gate, toilet and container.
CONDOLENCES
We would like to extend our deepest sympathies to the family and friends of our former player and supporter, Bill O'Regan of Rosary Place, who died this week. Ar dheis Dé go raibh a anam.