Midleton Hurling and Football, Ladies Football and Camogie Club News - November 17
17 November, 2022
LADIES FOOTBALL
EAST CORK CHAMPIONS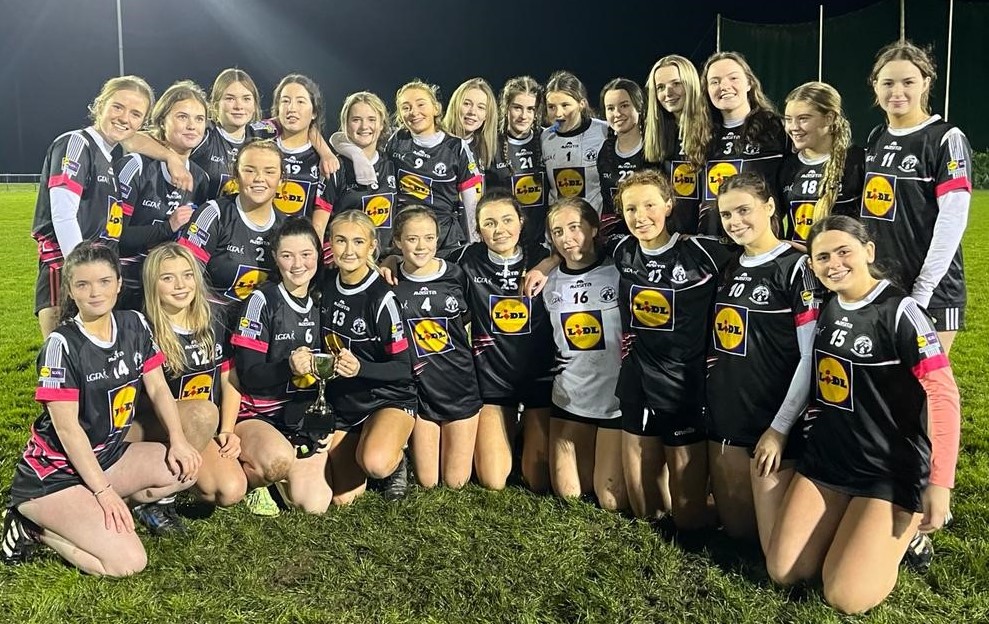 Congratulations to our Minor Ladies Football team who defeated Inch Rovers in a very sporting game to win the East Cork League on Wendnesday night.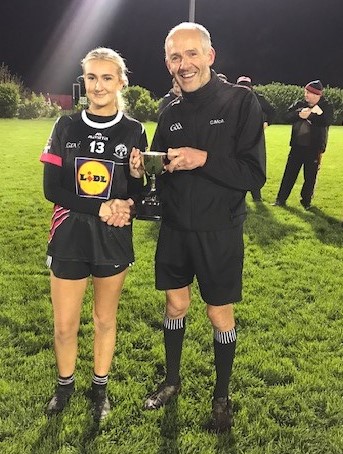 Under very heavy conditions the girls dug deep from start to finish with a great team performance from one to 25. A great testament to the management saw that every girl got game time. Captain Spohie McCarthy Keane (pictured above) was presented with the cup by referee Cathal McAllister. There is no rest time for this great team who will travel early on Saturday morning to play Donoughmore in the Cork County semi-final in Donoughmore. We wish you all the very best of luck.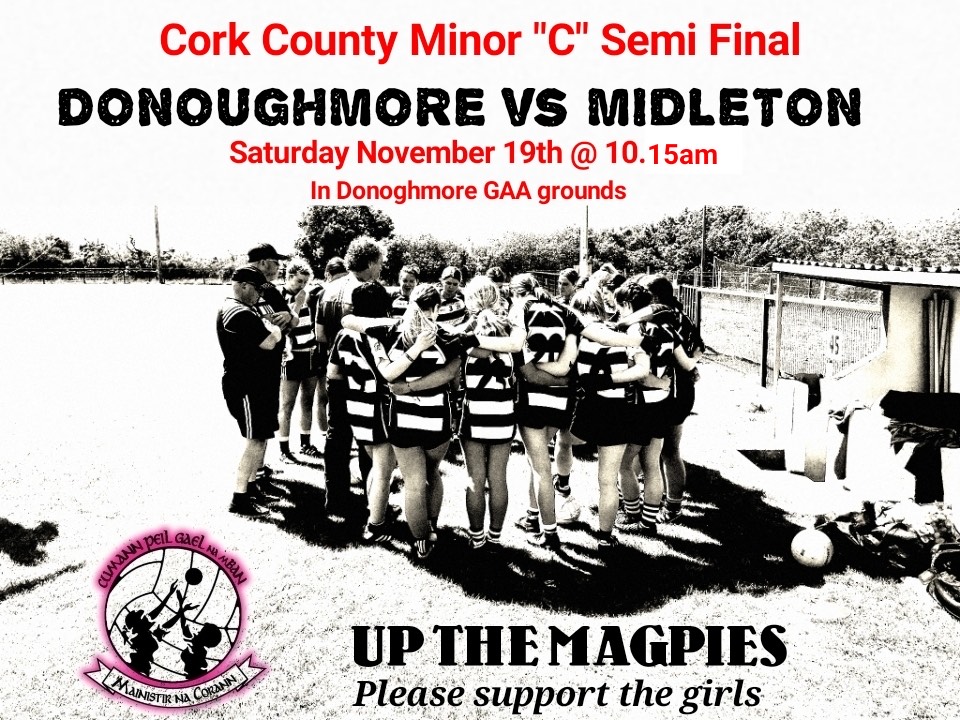 EAST CORK CHAMPIONSHIP
Best of luck to our U-16 ladies who will play Youghal on Sunday in Clonmult Memorial Park at 3.30pm in their East Cork Championship. Please come along and show your support for this team.
THANKS COACHES
Our U-8/10/12 and 14 girls are all now finished for the year. Many thanks to all the hard working coaches who give very generously of their time to ensure the smooth running of our club. Enjoy the well earned break.
ADULT CLUB
ANNUAL GENERAL MEETING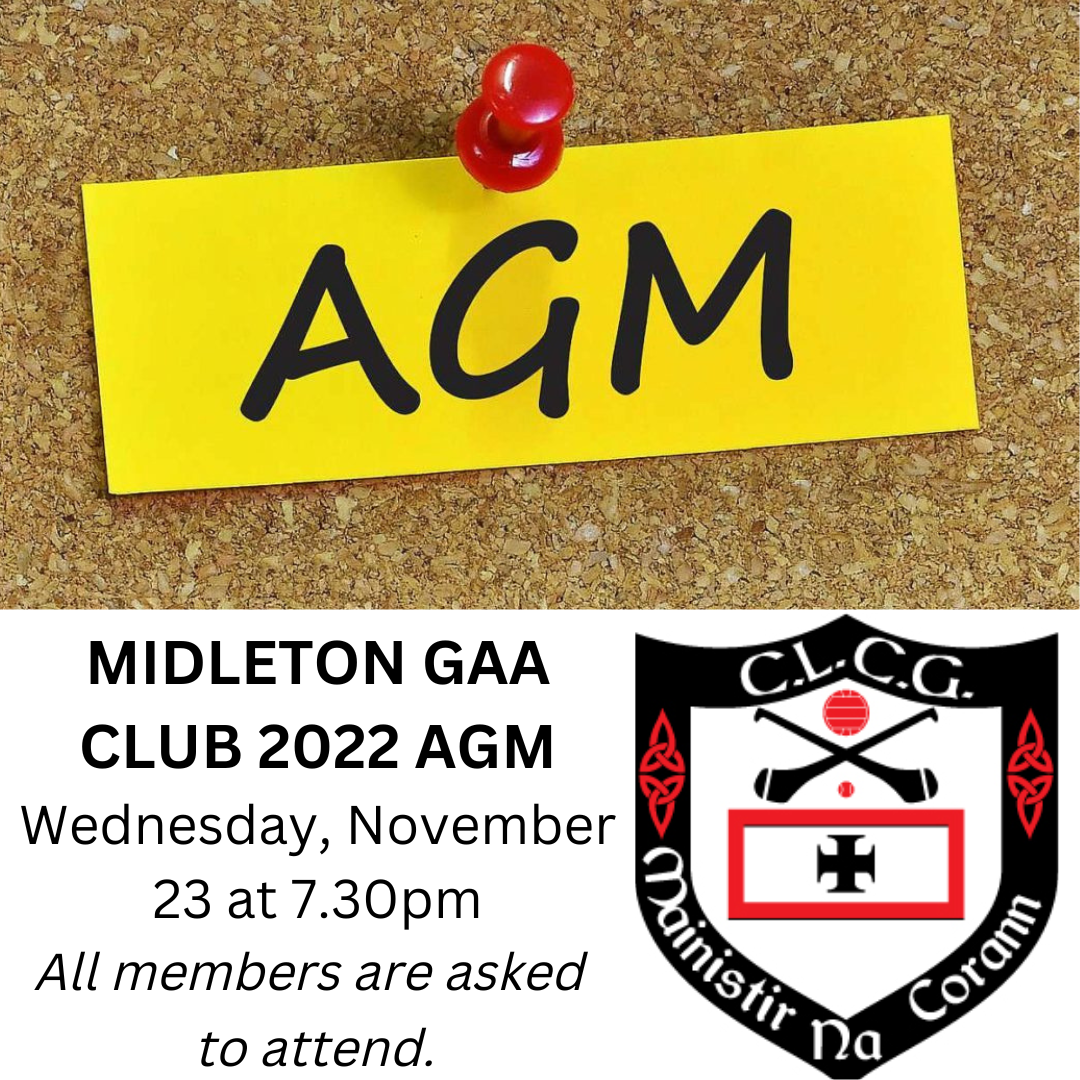 The Midleton GAA Club AGM will take place on this coming Wednesday, November 23 at 7.30pm. All members are asked to attend.
JUNIOR C FOOTBALL
On Saturday last we hosted Glanmire in Clonmult Memorial Park in the East Cork semi-final. On the day we had 23 players togged out to play which was excellent. We played really well in the first-half and playing with the breeze into the train station end we had some superb scores, which were the result of some excellent passing and movement. Unfortunately, we were unable to convert a couple of excellent goal scoring opportunities. The half time score read Midleton 1-9 Glanmire 1-5.
On the changeover we owned the ball for the first ten minutes but were not rewarded on the scoreboard. At this point Glanmire hit a purple patch and took some excellent scores to run out winners on a score line of Glanmire 4-8 to Midleton 1-13.
A huge thanks to all the players on what has been a brilliant effort throughout the year.
MIDLETON SQUAD: Padraig Dunlea, Jack McKay, Sean Corcoran, Daniel Wathen, Colin Sunderland, Barry Fitzgerald, Brendan Ferriter, Brion Saunderson, Evan McCarthy, Dan O'Sullivan, Kieran Denihan, Adam Faye, Kieran Lambert, Micheál Keohane and Andy Rea. Substitutes: Kieran Mulcahy, Gavin Reddy, Jan Haandrikman, Coleman Quinn, Davy O'Brien, Eoin Ferriter, Leonard Saunderson and Jerome Curtin.
Also, we would like to thank all the club volunteers who manage and take care of our pitches. It is really appreciated by all our players and on Saturday Clonmult was in superb condition, especially considering the time of year.
FÉ13S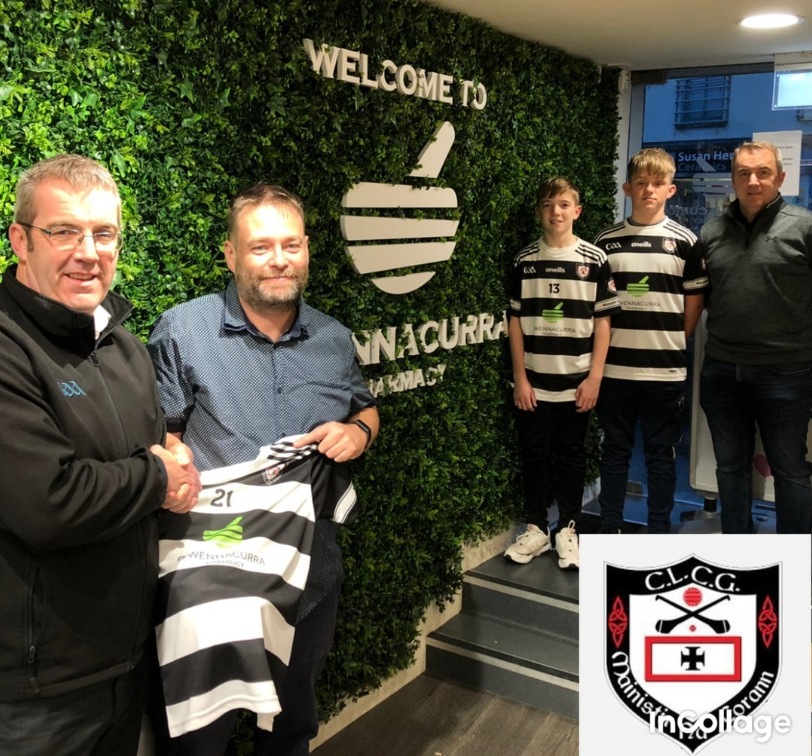 Thanks very much to Shane and all at Owenacurra Pharmacy, Main Street, who very generously sponsored a new set of jerseys for the Fé13 boys this week. In the picture is Shane with coaches Bernard and Aidan and Fé13 players Daniel and Josh.
DATE FOR YOUR DIARY
The 40th anniversary Midleton GAA Sen Keohane Memorial Long Puck will take place on St. Stephen's Day. Full details in the coming weeks. All proceedes from the day will be donated to the Mercy Hospital Foundation.
For the record the very first one, in 1982, was a two man team event and was won by Ger 'King' Power and Kevin Hennessy (not a bad team!!). Get practicising.
COACHING CONFERENCES AND WORKSHOPS
We constantly encourage all our coaches to partake in as many coaching conferences and workshops that they can. Rebel Óg run relly very courses and workshops and here are two upcoming ones.....this Saturday, November 19, there's a Strength & Conditioning Conference in Pairc Uí Chaoimh from 10am to 2pm and the following Saturday in Mallow there's a workshop from 10am to 12 noon titled, 'Using A Games Based Approach to maximise fun, particiapation and retention.' See details below. Midleton GAA will remiburse the cost of the course for club coaches. You can register at the following link....http://admin.sportsmanager.ie/sportlomo/registration/event-registration/index/13567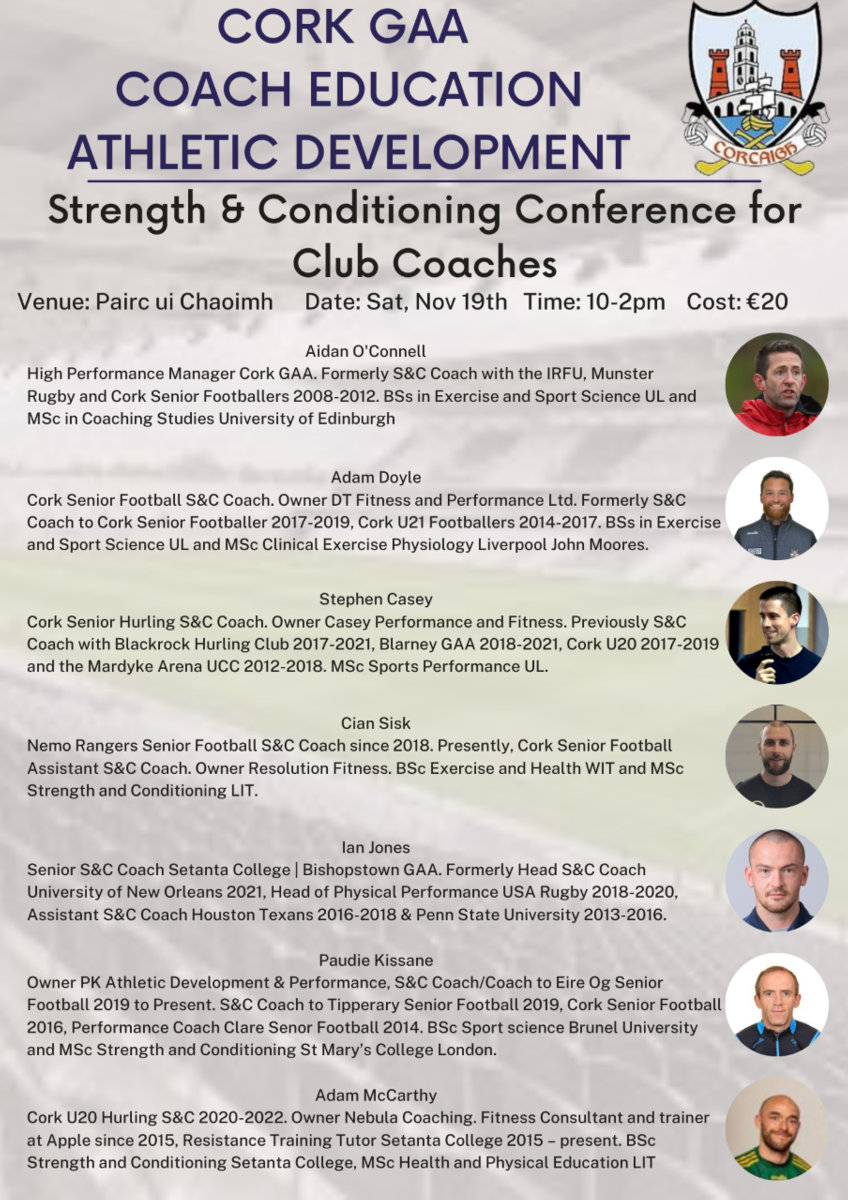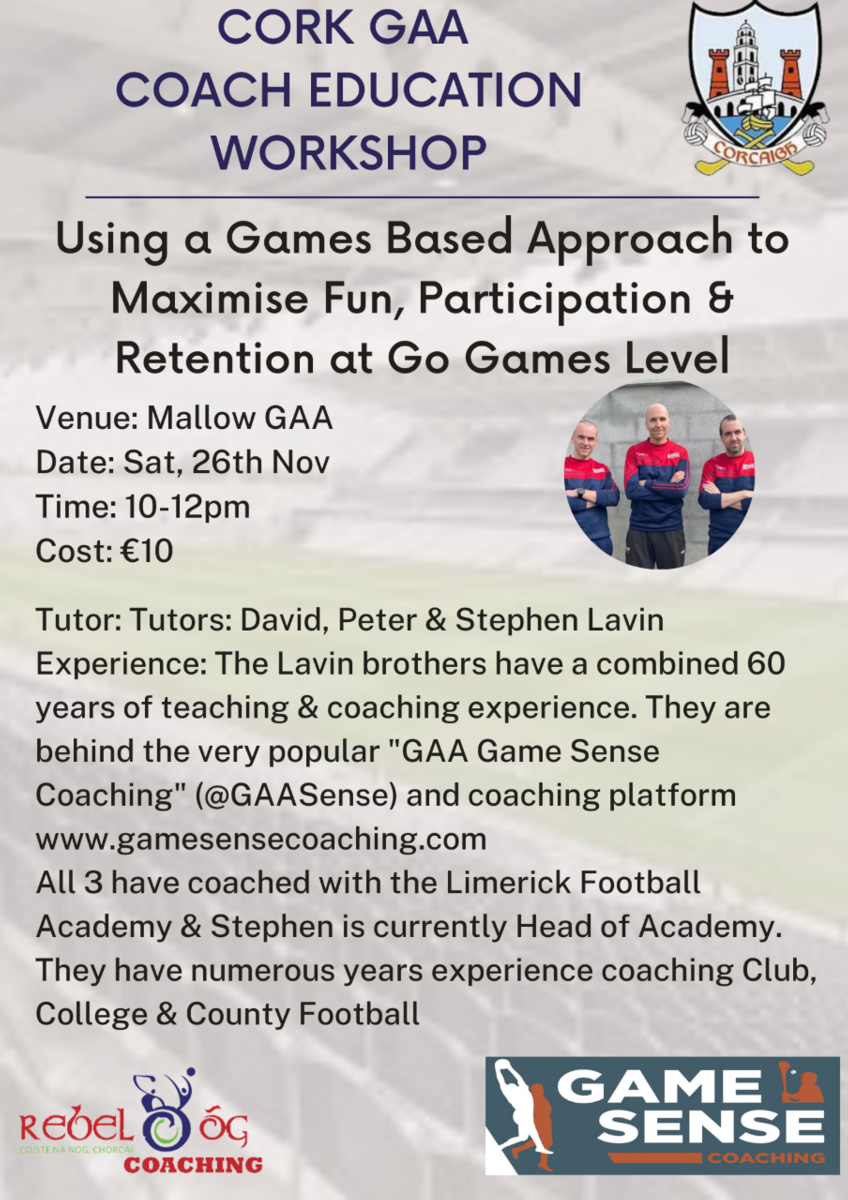 CAMOGIE
FÉ13S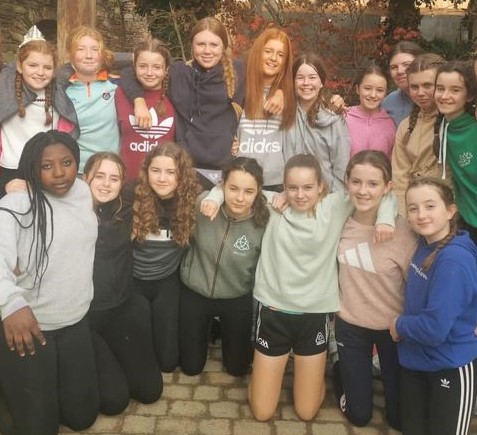 Our Fé13 girls travelled to West Cork Secret over the weekend for their end of year trip and what a day they had! We even had TG4 recording Part of the day which will be shown in early 2023! A great finish to our year thank you all for organising.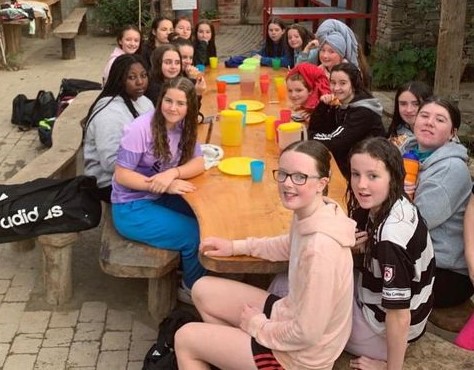 FÉ14S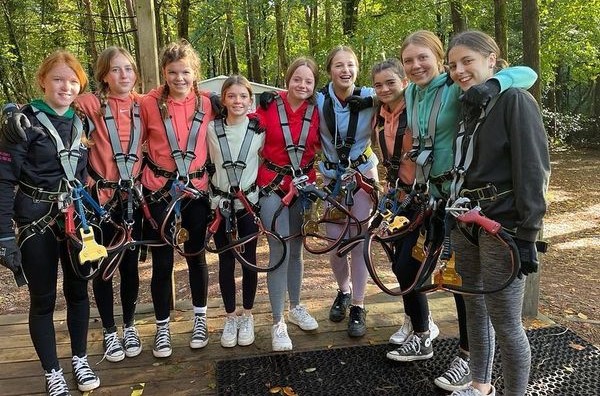 On Saturday our Fé14 Camogie team had their end of Year trip to Zipit in Farren Woods. We were very lucky to have clear blue skies on the day with 20 U-14 girls having the time of their lives at scary heights and not a bother on them. A big THANK YOU to Cronin Wall Properties for sponsoring Zipit and the pizzas. Well done to all the girls again on a great 2022 season and looking forward to 2023 already!!! Magpies Abu!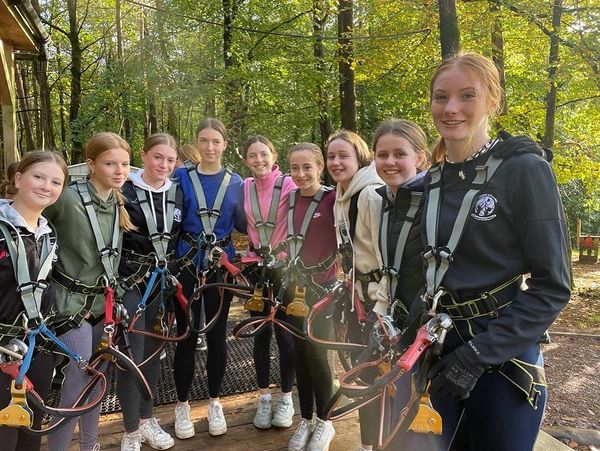 ENGAGEMENT NEWS
A big congratulations to former player, Killian Burke and Emma Haughney who recently got engaged in Chicago. Well done guys and best of luck for the future.
CHRISTMAS RAFFLE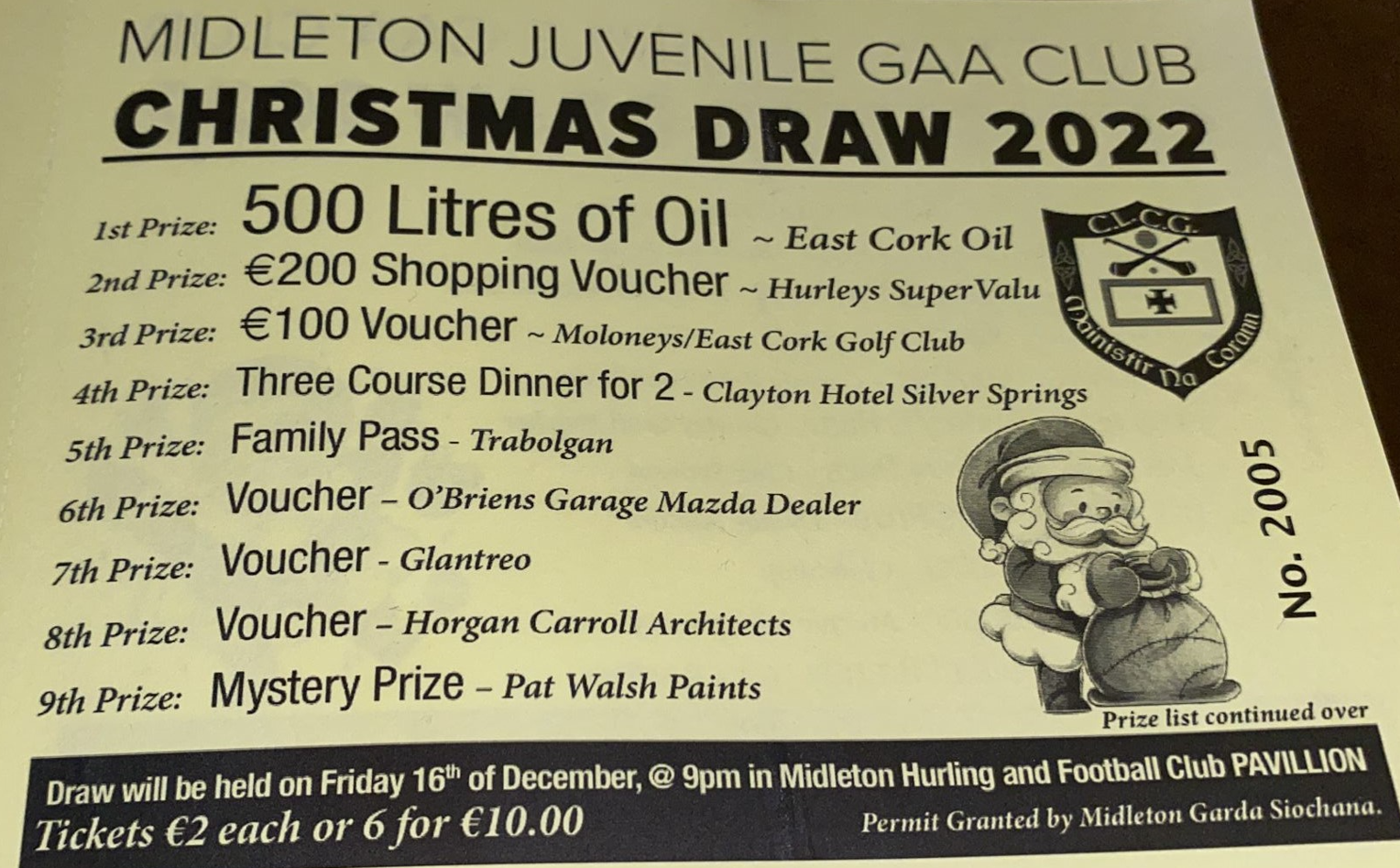 It's Christmas Raffle time again. Tickets are now on sale. €2 per ticket or €10 for six. Brilliant prizes as always and it's an important annual fundraiser for our club. Please support. You can purchase tickets at the link below.
CLUB SHOP
TIME TO GET YOUR ORDERS IN FOR CHRISTMAS......
Please note that our shop is still online with collection only at the club on a Saturday morning.
All you have to do is go to the Klubfunder website (www.klubfunder.com/Clubs/Midleton%20GAA/ShopItems) and you will see the full range of what's available to buy. You can shop away to your heart's content, pay for it online and then collect your purchases at the club shop on Saturday morning between 9.30am and 10am. Thank you.
CHRISTMAS DISCO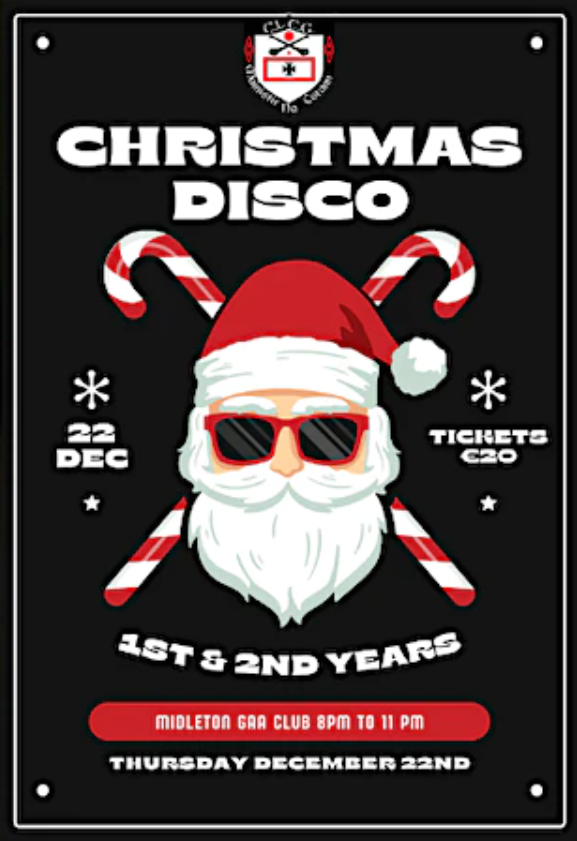 I know it's a bit early for the C word but after the brilliant success of last weekend's sold out Halloween disco, tickets are now on sale for the next disco on Thursday, December 22. They can be bought at the link below....
Midleton GAA Christmas Disco December 22nd Tickets, Thu, Dec 22, 2022 at 8:00 PM | Eventbrite
LOTTO DRAW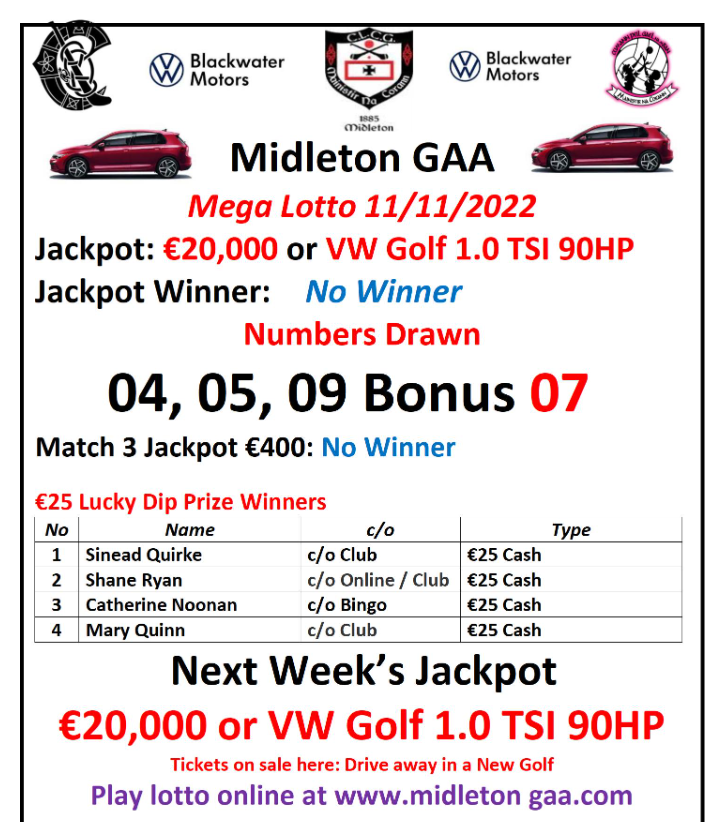 The numbers drawn this week were 4, 5, 9. The bonus was 7.
There was no Jackpot or Match 3 jackpot winner this week.
The €25 Lucky Dip Prize Winners were: Sinead Quirke, Shane Ryan, Catherine Noonan and Mary Quinn.
Play 24/7 at: http://www.klubfunder.com/Clubs/Midleton%20GAA/lotto
In total Midleton GAA will give out local business vouchers to the value of €3,800 every year as part of our "Shop Local, Buy Local" campaign.
How to play: tickets are on sale at Pat Walsh Paints, Chadwicks, Frank Murphy Butchers, Murphy's Pharmacy, Crowley Butchers, or buy online (see above).

LOTTO RENEWAL
The Lotto yearly renewal has come around again. You could win our Jackpot of €20k or drive away in a Blackwater Motors VW Golf. Last year we've had over 200 Lucky Dip Winners and 6 x €400 Match 3 Winners.
Support the Club by playing online at http://www.klubfunder.com/Clubs/Midleton%20GAA/lotto
Place the number of draws at 50 and pay €100 and be signed up for every draw for the next year
Play, Win & Support this important fundraiser for your Club. Thanks to those who already paid their annual Lotto renewal for the year ahead.
BINGO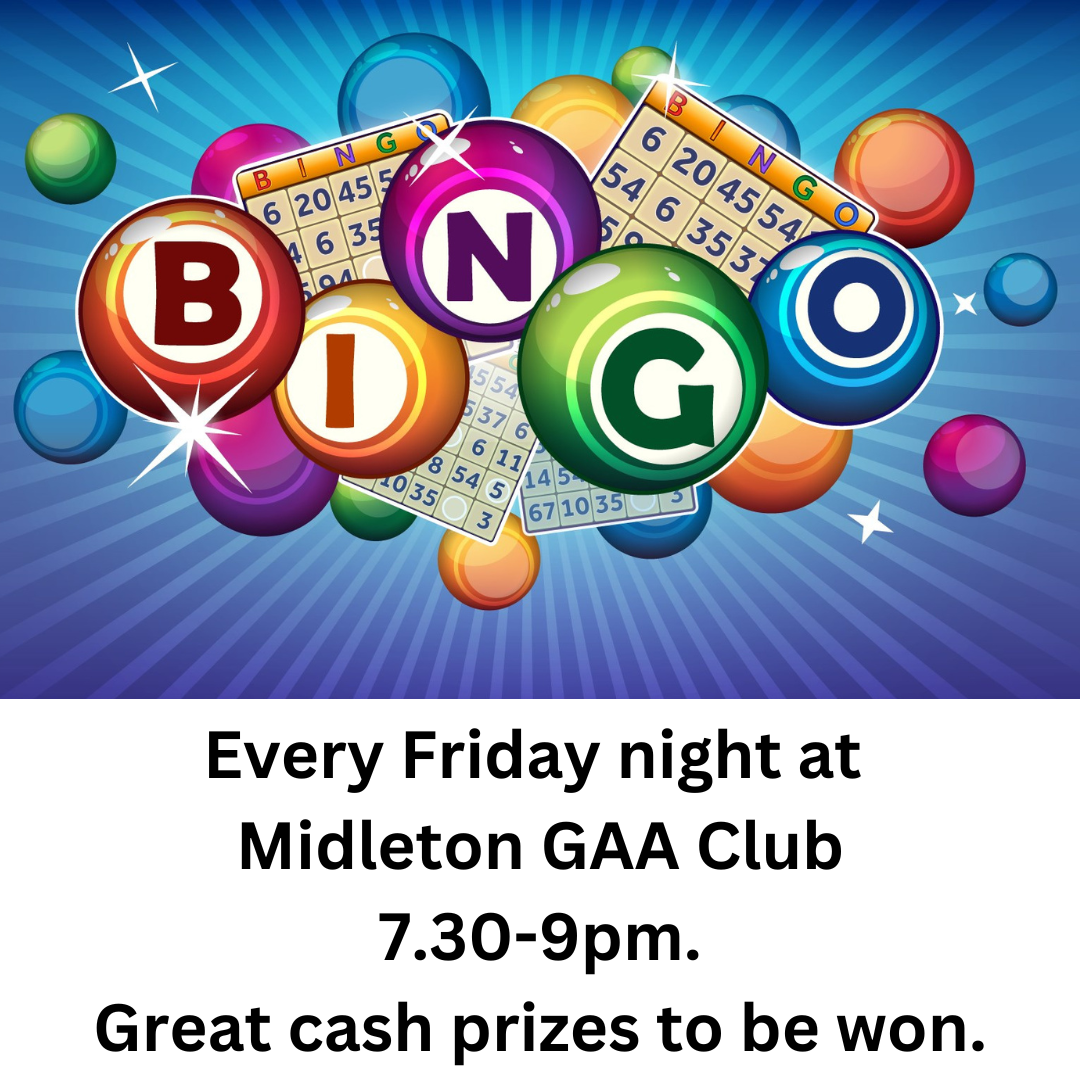 Fancy a good night which also benefits Midleton GAA club...what about bingo on Friday nights?
It kicks off at 7.30pn every Friday night and is over by 9pm. A single book is €6. A double book is €12. The numbers have been really good of late it would be brilliant to keep it going as it really benefits the club.
IRISH & TRAD NIGHT
Oiche Ghaelach agus Cultúir, Irish and Trad Night in club this Friday night (November 18) at 9.15pm. Fáilte roimh chách.
SOCIAL DANCING
Social dancing returns this Saturday night with music by Adrian Ryan from 9.15pm.
BIODIVERSITY/NATURE AWARENESS WALK AT PARK SOUTH
Club member Geoff Eastaway will conduct a biodiversity/nature awareness walk in Park South on Saturday week, November 26 at 10.30am. The walk will take approximately one hour and appropriate clothing/footwear should be worn. This is open to all club members adult and underage and will be highly educational.
PITCH OF THE YEAR
A big congratulations to all involved in Páirc Uí Chaoimh, after it was this week awarded 'Pitch of the Year' from the GAA National Pitch Workgroup.
A big well done to groundsman Colm Daly at to John Murphy of Goldcrop and Stephen Forest and the team at Turftech who have also done great work at our new grounds at Park South.
PLEASE PLAY YOUR PART
​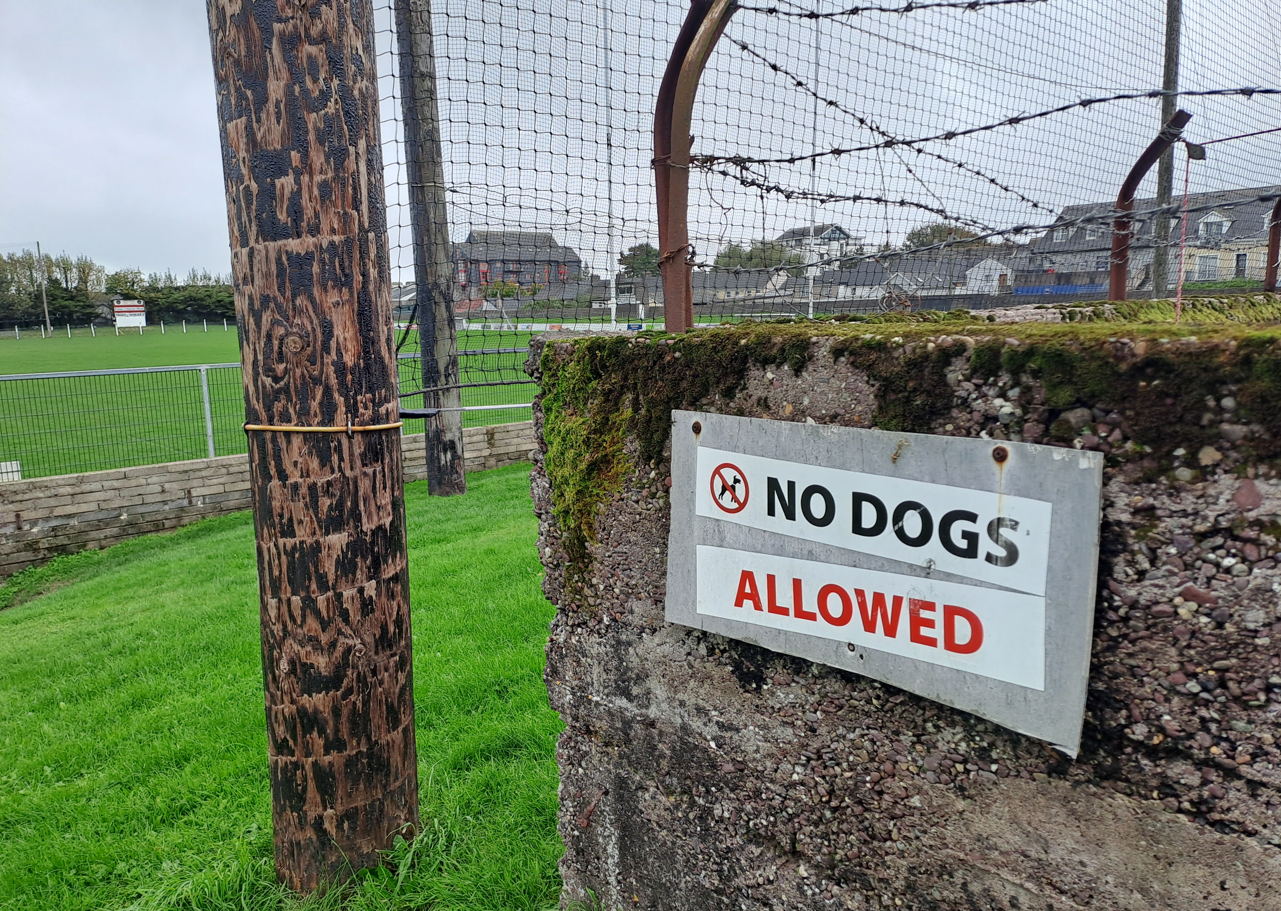 We are asking all players, mentors, parents, supporters and neighbours to please play their part by playing ball on the following.....
Please slow down entering and leaving Park South.
No dogs, except assistance dogs, are allowed at Park South or Clonmult Memorial Park.
Please do not bring single-use plastic bottles to either Park South or Clonmult Memorial Park.
Please put your rubbish in a bin or bag and please bring your gear home with you.
And always be aware of the open water surrounding the pitches in Park South.
If you are a coach, please pass on these simple messages to players and parents.
All members are asked to respect referees and their officials at all times.
Also if you are a coach, last person out locks the gate, toilet and container.
CONDOLENCES
All at Midleton GAA club would like to send our heartfelt condolences to Dani Hurley and all the Minogue family of Freshford, Co. Kilkenny on the recent death of her mother Mary. Ar dheis Dé go raibh a hanam.