Midleton Hurling and Football, Ladies Football and Camogie Club News - October 13
13 October, 2022
FÉ19 EAST DIVISION 1 FOOTBALL CHAMPIONSHIP FINAL
MIDLETON 3-7 ST. COLMCILLE'S 2-11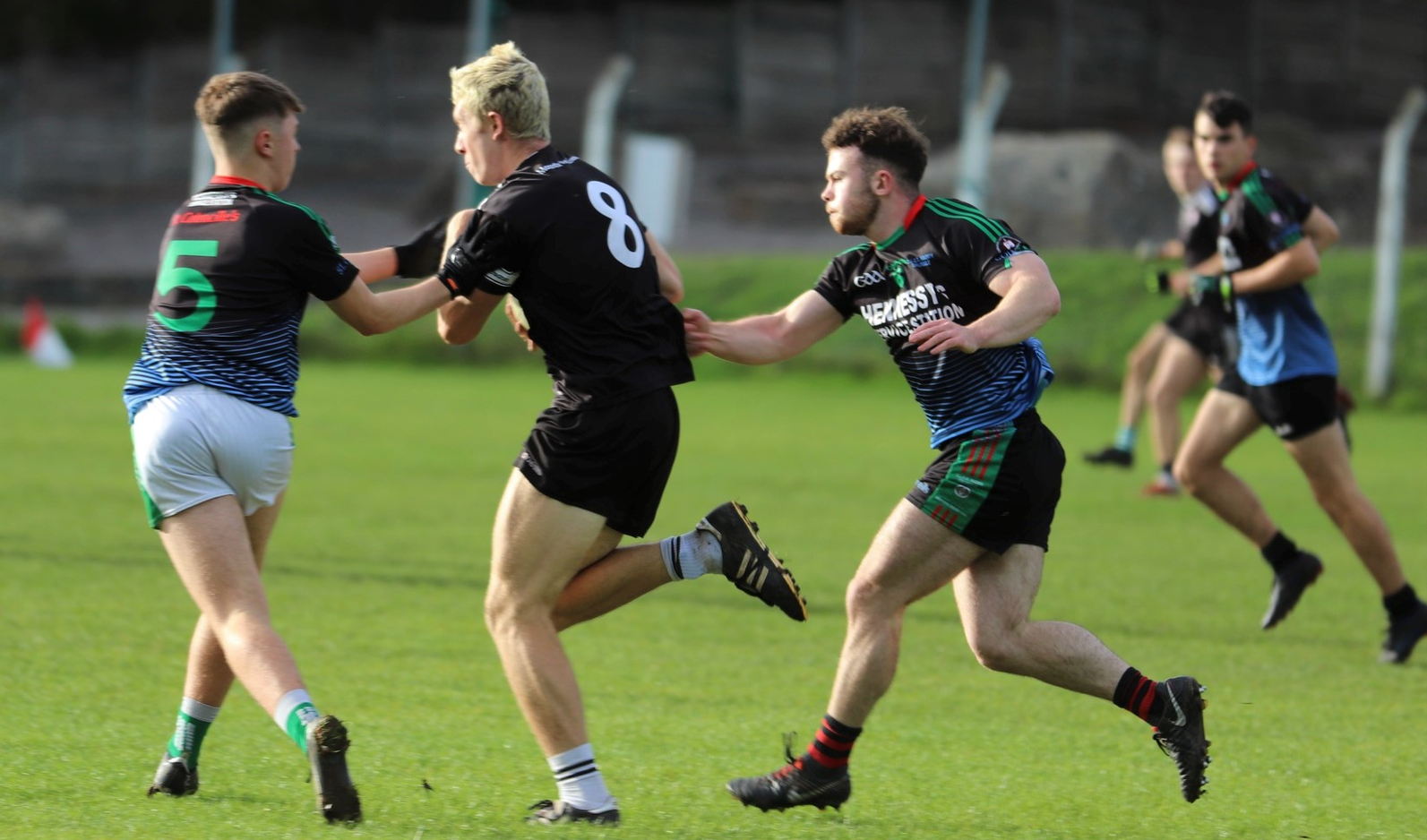 Niall Corcoran on the rampage against St. Colmcille's in Ballygarvan.
If ever there was a game that lived up to the tag of so near and yet so far then this was it.
We came up agonisingly short in the end but huge credit must go to this team and their mentors for a brilliant run in this championship and a brilliant effort in the final against a very decent St. Colmcille's side, who are an amalgamation of Carrignavar and White's Cross.
We started brightly in this game and led by a point to no score after five minutes through a Davy Cremin free. But back came St. Colmcille's and with 16 minutes played they led by 1-3 to 0-1. But points from Mikey Finn (2) and Davy Cremin brought us to within a goal with time running out in the opening half and with the very last play of the first period the Midleton captain Liam McGrath struck for an excellent goal to ensure that we went in at the break level on a score of 1-4 apiece.
The start of the second-half was all St. Colmcille's and they hit six unanswered points in the opening seven minutes to push clear. Alex Howard then pulled off another fine save before St. Colmcille's were reduced to 14 men on 41 minutes. Two Evan Kelly pointed frees pulled us back into it but a St. Colmcille's goal with 48 minutes gone put them 2-11 to 1-6 to put them very much in the driving seat.
Evan Kelly pointed another free before Brion Saunderson rattled the net with a bullet of a shot with five minutes to go to cut the deficit to four (2-11 to 2-7) and we were right back in it.
We had two good goal chances that went out for 45s and then with 63 minutes on the clock Liam McGrath pounced for his second goal of the game to leave just a single point (2-11 to 3-7) between the teams but unfortunately time ran out and we couldn't find an equaliser or a winning goal and St. Colmcille's held on for a narrow win after a cracking game.
Hard luck lads on an excellent effort.
MIDLETON: Alex Howard, Ben Kennelly, Dara McCarthy, Rory Hartnett, Colin Sunderland, Ciarmhac Smyth, Neil Fitzgerald, Niall Corcoran, Evan McCarthy, Liam McGrath (Captain), Mikey Finn, Cian Murray, Cathal Beausang, Davy Cremin, Ben O'Neill. Subs: Evan Kelly for O'Neill, Adam Fay for Fitzgerld, Dara Mooney for Murray, Brion Saunderson for Sunderland and Stuart O'Connor for Beausang.
FÉ19 HURLING COUNTY FINAL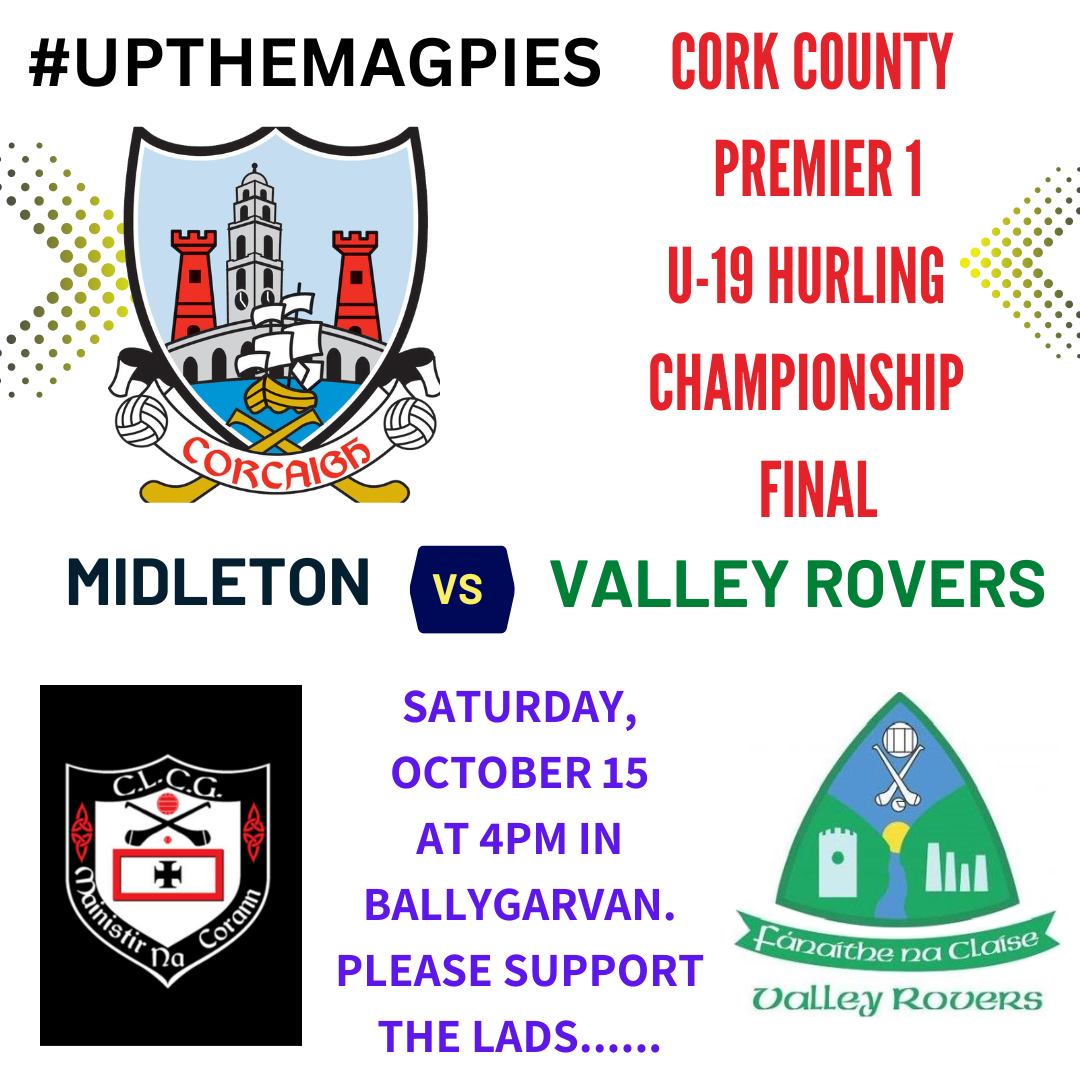 Despite the disappointment of last Saturday's Football Final defeat, our Fé19s have the perfect opportunity on Saturday next to atone for that defeat by claiming the Premier 1 County Hurling Championship title when they take on Valley Rovers at 4 pm.
While we were hoping (and were led to believe) that this game would be played in Pairc Uí Chaoimh, but it has been fixed (once again) for Ballygarvan.
Best of luck to all the players and our management team as we bid to follow up our wins over Sarsfields and Blackrock by becoming the first-ever winners of this championship. Please come out and support the lads if you can at all.
Please note that tickets must be pre-purchased in advance for this game at the link below. No cash or card will be taken at the gate.
https://www.universe.com/events/valley-rovers-v-midleton-u19co-op-superstores-hurling-championship-p1-final-tickets-T1NFP8
LADIES FOOTBALL
JUNIOR CHAMPIONSHIP SEMI-FINAL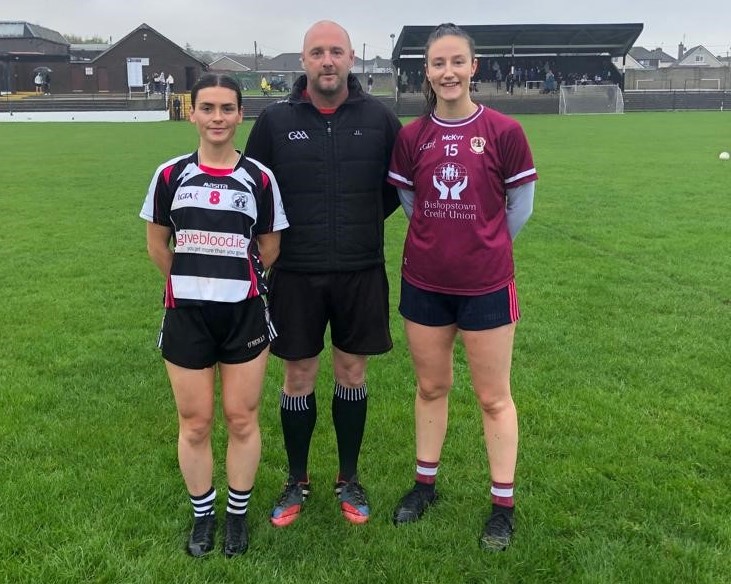 Midleton captain, Abby Quirke, with the referee and the Bishopstown captain before last Sunday's game.
Our Junior Ladies had home advantage for their semi-final meeting against Bishopstown last Sunday evening. With heavy rainfall throughout the day we knew that the ground conditions were going to be extremely heavy but nothing prepared us for the onslaught of rain we experienced throughout the game.
It was one of the toughest games we have played. Going in at half-time we had a slight lead but we did not perform to our best potential. It was all to play for in the second-half and the ladies did not let us down. Some tremendous scores saw us over the line. Final score Midleton 2-6 Bishopstown 1-6. County Final here we come!
We now play Carrigaline in the final on Sunday, October 23rd at 1pm. Venue to be confirmed.
MINOR EAST CORK LEAGUE FINAL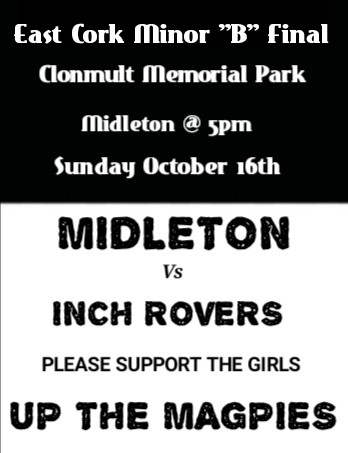 Wishing our minor girls and their management the very best of luck this Sunday in their final. It's a home game for us so we would appreciate your support. We play Inch Rovers in Clonmult Memorial park at 5pm.
UPCOMING FIXTURES
Saturday 15th U-16 Championship v Carrigaline in Park South at 12 o clock
Sunday 16th U-11 Blitz in Glanmire GAA Club. Please note earlier time of 12.30pm
Sunday 16th U-14 league away to Erins Own at 2pm
Monday 17th U-12 league away to Watergrasshill at 7pm
JUVENILES
FÉ8S


On Saturday morning our young Magpies travelled to Pairc Ui Chaoimh for a monster football blitz. It was an action-packed morning, where we fielded four teams and each team played three games. A great morning was had by all.
FÉ17S
Best of luck to our Fé17 C3 team who take on Inniscarra in the Rebel Og Coiste Hurling League semi-final in Midleton on this Saturday (October 15) at 11am.
CAMOGIE
RECRUITMENT FOR JUNIOR INFANT GIRLS FOR 2023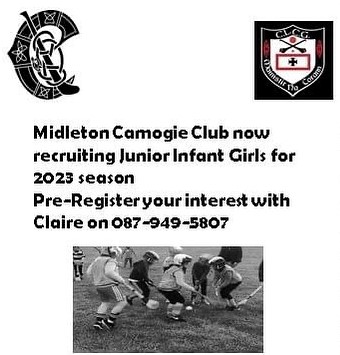 If your daughter is interested in joining our club for the 2023 Season and is in Junior Infants please contact our Secretary Claire at 087-9495807.
FÉ14B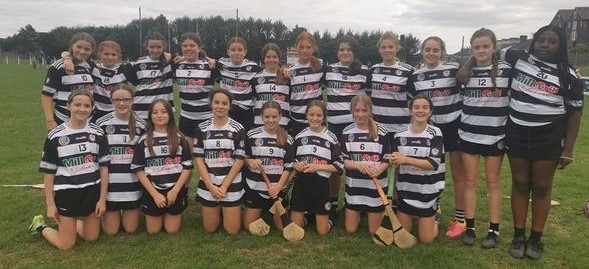 Our Fé14 B2 Team has reached the County Final and will compete against Douglas for the title. The final will take place on Sunday next the 15th of October with a throw-in time of 2.30 pm at the Cork Camogie Grounds in Castle Road! All support is welcome on the day to cheer on our girls!
MINOR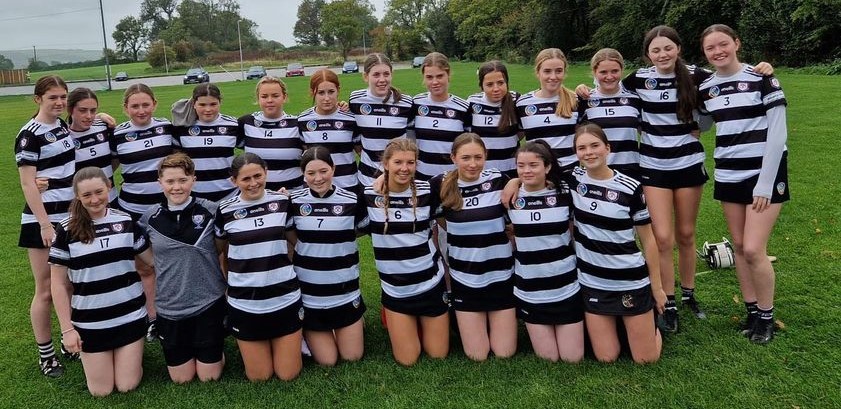 Well done to our minor ladies who had a great start to our Minor championship round-robin last weekend. We travelled to Valley Rovers and came away with a well-deserved victory.
Our next match was a home fixture against Tracton which we played on Sunday in Park South. Again our mighty minors didn't disappoint! Congratulations to our girls and their management after a tremendous win against a very strong Tracton side.
Full-Time Score: Midleton 3-7 Tracton 1-10.
SIGN OF THE WEEK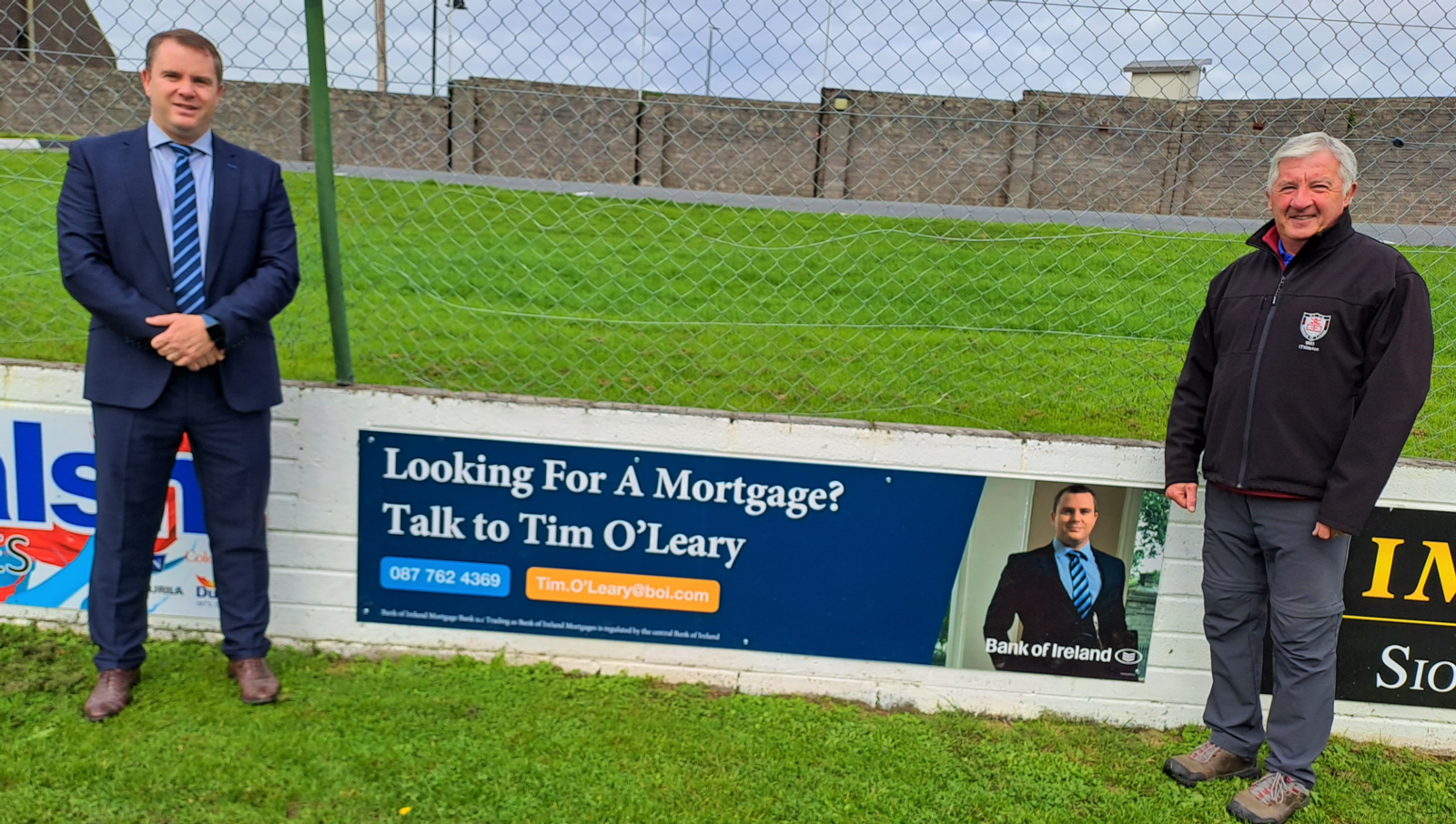 This week's Sign of the Week is former Midleton GAA player and current U-6 coach, Tim O'Leary. Tim, who is now back living in Midleton after many years away, works as a mortgage advisor for Bank of Ireland so if you are looking for a mortgage please get in touch with Tim at 087-7624369 or email Tim at Tim.O'Leary@boi.com.
Thanks very much Tim and Bank of Ireland for your support with your sign.
Pictured thanking Tim for his new sign at Clonmult Memorial Park this week was club chairman John Fenton.
CARDIAC FIRST RESPONDER COURSE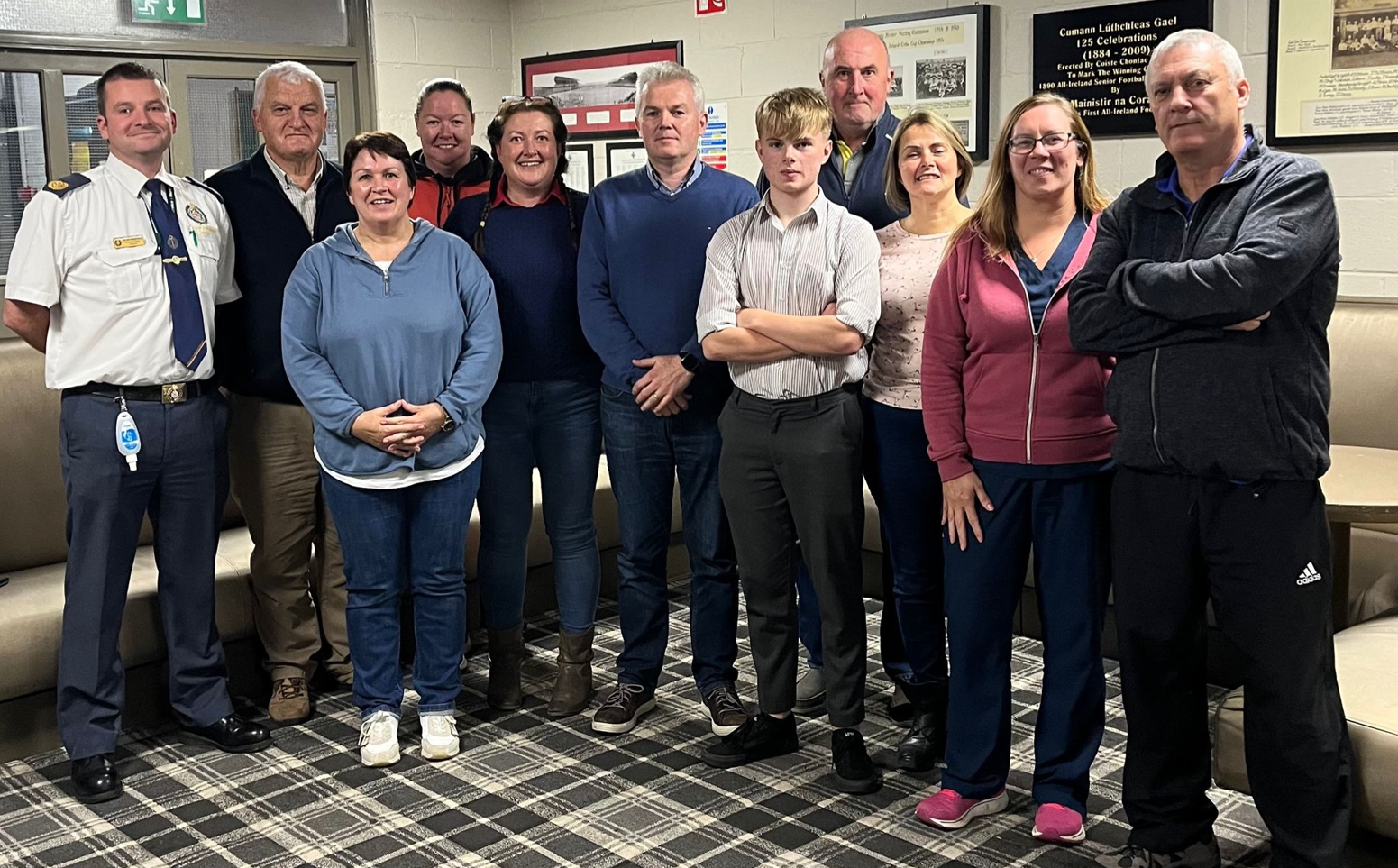 Thank you to Ber Cotter and Mike Bolger of BC First Aid who delivered a top class Cardiac First Responder (CFR) course for members in the club on Tuesday night. Also thanks to Advanced Paramedic Alan Sheehan from the National Ambulance Service for dropping by.
HALLOWEEN DISCO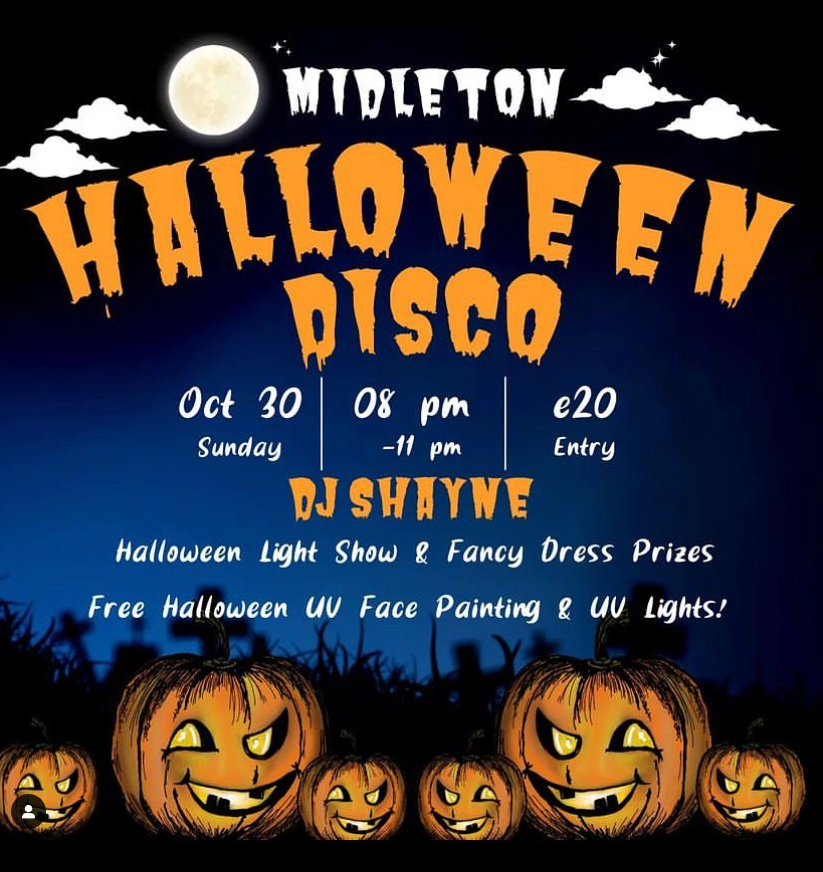 It's time to get your tickets now for our Halloween UV Disco!
Venue: Midleton GAA Club. Date: October 30th. For first and second years.
Tickets can be bought at the link below:
https://tinyurl.com/halloweenmidleton
A spectacular Haloween Disco with UV lights and UV face painters to make your night extra spooky!

PLEASE SUPPORT ONE OF OUR OWN
On the 30th of October I am running the Dublin Marathon in memory of our baby Fiadh and to fundraise for Crumlin (Children's Health Foundation). Fiadh was hospitalised and lived for five days there. The care and treatment that Fiadh received was absolutely outstanding. Every staff member was better than the next. The support that Mary and I got was also exceptional. The services that they provide for families in times of need make their task more manageable. Any donation provided would be greatly appreciated and would go a long way to ensuring this quality service continues.
The link to fundraising page is www.justgiving.com/fundraising/cian-mccarthy1
Thanking you in advance,
Cian McCarthy.
LOTTO RESULTS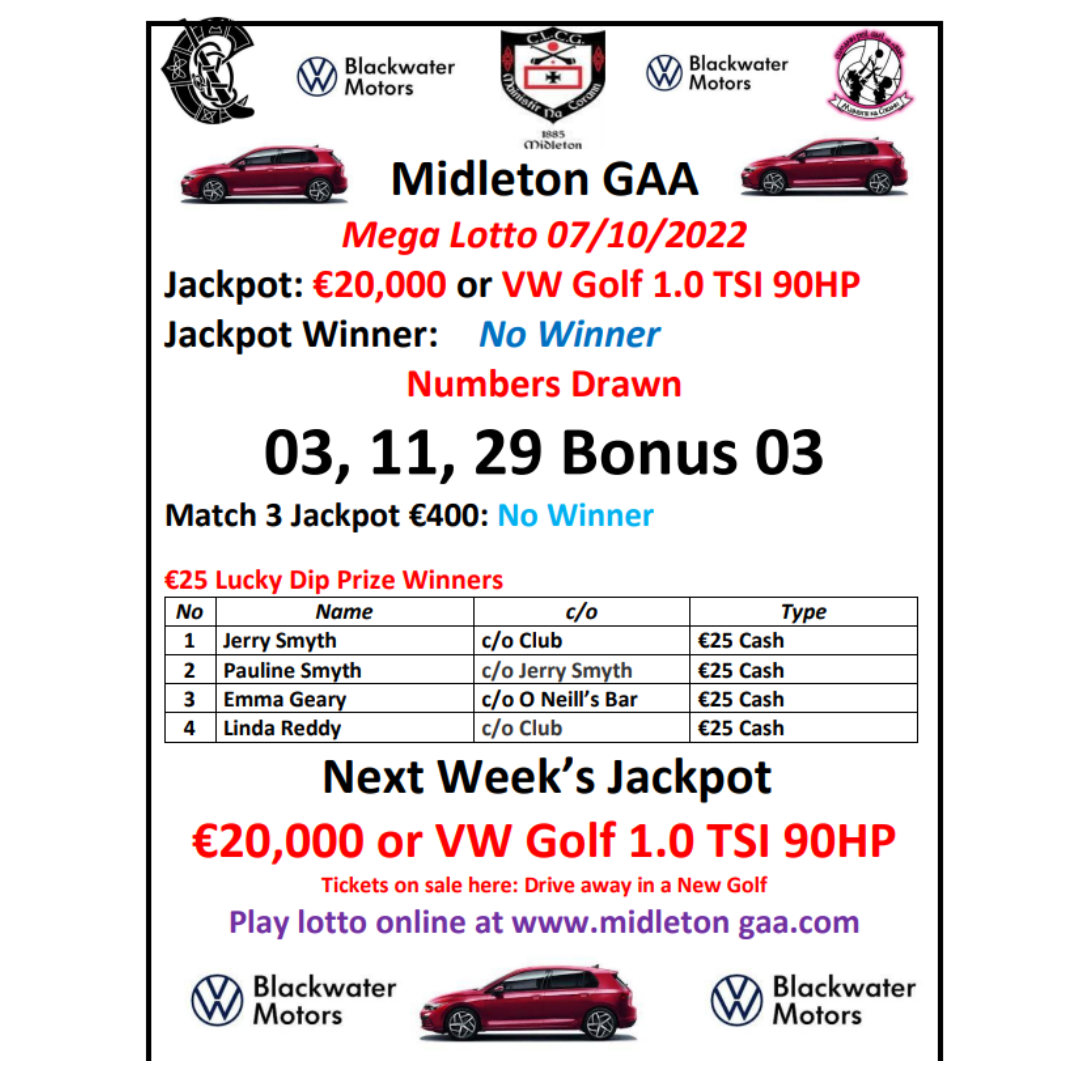 This week's numbers were: 3, 11, 29. Bonus: 3.
There was no jackpot winner or Match 3 winner.
The €25 cash Lucky Dip Prize Winners were: Jerry Smyth, Pauline Smyth, Emma Geary and Linda Reddy.
Next Week's Jackpot - €20,000 or VW Golf 1.0 TSI 90HPPlay 24/7 at: http://www.klubfunder.com/Clubs/Midleton%20GAA/lotto
In total Midleton GAA will give out local business vouchers to the value of €3,800 every year as part of our "Shop Local, Buy Local" campaign.
How to play: tickets are on sale at Pat Walsh Paints, Chadwicks, Frank Murphy Butchers, Murphy's Pharmacy, Crowley Butchers, or buy online (see above).
LOTTO RENEWAL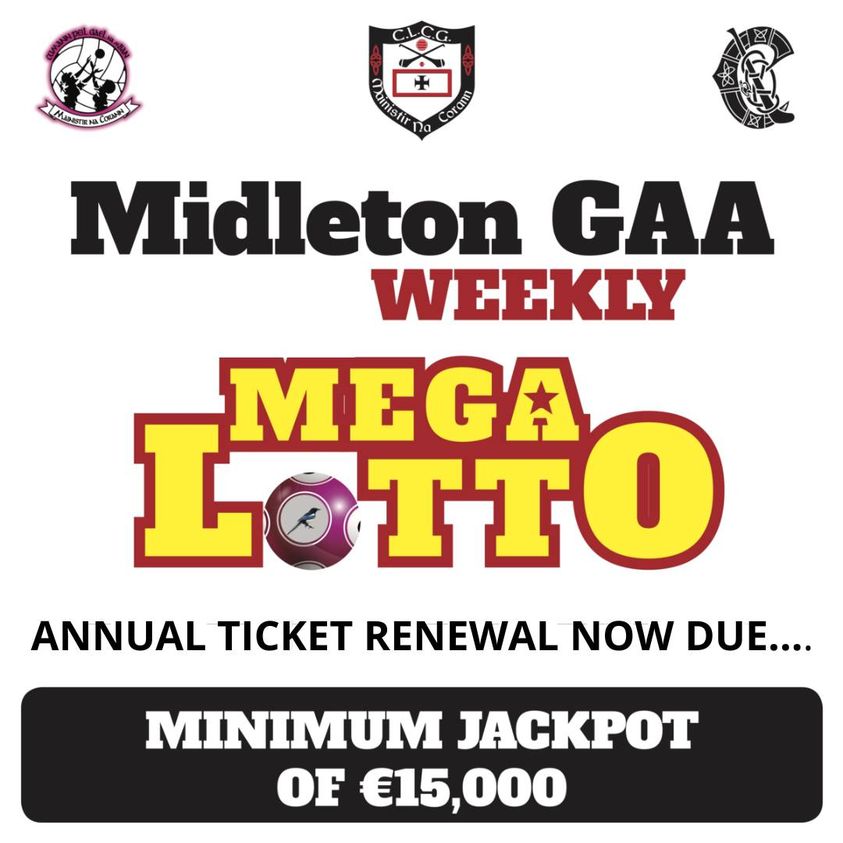 The Lotto yearly renewal has come around again. You could win our Jackpot of €20k or drive away in a Blackwater Motors VW Golf. Last year we've had over 200 Lucky Dip Winners and 6 x €400 Match 3 Winners.
Support the Club by playing online at www.klubfunder.com/Clubs/Midleton%20GAA/lotto
Place the number of draws at 50 and pay €100 and be signed up for every draw for the next year
Play, Win & Support this important fundraiser for your Club. Thanks to those who already paid their annual Lotto renewal for the year ahead.
BINGO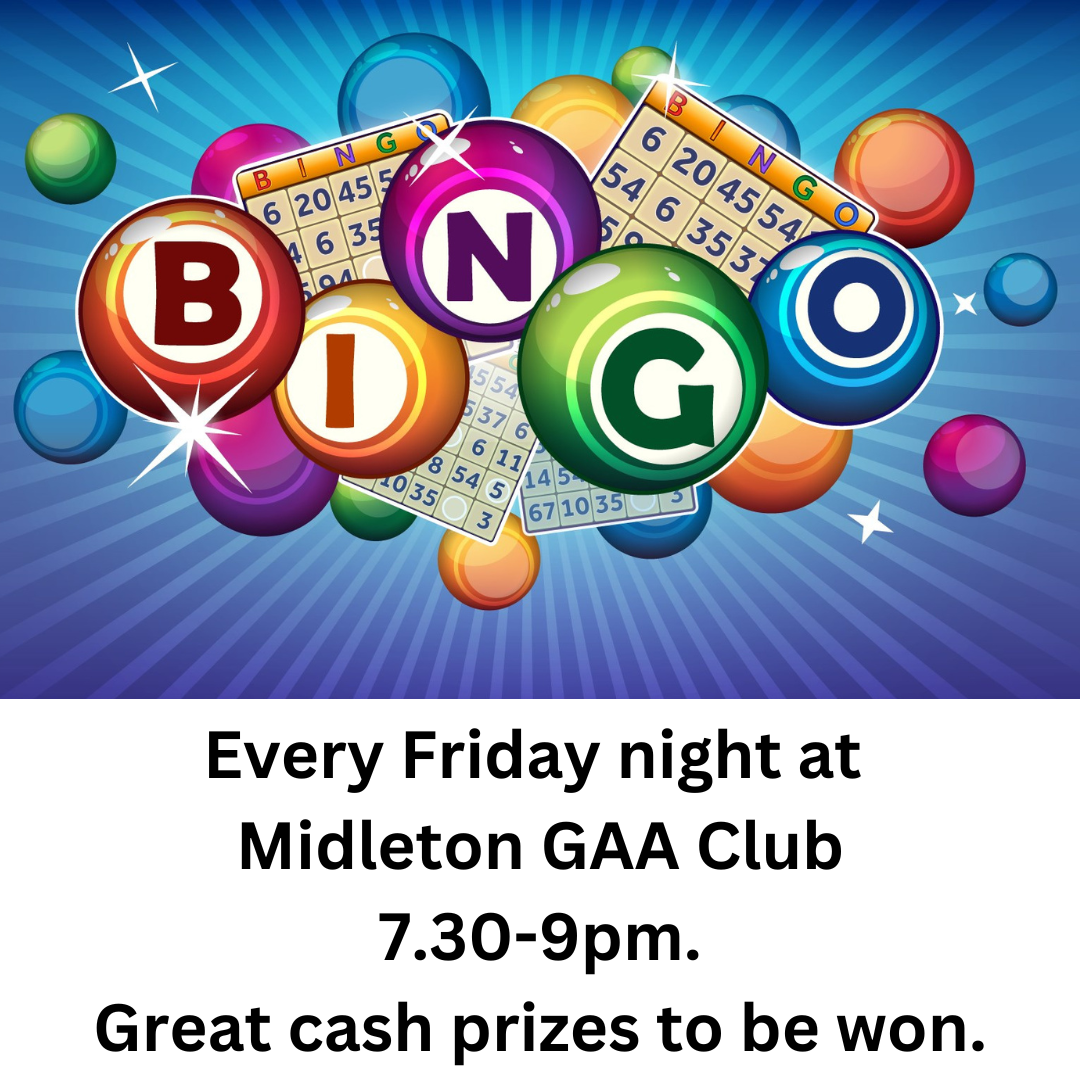 Fancy a good night which also benefits Midleton GAA club...what about bingo on Friday nights?
It kicks off at 7.30pn every Friday night and is over by 9pm. A single book is €6. A double book is €12. The numbers were excellent last Friday and it would be brilliant to keep it going as it really benefits the club.
SOCIAL DANCING
Dancing in the Midleton GAA pavilion this Saturday night (October 15) from 9.15pm to Martin Kearney and Derry Kennedy. A great night assured.
CLUB SHOP
The Midleton GAA club shop is back up and running for the 2022 season but please note that it's still online with collection only at the club on a Saturday morning.
All you have to do is go to the Klubfunder website (www.klubfunder.com/Clubs/Midleton%20GAA/ShopItems) and you will see the full range of what's available to buy. You can shop away to your heart's content, pay for it online and then collect your purchases at the club shop on Saturday morning between 9.30am and 10am. Thank you.
CLUB SHOP CLEARANCE SALE
There will be a club shop clearance sale of selected items on Saturday, October 29th in the Club Hall from 10am to 12noon.
PLEASE PLAY YOUR PART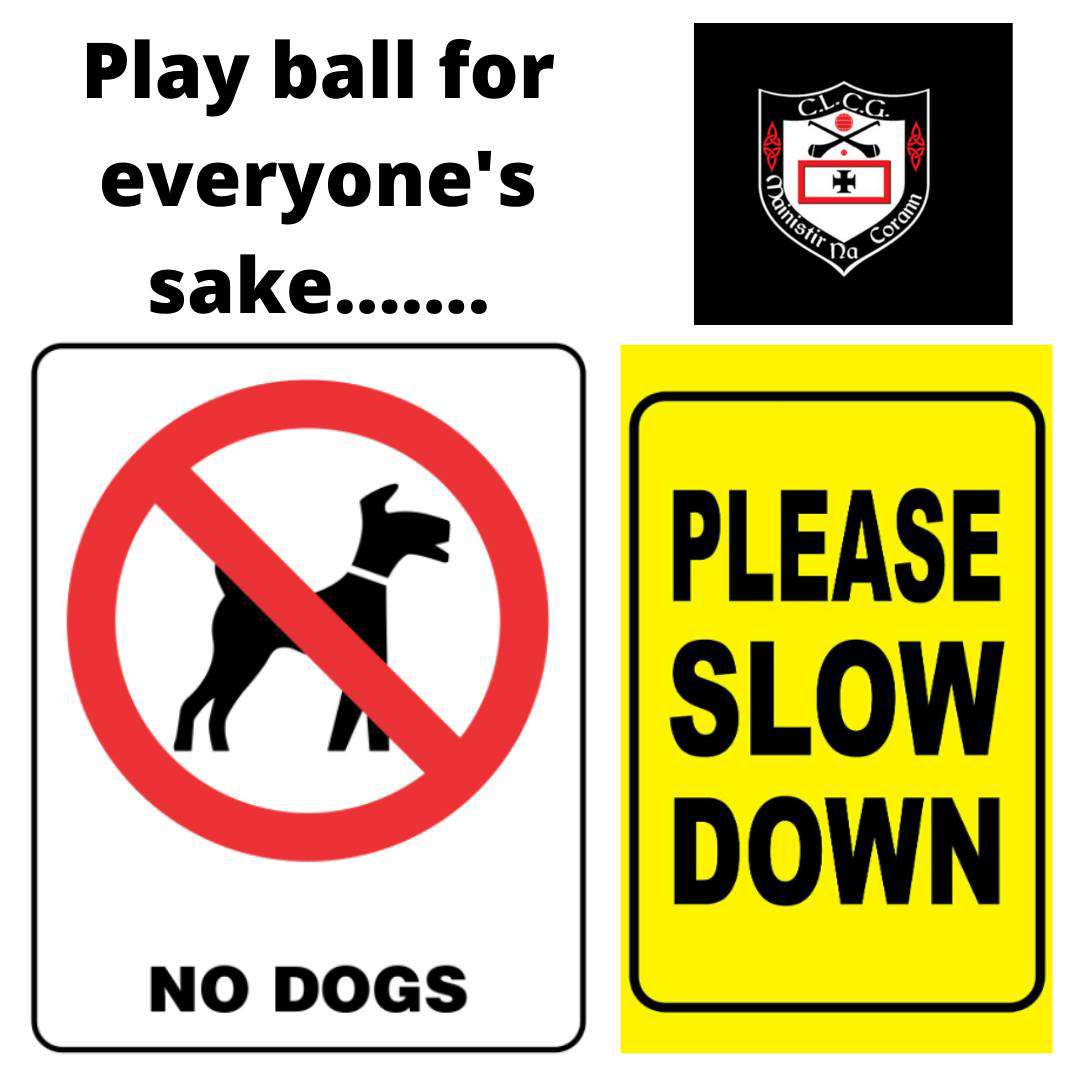 We are asking all players, mentors, parents, supporters and neighbours to please play their part by playing ball on the following.....
Please slow down entering and leaving Park South.
No dogs, except assistance dogs, are allowed at Park South or Clonmult Memorial Park.
Please do not bring single-use plastic bottles to either Park South or Clonmult Memorial Park.
Please put your rubbish in a bin or bag and please bring your gear home with you.
And always be aware of the open water surrounding the pitches in Park South.
If you are a coach, please pass on these simple messages to players and parents.
Also if you are a coach, last person out locks the gate, toilet and container.
In light of what happened recently in Roscommon and Wexford, we want to appeal to everyone involved with Midleton GAA to respect referees at all times. Remember if we don't have referees then we will have no games. Simple as that.