Midleton Hurling and Football, Ladies Football and Camogie Club News - September 29
29 September, 2022
JUVENILES
FÉ16 LEAGUE FINAL MIDLETON 0-20 INNISCARRA 1-15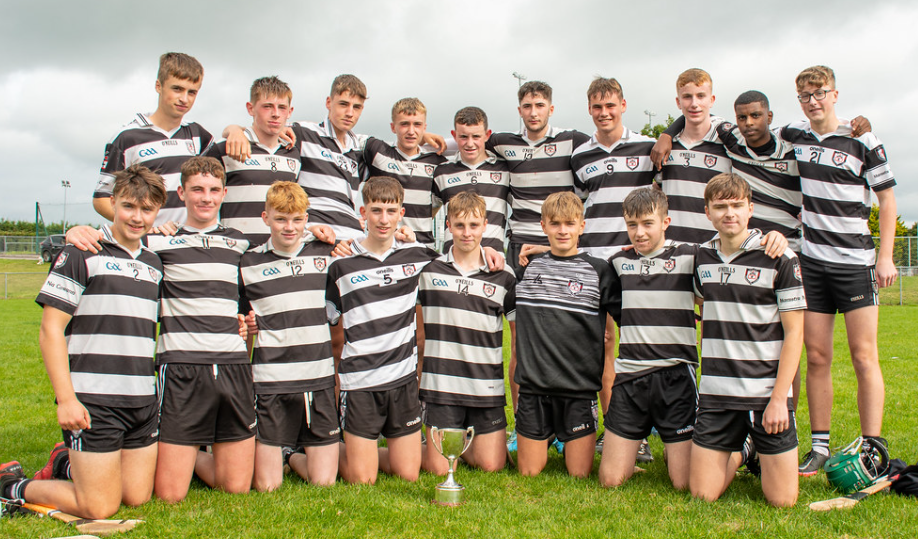 Our Fé16 hurlers travelled to Ballyanly on Sunday to take on Inniscarra for a long awaited league final.
For practically all of the current year the lads have been part of the Fé17 group, training and playing P1 and C3. We managed to qualify for this final after some excellent performances earlier in the season. A perfect day for hurling was helped by the no nonsense approach of the referee and his team of officials.
A Jack Foley free settled us but Scarra responded in kind. Daragh Egan and Odhran Rabbitte had a point each from play, another Scarra free was followed by a period of Midleton dominance with five points without reply to put us in a strong position. Scarra then hit four points on the trot. Another scoring burst saw us leading at half-time on a scoreline of Midleton 0-11 Inniscarra 0-8.
On the resumption Jack and Daragh repeated their first-half start with a point apiece. Scarra then had two points on the bounce quickly followed by a fortuitous goal. It was end to end stuff at this stage with both teams going at it in what was a very tough but fair battle.
Jack pointed a free, another Scarra point was answered with a point each from Daragh, Conor Morley and Fionn Kelly. As we headed down the finishing straight the scoring tackling and sheer effort continued unabated. Jack, Conor and Daniel Garde had the scores which saw Scarra needing a goal but resolute defending from Adam O Connor, Eoghan Fraser, Thomas Dunlea and Odhran Dennigan saw us win out.
This was truly a fantastic team performance from our lads with illness taking its toll on a number of players. Luca Brodkorb and Patrick Dooley also played huge roles in what was a very satisfying result.
We await the draw for the Fé 16 championship whIch is due to take place soon and the knockout format to begin the end of October (when else would you have it!!).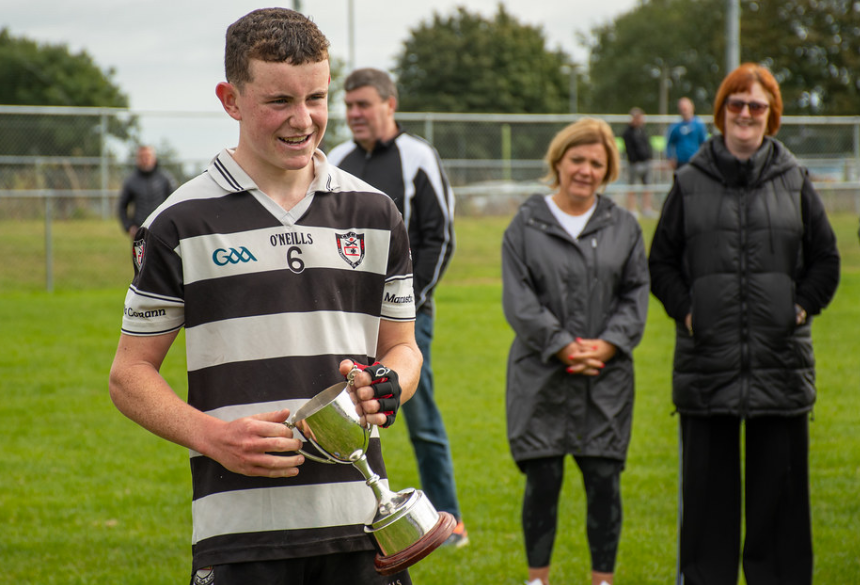 Captain Thomas Dunlea making an excellent speech after collecting the cup.
MIDLETON: Callum O'Brien, Callum McSweeney, Adam O'Connor, Yohanis Mehigan, John Paul McManus, Ben Fitzpatrick, Shane McNamara, Odhran Dennigen, Thomas Dunlea (Captain), Eoghan Fraser, Fionn Kelly (0-2), Luca Brodkorb (0-2), Odhran Rabbitte (0-1), Conor Morley (0-3), Patrick Dooley, Jack Foley (0-5), Daragh Egan (0-5), Daniel Garde (0-2), Carthaigh Cronin.
Thanks to Andrew Foley for the pics. Check out the loads more brilliant pics of the day from Andrew at the following link:
http://www.flickr.com/photos/140256824@N08/albums/72177720302428407/with/52385816057/
FÉ15 EAST FOOTBALL SHIELD FINAL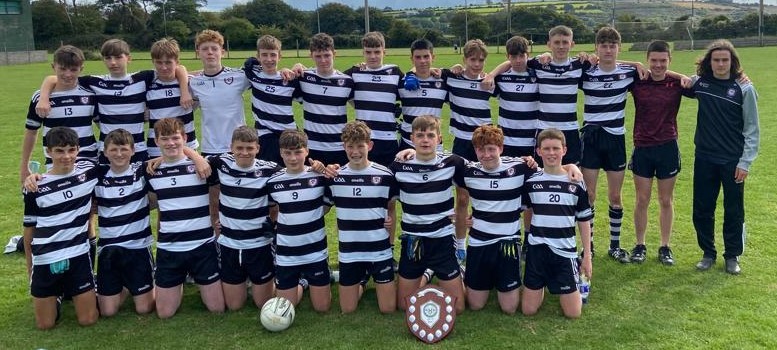 Just a week after their County Hurling Final win Midleton's Fé15s added a football title when they came out on top on a scoreline of 1-8 to 2-4. This was a great team performance but special mention must go to Luke Riordan who kicked six points, Peter Barrett who scored 1-1 and Daniel Donovan with a point. Well done also to our goalkeeper Josh Foley for some fantastic saves in the second-half.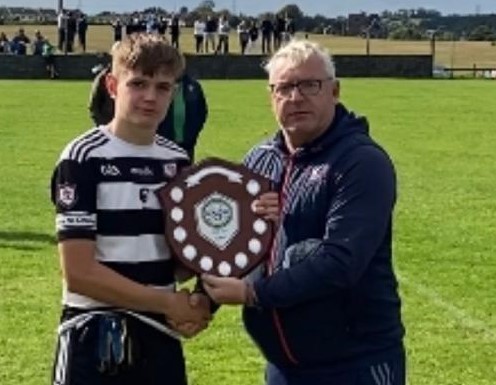 Captain Matthew McSweeney receiving the trophy from Rebel Óg's Eoin O Mahony.
FÉ15 COUNTY FINAL
Our Fé15 Division 4 team will be hoping to emulate our P1 team when they also take on Sars in a county final on Saturday at 1pm in Castlemartyr. This team has been brilliant all year so hopefully lads ye can finish off a great year in style on Saturday. Best of luck lads.
FÉ14 FOOTBALL LEAGUE GROUP 2 SECTION 1 FINAL
Our Fé14 footballers travelled to Dungourney on Wednesday night last to take on the home side, Kiltha Óg in the League Final.
After a very close contes it was the hosts who just came out on top on a final score of 2-8 to 2-4. Hard luck lads.
FÉ11S V DOUGLAS

We travelled to Douglas on Saturday with 40 players and each and every one of them gave a great account of themselves. We split into four teams played four games each and won the majority of the games. Well done lads.
Football training this week at the earlier time of 6pm.
NEW MAGPIES WANTED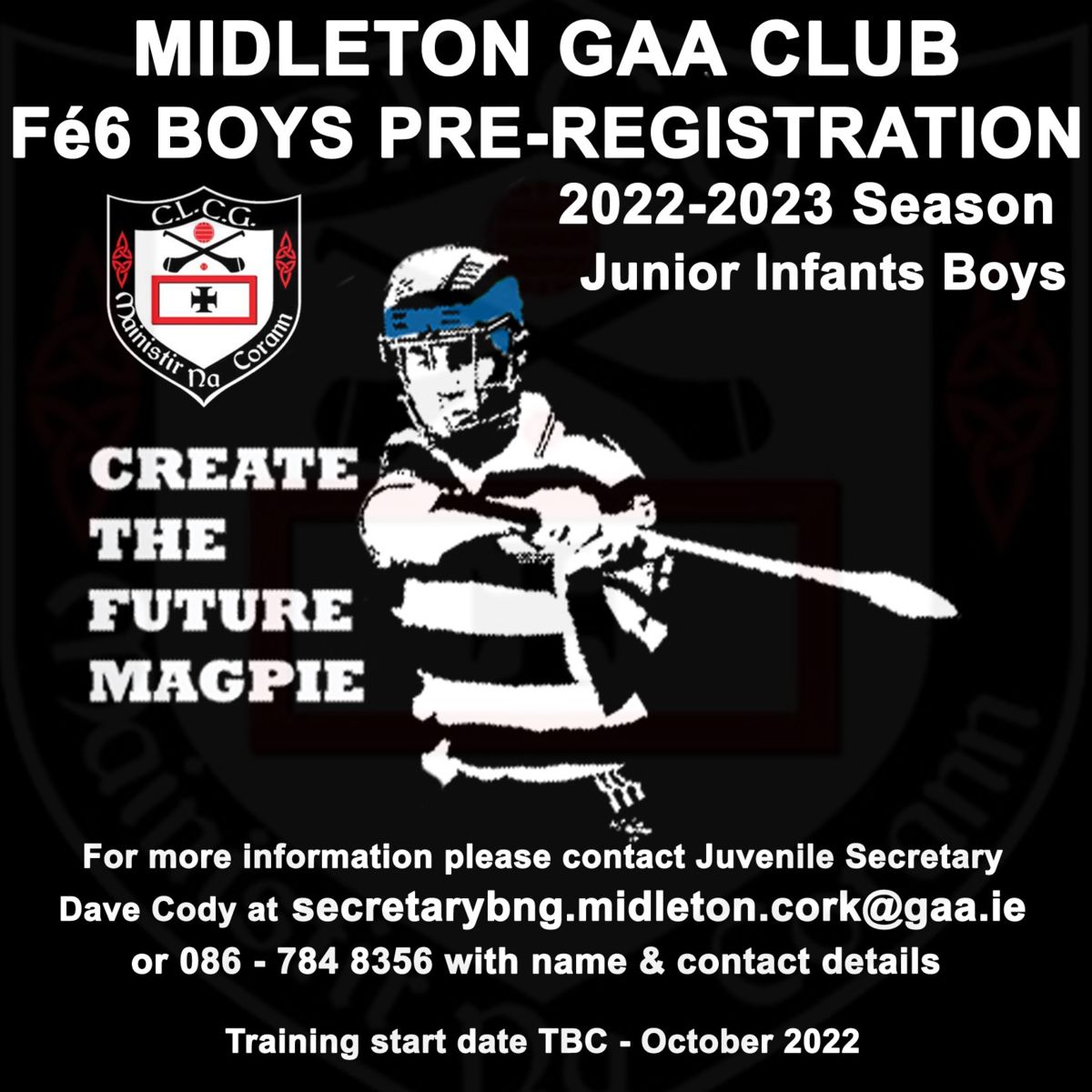 The new GAA season is nearly here - calling all JUNIOR INFANT BOYS looking to start GAA training with Midleton GAA. Training starts in the middle of October so sign up today. #MagpiesAbú
EAST CORK OIL EAST CORK JUNIOR A HURLING CHAMPIONSHIP QUARTER-FINAL
MIDLETON 1-20
CARRIGNAVAR 1-16
Our Junior A hurlers booked their place in an East Cork semi-final on Sunday evening in Cobh when they produced an excellent performance to see off Carrignavar by four points.
There was nothing between the sides in the opening ten minutes before Carrignavar struck for the game's opening goal on 11 minutes to put them 1-3 to 0-2 in front.
Midleton grabbed their goal on 20 minutes when Garan Manley struck for an excellent green flag to make it 1-5 apiece.
At the sound of the referee's final whistle it was Carrignavar who held a slight advantage on a score of 1-10 to 1-8.
The third quarter was shared at four points each to make it 1-14 to 1-12 after 45 minutes. But then we really upped the ante and three points in a row saw us hit the front on a score of 1-15 to 1-14 with 12 minutes to play.
With Cillian Hurley and Rory Hartnett causing all sorts of problems for the Carrignavar defence we extended our lead to two, 1-18 to 1-16, with four minutes to go and we weren't to be denied as we finished the stronger to see off Carrignavar and seal and excellent 1-20 to 1-16 victory at the final whistle.
This was a great win and well done to all the players and management. This win sends us into a semi-final with Cobh (who we drew with in the group stages of this championship) in Carrigtwohill on this coming Sunday at 4.30pm.
Please come out and support the lads in their bid to reach an East Cork Final.
Scorers: P. O'Shea 0-9 (0-2 play), G. Manley 1-2, R. Hartnett 0-4, J. Comer and C. Hurley 0-2 each, B. O'Shea 0-1.
MIDLETON: Peter Dowling, Charlie Walsh, Alywin Kearney, Neil Fitzgerald, Billy O'Shea, Aidan Ryan, Seamus O'Farrell, Kieran Mulchay, Adam Daly, Ian Kennefick, Padraig O'Shea (Captain), Johnny Comer, Rory Hartnett, Garan Manley, Michael Abernethy. Subs: Dan Cagney for Mulcahy, Cillian Hurley for Abernethy.
JUNIOR C FOOTBALL LEAGUE
On Monday night we hosted Erins Own in our concluding league game for 2022. We got a solid victory which sees us now make the league final most likely against our near neighbours Aghada.
Well done to everyone involved on the night. We had 27 players togged out which is a great credit to this group of players.
MIDLETON: Padraig Dunlea, Brendan Ferriter, Sean Corcoran, Daniel Wathen, Conor Evans, Barry Fitzgerald, Fergus Wade, Bríon Saunderson, Gavin Reddy Alan Power, Kieran Denihan, Tom Scanlon, Chris Power, Christian Daly and Dan O'Sullivan. Substitutes: Coran Swayne, Andy Rea, Seanaidh Smyth, Jan Haandrikman, Colin Sunderland, Kieran Lambert, Leonard Saunderson, Ben O'Neill, Dan Cagney, Charlie Walsh, Eoin Ferriter and Jerome Curtin
CAMOGIE
FÉ 9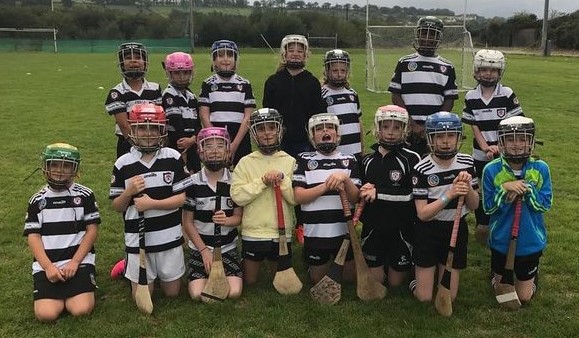 Our Fe9's were hosted by Aghada on Wednesday evening last. Four thrilling games of camogie ensued with all the girls skills on display. Well done to all the girls on the pitch this evening who are improving with every match. Thanks to Aghada for inviting us down!
FÉ10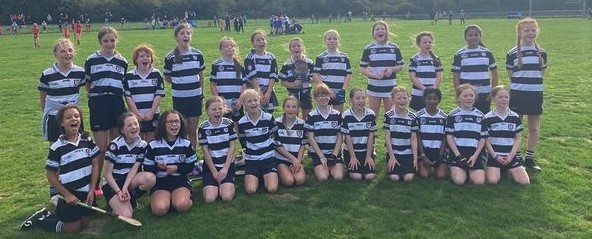 Midleton's Fé10 girls had a great morning's camogie at Cork Camogie grounds on Saturday morning at the U-10s Tesco Camán Blitz.
Midleton fielded two teams and each team played three 10 minutes games so it was an action packed morning with our girls playing with great enthusiasm and skill against some strong opponents. We are very proud of you all. A very special thanks to the parents of this group who travelled and supported the girls for en extra early start to the weekend! Well down girls.

FÉ11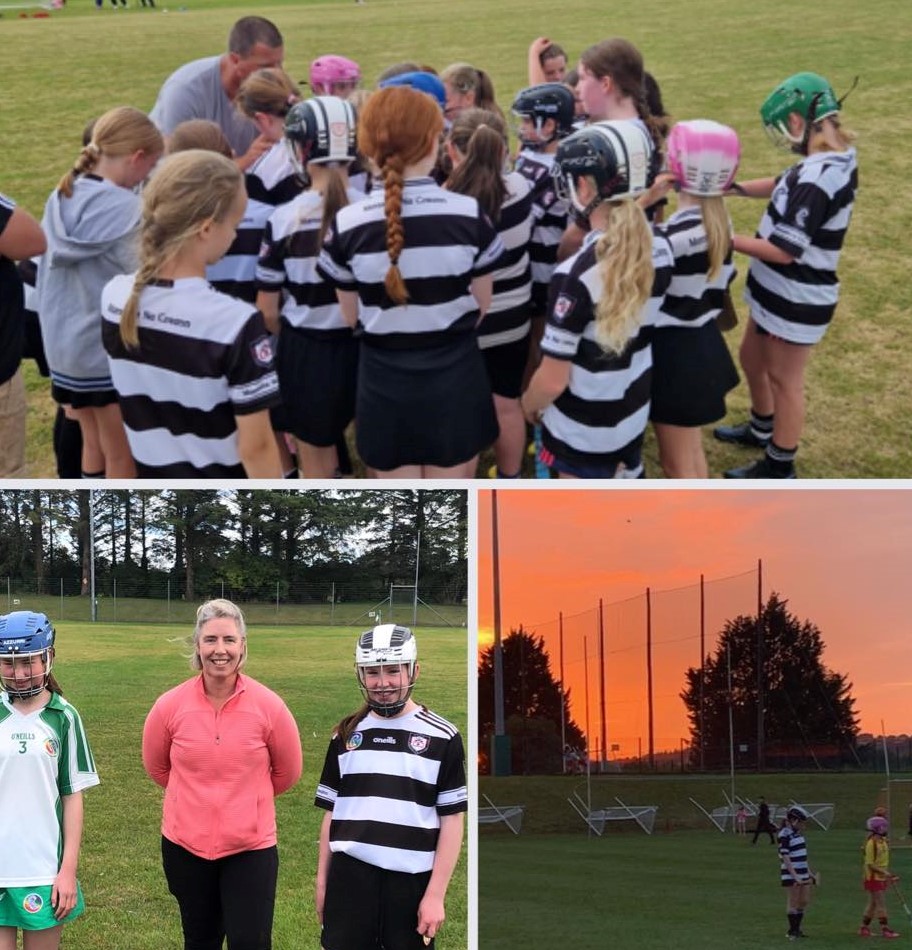 September has been a month of strong performances and good tests to our Fe11 Camogie Team that is really starting to gel as a team. Individually and as a group the young ladies are improving weekly, and they should all be proud of themselves. From defending, all the way up the pitch to the finishing goals and points, these girls really have it together. Well done on away victories to Aghabullogue, Eire Og and Glenville.
FÉ12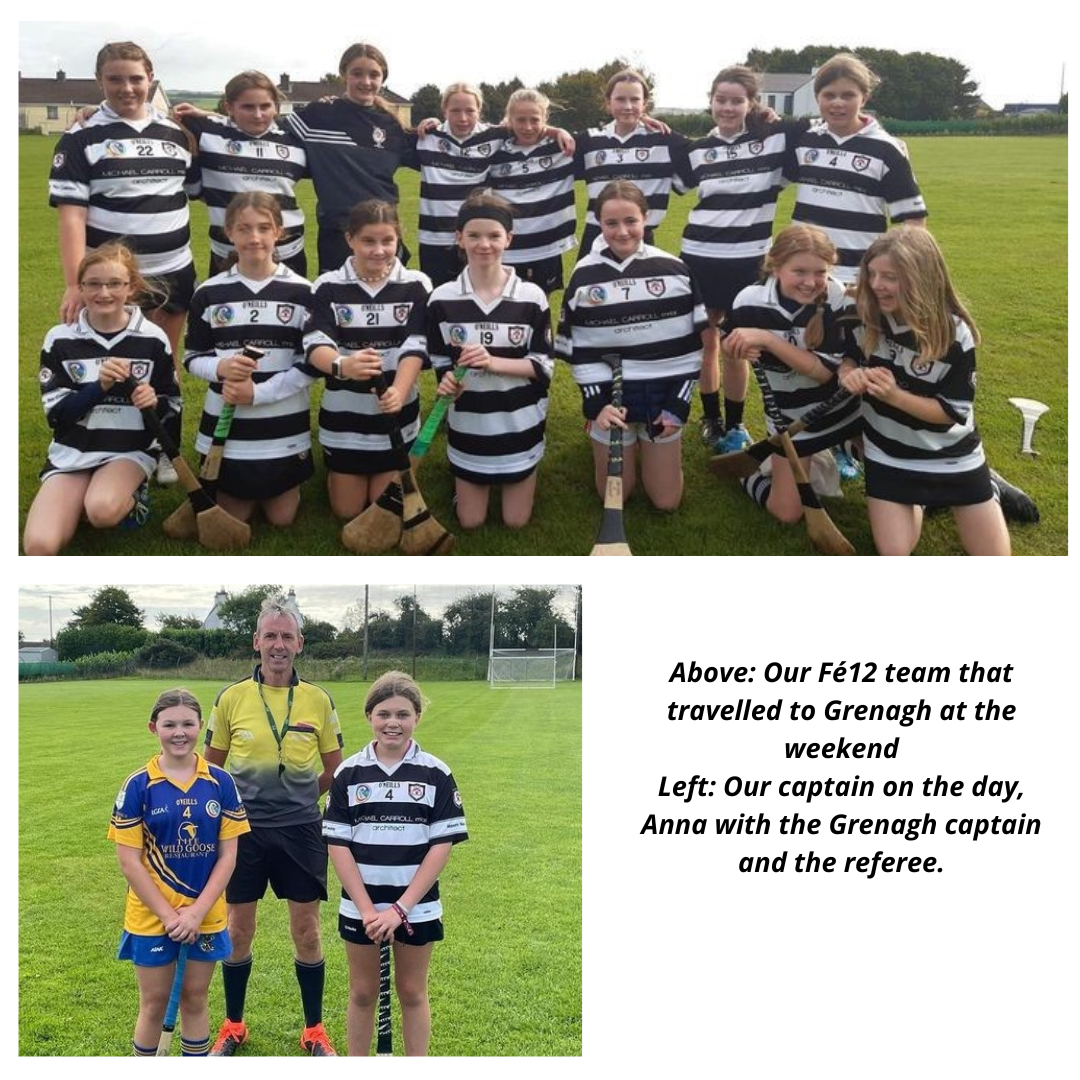 Our Fé12's were in action again with an away league game on Saturday in Grenagh. Well done to all the players who contributed to this exciting game of camogie it was one of the best performances from the Magpies team with plenty of scores, defending, passion and determination on display. It was a very close game with the hosts getting the win in the end. Thanks to Grenagh, the referee and all the supporters. Well done to our U-12 Captain Anna against Grenagh on the day a great team performance
FÉ14B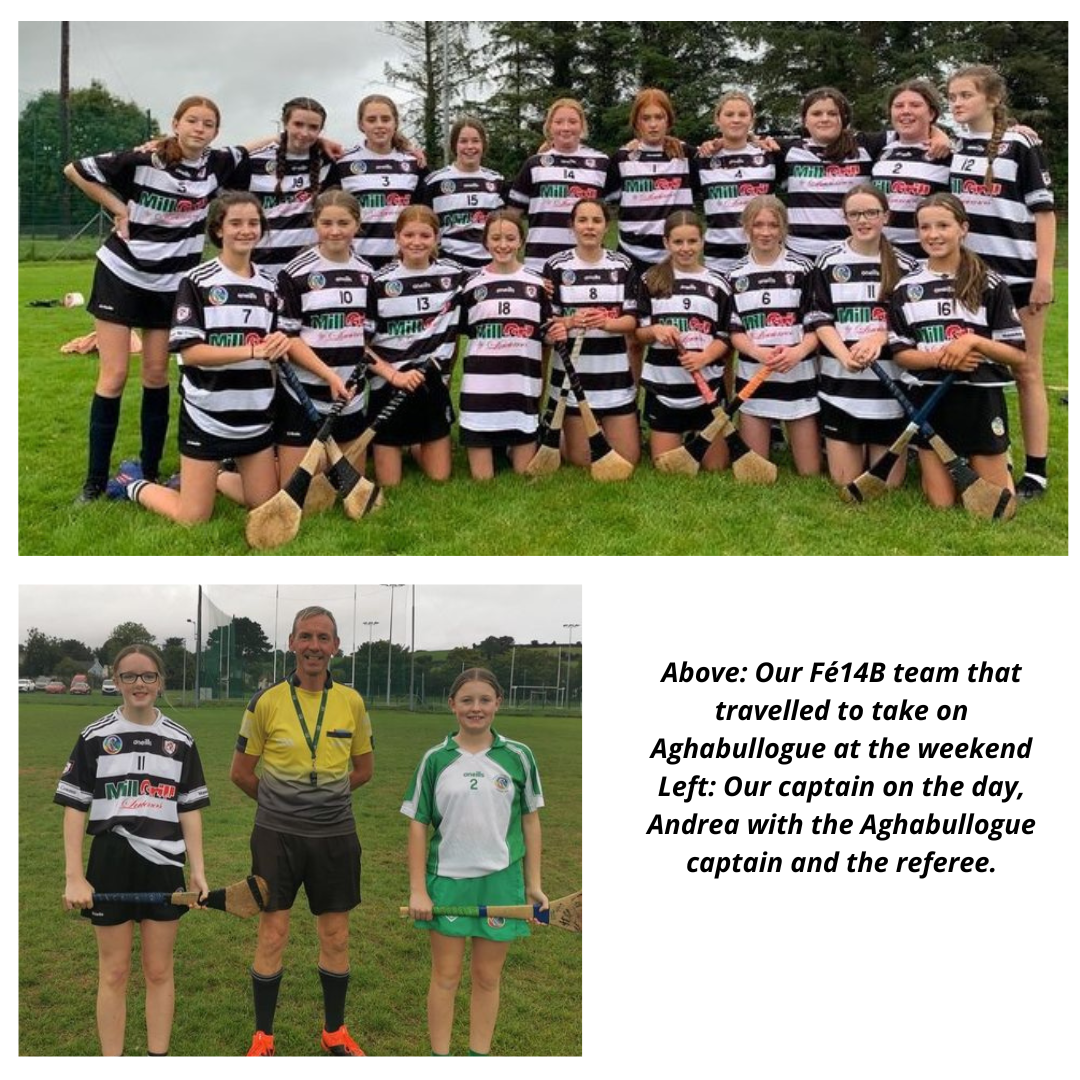 Our U-14B2 team had a great win away to Aghabullogue on Sunday evening. The girls have qualified for the county final, a great achievement having also made it to the league final earlier in the summer! A brilliant result. Well done to both the girls and their management
JUNIOR COUNTY FINAL

Well done to our Junior Team and their management on Saturday on reaching the County Final against Bride Rovers in Ballinora. Despite our girls best efforts it wasn't to be! Each and every girl played their hearts out on the pitch today and never stopped until the final whistle. Thanks to all who travelled on the day to support and cheer on our girls and to Ballinora GAA for facilitating the match.
LADIES FOOTBALL
JUNIOR CHAMPIONSIP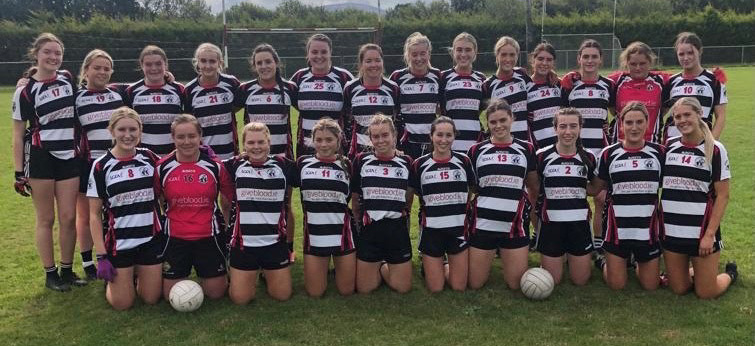 A great win for our Junior Ladies against Dromtarriffe last Sunday. Final score Midleton 4-9 to 2-7. Although there is one game left to play in the group Midleton have now qualified for a County Semi-final. Well done to all players and their management. The final is a home game for our ladies on Sunday October 9th so please come along to support. Details will be published as soon as we have confirmation.
HALLOWEEN DISCO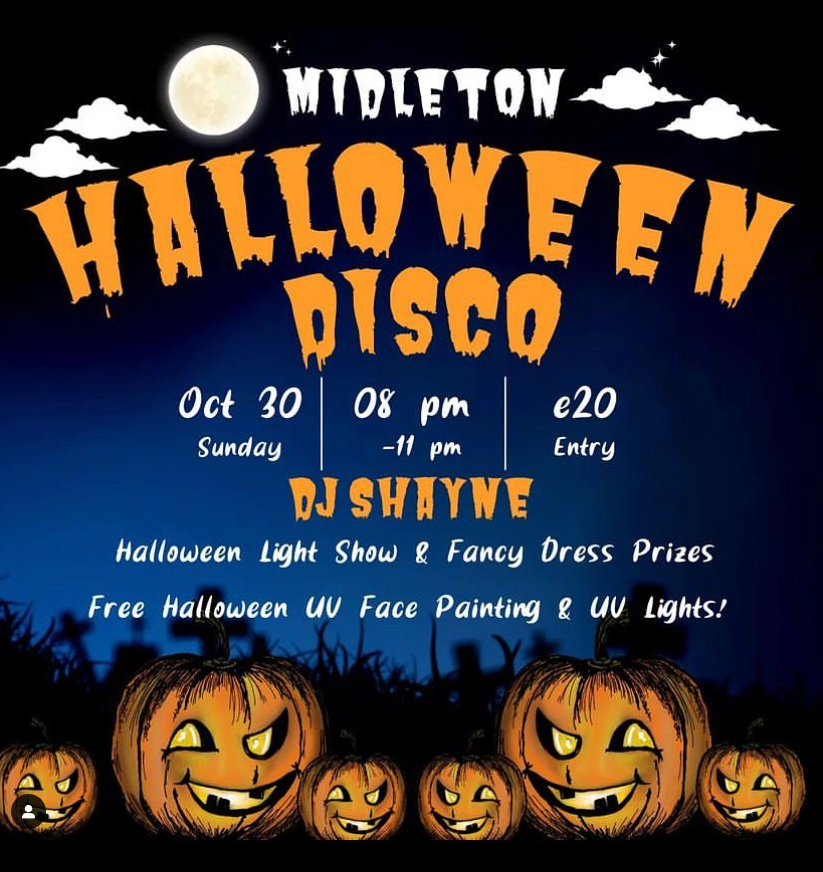 Another highly successful disco was held in the club on Saturday night next. Thanks to all who helped out.
Now it's time to get your tickets now for our Halloween UV Disco!
Venue: Midleton GAA Club. Date: October 30th. For first and second years.
Tickets can be bought at the link below:
https://tinyurl.com/halloweenmidleton
A spectacular Haloween Disco with UV lights and UV face painters to make your night extra spooky!
MAGPIES ALL STARS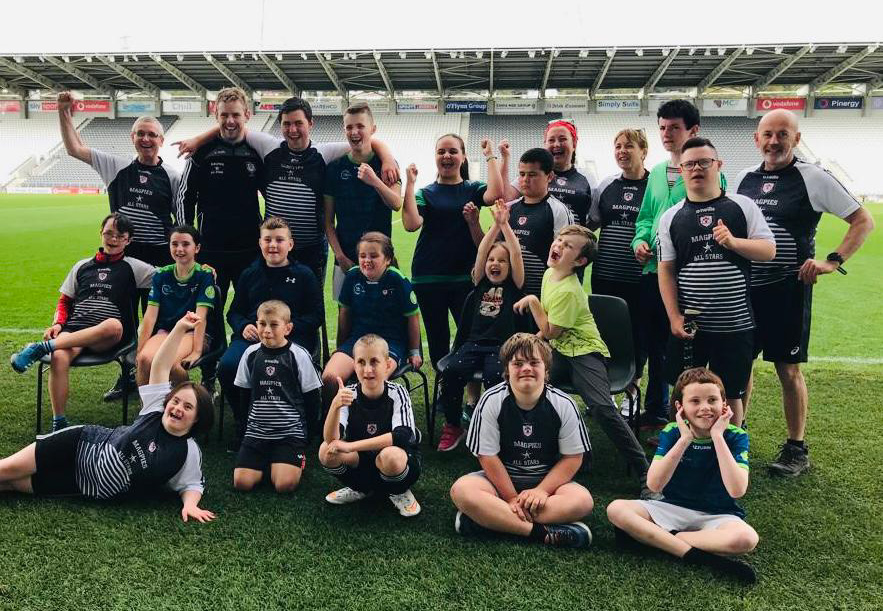 Saturday was such a proud day for our Magpies All Stars who lined out at Páirc Uí Chaoimh for the GAA Inclusion Day. Thanks to the Cork GDAs and to Gary Muphy and so many more for making this such a memorable day. Team work makes the dream work. #GAABelong.
Check out the link below for more pictures of a great day.
index.cfm?page=viewNews&id=1178&cYear=2022&cMonth=9
Also there's a great article on our Magpies All-Stars by Denis Hurley on the Echo website....click on the link to read
http://www.echolive.ie/corksport/arid-40970312.html?fbclid=IwAR1gNXwHQEeM-kkJ7BeoifQvzEU9V3GKrn8tNK0zLyq29Ydq5nmGAICO7G8
SUPPORT ONE OF OUR OWN
On the 30th of October I am running the Dublin Marathon in memory of our baby Fiadh and to fundraise for Crumlin (Children's Health Foundation). Fiadh was hospitalised and lived for five days there. The care and treatment that Fiadh received was absolutely outstanding. Every staff member was better than the next. The support that Mary and I got was also exceptional. The services that they provide for families in times of need make their task more manageable. Any donation provided would be greatly appreciated and would go a long way to ensuring this quality service continues.
The link to fundraising page is www.justgiving.com/fundraising/cian-mccarthy1
Thanking you in advance,
Cian McCarthy.
MIDLETON GAA GOLF SOCIETY
Midleton GAA Golf Society's next outing is to Dungarvan Golf Club on Saturday, October 8. Tee time is from 12 noon to 1.20pm. Green fee will be €30.
LOTTO RESULTS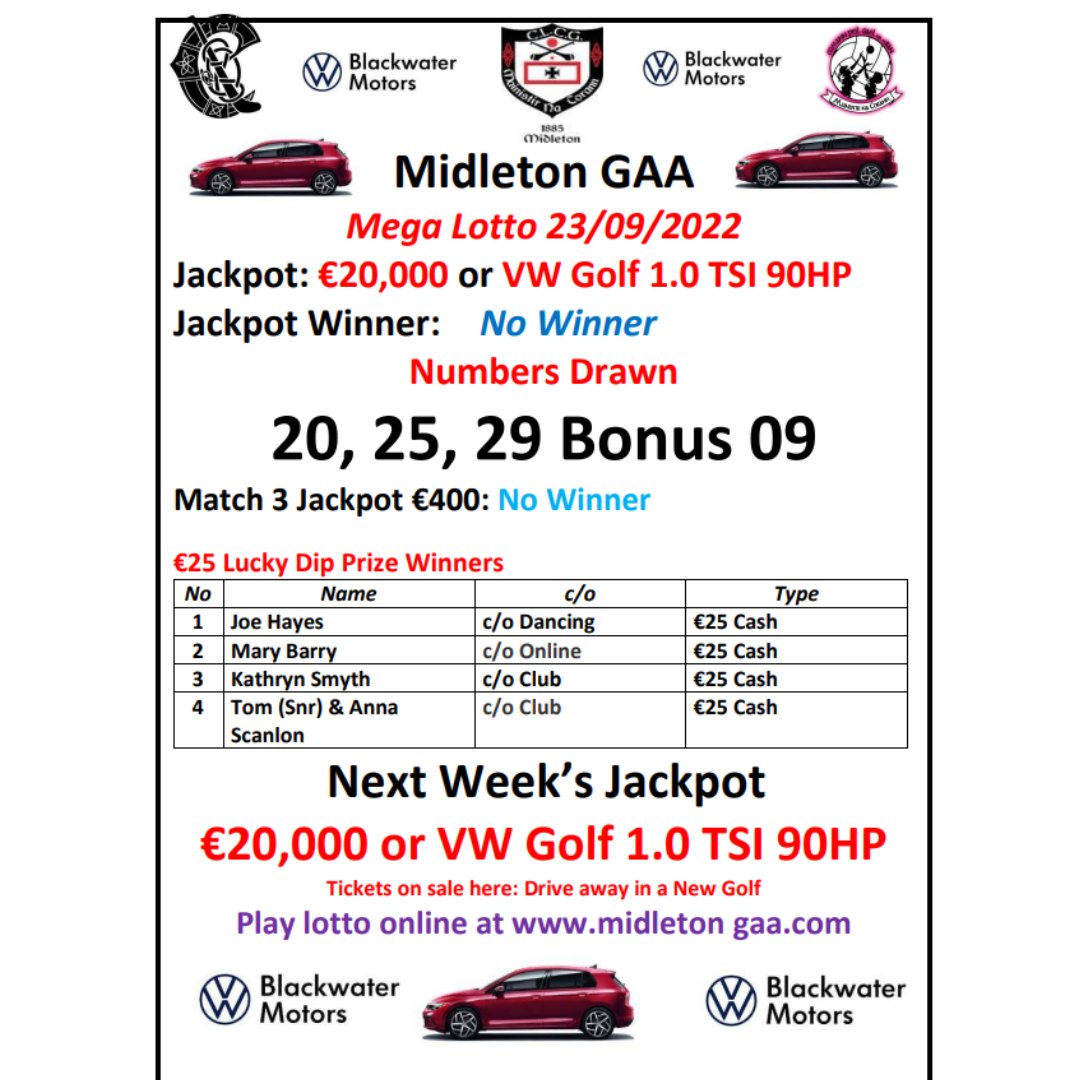 This week's numbers were: 20, 25, 29 and the bonus was 9.
There was no jackpot winner or Match 3 winner.
The €25 cash Lucky Dip Prize Winners were:
Joe Hayes, Mary Barry, Kathryn Smyth and Tom (Snr) and Anna Scanlon.
Next Week's Jackpot - €20,000 or VW Golf 1.0 TSI 90HPPlay 24/7 at: http://www.klubfunder.com/Clubs/Midleton%20GAA/lotto
In total Midleton GAA will give out local business vouchers to the value of €3,800 every year as part of our "Shop Local, Buy Local" campaign.
How to play: tickets are on sale at Pat Walsh Paints, Chadwicks, Frank Murphy Butchers, Murphy's Pharmacy, Crowley Butchers, or buy online (see above).
LOTTO RENEWAL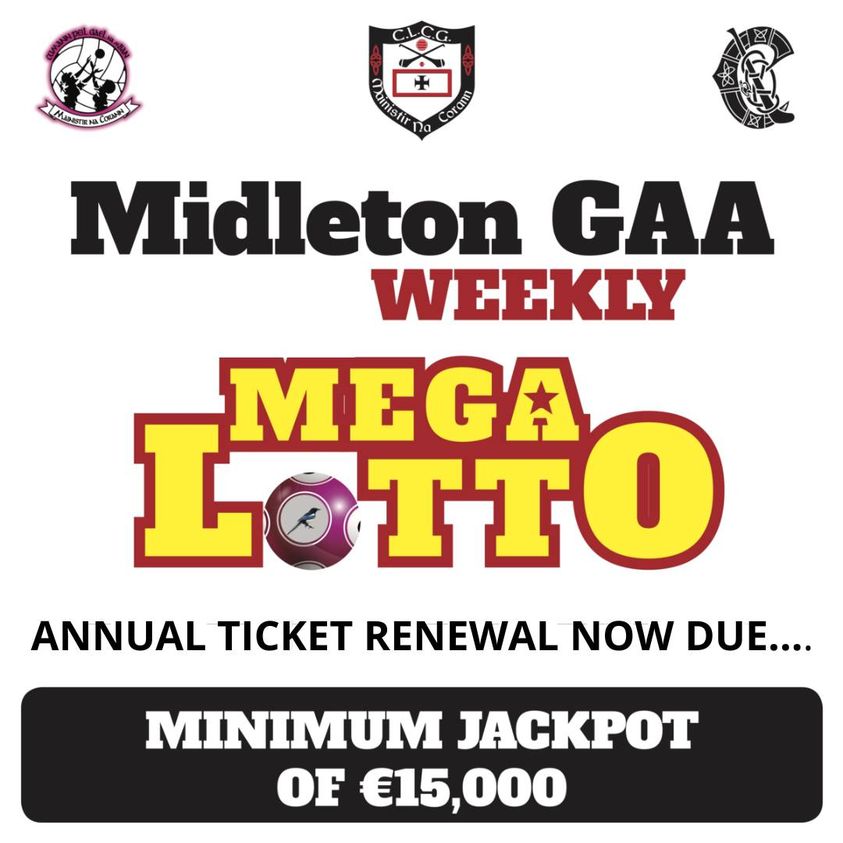 The Lotto yearly renewal has come around again. You could win our Jackpot of €20k or drive away in a Blackwater Motors VW Golf. Last year we've had over 200 Lucky Dip Winners and 6 x €400 Match 3 Winners.
Support the Club by playing online at http://www.klubfunder.com/Clubs/Midleton%20GAA/lotto
Place the number of draws at 50 and pay €100 and be signed up for every draw for the next year
Play, Win & Support this important fundraiser for your Club. Thanks to those who already paid their annual Lotto renewal for the year ahead.
REBELS BOUNTY DRAW
A big congratulations to Brendan Wolohan who won €250 in this month's Cork GAA Rebels Bounty Draw which was held on Wednesday night.
BINGO
Fancy a good night which also benefits Midleton GAA club...what about bingo on Friday nights?
It kicks off at 7.30pn every Friday night and is over by 9pm. A single book is €6. A double book is €12.

SOCIAL DANCING
Dancing returns to Midleton GAA club on Saturday night where Cathal and Teddy Barry will provide the music.
CLUB SHOP
The Midleton GAA club shop is back up and running for the 2022 season but please note that it's still online with collection only at the club on a Saturday morning.
All you have to do is go to the Klubfunder website (www.klubfunder.com/Clubs/Midleton%20GAA/ShopItems) and you will see the full range of what's available to buy. You can shop away to your heart's content, pay for it online and then collect your purchases at the club shop on Saturday morning between 9.30am and 10am. Thank you.

PLEASE PLAY YOUR PART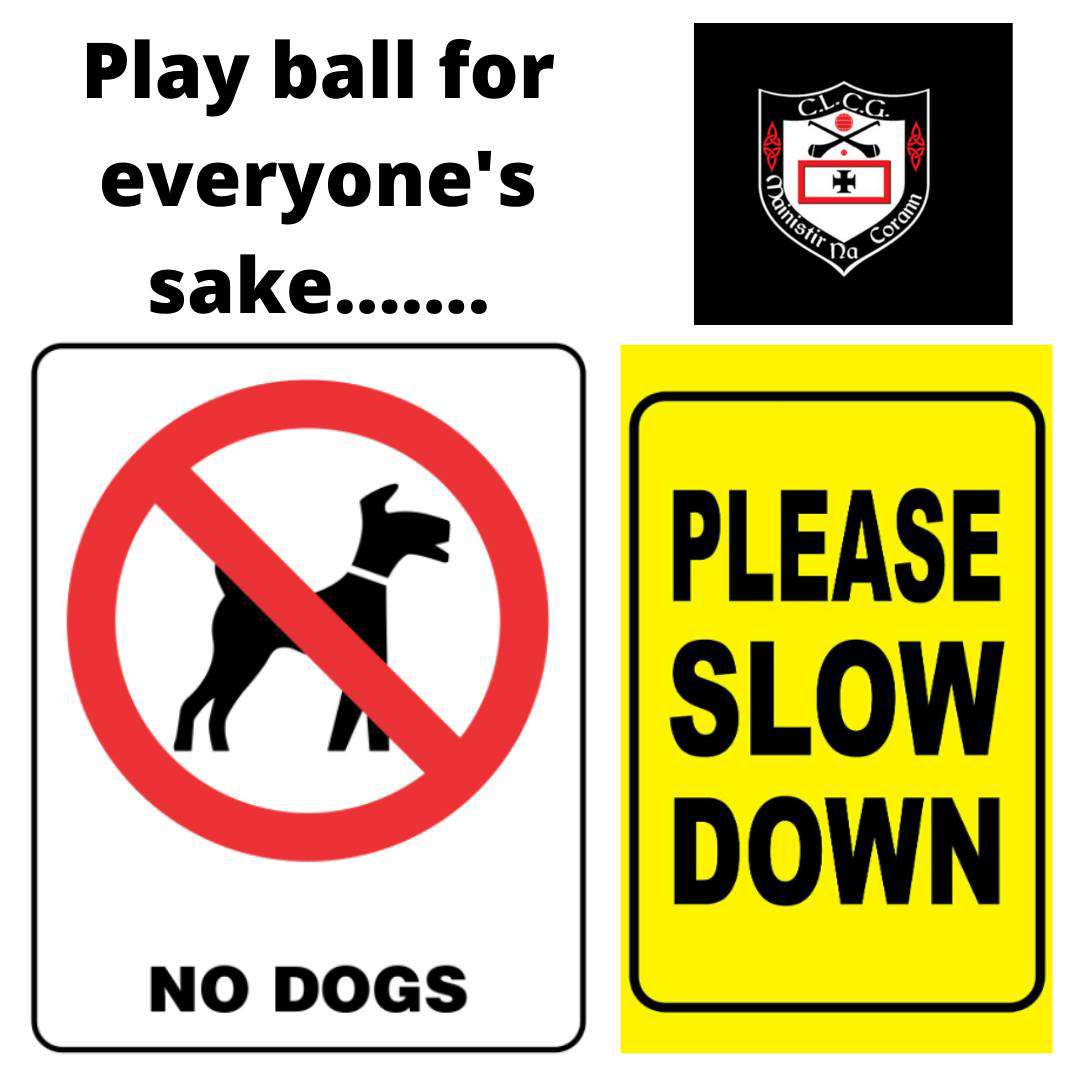 We are asking all players, mentors, parents, supporters and neighbours to please play their part by playing ball on the following.....
Please slow down entering and leaving Park South.
No dogs, except assistance dogs, are allowed at Park South or Clonmult Memorial Park.
Please do not bring single-use plastic bottles to either Park South or Clonmult Memorial Park.
Please put your rubbish in a bin or bag and please bring your gear home with you.
And always be aware of the open water surrounding the pitches in Park South.
If you are a coach, please pass on these simple messages to players and parents.
Also if you are a coach, last person out locks the gate, toilet and container.
In light of what happened recently in Roscommon, we want to appeal to everyone involved with Midleton GAA to respect referees at all times. Remember if we don't have referees then we will have no games. Simple as that.
CONDOLENCES
We would like to express the deepest sympathies of all involved with Midleton GAA Club to the family of Maurice Murray of Suncourt. Ar dheis Dé go raibh a hanam.