Midleton Hurling and Football, Ladies Football and Camogie Club News - September 22
22 September, 2022
COUNTY CHAMPIONS.......
FÉ15 P1 COUNTY HURLING CHAMPIONSHIP FINAL
MIDLETON 4-10 SARSFIELDS 1-17

What a game, what a win.
After a brilliant win over Inniscarra in their semi-final, our Fé15s travelled back to the Mardyke on Saturday hoping for another top draw performance in order to be crowned as County Champions and boy did they deliver.
This was a cracking encounter that kept the huge crowd enthralled from first minute to last. From Conor Finn's brilliant save inside the opening minute to Sarsfields' dangerous '65 in the sixth minute of injury-time, this game had it all and thankfully at the last blast of the referees' final whistle we came out on top to add the P1 Fé15 county title to the Fé13 crown we already had in safe keeping.
The game hadn't even reached the second minute before we had the opening goal of the game, with semi-final hat-trick hero Mikey Pedley again doing the damage. Sars hit back and with 12 minutes gone we were level, 1-1 to 0-4. Cian Stack put us back in front before three in a row from our East Cork rivals saw them lead for the first time in the game, 0-7 to 1-2.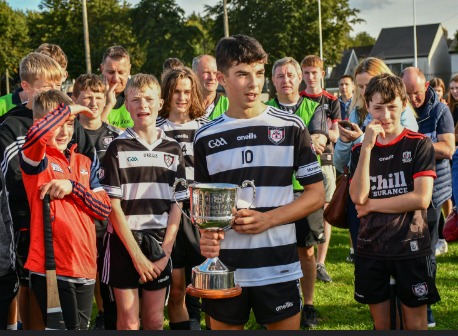 But back came the Magpies with a quick goal and point from Peter Barrett to restore our advantage before Sars struck for their only goal of the game to retake the lead. But it was the young Magpies who finished the half the stronger and points from Peter Barrett, Matthew McSweeney and Josh Hogan saw us in front by 2-7 to 1-8 at half-time.
The second-half had barely thrown-in when Josh Hogan (pictured above accepting the cup) had the ball in the Sars net to stretch our lead to five but by the 50th minute Sars had the deficit down to just two points, 3-9 to 1-13.
But this team loves a goal and they had their fourth soon after when Peter Barrett bagged his second of the day to push the Magpies closer to the title. Sars bounced back again and got it down to a single point deep in injury-time before centre-forward, Josh Foley, struck Midleton's last and decisive point in the 65th minute to secure a memorable win.
A huge congratulations to all the players and mentors who put in such a brilliant effort all year and rewarded with a great county final win.
Don't forget to check out Andrew Foley's brilliant pictures of this game at:
https://www.flickr.com/photos/140256824@N08/albums/72177720302185122
Scorers: P Barrett 2-6 (0-3 f), J Hogan, M Pedley 1-0 each, J Foley 0-2, M McSweeney, C Stack 0-1 each.
MIDLETON: Conor Finn; Eoin Hurley, Lochlann Stewart, Eoin Ahern; Rian O'Driscoll; Matthew McSweeney, Darragh Cronin; Sean Crowley, Cian Lawton; Josh Hogan, Josh Foley, Nicky Coughlan; Cian Stack, Mikey Pedley, Peter Barrett. Subs: Max Murphy for E Hurley, Senan Carroll for S Crowley (both h-t), Shane O'Mahony for C Lawton (51). Also on the panel: Diarmuid Lester, Noah Cahill and Ryan Fitzsimmons.
The lads are back in final action on this coming Saturday when they take on Aghada in the Rebel Óg Football Sheld Final in Ballinacurra at 2pm.
And the Fé15s' Division 4 hurling championship final is on Saturday, October 1 at 1pm v Sarsfields. Venue to be confirmed.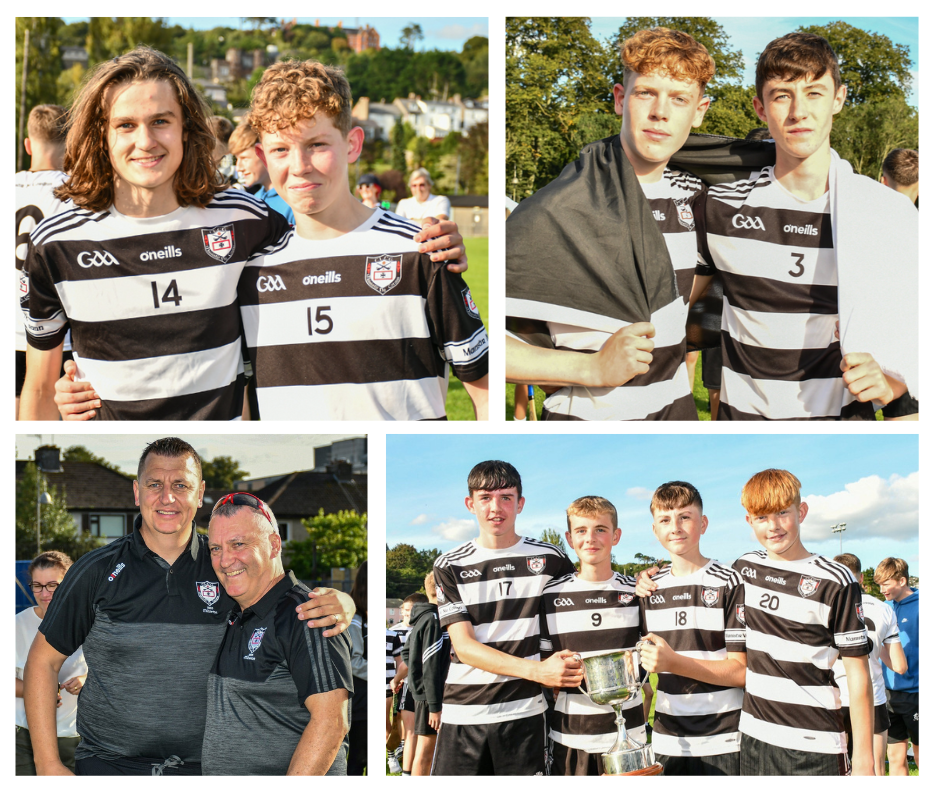 FÉ17 P1 COUNTY HURLING CHAMPIONSHIP FINAL
DOUGLAS 3-14 MIDLETON 1-5
Tadhg O'Leary Hayes on the attack against Douglas. Photo: Steven Lynch.
After great wins over Sarsfields, Valley Rovers and Ballincollig in the semi-final, our minor hurling team travelled to Pairc Uí Rinn on Monday night with high hopes of overcoming Douglas and claiming our third P1 Rebel Og county title in as many weeks.
Unfortunately on the night it wasn't to be as we were beaten by a stronger Douglas team. It wasn't their night but fair play to each and every Midleton player who gave it their all and never stopped trying to the final whistle.
Congratulations to Douglas and well done to the Midleton players and mentors for all their hard work throughout the season. I've no doubt you'll all be back better and stronger for this experience in 2023.
Best wishes in his recovery to Carthaigh Cronin who was a late withdrawal through injury.
Scorers: J. McSweeney 0-4 (4f), D Garde 1-0, L Bordkorb 0-1.
MIDLETON: Zach Smith; Darragh Higgins, Niall Lang, Tomás Dunlea; Fionn Kelly, Tadhg O'Leary Hayes, Alex Moloney; Cian Lambe, Luka Brodkorb; Evan McGrath, Eoghan Fraser, Daniel Garde; Darragh Egan, Darragh Scanlon, James McSweeney. Subs: Eoin Higgins for D Higgins (ht), Conor Morley for D Egan (43), Alex Howard for T O'Leary Hayes (53 inj).
FÉ13 WIN AGAIN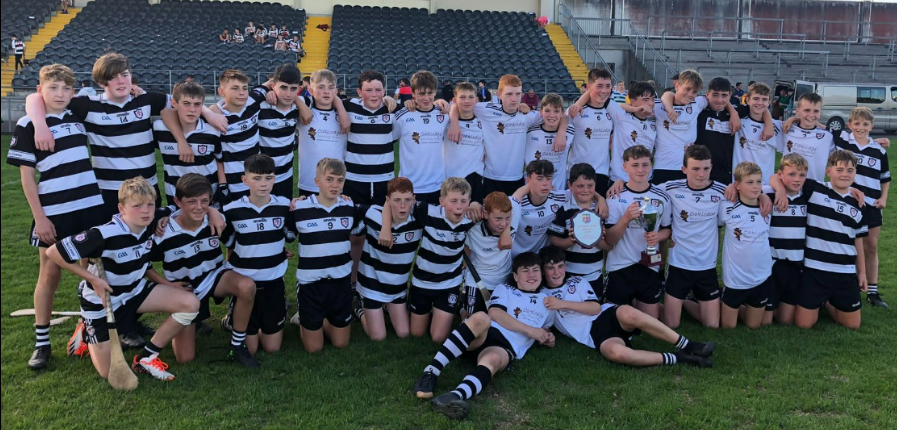 After their recent P1 County Final win over Ballincollig, the Midleton Fé13s were at it again on Saturday when they travelled to Mallow to take part in a massive tournament that had teams from all over Munster.
The Magpies fielded two teams and after a brilliant day's hurling they reached both finals, to take on Sarsfields in both games.
After two cracking games it was the Magpies who came out on top in both finals to cap a memorable day in what has been a memorable season for these young lads. Well done to all involved.

FÉ12 FOOTBALL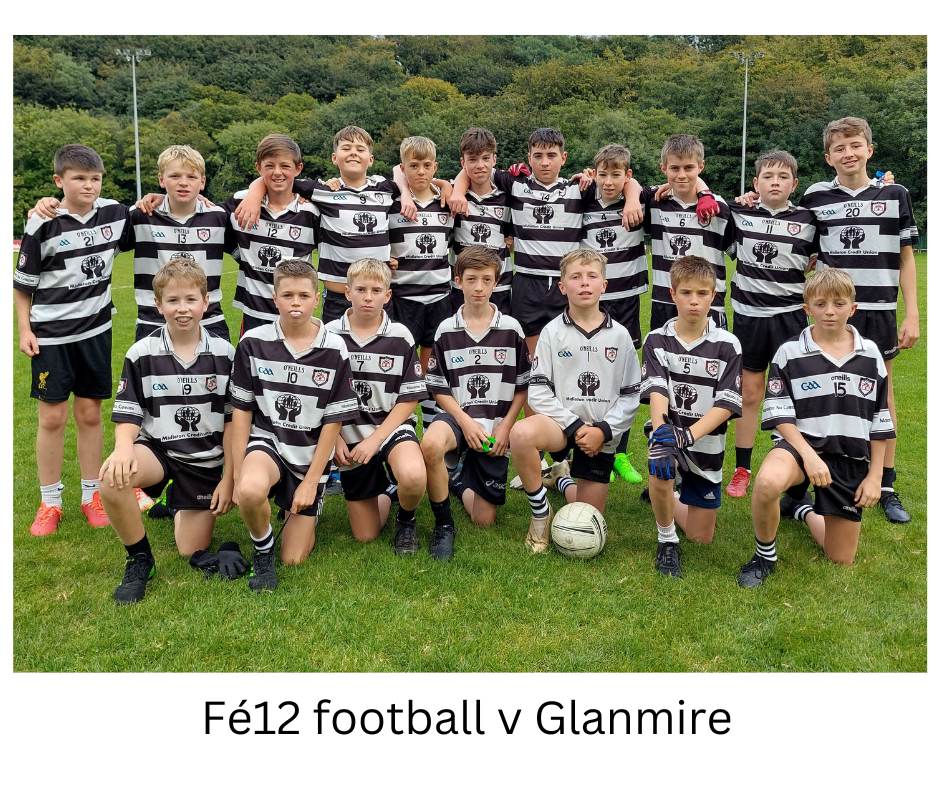 A short trip to Glanmire on Sunday evening saw the Fé12s come agonisingly close to their first group one football win. Being 1-3 1-10 down at half-time meant that the young Magpies had it all to do in the second-half. But a great performance from the whole panel saw them take the fight to Glanmire and play an unbelievable second-half. Unfortunately the final whistle blew on a drawn game. Final score: Midleton 2-12 Glanmire 1-15. Well done boys.
FÉ10S V ST COLMANS

Our lads travelled to Cloyne on Saturday to play St Colmans in Football in the Rebel Og Go Games series of games.
We brought 30 Young Magpies with us and all four teams played four games each.
All four teams were excellent on the day getting great scores throughout each of their games.
We like to thank St Colmans for hosting us and we would also like to thank the parents of this group for their great support.
FÉ8S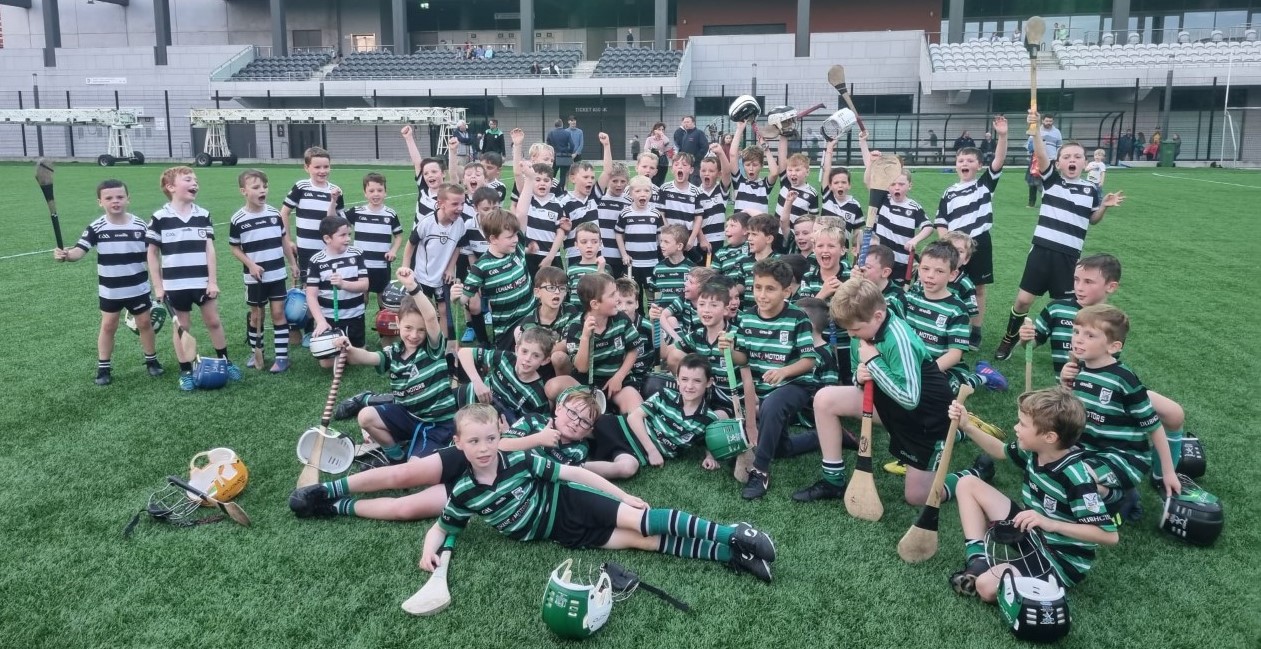 It has been a busy few weeks for the Fé8s. First up we travelled to Togher to take in the Barrs for a morning's hurling.
This was followed by a mixed hurling and football blitz against Douglas on the Astro Turf in Pairc Ui Chaoimh (pictured above). And finally we travelled to Fermoy for a football monster blitz playing games against the hosts, Kilworth and Mitchelstown.
ADULT SECTION
EAST CORK OIL JUNIOR A HURLING CHAMPIONSHIP
ST. ITAS 2-22 MIDLETON 1-16
Our Junior A hurlers, fresh from their win over Sars the week before, travelled to Killeagh on Saturday evening to take on reigning champions, St Itas in the final round of group games.
After an even opening quarter, St. Itas upped the ante in the second quarter and by the half-time whistle they led on a scoreline of 0-14 to 0-6.
Midleton made a couple of changes at half-time and they were much better in third quarter and an excellent goal by Ian Kennefick saw us get to within four with 13 minutes gone in the second quarter but St Itas hit right back with a goal of their own and they followed it up with another soon after and from there we were always on the backfoot and St. Itas ran out convincing winners.
We're back in action this coming Sunday when we travel to Cobh to take on Carrignavar in a quarter-final clash at 5pm. Best of luck lads.
MIDLETON: Peter Dowling, Aaron Coughlan, Adam Daly, Neil Fitzgerald, Billy O'Shea, Aidan Ryan, Rory Hartnett, Kieran Mulcahy, Seamus O'Farrell, Johnny Comer, Padraig O'Shea, Dan Cagney, Tim O'Sullivan, Michael Abernethy, Ian Kennefick. Subs: Dan Sullivan for A. Couglan, Garan Manley for Tim O'Sullivan, Evan Kelly for K. Mulcahy, Stuart O'Connor for D. Cagney.
JUNIOR B HURLING
Our junior B Team was beaten by a better and more experience Bride Rovers team on a scoreline of 0-33 to 0-6 in their final group game of the championship on Sunday in Killeagh. Fair play to all the lads who lined out as we had lost through injury and playing up on Junior A team.
MIDLETON: Coran Swayne, Jack McCabe, Kieran Lambert, Brendan Ferriter, Daire Mooney, Fergus Wade, Jerome Curtin, Luke Deane, James O Sullivan, Ben O'Neill (1pt) Mark O Keeffe (5pts, 4frees)James Condon, Ben Kenneally, Chris Power, Coleman Quinn, Davy O'Brien, Ryan Cahill.
FÉ19S
Our Fé19 County Final meeting with Valley Rovers looks set to take place on Saturday, October 1. Time and venue to be confirmed. And the lads look set to be out the following Saturday in their football final against Colmcilles.
SAFEGUARDING COURSE
A GAA child safeguarding course will be run in the club on Wednesday 28th September.
To register for the course please email the children's officer on childrensofficer.midleton.cork@gaa.ie
If you are unsure whether you need to attend this course, please don't hesitate to contact the children's officer. Please note that the GAA safeguarding course is a stand-alone course and needs to be completed by all GAA coaches. The safeguarding course for other associations does not qualify you for GAA and you must complete the GAA course.
LADIES FOOTBALL
UNDER 10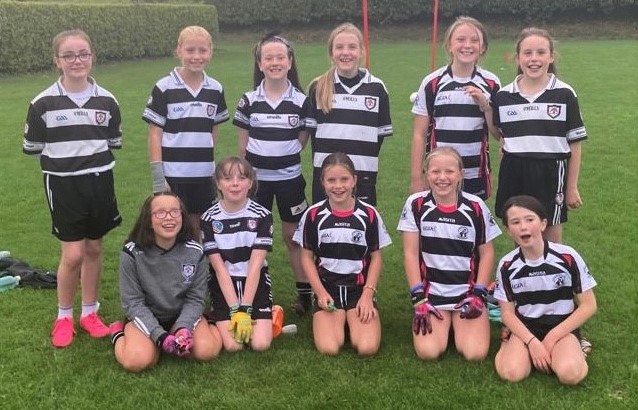 Our U9 and U 10 girls played a challenge match against Fermoy last Sunday evening. The girls played excellent football and produced plenty of goals. Most importantly they had great fun while doing so. Well done all.
CONGRATULATIONS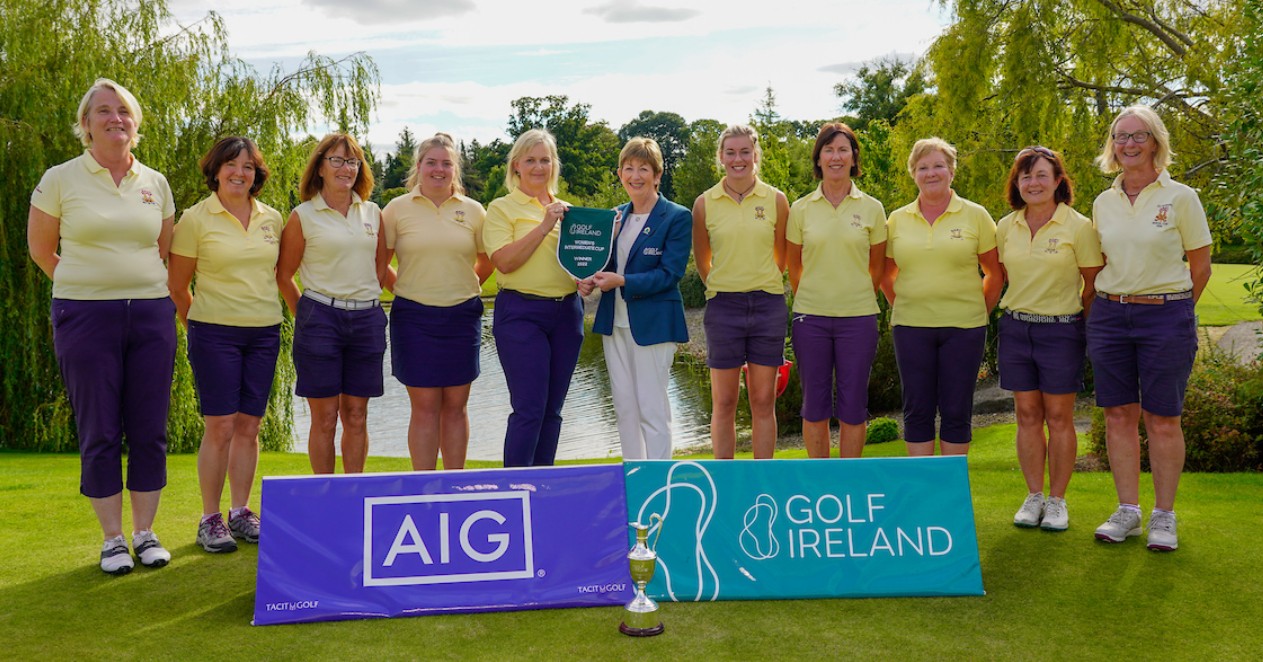 Well done to our Junior player Claire O'Brien who is not only a star on the football and camogie fields but took to the golf course last weekend in Co Meath and was part of the East Cork Ladies team who won the AIG Woman's All-Ireland Intermediate Cup. A great achievement by you all.
JUNIOR A
Our Junior A Ladies will travel to Dromtarriffe this Sunday morning where they play their final round robin championship game. This is a must-win game so we wish you all the best of luck.
TRAINING
With the light beginning to fade in the evenings there will be a change to training times so please make note of it when the text is sent.
CAMOGIE
FÉ12S V WATERGRASSHILL

Our FÉ12s were in action again with a home league game against Watergrasshill on Thursday last in ideal conditions in Park South. Well done to all the players who put in a tremendous effort in this game. Fair play to all the players who contributed to this exciting game of camogie which ended in a draw. It was great to see the practice paying off for all the players. Thanks to Watergrasshill, the referee and all the supporters. Well done to our U-12 Captain Sadhbh on the night

FÉ14S V GLEN ROVERS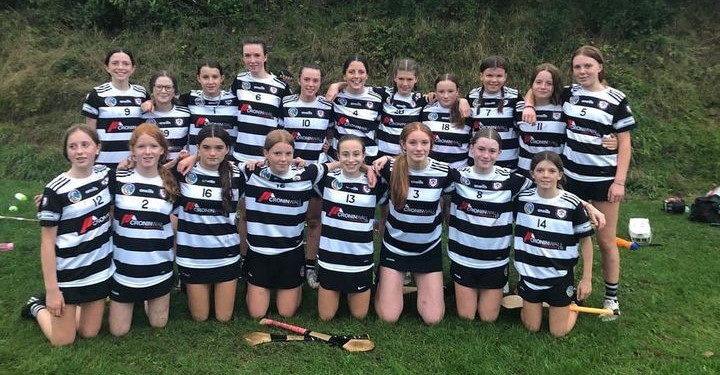 Our Fé14 Camogie team travelled to Glen Rovers to play their last group game of the Premier U-14 Championship, with a win required to secure a semi-final place. Following a day of very heavy rain the pitch was in extremely good condition and both teams were delighted to see the fixture going ahead. An away game against Glen Rovers is always going to be a tough challenge at any level so a strong start was crucial. With this in mind it was great to see the focus and determination the girls brought to the warm-up, lessons learned from recent fixtures have obviously been taken fully on board. The first half went perfectly to plan with the defence holding firm and the midfield linking well with the forwards to set up some well-taken scores. The girls finished the half with a well deserved lead.The strong challenge from Glen Rovers was fully expected in the second-half and they took the first score from play as they entered their own purple patch.
The Midleton defence were outstanding and made the Glen work really hard for all their scores but it was becoming increasingly difficult to get the ball up to the forwards. The Glen Rovers side deserve great credit for their battling second-half performance but the Midleton girls managed to take the game based on their strong first-half display. Some outstanding performances all over the field have resulted now in the girls securing a Semi-Final place against Eire Og. Excellent Teamwork girls, keep up the hard work

FÉ14B V DOUGLAS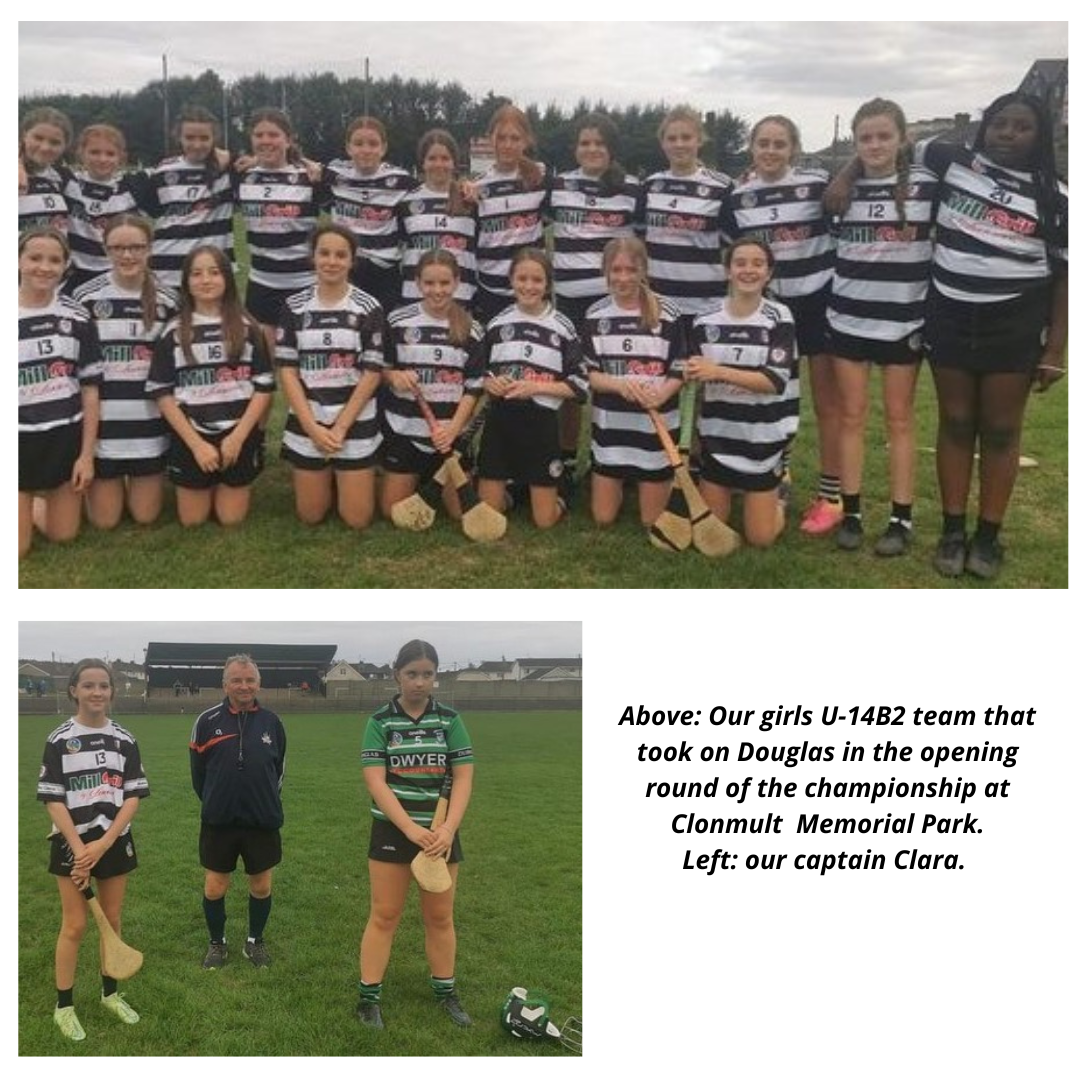 Our girls kicked off the U-14B2 championship with a home game against Douglas in Clonmult Memorial Park on Sunday evening. It was an epic battle with our girls just coming out on top in the end. Congratulations to Clara Rolston who captained the girls in championship action to victory. Clara rounded off a superb performance with a cracking goal! Well done to all involved.
FÉ16S V SARSFIELDS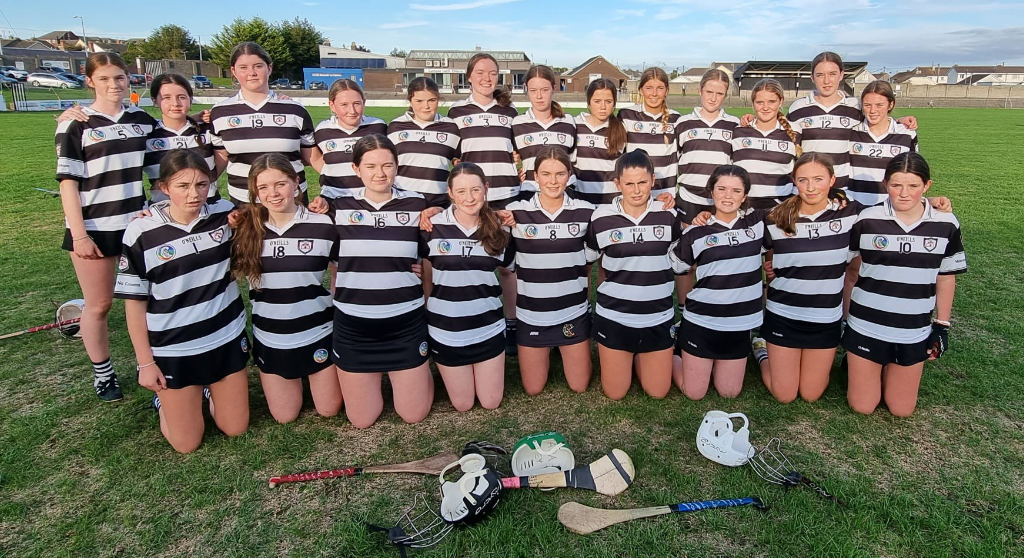 On Tuesday night our Fé 16s played a very competitive Sarsfields side. Our girls gave it their all from start to finish. We are very proud of the girls who never gave up fighting. Despite their best efforts, it was not our night. We will certainly learn from our experience and hopefully come back stronger. We will now face Glen Rovers in the P1 Semi Final plate. Time and date to be confirmed. We wish Sars all the best in the rest of their campaign
JUNIORS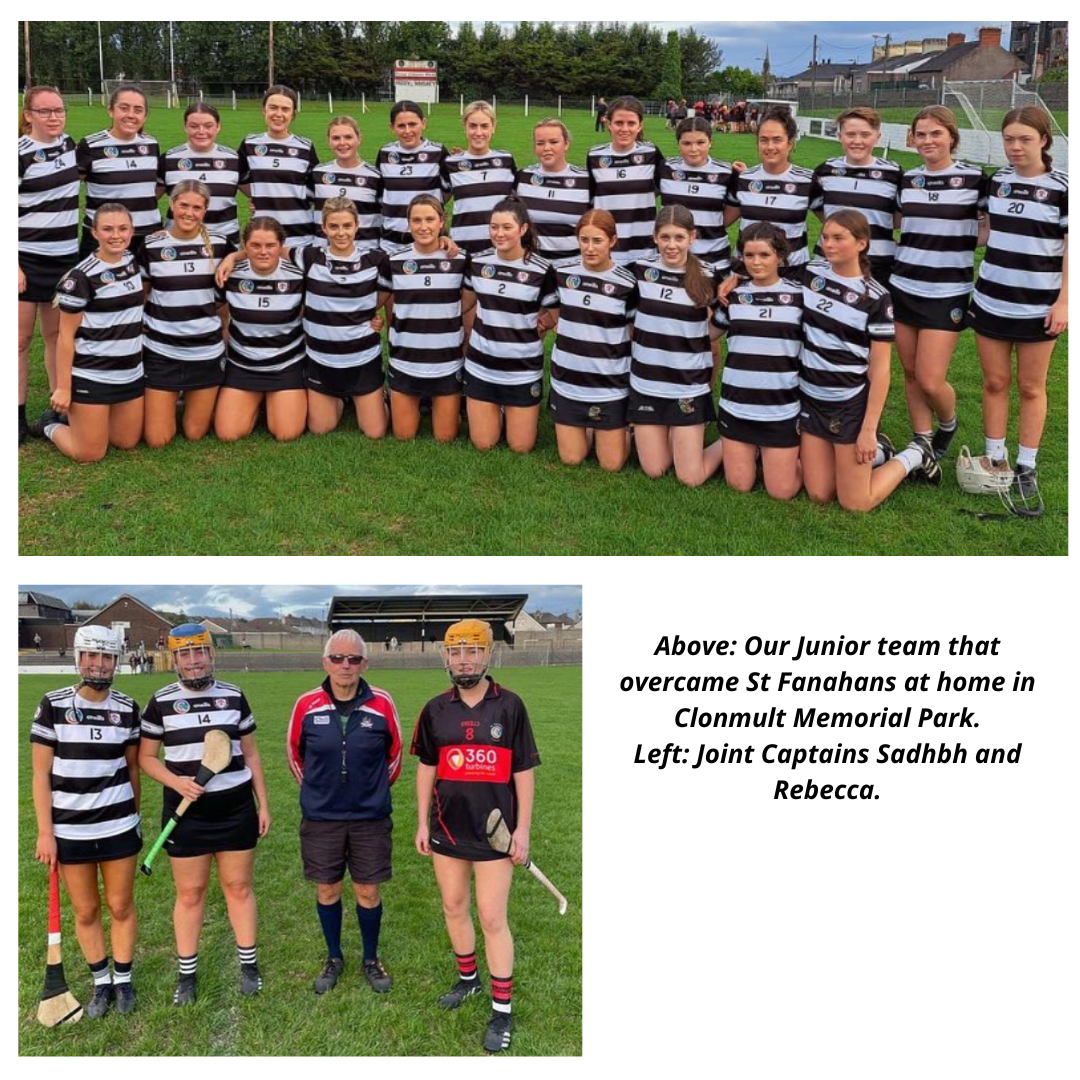 Well done to our Junior Team as they overcame St Fanahans at home in Clonmult Memorial Park and are now through to the county final against Bride Rovers. Pictured are our Joint Captains Sadhbh and Rebecca.
MAGPIES ALL STARS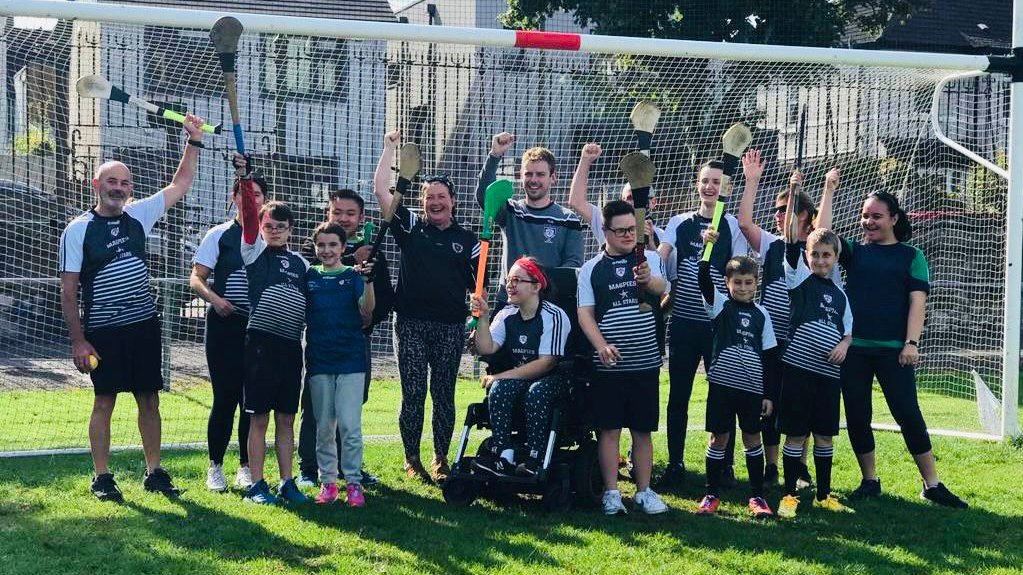 The Magpies All Stars had a fantastic morning at the Cork SportAbility Day at the UCC Arena in the Mardyke on Saturday. Thanks to Cork Sports Partnership for inviting us to such a great event.
The Magpies All Stars are on the road again this weekend when they travel to Pairc Uí Chaoimh to take part in the National Inclusion Day. Best of luck lads.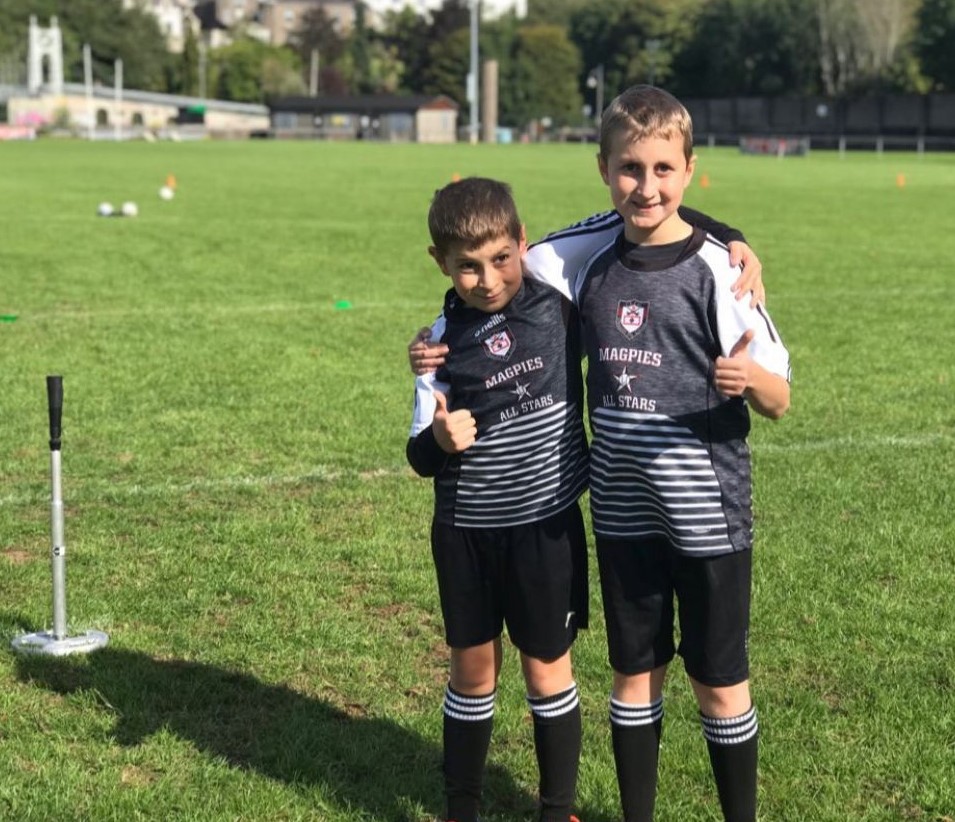 BROCK DISCO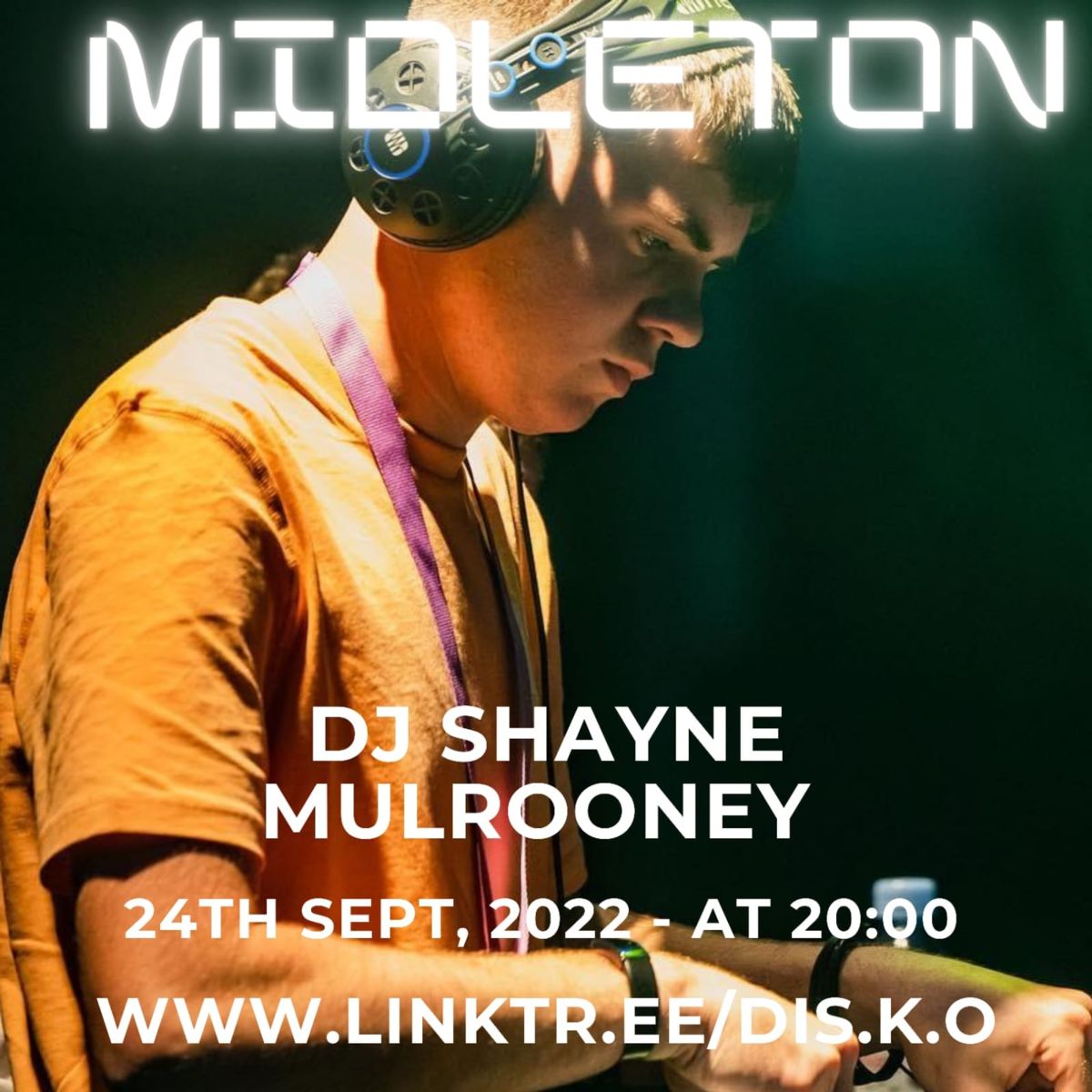 Don't forget that we are hosting the latest Brock disco on this coming Saturday night (Saturday, September 24).
It will be a debut for new resident DJ at Midleton GAA Dj Shayne Mulrooney from Queens Nightclub in Ennis. Shayne is an up and coming DJ signed to *De Costa Records* and has released two singles to date.
There are over 300 tickets sold for the rescheduled Disco which continues to be a vital fundraiser for the club in the development of our facilities and the running of our ever growing number of teams.
This month, along with a new DJ, we have a spectacular new light and sound system, giveaways of beats headphones, a hang tough competition with Sean Coffey with cash prizes and a guest appearance by Midleton's own DJ Eoin Sweeney.
All of which adds up to making Midleton GAA the place to be next Saturday night the 24th for 1st and 2nd years.
You can purchase tickets at:
www.tinyurl.com/Midleton24th

SIGN OF THE WEEK
​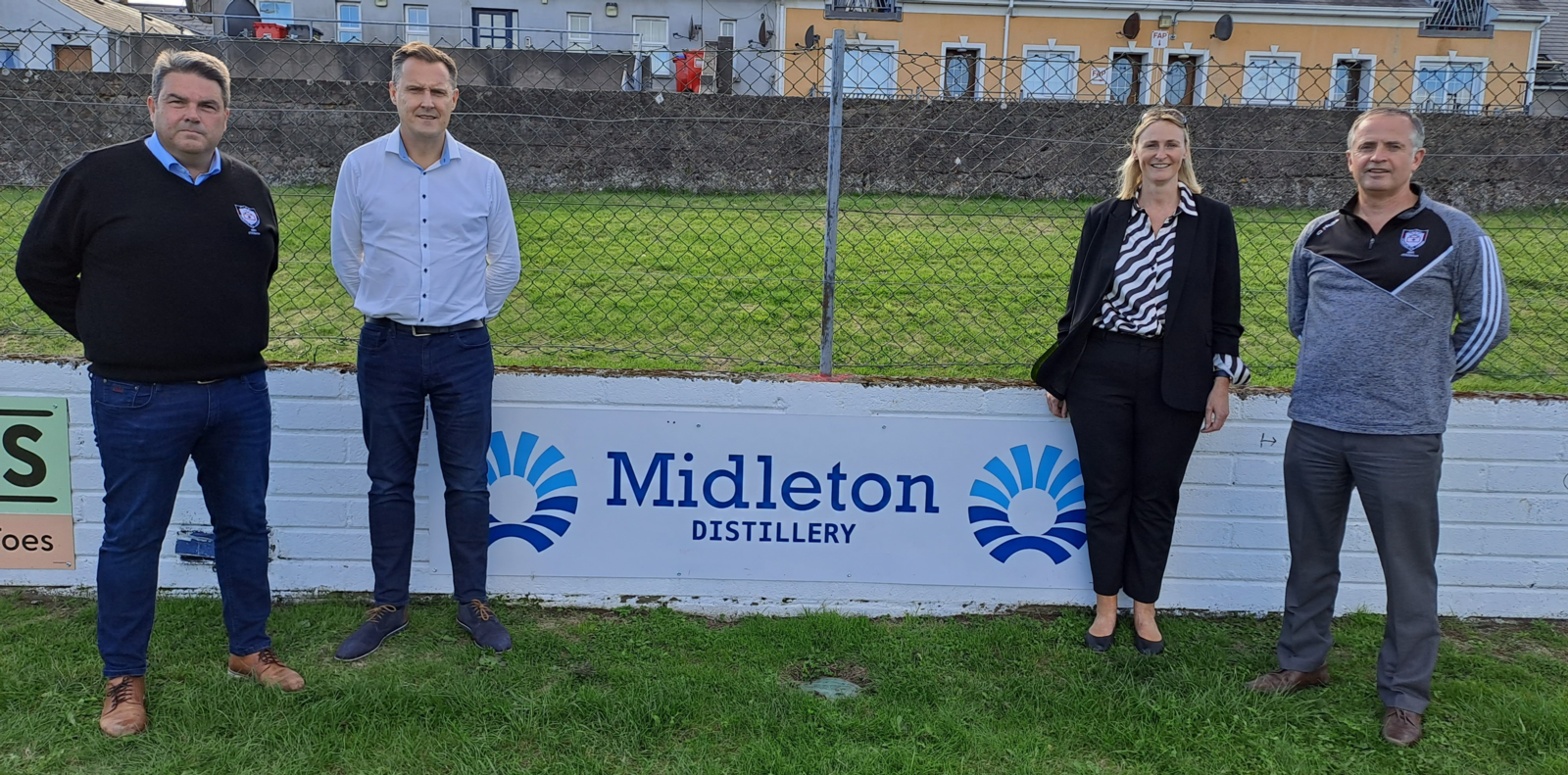 This week's sign of the week business are our great friends and supporters at Midleton Distillery. They have been great supporters of Midleton GAA and wonderful employers in our town for generations and have recently announced plans for a new €250m plant which will be adjacent to our new grounds at Park South.
Pictured in Clonmult Memorial Park with their brand new pitch signs this week were: Paul Wickham and Jaime Jordan of Midleton Distillery and John Hogan and Coleman Quirke of Midleton GAA. Please continue to support our sponsors and supporters.....

SUPPORT ONE OF OUR OWN - MARATHON RUNNER CIAN MCCARTHY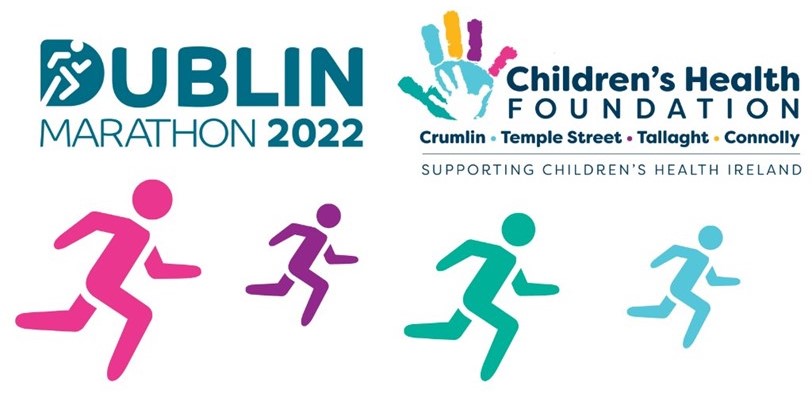 On the 30th of October I am running the Dublin Marathon in memory of our baby Fiadh and to fundraise for Crumlin (Children's Health Foundation). Fiadh was hospitalised and lived for five days there. The care and treatment that Fiadh received was absolutely outstanding. Every staff member was better than the next. The support that Mary and I got was also exceptional. The services that they provide for families in times of need make their task more manageable. Any donation provided would be greatly appreciated and would go a long way to ensuring this quality service continues.
The link to fundraising page is www.justgiving.com/fundraising/cian-mccarthy1
Thanking you in advance,
Cian McCarthy.

TED DOWNEY
Timothy 'Ted' Downey was a star player on the Midleton team of 1890 that won Cork's first All-Ireland senior football title. He went on to win another Ireland football medal with CJ Kickhams in Dublin in 1897 becoming one of the first, if not the first, dual All-Ireland medal winner in the history of the GAA. Following recent research we have discovered that Timothy is buried in an unmarked grave in Glasnevin cemetery (pictured above).
On Tuesday, November 8 Midleton GAA, in conjunction with the CJ Kickhams club and the Cork and Dublin County Board, intend to erect a memorial on the grave to mark Timothy's achievements. The President of the GAA amongst other dignitaries will be in attendance. We are organising a bus from Midleton for the event. If you're interested in attending please let me know asap so that we can plan accordingly.
The cost for the day will be approx €70 to include transport/refreshments in Glasnevin and a meal on the way home. Weather permitting a tour of historic Glasnevin cemetery will also be included. This is open to all Midleton GAA and non GAA members. There are only a few remaining spaces on the bus so if you're intersted please contact Club Chairman John Fenton at 086-86606544.
MIDLETON GAA GOLF SOCIETY
Midleton GAA Golf Society's next outing is to Dungarvan Golf Club on Saturday, October 8. Tee time is from 12 noon to 1.20pm. Green fee will be €30.
LOTTO RESULTS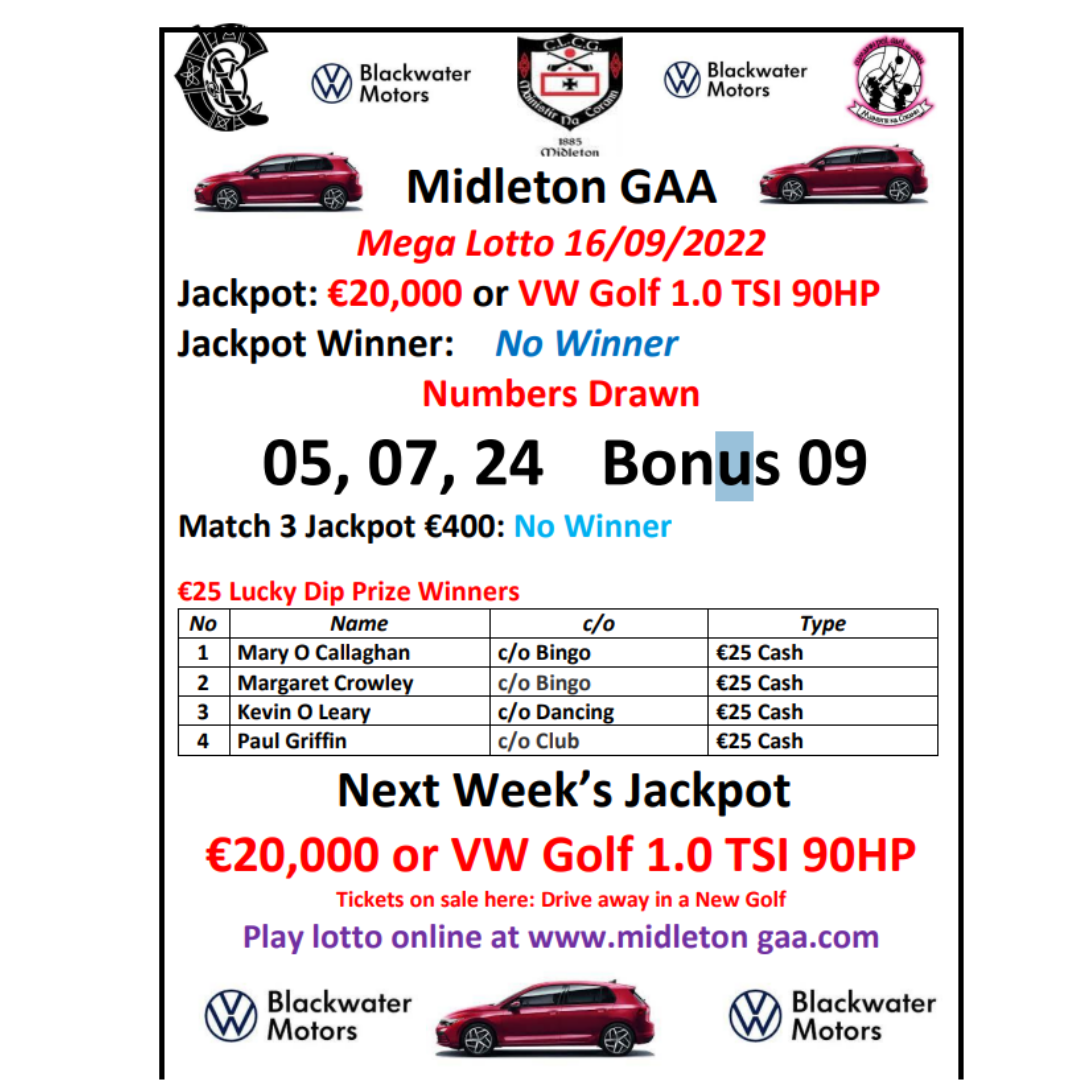 The numbers drawn this week were: 5, 7, 24 and bonus: 9.
€25 Cash Lucky Dip winners:
Mary O'Callaghan
Margaret Crowley
Kevin O'Leary
Paul Griffin.
Next Week's Jackpot - €20,000 or VW Golf 1.0 TSI 90HPPlay 24/7 at: http://www.klubfunder.com/Clubs/Midleton%20GAA/lotto
In total Midleton GAA will give out local business vouchers to the value of €3,800 every year as part of our "Shop Local, Buy Local" campaign.
How to play: tickets are on sale at Pat Walsh Paints, Chadwicks, Frank Murphy Butchers, Murphy's Pharmacy, Crowley Butchers, or buy online (see above).

LOTTO RENEWAL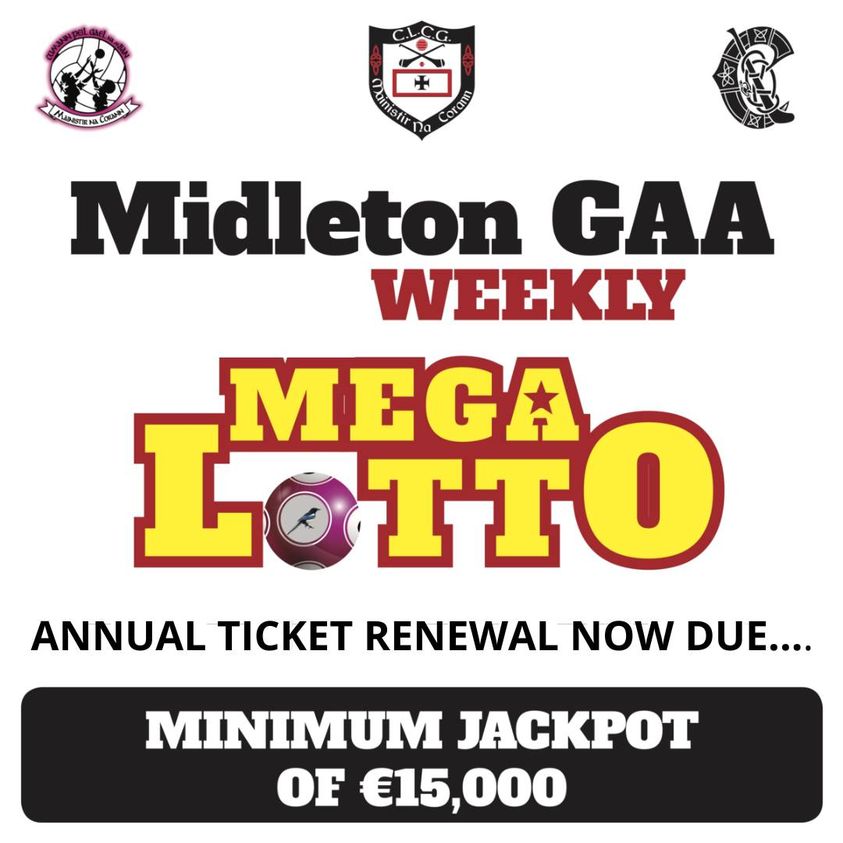 The Lotto yearly renewal has come around again. You could win our Jackpot of €20k or drive away in a Blackwater Motors VW Golf. Last year we've had over 200 Lucky Dip Winners and 6 x €400 Match 3 Winners.
Support the Club by playing online at http://www.klubfunder.com/Clubs/Midleton%20GAA/lotto
Place the number of draws at 50 and pay €100 and be signed up for every draw for the next year
Play, Win & Support this important fundraiser for your Club. Thanks to those who already paid their annual Lotto renewal for the year ahead.
CULTURE NIGHT AT MIDLETON GAA
Oiche Ghaelach agus Cultúir Irish night on National Culture Night in the Midleton GAA Club on this Friday (September 23) at 9.15pm. Fáilte roimh chách.


BINGO
Our Bingo continues on Friday nights with an early game at 7.25pm. Everyone is welcome.
CLUB SHOP
The Midleton GAA club shop is back up and running for the 2022 season but please note that it's still online with collection only at the club on a Saturday morning.
All you have to do is go to the Klubfunder website (www.klubfunder.com/Clubs/Midleton%20GAA/ShopItems) and you will see the full range of what's available to buy. You can shop away to your heart's content, pay for it online and then collect your purchases at the club shop on Saturday morning between 9.30am and 10am. Thank you.

PLEASE PLAY YOUR PART
We are asking all players, mentors, parents, supporters and neighbours to please play their part by playing ball on the following.....
Please slow down entering and leaving Park South.
No dogs, except assistance dogs, are allowed at Park South or Clonmult Memorial Park.
Please do not bring single-use plastic bottles to either Park South or Clonmult Memorial Park.
Please put your rubbish in a bin or bag and please bring your gear home with you.
And always be aware of the open water surrounding the pitches in Park South.
If you are a coach, please pass on these simple messages to players and parents.
Also if you are a coach, last person out locks the gate, toilet and container.
In light of what happened recently in Roscommon, we want to appeal to everyone involved with Midleton GAA to respect referees at all times. Remember if we don't have referees then we will have no games. Simple as that.

CONDOLENCES
We would like to express the deepest sympathies of all involved with Midleton GAA Club to the families and friends of Sheila O'Keeffe (Little Island) and Sheila Cashman (Dwyer Road and Aghada). Ar dheis Dé go raibh a n-anamacha.