Midleton Hurling and Football, Ladies Football and Camogie Club News - August 18
18 August, 2022
FÉ19 FOOTBALL

Pride of place this week goes to our Fé19s. After a fine win over Carrigtwohill in the previous round, our Fé19 footballers made the journey to Killeagh on Monday night to take on Glenville in the East 1 semi-final.
This was definitely a case of goals win games and three excellent first-half goals saw us lead by 3-1 to 0-6 at half-time.
We started well again in the second-half but a Glenville goal brought them back into the game before we turned in an excellent last quarter performance topped off by an excellent fifth goal by David Cremin to see us run out comfortable and deserving winners on a final score of 5-8 to 1-9.
We are now through to the final where we will play Erins Own or Colmcilles.
MIDLETON: Brian O'Connell, Ben Kenneally, Darragh McCarthy, Rory Hartnett, Colin Sunderland, Ciarmach Smyth (1-2), TJ Murphy, Niall Corcoran, Evan McCarthy (0-1), Liam McGrath (1-0), Mikey Finn (0-2), Cian Murray (1-0), Cathal Beausang, David Cremin (1-3 , 0-2f), Ben O Neill (1-0). Subs used: Dara Mooney, James O'Sullivan, Evan Kelly, Sean Cronin and Adam Fay.
FÉ19 HURLING
The Fé19s are back in hurling action on Sunday when they take on Blackrock in the P1 Championship semi-final in Ballygarvan at 1.30pm. Please take note of the new venue and time and please come out and support the lads if you can.
They had a great win over Sarsfields in the previous round and here's hoping they can overcome the Rockies and make the final of this historic first ever Fé19 hurling championship.
JUNIOR B HURLING
After their excellent opening round win over Sarsfields in Glenville, our Junior B hurlers are back in action tomorrow (Friday) night when they travel to Castlemartyr to take on Cloyne at 7pm. Best of luck lads.
THE FOLLOWING WEEKEND
The weekend after next is another busy one for the club with the our first three hurling teams all in championship action inside 30 hours.
The intermediates will get the ball rolling on Saturday when they take on Blackrock in Carrigtwohill at 2pm. After a great performance from a very young team in their draw with Lisgoold they will be hoping to record their first win of the championship, which could be enough to see them through to the knockout stages.
Then on Sunday our senior hurlers travel to Fermoy to take on Kanturk in their third Co. SHC game. After a fine win over Newtown in round two they will be hoping to make it back to back wins and hopefully advance to the knockout stages.
Then on Sunday night our Junior A hurlers will take on Cobh at 7pm at a venue to be confirmed.
More on these games and ticket details in next week's notes.
JUVENILES
FÉ10S

On Wednesday last in Park South our Fé10s played the Fé11s in a Hurling Challenge game.
With the Davy Hogan Street Leagues commencing this month we decided to have a challenge game so the two groups would get to know each other better.
There was a great evenings display of hurling with these two groups and there were some great scores from both teams throughout the evening.
We would like to thank the Fé11s for giving us a great game.
On Saturday last we hosted Ballincollig in a hurling challenge game in Park South.
We had over 30 players in attendance for this who put in a great effort and performance in the blistering heat.
Our lads played very well and also got some great scores throughout.
We would also like to thank Ballincollig for giving us a great game on the day.
​
FÉ11S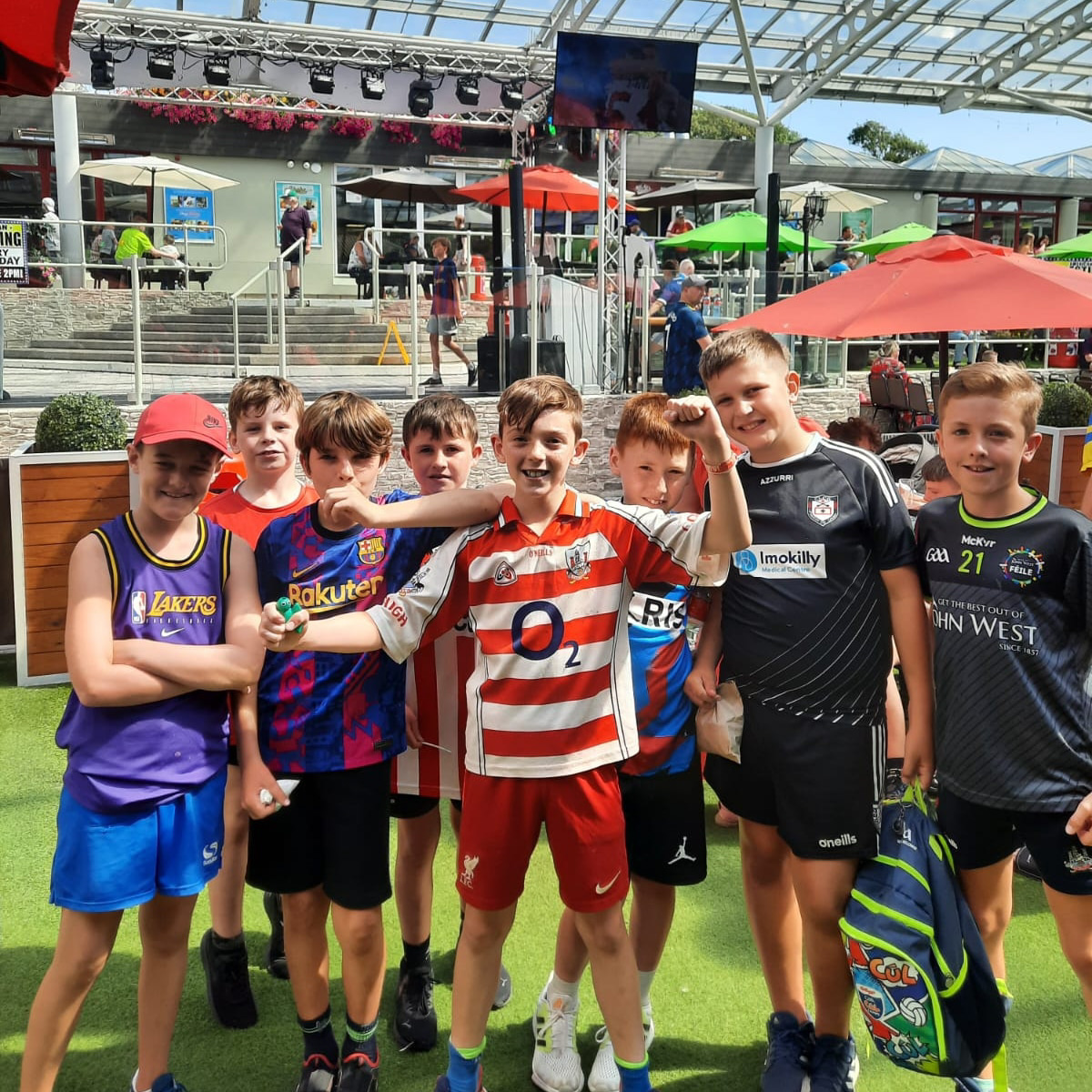 Our Fé11s made the journey to the wonderful Trabolgan on Saturday last for a well deserved day out and on the day the boys took part in a Juvenile Iron Man to coincide with the big event taking place in Youghal and beyond at the weekend. A big well done to Chris Nugent (Midleton U-11 player) who came out on top as the winner.
Thanks to everyone that helped to make this such a great day out for the lads.
FÉ12S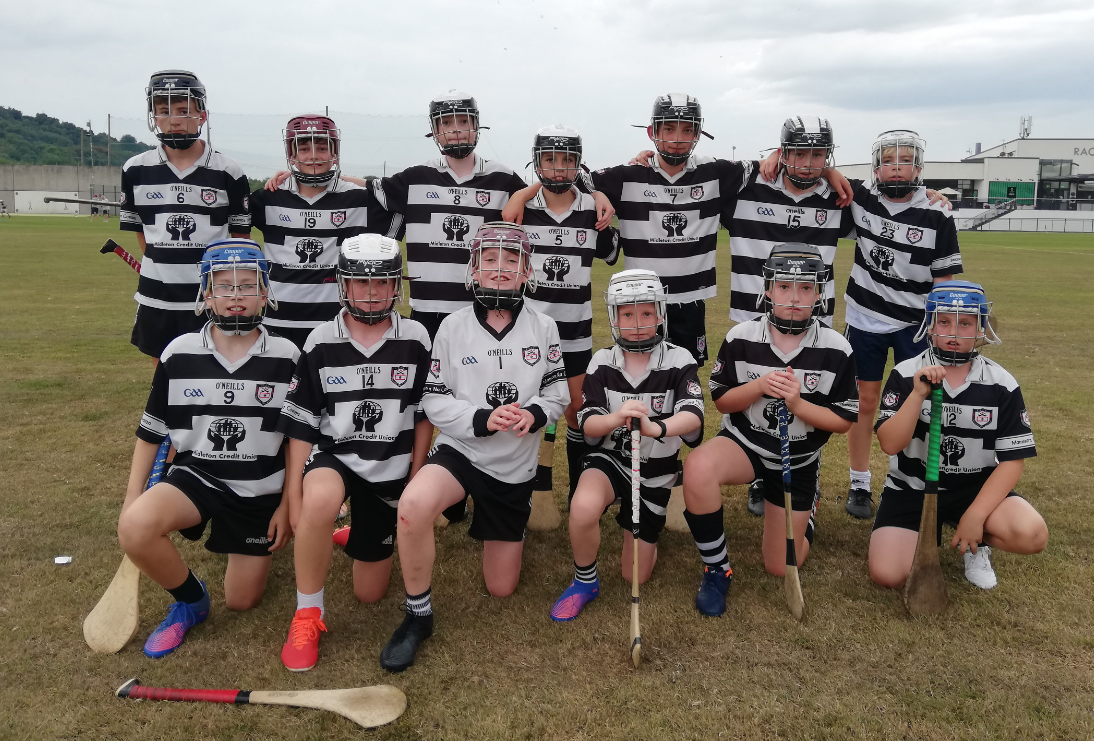 The Fé12 boys were out twice this week.
First up was group five hurling action away to Nemo Rangers on Sunday evening. This was a fantastic display by the boys as they led from the start and came away with a good win.
Monday evening saw the group one hurlers out for a home tie versus Kiltha Óg.
A close game followed with only two points separating the teams in the final ten minutes. Unfortunately some late scores from the visitors saw them take the spoils.
Final score: Midleton 0-6 Kiltha Óg 2-7.
FÉ13S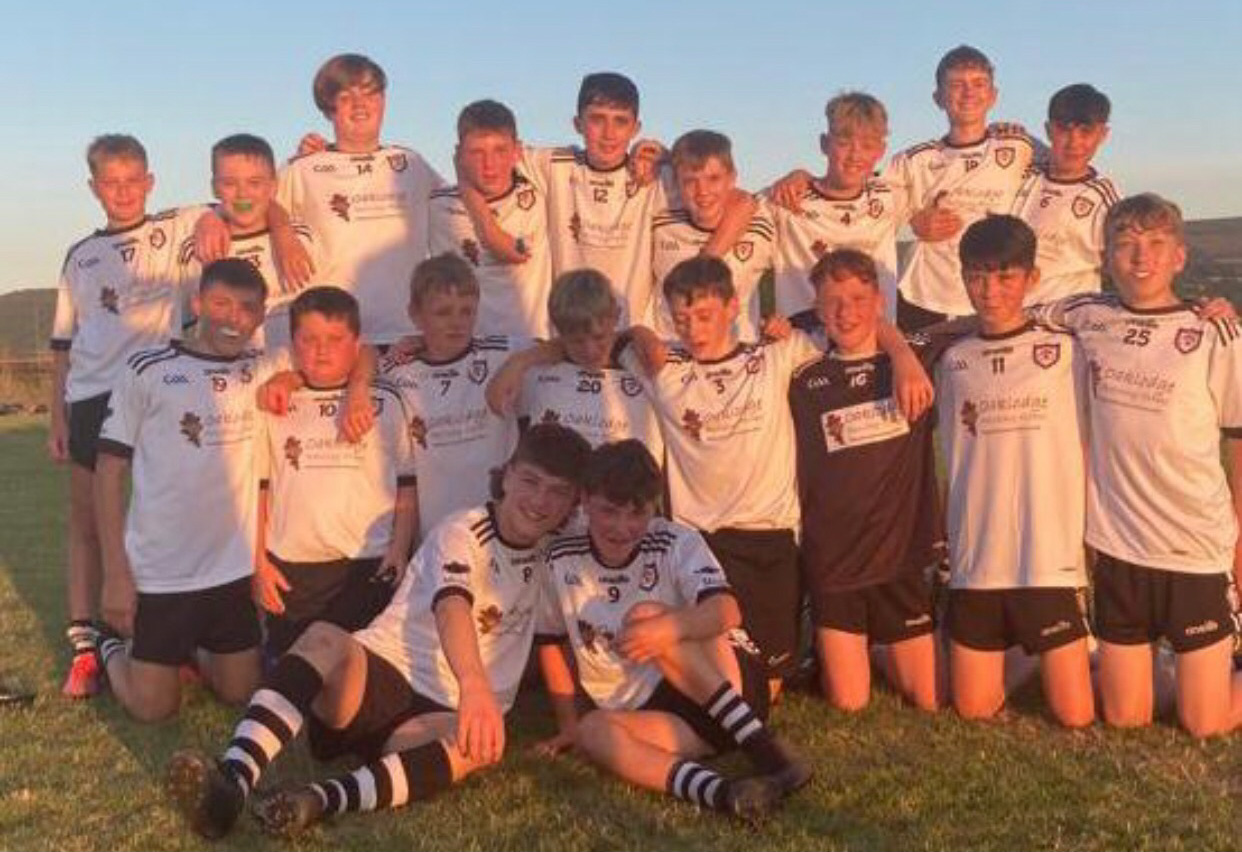 A big shout out to our Fé13 footballers who travelled to Mallow and came home with an excellent win in very hot conditions on a final scoreline of 3-8 to 2-9. Well done boys.
FÉ15S
Our Fé15s concluded their group championship games on Wednesday evening in Clonmult Memorial Park when they took on Sars to see who would top the group.
The young Magpies raced out of the traps and flew into a big early lead and by the half-time whistle they led by 0-12 to 0-5. Sars though were a completely different team in the second period and three goals after the interval saw them turn this game around and run out winners on a final scoreline of 3-13 to 0-18.
Midleton will now play Inniscarra in the P1 semi-finals, while Sars will play Douglas in the other semi. Date and venue to be confirmed.
DAVY HOGAN STREET LEAGUES
There was great excitement this week with the announcement of the various panels for the upcoming Midleton GAA Street Leagues which will see the winners presented with the famous Davy Hogan Cup.
The competition will get underway on this coming Tuesday, August 23rd. Round two will take place on Wednesday, August 31st, with the third round and the final taking place on Saturday, September 10th.
These are the various panels for what promises to be an exciting competition….

JUVENILE FIXTURES
FRIDAY, AUGUST 19
Rebel Og Coiste Fe17 Premier 1 Hurling Championship section 2
Midleton v Valley Rovers at 7pm in Midleton
SATURDAY, AUGUST 20
Rebel Og Coiste Fe17 Div 4/5 Hurling Championship
Midleton v Valley Rovers at 12 noon in Midleton
Rebel Og Coiste Fe16 Hurling League 13 aside Final
Midleton v Inniscarra at 6pm in Midleton
Rebel Og Coiste Fe13 Premier 1 Hurling League Cup Playoffs
Midleton v Carrigaline at 2pm in Midleton
SUNDAY, AUGUST 21
Rebel Og Coiste Fe17 C3 Hurling League Phase 2 Group 2
Midleton v Fermoy at 11am in Midleton
CAMOGIE
FÉ12S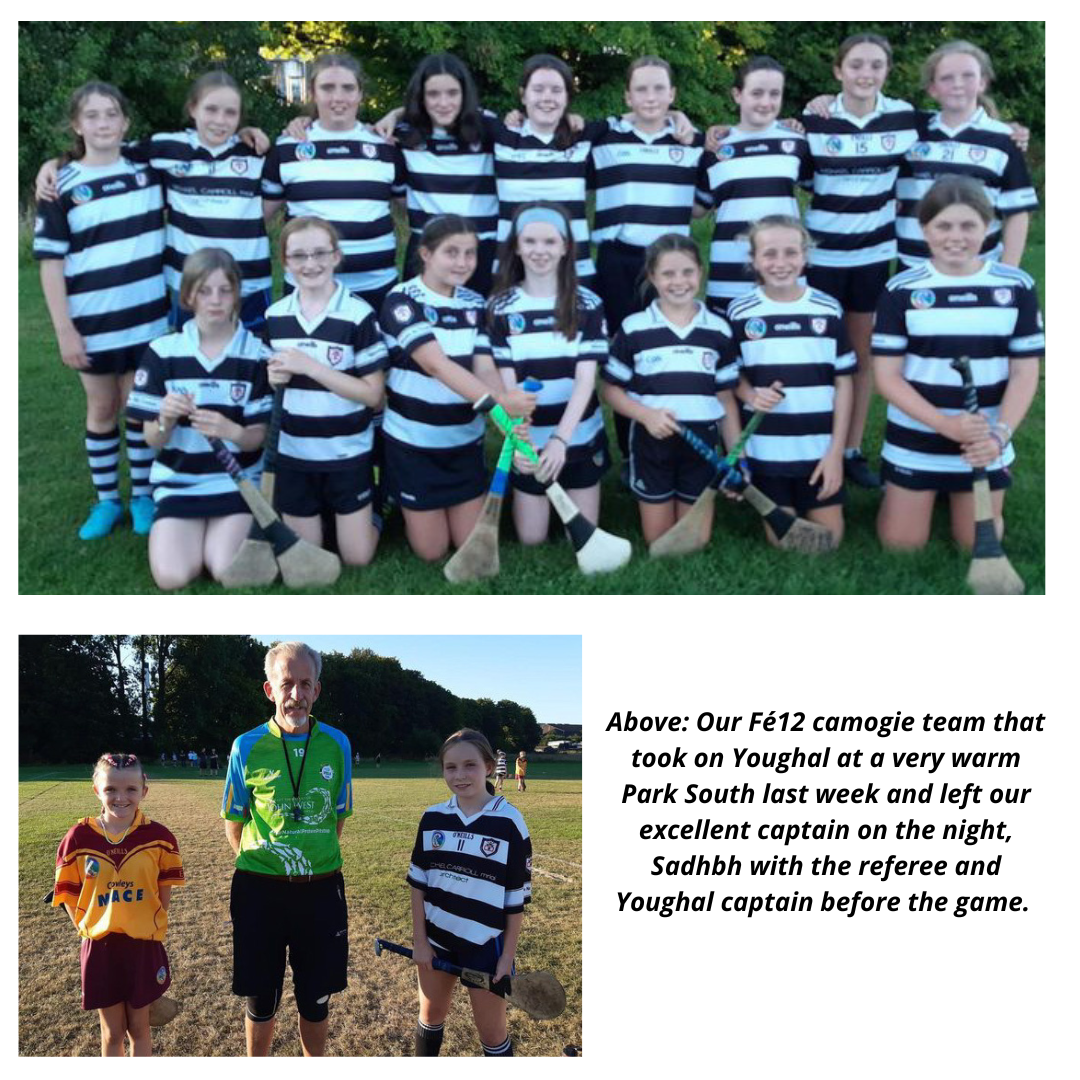 Our Fé12s were in action last Thursday evening with a home game against Youghal and in warm and sunny conditions in Park South. The girls were excellent and played with great skill and determination throughout the game. Thanks to the referee, the parents and families for their support and to our East Cork neighbour's for travelling and been part of a great evening of camogie. Well done all involved. Special word of thanks to Sadhbh who led her team as captain on the night.
CORK U-15S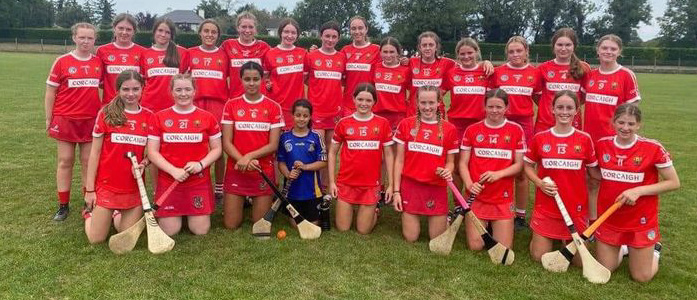 Well done to Cork U-15 development squad and our club player Kate O'Sullivan on their win over the weekend over Tipperary and Kilkenny in their Blitz in Ballyhea.
FÉ14S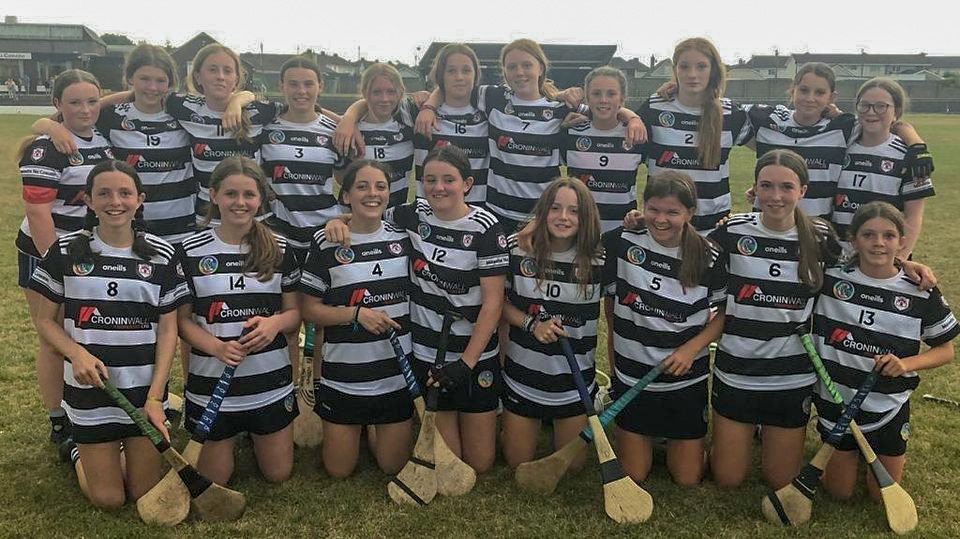 Well done to our Fe14 Camogie team who progressed to the semi-final of the U-15 Imokilly league with two playoff wins in the last week against Watergrasshill and Dungourney.
We would like to wish our Fé14 Premier team the very best of luck in U-14 Premier County Championship next Sunday 21st August against Ballincollig at home on the main pitch with a throw in time at 6.30pm. All support welcome on the day for our girls.
JUNIORS
JUNIOR C CHAMPIONSHIP
Midleton 2-19 Buttevant 1-3
We recorded our second win in the Junior Championship at a very sunny Clonmult Memorial Park. We started well and with our defence in control the midfielders and forwards had a regular supply of the ball and made good use of it as we led 1-10 to 0-1 at half-time. Abbie Foley, Lucy Wallis, Sadhbh Beausang, Jodie Kegan O'Connell and Vivienne Gleeson all kept the scoreboard ticking over with good points. Abbie Foley also added a goal to leave us in command at the break. It was more of the same in the second-half with Subs Saoirse Ni Theangana (0-2) and Jade Fitzgerald (1-0) also getting in on the scoring. Solid performance all round and two wins from two puts us in a good position to qualify for a semi-final place.
MIDLETON: Aoife Fitzgerald, Caoimhe Cronin, Jade Bradley, Ruthie Hennessy, Leah Hogan, Roisin O'Callaghan, Yvonne Abernethy, Molly Beausang, Vivienne Gleeson (0-3), Lucy Wallis (0-3), Sadhbh Beausang(0-3), Abbie Foley (1-5 4f), Rayanna Power, Jodie Keegan O'Connell (0-2),Hannah Power (0-1), Jade Fitzgerald (1-0), Elle McManus, Isabelle Nestor, Abbie Quirke, Saoirse Ni Theangana (0-2).
JUNIOR C CHAMPIONSHIP
Midleton 0-13 Grenagh 0-8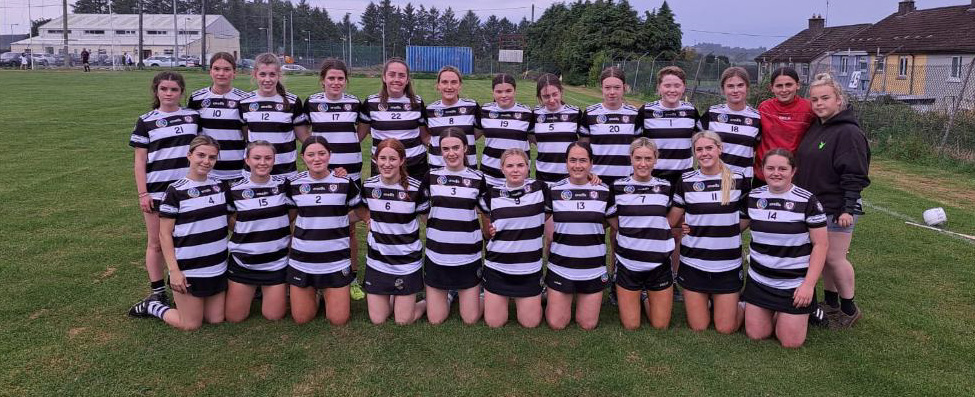 We qualified for the semi-finals of the Junior C Championship with a hard fought but well deserved win over a tough Grenagh side on Sunday last. With thunderstorms threatening before throw in we knew this was going to be a battle and that is exactly how it turned out. We led by 0-8 0-3 at the break, with scores from Abbie Foley (0-2), Jodie Keegan O'Connell (0-2) , Vivienne Gleeson (0-2), Hannah Power (0-1) and Sadhbh Beausang (0-1). Leah Hogan, Molly Beausang, Ruthie Hennessey and the outstanding Yvonne Abernethy ensured we kept it tight at the back. Grenagh threw everything at us in the second-half and even though they narrowed the gap to two points we didn't panic and the girls dug deep to kick on in the last ten minutes to pull away and win by five in the end. Saoirse Ni Theangana again coming up with a vital score off the bench and Abbie Foley scoring some crucial frees late on. Well done to all the girls who travelled on the night and with one round robin game still to play we can start to look forward to a semi-final and hopefully a final in September.
MIDLETON: Jill Connaughton, Caoimhe Cronin, Ruthie Hennessy, Leah Hogan, Roisin O'Callaghan, Yvonne Abernethy, Molly Beausang, Aoife Fitzgerald, Isabelle Nestor, Vivienne Gleeson (0-2), Lucy Wallis, Sadhbh Beausang(0-2), Abbie Foley (0-5 4f),Rayanna Power, Jodie Keegan O'Connell (0-2),Hannah Power (0-1), Jade Fitzgerald, Rebecca Cassidy, Elle McManus, Isabelle Nestor, Saoirse Ni Theangana (0-1), Muireann Ni Conchubair.
STREET LEAGUES
Midleton Juvenile boys recently announced their Street League teams and information for the 2022 season. Since the Camogie Club was formed in 2014 we have each year being trying to increase involvement of the girls in the community and are delighted to say that this year Midleton Camogie Club will participate in a parallel street league honouring the late Davy Hogan.
In as far as possible group stages will be run off at similar times culminating in a busy morning of Camogie and Hurling on Saturday the 10th September for the finals.
We are delighted to introduce this new development at a time when the Camogie Club is progressing positively and hope that the girls who get the chance to participate this year will lay the foundations for all those who come after them for many many years ahead.
Davy Hogan was a proud member of Midleton GAA club in his time as have his family over many years, contributing in many areas of the club. Currently three of his granddaughters are playing with the club and we are very grateful to Mrs Ann Hogan and her family for supporting our work. The best of luck to all those competing, boys, girls and management teams.
Thank you to our Chairperson Ingrid who got this concept off the ground and put in many hours along with others to get it across the line. Keep an eye on our Social Media Platforms for more info and updates.
IRON MAN
A huge congratulations to our U-16 And Junior Coach Tim Cronin who competed in the Half Iron Man Competition in Youghal, ahead of his predicted time on Saturday. A fantastic achievement. Well done Tim!!
LADIES FOOTBALL
MINORS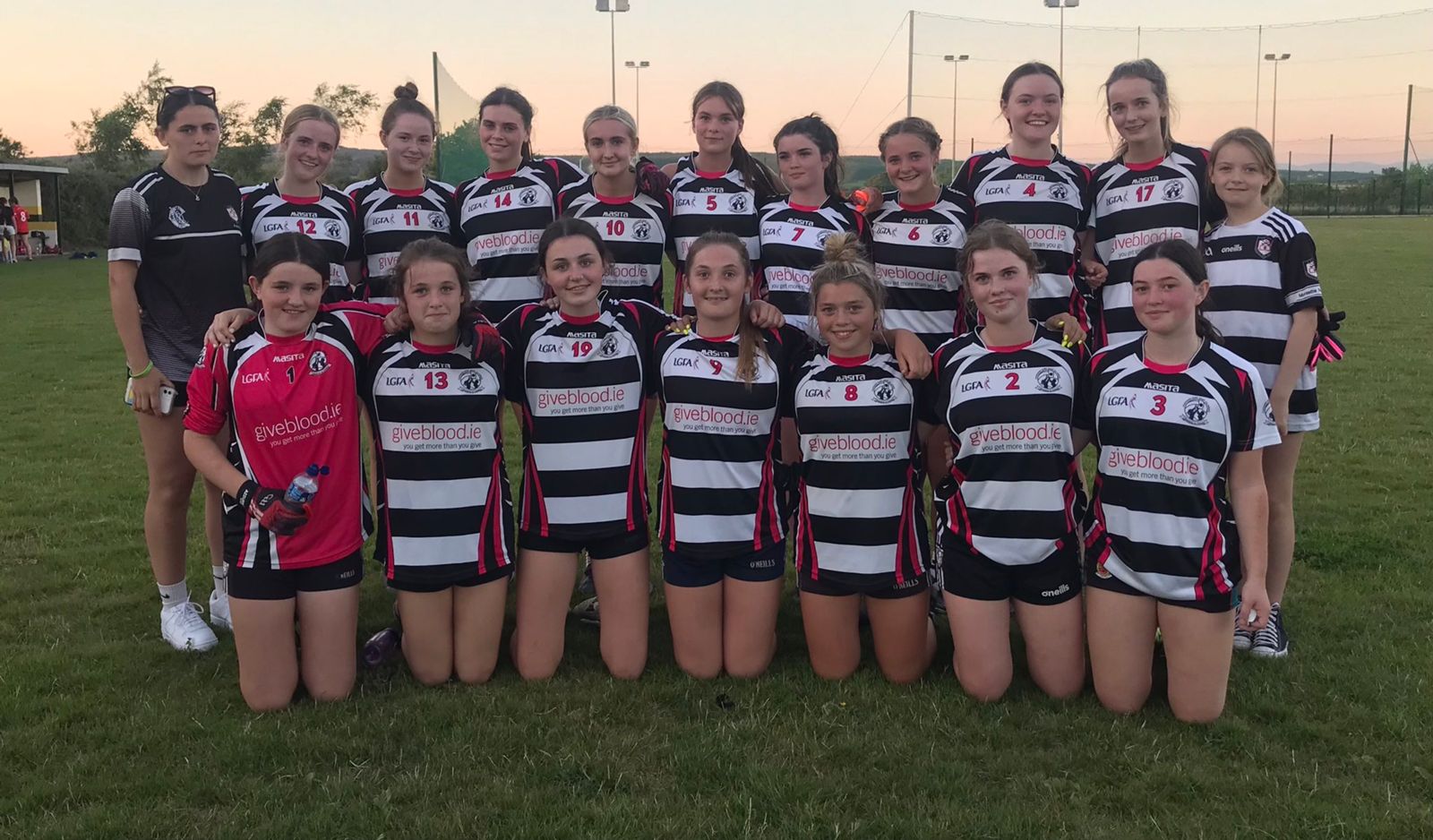 Well done to our Minor Ladies who got their league campaign off to a great start with a win over Glenville. A great match with seven girls getting their names on the scoreboard.
Next up is Inch Rovers. Good luck.
JUNIOR 2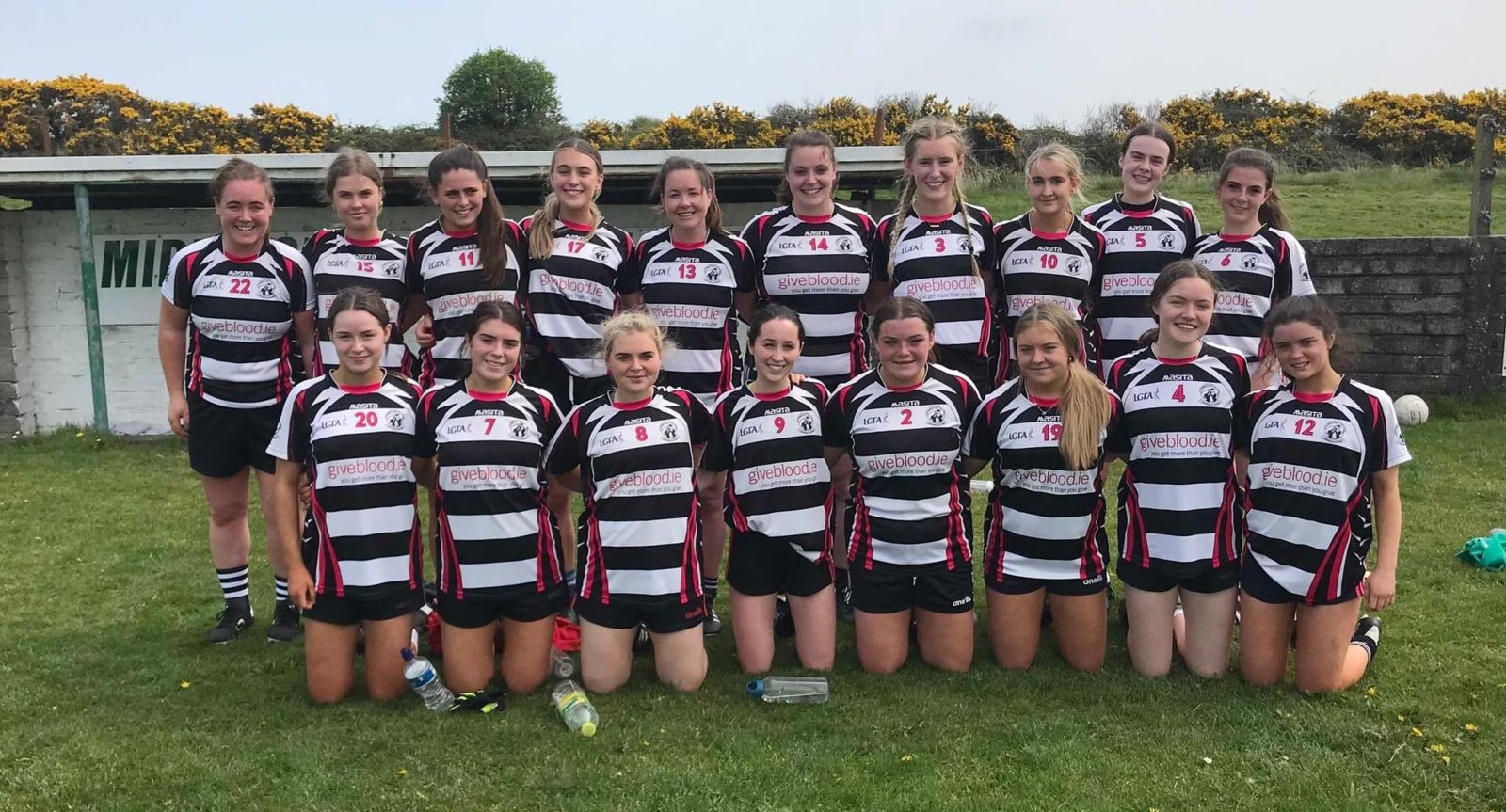 Our second junior team were defeated in their championship semi-final against a strong Douglas team. This was our first year entering a second junior team into league and championship with our sole purpose of getting girls extra game time. It has brought girls on immensely so well done to you all.
TRAINING
Training has now returned for our younger teams so please keep an eye on texts.
CEOLCAMP SAMHRAIDH
Diarmuid Ó Dálaigh, Oifigeach na Gaeilge agus Cultúir has asked me to share this poster for an upcoming Comhaltas Summer Camp next week.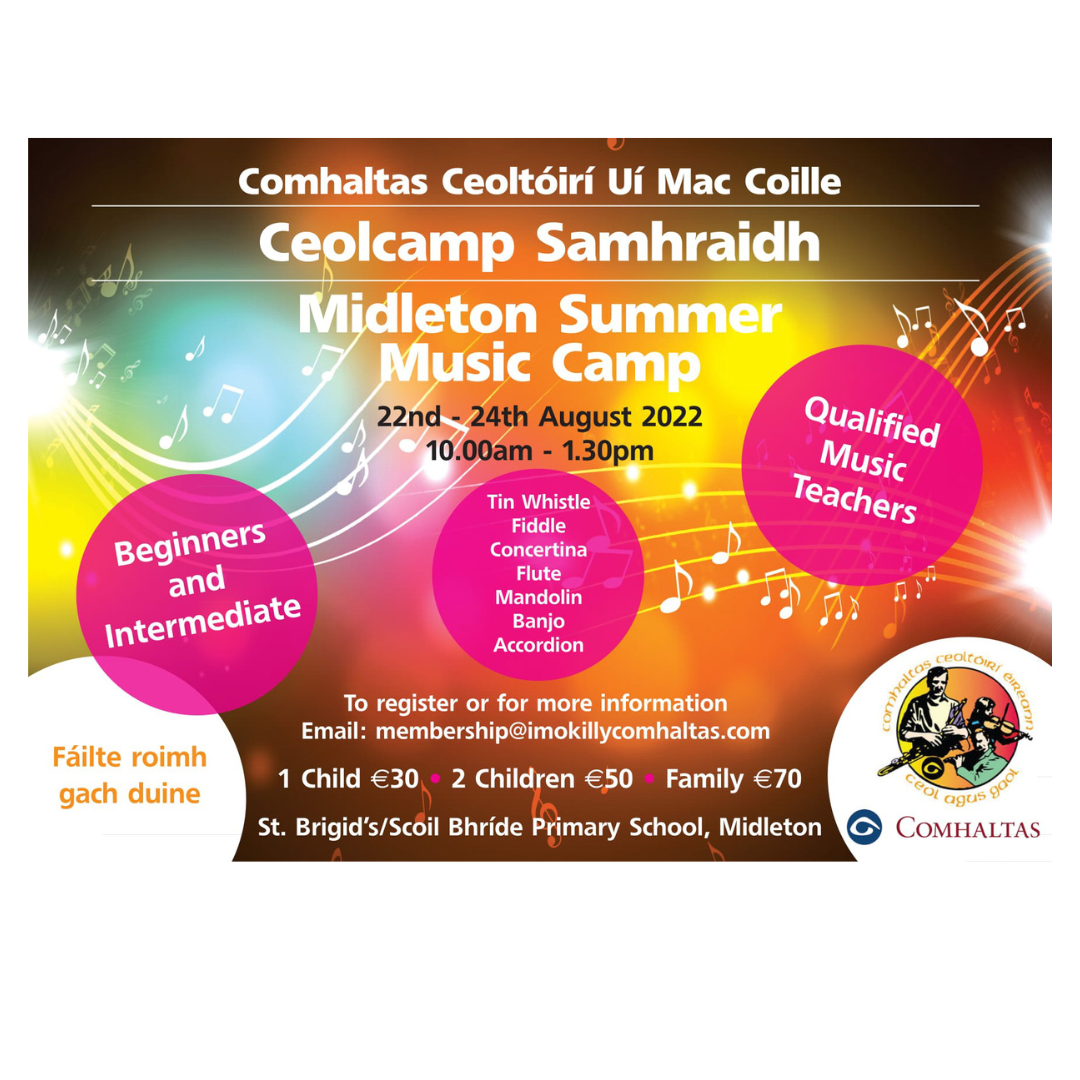 THIS WEEK'S LOTTO RESULTS.....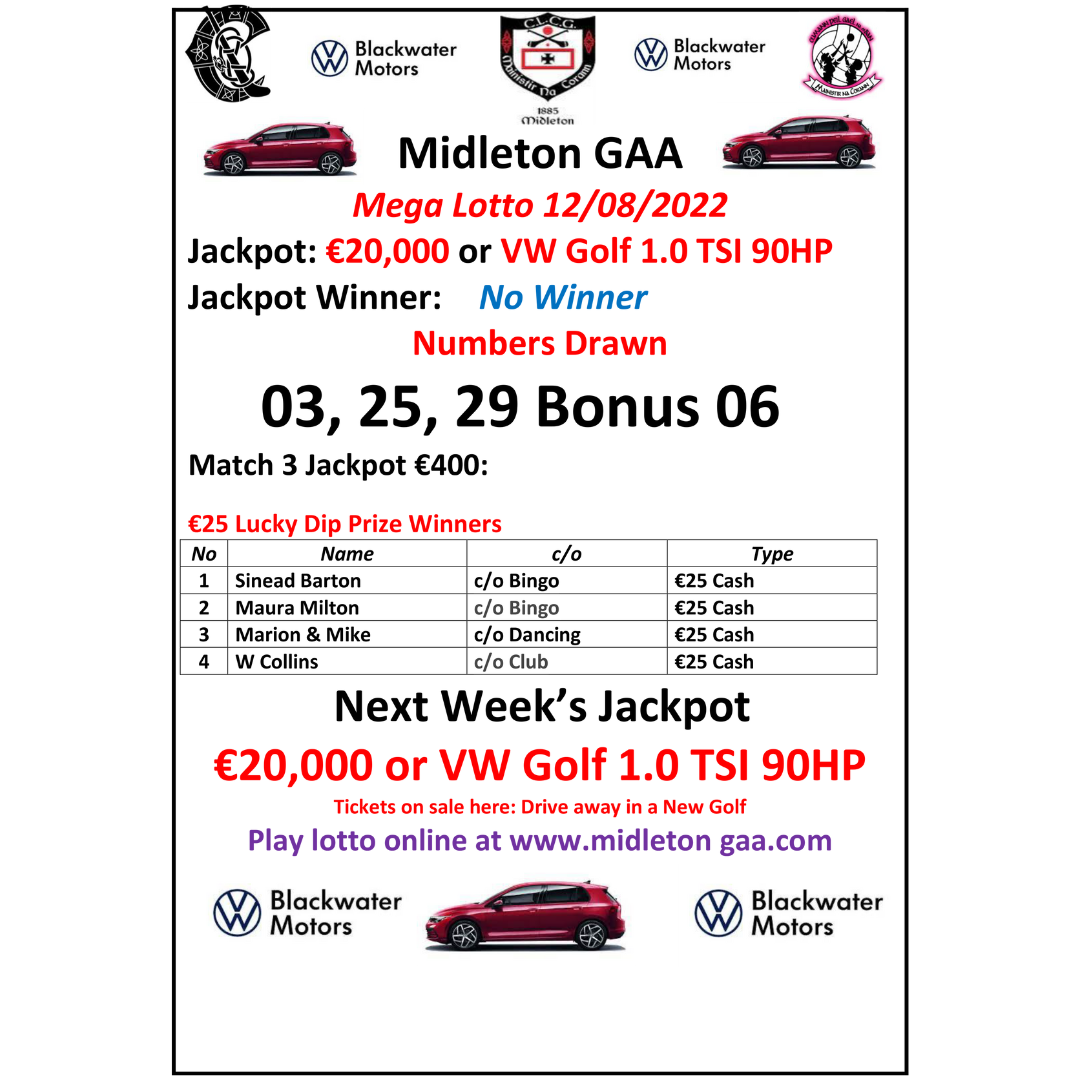 Jackpot: €20,000 or VW Golf 1.0 TSI 90HP
Jackpot Winner: No Winner
Numbers Drawn - 3, 25, 29 Bonus 06
Match 3 Jackpot €400: No winner
€25 Lucky Dip Prize Winners
Sinead Barton €25 Cash
Maura Milton €25 Cash
Marion & Mike €25 Cash
W Collins €25 Cash
Next Week's Jackpot
€20,000 or VW Golf 1.0 TSI 90HP
Play 24/7 at: https://www.klubfunder.com/Clubs/Midleton%20GAA/lotto
In total Midleton GAA will give out local business vouchers to the value of €3,800 every year as part of our "Shop Local, Buy Local" campaign.
How to play: tickets are on sale at Pat Walsh Paints, Chadwicks, Frank Murphy Butchers, Murphy's Pharmacy, Crowley Butchers, or buy online (see above).
BINGO
Our Bingo continues on Friday nights with an early game at 7.25pm. Everyone is welcome.
CLUB SHOP
The Midleton GAA club shop is back up and running for the 2022 season but please note that it's still online with collection only at the club on a Saturday morning.
All you have to do is go to the Klubfunder website (https://www.klubfunder.com/Clubs/Midleton%20GAA/ShopItems) and you will see the full range of what's available to buy. You can shop away to your heart's content, pay for it online and then collect your purchases at the club shop on Saturday morning between 9.30am and 10am. Thank you.
PLEASE PLAY YOUR PART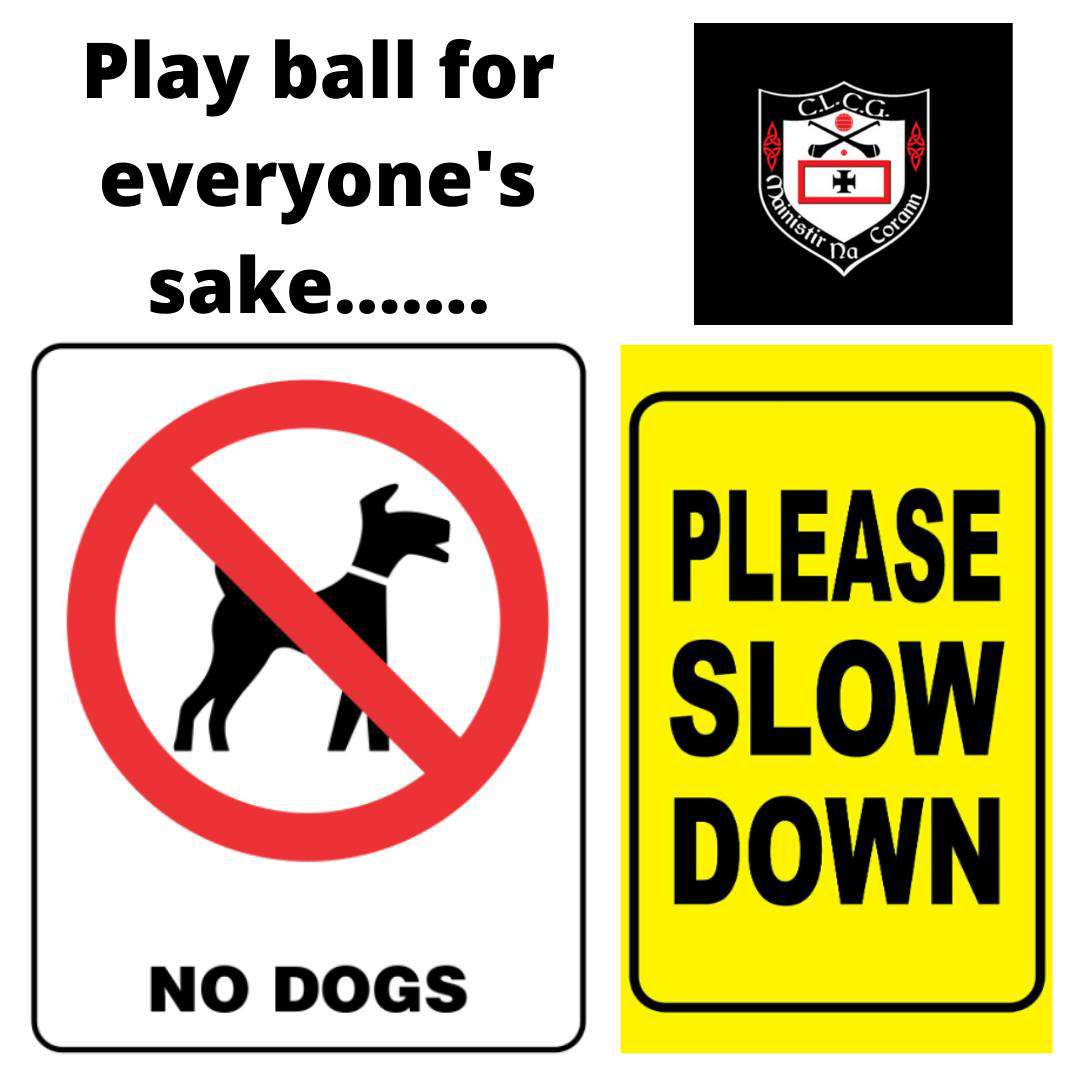 We are asking all players, mentors, parents, supporters and neighbours to please play their part by playing ball on the following.....
Please slow down entering and leaving Park South.
No dogs, except assistance dogs, are allowed at Park South or Clonmult Memorial Park.
Please do not bring single use plastic bottles to either Park South or Clonmult Memorial Park.
Please put your rubbish in a bin or bag and please bring your gear home with you.
And always be aware of the open water surrounding the pitches in Park South.
If you are a coach, please pass on these simple messages to players and parents.
Also if you are a coach, last person out locks the gate, toilet and container.