Midleton Hurling and Football, Ladies Football and Camogie Club News - July 7
07 July, 2022
FÉ19S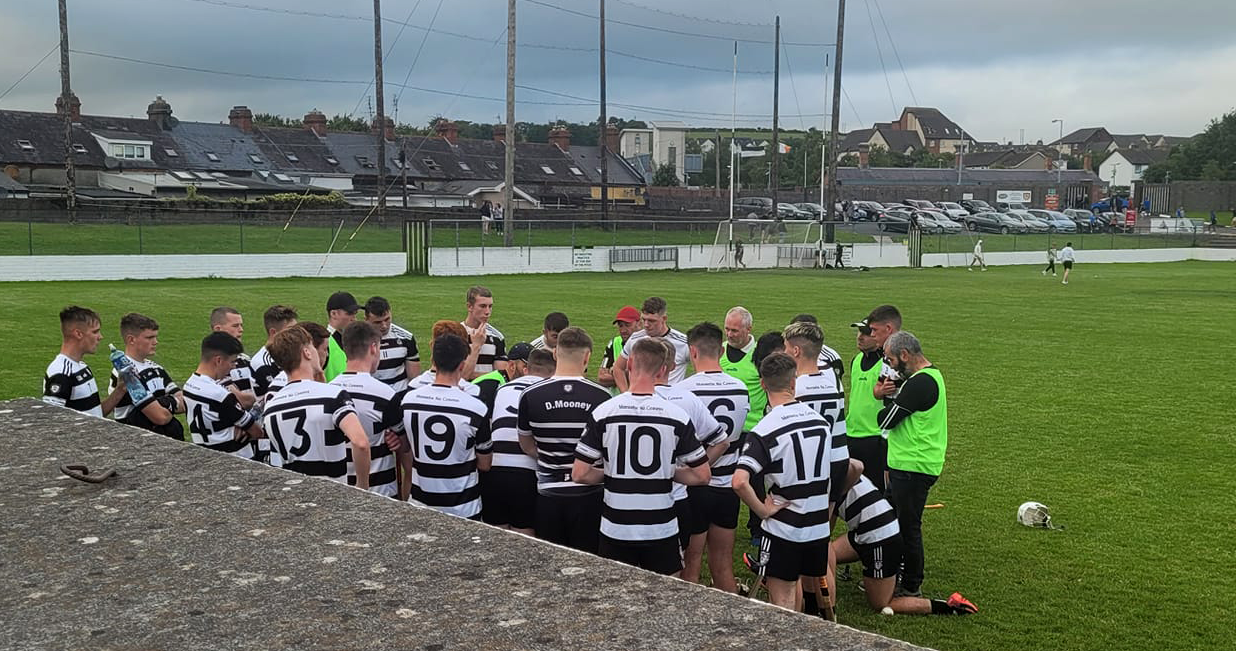 Well done to the Fé19s who played the club's first ever championship game at this level on Wednesday night at home at Clonmult Memorial Park against Sarsfields. Final score: 5-24 Sarsfields 1-11. We now play the winners of Na Piarsaigh and Blackrock in the semi-finals.
After a tight opening quarter we led by a single point, 1-6 to 1-5. A brilliant second quarter, with David Cremin bagging a first-half hat-trick, saw us well in control at half-time on a score of 4-13 to 1-6. By the end of the third quarter we were 5-20 to 1-9 in front and by the final whistle it was 5-24 to 1-11.
Well done lads and best of luck in the semi-final, no date for this game yet.
Scorers for Midleton: D Cremin 4-5, M Finn 0-14 (13f, 0-1 65), S O'Connor 1-0, D McCarthy 0-2, T O'Leary-Hayes, A Moloney, J O'Sullivan 0-1 each.
MIDLETON: Brion Saunderson; Colin Sunderland, Brian O'Connell, Tadhg O'Leary-Hayes; Liam McGrath, Ciarmhac Smyth, Evan McCarthy; Mikey Finn, Niall Corcoran; Stuart O'Connor, Phelim Magan, Alex Moloney; Cathal Beausang, Darragh McCarthy, David Cremin. Subs: James O'Sullivan for P Magan (20 inj), Ben O'Neill for D McCarthy (42), Ben Kenneally for S O'Connor (45), James Condon for A Moloney (47), Zach Smith for B Saunderson (50).
JUNIOR A FOOTBALL
Our Junior A Footballers were back in Michael O'Connor Motor Factors East Cork Championship action on Tuesday night in Cobh when they lost out to Carrigtwohill on a final scorelne of 0-9 to 0-5. We play our third championship game on Saturday week (July 16) against Castlemartyr in Dungourney at 3pm.
JUNIOR B HURLING
We had two Junior B league games in the last week or so.
Midleton 1-17 Cloyne 2-18
This game was played away to Cloyne and having lead by seven points at a half-time, frees cost us dearly in the second-half. Cloyne came up with the winning scores in the last few minutes. MIDLETON: Coran Swayne, Brendan Ferriter, Aaron Coughlan, Colin Sutherland, Fergus Wade, Peter Dowling, Conor Evans, Luke Deane, Stuart O'Connor, Andy Rea, Ian Kennefick, Mark O'Keeffe, Tim O'Sullivan, Christopher Power, Ben O Neill.
Then on Friday night last we had a great win over Castlemartyr at home in our final league game. The final score read 3-14 to 2-15. MIDLETON: Cillian Hurley, Kieran Lambert, Aaron Coughlan, Brendan Ferriter, Fergus Wade, Peter Dowling, Billy O Shea, Luke Deane, Tim O'Sullivan, Liam Kelly, Johnny Comer, Andy Rea, Eoghan Collins, Sean Corcoran, Mark O'Keeffe.
JUNIOR C HURLING
Our junior C hurlers are back in league action on Saturday night when they entertain Bride Rovers in Midleton at 7pm.
CAMOGIE
FÉ7 V SARSFIELDS

We had a great turnout on Sunday morning at Park South when our Fé7 girls took on Sars Camogie in a great match. Well done girls!! It was a great morning. Thanks to Sars for travelling to us.
FÉ12 V NEMO RANGERS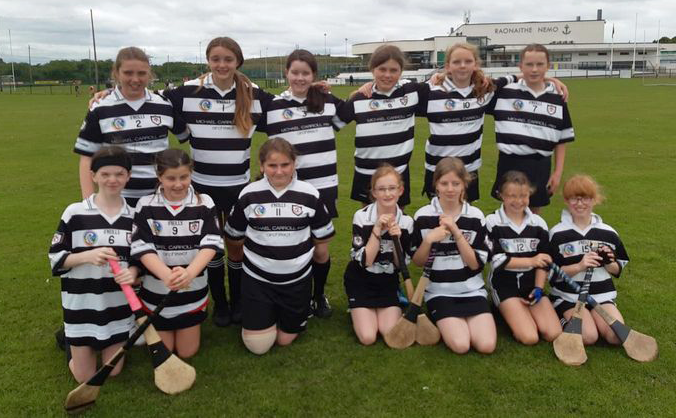 Our Fé12s were in action again away to Nemo Rangers for a league match on Sunday. The players tried hard and kept battling until the end as we were up against a strong Nemo side with the home team coming out with a win. Well done to all the girls involved. Thanks to our hosts, the referee, the coaches and all the supporters.
FÉ13 V FR. O'NEILLS/BLACKROCK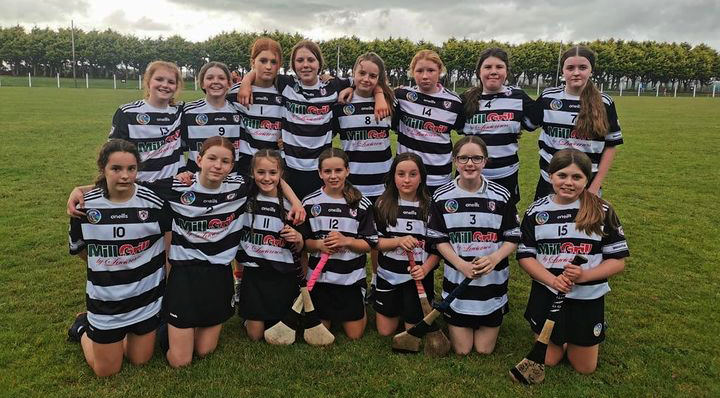 Our U-13s had a challenge match with Fr O'Neill's in Ahavine on Wednesday evening. It was a good competitive game. The girls battled hard but came up short in the end. Thanks to O'Neills for a sporting game and to the parents for travelling.
Our second event of the week for this group we entertained Blackrock (bleow) for a challenge game on Sunday evening. The girls put on a great display with fantastic teamwork, super defending and some excellent scores. Well done to all!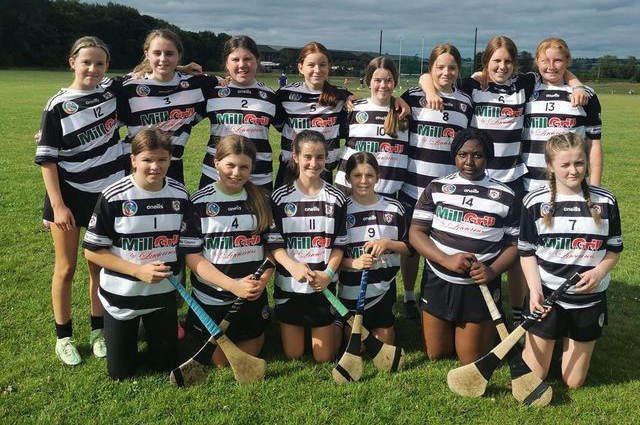 FÉ18 V CLOUGHDUV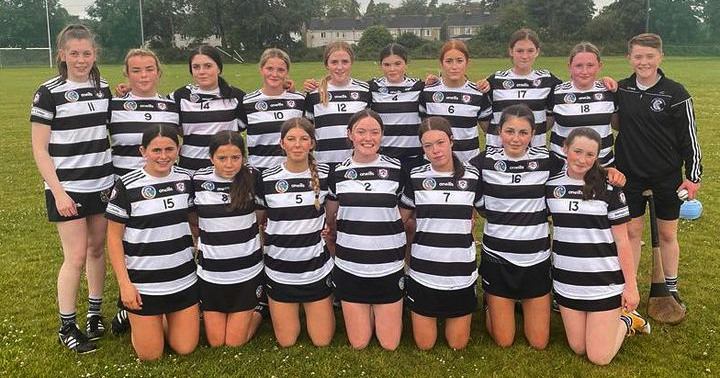 Midleton Fe18s played Cloughduv at home in a semi-final in Park South on a damp evening last Thursday. Cloughduv got off to a strong start but Midleton came back in to with a couple of great scores. The second-half was a physical affair and they played with fierce pride but unfortunately just ran out of time. A big shout out to our Fé15 girls who made their minor debuts, as they stepped up to help us out due to several different factors including injuries. Great credit is due to you all girls on a tough game. Well done to Cloughduv camogie on the win and best of luck in the final!
GOLF CLASSIC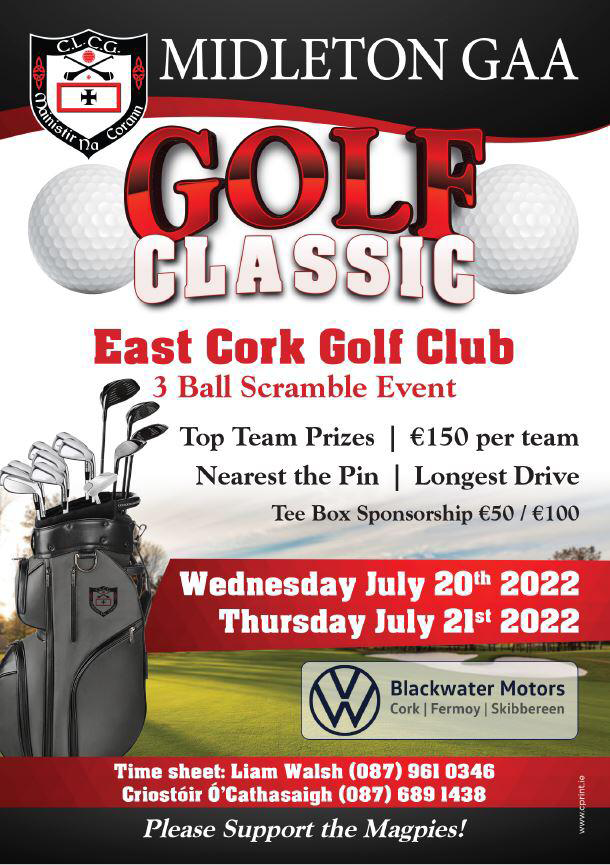 After a brilliant week of golf in Mount Juliet and Adare Manor, now is the perfect opportunity to book in your team for the 2022 Midleton GAA Golf Classic. It will take place at East Cork Golf Club on July 20/21 in association with our sponsors, Blackwater Motors.
Tee times are booking up fast - thanks to those who have already booked up for this very important annual fundraiser - so don't miss out - when they're gone, they're gone.
Please contact Liam Walsh (087-9610346) to book your tee time or if you're not a golfer maybe you'd like to sponsor a tee box for just €50.
You can register your team, tee box or both at the following link:
https://www.klubfunder.com/Clubs/Midleton%20GAA/EventRegistration#EventRegistrationOptions
JUVENILES
FÉ9S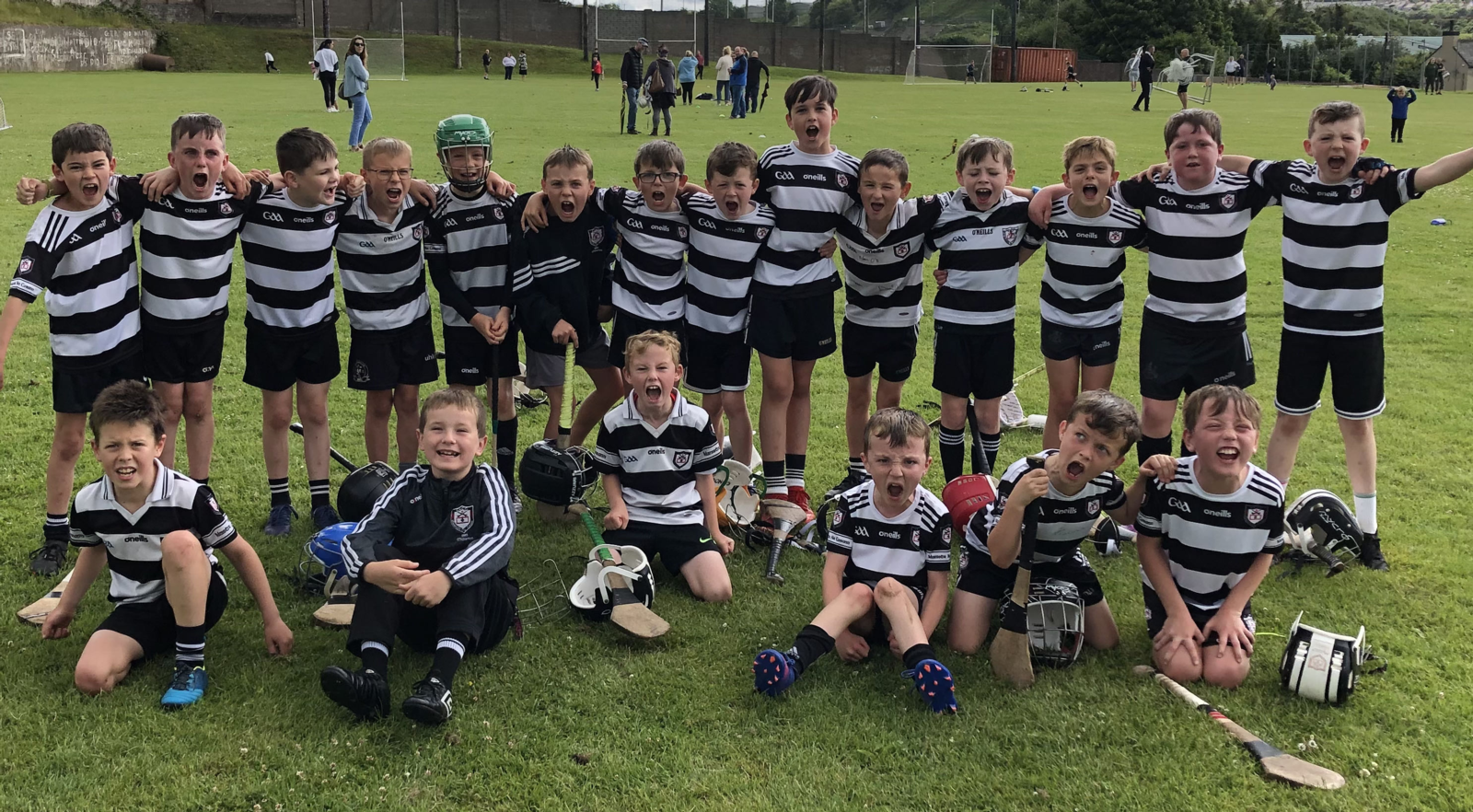 Well done to our Fé9s who had a brilliant morning of hurling at Glen Rovers on Saturday. Keep up the good work boys.
FÉ12S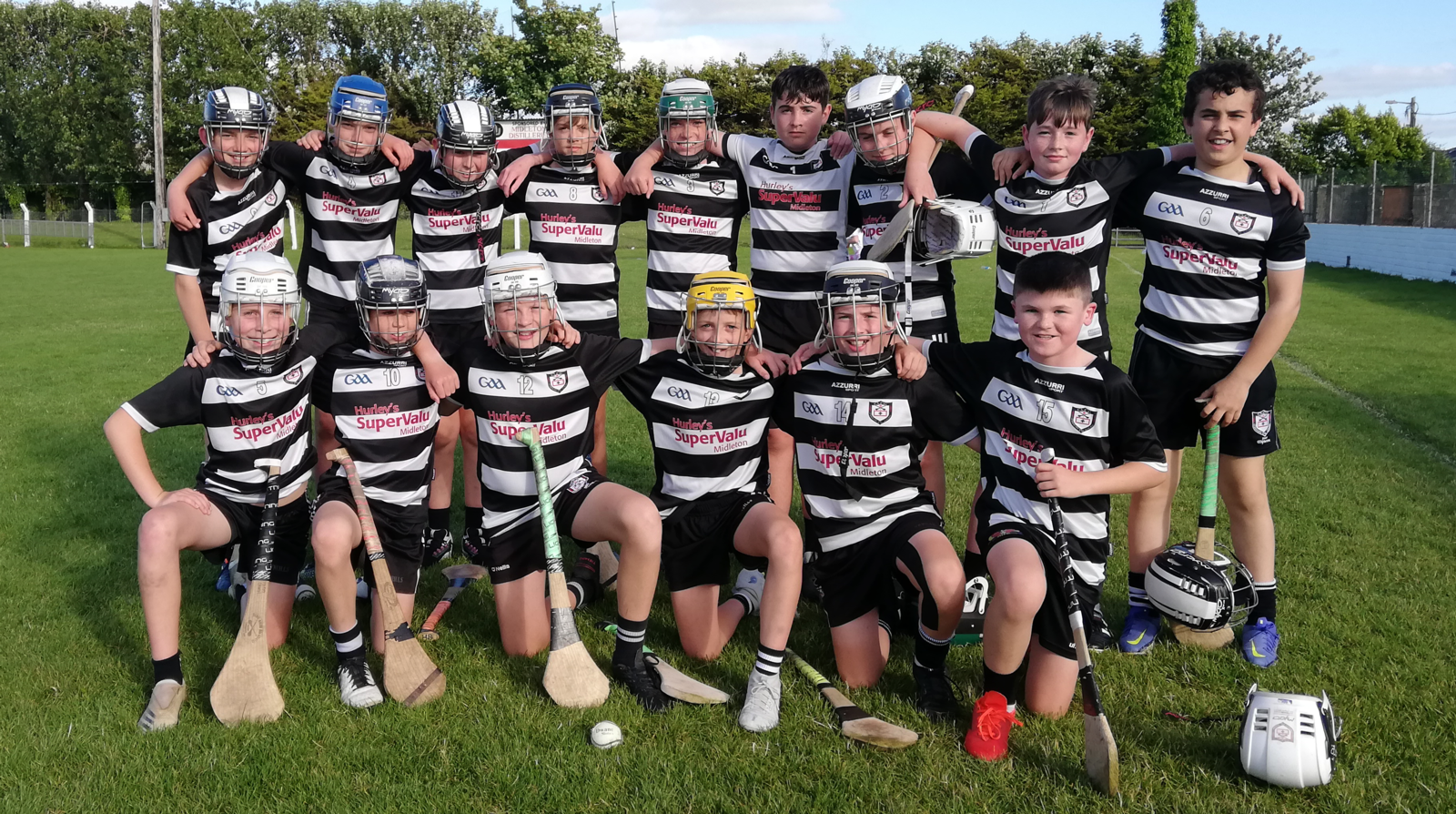 Tuesday saw the Fé12 boys travel to Togher to take on St Finbarrs in Group 6 hurling action. A fantastic display and a well deserved win for this group followed. Full-time score: Midleton 3-6 St Finbarrs 0-0
Next up for the Fé12 boys was a home tie versus Ballincollig (above) in the Group 1 East hurling league. A beautiful summer's evening in Clonmult Memorial Park saw the boys battle hard but unfortunately the result went against us. Full-time score: Midleton 3-4 Ballincollig 2-14.
JUVENILE FIXTURES
FRIDAY, JULY 8
Rebel Og Coiste Fe17 Premier 1 Hurling League Shield Final
Midleton v Ballincollig at 8pm in Midleton
SUNDAY, JULY 10
Rebel Og Coiste Fe17 C3 Hurling League Phase 2
Aghada v Midleton in Rostellan at 11am
Rebel Og Coiste Fe13 Prem 1 section 1 Hurling League Phase 2
Midleton v Douglas at 11am in Midleton
LADIES FOOTBALL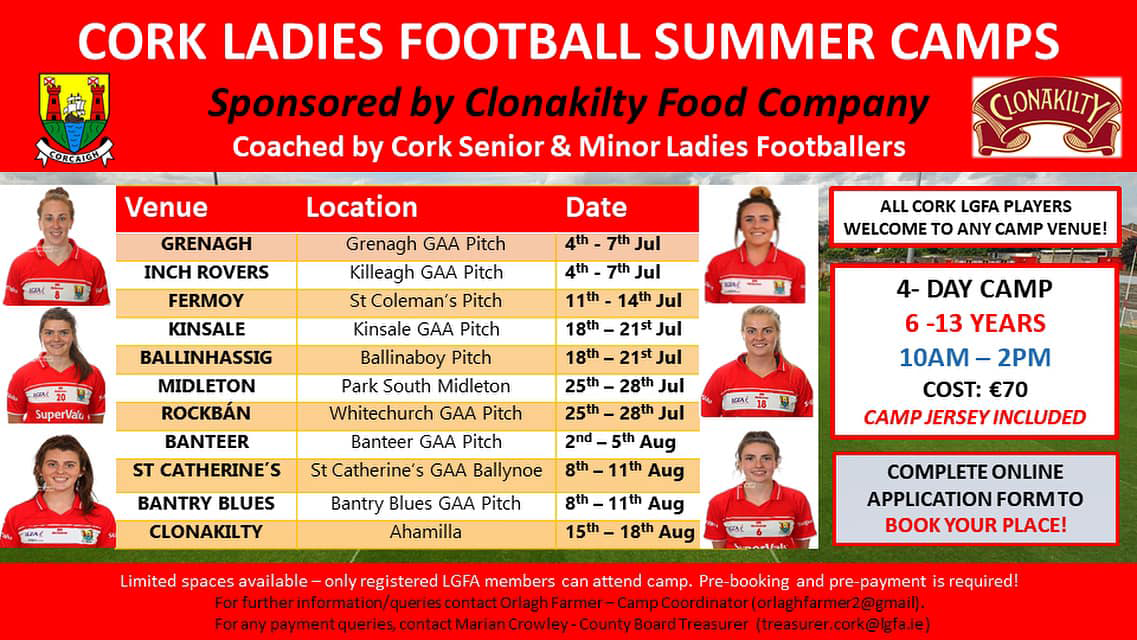 Our own Orlagh Farmer is running a Ladies Football camp at Park South from July 25-28.
All camps will be coached by the Cork Senior & Minor Ladies Footballers with all money going to the Senior Team coaching fund. It's a four day camp for girls aged 6 to 13. It runs from 10am to 2pm each day. Cost is €70 including a camp jersey. Pre-booking is required at the following link.
https://forms.office.com/r/Rnwsqvx4L2
UNDER 12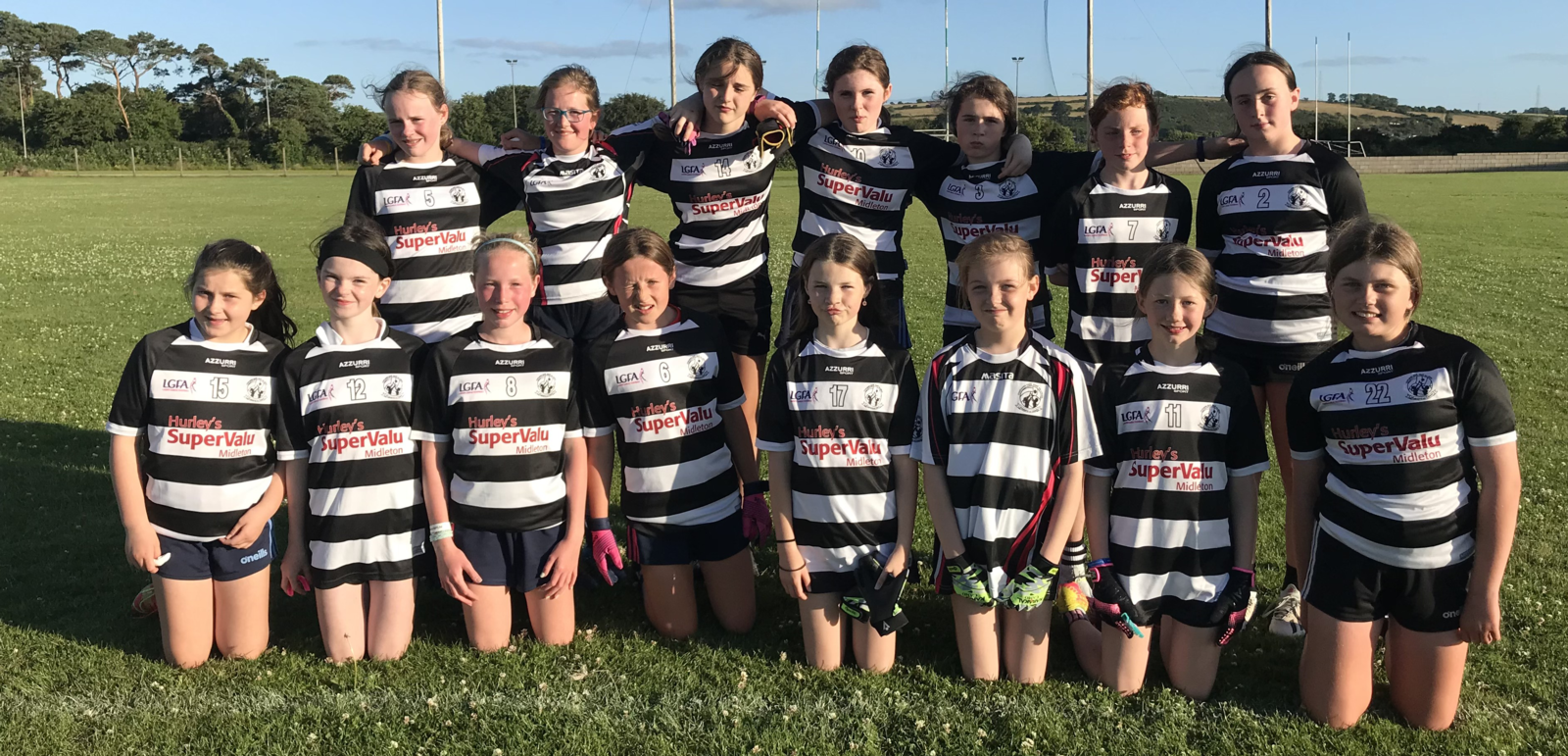 Our U-12 girls were in action on Monday evening in another league game. A tough battle against against a strong Bride Rovers team. Well done to the team who kept fighting for every ball until the final whistle. You have a great attitude to keep playing your best even when the scoring is against you. We have two league games left and we hope to organise these in the coming weeks.
VOLUNTEER RECRUITMENT OFFICER
Midleton GAA "One Club" which now has 1400 members and incorporates GAA (Adult & Juvenile), Ladies Football and Camogie and Magpie All Stars (section for players with additional needs) is looking for a Volunteer Recruitment Officer.
You may or may not be currently involved or connected with Midleton GAA ………. it doesn't matter. What matters is that you have a passion for working with your local community and in making a real difference. You will work with our Volunteer Support Committee to identify Club Volunteer requirements, and prepare and execute strategies to recruit, retain and fulfil the club volunteer requirements for Midleton GAA.
Check out all the details and how you can apply by clicking on the link below.
LOTTO DRAW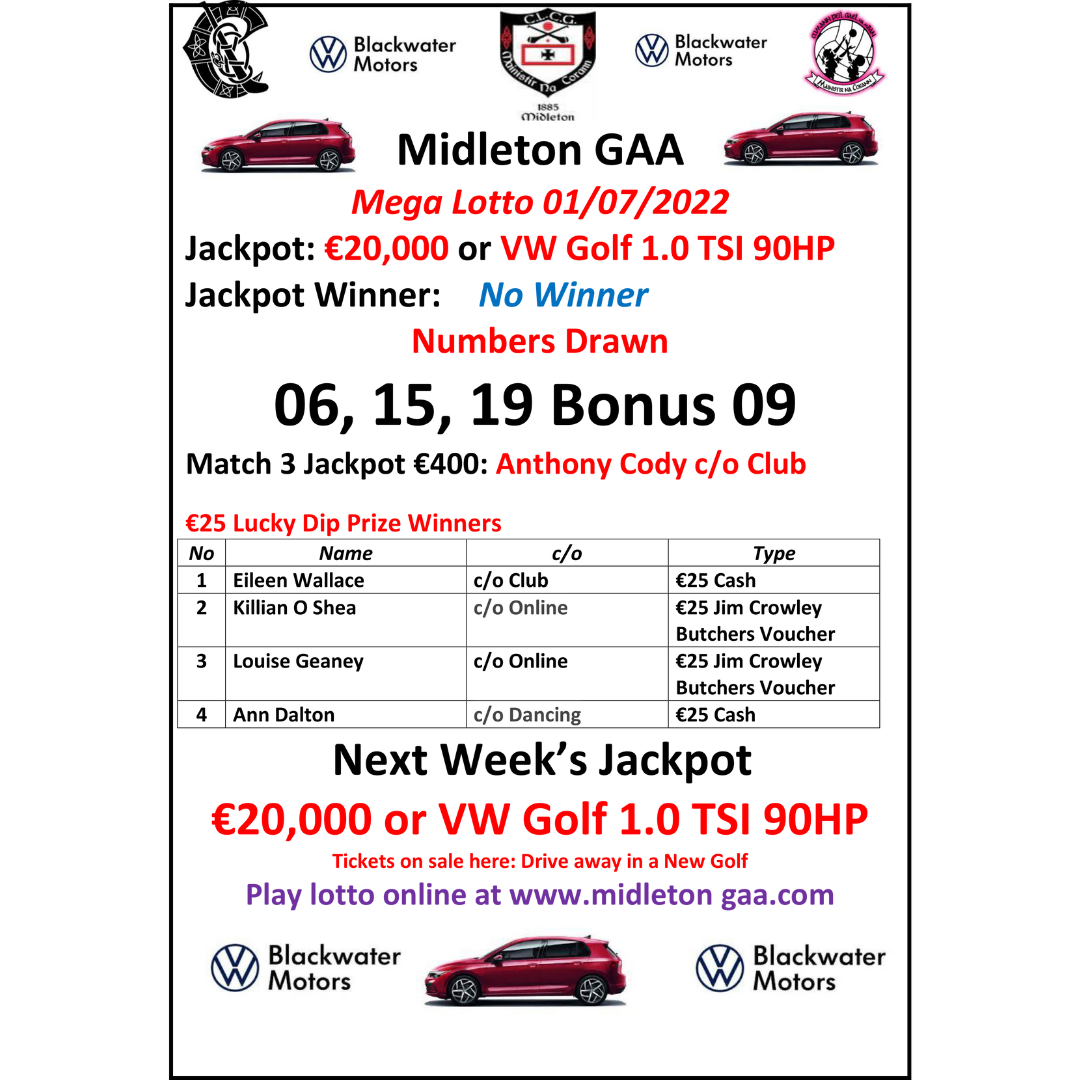 This week's winning numbers were: 6, 15, 19 Bonus 9
€25 Lucky Dip Prize Winners
Eileen Wallace €25 Cash
Killian O'Shea €25 Jim Crowley Butchers Voucher
Louise Geaney €25 Jim Crowley Butchers Voucher
Ann Dalton €25 Cash
There was no jackpot winner but we did have a match three jackpot winner and it was Anthony Cody. Well done Anthony.
Don't forget you can play online at any time at the link below
https://www.klubfunder.com/Clubs/Midleton%20GAA/lotto
Thanks to everyone who supports our lotto.
In total Midleton GAA will give out local business vouchers to the value of €3,800 every year as part of our "Shop Local, Buy Local" campaign.
How to play: tickets are on sale at Pat Walsh Paints, Chadwicks, Frank Murphy Butchers, Murphy's Pharmacy, Crowley Butchers, or buy online (see above).
BINGO
Our Bingo continues on Friday nights with an early game at 7.25pm. Everyone is welcome.
CLUB SHOP
The Midleton GAA club shop is back up and running for the 2022 season but please note that it's still online with collection only at the club on a Saturday morning.
All you have to do is go to the Klubfunder website (https://www.klubfunder.com/Clubs/Midleton%20GAA/ShopItems) and you will see the full range of what's available to buy. You can shop away to your heart's content, pay for it online and then collect your purchases at the club shop on Saturday morning between 9.30am and 10am. Thank you.
SOCIAL DANCING
Dancing as normal this Saturday night at 9.15pm to Cathal and Teddy Barry. A great night is assured.
PLEASE PLAY YOUR PART
We are asking all players, mentors, parents, supporters and neighbours to please play their part by playing ball on the following.....
Please slow down entering and leaving Park South.
No dogs, except assistance dogs, are allowed at Park South or Clonmult Memorial Park.
Please do not bring single use plastic bottles to either Park South or Clonmult Memorial Park.
Please put your rubbish in a bin or bag and please bring your gear home with you.
And always be aware of the open water surrounding the pitches in Park South.
If you are a coach, please pass on these simple messages to players and parents.
Also if you are a coach, last person out locks the gate, toilet and container.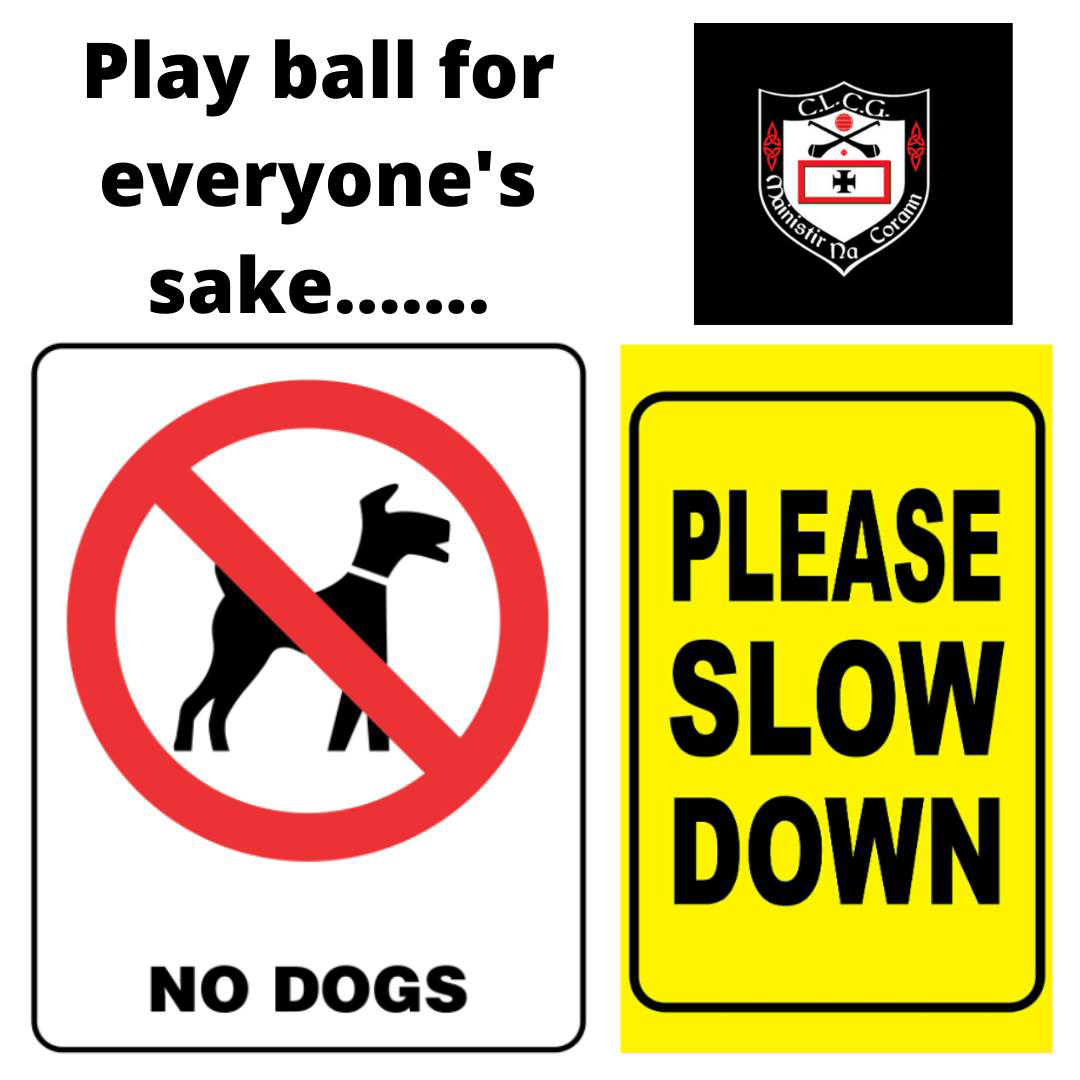 HALL AVAILABLE FOR HIRE
Midleton GAA Hall is available for next few months to hire every Tuesday and Thursday night for June, July and August. Contact: Pat O'Brien – 086-8118815.
CONDOLENCES
All at Midleton GAA would like to extend their sympathies to the Tobin family of Knockanore on the recent death of their brother, Joe, who lived in Lismore for many years. Joe was a brother of our great friend and club-mate, the late Mick (Bonzo).