Midleton Hurling and Football, Ladies Football and Camogie Club News - June 2
02 June, 2022
2022 GOLF CLASSIC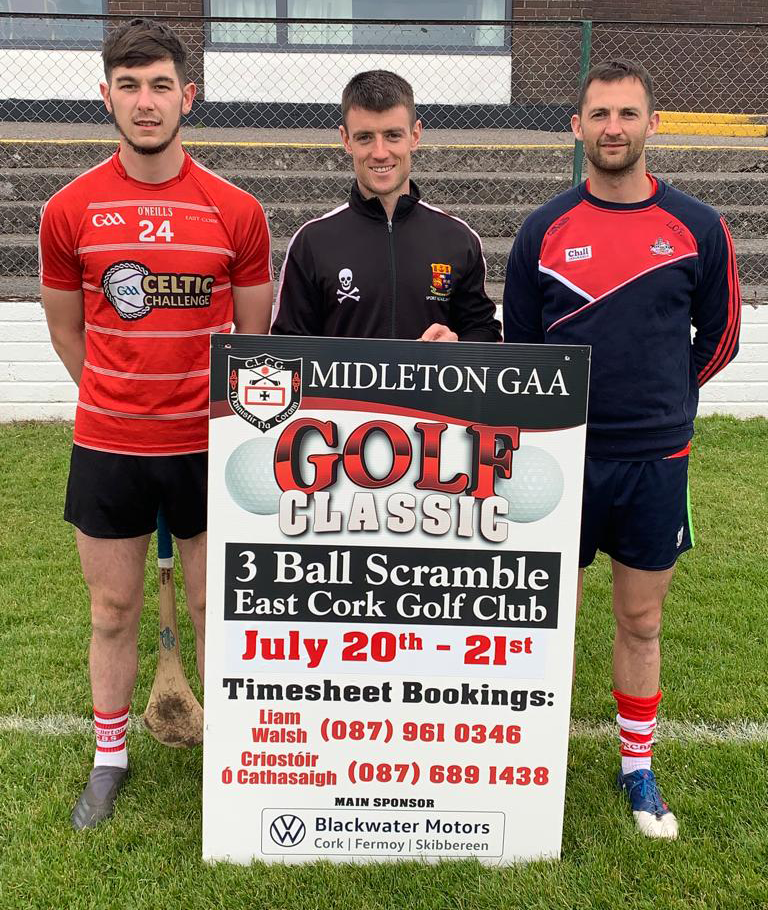 Time to book in your team for the 2022 Midleton GAA Golf Classic. It will take place at East Cork Golf Club on July 20/21. The Golf Classic was launched this week by Midleton senior hurlers (above), Ross O'Regan, Paul Haughney and Luke O'Farrell.
Timesheet now open - please contact Liam Walsh (087-9610346) or Criostóir O Cathasaigh (087-6891438) or if you'd like to sponsor a tee box. This is a major fundraiser for our club and any support would be greatly appreciated.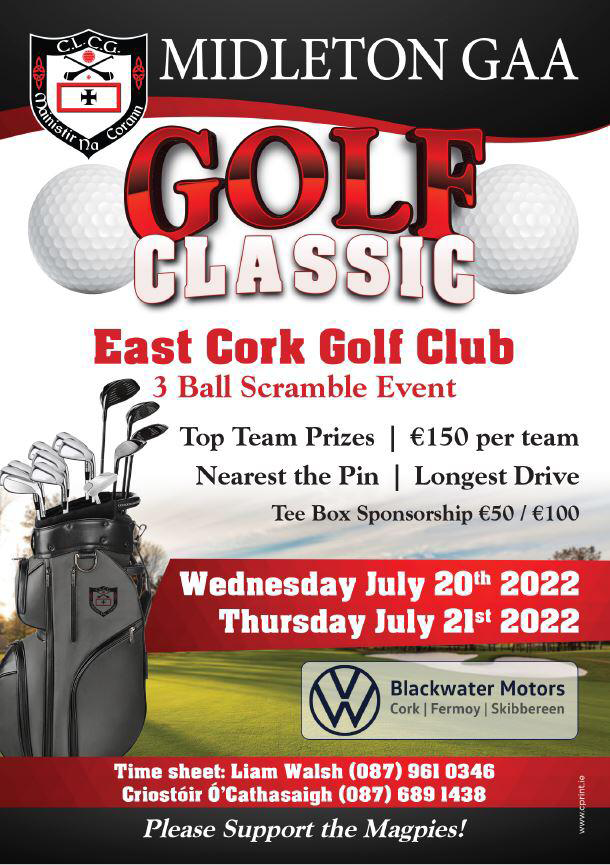 JUVENILES
FÉ8 BLITZ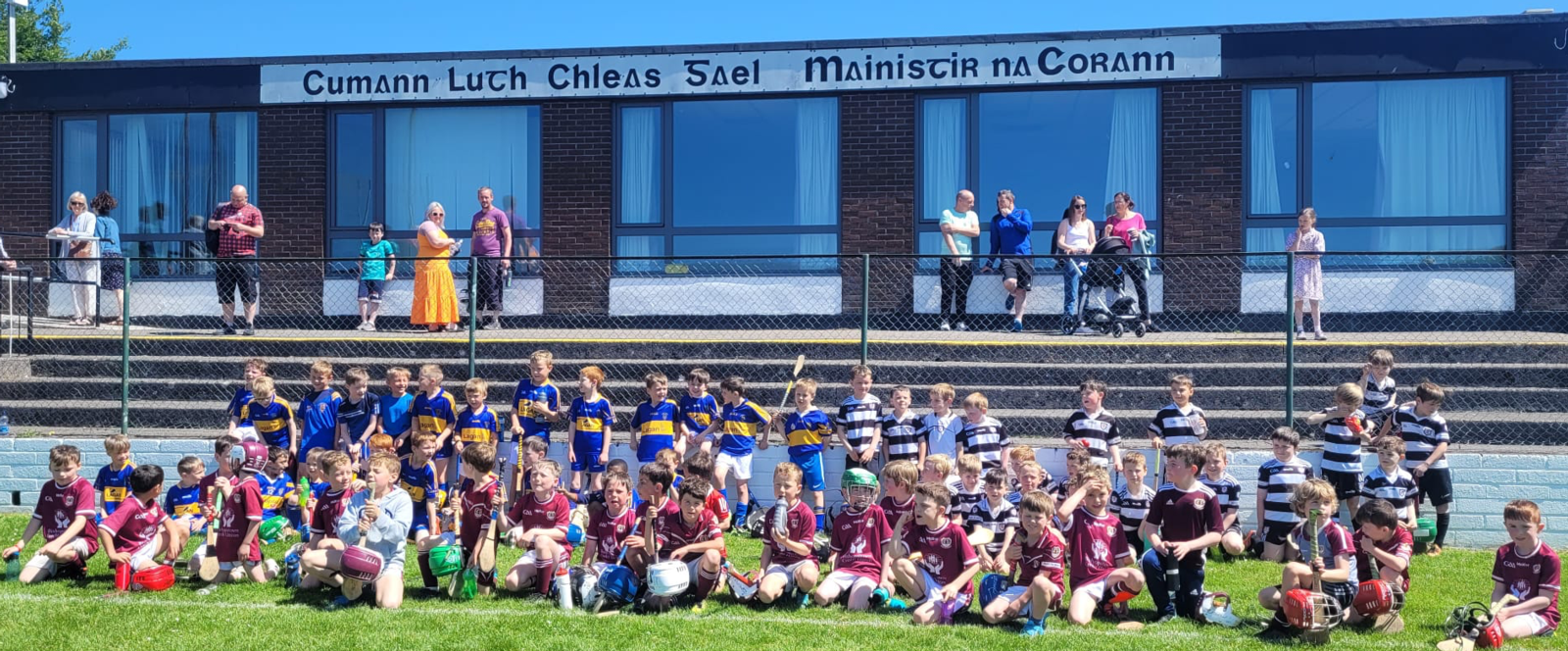 Our Fé8s hosted a blitz in glorious sunshine in the resplendent Clonmult Memorial Park on Saturday morning. Carrigtwohill and Bishopstown were our visitors and a wonderful morning's hurling was enjoyed by all. Thanks to everyone who made it such a great success and of course the young Magpies who played their hearts out.
FÉ10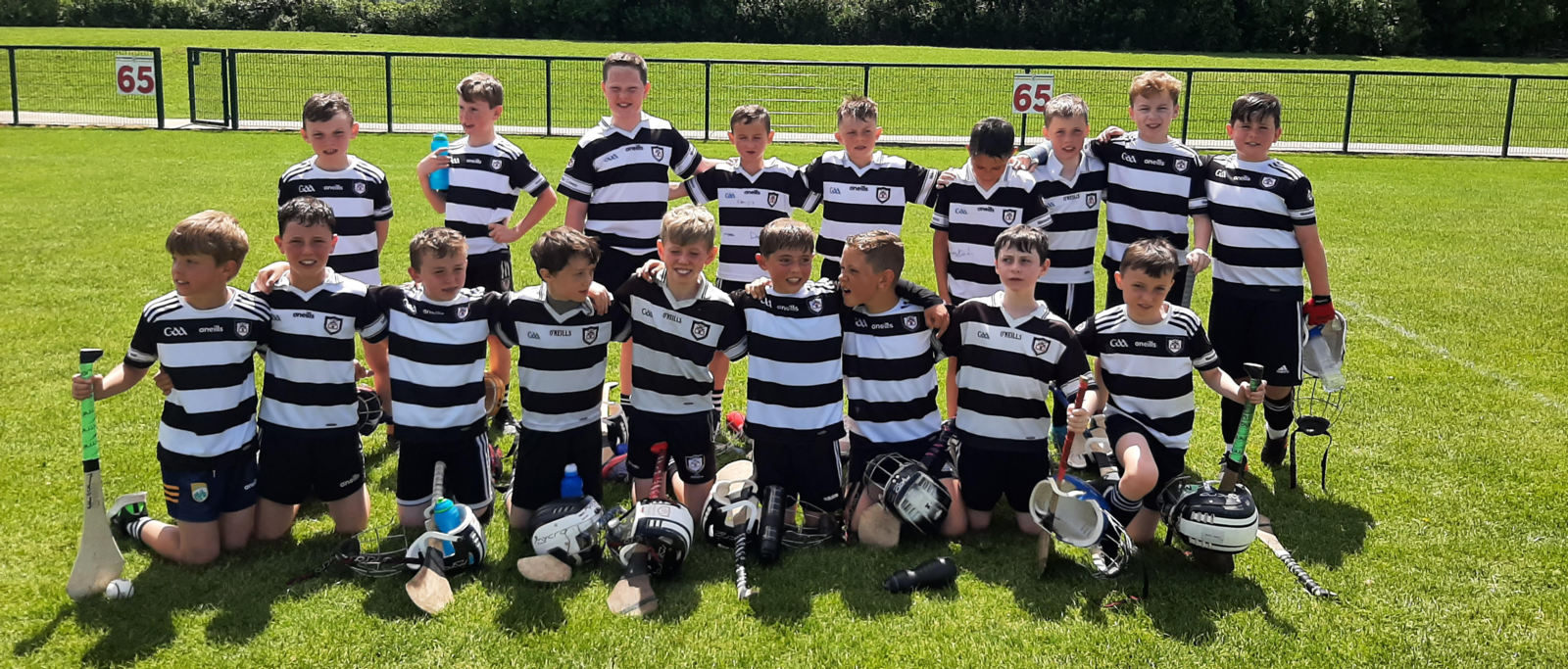 Our Fé10s travelled to Bride Rovers to take on the home side on Saturday and a great morning was had by all.
FÉ11

Our Fé11s had a brilliant morning of hurling when they hosted Carrigaline at a sun-drenched Park South on Saturday morning.
Below: Pictured are the victorious Sciath na Scoil Fé11 players. Left to right: Sean Barry (Gaelscoile), Daniel Crean, Mason Richards, Conor Grant, Shay Tobin Burke, Conor Flynn, Jack Flynn, Charlie Kenneally (all CBS)
Best of luck also to Ben Fitzgerald and Jack McSweeney who will be playing for Saleen in their upcoming final.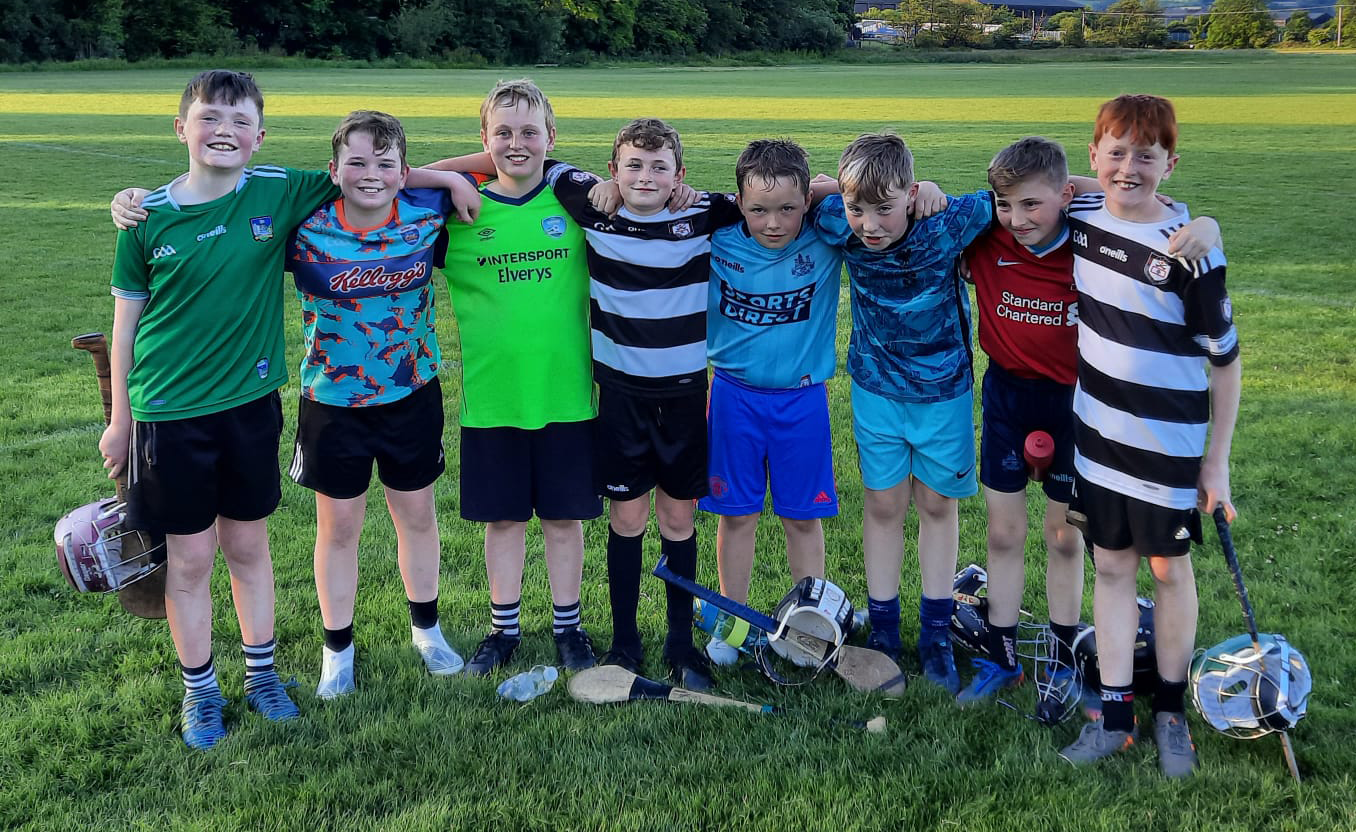 FÉ13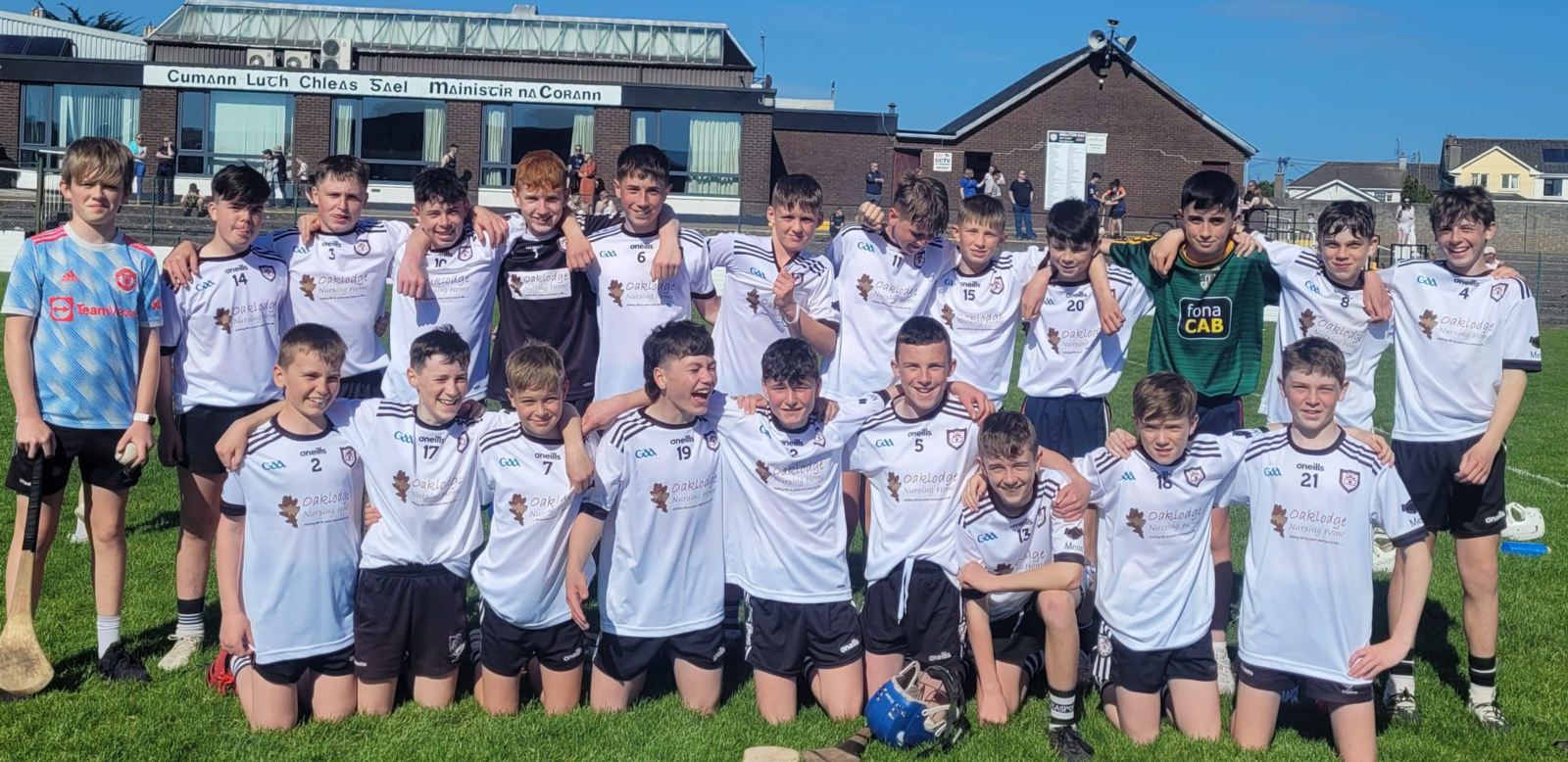 Our Fé13 hurlers took on Sarsfields at Clonmult Memorial Park on Saturday last and the Magpies came away with a great win on a final score of 6-20 to 1-9. The players and management would also like to say a massive thank you to Oaklodge Nursing Home for our new set of jerseys.
FÉ14 P2 HURLING CHAMPIONSHIP V GLEN ROVERS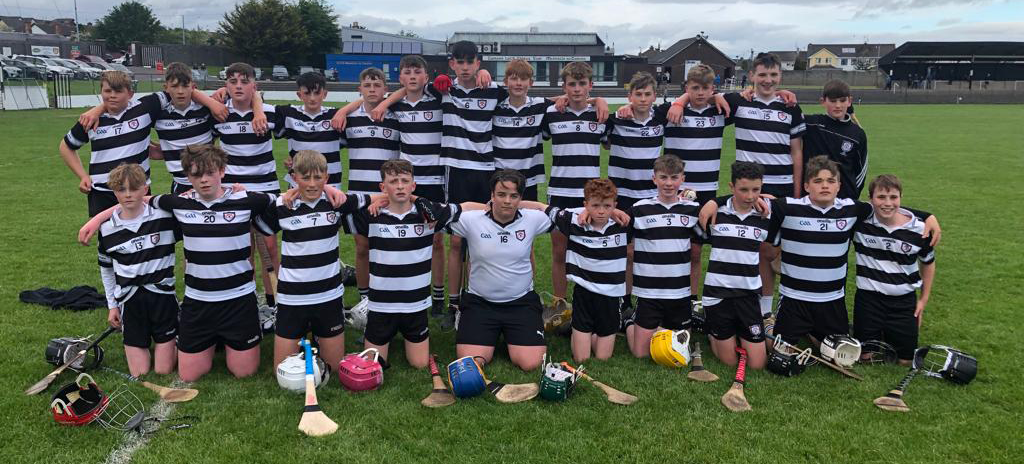 The first round of the eagerly awaited Fé14 hurling championship saw the visit of Glen Rovers to Clonmult Memorial Park on Wednesday last. An early goal by Shane O'Mahony meant that the teams were level midway through the first-half with the lads battling well against their city counterparts. However Glen Rovers finished the first-half stronger with the half-time score reading Midleton 1-3 Glen Rovers 2-8.
Credit to Midleton though who refused to give up and holding Glen Rovers to just two points in the entire second-half. However we just couldn't get the scores on the night to narrow the gap. The final score was Midleton 1-6 Glen Rovers 2-10.
Definite signs of improvement for this team as they now face into the semi-final of the hurling shield next Wednesday against Kiltha Og in Dungourney.
MIDLETON: Michael Allegrini, Rian Casey, Jason Morley, Cuan Twomey, Jack Walsh, Senan Carroll (captain), Scott Dunlea, Cian Lawton, Harry Waterman, Patrick O'Dowd, Max Murphy, Ruairi O'Riordan, Darragh Mullins, Shane O'Mahony, James Carey, Ewan Murphy, Sean Gregory, Patrick Collins, Adam Spillane, Bradley O'Brian, James O'Meara, Dara Birdthistle, Fionn Bohan
SCIATH NA SCOIL SUCCESS

A massive congratulations to Gaelscoil Mhainistir na Corann (above) and Midleton CBS (below) who both tasted Sciath na Scoil final success on a magical Monday for Midleton hurling at Pairc Uí Rinn. Well done to all the players, mentors and supporters who made it such a wonderful day.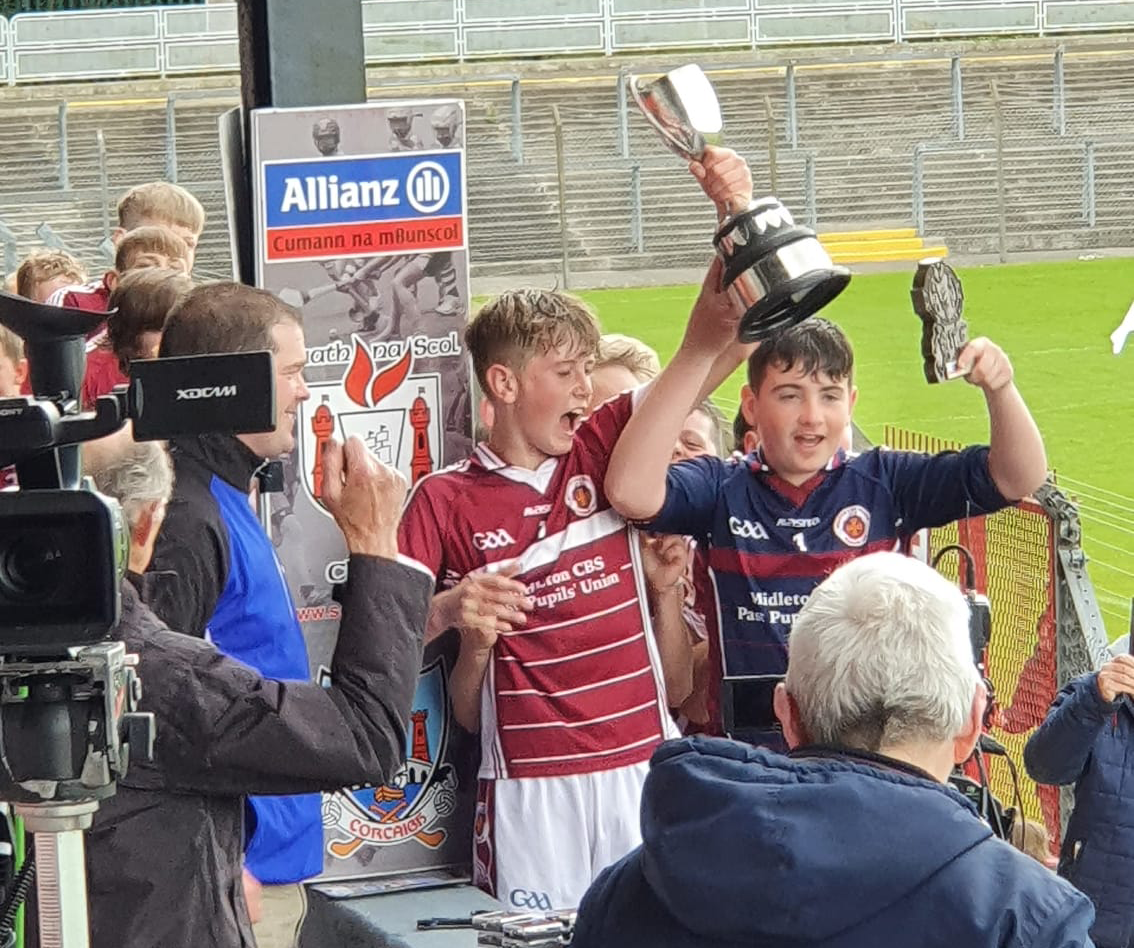 BILL O'KEEFFE TOURNAMENT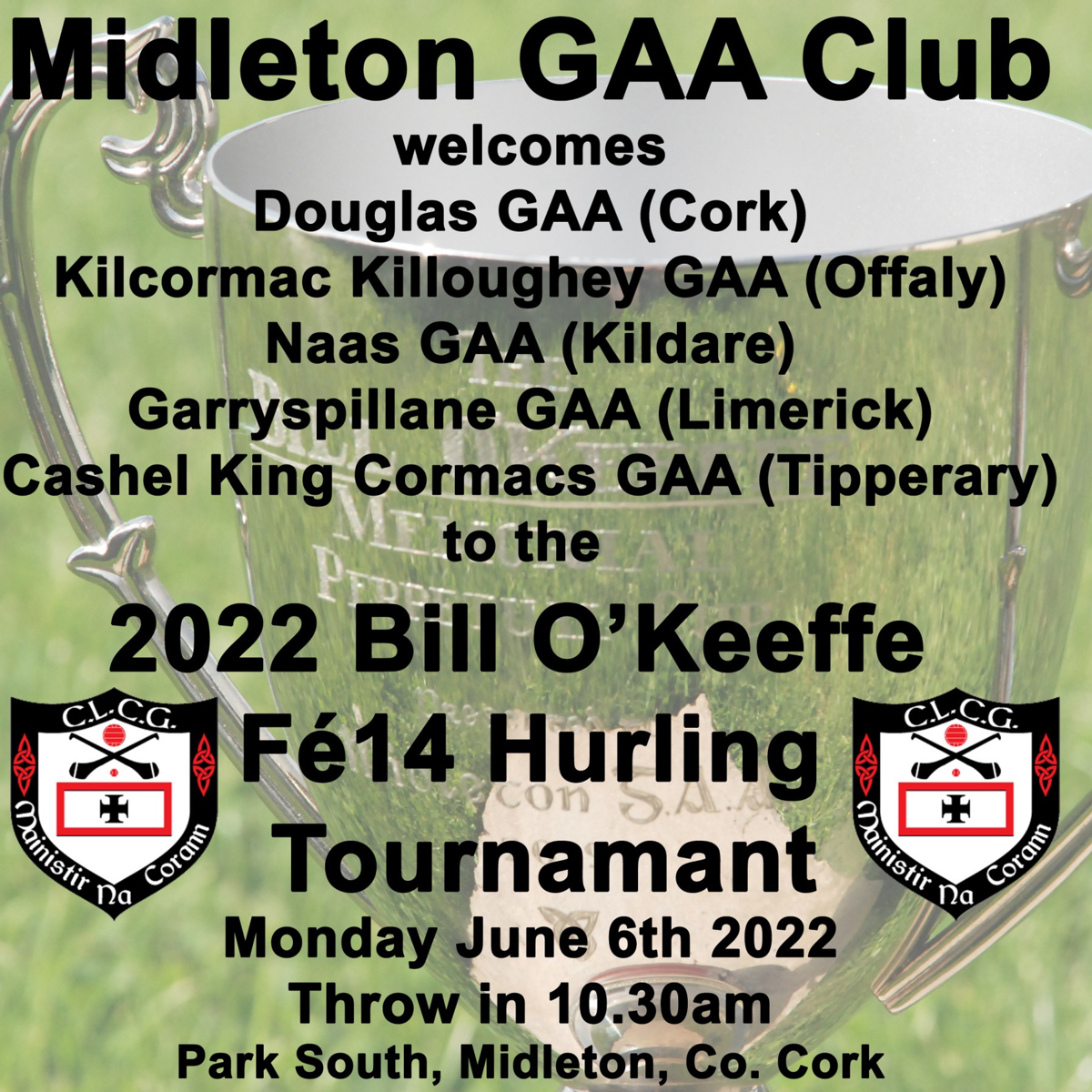 We will host the 2022 Bill O'Keeffe Fé14 hurling tournament at Park South on this coming Bank Holiday Monday from 10.30am.
We will host: Douglas, Kilcormac Kiloughey (Offaly), Cashel King Cormacs (Tipperary), Naas (Kildare) and Garryspillane (Limerick).
JUVENILE FIXTURES
FRIDAY, JUNE 3
Rebel Og Coiste Fe13 Prem 1 Football League Phase 2
Midleton v St Finbarrs at 7pm at Midleton CBS
WEDNESDAY, JUNE 8
Rebel Og Coiste Fe14 Prem 1 Hurling Shield Championship
Kiltha Og v Midleton in Dungourney at 8pm.#
CAMOGIE
FÉ7 V SARSFIELDS

Our Fé7 ladies travelled to Riverstown on Saturday to play Sarsfields. Great fun was had by all in glorious sunshine. Well done girls.
FÉ 8 V DOUGLAS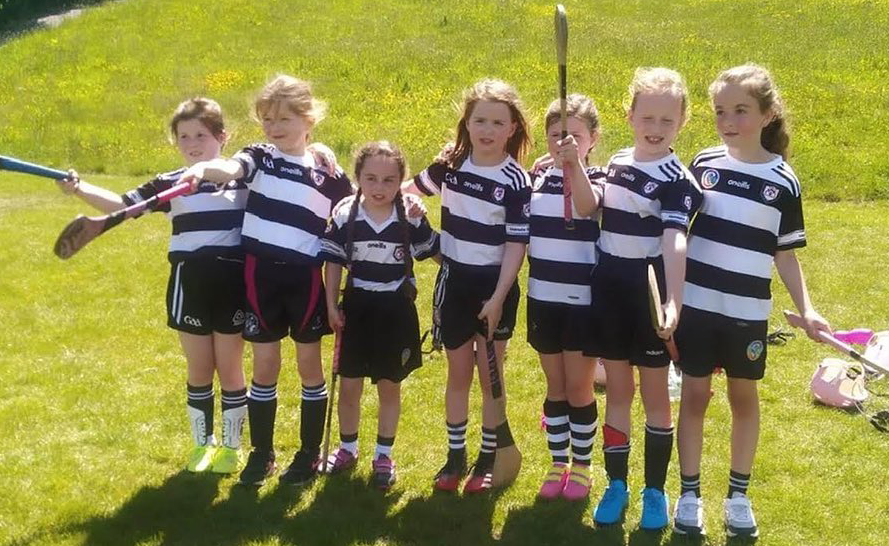 Our U-8 girls travelled to a very sunny Douglas on Sunday morning. Our 24 girls played three games against the hosts. The girls played absolutely fantastic stuff and scored plenty of goals. A great morning was had by all and a few well deserved treats after.
FÉ10 V COBH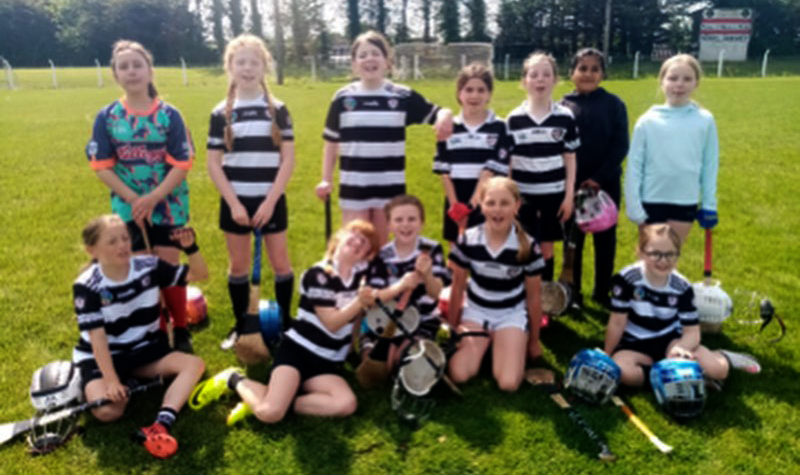 Well done to all our Fé10 girls who were in action against Cobh at home on Sunday morning under a beautiful blue sky. Great to see plenty of skills being demonstrated, blocking, hand passing, picking and defending. Special mention to all the Midleton girls who volunteered to play on Cobh's side as they were down numbers. Thank you to Cobh, the coaches, referees and all those involved in the match.
FÉ 12 V CASTLEMARTYR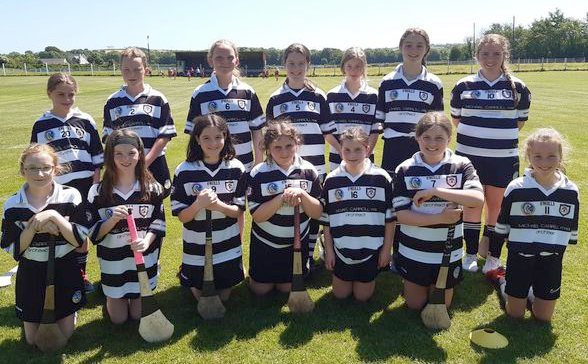 Our Fé12s were in action again away to Castlemartyr for a league match on Saturday. The players played in very warm and sunny conditions. Well done to each girl who were up against a strong Castlemartyr side with the hosts coming out at the end with a win. Well done to our captain Rebecca. Thanks to our hosts, the referee and all the supporters. Next up for the U-12s is Ballincollig on Sunday, June 12.
FÉ 16 V EIRE OG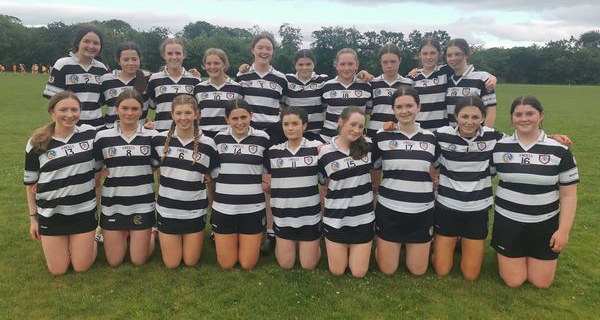 Midleton were in action against Eire Óg in the second round of league at home in Park South. Midleton got off to an exciting start with a quick goal. All girls participated in a game of high intensity and competitiveness and never gave up the fight. The girls put all training drills into action. Well done to all. The game ended in a well deserved draw! A special mention to our Captain Kelly. Thanks to Eire Òg for travelling down to us, we wish them all the best in future games. Thanks to all who came out and supported the girls. Magpies Abù
JUNIORS V KINSALE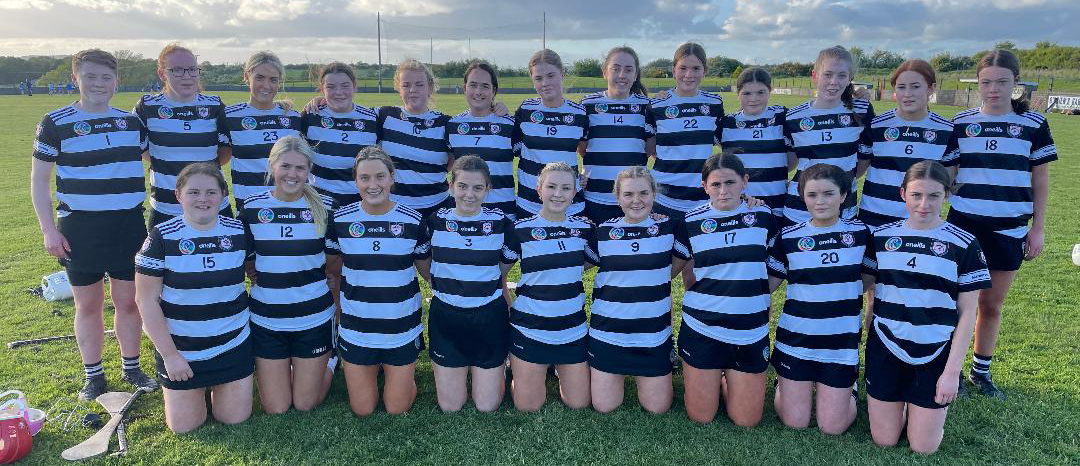 MIDLETON 4-20 KINSALE 0-3
We advanced to our first ever adult final with a commanding win over Kinsale in the Junior C League Semi-Final on Friday night in Ballinacurra. The Midleton girls were in control right from that start and never let up, playing some fabulous Camogie and getting great scores from all parts of the field. We had seven different scorers. Jodie Keegan O'Connell led the way with 2-2, closely followed by Sadhbh Beausang 0-7, Rebecca Cassidy 1-2, Abbie Foley 0-4, Lucy Wallis 0-3, Rayanna Power 0-2 and Rachel Ryan with a goal off the bench. It was great to have such a large group available on the night and everyone contributed handsomely to a great performance. We now await the winners of the other semi-final (Bride Rovers/Grenagh) for what will be an historic first Adult Final for Midleton Camogie Club.
MIDLETON: Jill Connaughton, Ruthie Hennessy, Jade Bradley, Muireann Ni Chonchubhai, Leah Hogan, Megan Kelly, Yvonne Abernethy, Vivienne Gleeson, Lucy Wallis 0-3, Emma O'Sullivan, Sadhbh Beausang(0-7), Abbie Foley (0-4), Rayanna Power 0-2, Rebecca Cassidy (1-2), Jodie Keegan O'Connell (2-2), Hannah Power, Molly Beausang, Rachel Ryan 1-0, Jade Fitzgerald, Elle McManus, Saoirse Ni Theangana, Isobel Nestor.
SCIATH NA SCOILE WINNERS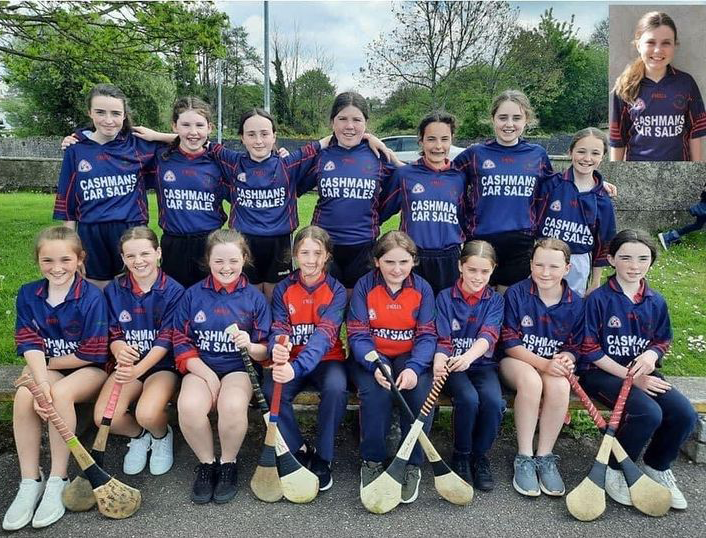 A special mention to our girls listed below from Scoil Bhride Midleton who were members of the victorious team in their Sciath na Scoil Final on Wednesday in Pairc Uí Rinn - Anna, Molly, Roisin, Kerrie, Orlaith, Edel, Suin, Jaimey, Margaret, Ava, Lelya and Emily. Well done girls. It capped a brilliant week of Sciath na Scoil succcess for Midleton teams.
CONDOLENCES
Our sincere sympathies to the Williams Family on the sad passing of Eileen recently. Our thoughts and prayers are with them all during this sad time, from all at Midleton Camogie Club.
LADIES FOOTBALL
UNDER 12

A busy week for our U12 group saw us play home and away in both of their leagues.
Last Wednesday it was our first time to travel and play against Cobh (above). A slow start for our girls saw us going in at half time a few points behind. What we thought would be a tough second half for us playing into the wind and the sun, the girls fought for every ball and secured the scores we needed for another win.
On Monday evening we welcomed Glanmire to Ballinacurra (below). This was another tough encounter but once again the girls battled hard. Although we did not get the win this time the girls showed fierce determination and played their best. We will take the Bank Holiday off and details of our next fixture against Erin's Own will be sent via text.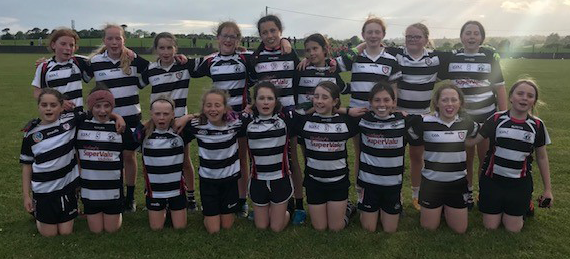 UNDER 14

Our U14A team travelled to Aghada last Sunday. It was a very competitive game throughout and there was some epic saves by both sides that could have made the score line very different. We are delighted with the win. Well done girls. Congratulations to our coach Kevin who had a significant birthday and the girls were only too happy to show him their fine singing voices.
TRAINING
Training details for the coming week will be sent by text to all groups.
SENIOR HURLERS
Our senior hurlers are back in league action on this coming Tuesday night when they host Blackrock at Clonmult Memorial Park at 7.30pm.
INTERMEDIATE HURLERS
We hosted St. Finbarrs at Clonmult Memorial Park on Monday night and ran out convincing winners on a scoreline of 1-22 to 0-17.
MIDLETON: Bryan Rossiter, Cian Murray, Luke Dineen, Cathal Gunning, Gavin Reddy 0-1, Sean O'Sullivan, David Scanlon, Leo Hennessy 0-1, Sean O'Farrell, Gary Carroll, Sean O'Meara 0-6, James Nagle 0-1, Paul Connaughton 0-6, Cian Crowley 0-3, Conor Fitzgerald 1-3. Subs used: Charlie Walsh, Lochlann McCarthy, Evan McCarthy, Luke Deane, Colin Sunderland 0-1.
Best wishes to David Scanlon and Sean O'Farrell who picked up injuries in this game. We hope to see them back in the black and white as soon as possible.
JUNIOR A FOOTBALL
We hosted Youghal in the league on Friday night and narrowly lost on a score of 0-11 to 1-10.
MIDLETON: Michael Abernethy, Barry Fitzgerald, Aidan Ryan, Brendan Ferriter, Cian Crowley, Sean O'Meara , Eoin Ferriter, Eoin Moloney, Adam Daly, Cathal Gunning, Cormac Beausang (0-6, 3F), Niall Walsh (0-1), Evan McCarthy (0-1), Johnny Comer (0-3,0-1 '45,), Sean Corcoran. Sub: Luke Dineen.
JUNIOR A HURLING
We host Sarsfields at Clonmult Memorial Park on this Friday (June 3) at 7.30pm.
JUNIOR B HURLING
Our Junior B hurlers travelled to Castlelyons on Sunday night for a league game and we came off second best on a scoreline of 3-20 to 0-13.
JUNIOR C HURLING
Shanagarry is calling for our Junior C Hurlers on this coming Bank Holiday Monday to take on Russell Rovers at 5.30pm.
UPCOMING COURSE
The following course is now booking and are open to members across all codes in the club.
FIRST AID - Thursday, June 9 at 7pm
The club executive are asking that at least one member from each team selection committee attend a First Aid course. This course will be held in the club.
To book, email - ingridoriordan@gmail.com
GOLF SOCIETY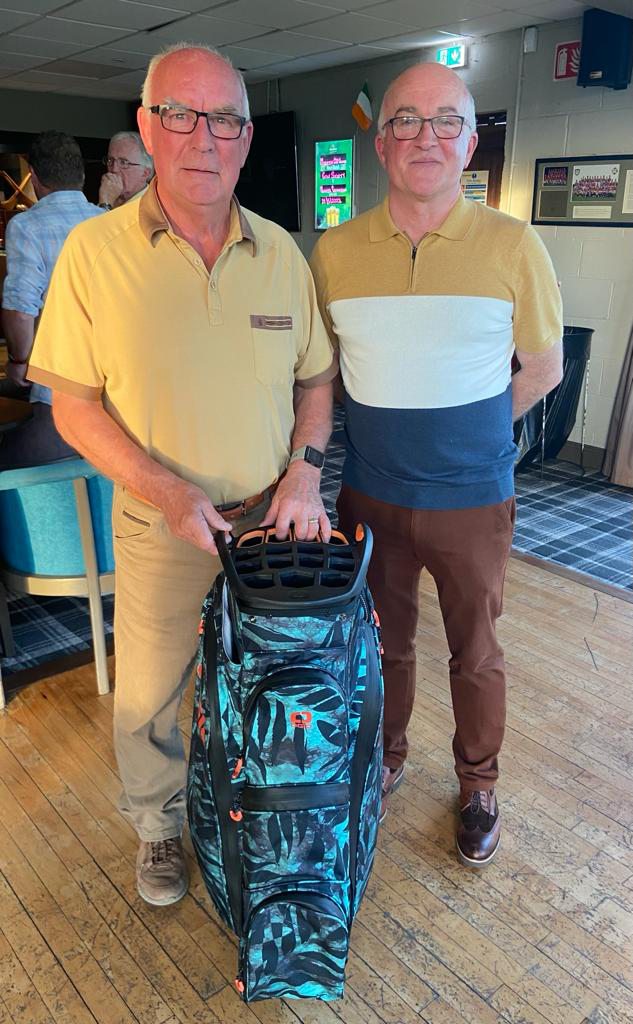 The Midleton GAA Golf Society Captain Tim Crotty held his Captain's Prize at East Cork Golf Club and the prizes were presented at the club on Friday night. Jerry McCarthy was the winner and the picture also includes the recent Easter Hamper prize winners. Tim and Jerry are pictured above and below are the Captain's Prize and Easter prizewinners at the presentation.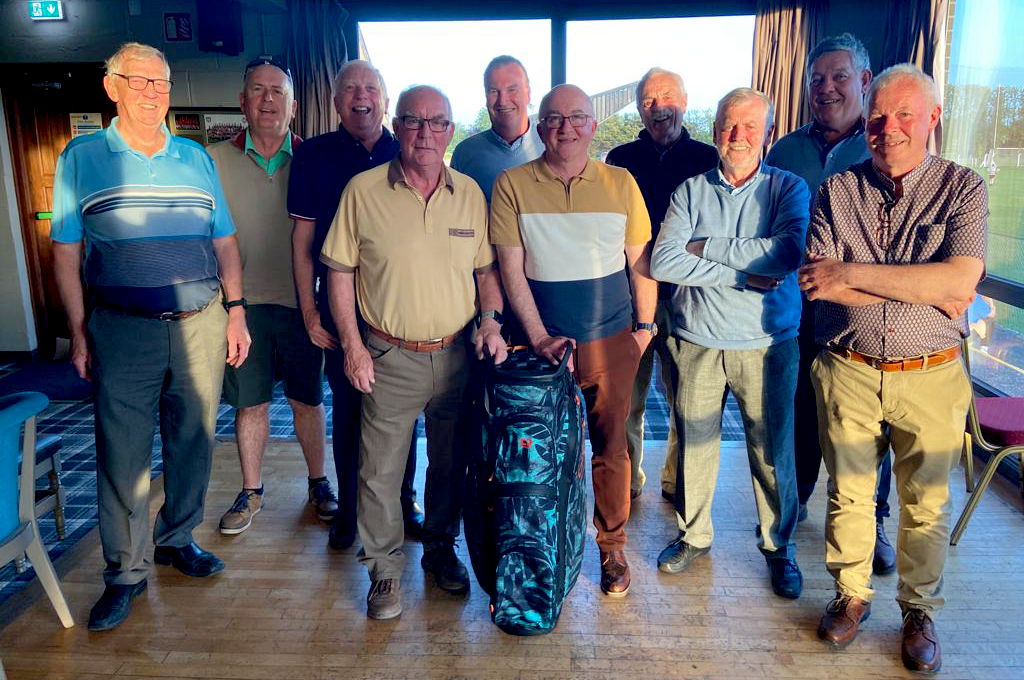 VOLUNTEER RECRUITMENT OFFICER
Midleton GAA "One Club" which now has 1400 members and incorporates GAA (Adult & Juvenile), Ladies Football and Camogie and Magpie All Stars (section for players with additional needs) is looking for a Volunteer Recruitment Officer.
You may or may not be currently involved or connected with Midleton GAA ………. it doesn't matter. What matters is that you have a passion for working with your local community and in making a real difference. You will work with our Volunteer Support Committee to identify Club Volunteer requirements, and prepare and execute strategies to recruit, retain and fulfil the club volunteer requirements for Midleton GAA.
Check out all the details and how you can apply by clicking on the link below.
LOTTO DRAW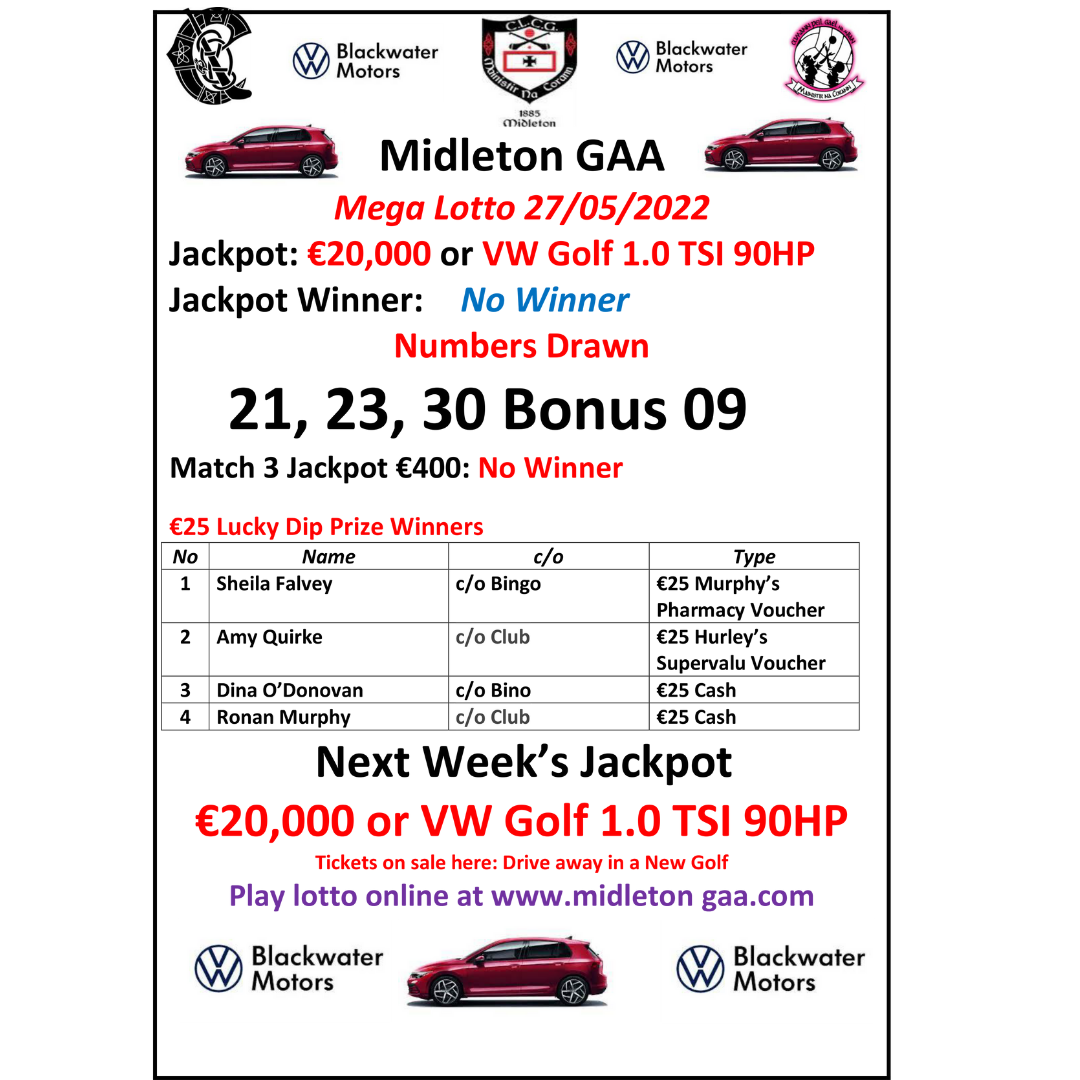 The winning numbers this week were: 21, 23, 30. Bonus: 9.
There was no jackpot winner or Match 3 Jackpot winner
€25 Lucky Dip Prize Winners were: Sheila Falvey (Murphy's Pharmacy Voucher), Amy Quirke (Hurley's Supervalu Voucher), Dina O'Donovan (cash), Ronan Murphy (cash).
Don't forget you can play online at any time at the link below
https://www.klubfunder.com/Clubs/Midleton%20GAA/lotto
Thanks to everyone who supports our lotto.
In total Midleton GAA will give out local business vouchers to the value of €3,800 every year as part of our "Shop Local, Buy Local" campaign.
How to play: tickets are on sale at Pat Walsh Paints, Chadwicks, Frank Murphy Butchers, Murphy's Pharmacy, Crowley Butchers, or buy online (see above).
BINGO
Our Bingo continues on Friday nights with an early game at 7.25pm. Everyone is welcome.
CLUB SHOP
The Midleton GAA club shop is back up and running for the 2022 season but please note that it's still online with collection only at the club on a Saturday morning.
All you have to do is go to the Klubfunder website (https://www.klubfunder.com/Clubs/Midleton%20GAA/ShopItems) and you will see the full range of what's available to buy. You can shop away to your heart's content, pay for it online and then collect your purchases at the club shop on Saturday morning between 9.30am and 10am. Thank you.
PLEASE PLAY YOUR PART
We are asking all players, mentors, parents, supporters and neighbours to please play their part by playing ball on the following.....
Please slow down entering and leaving Park South.
No dogs, except assistance dogs, are allowed at Park South or Clonmult Memorial Park.
Please do not bring single use plastic bottles to either Park South or Clonmult Memorial Park.
Please put your rubbish in a bin or bag and please bring your gear home with you.
And always be aware of the open water surrounding the pitches in Park South.
If you are a coach, please pass on these simple messages to players and parents.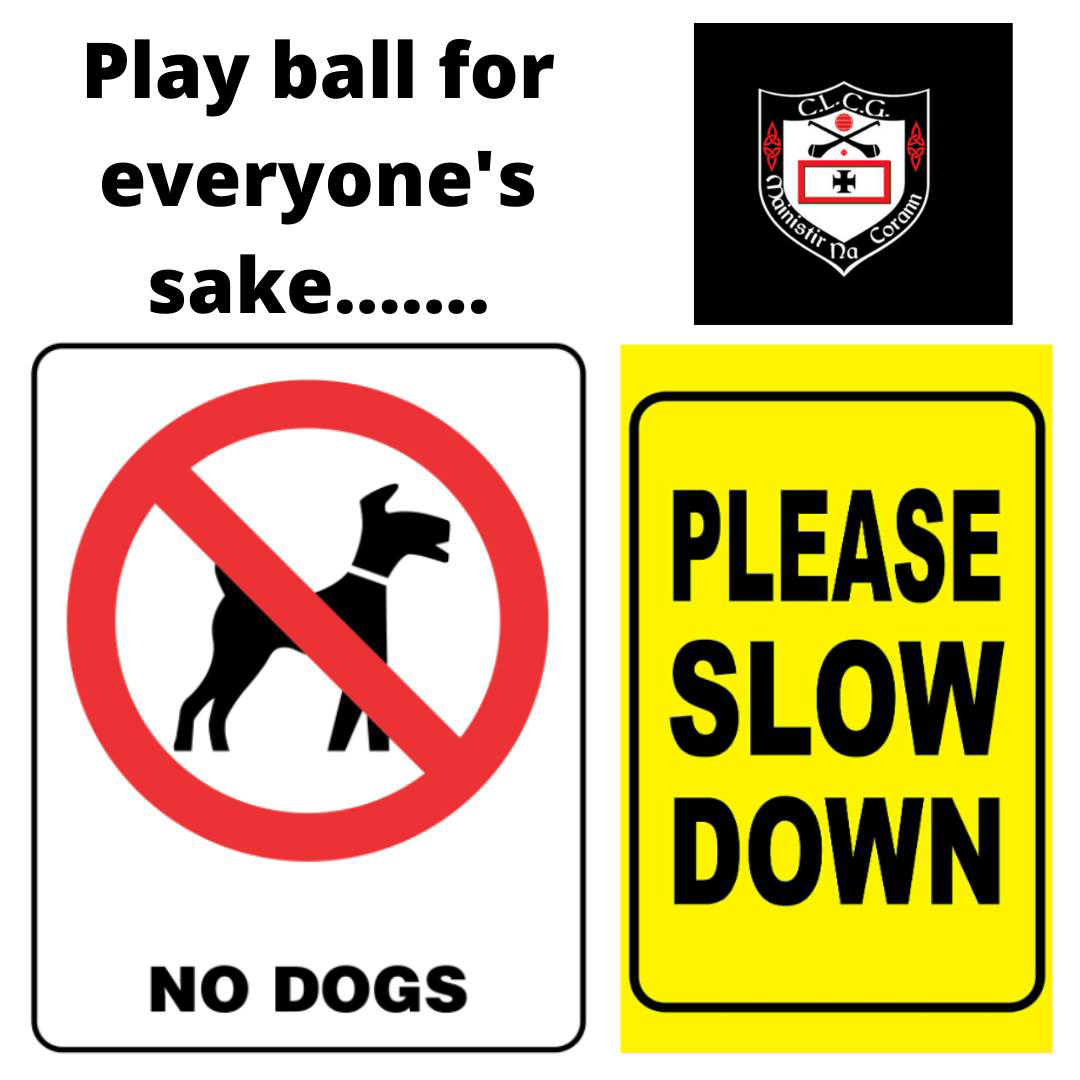 ANOTHER PARK SOUTH MILESTONE
Wednesday, June 1 was another milestone day in the continuing development of our new facilities at Park South as the first two pitches were lined for the first time (see pictures below).
Thanks a million to all who helped with this task and who have and continue to do brilliant work at Park South.
I won't name names as I will definitely leave someone out but your hard work is very much appreciated.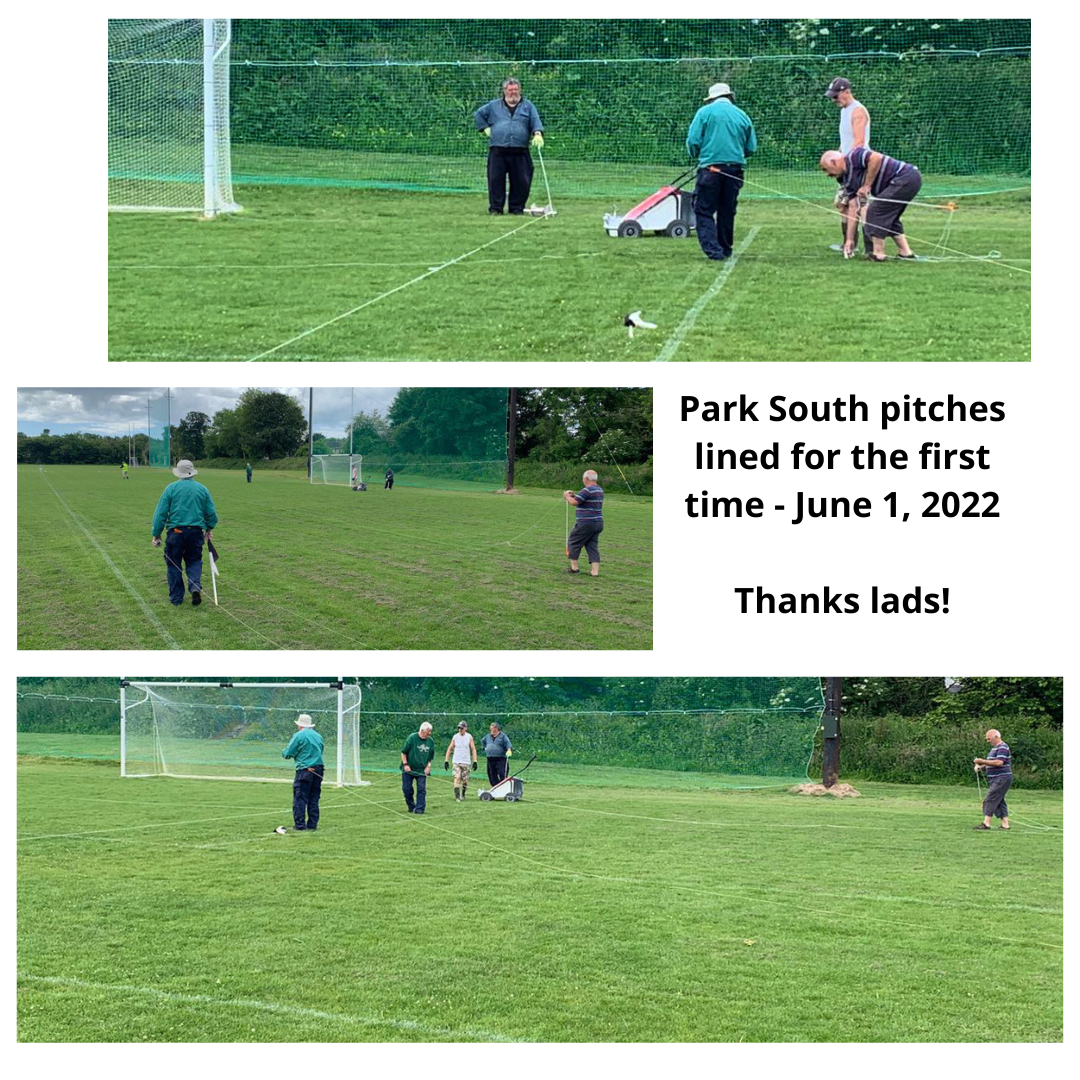 HALL AVAILABLE FOR HIRE
Midleton GAA Hall is available for next three months to hire every Tuesday and Thursday night for June, July and August. Contact: Pat O'Brien - 086 8118815.
CONDOLENCES
We would like to extend our deepest sympathies to the Williams family on the passing of Eileen this week.
Ar dheis Dé go raibh a hanam.