Midleton Hurling and Football, Ladies Football and Camogie Club News - May 26
26 May, 2022
WELL DONE LADS – CONOR IS HURLER OF THE WEEK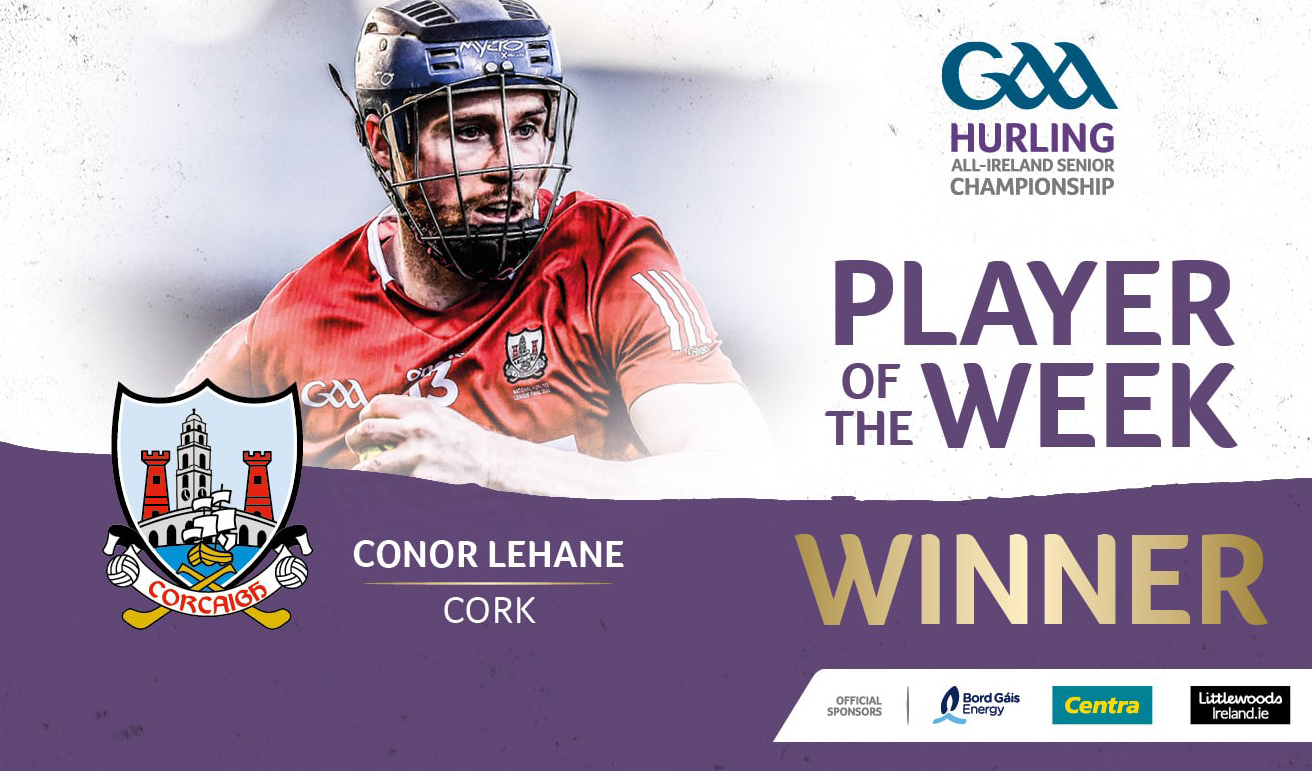 A big well done to Conor, Tommy, Sean, Sam and all involved with the Cork seniors in their great Munster SHC win over Tipperary in Thurles on Sunday.
A special word of congratulations to Conor Lehane who won the Man of the Match award on the day with eight points and was also voted as the GAA.ie Hurler of the Week for his excellent display. Conor received 5,139 votes on the GAA's Official Instagram page which put him ahead of Clare's David Fitzgerald (3,489), and Kildare's Gerry Keegan (2,548).
Well done Conor on these very well deserved accolades.
SENIOR HURLERS
Our senior hurlers played their latest RedFM Co. Senior Hurling league clash away to neighbours Killeagh on Sunday morning. At half-time the sides were level on a scoreline of Killeagh 1-6 Midleton 0-9.
In the end of the hour's hurling there was just a puck of ball between the sides with the home side coming out on top of a final scoreline of Killeagh 3-14 Midleton 1-17.
We're back in league action on Tuesday week (June 7) at home to Blackrock at 7.30pm.
INTERMEDIATE HURLERS
Our intermediate hurlers picked up another league point on Saturday night at Clonmult Memorial Park when they staged an excellent comeback against Barryoe. Final score - Midleton 2-20 Barryroe 2-20.
MIDLETON: Bryan Rossiter; Colin Sunderland, Cian Murray, Cathal Gunning; Alan Power, Dave Scanlon, Leo Hennessy; Sean O'Farrell, Gavin Reddy; Gary Carroll 0-6, Christian Daly 0-1, Tiarnan Roche 0-4; Mike Abernethy 1-0, Charlie Walsh, Conor Fitzgerald 1-8 (0-6F). Subs used: Evan McCarthy 0-1 and Luke Deane.
Jürgen Metz from Herrenberg, Germany was a visitor at the game and he sent a lovely email to Terence McCarthy about how much he enjoyed the game and how impressed he was by our club facilities and the sport of hurling. He sent us this link of pictures he took at the game.... https://tinyurl.com/39z63ck6
This team is back in action on Monday night next (May 30) at home to St. Finbarrs at 7.30pm.
JUNIOR A FOOTBALL
Our junior A footballers are back in league action this Friday (May 27) at 8pm at home to Youghal.
JUNIOR B HURLING
Our Junior B hurlers are on the road on Sunday evening (May 29) when they travel to Castlelyons to take on the home side in the JHL Div. 3 league.
JUVENILES
FÉ10 V EIRE ÓG

Our lads travelled to Ovens on Saturday to play Eire Og in football. The lads were fantastic and gave super performances in all the six games they played. Thanks to Eire Og for hosting us and thanks to all the players, coaches and parents who travelled to ovens to support us.
FÉ11 V AGHADA

The Fé11s travelled to Aghada on Friday evening and the two clubs played out four very competitive games of football. Well done lads.
FÉ12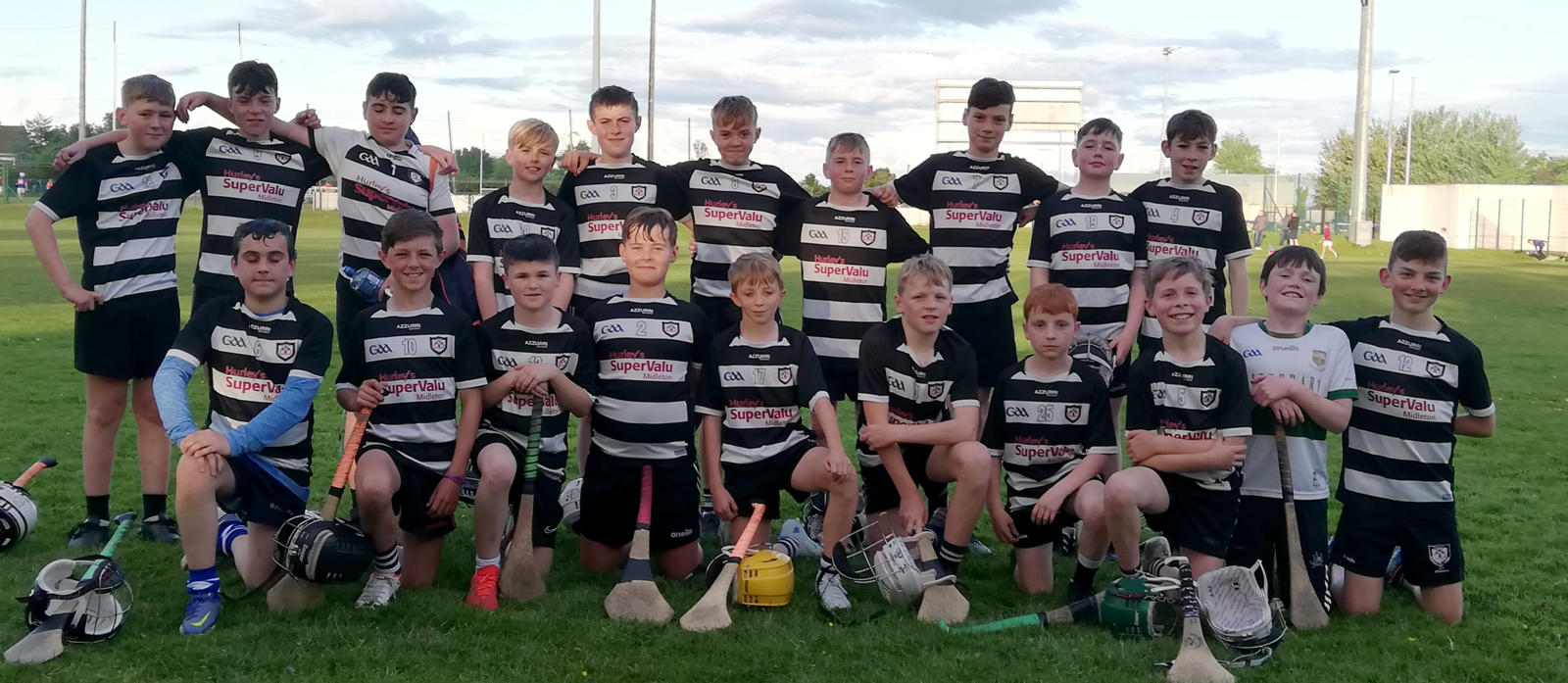 It was football this week for the Fé12 boys with both groups playing their third respective grading league matches.
For group six it was an away tie to Douglas, with the home team coming out on top in the second-half despite a great effort from all. Midleton 1-6 Douglas 1-11
The group two tie was away to Kiltha Óg in Dungourney (pictured below). A tight first-half saw the scores level at half-time 1-4 to 0-7. But a great second half effort got us over the line. Final score: Midleton 7-5 Kiltha Óg 2-9
Monday saw the Fé12 boys (pictured above) travel to Caherlag to take on Erin's own in the group one grading league. Final score: Midleton 1-7 Erin's own 1-6.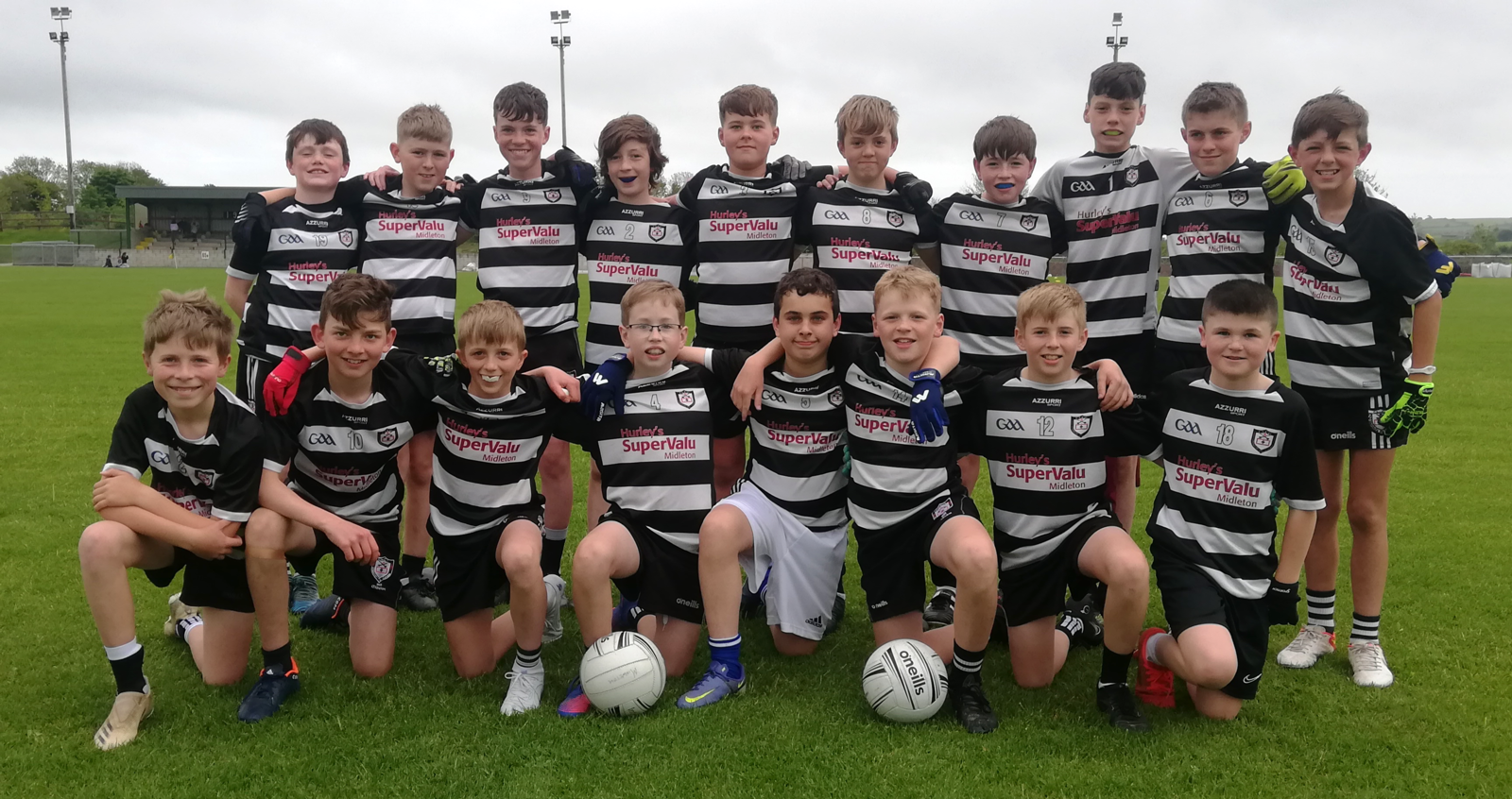 FÉ14 P2 FOOTBALL CHAMPIONSHIP

The first round of the eagerly awaited Fé14 football championship saw the lads make the short trip to Carrigtwohill on Wednesday last. Playing into a stiff breeze in the first-half and with scores hard to come by, the lads were unlucky to go in a goal down at half-time on a scoreline of Carrigtwohill 1-2 Midleton 0-2.
With the wind easing off in the second-half the lads started the second period brightly, with a goal from stand-in captain on the night Darragh Mullins. However, entering into injury-time in the second-half the lads were still one point down when Scott Dunlea got on the end of a great team move to finish the ball to the net, a score that was followed by wild celebrations by the players as well as the large travelling support. There was still time for one more point before the final whistle was blown with the full-time score of Carrigtwohill 1-4 Midleton 2-4.
MIDLETON: Bradley O'Brien, Jason Morley, Cuan Twomey, Donnacha Horgan, Jack Walsh, Shane O'Mahony, Ruairi O'Riordan, Senan Carroll, Max Murphy, Dara Birdthistle, Darragh Mullins, James O'Meara, Scott Dunlea, Cian Lawton, Ewan Murphy, Sean Gregory, Patrick Collins, Patrick O'Dowd, Jamie O'Donovan, Adam Spillane, Michael Allegrini, Fionn Bohan.
FÉ15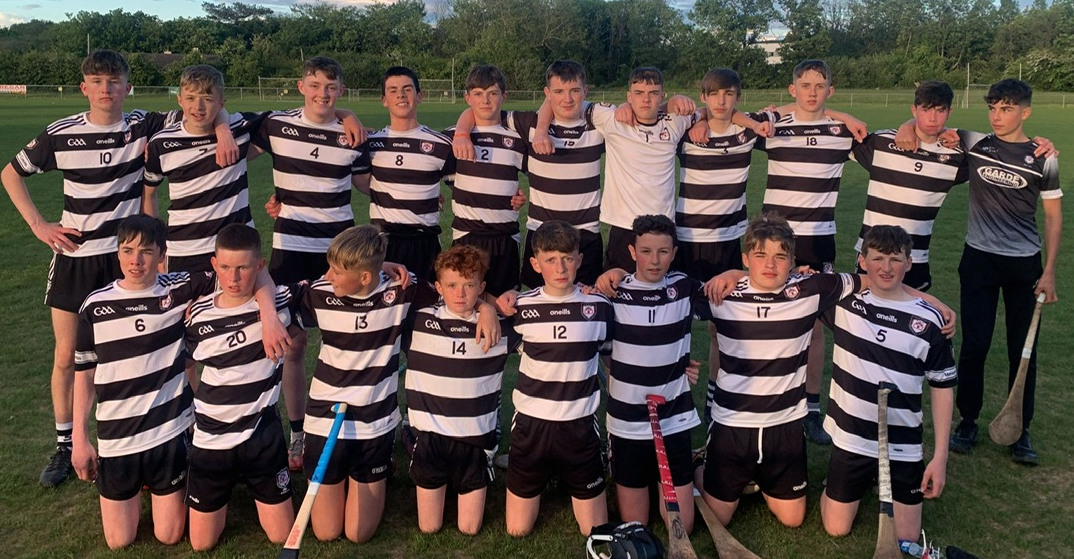 Our final C3 game before the Junior Cert break saw us make the trip to Carrigaline. In a very evenly contested match we came away with a 0-12pts to 0-3 win. Well done to all on the night with some excellent performances from Sean Crowley, Noah Cahill, Tiago Fleming, Miah McGrath and particularly Ben Troy to ensure we got the league points on offer.
A big thank you also to our Fe 14s Scott Dunlea, Jack Walsh (0-1), James Carey, Ruairi O'Riordan, Bradley O'Brien and Patrick Collins who more than held their own on the night.
CORK FE15S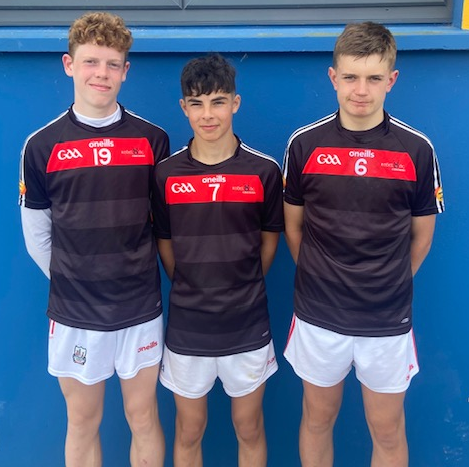 Well done to Josh Foley, Josh Hogan, Matthew McSweeney and Peter Barrett (not pictured). All four were in action last weekend for the Cork U-15s versus Clare in Clare. Peter sustained an injury, but is well on the road to recovery. Both games ended in a draw. Well done again lads.
FÉ17 FOOTBALL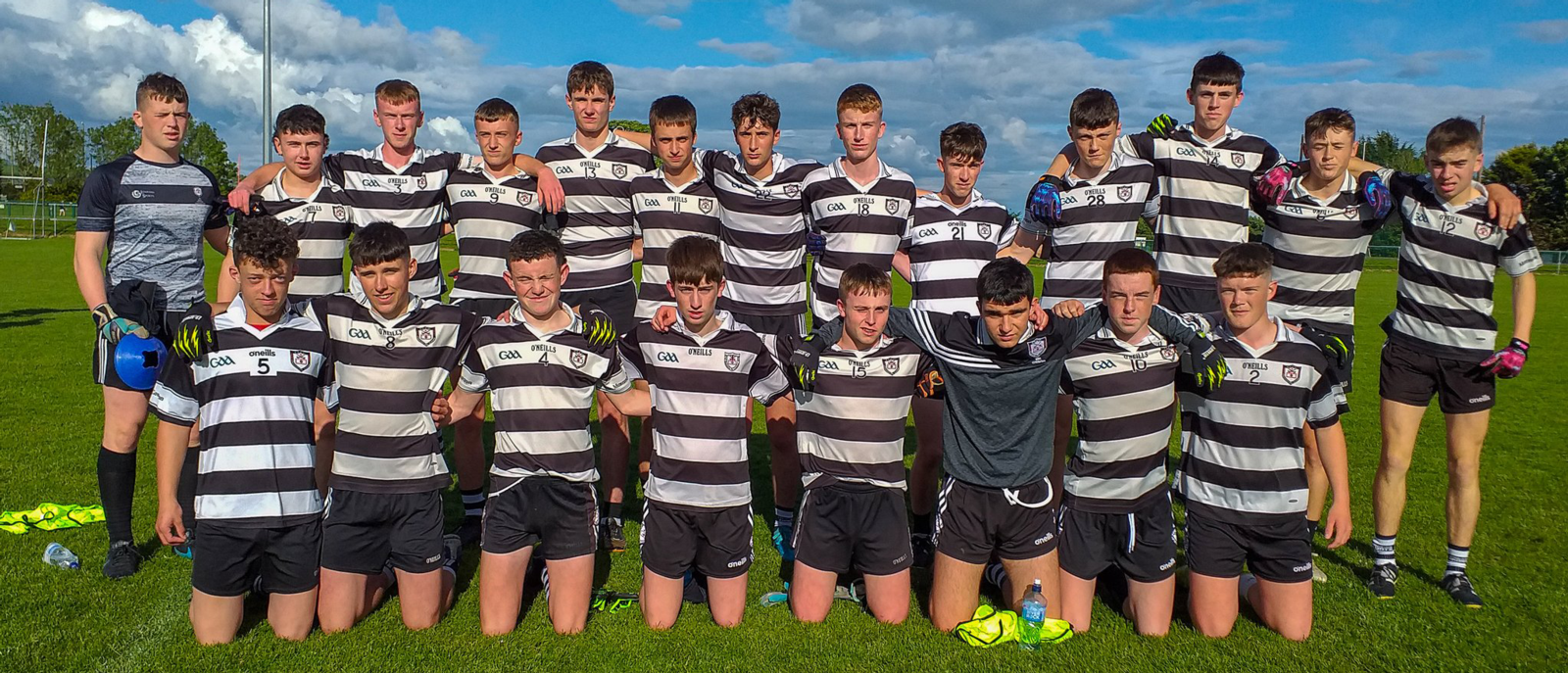 On a great evening for football, our Fè17s travelled to Killeagh to take on the home side in the Div.1 Football League. Midleton ran out winners on a scoreline of 1-8 to 0-4. Well done lads.
BEST OF LUCK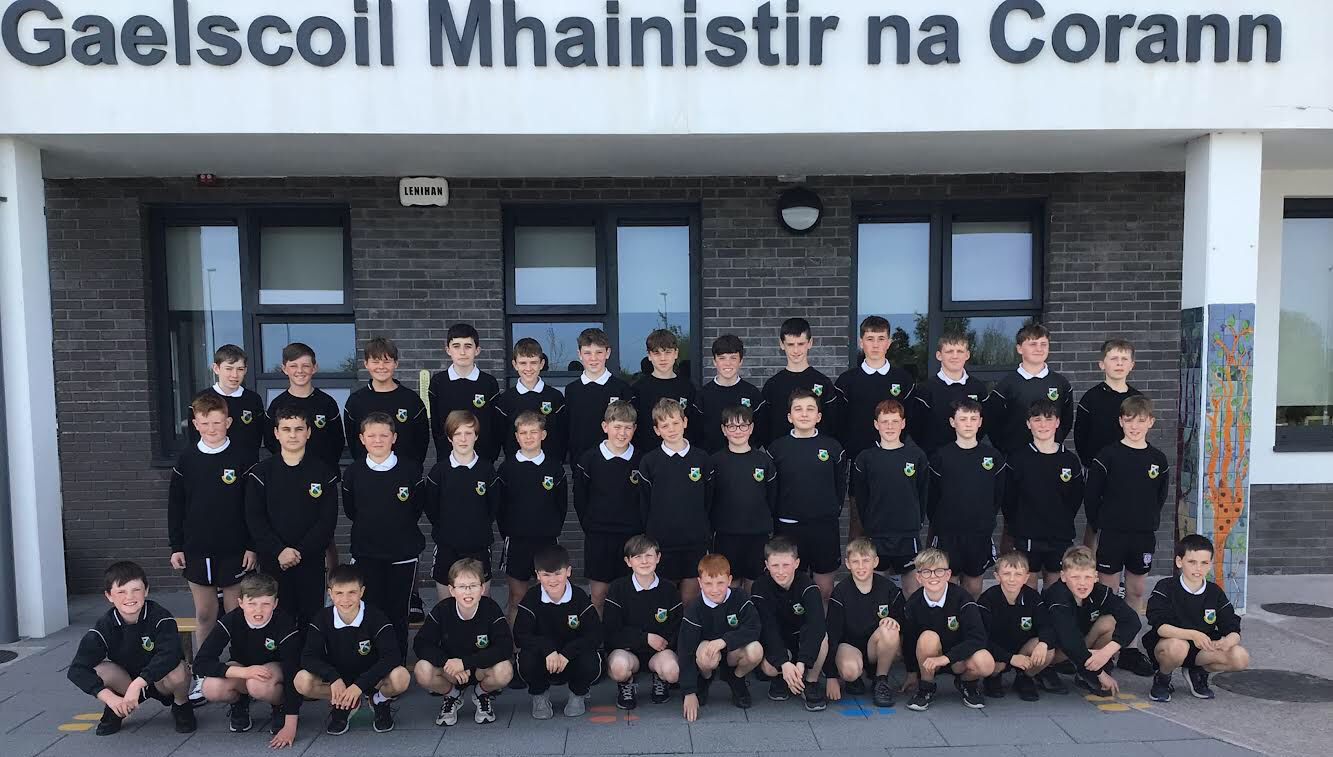 Best of luck to Gaelscoil Mhainistir na Corann (above) and Midleton CBS (below) who play in the Sciath na Scoil Finals next Monday (May 30) in Pairc Uí Rinn.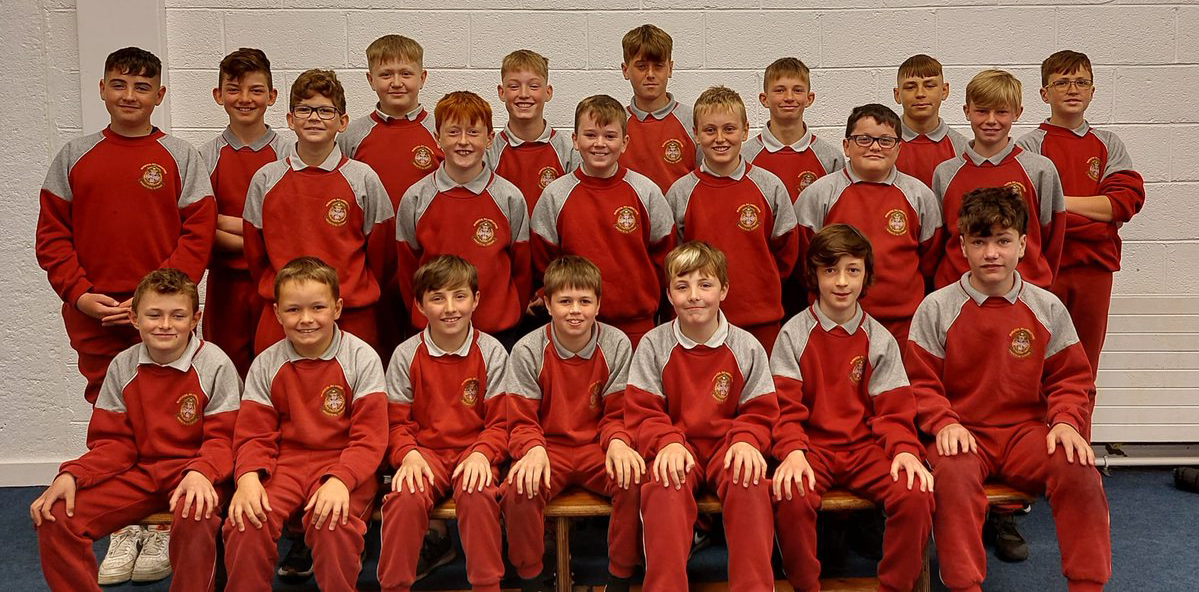 JUVENILE FIXTURES
THURSDAY, MAY 26
Rebel Og Coiste Fe16 Hurling League 13 aside Group 1
Bandon v Midleton at 7.30pm in Bandon
SATURDAY, MAY 28
Rebel Og Coiste Fe13 Prem 1 section 1 Hurling League Phase 2
Midleton v Sarsfields at 4pm in Midleton
MONDAY, MAY 30
Rebel Og East Fe12 Group 2 Football Grading League
Midleton v Youghal at 7pm in Midleton
Rebel Og East Fe12 Group 6 Football Grading League Second Teams
Midleton v Cobh at 7pm in Midleton
WEDNESDAY, JUNE 1
Rebel Og Coiste Fe14 Premier 2A Football Championship
Midleton v Bandon at 7pm in Midleton
LADIES FOOTBALL
We had an extremely busy week with nearly all of our teams playing matches on our main pitch, Park South or Ballinacurra.
UNDER 16
Midleton 1-19 Aghada 5-1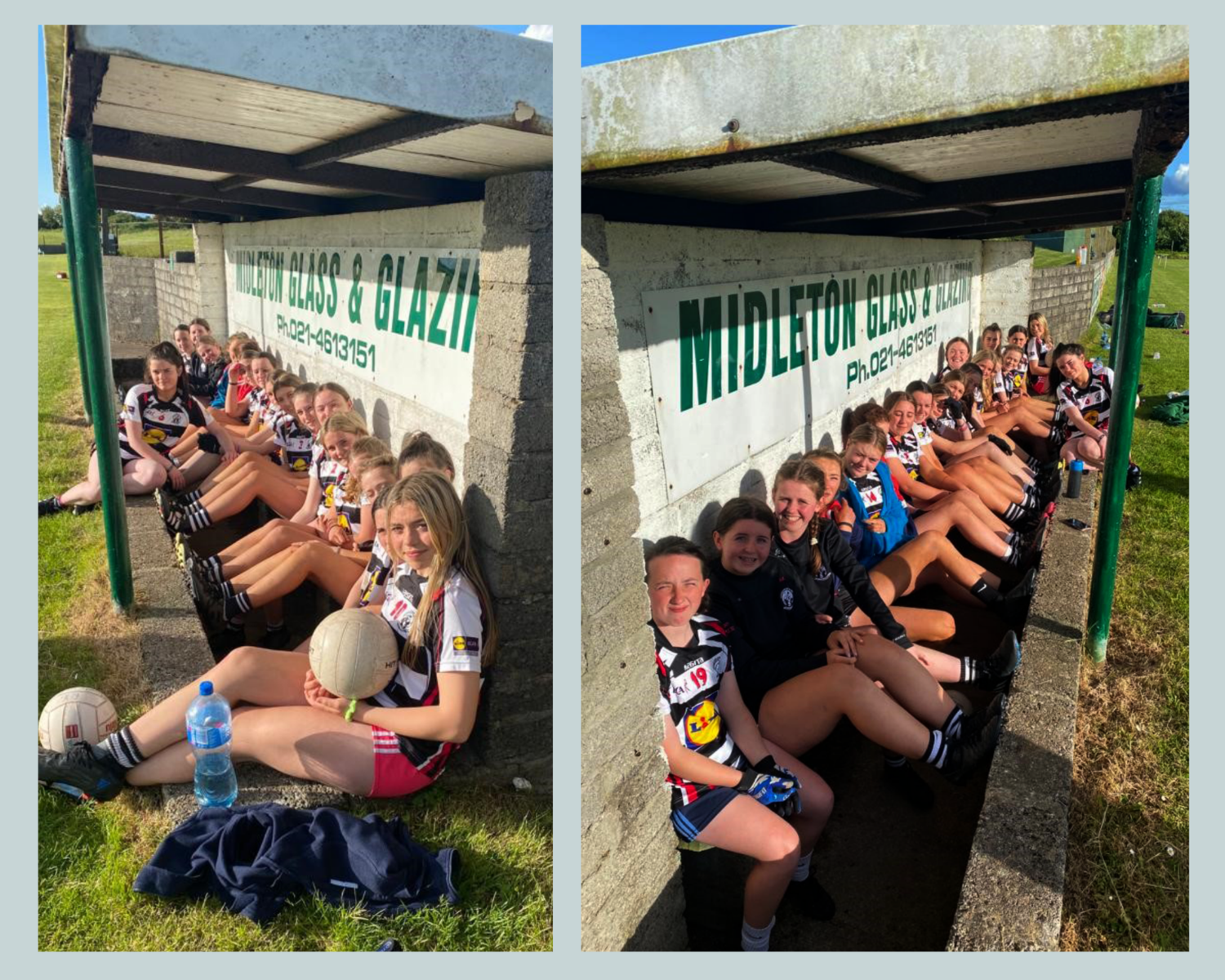 A great display of inter-play, tracking back and point scoring enabled a Midleton squad see off a never-say-die Aghada team in Ballinacurra on Monday night. A great tally of 1-19 kept the visitors at bay and have ensured our girls now go into a three-way playoff for a semi-final position of the East Cork A league. As mentors we couldn't be prouder of our girls' effort from start to finish.
UNDER 14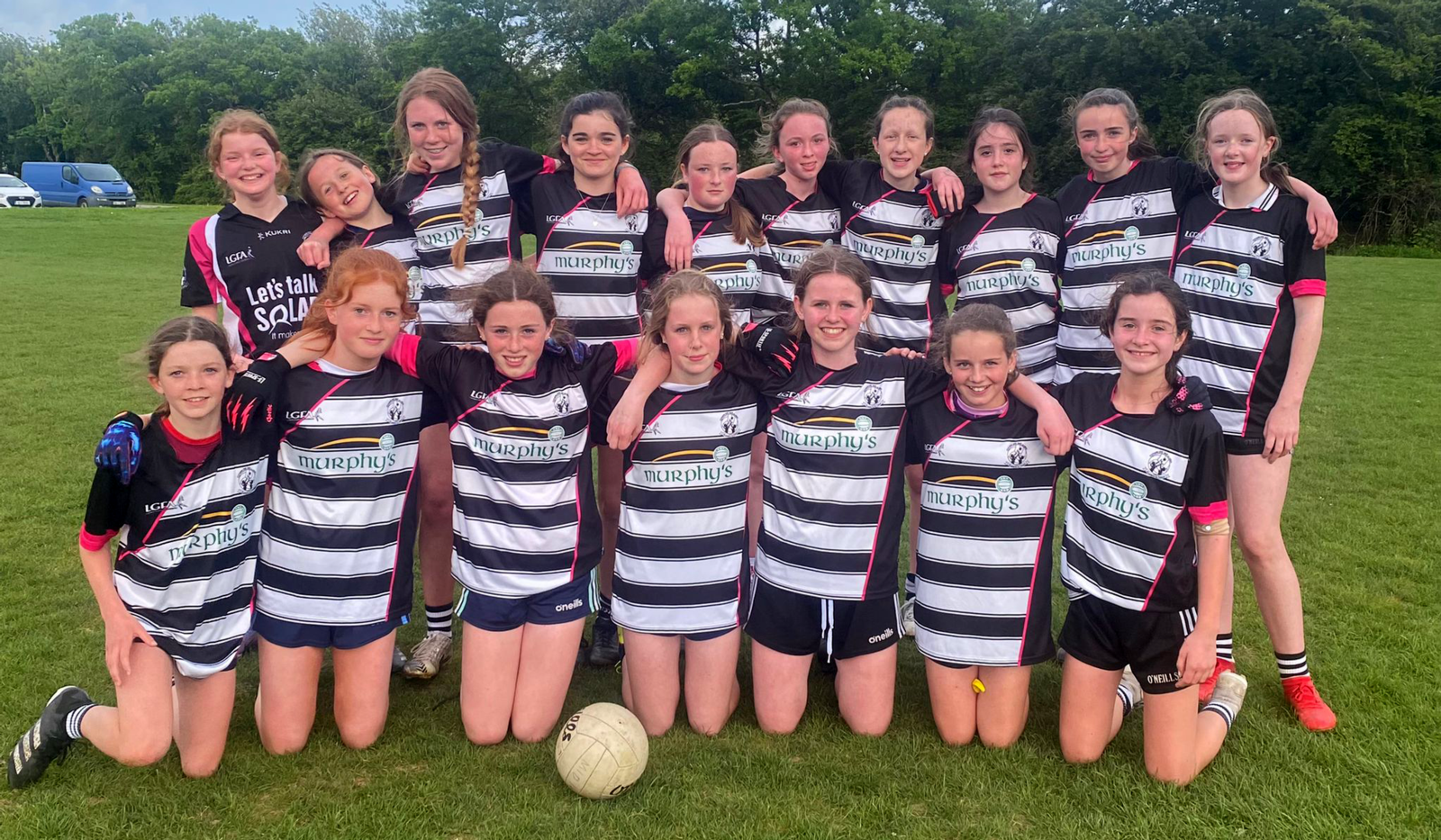 A good win for the U-14Bs last Friday versus Erins Own B in Park South. The girls played fantastically and stayed ahead throughout the game, despite a strong wind in Erins own favour in the first-half. We led by just five points at half-time and we scored most when the wind was with us in second-half. We finished on a scoreline of 3-14 to 1-2. Well done all.
UNDER 12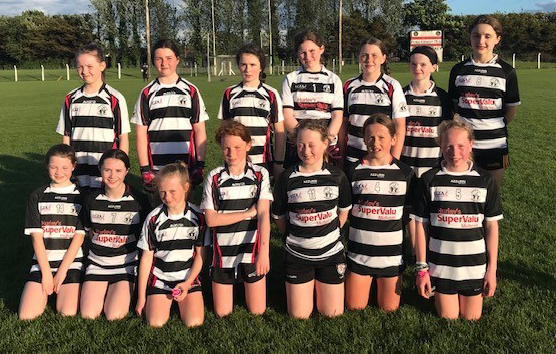 Our U-12s were back in action again with a home game on our main pitch against a very strong Aghada side. For some this was their first game this year but the girls battled hard and tried so hard till the final whistle. Final score Midleton 2-4 Aghada 6-6.
UNDER 10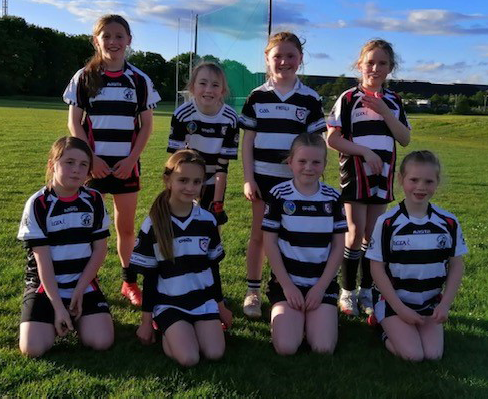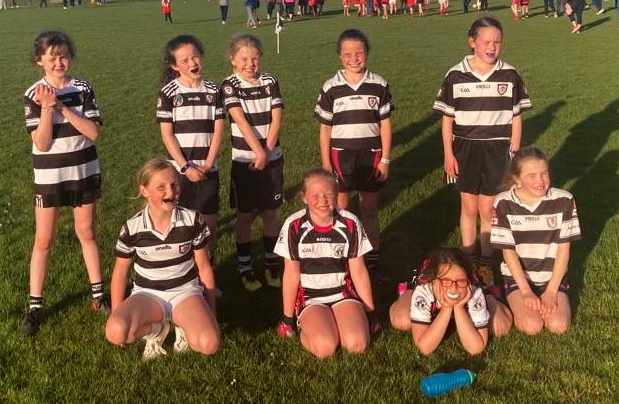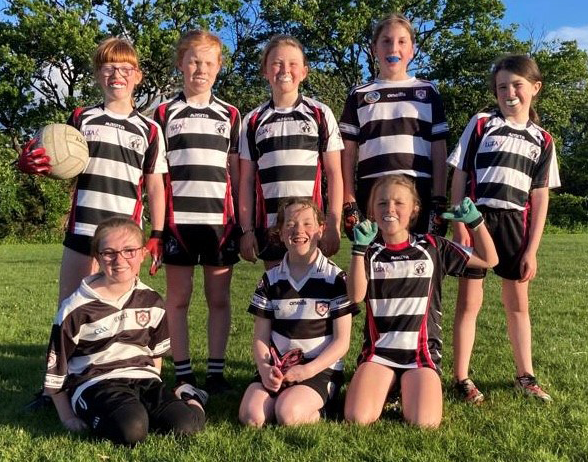 On Monday our U-10 girls had three teams line out in Park South against Inch Rovers on a beautiful evening. A great effort was put in by all the girls on the night.
TRAINING
Please watch out for texts regarding training as most teams are busy with matches for the next couple of weeks.
CAMOGIE
Fé11 V NEMO RANGERS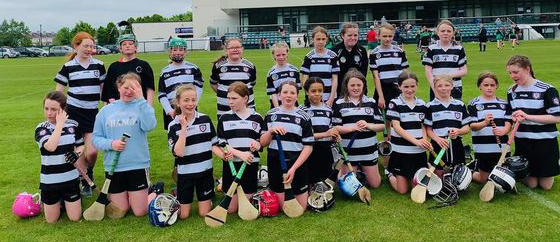 Our Fe11s were away to Nemo Rangers for their first League Match of the season. It was a tough first-half with a strong Nemo squad and the wind against them. The ladies pulled away in the second-half for their first league victory. Well done to Nemo and Up the Magpies!
FÉ12 V INNISCARRA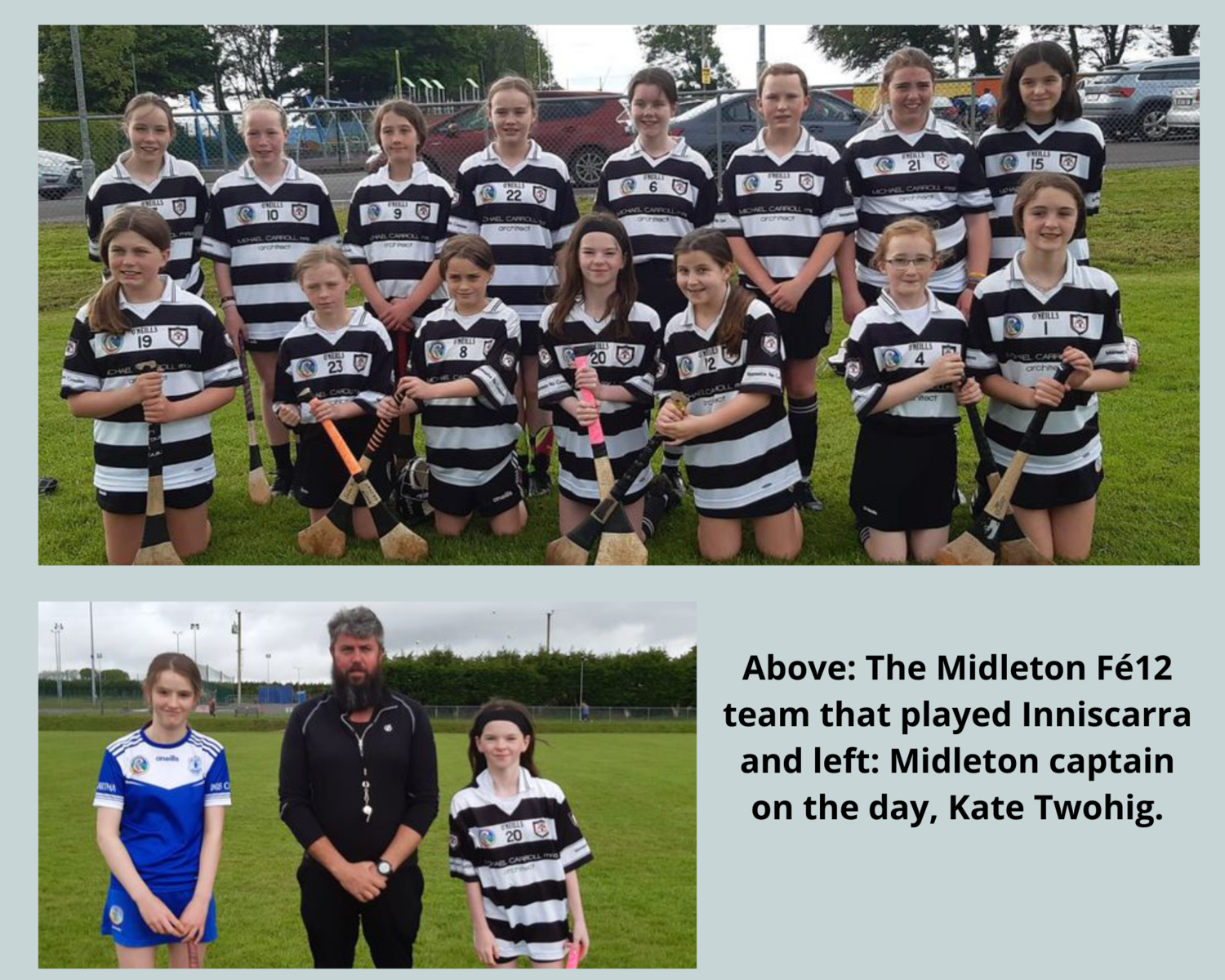 Our Fe12s were in action away to Inniscarra for their second league match of the season on Sunday. The players played with great passion, skill and determination in a cracker of a game. Well done to the entire team who gave a first class performance resulting in a great win. Well done to our captain Kate Twohig on the day.
A special mention to the Fe11 players who played up Suin, Lauren and Aoibhinn. Thanks to our hosts Inniscarra, the referee and all the supporters. Next up for the Fe12s is Castlemartyr on Saturday, May 28. Up the Magpies.
FÉ13 V DOUGLAS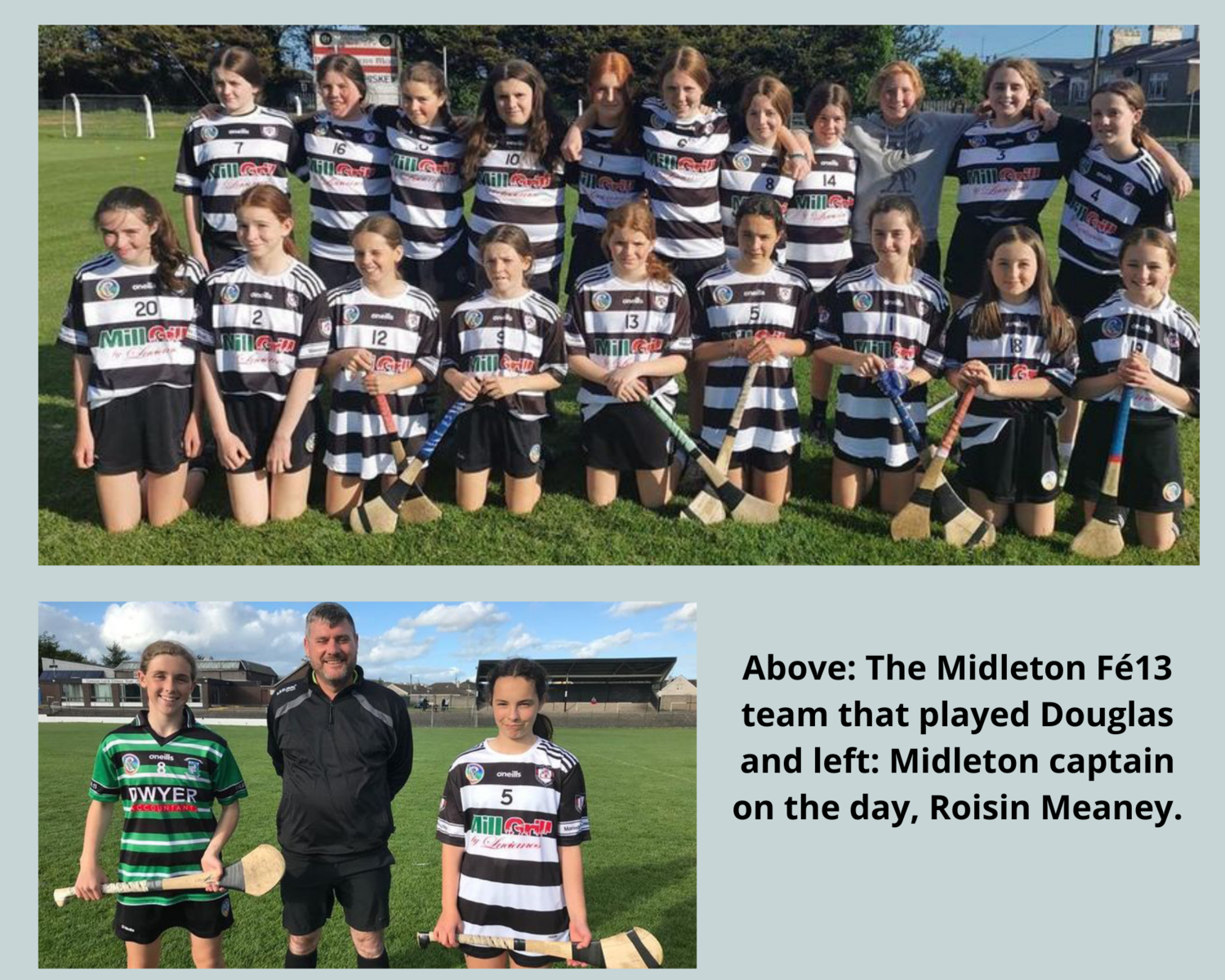 Our Fe13s were in U-14B league action at home in Clonmult Memorial Park on Friday night against a strong competitive Douglas side.
An outstanding performance from the girls saw us come out on top by a single point in a very close nail biting game. Thanks to the parents for coming out in numbers and cheering the girls on. Congratulations to Roisin Meaney who captained on the day.
FÉ14 V BANDON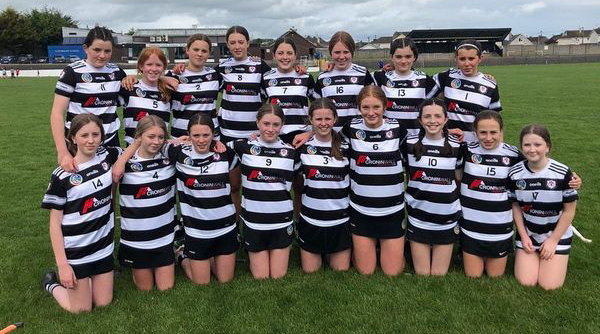 Our Fé14 Camogie team welcomed Bandon to Clonmult Memorial Park on Sunday to play their second league game of the year. With an emphasis in training over the last few weeks on trying to take our points it was great to see girls from midfield and the half-forward line adding to the scoreboard while maintaining their shape. Everyone worked extremely hard throughout the pitch and we now have two wins from two. The girls are a fantastic group to work with and have set themselves a high bar for the rest of the year. Keep up the hard work ladies.
FÉ16 V CARRIGALINE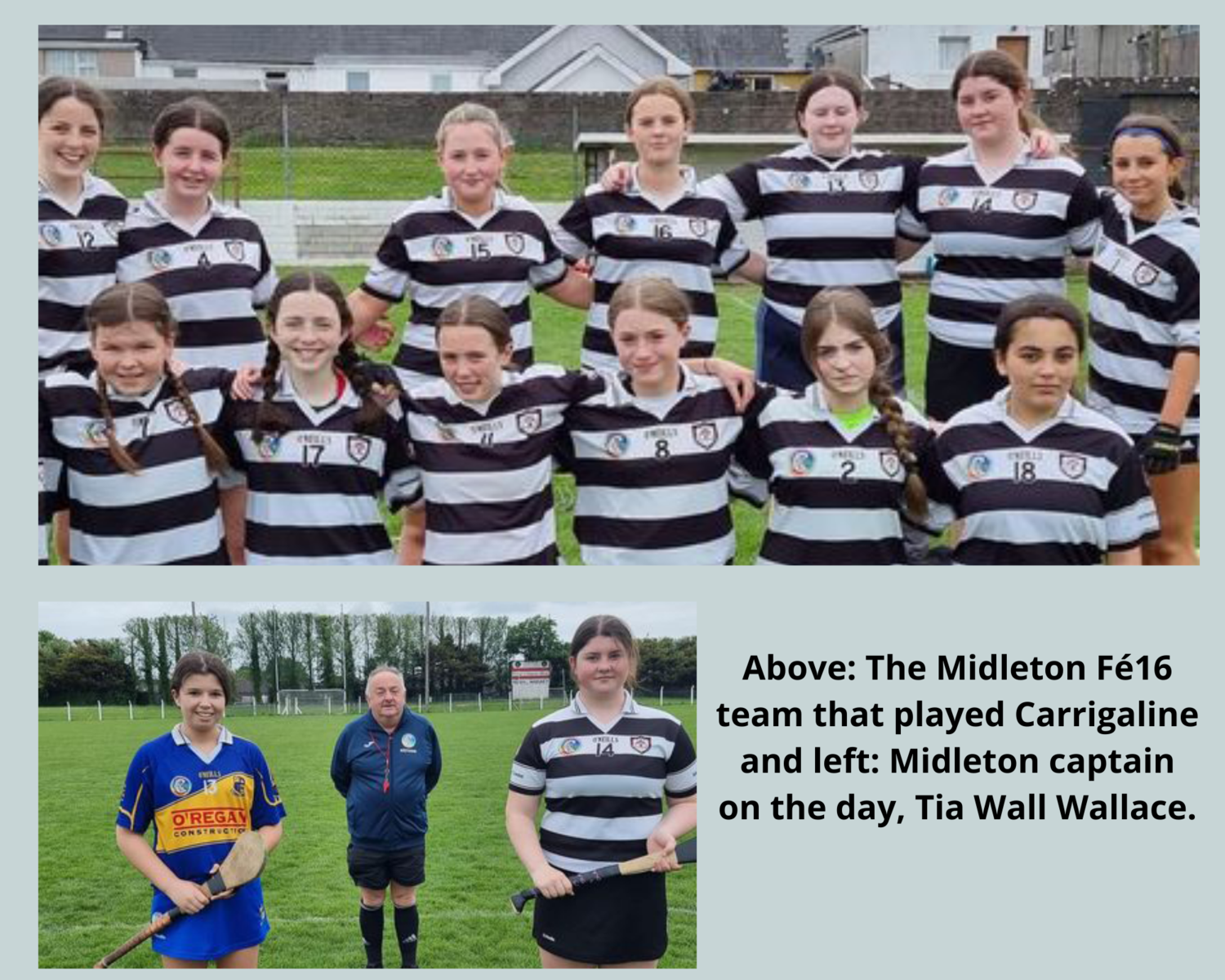 On Sunday evening last in Clonmult Memorial Park a great game was played out by two evenly matched sides. Midleton got two early goals from Rionach but Carrigaline battled back well in the second-half and ran out worthy winners on a tight scoreline.
This was the first time that some of our girls had played up to U-16 and they didn't disappoint as they put on a great performance. We look forward to Cobh away in our next game. Well done to our captain Tia Wall Wallace who led her team on the day. Thanks to Ger Sheehan for refereeing and also many thanks go out to our supporters who gave the girls great encouragement throughout the game.
JUNIORS V KINSALE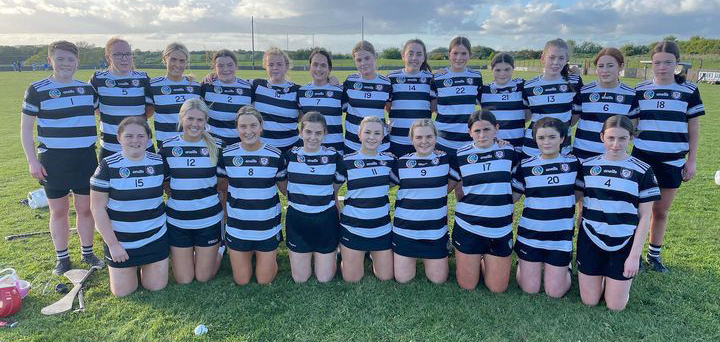 A huge Congratulations to our Junior Team on a great win against Kinsale on Friday night last. Well done girls all roads lead to the Final now, details to follow.
PRIMARY GAME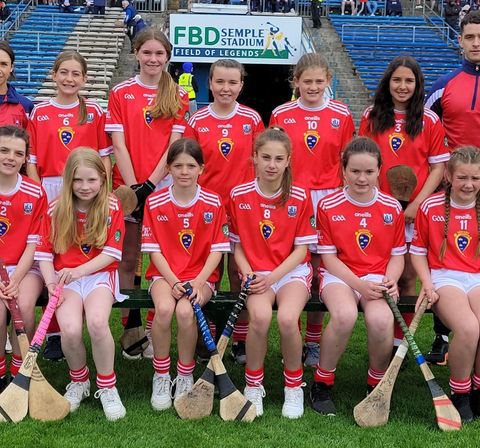 Congratulations to our Player Sarah Goulding who played in The Primary Game in Semple Stadium on Sunday as part of the Cork v Tipperary Munster SHC game. A huge achievement Sarah and we hope you enjoyed the experience!
UPCOMING COURSES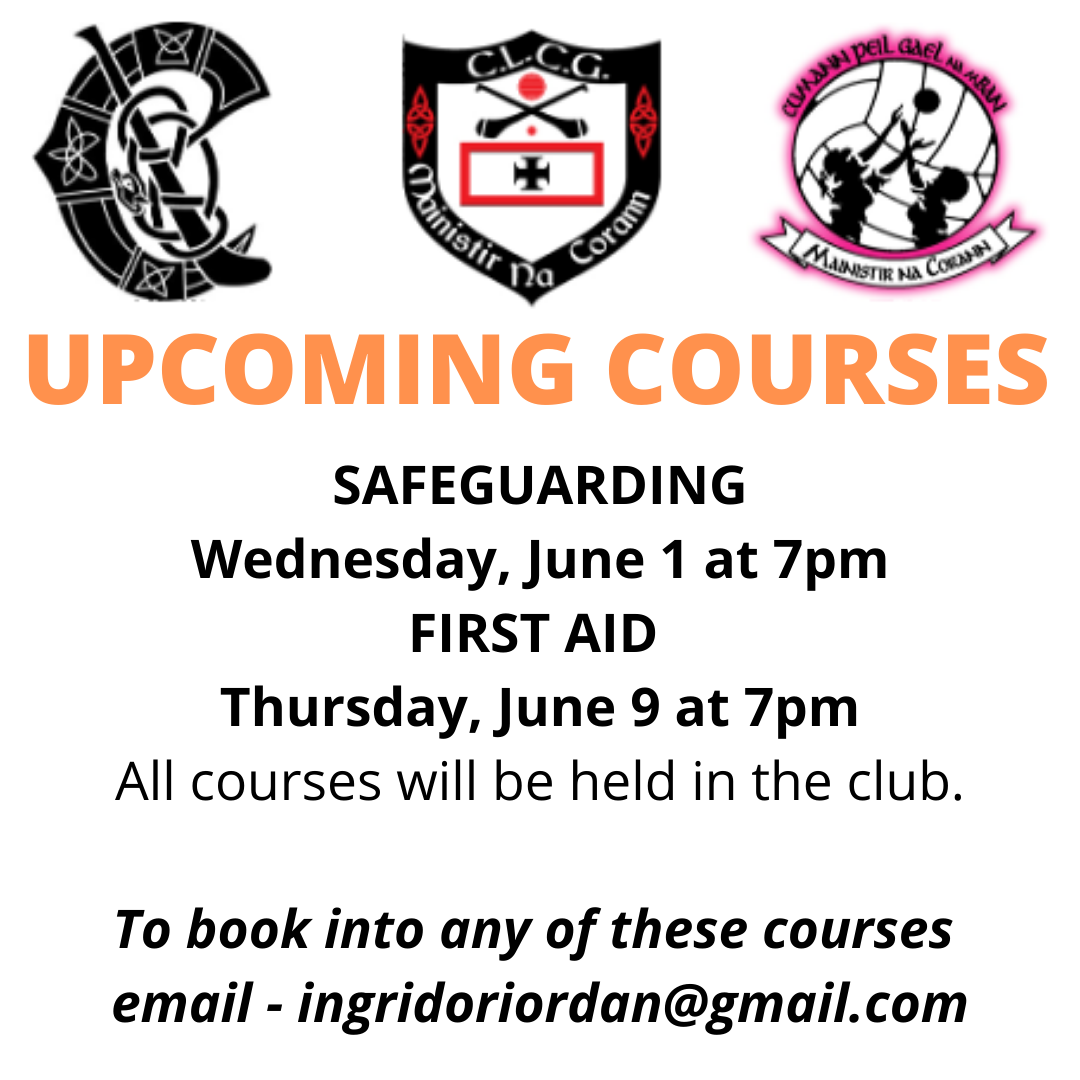 The following courses are now booking and are open to members across all codes in the club.
SAFEGUARDING - Wednesday, June 1 at 7pm
FIRST AID - Thursday, June 9 at 7pm
The club executive are asking that at least one member from each team selection committee attend a First Aid course.
All courses will be held in the club.
To book into any of these courses email - ingridoriordan@gmail.com
DATES FOR YOUR DIARY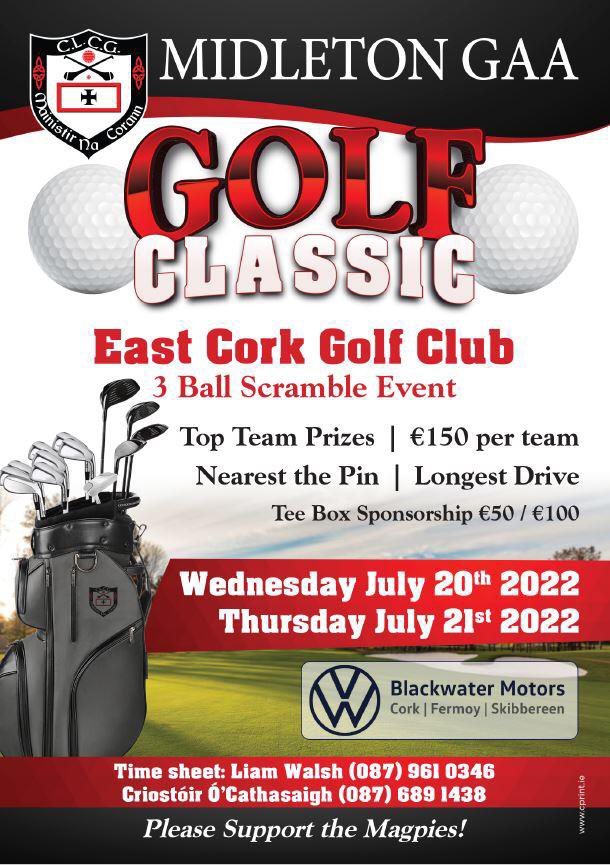 Put a reminder in your diary for the 2022 Midleton GAA Golf Classic. It will take place at East Cork Golf Club on July 20/21. Timesheet now open - please contact Liam Walsh (087-9610346) or Criostóir O Cathasaigh (087-6891438).
VOLUNTEER RECRUITMENT OFFICER

Midleton GAA "One Club" which now has 1400 members and incorporates GAA (Adult & Juvenile), Ladies Football and Camogie and Magpie All Stars (section for players with additional needs) is looking for a Volunteer Recruitment Officer.
You may or may not be currently involved or connected with Midleton GAA ………. it doesn't matter. What matters is that you have a passion for working with your local community and in making a real difference. You will work with our Volunteer Support Committee to identify Club Volunteer requirements, and prepare and execute strategies to recruit, retain and fulfil the club volunteer requirements for Midleton GAA.
Check out all the details and how you can apply by clicking on the link below.
LOTTO DRAW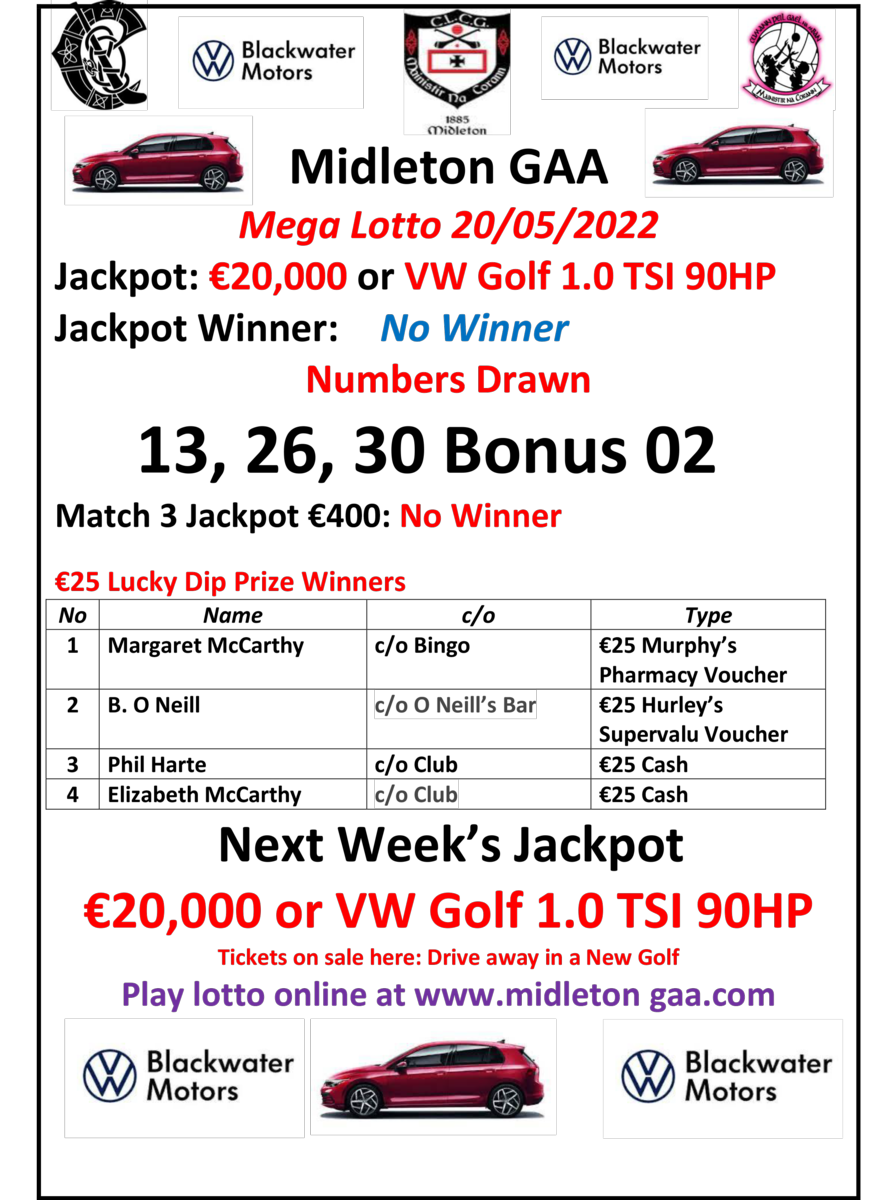 The winning numbers this week were: 13, 26, 30. Bonus 2.
There was no jackpot winner or Match 3 Jackpot winner
€25 Lucky Dip Prize Winners were: Margaret McCarthy, B. O'Neill, Phil Harte and Elizabeth McCarthy.
Don't forget you can play online at any time at the link below
https://www.klubfunder.com/Clubs/Midleton%20GAA/lotto
Thanks to everyone who supports our lotto.
In total Midleton GAA will give out local business vouchers to the value of €3,800 every year as part of our "Shop Local, Buy Local" campaign.
How to play: tickets are on sale at Pat Walsh Paints, Chadwicks, Frank Murphy Butchers, Murphy's Pharmacy, Crowley Butchers, or buy online (see above).
BINGO
Our Bingo continues on Friday nights with an early game at 7.25pm. Everyone is welcome.
CLUB SHOP
The Midleton GAA club shop is back up and running for the 2022 season but please note that it's still online with collection only at the club on a Saturday morning.
All you have to do is go to the Klubfunder website (https://www.klubfunder.com/Clubs/Midleton%20GAA/ShopItems) and you will see the full range of what's available to buy. You can shop away to your heart's content, pay for it online and then collect your purchases at the club shop on Saturday morning between 9.30am and 10am. Thank you.
CONDOLENCES
We would like to extend our deepest sympathies to the Burke and Moore families and their friends on the sad passing of Frances this week. Ar dheis Dé go raibh a hanam.