Midleton Hurling and Football, Ladies Football and Camogie Club News - May 19
19 May, 2022
VOLUNTEER RECRUITMENT OFFICER

Midleton GAA "One Club" which now has 1400 members and incorporates GAA (Adult & Juvenile), Ladies Football and Camogie and Magpie All Stars (section for players with additional needs) is looking for a Volunteer Recruitment Officer.
You may or may not be currently involved or connected with Midleton GAA ………. it doesn't matter. What matters is that you have a passion for working with your local community and in making a real difference. You will work with our Volunteer Support Committee to identify Club Volunteer requirements, and prepare and execute strategies to recruit, retain and fulfil the club volunteer requirements for Midleton GAA.
Check out all the details and how you can apply by clicking on the link below.
index.cfm?page=viewNews&id=1156&cYear=2022&cMonth=5
LADIES FOOTBALL
JUNIOR LEAGUE V BEARA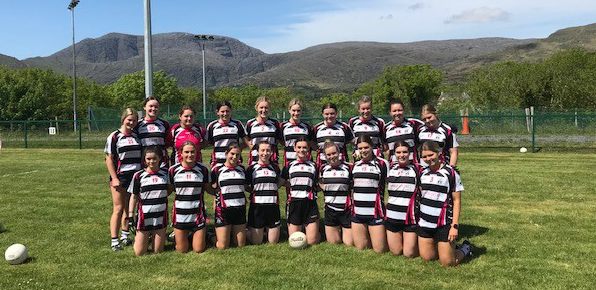 Our Junior 1 team played their league game versus Beara on Sunday in Adrigole GAA Club.
It was an early start for the girls as we left Midleton GAA at 9.15am, arriving in Adrigole at 12 noon for a 1pm throw in. Midleton won the toss so we decided to play with the slight wind in the first-half. The conditions were perfect for football it was nearly as hot as Malaga so in fairness to the referee he agreed to play with water breaks.
From the off the girls were in full control….our running off the shoulder was excellent and the ball was passed through the lines to the girl in the best position. At the first water break the score was 1-5 to 0-2. The girls from Beara worked very hard but just could not break our girls down. Half-time scoreline Midleton 2-8 to Beara 0-3.
The second-half started and Beara were pressing up on the kick out waiting for the break but our girls gave Rayanna Power in goals plenty of options. The second water break came and Midleton were leading 3-11 to 0-6. At the final whistle Midleton were comprehensive winners on a scoreline of 4-16 to 0-6. The full-time score did not reflect the work rate of the Beara girls who never gave up the future is bright for them as they had some great passages of play.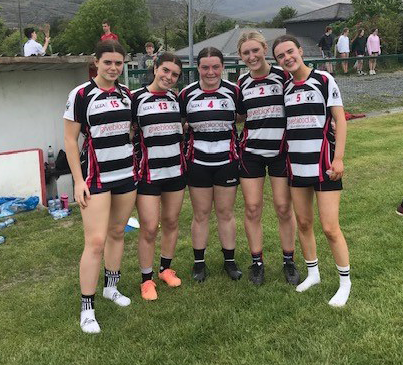 Sincere thanks to the 20 Midleton girls who travelled, the girls worked very hard on the pitch but it was a long day arriving back in Midleton at 5pm. Special thanks to our five U-16 girls who travelled and who all got good game time. Sincere thanks to Beara for providing refreshments after the game it was much appreciated.
MIDLETON: Rayanna Power, Denise Collins, Lucy Lawton, Megan Kelly, Caoimhe Cronin, Deirdre Corcoran, Leah Hogan, Abby Quirke(1-0), Claire O'Brien(0-2), Molly Beausang (2-6), Lucy Wallace, Claudia Kearney, Ella Quirke(1-0), Amy McCarthy(0-4), Rachel Quirke (0-2), Saoire Ní Theangana (0-1), Rachel Ryan (0-1), Kate Saunderson, Lily Kelly, Kate O'Sullivan.
U-12 LEAGUE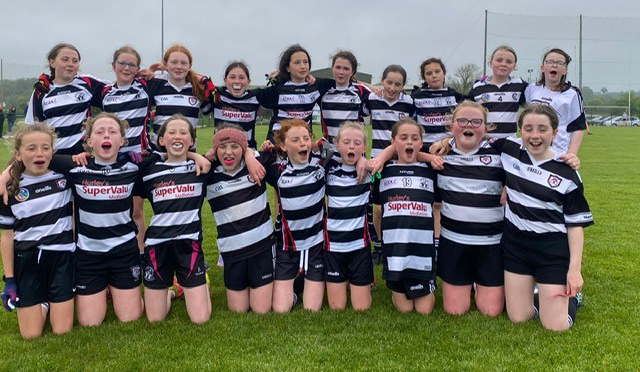 This year due to the great numbers we have at this age level this group have been divided into two teams Girls U-11 and U-12. This will allow all players to get a lot of game time.
Our U-11 girls started off their league campaign this week with an away fixture against Inch Rovers. Great numbers turned up and all the effort put into practice at training showed on the pitch. A brilliant display of football saw the girls off to a winning start. Final score Midleton 2-5 Inch Rovers2-2. Our U12 girls will start their set of matches with a home fixture next Monday away to Aghada. A text with all details regarding matches and training for both groups will be sent each week.
TRAINING
With all groups now in league action training will alter from week to week. Can Parents please ensure to keep an eye on messaging. Also, it is very important to respond if your daughter is either available or unavailable so that Coaches can plan their teams in advance.
CORK SENIORS
Well done to Orlagh Farmer and the Cork Ladies Football team who defeated Waterford in the Munster Championship semi-final on Sunday. They will now play Kerry in Killarney on May 28th at 12.30pm. This match is part of a double header with the men's semi-final.
CAMOGIE
FÉ9 V DUNGOURNEY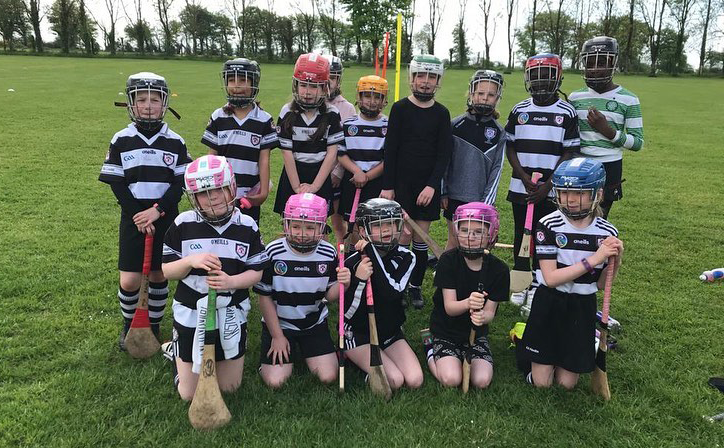 Our Fe9 girls played their first game of the season away to Dungourney. Numbers were down in our group for lots of reasons but that didn't stop our girls as we had a great morning of hurling against strong opposition. All the girls tried their hearts out despite some minor injuries and the heat. Well done ladies. Thanks to Dungourney for hosting us.
FÉ10 BLITZ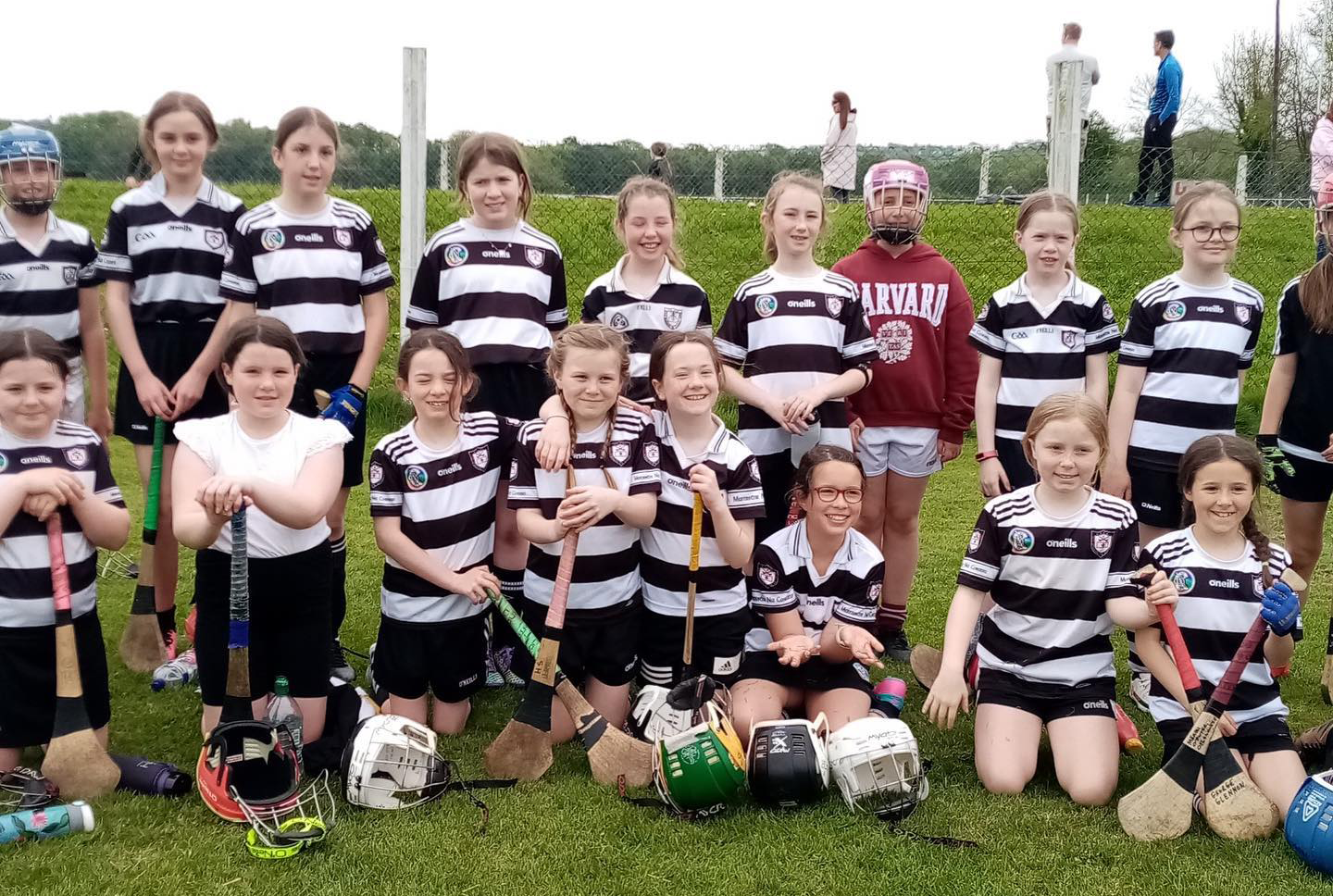 Our Fe10s enjoyed a blitz recently against Castlemartyr and Cobh. We fielded two teams and they played three matches each where they displayed plenty of skills. They have been practising in training with plenty of blocks, some fantastic hand passes and lots of shots on goal. Thanks to Castlemartyr for hosting and both Cobh and Castlemartyr for such competitive and exciting games. Well done to all involved for a great morning.
FÉ12 BLITZ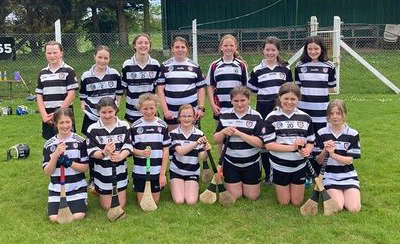 Our Fé12s were in action again with an away blitz against Cobh, Youghal and Castlemartyr in Cobh. The girls gave a good performance and played with great determination in all their three games. Thanks to the referees, the host team Cobh and the other teams for making it a competitive evening of Camogie. Thanks again to the parents and families for their support. Well done all involved.
FÉ 13 V ST CATHERINES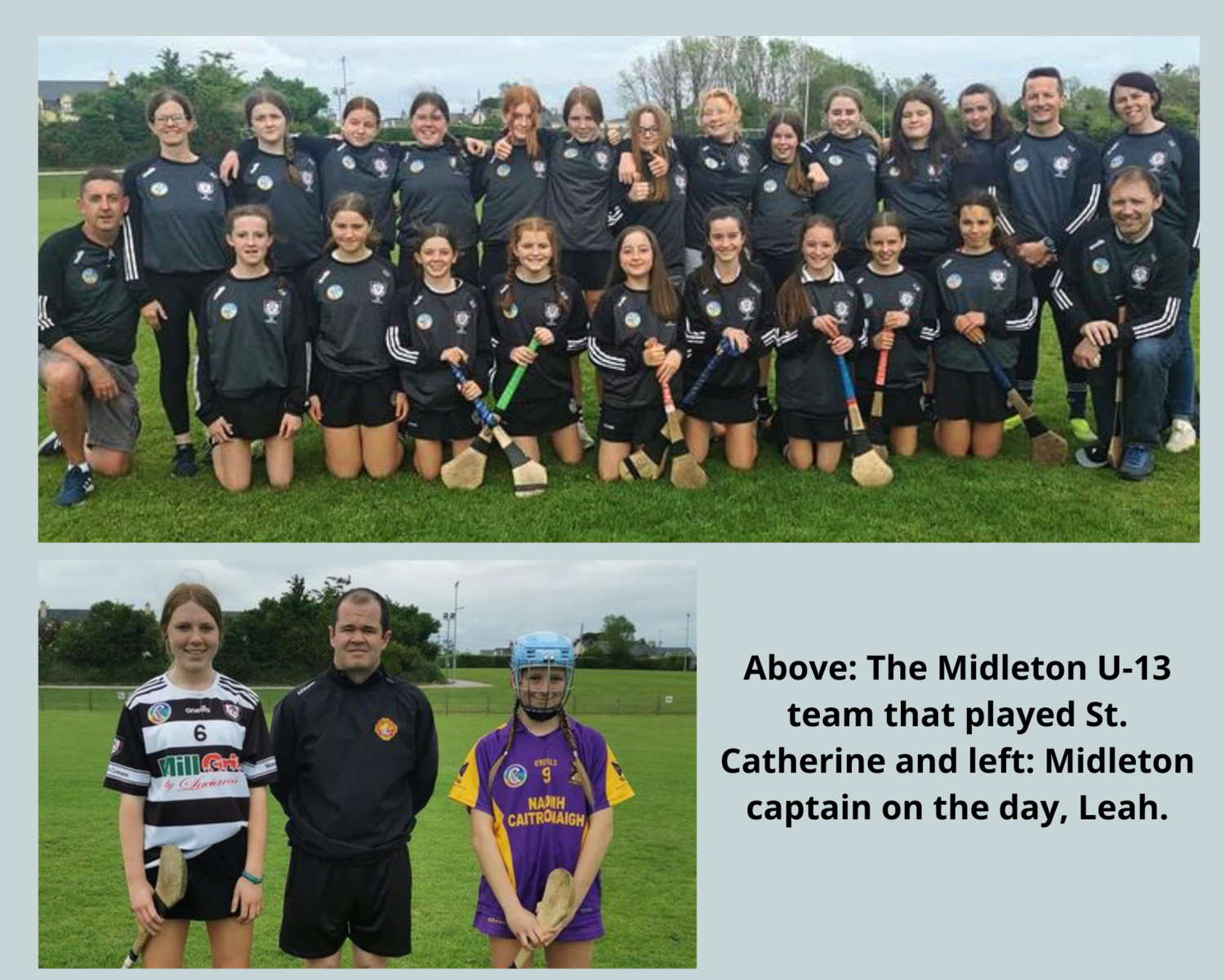 Our Fé13s were in Imokilly league action against St Catherine's in Ballynoe. Unfortunately it wasn't our day but the girls battled to the end well done to every girl out on the pitch. Congratulations to Leah who captained on the day against St Catherine's.
FÉ16 LEAGUE V FR. O'NEILLS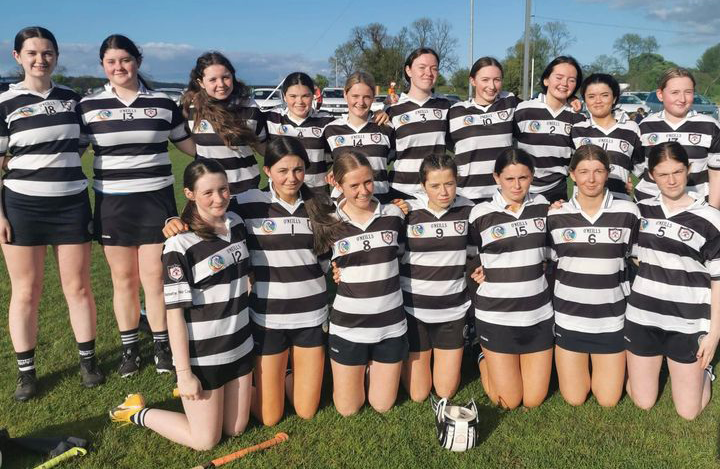 Our Fé16 girls, Midleton 1 team started their league campaign at home in Park South to a strong Fr O'Neills team. The girls knew this would be a competitive game from the start. Each and every girl played with determination and showed great commitment from the start. With Midleton coming out on top. Thanks to Fr O'Neills for travelling and we wish them all the best for future games. Well done to our captain Kelly Quirke.
JUNIOR LEAGUE V KILWORTH
Midleton 4-18 Kilworth 2-1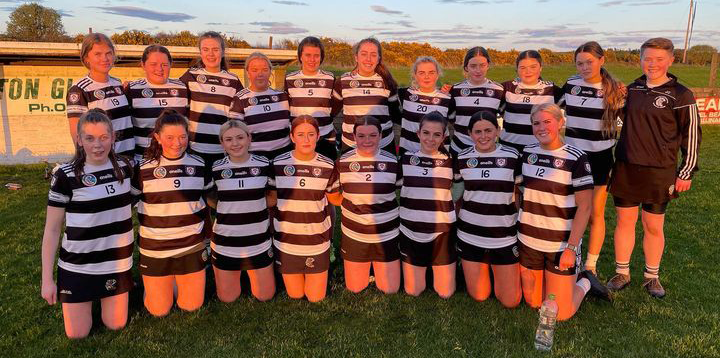 In our final Group League we had a comfortable home win over Kilworth in Ballinacurra. Despite hitting some early wides we kept pushing forward and when we did start to find the target there was only going to be one result. Jodie Keegan O'Connell top scored with 1-7. Rebecca Cassidy was close behind with 2-3 and Sadhbh Beausang added 0-4. Scores also from Abbie Foley, Yvonne Abernethy, Emma O'Sullivan, Rayanna Power and also Rachel Ryan from the bench saw us run out the easiest of winners. Final score Midleton 4-18 to Kilworth 2-1.
Having topped our group we can now look forward to a home Semi Final in the next couple of weeks, details to follow.
MIDLETON: Vivienne Gleeson, Ruthie Hennessy, Leah Hogan, Megan Kelly, Mischa Daly Harkin, Aoife Fitzgerald, Caoimhe Cronin, Yvonne Abernethy 0-1, Lucy Wallis, Emma O'Sullivan 0-1, Sadhbh Beausang(0-4), Abbie Foley (0-1), Rayanna Power 1-0, Rebecca Cassidy(2-3), Jodie Keegan O'Connell (1-7), Molly Beausang, Rachel Ryan 0-1, Jade Fitzgerald, Muireann Ni Chonchubhair
CORK U-14
​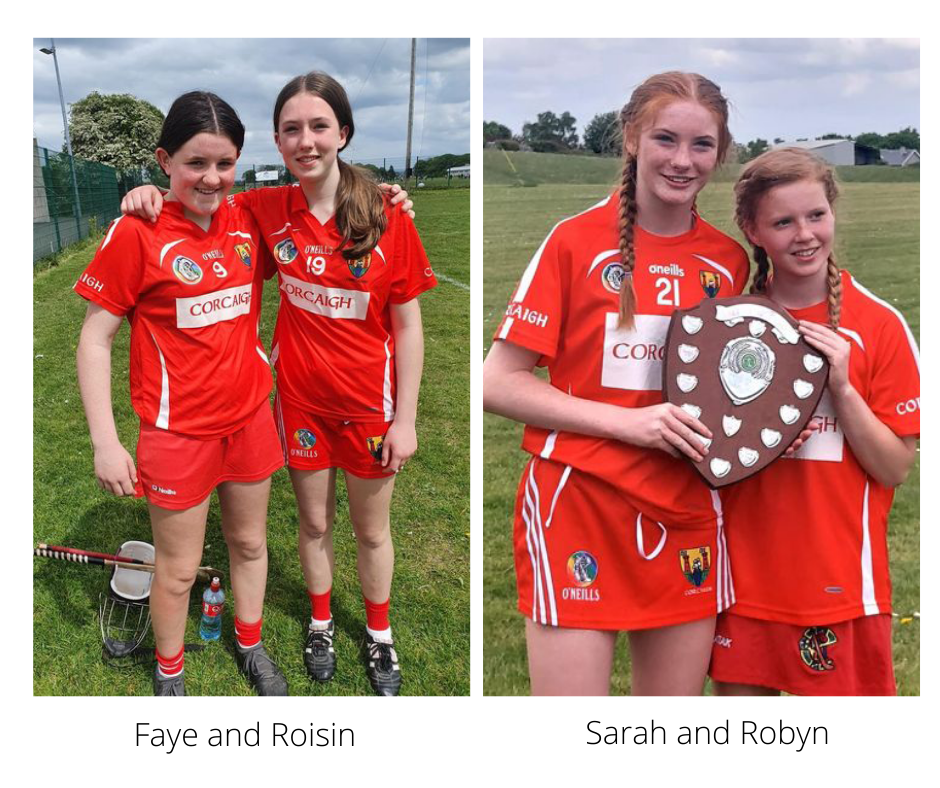 Well done to Faye Dunlea and Roisin Mcmanus who played with Cork U-14s against Clare, Wexford and Kilkenny in Ennis. Also representing the Cork U-14s were Robyn Keating and Sarah McConville who played in a monster blitz in Ennis. Cork and Tipperary could not be separated after two sessions of extra time so was decided to share. Well done to all players on a great performance.
PRIMARY GAME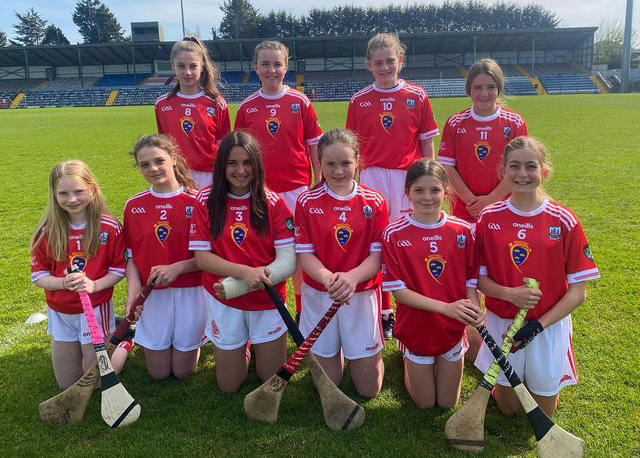 We would like to wish our player Sarah Goulding (pictured, wearing number 5) the very best of luck as she represents Gaelscoil Mhainistir Na Corann and our own U13s in the primary game in Thurles next Sunday May 22nd for the Cork v Tipp match. Great achievement Sarah, we hope you enjoy the experience.
JUVENILES
FÉ8S FOOTBALL BLITZ

On Saturday morning last our young Magpies took to the field in Clonmult Memorial Park for a football blitz. It was an action packed morning, where we fielded six teams and each team played three games. Our Magpies again played some very tough and competitive matches against Youghal and Cobh. We have been working very hard in training the last number of weeks and it was great to see our players showing what they learned on the pitch. It is great to see the enthusiasm and team spirit developing and we look forward to the coming months.
FÉ 10 HURLING BLITZ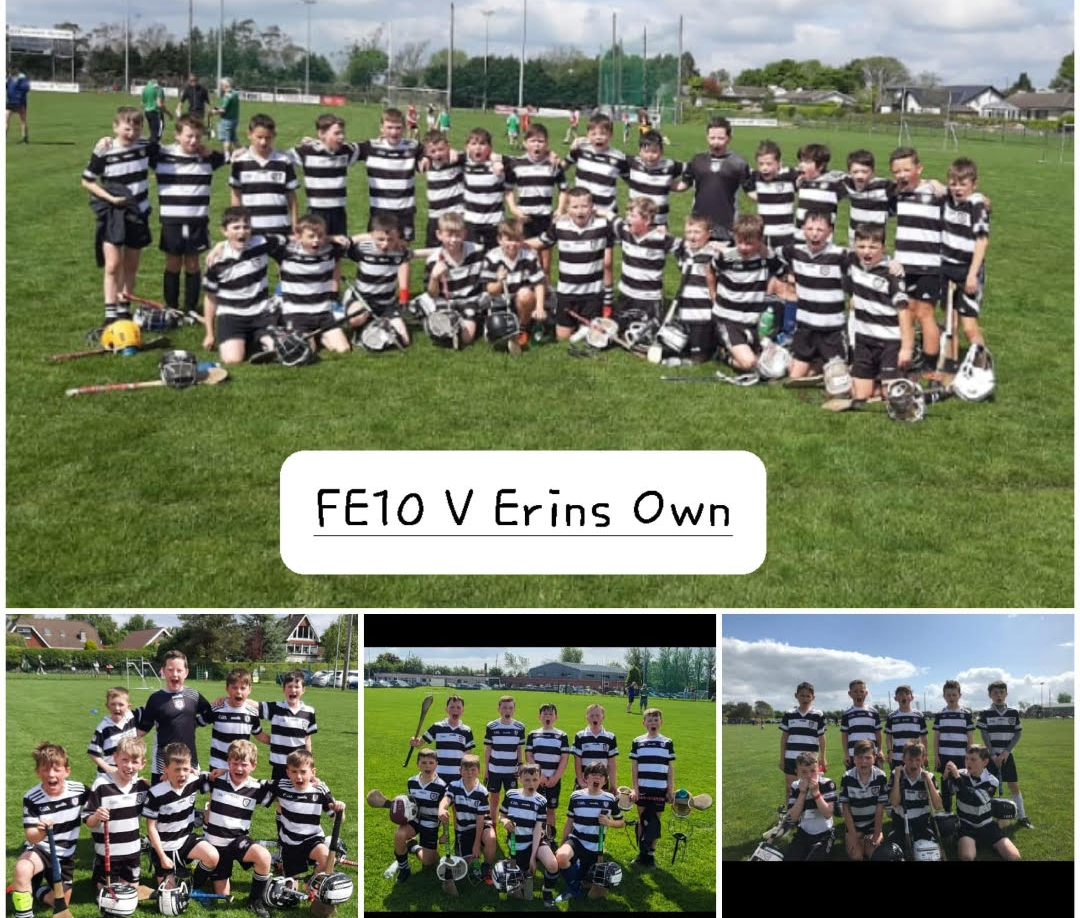 Our lads travelled to Caherlag on Saturday for a Hurling Blitz against Erin's Own and Aghada. We broke our 28 players into three teams for this blitz.
The three teams were outstanding on the day in all their games getting great scores throughout each of the games.
We would like to thank Erin's Own Fé10s for inviting us to this blitz. Once again thanks to all the parents in this group for their great support.
FÉ11 V DOUGLAS

Our Fé11 hurlers entertained Douglas in Clonmult Memorial Park on Saturday and a great morning's hurling was enjoyed by all.
FÉ12 V DOUGLAS
This was the Fé12 boys' second game in the Group 1 East hurling grading league. A home fixture versus Douglas in a windy Park South saw the lads off to a hard start trailing at half time 1-2 to 3-4.
The boys came out fighting in the second-half and great team effort saw them over the line by the narrowest of margins. FINAL SCORE: Midleton 4-4 Douglas 3-6
FÉ12 V SARSFIELDS
Next up for the Fé12 boys was a home tie in Clonmult Memorial Park on Wednesday last versus Sarsfields in the Group 6 East hurling grading league. The boys put in a massive shift but a very strong Sars team took the win. Midleton 0-2 Sarsfields 7-5.
FÉ15 V VALLEY ROVERS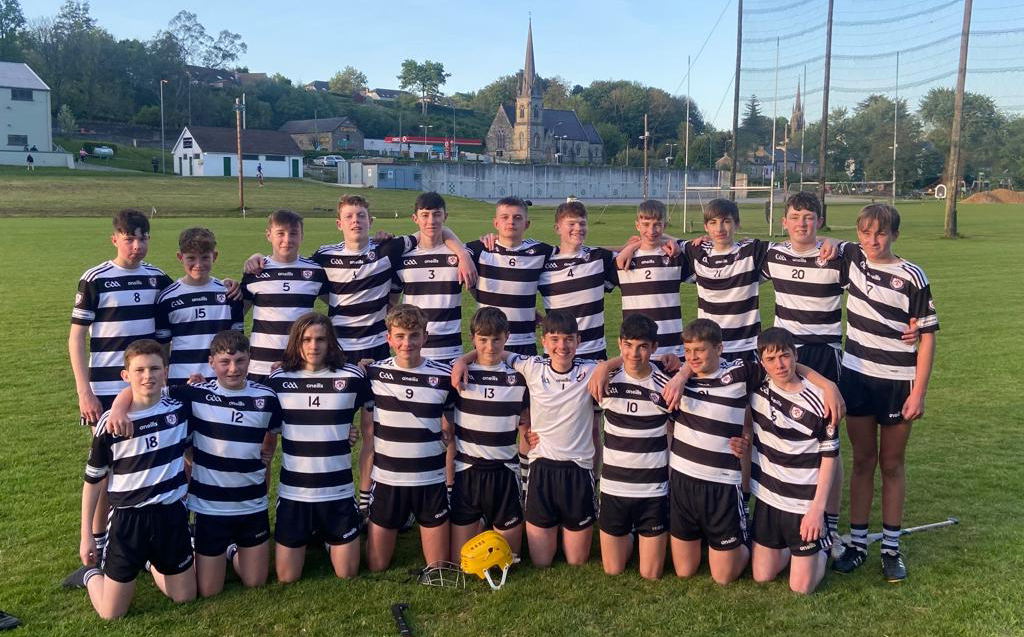 We travelled to Innishannon to take on home side Valley Rovers in the P1 Hurling league this week and we came away with a great win on a score of 1-20 to 1-10.
FÉ17 V DOUGLAS
We played out a thriller with Douglas in the P1 hurling league and in the end we narrowly lost out on a scoreline of 2-8 to 0-12.
JUVENILE FIXTURES
MONDAY, MAY 23
Fé12 G1 Hurling Grading League
Erins Own v Midleton in Caherlag at 7.15pm.
Fé15 C3 Hurling League
Carrigaline v Midleton at 7.30pm in Carrigaline.
WEDNESDAY, MAY 25
Fé14 P1 Hurling Championship
Midleton v Glen Rovers in Midleton at 7pm
THURSDAY, MAY 26
Fé16 Hurling League
Bandon v Midleton in Bandon at 7.30pm
UPCOMING COURSES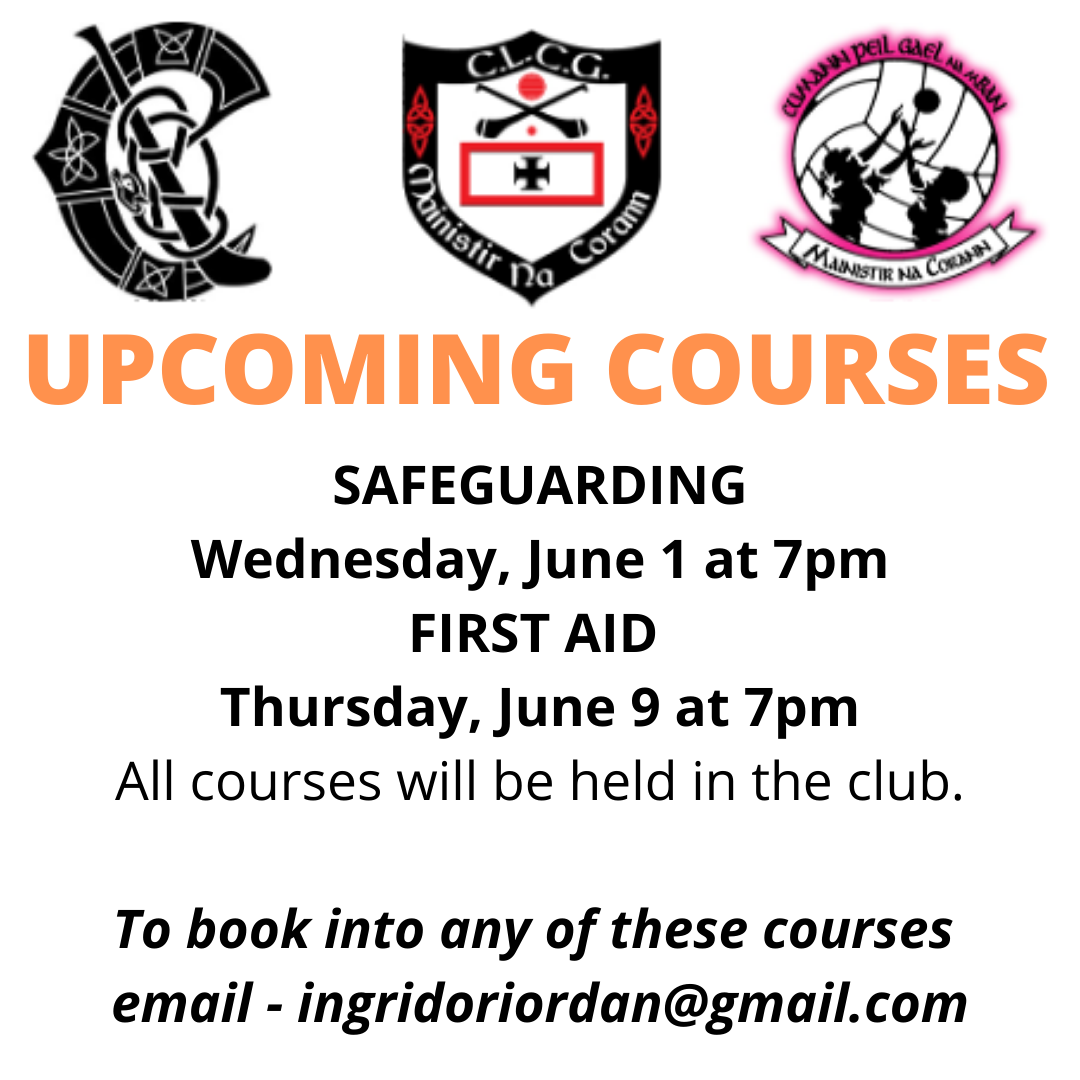 The following courses are now booking and are open to members across all codes in the club.
SAFEGUARDING - Wednesday, June 1 at 7pm
FIRST AID - Thursday, June 9 at 7pm
The club executive are asking that at least one member from each team selection committee attend a First Aid course.
All courses will be held in the club.
To book into any of these courses email - ingridoriordan@gmail.com
ADULT SECTION
SENIORS
Our senior hurlers are back in league action this weekend when they travel to Killeagh for an 11am start.
INTERMEDIATES
Our intermediate hurlers are also in league action this weekend when they host Barryoe at Clonmult Memorial Park on Saturday evening at 6.30pm.
WELL DONE AND BEST OF LUCK
Well done to Conor, Tommy, Sean and Sam and the rest of the Cork senior hurling players and management on their excellent Munster SHC win over Waterford in Walsh Park on Sunday. Now all eyes turn to Thurles on Sunday for a 4pm meeting with Tipperary in the final round robin game. A Cork win will see the Rebels through to the All-Ireland series. The very best of luck lads.
The clubs didn't receive any allocation tickets for this game. All tickets are on sale online at - https://www.ticketmaster.ie/event/18005C7EB7266BFD or in Centra and Supervalu stores.
GARDA VETTING
A reminder that anyone that has renewed or completed their Garda Vetting needs to do so immediately. Thank you.
MAGPIE ALL STARS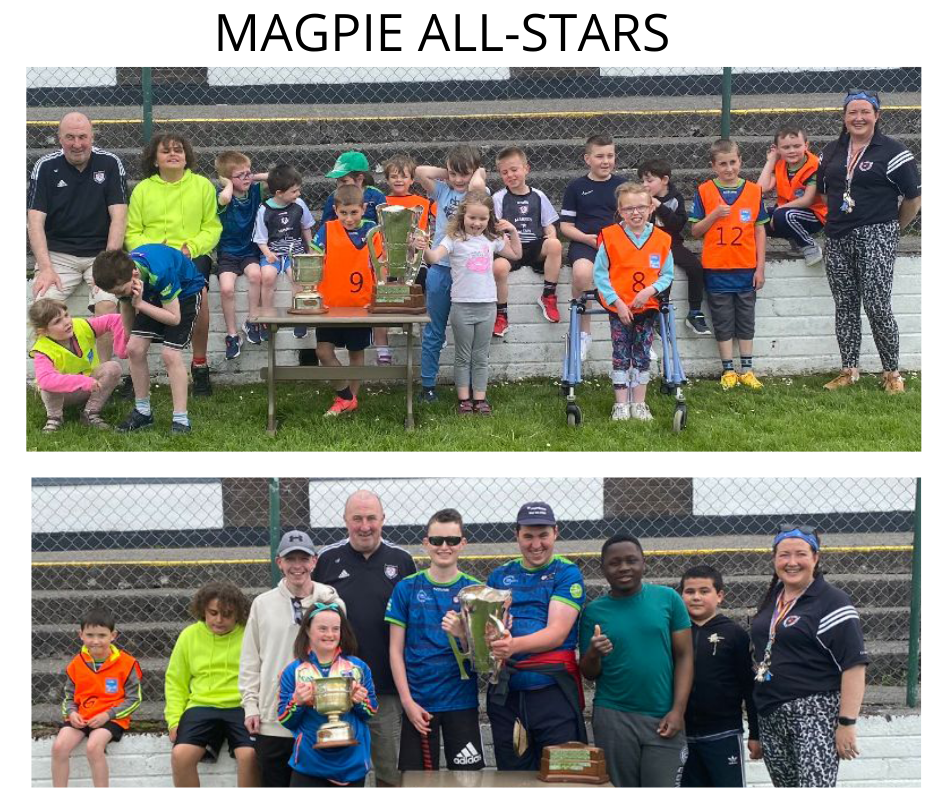 There was great excitement in Clonmult Memorial Park on Sunday last when the All-Stars received a visit from two famous men, Sean Og Murphy and Denis Conroy (Cups). Thanks to everyone for making it happen.
The Magpies All Stars are back in action at 12 noon on this Sunday, May 22.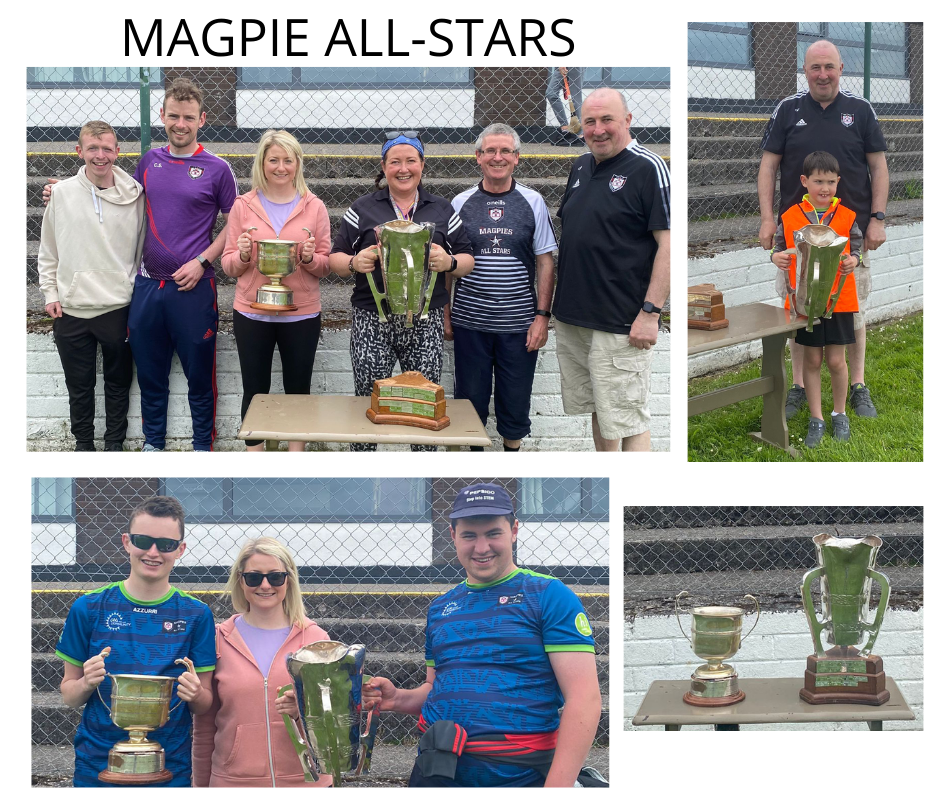 OÍCHE GHAELACH AGUS CHULTÚIR - AOINE 20Ú BEALTAINE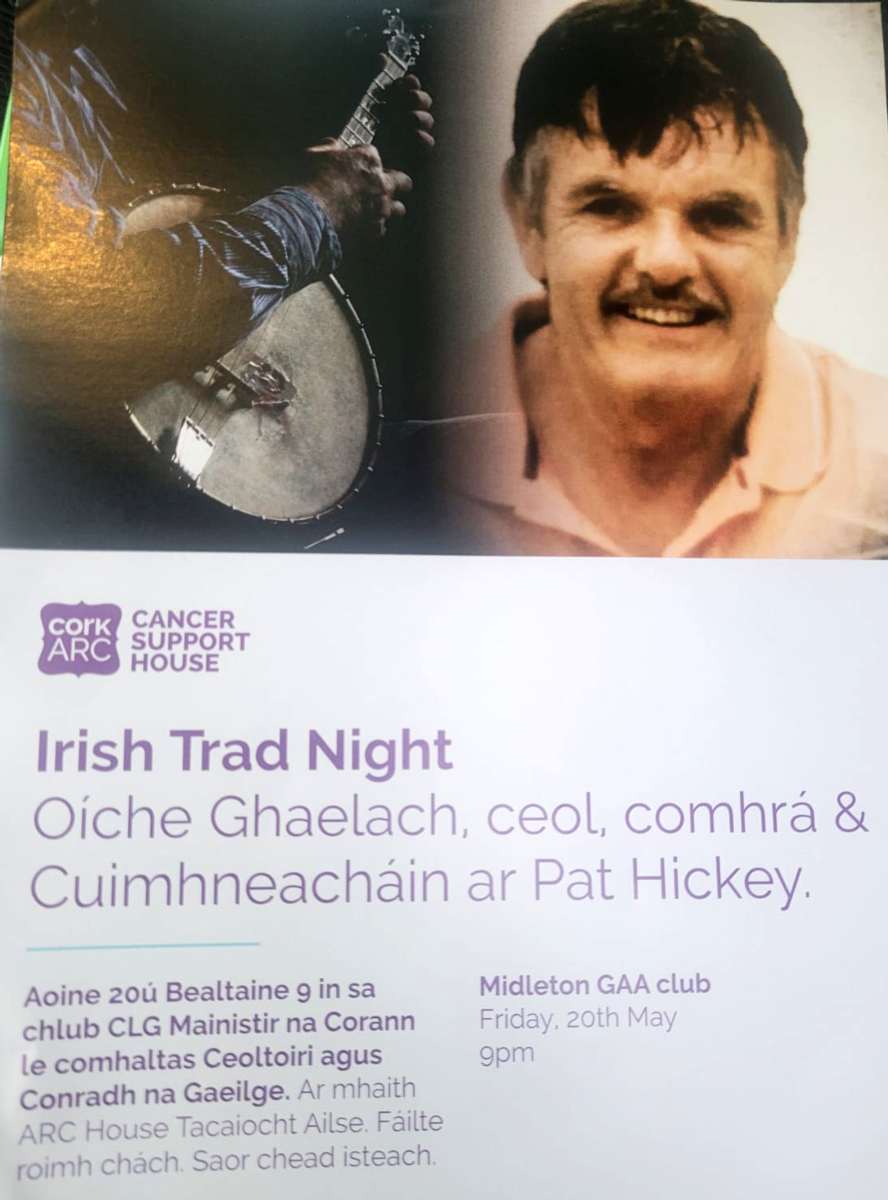 An Irish trad music night will be held in Midleton GAA club on this Friday night (Many 20) at 9pn sharp. A special fáilte for those with ceoil or cúpla focal for trad session. Musicians welcome.
Bíonn Oíche Ghaelach i gClub CLG Mhainistir na Corann go rialta . Fáilte roimh chách.'
This month is a special Traditional Irish Night in memory of Pat Hickey.
le cabhair airgid ó Energia Seachtain na Gaeilge, Conradh na Gaeilge agus an Roinn Ealaín, Cultúr agus Gaeltachta. More info: 0862340932
GAA INJURY BENEFIT FUND
We are asking all members, especially players, to read and understand the summary of the GAA Injury Benefit Fund at the link below.
It's each player's responsibility to ensure that they have sufficient cover in place to satisfy their own needs.
2022 GOLF CLASSIC
Put a reminder in your diary for the 2022 Midleton GAA Golf Classic. It will take place at East Cork Golf Club on July 20/21. More details in the coming weeks.
GAA GOLF SOCIETY
Our next outing is Tim Crotty's Captain's Prize on Thursday, May 26 in East Cork from 4pm to 5.30pm. New members are very welcome. Membership for the year is €20 plus €10 competition Fée.
LOTTO DRAW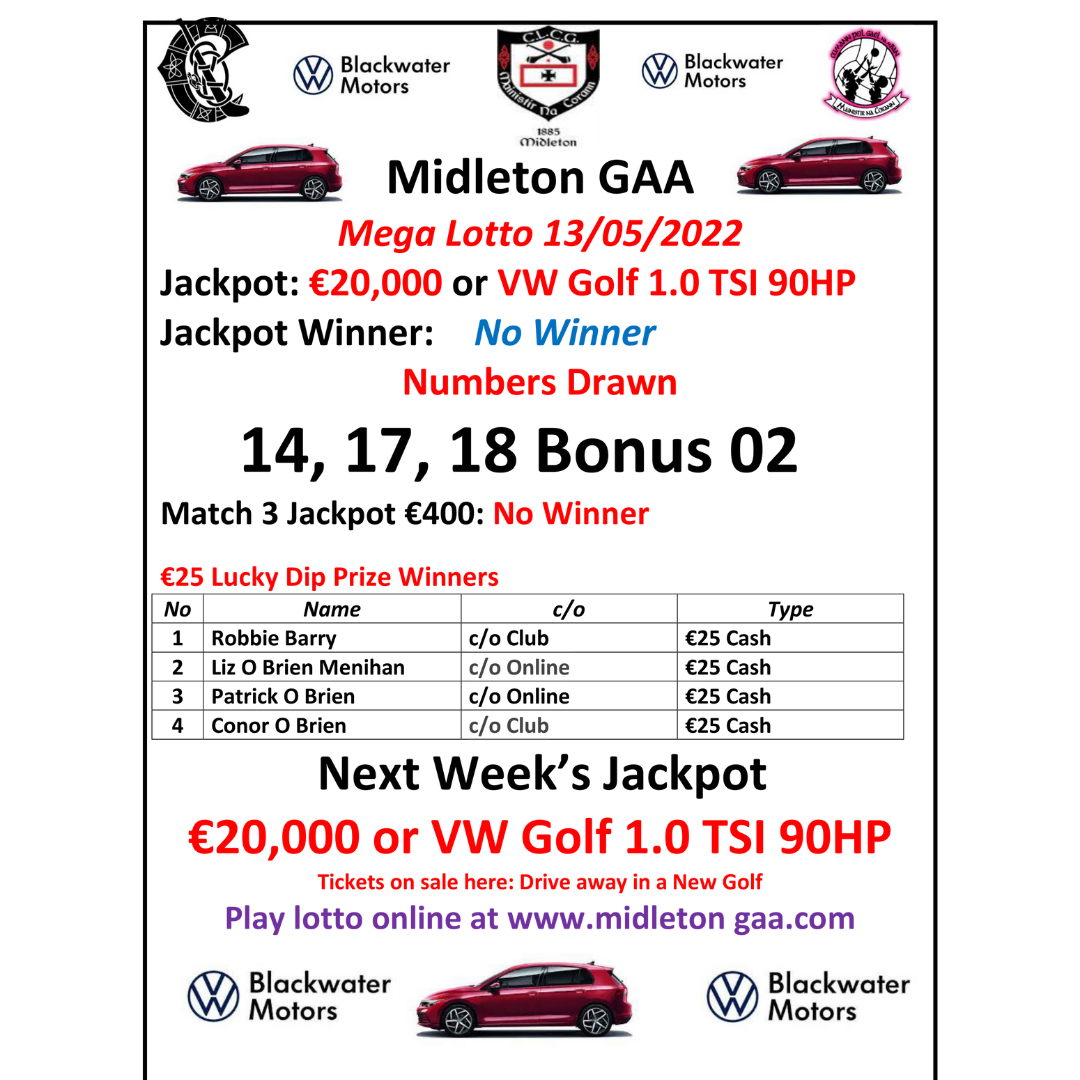 The winning numbers this week were: 14, 17, 18. Bonus 2.
There was no jackpot winner or Match 3 Jackpot winner
€25 Lucky Dip Prize Winners were: Robbie Barry, Liz O'Brien Menihane, Conor O'Brien and Patrick O'Brien.
There was no jackpot winner or Match 3 Jackpot winner
Don't forget you can play online at any time at the link below
https://www.klubfunder.com/Clubs/Midleton%20GAA/lotto
Thanks to everyone who supports our lotto.
In total Midleton GAA will give out local business vouchers to the value of €3,800 every year as part of our "Shop Local, Buy Local" campaign.
How to play: tickets are on sale at Pat Walsh Paints, Chadwicks, Frank Murphy Butchers, Murphy's Pharmacy, Crowley Butchers, or buy online (see above).
HISTORY MAKER?
Well known Magpie Noel Bransfield recently posted this on Twitter and he's wondering if it was indeed the first ever such goal at Clonmult Memorial Park or by a Midleton goalkeeper? Let me know and I'll pass it on....
"Should goalkeepers be allowed to score from a puckout ?" U19 hurling league recently, Brion Saunderson- Midleton and Cork U-20 keeper scored a goal from 142m puckout on a dry and very calm nite. Congratulations Brion- another piece of history to the famed Clonmult Memorial Park.
BINGO
Our Bingo continues on Friday nights with an early game at 7.25pm. Everyone is welcome.
SOCIAL DANCING
No dancing this Saturday night due to a private function in the hall.
CLUB SHOP
The Midleton GAA club shop is back up and running for the 2022 season but please note that it's still online with collection only at the club on a Saturday morning.
All you have to do is go to the Klubfunder website (https://www.klubfunder.com/Clubs/Midleton%20GAA/ShopItems) and you will see the full range of what's available to buy. You can shop away to your heart's content, pay for it online and then collect your purchases at the club shop on Saturday morning between 9.30am and 10am. Thank you.
CONDOLENCES
We would like to extend our deepest sympathies to family and friends Eileen O'Keeffe (Knockgriffin) who died this week.