Midleton Hurling and Football, Ladies Football and Camogie Club News
12 May, 2022
CAMOGIE
FANTA'S FUNDRAISIER WALK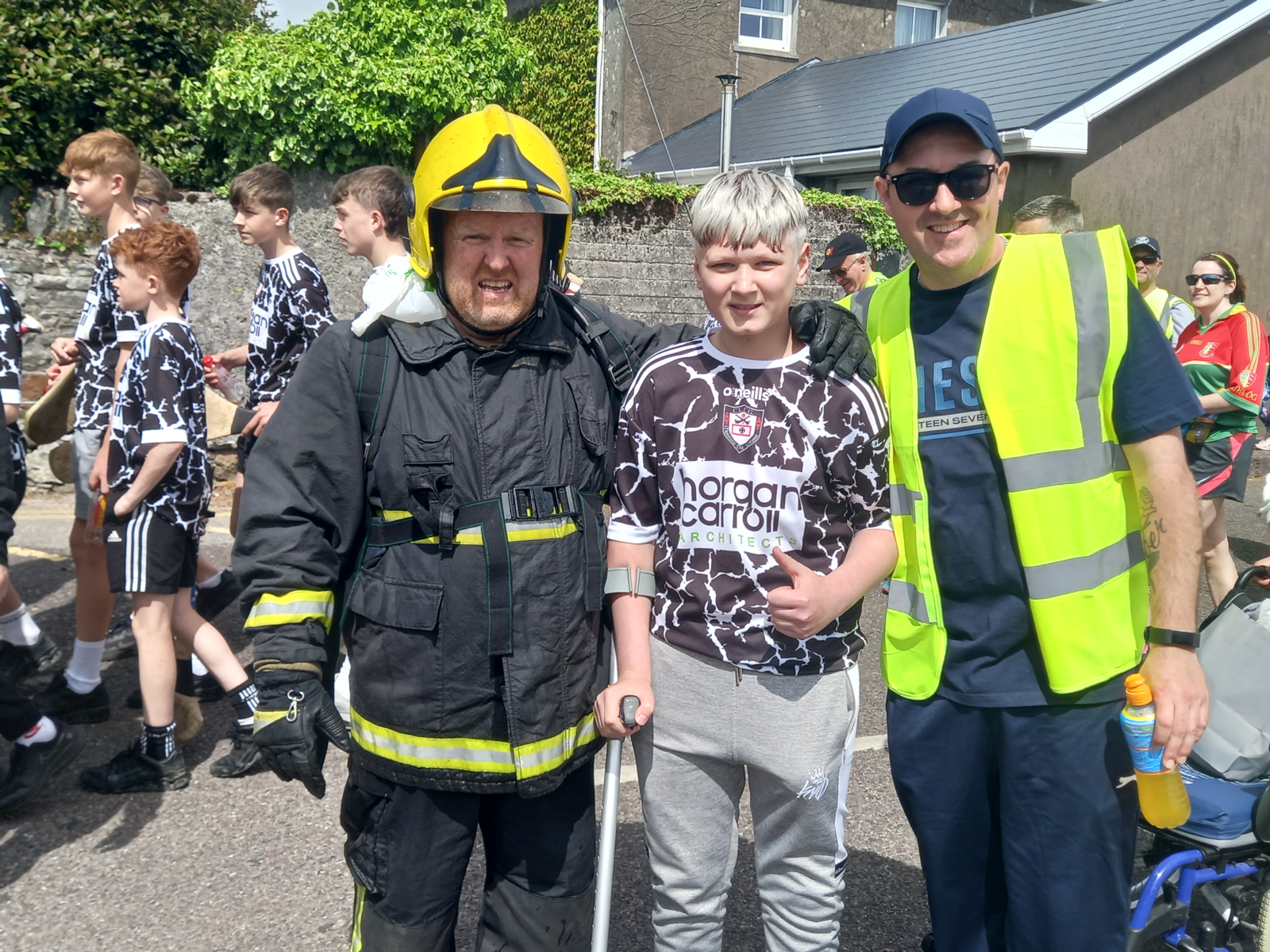 Huge Congratulations to our camogie coaching officer, Mark 'Fanta' O'Sullivan Aka and David 'Dots' Tobin who completed a gruelling walk from Youghal to Midleton (Fanta in full fireman's gear on a roasting day - see above) on Saturday all in aid of local boy Kacper. Thanks to all who supported him along the way and all who came along to the club to cheer him on as he finished his walk. Also a huge thank you to Hurleys, Supervalu Midleton who provided fresh fruit and refreshments along the way.
If you haven't done so you can still donate at: https://tinyurl.com/2p8t3aa2
FÉ10 GO GAME BLITZ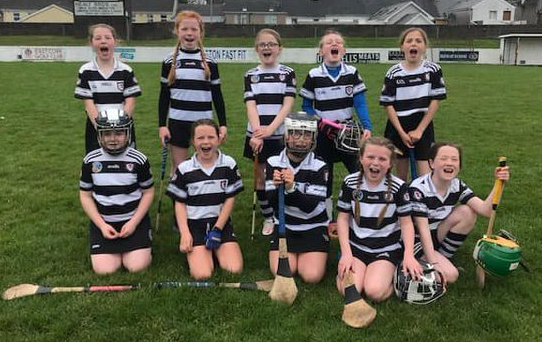 A great morning's Camogie was had on Bank Holiday Sunday the 1st May At Clonmult Memorial Park. The teams involved were: Midleton, Sars and Erins Own with two teams from each club so every team played three matches of 15 minutes straight through. It was a competitive blitz as Erin's Own and Sars have strong teams but our girls produced an impressive display of camogie during all their matches and demonstrated lots of skills in terms of being first to the ball and then rising the ball and either hand passing or taking confident shots at goal. There was also lots of strong blocking and deFénding from the girls who played in the backs. Overall we are very proud of how these girls are working together as a team and are looking forward to their next match so they can further develop the skills they are practicing in training. Our next match will be away to Castlemartyr on Sunday May 16th. Time to be confirmed. All support is very welcome!
FÉ12 BLITZ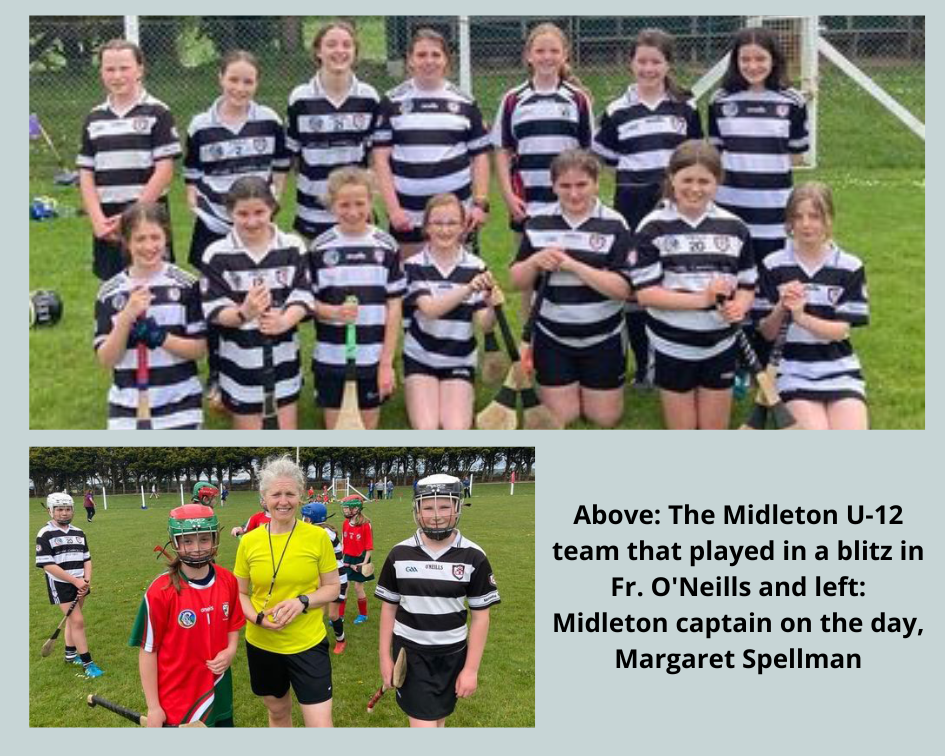 Well done to our Fé12s who took part in a four team blitz with Fr O'Neills, Aghada and Youghal. A fantastic team effort and great individual performances from all the girls. Many thanks to Fr O'Neills for hosting and congratulations to Margaret Spellman who was our captain for the day.
FÉ13 V ROCKBÁN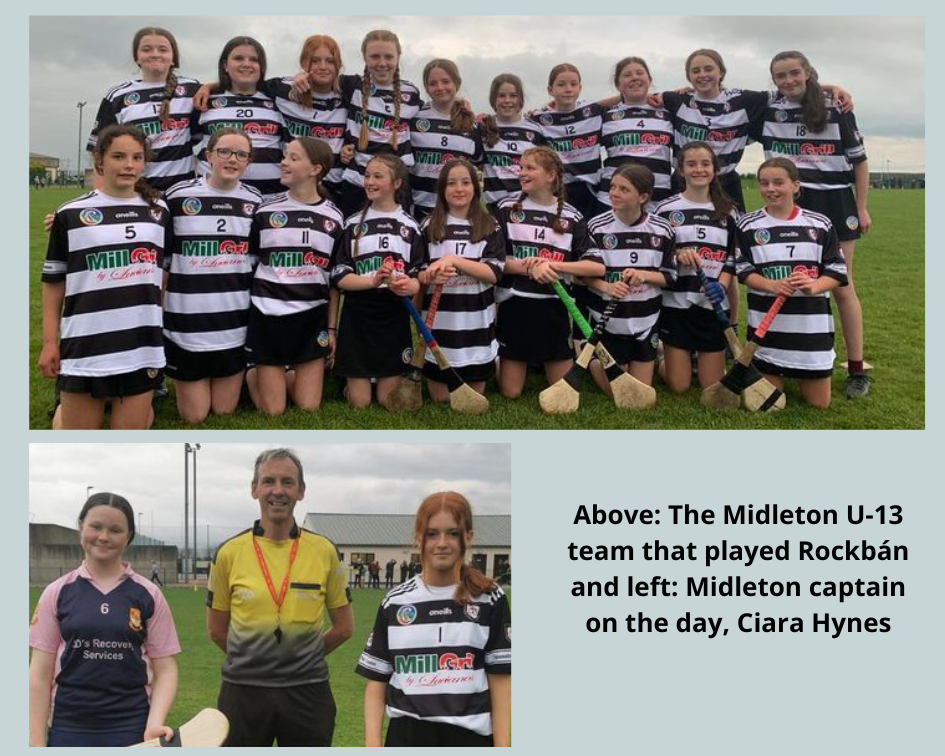 Our Fé13s got off to a winning start in the U-14B County League with a great win over Rockbán in Whitechurch. A great team display from the girls well done to all involved. Well done to Ciara Hynes who captained her team on the day.
FÉ13 V CASTLELYONS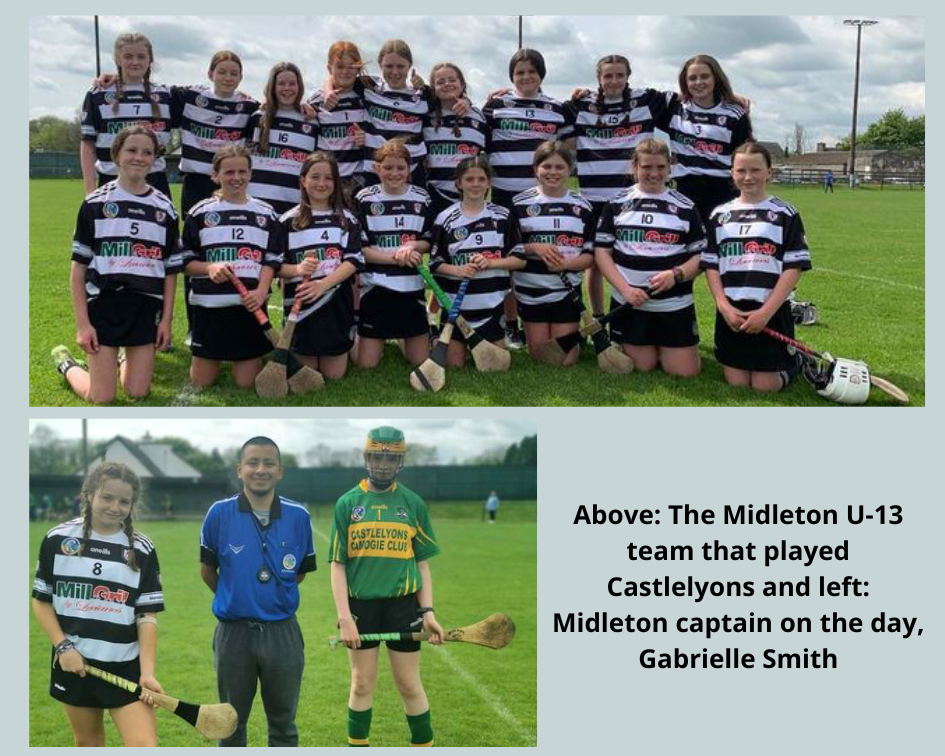 Our second outing of the week saw us kicking off the Imokilly league campaign with a win away to Castlelyons. The girls were excellent in glorious conditions. Well done to Gabrielle Smith who captained her team to victory over Castlelyons. Gabby was outstanding as always. A special mention our three U-12s who played up with the U13s on the day - Jessica, Anna and Margaret. Well done girls a super performance from all of you. Next up is a trip to Ballynoe to play St Catherines. Details to follow.
FÉ14 V INNISCARRA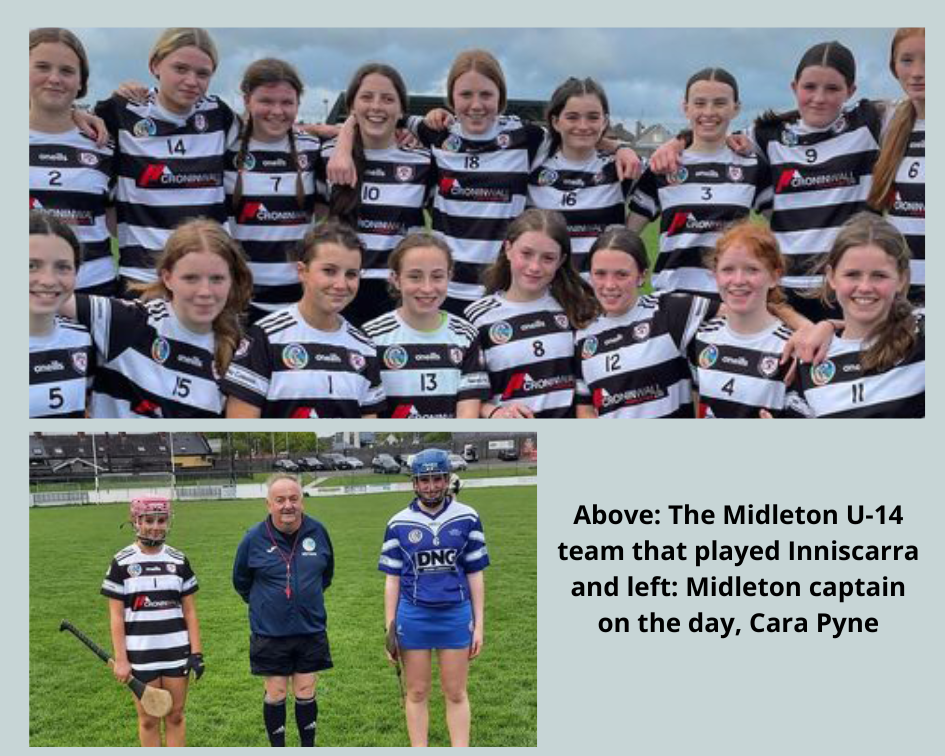 On Sunday our Fè14 Camogie team took on Inniscarra in their first competitive game of the year at Clonmult Memorial Park. The girls have been drawn in an extremely competitive league group this year and were all well aware that there would be no easy games. They have been training extremely hard and it was great to see all their hard work paying off. The girls chose to play with the wind in the first-half and worked tirelessly throughout the field to lead at the finish of the half. A three point lead was not a lot, considering the strength of the breeze, but the girls were fully determined to work even harder in the second-half. They were a joy to watch and finished out the game with an impressive scoresheet. Well done to every one of the girls. A great way to get the season kick started!
MINORS V NA PIARSAIGH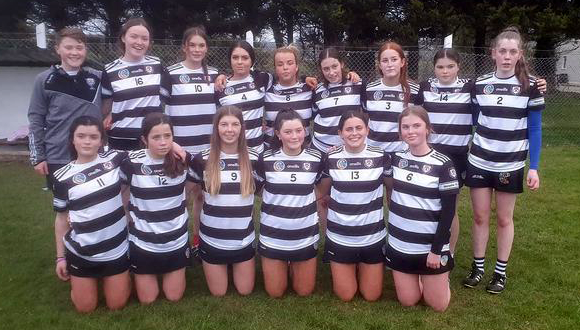 Our minor girls had a win over Na Piarsaigh 1-9 to 1-2. We are now top of our group and qualify for Minor A semi-final to be held in June. Venue and dates TBC. Well done to all involved on another great win.
JUNIOR LEAGUE
Midleton 4-15 Buttevant 1-1
We made it three wins from three with a dominant performance over Buttevant in Midleton on Saturday night. We took control of this game early with Vivienne Gleeson from frees and Abbie Foley and Sadhbh Beausang points from play giving us a great start.
Two goals from Rebecca Cassidy and another from Jodie Keegan O'Connell before half-time put us in a commanding position at the break. With Lucy Wallis excellent in midfield, Leah Hogan, Ruthie Hennessy and Yvonne Abernethy in control at the back we ran out deserving winners. Some of our younger players played in the second-half and contributed to a great all-round performance. Well done all.
MIDLETON: Jill Connaughton, Ruthie Hennessy, Leah Hogan, Jade Bradley, Roisin O'Callaghan, AoiFé Fitzgerald, Caoimhe Cronin, Yvonne Abernethy, Vivienne Gleeson (0-4F), Lucy Wallis, Emma O'Sullivan, Sadhbh Beausang(1-5), Abbie Foley (0-2), Rayanna Power, Rebecca Cassidy (2-1), Jodie Keegan O'Connell (1-2), Hannah Power, Rachel Ryan, Jade Fitzgerald, Saoirse Ni Theangana (0-1), Muireann Ni Chonchubhair.
CORK U-16

Congratulations to the Cork U-16 girls and their management on a great win over the weekend. A special mention to our Club Player Isabelle Nestor.
CORK MINORS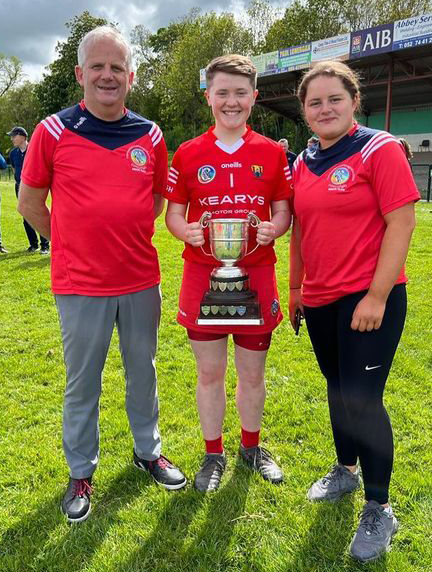 The Cork Minors were crowned Munster Champions on Saturday as they ran out winners against Clare in a fierce contest between the two teams with a Final Score of 2-16 to 0-6 . Huge congratulations to our Club Player Jill Connaughton pictured here with manager Jerry Wallace and Rayanna Power.
JUVENILES
FÉ8S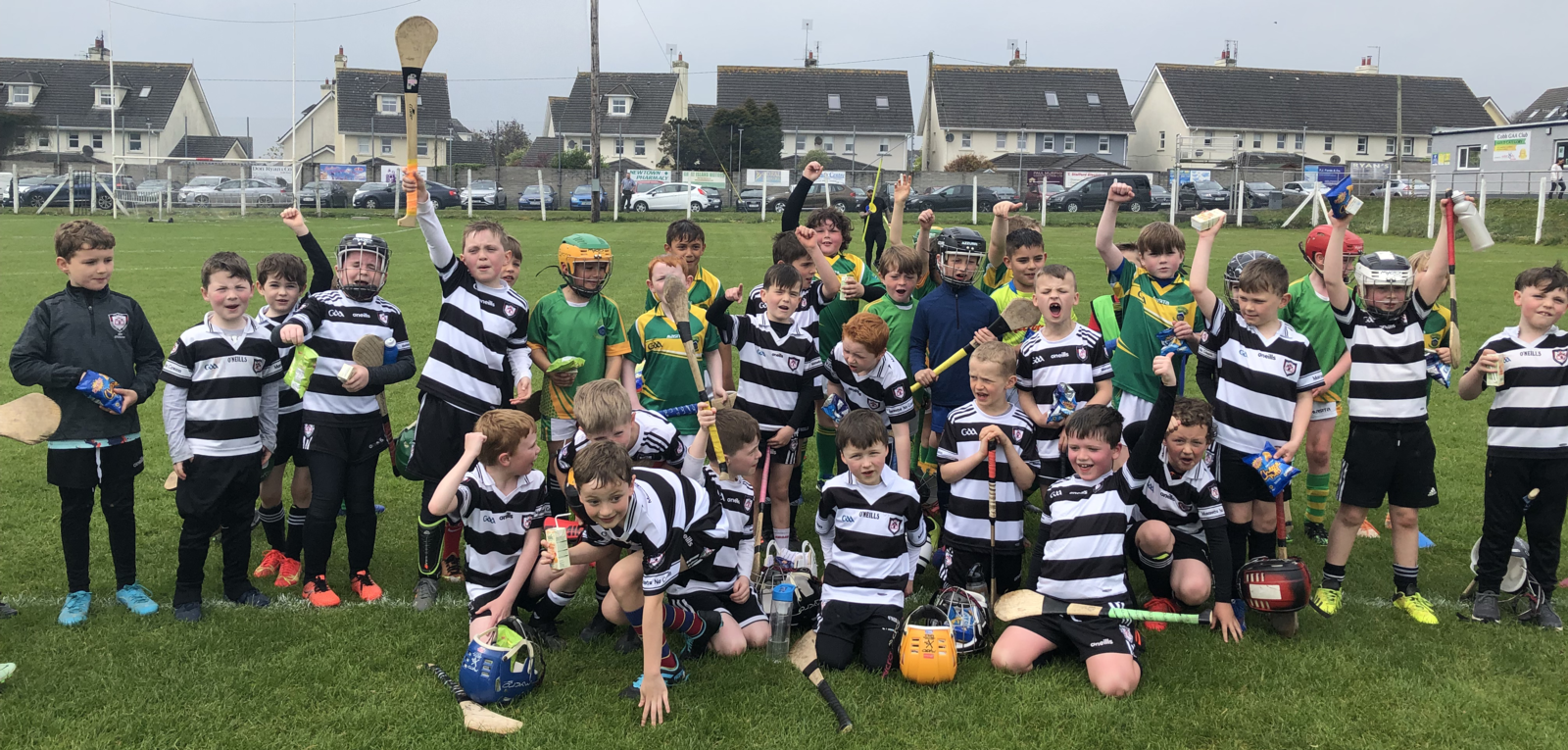 It has been a busy few weeks for the Fé8s. Last week we travelled to Cobh for a morning's hurling (above). This was followed by another hurling game this week against Erins Own (below). All the games were keenly contested and we were very pleased with the performance of all our players.


FÉ9 HURLING V ABBEYSIDE

The Fé9 group recently took a bus trip to Waterfod for a series of challenge games against Abbeyside. We had approximately 30 magpies lining out on the day across four teams. In windy but sunny conditions, the lads really acquitted themselves well with some great skill on show and some fine scores taken in all of the matches. Thanks to John Geary (former Midleton GAA Juvenile coach) Neil Power and everyone in Abbeyside GAA for being such fantastic hosts and for providing much needed refreshments for players and coaches alike before we boarded the bus and sang our way back to Midleton. A great day was had by all.
FÉ10 V ST. COLMANS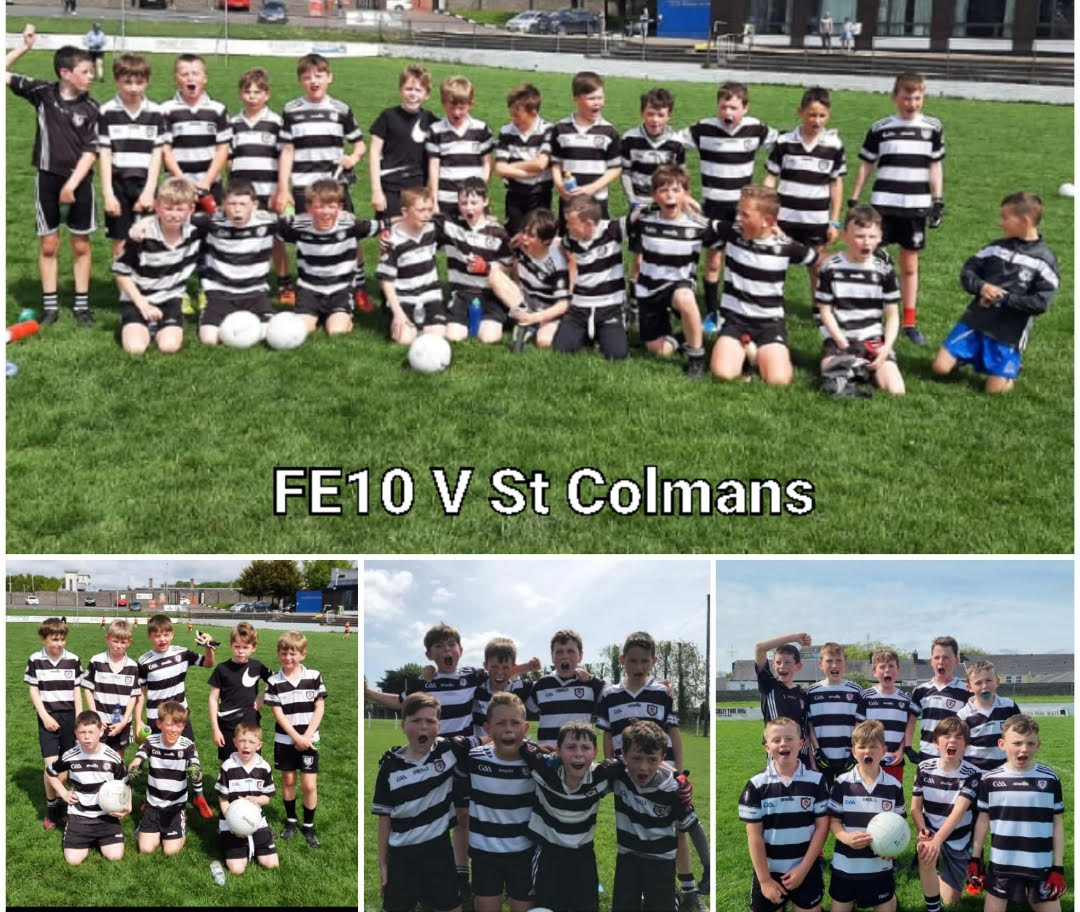 We hosted St Colmans on Saturday in Gaelic Football. We had 25 players in attendance for this, where they were broken into three teams of 8/9 each. All three groups were excellent on the day getting great scores throughout all the games. We would like to thank St Colmans for making the short trip to us on Saturday no doubt we will meet again. Thanks again to all the parents in our group for their great support.
FÉ14 P2 FOOTBALL V AGHADA
The Fé14 football league continued with a short trip to Rostellan to play Aghada. After a slow opening quarter, the lads got on the scoresheet with a rocket of a goal from Ewan Murphy. It was a close encounter for the remainder of the first-half with the lads going in a point down at half time, 0-7 to 1-3. The second-half was equally as close but a cool finish to the back to the net by Dara Birdthistle midway through the half proved to be decisive. With the help of some heroic defending from the whole team in the second period, the lads held out for a deserving victory on a final score line of 1-8 to 2-7.
MIDLETON: Bradley O'Brien, Jason Morley, Harry Waterman (captain), Rian Casey, Patrick Collins, Shane O'Mahony, Cuan Twomey, Dara Birdthistle, Darragh Mullins, James O'Meara, Max Murphy, Ruairi O'Riordan, Scott Dunlea, Cian Lawton, Ewan Murphy, Fionn Bohan, Patrick O'Dowd, Donnacha Horgan, Jamie O'Donovan, Adam Spillane, Sean Gregory, James Carey, Michael AllegrinI, Senan Carroll.
FÉ13

The Fé13 hurlers were delighted to have an excellent training session with Clare senior hurler David Reidy in Park South this week. David was staying in the Park Hotel for work and was delighted to take the session with the lads.
KACPER FUNDRAISER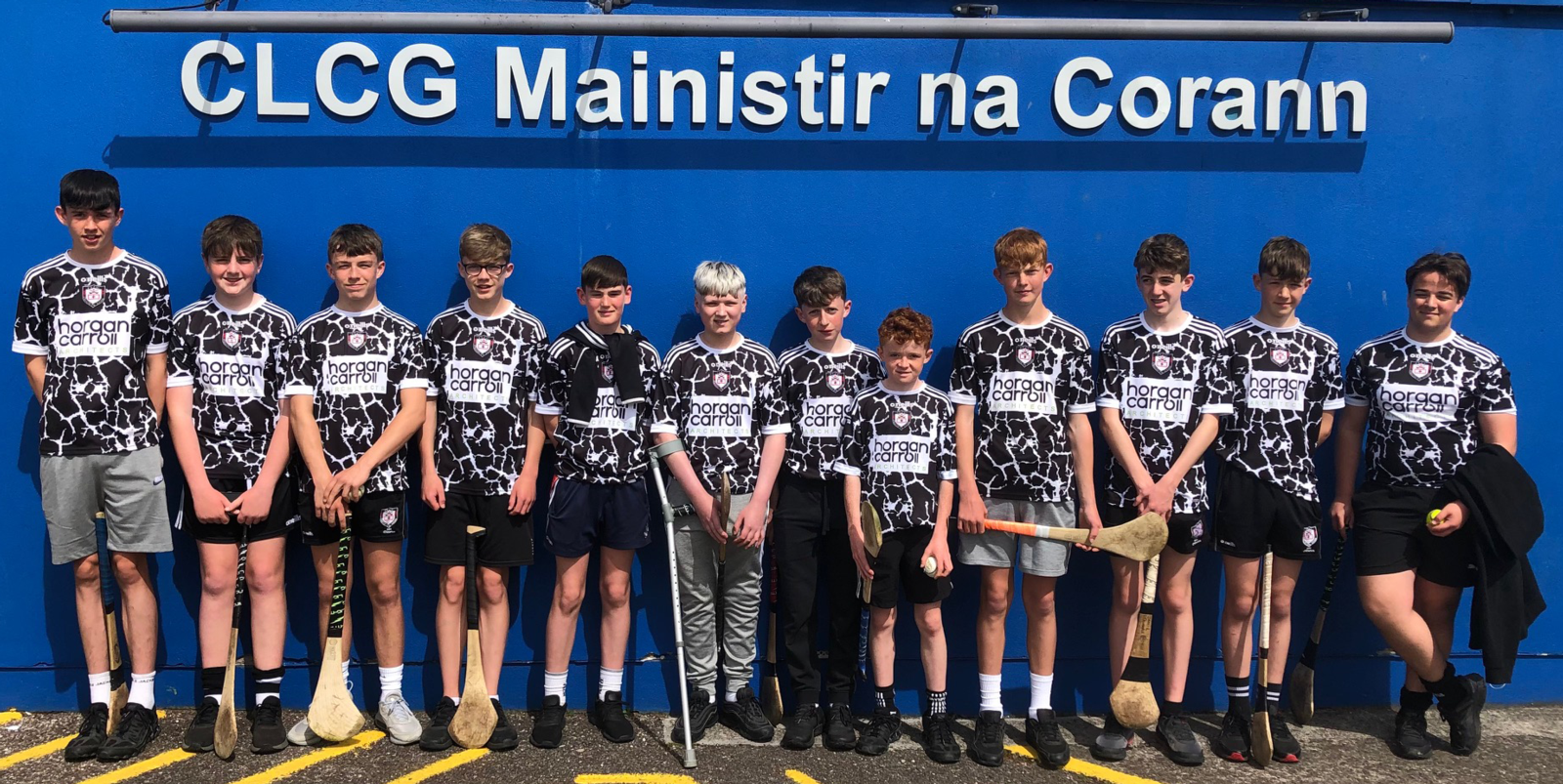 Well done Mark 'Fanta' O'Sullivan and everyone involved in the fundraising walk for Midleton GAA Fé14 player Kacper Kozlowski on Saturday. It was great to see Kacper on the field with his hurley in Clonmult Memorial Park after the walk on Saturday with his teammates. We wish Kacper the very best. See link to donate above.
CÚL CAMPS
There will be two Cúl Camps in Midleton this summer. The dates are: July 4-8 and August 8-12.
You can book online at: https://www.kelloggsculcamps.gaa.ie/booking/online/
Alternatively if you wish to coach at Kelloggs GAA Cúl Camps and have turned 18 before the camps start, then please register your interest here - http://www.kelloggsculcamps.gaa.ie/cul-coaches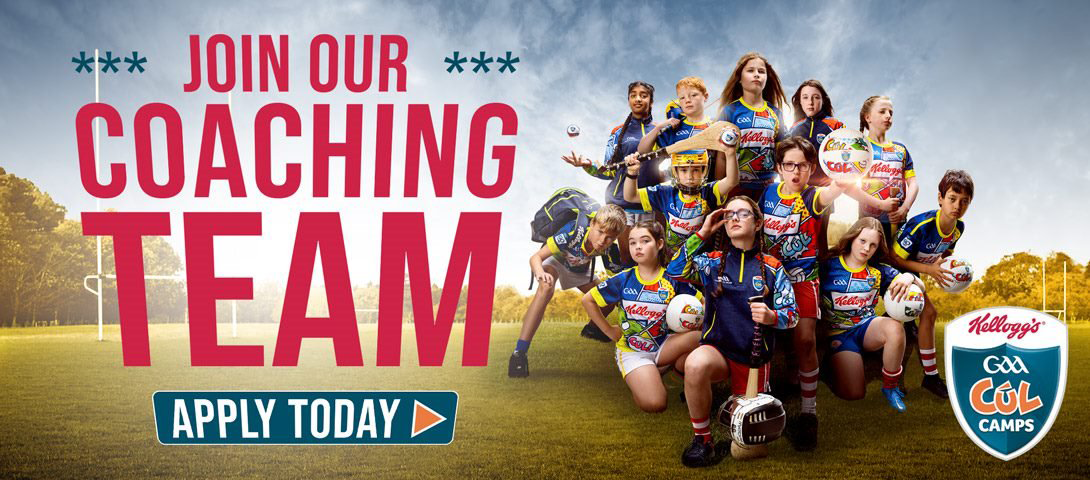 RICE CUP
Hard luck to the Midleton CBS, especially all our lads on the panel and selector Iain Cooney, who lost out to Thurles CBS in a high quality and entertaining Rice Cup (U-14) Final in Mitchelstown on Wednesday. The final score was 2-14 to 2-7.
JUVENILE FIXTURES
FRIDAY, MAY 13
Rebel Og Coiste Fé17 Premier 1 Hurling League
Midleton v Douglas at 7pm in Midleton
SATURDAY, MAY 14
Rebel Og Coiste Fé17 C3 Hurling League Section 1
Midleton v Na Piarsaigh at 7pm in Midleton
MONDAY, MAY 16
Rebel Og East Fé12 Group 6 Football Grading League
Glanmire v Midleton at 6.30pm in Glanmire
TUESDAY, MAY 17
Rebel Og East Fé12 Group 2 Football Grading League
Kiltha Og v Midleton at 7pm in Dungourney
WEDNESDAY, MAY 18
Rebel Og Coiste Fé14 Premier 2A Football Championship
Carrigtwohill v Midleton at 7pm in Carrigtwohill
LADIES FOOTBALL
UNDER 14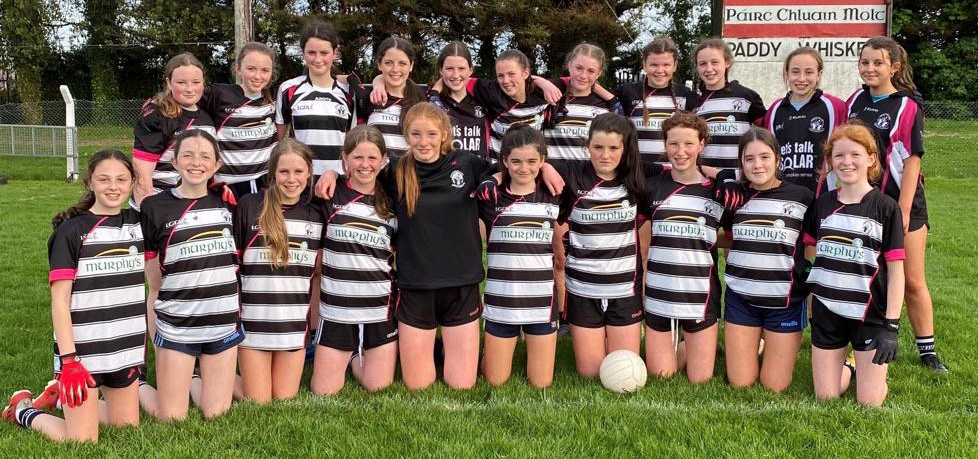 Our U-14 girls were once again in league action against our near neighbours Carrrigtwohill last weekend. Another great team performance saw them come away with a win. Well done girls.
UNDER 16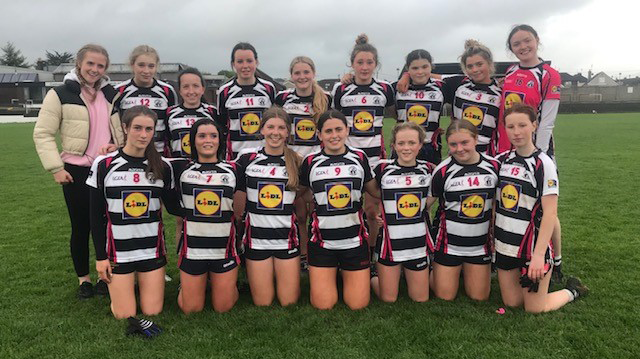 Our U-16 girls had a tough encounter against a strong Glanmire side on Monday evening. A great team performance overall but we narrowly lost by a small margin. Well done girls. You always battled till the final whistle and to your credit you kept chasing every ball and digging deep to get your scores. Final score Midleton 5-6 Glanmire 6-9.
BEARA BOUND
Best of luck to our Junior A team who travel to Beara on Sunday for their league game.
TRAINING
Training continues for all age groups. As most teams are busy with leagues games or are starting their leagues campaigns there maybe adjustments to training times. Text messages will be issued with regards to training if there are any changes.
SENIOR HURLING
Our senior hurlers made to trip to Fermoy on Saturday afternoon to take on the home side in the latest round of the RedFM County Senior Hurling league and we left empty handed as we came up just short on a scoreline of 1-16 to 0-18.
Our next game is fixed for Sunday, May 22 away to Killeagh at 11am.
INTERMEDIATE HURLING
It was a busy weekend for the intermediate hurlers with two league games in four days.
On Thursday night in Clonmult Memorial Park we played out a very entertaining and high scoring encounter with Agahbullogue as a late scoring burst from the visitors saw them win out on a final scoreline of 1-27 to 2-21.
MIDLETON: Bryan Rossiter, Alan Power, Cian Murray, Cathal Gunning, Gavin Reddy, Adam Daly 0-1F, Leo Hennessy, Kevin Finn 0-1, Sean O'Farrell, James Nagle 0-2, Cian Crowley 0-3, Gary Carroll 0-2, Paul Connaughton 1-4, Mike Abernethy, Conor Fitzgerald 1-8, 0-55F. Subs: Christian Daly (used), Kieran Mulcahy (used), Evan Kelly (used), Tiarnan Roche, Charlie Walsh.
Then on Sunday we made the short journey to take on neighbours Dungourney and we came away with a fine win on a final scoreline of 2-18 to 1-17.
MIDLETON: Bryan Rossiter, Colin Sunderland, David Scanlon, Leo Hennessy, Alan Power, James Nagle, Paudie O'KeefFé, Kevin Finn, Sean O'Farrell, Gary Carroll 0-1, Christian Daly 1-0, David Cremin 0-3, Paul Connaughton 1-1, Garan Manley, Conor Fitzgerald 0-12, 11F, 1'65. Subs used: Tiarnan Roche 0-1, Evan Kelly.
Our next game is fixed for Saturday, May 21 at home to Barryroe at 4pm.
JUNIOR B
Our Junior B hurlers took on Carrignavar at home on Monday night and we lost out on a scoreline of 3-17 to 0-11.
JUNIOR C
We travelled to Carrigtwohill on Friday night to take on the home and we lost out on a scoreline of 2-19 to 2-13.
It's back to football action on Friday night (May 13) when we host Lisgoold in Park South at 8pm.
BEST OF LUCK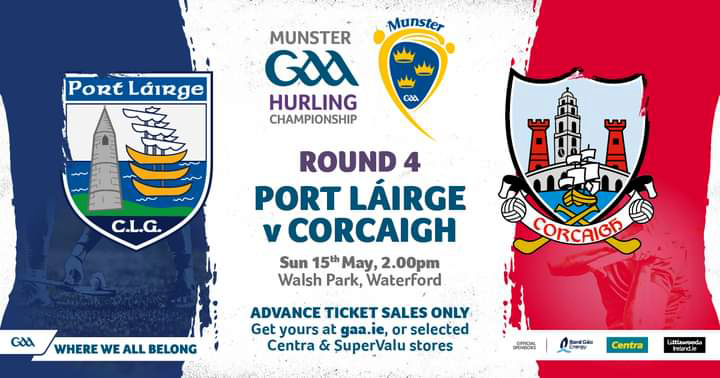 Best of luck to Conor, Tommy, Sean and Sam and the rest of the Cork senior hurling players and management when they travel to Walsh Park to take on Waterford on Sunday in the Munster SHC.
MAGPIE ALL STARS
The Magpies All Stars are back in action at 12 noon on this Sunday, May .15
GAA INJURY BENEFIT FUND
We are asking all members, especially players, to read and understand the summary of the GAA Injury Benefit Fund at the link below.
It's each player's responsibility to ensure that they have sufficient cover in place to satisfy their own needs.
MIDLETON GAA HEALTHY CLUB PROJECT
On Sunday last, May 8, Midleton GAA Healthy Club had a visit from Aurelie Van Hoye, researcher with University of Limerick. Aurelie is working with Croke Park researching the value and impact of healthy clubs. Many thanks to Gillian Murphy, Jerome Curtin, Amy Quirke, Megan Kelly, Sadhbh Beausang, Daniel Wathan, Leonard Saunderson, Jack McKay, Cathal Beausang, Neil Daly, Aaron Daly and the Magpie All Star parents who gave of their time to speak with Aurelie.
BE KIND TO YOUR MIND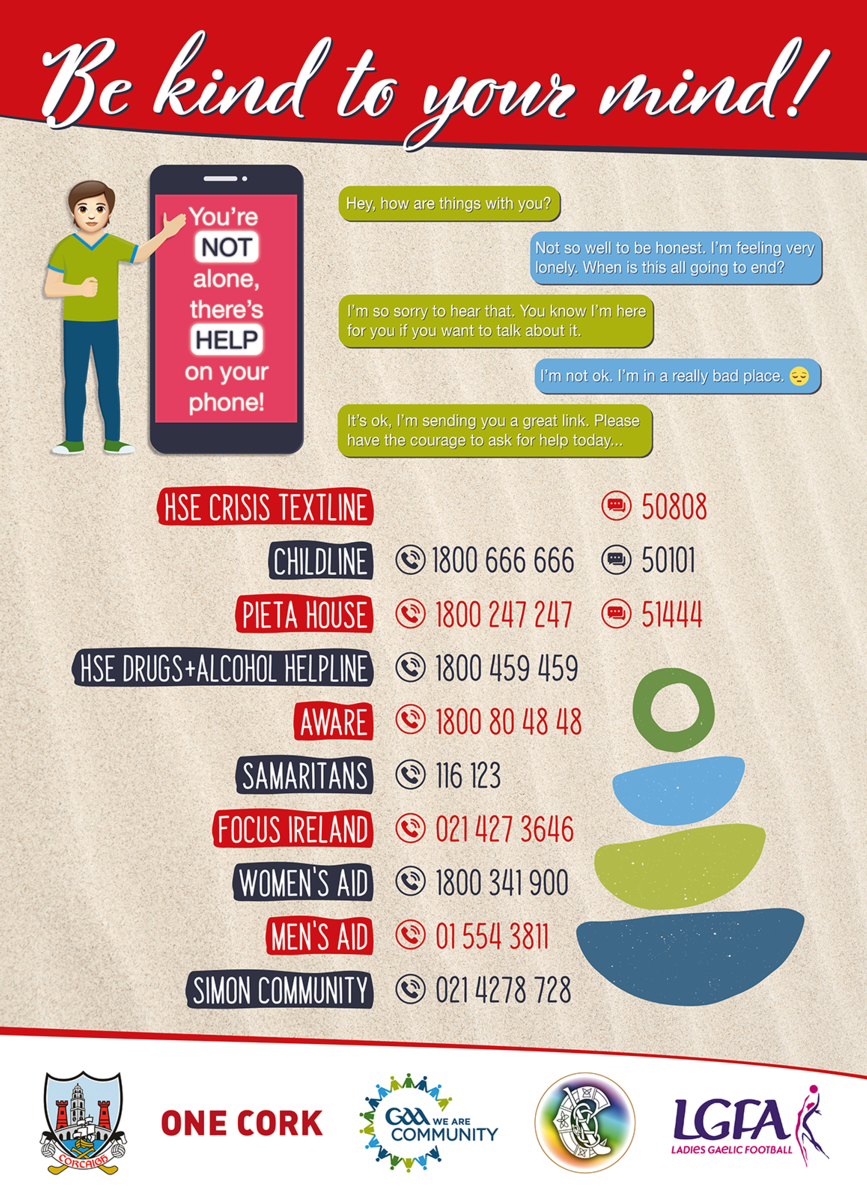 Uachtarán Larry McCarthy recently launched the Be Kind to Your Mind campaign. Its aim is to reach all GAA Clubs and second level schools throughout the country in order to assure young people to go easy on themselves, be kind to themselves, and know that there is help out there.
DATES FOR YOUR DIARY
Put a reminder in your diary for the 2022 Midleton GAA Golf Classic. It will take place at East Cork Golf Club on July 20/21. More details in the coming weeks.
LOTTO DRAW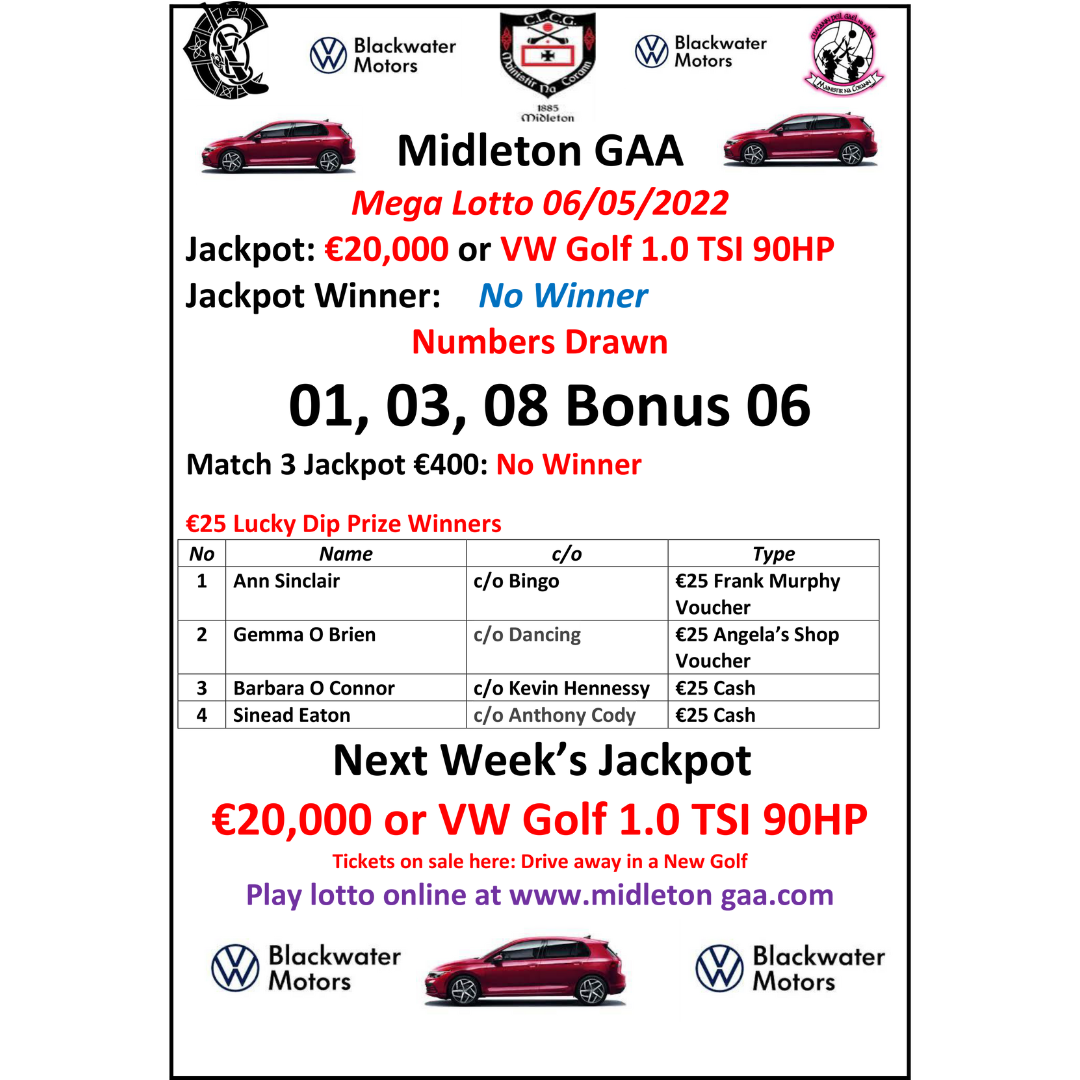 The winning numbers this week were: 2, 3, 8. Bonus 6
There was no jackpot winner or Match 3 Jackpot winner
€25 Lucky Dip Prize Winners were: Ann Sinclair, Gemma O'Brien, Barbara O'Connor and Sinead Eaton
There was no jackpot winner or Match 3 Jackpot winner
Don't forget you can play online at any time at the link below
https://www.klubfunder.com/Clubs/Midleton%20GAA/lotto
Thanks to everyone who supports our lotto.
In total Midleton GAA will give out local business vouchers to the value of €3,800 every year as part of our "Shop Local, Buy Local" campaign.
How to play: tickets are on sale at Pat Walsh Paints, Chadwicks, Frank Murphy Butchers, Murphy's Pharmacy, Crowley Butchers, or buy online (see above).
GAA GOLF SOCIETY
Our next outing is Tim Crotty's Captain's Prize on Thursday, May 26 in East Cork from 4pm to 5.30pm. New members are very welcome. Membership for the year is €20 plus €10 competition Fée. Looking forward to seeing you on the 26th.
BINGO
Our Bingo continues on Friday nights with an early game at 7.25pm. Everyone is welcome.
SOCIAL DANCING
Great dancing assured once again this Saturday night (May 14) to Muriel and Fran from 9.15pm in the GAA Club Hall.
CLUB SHOP
The Midleton GAA club shop is back up and running for the 2022 season but please note that it's still online with collection only at the club on a Saturday morning.
All you have to do is go to the Klubfunder website (www.klubfunder.com/Clubs/Midleton%20GAA/ShopItems) and you will see the full range of what's available to buy. You can shop away to your heart's content, pay for it online and then collect your purchases at the club shop on Saturday morning between 9.30am and 10am. Thank you.
IMPORTANT MESSAGE
We would like to remind our members, neighbours and friends that NO DOGS (except assistance dogs) are allowed either on or off leads at Park South or Clonmult Memorial Park.
We also ask anyone driving in and out of Park South to PLEASE SLOW DOWN!
Thank you.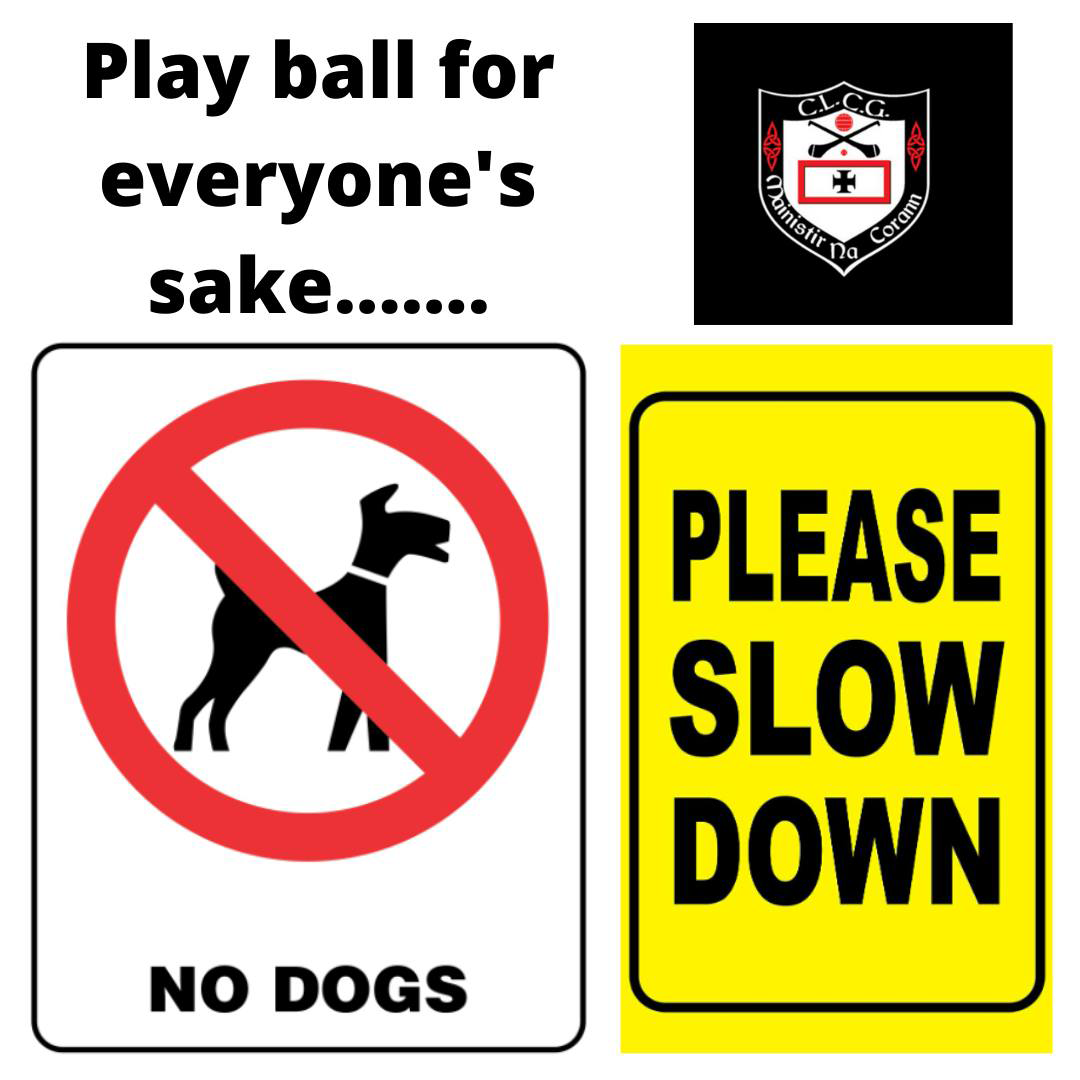 CONDOLENCES
We would like to express our deepest sympathies to the family of the late Sean Moynihan of Suncourt who died on Wednesday. Sean was a former player and selector with the club and was a great friend of Midleton GAA, especially football as are his family. Ar dheis Dé go raibh a anam.