Midleton Hurling and Football, Ladies Football and Camogie Club News
21 April, 2022
SENIOR HURLING
Our senior hurlers are back in action this Saturday with an East Cork league derby against Fr. O'Neills in Aghavine at 4pm.
INTERMEDIATE HURLING
We're back in action on Friday night (April 22) when we host Na Piarsaigh in Clonmult Memorial Park at 7pm.
JUNIOR A HURLING LEAGUE
Midleton 1-16 St Ita's 2-11
We made the trip to face East Cork Champions St. Ita's on Saturday and came away with a great two point win. We led 1-8 to 1-7 at half-time and finished it off to make it a second win in three games.
MIDLETON: Coran Swayne, Conor Evans, Charlie Walsh, Alan Power, Evan McCarthy, Aidan Ryan, Gavin Reddy, Kieran Mulcahy (0-1), Mark O'Keeffe (0-1sl), Johnny Comer (0-7, 0-6F), Padraig O'Shea (0-1), Christian Daly (0-2), Conor Fitzgerald (1-3), Michael Abernethy, Tim O'Sullivan (0-1). Subs used: Chris Power, Neil Fitzgerald, Ben O'Neill, Luke Deane.
We're back in action on Sunday (April 24) when we entertain Carrignavar in Clonmult Memorial Park at 2pm.
JUNIOR C
FOOTBALL LEAGUE
We travelled to Rostellan on Bank Holiday Monday to take on Aghada in the third round of the junior C football league. Fielding a very strong team we ran the hosts very close. However, on the night Aghada were just too strong for us. Well done to everyone involved and get well soon to the Aghada player who was forced off early through an injury. Final score: Midleton 2-9 Aghada 3-10
MIDLETON: Brian O'Sullivan, Conor Evans, Sean Corcoran, Daniel Wathen, Brendan Ferriter, Barry Fitzgerald, Liam Kelly, Aaron Coughlan, Charlie Walsh, Alan Power, Kieran Denihan, Luke Deane, Ben O'Neill, Ciaran Evans and Jack McKay. Substitutes: Eoin Ferriter, Daniel O'Mahony, Eoghan Collins, Davy O'Brien, Leonard Saunderson and Jerome Curtin.
JUNIOR C HURLING LEAGUE
We're back in hurling action on Monday night when we travel to play St. Catherines in Ballynoe at 8pm.
FE19
Our U-19 hurlers travelled to Riverstown to take on Sars this week and they came away with an excellent five point win on a scoreline of 2-14 to 1-12.
MIDLETON: Zac Smith, Colin Sunderland , Brian O'Connell, Neil Fitzgerald, Liam McGrath, Evan McCarthy, Niall Corcoran, Mikey Finn (1-7, 0-1 '65 ,0-2F) Tiernan Roche , Darra McCarthy (1-3), Phelem McGann , Rory Hartnett (0-1) , Cathal Beausang (0-1) , Davy Cremin, (0-2) , Cian Murray . Subs used: Alex Moloney , Evan Kelly , Ben O'Neill , Stuart O'Connor.
Next Wednesday it's football league against Carrigtwohill at 7pm in Carrigtwohill.
HARD LUCK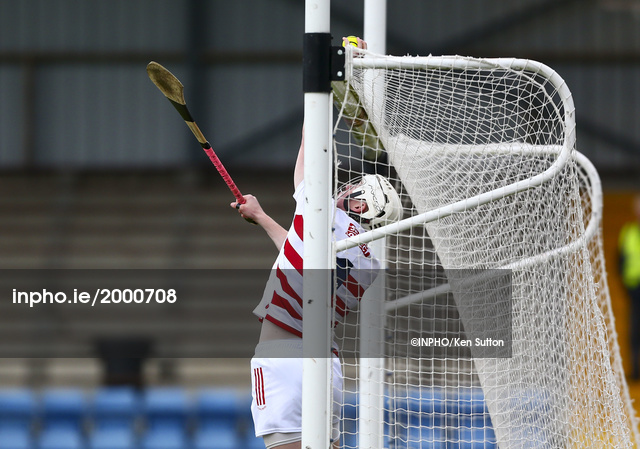 Hard luck to Conor, Sean, Tommy and Sam on the Cork senior hurlers' loss to Limerick in the opening round of the Munster SHC and to Brion (in action saving a certain Limerick point above), Ciarmhac and David on the U-20s' loss to Limerick in Pairc Ui Rinn this week.
CLARE TICKETS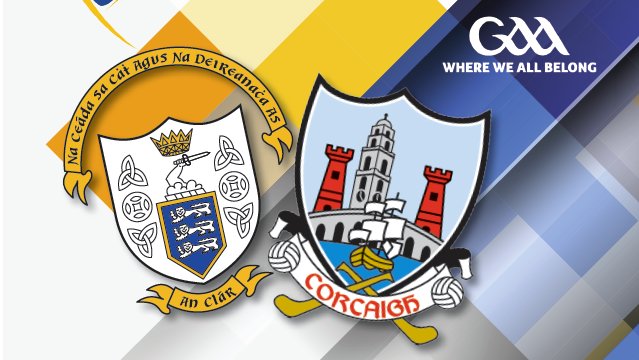 We have been informed by the county board that no tickets will be distributed through the clubs for Cork's next Munster SHC game, against Clare, on Sunday week (May 1) in Thurles at 2pm.
All tickets will be sold through the following link:
LADIES FOOTBALL
JUNIOR A LEAGUE
Our Junior Ladies were back in action on Thursday last when they took on Watergrasshill in Park South. Great numbers once again turned out on a cool but dry evening. Final score was Midleton 1-11 WGH 1-6.
Up next is our 2nd Junior team who take on Bandon in Ballinacurra this Sunday at 11.30am.
FÉILE 2022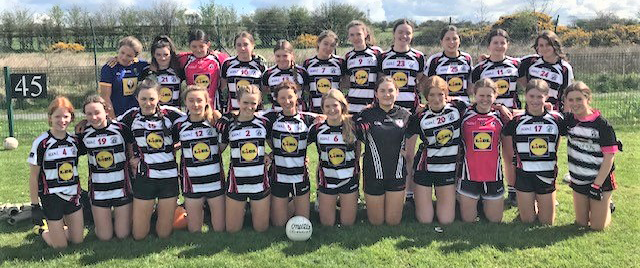 This year's Football Féile took place in Rockbán Gaa Club. As we won the Féile in the B grade in 2021 we were promoted to the A grade for this year. Our round robin group stages saw us up against Rockbán and Inch. Having won both of these games we qualified for the semi-final against Glanmire. After 15 minutes a side and a great come back by Midleton nothing could divide the teams at full time so it went to extra-time. A goal in the dying seconds saw Midleton win by a single point.
The Féile final saw us up against Erin's Own. It was a tough ask for the girls as they had to play straight after their semi-final game but they took to the pitch in great spirits. Erin's Own took an early lead as the tiredness started to show with our girls but great credit is due to them all as they continued to fight for every ball and never gave up. Unfortunately, Erin's Own proved too strong for us on the day. Final score was Midleton 1-1 Erin's Own 4-4.
As a club we are delighted with all of our girls who are a great credit to themselves and their Families. They showed great support to each other and great respect to their mentors on the day. They have a wonderful attitude and most importantly the girls had great fun on the day. All in all, they played 120 minutes of football on the day.
Congratulations to three of our panel members Julie Murphy, Kate Saunderson and Caoilinn Fraser (pictured below) who were selected for the Féile All Star team. These girls were picked for their performances on the day, their attitude towards their mentors and teammates on and off the pitch.
Many thanks to the parents for their tremendous support on the day.
As they reached divisional final the girls will now go on and represent the Club in the County Féile on May 2. Details to be confirmed.
MIDELTON PANEL: Kate Saunderson (captain), Lilly Kelly, Kate O Sullivan, Ava McAuliffe, Shelia O'Leary Hayes, Kate Griffin, Sorcha Cronin, Amy Keeshan, Lilly Shields, Sophie Walsh, Faye Dunlea, Caoilinn Fraser, Julie Murphy, Lucy Murphy, Ciara Murphy, Robyn Keating, Emma Keeshan, Chloe Corby, Cara Pyne, Rebecca Ryan, Roisin McManus, Hannah O'Brien, Cáit O'Leary Hayes.
Mentors: Donnacha Tagney, Ber Kelly, Gillian Murphy, Gráinne O'Brien, Kevin Keeshan, Nicole Keeshan.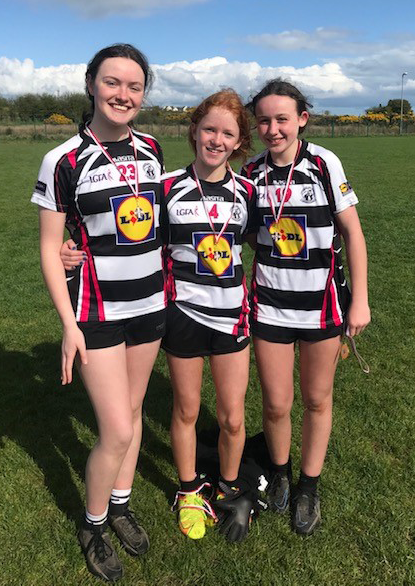 CAMOGIE
FE 15 FÉILE 2022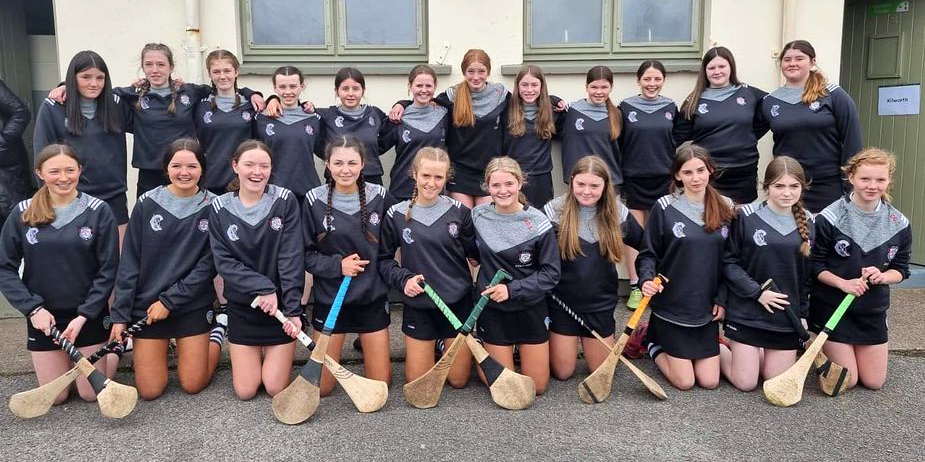 Well done to our Féile team and their management who took part in Féile 2022 over the weekend. Our group was hosted by Ballncollig Camogie Club.
Our first match was against Ballinora where we just missed out on a win. In our next match we met Ballinhassig Camogie and our final game took place against our hosts Ballincollig Camogie . Unfortunately Lady Luck was not on our side even with all our girls giving their all and putting their best efforts in. We were super proud of all the girls on the day a special word of congratulations to our Féile captains, Kate Griffin (top pic) Amy Keeshan (lmiddle pic), Cara Foley (bottom pic).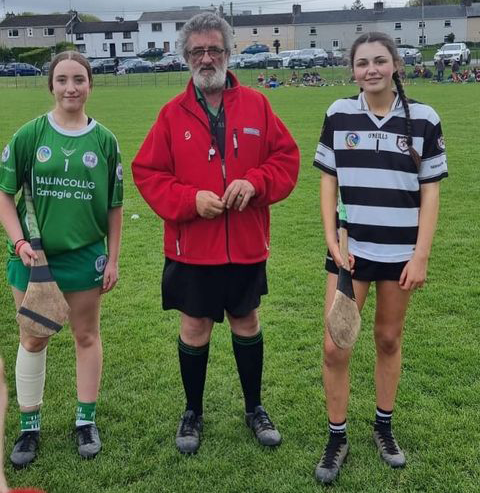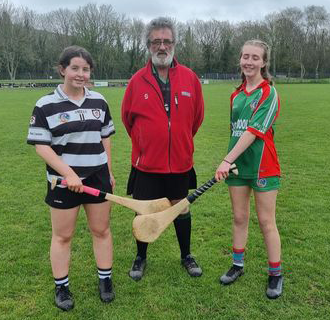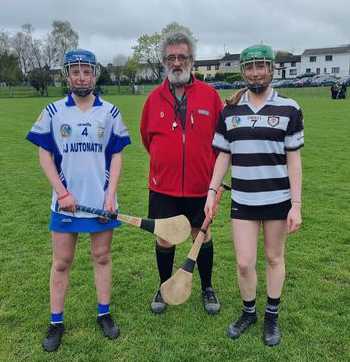 MINOR LEAGUE V SARSFIELDS 2
Congratulations to our Minor team (pictured below) on another win in their league campaign. We took on Sarsfields Camogie this time around at home in Clonmult Memorial Park last night Friday. Well done to each and every girl and to their management team. Next up is another home game on tonight (Thursday 21st April) at Ballinacurra GAA where we will go up against Enniskeane.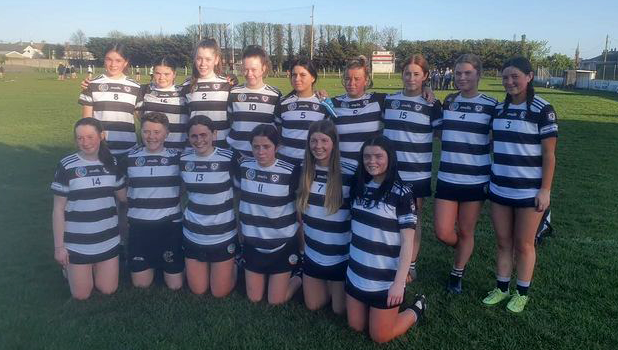 JUNIOR LEAGUE
MIDLETON 0-10 BRIDE ROVERS 0-9
We travelled to Rathcormac for our first league outing of the season. After a tough encounter we came out one point winners.
After a great start which saw us race into a six points to one lead with our scores coming from Sadhbh Beausang, Rebecca Cassidy and Jodie Keegan O'Connell (all from play) and Vivienne Gleeson from frees.
Bride Rovers fought back well to narrow our lead to 0-6 to 0-4 at half-time.
The second-half again proved very tight - but great work from all of our backs, especially Yvonne Abernethy, Jade Bradley and Leah Hogan, and the ever consistent Jill Connaughton in goals kept Bride Rovers in check and even though we won by the minimum a little more composure in front of goal would have seen us win with a bit to spare.
Nonetheless excellent commitment shown by all in difficult conditions and a great start to our league campaign. Well done all.
MIDLETON: Jill Connaughton, Megan Kelly, Jade Bradley, Leah Hogan, Roisin O'Callaghan, Yvonne Abernethy, Aoife Fitzgerald, Lucy Wallis , Vivienne Gleeson (0-5f), Emma O'Sullivan, Sadhbh Beausang(0-3), Abbie Foley, Ryanna Power, Rebecca Cassidy (0-1), Jodie Keegan O'Connell (0-1). Mischa Daly-Harkin, Rachel Ryan, Jade Fitzgerald.
JUVENILES
FE12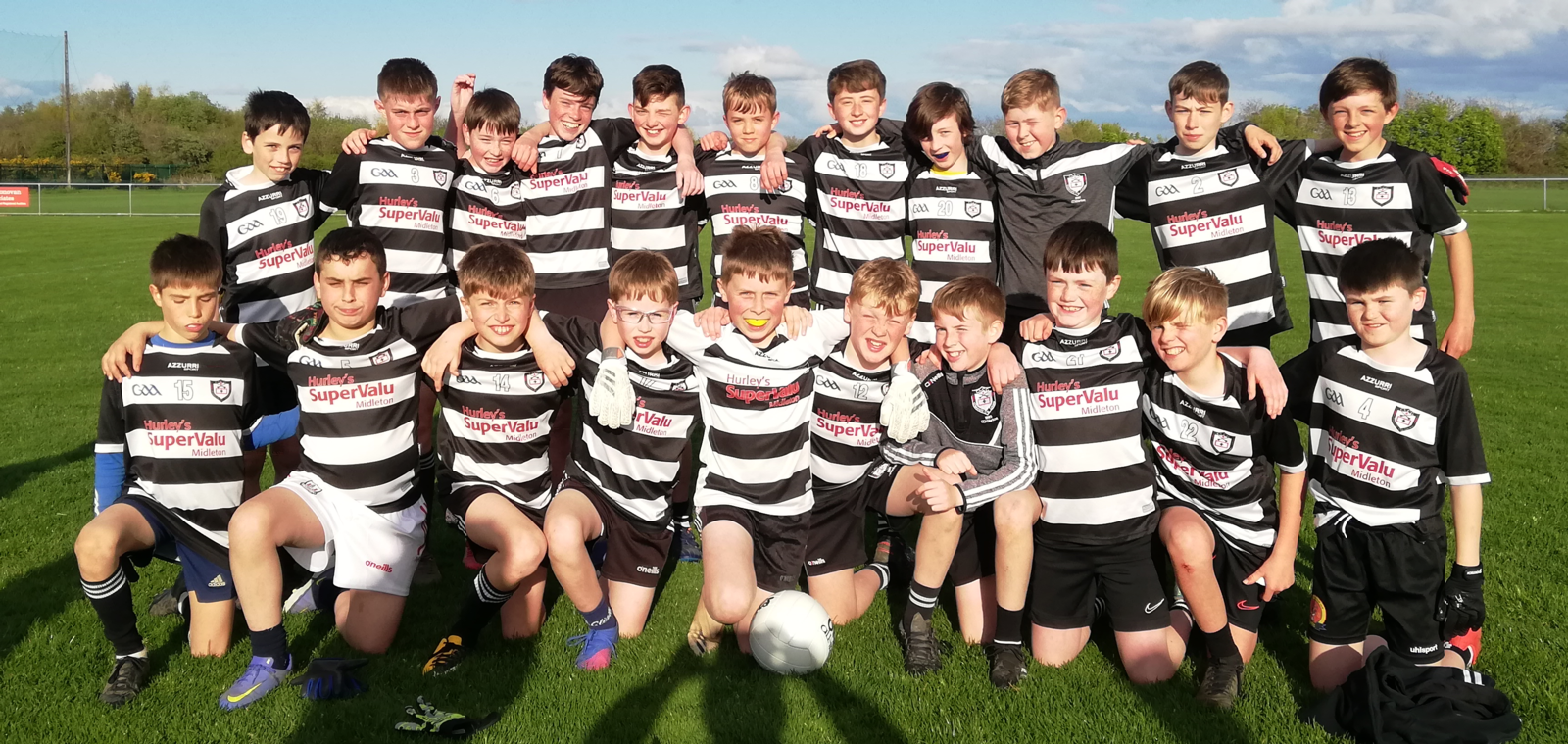 A busy bank holiday weekend for the Fé12 boys saw both teams play a challenge game (hurling) away to Carraigaline on Saturday.
Both results went our way. Thanks Carrigaline for hosting us.
On Monday evening then saw the Fé12 P2 team begin their Rebel og group 2 East football league away to St Michaels (pictured above). A very well contested match saw Midleton come away with a win, a great start to the league. Midleton 1-10 St Michaels 2-5.
FE15 FÉILE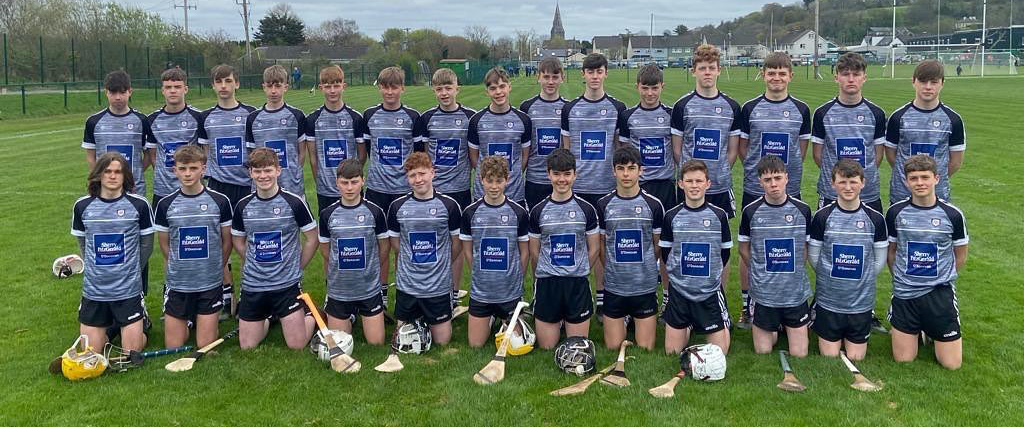 On Saturday morning last we travelled to Douglas for the hurling Féile. We were pitted against Sars, Inniscarra and Douglas. Overall it was a great morning's hurling. We came up short in our three games. All games were closely fought to the end, but with the short format you need a bit of luck also. This does not reflect the effort that was put in on the day. We have a hugely committed bunch of players and no doubt this will stand to us as the year goes on. A big thank you our supporters, whose encouragement on the day was a huge help. Thanks also to our sponsors Clare Fox at Sherry Fitzgerald O'Donovan Midleton and to John Hogan of Glantreo for kitting out the boys for the day's hurling.
Results from the day:
Midleton 0-5 Sarsfields 0-7
Midleton 0-6 Douglas 2-4
Midleton 0-3 Inniscarra 0-5
MIDLETON – Ryan Fitzsimmons, Diarmud Lester, Joey Moran, Eoin Hurley, Shane O'Mahony, Darragh Cronin, Miah McGrath, Jake Kirby, Daniel Donovan, Lochlann Stewart, Cian Stack, Cian Fitzgerald, Josh Foley, Matthew McSweeney, Tomas Geary, Rian O'Driscoll, Mikey Pedley, Cian Lawton, Eoin Ahern (Captain), Nicky Coughlan, Luke Riordan, Peter Barrett, Conor Finn, Josh Hogan, Rory Hynes, Sean Crowley, Ben Troy, Tiago Fleming, Noah Cahill.
FE15
A busy few weeks for our Fe15 hurling and football team with matches coming thick and fast
Eastern Football Vs Mayfield won 1-4 to 0-6
C3 hurling Vs Inniscarra lost 3-11 to 3-7
C3 hurling vs Douglas won 0-11pts to 1-7
Eastern Football Vs St Colmans won 3-6 to 3-4 (pictured below).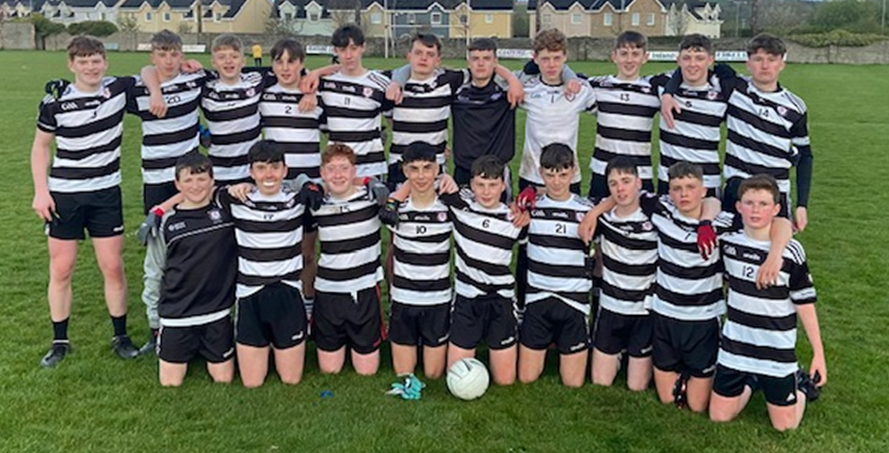 FE17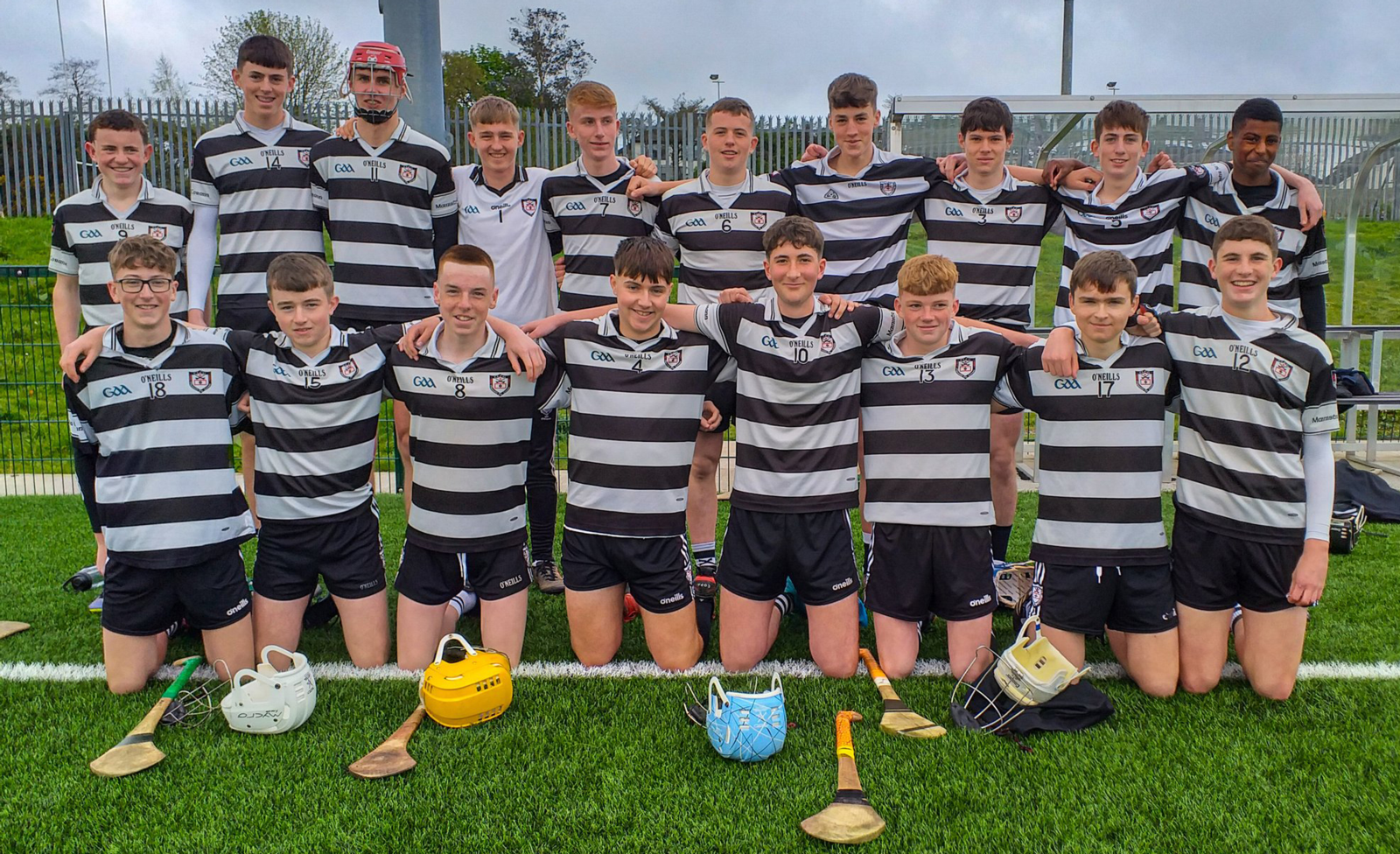 It was another good week for the Fe17s.
First up the C3 team had a great win over Bishopstown away (pictured above) on a scoreline of 3-10 to 1-10 and then on Sunday, in testing conditions, we had a great win over Ballincollig in the P1 hurling league as we emerged victorious on a score of Midleton 0-16 Ballincollig 0-13.
REBEL OG East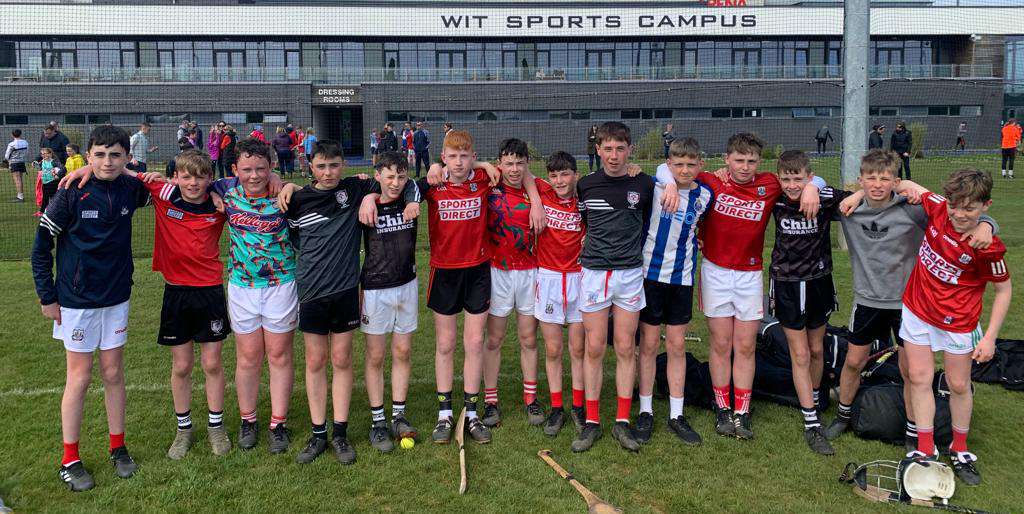 We had big representation this week on the Rebel Og Fe13 East team that took on East Waterford at the WIT Arena.
JUVENILE FIXTURES
SUNDAY, APRIL 24
Rebel Og Coiste Fe16 Football League 13 aside Group 1
Midleton v St Nicholas at 11am in Midleton
Rebel Og Coiste Fe14 Football League 15 aside Group 2 section 1
Aghada v Midleton at 6.30pm in Rostellan
Rebel Og Coiste Fe13 Premier 1 Hurling Grading League Section 1
Midleton v St Finbarrs at 1pm in Midleton
MONDAY, APRIL 25
Rebel Og Coiste Fe15 C3 Section 1 Hurling League
Blackrock 2 v Midleton 2 at 7pm in Church Road
MEMBERSHIP
At Tuesday night's meeting of the club executive the decision was taken that any player or mentor who has not paid their memberships by midnight on Sunday next (April 24) cannot take part in club training or matches under any circumstances as they will not be covered by the GAA Injury Benefit Fund until membership is paid.
There are no changes to the membership rates from last year. Existing or New members can pay your membership immediately on Klubfunder by using the link:
https://bit.ly/MembershipDueNow
If you've any queries or need help with anything, please contact our Membership Officer Kieran Denihan 087-4105991 or email midletongaaregistrar@gmail.com.
GAA INJURY BENEFIT FUND

We are asking all members, especially players, to read and understand the summary of the GAA Injury Benefit Fund at the link below.
It's each player's responsibility to ensure that they have sufficient cover in place to satisfy their own needs.
DATES FOR YOUR DIARY
Put a reminder in your diary for the 2022 Midleton GAA Golf Classic. It will take place at East Cork on July 20/21. More details in the coming weeks.
CHILD SAFEGUARDING WORKSHOP
Midleton GAA will run a child safeguarding 1 workshop on 27th April 2022 in the club. To book a place on the course please email childrensofficer.midleton.cork@gaa.ie.
GYM REOPENED
Our club Gym has now re-opened to members. Access FOBs have been re activated.
Please note that some of the equipment will be undergoing some service work over the coming weeks so apologies in advance for any inconvenience.
LOTTO DRAW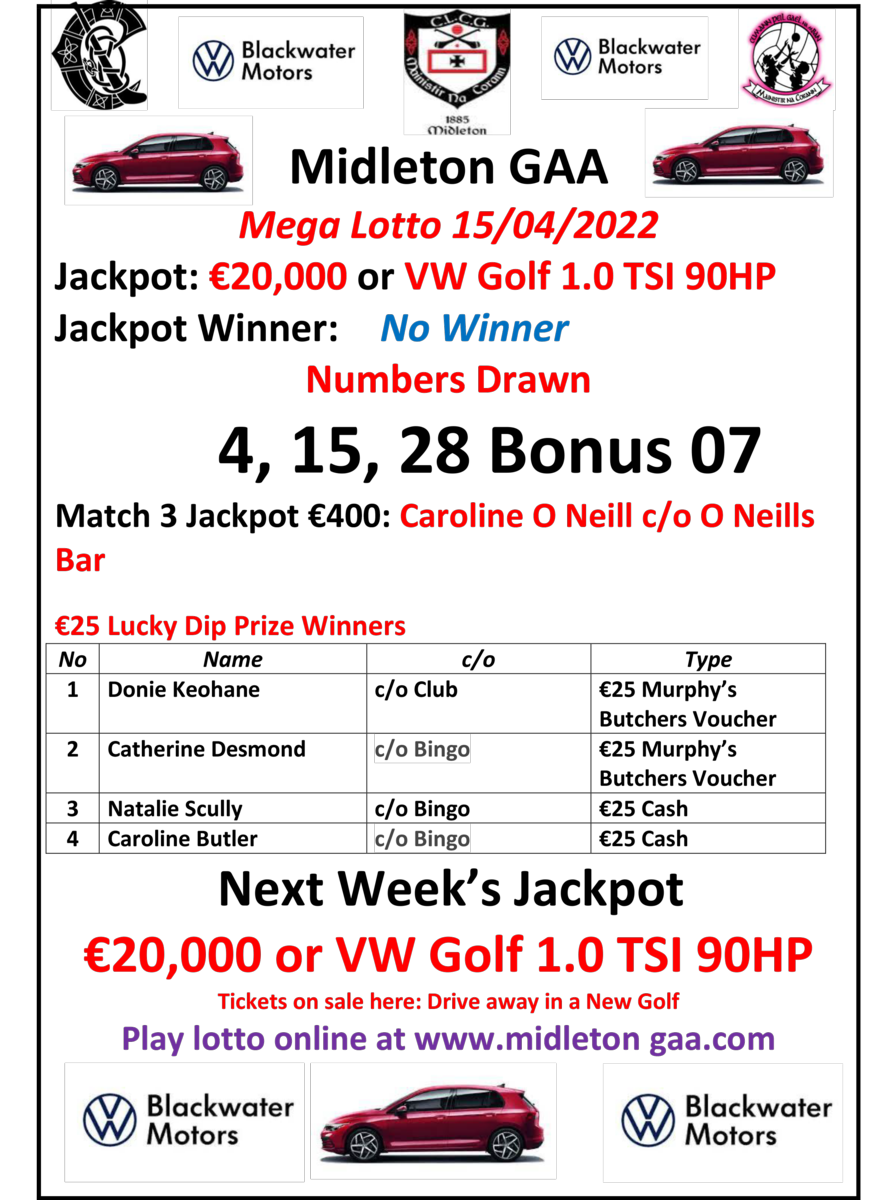 The winning numbers this week were 4, 15, 28 and bouns was 7.
There was no overall jackpot winner but we did have a Match 3 jackpot winner – Caroline O'Neill.
Our lucky dip winners were: Donie Keohane, Catherine Desmond, Natalie Scully and Caroline Butler.
Thanks to everyone who supports the lotto.
In total Midleton GAA will give out local business vouchers to the value of €3,800 every year as part of our "Shop Local, Buy Local" campaign.
How to play: tickets are on sale at Pat Walsh Paints, Chadwicks, Frank Murphy Butchers, Murphy's Pharmacy, Crowley Butchers, or buy online at https://www.klubfunder.com/Clubs/Midleton%20GAA/lotto
BINGO
Our Bingo continues on Friday nights with an early game at 7.25pm. Everyone is welcome.
CLUB SHOP
The Midleton GAA club shop is back up and running for the 2022 season but please note that it's still online with collection only at the club on a Saturday morning.
All you have to do is go to the Klubfunder website (https://www.klubfunder.com/Clubs/Midleton%20GAA/ShopItems) and you will see the full range of what's available to buy. You can shop away to your heart's content, pay for it online and then collect your purchases at the club shop on Saturday morning between 9.30am and 10am. Thank you.
SOCIAL DANCING
Social dancing this Saturday night, April 23, to Michael Sexton at 9.15pm...a great night assured.
FUNDRAISER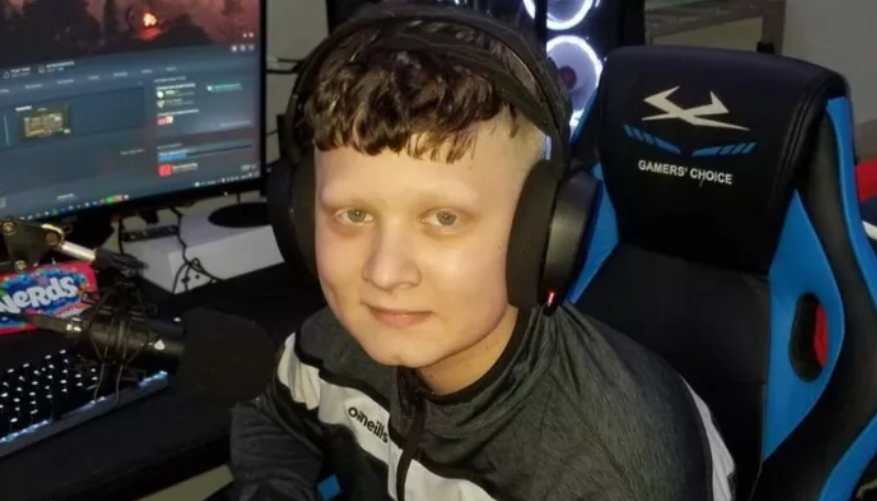 Midleton Camogie Coaching Officer Mark 'Fanta' O'Sullivan will walk in a full fireman suit, from Youghal to Midleton on May 7 to raise funds for Midleton GAA underage player Kacper and his family. Any money raised would really take some pressure off him and his family, while he receives treatment. The walk will leave at 9.am from Perks in Youghal to the Midleton GAA club. You can donate at: https://gofund.me/fb0c1767 or contact Fanta at 086-3963263.
UKRANIAN REFUGEES
The GAA are asking members across Ireland to consider accommodating Ukranian refugees in their homes...all the details are in the link below.... https://www.gaa.ie/news/gaa-asks-members-to-consider-accommodating-ukraninan-refugees/