Midleton Hurling and Football, Ladies Football and Camogie Club News
14 April, 2022
SENIOR HURLING
Our senior hurlers picked up their first league win of the campaign on Saturday evening in front of fine crowd at a sunny Clonmult Memorial Park when they came out on top of an entraining encounter with Bishopstown on a scoreline of 2-24 to 2-20.
Midleton led by 2-15 to 2-9 at half-time with the goals coming from Alex Quirke and David Cremin. Our top scorers were: Aaron Mulchay 0-9 and Garan Manley 0-5.
Our next league game is on Saturday week (April 23) against Fr. O'Neills in Aghavine at 4pm.
INTERMEDIATE HURLING
Our intermediate hurlers travelled to Douglas on Sunday morning for their first league game of the year. We trailed by 2-8 to 1-6 at the half-time break and at the final whistle we lost out on a scoreline of Douglas 3-12 Midleton 2-12.
Top scorers: Conor Fitzgerald 0-7 (frees), Paul Connaughton 0-3, Mike Abernethy and Leslie Coughlan 1-0 each.
MIDLETON: Keith Ryan, Alan Power, Charlie Walsh, Cathal Gunning, Adam Fay, Leslie Coughlan, Cian Murray, Sean O'Farrell, Gavin Reddy, Gary Carroll, Cian Crowley, Christian Daly, Paul Connaughton, Michael Abernethy, Conor Fitzgerald.
Our next league fixture is at home to Na Piarsaigh on Friday week (April 22) and we're at home again two days later (April 24) to Aghabullogue at 12 noon.
JUNIOR A HURLING LEAGUE
Midleton 0-8 Cobh 1-12
This was the fourth adult Midleton team to play league action in three days over the weekend. The half-time score was Cobh 1-5 Midleton 0-5 and in the end we lost out by 1-12 to 0-8.
Scorers: Johnny Comer (0-5), Tim O'Sullivan 0-2, Padraig O'Shea 0-1.
MIDLETON: 1 Cillian Hurley, 2 Dan O'Sullivan, 3 Charlie Walsh, 4 Daire Mooney, 5 Colin Sutherland, 6 Aidan Ryan, 7 Evan McCarthy, 8 Luke Deane 9 Aaron Coughlan, 10 Johnny Comer, 11 Padraig O'Shea, 12 Ben O'Neill, 13 James Condon, 14 Tim O'Sullivan, 15 Gavin Reddy. Subs: Coleman Quinn and Andy Rea.
We're back in action this Saturday (April 16) away to St. Itas in Pilmore at 5pm.
JUNIOR B HURLING LEAGUE
We took on Lisgoold at home on Friday night and the game ended in a high scoring and highly entertaining draw on a score of Midleton 4-16 Lisgoold 1-25. The half-time score was: Midleton 2-9 Lisgoold 1-11. James O'Sullivan, Mike Abernethy, Tim O'Sullivan and Cillian Hurley scored our goals.
JUNIOR FOOTBALL
Our Junior A Football League game with Glenbower Rovers was postponed this week due to a bereavement in the Killeagh club.
Our Division 3 team are back in action on Monday evening when they travel to face Aghada in Rostellan at 6pm.
UNDER 19S
We took on Glenville at home in the football league this week and narrowly lost out to Glenville in a very high scoring game. Final score: Midleton 5-5 Glenville 3-13.
MIDLETON: Alex Howard , Ben Kennelly, Neill Fitzgerald, Rory Hartnett, T J Murphy, Colin Sunderland, Liam McGrath, Evan McCarthy (0-1), Niall Corcoran (1-1), James O'Sullivan, Phelem McGann (1-0). Cian Murray, Cathal Beausang, Brian O'Connell (2-0), Evan Kelly (0-3 frees). Subs used: Evan McGrath (1-0), James Condon, Fintan Greenwood.
BEST OF LUCK
Best of luck to Conor, Sam, Sean and Tommy and the Cork senior hurlers as they open their 2022 Munster Senior Hurling Championship campaign against All-Ireland champions Limerick in Pairc Uí Chaoimh on Sunday at 4pm.
We received a very limited number of stand tickets so we did a draw and these were the lucky names that came out of the hat.
IN THE RED OF CORK
It was a great week for Cork underage teams and Midleton players played key roles.
On Tuesday night the Cork minors were too strong for Limerick in Pairc Uí Chaoimh as the young Rebels ran out convincing winners on a scoreline of 4-21 to 2-14. Our own Tadhg O'Leary Hayes put in a great shift at right corner back. Well done Tadhg. Cork are now into the semi-finals on May 3 in Cork.
On Wednesday night the Cork U-20s finished strongly to secure a very hard-fought 1-19 to 1-17 win over Clare in Sixmilebridge. Brion Saunderson lined out in goals and Ciarmhac Smyth was left-corner-back. David Cremin was also on the extended panel. Well done lads. Next up is a clash with Limerick in Pairc Uí Rinn on Wednesday night next (April 20) at 7pm.
LADIES FOOTBALL
JUNIOR COUNTY LEAGUE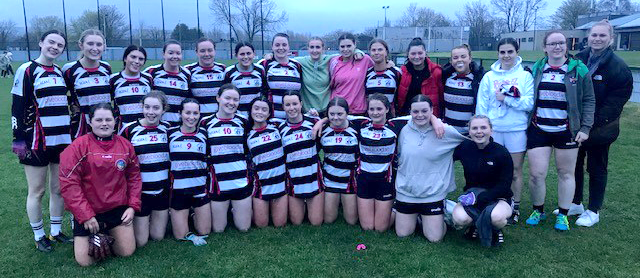 On Monday evening our second Junior Team travelled to St Finbarrs for their first league game of the season. In awful conditions the girls started out the stronger of the two teams. It was a fantastic game of football to watch with some brilliant passing of the ball. Great credit is due to the management who gave every player game time and to the ladies who gave great support to each other. Final score Midleton 5-11 St Finbarrs 3-5.
AZZURI JERSEY COMPETITION
We are calling on our members for their help in an Instagram competition which will take place on April 26th. Midleton Ladies Football will need votes to be in with a chance to win a set of Jerseys for our club. Details will be posted on our Instagram page nearer the time of the competition.
TRAINING
There will be NO training on Easter Bank Holiday Monday, Enjoy the break.
CAMOGIE
FE6 TRAINING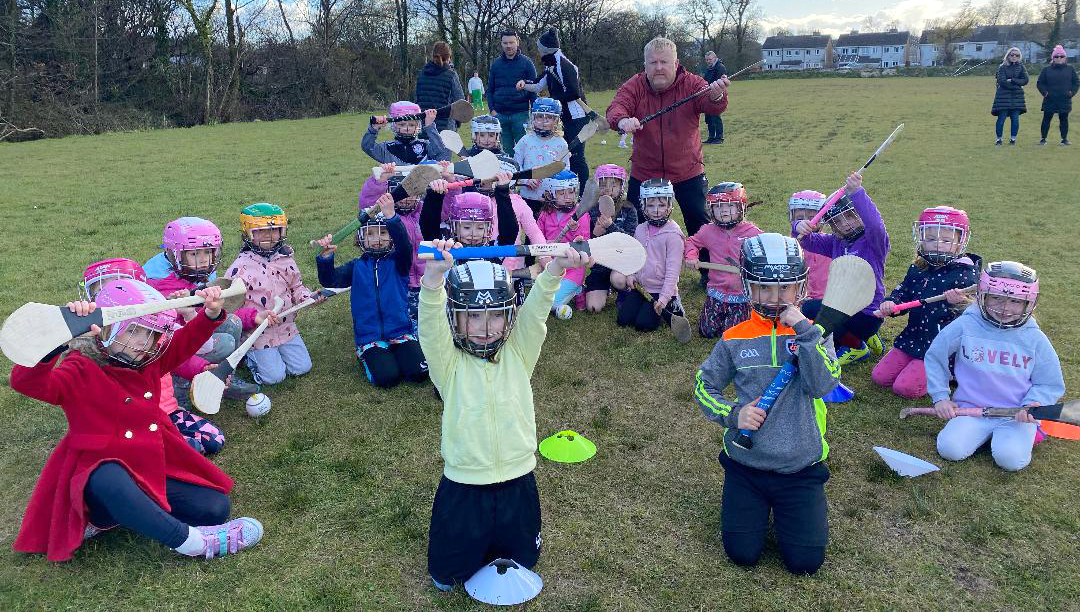 On Friday Night 8th April we welcomed our Fe6 girls on board for the very first time. Great numbers turned up and great fun was had by all. Thank you to all who helped out on the night and made it all happen. A special word of thanks to our coaching Officer Mark O'Sullivan who led the session Friday night see you all again this week for more fun and games! We are actively looking for volunteers for this group, so if you have an hour to spare and would like to join our coaching team please contact Sinead or Ingrid.
FE12 V FR. O'NEILLS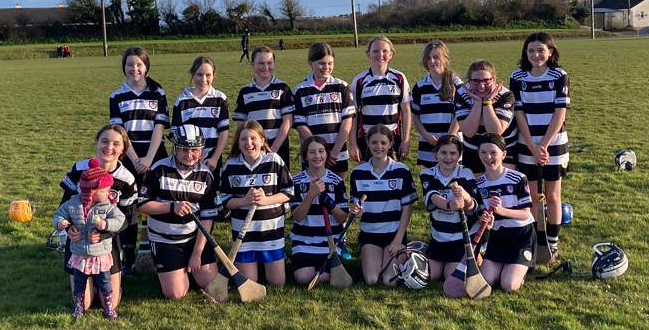 We travelled down to Aghavine during the week with our U-12s and played a great game against Fr O'Neills , fantastic performances from each and every girl on the night. Well done girls thank you to Fr O'Neills for hosting us and for all the parents who came to support us. This was our second match of the week as we played Aghada at home in Park South where again our girls didn't leave us down as great displays of camogie were on show. A special mention to our captain on the day Jessica Sheehan who led her team with pride!
FE13 V SARSFIELDS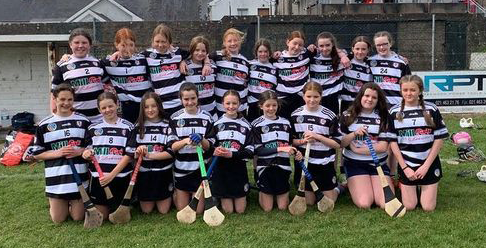 Our U-13 girls were in action again this week with a good competitive challenge game against Sars. Well done to all of the girls who are getting used to playing on the full size pitch. Congratulations to Eabha Kelleher who captained her team on home ground in Clonmult Memorial Park on the day.
IMOKILLY U-15 BLITZ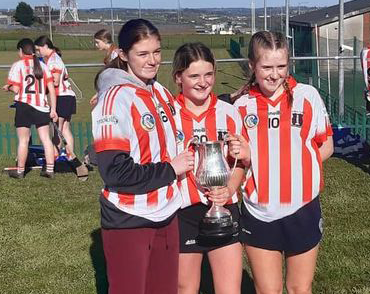 Huge Congratulations to our three Midleton girls - Pippa Hennessy, Kate O'Sullivan and Sorcha Cronin who represented Imokilly, after winning an U-15 interdivisional blitz in St Vincent's GAA over the weekend. Well done girls!
MINOR V FR. O'NEILLS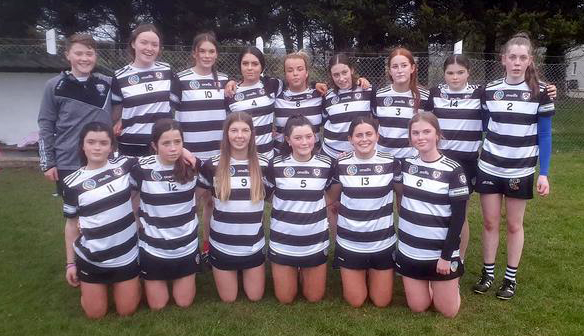 Well done to our Minor ladies after a ferocious battle in Aghavine v Fr O'Neills on Sunday. The Baltic conditions didn't deter our Minor Ladies who dug deep and came out on top in a great game 2-5 to 0-5. Thanks to Fr O'Neills for hosting us again and for a great game. Both sides battled to the very end.
JUVENILES
FE 8 - HURLING V YOUGHAL

This was followed by a hurling blitz this week in Youghal. All the games were keenly contested and we were very pleased with the performance of all our players. The Fé 8management would like to thank the parents of our players for their support at our games.
FE 8 - FOOTBALL V AGHADA
It has been a busy few weeks for the Fé8s. Last week we travelled to Aghada for a morning's Football. It was great to play some competitive games for the first time this year.

FE 9HURLING V YOUGHAL
The first hurling match in the non-competitive Rebel Óg GO GAMES series for the Fé9 group was the visit of Youghal to Clonmult Memorial Park. There were 31 young magpies spread across the four teams and all of the lads performed very well against one of their local rivals.
FE 9 FOOTBALL V AGHADA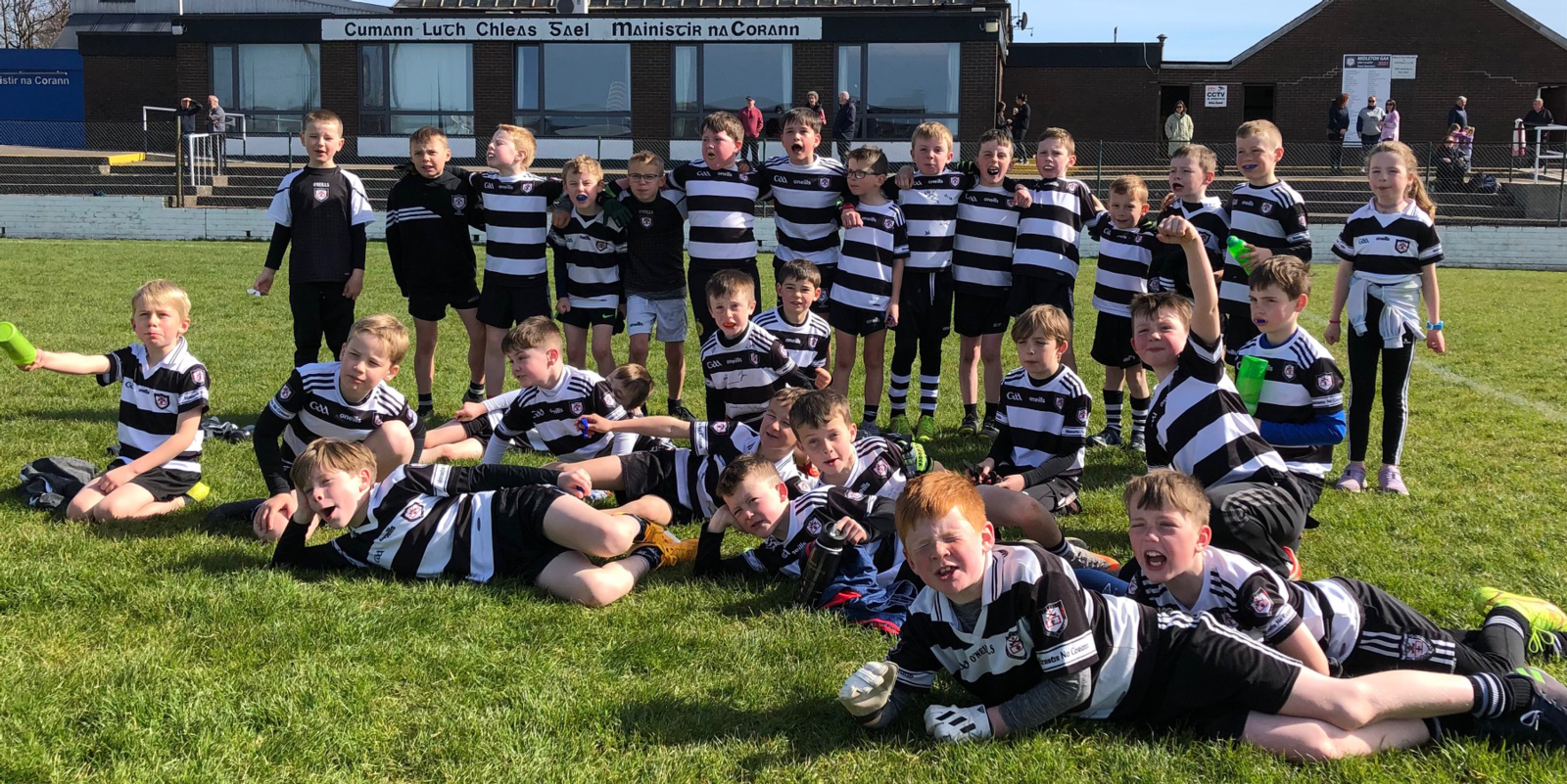 The second football match in the non-competitive Rebel Óg GO GAMES series for the Fé9 group was the visit of near neighbours Aghada to Clonmult Memorial Park on Saturday last. Again we had big numbers with nearly 30 spread across the four teams. The lads showed some exceptional footballing skills throughout the four games played. Thanks to all the parents who came to show their support for the lads in these games.
FE 10 FOOTBALL V NEMO RANGERS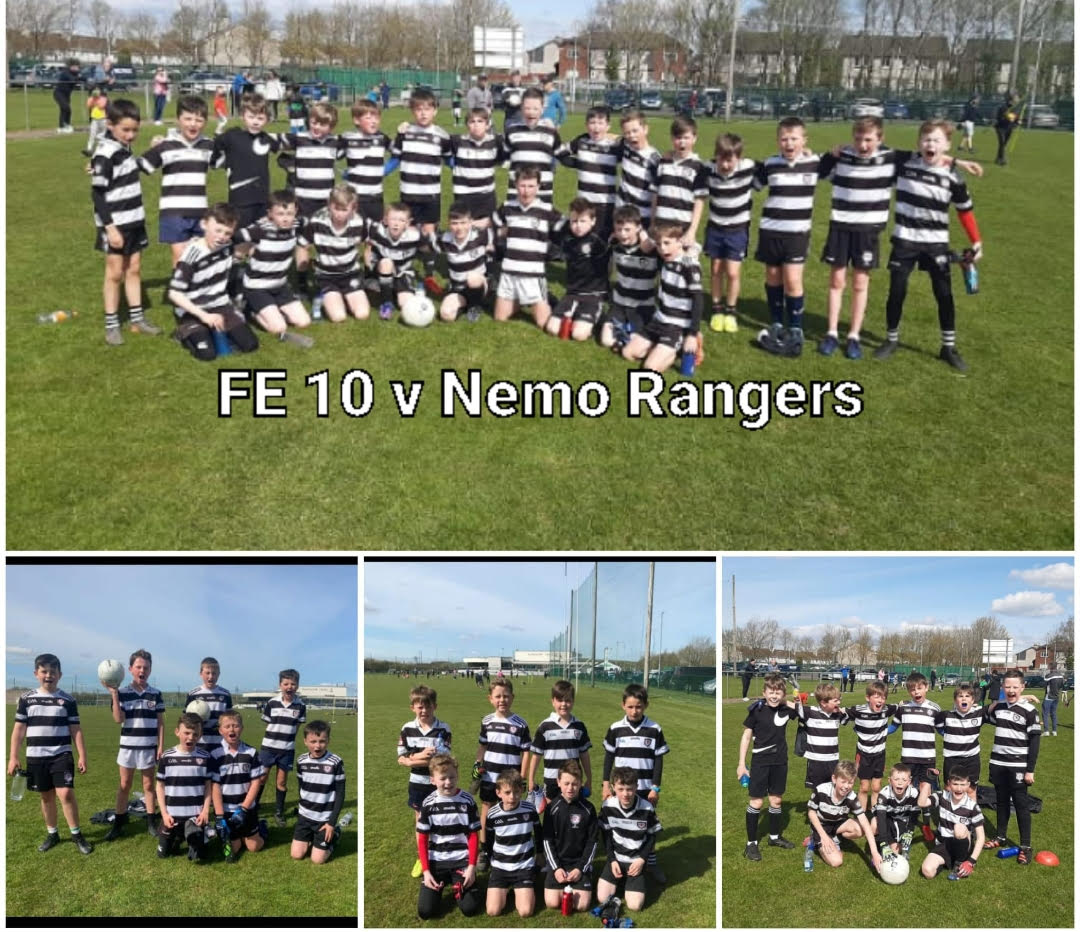 Our Fe10s travelled to Nemo Rangers last Saturday to play them in the Football Go Games.
We brought 25 players to Nemo on Saturday and the lads were outstanding in all the games they played.
We got some great scores throughout each of the games and all our players can be proud of their performances on the day.
We would like to thank Nemo Rangers for hosting us and we would also like to thank all the parents who came out and supported us.
FE 11 HURLING V BLACKROCK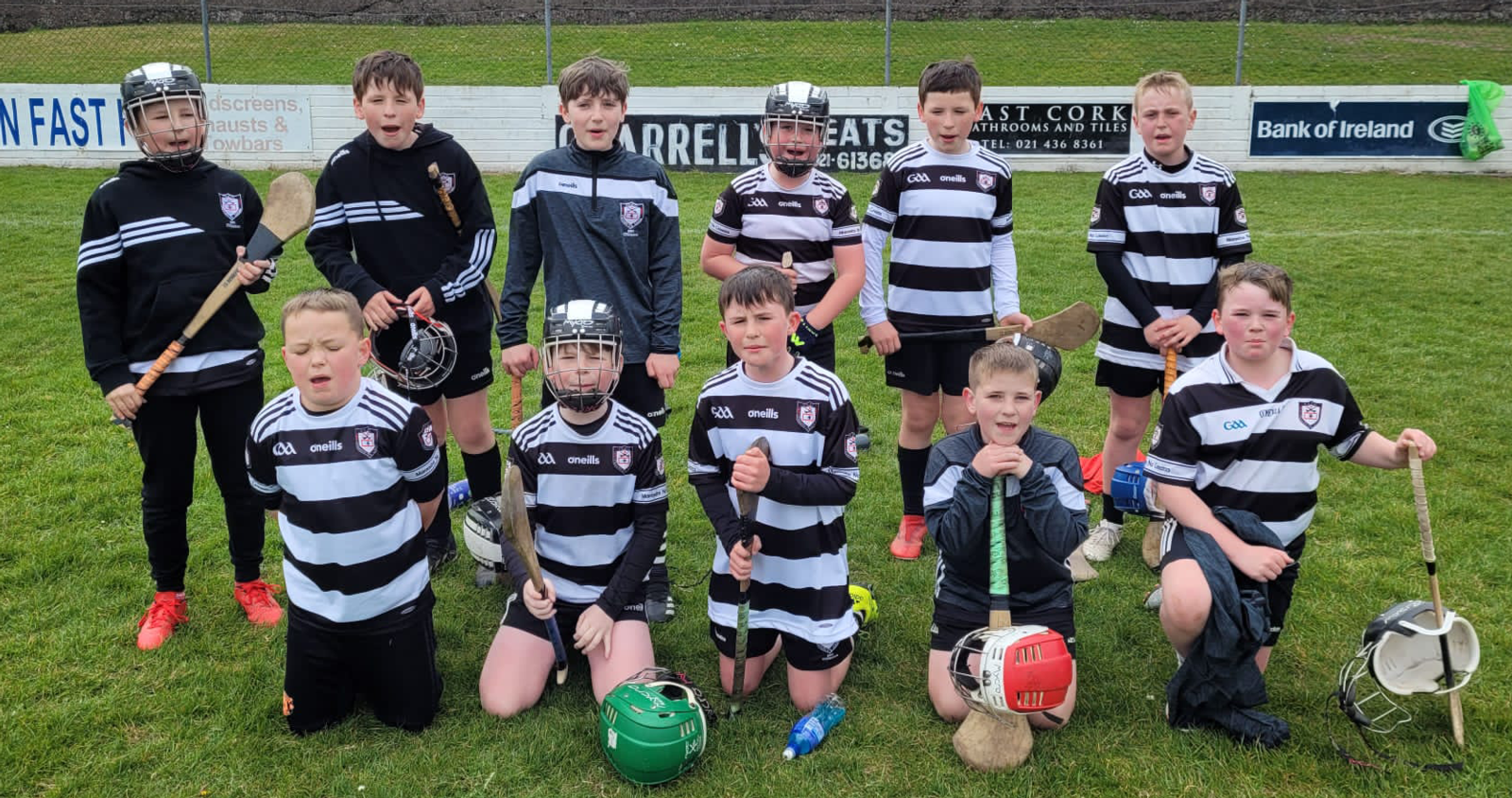 The under 11 boys were out on Sunday, against Blackrock in Clonmult Memorial Park. We had three teams. The lads had three tough and even games. They played really well overall with a lot of good team play.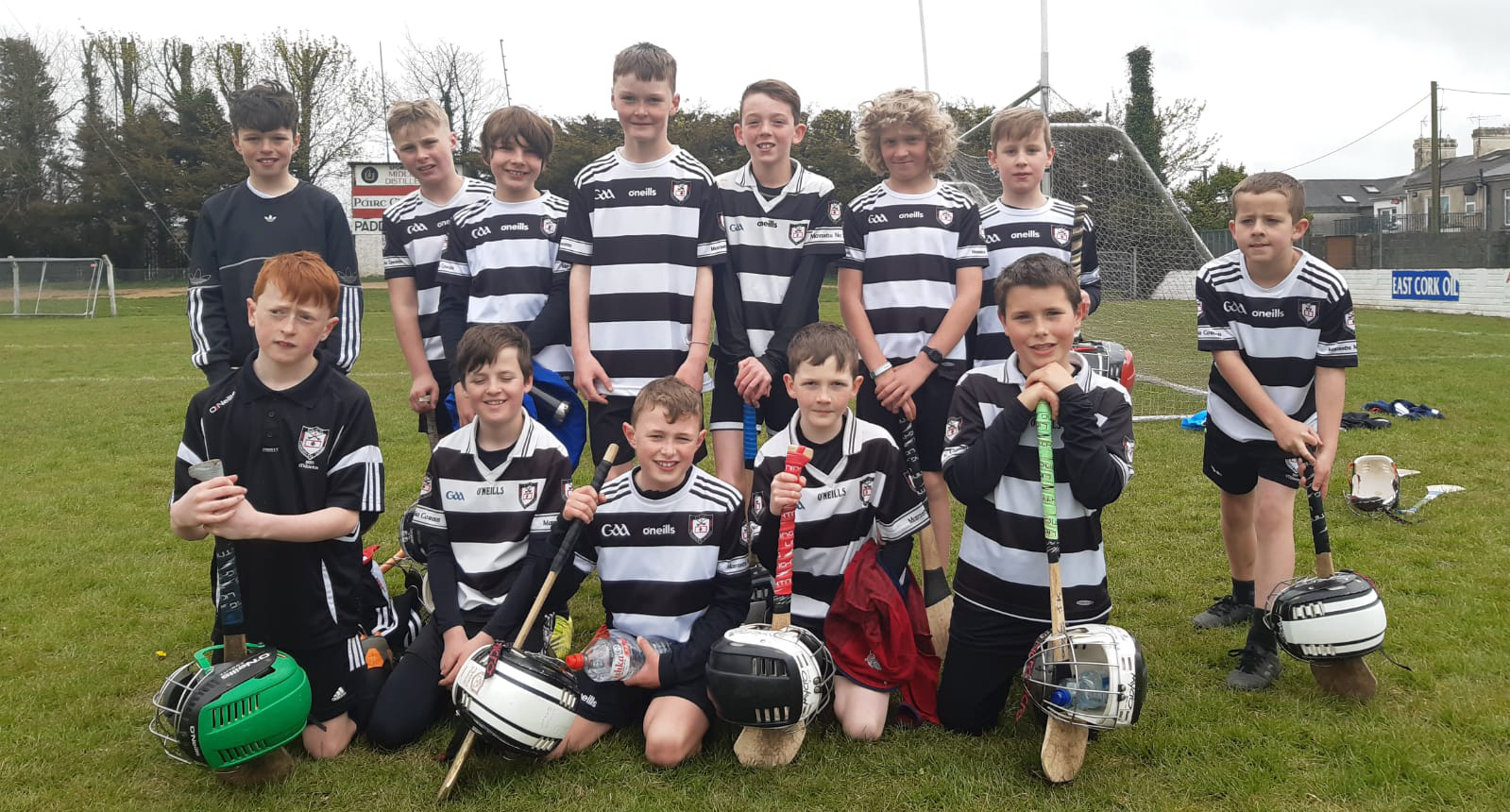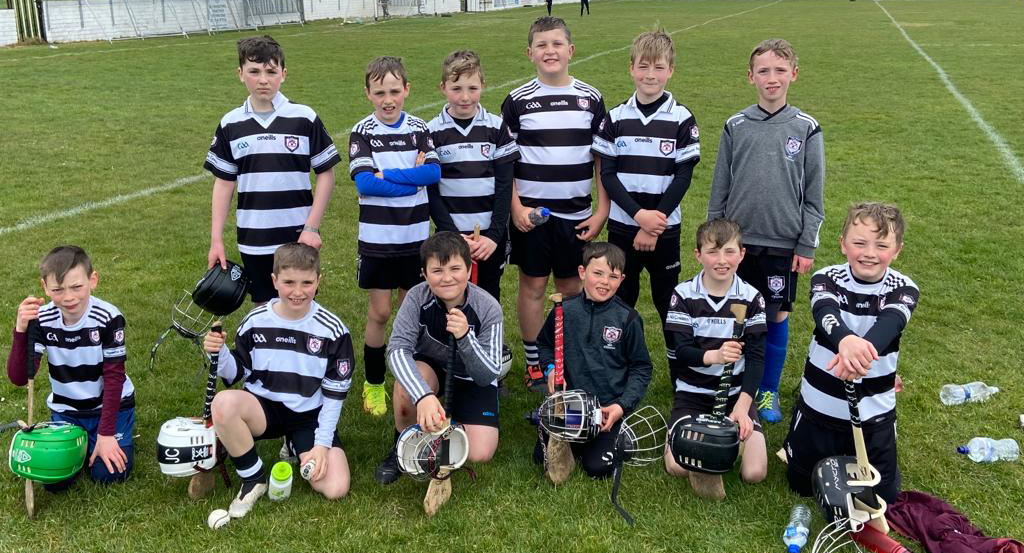 FE 12 FOOTBALL V ST FINBARRS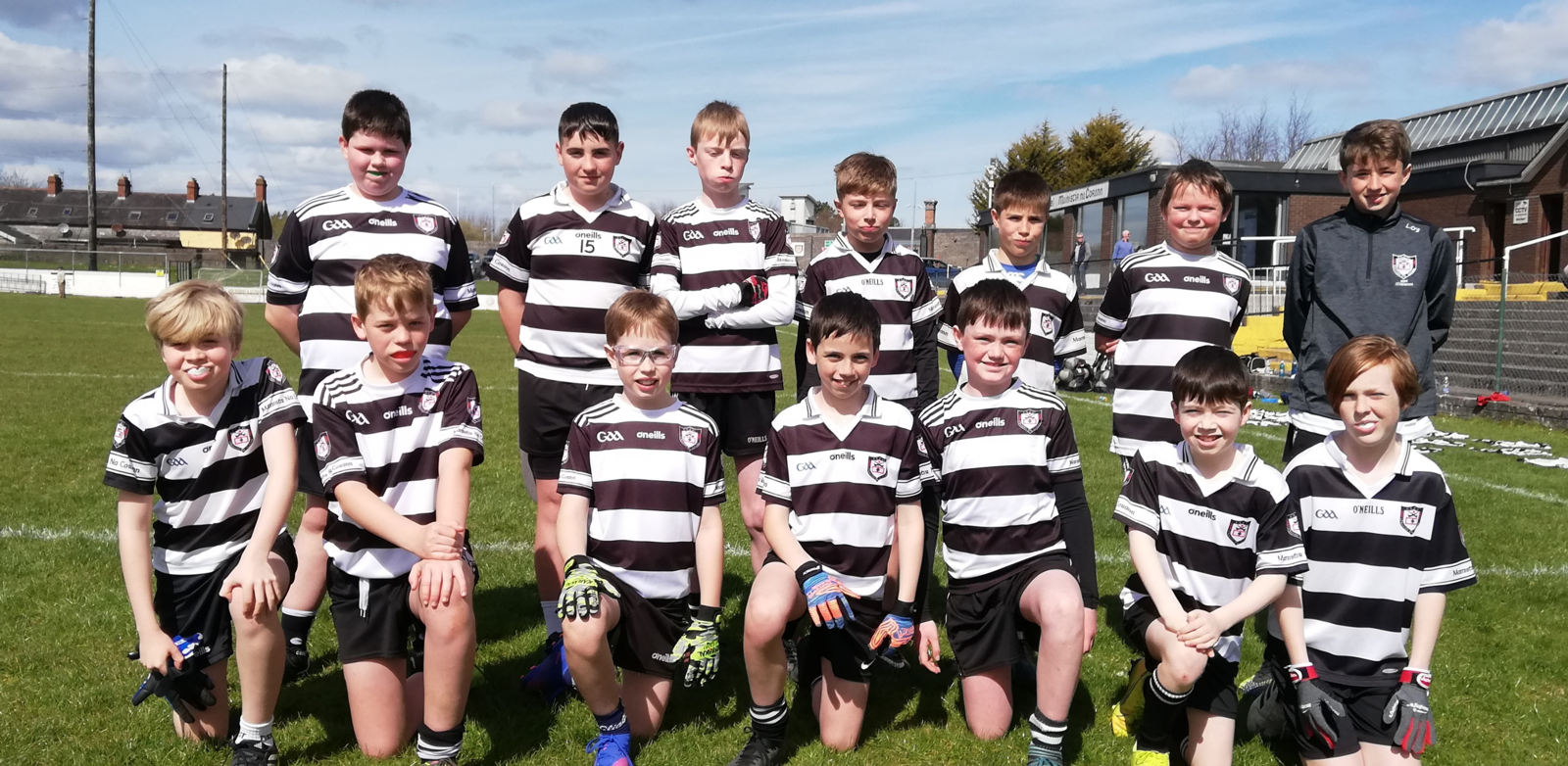 A fantastic morning's football in Clonmult Memorial Park on Saturday last with two challenge games v St Finbarrs in preparation of next week's league openers.
We were happy with the performances in both games even tho one result went against us.
Midleton 3-2 St Finbarrs 4-5
Midleton 3-5 St Finbarrs 1-2.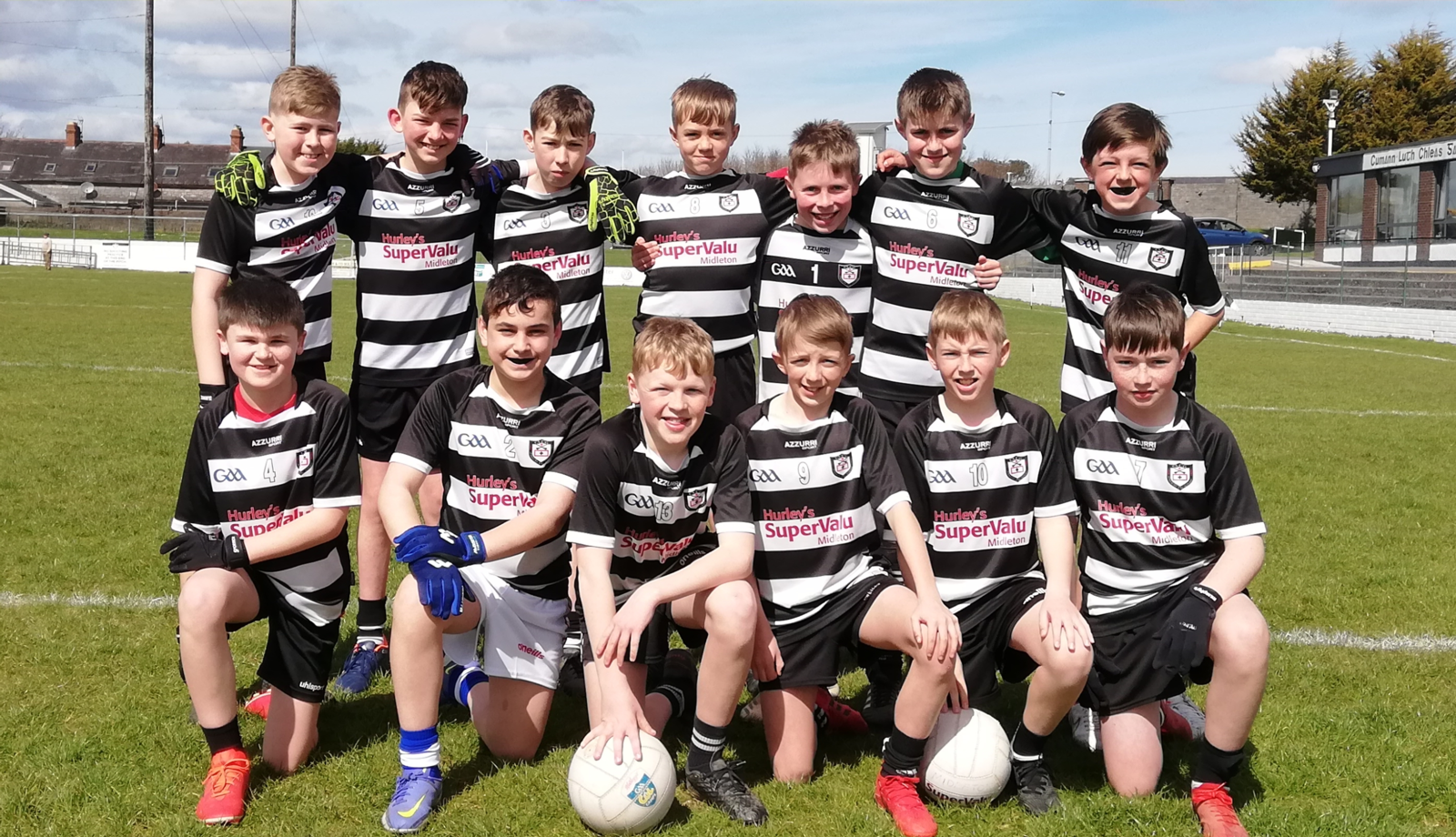 FE14 P2 FOOTBALL V ST. MICHAEL'S
The first competitive Fé14 football match of 2022 was the visit of St. Michael's to Clonmult Memorial Park. It was no joke playing against a stiff breeze in the opening half, and at half time there was only a couple of scores in it, the score board reading 1-3 to 0-2 to Midleton. However, after the resumption the lads powered with an excellent display, and in the end emerged victorious on a final score line of 7-7 to 0-6. The goals on the night were scored by Darragh Mullins, Scott Dunlea and Michael Allegrini with some excellent finishing on display.
MIDLETON: Bradley O'Brien, Jason Morley, Harry Waterman (captain) Adam Spillane, Jack Walsh, Shane O'Mahony, Cuan Twomey, Senan Carroll, Darragh Mullins, Ruairi O'Riordan, Cian Lawton, James O'Meara, Jamie O'Donovan, Scott Dunlea, Sean Gregory, Rian Casey, Dara Birdthistle, Ewan Murphy, Fionn Bohan, Patrick Collins, Patrick O'Dowd, Michael Allegrini, Donnacha Horgan, Michael Barrett.
Fé14 P1 HURLING V DOUGLAS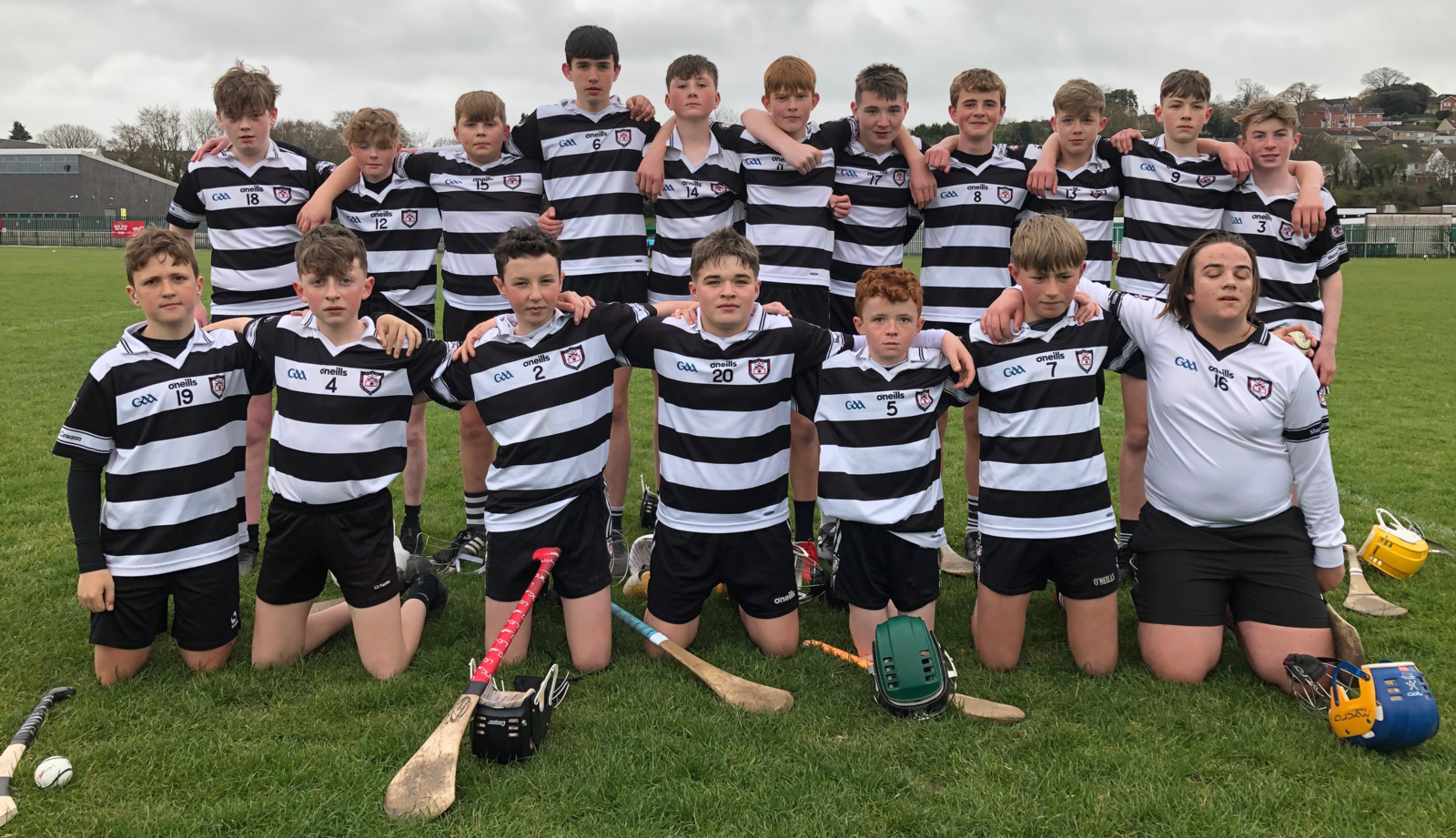 The second competitive Fé14 hurling match of 2022 was a trip to Douglas in the P1 league. A well taken goal early on from James Carey set the tone for the evening with the lads playing some good hurling in the opening half against a slight breeze. However, Douglas were never that far off and despite a second goal by Ewan Murphy, there was only three points in it at half time, Douglas 0-7 Midleton 2-4. However, a strong second half performance by the lads, with another goal by Ewan Murphy meant that the lads secured a well-deserved first victory in the P1 grade this year on a final score of Douglas 0-12 to Midleton 3-13.
MIDLETON: Michael Allegrini, Ruairi O'Riordan, Jason Morley, Patrick Collins, Jack Walsh, Senan Carroll, Scott Dunlea, Cian Lawton, Patrick O'Dowd, Dara Birdthistle, Shane O'Mahony, Darragh Mullins, James Carey, Max Murphy, Ewan Murphy, Adam Spillane, Bradley O'Brien, Michael Barrett.
FE 15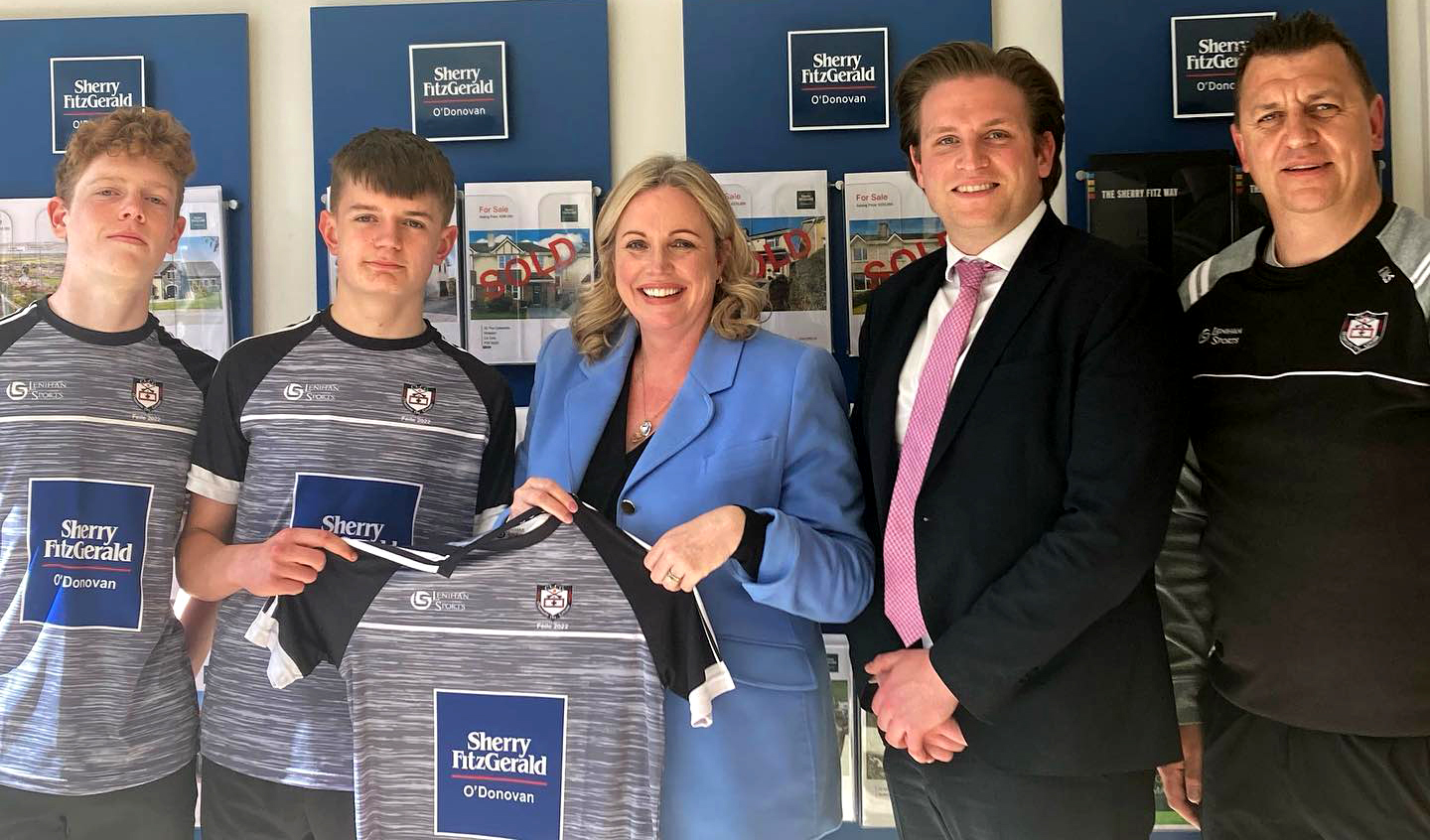 A big thank you to Sherry FitzGerald O'Donovan Midleton for sponsoring a set of training tops for our Fe15 team. Pictured above are Clare Fox and Ed O'Donovan, Sherry FitzGerald O'Donovan, Kevin McSweeney Manager, Midleton Fe15s, Matthew McSweeney and Josh Foley, Fe15 team.
Our Fe15s are in Féile action this Saturday in Douglas. These are their fixtures. Best of luck lads.
Pitch 1 Pitch 2
10.30am Round 1 Douglas v. Inniscarra Midleton v. Sarsfields
11.15 am Round 2 Douglas v. Midleton Sarsfields v. Inniscarra
12 Noon Round 3 Douglas v. Sarsfields Midleton v. Inniscarra
All Group Games are 12 minutes aside with a 5 minute interval
Semi-finals: Monday, April 18 at 5.30pm, Douglas
Final: Monday, April18 at 6.30 pm @ Douglas
All semi-finals and final games are 15 minutes aside with five minutes interval.
C3 LEAGUE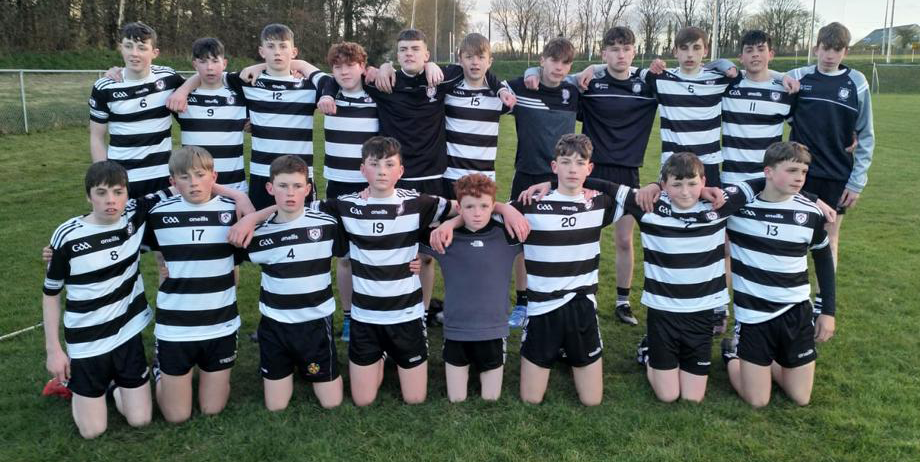 Our U15 hurlers out up a great effort in their first C3 league game of the year. They played fantastic stuff but unfortunately came out the wrong side of a 3-11 to 3-7 defeat away to Inniscarra. A big thank you also to our U14's players Max, Jack, Scott and Patrick who gave a great account of themselves. They were back in action on Monday night when they had a great 0-11 to 1-7 win over Douglas at home.
CELTIC LEAGUE
Well done to the East Cork U-17 Celtic League team who had a good win last weekend against Kilkenny. We were represented by Zach Smith, Dara Scanlon and Alex Moloney and coach, Cormac Quirke.
JUVENILE FIXTURES
FRIDAY, APRIL 15
Rebel Og Coiste Fe14 Hurling League 15 aside Group 1
Sarsfields v Midleton at 6.30pm at Riverstown
SUNDAY, APRIL 17
Rebel Og Coiste Fe17 Premier 1 Hurling League
Midleton v Ballincollig at 11am in Midleton
MONDAY, APRIL 18
Rebel Og Coiste Fe13 Premier 2 Football Grading League Section 2
Midleton v Bride Rovers at 7pm in Midleton
THURSDAY, APRIL 21
Rebel Og Coiste Fe13 C3 Football Grading League Section 3
Midleton C3 v Bride Rovers C3 at 7pm in Midleton
DATES FOR YOUR DIARY
Put a reminder in your diary for the 2022 Midleton GAA Golf Classic. It will take place at East Cork on July 20/21. More details in the coming weeks.
CHILD SAFEGUARDING WORKSHOP
Midleton GAA will run a child safeguarding 1 workshop on 27th April 2022 in the club. To book a place on the course please email childrensofficer.midleton.cork@gaa.ie.
GARDA VETTING
Garda vetting has now migrated to Foireann.
Please see the link below for guidance on the new process. If you have any further queries please contact your club children's officer at childrensofficer.midleton.cork@gaa.ie.
https://gaa.ie/the-gaa/child-safeguarding-and-protection/vetting
GYM REOPENED
Our club Gym has now re-opened to members. Access FOBs have been re activated.
Please note that some of the equipment will be undergoing some service work over the coming weeks so apologies in advance for any inconvenience.
LOTTO DRAW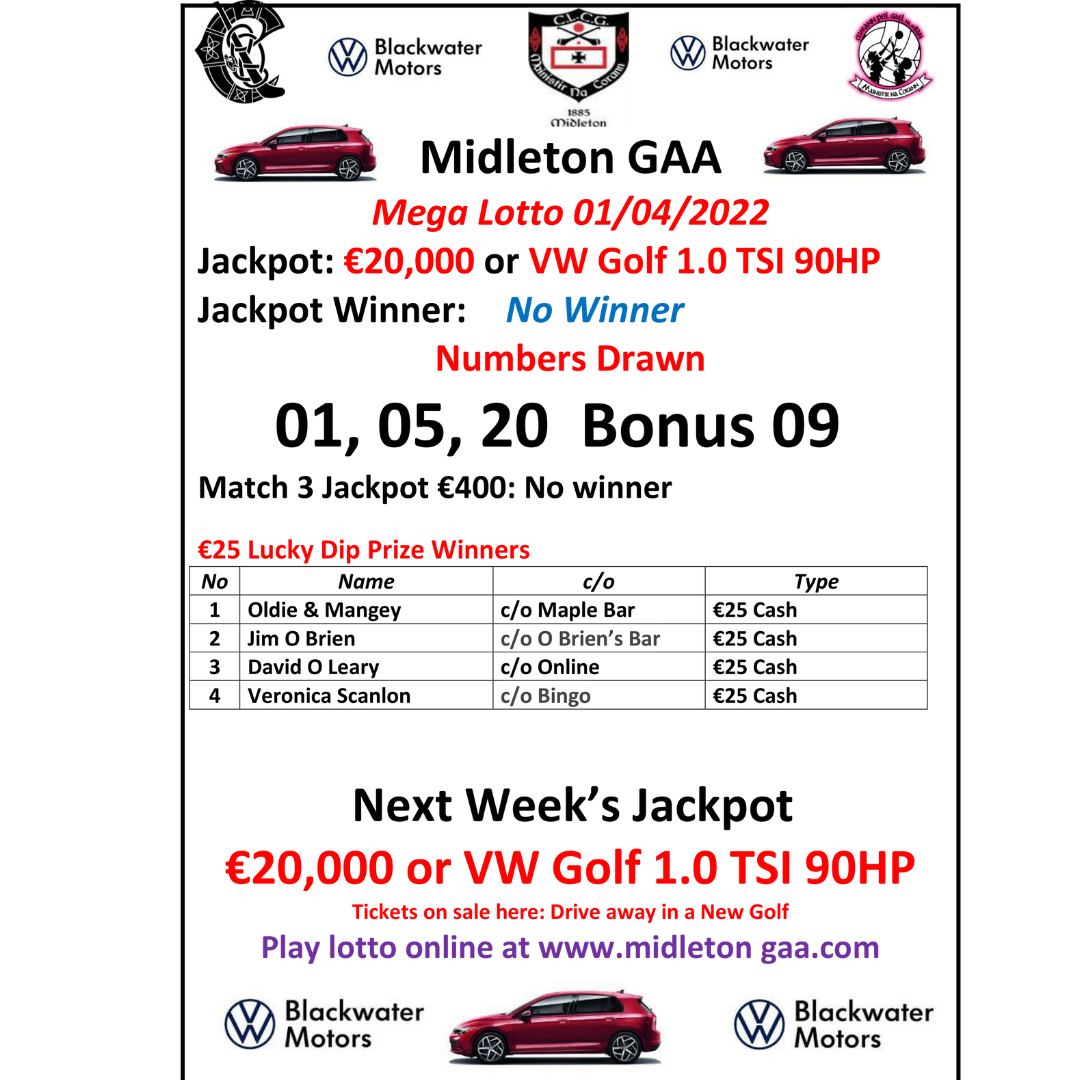 The numbers drawn were: 1,5,20 and bonus was 9.
We had no Jackpot or Match 3 Jackpot winners. The lucky dip winners were: Oldie & Mangey, Jim O'Brien, David O'Leary and Veronica Scanlon, who all won €25 in cash.
Thanks to everyone who supports the lotto.
In total Midleton GAA will give out local business vouchers to the value of €3,800 every year as part of our "Shop Local, Buy Local" campaign.
How to play: tickets are on sale at Pat Walsh Paints, Chadwicks, Frank Murphy Butchers, Murphy's Pharmacy, Crowley Butchers, or buy online at https://www.klubfunder.com/Clubs/Midleton%20GAA/lotto
BINGO
Our Bingo continues on Friday nights (including Good Friday, this week) with an early game at 7.25pm. Everyone is welcome.
CLUB SHOP
The Midleton GAA club shop is back up and running for the 2022 season but please note that it's still online with collection only at the club on a Saturday morning.
All you have to do is go to the Klubfunder website (https://www.klubfunder.com/Clubs/Midleton%20GAA/ShopItems) and you will see the full range of what's available to buy. You can shop away to your heart's content, pay for it online and then collect your purchases at the club shop on Saturday morning between 9.30am and 10am. Thank you.
GOLF SOCIETY
Midleton GAA Golf Society Easter Hamper takes place on this Saturday (April 16) at East Cork Golf Club. Kindly sponsored by Philip O'Brien Mazda. Tee time: 12 noon to 1.30pm. Competition fee €10. Membership of the society is €20 for the year.
SOCIAL DANCING
Dancing this Saturday night to Adrian Ryan, 9.15pm to 11.30pm. A great night's music and dancing is assured.
FUNDRAISER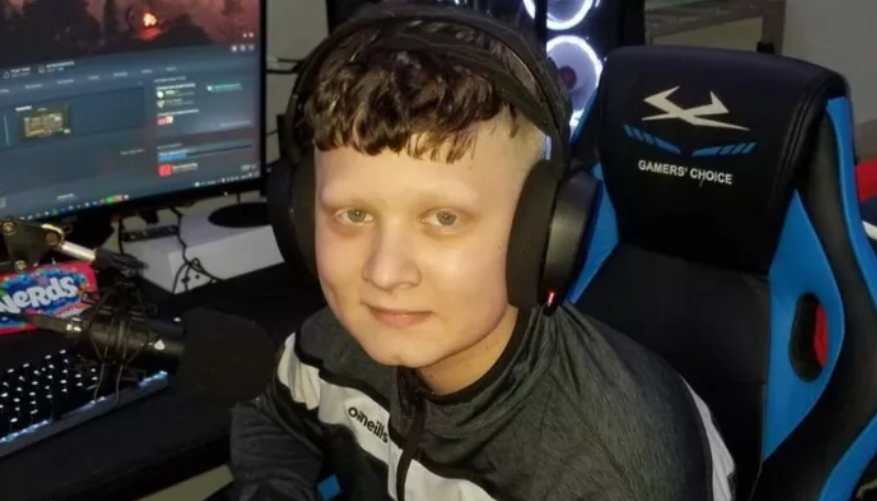 Midleton Camogie Coaching Officer Mark 'Fanta' O'Sullivan will walk in a full fireman suit, from Youghal to Midleton on May 7 to raise funds for Midleton GAA underage player Kacper and his family. Any money raised would really take some pressure off him and his family, while he receives treatment. The walk will leave at 9.am from Perks in Youghal to the Midleton GAA club. You can donate at: https://gofund.me/fb0c1767 or contact Fanta at 086-3963263.
UKRANIAN REFUGEES
The GAA are asking members across Ireland to consider accommodating Ukranian refugees in their homes...all the details are in the link below.... https://www.gaa.ie/news/gaa-asks-members-to-consider-accommodating-ukraninan-refugees/
CONDOLENCES
Sincere sympathies from everyone in Midleton GAA this week to the family of Michael Finn, Ballycotton.
Ar Dheis Dé go raibh a anam.