Midleton Hurling and Football, Ladies Football and Camogie Club News
31 March, 2022
SENIOR HURLING LEAGUE
Our senior hurlers made the long journey to Newtownshandrum on Sunday last to play their second game in the County Senior Hurling League. They led by 1-12 to 0-9 at the half-time break but in the end it was the home side who came out on top on a scoreline of 2-17 to 1-19.
Next up is a home game against Bishopstown on Saturday week, April 9, at 6pm.
JUNIOR A HURLING LEAGUE
Our Junior A hurlers began their league campaign at home to Erins Own at Clonmult Memorial Park on Sunday evening last and they took all the points after an extremely high scoring encounter. The half-time score was: 2-11 to 1-8 in favour of the visitors but an excellent second-half by the Magpies saw them win through on a final score of 6-13 to 4-16.
Lochlan McCarthy was our top scorer with 1-3. The other goalscorers were: Conor Fitzgerald, Evan McCarthy, Evan Kelly, Cathal Beuasang and Phelim McGann. Mikey Finn got three points and Padraig O'Shea got 0-2.
Scorers: L. McCarthy 1-3, C. Fitzgerald 1-1, E. McCarthy, E. Kelly, C. Beausang and P. McGann 1-0 each, M. Finn 0-3, P. O'Shea 0-2.
MIDLETON: Peter Dowling, Alan Power, Charlie Walsh, Colin Sunderland, Aaron Coughlan, Dan Cagney, Evan McCarthy, Lochlan McCarthy, Mike Finn, Johnny Comer, Aidan Ryan, Padraig O'Shea, Tim O'Sullivan, Mark O'Keeffe, Conor Fitzgerald.
FE 19
The first ever Midleton team played a game at the U-19 grade this week as our footballers travelled to Caherlag to face Erins Own. It was the home side who came out on top on a scoreline of 2-12 to 2-13.
MIDLETON: Alex Howard, Niall Fitzgerald, Adam Fay, Colin Sunderland, Niall Corcoran (1-0), Daragh McCarthy, Liam McGrath, Stuart O'Connor, Tiernan Roche, Evan Kelly (0-1) Evan McCarthy, Mikey Finn (0-1), Rory Hartnett (0-1), Cathal Beausang (1-0).
They play their first hurling league game next Wednesday night in Midleton at 7pm against Ballincollig.
BEST OF LUCK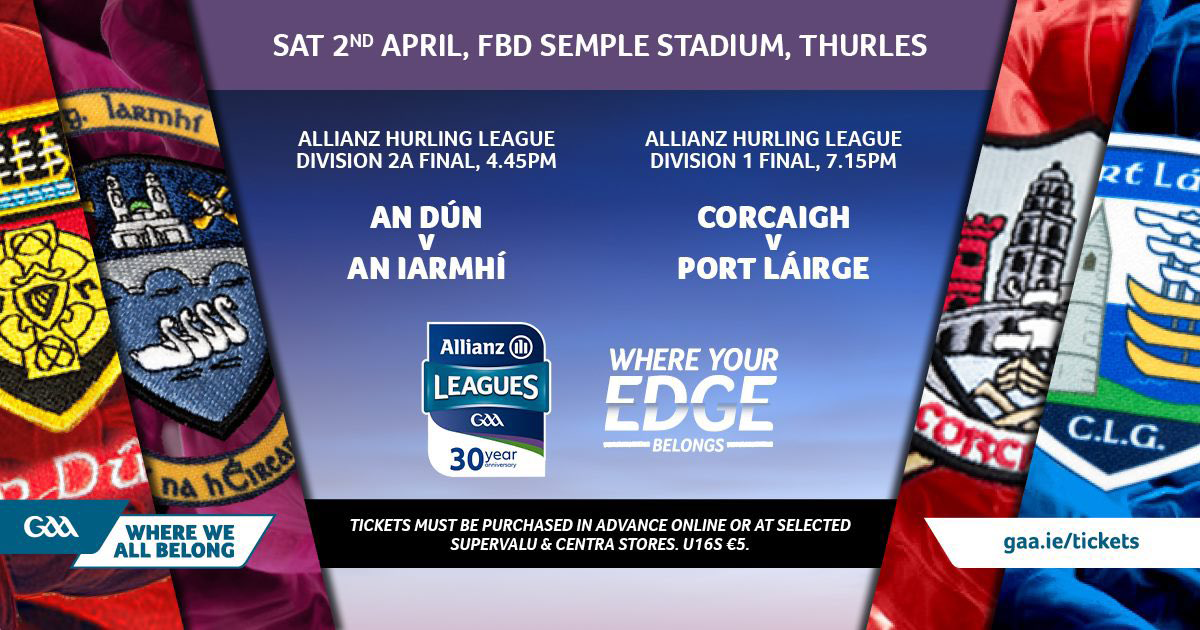 Best of luck to Conor, Sean, Sam and Tommy and Cork in their National Hurling League final clash with Waterford in Thurles on Saturday night. Conor played a starring role in the Rebels' semi-final win over Kilkenny last Saturday night and Sam Quirke came on as a sub.
Tickets for Saturday night's league final can be purchased at the link below or Super Valu or Centra stores:
https://www.ticketmaster.ie/event/18005C799BB17B06
BABY JOY
A big congratulations to Brendy Ferriter and his wife Linda on the arrival of their new son, Oisín, recently.
WEDDING BELLS
The very best of luck to Midleton hurler and footballer, Shane Ryan, who gets married tomorrow (Friday) in Kinnitty, County Offaly to Roisin Coughlan. I've no doubt there will be plenty of hurling talked at that wedding as Roisin is the daughter of former Offaly star and two time All-Ireland winner, Ger.
JUVENILES
FE10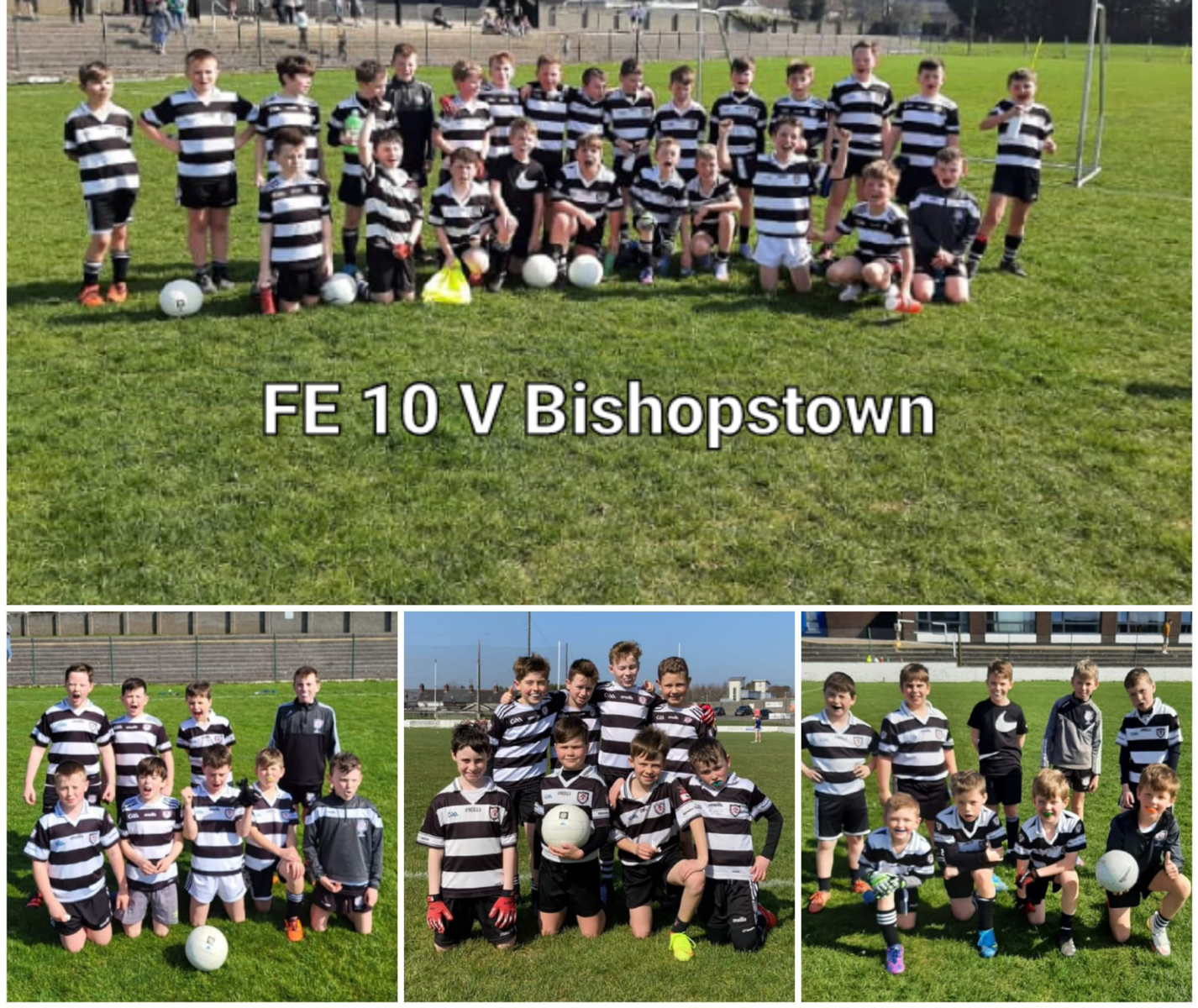 Our lads played their first of this year's Go Games at Home to Bishopstown in Gaelic Football on Saturday.
The weather conditions were perfect for this and we had 27 Players in attendance divided into three groups of 9 a side.
Our lads were outstanding on the day and got some great scores throughout each of the games.
We would like to thank Bishopstown U-10S for making the trip from the City and we will look forward playing them again in the near future. Once again we would like to thank the parents in this group for their great support.
FE12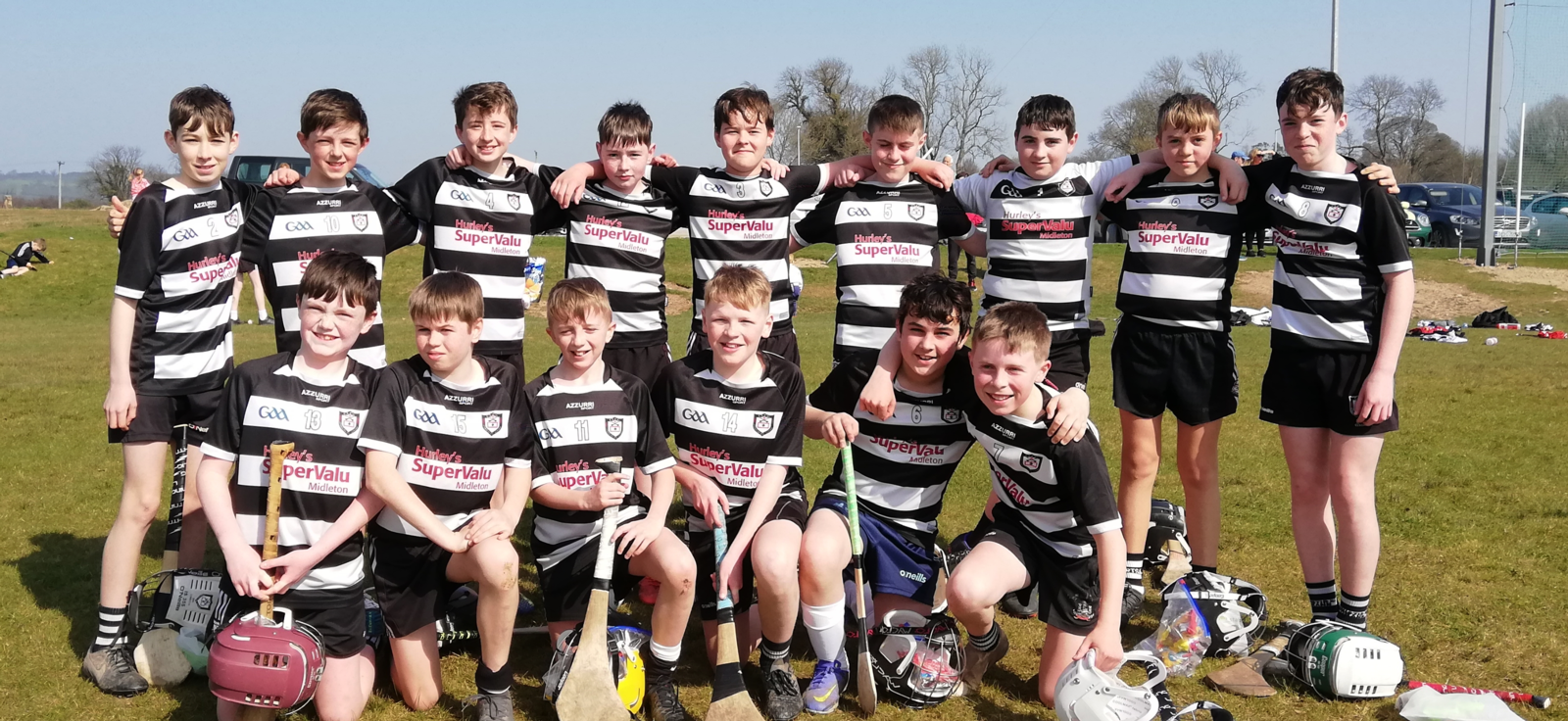 The Fé12 boys had a busy Saturday with two challenge games at home in Park South, in preparation for next month's league openers.
P1s v Lisgoold and C3s v Brian Dillions. Both groups played some fantastic hurling, coming away with wins in both games. Keep up the good work lads, training continues this week.
Midleton 5-8 Lisgoold 3-5 (pictured above)
Midleton 5-1 Brian Dillons 1-1 (pictured below)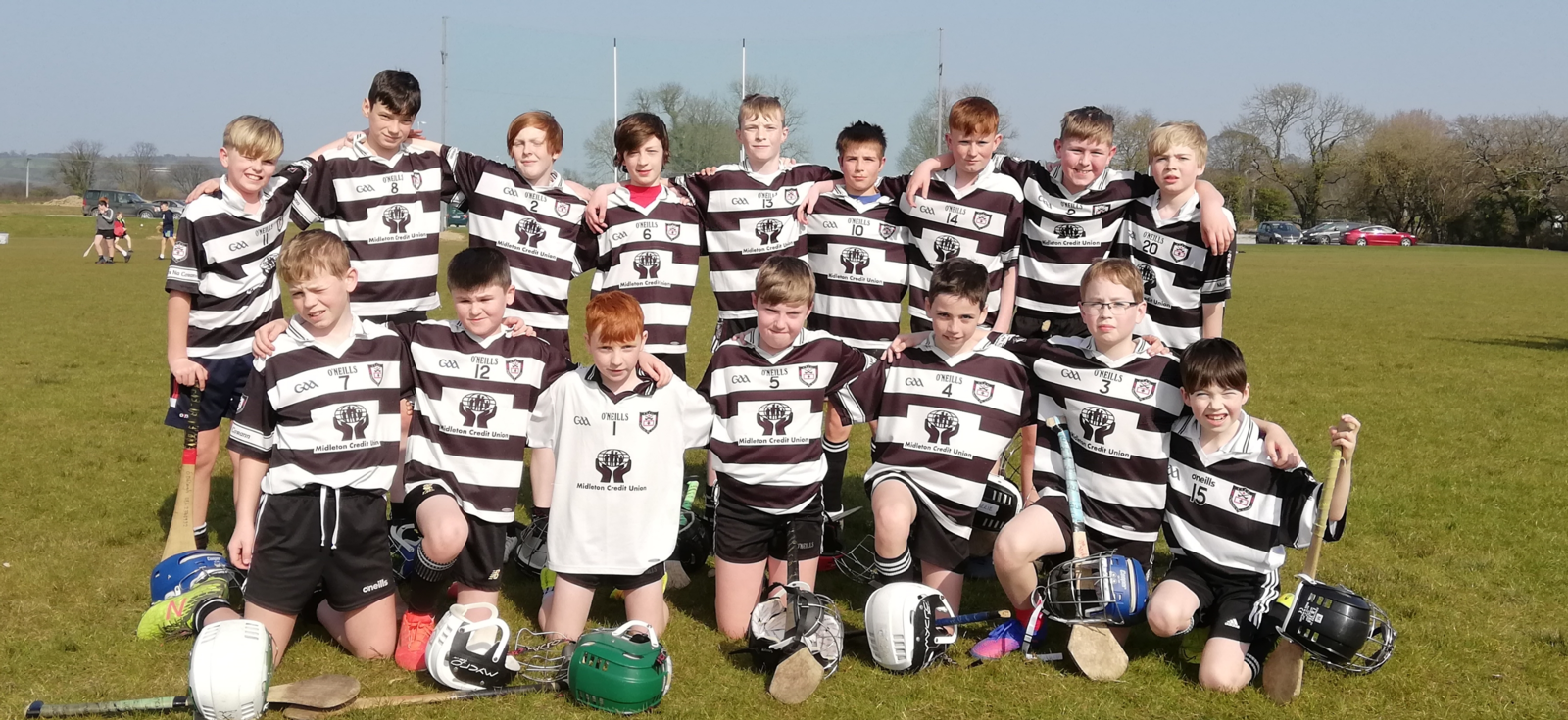 FE13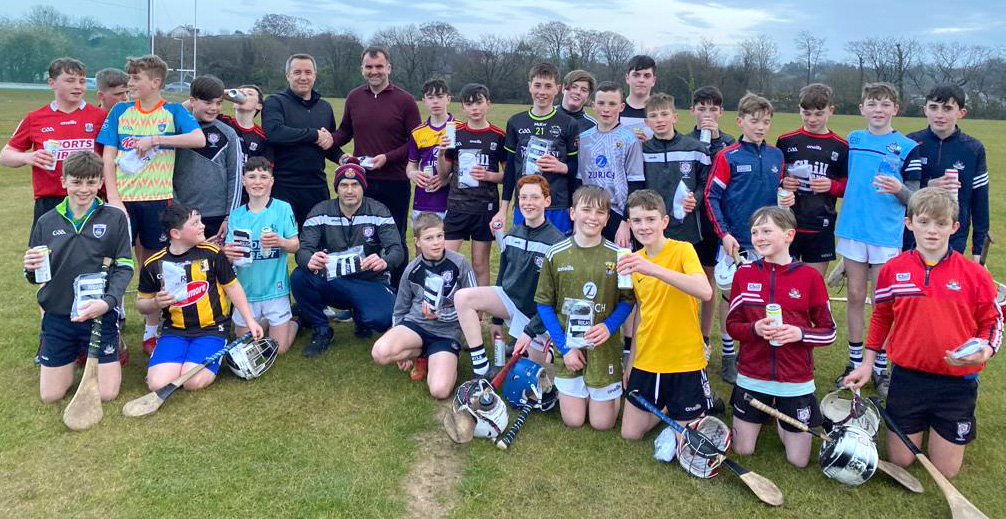 The FE13 P2 team had a great result last weekend when they defeated Youghal on a score of 4-8 to 3-8.
The FE13 management team would also like to say a huge thank you to Thomas Cahill of Roca Sports who recently presented the squad with a smashing set of new socks for the season ahead.
FE15
The Fe15 C3 team took on Sars in a challenge game at Park South on Sunday.
FE17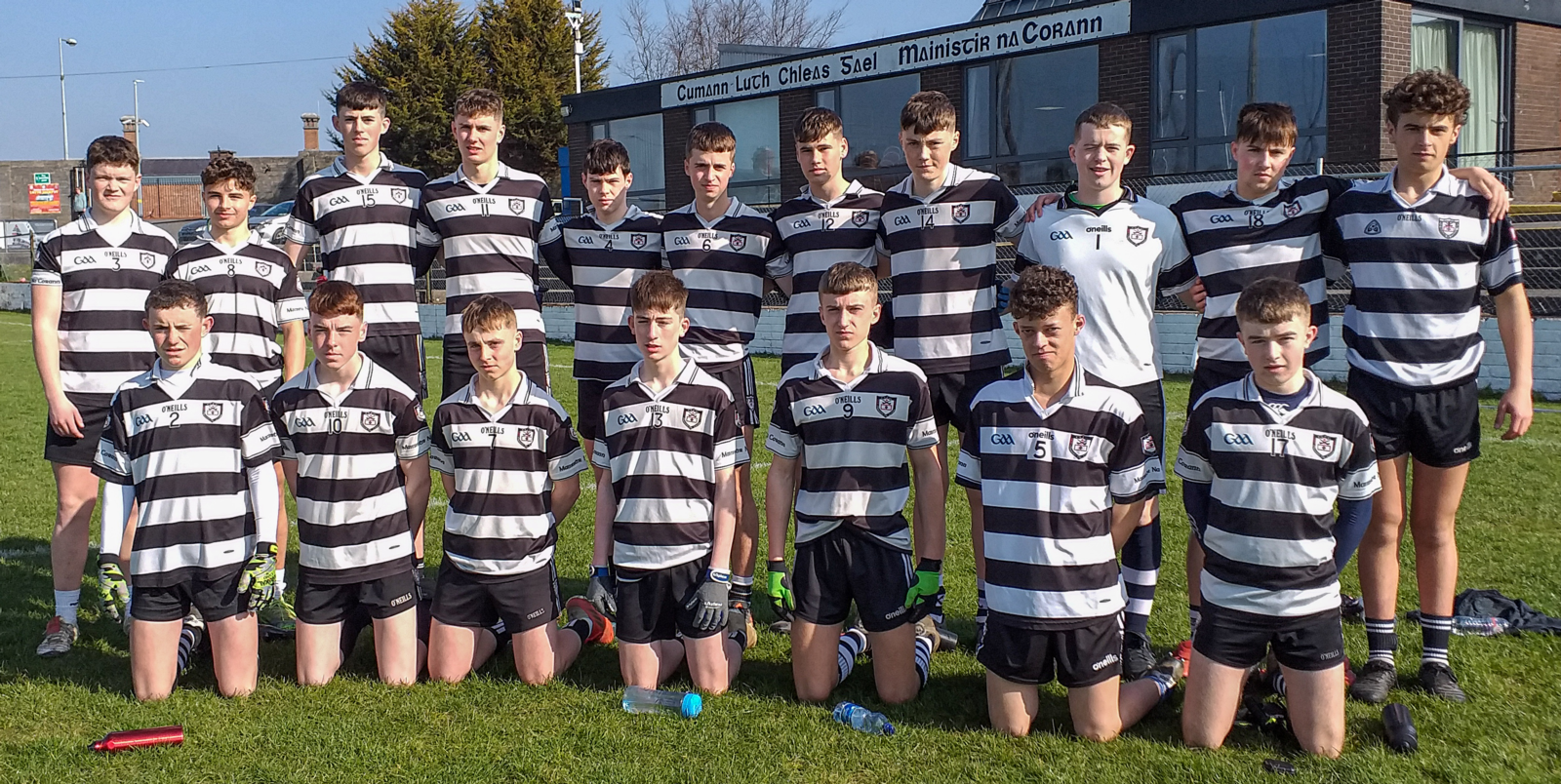 It was a great week for the Fe17 footballers as they played two league games and won both of them. They defeated St. Catherines by 4-4 to 2-4 in Ballynoe before accounting for St. Nicks by 1-11 to 1-5 at Clonmult Memorial Park. Well done lads.
JUVENILE FIXTURES
Friday 1st April
Fe17 Premier 1 Hurling League
Fermoy 1 v Midleton 1 at 6.30pm in Fermoy
Fe14 Football League 15 aside Group 2 section 1
Midleton v St Michaels at 6.30pm in Midleton
Saturday 2nd April
Fe17 C3 Hurling League Section 1
Midleton 2 v Aghada 2 at 1pm in Midleton
Fe13 Premier 1 Hurling Grading League Section 1
Douglas v Midleton at 5pm in Douglas
Monday 4th April
Fe14 Hurling League 15 aside Group 1
Douglas v Midleton at 6.45pm in Douglas
Tuesday 5th April
Fe13 Premier 2 Football Grading League Section 2
Erins Own v Midleton at 7pm in Midleton
Thursday 7th April
Fe13 C3 Football Grading League Section 3
Mallow C3 v Midleton C3 at 7pm in Mallow
LADIES FOOTBALL
EAST CORK FOOTBALL FINAL

On a beautiful Sunday afternoon our Junior Ladies Football team played Watergrasshill in the 2021 East Cork A Football final. A fantastic team effort saw some great football on display. Midleton were ten points up at half-time and they kept the pressure on in the second-half. Well done to all the players and management. Team Captain Lucy Lawton was delighted to collect the cup on behalf of the team.
Final score Midleton 3-12 Watergrasshill 1-2.
UNDER 14 LADIES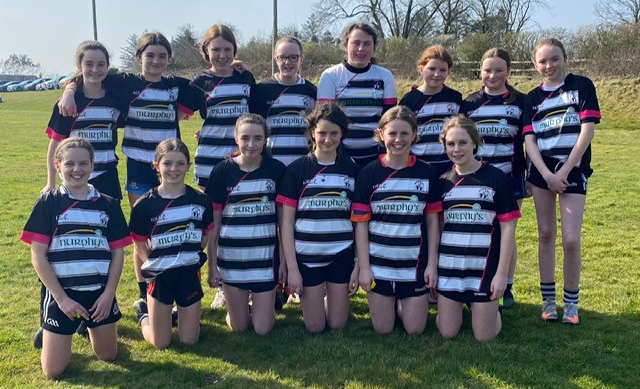 Our U-14 girls started their league campaign on Sunday last against Glanmire. This was a tough outing for the girls but they put in a brilliant team display which saw them loose out by a single point.
TRAINING TIMES
The stretch in the evenings will see a change to our training times and venues for some teams. A text will be sent out to all groups with details.
BEST OF LUCK
We would like to wish St Mary's High School, Midleton and our club players the very best of luck this Saturday, April 2, when they play Moate CS in the Senior A All-Ireland Final in Bruff, Co. Limerick.
CAMOGIE
FE9S RETURN TO TRAINING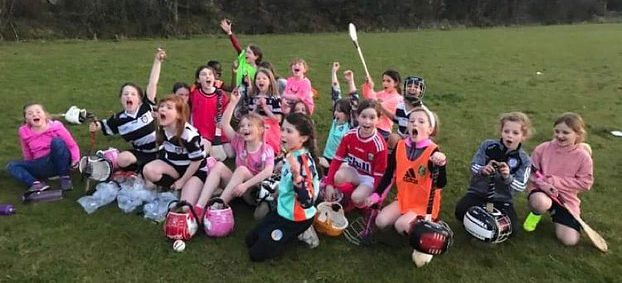 A huge welcome back to our U-9 group who returned to training for the first time this year! All the girls were rearing to go and we would especially like to welcome our new players on board! Thanks to all who helped out on the and gave up their time to settle in our newcomers, see you all again next week .
FE16 CHALLENGE V ERINS OWN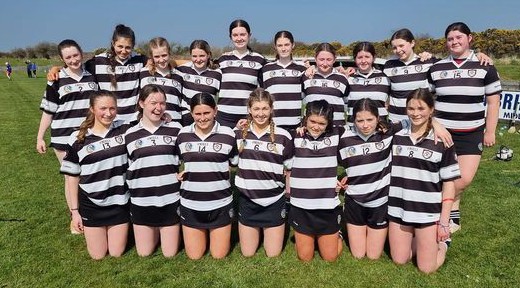 A great start to the season on Sunday for our Fe16 Team 1. This was our first match this year where Midleton took on a strong Erins own side in a challenge match in lovely conditions. Well done girls and thanks to Erins Own for a great match.
Full-time score: Midleton 3-15 Erins Own 2-12
ALL-IRELAND CHAMPIONS
There was great joy and celebration in Thurles on Saturday last as Cork were crowned as All-Ireland minor camogie champions after a brilliant 2-11 to 2-7 win over Galway. Huge congratulations to all involved on the day and in particular our wonderful goalkeeper, Jill Connaughton. A fantastic achievement Jill, we are super proud of you. We keenly follow your progress week on week and all your hard work and sheer determination has paid off. Well done to manager, Jerry Wallis and all his backroom team, including plenty of Midleton people.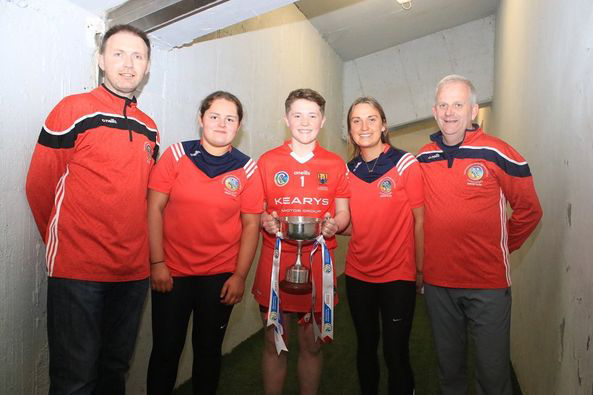 Pictured from Midleton GAA are Paul Griffin, Rayanna, Jill, Lucy and Jerry Wallace.
TRAINING TIMES
Tuesdays – Park South
U-11 & U-12: 6-7pm
U-13 & U-14: 7-8pm
Tuesdays – St Colmans CC
U-16: 6-7pm
Minor & Junior: 7-8pm
Friday – Park South
U-6, U-7 & U-8: 6-7pm
U-9 & U-10: 7–8pm
U-11 & U-12: 7-8pm
Fridays – Main Pitch
U-13 & U-14 : 6-7pm
U-16: 7-8pm
Minor & Junior: 8-9pm.
Sundays – Main Pitch
U-9& U-10: 10 -11am.
*Please note training times and venues are subject to change occasionally. Team managers will contact parents directly.*
DATES FOR YOUR DIARY
Put a reminder in your diary for the 2022 Midleton GAA Golf Classic. It will take place at East Cork on July 20/21. More details in the coming weeks.
MEMBERSHIP
It's that time of year again. Membership for 2022 is now due. The membership rates are the same as last year. These are the different categories and fees.
ADULT NON PLAYER - €100
Non Player, Team Mentor, Officer, Committee Member: Must be paid by 31st March 2022 for Membership to 31st March 2023.
ADULT PLAYER (INCLUDING GYM) - €200
Employed Player 18 years+ including Gym. Must be paid by 31st March 2022 for membership to 31st March 2023.
ADULT PLAYER (INCLUDING GYM) – FULL-TIME STUDENT/APPRENTICE/UNEMPLOYED - €100
18yrs+ Adult Player Including Gym - You must be a Full Time Student or Apprentice or be Unemployed to avail of this option. Must be paid by 31st March 2022 for Membership to 31st March 2023.
ADULT NON PLAYER OAP OR UNEMPLOYED - €50
Non Player, OAP (65+), Unemployed: Must be paid by 31st May to have Voting Rights. Must be paid by 31st March 2022 for Membership to 31st March 2023
DIASPORA MEMBER - €50
A member who lives away from the club perhaps elsewhere in Ireland or abroad. This is a Social Membership only with no voting rights. Must be paid by 31st March 2022 for Membership to 31st March 2023
FAMILY REGISTRATION - €300
Employed Child/Children do not qualify for Family Membership. Child/Children born in 2003 or before do not qualify for Family Membership. Family Membership does not include the Gym. Additional Gym costs are €100pp per year. Must be over 18 years of age. Must be paid by 31st March 2022 for Membership to 31st March 2023.
YOUTH PLAYER – SENIOR INFANTS TO FE 18 - €135
Player must be under 18 Years of Age on 1st Jan 2022. Players in this category do not have Voting Rights until they reach their 18th Birthday. Must be paid by 31st March 2022 for Membership to 31st March 2023.
JUNIOR INFANTS PLAYERS OR MAGPIE ALL-STARS - €50
Player in Junior Infants Or Magpie All Stars.
The quickest way to pay is by the Klubfunder page:
https://www.klubfunder.com/Clubs/Midleton%20GAA/Membership#MembershipOptions
If you've any queries or need help with anything, please contact our Membership Officer Kieran Denihan 087-410 5991 or email midletongaaregistrar@gmail.com
Thank you to all those who have already paid their membership for 2022 and remember that players will not be allowed train or play games after March 31 (TODAY) if they have not paid their membership. The same goes for mentors.
PARK SOUTH
Park South is a hive of activity these days with training and matches in full swing. The first two pitches, goalposts and nets behind the goals are now up and the pitches are looking great. There was another milestone reached this week as the ESB connected the power to the grounds and the lights were switched on.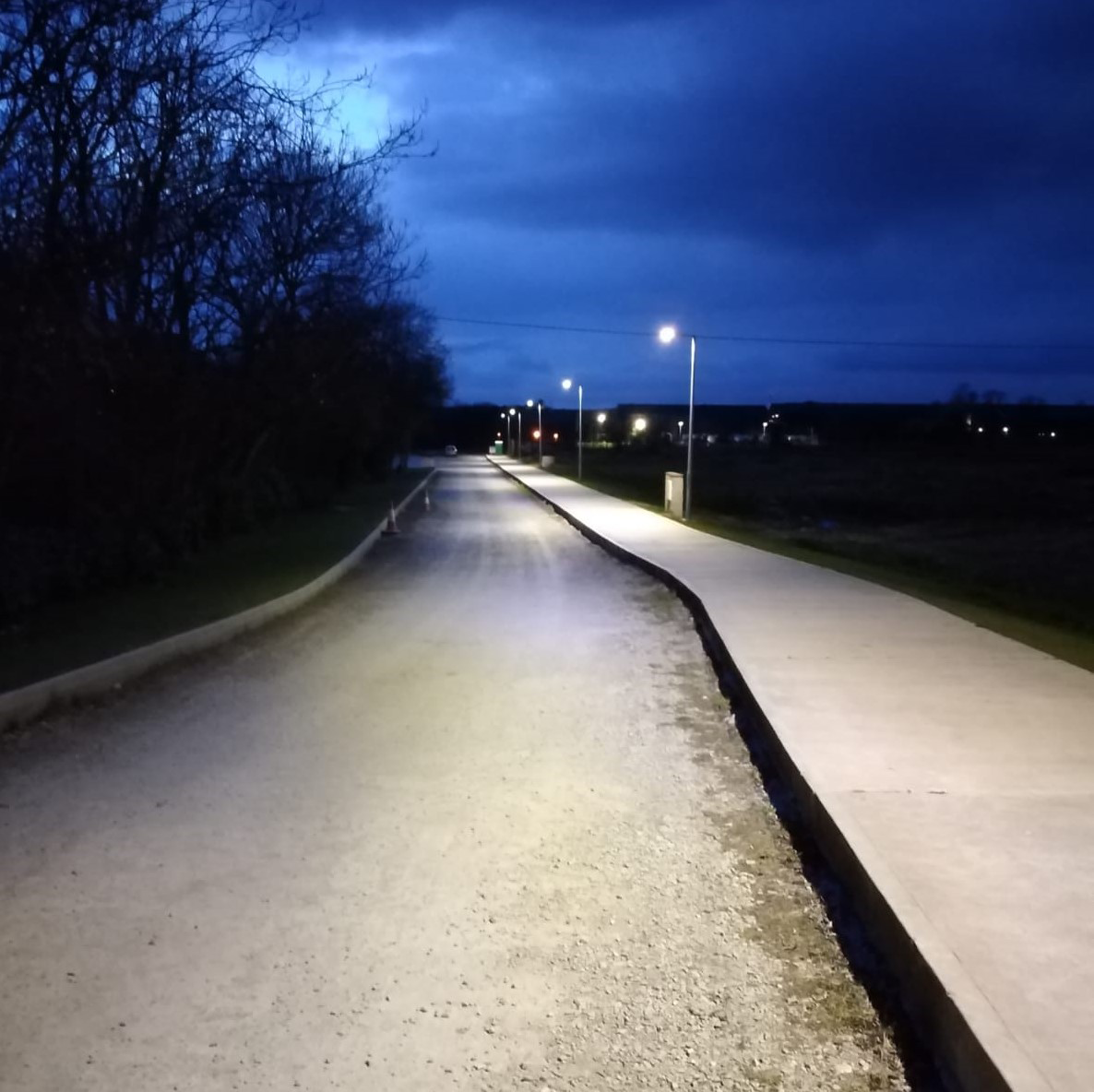 CHILD SAFEGUARDING WORKSHOP
Midleton GAA will run a child safeguarding 1 workshop on 27th April 2022 in the club. To book a place on the course please email childrensofficer.midleton.cork@gaa.ie.
GYM REOPENED
Our club Gym has now re-opened to members. Access FOBs have been re activated.
Please note that some of the equipment will be undergoing some service work over the coming weeks so apologies in advance for any inconvenience.
LOTTO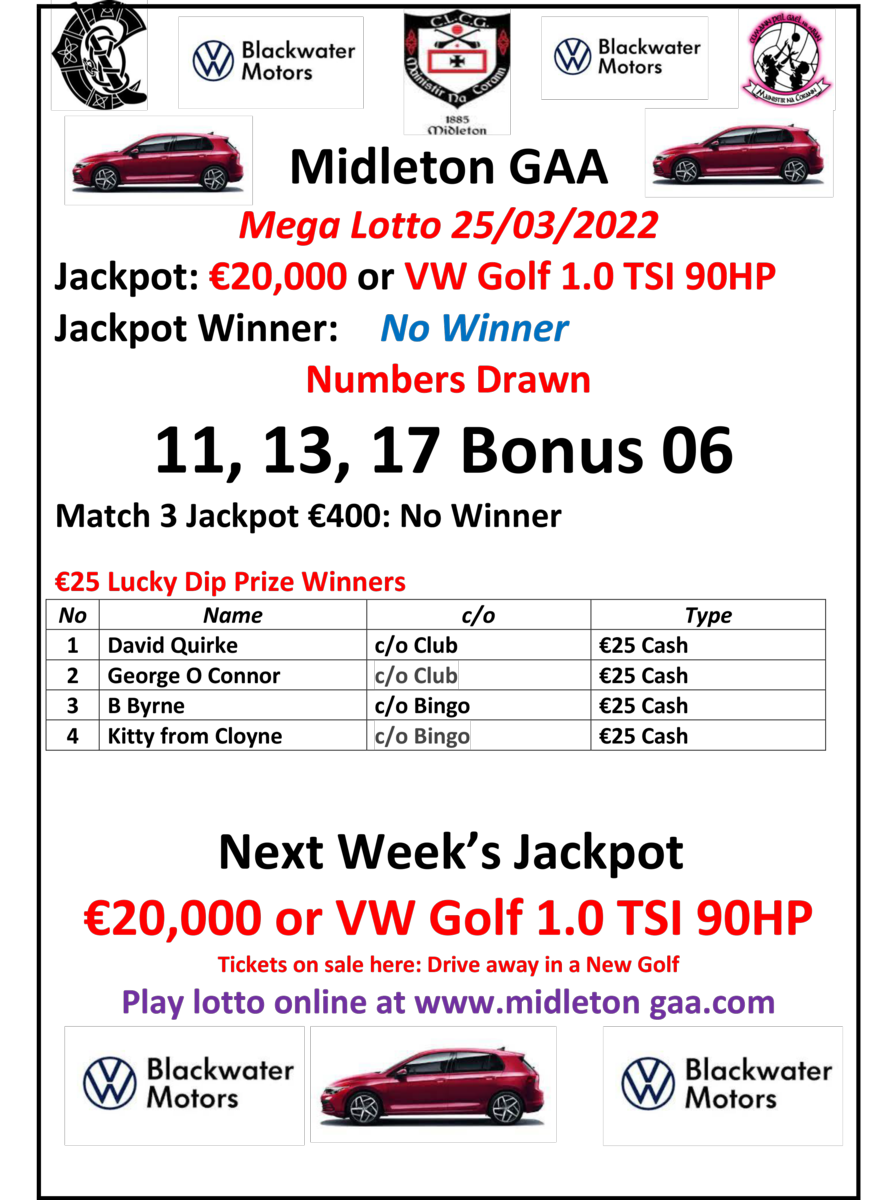 Our Lotto Jackpot was a choice of €20,000 or a VW Golf 1.0 TSI (in partnership with Blackwater Motors). The numbers drawn were: 11, 13, 17 and the bonus 6. There was no winner of the jackpot or the match three jackpot.
The lucky dip winners, who all won €25 in cash were: David Quirke, George O'Connor, B. Byrne and Kitty from Cloyne.
In total Midleton GAA will give out local business vouchers to the value of €3,800 every year as part of our "Shop Local, Buy Local" campaign.
How to play: tickets are on sale at Pat Walsh Paints, Chadwicks, Frank Murphy Butchers, Murphy's Pharmacy, Crowley Butchers, or buy online, through Klubfunder, at https://www.klubfunder.com/Clubs/Midleton%20GAA/lotto select your numbers and number of draws to play. You can buy an annual ticket by selecting "50" from the "Number of Draws" to Play dropdown.
BINGO
Our Bingo continues on Friday nights with an early game at 7.25pm. Everyone is welcome.
CLUB SHOP
The Midleton GAA club shop is back up and running for the 2022 season but please note that it's still online with collection only at the club on a Saturday morning.
All you have to do is go to the Klubfunder website (https://www.klubfunder.com/Clubs/Midleton%20GAA/ShopItems) and you will see the full range of what's available to buy. You can shop away to your heart's content, pay for it online and then collect your purchases at the club shop on Saturday morning between 9.30am and 10am. Thank you.
SOCIAL DANCING
No dancing this Saturday night. Back in action on April 9.
NO DOGS ARE PERMITTED IN OUR GROUNDS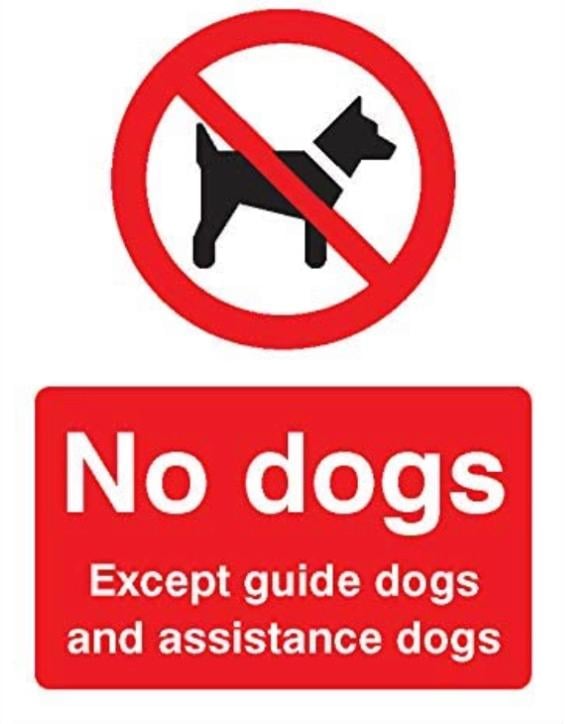 Due to Health & Safety concerns all dogs (with the exception of Guide and assistance dogs) are prohibited at all times either on or off a lead from entering our grounds both at Park South and Clonmult Memorial Park.
Our club pitches are private property which are maintained for training and games and are NOT a public park for exercising dogs.
This has recently become a major issue for us particularly in our new facility at Park South with little respect being shown as dog poo has been identified almost everywhere. Please note that Dog fouling is an offence!!
We are currently very active with Training and games but these are now in danger of being cancelled due to this persistent problem and we now are appealing to our club members, neighbours and the general public to adhere to this request immediately.
Thank you.