Midleton Hurling and Football, Ladies Football and Camogie Club News
24 March, 2022
ADULT FIXTURES
SUNDAY, MARCH 27
Senior Hurling League: Newtownshandrum v Midleton in Newtownshandrum at 12 noon.
East Cork Junior A Hurling League: Midleton v Erin's Own in Midleton at 6pm.
JUNIOR A FOOBALL
Our junior A footballers played their second league game of the season on Sunday last at Clonmult Memorial Park. After a hugely entertaining and high scoring encounter our lads had to settle for a share of the spoils with Cobh. Midleton 4-6 Cobh 2-12.
Scorers: Johnny Comer 2-0, Cathal Beausang and Tim O'Sullivan 1-0 each, Cormac Beausang and Garan Manley 0-2 each, Christian Daly and Niall Walsh 0-1 each.
MIDLETON: Michael Abernethy, Colin Sunderland, Willie Casey, Aaron Coughlan, Cathal Gunning, Leslie Coughlan, Seamus O'Farrell, Adam Daly, Cormac Beausang, Niall Walsh, Pa White, Christian Daly, Tim O'Sullivan, Johnny Comer, Garan Manley. Sub used: Cathal Beausang.
JUNIOR A SELECTORS
At last Monday night's club meeting, the Junior A hurling selectors for the coming season were ratified. They are: Manager: Keith Ryan, Selectors: Barry Fitzgerald and Cillian Hurley. Best of luck for the season ahead lads.
CONGRATULATIONS
A big well done to club members, Mikey Finn, David Cremin and Evan Kelly who all played a part in CBC's O'Callaghan Cup final win over Gaelcholáiste Mhuire AG on a score of 3-13 to 1-12 this week.
BEST OF LUCK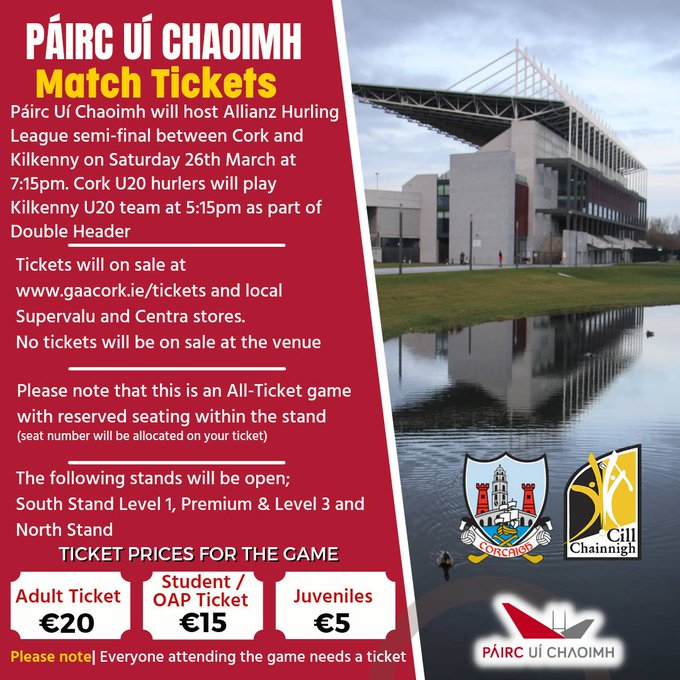 Best of luck to Conor, Sean, Sam and Tommy and Cork in their National Hurling League semi-final clash with Kilkenny at Pairc Uí Chaoimh on Saturday night. All four were involved in the defeat to Wexford last Sunday.
Here are the details for Saturday night's game from the Co. Board.
This match will be preceded by an U-20 Hurling challenge between the same counties at 5.15pm.
Gates open at 4.45pm. This is an all-ticket event, with reserved seating.
Please note that Juveniles (U16s) require a ticket. Price €5.
Tickets can be purchased here at https://gaacork.ie/tickets/
GOOD LUCK DARREN
We'd like to wish the best of luck to our own Darren Quirke who has transferred to Sinn Fein GAA Club in Melbourne. Have a great time Down Under Darren.
JUVENILES
ST PATRICK'S DAY PARADE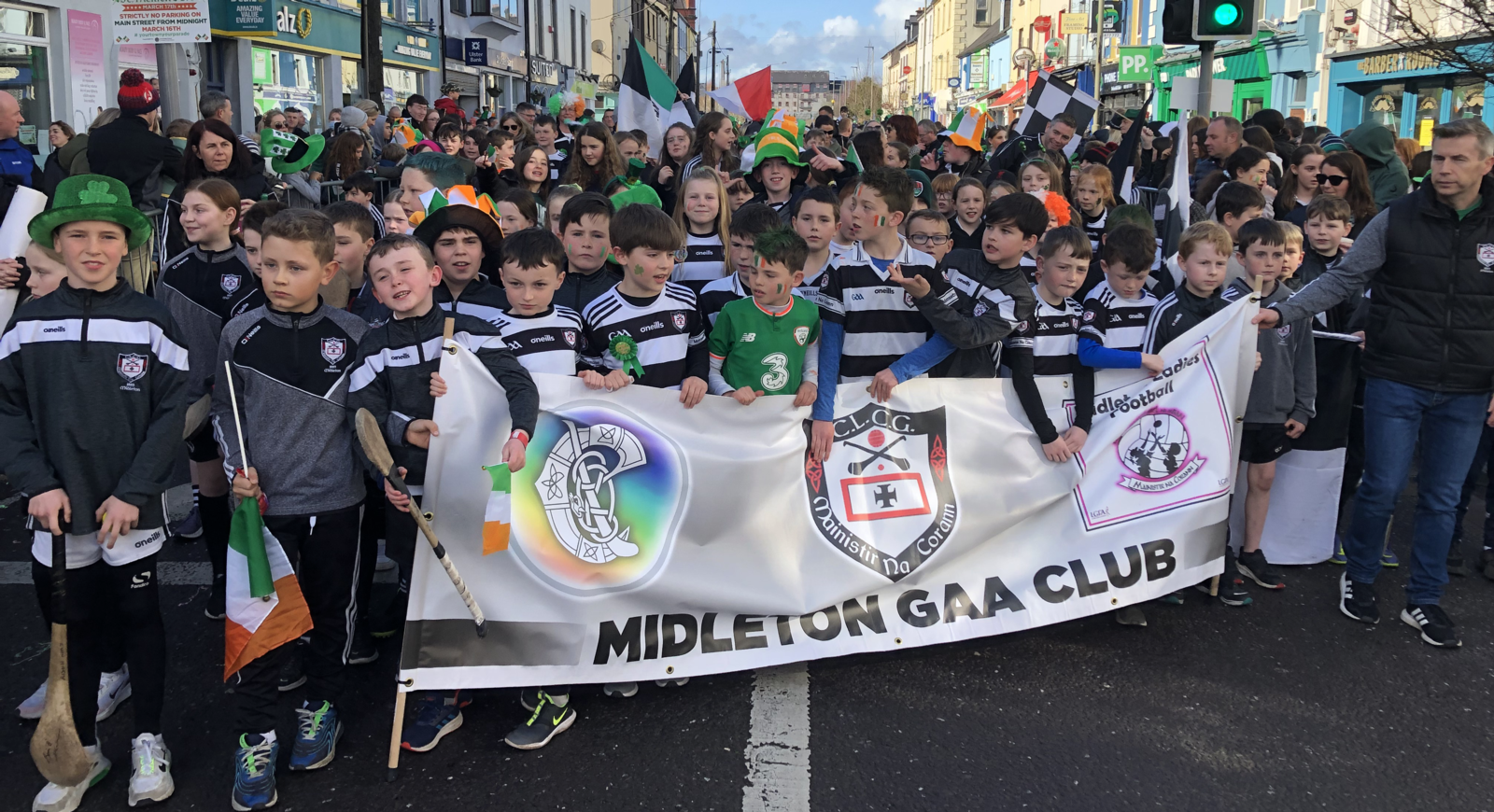 Thanks to all those that walked with Midleton GAA in 2022 St. Patricks Day parade last Thursday. It was great to see such large number of boys and girls proudly walking in their black and white colours. Magpies Abú
GO GAMES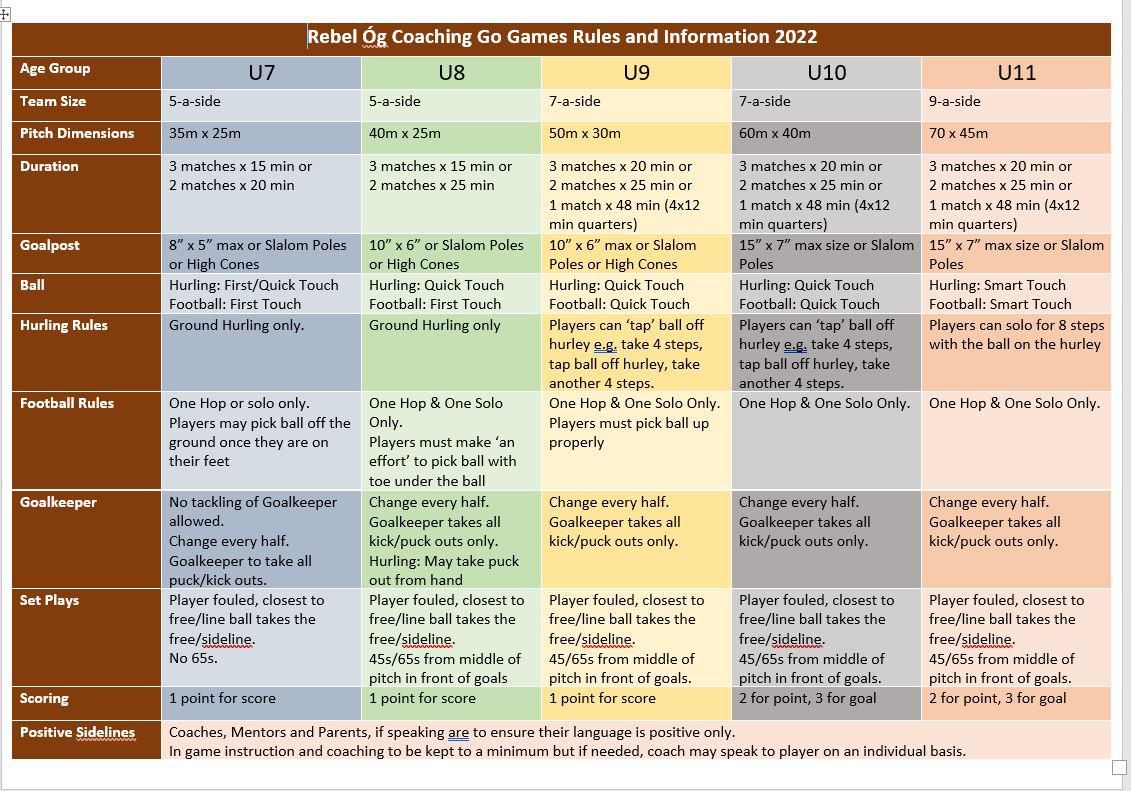 The GO GAMES series starts this Saturday with three of our teams at home in Clonmult Memorial Park playing football matches.
Fé9 v Douglas at 1pm
Fé10 v Bishopstown at 11.30am
Fé11 v Douglas at 10am
Please come along and support the lads.
These are the GO GAMES rules for each age grade.
FE12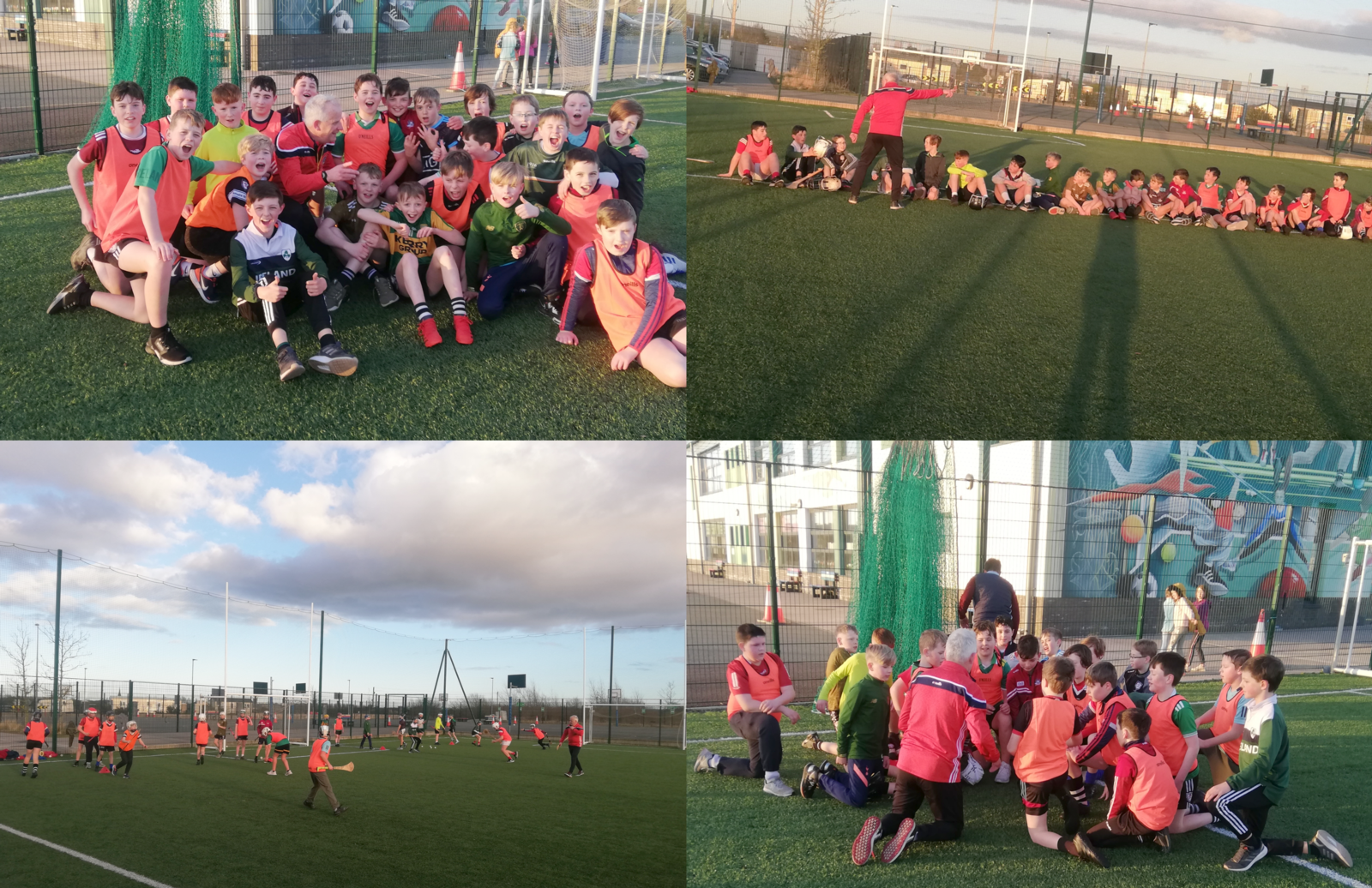 A big thank you to Jerry Wallace for giving his time and experience to the Fé12 boys last week. A fantastic session was had and the boys thoroughly enjoyed themselves. Thanks Chris for organising. Magpies Ábu.
FE14
P1 HURLING V GLEN ROVERS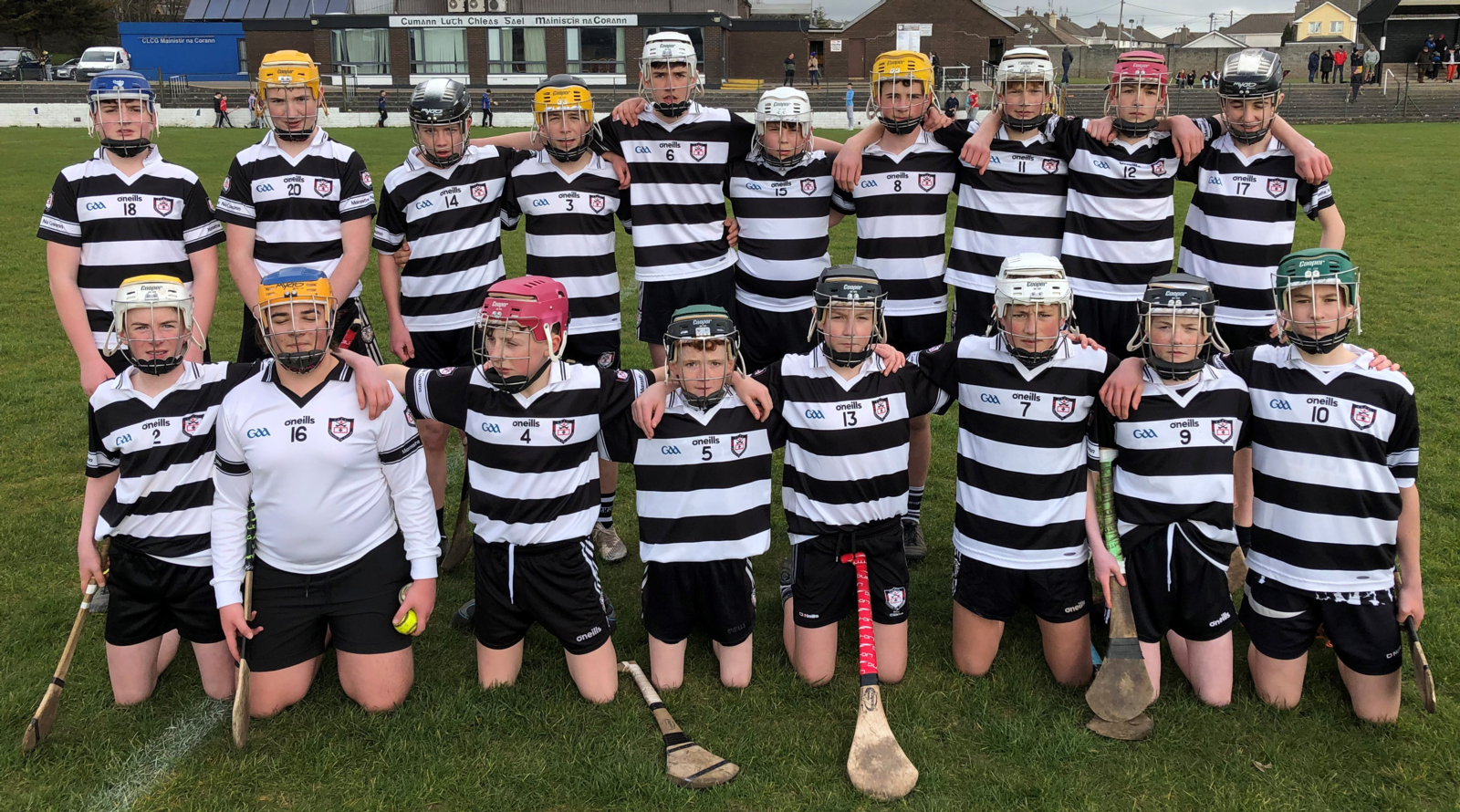 The first competitive Fé14 P1 hurling match of 2022 was the visit of Glen Rovers to Clonmult Memorial Park on March 18th.
Playing against a strong breeze, the lads were under pressure from the off. We also lost our full back Harry Waterman after only five minutes due to injury. Things were not looking good at half-time with the score line reading 1-9 to 0-0. However the lads showed great determination in the second-half. Captain Senan Carroll got an early goal to give the lads great encouragement. The lads continued to press and were unfortunate not to get further scores with a number of close calls and the woodwork keeping them at bay. Despite a very good second half performance, the final score ended in a victory for Glen Rovers with the score 1-14 to 1-3. Next up is a home football match v St. Michael's on Friday, April 1.
Scorers: Senan Carroll (1-0), Shane O'Mahony 0-3 (3f).
MIDLETON: Michael Allegrini, Jason Morley, Harry Waterman, Patrick Collins, Jack Walsh, Senan Carroll (captain), Scott Dunlea, Cian Lawton, Darragh Mullins, James O'Meara, Shane O'Mahony, Patrick O'Dowd, Ewan Murphy, Dara Birdthistle, Ruairi O'Riordan, James Carey, Sean Gregory, Jamie O'Donovan,
Good luck to any of the lads playing with their schools in schools hurling competitions over the coming weeks.
JUVENILE RESULTS
Rebel Og Coiste Fe17 Premier 1 Hurling League
Glen Rovers 1-10 Midleton 2 -20
Rebel Og Coiste Fe17 C3 Hurling League Section 1
Douglas 3 2 -6 Midleton 2 -16
Rebel Og Coiste Fe16 Hurling League 13 aside Group 1
Inniscarra 2 -14 Midleton 2 -15
Rebel Og Coiste Fe15 Premier 1 Hurling League
Midleton 2 -5 Sarsfields 1 -18
Rebel Og Coiste Fe14 Hurling League 15 aside Group 1
Midleton 1 -3 Glen Rovers 1 -14
Rebel Og Coiste Fe13 Premier 1 Hurling Grading League Section 1
Midleton 2 -3 Sarsfields 1 -8
JUVENILE FIXTURES
SATURDAY, MARCH 26
Rebel Og Coiste Fe13 Premier 2 Football Grading League Section 2
Midleton v Youghal at 4pm in Midleton
WEDNESDAY, MARCH 30
Rebel Og Coiste Fe16 Football League 13 aside Group 1
Midleton v St Finbarrs at 6.30pm in Midleton
Rebel Og Coiste Fe15 Premier 1 Hurling League
Inniscarra v Midleton at 6.30pm in Ballyanly
THURSDAY, MARCH 31
Rebel Og Coiste Fe13 C3 Hurling Grading League Section 1
Midleton C3 v Blackrock C3 at 6.30pm in Midleton
CAMOGIE
FE6 RETURN TO TRAINING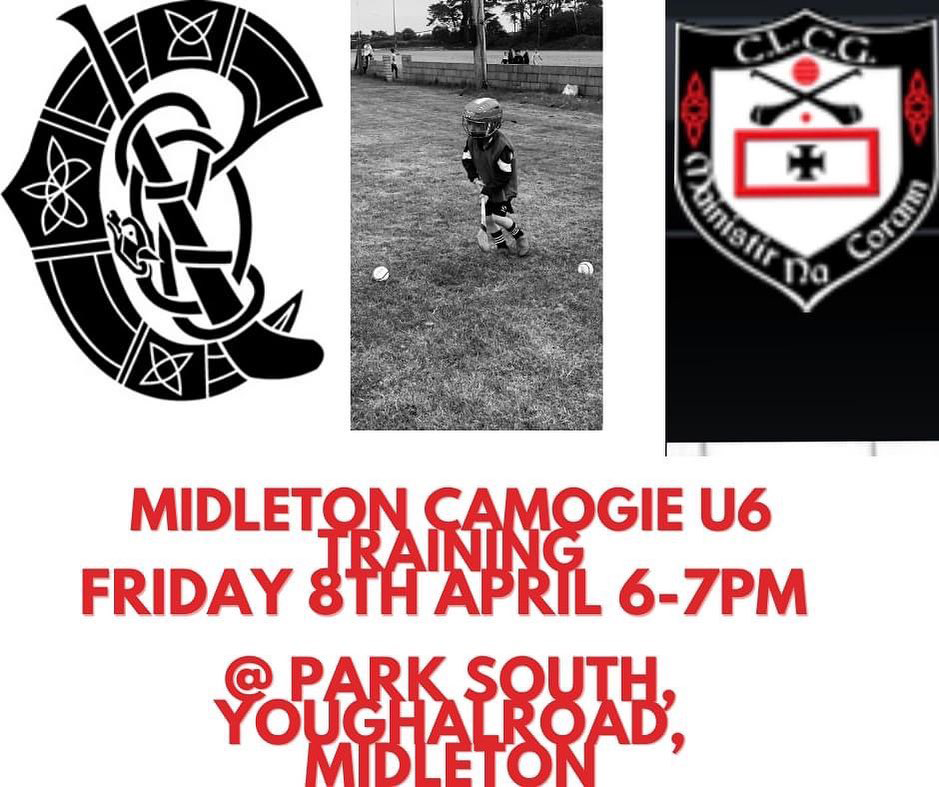 Training will begin for our Fe6 Girls on Friday, April 8 from 6-7pm at Park South, Youghal Road, Midleton. Please bring a hurley, helmet and own drink please. Ample Parking available. If you would like to volunteer with this group or join our Coaching Group please contact Sinead. See you all then.
FE11 V CARRIGTWOHILL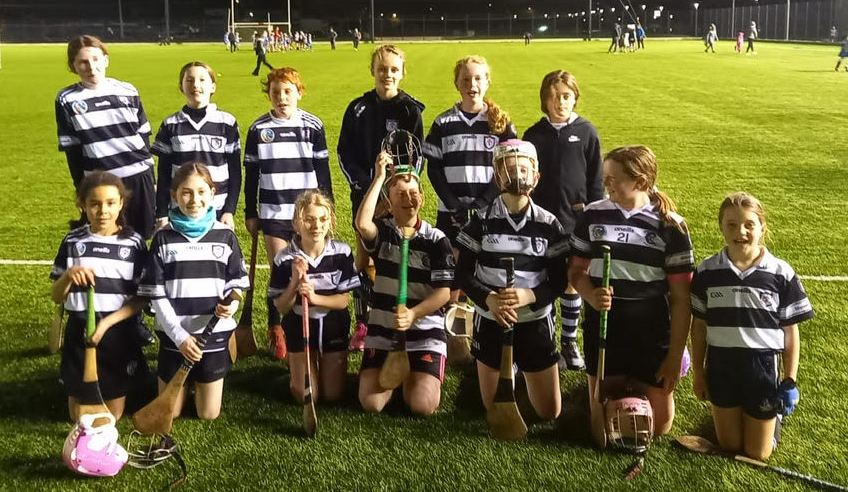 The lights were shining bright on the U-11 Lady Magpies, as they took on Carrigtwohill at Páirc Uí Chaoimh. We fielded two teams on the night and the competition was strong. This team is progressing each week from strength to strength, and the hard work is paying off! Well done ladies!
FE12 V CARRIGTWOHILL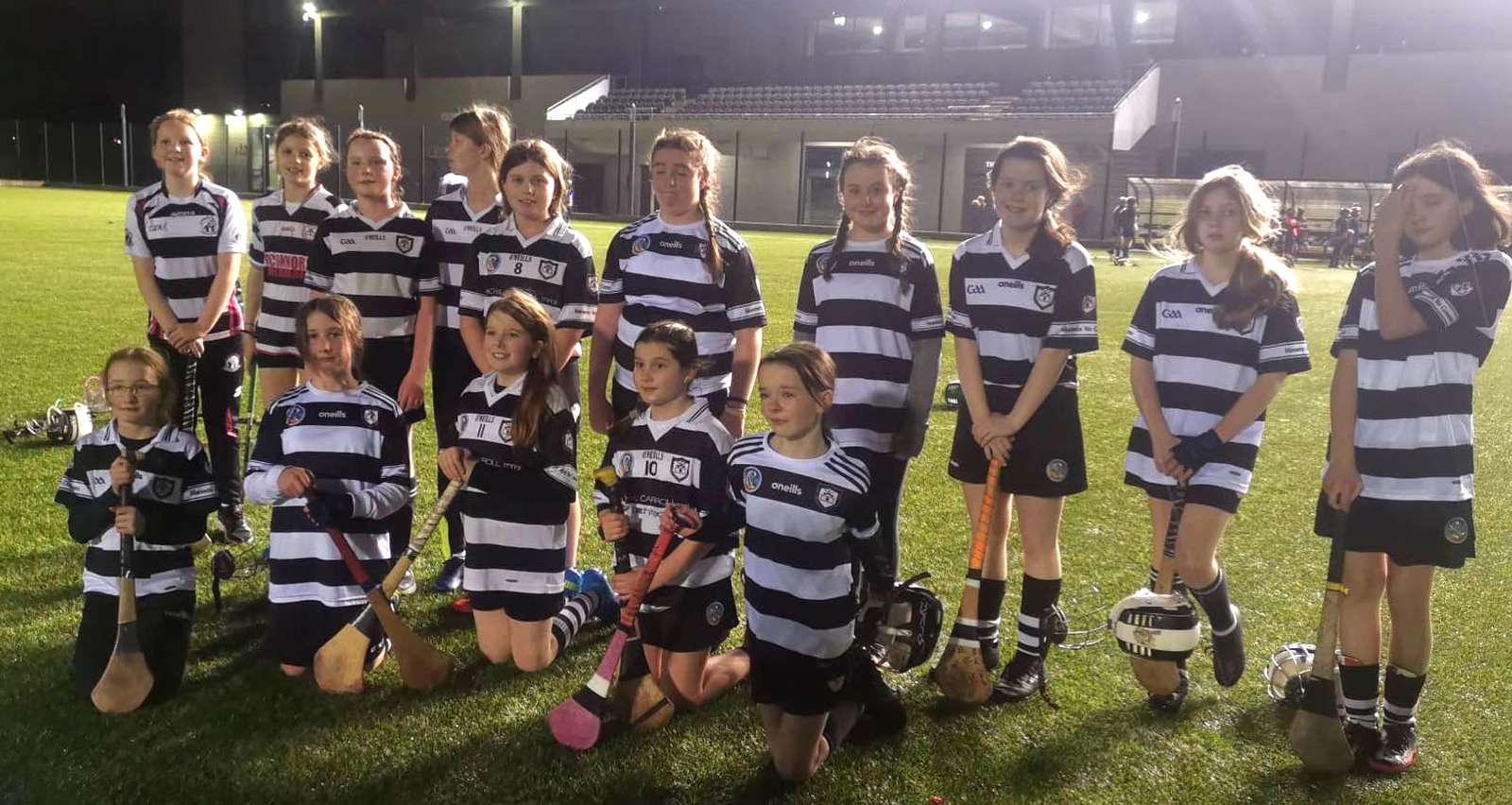 Our Fe12 girls also played Carrigtwohill in a match at Pairc Uí Chaoimh Astro last Tuesday evening. A brilliant performance on both sides, great to be back out playing again . Well done to all on the night, super effort.
FE 20 IMOKILLIY LEAGUE
ROUND 1 V CASTLEMARTYR
We had our first ever U-20 Camogie game last Saturday. This is the first time Imokilly have ran a League at U-20 level and it's a great idea as it provides a bridge between U-16/Minor and Adult Camogie.
We played a strong Castlemartyr team in Ballinacurra and even though we were short several girls, we managed to get 15 on the pitch and they performed extremely well in their first outing of the season. We haven't a lot of training done yet but the enthusiasm of the girls who played was clear for all to see. We eventually lost by four points on a scoreline of 3-12 to 6-7. Well done to all the girls who made the effort to attend and contributed to a really enjoyable hour of camogie. Special mention to stand in goalkeepers Jade Fitzgerald and Megan Kelly. Our first choice goalkeeper Jill Connaughton was in action with the Cork minors.
MIDLETON: Jade Fitzgerald, Megan Kelly, Leah Hogan, Muireann O'Connor, Caoimhe Cronin, Ruthie Hennessy, Jodie Keegan O'Connell, Vivienne Gleeson, Kelly Quirke, Saoirse Ni Theangana, Rachel Ryan, Emma O'Sullivan , Aoife Fitzgerald, Sadhbh Beausang.
ALL-IRELAND FINAL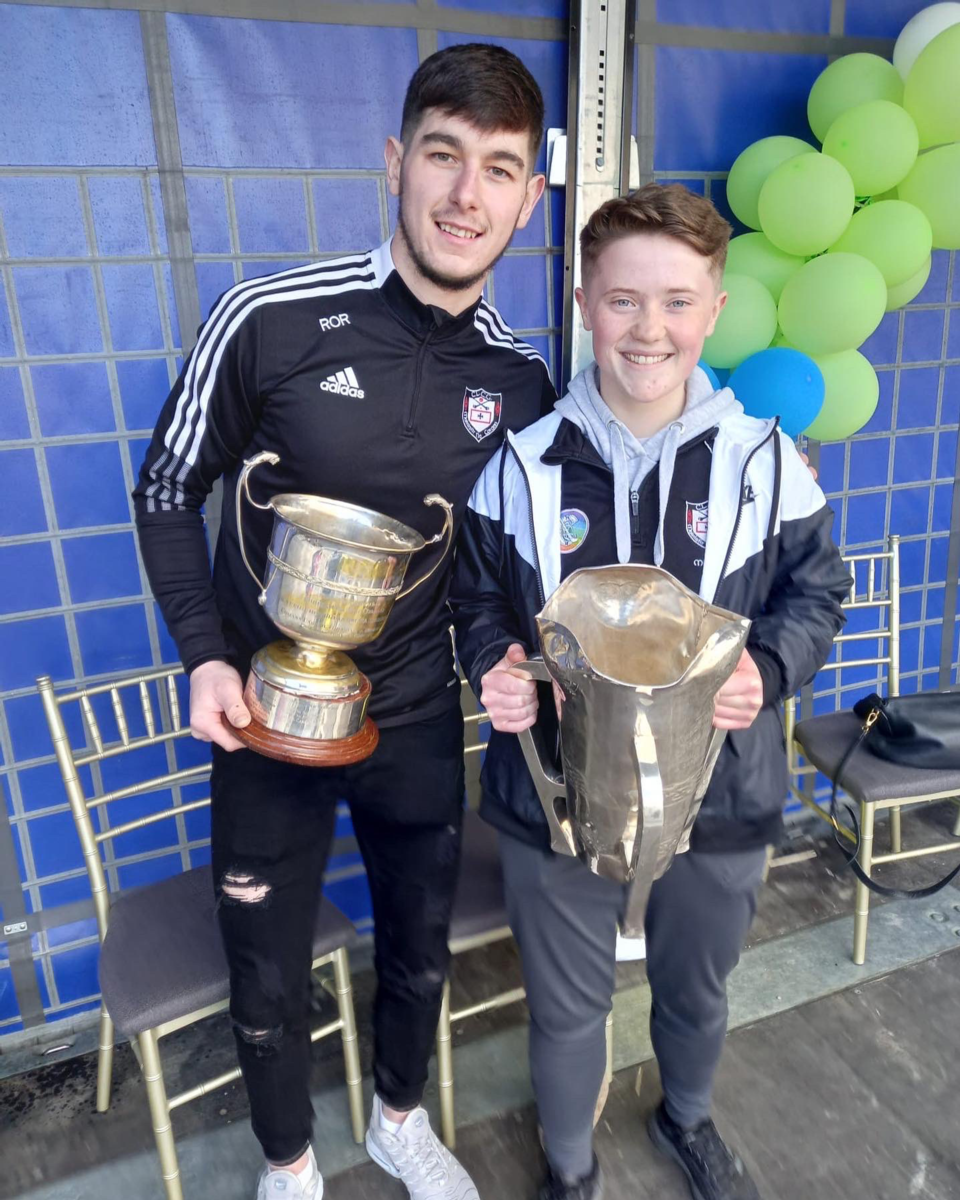 The Cork minors again came out on top on Sunday last as they beat Tipperary in a nail biting All-Ireland semi-final. They now take on Galway in the All-Ireland Final on Saturday in Thurles at 5pm. We wish manager, Jerry Wallis and his mentors and the girls themselves all the very best of luck and in particular our own Jill Connaughton (pictured above at the St. Patrick's Day parade with Ross O'Regan).
LADIES FOOTBALL
U-21 CHAMPIONSHIP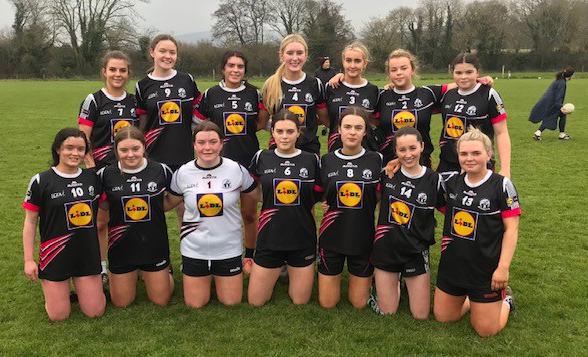 Last Sunday our U-21 Ladies lost their opening championship match to Killavullan. A hard fought game saw great team spirit from the Ladies who battled till the final whistle. Great credit is due to our younger players who stepped up on the day to support their fellow club players.
TRAINING
Training for our younger age groups U8-U12 has now returned to Ballinacurra on a Monday evening. Please ensure that your contact number is available to receive text messages.
Training on Thursdays for our older age groups will take place at St Coleman's pitch from 6-7pm.
DATES FOR YOUR DIARY
Put a reminder in your diary for the 2022 Midleton GAA Golf Classic. It will take place at East Cork on July 20/21. More details in the coming weeks.
MEMBERSHIP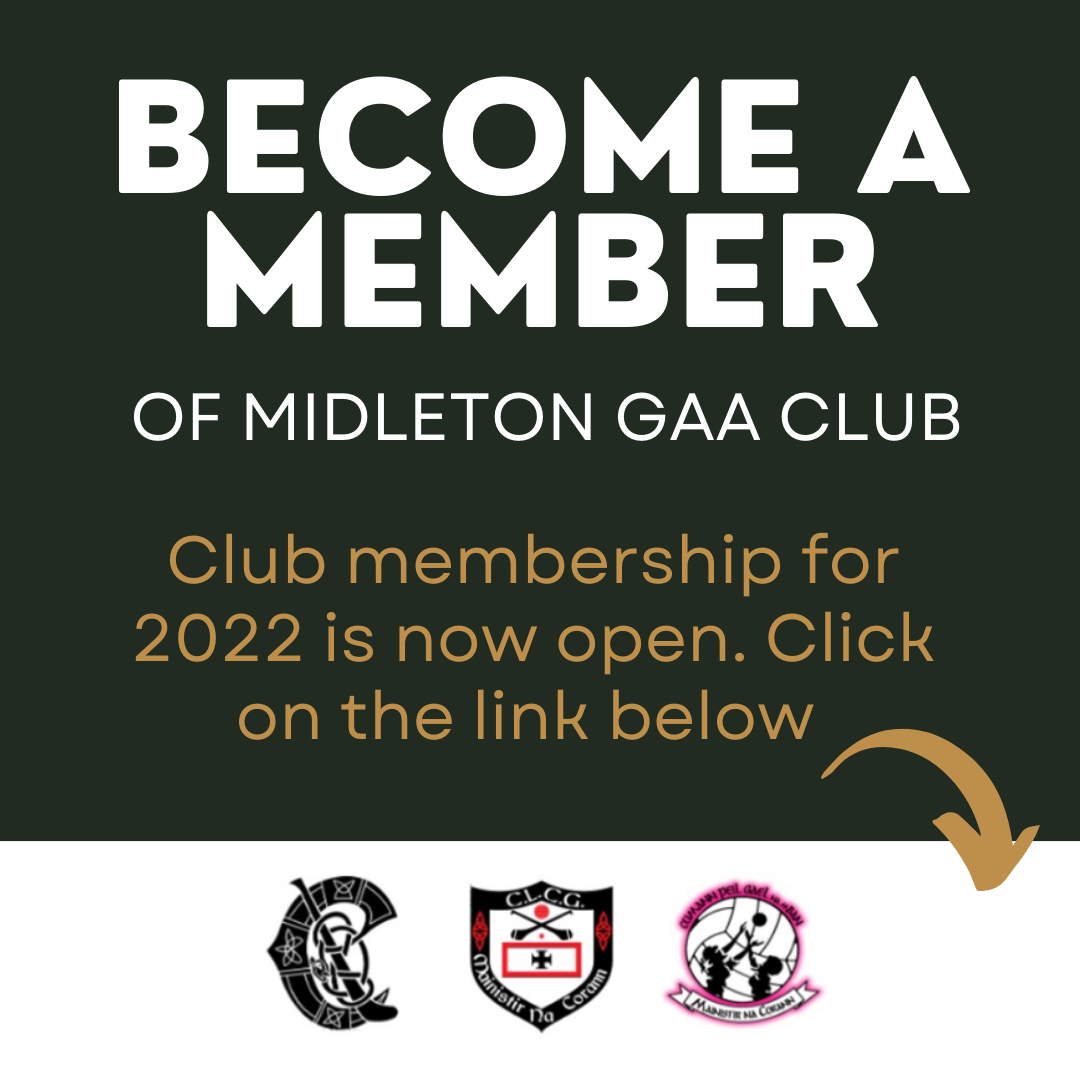 It's that time of year again. Membership for 2022 is now due. The membership rates are the same as last year. These are the different categories and fees.
ADULT NON PLAYER - €100
Non Player, Team Mentor, Officer, Committee Member: Must be paid by 31st March 2022 for Membership to 31st March 2023.
ADULT PLAYER (INCLUDING GYM) - €200
Employed Player 18 years+ including Gym. Must be paid by 31st March 2022 for membership to 31st March 2023.
ADULT PLAYER (INCLUDING GYM) – FULL-TIME STUDENT/APPRENTICE/UNEMPLOYED - €100
18yrs+ Adult Player Including Gym - You must be a Full Time Student or Apprentice or be Unemployed to avail of this option. Must be paid by 31st March 2022 for Membership to 31st March 2023.
ADULT NON PLAYER OAP OR UNEMPLOYED - €50
Non Player, OAP (65+), Unemployed: Must be paid by 31st May to have Voting Rights. Must be paid by 31st March 2022 for Membership to 31st March 2023
DIASPORA MEMBER - €50
A member who lives away from the club perhaps elsewhere in Ireland or abroad. This is a Social Membership only with no voting rights. Must be paid by 31st March 2022 for Membership to 31st March 2023
FAMILY REGISTRATION - €300
Employed Child/Children do not qualify for Family Membership. Child/Children born in 2003 or before do not qualify for Family Membership. Family Membership does not include the Gym. Additional Gym costs are €100pp per year. Must be over 18 years of age. Must be paid by 31st March 2022 for Membership to 31st March 2023.
YOUTH PLAYER – SENIOR INFANTS TO FE 18 - €135
Player must be under 18 Years of Age on 1st Jan 2022. Players in this category do not have Voting Rights until they reach their 18th Birthday. Must be paid by 31st March 2022 for Membership to 31st March 2023.
JUNIOR INFANTS PLAYERS OR MAGPIE ALL-STARS - €50
Player in Junior Infants Or Magpie All Stars.
The quickest way to pay is by the Klubfunder page: https://bit.ly/MembershipDueNow
For anyone who needs help using the link, we will be available in the Club on this coming Saturday, March 26 March from 10.00 to 14.00 hrs to guide you through the online process. If you've any queries or need help with anything, please contact our Membership Officer Kieran Denihan 087-410 5991 or email midletongaaregistrar@gmail.com
Thank you to all those who have already paid their membership for 2022 and remember that players will not be allowed train or play games after March 31 if they have not paid their membership. The same goes for mentors.
CHILD SAFEGUARDING WORKSHOP
Midleton GAA will run a child safeguarding 1 workshop on 27th April 2022 in the club. To book a place on the course please email childrensofficer.midleton.cork@gaa.ie.
GYM REOPENED
Our club Gym has now re-opened to members. Access FOBs have been re activated.
Please note that some of the equipment will be undergoing some service work over the coming weeks so apologies in advance for any inconvenience.
LOTTO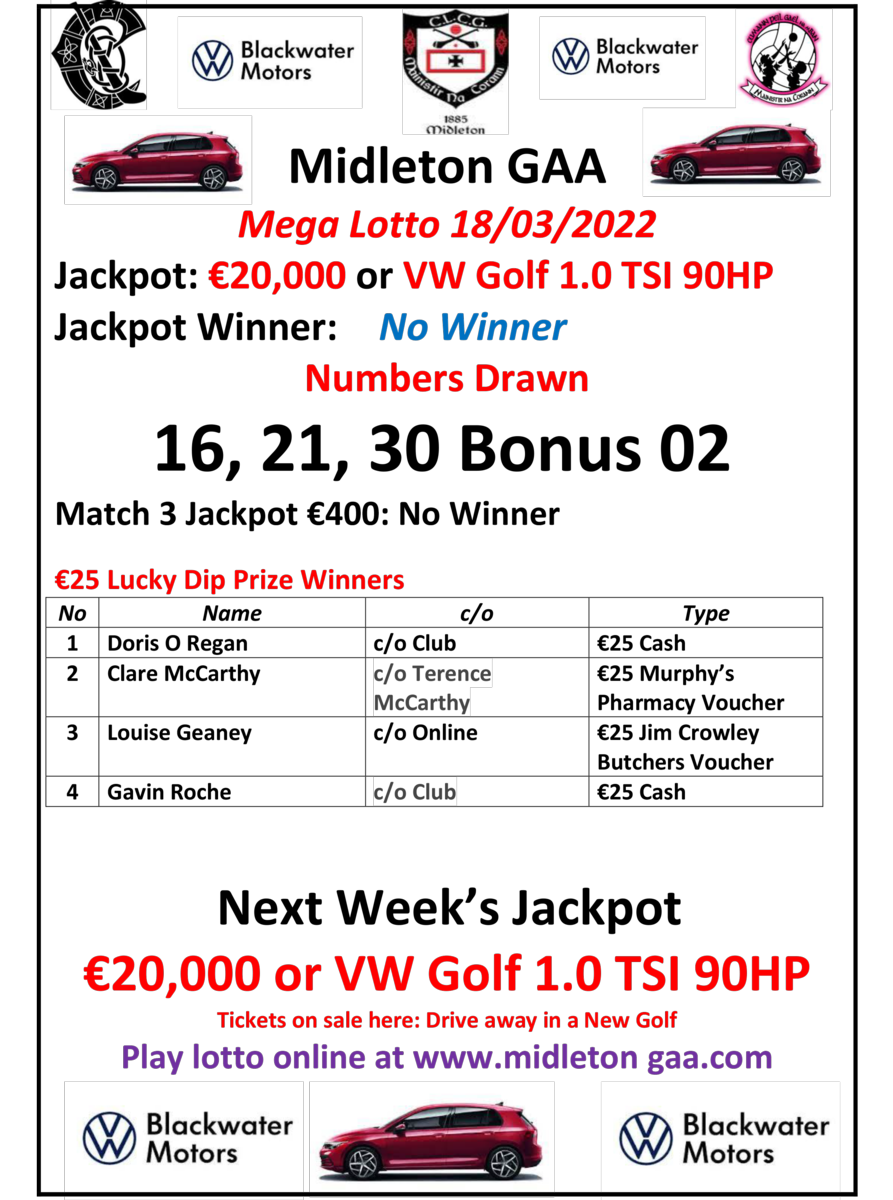 Our Lotto Jackpot was a choice of €20,000 or a VW Golf 1.0 TSI (in partnership with Blackwater Motors) the numbers were 16, 21 & 30 Bonus 2.
There was no winner of the jackpot so next Friday's jackpot will remain the same. There was also no winner of the Match 3 jackpot worth €400.
The Lucky Dip Prize winners this week were: Doris O'Regan and Gavin Roche, who won €25 cash each, €25 Murphy's Pharmacy Voucher to Clare McCarthy and a €25 Crowley's Butchers Voucher to Louise Geaney.
In total Midleton GAA will give out local business vouchers to the value of €3,800 every year as part of our "Shop Local, Buy Local" campaign.
How to play: tickets are on sale at Pat Walsh Paints, Chadwicks, Frank Murphy Butchers, Murphy's Pharmacy, Crowley Butchers, or buy online, through Klubfunder, at https://www.klubfunder.com/Clubs/Midleton%20GAA/lotto select your numbers and number of draws to play. You can buy an annual ticket by selecting "50" from the "Number of Draws" to Play dropdown.
BINGO
Our Bingo continues on Friday nights with an early game at 7.25pm. Everyone is welcome.
CLUB SHOP
The Midleton GAA club shop is back up and running for the 2022 season but please note that it's still online with collection only at the club on a Saturday morning.
All you have to do is go to the Klubfunder website www.klubfunder.com/Clubs/Midleton%20GAA/ShopItems and you will see the full range of what's available to buy. You can shop away to your heart's content, pay for it online and then collect your purchases at the club shop on Saturday morning between 9.30am and 10am. Thank you.
SOCIAL DANCING
Dancing this Saturday night in the club to the Finbarr Dennehy Band. 9.15pm to 11.30pm. A great night's dancing assured to all.