Midleton Hurling and Football, Ladies Football and Camogie Club News
10 March, 2022
SENIORS RETURN TO ACTION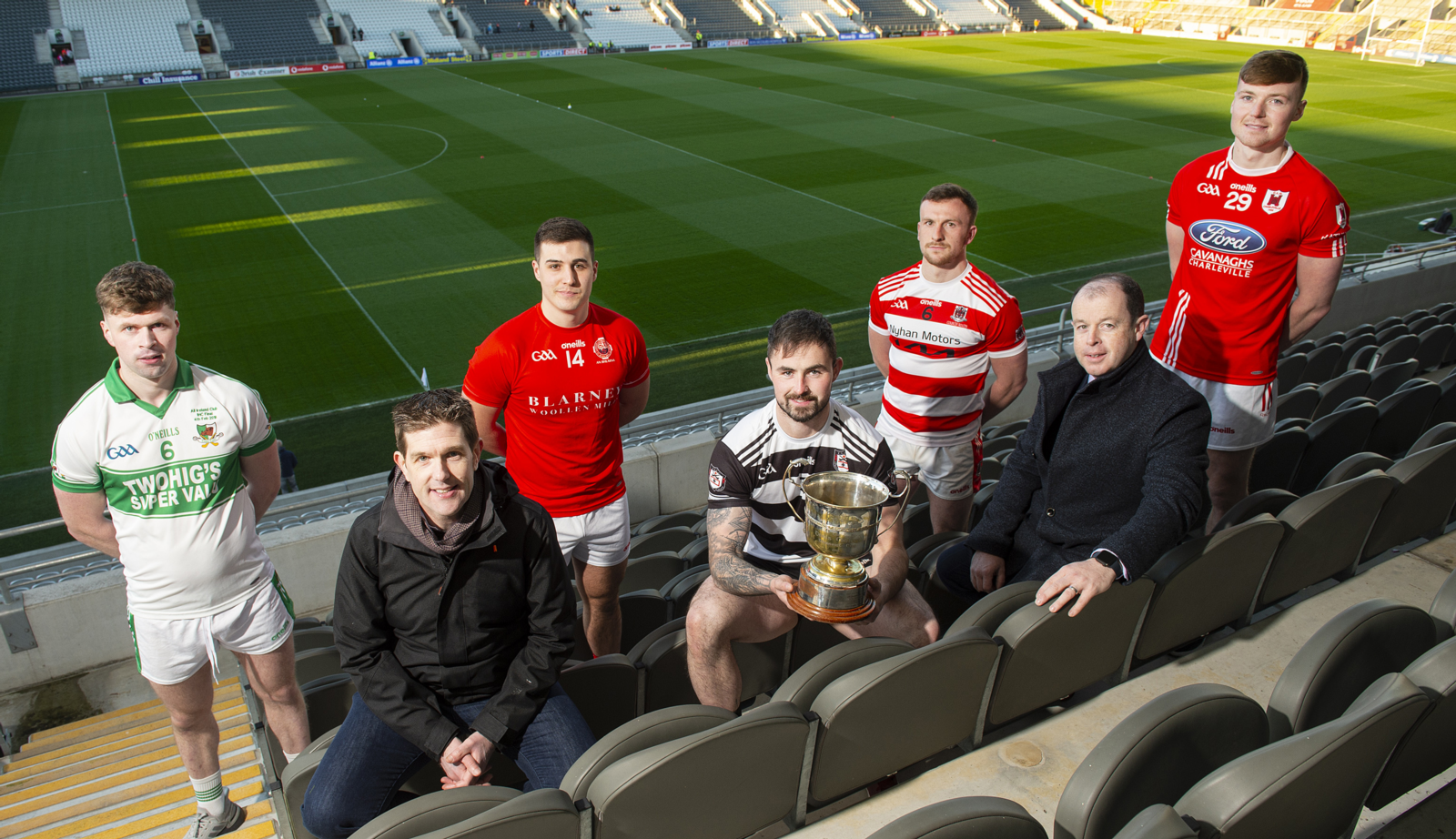 Luke Dineen, Midleton, Darren Browne Kanturk, Diarmuid O'Leary Red FM CEO, Connor Power Blarney, Fergus Lordan Courcey Rovers, Marc Sheehan Chairman Cork GAA and Jack Doyle Charleville at the launch of the 2022 Redfm hurling league in Páirc Uí Chaoimh.
Midleton begin the defence of the Denis Conroy Cup (Red FM Senior Hurling League) title on Sunday when they welcome Douglas to Clonmult Memorial Park with a 12 noon throw-in.
The Red FM SHL for 2022 was launched last weekend in Páirc Uí Chaoimh and Luke Dineen represented Midleton. This is who it will run in 2022. A target of ten teams per division and nine games per team has been established, and in order to restructure the leagues on a fair basis, the divisions have been split into Groups 1A & 1B, 2A & 2B, 3A & 3B for 2022. Teams are allocated based primarily on their finishing league position in 2019 and secondly on their championship status for 2022. Groups 1A and 1B are of the same standard, for example, and are evenly graded. In 2023, five divisions of ten teams and one division of 12 teams will be in place in both hurling and football, based on finishing positions at the end of the 2022 competitions.
Best of luck to Steve and the players as they begin their 2022 campaign on Sunday.
IN THE RED OF CORK
Congratulations to Conor Lehane, Sean O'Leary Hayes, Tommy O'Connell and Sam Quirke who were all part of the Cork panel that got the better of Galway in the National Hurling League in Paric Uí Chaoimh on a score of 1-26 to 0-23.
JUNIOR A FOOTBALL LEAGUE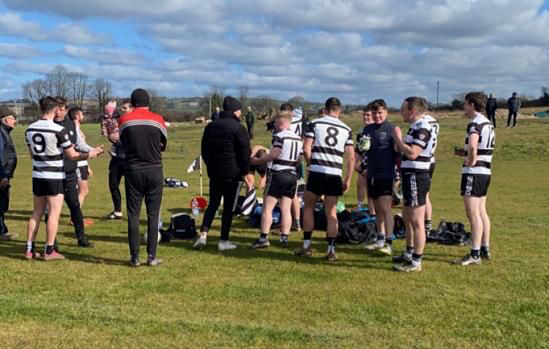 It was an historic day for Midleton GAA on Sunday last as the first adult fixture took place at the splendid Park South as the Magpies took on neighbours Lisgoold in the opening round of the East Cork Junior A Football League.
Midleton played with the aid of a strong breeze into the town end in the first-half and it took the home side just ten seconds to open the scoring through a Johnny Comer point. It set the tone for the first-half and at the halfway stage Midleton led by 0-5 to 0-0.
It was definitely a game of two halves as Lisgoold stormed back into the tie and with a couple of minutes to play there was just a single point between the teams with Midleton leading by 0-7 to 0-6. With a nervy finish on the cards, Midleton sealed the points and an historic win when Cormac Beausang finished off a great team move with a brilliant finish to the top corner to seal a 1-7 to 06 win.
Scorers: C. Beausang 1-1, J. Comer and G. Manley 0-2 each, C. Daly and L. Coughlan 0-1 each.
MIDLETON: Eoghan Collins, Colin Sunderland, Eoin Mitchell, Alan Power, Seamus O'Farrell, Leslie Coughlan, Darragh McCarthy, Adam Daly, Cormac Beausang, Pa White, Cathal Gunning, Niall Walsh, Garan Manley, Johnny Comer, Christian Daly. Subs: Cathal Beausang, Tim O'Sullivan, Brendan Ferriter.
Well done lads.
EAST CORK JUNIOR FIXTURES
The following are this week's East Cork Junior League fixtures involving Midleton teams.
Thursday, March 10: JFL Div. 3: Glenville v Midleton at Glenville at 7.45pm
Sunday, March 13: JHL Div. 1: Killeagh v Midleton at Killeagh at 3pm.
Sunday, March 13: JHL Div. 3: Castlelyons v Midleton at Castlelyons at 7pm.
Wednesday, March 16 JFL Div. 3: Aghada v Midleton at Rostellan at 8pm.
CAMOGIE
FE 13 JERSEY PRESENTATION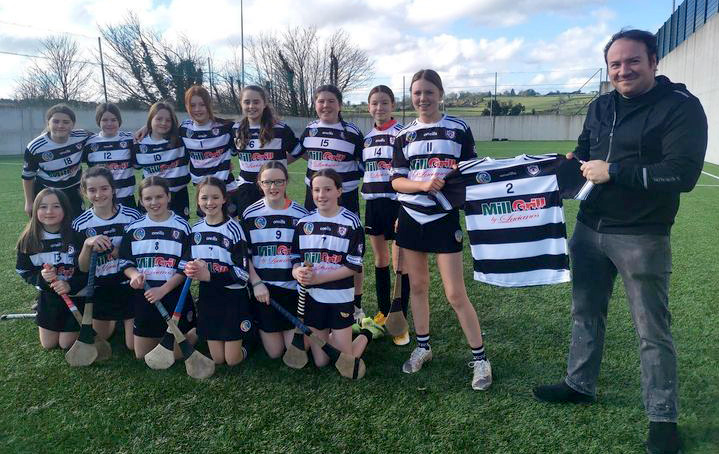 Our Fe13 Camogie team were very kindly presented with a new set of jerseys by Luciano Tavolieri of The Mill Grill last Sunday morning at training. The girls were delighted and will look very smart ahead of the new season. Thank you Luciano for your generosity it is greatly appreciated from all at Midleton Camogie Club.
OPEN DAY & SWAP SHOP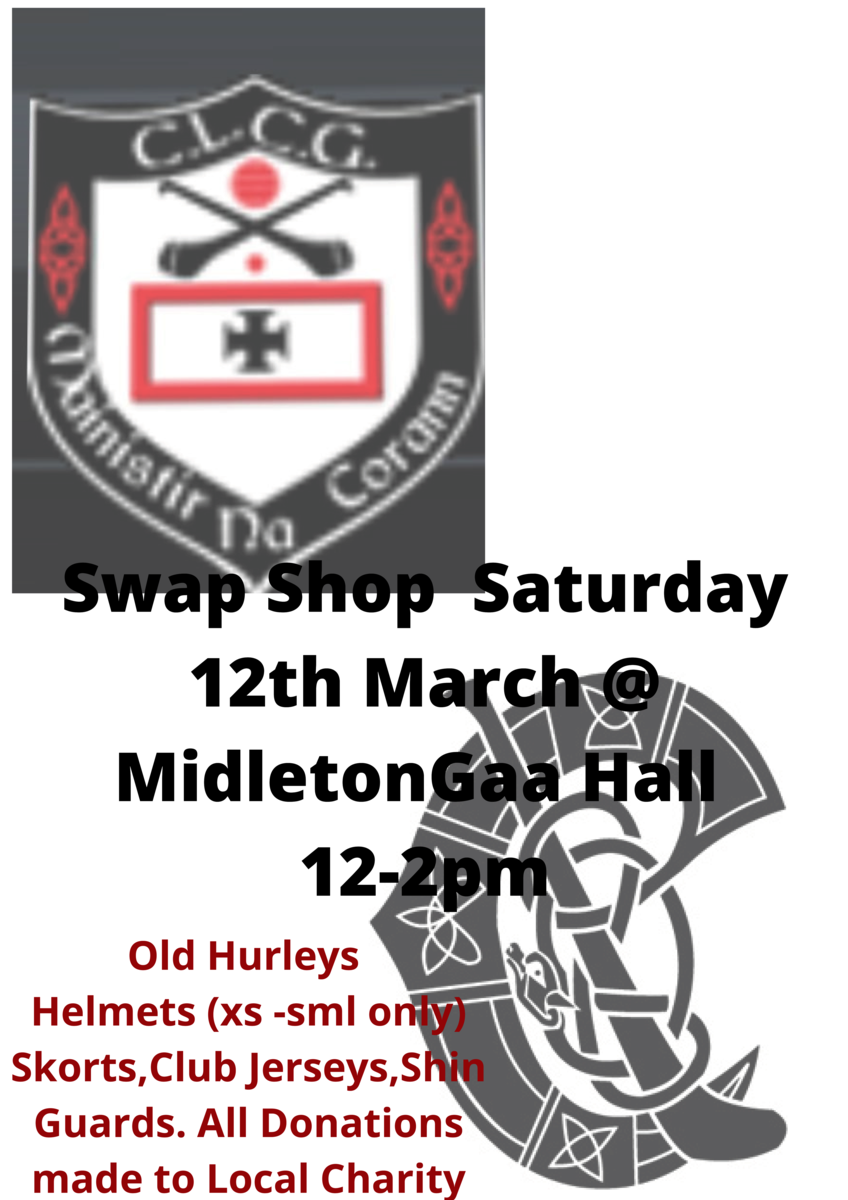 We are holding a Camogie Swap Shop and Open Day on this Saturday, March 12 at Midleton GAA Club from 12-2pm. On the day we will have a selection of second-hand Hurleys/Helmets and Jerseys should you need any of these for your daughter, there will be no charge on these items, all we ask is a small donation to a local charity. Also on the day our Coaching Officer, Mark O'Sullivan will be present to answer any questions you and your daughter may have. All welcome, please come along for a fun day out on Saturday. Thank you all for your continued support.
JUVENILE FIXTURES
Saturday, March 12: Fe13 Premier 2 Football: Midleton v Erins Own at Park South at 5pm.
Sunday, March 13: Fe14 Football League: Kiltha Og v Midleton at Castlemartyr at 11am.
Thursday, March 17: Fe15 Premier 1 Hurling League: Midleton v Sarsfields at Midleton at 1pm.
FE 6 BOYS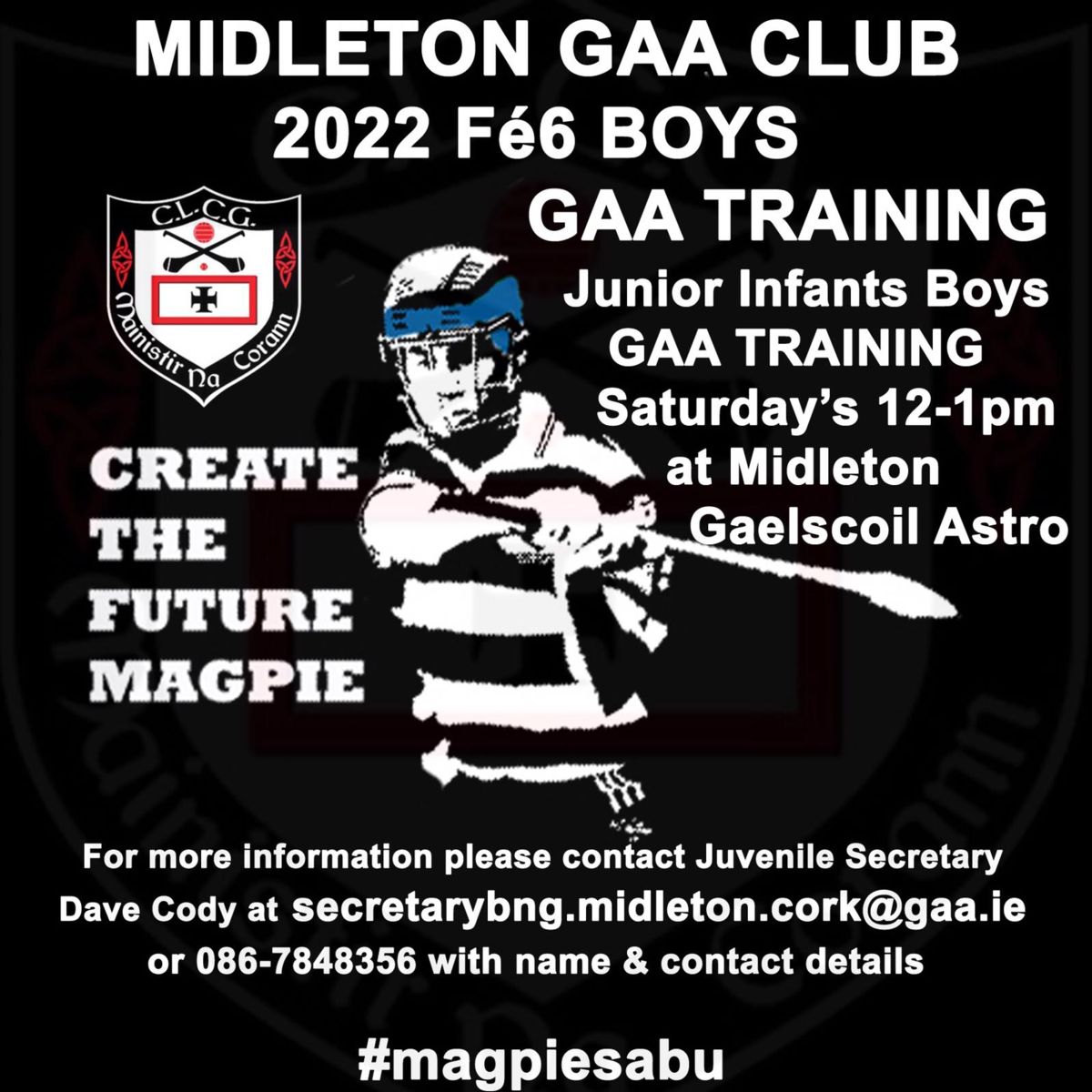 ST. PATRICK'S DAY PARADE

There will be plenty of Magpies representation in this year's St. Patrick's Day parade which returns to the streets of Midleton after a two year absence. It kicks off at 3pm with a new route. Coaches will be in touch with their players with regards to meeting times. Luke Dineen and Ross O'Regan recently brought Sean Og Murphy to the official launch of the parade. See picture below.
SEAN OG VISITS GAELSCOIL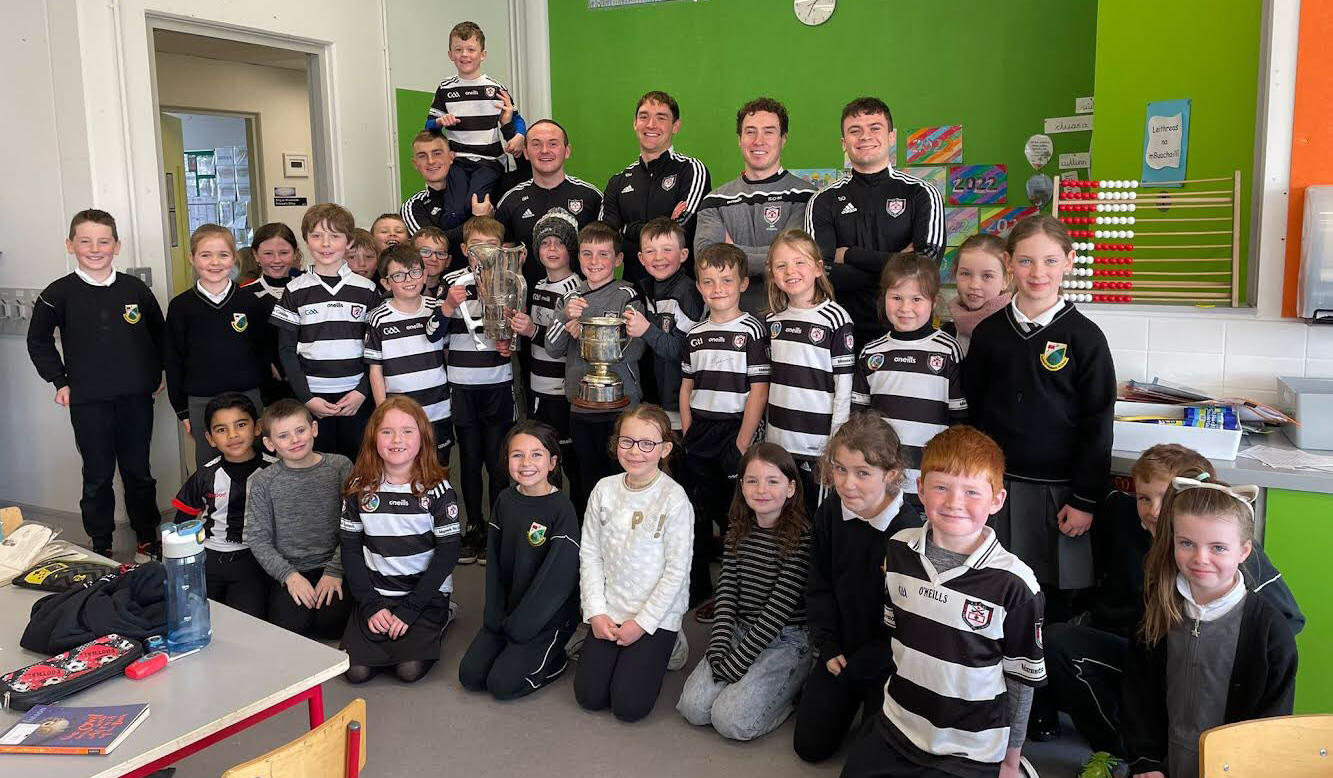 The Sean Og Murphy Cup finally made it to Gaelscoil Mhainistir na Corann this week in the safe hands of past pupils, Garan Manley, Sam Quirke and Tommy O'Connell and team-mates Sean O'Meara and Eoin Moloney.
LADIES FOOTBALL
HISTORIC DAY
Last Sunday we were delighted to field our first U-21 team away to Inch Rovers. This is a first for our club and it's great to see so many girls on the age eligible to play at this grade.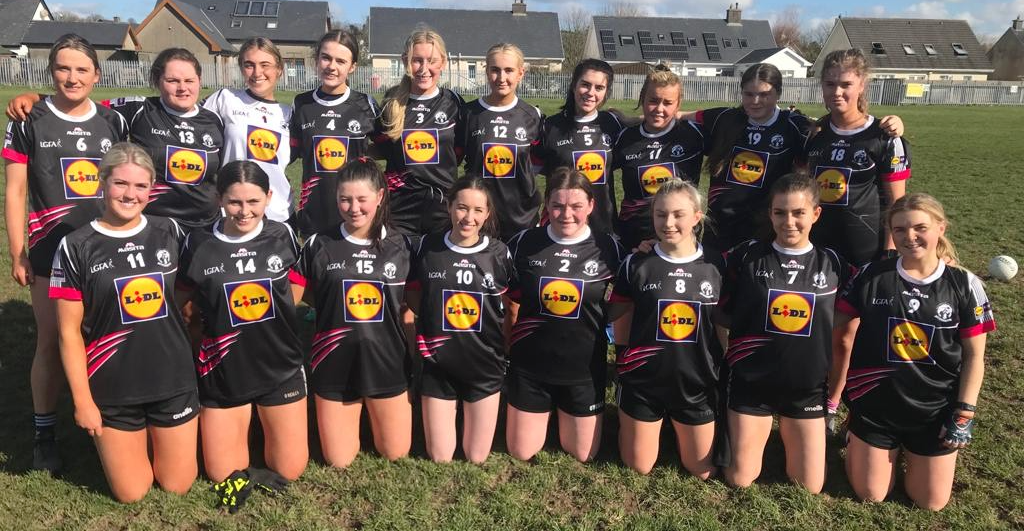 TRAINING
Monday 14th: Midleton Rugby Pitch:
U10/12: 6-7pm
U8: 6.30-7.30pm
Midleton GAA Side Pitch:
U14- 6.30-7.30pm
U16/Minor and Junior- 7.30-8.30pm.
BEST OF LUCK

Best of luck to our Junior player Abby Quirke who is playing with MTU in the Moynihan Cup All Ireland final on Saturday.
HARD LUCK
Hard luck to St. Mary's who lost out to Sacred Heart SS of Westport in their All-Ireland Post Primary Schools Junior A Semi-final today (Thursday), 3-11 to 1-10.
MEMBERSHIP
It's that time of year again. Membership for 2022 is now due. The membership rates are the same as last year. These are the different categories and fees.
ADULT NON PLAYER - €100
Non Player, Team Mentor, Officer, Committee Member: Must be paid by 31st March 2022 for Membership to 31st March 2023.
ADULT PLAYER (INCLUDING GYM) - €200
Employed Player 18 years+ including Gym. Must be paid by 31st March 2022 for membership to 31st March 2023.
ADULT PLAYER (INCLUDING GYM) – FULL-TIME STUDENT/APPRENTICE/UNEMPLOYED - €100
18yrs+ Adult Player Including Gym - You must be a Full Time Student or Apprentice or be Unemployed to avail of this option. Must be paid by 31st March 2022 for Membership to 31st March 2023.
ADULT NON PLAYER OAP OR UNEMPLOYED - €50
Non Player, OAP (65+), Unemployed: Must be paid by 31st May to have Voting Rights. Must be paid by 31st March 2022 for Membership to 31st March 2023
DIASPORA MEMBER - €50
A member who lives away from the club perhaps elsewhere in Ireland or abroad. This is a Social Membership only with no voting rights. Must be paid by 31st March 2022 for Membership to 31st March 2023
FAMILY REGISTRATION - €300
Employed Child/Children do not qualify for Family Membership. Child/Children born in 2003 or before do not qualify for Family Membership. Family Membership does not include the Gym. Additional Gym costs are €100pp per year. Must be over 18 years of age. Must be paid by 31st March 2022 for Membership to 31st March 2023.
YOUTH PLAYER – SENIOR INFANTS TO FE 18 - €135
Player must be under 18 Years of Age on 1st Jan 2022. Players in this category do not have Voting Rights until they reach their 18th Birthday. Must be paid by 31st March 2022 for Membership to 31st March 2023.
JUNIOR INFANTS PLAYERS OR MAGPIE ALL-STARS - €50
Player in Junior Infants Or Magpie All Stars. Must be paid by 31st March 2022 for membership to 31st March 2023.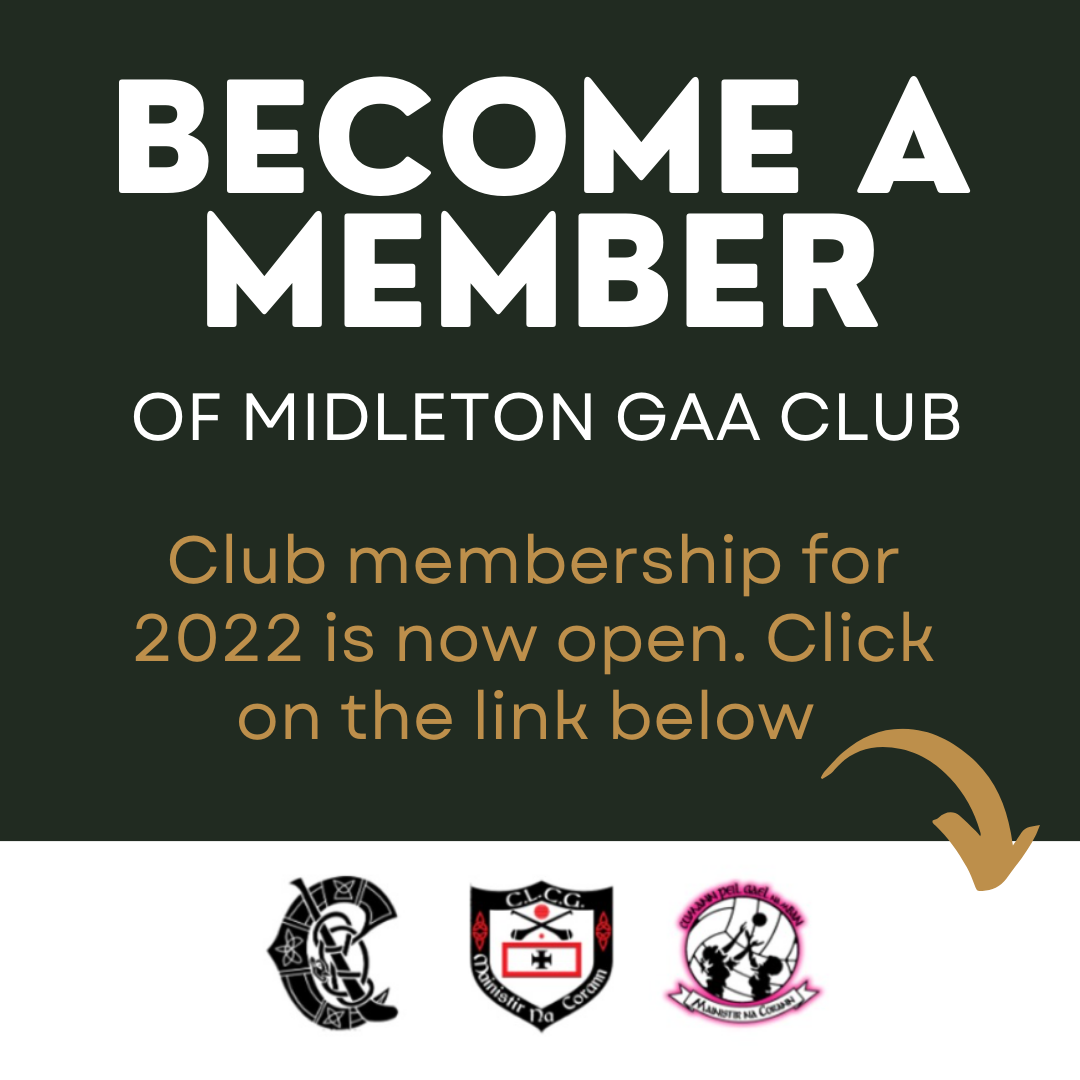 The quickest way to pay is by the Klubfunder page: https://www.klubfunder.com/Clubs/Midleton_GAA.
Thank you to all those who have already paid their membership for 2022.
CHILD SAFEGUARDING WORKSHOP
Midleton GAA will run a child safeguarding 1 workshop on 27th April 2022 in the club. To book a place on the course please email childrensofficer.midleton.cork@gaa.ie.
GYM REOPENING
Our club Gym will re-open to members on Monday next, March 14. Access FOBs have been re activated.
Please note that some of the equipment will be undergoing some service work over the coming weeks so apologies in advance for any inconvenience.
LOTTO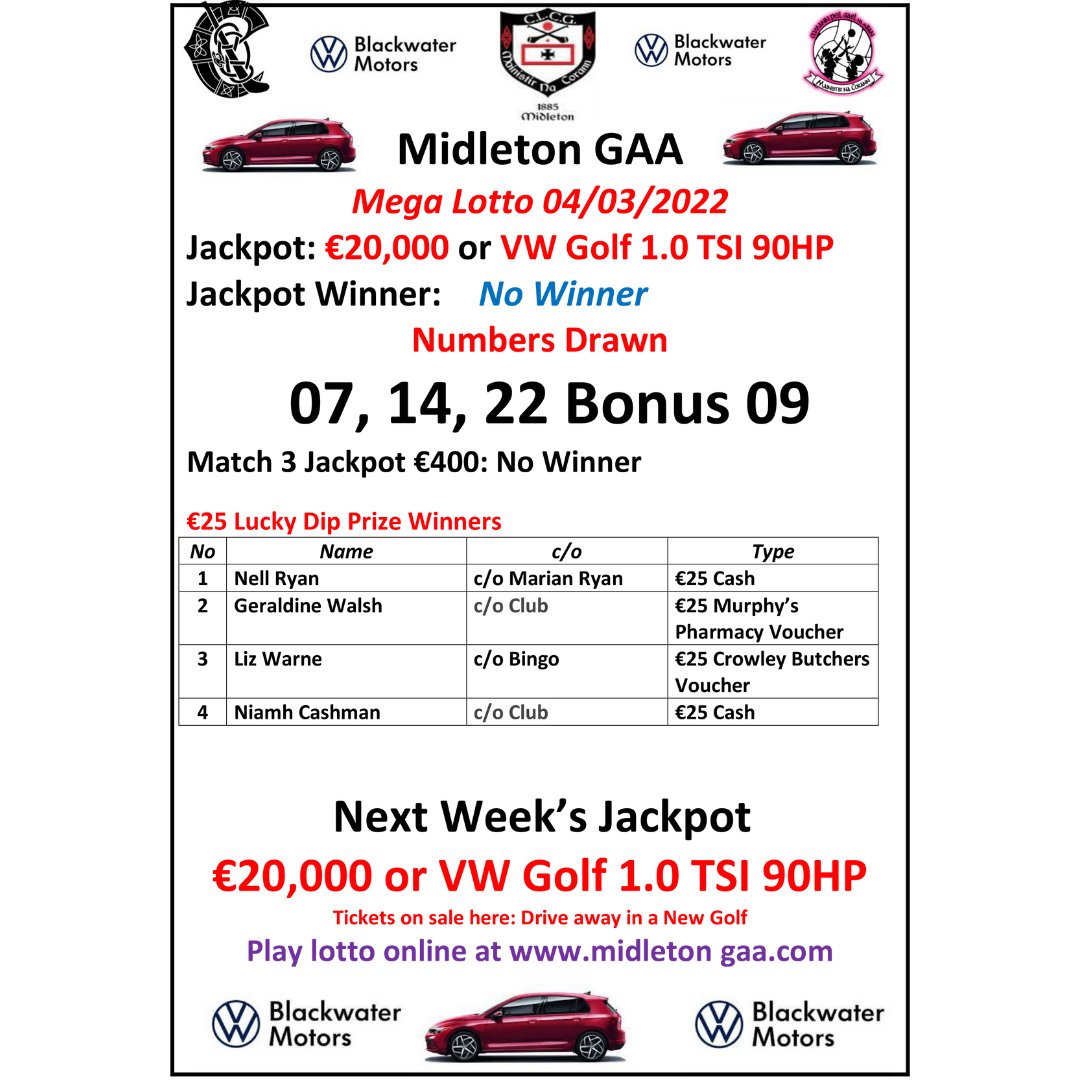 Our Lotto Jackpot was a choice of €20,000 or a VW Golf 1.0 TSI (in partnership with Blackwater Motors) the numbers were 7, 14 & 22 Bonus 9.
There was no winner of the jackpot so next Friday's jackpot will remain the same. There was also no winner of the Match 3 jackpot worth €400.
The Lucky Dip Prize winners his week were: Nell Ryan & Niamh Cashman (€25 cash each), Geraldine Walsh (€25 Murphy's Pharmacy Voucher) and Liz Warne (€25 Crowley Butchers Voucher).
In total Midleton GAA will give out local business vouchers to the value of €3,800 every year as part of our "Shop Local, Buy Local" campaign.
How to play: tickets are on sale at Pat Walsh Paints, Chadwicks, Frank Murphy Butchers, Murphy's Pharmacy, Crowley Butchers, or buy online, through Klubfunder, at https://www.klubfunder.com/Clubs/Midleton%20GAA/lotto select your numbers and number of draws to play. You can buy an annual ticket by selecting "50" from the "Number of Draws" to Play dropdown.
BINGO
Our Bingo continues on Friday nights with an early game at 7.25pm. Everyone is welcome.
CLUB SHOP
The Midleton GAA club shop is back up and running for the 2022 season. All you have to do is go to the Klubfunder website (https://www.klubfunder.com/Clubs/Midleton%20GAA/ShopItems) and you will see the full range of what's available to buy. You can shop away to your heart's content, pay for it online and then collect your purchases at the club shop on Saturday morning between 9.30am and 10am. Please note that the collection time on this Saturday (March 12) will be from 11am to 11.30am.