Midleton Hurling and Football, Ladies Football and Camogie Club News
24 February, 2022
YOUR CLUB, YOUR NOTES
To those that don't know me, I'm Ger Lawton and I'm the new PRO for Midleton GAA. These are my first club notes and I wish to start by thanking my predecessor, John Hogan, for the excellent job he has done over recent years and for his help in getting me up to speed on the role.
All I want to say is that these are the notes for our club so that means they're your notes too so if you have anything to include or need any help with anything on the communications side of the club then don't hesitate to contact. My email is: pro.midleton.cork@gaa.ie and my number is 087-4143094. I look forward to working with you and bringing you all the Midleton GAA news for the year ahead. Magpies Abú.
REBELS' BOUNTY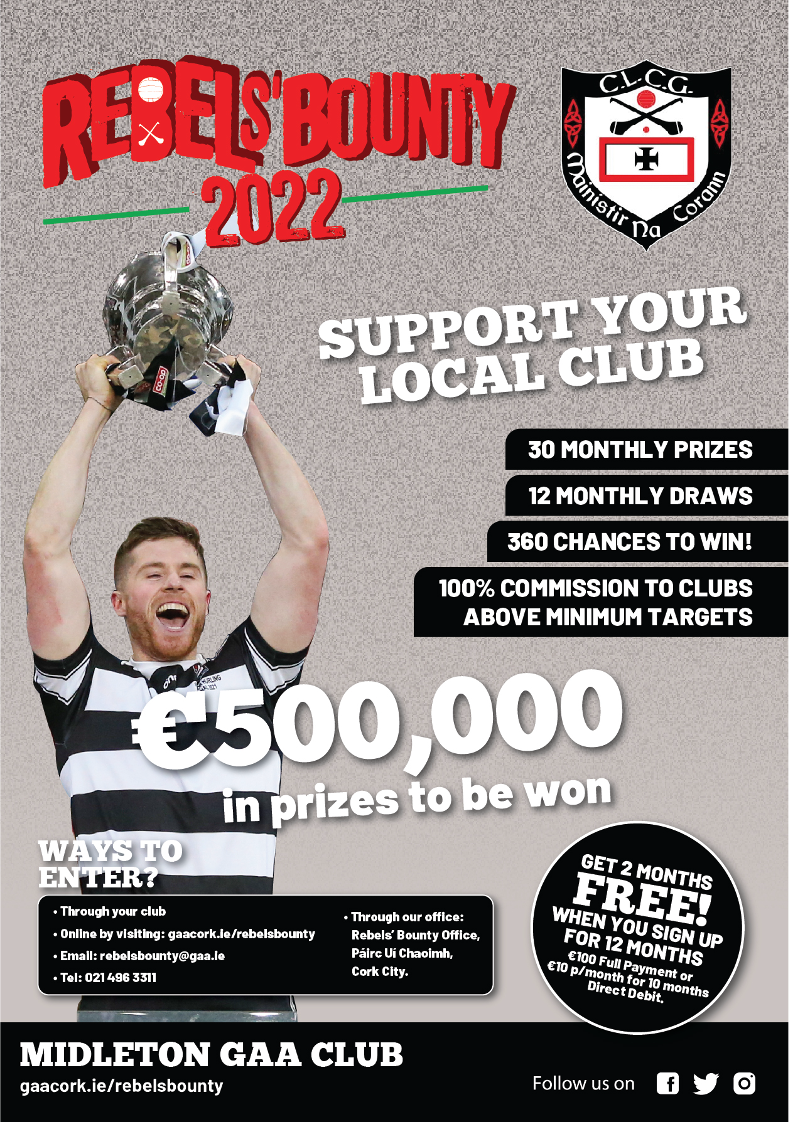 One more shout out to all members and supporters. If you haven't done so already it would be great if you could support our Rebels Bounty Draw efforts.
They are great prizes with in each of the monthly draws and most importantly 100% OF THE TICKET PRICE GOES DIRECTLY TO MIDLETON GAA.....
It's an important fundraiser for the club and we would really appreciate your support.
The first two draws (January and February) take place on Tuesday night next, March 1, and all entries must be in by 1pm on that day. If you're not in you can't win.....
This is the link....just make sure you put MIDLETON as your chosen club...... https://rebelsbounty.ergogroup.ie/.../rebelsbounty/join-draw
MEMBERSHIP
It's that time of year again. Membership for 2022 is now due. The membership rates are the same as last year. These are the different categories and fees.
Adult Non Player Registration €100
Non Player, Team Mentor, Officer, Committee Member: Must be paid by 31st March 2022 for Membership to 31st March 2023.
Adult Player Including Gym €200
Employed Player 18 years+ including Gym. Must be paid by 31st March 2022 for membership to 31st March 2023.
Adult Player Including Gym - Full Time Student or Apprentice or Unemployed €100
18yrs+ Adult Player Including Gym - You must be a Full Time Student or Apprentice or be Unemployed to avail of this option. Must be paid by 31st March 2022 for Membership to 31st March 2023.
Adult Non Player OAP Or Unemployed €50
Non Player, OAP (65+), Unemployed: Must be paid by 31st May to have Voting Rights. Must be paid by 31st March 2022 for Membership to 31st March 2023
Diaspora Member €50
A member who lives away from the club perhaps elsewhere in Ireland or abroad. This is a Social Membership only with no voting rights. Must be paid by 31st March 2022 for Membership to 31st March 2023
Family Registration €300
Employed Child/Children do not qualify for Family Membership. Child/Children born in 2003 or before do not qualify for Family Membership. Family Membership does not include the Gym. Additional Gym costs are €100pp per year. Must be over 18 years of age. Must be paid by 31st March 2022 for Membership to 31st March 2023.
Youth Membership Player In Senior Infants To Fe 18 €135
Player must be under 18 Years of Age on 1st Jan 2022. Players in this category do not have Voting Rights until they reach their 18th Birthday. Must be paid by 31st March 2022 for Membership to 31st March 2023.
Player in Junior Infants or Magpie All Stars €50
Player in Junior Infants Or Magpie All Stars. Must be paid by 31st March 2022 for membership to 31st March 2023.
The quickest way to pay is by the Klubfunder page: https://www.klubfunder.com/Clubs/Midleton_GAA.
Thank you to all those who have already paid their membership for 2022.
LEAGUE FIXTURES
March is fast approaching and so is the return of matches.
The East Cork Junior A football league will start for Midleton on March 6 as we travel to Lisgoold at 3pm.
The East Cork Junior A hurling league starts the following week, March 13, with Midleton facing Killeagh.
That same weekend, the senior hurlers begin their league campaign against Douglas. Time and venue to be confirmed in the coming weeks.
The draws for the East Cork championships for 2022 will take place on March 2.
U-19 GRADE
With the change of minor to U-17, this year the U-21 grade in Cork (which hasn't been played for the last two seasons) will be replaced by an U-19 grade.
The county U-19 league and championship competitions will be organised by the County CCC for the next two years, based on the Rebel Óg structures and regions and matches will be played midweek to avoid adult and minor fixtures at the weekend.
League groups of four will start on Wednesday, March 30 and clubs will be asked to play these league games without county minor and U-20 players. All teams will play a cup or a plate semi-final giving a minimum of four leagues games in each code.
A knockout championship will then begin on July 13 and run on a weekly basis to the end of August, to finish before the return to school and college.
At Monday night's club meeting, the management team for the Midleton U-19 team for 2022 was ratified. It is: Pat Walsh, Davy O'Brien, Jerry Smyth, Sean Corcoran and Davy Hogan. We wish them well for the season ahead.
JUVENILES
TEAM MANAGERS
The juvenile team managers for the 2022 season have been appointed and here they are.
U-6 Mike Oosthuizen
U-7 Oisin Cotter
U-8 Michael Carroll
U-9 Ed Cronin
U-10 Aidan O'Donovan
U-11 Liam Walsh
U-12 Shane O'Dowd
U-13 Aidan Moloney
U-14 Willie Lawton
U-15 Kevin McSweeney
U-16 Martin McSweeney
U-17 Ray Fitzgerald.
Best of luck to all managers, selectors and of course players for the year ahead, let's hope it's a great one for all Magpies teams.
FE 14
​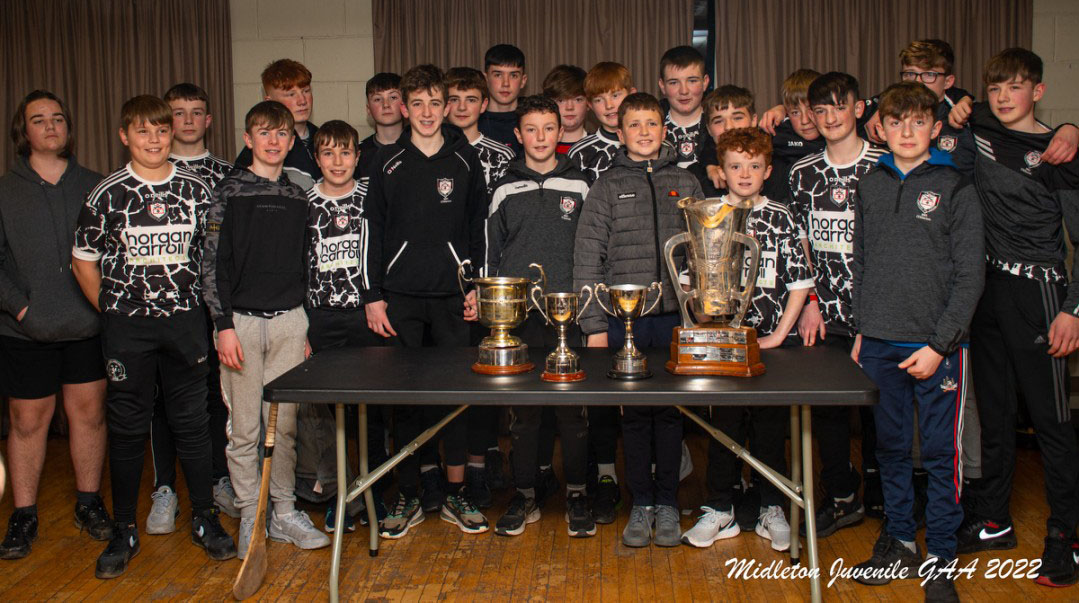 The 2021 double winning Fe 13 panel who received their medals last Friday night.
Our Fe14 lads are happy to be back training in hurling and football since the start of February.
Some challenge games have been arranged for the next few weekends to blow off the cobwebs and then into the U-14 leagues in mid March. We had a very good finish to 2021 in Fe13, winning Rebel Óg county medals in hurling and football.
We had a very good night on Friday night last in the GAA club as the lads were presented with their medals by members of the 2021 county winning senior hurling team, Pa White, Luke Dineen and Brion Saunderson and Criostoir O'Caisaigh, Juvenile Football coaching officer.
Finally, a big thank you Michael Caroll and Horgan Carroll Architects Midleton on sponsoring very nice training tops for the lads for 2022.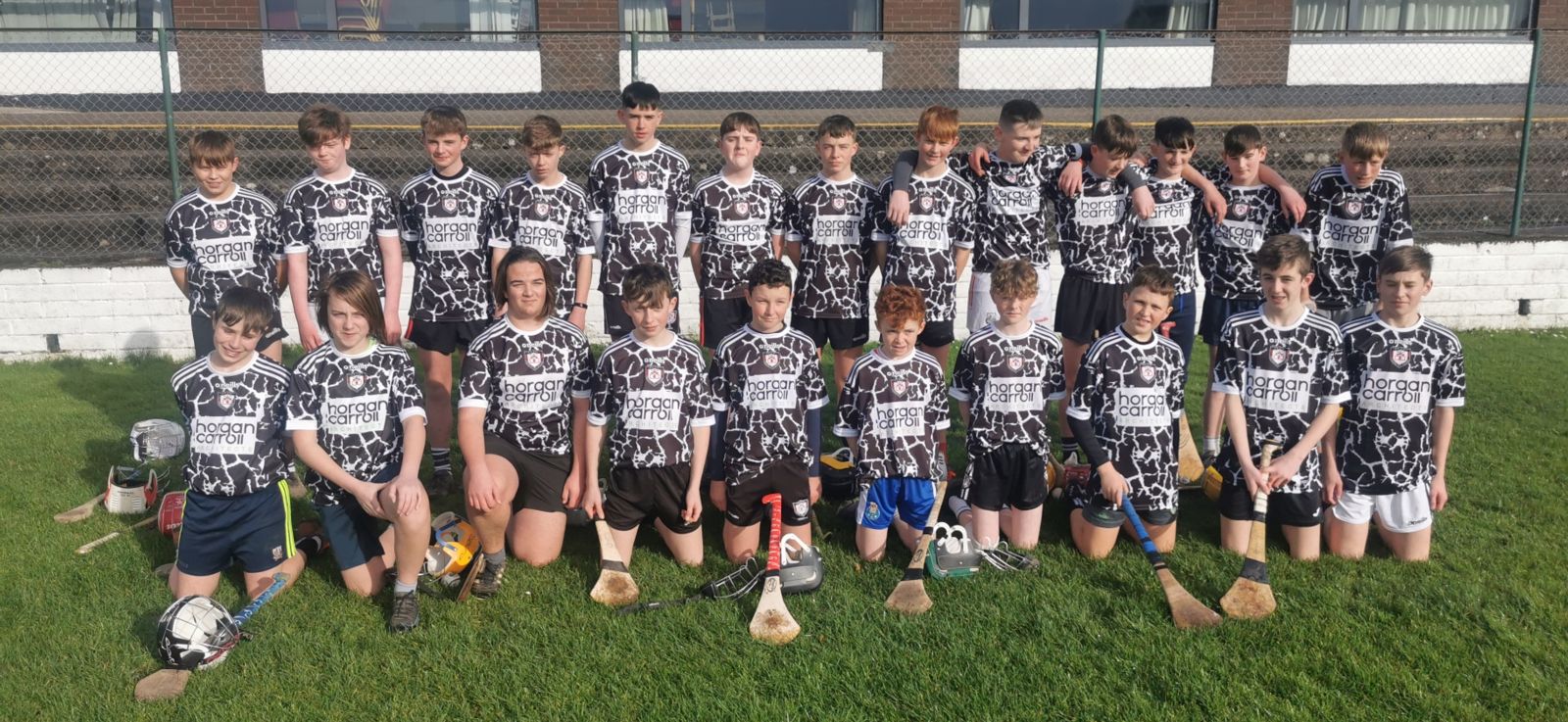 The 2022 Fe 14 panel with their smashing new training tops which were kindly sponsored by Horgan Carroll Architects.
FE 11
Congratulations to our Fe 11 player, Michael McManus who won a bronze medal at the Munster athletics 60m sprint last weekend. Proud of you Michael. Well done!
CAMOGIE
FE 11S RETURN TO TRAINING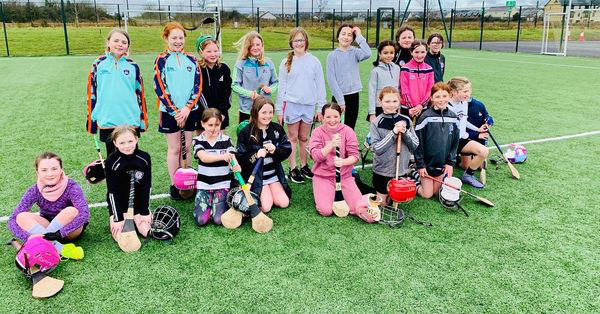 A warm welcome back to an enthusiastic and energetic group of U-11s (pictured above) who ran back on the training pitch recently and who are more than ready for another season! Well done girls!
U-16A CORK PANEL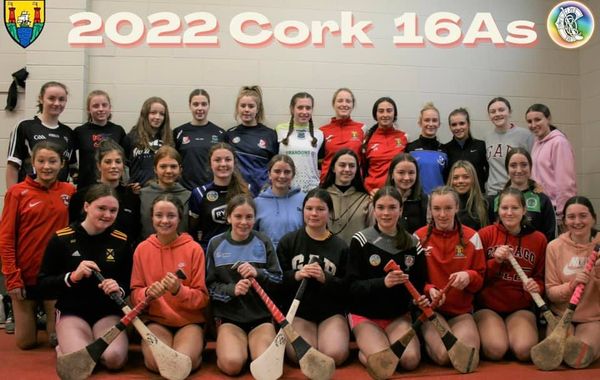 Huge Congratulations to our player Isabelle Nestor on being selected for the Cork U-16A panel .Well done Isabelle, all your hard work and commitment has paid off ,we are so proud of you and look so forward to your success for 2022.
CORK MINORS
Cork V Dublin – All-Ireland Minor A Championship

Two out of two. Another comprehensive win for Cork minors as they came up against Dublin which was played in Castle Road, Cork. Well done to all involved especially our own Jill Connaughton, who kept her cool between the posts in another victory for Cork. FT: Cork 2-15 Dublin 0-5.
LADIES FOOTBALL
Training for all age groups will return next Monday evening. However, there will be a change in venues for our younger age groups. This is outside our control and we apologise for late notice.
Details are as follows:
U8/10 and12s will train at Midleton Rugby Club from 6-7pm on Monday evening. Please note access to the pitch is only from the Rugby Club entrance.
U-14s will train at the side pitch off the GAA Club from 6.30-7.30pm on Monday evening.
U-16/Minor and Junior will train at the side pitch of the GAA Club on Monday and Thursday from 7.30-8.30pm.
All Parents will be contacted by text with times and venue changes.
Our younger age groups urgently need help. If you are in a position to offer an hour, please let Tracy know on 087-6625544.
CLUB SHOP
The Midleton GAA club shop is back up and running for the 2022 season. All you have to do is go to the Klubfunder website (https://www.klubfunder.com/Clubs/Midleton%20GAA/ShopItems) and you will see the full range of what's available to buy. You can shop away to your heart's content, pay for it online and then collect your purchases at the club shop on Saturday morning between 9.30am and 10am.
LOTTO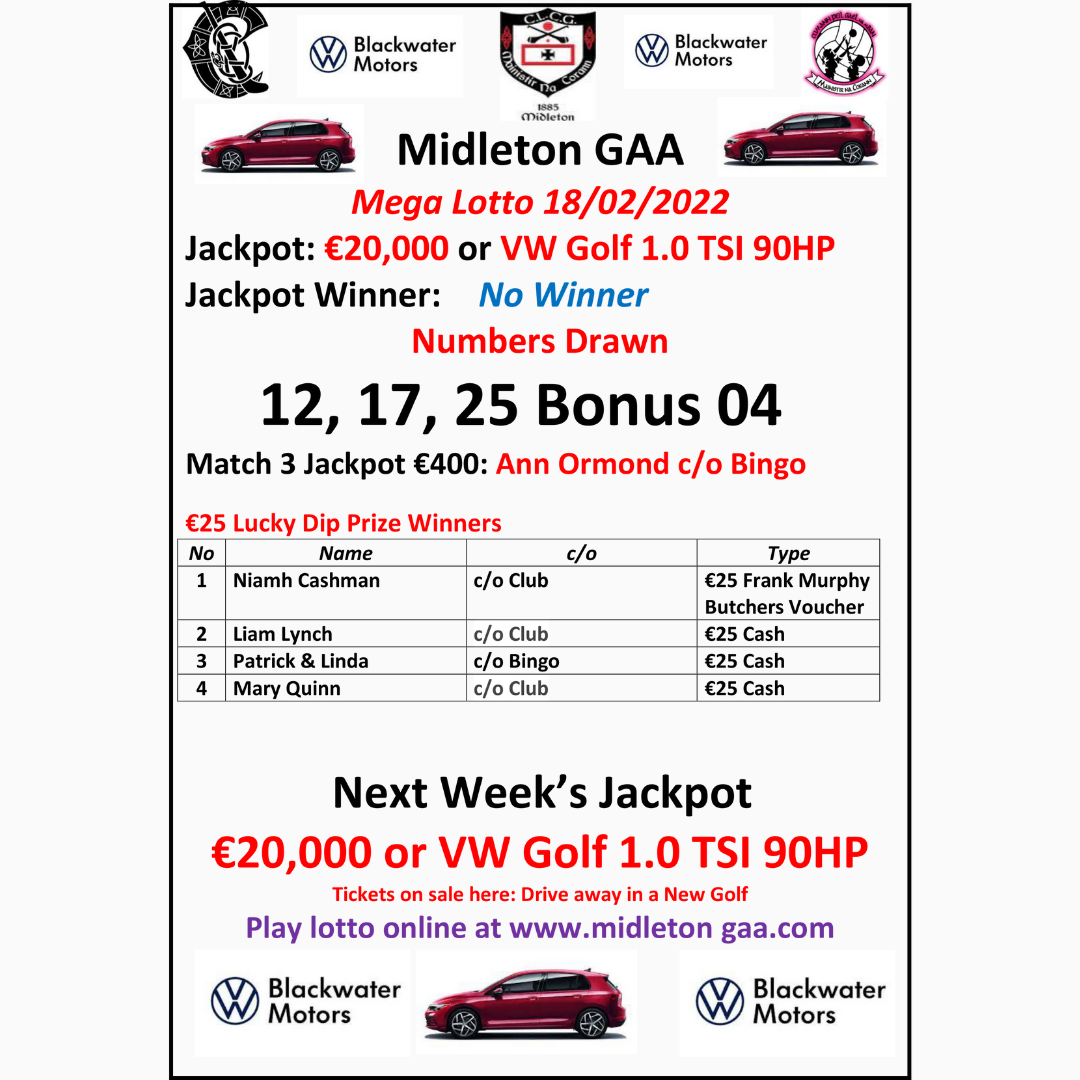 Our Lotto Jackpot was a choice of €20,000 or a VW Golf 1.0 TSI (in partnership with Blackwater Motors) the numbers 12, 17, 25 & Bonus 4. There was no winner of the jackpot so next Friday's jackpot will remain the same. There was however a winner of the Match 3 jackpot worth €400 and this was won by Ann Ormond c/o Bingo.
The Lucky Dip Prize winners his week were Niamh Cashman (€25 Frank Murphy Butchers Voucher), Liam Lynch, Patrick & Linda (Bingo) and Mary Quinn (€25 cash each). In total Midleton GAA will give out local business vouchers to the value of €3,800 every year as part of our "Shop Local, Buy Local" campaign.
How to play: Tickets are on sale at Pat Walsh Paints, Chadwicks, Frank Murphy Butchers, Murphy's Pharmacy, Crowley Butchers, or buy online, through Klubfunder, at https://www.klubfunder.com/Clubs/Midleton%20GAA/lotto select your numbers and number of draws to play. You can buy an annual ticket by selecting "50" from the "Number of Draws" to Play dropdown.
BINGO
Our Bingo continues on Friday nights with an early game at 7.25pm. Everyone is welcome. Bring your face mask and a friend.
CONDOLENCES
Midleton GAA club would like to express our deepest sympathies to the family and friends of, Jose Cox (Tim Clarke's Terrace), Marie Fitzgerald (Cork Road) and Tom Tobin (Lismore), who died recently.
Ar dheis Dé go raibh a n-anamacha.