Midleton Hurling and Football, Ladies Football and Camogie Club News
05 December, 2021
Midleton GAA…at the 'Heart of the Community'.
Ní neart go cur le chéile. There is no strength without unity.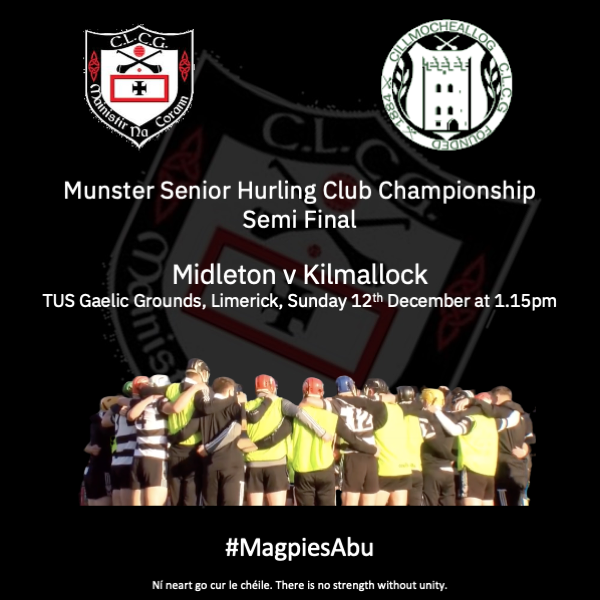 Mega Lotto Results & New Jackpot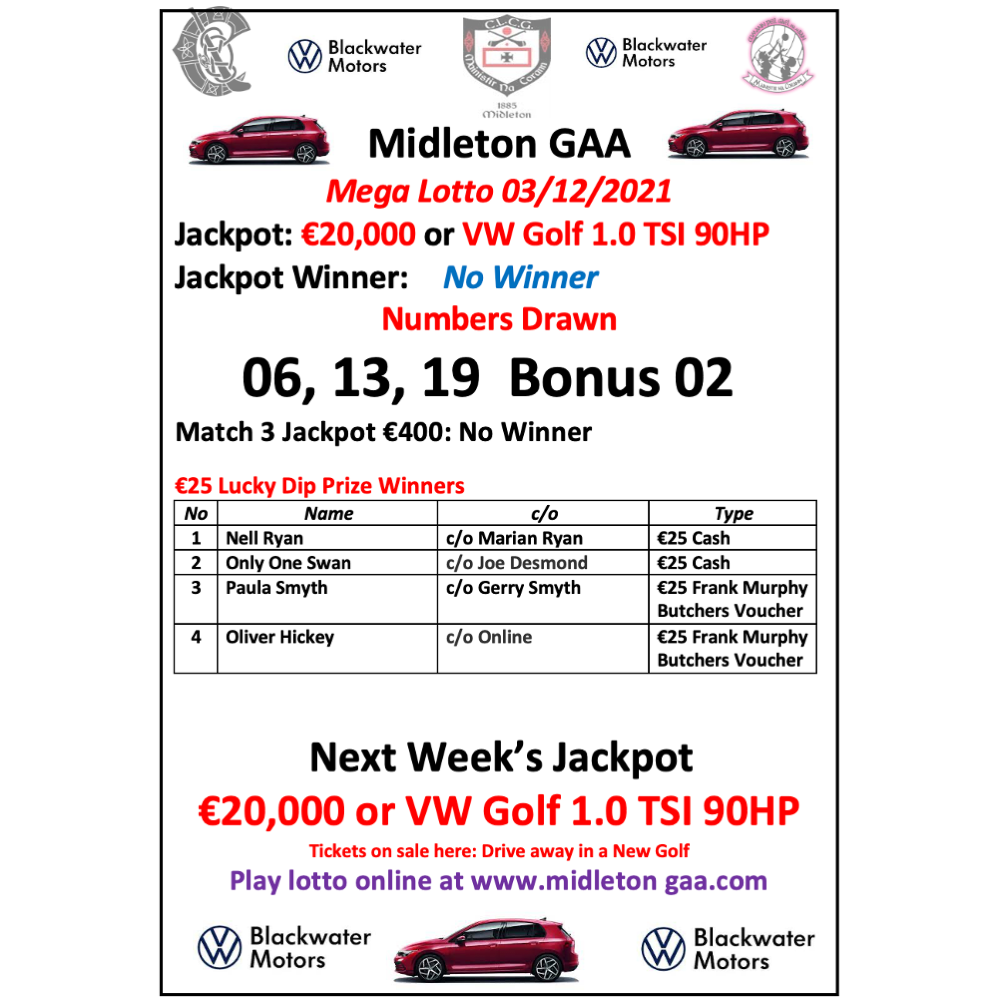 Our Lotto Jackpot was a choice of €20,000 or a VW Golf 1.0 TSI (in partnership with Blackwater Motors) the numbers 06, 13, 19 Bonus 02. There was no winner of the jackpot so next Friday's jackpot will remain the same. The Match 3 Jackpot of €400 was won by John Healy.
4 Lucky Dip Prize Winners this week were Nell Ryan and Only One Swan (€25 cash each) & Paula Smyth and Oliver Hickey (€25 Frank Murphy Butcher Voucher each) . In total Midleton GAA will give out local business vouchers to the value of €3,800 every year as part of our "Shop Local, Buy Local" campaign.
How to play: Tickets are on sale at Pat Walsh Paints, Chadwicks, Frank Murphy Butchers, Murphy's Pharmacy, Crowley Butchers, or buy online, through Klubfunder, at https://www.klubfunder.com/Clubs/Midleton%20GAA/lotto select your numbers and number of draws to play. You can buy an annual ticket by selecting "50" from the "Number of Draws" to Play dropdown.
Midleton GAA Bingo
Our bingo is back indoors on Friday nights with an early bird game at 7.30pm. Great prizes on offer.
Bring your COVID Cert, face mask and a friend to enjoy a good evening out.
Christmas Draw
Call to Action: Support our Xmas Raffle
An integral fundraiser for the club is our Xmas Draw. We would normally distribute paper tickets to the various teams but alas this is not possible at the moment. Tickets can be bought online at Klubfunder https://tinyurl.com/yxqkg3f8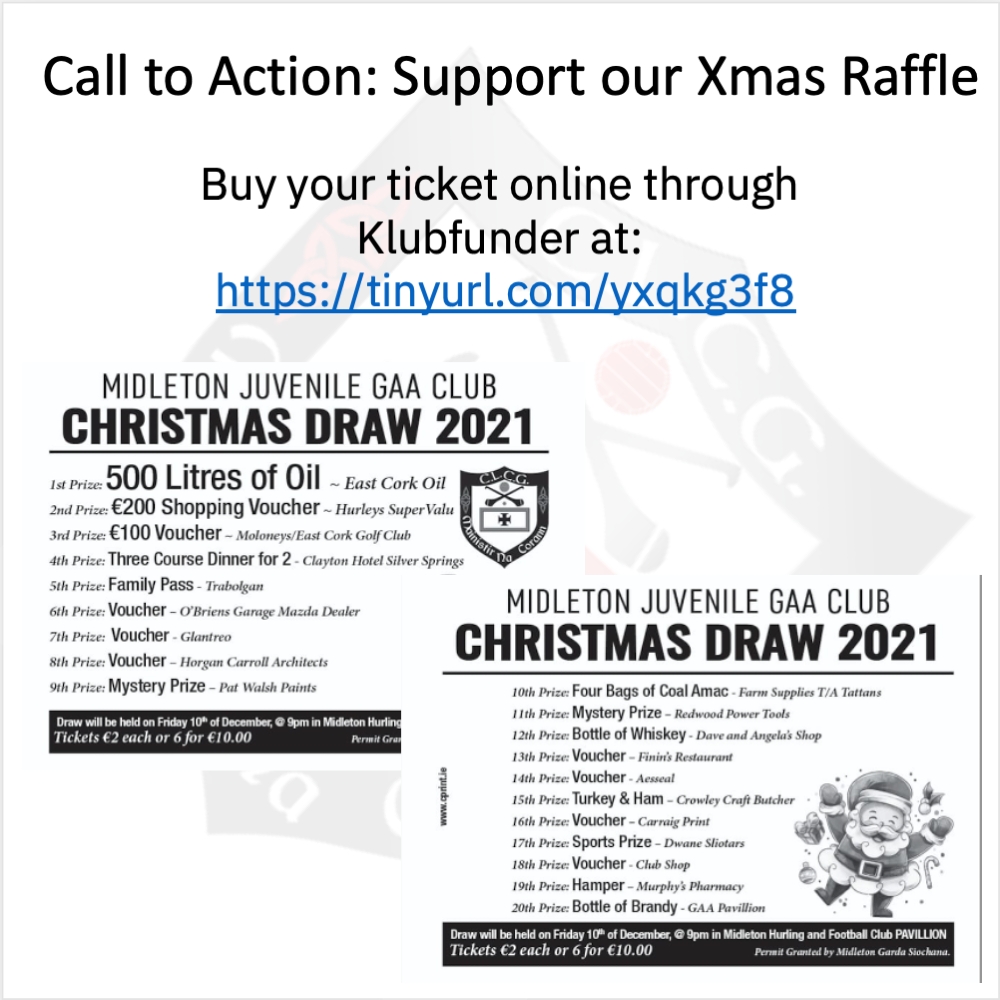 20 prizes in total. Many thanks to the sponsors of the prizes for their continued support.
Juvenile
Fé 11- Last training session
Saturday 27th of November saw the Fé11s have their last training session of 2021. With a few pairs of new boots (and some old jerseys!) 7 brave coaches lined out with the boys for an end of season football game. Dubious refereeing aside, it turned out to be a tight affair, with only a point between the teams at the final whistle. Final score 1:03 to 2:01. After the game we gathered behind the goals for a small party and to hand out awards for the Fé11 most improved hurler and footballer of the year.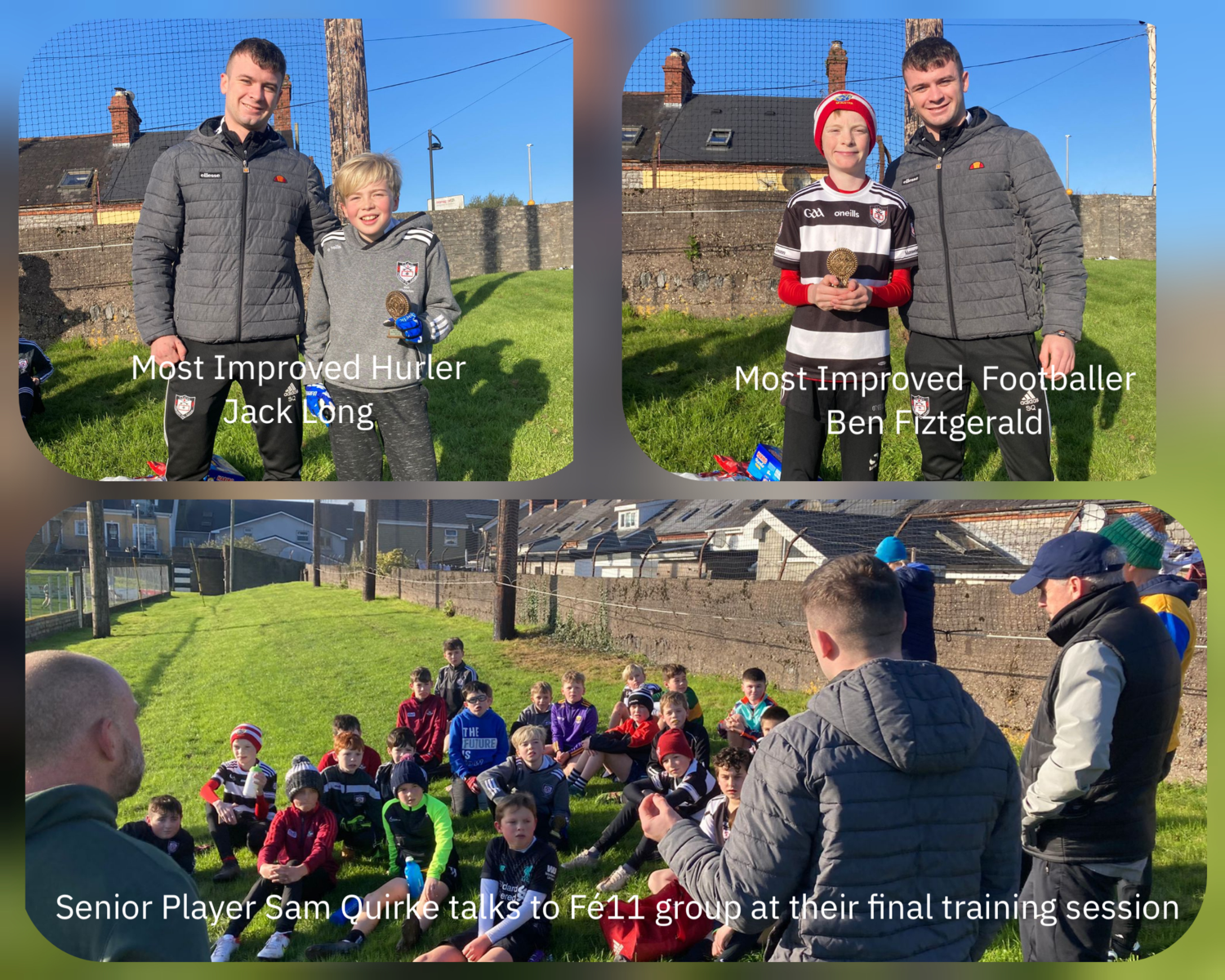 Fé11 most improved Hurler of 2021 went to Jack Long.
Fé11 most improved Footballer of 2021 went to Ben Fitzgerald.
Well done lads.
Thanks to all the coaches for the treats and taking part in the match, thanks to all the kids for their efforts during the year. A special thanks to Sam Quirke for giving his time on Saturday to hand out awards and for his words of encouragement to the group.