Midleton Hurling and Football, Ladies Football and Camogie Club News
31 October, 2021
Midleton GAA…at the 'Heart of the Community'. Ní neart go cur le chéile. There is no strength without unity.
Mega Lotto Results & New Jackpot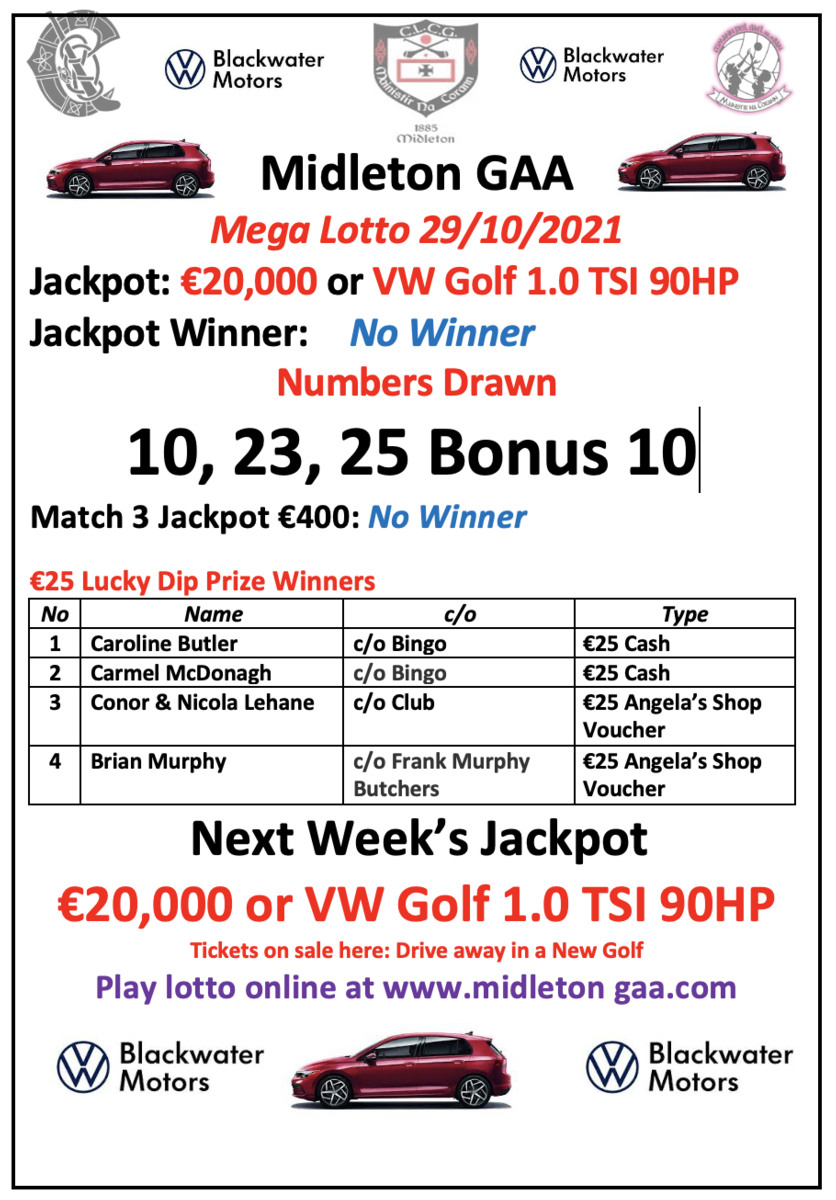 Our Lotto Jackpot was a choice of €20,000 or a VW Golf 1.0 TSI (in partnership with Blackwater Motors) the numbers 10, 23, 25 Bonus 10. There was no winner of the jackpot so next Friday's jackpot will remain the same.
4 Lucky Dip Prize Winners this week were Caroline Butler, Carmel McDonagh (€25 in cash each), Conor & Nicola Lehane and Brian Murphy (€25 Angela's Shop Voucher each). In total Midleton GAA will give out local business vouchers to the value of €3,800 every year as part of our "Shop Local, Buy Local" campaign.
How to play: Tickets are on sale at Pat Walsh Paints, Chadwicks, Frank Murphy Butchers, Murphy's Pharmacy, Crowley Butchers, or buy online, through Klubfunder, at https://www.klubfunder.com/Clubs/Midleton%20GAA/lotto select your numbers and number of draws to play. You can buy an annual ticket by selecting "50" from the "Number of Draws" to Play dropdown.
Midleton GAA Bingo
Our bingo is back indoors on Friday nights with an early bird game at 7.30pm. Great prizes on offer.
Bring your COVID Cert, face mask and a friend to enjoy a good evening out.
GAA Fixtures & Results
See below links for details of fixtures and results.
As usual we will endeavor to keep the club website up to date with fixtures and results as well as posting results, as much as possible, on twitter and facebook. Team managers are asked to submit results and any fixture changes to pro.midleton.cork@gaa.ie or text 0868643079.

Get the date in your diary for next weeek. Next Sunday, 7th November, sees our Senior team take on Blackrock in the semi-final of the Premier Senior Hurling Championship at 1.30pm in Pairc Ui Chaoimh. Let's get out and support the team.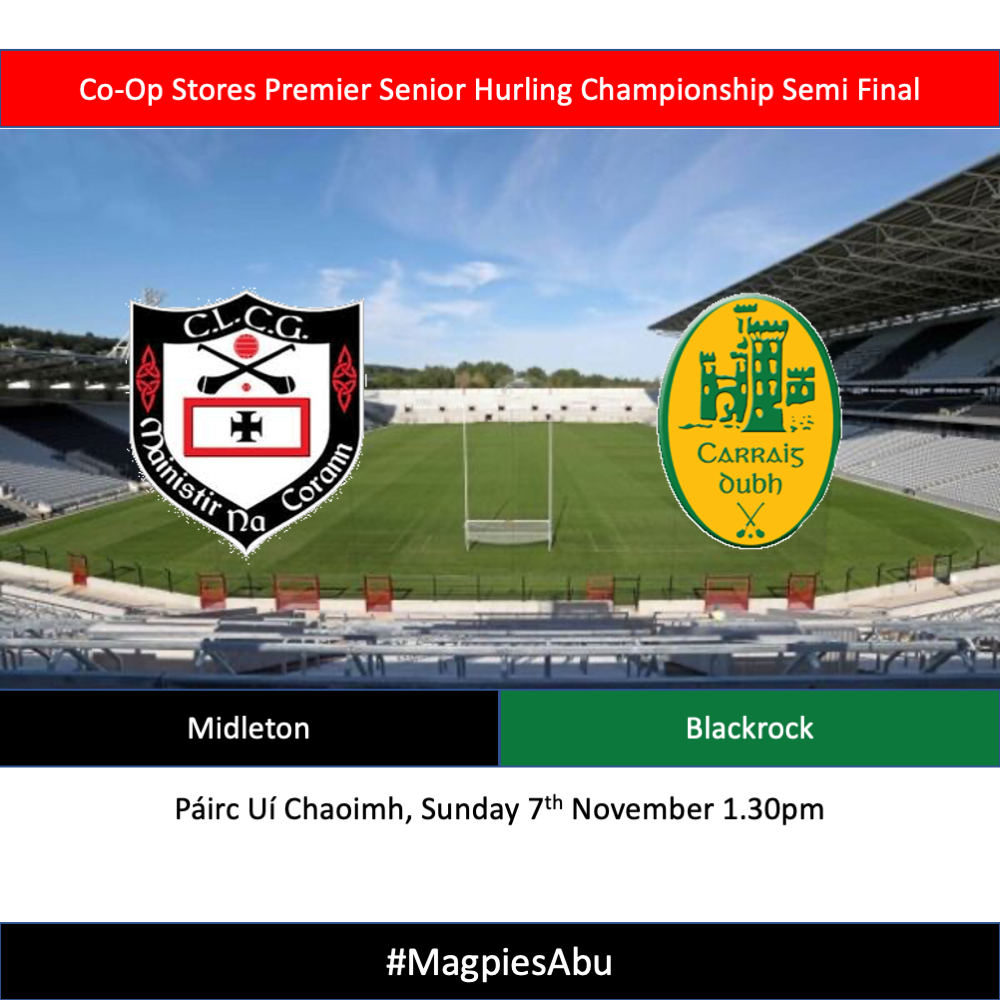 Website Links:
Fixtures club_fixtures
Results club_results
Camogie Notes
Our U10 Camogie girls are made of tough stuff as they beat their coaches who lost their end of Season Tug of war with the players on the main pitch recently. Well done girls some future Camogie Stars in the mix here! We would like to thank all our U10 Coaches who put in fantastic effort during a difficult year to ensure each girl trained safely and organised many matches and Blitzes throughout the year. A well earned break now is due to all!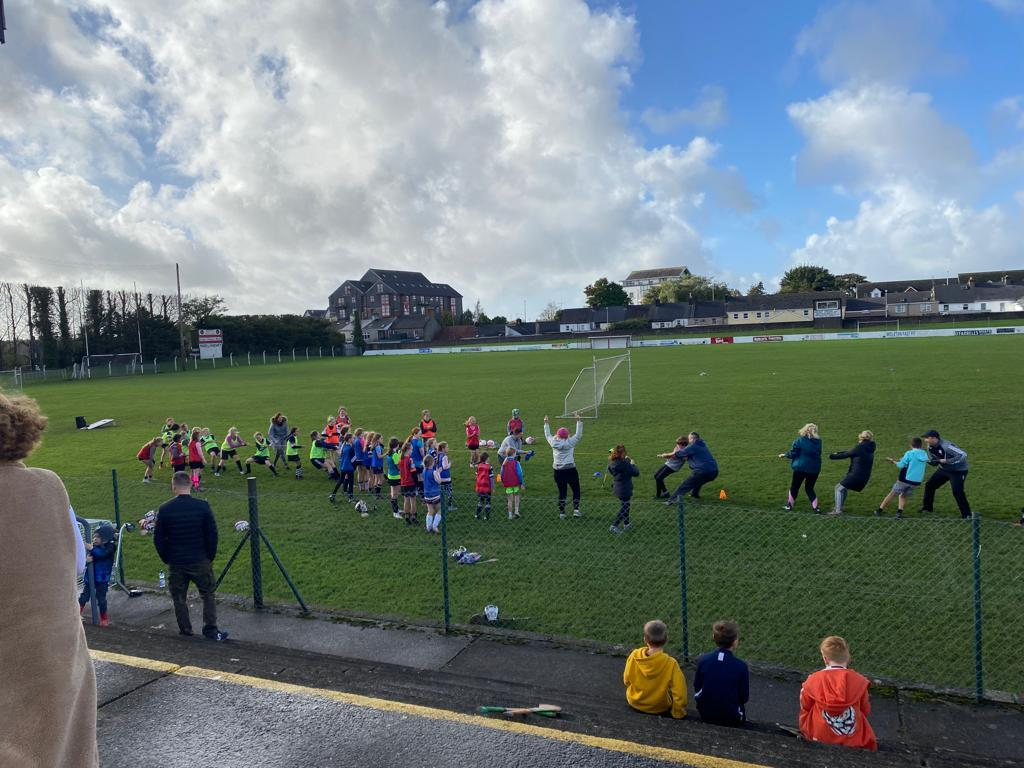 U10 Tug of war
Midleton Camogie AGM
This years AGM will be held at Midleton GAA Club on Wednesday 17th November at 7.30pm. As always all Members , Coaches and parents are most welcome to attend. The outgoing year will be discussed as well as the upcoming season . More details to follow in the coming weeks.
Minor Notes
We would like to wish our Minor Team and their management the Very Best of luck in their Semi Final away against Aghada on Monday evening 1st November with a thow in time of 7.30pm. All support Welcome.
Juvenile
Fé15 All Ireland Feile na nGael
The Fé 15 hurlers year came to an exciting end on Thursday 28th in Moneygall and Dr. Morris Park in Thurles. Having won the Cork Féile in dramatic fashion back in August it was a proud group that went forward to represent club and county on the 50th anniversary of this most prestigious of competitions.
Our group games began at 10.30 in Moneygall. Thankfully the torrential rain stopped just 20 minutes prior to throw in. Ballina of Tipperary were our first opponents, they got off to a good start and had 3 points on the board while the effects of the long bus journey were slowly being shaken off. We found our way back into the game with some determined play and James McSweeney fired over some hard earned frees. Josh Hogan was a steadying influence in goal, Matthew Mc Sweeney at full back was excellent, Daragh Egan, Jack Foley and Daniel Garde were causing plenty of problems in attack.
HT: Ballina 0-5 Midleton 0-3
The second half was a tense battle with both teams determined to get the win, James pointed again, Ballina responded in kind. The busy and speedy Callum O'Brien then struck a fantastic ground stroke to the back of the Ballina net, putting us ahead for the first time. Ballina added a point, the skilful Peter Barrett then pointed a beauty but then we conceded two further points to leave us trailing by one as the final whistle neared. We put fierce pressure on their defence which eventually yielded a 65, Daniel struck it straight and true and the whistle ended a drawn game.
FT: Ballina 0-9 Midleton 1-06
Next up was Clairnbridge of Galway, the favourites to lift the cup. They had us on the back foot with 3 points on the board. James pointed a free, they hit us for two more points and it was obvious that we were up against an impressive outfit. James added another point and they finished the half with another pointed free, We lost one of our leaders, Carthaigh Cronin, who succumbed to injury during the first half and this was a big blow to morale and the team overall. Carthaigh had played a huge part in our journey.
HT: Clairnbridge 0-6 Midleton 0-2
The resumption saw us weathering some serious pressure. Thomas Dunlea, Eoghan Fraser and Adam O'Connor were doing their best to stem the Tribesmen's attack. Two quick fire goals saw them take a commanding lead. We didn't drop our heads and Daniel pointed from play, but the Galway men tacked over two points in response. After some determined play Peter goaled for us, Daniel and James added a point each but again the westerners added a further point to their tally. Credit to our lads, playing against a team that would eventually win the Cup competition. Luca Brodkorb, Conor Morley and Yohannis Mehigen also gave their all in difficult circumstances.
FT: Clairnbridge 2-10 Midleton 1-5
The results meant we were now competing in the Plate Competition, Arravale Rovers Tipperary would be our opponents in this knockout game.
Feile Plate Semi Final.
Daniel got us off to a great start with a fine point, with Peter adding another before the Tipp men got up and running with two points. We squandered a number of scoring opportunities until Fionn Kelly struck a well taken point. Rovers pointed again, but Callum O'Brien and Daniel would edge us in front with a point apiece from play in what was a nervy first half. Callum McSweeney, Odhran Rabbitte and Daragh Egan all played well but unfortunately Daragh also picked up an injury which forced him out of the match.
HT: Arravale Rovers 0-3 Midleton 0-5
The second half would turn out to be a dogfight to the final whistle. The Tipp lads threw the kitchen sink at us. Fionn pointed early on, Arravale responded in kind, James added another pointed free. We wasted a number of chances and Arravale took advantage adding a goal. After some great link up play between Thomas, Conor and Sean Mc Sharry it was Sean who finished off the move with a super point once again Sean had proved his worth as this proved to be the winner. Resolute defending from Matthew McSweeney, Odhran Dennigan and Eoghan Fraser saw us come through by the narrowest of margins.
FT: Midleton 0-8 Arravale Rovers: 1-4
We now boarded the bus again and headed to Dr Morris Park Thurles for the final, the weather had held and the playing surface in Thurles was superb for the end of October. Glynn Barntown Wexford stood between the Magpies and a national title.
Plate Final
From the throw in it was obvious that it was two evenly matched sides, the early exchanges were fiercely contested. Both sets of supporters were doing their best to encourage their teams. Jack Foley and Paddy Walsh were creating havoc down the far side of the Wexford defence, Matthew Mc was outstanding at fullback, John Paul Mc Manus and Odhran Dennigan were operating a thou shall not pass policy in the corners. Captain Adam O Connor, Conor Morley and Thomas Dunlea were driving forward and our strong play yielded a free from which James split the sticks from distance. Daniel now practically playing on one leg got a neat point from play. The Slaneysiders responded with two well taken points from play. Daniel and Fionn had a point each from play, our opponents responded in kind. Callum O' Brien and Peter Barrette then got in on the act with two great scores.
HT: Midleton 0-6 Glynn Barntown 0-3
The last few minutes of the lads competing as Fe 15's got under way. A few positional and personnel changes did nothing to break up the high level of performance from the magpies. Paddy's strong performance saw him rewarded with a great score from play, the Yellowbellies struck back with another point. Josh Hogan then calmly dealt with several attempts on goal continuing his fine form. We continued to hurl like deserved representatives of the Rebel County and a huge roar erupted as Callum O Brien found the back of the net. Peter then added a point which saw a bit of daylight between the teams, this was to be our last score. Our opponents were not done and came back at us with everything they could muster, Luca and Jack Whyte were hurling at the top of their game, but the Model County men struck over a point and then they finally breached our defence raising a green flag as the clock ticked down. Eoghan was now at 3 and Matthew at 6 both refusing to yield an inch. Odhran Rabbitte and James were making good use of possession and fighting for every ball, Fionn was now dominating at midfield. The long whistle finally sounded and a huge roar erupted from the large crowd of Midleton supporters. Joyous scenes for us and heartbreak for the Wexford lads, the highs and lows of sport inches apart. The three teams in our group 'group 3' all reached the finals Clairnbridge won out in the cup, Ballina were defeated by St Vincents of Dublin in the Shield final while Midleton were victorious in the Plate final, it's fair to say it was a tough group!
FT: Midleton 1-8 Glynn Barntown 1-5
We entered Semple stadium to receive our prize as proud flag bearers of Cork and Midleton, Adam O'Connor accepted the Plate from Uacthtaran Chumann Luthchleas Gael, Larry McCarthy, on behalf of his team club and county. A proud occasion and never to be forgotten memories. Well done to all of our lads it was a huge effort by this panel of players. A bus trip home and a drive through the main street of Midleton with the Black and White flag of the Magpies flying proudly from the bus as we arrived back at Clonmult Park.
A go raibh mile maith agaibh to Moneygall Gaa for their hospitality and to Féile committee and sponsors John West, a fantastic competition and superbly organized event.
Panel: Josh Hogan, Adam O'Connor (Captain), Matthew Mc Sweeney, Yohanis Mehigan, Callum McSweeney, Carthaigh Cronin, Thomas Dunlea, Eoghan Fraser, James McSweeney, Fionn Kelly, Daragh Egan, Paddy Walsh, Conor Morley, Daniel Garde, Peter Barrett, Conor Finn, Jack Foley, Odhran Dennigan, John Paul Mc Manus, Sean McSharry, Callum O'Brien, Jack Whyte, Conor Williams, Ben Fitzpatrick, Luca Brodkorb, Odhran Rabbitte, Shane Mc Namara, Callum Deegan, Alex Cahill, Riain O' Driscoll, Nicky Coughlan.
Team mascots: Jack MSweeney, Tadhg Cronin, Michael McManus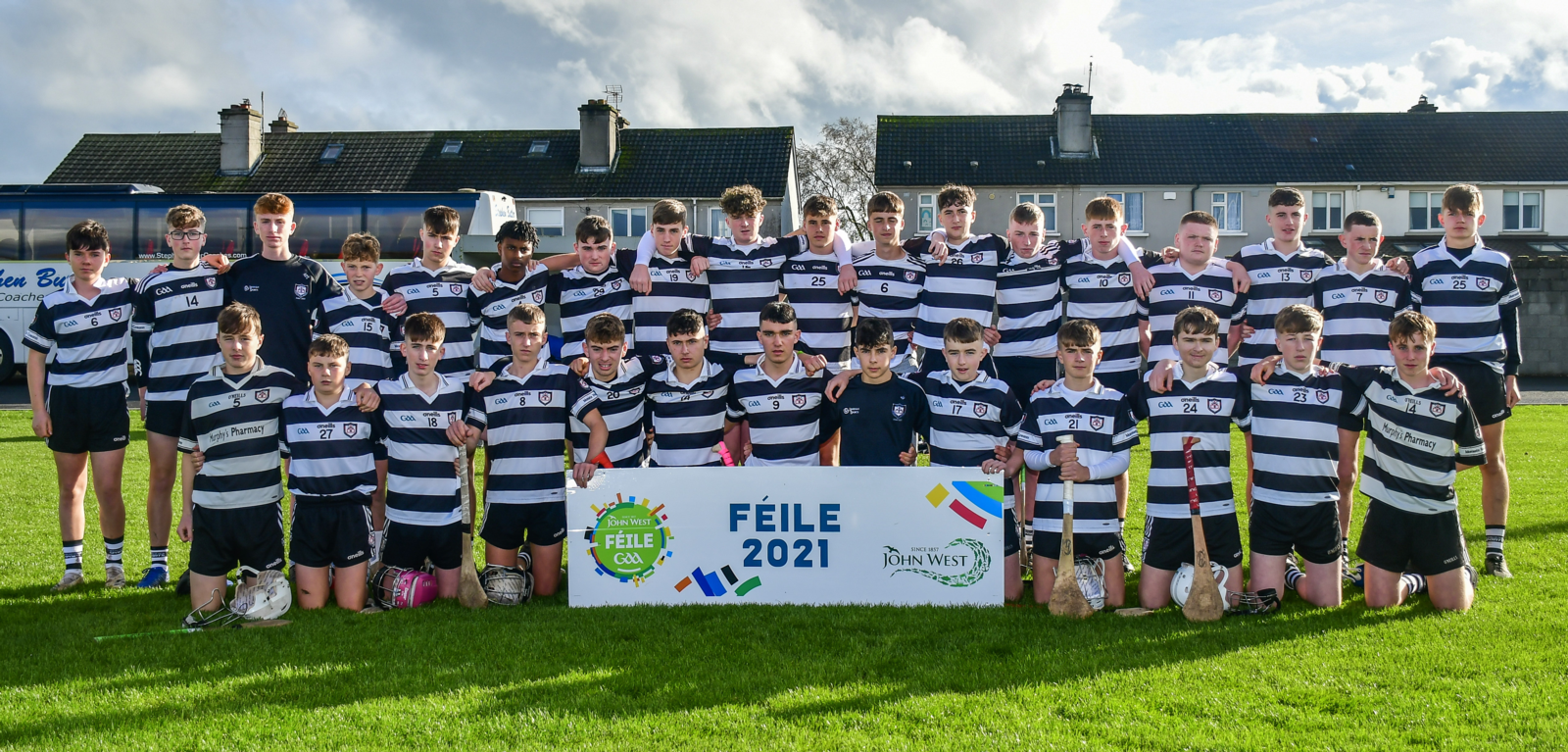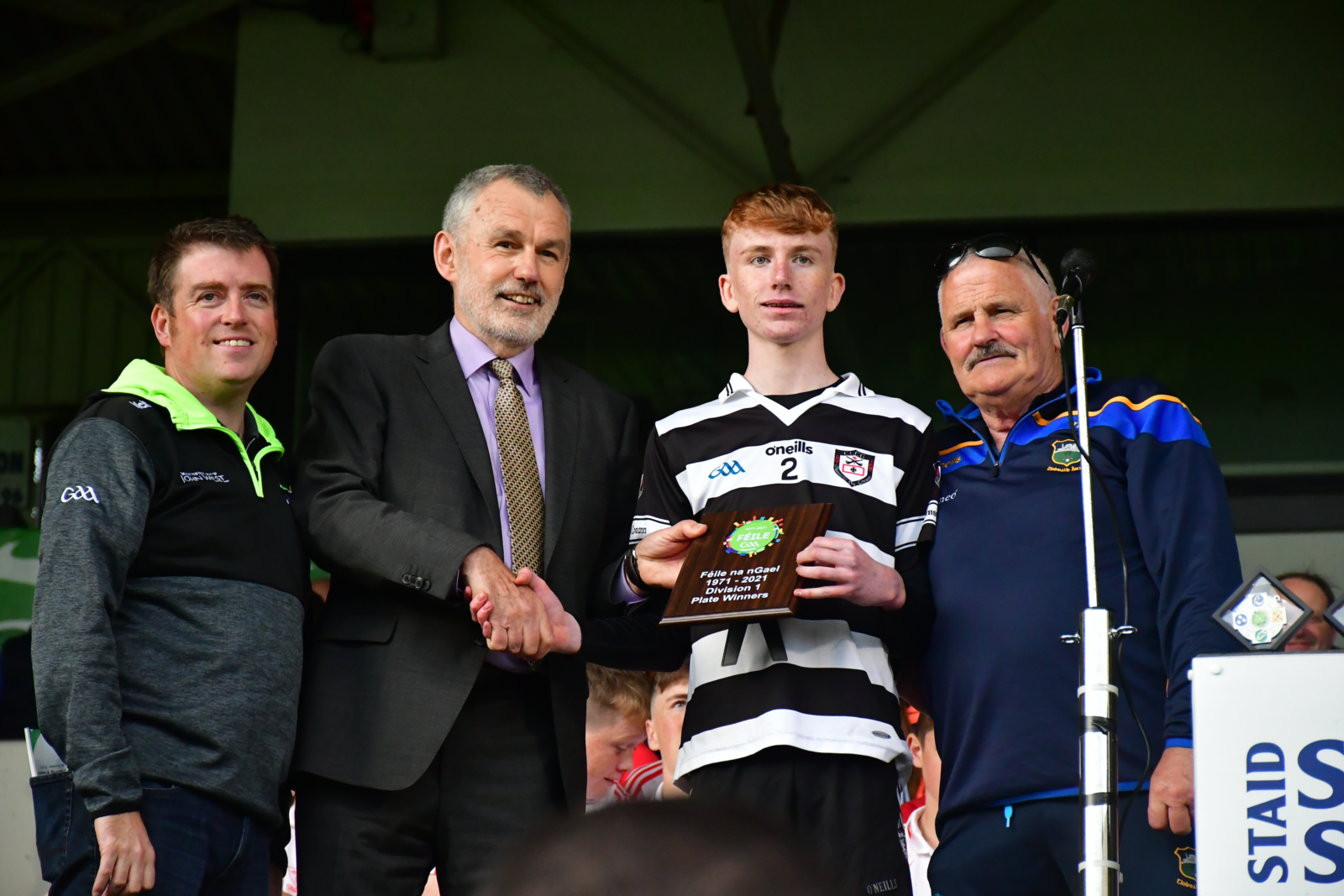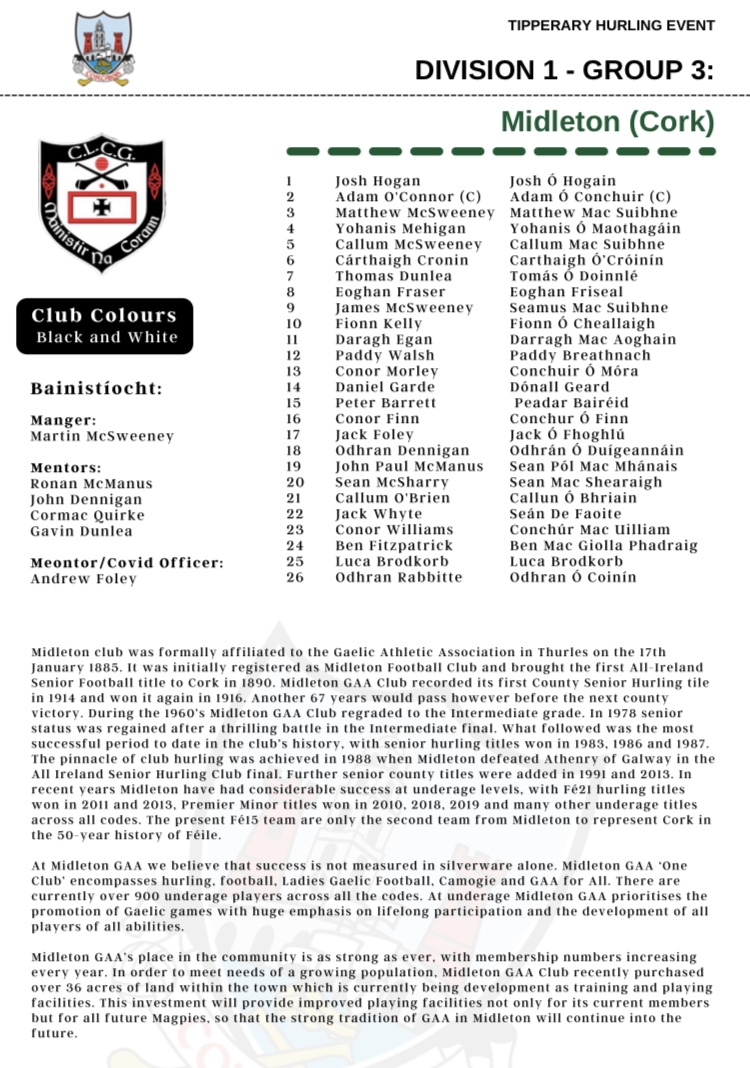 James O'Brien Annual Hurling Tournament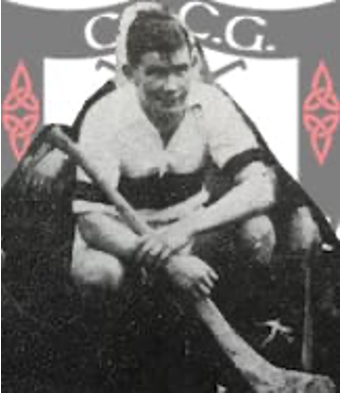 For the last number of years Midleton GAA Club remembers one of its own with the Fé12 James O'Brien Tournament. The cup is named after James O'Brien, late of St. Mary's Terrace Midleton, who played for Midleton GAA Club between the 1930's and 1940's. He was a member of the Midleton minor team that won the county title in 1938. His sons John, Micka, Ger and Jim also played with the club from the 1960's to the 1980's. His grandson Padraig O'Keeffe is currently a member of the senior hurling panel. James O'Brien also served as chairman of Midleton GAA Club for a number of years in the mid 1950's. This annual tournament is a tribute to James O'Brien and all those like him who helped make Midleton GAA Club the successful GAA club it is today.
2021 Tournament
Sunday, 31st October, Clonmult Memorial Park, Midleton
1:30pm: James O'Brien Shield
Midleton 2 V Douglas 2
2:45 pm: James O'Brien Cup
Midleton 1 V Douglas 1
4pm Presentation of Trophies
Fé 7 Notes
Last week we hosted Bride Rovers in a very competitive hurling fixture. It was great to see our lads play such fast and skilful hurling against a very physical Bride Rovers side.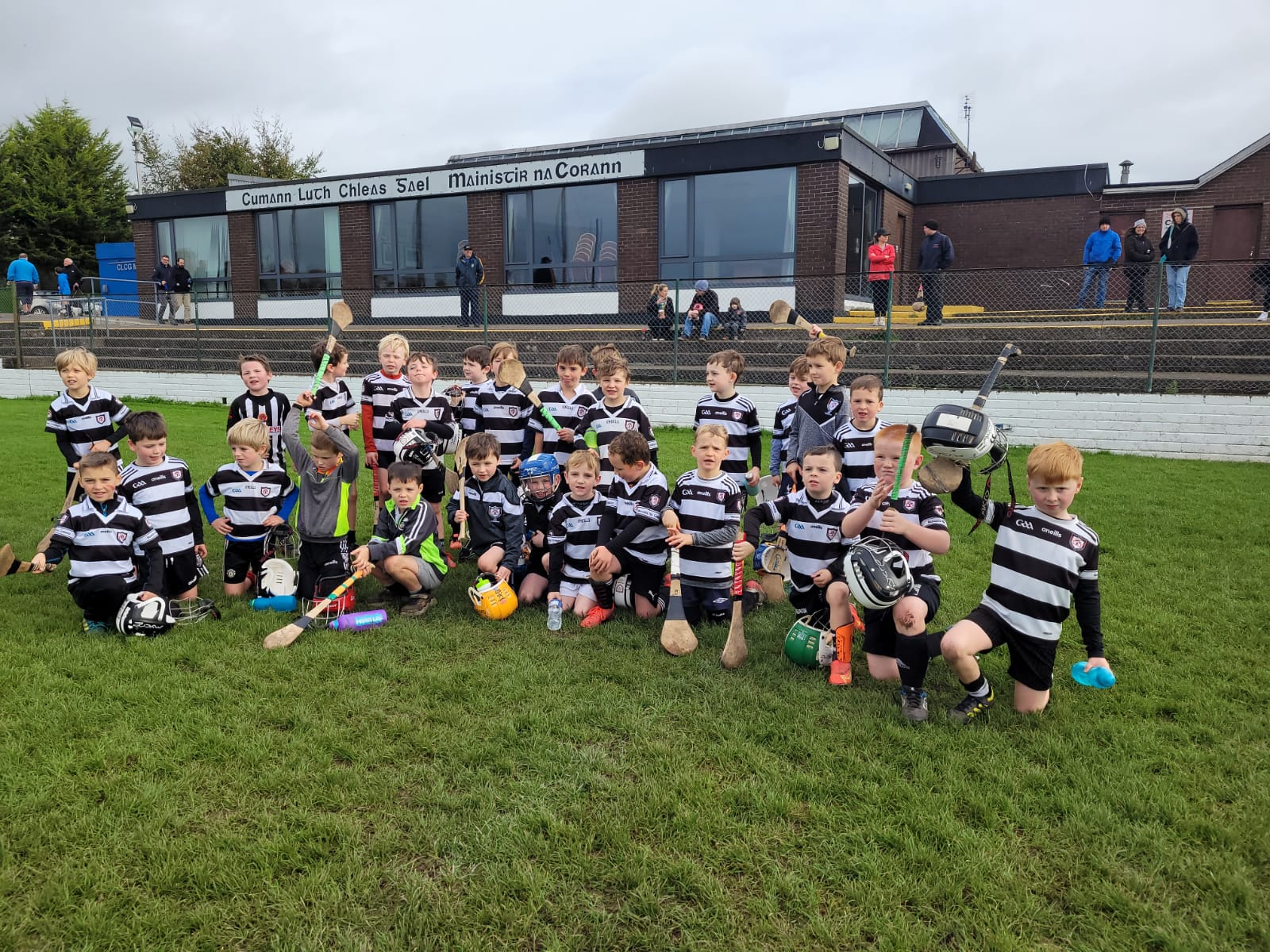 Fé8 Notes;
The Fé8 boys were invited to Páirc Uí Chaoímh on Saturday 23rd October last to participate in the Fé8 Rebel Óg hurling blitz, with 38 excited young magpies taking to the 4G to play a number of different teams. All the teams performed very well with some great scores & skill on display. Thanks to all the coaches who helped the boys on the day. Thanks also to all the noisy supporters who showed great support for the lads from the stands. Finally, thanks to Colm Crowley GDA and Rebel Óg for a very well organised event.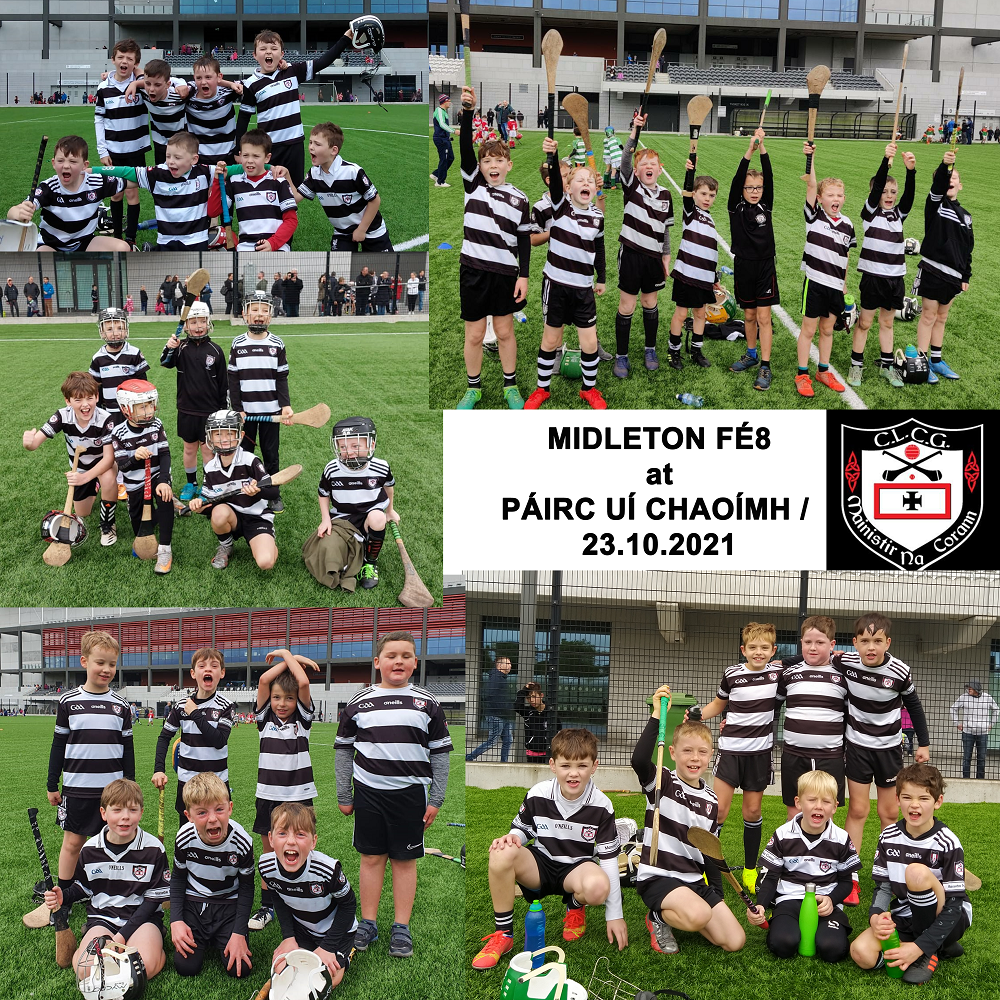 Fé8 AT PÁIRC UÍ CHAOÍMH 23.10.21
Fé11 Notes
Saturday the 23rd of October saw 31 Fé11s travel to Killkenny to take on O'Loughlin Gaels.
A great day was had from start to finish, from a rendition of Amhrán na bhFiann on the way up to McDonalds nearly running out of chicken nuggets on the way home!
We played 6 great hurling games in cold wintery conditions, which saw our fé11s come away with 3 wins.
Thanks to Stephen Butler coaches, O'Loughlin Geals and all 31 Magpies and coaches for making it a day to remember.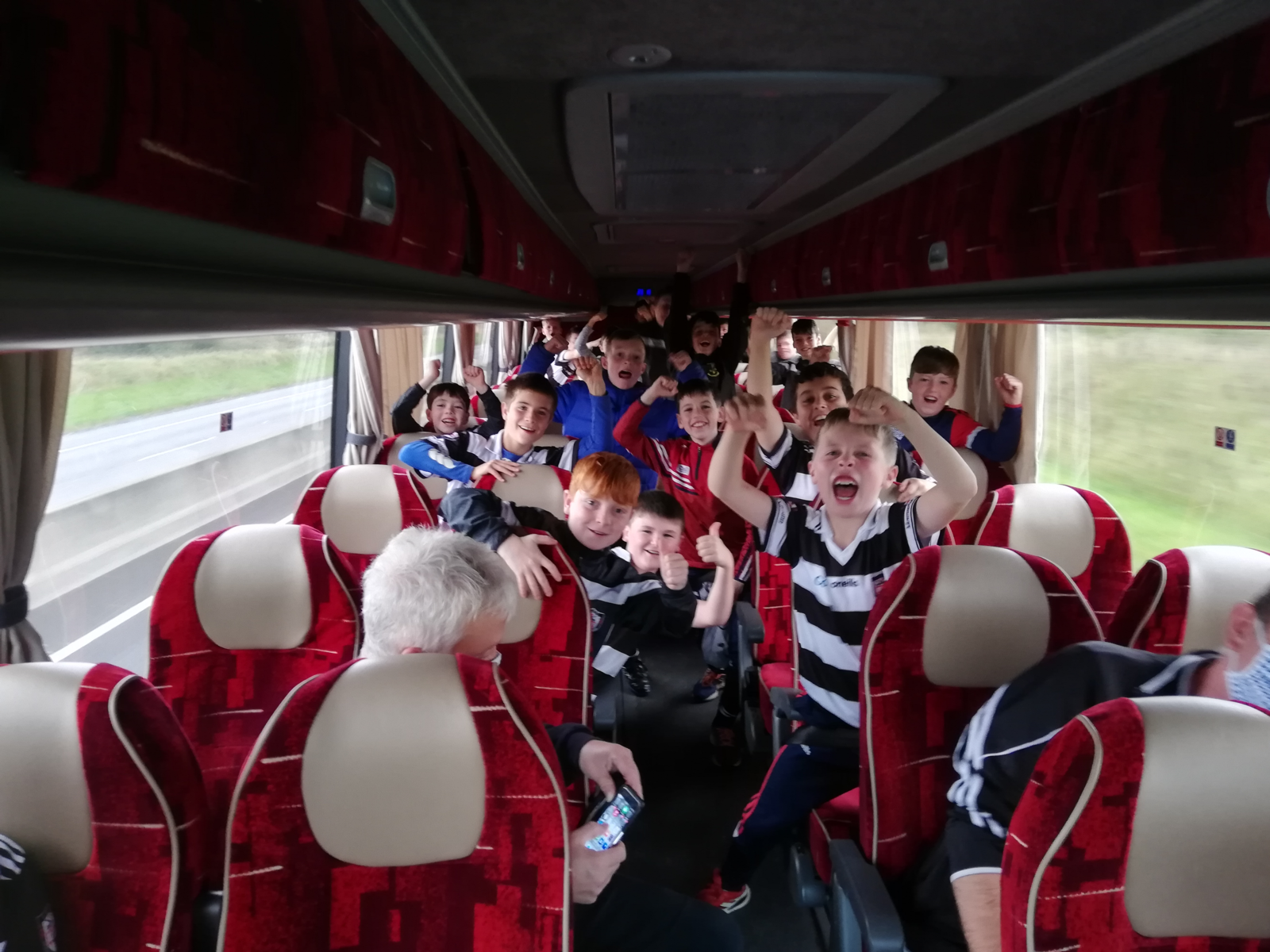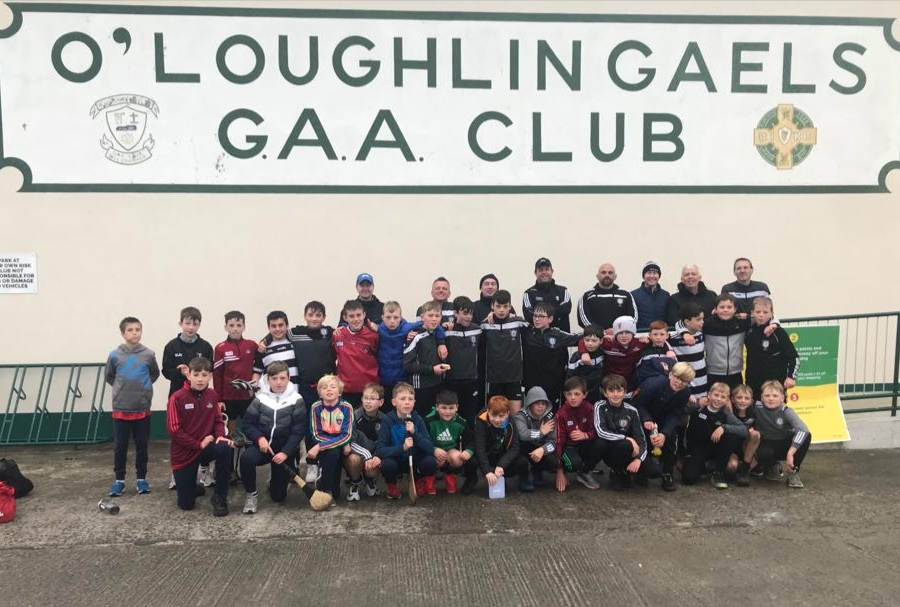 Fé13 NOTES
Fé13 P2 HURLING FINAL V KILTHA ÓG
The Fé13 hurling team contested the P2 County Final last Saturday October 16th in Castlemartyr against Kiltha Óg. The lads were eager to finish the season on a winning note and started the game with great determination. James Carey finished the ball to the back of the net to open the scoring after a long delivery Max Murphy. The lads continued to dominate the match in most positions with further goals from James Carey and Dara Birdthistle giving a half time score of Midleton 3-04 to Kiltha Óg 1-02. With the breeze picking up in the second half Kiltha Óg began to reduce the lead and as a result of some accurate free taking the deficit was down to just one score as the clock headed towards injury time. As has been the case so often this year, this Midleton Fé13 team showed what they are made of when it counted most, with some outstanding defending and great discipline throughout to prevent the opposition getting the scores required. There were great celebrations when the referee blew the whistle at the end, with the final score Midleton 3-06 Kiltha Óg 2-07. The noisy celebrations continued on the route back through the main street in Midleton and all the way to the GAA Club. This was a well-deserved victory for this team who continue to show a fantastic attitude in their preparation and performances, and who no doubt can continue to improve. Well done to all involved.
The panel for the match was: Michael Allegrini, Jason Morley, Cian Lawton, Rian Casey, Harry Waterman, Shane O'Mahony, Cuan Twomey, Senan Carroll, Jack Walsh, Scott Dunlea, Max Murphy (captain), Patrick O'Dowd, Darragh Mullins, James Carey, Dara Birdthistle, Ruairi O'Riordan, Fionn Bohan, James O'Meara, Ewan Murphy, Luke Bamber and David Kelly.
Scorers: James Carey 2-01, Dara Birdthistle 1-00, Senan Carroll 0-02 (0-01f), Max Murphy 0-02 (0-01f), Cian Lawton -0-01.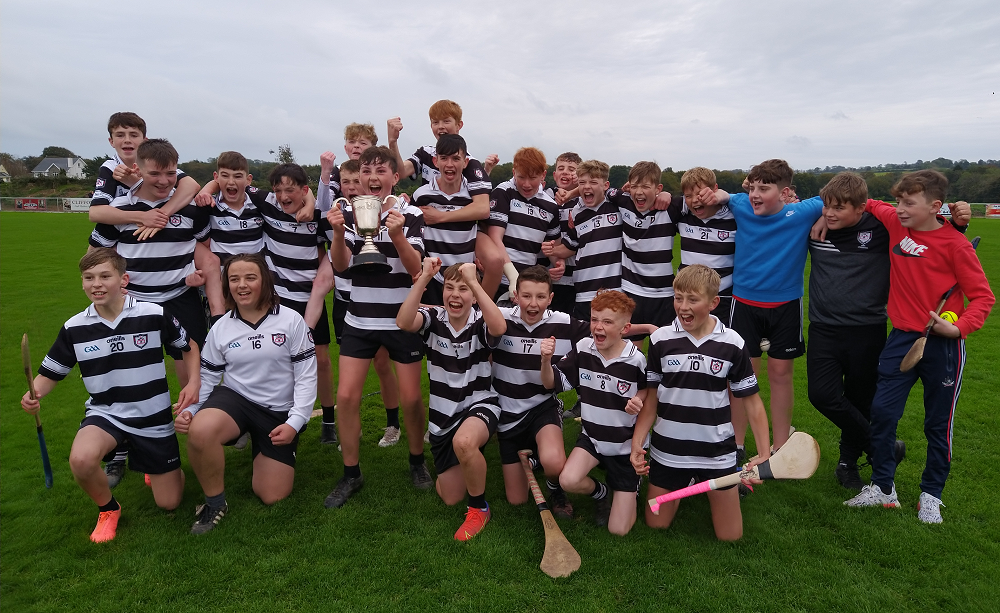 Fé13 P2 HURLING CHAMPIONS V KILTHA ÓG 16.10.21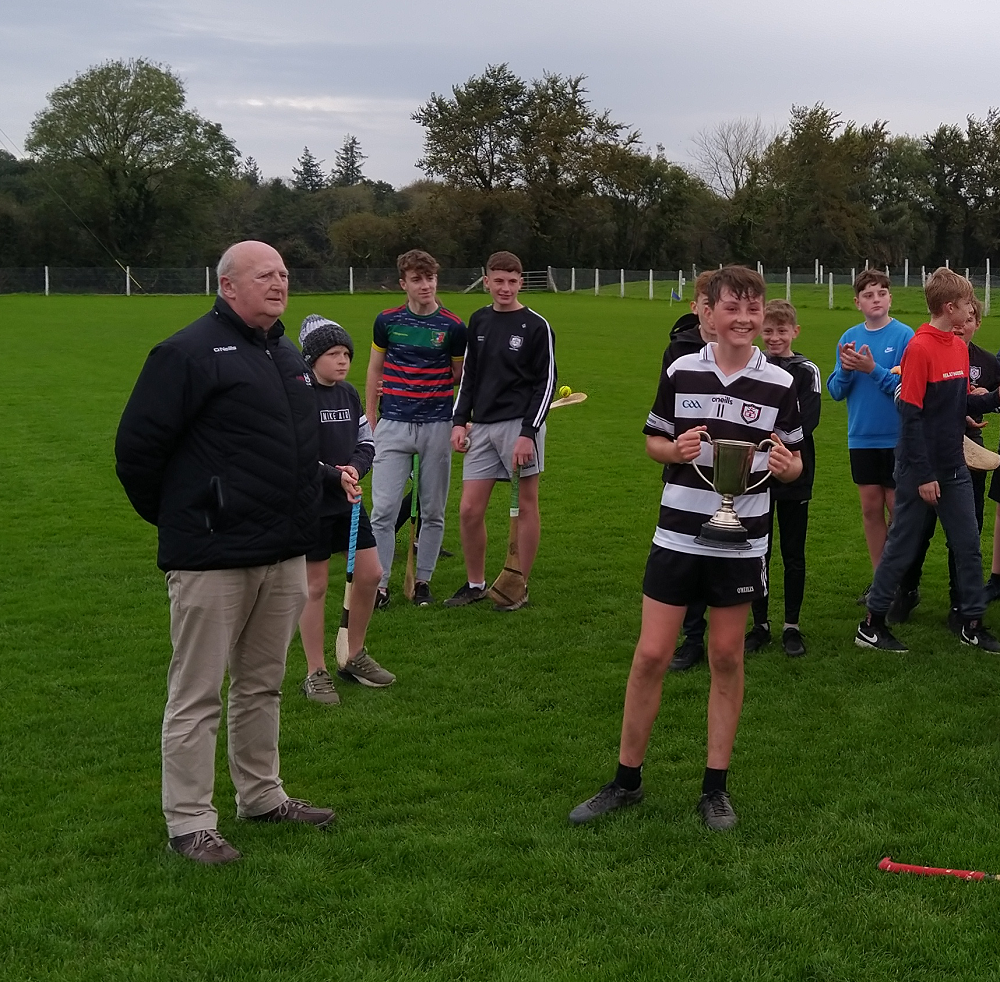 Fé13 P2 HURLING V KILTHA ÓG CAPTAIN MAX MURPHY
Fé13 C3 HURLING SEMI-FINAL V DOUGLAS
The Fé13 C3 hurling team faced up to Douglas at home on Sunday 17th October last, with a number of the panel playing their second competitive hurling match in under 24 hours. This was the lads third time to play this Douglas team this season and having lost one and won one already during the summer they were determined to go one better and reach another final. The lads got off to a great start with early goals from Ruairi O'Riordan and James O'Meara setting the tone. The match was being played at a fast pace with scores coming from both sides. At half time the score was Midleton 2-06 Douglas 0-08. The lads came out in the second half determined to push on and their efforts were rewarded with further goals from Patrick O'Dowd and James O'Meara. This was a very good team performance with all 20 members of the panel contributing to this fine win. The lads are now looking forward to playing Sarsfields in the Fé13 C3 Final on Saturday October 30th at 4.30pm in Riverstown. All support welcome.
The panel for the match was: Michael Allegrini, Fionn Bohan, Harry Waterman, Adam Spillane, Jason Morley, Cuan Twomey (captain), Patrick Collins, James O'Meara, Luke Bamber, David Kelly, Patrick O'Dowd, Ruairi O'Riordan, Ewan Murphy, James Carey, Sean Gregory, Jamie O'Donovan, Michael Barrett, Rian Casey, Dara Birdthistle.
Scorers: Patrick O'Dowd 2-08 (0-04f), James O'Meara 2-00, Ruairi O'Riordan 1-00, Harry Waterman 0-03 (0-01f), David Kelly 0-01, Luke Bamber 0-01, Dara Birdthistle 0-01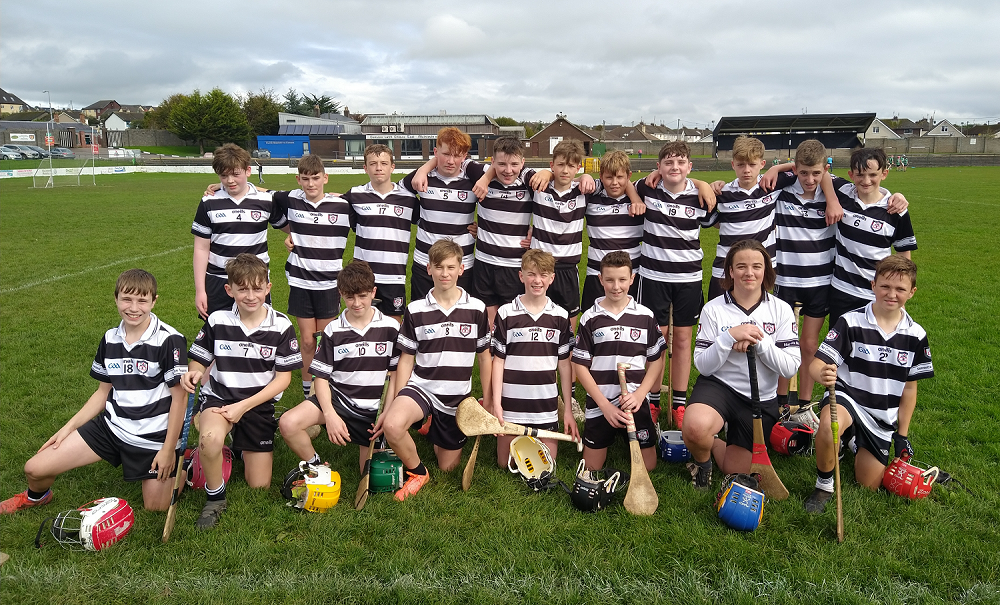 Fé13 C3 HURLING SEMI FINAL V DOUGLAS 17.10.21