Midleton Hurling and Football, Ladies Football and Camogie Club News
24 October, 2021
Midleton GAA…at the 'Heart of the Community'. Ní neart go cur le chéile. There is no strength without unity.
COVID Update & Return to Play
Covid Update Issued by the GAA on 22 October 2021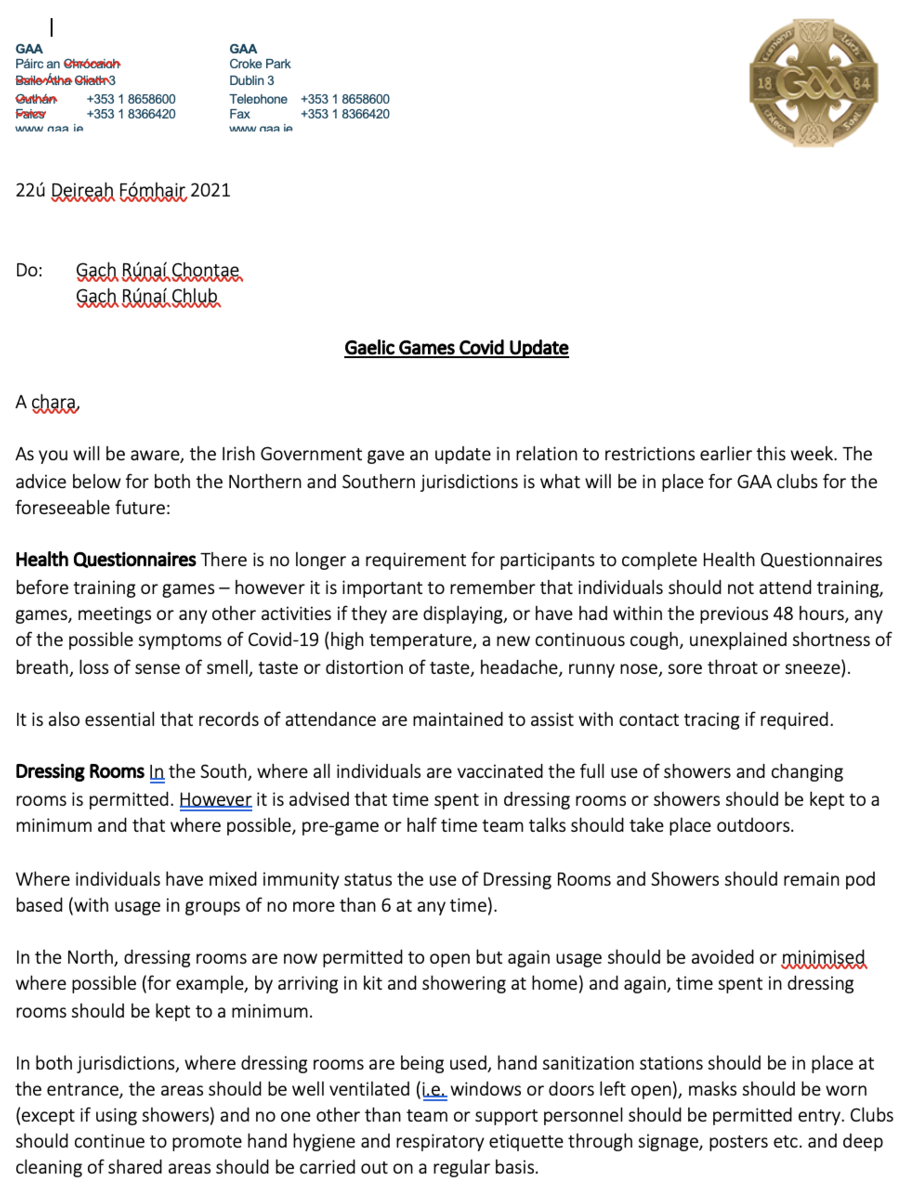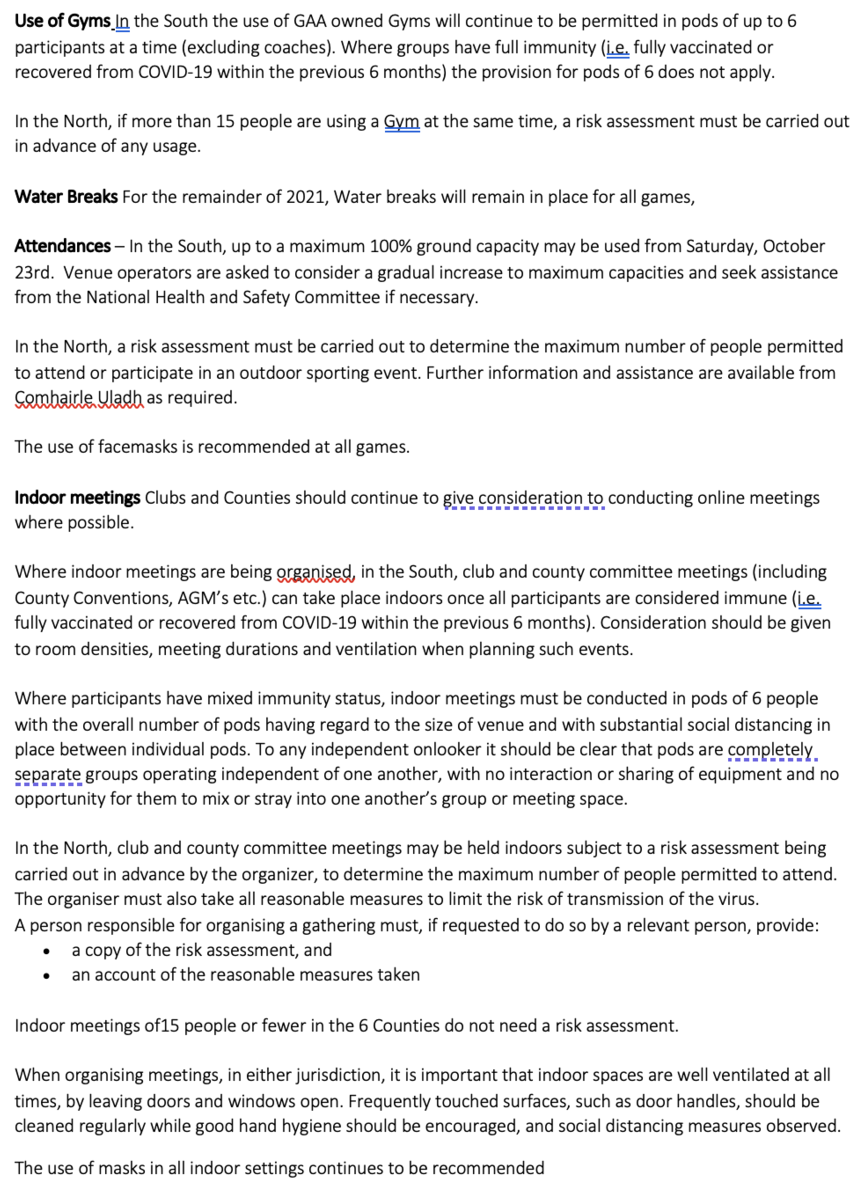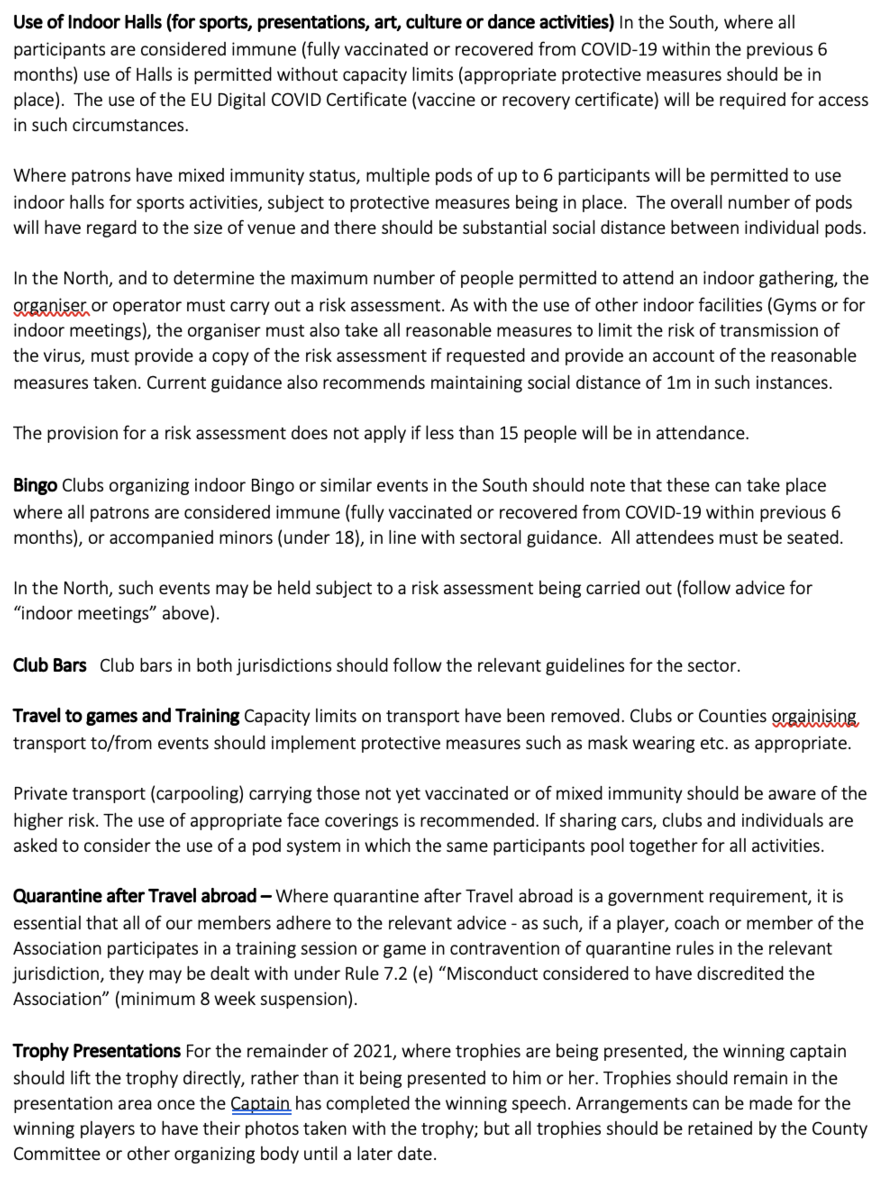 Mega Lotto Results & New Jackpot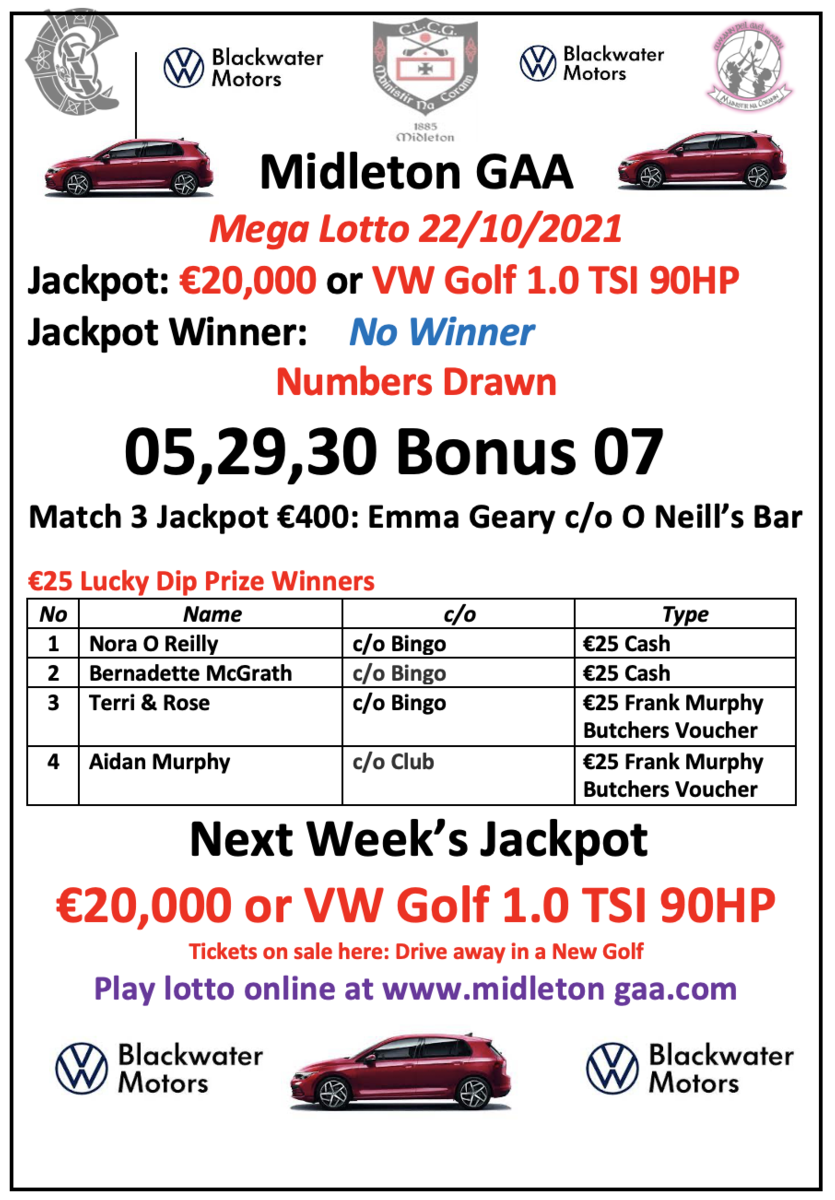 Our Lotto Jackpot was a choice of €20,000 or a VW Golf 1.0 TSI (in partnership with Blackwater Motors) the numbers 5, 29, 30 Bonus 7. There was no winner of the jackpot so next Friday's jackpot will remain the same.
4 Lucky Dip Prize Winners this week were Nora O'Reilly, Bernadette McGrath (€25 in cash each), Terri& Rose and Aidan Murphy (€25 Frank Murphy Butchers Voucher each). In total Midleton GAA will give out local business vouchers to the value of €3,800 every year as part of our "Shop Local, Buy Local" campaign.
How to play: Tickets are on sale at Pat Walsh Paints, Chadwicks, Frank Murphy Butchers, Murphy's Pharmacy, Crowley Butchers, or buy online, through Klubfunder, at https://www.klubfunder.com/Clubs/Midleton%20GAA/lotto select your numbers and number of draws to play. You can buy an annual ticket by selecting "50" from the "Number of Draws" to Play dropdown.
Midleton GAA Bingo
Our bingo is back indoors on Friday nights with an early bird game at 7.30pm. Great prizes on offer.
Bring your COVID Cert, face mask and a friend to enjoy a good evening out.
GAA Fixtures & Results
See below links for details of fixtures and results.
As usual we will endeavor to keep the club website up to date with fixtures and results as well as posting results, as much as possible, on twitter and facebook. Team managers are asked to submit results and any fixture changes to pro.midleton.cork@gaa.ie or text 0868643079.


Website Links:
Fixtures club_fixtures
Results club_results
Senior Hurling Championship
Midleton 0:23 Erins Own 0:19
Pairc Ui Chaoimh, Friday 22nd October at 7.30pm
MIDLETON: B Saunderson; E Moloney, L Dineen, S O'Leary Hayes; C Smyth, T O'Connell, C Walsh; P Haughney, S Quirke; C Lehane, R O'Regan, P White; L O'Farrell, C Beausang, A Quirke.
Subs: S O'Meara for A Quirke (34), A Mulcahy for White (41), Séamus O'Farrell for Haughney (49), Seán O'Farrell for O'Regan (60).
Scorers: C Lehane 0-9 (0-6 f, 0-1 65), C Beausang, L O'Farrell 0-4 each, C Walsh, S Quirke 0-2 each, A Mulcahy, R O'Regan 0-1 each
Intermediate Hurling Championship
Midleton 2:07 Mayfield 3:14
Cobh, Saturday 23rd October, 4pm
MIDLETON: J Loftus; D Scanlan, C Murphy, P Kane; P O'Farrell, D Quirke, A Daly; C Gunning, P O'Keeffe; J Nagle, I Kennefick, C Crowley; P Connaughton, A Ryan, G Manley.
Scorers: P Connaughton 1-3, C Crowley 1-0, I Kennefick, G Manley (0-1 f) 0-2 each.
Fe15 All Ireland Feile na nGael
All roads lead to Moneygall GAA Club (Eircode E53 TX95) next Thursday the 28th for this year's All Ireland Hurling Feile na nGael. The Group stages and semi-finals will be decided in 2 locations with the finals of the Cup, Plate & Shield to be decided in Semple Stadium & Dr. Morris Park in Thurles later in the afternoon. As you can see from the below fixtures list, the first match against Tipperary side, Ballina, has a throw in time of 10.30am. Our 2nd match against the Galway side, Clarinbridge, is at 12 noon. All support will be very welcome on the day to cheer the lads on.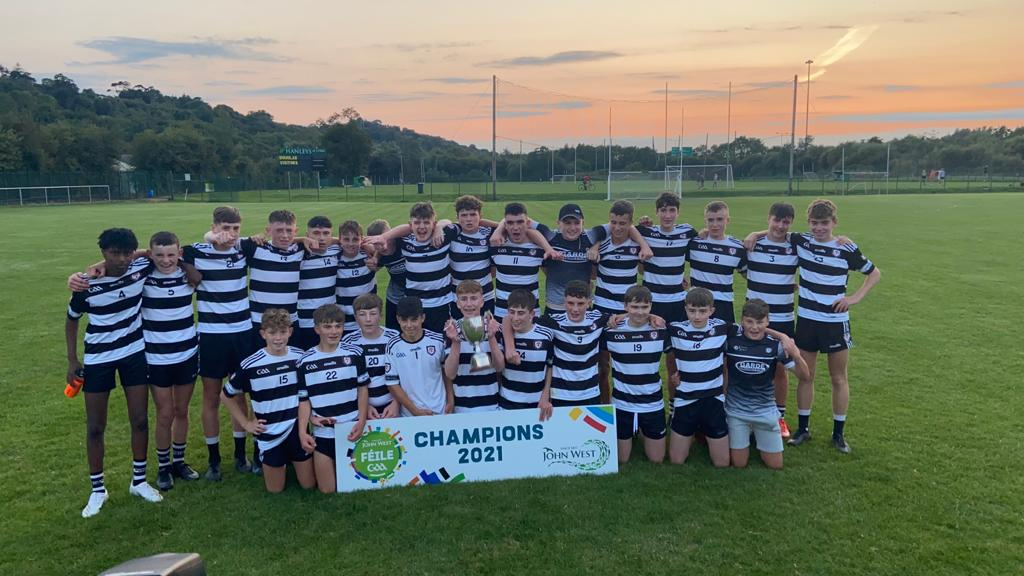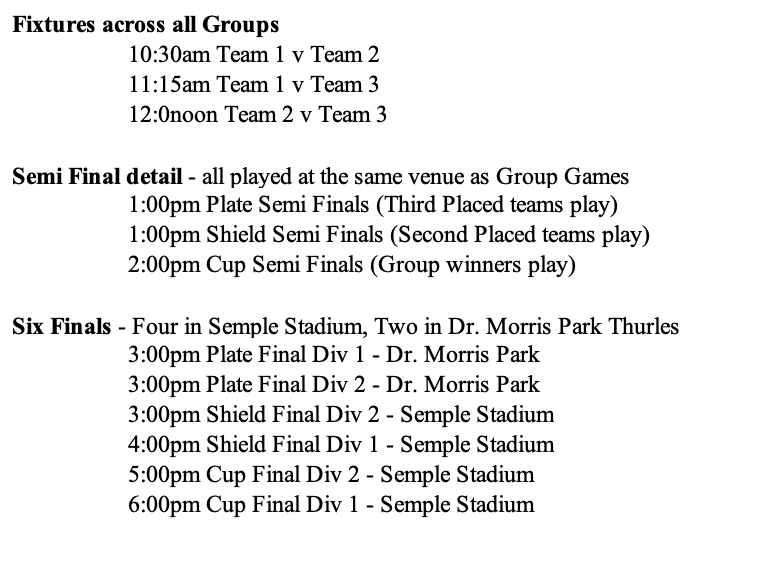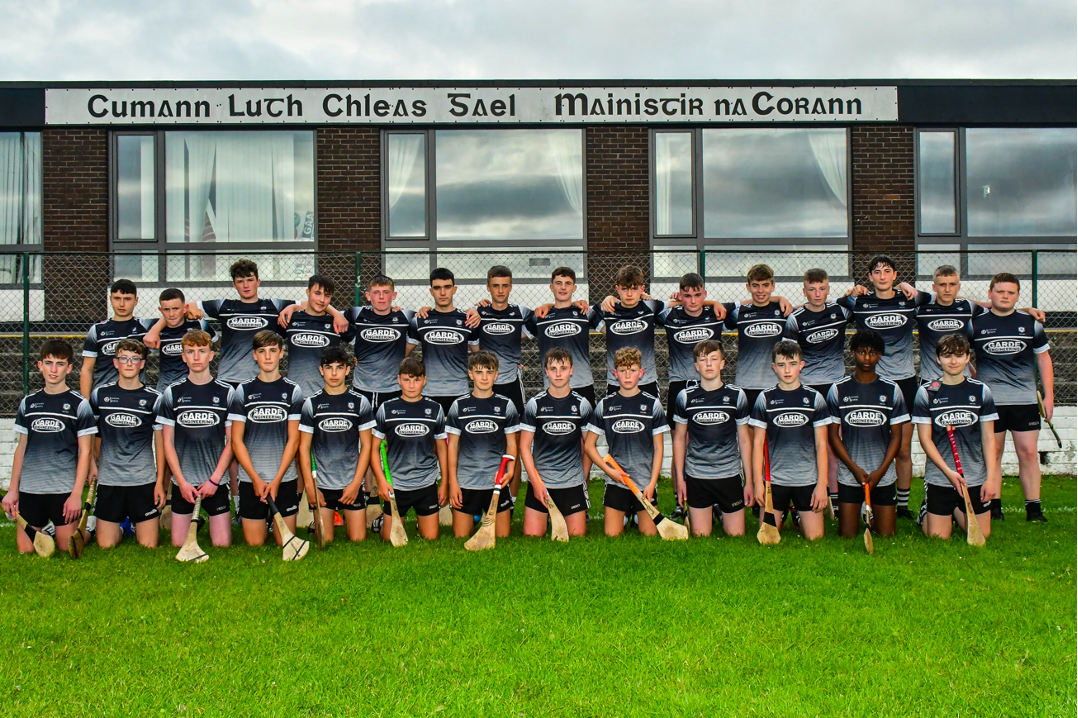 A big 'Thank You' to Damien Garde of Garde Engineering who generously sponsored the 'Feile Gear' for the panel. Míle Buíochas.
Ladies Football
No training for all groups this Monday. Enjoy the Bank Holiday.
U10
On a blustery Bank Holiday Saturday 25 magpies turned out in Rathcomrmac for a end of season blitz against local club Bride Rovers and Rockban. In difficult conditions for football with a strong wind blowing straight down the pitches the girls put in some great football. The two Midleton teams played each played two matches, with a 12 a side game against Bride Rovers and a 8 a side game against Rockban. The Rockban games in the cold windy conditions meant rolling substitutes to ensure everyone got plenty of game time and stayed warm!! The girls showed great skills and teamwork in the matches and the skills practiced in training were very evident, well done girls. Thank you to the parents for the great turn out and support, there is a well deserved break for everyone this Bank holiday Monday. We will be training under lights again on Monday the 1st of November in Ballinacurra at 6:30.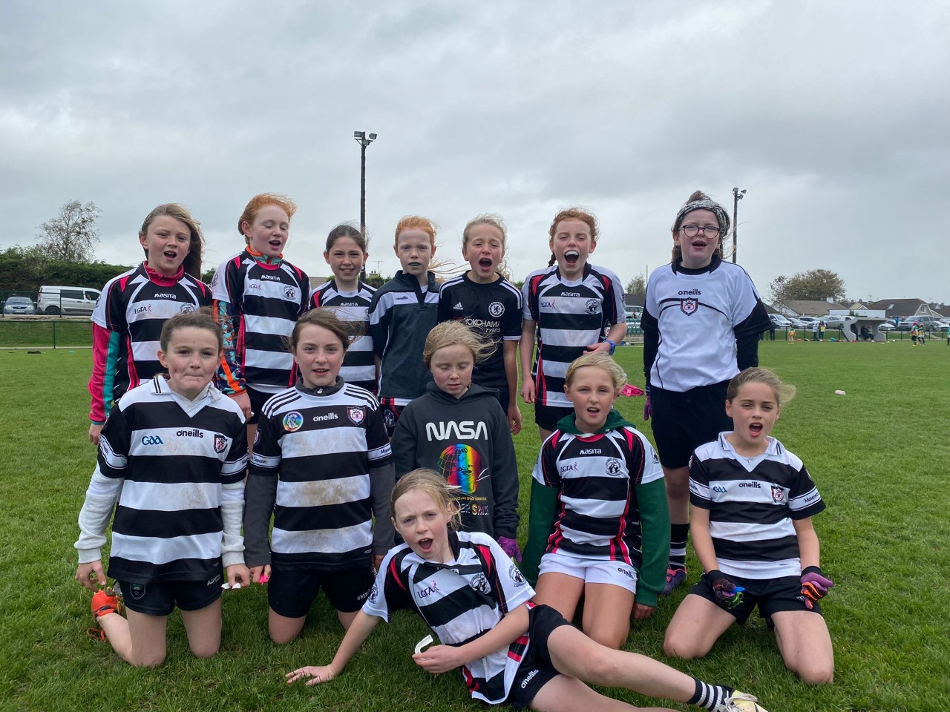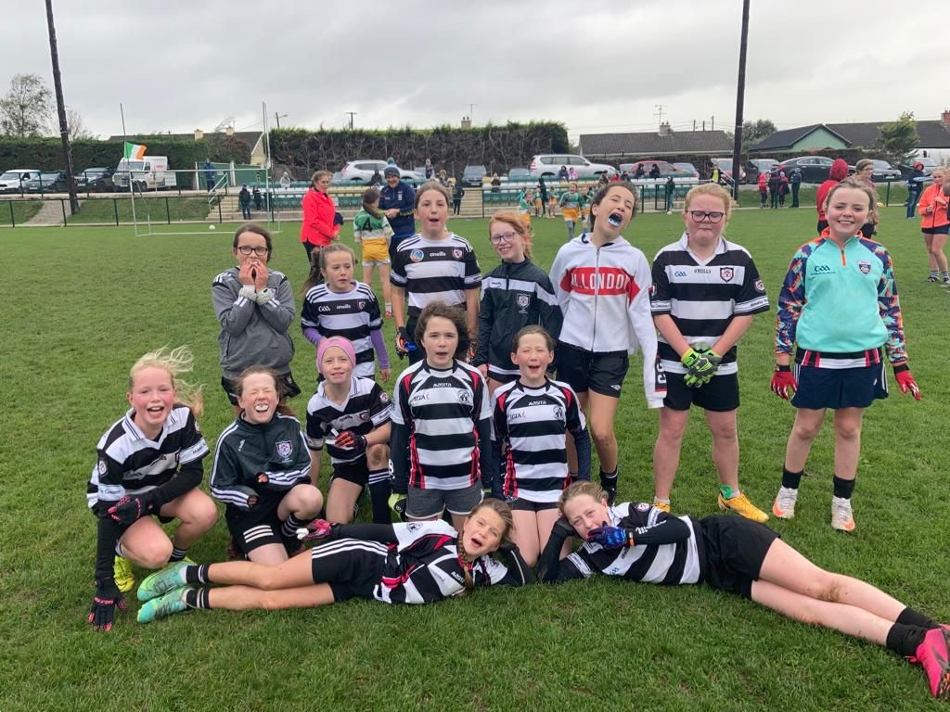 Fixtures:
Bank Holiday Monday - Minor Ladies v Carrigtwohill. Please be In Carrigtwohill for 4.20pm.
Thursday 28th - U16 East Cork Ladies Football Championship semi-final V Youghal. Please be there for 6.45pm (top of the hill pitch)
Coffee Morning
Our Minor and Junior Coach Pat Kelly is hosting a coffee morning on Friday October 29th at O'Neills Bar. All proceeds will go to Marymount Hospice. If you have an hour free your support would be greatly appreciated.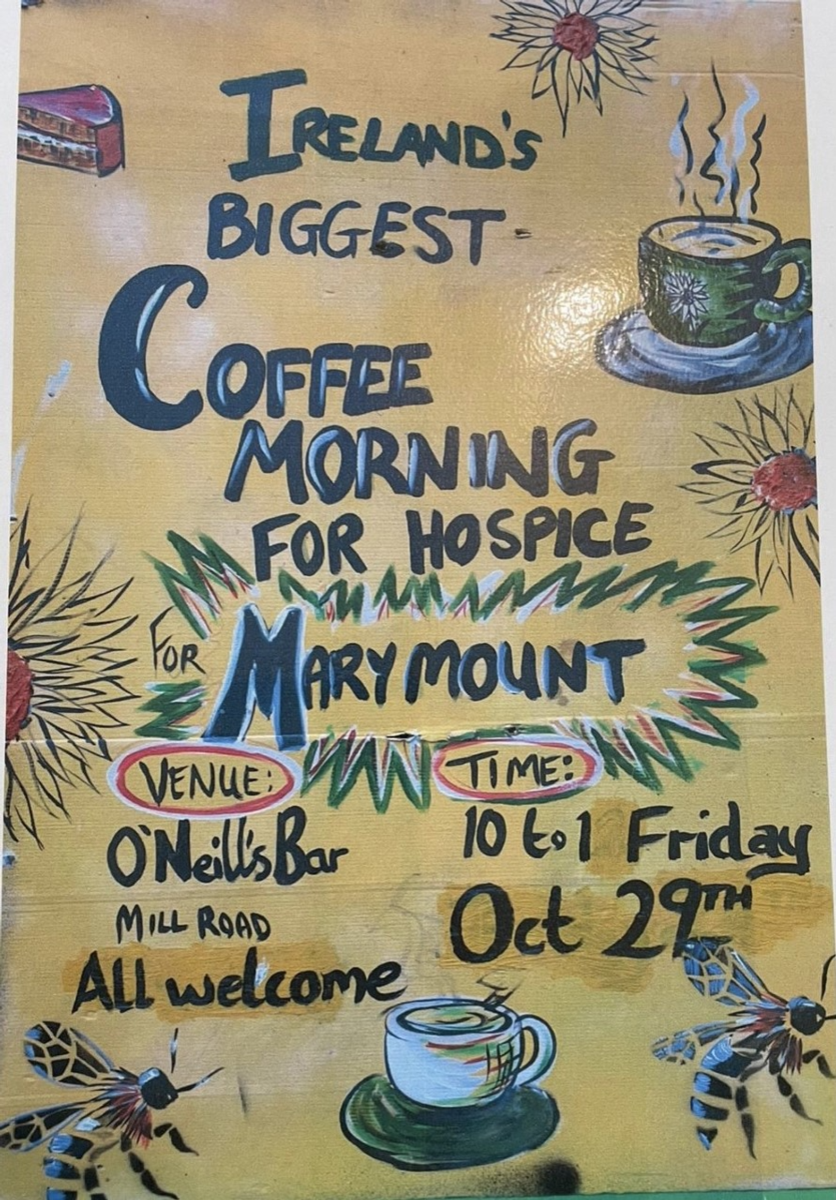 Juvenile
Fé 15 notes
It has been a busy few weeks for our Fé15s competing in two finals over the last couple of weeks after having had tasted success in Premier 1 Féile earlier in the season, the appetite was there for more.
First up was the D4 Hurling Championship final against our old rivals Douglas on Sunday 19th September in Douglas. This game turned out to be a thoroughly enjoyable encounter with very little between the sides, in the opening quarter Cian Stack opened Midletons account followed by superb goal by Joshua Foley which he quickly followed with a point from play, Douglas were keeping in the game with 5 points from play and one from a free, Midletons first quarter scoring was completed by two frees by ever accurate Jack Foley leaving the score at the first water break 1-04 to 0-06 in favor of Midleton.
Midleton got off to a flyer in the second quarter, with a great supply of ball into the forward line it was only a matter of time before they capitalized which they did, with Joey Moran and Odhran Rabbitte scoring two quick fire goals followed by another Jack Foley free, Douglas in response fired over one from play and two placed balls to leave the score at the interval 3-05 to 0-09 to Midleton.
The third quarter was a good one for Douglas as they were awarded several soft frees from scorable positions while Midleton found it difficult to get a free in scoring range.
Douglas scored 1-05 to another Joey Moran goal and a Noah Cahill point to leave Midleton ahead by the minimum at the second water break 4-06 to 1-14.
Douglas made an early breakthrough in the fourth Quarter with their first goal to put them 2 points up, Midleton eventually won a free in the second half after the 20th minute which was again dispatched between the sticks by Jack Foley, Douglas responded with a point which again opened up a two-point gap, Midleton never panicked and Odhran Dennigan broke past his marker and slotted the ball over the bar to leave just one point between the sides. The next few minutes were tense and a couple of refereeing decisions left the large Midleton support slightly baffled. Cian Stack broke past his marker on the edge of the square only to be hauled down in the area, the penalty wasn't awarded, just a free on the 21 which Jack Foley dispatched to level the game, then on Midletons next attack Callum Deegan was "held up" rugby style by a hurleyless defender, no free, the ball was dropped and trickled wide. Time was almost up and Midleton won the puck out on the 65 which led to a foul and a free on the 65, this was to be the last shot of the game Odhran Rabitte stepped up but the ball fell just shy of the posts extra time beckoned.
Full Time score Midleton 4-09 Douglas 2-15
The first half of extra time saw Douglas take and early lead which was cancelled out by a point from play by Jack Foley, Douglas then added another to leave them ahead at the break, again Douglas hit the ground running and popped over three unanswered points and the writing appeared to be on the wall for Midleton but this group who have hurled superbly all year never gave up and when Callum Deegan rattled the net with seconds left there was still hope, Midleton again as in normal time won a free from the puck out on the 65 and again this was to be the last action of the game, after a quick discussion, Jack Foley captain for the day stepped up and took on the responsibility even though right on the edge of his range. He paused for a moment composed himself the struck a sweet strike that sailed over the black spot. Still Level 5-11 to 2-20, it eventually went to penalties which Douglas eventually won 7-6, after 12 rounds of penalties (7 Sudden Death) in which Midleton had a couple of opportunities to win but it wasn't to be. Some great performances all over the pitch, too many to single any one out but the middle eight were outstanding fed by a keeper in Conor Finn who constantly found his own teammates.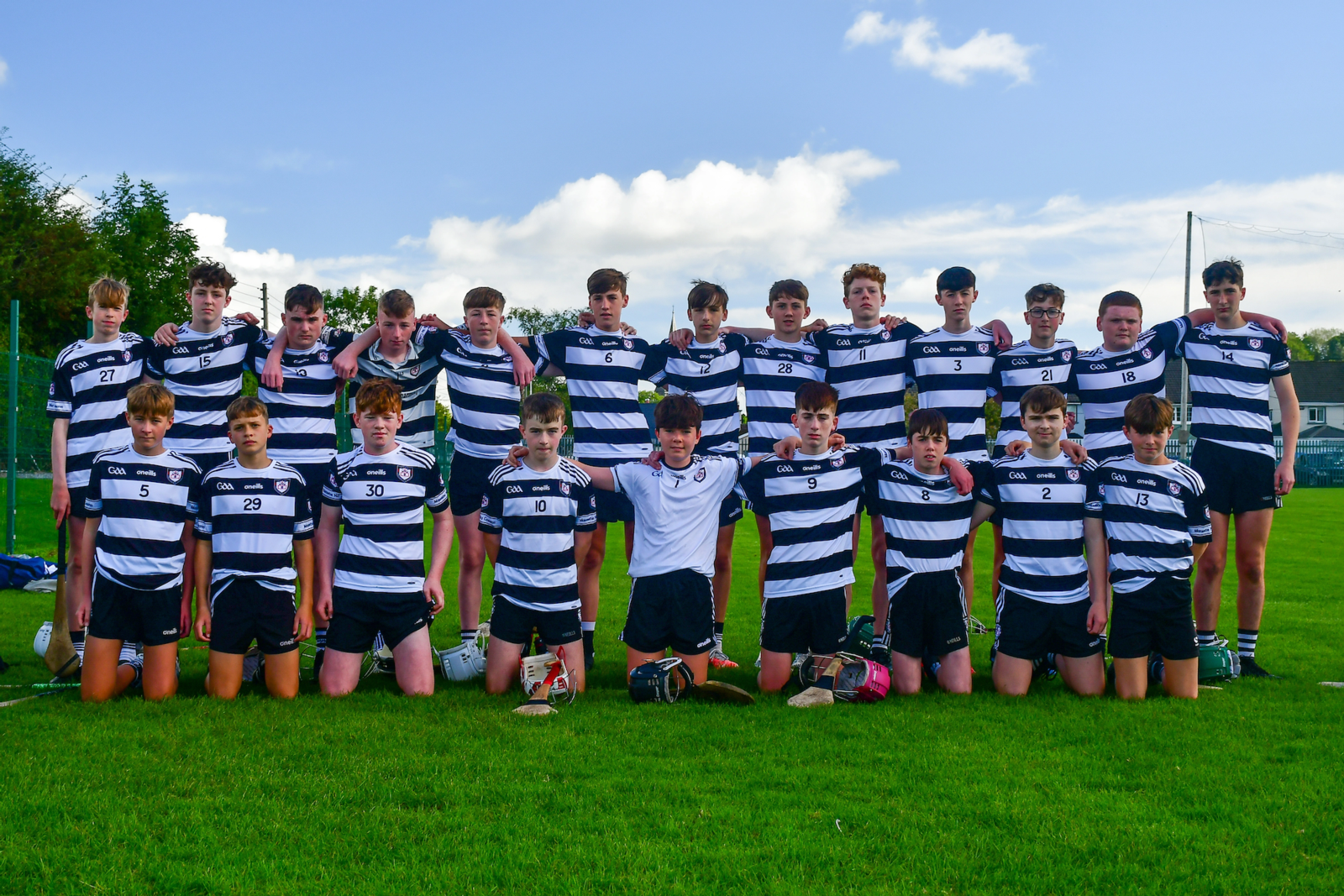 Fe15 Div 4 Hurling Final v Douglas
Panel: Conor Finn, Ben Fitzpatrick, Lochlainn Stewart, Conor Williams, Darragh Cronin, John Paul McManus, Jack White, Sean Crowley, Odhran Dennigan, Jack Foley(capt), Joshua Foley, Joey Moran, Cian Stack, Odhran Rabitte, Noah Cahill, Eoin Ahern, Alex Cahill, Callum Deegan, Shane McNamara, Cian Fitzgerald, Diarmuid O'Donovan, Eoin Hurley, Eoin Aherne.
FE15 Football
On Saturday 9th October it was the turn of our footballers to take centre stage at the Rebel Óg East Division 1 Football Championship Final played in Ballinacurra against a much fancied Youghal side. This Midleton side have in their locker the ability to beat any team on their day, On Saturday, that day arrived, after the disappointment of not performing in the Football Féile, there was a hunger to put things right, they had let themselves down that day and did not need a whole lot of encouragement to do that, this side has ability in bucket loads as the showed in the earlier round robin stage of the championship, overturning an eight point deficit to win in Cobh by five points which was a vital result in reaching this final.
They had done the preparation now it was down to the business at hand, Midleton started the game the brighter and Odhran Dennigan opened the scoring for Midleton in what looked an even enough start to the contest little did anyone expect what happened next, with some excellent play all over the pitch and a determination to get to every ball first and not give it up, Midleton scored another 2-03 without reply with two well take Odhran Dennigan goals a Fionn Kelly point from play and two pointed frees, one each from the impressive Odhran Dennigan and the first of the day from Sean McSharry, 2-04 to 0-00 at the first water break,
After the break Midleton resumed where they had left off in the first quarter with Sean McSharry scoring a fine point from play to stretch the lead out to 11 points, Midleton then conceded a free on the 21 and a powerful free was rifled to the back of the Midleton net and it was the start of what was to be Youghal's best period of the game, the next score came from another fine Midleton attack and popped over by Cartaigh Cronin but Youghal would get the next three scores two frees and one from play leaving the half time score Midleton 2-06 Youghal 1-03 leaving the game nicely poised heading into the second half.
The first score in the second half was going to be critical if Youghal were to get back into the game but the next two went Midletons way the impressive Sean McSharry struck from play again followed by another point from play from the hard working Daragh Egan. Youghal's next score, a pointed free was to be their last of the game. Midleton were now just managing the game keeping the scoreboard ticking over and sprung their bench for the final quarter, Midleton saw out the game with Sean McSharry adding three more points, one from a free and a goal to cap a memorable 3-02 on the day by Odhran Dennigan. Midleton showed a great maturity in seeing the game out keeping possession for long periods and depriving Youghal of any route back into the game thus securing their second piece of silverware for the season. Impressive for Midleton on the day were Sean McSharry, Odhran Dennigan, James McSweeney, LucaBrodkorb, Darragh Egan, Eoin Fraser and Tomas Dunlea.
This success was a real panel effort as for several of the round robin games numbers were tight so well done to everyone on getting to the final and getting the much deserved win.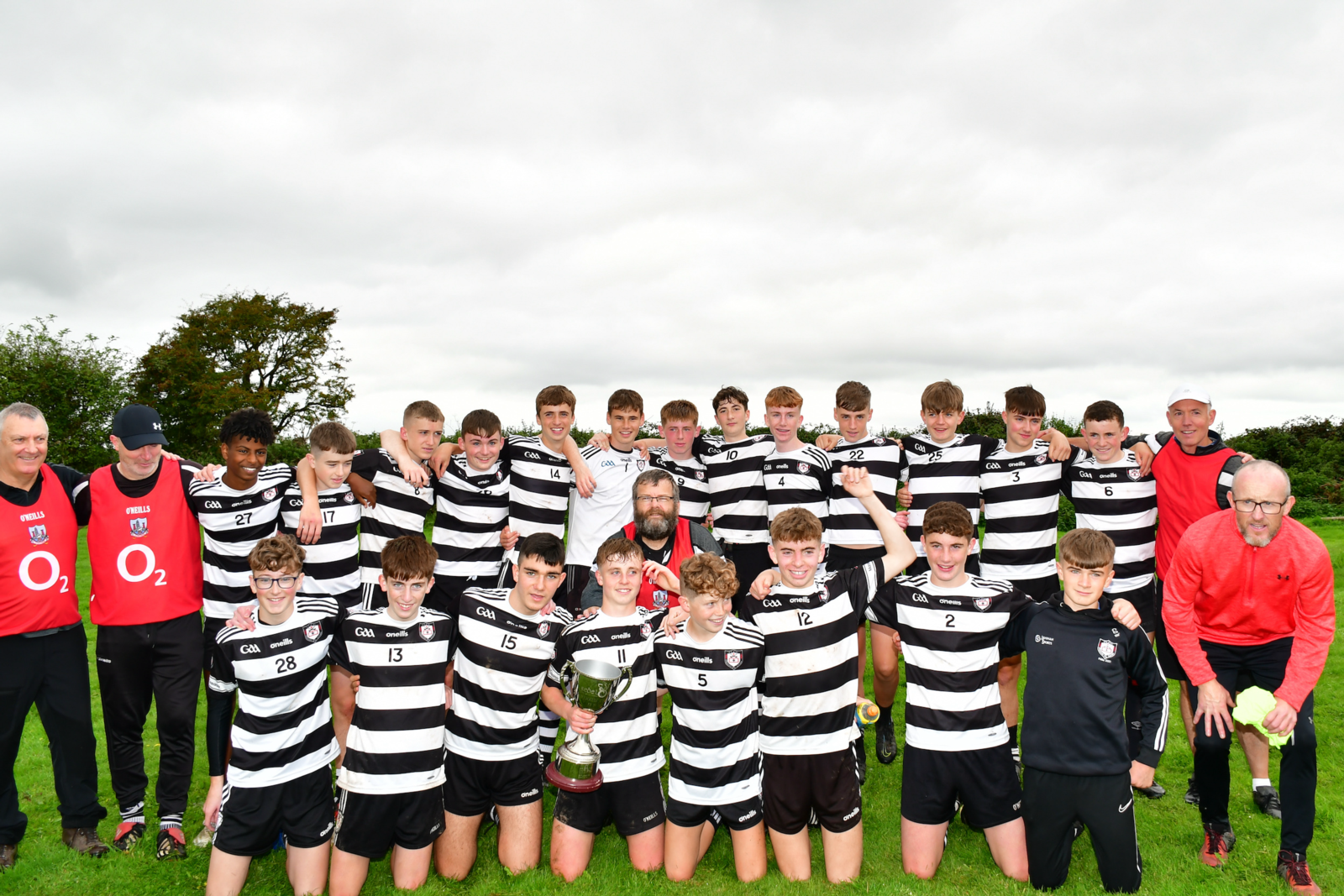 Fe15 Rebel Og East Div 1 Football Final v Youghal
Panel: Eoin Fraser, Yohanis Mehigan, OdhranRabitte, Callum Deegan, Adam O'Connor, James McSweeney, Cartaigh Cronin, Fionn Kelly, John Paul McManus, Tomas Dunlea, Callum McSweeney, Mathew McSweeney, Callum O'Brien, Shane McNamara, Jack Foley, Odhran Dennigan, Darragh Egan(Capt), Luca Brodkorb, Sean McSharry, Peter Barrett, Conor Morley, Paddy Walsh, Alex Cahill.
Focus now switches to preparation for National Féile and the trip to Tipp on 28th October where we meet Ballina (Tipp) and Clarinbridge (Galway). Wishing the lads, the best of luck and a memorable days hurling.
Fé13 NOTES
Fé13 P2 FOOTBALL SHIELD FINAL V CARRIGTWOHILL
The last competitive football game of the season for the Fé13 lads was the P2 Shield Final against local rivals Carrigtwohill, played under lights on Monday 11th September last. These teams had met earlier in the year in this competition with Carrigtwohill winning convincingly that time, so the lads knew that they had to be at their best on this occasion if they were to be successful. The first quarter was close with only a point between the teams at the first break. The quality of football being played was extremely high and this was evident when Scott Dunlea nailed Midleton's opening goal in the second quarter after a great team move. Carrigtwohill were never far off though and went in one point in front at half time 1-05 to 1-04. The lads really showed the strong spirit of this team and came out determined to make a mark in the third quarter. James O'Meara capped a wonderful display on the night to score a well taken goal, making the score Midleton 2-05 to Carrigtwohill 1-06 going into the final quarter. Despite Midleton getting another goal from captain Cian Lawton, Carrigtwohill to their credit refused to give up and were awarded a penalty which was converted to leave only 2 points between the teams with time up. Thanks to some heroic defending, an endless work-rate and never-say-die attitude, after 7 minutes of injury time, the lads emerged victorious on a final score of Midleton 3-06 to Carrigtwohill 2-07. This was a fantastic result for the lads and well-deserved result for the amount of time spent in the field throughout the year. Having been presented with the cup, captain Cian Lawton thanked all the coaching staff, with special thanks to coach Criostóir O'Cathasaigh who assisted throughout this year.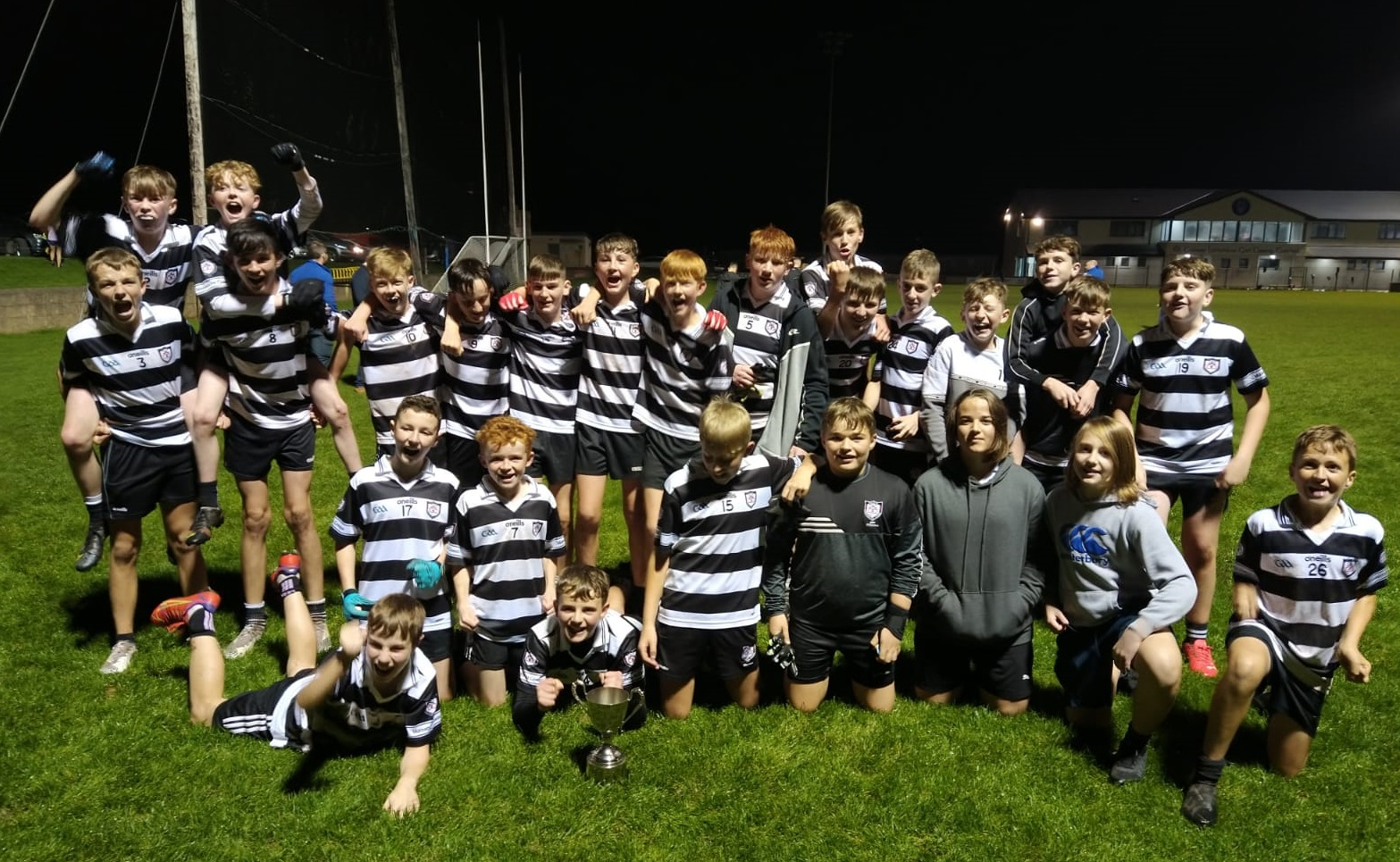 Fe12 P2 1 Football Final v Carrigtwohill
The panel for the match was: Bradley O'Brien, Jason Morley, Harry Waterman, Rian Casey, Luke Bamber, Shane O'Mahony, Jack Walsh, Senan Carroll, Cuan Twomey, Dara Birdthistle, Max Murphy, Darragh Mullins, James O'Meara, Cian Lawton (captain), Scott Dunlea, Ruairi O'Riordan, Sean Gregory, Fionn Bohan, James Carey, Patrick O'Dowd, Patrick Collins, David Kelly, Jamie O'Donovan, Michael Allegrini, Michael Barrett.
Scorers: James O'Meara 1-01, Darragh Mullins 0-03, Scott Dunlea 1-00, Cian Lawton 1-00, Senan Carroll 0-01(f), Max Murphy 0-01.
Fé 11 V Erins own
Saturday the 16th of October saw the fé11 Magpies face Erin's own at home in Clonmult.
A hard mornings football followed against two very good Erin's own teams.
The lads as always, showed great character and played some nice football in the two games each team played.
Well done lads.
Training continues this week, times will be communicated thru txt.
Magpies Abú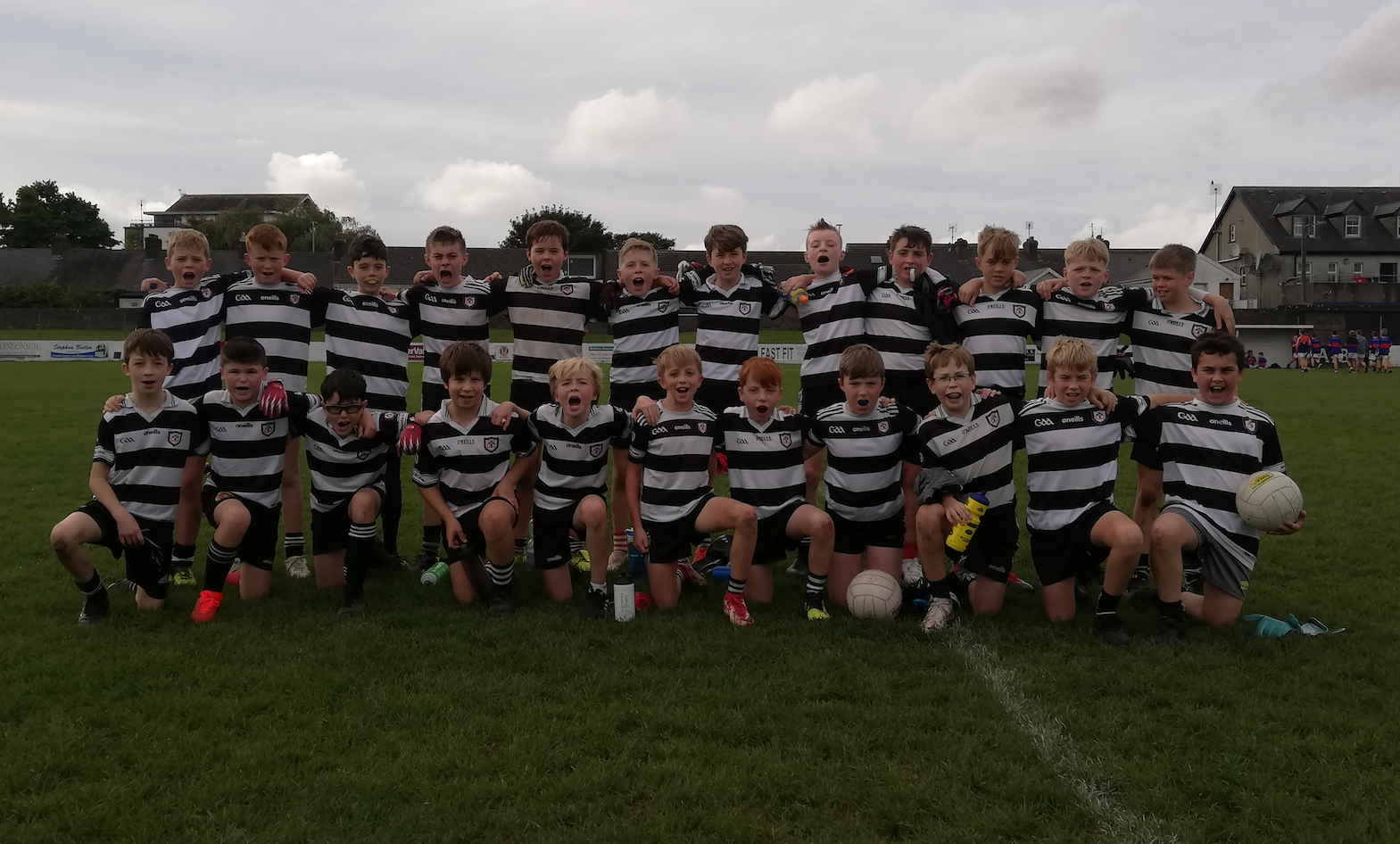 Fe11 v Erins Owen
Camogie Notes
FE11 Notes
Fe11 End of Year Outing
On Sunday 17th of October our U11 Camogie Team headed to Trabolgan Holiday Village for our social day out . It was brilliant day from start to finish, the girls and coaches had an amazing fun time with activities including Zip Wire, Archery and High Wire through a forest and a meal afterwards. The staff were fantastic and got us up and running in no time. They reassured each and every girl not to give up even when the going got tough . It was such a great experience for all the team. We came away with smiles on our faces after trying something new and exciting, it was great day out. We would like to thank the team at Trabolgan Holiday Village for hosting our Fun day out and Conor Pyne for supplying goodie bags to all the girls, we really appreciate their generosity.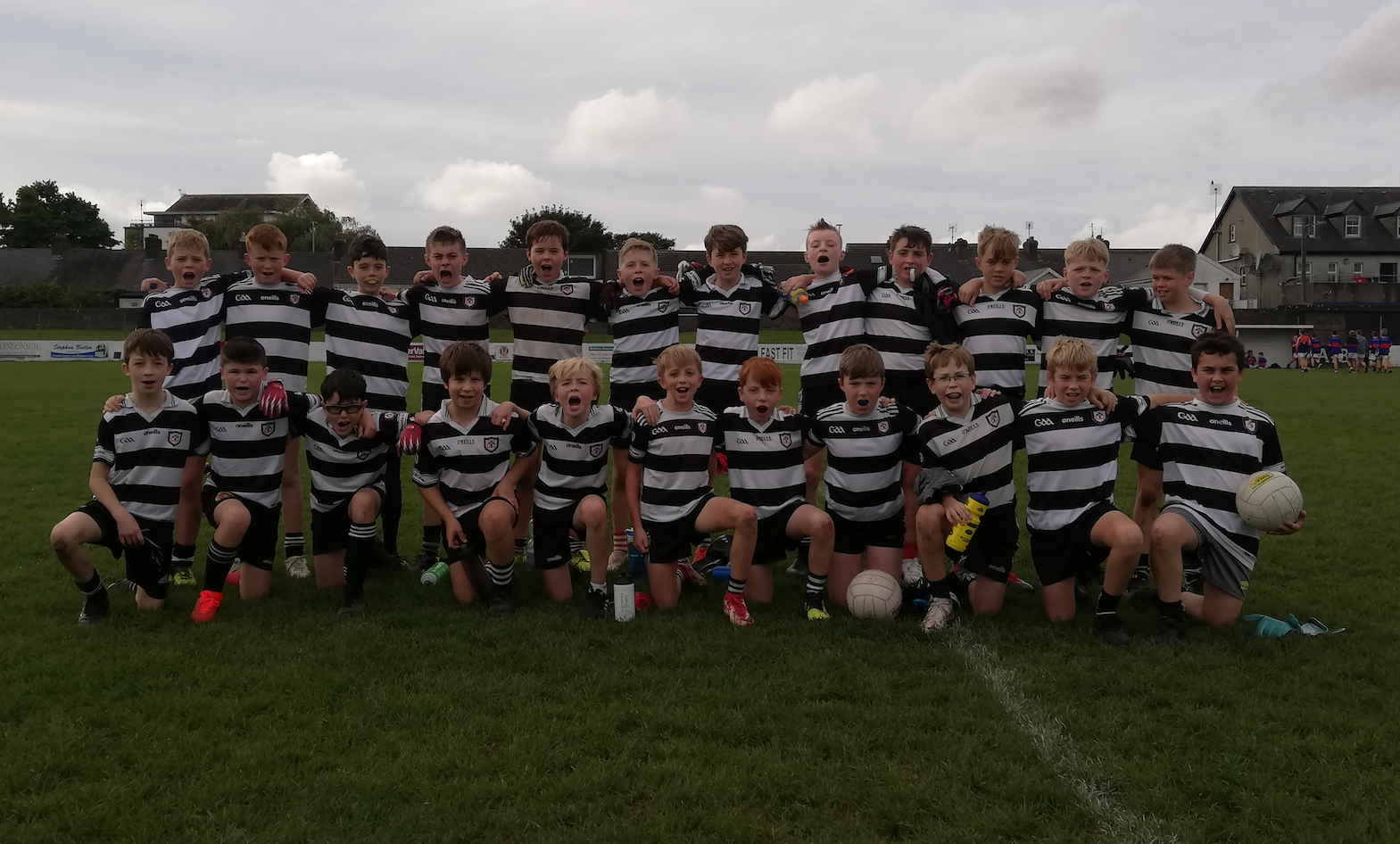 Fe11 Outing
Fe7/8 Notes
Fe 7 /8 End of year
Our U7/8's finished up for the season on Friday evening last over at Park South. Great fun was had by all . A well-deserved break now after a hectic year of matches Blitzes and Training. Well done to each and every girl that togged out for her Club during the year , we are super proud of you all and the progress you have all made has been outstanding. Thank you to all the Coaches in this group for all their hard work, without you none of this would have been possible .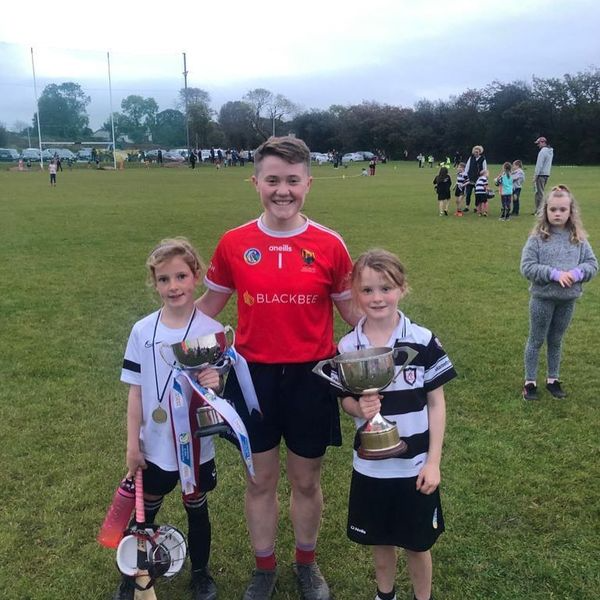 Jill Connaughton with Fe7 and 8
Midleton Camogie AGM
This year's AGM will be held at Midleton GAA Club on Wednesday 17th November at 7.30pm. As always all Members , Coaches and parents are most welcome to attend. The outgoing year will be discussed as well as the upcoming season . More details to follow in the coming weeks.
Blast from the Past
With the All Ireland Hurling Feile nan Gael Finals next week in Tipperary it is timely to reflect on some of our past participation in the finals.
2019
Report from the Tournament
Hosted in Cork for the first time since 2005/6 we had a great run in the tournament. Both of Midleton's games took place in Carrigtwohill on Friday evening. Our first match against St Lucan's ended on a score of Midleton 0-06 St Lucan's 1-07. Next up was our near rivals Carrigtwohill. Full time score was Midleton 1-11 Carrigtwohill 0-05. It was all to play for on Saturday morning against Oulart the Ballagh. At 10 am on Saturday a must win for Midleton if we wanted to advance to the next stage. Final score was Midleton 2-06 Oulart the Ballagh 1-07. The boys had done enough to qualify for the Cup ¼ final which took place in Ballincollig against Durlas Óg. Once again, the lads took to the field and battled hard and were delighted to come away with a win Midleton 2-04 Durlas Óg 1-03. This win saw them advance to the Semi Final against Na Piarsaigh. Unfortunately, this was the end of the road for us. Final score was Midleton 0-02 Na Pirasaigh 1-08.
2014
Report from the Tournament
Our Hurlers just came up short at the final hurdle, last Saturday at Semple Stadium we were defeated by Kilmacud Crokes in the final of the Feile All Ireland by just one point. In the first game we came up against Galway champions Athenry. In a very close game we won 2-5 to 1-5. Next we played Dicksboro Kilkenny and won this 2-6 to 2-5. Winning these two games saw up through to the Semi where we met Sixmilebridge of Clare. This was a highly fancied side who had sailed through their group by big winning margins yet Midleton played some great hurling and won out 1-09 to 0-2.
In the final we came up against Kilmacud Crokes. Kilmacud stated strongly and had 1-2 on the board in the first 5 minutes. Our lads fought back well to leave us a goal down at the short whistle 1-3 to 0-3. In the second half Midleton held sway for a long period and levelled the game at 1-4 each with 3 minutes to go. A puck of a ball was all that now lay between the sides and the winning score came from Kilmacud with a minute to go. Midleton had one further attack but unfortunately we failed to get the scores we needed.
Our lads are a credit to the Club. They played with power, passion and with great skill. We had some outstanding performances throughout the team and while we are all disappointed we will no doubt have more great days with these hurlers.
Panel: Ross Shanahan, Christian Murphy, Sean O Sullivan, Alan Power, Cormac O Brien, Ciaran Evans, Tommy O Connell, Kian Farmer, Evan Rowlands, Griffin Hurley, Ross O Regan, Jake Shanahan, Sam Quirke, Cian Murray, David Scanlon, Fergus Wade, Ryan O Riordan, Adam O Connell, Coleman Quinn, Gary Carroll, Conor O Leary, Ronan Lynch, Mark Daly, Cian Crowley, Craig Barry.
​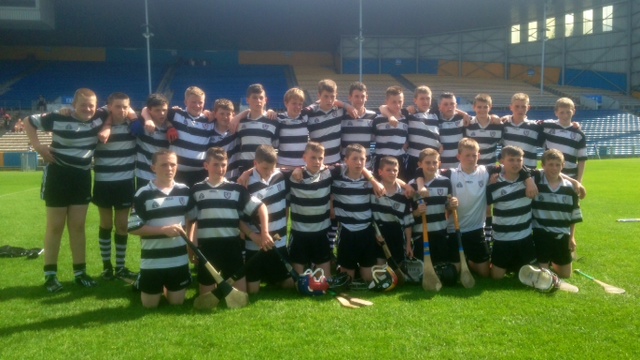 ​​
Midleton Fe14 in 2014 All Ireland Feile