Midleton Hurling and Football, Ladies Football and Camogie Club News
10 October, 2021
Midleton GAA…at the 'Heart of the Community'. Ní neart go cur le chéile. There is no strength without unity.
COVID Update & Return to Play

Team managers will advise of date, time and venue for training. Please remember that players/parents are required to complete a Health Questionnaire declaration BEFORE each training session or match.
Midleton GAA 'One Club' have put together a comprehensive guide to the Safe Return to Play for all teams. All parents, players and coaches are asked to familiarise themselves with these guidelines including, but not limited to, the Health Questionnaire requirements and access maps to the 4 facilities being used by Midelton GAA 'One Club'.
Key links:
Midleton GAA 'One Club' Guide and other Return to Play information: covid-19-news
FOIREANN (was Return to Play) where Health Questionnaire can be completed prior to each training session/match (FYI, use the same email and password from last year):
Mega Lotto Results & New Jackpot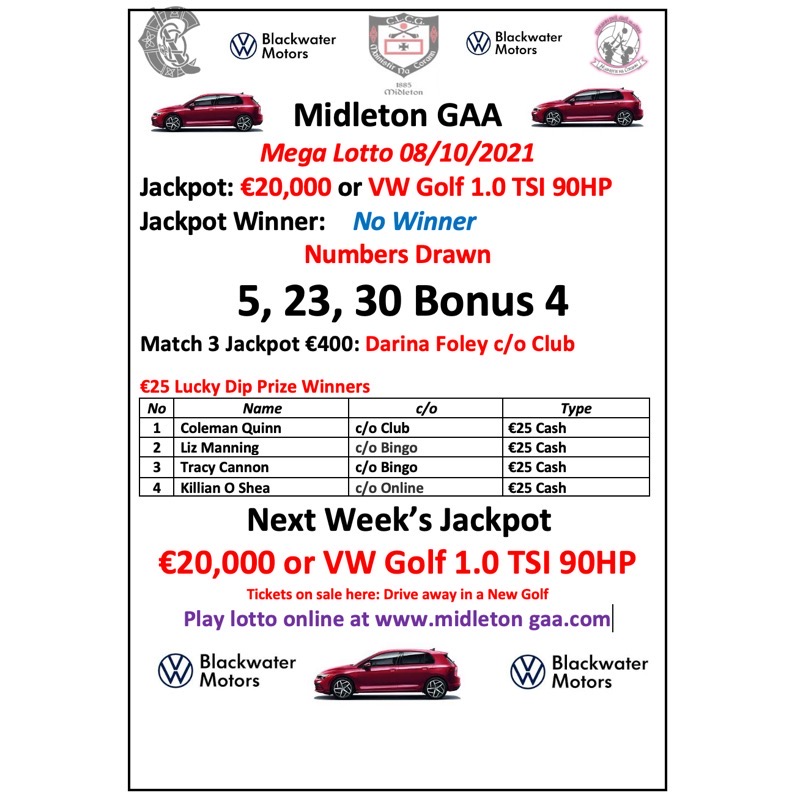 Our Lotto Jackpot was a choice of €20,000 or a VW Golf 1.0 TSI (in partnership with Blackwater Motors) the numbers 5, 23, 30 Bonus 4. There was no winner of the jackpot so next Friday's jackpot will remain the same. Congratulations to Darina Foley on winning the €400 Match 3 Jackpot.
4 Lucky Dip Prize Winners this week were Coleman Quinn & Liz Manning, Tracy Cannon & Killian O'Shea (€25 in cash each). In total Midleton GAA will give out local business vouchers to the value of €3,800 every year as part of our "Shop Local, Buy Local" campaign.
How to play: Tickets are on sale at Pat Walsh Paints, Chadwicks, Frank Murphy Butchers, Murphy's Pharmacy, Crowley Butchers, or buy online, through Klubfunder, at https://www.klubfunder.com/Clubs/Midleton%20GAA/lotto select your numbers and number of draws to play. You can buy an annual ticket by selecting "50" from the "Number of Draws" to Play dropdown.
Midleton GAA Bingo
Our bingo is back indoors on Friday nights with an early bird game at 7.30pm. Great prizes on offer.
Bring your COVID Cert, face mask and a friend to enjoy a good evening out.
GAA Fixtures & Results
See below links for details of fixtures and results. As usual we will endeavor to keep the club website up to date with fixtures and results as well as posting results, as much as possible, on twitter and facebook. Team managers are asked to submit results and any fixture changes to pro.midleton.cork@gaa.ie or text 0868643079.


Website Links:
Fixtures club_fixtures
Results club_results
Senior Hurling Championship
Midleton 2:14 Sarsfields 3:21
Pairc Ui Rinn, Sunday 10th October at 2pm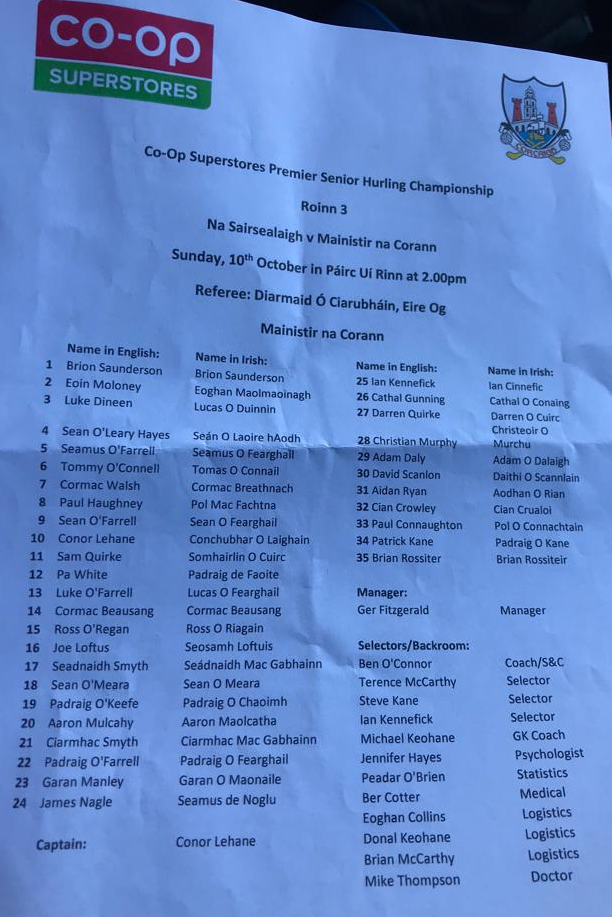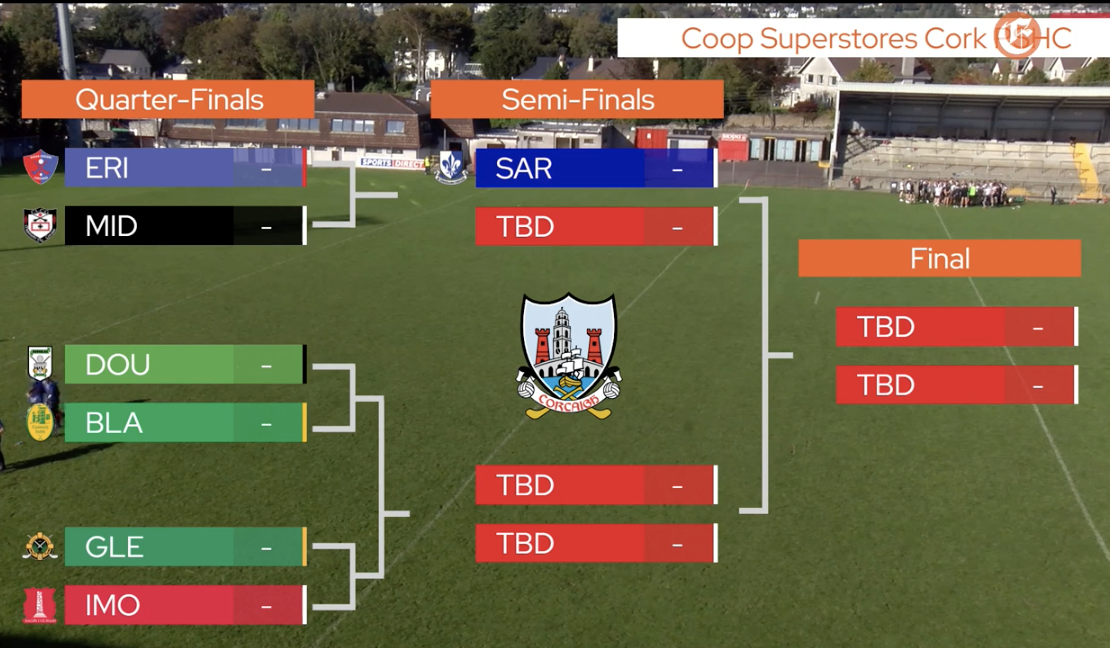 QF for both Senior & Intermdiate Championships to be played on 23/24 October.
Intermediate Hurling Championship
Midleton 2:17 Kildorrery 0:15
Fermoy, Saturday 9th October, 4pm
A good second half performance saw us reverse a 5 point half time to run out 8 point winners. To be fair to Kildorrery they lost some key players in the second half but our work rate and intensity saw us over the line. Onwards to the quarter final in 2 weeks time.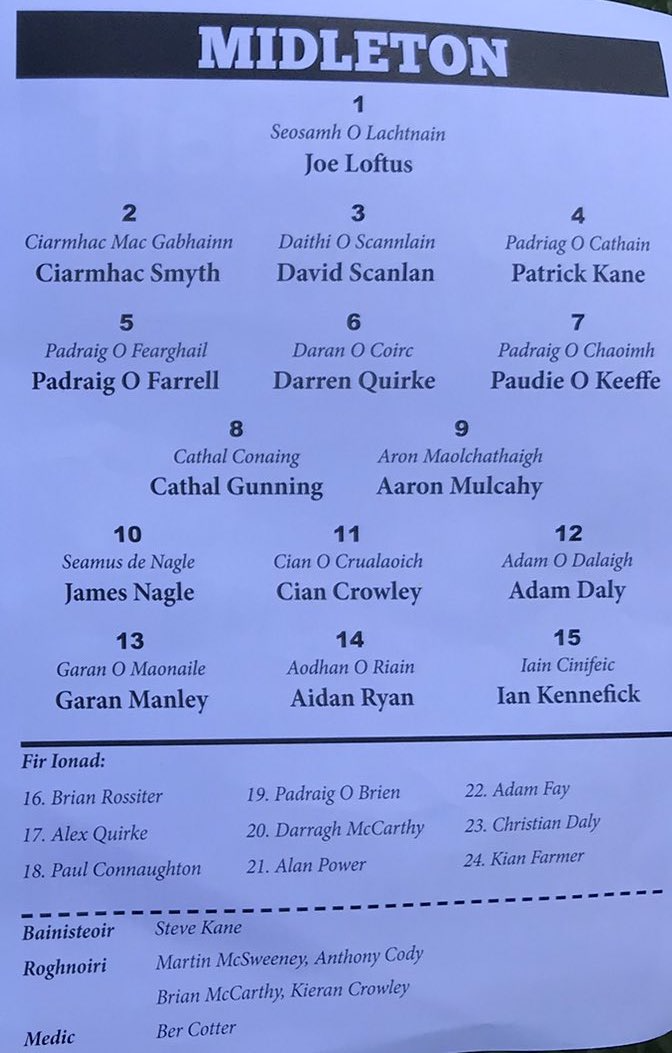 Junior C Hurling Championship
Midleton 4-09 Carrigtwohill 1-12
On Friday night we travelled to play the hosts under lights in the first round of the east Cork Junior C Hurling Championship. We travelled with a team consisting of a lovely blend of youth and experience. We started well and took some excellent scores from play allied to the ace free taking of Mark O'Keeffe. On the changeover Carrigtwohill asserted themselves and roared back into the contest. It was nip and tuck until the closing stages when Midleton were able to close out the game through some great scores.
Team: Keith Ryan, Daniel Wathen, Padraig Dunlea, Ryan Cahill, Robbie Barry, Barry Fitzgerald, Conor Evans (Captain), Evan Kelly, Cian Murray, Mark O'Keeffe, Colin Dowling, Peter Dowling, Paul Ahern, Sean Corcoran, Cillian Hurley. Substitutes used Davy O'Brien, Phelim McGann, Declan McInerney and Jerome Curtin
This was a great win for the fifth team to represent the club in championship hurling in 2021. Well done all.
Magpie All-Stars
The Magpies All Stars held an open training session on Sunday the 3rd of October to mark the GAA National Training Inclusion Day 2021. After training the players were treated to some ice cream and refreshments and we were joined buy some colourful characters from Trabolgan Holiday Village.
Big thank you to Bríon Saunderson from the Midleton seniors, Vivian Gleason for Midleton Camogie. Thank you too Amy Quirke and Megan Kelly for representing Midleton LGFA and are also a part of the All Star coaching team.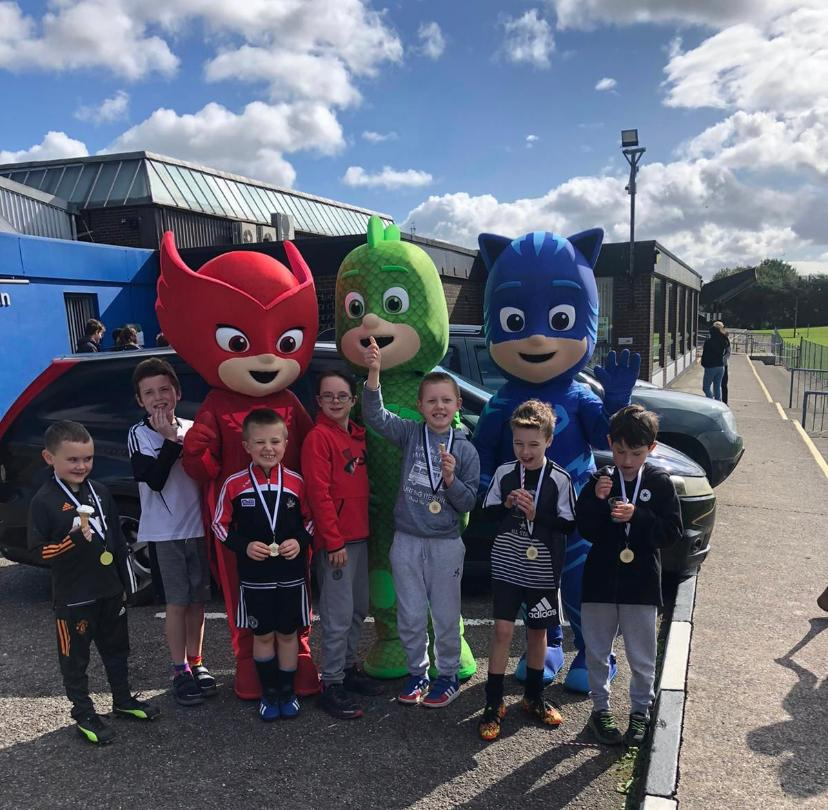 Many thanks to all members from all corners of the club who came to share the event with us. Your support is felt and is greatly appreciated.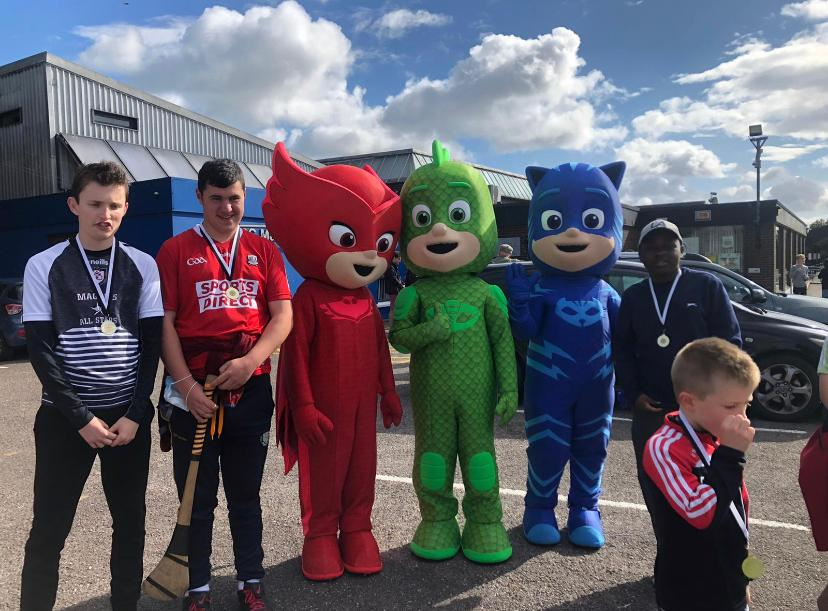 The All-Stars will continue to train until the end of October, when we will wrap up our season for for 2021.
Juvenile
County Finals this weekend.
This is a big weekend for our F12, Fe13 & Fe15 with 4 teams contesting football finals.
On Saturday in Ballinacurra our Fe15 beat a fancied Youghal team on a score line of 3;11 to 1:04. Attention will turn to hurling as this panel focus on the upcoming All-Ireland Feile in Thurles later in the month.
On Sunday morning there was a Fe12 double-header in Glanmire with our Fe12 Div 1 & Div 4 teams taking on the home teams. Unfortunately, we suffered defeats in both games. The Div 1 team, despite a strong fight-back in the 2nd half lost out on a score line of 1:09 to 1:05. The Div 4 team's final went to extra time and despite trying to the end, lost out on a score line of 3:11 to 3:05. We will see more from this group of magpies. Keep up all the good work.
Monday evening sees our Fe13s play Carrigtwohill in the P2 Football League final in Carrigtwohill under lights at 7pm. All support is welcome.
​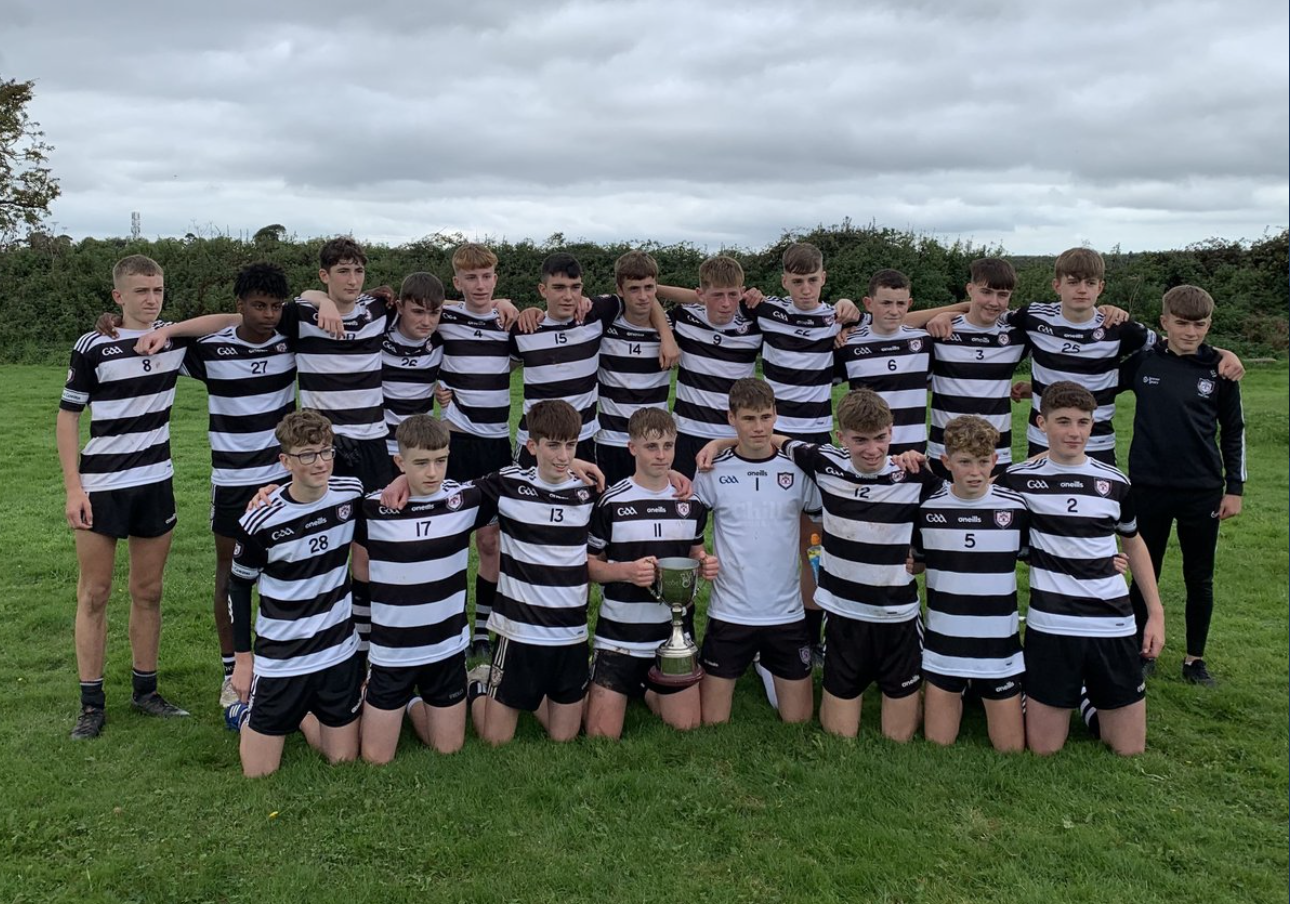 Fe15 v Youghal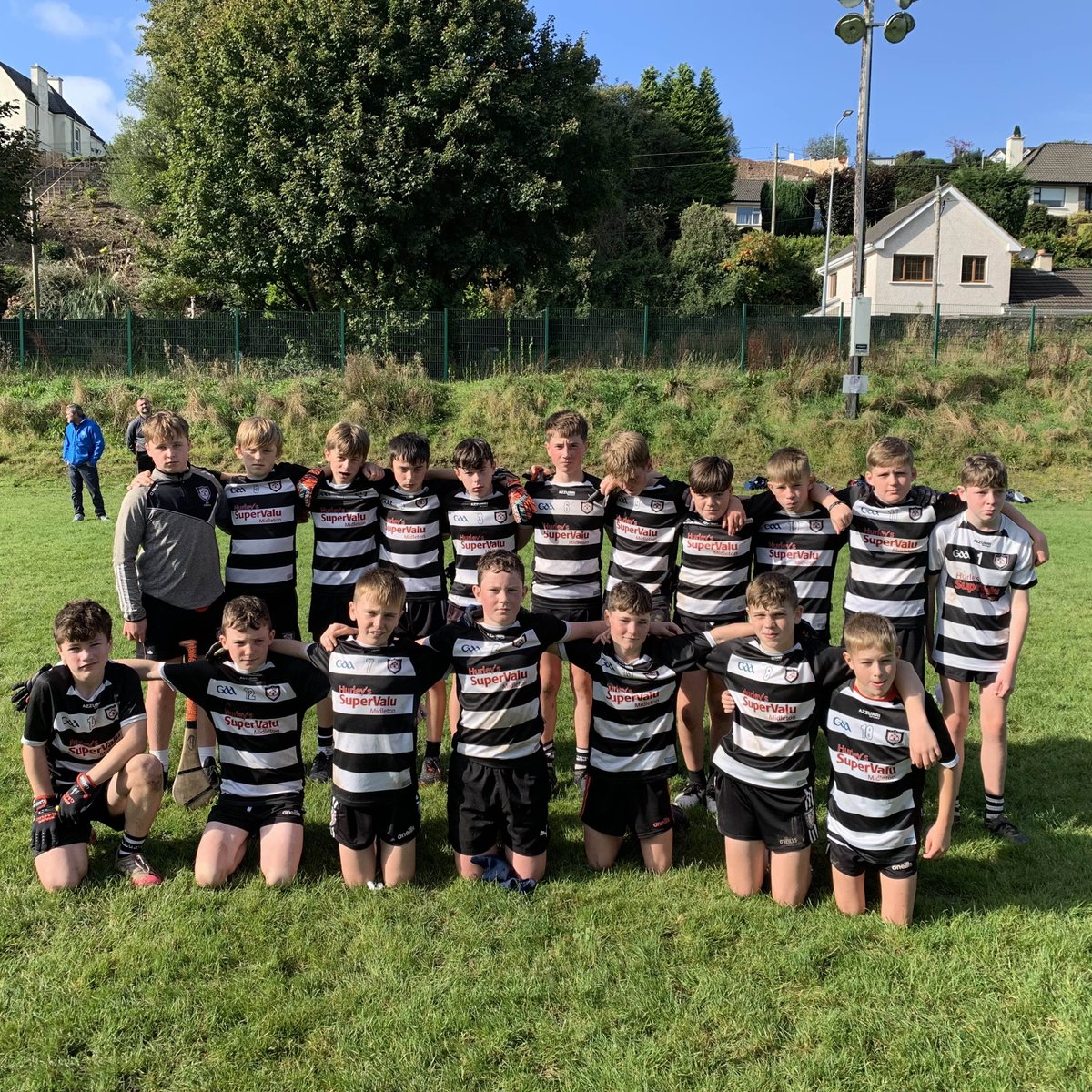 Fe12 Div 1 v Glanmire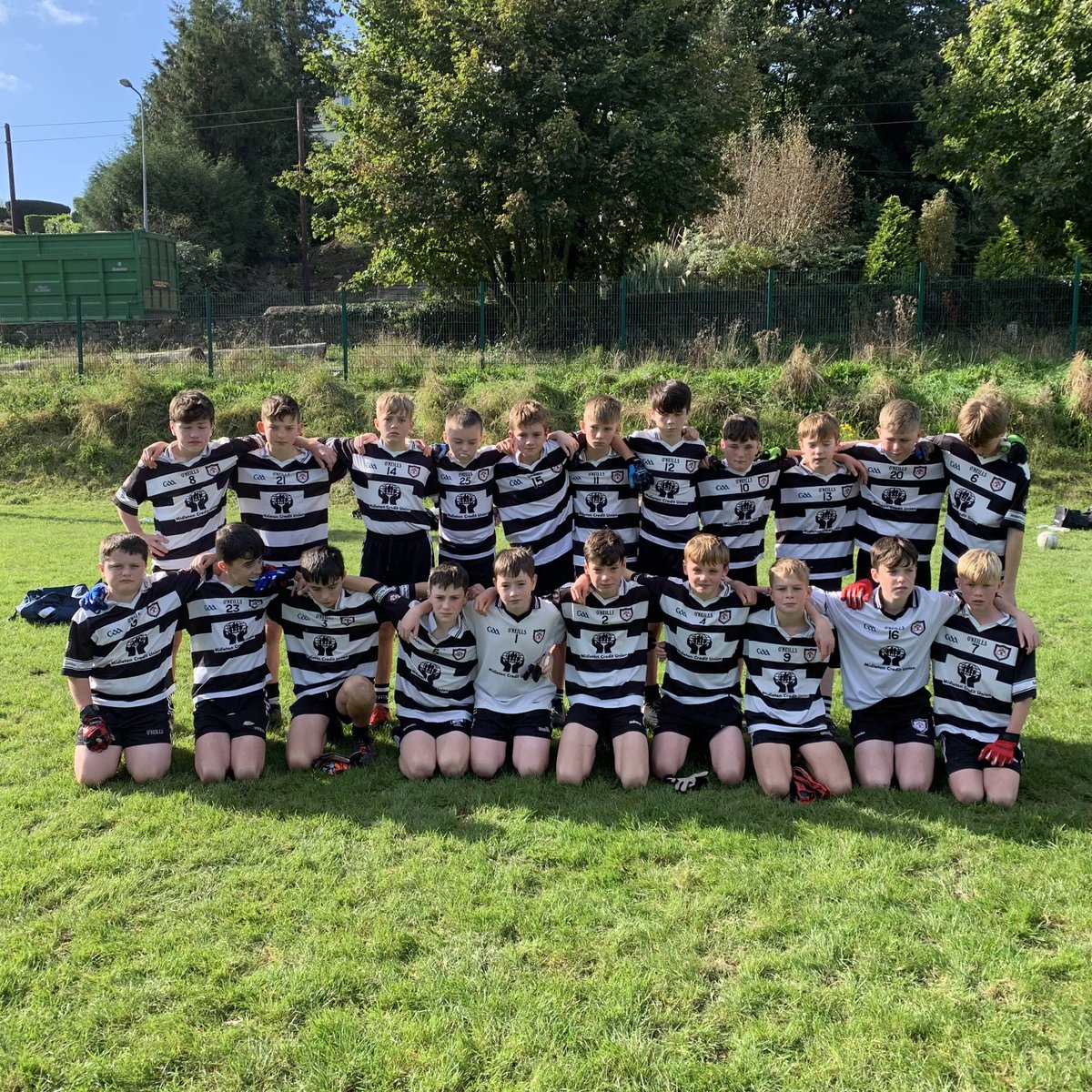 Fe12 Div 4 v Glanmire
Fé8 Notes;
The Fé8 boys were hosts to Inniscarra and Nemo Rangers on Saturday 02nd of September last in a series of hurling challenge matches. We again had fantastic numbers with over 36 boys making up five different teams against 2 Nemo teams and 3 teams from Inniscarra. Well done to all the lads who continue to improve every week. Thanks to everyone who came to support the lads. Don't forget to keep up the hurling training at home.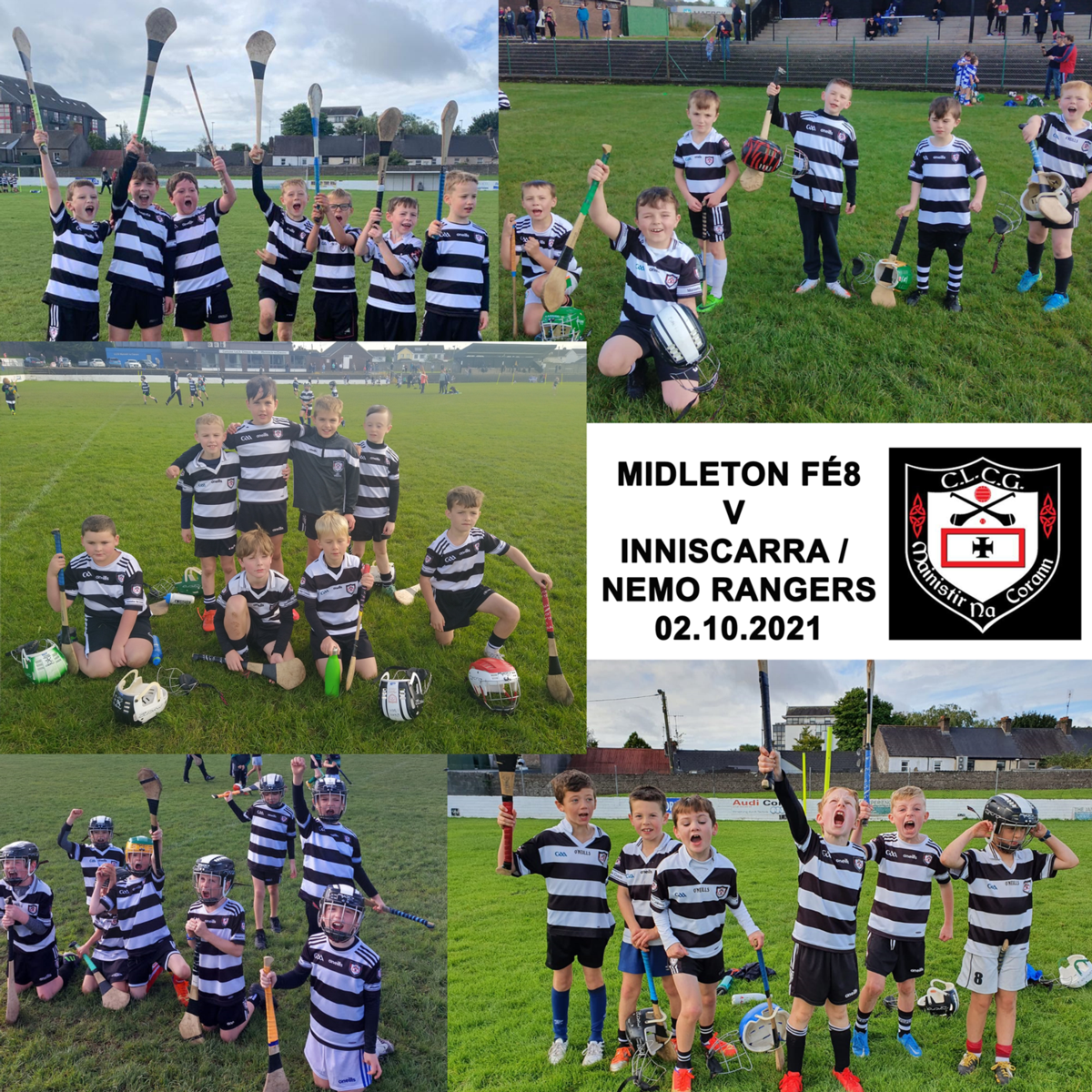 Fé8 V INNISCARRA AND NEMO RANGERS 02.10.21
Fé9 Notes
Our lads travelled to Rathcormac on Saturday for a Hurling blitz against Bride Rovers.
We brought 26 young magpies with us for this and each group of 8 or 9 players in this played 3 games each. The lads battled hard from start to finish in all their games and got some great scores throughout.
We would like to thank Bride Rovers GAA for hosting us and we would like to thank the parents from this group for their support.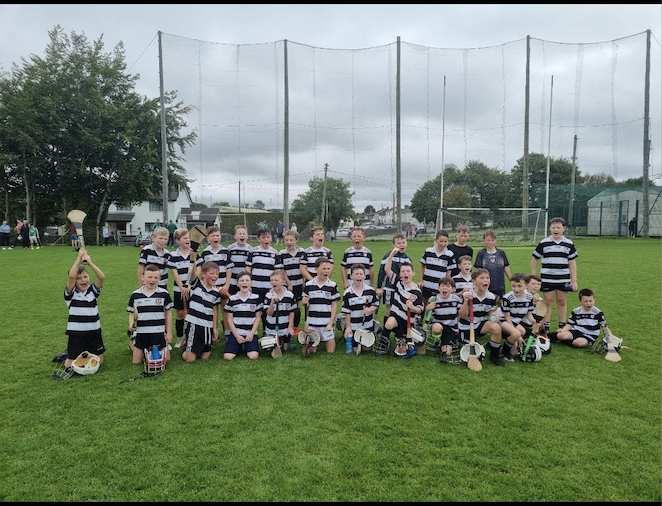 Fé9 V Bride Rovers
Fé11 notes
Saturday 25th of September saw the fé11 boys travel to Cobh for hurling. Our lads put in a fantastic effort and the results went their way on the day. Well done lads and thanks to Cobh for hosting.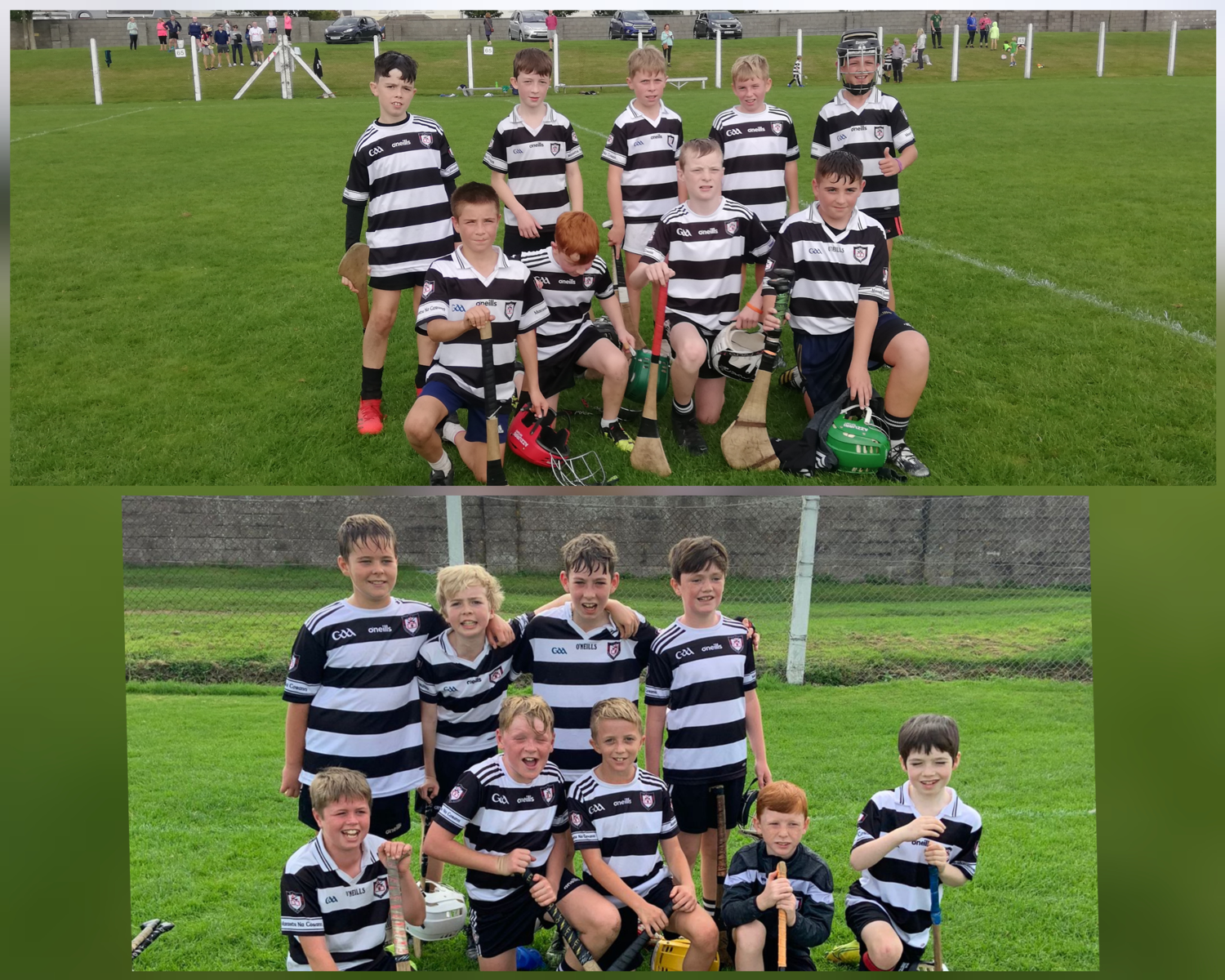 Fé11 V Cobh
Friday the 1st of October saw us travel to Kilworth for an evening hurling game under lights. We had 2 teams of mixed ability and played with 12 a side. Hard, fast and fair hurling was the order of the evening. With our lads really upping their game for the occasion. Thanks to Kilworth for hosting and thanks to our parents for their continued support.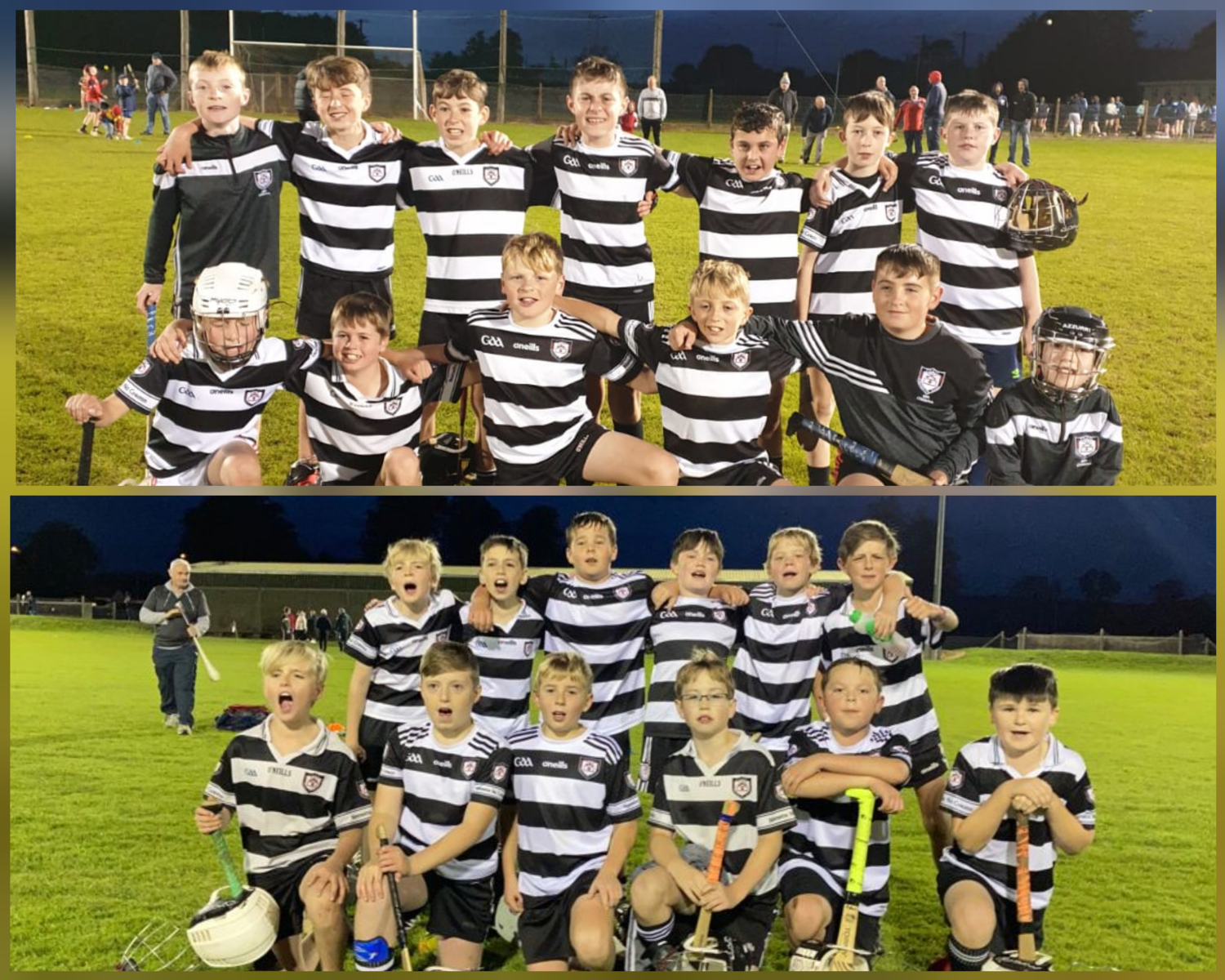 Fé11 V Kilworth
Fé13 NOTES
Fé13 P2 FOOTBALL SHIELD SEMI FINAL V PASSAGE
The seventh competitive football game of the season for the Fé13 lads was a semi-final of the P2 Shield against Passage on 25th September last. The lads got off to a blistering start with 2 early goals from the lively Scott Dunlea in the opening quarter. This was followed by another goal in the second quarter after a clinical finish by Darragh Mullins to leave the half time score Midleton 3-02 to Passage 1-04. The lads continued to play some superb football in the second half and finished the match impressively with a well taken goal by Ewan Murphy. The final score was Midleton 4-06 to Passage 1-09 with the lads deservingly qualifying for the Shield Final on September 09th. The panel for the match was: Bradley O'Brien, Jason Morley, Harry Waterman, Rian Casey, Luke Bamber, Shane O'Mahony, Cuan Twomey, Senan Carroll, Max Murphy, Dara Birdthistle, Darragh Mullins, James O'Meara, Ruairi O'Riordan, Cian Lawton (captain), Scott Dunlea, Ewan Murphy, Sean Gregory, James Carey, Jamie O'Donovan, Michael Barrett, Fionn Bohan, Adam Spillane. Patrick Collins, Michael Allegrini. Patrick O'Dowd.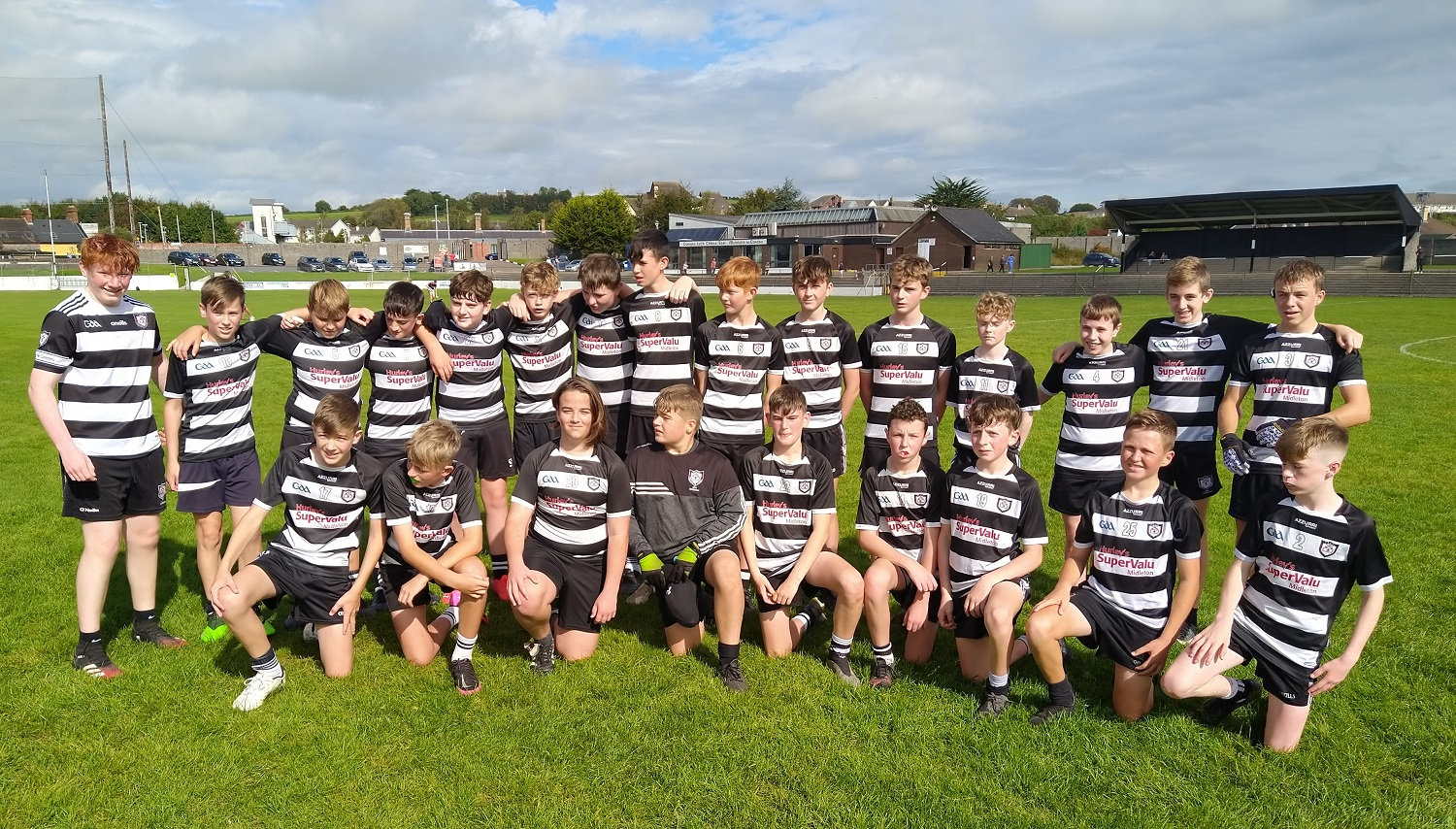 Fé13 P2 FOOTBALL SHIELD SEMI FINAL V PASSAGE 25.09.21
Fé13 P2 HURLING SEMI FINAL V ERINS OWN
The Fé13 lads faced Erin's Own at home in the semi-final of the P2 hurling competition on Saturday October 2nd. Having previously played and beaten their opponents earlier in the competition, they knew they would be made work hard for another victory. The first half was a close affair with scores hard to come by for the lads. A goal in the first quarter by James Carey and another goal after the water break from a long free by Senan Carroll gave us a half time score of Midleton 2-00 to Erin's Own 0-07. However, after the break the lads dug deep and played some great hurling in the third quarter. Thanks to some outstanding defending and another crucial goal coming this time from Max Murphy meant that going into the final quarter the score was Midleton 3-02 to Erin's Own 0-09. It was nip and tuck until the final whistle, but the lads worked tirelessly to hold out for a final score of Midleton 3-06 to Erin's Own 1-10. The lads now face Kiltha Óg in the P2 hurling final in a few weeks' time. The panel for the match was: Michael Allegrini, Jason Morley, Cian Lawton, Rian Casey, Harry Waterman, Shane O'Mahony, Cuan Twomey, Senan Carroll, Luke Bamber, Scott Dunlea, Max Murphy, Patrick O'Dowd, Jack Walsh, James Carey, Darragh Mullins, Dara Birdthistle, Ruairi O'Riordan, Fionn Bohan, James O'Meara and Ewan Murphy.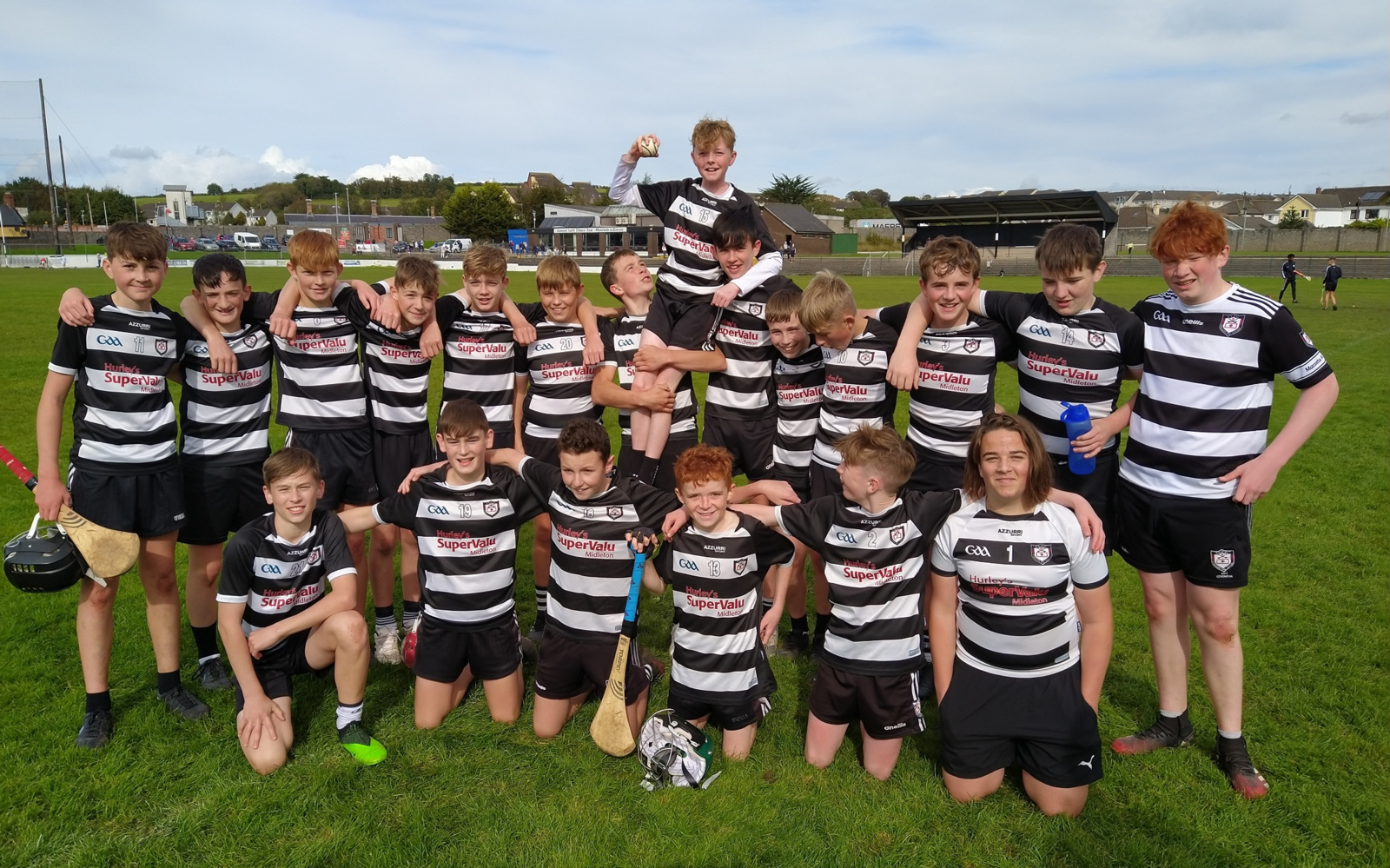 Fé13 P2 HURLING SEMI FINAL V ERINS OWN 02.10.21
Camogie Notes
FE6 2022 Registration
If your daughter is in Junior Infants and would like to join our Camogie Club please pre-register your Interest for the 2022 season. Contact Sinead on 086 0638151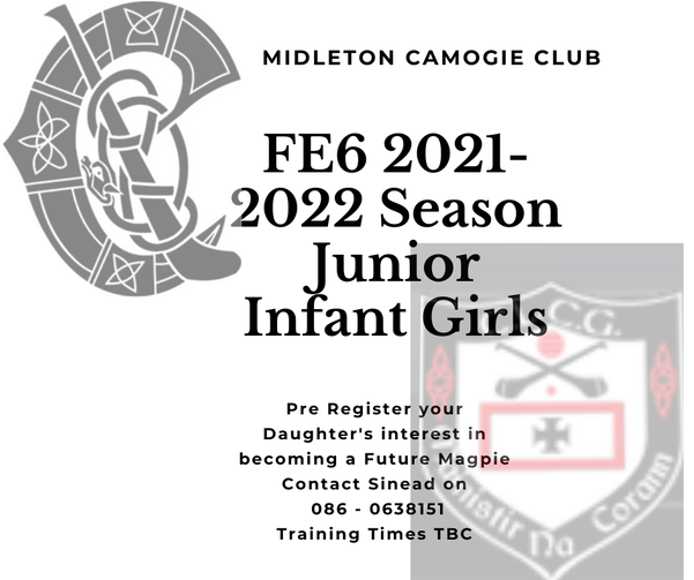 Fe 14 notes
U14A County Championship semi final.
Midleton Vs Cobh.
On Saturday 2nd October we faced our East Cork neighbours looking to try and reach a second County final in the space of a week. The girls started fast again and an early goal from Tia Wall Wallace which was superbly set up by Kate O' Sullivan who raced towards goal and as she was surrounded by Cobh defenders laid off off a superb hand pass to Tia who rattled the back of the net. As the first half went on the two sides traded goals and points both with our scores mostly coming from Faye Dunlea and Kate O' Sullivan both of whom were receiving great service from our two outstanding midfielders Rebecca Cronin and Sorcha Cronin. These two girls covered every blade of grass putting in tackle after tackle in arguably their finest performance of the season so far. We went in to the break eight points up but facing into a strong wind in the second half we knew we needed to brace ourselves for an inevitable Cobh comeback.
The second half started exactly as the first half had done with both Mia Collins and Rebecca Cronin firing in a couple of goals to really stretch out our lead, we then introduced all our subs including Robin Keating, Chloe Griffin, Emma Keeshan and Cara Wallace and these girls kept up the high standards of the girls they replaced and Midleton kept the scoreboard ticking over eventually running out deserved winners on a scoreline of Midleton 8-07 (31) toCobh 3-3 ( 12 )
Finally we would like to thank our loyal supporters who always give us great support, the referee Cathal McAllister for a fine game played by two great sides. Our commiserations to Cobh and their management but for us we march on to face Kilbrittain in the 2021 Championship County final. We look forward to hopefully seeing you coming out to support us in both finals. Well done to Kate O Sullivan who captained her team on the day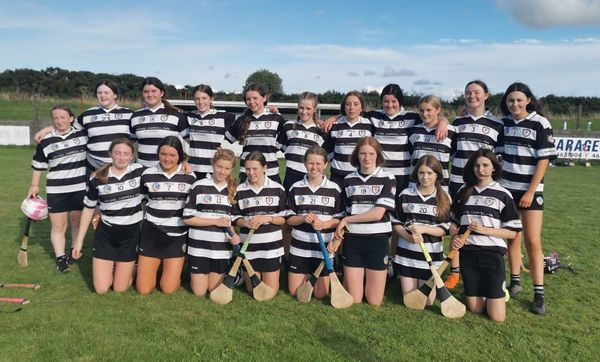 FÉ14 v Cobh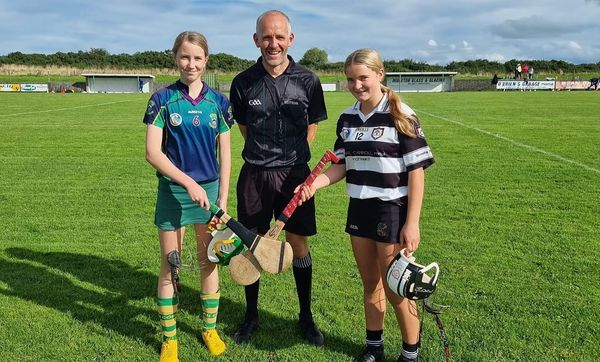 Fe14 Captain Kate O'Sullivan
Fe16 Notes
We would like to wish our Fe16 girls and their management the very best of luck in the
County Final V Cloughduv. Throw in time 10.45am on Sunday 09th October at Castle Road