Midleton Hurling and Football, Ladies Football and Camogie Club News
19 September, 2021
Midleton GAA…at the 'Heart of the Community'. Ní neart go cur le chéile. There is no strength without unity.
COVID Update & Return to Play

Team managers will advise of date, time and venue for training. Please remember that players/parents are required to complete a Health Questionnaire declaration BEFORE each training session or match.
Midleton GAA 'One Club' have put together a comprehensive guide to the Safe Return to Play for all teams. All parents, players and coaches are asked to familiarise themselves with these guidelines including, but not limited to, the Health Questionnaire requirements and access maps to the 4 facilities being used by Midelton GAA 'One Club'.
Key links:
Midleton GAA 'One Club' Guide and other Return to Play information: covid-19-news
FOIREANN (was Return to Play) where Health Questionnaire can be completed prior to each training session/match (FYI, use the same email and password from last year):
Mega Lotto Results & New Jackpot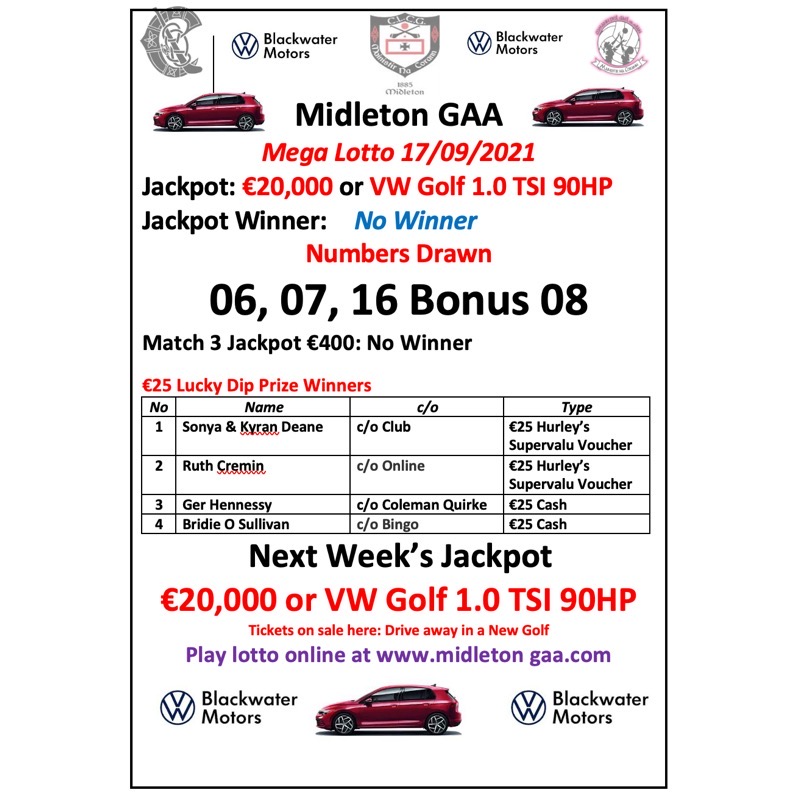 Our Lotto Jackpot was a choice of €20,000 or a VW Golf 1.0 TSI (in partnership with Blackwater Motors) the numbers 6, 7, 16 Bonus 8. There was no winner of the jackpot so next Friday's jackpot will remain the same.
4 Lucky Dip Prize Winners this week were Sonya/Kyran Deane & Ruth Cremin (€25 Hurley's Supervalu Voucher each), Ger Hennessy & Bridie O'Sullivan (€25 in cash each). In total Midleton GAA will give out local business vouchers to the value of €3,800 every year as part of our "Shop Local, Buy Local" campaign.
How to play: Tickets are on sale at Pat Walsh Paints, Chadwicks, Frank Murphy Butchers, Murphy's Pharmacy, Crowley Butchers, or buy online, through Klubfunder, at https://www.klubfunder.com/Clubs/Midleton%20GAA/lotto select your numbers and number of draws to play. You can buy an annual ticket by selecting "50" from the "Number of Draws" to Play dropdown.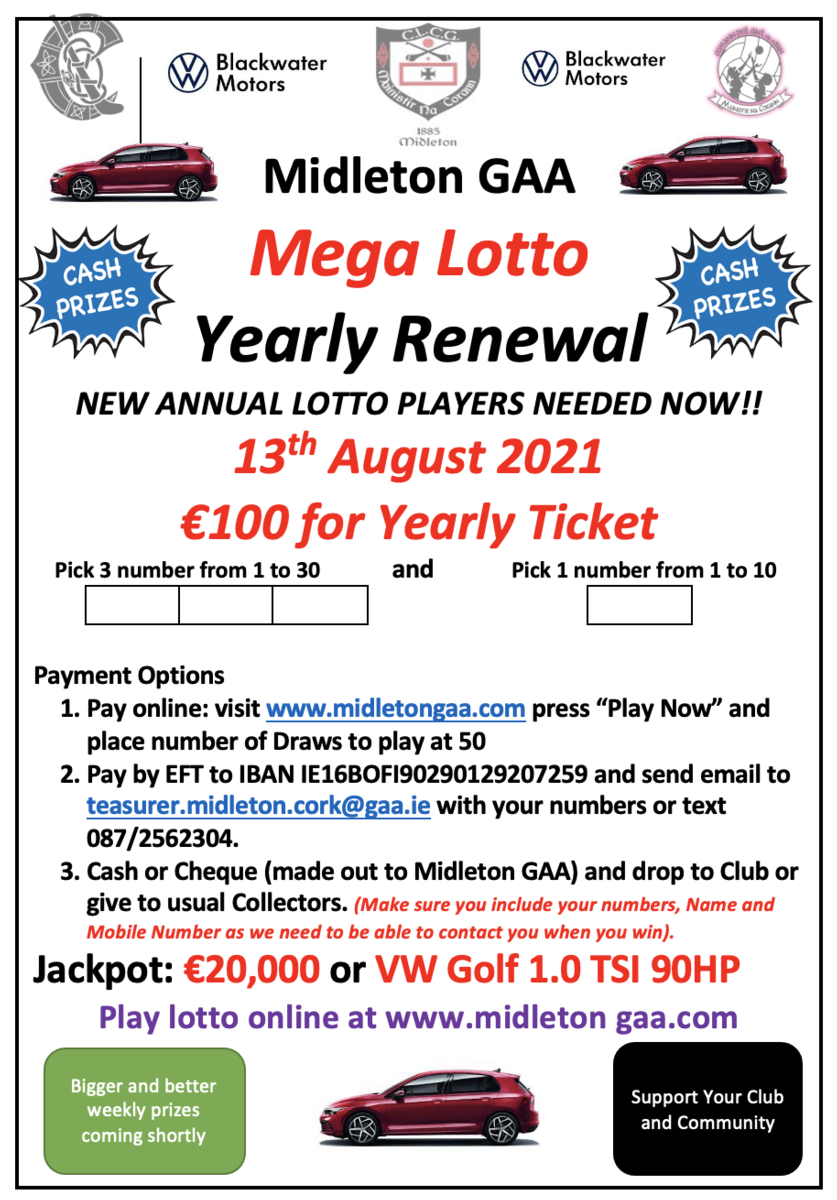 GAA Fixtures & Results
See below links for details of fixtures and results. As usual we will endeavor to keep the club website up to date with fixtures and results as well as posting results, as much as possible, on twitter and facebook. Team managers are asked to submit results and any fixture changes to pro.midleton.cork@gaa.ie or text 0868643079.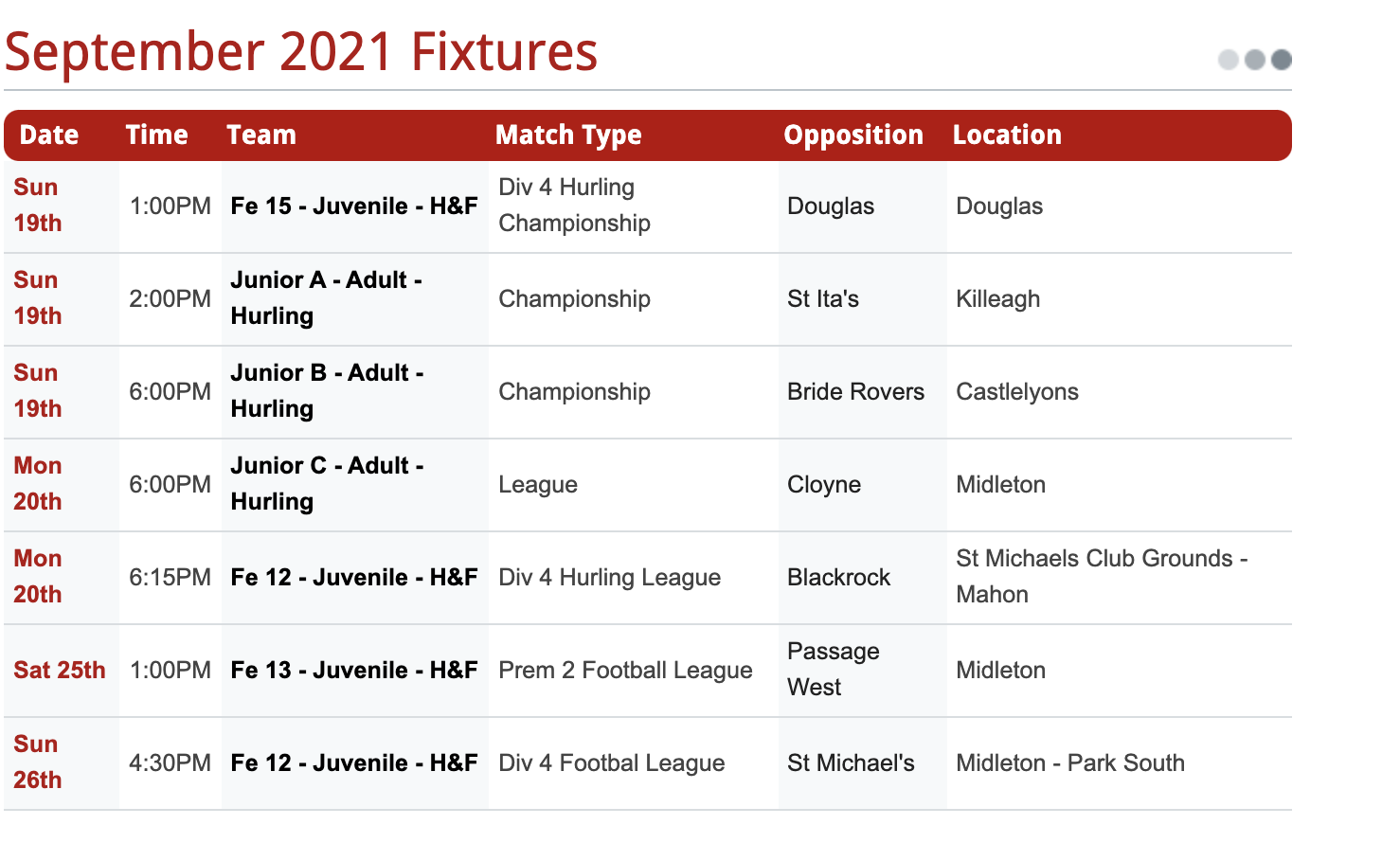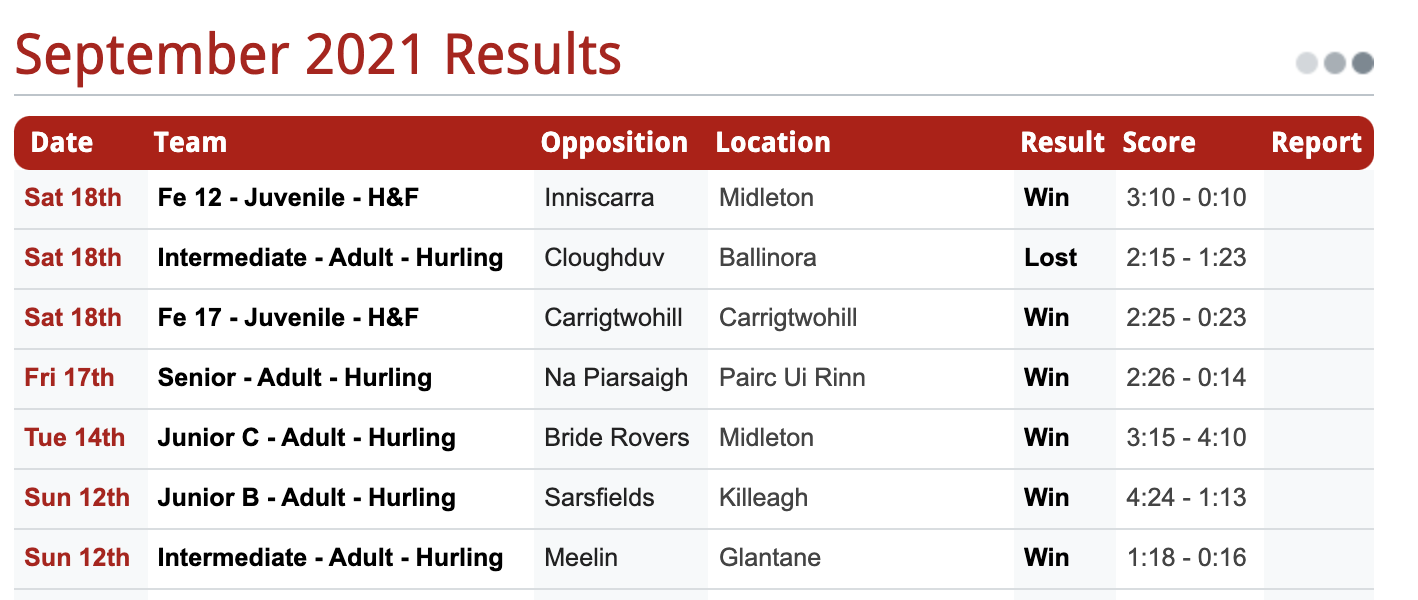 Website Links:
Fixtures club_fixtures
Results club_results
Senior Hurling Championship
Midleton 2:26 Na Piarsaigh 0:14
Pairc Ui Rinn, Friday 17th September, 7.30pm
MIDLETON: B Saunderson; E Moloney, L Dineen, S O'Leary-Hayes; Seamus O'Farrell, T O'Connell, C Walsh; P Haugney, Sean O'Farrell; C Lehane (c), S Quirke, P White; L O'Farrrell, C Beausang, R O'Regan.
Sub: S O'Meara for P White 45.
Scorers: L O'Farrell 2-4, C Beausang 0-7, C Lehane 0-6 (0-2 f, 0-1 65), P Haughney, S Quirke 0-3 each, Sean O'Farrell 0-2, P White 0-1.
Next up is Sarsfields on weekend 9th/10th October
Intermediate Hurling Championship
Midleton 2:15 Cloughduv 1:23
Ballinora, Saturday 18th September, 2pm
Next up is Kildorrery on weekend 9th/10th October
Retirement of Fr. Denis Kelleher
To mark the occasion of his retirement from the priesthood Club Chairman Liam Ryan presented a 2013 Midleton jersey, signed by the last 5 county winning captains, to Fr. Denis Kelleher. Fr. Denis has been a great servant to Midleton & Cork GAA and we would like to wish him the very best in his retirement from the priesthood.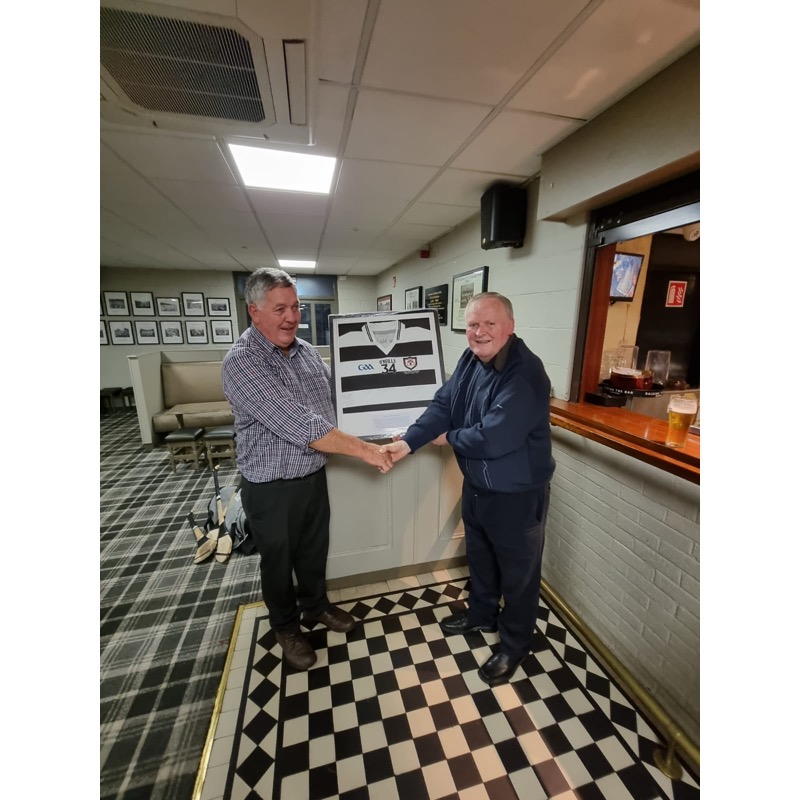 Ladies Football
Junior County League Final v Rockbán
Match report with thanks to our loyal supporter Tony McLoughlin.
From Mayfield GAA in the Junior County League Final. Thankfully the rain stayed away but with conditions slippy The East Cotk ladies found themselves a Point down after 1 minute with a fantastic effort by Rockban's no 14. However the girls grew slowly into the game over with some strong defending by the back 3 of Claudia Kearney, Lucy Lawton and Aoife Madden.
Rockbán could have had a goal after a misplaced kick out but again Great defending by Claudia Kearney to prevent another point
Ebb and flow with both defences standing firm. Another goal chance for Rockbán after 9 minutes was blocked by Deirdre Corcoran but Disaster struck in the 10th minute when a high ball was caught and volleyed to back of the net to give Rockbán 1-1 to 0 lead.
Some fast hands and slick passing saw the Magpies score their first point after 12 minutes by Molly Beausang and slowly Orlagh farmer began to get into her stride and try create momentum. A lengthy Injury delay to a Rockban player saw both sides miss chances and Charlie Moore showed some excellent handling in the Midleton goals. However she could do nothing to prevent a superb shot from the Rockbán number 12 on the 17th minute to leave the Magpies falling behind 2-1 to a point.
A great move from Orlagh Farmer and Molly Beausang saw the backs narrowly go wide on the 19th minute however Rockbán stop in control and missed several chances before adding to their tally with a long range point a minute later.
Sadhbh Beausang won a free in the 21st minute sending a high ball into the Rockbán goalmouth saw a shot deflected for a 45 which Ciara mc grath caught spectacularly but unfortunately sent the ball to the right and wide.
Water break at Mayfield GAA Club sees Rockbán in a commanding spot with a 2-2 to a point lead. All to play for still. However disaster struck soon after with another sloppy goal for Rockbán leaving Midleton with a major battle now.
A superb run from Orlagh saw a pass to Ciara McGrath but her shot at goal went narrowly wide. Some tenacious ball carrying saw Abbie Quirke brought down in the 27th minute and Ciara converted the free.
In the 30th minute some great skills by Orlagh Farmer saw Midleton score another point by Jodie Keegan O Connell.
A minute later a short free by Abbie saw a great effort by Claire O Brien fall short but a minute later a foul on Jodie saw Abbie send over the resultant free.
Lucy Keneally added another point on the stroke of half time to give the magpies a small bit of hope heading into the second half.
All still to play for but Rockbán were in a commanding position with a mountain to climb for Permy, Paddy, Kelly, Mairead and Brian's team.
The second half started brightly for Midleton and in the 3rd minute a hard worked move saw them registering another point and a minute later their 7th point of the match saw them claw the Rockbán lead back slightly. 3-2 to 7 points.
A few Rockbán wides saw the 'Pies grow in confidence and a great run by Vivienne Gleason saw Ciara add a superb goal and now suddenly the girls are back in the game! Great defending by Lucy Wallace saw yet another attack launched upfield and unlucky not to draw level. The large attendance here really enjoying this spirited comeback by the East Cork outfit! In the 12th minute Rockbán got their first score of the second half to go 2 up. A careless free given away to Rockbán then saw them possibly stretch their lead but the chance fell short and a great move by Abbie and Orlagh saw a Midleton point from close range to go a point behind again. Tense stuff here at Mayfield headquarters. Another blistering run from Orlagh just in the stroke of the water break saw Molly Beausang draw the sides level. 3-3 to 1-9. The tension is fully palpable here.
A minute into the final quarter and Rockbán go a point back in front with their number 14 beginning to assert herself now. Claire O Brien too started to get into her stride and drive Midleton forward. However another point by Rockbán created by that number 14 sees them take a 2 point advantage. Things starting to look ominous now. Indeed a minute later another point sees the girls from Whitechurch stretch their lead to 3. A goal surely required from Midleton now. Some great link play( possibly the effect of Micky Bok's pre match talk) saw Midleton launch a wave of attacks but found the Rockbán defence a difficult barrier to break down. Yet another lengthy injury break saw Midleton momentum halted and try as they might they found it tough to make a breakthrough. With 4 minutes left Midleton had their best goal chance of the match but the ball was blocked on the line and then straight after Rockbán were awarded a soft free which was converted to leave the Magpies a tough uphill battle. 3-7 to 1-9.
Final few minutes. Can Midleton do a Seamus Darby? Amy is sent on to add her experience…. Can it make a difference? Ciara Mc Grath links up with Orlagh and shoots narrowly wide and alas this was to be the final kick. All over at Mayfield Gaa club and it's a deserved victory to Rockbán. 3-7 to 1-9. The old saying goals win games proved to be the difference but the girls can be proud of their efforts! What a fantastic season they have given us.
Beidh Là Eile girls!
Team: Charley Moore, Claudia Kearney, Lucy Lawton, Aoife Madden, Deirdre Corcoran, Lucy Wallace, Orlagh Farmer, Abbey Quirke, Claire O Brien, Jodie Keegan O Connell, Molly Beausang, Sadhbh Beausang, Vivienne Gleeson, Ciara McGrath, Deirdre Kenny, Sophie Quirke Lee, Sophie McCarthy, Denise Collins, Mia Tarrent, Eimear Kelly, Caoimhe Cronin, Megan Kelly, Ella Quirke, Amy Quirke, Amy McCarthy, Lucy Keneally, Rayanna Power.
Training for the coming week:
Monday 6.30-7.30pm at Ballinacurra:
U8/12/14
U16 - 7.30-8.30pm
Thursday at the Tech Pitch 7-8pm:
Minor and Junior
Best of luck to our U10 girls who start their league campaign with an away fixture in Glanmire on Monday evening.
Juvenile
Fé 7 Notes
We welcomed Ballincollig to Clonmult on Saturday for an hours hurling. We played 20 very competitive games and got positive results in the majority of these.

We were thrilled with all our players, they battled for every ball and played some great hurling over the course of the games. We fielded five teams and all our players got plenty of touches and showed great skills.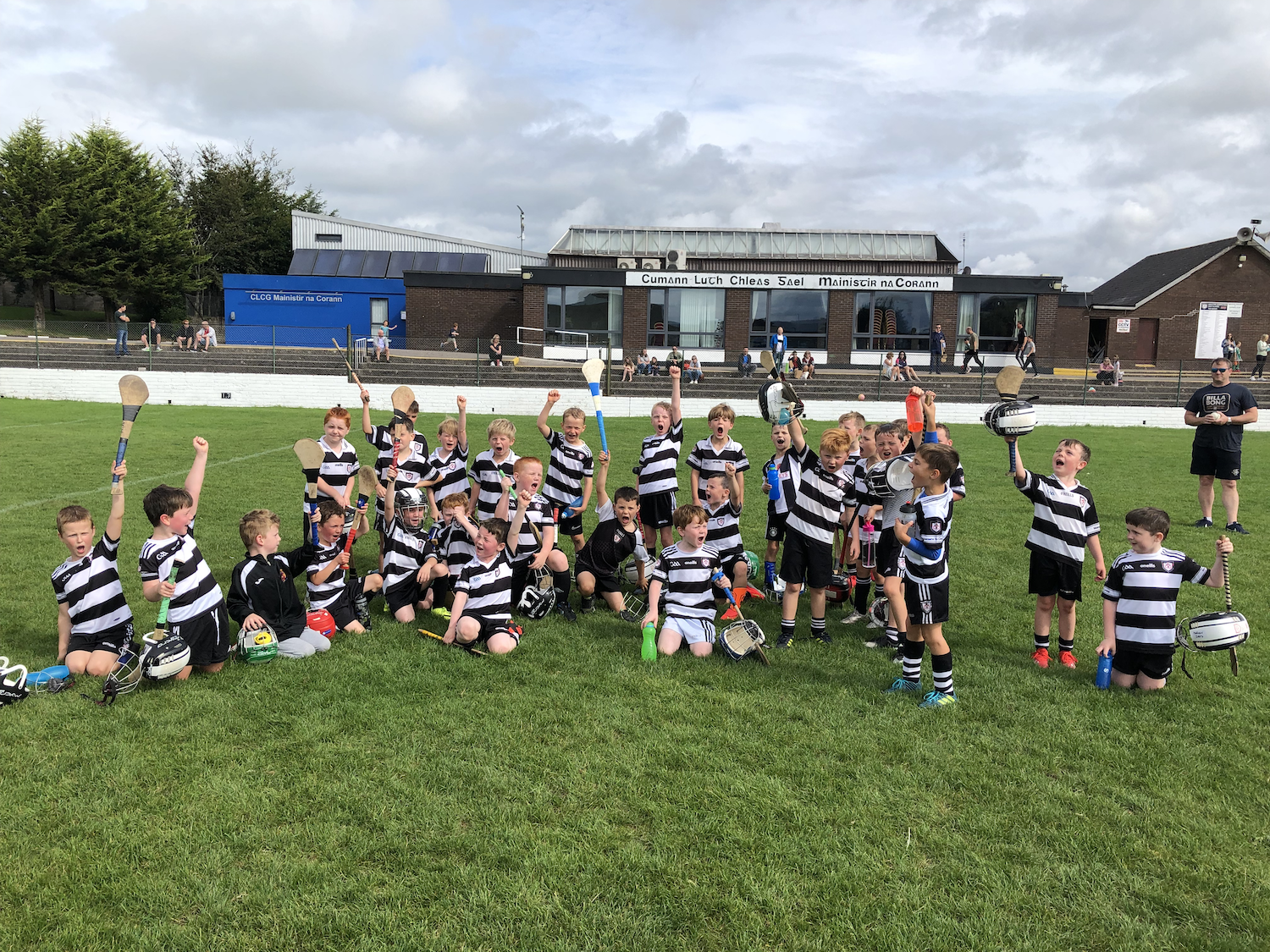 Fe7 v Ballincollig
Fé8 Notes;
Fé8 v CARRIGTWOHILL 28.08.21
Midleton Fé8 welcomed Carrigtwohill to Clonmult Memorial Park on Saturday 28th August last. On a lovely morning for hurling we had over 32 magpies playing across 4 different teams. Each game was a mixture of ground hurling and air hurling, which the lads have been practicing in training recently. The games were very competitive so well done to all involved. Remember keep up the practice at home and out on the green with your friends. Thanks to everyone who came to show their support for the lads and thanks to Carrigtwohill for the sporting games.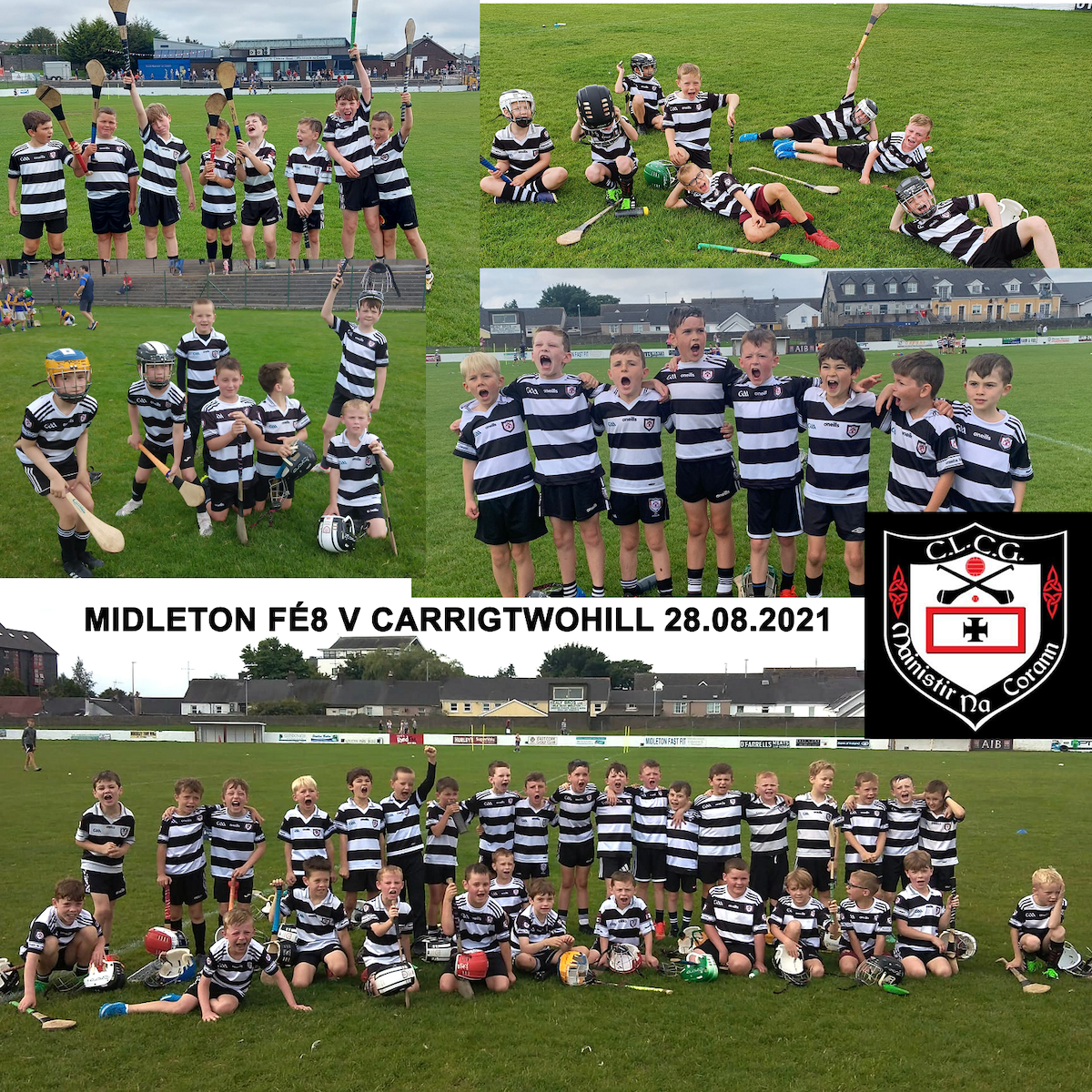 Fé8 v CARRIGTWOHILL
Fé8 AT AGHADA
The Fé8 boys made the short trip to Aghada for the first of the post-summer break Rebel Óg blitz. We had 35 players spread between 5 hurling teams playing against Aghada, Killeagh, Kiltha Óg and Youghal. Thanks to the big numbers who travelled to show their support for the lads. Thanks also to Aghada for hosting the blitz and for the refreshments provided after.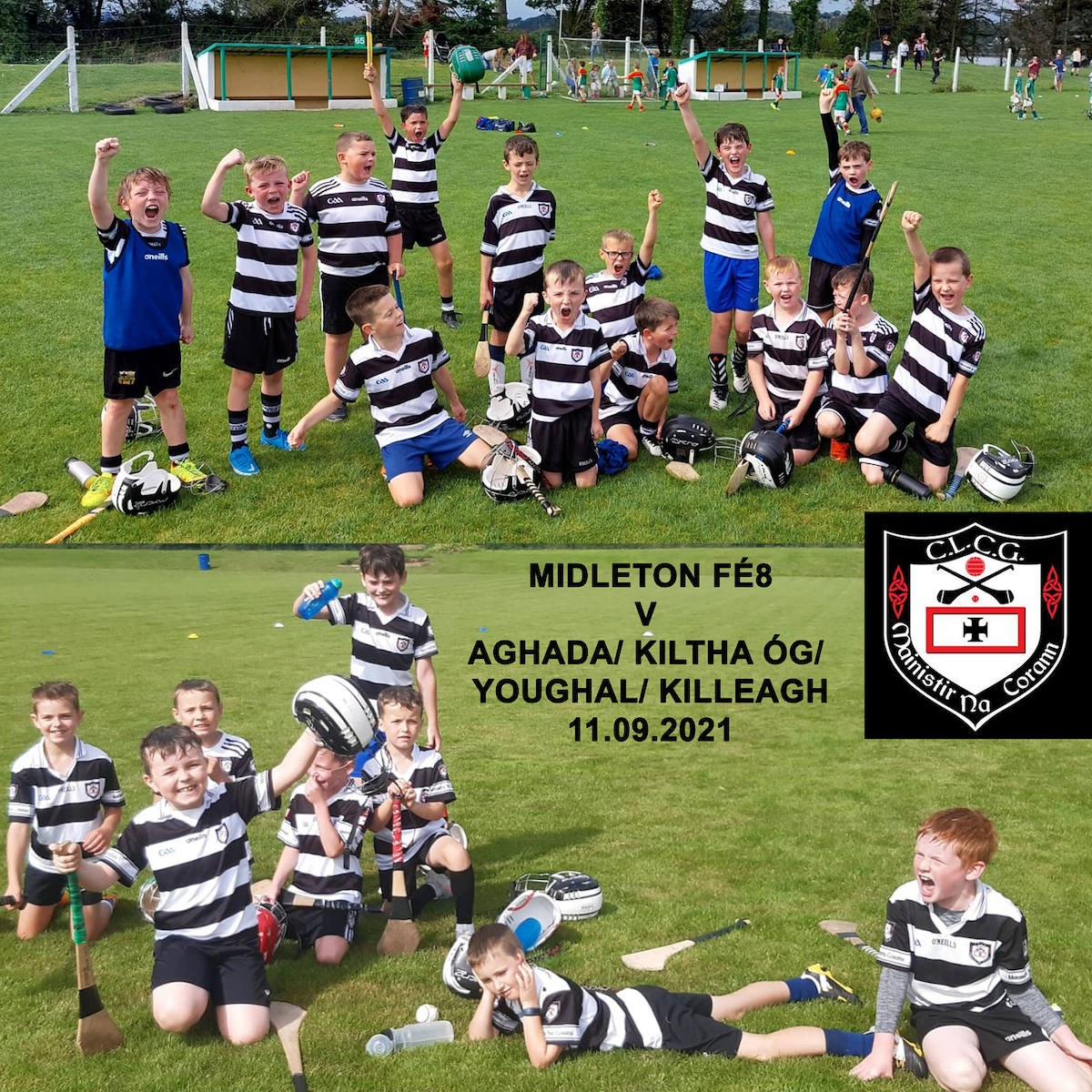 Fé8 AT AGHADA
Camogie Notes
FE6 2022 Registration
If your daughter is in Junior Infants and would like to join our Camogie Club please pre-register your Interest for the 2022 season. Contact Sinead on 086 0638151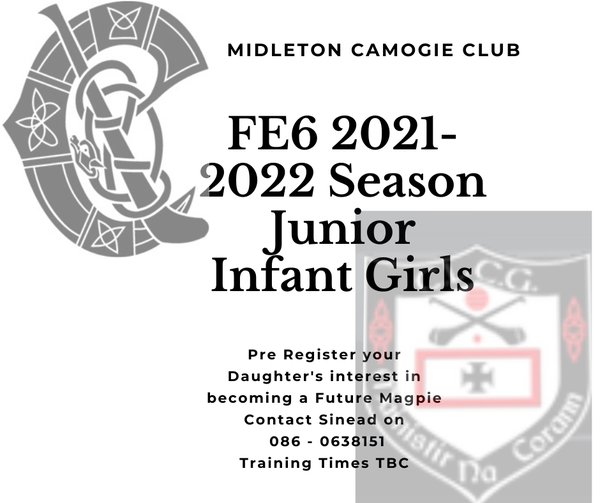 Fé11 Notes
Fe11 V Fr O Neills
Our U11 camogie team played Fr. O'Neills in a friendly game at home in Park South on Friday evening.It was the players first time playing a game in Our new facilities so they were extra excited. Each girl played their absolute hearts out for this game which was played in beautiful conditions.
The players from both teams were evenly matched and produced some great passages of play. Super performances by each girl . Well done to all the players from both teams and their coaches and a big thanks to the parents and supporters too. It was a great evenings camogie. Up the magpies
FÉ11 v Fr O Neills
Fé12 Notes
Fe 12 V Killeagh County Semi Final
The journey ended on Saturday morning 18th September for the U12's but what a journey! 80 teams started and we made it to the last 4. We didn't get the breaks today but the girls can hold their heads high. We couldn't be more proud. The future is very bright for this ultra talented and committed group of girls well done to each and every girl that played on the pitch throughout all the matches and also to their hard working management team for their sheer determination. Congratulations to Leah Griffin who played a true captains part for the U12's V Killeagh on the morning.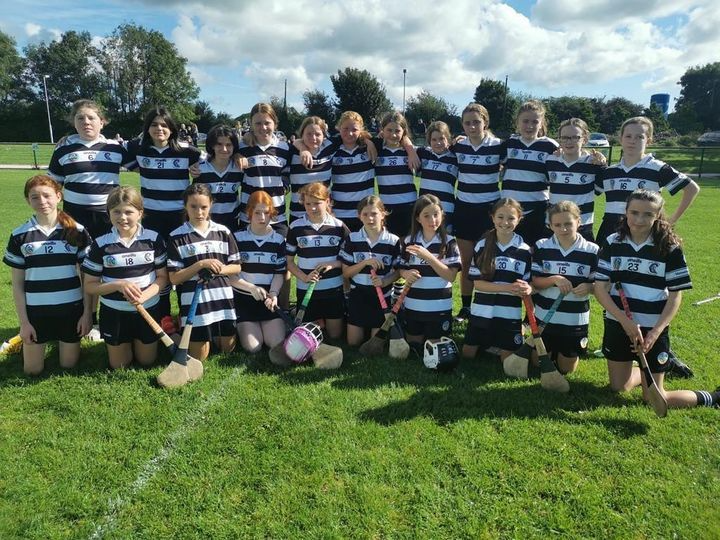 FÉ12 V Killeagh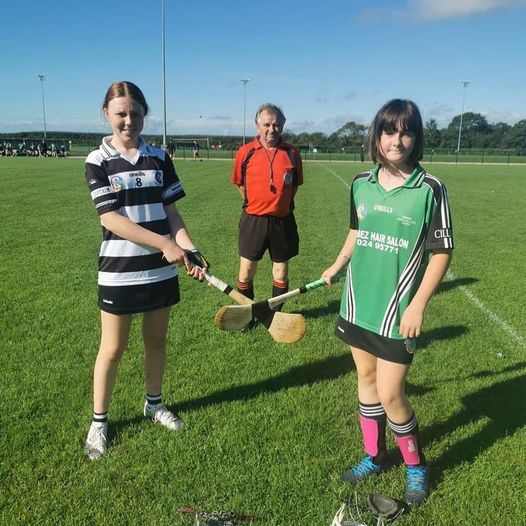 FE12 Captain Leah Griffin
All Ireland Camogie Final 2021
Cork V Galway
On Sunday last 12th September, all roads led to Croke Park for the All Ireland Camogie Final where Cork came up against Galway.
Midleton Camogie club set off from the Club with a large group of girls early on Sunday morning to cheer on our rebel county. Although the final result did not go our way it did not dampen the spirits of our girls, some who experienced Croke Park for the very first time. The whole group thoroughly enjoyed their day from start to finish . Thank you to all those who organised the day for the girls and who helped to supervise on the day.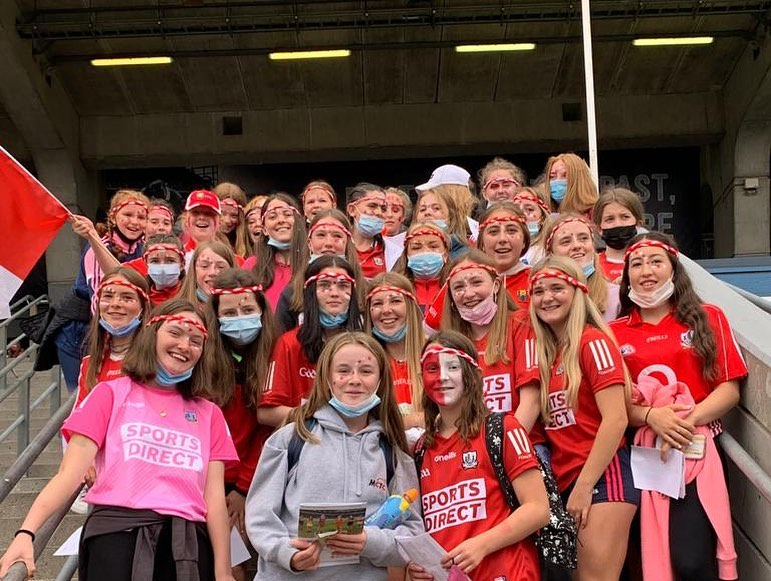 Midleton Camogie Players in Croke Park for All Ireland Camogie Final