Midleton Hurling and Football, Ladies Football and Camogie Club News
29 August, 2021
Midleton GAA…at the 'Heart of the Community'. Ní neart go cur le chéile. There is no strength without unity.
COVID Update & Return to Play

Team managers will advise of date, time and venue for training. Please remember that players/parents are required to complete a Health Questionnaire declaration BEFORE each training session or match.
Midleton GAA 'One Club' have put together a comprehensive guide to the Safe Return to Play for all teams. All parents, players and coaches are asked to familiarise themselves with these guidelines including, but not limited to, the Health Questionnaire requirements and access maps to the 4 facilities being used by Midelton GAA 'One Club'.
Key links:
Midleton GAA 'One Club' Guide and other Return to Play information: covid-19-news
FOIREANN (was Return to Play) where Health Questionnaire can be completed prior to each training session/match (FYI, use the same email and password from last year):
Mega Lotto Results & New Jackpot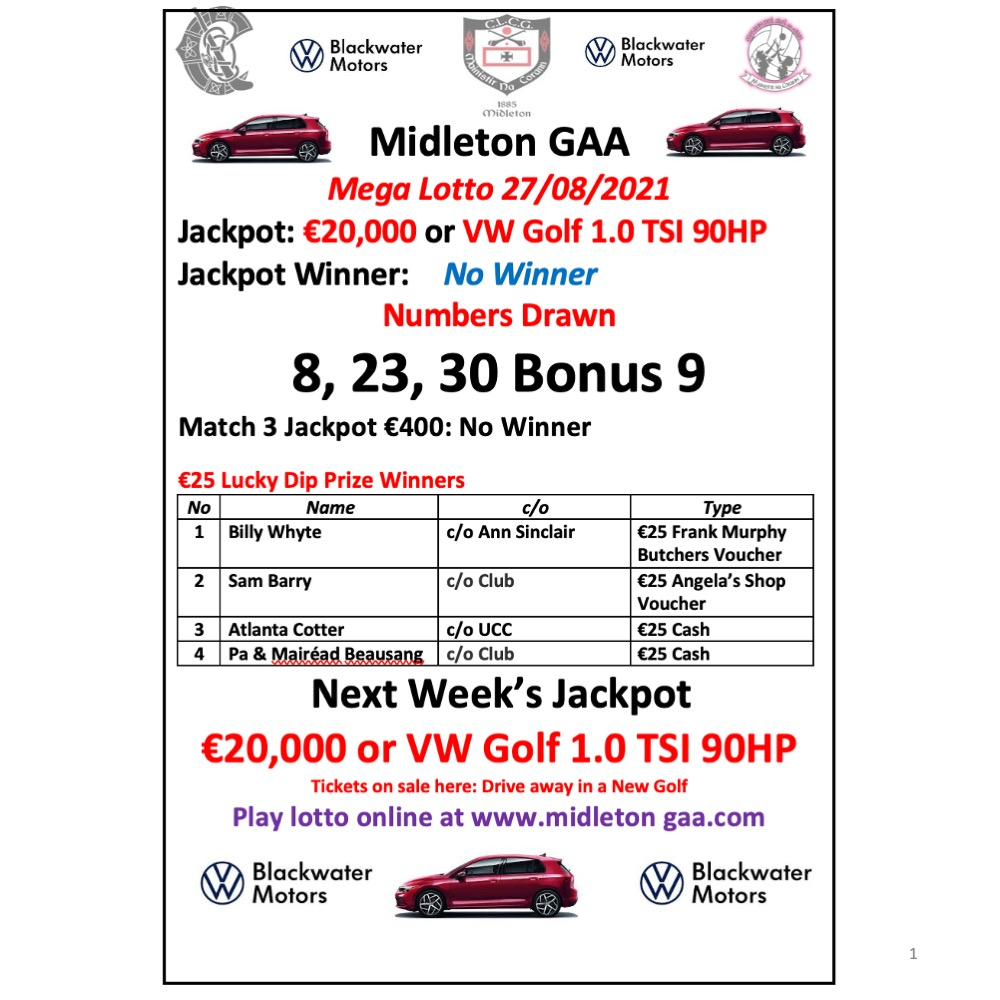 Our Lotto Jackpot was a choice of €20,000 or a VW Golf 1.0 TSI (in partnership with Blackwater Motors) the numbers 8, 23, 30 Bonus 9. There was no winner of the jackpot so next Friday's jackpot will remain the same.
4 Lucky Dip Prize Winners this week were Billy Whyte (€25 Frank Murphy Butcher Voucher), Sam Barry (€25 Angela's Shop Voucher), Atlanta Cotter & Pa and Mairead Beausang (€25 in cash each). In total Midleton GAA will give out local business vouchers to the value of €3,800 every year as part of our "Shop Local, Buy Local" campaign.
How to play: Tickets are on sale at Pat Walsh Paints, Chadwicks, Frank Murphy Butchers, Murphy's Pharmacy, Crowley Butchers, or buy online, through Klubfunder, at https://www.klubfunder.com/Clubs/Midleton%20GAA/lotto select your numbers and number of draws to play. You can buy an annual ticket by selecting "50" from the "Number of Draws" to Play dropdown.
GAA Fixtures & Results
See below links for details of fixtures and results. As usual we will endeavor to keep the club website up to date with fixtures and results as well as posting results, as much as possible, on twitter and facebook. Team managers are asked to submit results and any fixture changes to pro.midleton.cork@gaa.ie or text 0868643079.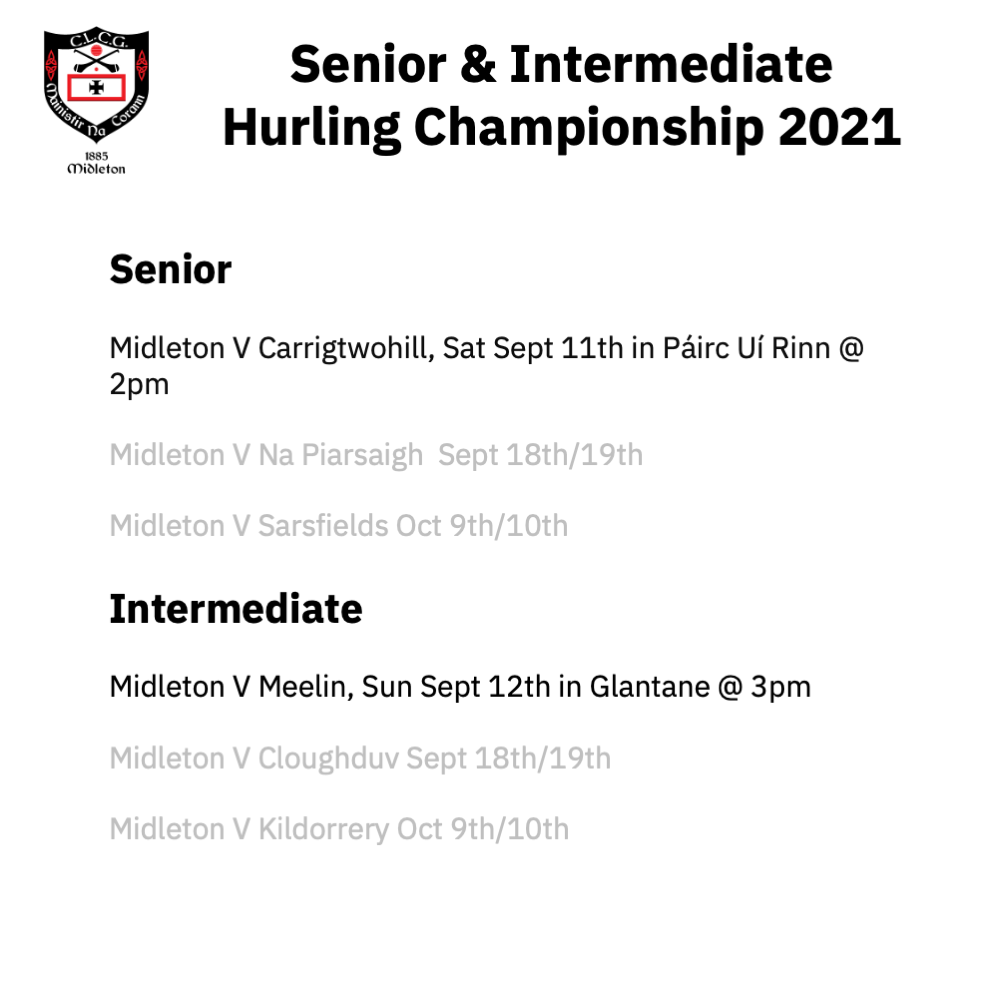 Website Links:
Fixtures club_fixtures
Results club_results
Juvenile
Fé15 Féile
Féile Semi Final.
Having qualified for the Féile semi-final, after an exciting Saturday's action in Rostellan, all roads pointed to Douglas on Monday last 23rd. We were drawn to play Shandrum, with the winner to play the Sars v Ballincollig semi final. Our knowledge of our opponents was very limited, but they certainly left us in no doubt of their quality and intent, racing into an early lead. The lads responded well to the challenge, and we regained the initiative after some determined play to lead at halftime Midleton 1-03 Shandrum 0-03.
The second half saw us press home our advantage and the accuracy and precision of our passing and shooting improved considerably. Our defence was rock solid and gave away very little scoring opportunities, a job well done.
Semi Final Fulltime Midleton 3-08 Shandrum 0-0
Féile Final.
Having defeated Ballincollig, Sars were our opponents in the final. Only a few weeks previously they had inflicted a heavy defeat on us in the championship. We had put that aside and just decided to go toe to toe and throw everything into this opportunity. The first half was played at a frenzied pace, both teams going hell for leather, at the short whistle we trailed by two points Midleton 0-05 Sars 1-04 .
The second half was again an all action affair, both teams were evenly matched. As the time ticked on we were trailing by two points. We were awarded a free, Sars defenders lined the goal, Daniel Garde hit his shot low and hard and the noise level went up to fever pitch as the sliothar found its way to the net. Sars launched another attack and pointed a free to level the match. Midleton 1-07 Sars 1-07.
Extra time was five minutes aside. It was almost as if each team was waiting for the other to blink. We eventually managed a fine score from play but Sars responded with a matching point. At the whistle we were unsure of the next step and waited for referee Brian Sweeney to get the confirmation that it was Golden Score, next team to score would take the honours. The tension and excitement was unreal as the ball was thrown in. Cool heads were required as the ball broke in our favour, two quick passes saw Sean Mc receive the sliothar on the run, he split the posts and the Midleton players and supporters were overjoyed as the umpire raised his hand. Game over, Midleton were Cork Feile champions for 2021. Both teams deserve great credit for the quality of hurling and commitment on display. It was a tough way to lose a match but credit to Sars the players and management were gracious in their congratulations. The level of respect between both clubs has always been shared.
A proud Adam O Connor accepted the cup on behalf of his teammates and club. We adjourned to our pavilion at Clonmult Pairc, pizza and a few lemonades were downed as parents and players celebrated a fantastic achievement. We go on to represent Cork in Thurles in October. Well done to all our players they are a tight knit group and each and everyone of them has contributed to this win.
We now head into football Feile determined to give a good account of ourselves, and it gives the lads another opportunity to wear their very snappy Feile gear sponsored, generously, by GARDE ENGINEERING.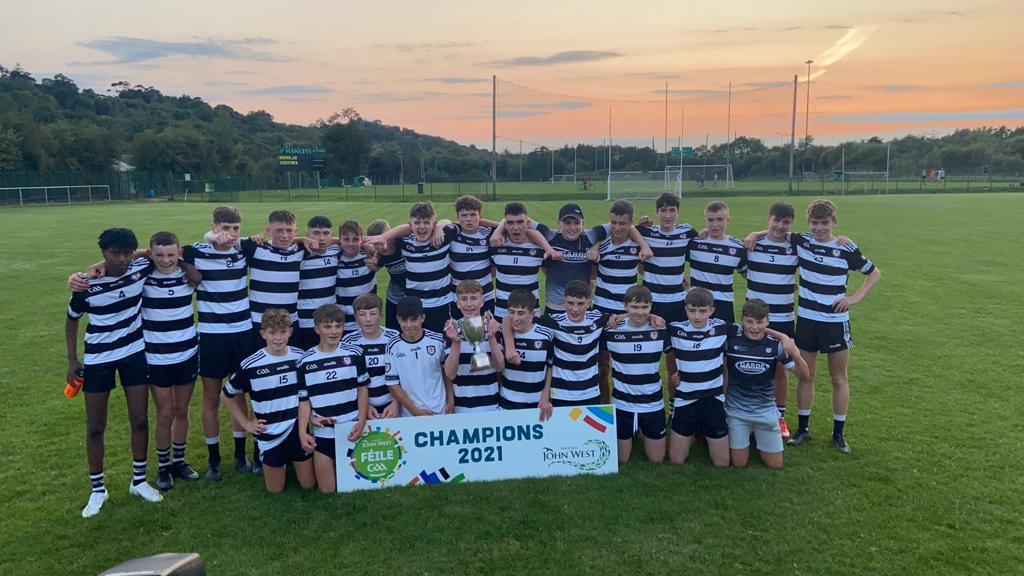 Cork Féile Hurling Winners 2021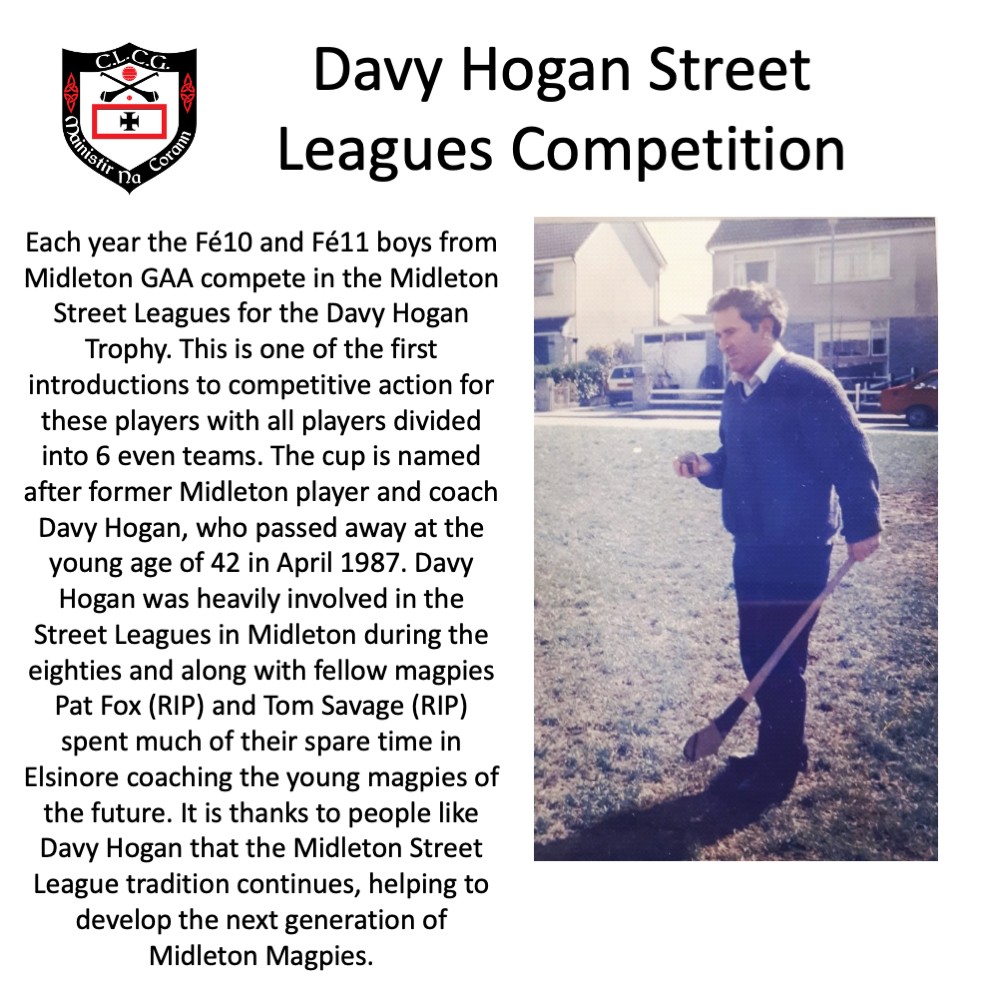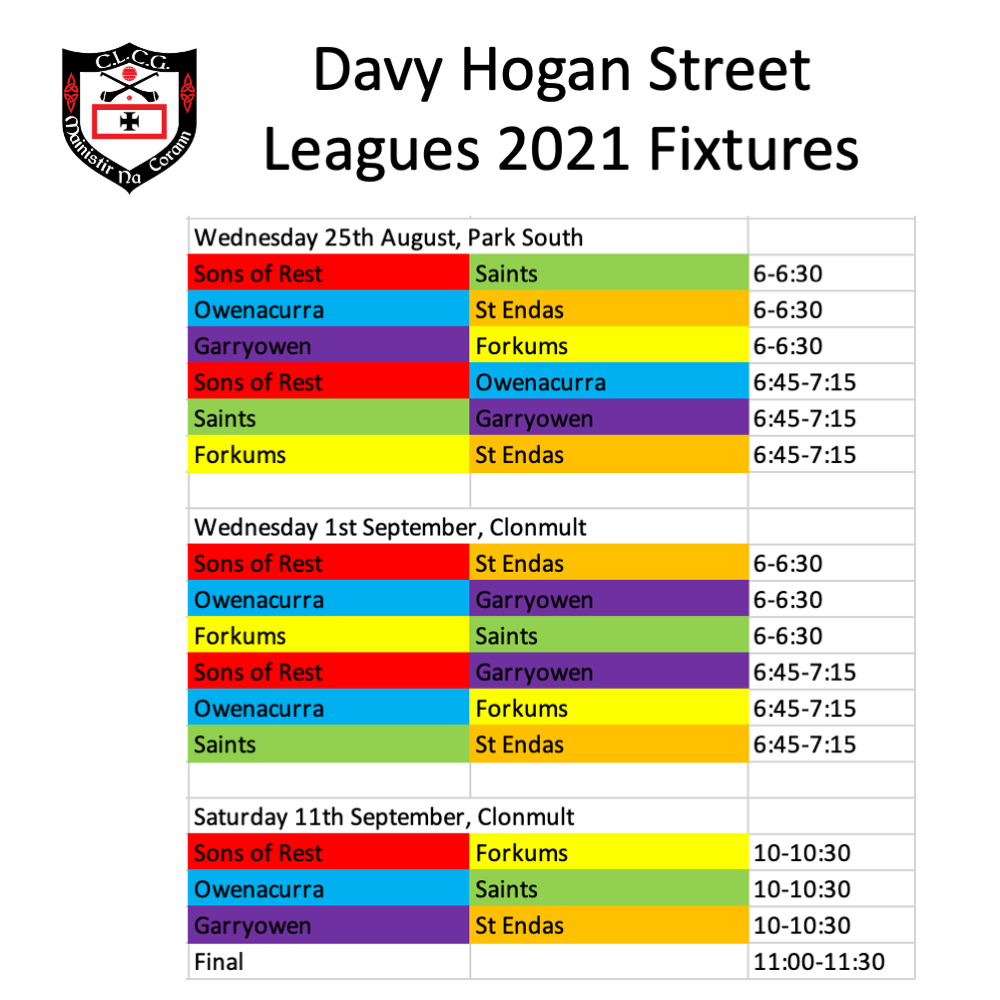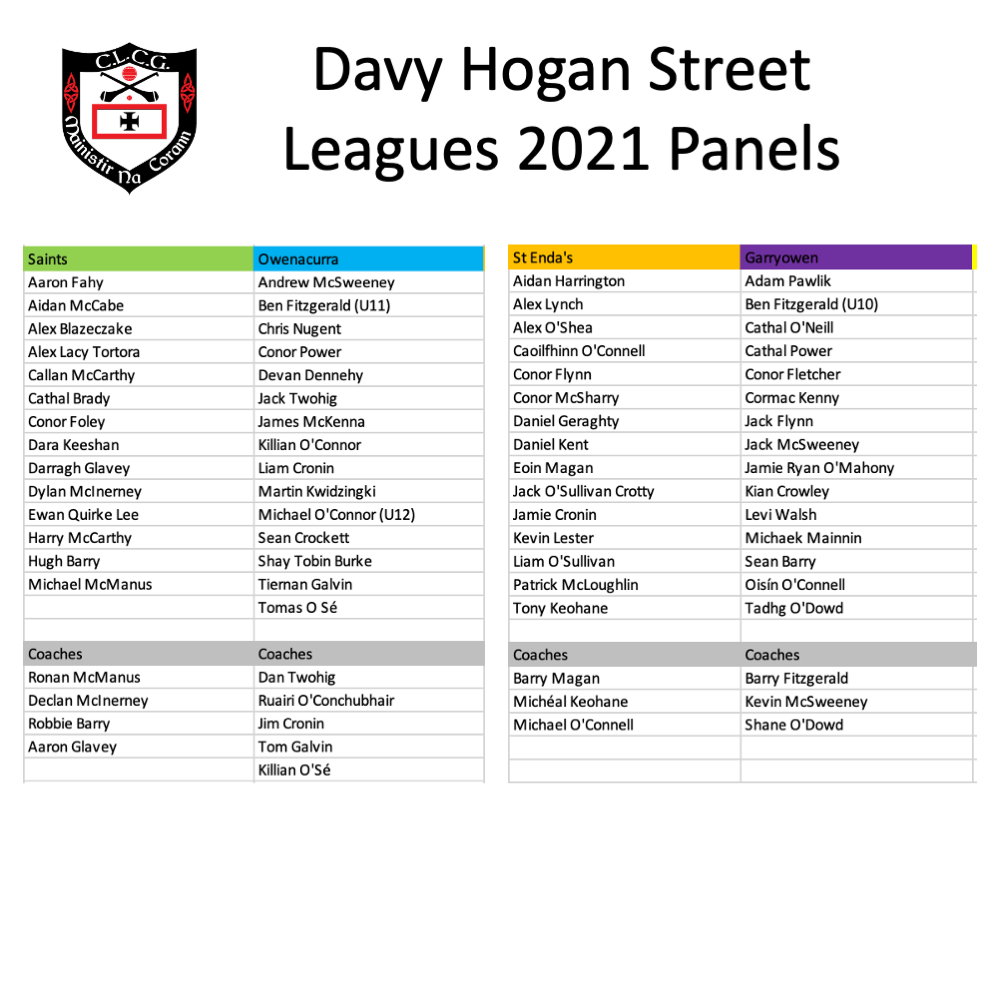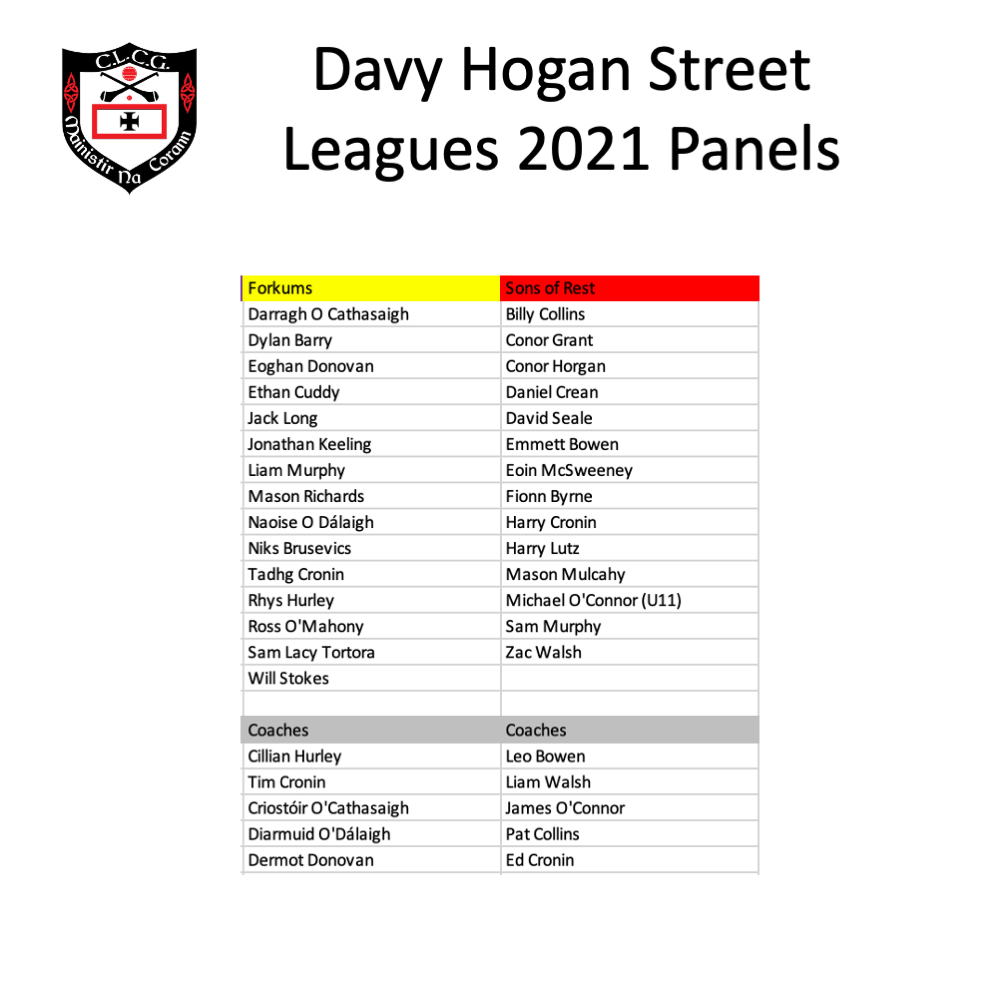 Week 1 Games - Wed 25th Aug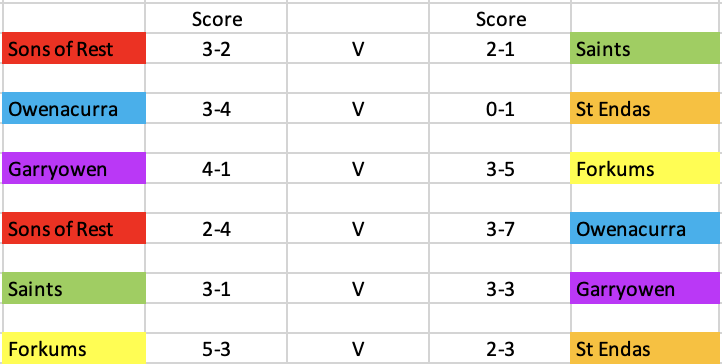 The Davy Hogan Street Leagues 2021 kicked off at our new facility in Park South on Wednesday evening with the eagerly awaited first series of matches taking place. With Park South looking resplendent in the evening sunshine the buzz of excitement amongst all players, coaches and parents was palpable as we approached throw in time.The competition returned to its old format this year with all teams each playing two games on the night . The top two teams will then play in the final on Saturday September 11th in Clonmult Park. There was some fantastic hurling and teamwork on display across all the teams from our young magpies, with those silky skills being practiced at training and at home very evident to all those watching. A massive well done to the coaches of all the groups involved for their ongoing dedication. Thanks to all those who helped in the preparation and organisation of the competition over the last few weeks. Thanks also to Colin Sunderland and Brion Saunderson who were our referees on the day.
Fé8 Notes
Fé8 showed their support for the Cork teams wearing their red with pride at training recently. The lads are doing great work between matches & training over the last few weeks in both football and hurling. Keep up the great works.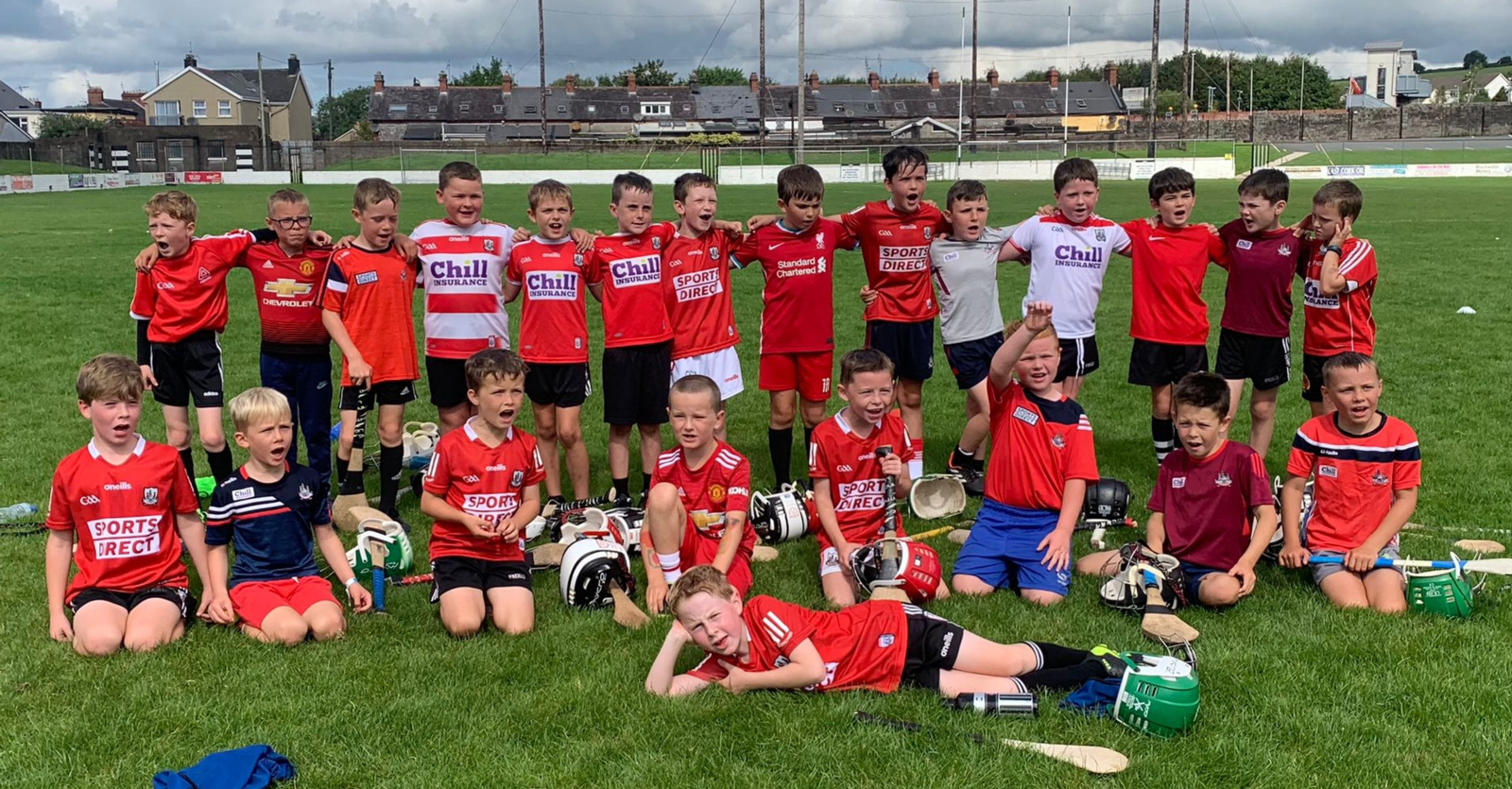 Fé 8 TRAINING 21.08.21
Fé9 Notes
Our lads travelled to Fr O Neills GAA Club on Saturday morning to play in a Mini East Cork Hurling Blitz against Killeagh, Youghal and Fr O Neills.
We brought 29 players with us for this Blitz and we broke them into 3 Teams.
Each of our 3 Teams played very well and we got good results and scores against all the other teams.
The lads are improving each week and we would like to encourage them to keep up with their Practising.
Once again we would like to thank the parents in this group for their support and we would also like to thank Fr O Neills GAA for hosting the blitz.
Training for this group will continue on Wednesday evening.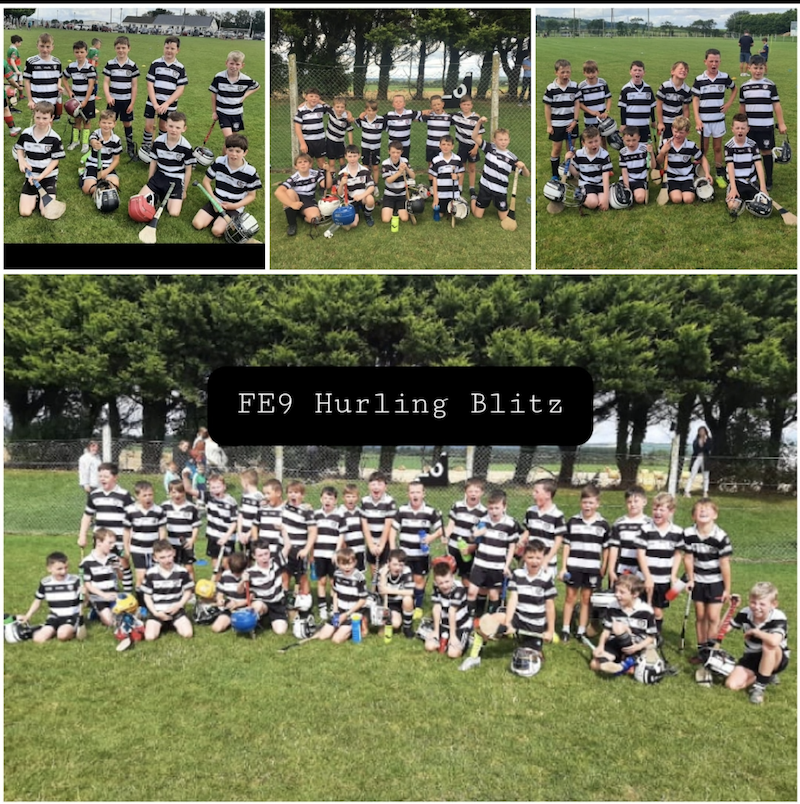 Fé 9 Hurling Blitz 21.8.2021
Fé11 Notes
The fé11 boys started the weekend with a Friday evening trip to Castlemartyr to play Kiltha óg. After a wet day that put the match in doubt, the sun came out for a great evening of hurling.
Well done boys.
Davy Hogan St. Leagues starts this Wednesday. Teams and times on social media. An exciting few week ahead.
Magpies abú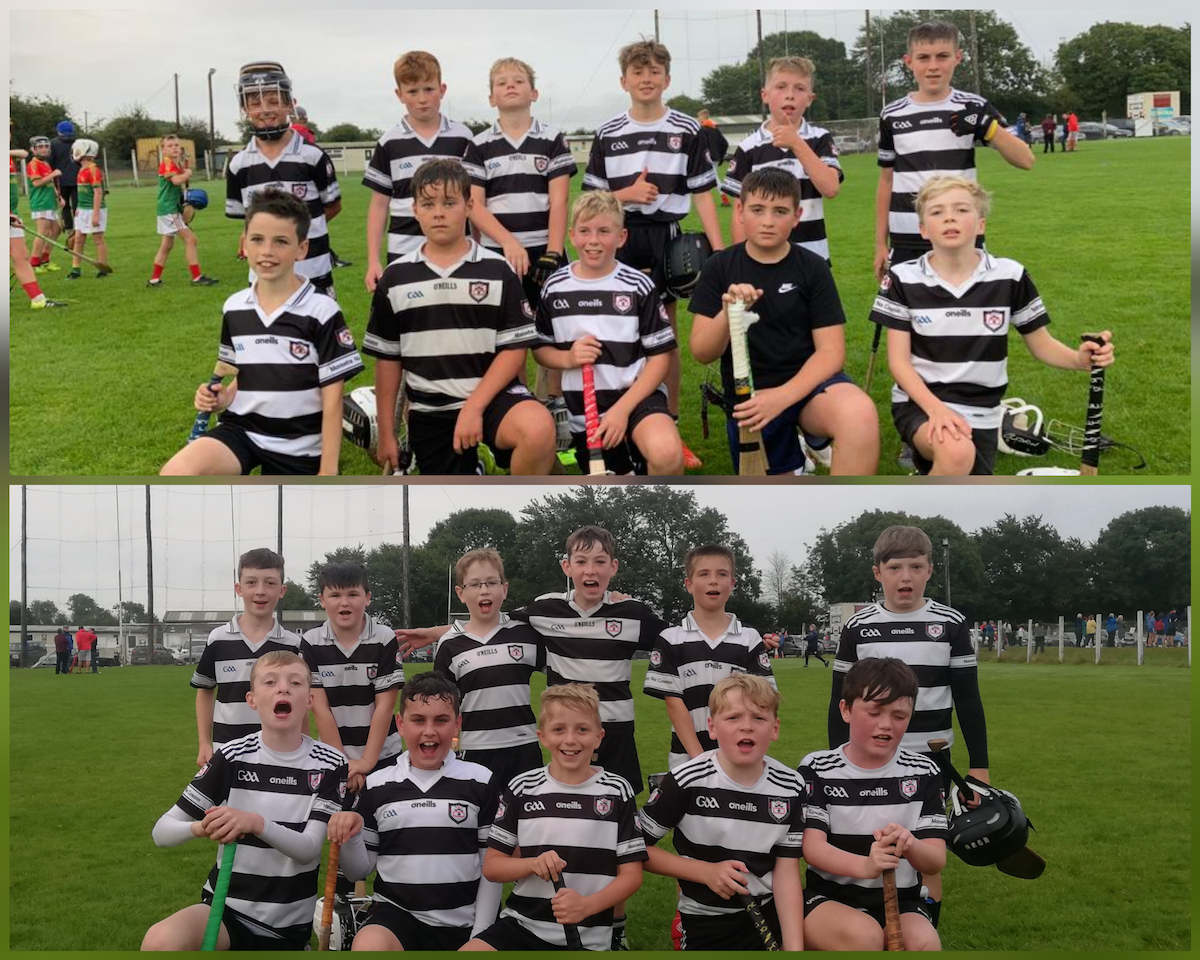 Fé 11 Hurling match v Kilta Óg
Camogie Notes
Fé6 Notes
No rest for our U6's on Sunday 22nd August as they had another busy morning when we welcomed down Sarsfield for a great morning of Camogie well done girls! Thank you to all the parents and guardians who came out to support the girls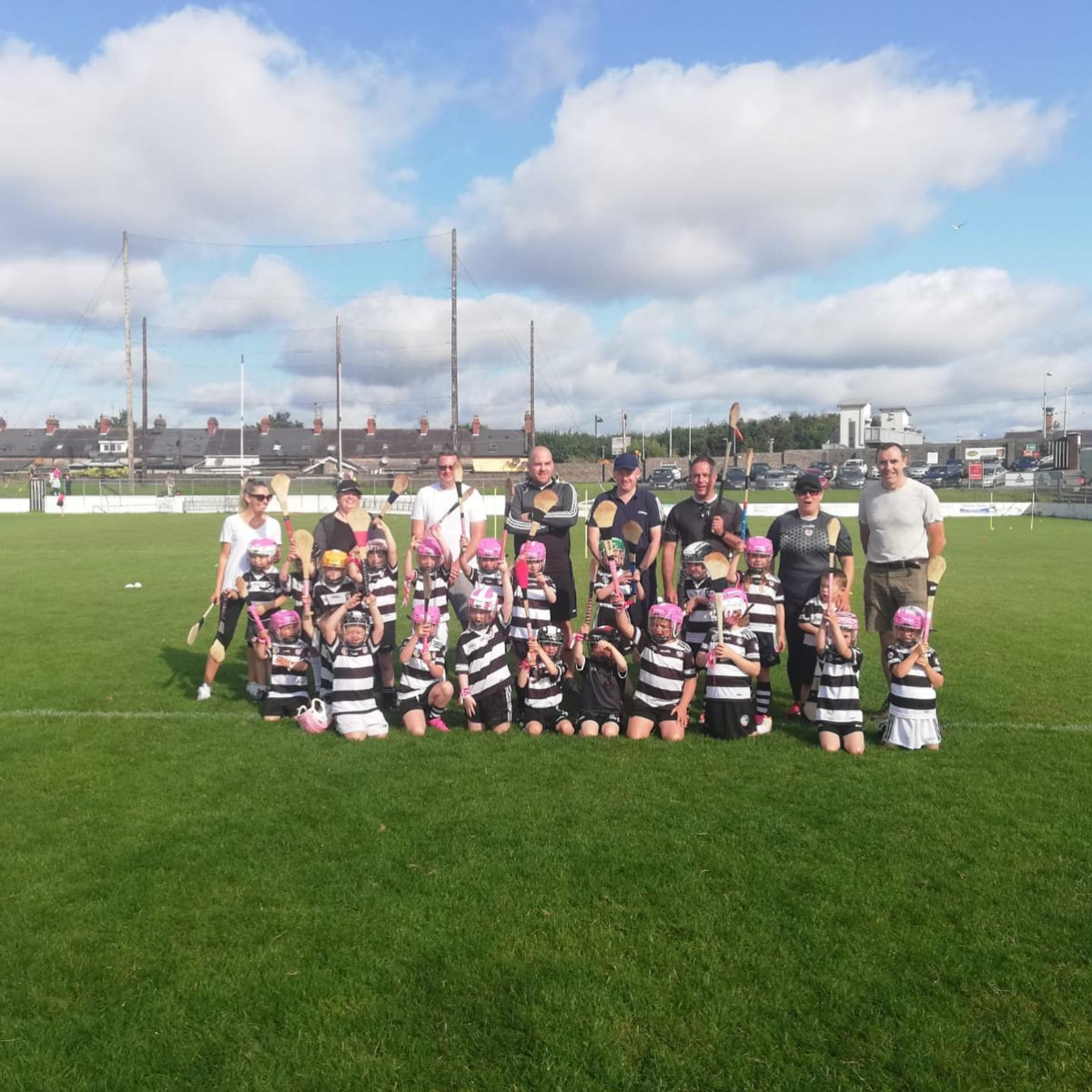 FÉ6 V Sarsfield
Fé12 Notes
Fé12 V Sarsfield League Match
Our U12's kicked off phase 2 of the league with Sarsfield in a home game against them on Friday 20th August .It was a tough competitive game with our girls coming out on top in the end. Thanks to Sarsfield Camogie for a great game and thanks to the parents for coming out in numbers and cheering the girls on! Congratulations to Sarah Goulding who captained her team to victory on the day. Great win girls!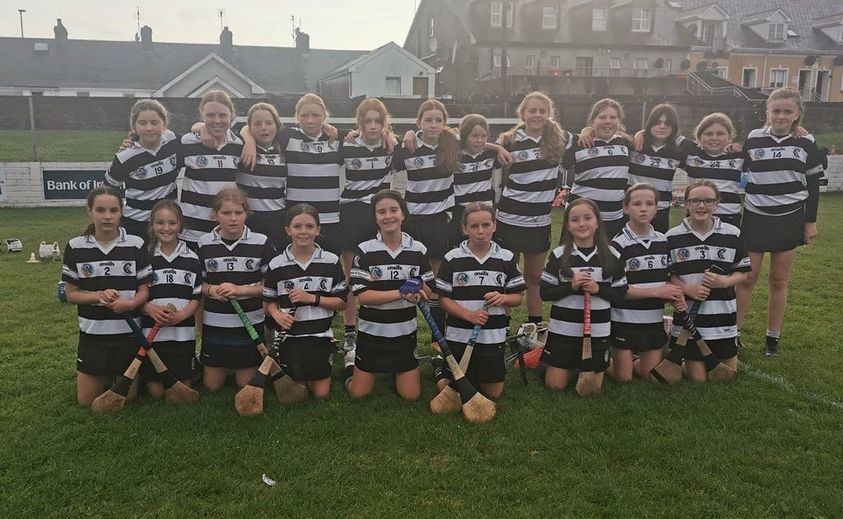 FÉ12 V Sarsfield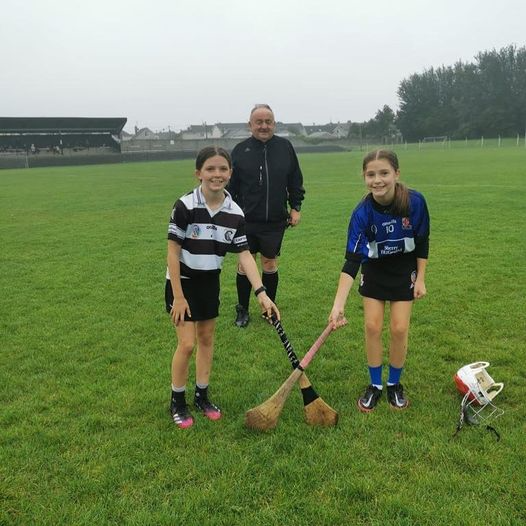 FE12 Captain Sarah Goulding
FE13 Notes
Fe13 Team Bonding Day at Ballyhass
U13 Camogie Team went on their Team Day Outing at Ballyhass in Coachford on Tuesday 24th August.
The Day started with a Team Challenge Event, followed by a long board on the water and then the Aqua Park. A well earned Pizza was enjoyed by all after a fantastic team day out.
Thanks to the coaches for organising and to Ballyhass Adventures for hosting us.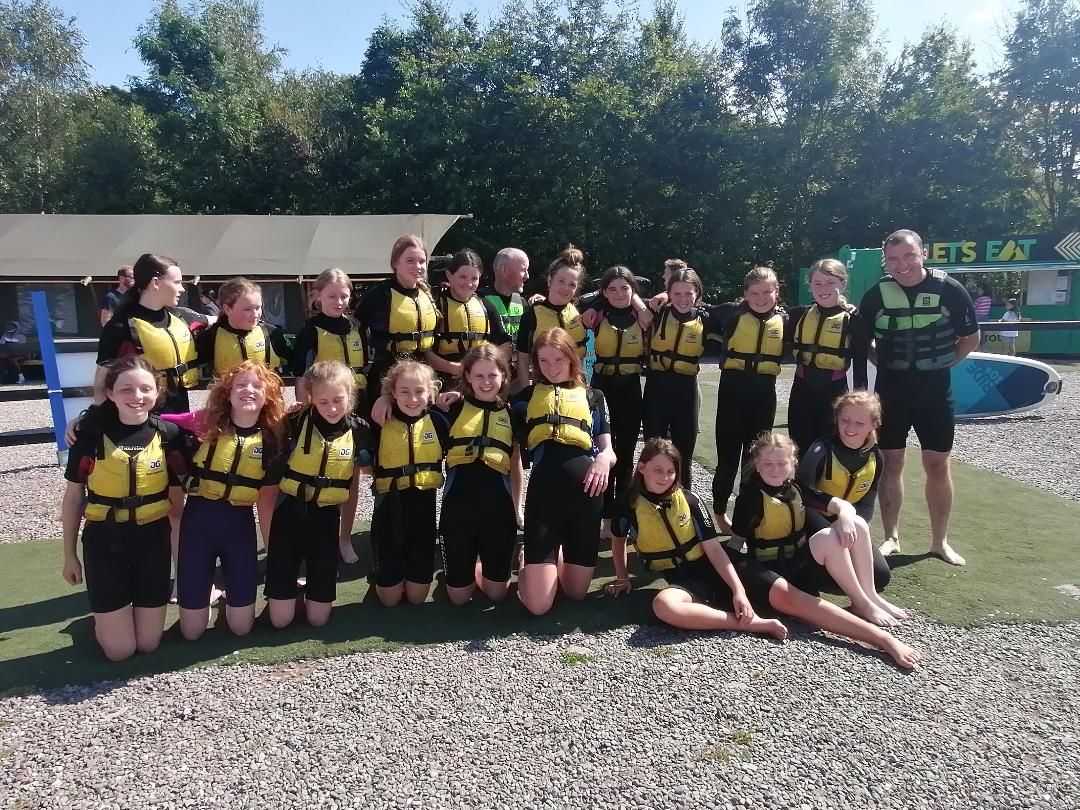 Feile na Gael 2021
On Saturday 21st August our 2021 Feile Panel travelled to Newcestown Gaa Clubto partake in this years Feile Competition. We competed against Rockban,Fr O Neills and the hosts themselves, Newcestown. It was a rollercoaster of a morning with lots of highs and lows. Despite our girls best efforts it did not go our way in the end. We are super proud of you girls and hope you all enjoyed your Feile experience. Special mentions to our captains on the day – Muireann O Connor,Jade Fitzgerald and Kelly Quirke, well done girls.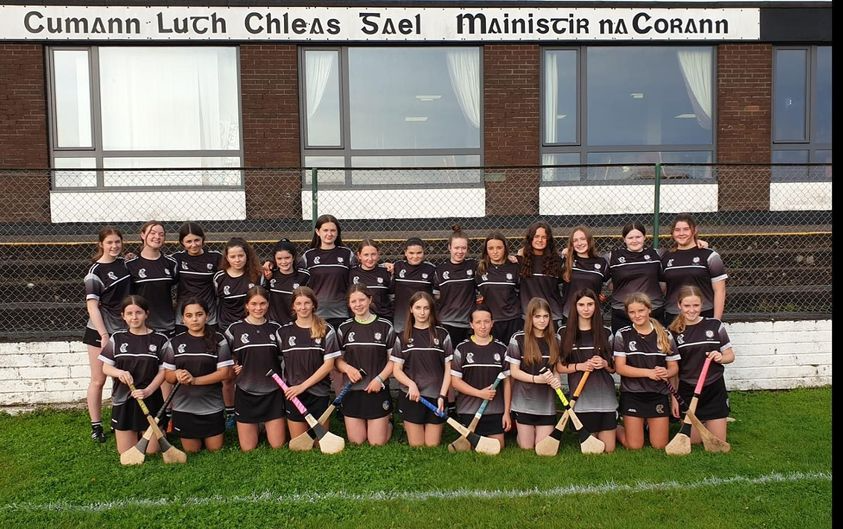 Feile 2021 Panel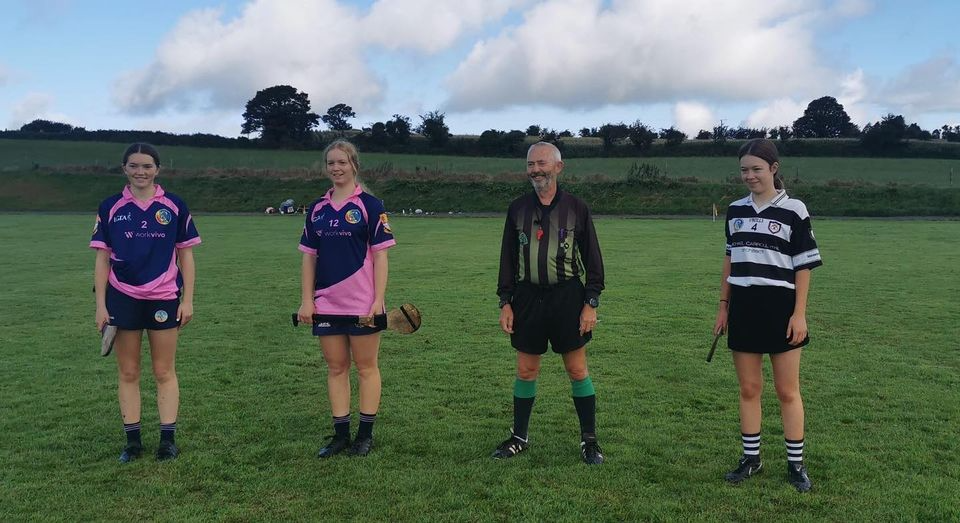 Feile Captain Muireann O Connor V Rockban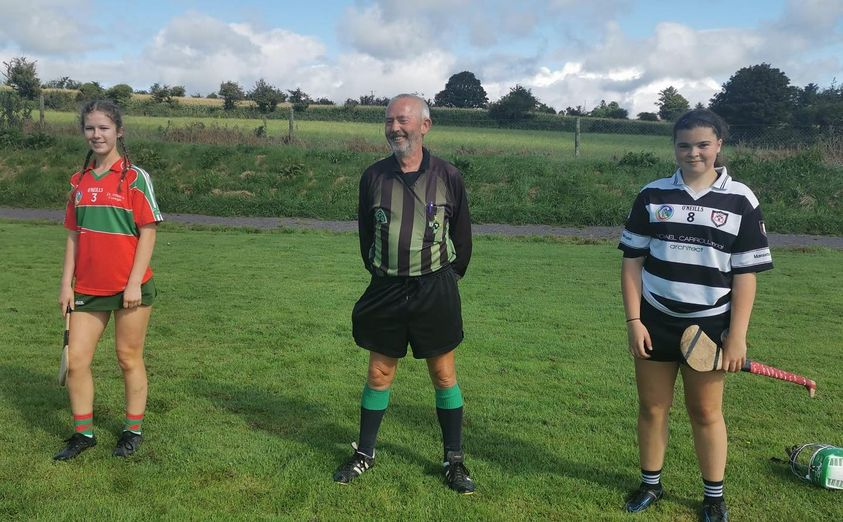 Feile Captain Jade Fitzgerald V Fr O'Neills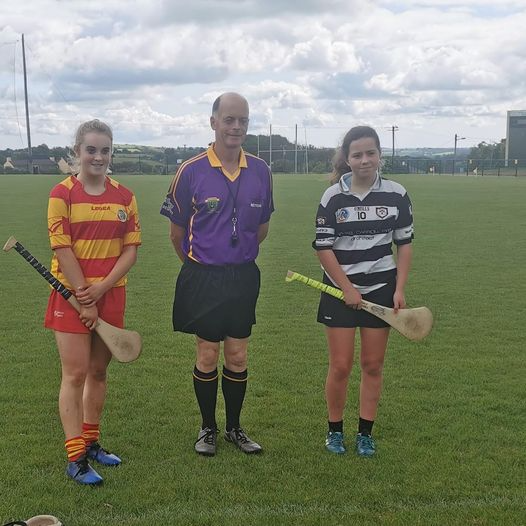 Feile Captain Kelly Quirke V Newcestown
FE16 Camogie Notes
Fr. O'Neills v Midleton v U16 Premier on Sunday 15th August in Aghavine
Midleton U16 travelled to Fr. O'Neills for a local 1st round championship match in what turned out to be a fine Summer evening in Aghavine. Credit to both sides who put on a fine performance and showed great skill and determination throughout.
Fr. O'Neills started strongly and put pressure on the Midleton defence but were unable to make the most of their opportunities and when Midleton hit their stride they managed to take the scores. The half time score was 3-5 to 0-1 to Midleton.
The second half also dished up some fine play from both teams and Fr. O'Neills continued to battle throughout the contest but in the end Midleton ran out victors 6-8 to 0-5.
Next up for the U16 panel will be the 2nd of Championship scheduled for 25th August.
Midleton Panel: Jill Connaughton, Elle McManus, Ruthi Hennessy, Laura Goulding, Muireann Ni Chonchubhair, Emily Lamb, Aoife Fitzgerald, Emma O'Sullivan, Isabelle Nestor, Kelly Quirke, Saoirse Ni Theangana , Beth Ryan, Amy McCarthy, Emma O'Neill, Rachel Ryan, Seana O'Brien, Rachel Greene, Rionnach Finn, Jade Fitzgerald, Kate O'Sullivan, Pippa Hennessy, Sorcha Cronin, Kate Sanderson, Kate Griffin, Alannah Magan
FE16 V Fr O Neills
FE16 Report V Ballinora
Midleton v Ballinora U16 Premier on Wednesday 25th August in Midleton GAA
Midleton entertained Ballinora for round 2 of the U16 Premier U16 Championship on a very warm August evening. Credit to both sides who put on fine skillful performances throughout the encounter.
Ballinora started strongly and put pressure on the Midleton defence and managed to put over 5 points without reply before Midleton managed to open their account just before the first water break. Midleton had a strong second quarter and managed to pull the visitors back to 3 points and trailed Ballinora by 07 to 0-4 at the interval
Midleton started the second half strongly and worked some fine scores from play to bring the deficit to the bare minimum, however Ballinora showed their class and managed 2 goals in quick succession before the final water break. Midleton competed strongly in the final quarter but found it difficult to convert their chances and Ballinora ran out victors 3-11 to 1-7.
Next up for the U16 panel will be the 3rd of Championship scheduled for 04th September in Clonmult Park v Valley Rovers
Midleton Panel: Jill Connaughton, Elle McManus, Ruthi Hennessy, Laura Goulding, Muireann Ni Chonchubhair, Emily Lamb, Aoife Fitzgerald, Emma O'Sullivan, Isabelle Nestor, Kelly Quirke, Saoirse Ni Theangana , Beth Ryan, Amy McCarthy, Emma O'Neill, Rachel Ryan, Seana O'Brien, Rachel Greene, Rionnach Finn, Jade Fitzgerald, Kate O'Sullivan, Pippa Hennessy, Sorcha Cronin, Kate Sanderson, Kate Griffin, Alannah Magan
Minor Notes
Minor Championship V's Enniskeane. Midleton 1-04 Enniskeane 1-13.
Our first outing in the Minor Championship Round Robin was a tough trip to Enniskeane. After a good start where we led by 1-02 to 0-00, Jodie Keegan O'Connell scoring 1-1 and Saoirse Ni Theangana adding a point , Enniskeane fought their way back into the game to be only a point behind at half time. It continued to be a close encounter until the final 10 minutes where Enniskeane's physical superiority began to tell and they ran out winners by 9 points. Our girls battled all the way to end , and this young team will go again against St Finbarr's and will no doubt give it their all once again.
Panel: Jill Connaughton, Megan Kelly, Leah Hogan, Laura Goulding, Caoimhe Cronin, Aoife Fitzgerald, Misha Daly Harkin, Vivienne Gleeson, Isabelle Nestor, Clara McCarthy, Jodie Keegan O'Connell, Emma O'Sullivan, Abbie Foley, Saoirse Ni Theangana, Rachel Ryan, Mia Tarrant, Kelly Quirke, Rebecca Crowley, Elle McManus, Jade Fitzgerald.
Junior Report
Junior Championship V's Kinsale. Midleton 2:18 Kinsale 3:07
We made the trip to Kinsale for our first round match and the girls did not disappoint - a blistering start saw us race into a 10 point lead . 2 Goals from Rebecca Cassidy and points from Clara McCarthy , Sadhbh Beausang , Jodie Keegan O Connell & Vivienne Gleeson kept the scoreboard busy. We maintained our lead all through and despite Kinsale throwing everything at us we were still 8 points clear at the final whistle. Clara McCarthy top scored with an impressive 0-10, Sadhbh Beausang chipped in with 0-4 and strong all round performances from Lucy Wallis, Vivienne Gleeson, Rebecca Cassidy and Leah Hogan ensured our safe passage into the next round.
Panel: Jill Connaughton, Megan Kelly, Rayanna Power, Caoimhe Cronin, Ellen Ryan, Leah Hogan, Rosion O'Callaghan, Vivienne Gleeson, Lucy Wallis, Clara McCarthy, Jodie Keegan O'Connell, Abbie Foley, Sadhbh Beausang, Rebecca Cassidy, Hannah Power, Aoife Fitzgerald, Misha Daly Harkin, Emma O'Sullivan, Rebecca Crowley, Theresa Geary
Ladies Football
Congratulations to our U15 Girls who were crowned Feile Winners yesterday. They beat Carrigtwohill, Inch Rovers and St Nicks to reach the final against Youghal and what a final it was. Having most of the possession in the first half we just could not get the scores thanks to some great saves from the Youghal keeper. Going in at half time we found ourselves 2-01 to no score down. The coaches asked the girls to give it their all for the second half which was only twelve and a half minutes and each girl did just that. They blocked ball, ran, defended their hearts out and after 5 minutes we got our first score. With minutes remaining on the clock they played some fantastic football and with great passages of play we found the scores we needed. Final score was Midleton 2-02 Youghal 2-01. There was great delight when our captain Rachel Ryan received the cup. Great credit is due to the girls who played all their games in extremely warm conditions. Their conduct and behaviour on and off the field was excellent. Girls we are all very proud of you.
Special mention must also go to Elsa Ryan and Gráinne Finn who each received All Star medals for their performance in all games. Many thanks to St Nicks and Glen Rovers who hosted an excellent day.