Midleton Hurling and Football, Ladies Football and Camogie Club News
22 August, 2021
Midleton GAA…at the 'Heart of the Community'. Ní neart go cur le chéile. There is no strength without unity.
COVID Update & Return to Play

Team managers will advise of date, time and venue for training. Please remember that players/parents are required to complete a Health Questionnaire declaration BEFORE each training session or match.
Midleton GAA 'One Club' have put together a comprehensive guide to the Safe Return to Play for all teams. All parents, players and coaches are asked to familiarise themselves with these guidelines including, but not limited to, the Health Questionnaire requirements and access maps to the 4 facilities being used by Midelton GAA 'One Club'.
Key links:
Midleton GAA 'One Club' Guide and other Return to Play information: covid-19-news
FOIREANN (was Return to Play) where Health Questionnaire can be completed prior to each training session/match (FYI, use the same email and password from last year):
Mega Lotto Results & New Jackpot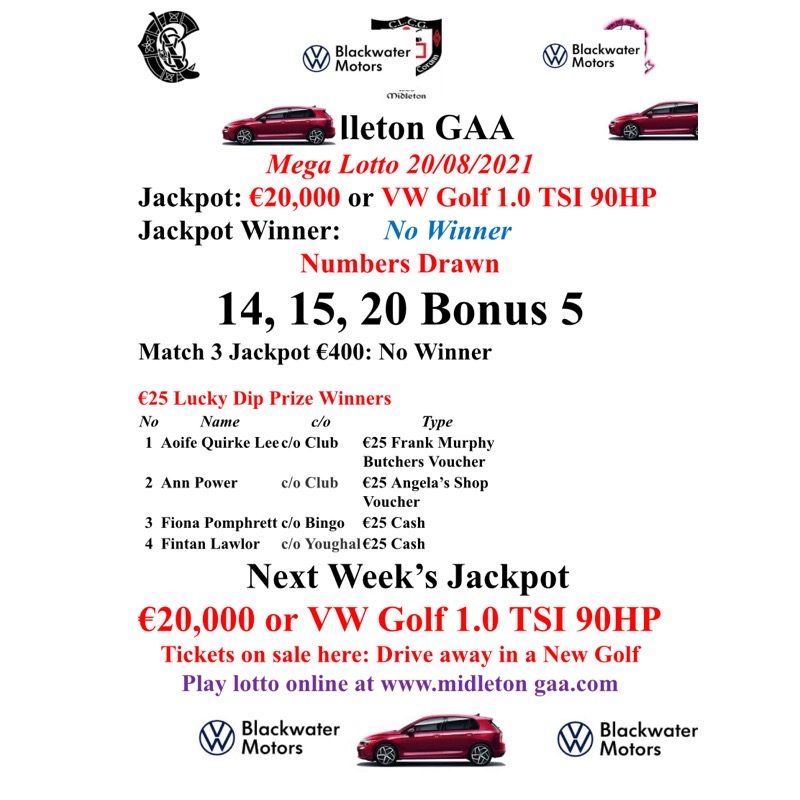 Our Lotto Jackpot was a choice of €20,000 or a VW Golf 1.0 TSI (in partnership with Blackwater Motors) the numbers 14, 15, 20 Bonus 5. There was no winner of the jackpot so next Friday's jackpot will remain the same.
4 Lucky Dip Prize Winners this week were Aoife Quirke Lee (€25 Frank Murphy Butcher Voucher), Ann Power (€25 Angela's Shop Voucher), Fiona Pomphrett & Fintan Lawlor (€25 in cash each). In total Midleton GAA will give out local business vouchers to the value of €3,800 every year as part of our "Shop Local, Buy Local" campaign.
How to play: Tickets are on sale at Pat Walsh Paints, Chadwicks, Frank Murphy Butchers, Murphy's Pharmacy, Crowley Butchers, or buy online, through Klubfunder, at https://www.klubfunder.com/Clubs/Midleton%20GAA/lotto select your numbers and number of draws to play. You can buy an annual ticket by selecting "50" from the "Number of Draws" to Play dropdown.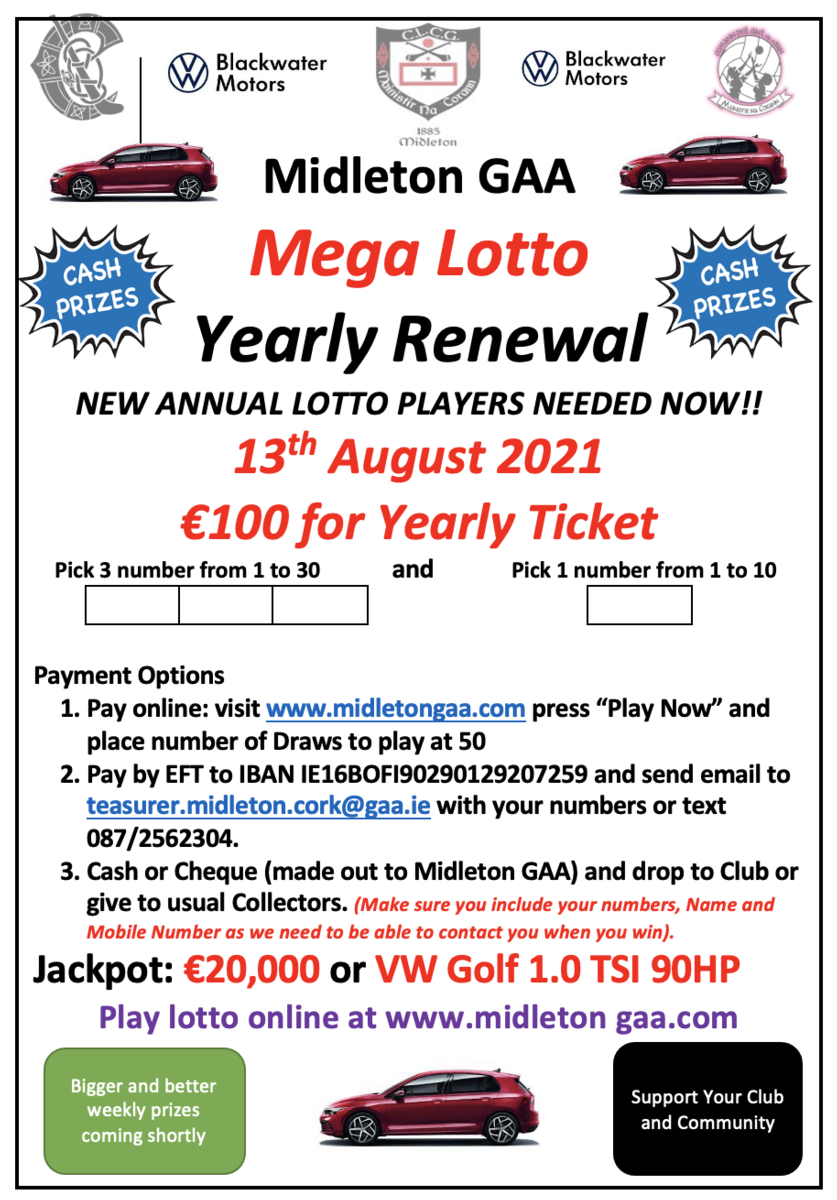 Rebels Bounty Winner, Patricia Leahy - €20,000
Congratulations to Patricia Leahy on scooping the top prize of €20,000 in the May Rebels Bounty Draw.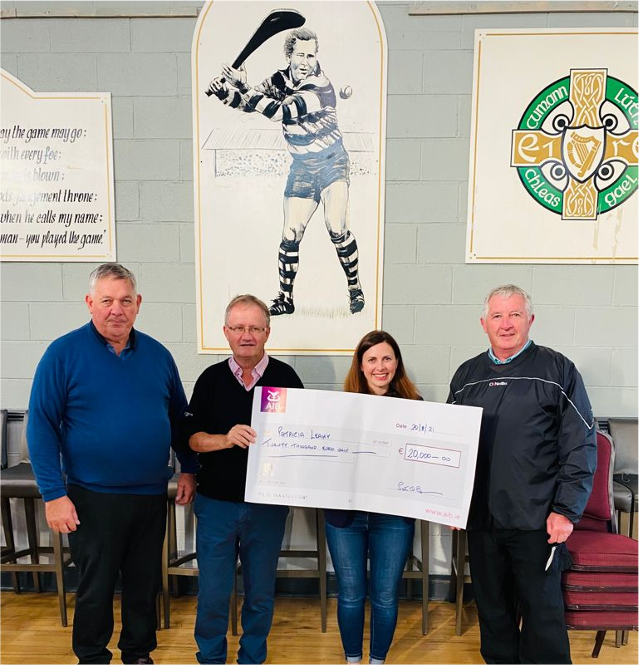 Patricia Leahy receiving the top prize in the Rebels Bounty Draw for May . L to R Liam Ryan (Club Chairman) Pat O'Brien (Draw administrator), Patricia Leahy (Winner), John Fenton (Seller)

All Ireland Hurling Finals
3 All Ireland Finals this week. At the time of writing, 1 down, 2 to go. 1 win, hopefully 2 to go. Well done to the Cork U20 and in particular Sam Quirke on their victory against Galway on Wednesday evening.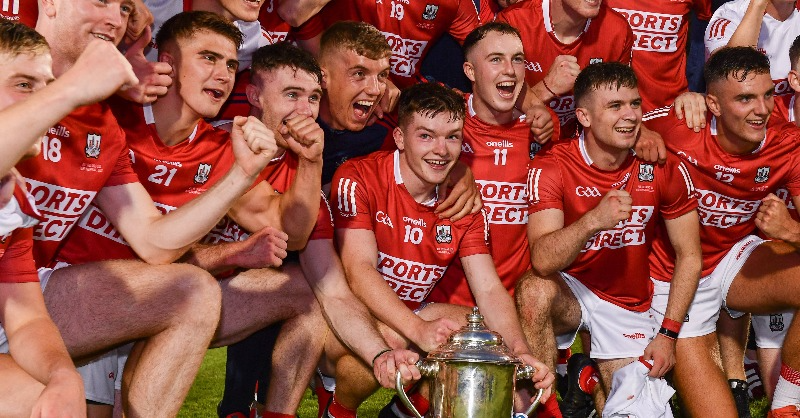 Cork U20 celebrate after win on Wednesday night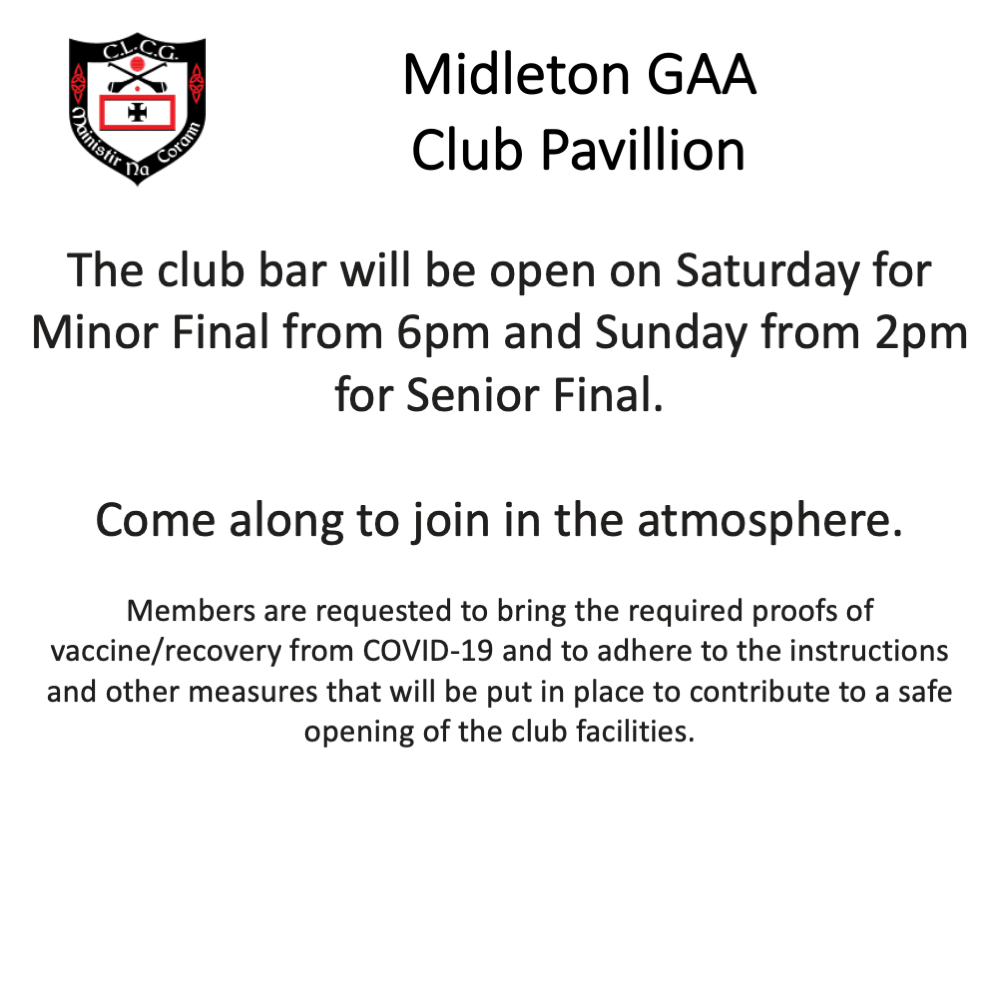 Midleton Historical Book launch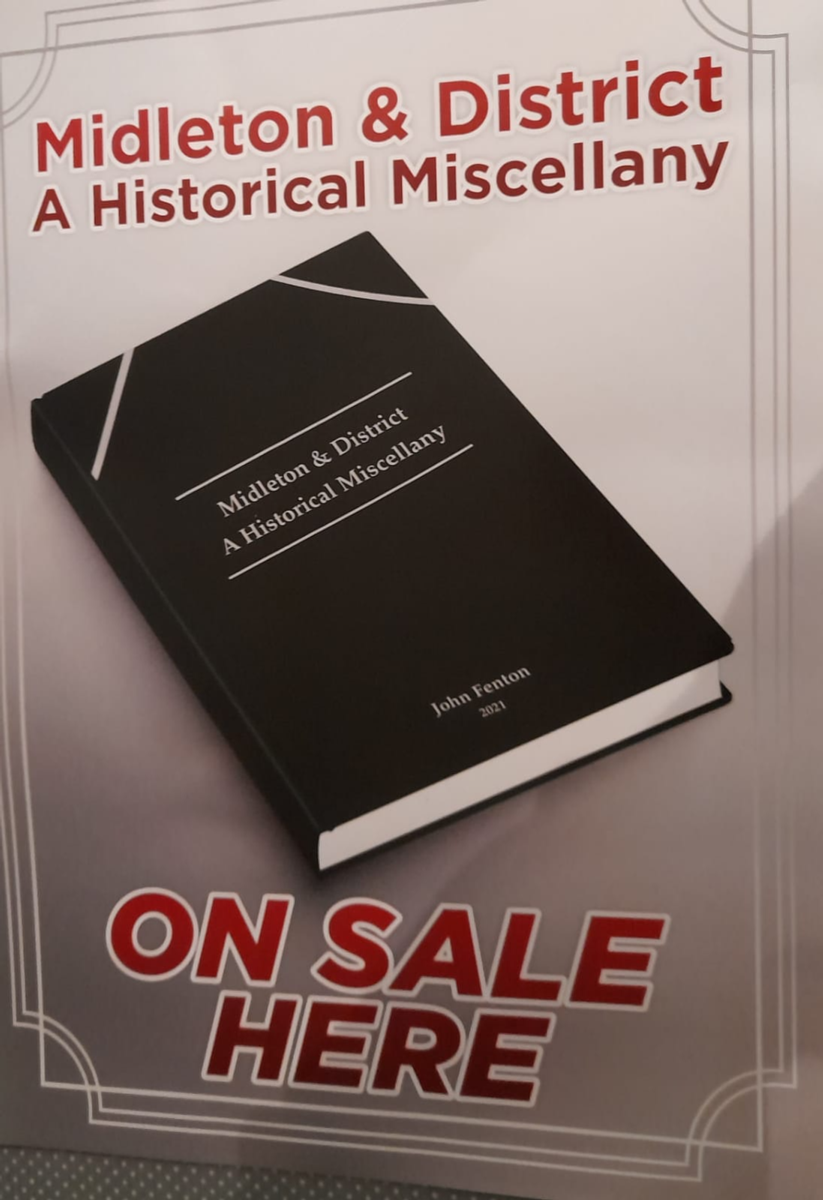 A new book by John Fenton containing a compilation of articles relating to Midleton's history will be available to purchase from Wednesday 18 August. The book contains separate essays with reference to the history of Ballyannan Wood, the Cork to Youghal Railway line, Midleton Marble, Ballinacurra/Bailick Port, 'Middle Town to Midleton' how Midleton got its name and the history of Golf in Midleton including the original layouts of Midleton and East Cork golf clubs. The book also contains maps and photos relevant to some of the articles. Although all of the essays were originally completed in 2009/2010 they have been modernised to incorporate some developments which have transpired in the meantime. There are also poems by Dick Cashman and Peter Moloney, most with relevance to the essays in the book but also some with GAA themes. The books will be available for purchase at Angela's shop in Connolly Street, McCarthy's news agency 43 Main Street, Midleton GAA club shop on Saturday mornings and the Midleton Tourist office at the entrance to the Jameson Heritage centre. Cost €15.
GAA Fixtures & Results
See below links for details of fixtures and results. As usual we will endeavor to keep the club website up to date with fixtures and results as well as posting results, as much as possible, on twitter and facebook. Team managers are asked to submit results and any fixture changes to pro.midleton.cork@gaa.ie or text 0868643079.
Website Links:
Fixtures club_fixtures
Results club_results
Juvenile
Fé15 Féile
The true judge of character is not always in winning but rather recovering from a loss. This being the case, our Fé15 showed trojan character in Aghada in the Group stages of this year's Féile.
The first game of the day was against the hosts, Aghada. A battle was anticipated as the hosts had beaten Midleton in the Fé15 championship several weeks ago. The lads started very well, worked hard and lead at half time on a score line of 1:02 to 0:03. Not content to sit back, they drove on in the second half and finished 2:05 to 0:05 winners.
Next up was Youghal. This first half of this match saw Youghal scoring 3 goals, which in a 12 minute a side match is tough to recover from. Despite a lot of attacking in the second half we failed to bridge the gap and lost out on a score line of 3:05 to 1:07. The disappointment was palpable amongst the players and management.
The third game against unbeaten Killeagh gave the lads an opportunity to demonstrate their mettle. The ferocious intensity of the first game against Aghada was surpassed as we tore into the fancied Killeagh team from the start. We never let them settle with constant harassing when they had the ball and fantastic team-work in finding the 'open man' for scores when we had the ball. Whilst Killeagh kept trying, in the end we won on a score line of 1:10 to 0:06. Trojan character displayed by all.
The end of the 3 games saw Midleton, Killeagh and Youghal on 2 wins each, after some calculations followed by jubilant celebrations, Midleton were deemed winners and progress to the semi-finals on Monday night where they will play Shamdrum. Best of luck lads.
A special word of thanks to Damien Garde of Garde Engineering for sponsoring gear for the panel to mark the occasion. This is a generous gesture and much appreciated by the players, management, and the wider club. Míle Buíochas.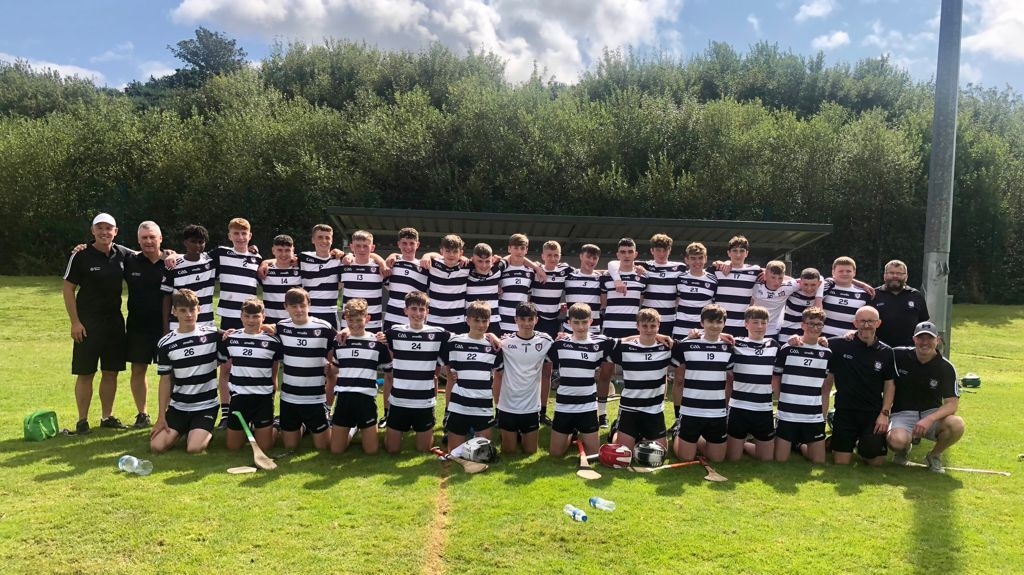 Féile Group Section Winners in Aghada
Fé8 V Aghada & Kiltha Óg
Midleton Fé8 welcomed Aghada & Kiltha Óg to Clonmult Memorial Park on Saturday 07th August. On a windy morning we had over 30 magpies playing across 5 different teams. All matches were very exciting with some great skill on display as the lads continue to improve. Keep up the good work and the practice at home. Thanks to everyone who came to show their support for the lads. Thanks to Aghada & Kiltha Óg for the sporting games.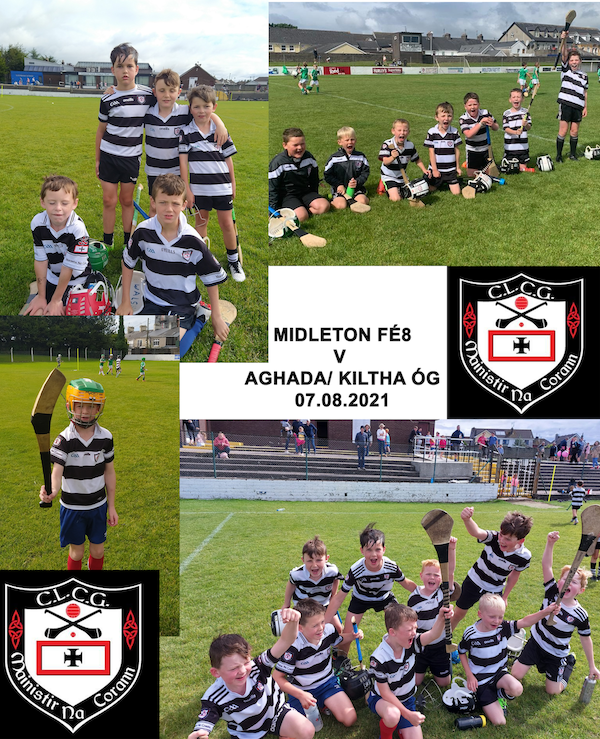 Fé8 v AGHADA 07.08.21
Fé8 V Killeagh
Midleton Fé8 took to the road on Saturday 14th August with a short trip East to play Killeagh in Fé8 hurling. Despite the holiday season we were delighted to see over 30 magpies playing across 4 different teams. All matches were very competitive with the lads displaying their skills in both ground and 'air' hurling. Keep up the good work and especially important to continue to practice at home. Thanks to everyone who came to show their support for the lads. Thanks to Killeagh for hosting and for three very sporting games.
Fé9 Notes
Our lads hosted Youghal in Hurling on Saturday in Midleton.
We had 28 young magpies in attendance and each group of 3 Teams played 3 games each.
Our lads got a couple of great scores throughout each of the games and played to the best of their ability.
We would like to thank Youghal u9s for making the trip to Midleton and thank them for giving us a good game. Training will continue Wednesday evenings for this group and we hope to have more games organised in the next few weeks.
Fé11 Notes
This weekend saw the fé11s travel back to Ballincollig for small ball. They played 2 hard games against a very good Ballincollig side. Well done for your efforts lads, and thanks parents for traveling. Training continues Tuesdays and Thursdays. Magpies ábu
Fé13 NOTES
Best wishes & GET WELL SOON to Ger Spillane who is recovering in hospital after a recent illness.
Fé13 C3 HURLING V NEMO RANGERS
Nemo Rangers were the visitors for the last of the first round C3 Fé13 hurling matches. After a very tight match there was only the smallest of margins between the teams at the full-time whistle, with Michael Allegrini getting the all-important goal for Midleton. This was a very good team performance and showed the progress the lads are making. The final score was Midleton 1-06 Nemo Rangers 1-05. The panel for the match was: Luke Bamber, Michael Barrett, Fionn Bohan, James Carey, Rian Casey, Sean Gregory, David Kelly, Jason Morley, Cian Hogan, Michael Allegrini, Jamie O'Donovan, James O'Meara, Ruairi O'Riordan, Adam Spillane, Cuan Twomey (captain).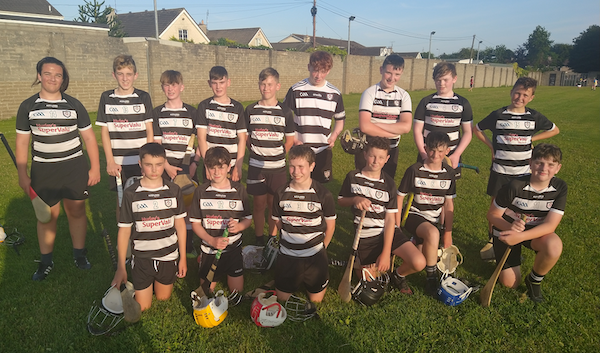 Fé13 C3 HURLING v NEMO RANGERS 20.07.21
Fé13 P2 FOOTBALL V BANDON
First up in the second phase of P2 football games was a home match against Bandon on the bank holiday Friday. Unfortunately, the game was delayed as the appointed referee failed to show, with a coach from each side taking charge for a half each. Despite the delayed throw in, the lads started the game well and played some good football, with goals coming from Senan Carroll, James O'Meara and Sean Gregory. The second half was keenly contested but a further goal from Sean Gregory gave the lads a well-deserved victory on a final score of Midleton 4-06 Bandon 2-08. Thanks to Bandon for making the trip East on a busy Bank Holiday weekend. The panel for the match was: Dara Birdthistle, Fionn Bohan, James Carey, Senan Carroll, Rian Casey, Scott Dunlea, Sean Gregory, David Kelly, Cian Lawton (captain), Jason Morley, Bréanainn O'Dalaigh, Jack Cahill, Darragh Mullins, Michael Allegrini, Max Murphy, Shane O'Mahony, James O'Meara, Ruairi O'Riordan, Cuan Twomey.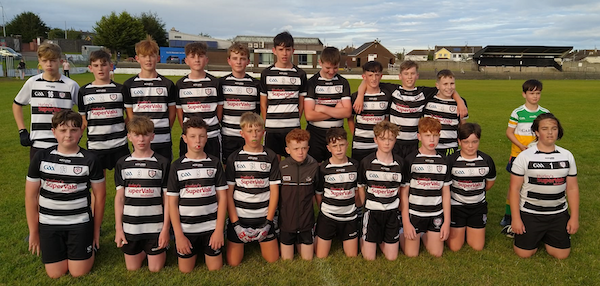 Fé13 P2 FOOTBALL v BANDON 30.07.21
Fé13 C3 HURLING V VALLEY ROVERS
First up in the second phase of C3 hurling games was this teams first time making the trip to Brinny to play Valley Rovers. This proved to be a one-sided game with some goals in the first half from Finn Cahill, Michael Allegrini, Jason Morley, Luke Bamber and Dara Birdthistle making the half time score 7-03 to 0-01. The lads played some very good hurling throughout and further goals from James Carey, Ciaran O'Brien and Harry Waterman gave a comprehensive victory with the final score of Midleton 12-06 Valley Rovers 0-03. The panel for the match was: Luke Bamber, Dara Birdthistle, Fionn Bohan, James Carey, Rian Casey, Jason Morley, Ciaran O'Brien, Finn Cahill, Patrick O'Brien, Bréaninn O'Dailigh, Michael Allegrini, Patrick O'Dowd, Ruairi O'Riordan, Cuan Twomey (captain), Harry Waterman.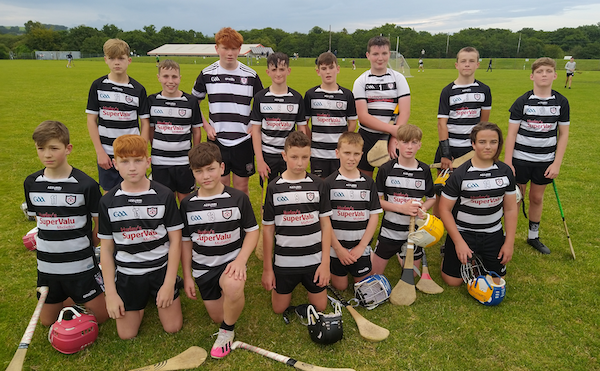 Fé13 C3 HURLING v VALLEY ROVERS 03.08.21
Fé13 HURLING V ERIN'S OWN
First up in the second phase of hurling games for the lads was a short trip to play Erin's Own in Caherlag. The lads showed great determination from the outset in this match with early goals from Dara Birdthistle and Max Murphy setting the tone. Playing against the breeze for the opening 30 minutes the lads worked very hard together as a team and a second goal from Dara Birdthistle before the break resulted in a half time score of Midleton 3-04 to Erin's Own 0-06. The high work rate continued in the second half and a great team move from defence to attack saw Patrick O'Dowd neatly finishing to the back of the net. The scoring was completed late in the second half with a well-deserved goal by James Carey to give a final score of Midleton 5-08 to Erin's Own 1-09. Well done Lads. The panel for the match was: Luke Bamber, Dara Birdthistle, James Carey, Senan Carroll, Rian Casey, Patrick Collins, Cian Lawton, Jason Morley, Patrick O'Brien, Jack Cahill, Darragh Mullins, Michael Allegrini, Max Murphy (captain), Patrick O'Dowd, Shane O'Mahony, James O'Meara, Ruairi O'Riordan, Cuan Twomey, Harry Waterman.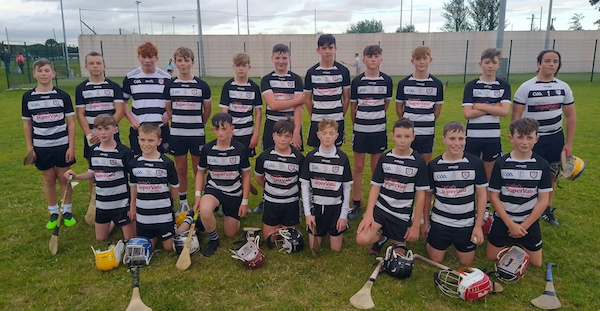 Fé13 HURLING V ERIN'S OWN 06.08.21
Fé 14 Notes
Recently our U14 panel were presented with new training tops. A big thank to Dr. Mike Thompson of Imokilly Medical Centre, who kindly sponsored the tops. Dr Thompson and his team have been doing fantastic work since opening in 2019 and have been working tirelessly during this very difficult pandemic. A big thank you to Imokilly Medical Centre from all the U14 players.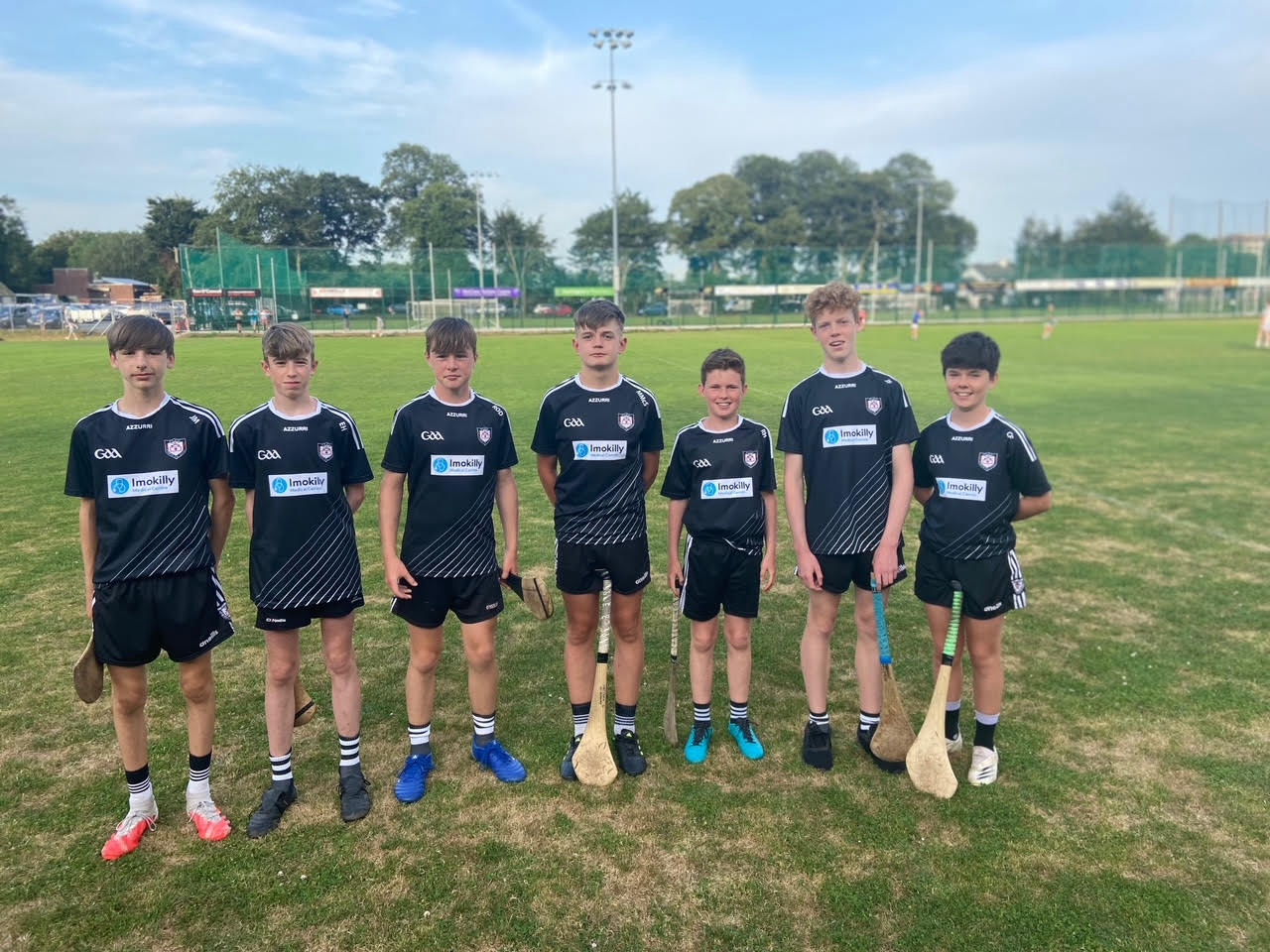 Fé14 Training Tops Sponsored by Imokilly Medical Centre
Camogie Notes
Fé6 Notes
Fe6 V Carrigtwohill
Our u6 girls had a busy morning on Sunday last 15th August as we welcomed Carrigtwohill down to play us in a match . Well done to all , great to see all the girls having fun and showing off their skills to date.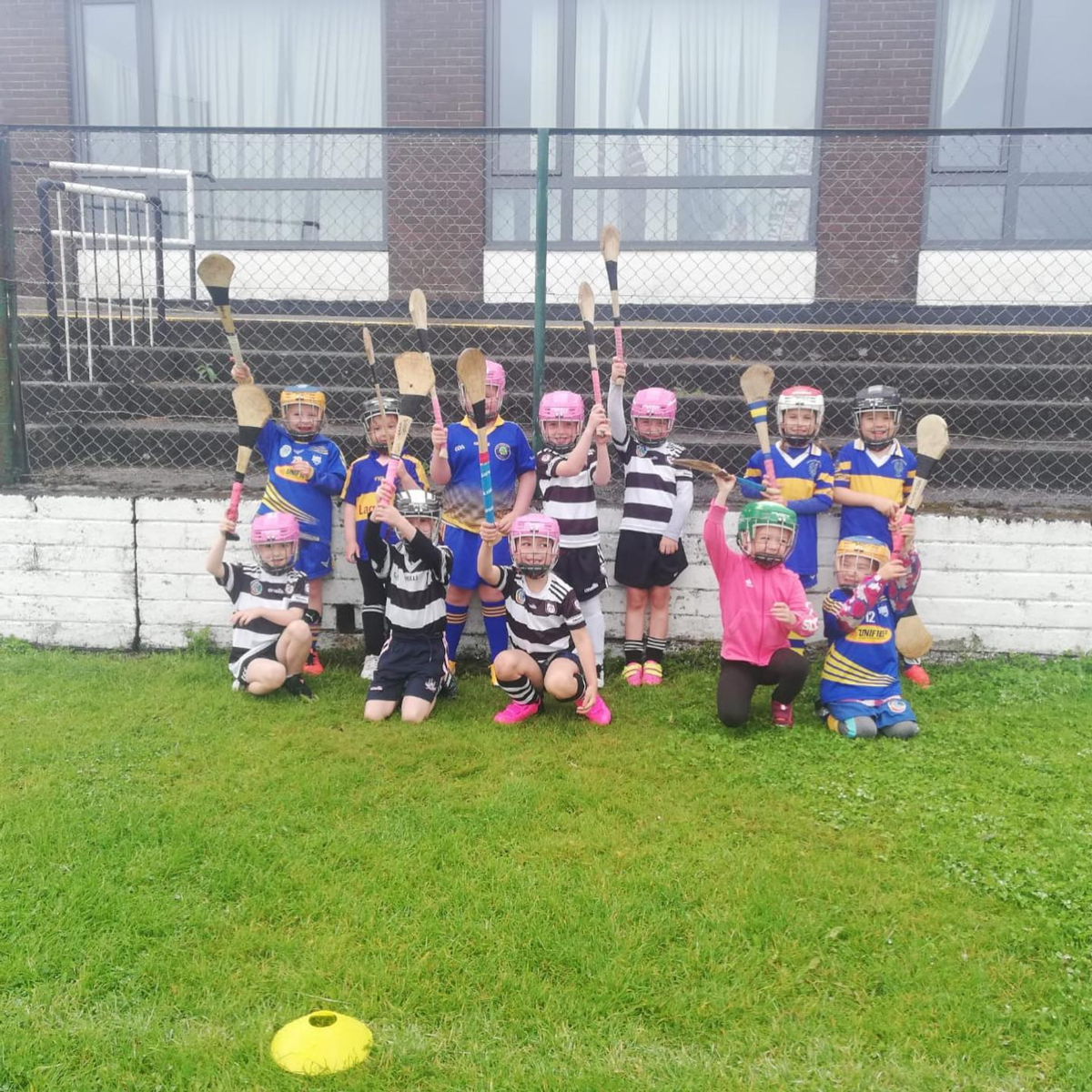 FÉ6 v Carrigtwohill
Fé7/8 Notes
Fé 7/8 V Castlemartyr
Torrential rain didn't stop our U7/8 girls who togged on in their club colours last Sunday morning when they battled against Castlemartyr ! Well done to both sides and thank you to Castlemartyr for hosting us and to all the parents and guardians who showed up in force to cheer on our girls.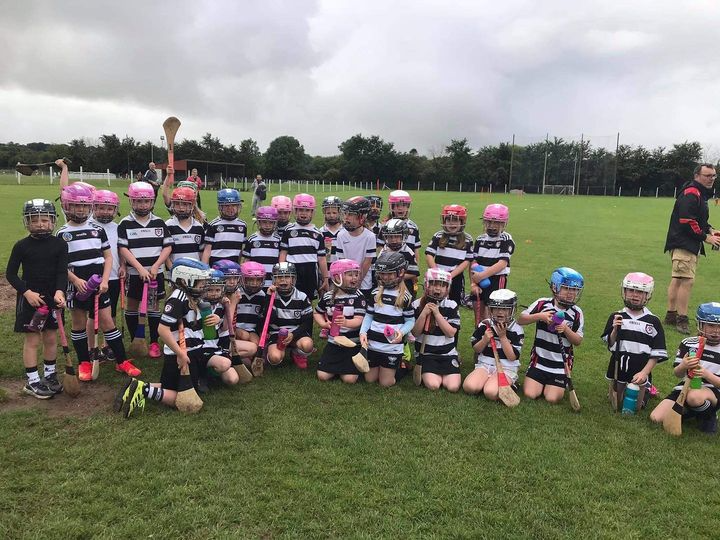 FÉ7/8 V Castlemartyr
FE14 Notes
Fe 14 Championship Camogie V Cloughduv
U14A Championship 2nd round, Midleton Camogie Vs Cloughduv.
On Wednesday night our girls lined out against Cloughduv at home in Clonmult park. These two sides had played out a hard fought draw in the league so we knew that a tough game was to be expected. The game started well for Midleton with Tia Wall Wallace grabbing an early goal and Kate O Sullivan knocking over some fine points, Cloughduv piled on the pressure with some great forward play but our defence stood up strong and forced a few wides. We welcomed back a fit again Pippa Hennessey who like all our defenders put in a solid performance. Sarah McConville tagged on another point before half time while our half forwards Cara Foley and Rebecca Cronin put in some great runs down both wings delivering the ball in on goal. A special mention goes to the Cloughduv goalkeeper who was excellent throughout the game. The score at half time was Midleton 1-5 to 0-1.
After the break Midleton got another few points on the board with quick and accurate puck outs from our goalkeeper Kate Griffin, our points scorers were Faye Dunlea, our captain Sorcha Cronin, Kate O Sullivan, Rebecca Cronin and a great goal from Sarah McConville after which we brought on all our subs with Cara Wallace just denied a great goal with yet another save from their goalie. Cloughduv fought all the way to the end with the scoreline finishing
Midleton 2-10
Cloughduv 0-4
We would like to thank the referee Maurice Mulcahy, our supporters and finally we wish Cloughduv all the best for the remainder of the Championship.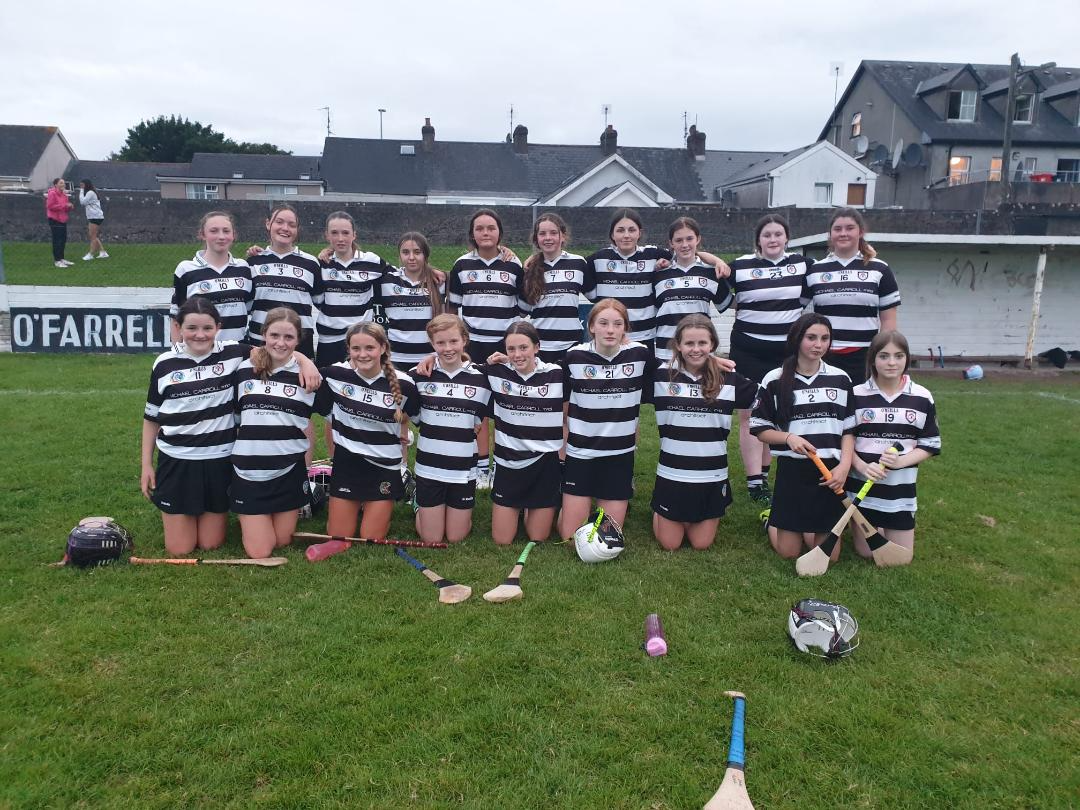 FE14 V Cloughduv Championship
Ladies Football
Training schedule this week:
U8/10/12 - 6.30-7.30pm in Ballinacurra
U16/Minor and Junior 7.30-8.30pm in Ballinacurra